The Unhealthiest New Trader Joe's Foods, According to Dietitians
There isn't much nutritional benefit to these items, dietitians say.
After discontinuing several beloved items in 2021, Trader Joe's kicked off the new year by adding new grocery items to shelves. Even though they sound fun and delicious, you won't find some of these breakfast foods, plant-based options, and snacks on the shopping lists of nutrition experts.
We asked two registered dietitians on the Eat This, Not That! Medical Expert Board to take a look at the recent additions to Trader Joe's line-up. Amy Shapiro, MS, RD, CDN, and Lisa Young, PhD, RDN, author of Finally Full, Finally Slim and nutritionist in private practice, identified four items that aren't exactly home runs in terms of nutrition.
Related: 6 Things You'll See at Costco This Year
Mini Chocolate Chip Pancake & Waffle Mix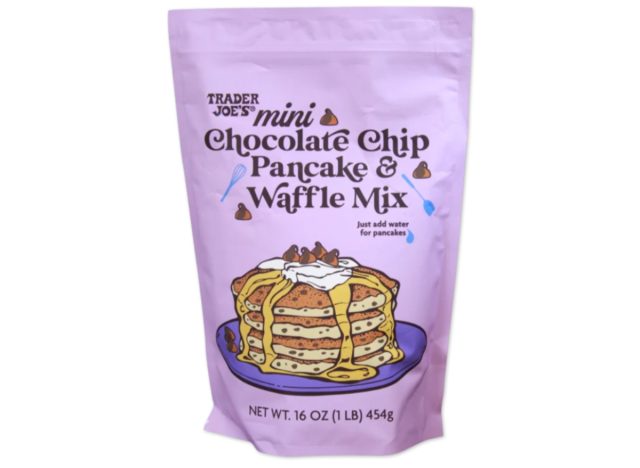 ¼ cup dry mix
: 150 calories, 2 g fat (1 g saturated fat, 0 g trans fat), 380 mg sodium, 30 g carbs, 1 g fiber, 9 g sugar, 5 g protein
Homemade pancakes or waffles in the morning are certainly more convenient when you have a pre-made mix that only requires a hot pan and some water. However, the new mix from Trader Joe's may qualify as more of a treat than breakfast.
"This uses enriched flour, which is free from fiber and will cause blood sugar fluctuations, which can cause you to eat larger portions or to feel hungry quickly later on," Shapiro says, noting that additional ingredients like white flour, sugar, and soy lecithin emulsifier aren't adding many health benefits to this brunch. "This is more of a treat than a breakfast and will likely have you feeling lethargic instead of energized."
Impossible Chicken Nuggets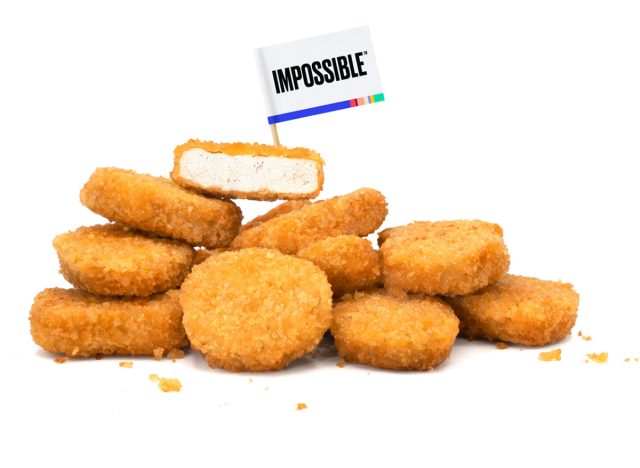 5 pieces
: 240 calories, 12 g fat (1.5 g saturated fat, 0 g trans fat), 480 mg sodium, 19 g carbs, 2 g fiber, <1 g sugar, 13 g protein
This chicken alternative just arrived at TJ's, but neither Shapiro nor Young recommends picking it up, thanks to the ingredients used to make it taste like the real thing.
Shapiro says the industrial oils, the processed form of soy, and the sugars (in the form of dextrose) don't have many health benefits. Young agrees, adding that while this item is full of protein, it's also full of fat and sodium.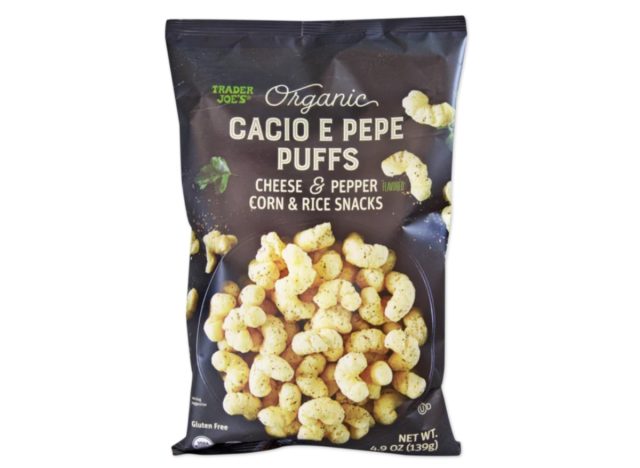 1 ½ cups
: 150 calories, 9 g fat (1 g saturated fat, 0 g trans fat), 230 mg sodium, 16 g carbs, 0 g fiber, 0 g sugar, 2 g protein
Cacio e Pepe is a popular flavor right now, and this snack version is only one of Trader Joe's many spins (frozen pasta, ravioli, and sauce) on this trendy grocery item. However, both dietitians say you can skip this item—but not because it is necessarily super unhealthy.6254a4d1642c605c54bf1cab17d50f1e
"This snack contains carbs without any protein or fiber to keep you full and will not balance your blood sugar levels," Shapiro says. "This often leads to overeating and consuming more than the portion recommended, which is what ultimately makes snacking unhealthy."
Young agrees with Shapiro, and she recommends popcorn instead. For a little inspiration, check out The Best & Worst Popcorn in America—Ranked!
Vegan Feta Cheese Alternative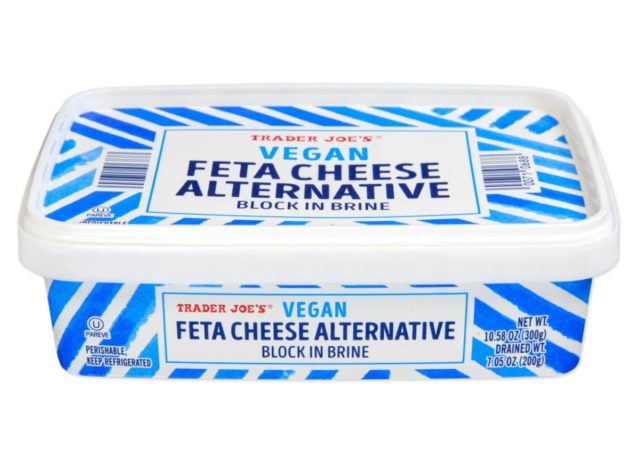 1 inch cube (1 oz)
: 80 calories, 8 g fat (7 g saturated fat, 0 g trans fat), 210 mg sodium, 3 g carbs, 0 g fiber, 0 g sugar, 0 g protein
Grocery items labeled "vegan" or "dairy-free" are often associated with healthier eating, but that doesn't always turn out to be true. Trader Joe's Vegan Feta Alternative is another item to skip, with one nutrition red flag being that it contains no protein, according to Young.
"While this is vegan, it offers very little in the way of nutritional value," she says. "Unlike feta cheese, this version contains no protein. It's also high in saturated fat. It's mostly coconut oil and potato starch. I'd skip it."
Amanda McDonald
Amanda has a master's degree in journalism from Northwestern University and a bachelor's degree in digital journalism from Loyola University Chicago.
Read more about Amanda