The Worst Fast-Food Salads in America in 2021—Ranked!
Lettuce can only do so much heavy lifting. These menu items pack a deceiving amount of fat, sodium, and calories.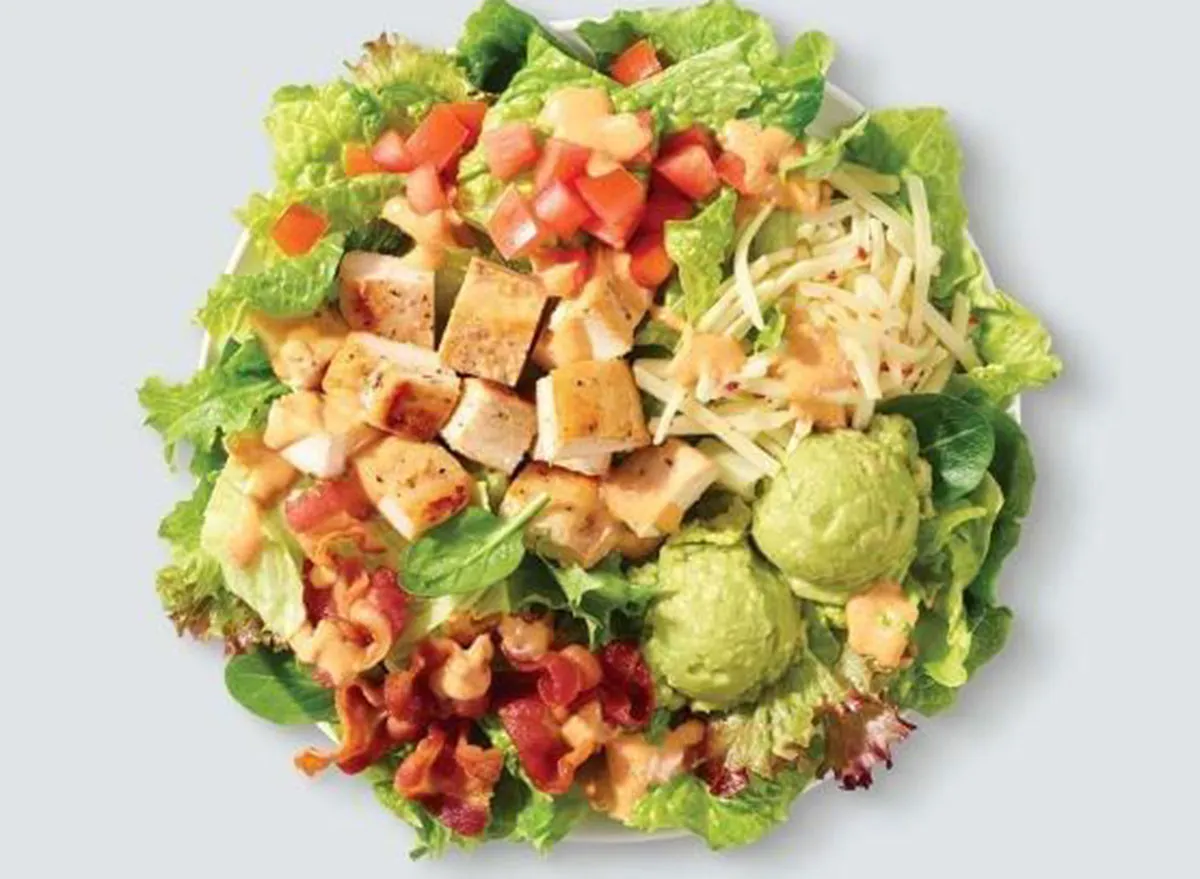 Maybe it's because salads conjure up images of flavorless leaves of lettuce, wedges of bland tomatoes, and thin slices of red onion dressed in a single squeeze of lemon, but fast-food restaurants are resorting to fatty "toppings" to attract customers who would usually not even bother with vegetables in real life, let alone at the drive-thru. Things that should be used sparingly, like fried chicken, cheese, eggs, and bacon, are being exploited to market these salads as healthy options. In reality, many fast-food salads are more harmful to your health than a burger.
It's pretty easy to avoid the trappings of a fast-food salad; outside of not ordering one at all, stay away from salads with lots of animal-based toppings and dressing to avoid unnecessary sodium, saturated fat, and cholesterol. If your salad has avocado, ranch dressing, bacon, eggs, and fried chicken, it's not the non-processed, plant-derived avocado that's the culprit. A healthy salad should be mostly vegetables. If you aren't able to see any leafy greens until your fork hits the bottom of the bowl, you may want to reconsider your order next time.
To help you out, here's a ranking of the most unhealthy fast-food salads currently available—from the not-so-good to the #1 worst. And for an extra side of healthful fast-food suggestions, we recommend reading the 6 Best Fast-Food Salads in America in 2021.
Wendy's Apple Pecan Salad
PER SALAD (NO DRESSING)
: 460 calories, 23 g fat (10 g saturated fat), 1090 mg sodium, 26 g carbs (5 g fiber, 18 g sugar), 39 g protein
Made fresh daily with Wendy's signature lettuce blend, crisp red and green apples, dried cranberries, roasted pecans, crumbled blue cheese, and grilled chicken breast hot off the grill, this salad scores points for its calorie count, but its fat and sodium are still very high. Then, when you add the Marzetti® Simply Dressed® Pomegranate Vinaigrette, you're adding another 90 calories, 190 mg sodium, and 15 grams of sugar.6254a4d1642c605c54bf1cab17d50f1e
Related: Sign up for our newsletter for more healthy eating news.
Wendy's Southwest Avocado Salad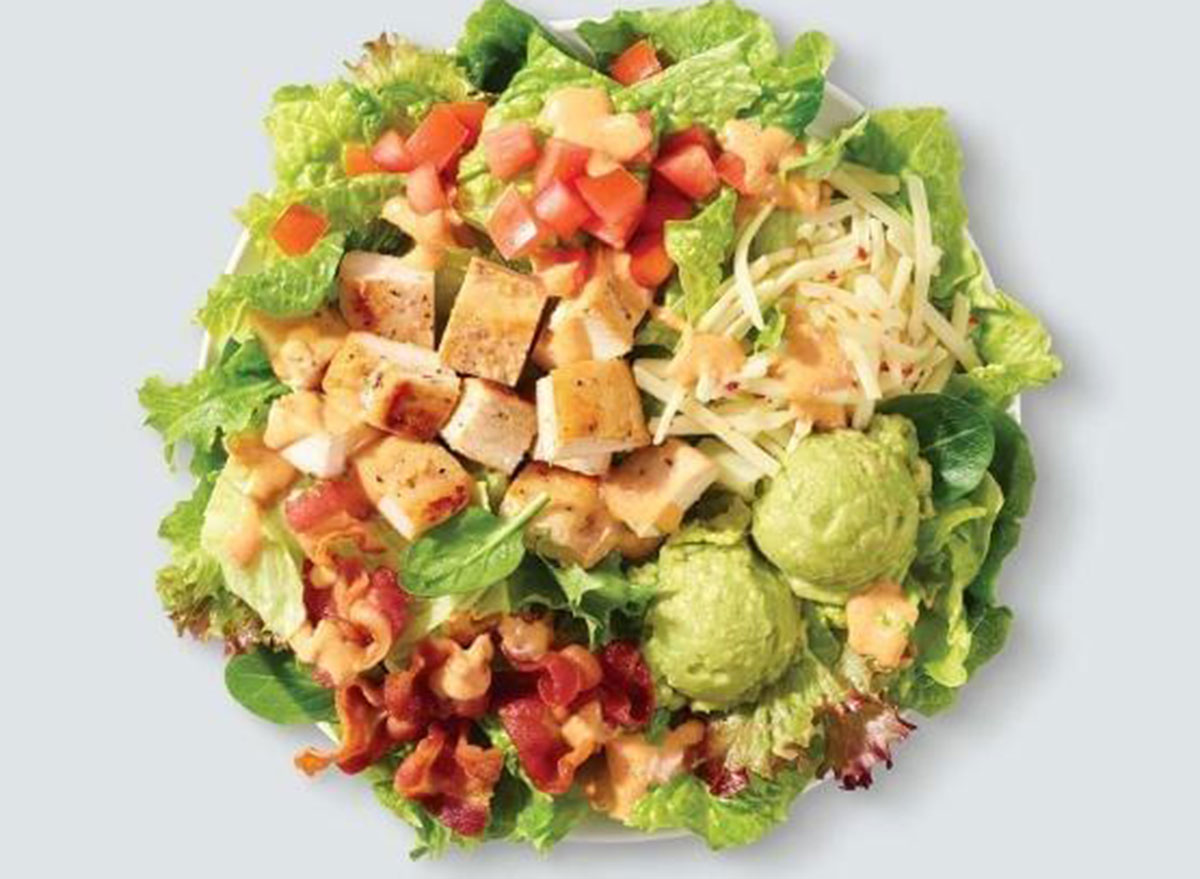 PER SALAD (NO DRESSING)
: 420 calories, 25 g fat (9 g saturated fat), 930 mg sodium, 12 g carbs (6 g fiber, 3 g sugar), 39 g protein
It seems that a lot of fast-food restaurants use the word "avocado" to make a dish sound more healthy than it actually is. This salad, made with Wendy's "signature lettuce blend," cheddar cheese, diced tomatoes, avocado, Applewood smoked bacon, and grilled chicken breast, is topped with a Southwest Ranch Dressing (that adds another 140 calories and 14 grams of fat). A dead giveaway that this salad is full of salt are the words "cheese," "bacon," and "dressing"—a very dangerous trifecta.
Panera Green Goddess Cobb Salad With Chicken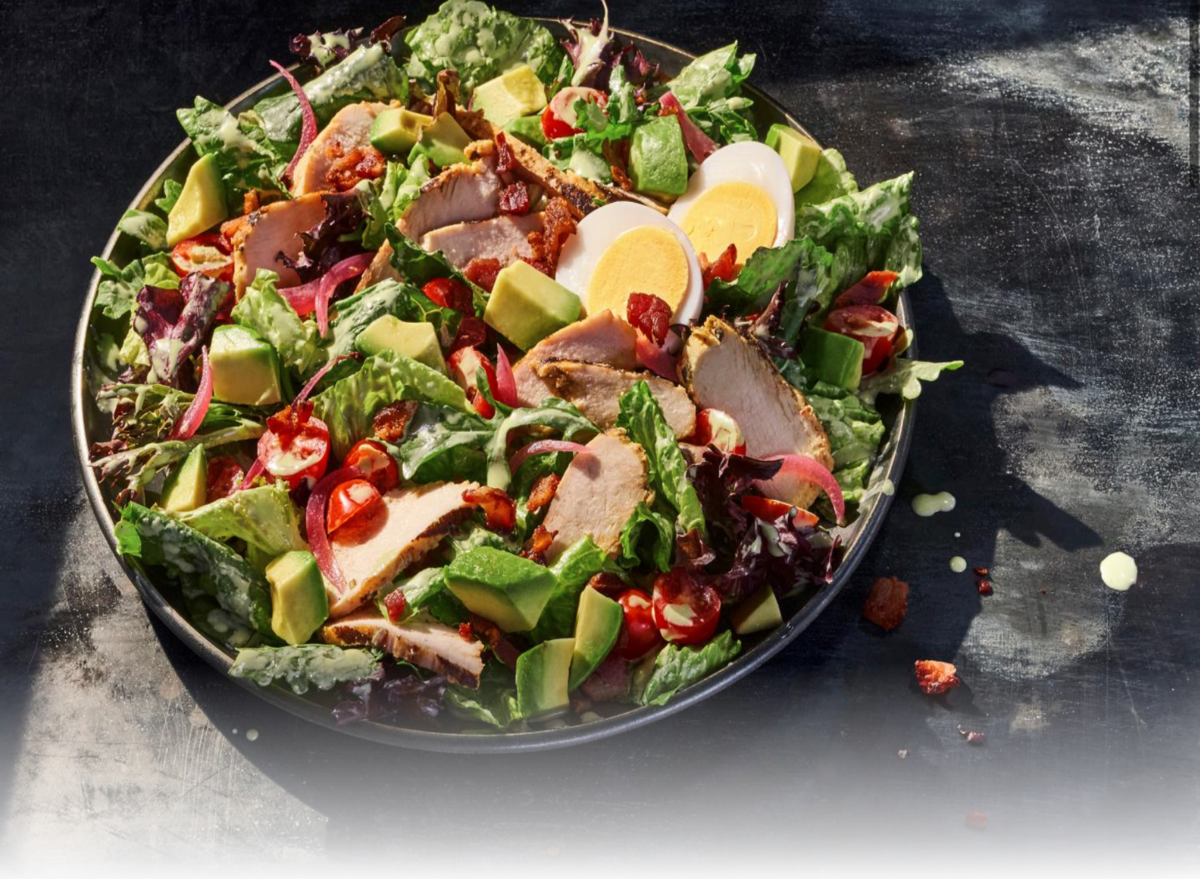 PER SALAD (WITH DRESSING)
: 500 calories, 29 g fat ( 7 g saturated fat), 920 mg sodium, 24 g carbs (8 g fiber, 11 g sugar), 40 g protein
Green Goddess sure sounds like the loving embrace of someone who has your best intentions in mind, right? Wrong. This salad is anything but on the side of your health. Arugula, romaine, baby kale, red leaf blend, grape tomatoes, and pickled red onions (so far so good!) are tossed in freshly made Green Goddess dressing and topped with fresh avocado (still doing good!), Applewood-smoked bacon (uh oh) and cage-free hard-boiled egg. More than half of this salad's calories come from fat. Animal products are usually the villain when it comes to fat, cholesterol, and sodium. If you really want this salad, order a half portion and ask for the bacon and egg on the side so you can control your portions.
Related: 7 Things You'll Never See at Panera Again
Panera Fuji Apple Chicken Salad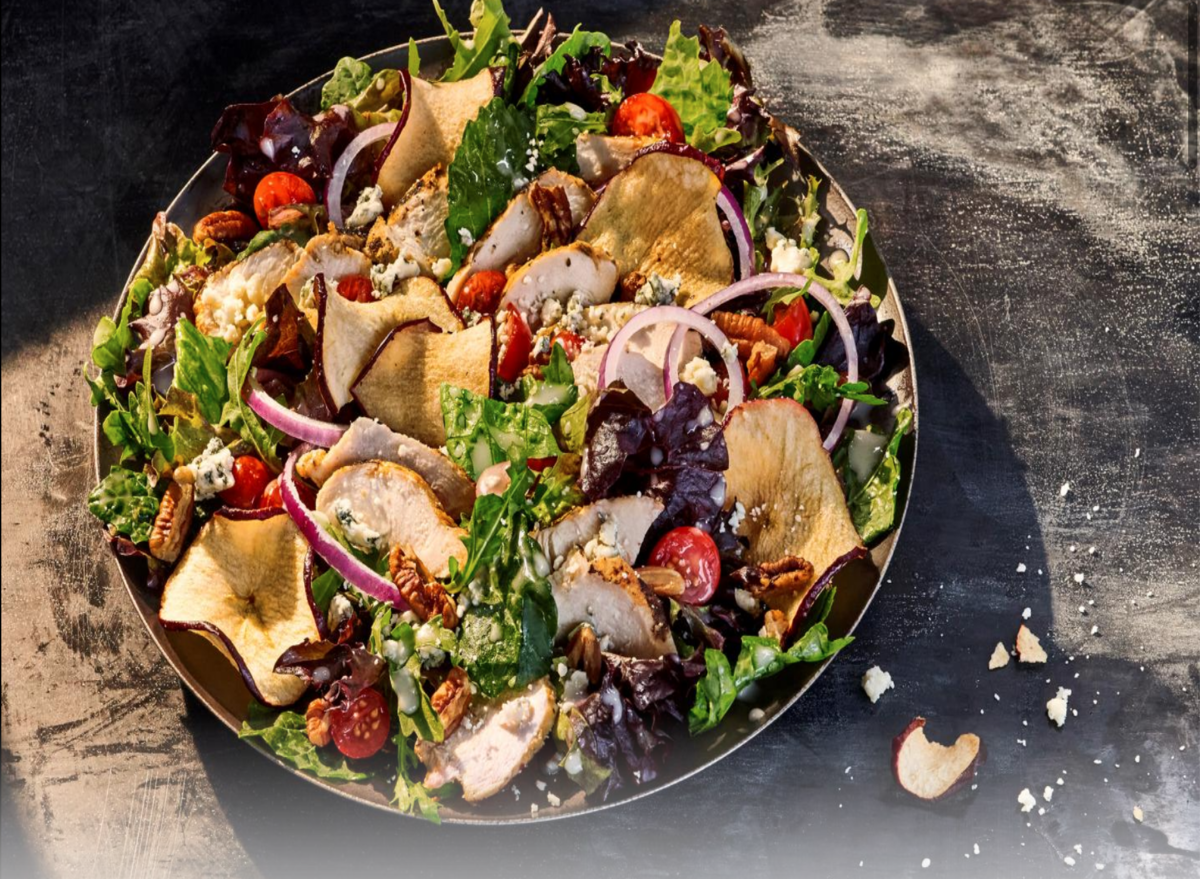 PER SALAD (WITH DRESSING)
: 560 calories, 34 g fat (8 g saturated fat), 730 mg sodium, 37 g carbs (6 g fiber, 23 g sugar), 30 g protein
The base of this salad is just like Panera's Green Goddess Cobb. It's also topped with chicken and red onions. But, there are different sources of fat: mainly, pecans and Gorgonzola cheese. The added balsamic vinaigrette ups the fat and salt content, creating a densely fatty salad in which more than half the calories come from fat. Do yourself a favor and order a half size. And if it's an option, ask for plain balsamic instead of vinaigrette which will eliminate the oil.
Panera Southwest Chile Lime Ranch Salad With Chicken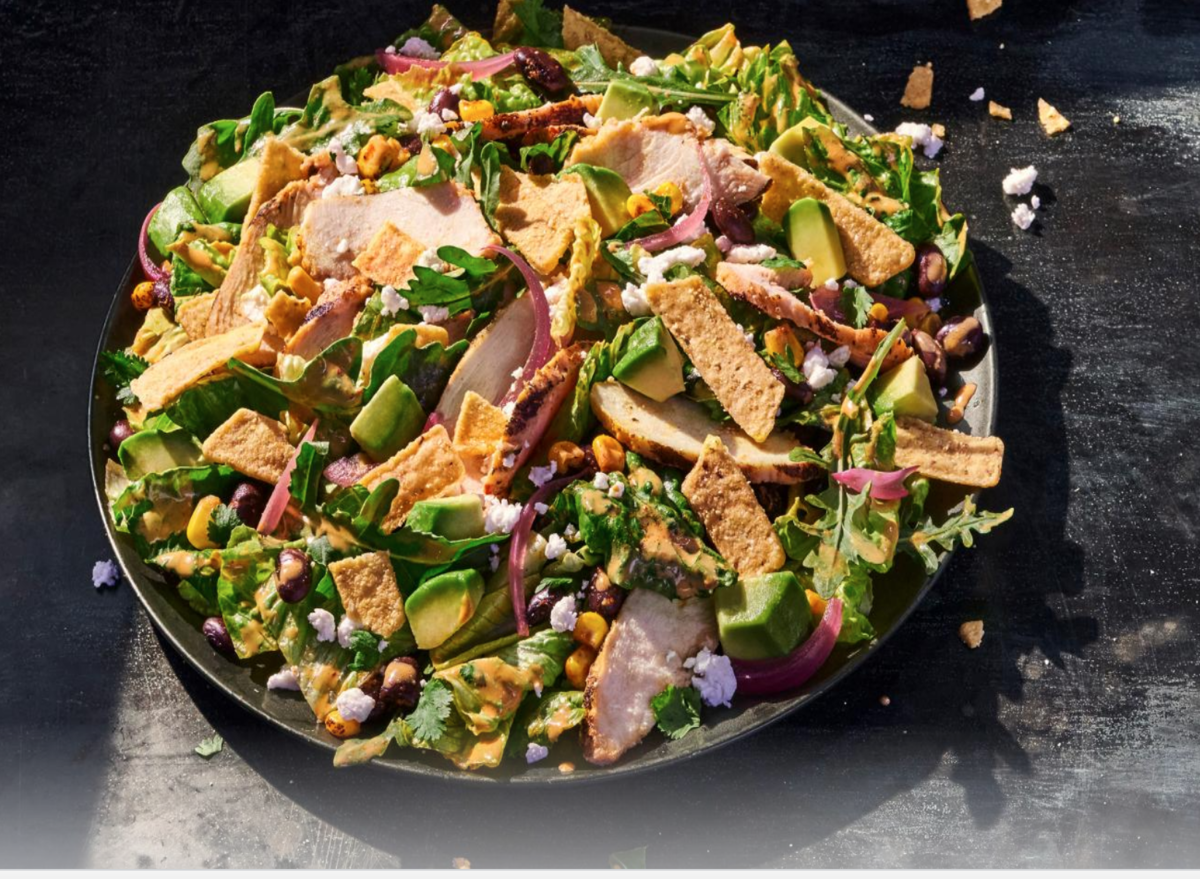 PER SALAD (WITH DRESSING)
: 670 calories, 34 g fat ( 7 g saturated fat), 1260 mg sodium, 57 g carbs (17 g fiber, 9 g sugar), 38 g protein
This chicken salad has a base of romaine, arugula, black bean and corn salsa, and masa crisps, all tossed in chile lime rojo ranch and topped with feta, fresh cilantro, and avocado. The good news here is that, unlike the other Panera salads, this one is easier to hack. To cut the fat and sodium, ask for this salad with the dressing on the side and without feta. Or—and we love Panera for offering this—you can order a half portion.
Del Taco Chicken Bacon Guacamole Salad with Ranch Dressing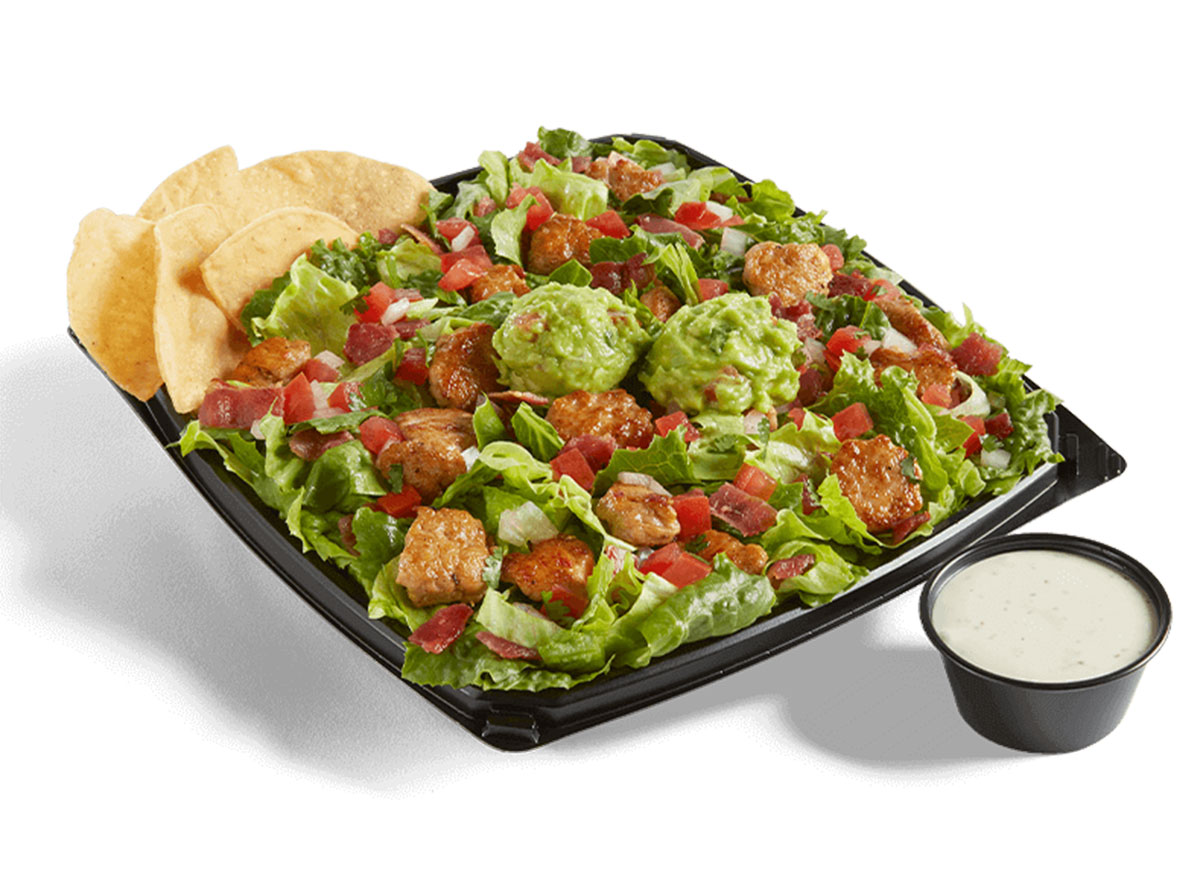 PER SALAD (WITH DRESSING)
: 620 calories, 48 g fat (8 g saturated fat), 1290 mg sodium, 25 g carbs (6 g fiber, 6 g sugar), 23 g protein
Let's be honest, nobody orders a salad with the words "chicken," "bacon" and "guacamole" strung together and expects to receive a mouthful of dietary bliss. To this Del Taco salad's credit, it has a lot of great ingredients: Freshly grilled, marinated chicken is combined with house-made guacamole, pico de gallo, chopped cilantro, and fresh house-made tortilla chips. Sounds pretty okay on the health-o-meter, yes?
Sadly, a fresh romaine and iceberg lettuce blend is unsuccessful in cushioning the blow of added crispy bacon and dairy-based dressing. The bright side is that the dressing is served on the side, and you have a choice between creamy ranch or creamy avocado Caesar. For the sake of transparency, can we lose the word "creamy" and replace it with "fattening," because that's what it's implying (dressings described as "creamy" usually contain dairy, often buttermilk or mayo). You're better off just ordering a guacamole salad without the added animal products. Bonus: guacamole is naturally creamy (yes, it's fattening, but it actually is naturally creamy, too!), so you won't miss the dressing.
Related: 20 Best Guacamole Recipes
Steak 'n Shake Garden Salad With Fried Chicken and Bleu Cheese
PER SALAD (WITH DRESSING)
: 790 calories, 53 g fat ( 7 g saturated fat), 920 mg sodium, 24 g carbs (8 g fiber, 11 g sugar), 40 g protein
The Garden Salad all by itself (shown) has 19 g of fat—more than the fried chicken that tops it. If you want to trim the calories and fat from this salad, ask for the salad without cheddar cheese, opt for grilled chicken, and choose a lighter dressing, such as Lite Italian (45 cals) or Zesty Italian (90 cals).
For more healthier options, make sure to read Healthy Meals to Order at Steak 'n Shake
Carl's Jr. Beef Taco Salad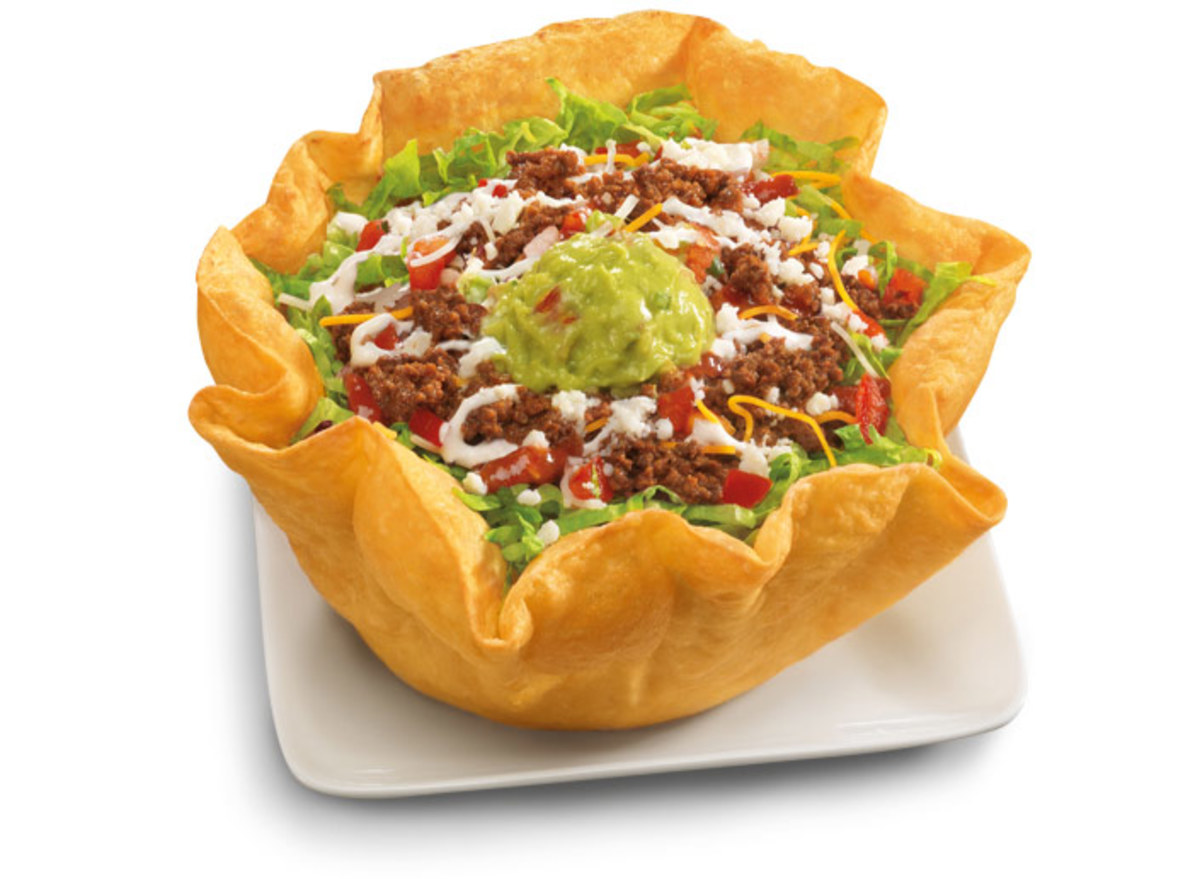 PER SALAD (WITH DRESSING)
: 890 calories, 56 g fat ( 18 g saturated fat, 1 g trans fat), 1890 mg sodium, 62 g carbs (11 g fiber, 9 g sugar), 35 g protein
This taco salad comes with your choice of Charbroiled Chicken or Charbroiled Steak or Beef as a topping. All salads at Carl's Jr. contain shredded lettuce, fresh salsa, four-cheese blend, hot sauce, guacamole, pico de gallo, crema, and cotija cheese in a crispy flour tortilla bowl.
This is a prime example of what a healthy salad is not: a bowl made of a deep-fried shell bowl, red meat, and several types of dairy (four-cheese blend, cotija cheese, and crema—was one these options not enough?). The salad packs nearly a day's worth of sodium and more than a day's worth of saturated fat. Word to the wise: this is not really a salad. It's a beef taco disguised as nutritious.
For a list of healthier options at Carl's Jr., read The Best and Worst Foods on the Carl's Jr. Menu.
Jack In The Box Chicken Club Salad—Crispy Chicken With Ranch Dressing and Croutons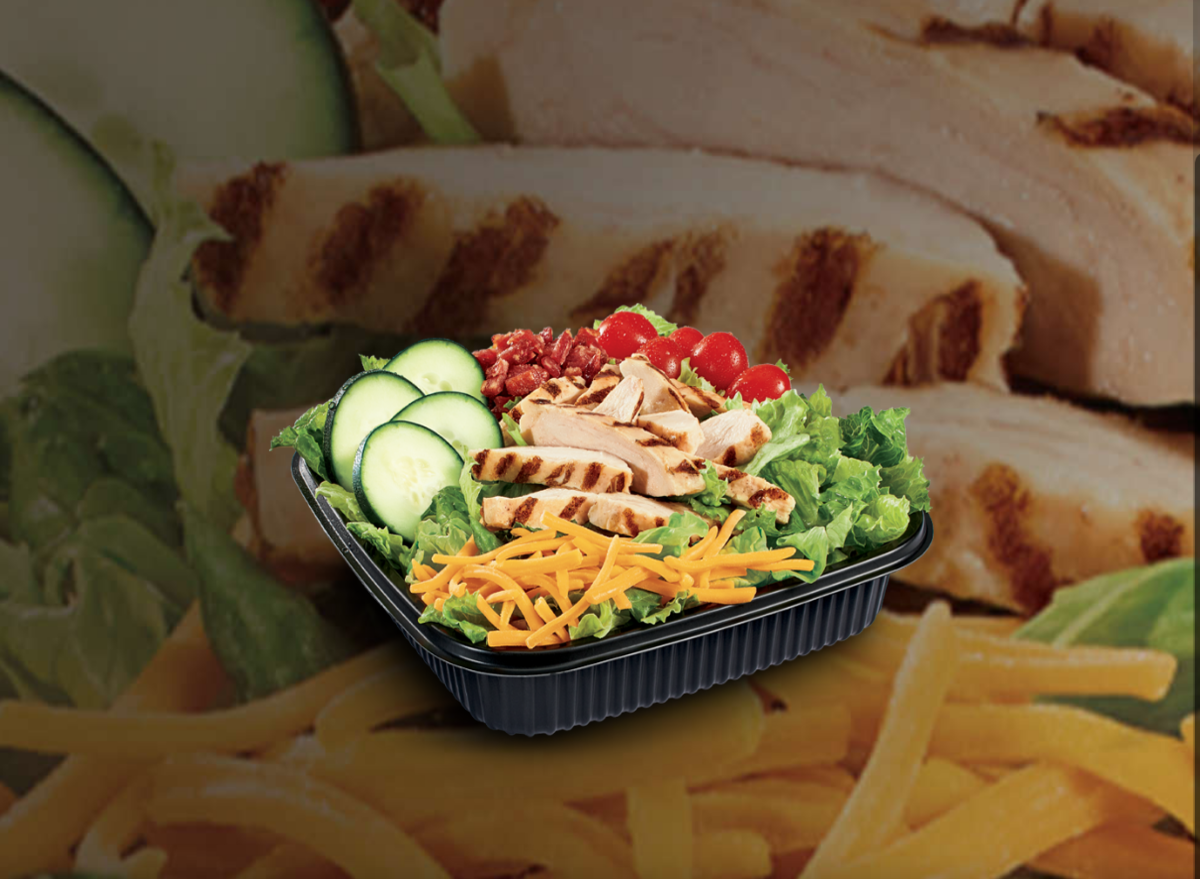 PER SALAD (WITH DRESSING)
: 830 calories, 58 g fat (14 g saturated fat), 2100 mg sodium, 42 g carbs (4 g fiber, 6 g sugar), 38 g protein
If the crispy (usually code for "fried") chicken, ranch dressing, cheddar cheese and croutons didn't tip you off, maybe the added bacon and creamy ranch dressing will be enough for you to steer clear of this fatty sandwich masquerading as a salad. This is one club you don't want to belong to.
Chick-fil-A Cobb Salad With Chick-n-Strips
PER SALAD (WITH DRESSING)
: 910 calories, 63 g fat, 1350 mg sodium, 40 g carbs (4 g fiber, 8 g sugar), 45 g protein
This is more of a chicken entree than salad. This Cobb starts with a base of mixed greens, which are topped with Chick-fil-A Nuggets (breaded and pressure-cooked), roasted corn kernels, a blend of shredded Monterey Jack and cheddar cheeses, crumbled bacon, sliced hard-boiled egg, and grape tomatoes. It's then topped with charred tomato and crispy red bell peppers. The restaurant suggests pairing this already fat and cholesterol laden salad with their Avocado Lime Ranch dressing (310 calories), but whether you do or not all depends on how much of a health gamble you want to make at the drive-thru.
Related: This Is the #1 Worst Chick-fil-A Sandwich
Burger King Chicken Garden Salad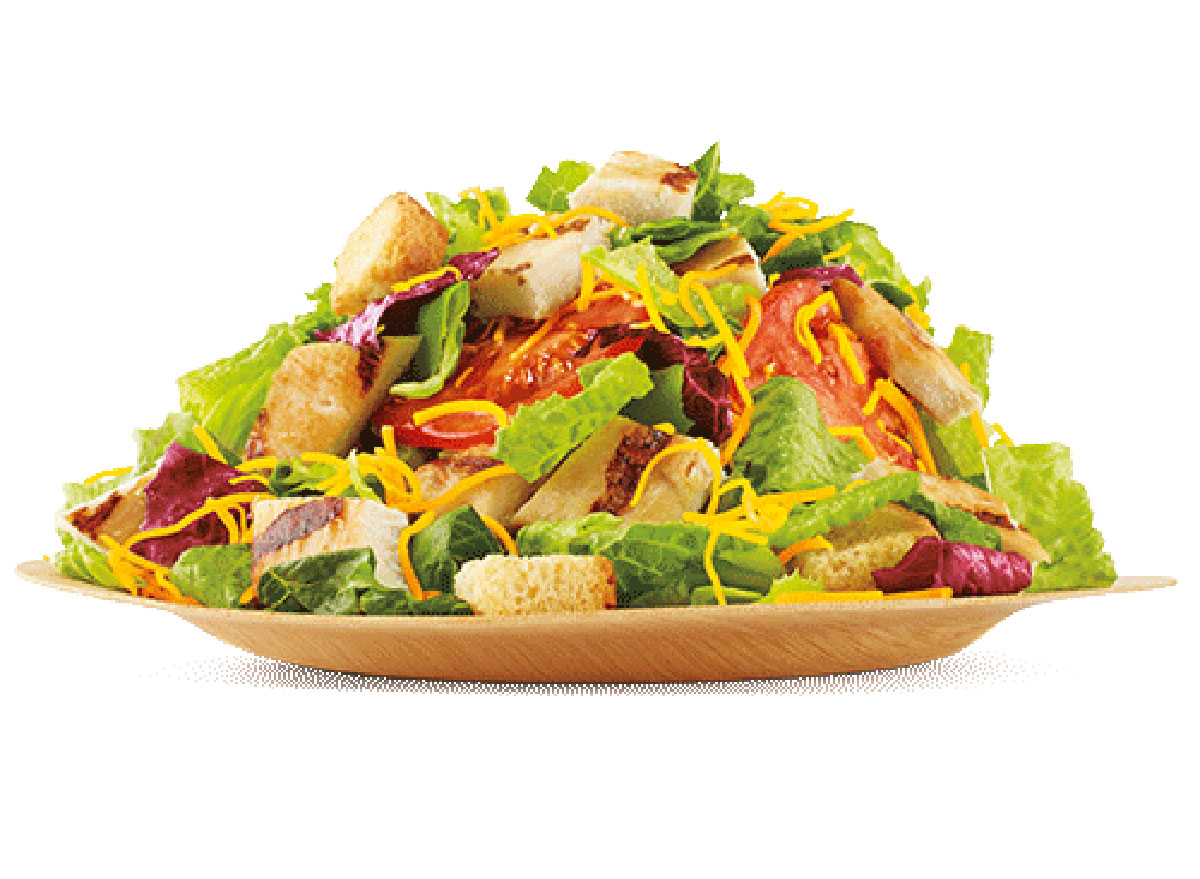 PER SALAD (WITHOUT DRESSING)
: 870 calories, 71 g fat ( 14 g saturated fat), 1605 mg sodium, 35 g carbs (3 g fiber, 7 g sugar), 27 g protein
Finally, the #1 worst fast-food salad right now can be found at Burger King. It's a mix of crisp romaine, green leaf, and radicchio lettuce, which is then topped with tomatoes, buttery garlic croutons, and shredded cheddar cheese… oh, and battered and fried chicken. The nutritional info listed does not even include the dressing, and yet, look at how much fat and sodium it has! Don't be fooled by that glossy promo image; this is what the salad really looks like. You're better off steering clear of this order, as well as all of these unhealthiest orders at Burger King.
For more, brush up on our list of the 100 Unhealthiest Foods on the Planet.