How Every State Eats Peanut Butter
From Fool's Gold Loaf to Buckeyes, there are some seriously creative peanut butter recipes out there.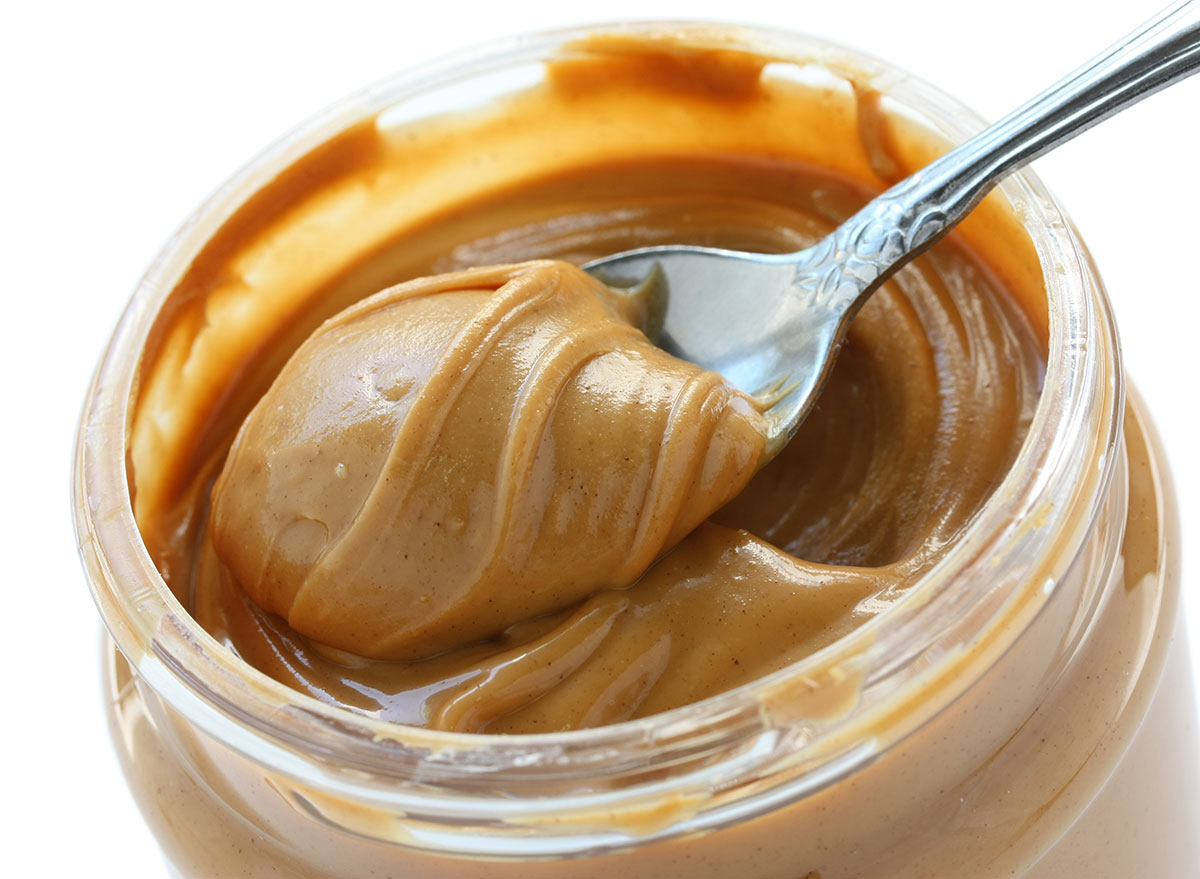 It may feel like we live in divisive times, but there's one common bond that unites us as Americans and human beings. I'm talking about, of course, peanut butter. We love peanut butter. Especially in the United States, we can't get enough of the stuff. We eat, on average, 700 million pounds of peanut butter annually, which breaks down to about 22 tablespoons per person every year. That's a heck of a lot of peanut butter and jelly sandwiches.
But we aren't all eating PB&J sandwiches, are we? This is how our differences and our diversity make us great. Peanut butter is our favorite ingredient, but how we like to consume it depends on regional preferences. In some parts of the country, people like dipping apple slices in peanut butter. In other parts, they buy Reese's Peanut Butter Cups in bulk. It's enough to make you want to sing "God Bless America" with a mouthful of peanut butter. (And depending on how big a scoop of gooey goodness you've gulped down, it will probably sound more like "Gwad Bwess Amooica." But you get the point.)
Here are some creative ways that people enjoy eating peanut butter in all 50 states. And for more, check out these 15 Classic American Desserts That Deserve a Comeback.
ALABAMA: Peanut Butter Pie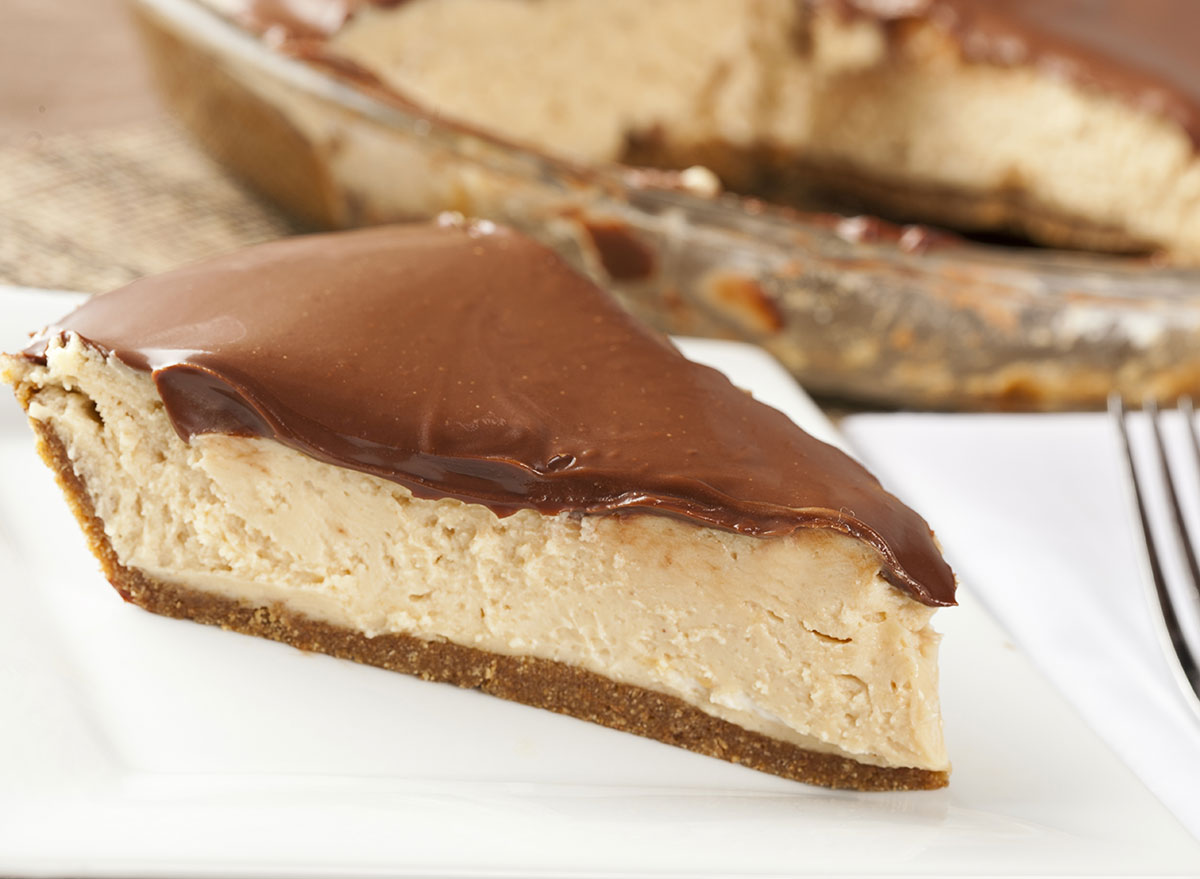 Fly & Dine magazine picked the "Heart of Dixie" for having one of the top five peanut butter pies in the country. The choices are abundant—everybody's Alabama mother makes "the best"—but most people point to Miss Myra's legendary BBQ joint in Birmingham, whose peanut butter pie recipe has become the stuff not just a local legend but a state-wide obsession. As one local says, "I would sleep on this stuff as a pillow if it wouldn't get in the way of my nightly hair-curling ritual."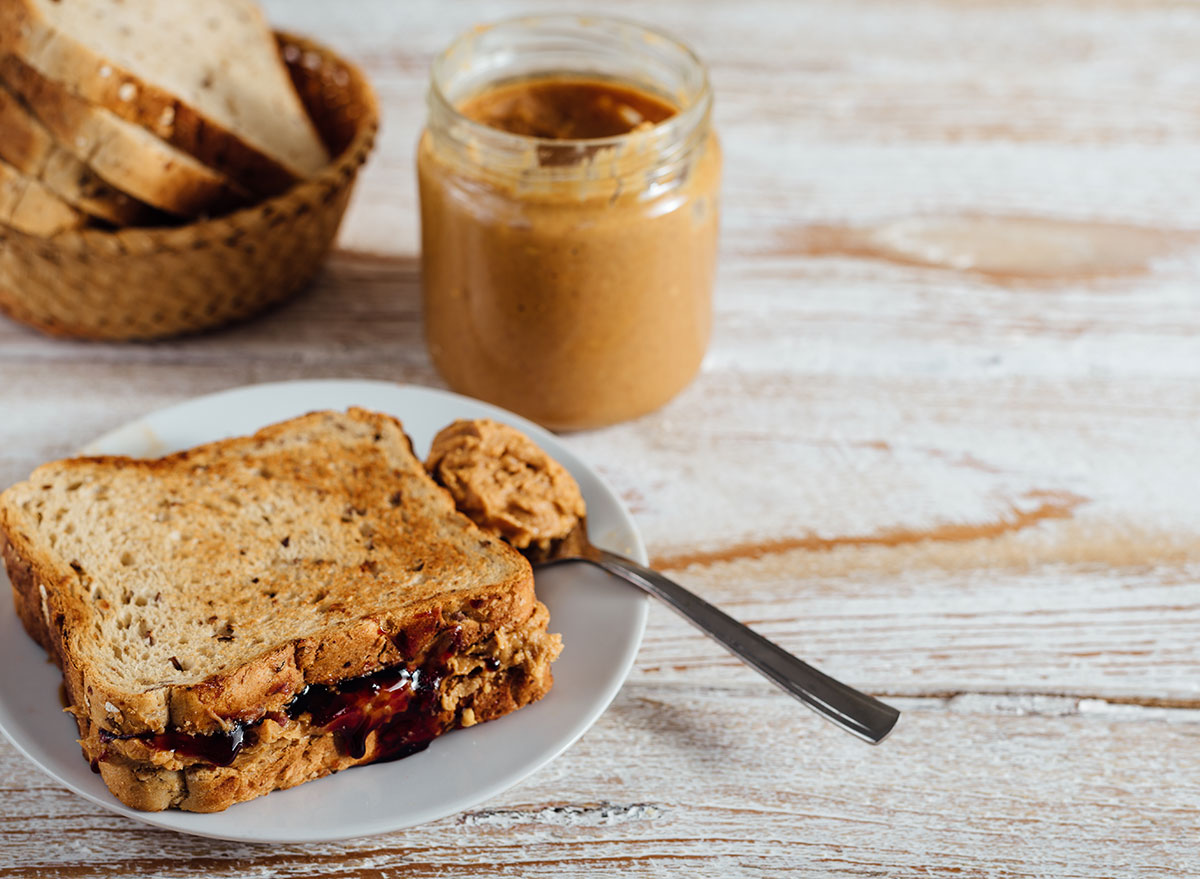 Nothing extraordinary about a plain ol' peanut butter and jelly sandwich? Don't tell that to an Alaskan. Not only do they love this lunch classic, but for students at the University of Alaska in Anchorage, a PB&J is legal tender. During late 2019, students could pay off old parking tickets by bringing in unopened jars of peanut butter and/or jelly. Two 16-ounce jars were worth $10, and five jars would get them $60 in credit.
ARIZONA: PB&J without the crust
More specifically, Smucker's "Uncrustables," which are basically peanut butter and jelly sandwiches minus the crust. The state's most ardent fan is (or was) former Arizona Cardinals football player Justin Bethel. While playing for Arizona, he tweeted about them—"You know I'll always pick you Uncrustables"—and has at least once serenaded his favorite snack while in bed.
ARKANSAS: Anything Made With Skippy
Little Rock is home to not one but three production facilities for Skippy Peanut Butter, and they produce 3.5 million pounds of peanut butter each week. Making a PB&J or peanut butter cookies with anything but Skippy in Arkansas would be unthinkable, like driving around Detroit in a German car.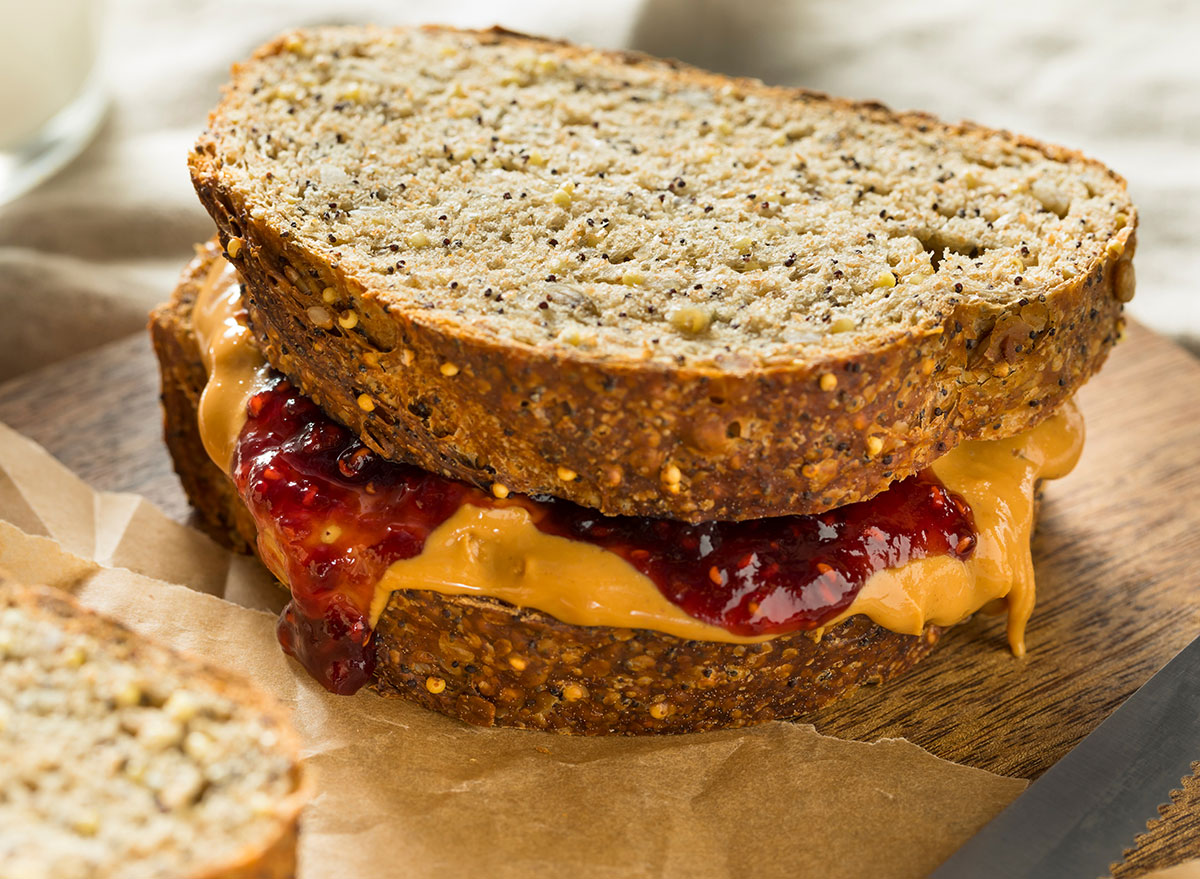 Are we really that surprised that California took something as uncomplicated as a peanut butter and jelly sandwich and made it fancy? In Los Angeles, there's PBJ.LA, a restaurant that makes epicurean PB&Js. Time magazine promised that these aren't "your grandmother's peanut-butter-and-jelly sandwiches," and with menu items like the Red Eye—which pairs espresso peanut butter with dark chocolate raspberry jam—we're inclined to believe them. Even amateur PB&J chefs are striving for perfection. Andy Scherer, a dad of five from Burbank, invented something called the Peanut Butter Pump, a device that fits on most 40-ounce peanut butter tubs and cleanly dispenses peanut butter onto bread without the need for a knife.
COLORADO: Fool's Gold Loaf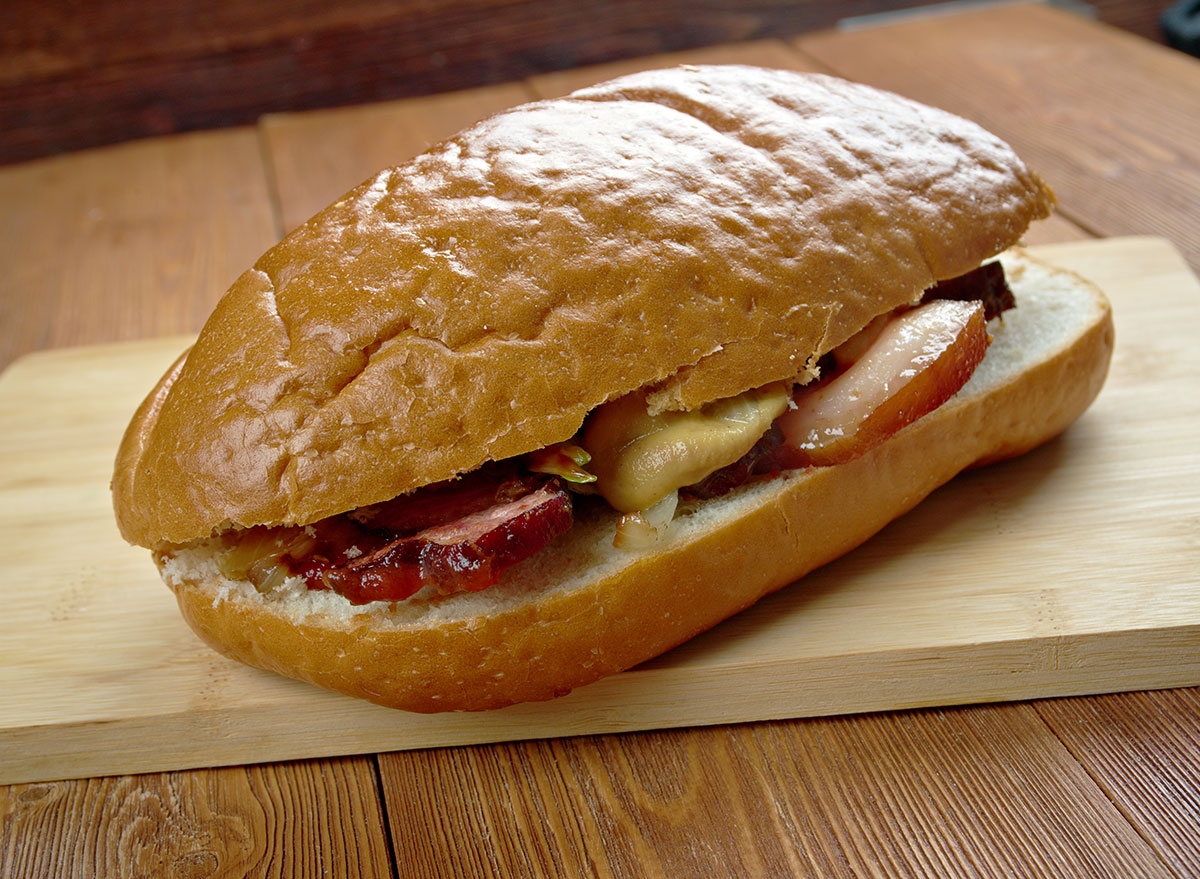 A sandwich invented by the Colorado Gold Mine Company near Denver, which involves filling a loaf of Italian bread with an entire jar of peanut butter and an entire jar of jelly, along with a full pound of bacon. It sounds… well, filling, to say the least. But it's beloved not just among Coloradans, but also Elvis Presley, who purportedly got on a private jet bound for Denver just to try a Fool's Gold Loaf.
CONNECTICUT: Peanut Butter Ice Cream
You know you're getting fresh ice cream when you look out the window of a local ice cream shop and see cows grazing on the fields. So it's probably no surprise that ice cream is Connecticut's preferred delivery source for peanut butter. And the selections in this New England state will make you dizzy from the peanut butter cravings. From Collins Mud (peanut butter ice cream with Oreo bits) at The Collins Creamery in Enfield to Llama Delight (chocolate covered in peanut butter cups and peanut butter swirls) at Robb's Farm in South Glastonbury, you may find yourself wanting to set down roots.
DELAWARE: Chocolate Peanut Butter Cake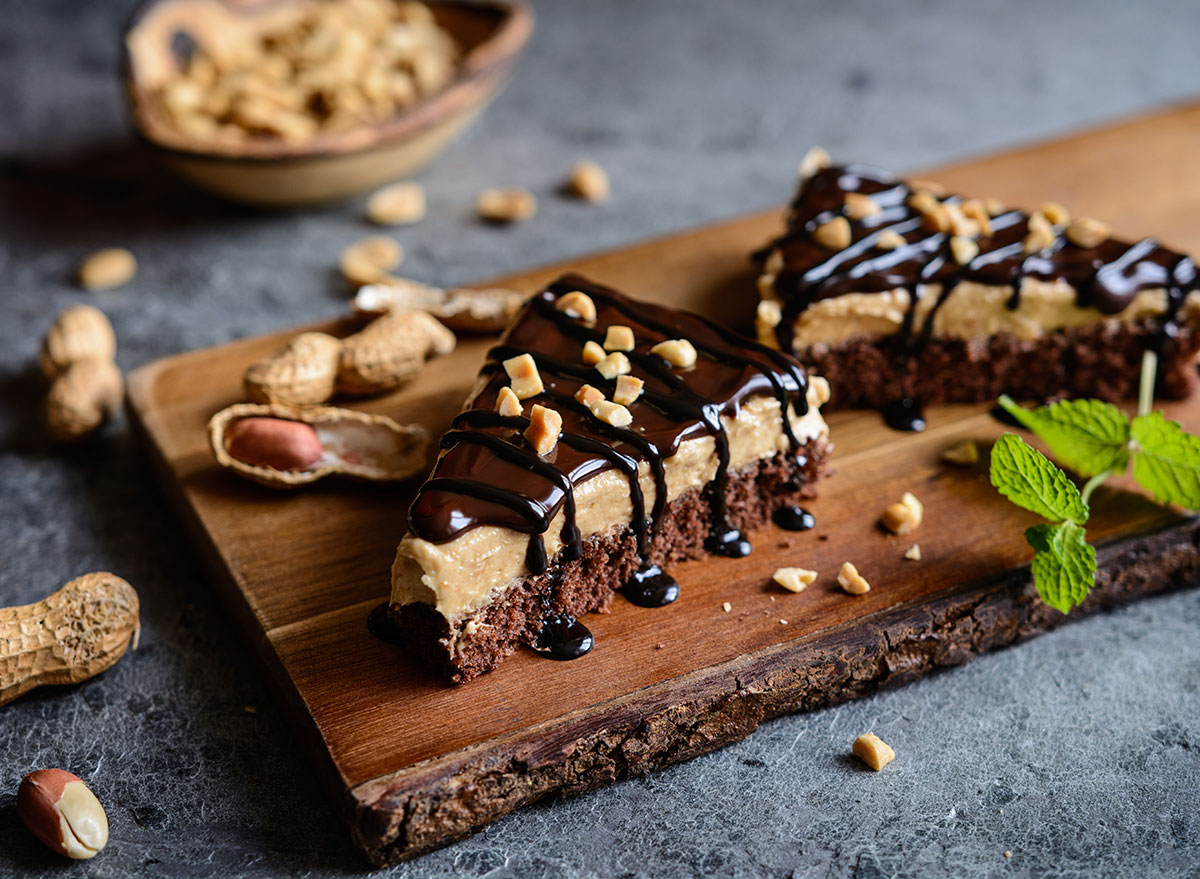 Anyone can claim they love peanut butter during Easter or Halloween; it goes with the territory. But it takes a certain zeal for the creamy spread to claim it's your favorite snack for the Super Bowl. A Google Trends report from 2019 looked at the most popular Super Bowl snacks in every state, and most of them were predictable: pizza, chicken wings, buffalo chicken dip, the usual culprits. But Delaware surprised us all by showing its enthusiasm for chocolate peanut butter cake. Hey, we want to be invited to that Super Bowl party next year.
FLORIDA: Peanut Butter and Jelly Milkshake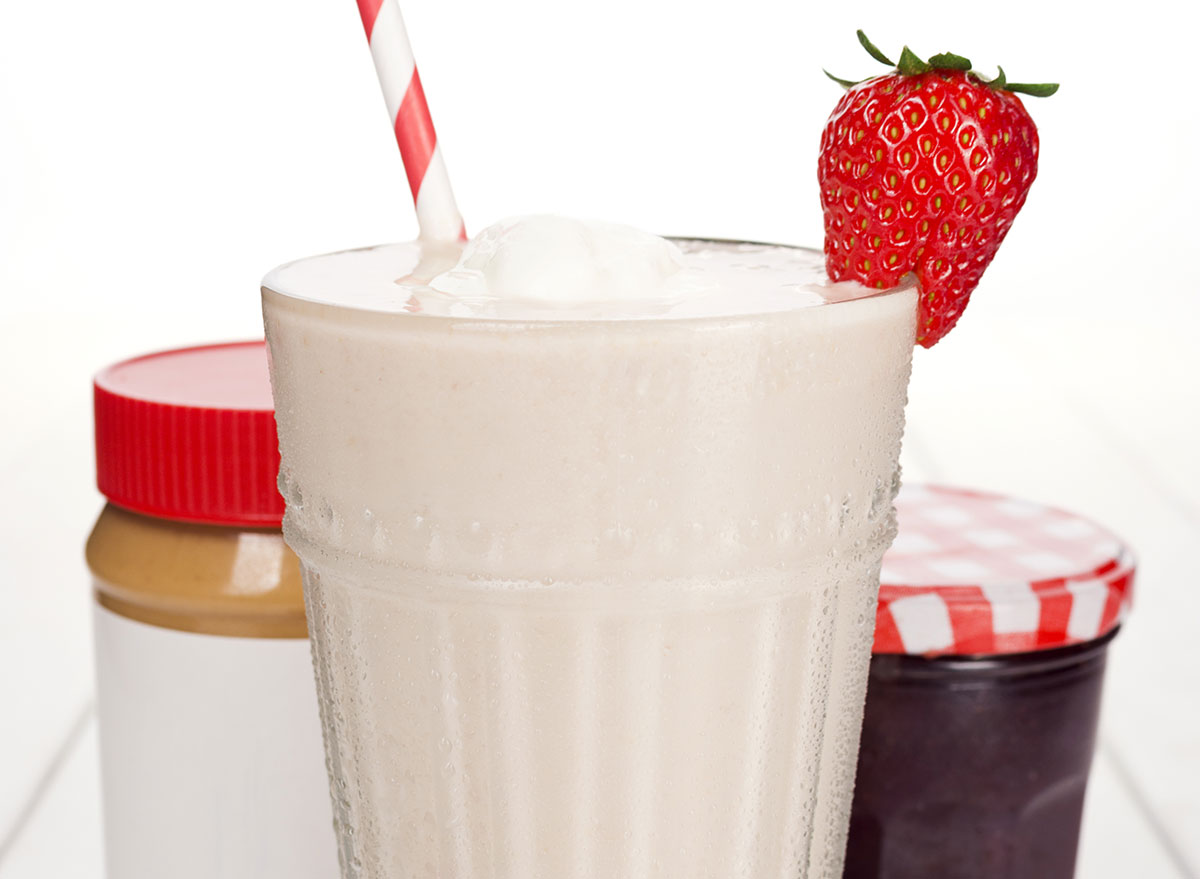 Florida can get pretty hot and humid. Luckily, the state has the perfect solution for cooling your body instantly while also giving a high-five to your taste buds. It's called a peanut butter and jelly milkshake, and since 1989, it's been one of the biggest attractions at Walt Disney World in Orlando. No, that's not hyperbole. Locals and tourists alike flock to the 50's Prime Time Café in Disney's Hollywood Studios to try one of these speciality shakes. And the park keeps improving on the formula, having recently debuted a peanut butter and jelly slush. If you don't feel like traveling to Florida to try one, you can also get a step-by-step guide to making one at home, directly from Prime Time's chef.
Whatever you think of Jimmy Carter as a president, there's no denying that the Georgia native and descendent of peanut farmers knew how to treat his dinner guests right. And that meant plenty of delicious peanut soup. Rosalyn Carter's recipe included a half cup of smooth peanut butter and a can of condensed chicken soup. If you have an extra-strong sweet tooth, you might consider making it with some sweet potato butter picked up at Fred's Famous Peanuts, a quaint country peanut stand in Helen, Georgia.
HAWAII: Coconut Peanut Butter
The islanders swear by it, with some finding the combo "so luscious, I practically wanted to use it as a moisturizer and rub it all over myself." An interesting idea, but we personally recommend keeping this peanut butter off your skin and putting it between two slices of bread, where it belongs. O,r if you're feeling more ambitious, use it in the kitchen to bake some Peanut Butter Macaroons.
IDAHO: Peanut Butter and Potatoes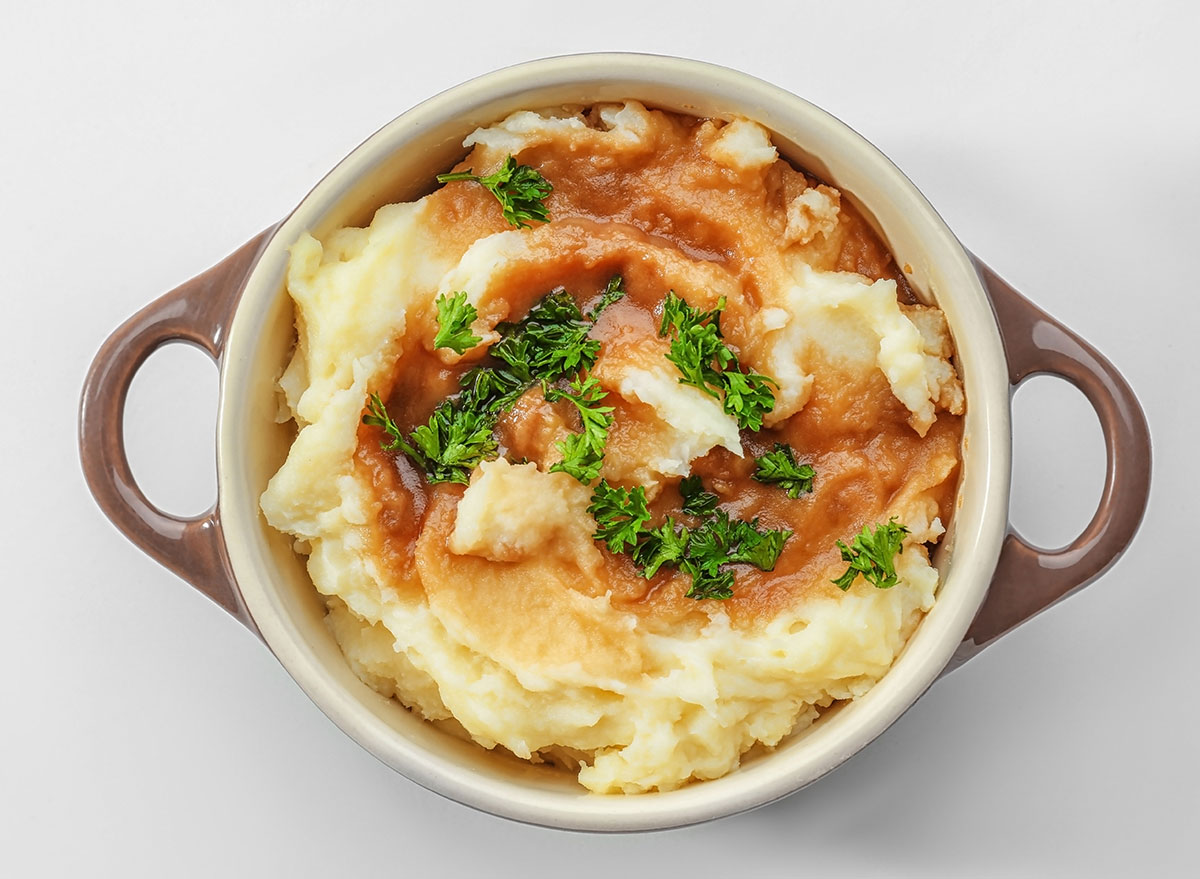 What goes better with peanut butter than… potatoes? We were more than a little dubious when we saw the Idaho Potato Commission promoting Peanut Butter Crackers, a snack that combines peanut butter and mashed potatoes, as "the perfect after-school snack." And it doesn't end there. Idahoans also aren't shy about digging into some PB&J Fries—the fries are garnished with peanuts and served with a potato butter-based dipping sauce—and old-fashioned potato candy, which has been an Idaho delicacy since the Depression era.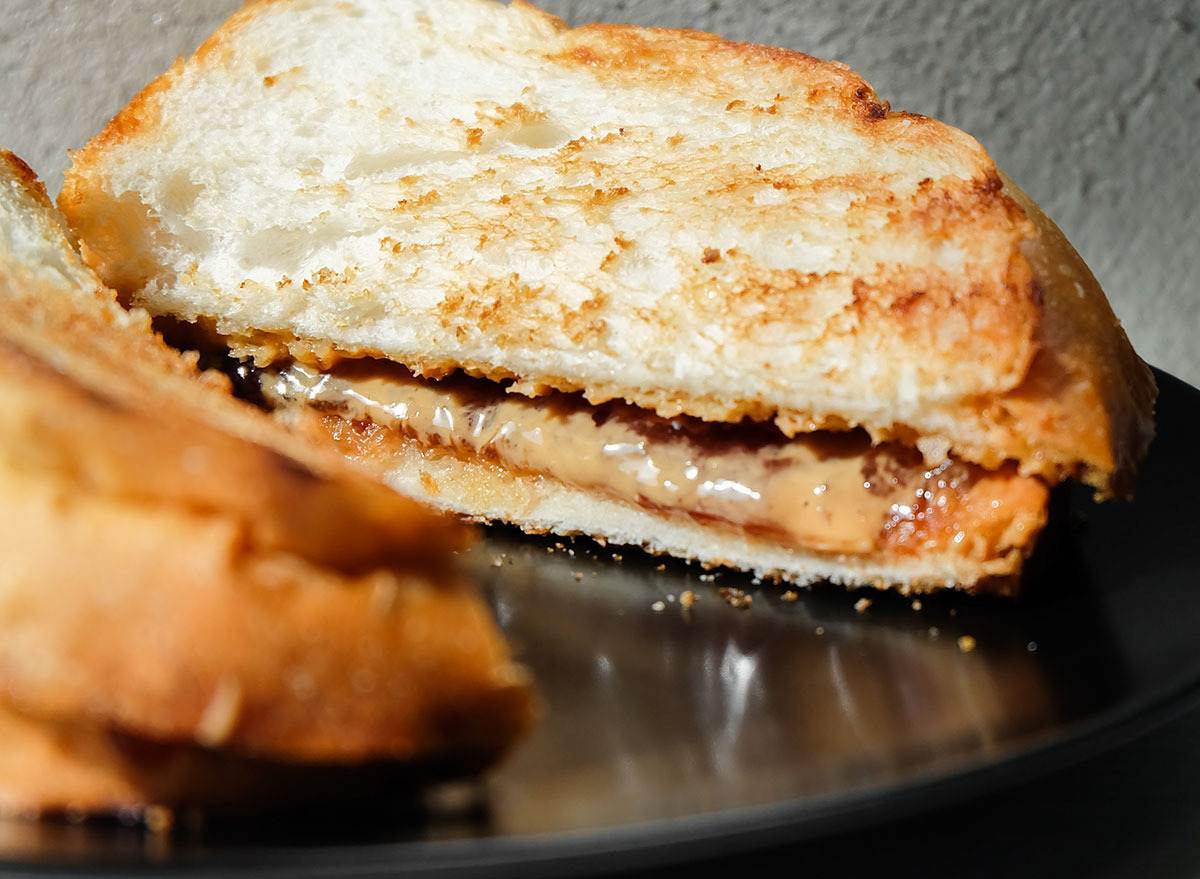 In Chicago, people take peanut butter and jelly very seriously. It's not just a quick lunch for school kids but something for adults with a sophisticated palate. As one Chicago Tribune writer put it, they demand a sandwich with "better bread, organic peanut butter, (and) artisan jelly or jam. Set the table with china, silver and crystal and swap out the kid's grape juice for some real fruit of the vine, wine." Down in southern Illinois, PB&Js are so revered that high school students at one school are provided unlimited free sandwiches during school hours all day long.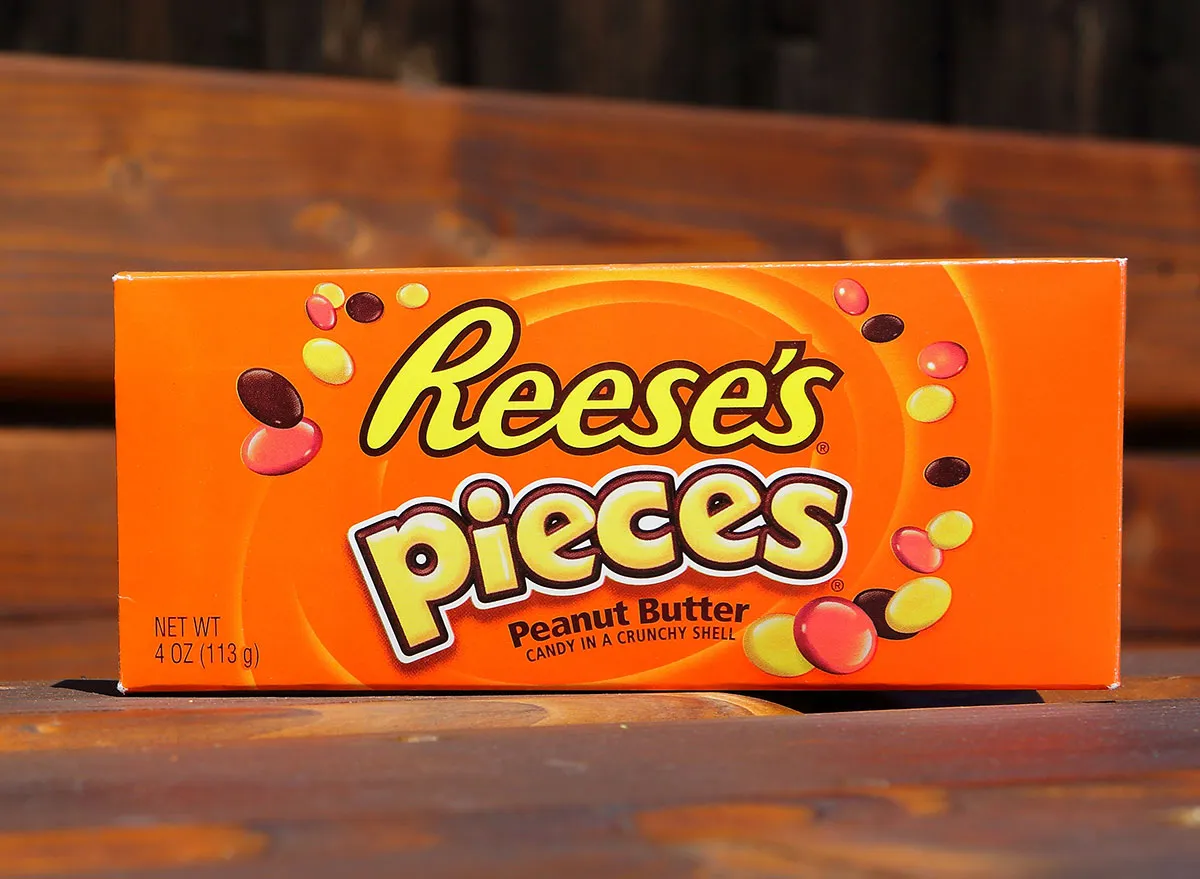 Reese's Peanut Butter Cups may get all the attention in the rest of the country, but in Indiana they have a preference for the Pieces over the Cups. Or at least according to an Influenster poll, which found that the Hoosier state craves their peanut butter snacks E.T.-style. And speaking of, we find it egregious that Steven Spielberg's alien movie was set in California and not Indiana, especially if Reese's Pieces was going to be such an important plot point. Do your research, Mr. Spielberg!
IOWA: Fried PB&J on a Stick
There are 69 different foods you can eat on a stick at the wildly popular annual Iowa State Fair, including bologna, corn dogs, cotton candy, and carmel apples. But one of the most popular, if only because it's so wonderfully strange, is the deep-fried peanut butter and jelly on a stick. Among the thousands who have indulged over the years is senator Cory Booker of New Jersey, who visited last year and tried the PB&J on a stick for the very first time. It took him just one bite before immediately ordering another. As he told reporters, "It's a little slice of heaven."
KANSAS: Peanut Butter Sheet Cake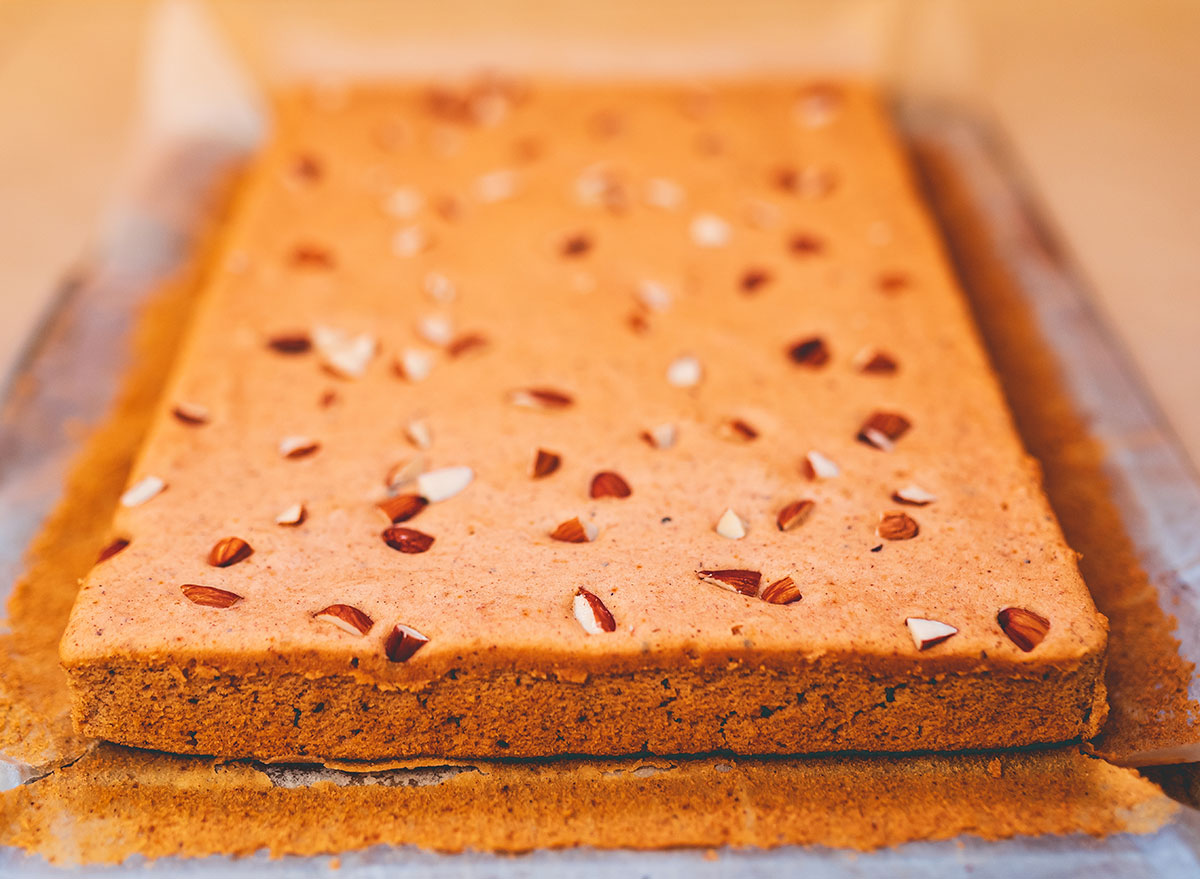 Kansans don't just love peanut butter, they're pretty sure they invented it. That's why when it comes to peanut butter recipes, simple is always better. You don't want to conceal all that flavor with a bunch of fancy city jams and jellies. That's why peanut butter sheet cake is the number one choice of hard-working Kansas farmers. Our favorite recipe comes from the cookbook Meals from the Field, which the Kansas born-and-raised author passes on the peanut butter sheet cake secrets of her grandmother.
KENTUCKY: Peanut Butter Fudge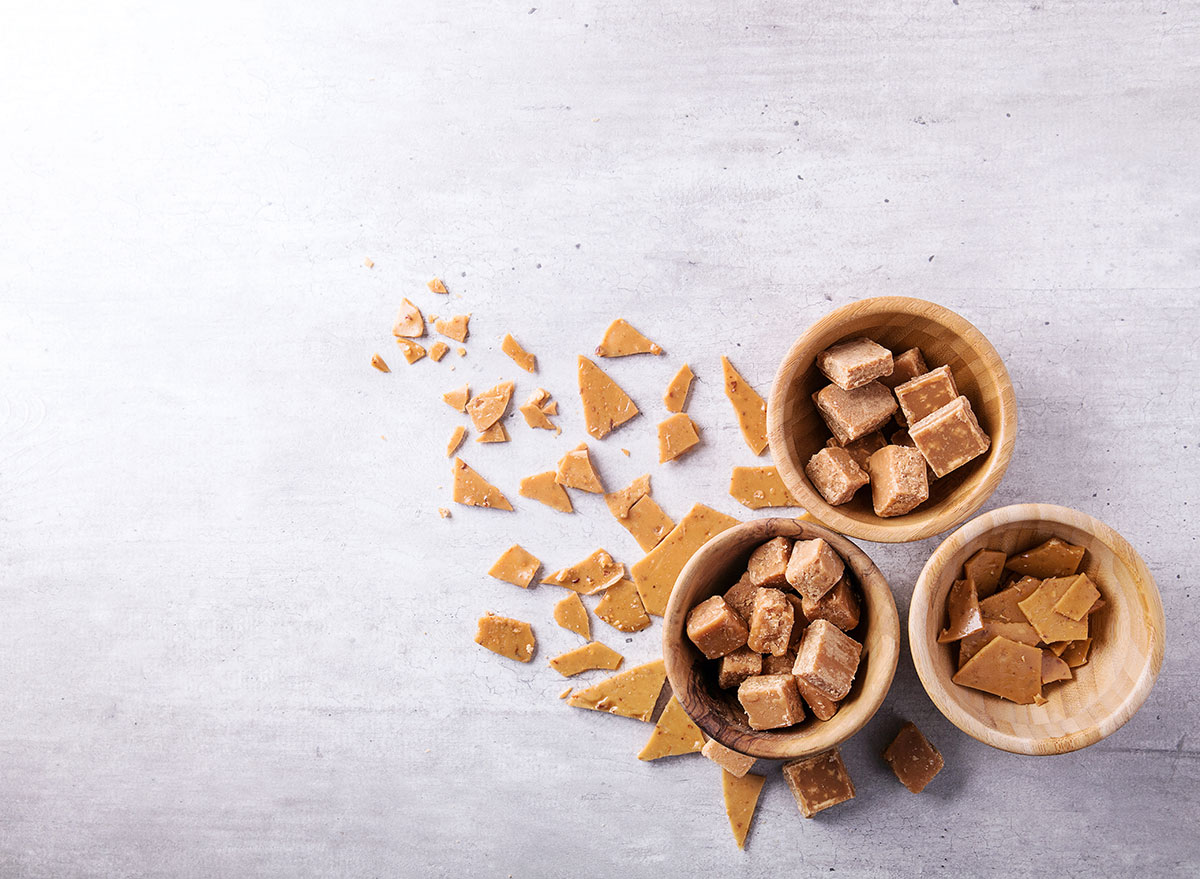 Everyone from New York Times writers—who recall that the recipe is always made with Jif and makes a good "peace offering"—to Lexington Herald-Leader readers—who fondly remember making peanut butter fudge in a world before candy thermometer and microwave ovens—have fond memories of Kentucky's most delicious contribution to the culinary arts (besides fried chicken and derby pie).
LOUISIANA: Peanut Butter Beignets
New Orleans may be famous for their jambalaya, gumbo and po-boys, but peanut butter lovers know that nothing tastes more like a night in the French Quarter than a peanut butter and jelly beignet. For the uninitiated, a beignet is basically a French donut covered in icing sugar and served hot. You can find them all over the state, but we have a soft spot for Loretta's Authentic Pralines, where the bakery makes peanut butter beignets that will, according to one local critic, "blow your taste buds away."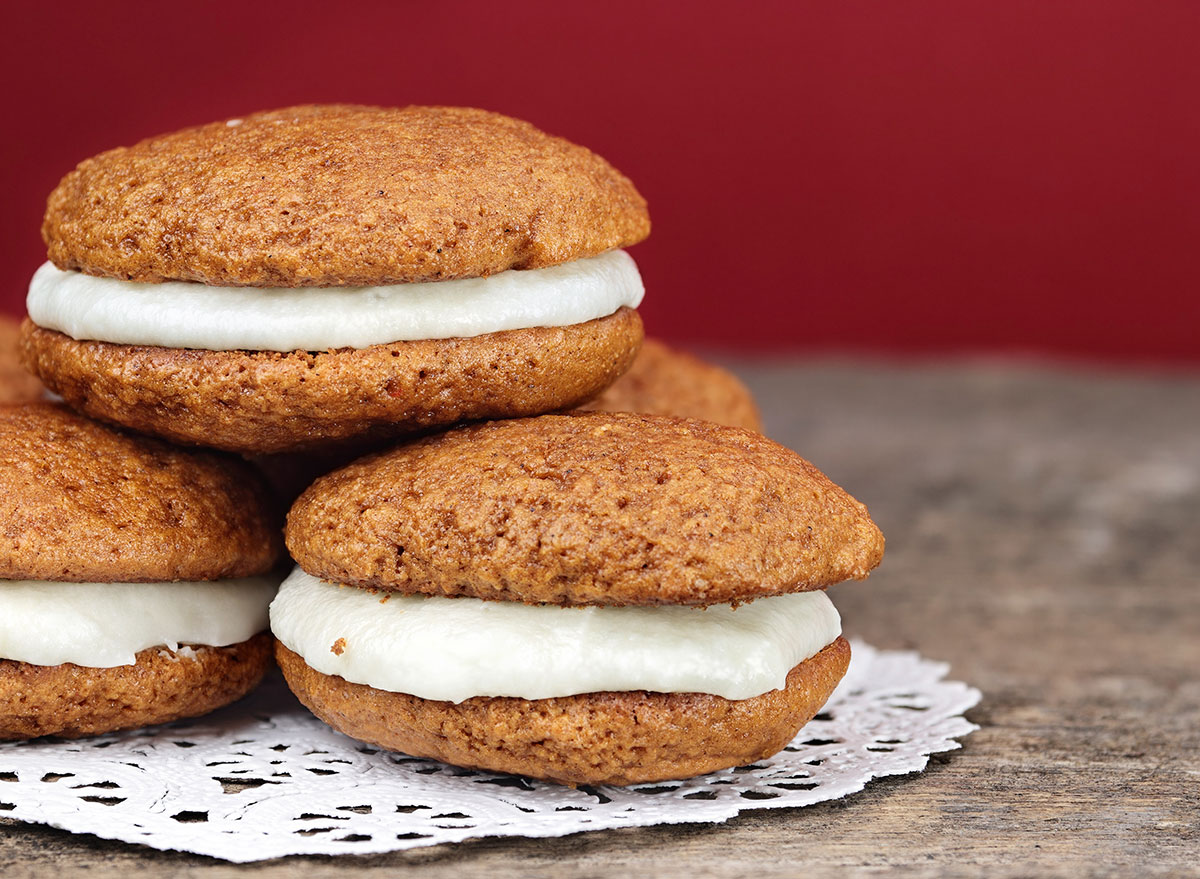 Is it a cake or a cookie? A sandwich or a pie? It's all of the above and more. The Whoopie pie wasn't born in Maine—the original recipe belongs to the Amish in Western Pennsylvania—but it's been a huge seller in the Pine Tree State since 1925, when it was first introduced at Labadie's Bakery in Lewiston, Maine. The locals crave it so much that it's become the Official State Treat of Maine. Although it comes in a few other flavors, the peanut butter filling is obviously the only sensible choice.
MARYLAND: Peanut Butter Saltwater Taffy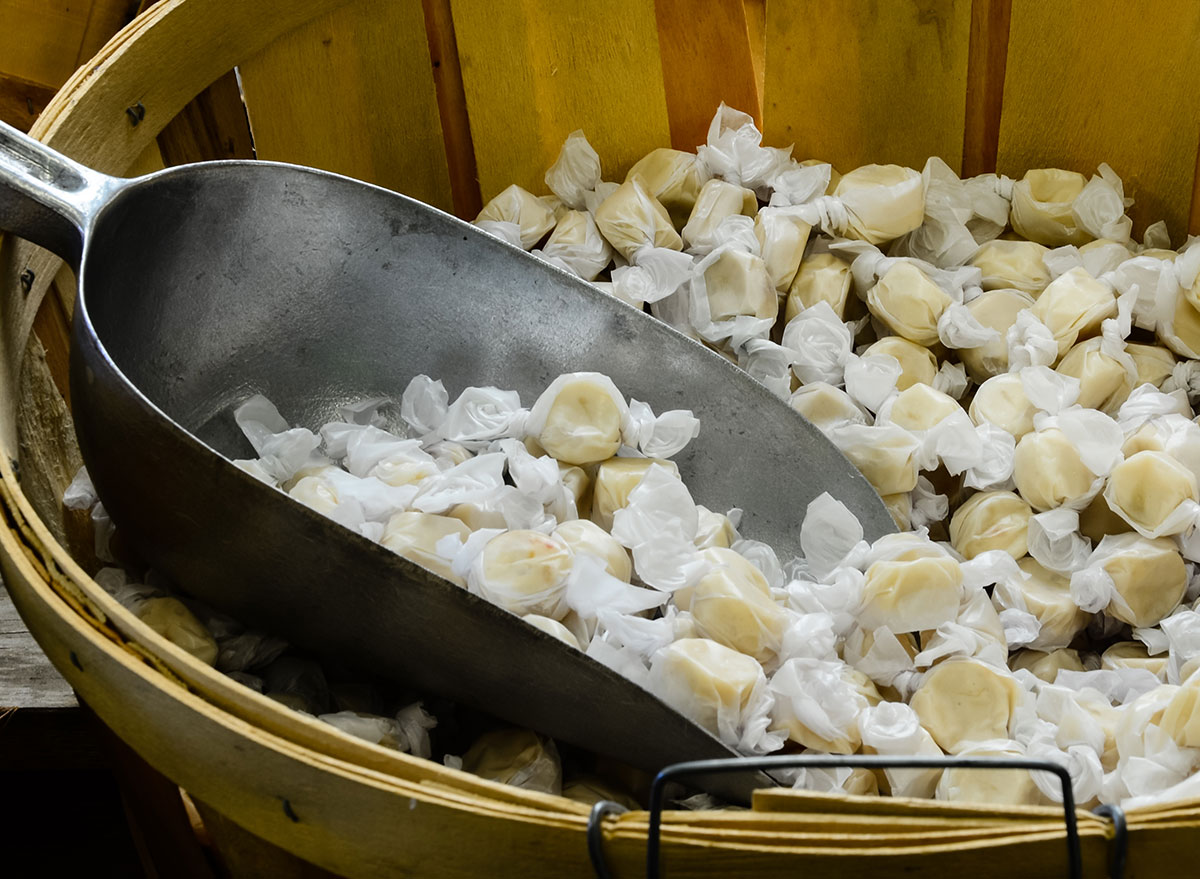 Dolle's Candyland has sold treats to kids and adults alike on the Baltimore Boardwalk since 1910, and saltwater taffy has always been one of their most popular items. "(It's what) people come to the shore for," Mr. Dolle told the Baltimore Sun. And the most popular flavor? According to Dolle, it's peanut butter. For every 1200 pounds they make, at least 200 pounds of it are peanut butter.
MASSACHUSETTS: The Fluffernutter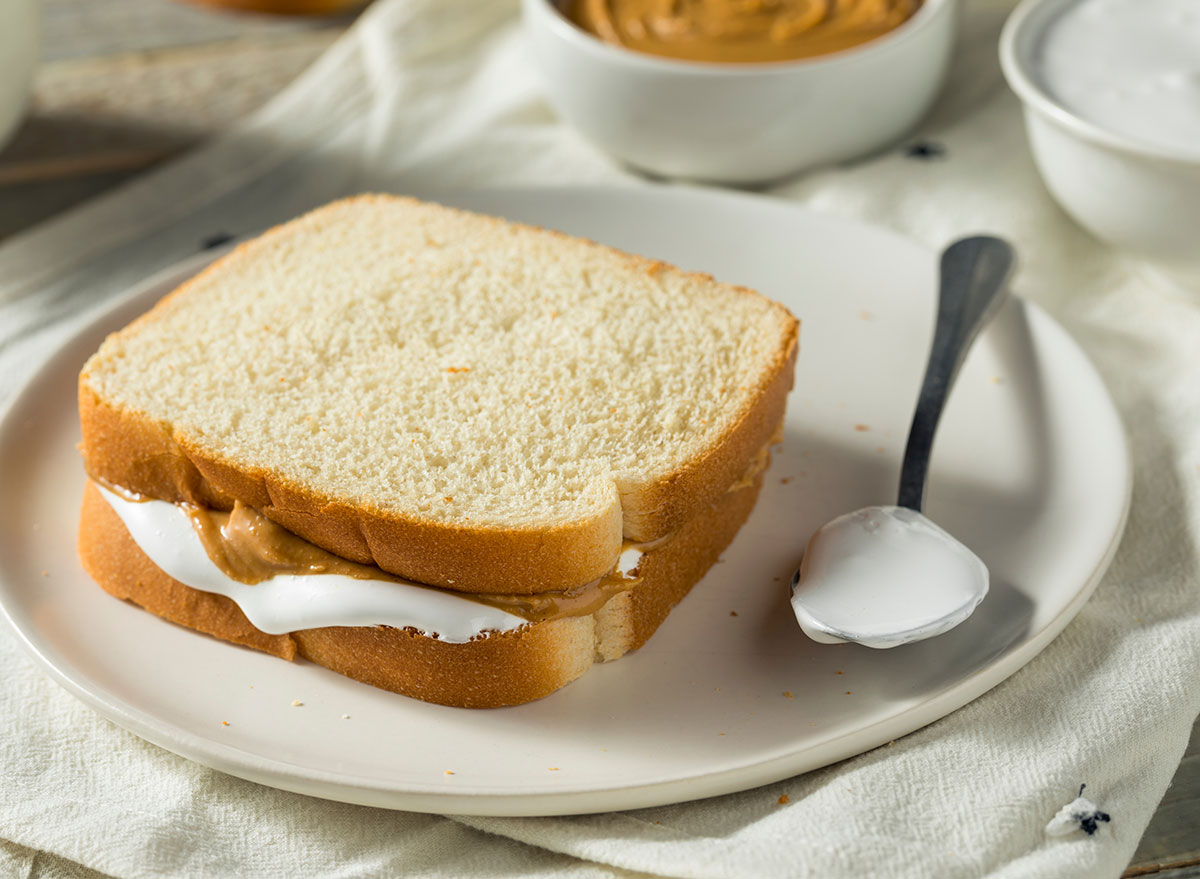 The recipe includes two pieces of white bread, lots of yummy peanut butter, and a heaping portion of "fluff," or Marshmallow Fluff, a gooey marshmallow creme that's been manufactured in Lynn, Massachusetts since 1920. It's a New England staple, and the sandwich is so adored by locals that they've given it a holiday, National Fluffernutter Day (October 8).
MICHIGAN: Apple and Peanut Butter Sandwiches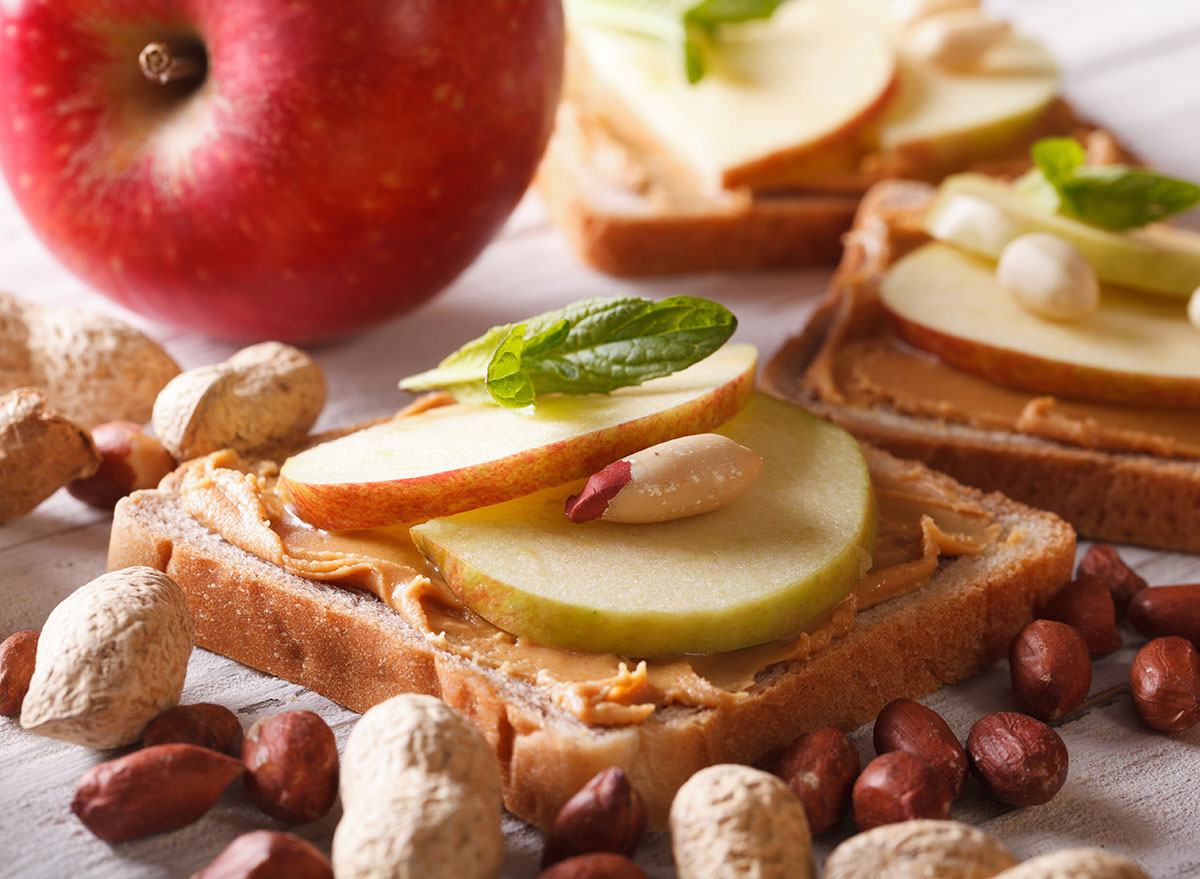 Michigan is proud of their apples, as well they should be. With more than 11 million apple trees, they're the third-largest apple producing state in the nation. Combine some fresh Michigan apple slices with a few overflowing tablespoons of peanut butter and you're officially hosting a party for one in your mouth. We can personally recommend this apple and peanut butter sandwich, served warm and open-faced on an English muffin.
MINNESOTA: SPAM and peanut butter sandwiches
Hormel Foods Corp, the makers of SPAM, is based in Austin, Minnesota, so it's probably no surprise why the locals would have a fondness for this combo. Also, Hormel bought the Skippy brand in 2013 for a cool $700 million, so it's only a matter of time before we're all adding SPAM to our PB&Js. Even critics are coming around. "You'll be surprised—maybe even shocked—at how well SPAM goes together with peanut butter and jelly," said the A.V. Club. "Try it once, and you'll try it a hundred more times."
MISSISSIPPI: Mississippi Mud Pie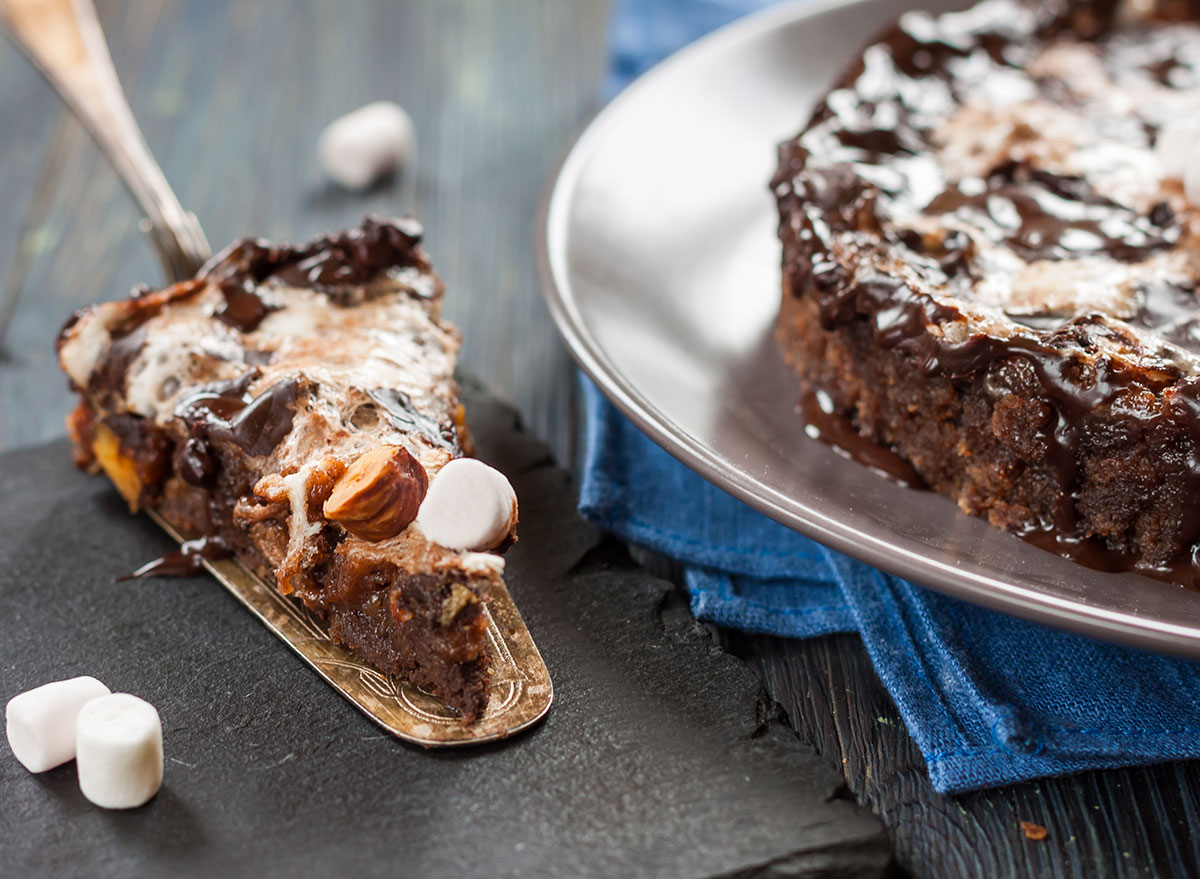 The traditional recipe is nothing but chocolate, but the state's peanut butter lovers weren't about to let chocolate get full ownership of this Mississippi mainstay. The name comes from the gooey interior, which can be such a funky-looking mess that it reminds people of the Mississippi River. That may not sound appetizing, but you'll change your mind once you dig into a slice of chocolate, marshmallows, pecans, and creamy peanut butter. It'd be an EPA disaster anywhere but on your plate.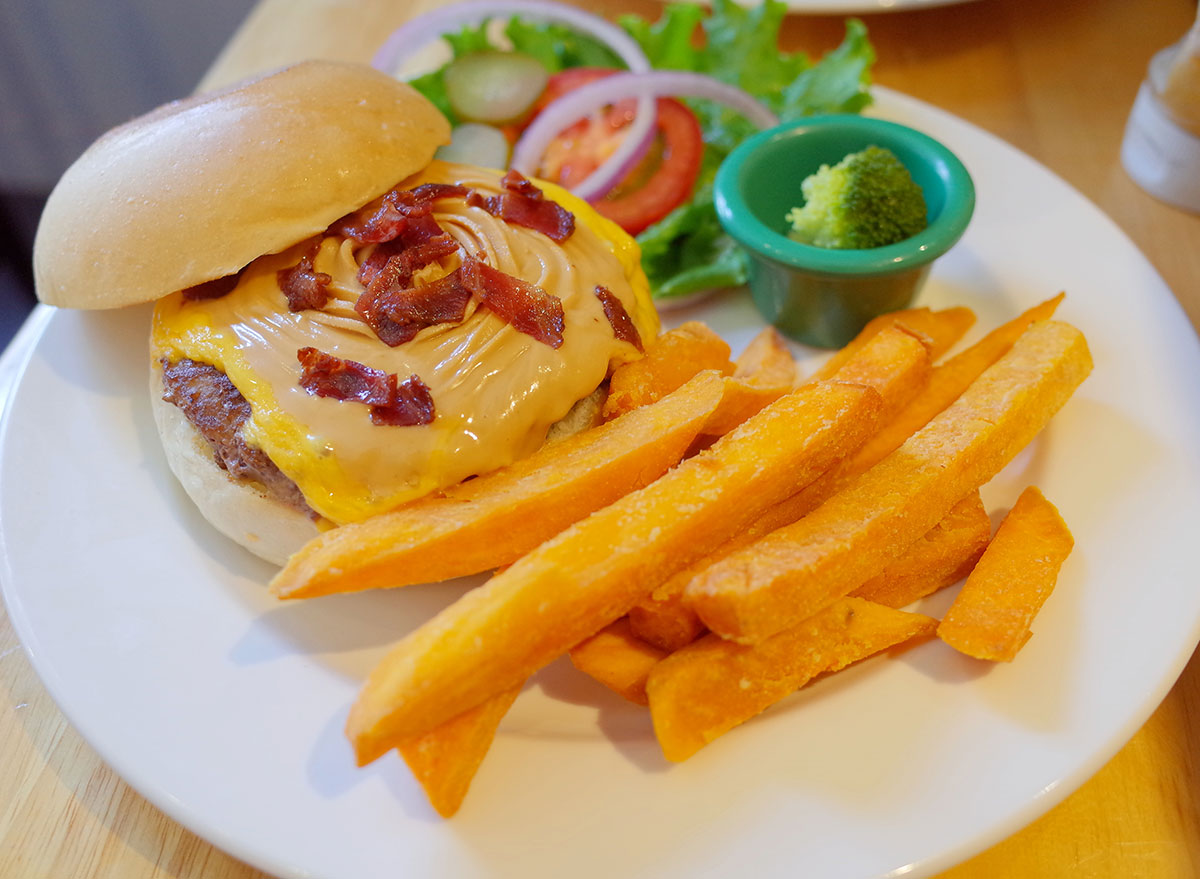 A hamburger covered in peanut butter was first dreamed into existence at The Wheel Inn, a burger joint just outside Kansas City. They called it the Guberburger and it came with all the usual burger toppings—mayo, lettuce, tomato—with one surprising addition: peanut butter. The Wheel Inn has long since gone out of business, but as Gastro Obscura says, "local joints have taken it upon themselves to keep the legacy alive."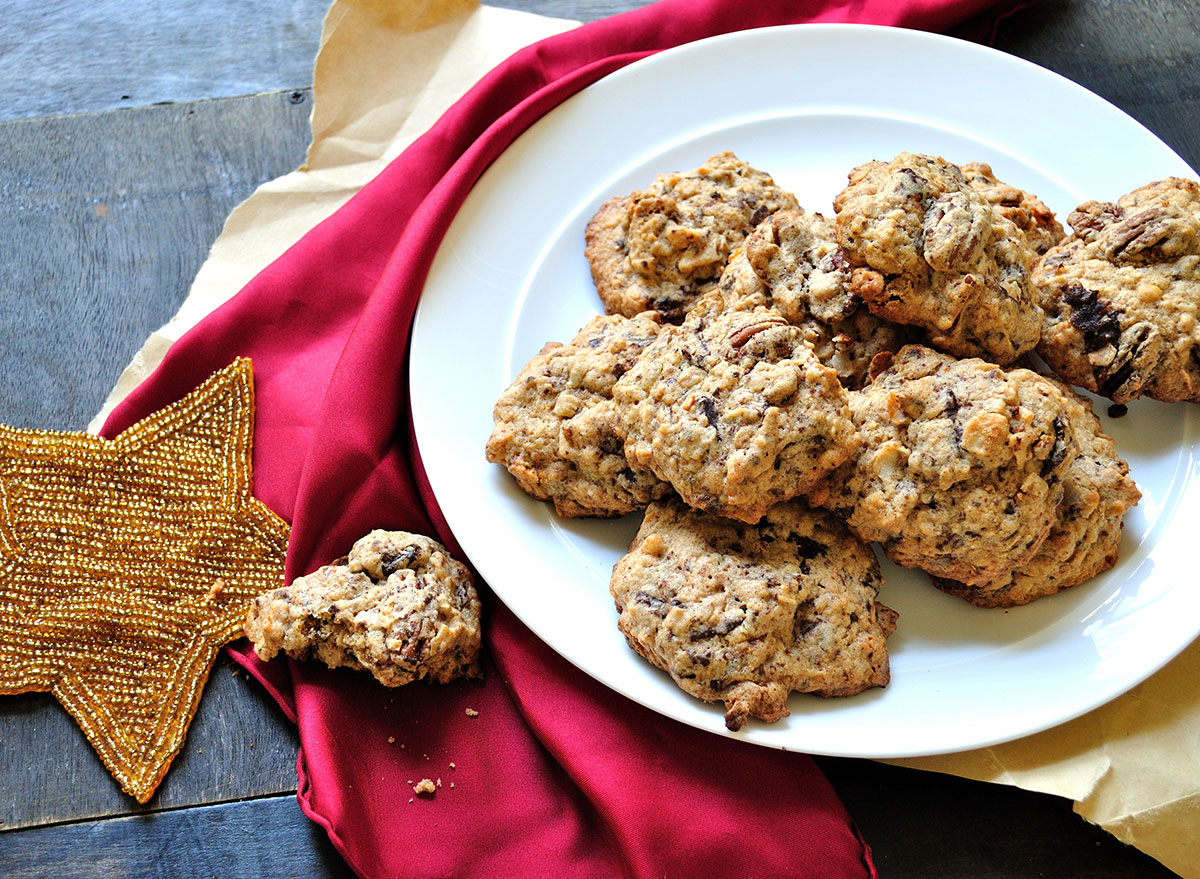 Were Cowboy Cookies technically invented in Texas? That's debatable. But they've become Montana's favorite cookie, and although the original recipe doesn't include peanut butter, true cowboy cookie aficionados are starting to come around. Recipe after recipe puts peanut butter front and center, and it's enough to make us want to load up our saddles with a dozen and ride off into Big Sky Country.
NEBRASKA: Peanut Butter Kolaches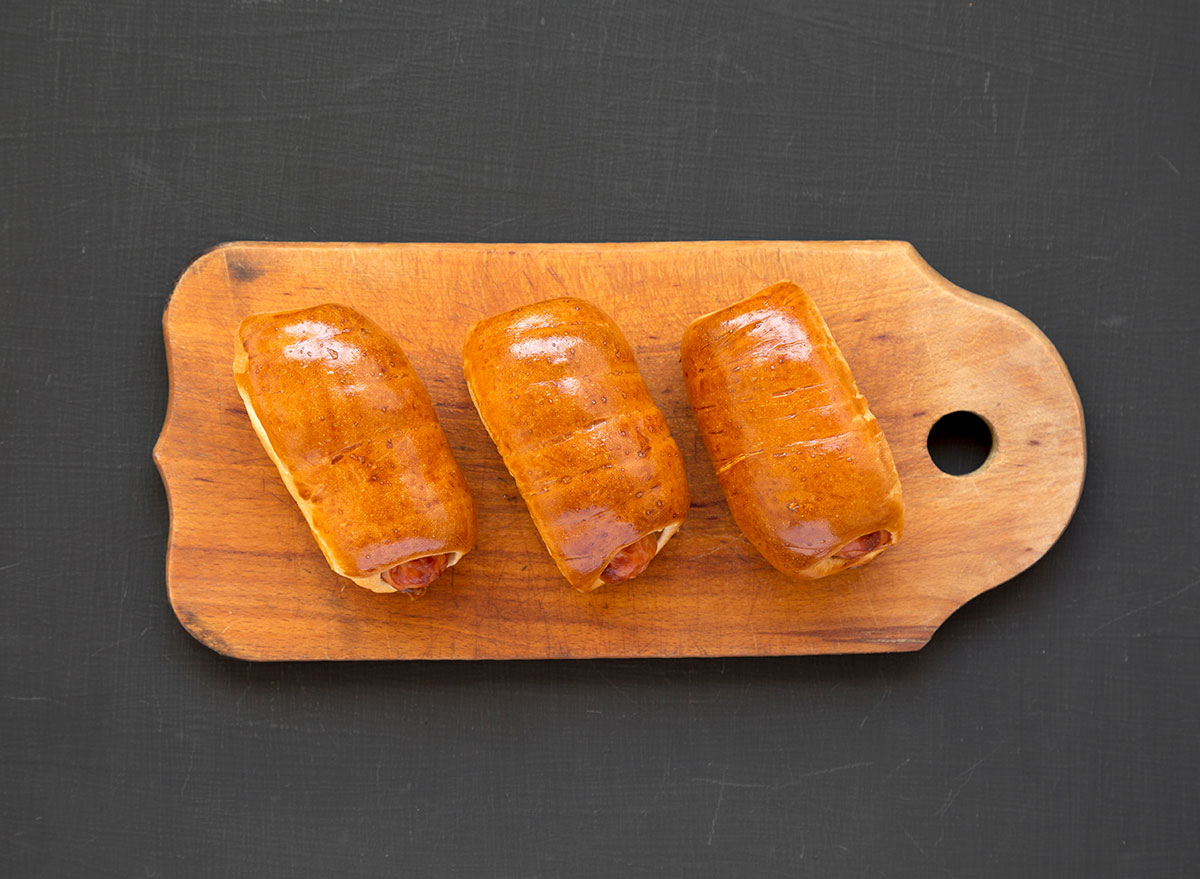 These traditional Czech pastries, brought by immigrants to Nebraska, are baked rolls with a sweet filling, like chocolate, jelly, or anything else you'd find in a pie. Obviously peanut butter is the only sensible choice, as you'll discover in bakeries and home kitchens across the state. Verdigre, Nebraska, a town of about 500 that calls itself the "Kolach Capital of the World," hosts a summer festival called Kolach Days which features parades, polka, and a kolach-eating contest that will leave you feeling bloated and satisfied.
NEVADA: All-You-Can-Eat Peanut Butter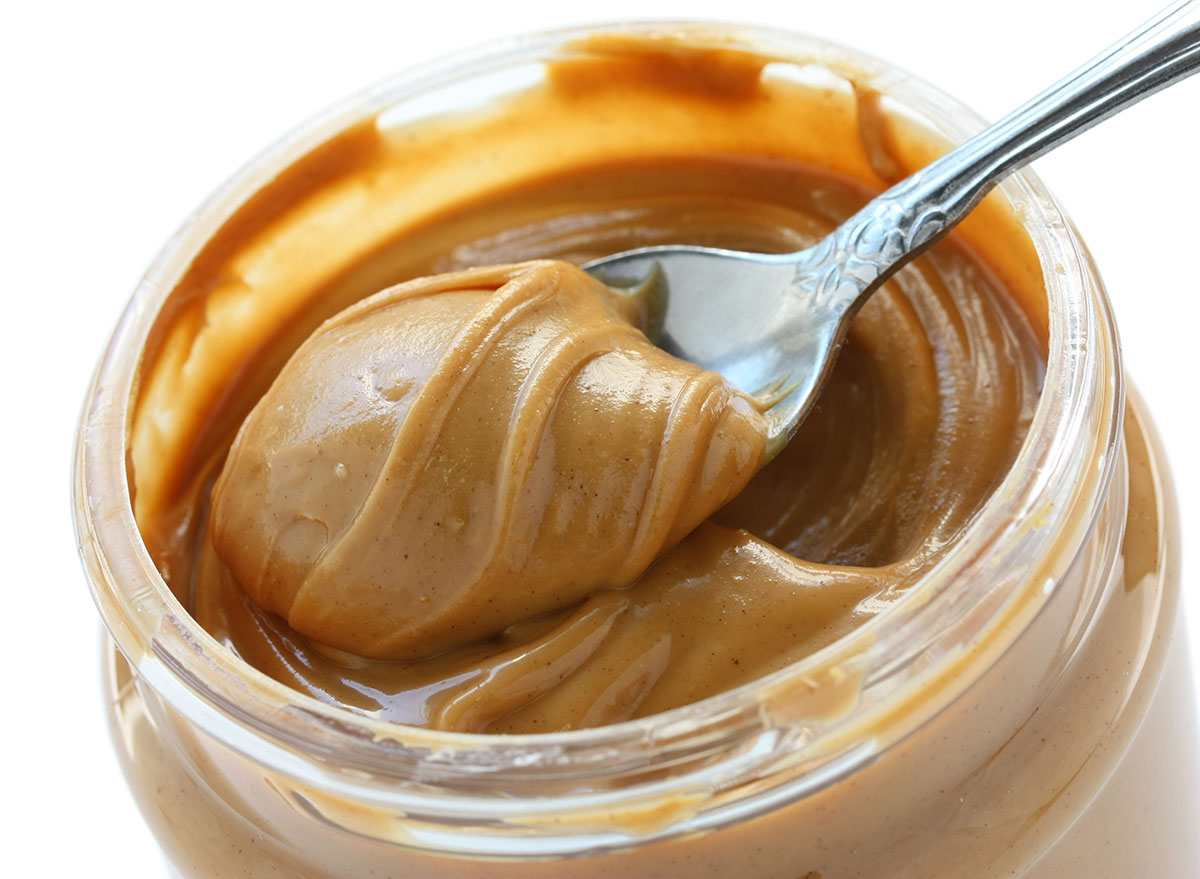 One of the perks of visiting Las Vegas is the casino buffets, where you can get your fill on pretty much anything. And that includes a truly staggering selection of peanut butter desserts and snacks, from the peanut butter truffles at Bally's to the peanut butter cookies at the Mirage. The house always wins, but not when it comes to how much peanut butter you can consume in one sitting.
NEW HAMPSHIRE: Portsmouth Peanut Butter Log
Leave it to New Hampshire to make the rest of us feel gluttonous. According to The New Hampshire Kid's Cookbook, a favorite peanut butter snack among Granite State cool kids is called a Portsmouth Peanut Butter Log. (Portsmouth is a city in northeast New Hampshire.) The recipe involves spreading peanut butter "in the indented part of (a) celery stick." Then, press raisins and grated carrots into the peanut butter. It sounds really yummy, and as a bonus, you probably won't sink into a sugar coma for the rest of the day. Bravo, New Hampshire!
NEW JERSEY: Reese's Peanut Butter Cups
The Garden State doesn't fool around when it comes to their love of Reese's. They've created things like Peanut Butter Cup Hummus and the Reese's Peanut-tini, a Reese's Peanut Butter Cup served like a martini. They consistently vote for it in polls as their favorite candy. They even have a Peanut Butter Cup Bandit, a 38-year-old Newark man who robbed the same 7-Eleven three times, stealing only Reese's Peanut Butter Cups, before finally getting caught and sent to jail for seven years. Think about that: You could get seven years for stealing Reese's in New Jersey.
NEW MEXICO: Peanut Coconut Pie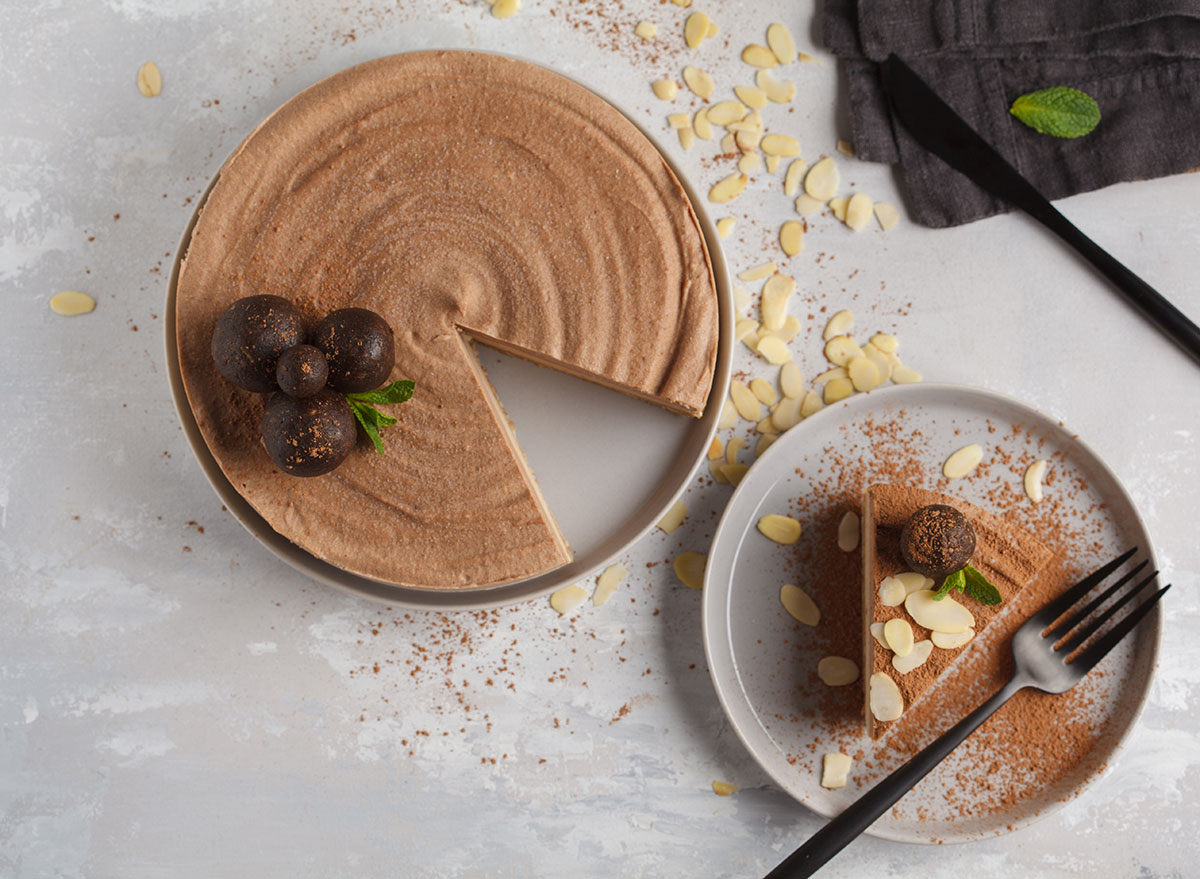 "New Mexicans love to make desserts using nuts," wrote the author of The Best from New Mexico Kitchens. The most mouth-watering example is a "prize-winning" delicacy called a Peanut Coconut Pie, made with locally-grown Valencia peanuts and a peanut butter pie crust. Honestly, we'd probably be fine eating just the pie crust.
NEW YORK: Dark Chocolate Peanut Butter Cups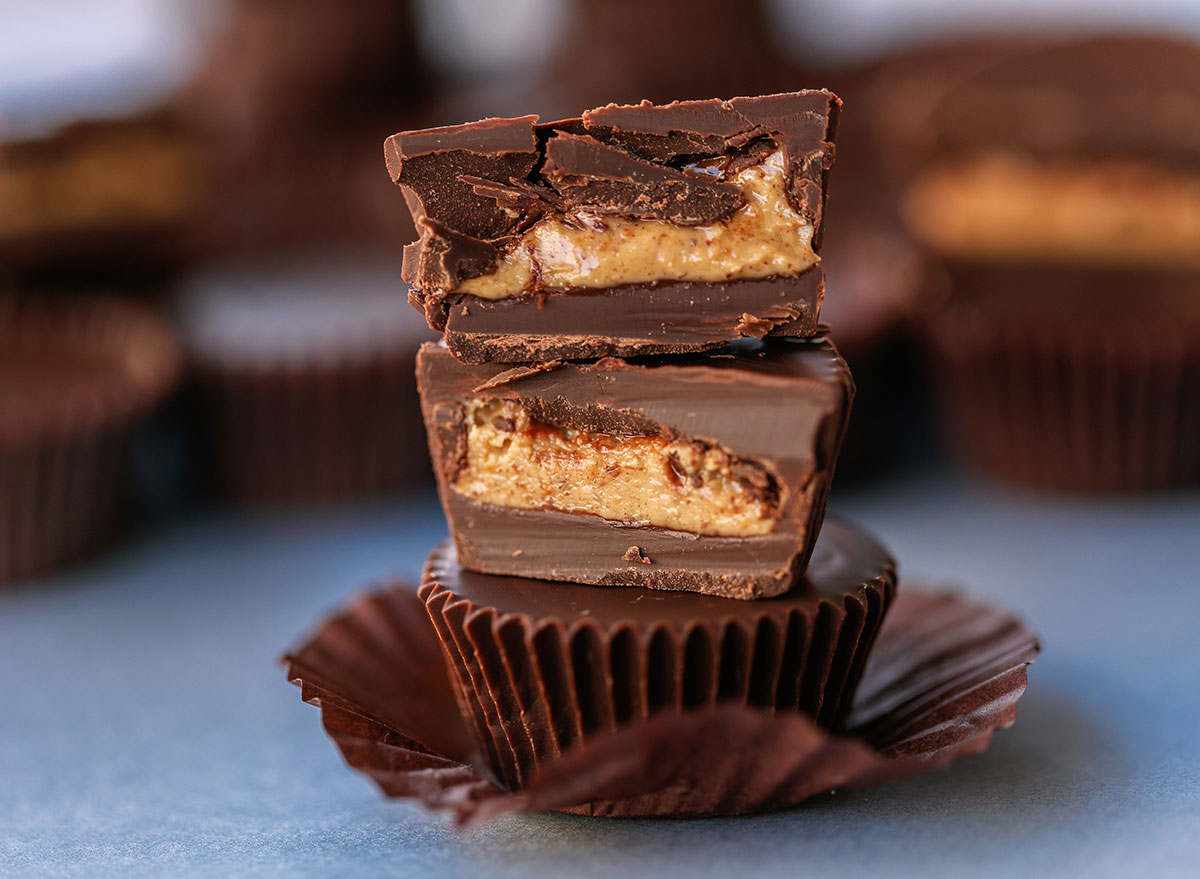 It's hard to get more than two New Yorkers to agree on anything, but here's something they all agree is a fundamental truth: The best item sold at Trader Joe's—yes, the chain grocery store—is Dark Chocolate Peanut Butter Cups. We don't mean the best dessert. We mean the single best thing sold at Trader Joe's, in the opinion of the majority of New Yorkers. That's according to data compiled by the store itself, who released a comprehensive list of the fav-foods of all fifty states. Well played, New York.
NORTH CAROLINA: Peanut Butter and Mayonnaise Sandwiches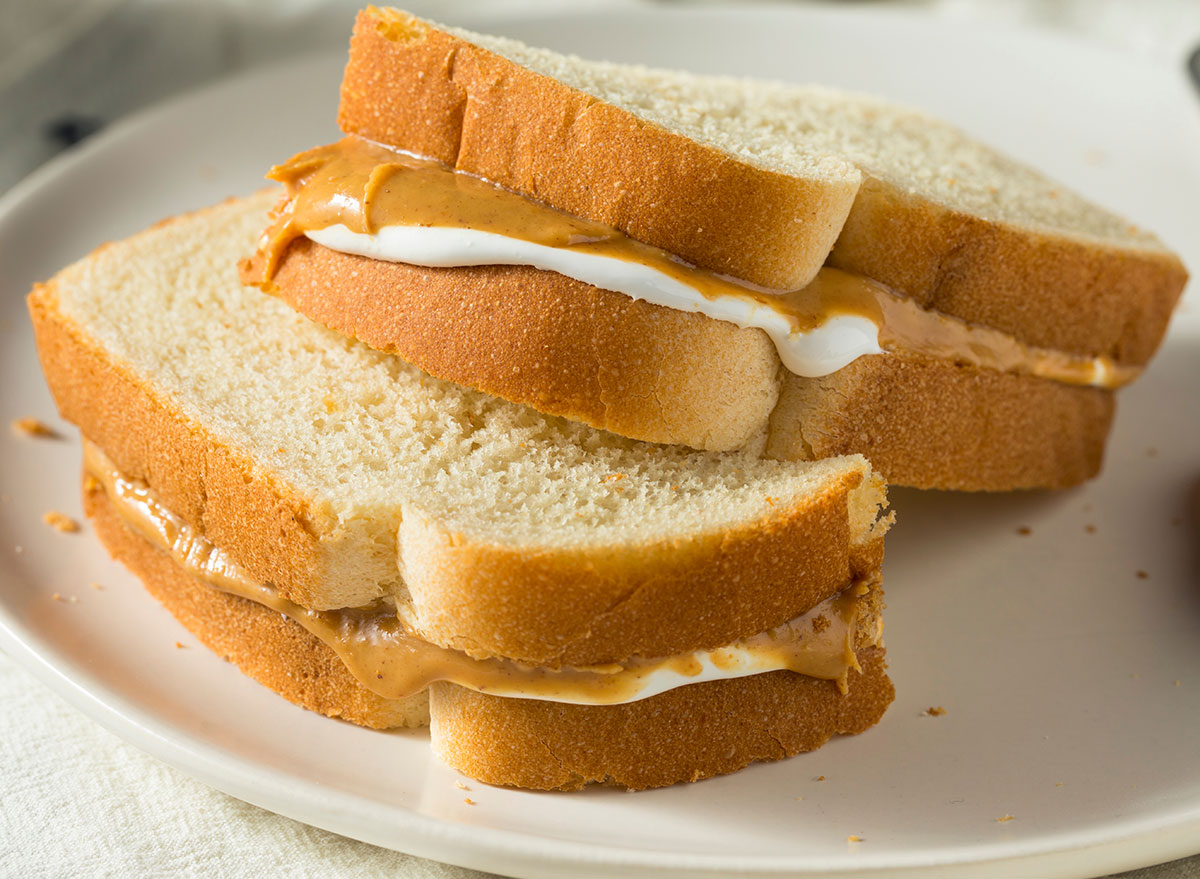 Ask somebody who grew up in North Carolina if they ever ate peanut butter and mayonnaise sandwiches, and be prepared to hear some nostalgic tales of idyllic childhoods. North Carolina native Jodie Pottorff Mull told the Today show that she had one every Saturday for lunch after grocery shopping, adding that "a special treat was to add bananas as well as the mayo." As North Carolina-based food writer Sheri Castle told HuffPost, the concoction had its origins in the Great Depression, when groceries were scarce. "You make a sandwich out of what you have," she said. "Then people started making them on purpose, and then they fed them to other people. That's how things spread."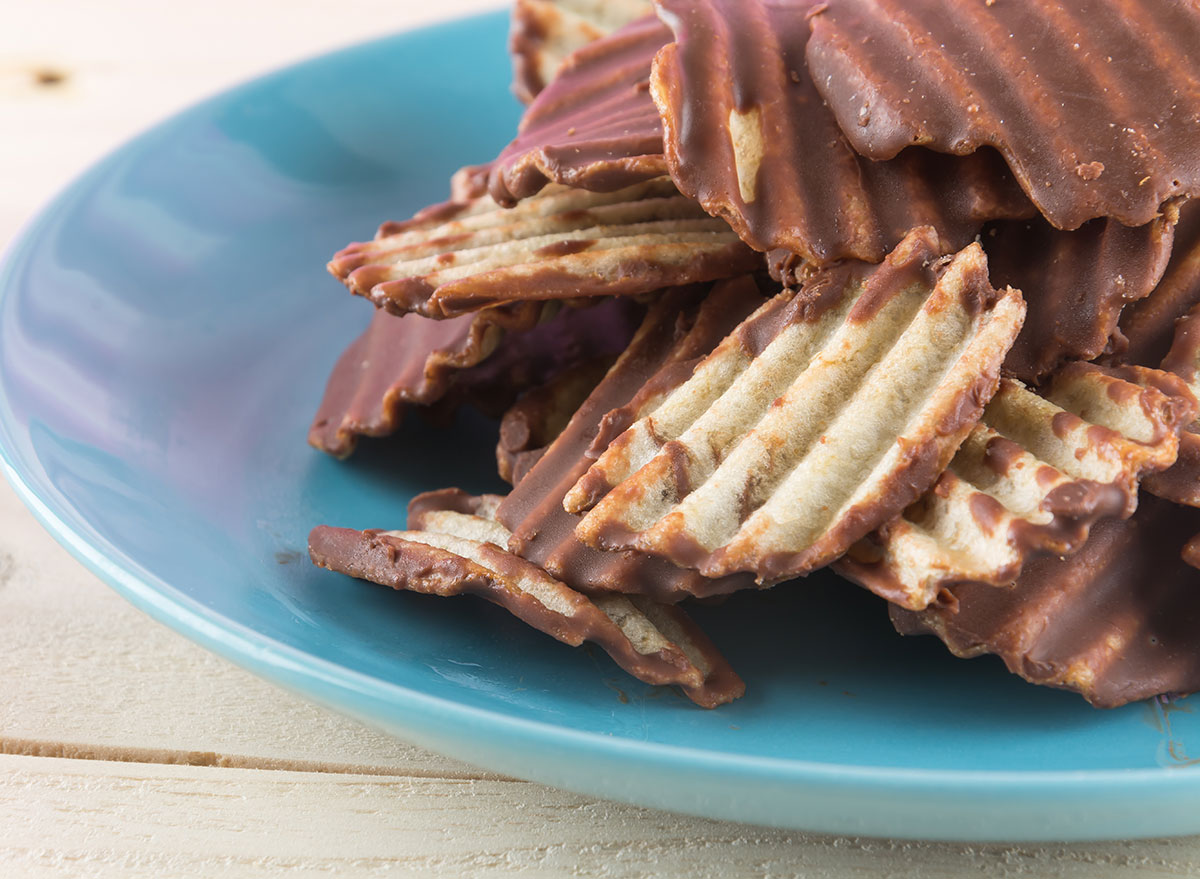 First introduced to the world by Widman's Candy Shop in Grand Forks, North Dakota, "chippers"—a thick-ridged potato chip covered in either chocolate or peanut butter—has been a source of local pride (and very contented smiles) for several generations. Owner George W. Widman, who invented chippers and worked in the family business all of his life (their first shop opened in 1885), once claimed he got the idea from a potato farmer's wife.
Buckeyes are balls of peanut butter and powdered sugar rolled into a dough and then dipped in melted chocolate. Although plenty of states claim this dessert as their own, the name comes from its resemblance to the nut of a Ohio buckeye tree, the state tree of Ohio. So while the rest of the world is welcome to enjoy them, they're as Midwestern as a peanut butter snack gets. Ohio State University also has a sports mascot named Brutus Buckeye whose head resembles the nut… or the candy, we're not sure.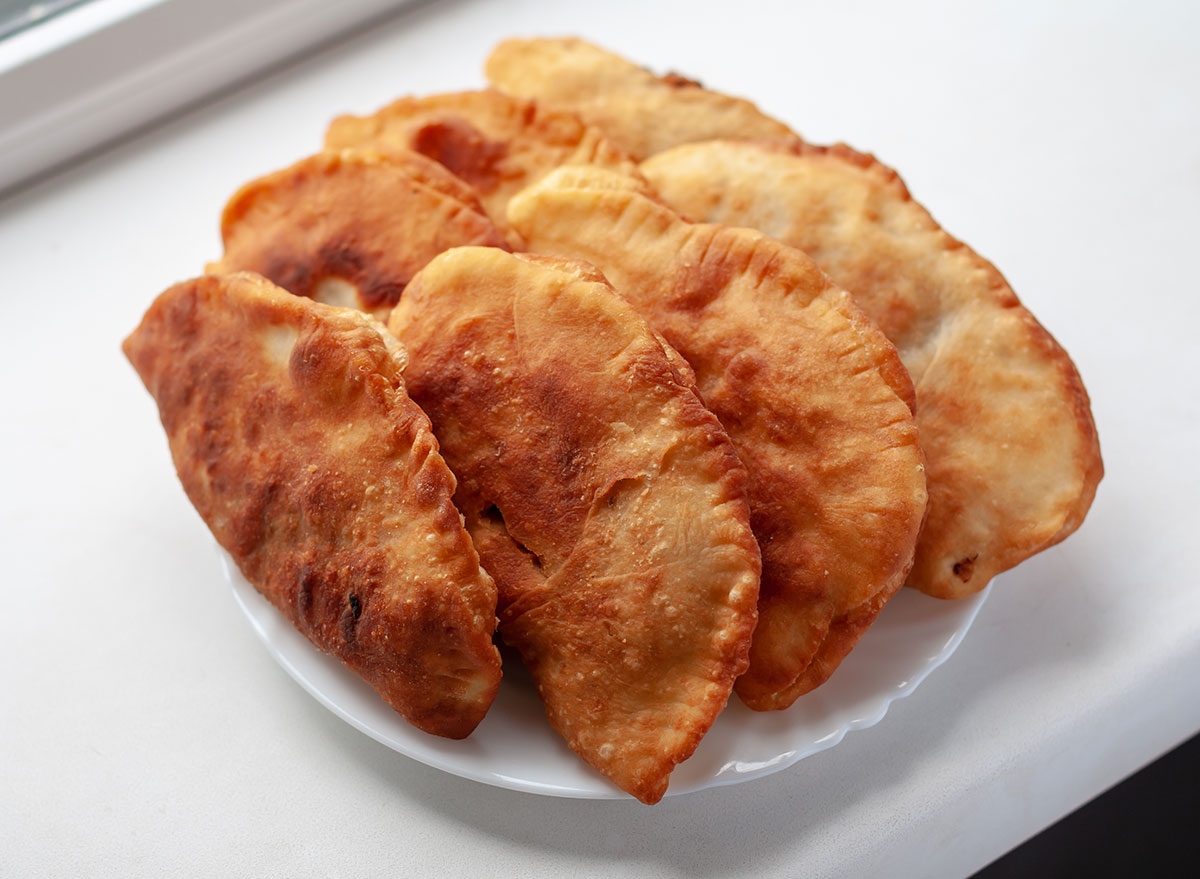 If you get the hankering for a fried pie filled with warm chocolate and peanut butter, made with the exact recipe once used in the 1800s to keep cowboys warm in the harsh Oklahoma winters, there's really only one place to go: Arbuckle Mountain Fried Pies, just off US-77 in Davis, Oklahoma. It's still a family-run business, and those pies are as beloved by Oklahoma natives today as they were by their cowboy ancestors. As one satisfied customer wrote of the peanut butter fried pies, they're "ooey gooey messy." Sounds like a rave to us.
OREGON: Peanut Butter Straight From the Jar
Portland peanut butter entrepreneur Keeley Tillotson, whose peanut butter business was snatched up by a Shark Tank investor back in 2012, claims on her company website that she and her co-founder launched the business because they both "loved eating peanut butter out of the jar." It's just something you do when in Oregon. ESPN broadcaster Bill Walton discovered that during an Oregon college basketball game, where he devoured an entire jar of peanut butter using only his fingers and declared, "I love peanut butter!"
PENNSYLVANIA: Peanut Butter Eggs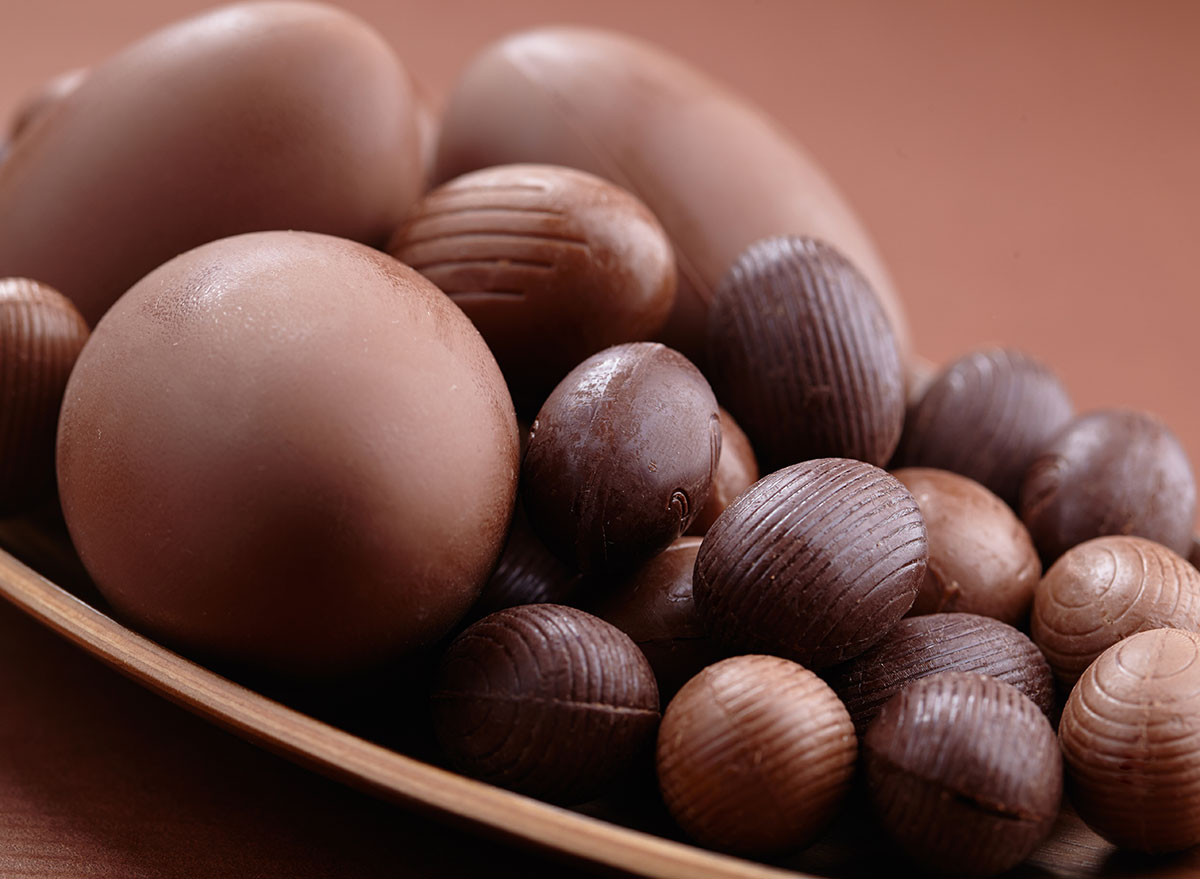 "It's kind of a regional thing," a Pennsylvania-based candy store owner told PennLive about peanut butter eggs. "It's the Pennsylvania Dutch thing." A succulent combo of creamy peanut butter (the "egg") covered in melted chocolate is technically a treat for Easter, but any Pennsylvanian who says they don't enjoy an occasional peanut butter egg during the rest of the year is probably not telling the entire truth.
RHODE ISLAND: Peanut Butter Doughnuts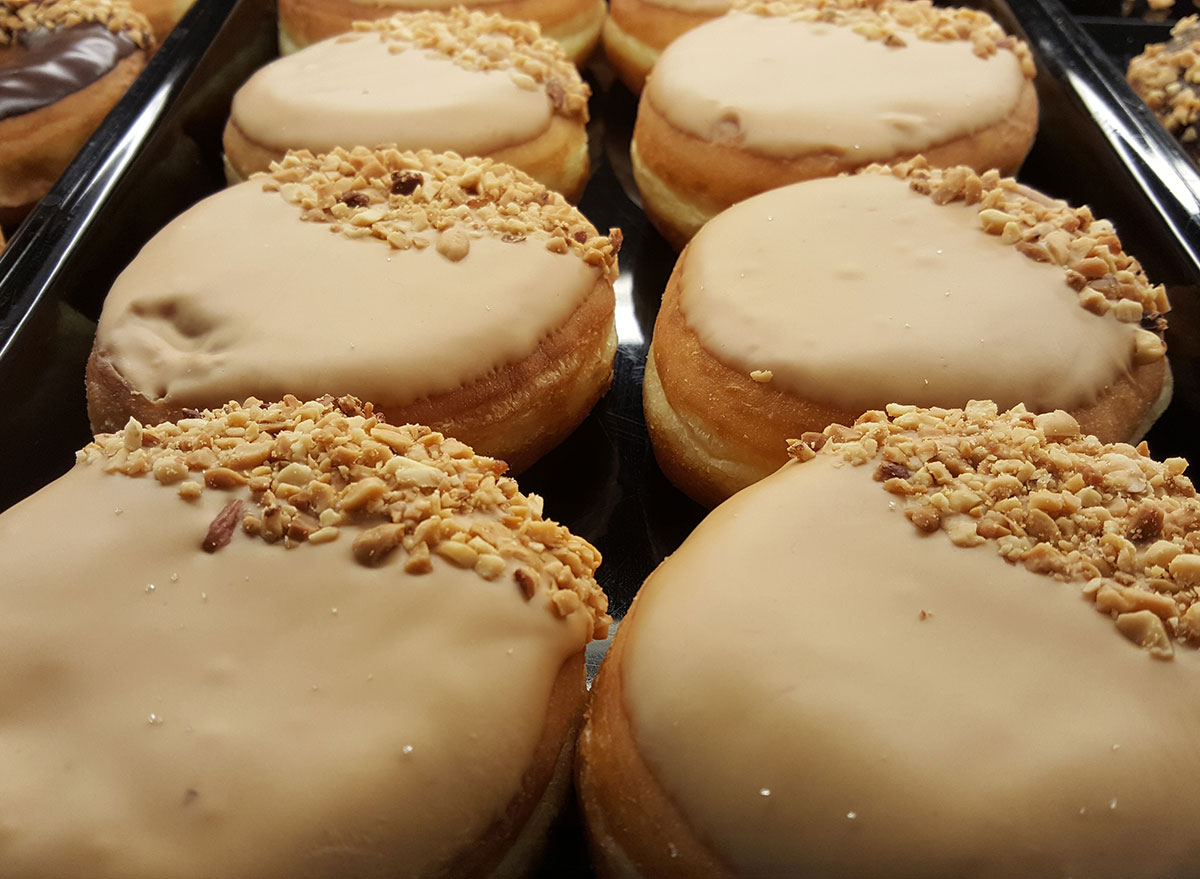 Rhode Island is experiencing "a veritable donut renaissance," according to coffee website Sprudge. And peanut butter flavors top the list of local favorites. Even when a new bakery in Providence announces their opening, as PVDonuts did back in 2016, the locals go a little crazy. As one Providence Journal writer asked, "Why were they teasing us with peanut-butter-and-jelly doughnuts we couldn't seem to have?"
Sure, other states have their peanut butter and jelly eating contests. But scarfing down the most PB&Js doesn't necessarily make you a connoisseur of modern culture's greatest sandwich. In South Carolina, they have peanut butter and jelly MAKING contests. It's not how much you put in your mouth, but how eloquently you spread the peanut butter, and whether your jam to peanut butter ratio is aesthetically perfect. Now that's what we call PB&J devotion!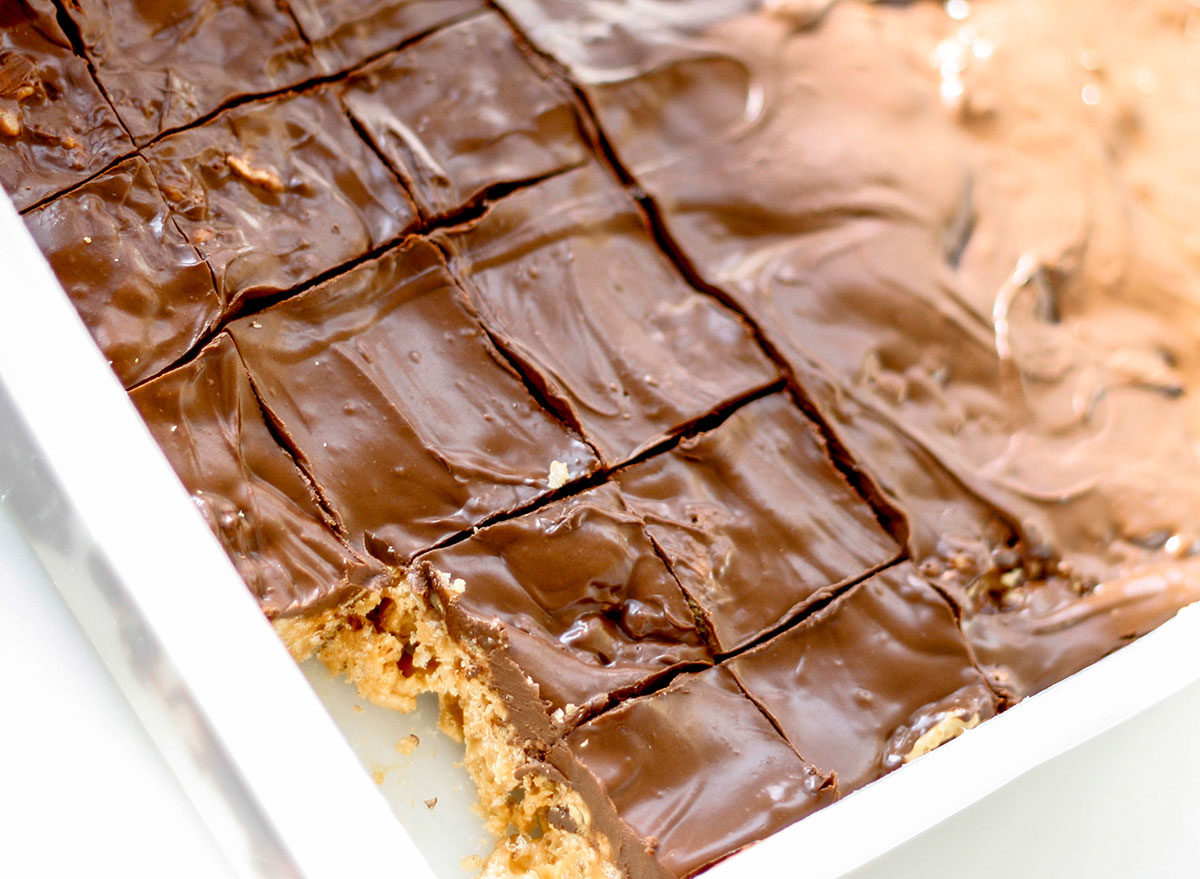 The recipe for a Scotcheroos first appeared on a Rice Krispies box during the 60s, although nobody remembers anymore what the name was supposed to mean. They were essentially Rice Krispie squares covered in peanut butter and chocolate frosting. But over the years the recipe has been refined and embellished, with some insisting they should be made with corn chips like Fritos. But they remain one of the state's great comfort foods, a snack that South Dakota moms send to their homesick college sons, or longtime South Dakota friends share after a quilt club meeting.
TENNESSEE: Fried Peanut Butter and Banana Sandwich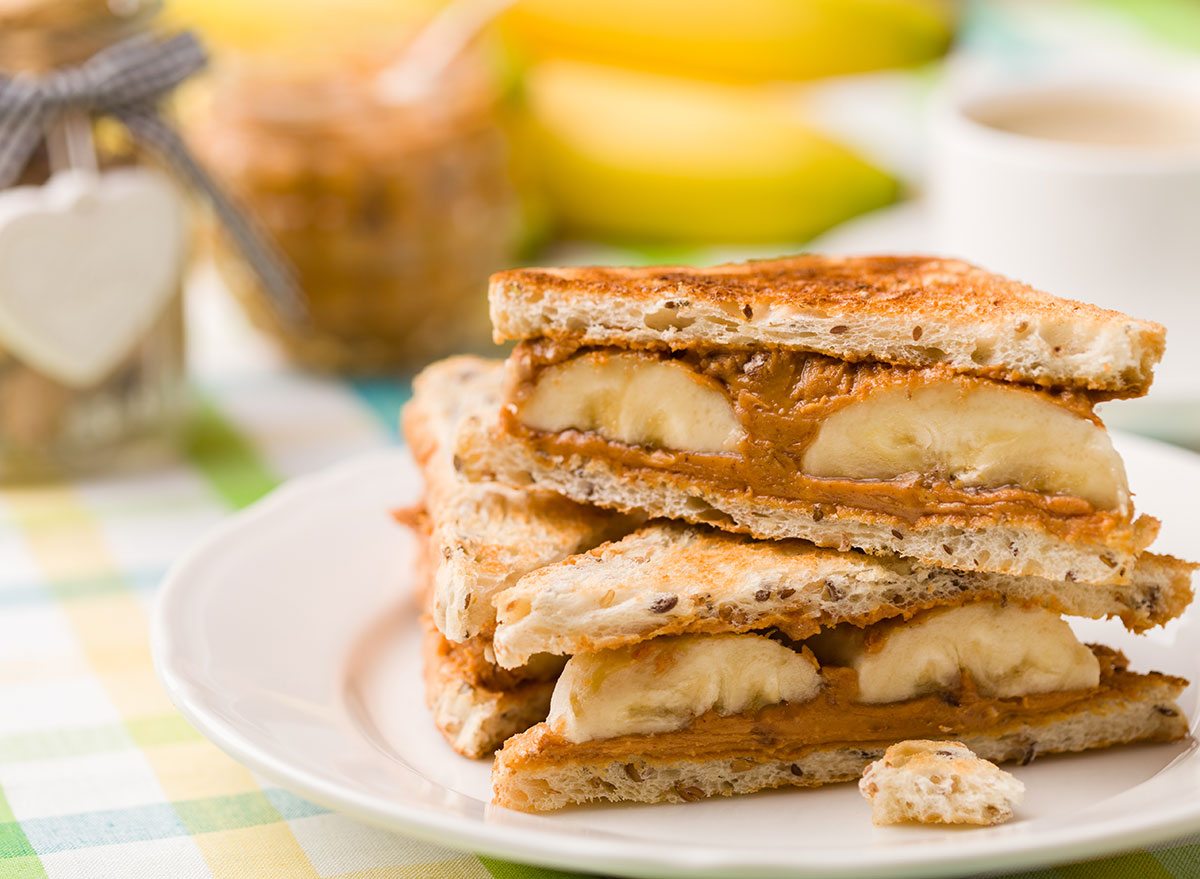 Otherwise known as "The Fat Elvis"—yeah, we think the name is kinda mean too—it was inspired by the late Presley's favorite sandwich. The recipe is so simple, anyone can make it: Just take two pieces of white bread, cover them in generous portions of peanut butter and mashed bananas, and then smoosh the bread together. (Grilling is optional.) If you want to sample one of these iconic sandwiches during your next Tennessee visit, you won't have to look far. The Sun Diner in Nashville and the Arcade Restaurant in Memphis are just the two most famous places to get an Elvis meal.
TEXAS: Reese's Peanut Butter Cups
Everything is bigger in Texas, and that apparently includes their peanut butter snacks. CandyStore.com, a candy company that ships treats in bulk around the country, released statistics on which states have the biggest appetites for certain brand-name candy. Between 2007 and 2015, Texas purchased almost two million pounds of Reese's Peanut Butter Cups. To put that in perspective, the second-most enthusiastic Reese's consumer, North Carolina, only consumed 104,940 pounds of Reese's during the same time period, ostensibly because that's all they had left after Texas was finished.
UTAH: Lunch Lady Peanut Butter Bars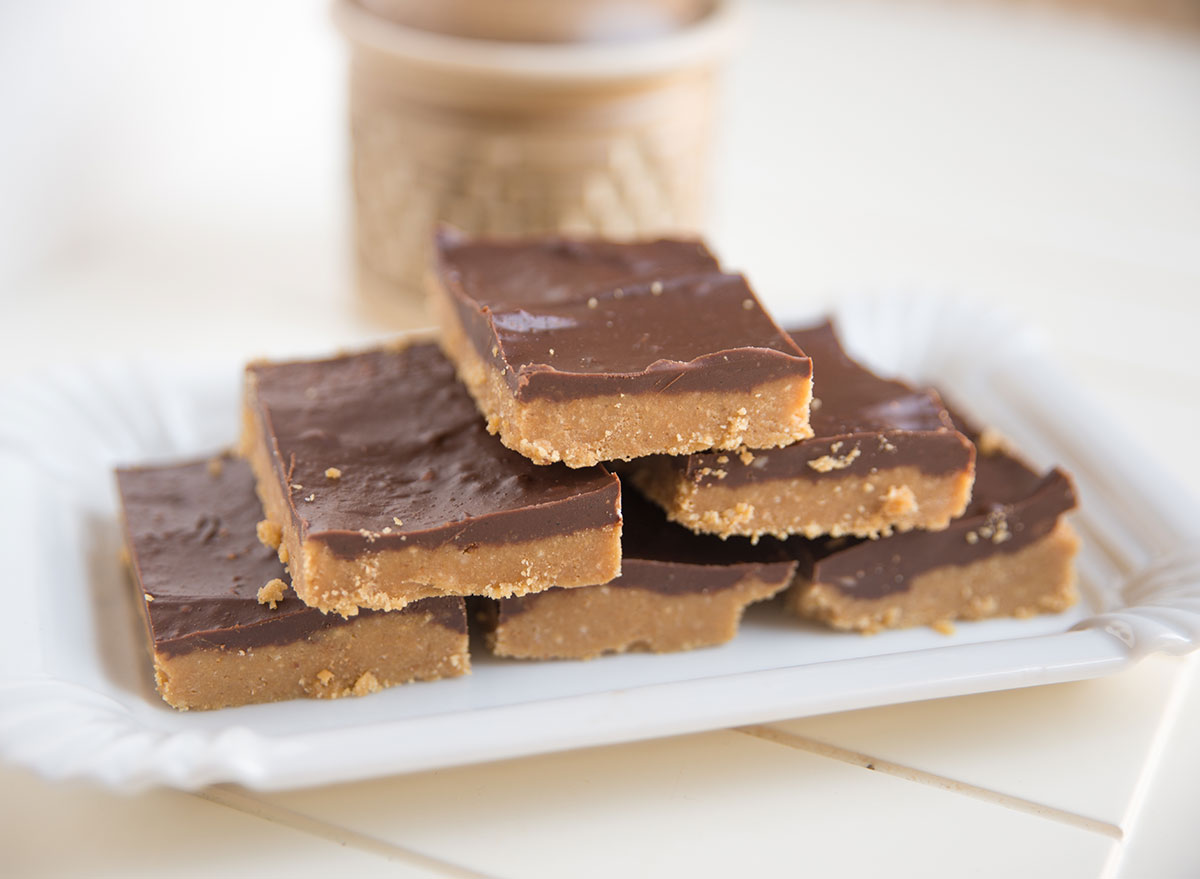 "If you were ever an elementary school student in Utah," says one food blogger, "you'll know these bars well." For the rest of us, we apparently don't know what we've been missing. These delectable bars, with a creamy peanut butter filling and a chocolate buttercream on top, were handed out by cafeteria lunch ladies across Utah and became a part of dessert mythology. As one Utah student wrote about the dessert staple in the Utah Statesman, "The only thing you'll regret about making these bars is eating all of them afterward."6254a4d1642c605c54bf1cab17d50f1e
VERMONT: Peanut Butter Half-Baked Ice Cream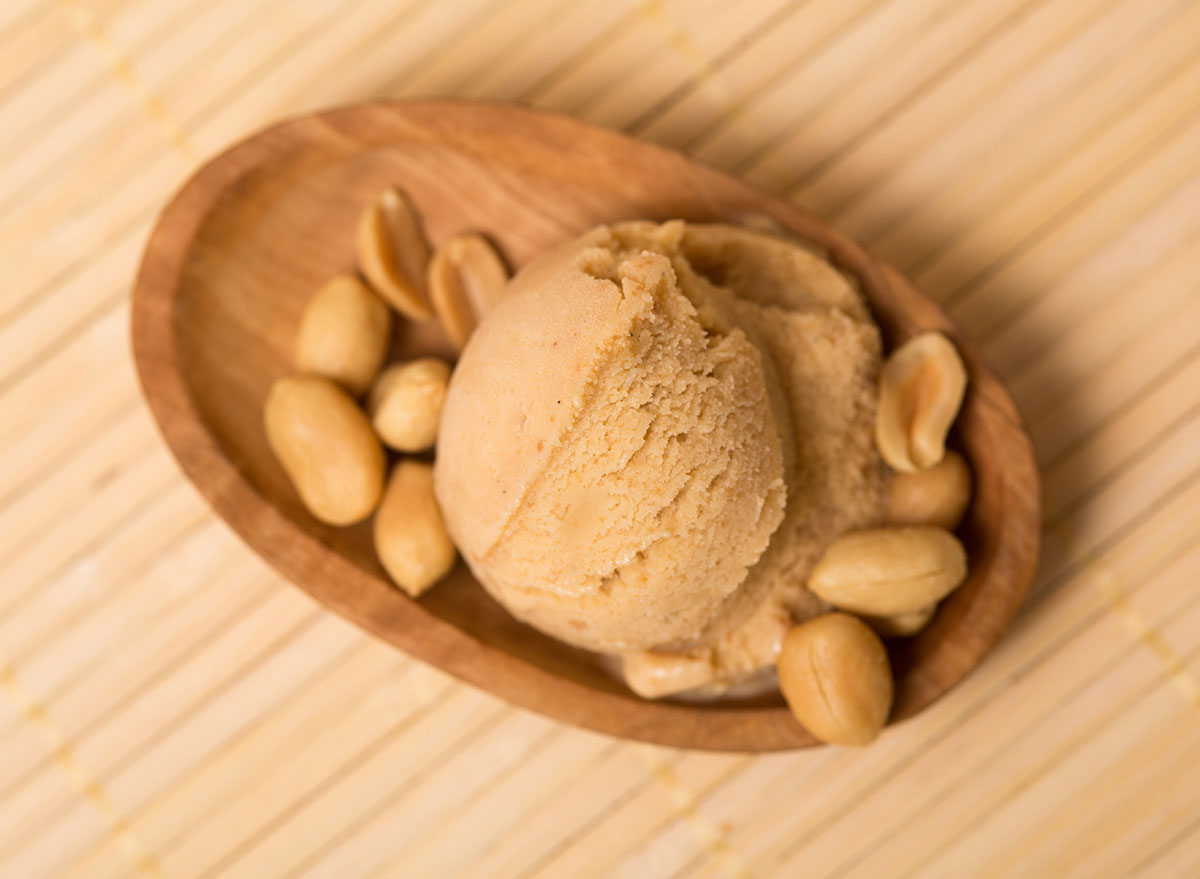 Come on, you can't be surprised by this. Vermont is Ben & Jerry's country. Their ice creams aren't just a dessert, they're a lifestyle choice. When they introduced Peanut Butter Half-Baked in 2014 as a limited release, the Huffington Post declared that "it may inspire you to stir peanut butter into all of your ice cream from now on. Worse things have happened." It was so popular that the company recently promoted it to a "full-time flavor."
VIRGINIA: Virginia Peanut Pie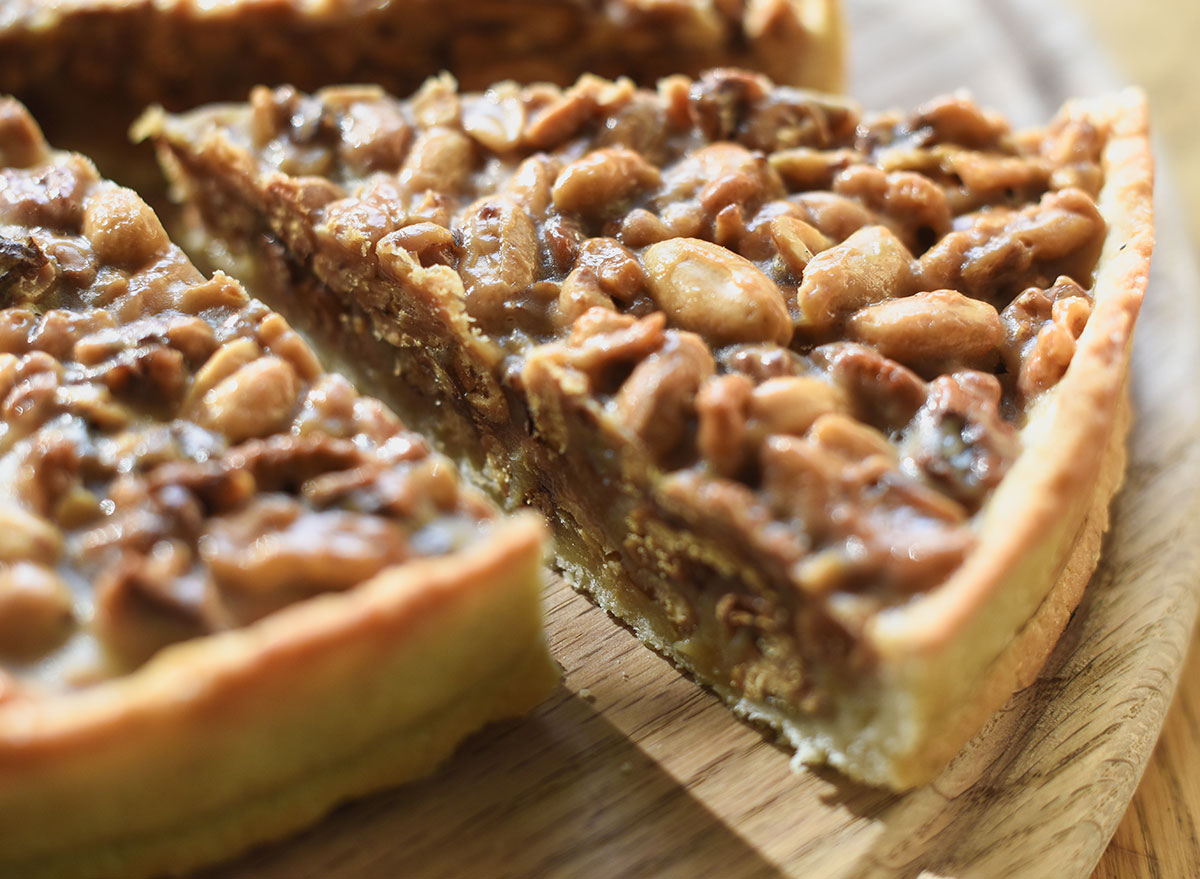 The legend began at the Virginia Diner in Wakefield, CA, where the "world-famous" (according to the menu) Virginia Peanut Pie has been available by the slice (or entire pie) since 1929, attracting hungry customers from across the state eager to satiate their sweet tooth. The secret is out, and now even non-Virginians are venturing to the diner. Some even try to recreate the recipe at home, including Martha Stewart.
WASHINGTON: PB&J Cupcakes
Seattle Metropolitan magazine once claimed that "the PB and J cupcake fixation" had "taken this city by its shoulders and given it a good shake." The fixation lives on at local bakeries like Cupcake Royale, which sells a cupcake made with peanut butter buttercream called a Peanut Buttah, or at Trophy Cupcakes, which has more peanut butter cupcake delicacies than one human stomach can handle. We're not drooling, YOU'RE drooling!
WEST VIRGINIA: Peanut Butter Oat Cookies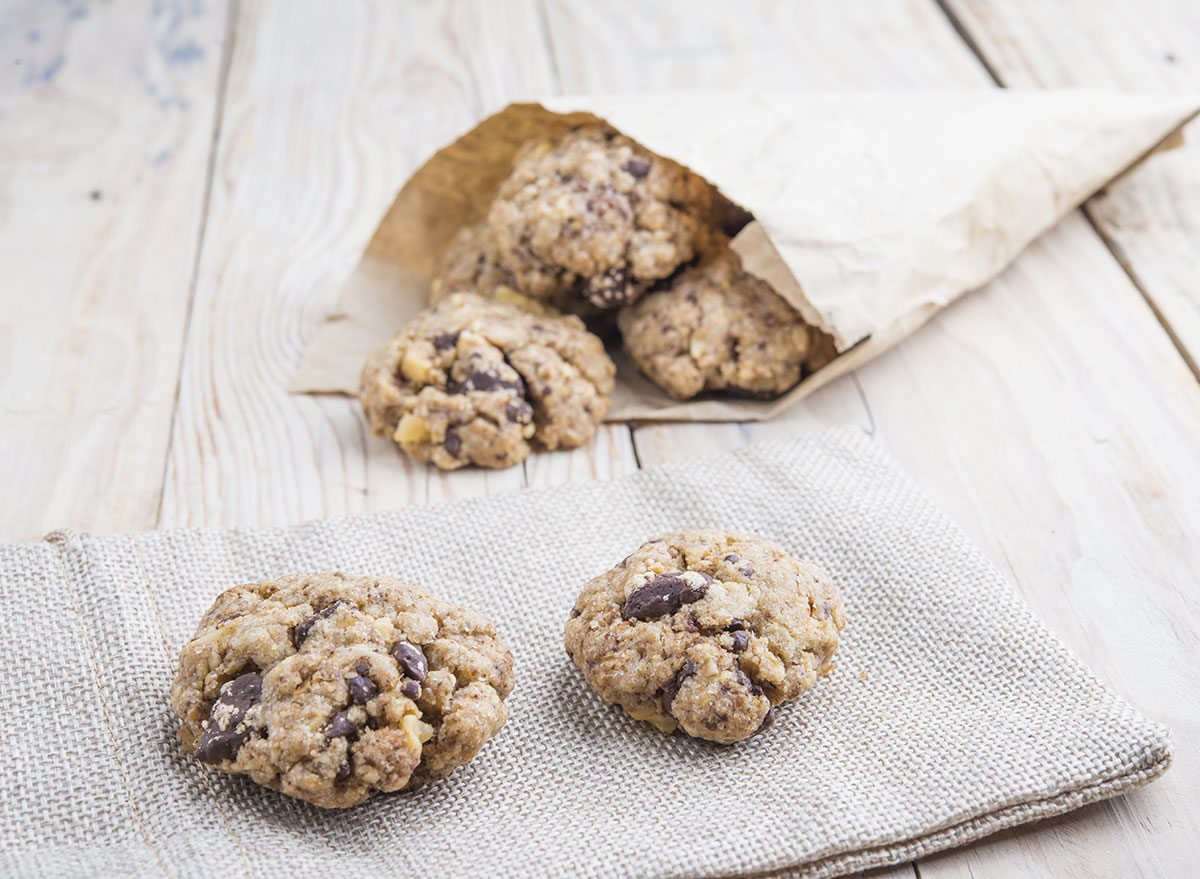 They've been called "West Virginia's signature dessert" by the Charleston Gazette-Mail, and we can understand why. Sometimes called "no-bake cookies," "preacher cookies" or "cow patties" (how… appetizing), the ingredients include oats, butter, brown sugar, and lots of peanut butter. There are plenty of recipes online, from West Virginia natives who love getting sentimental about childhoods spent munching on these tasty confections.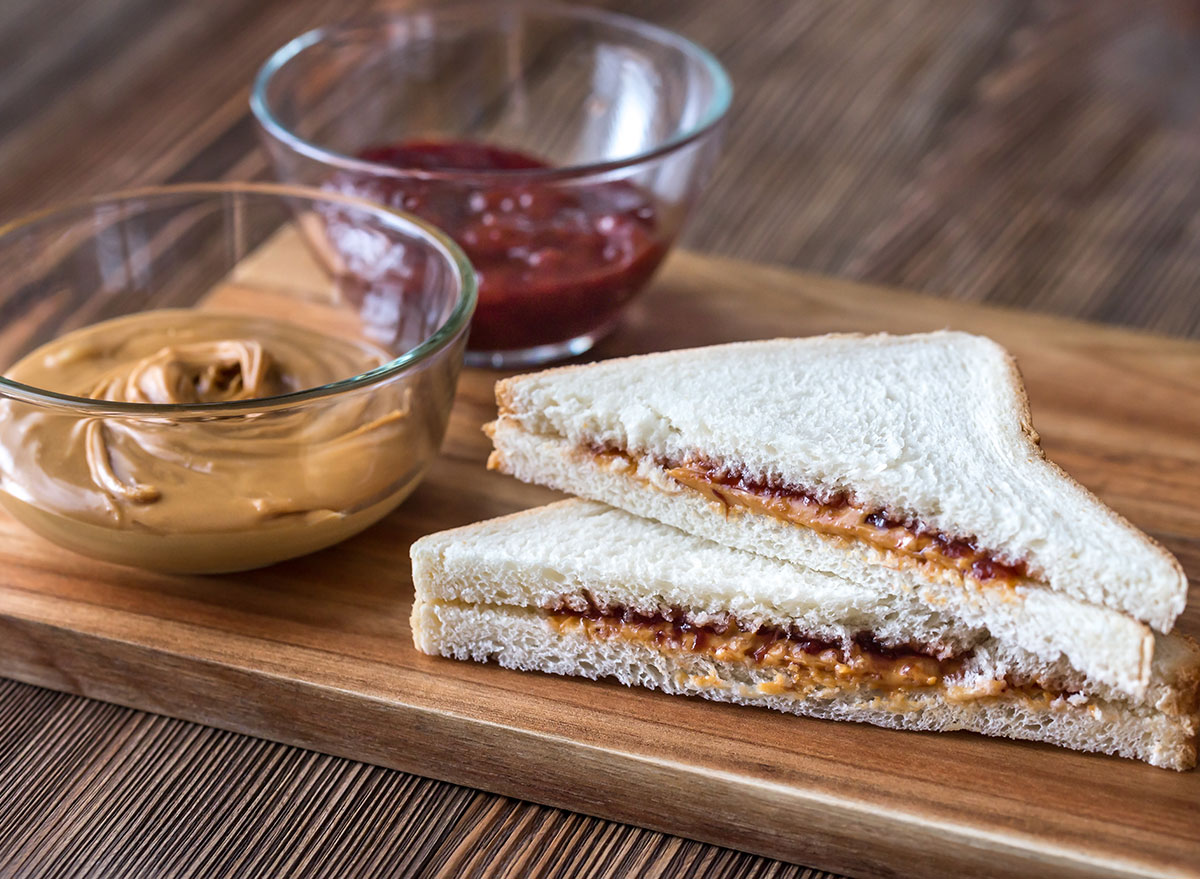 The world's largest peanut butter and jelly shop (at least according to the owners) is located in a suburb of Milwaukee, where customers can pick between hundreds of different jams and jelly options. We admire their devotion and their creativity. It all looks delicious, but we're probably going to pass on the tomato jelly.
WYOMING: Peanut Butter on Anything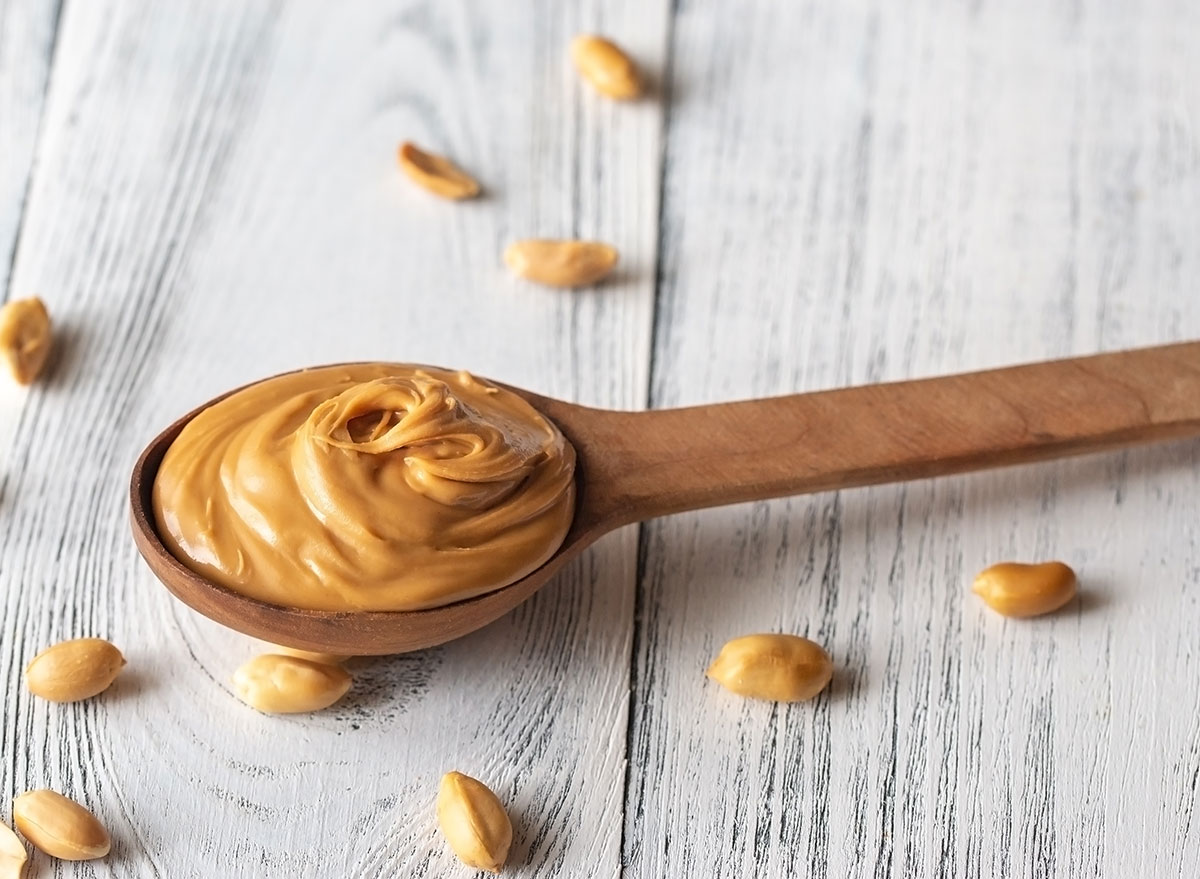 A 2019 social media survey revealed that Wyoming's favorite condiment is none other than Skippy Peanut Butter. Or more specifically, Skippy Super Chunky Peanut Butter. That may sound far-fetched—how could peanut butter possibly compete with a condiment like ketchup or mustard?—but we're certainly not going to challenge them. Anybody who wants to put peanut butter on a steak or an omelet is okay in our book.
And when you're cooking at home, don't miss these 52 Life-Changing Kitchen Hacks That'll Make You Enjoy Cooking Again.