6 Restaurant Chains That Serve the Best Wraps
Looking for a quick and tasty meal that's easy to carry, too? That's a wrap!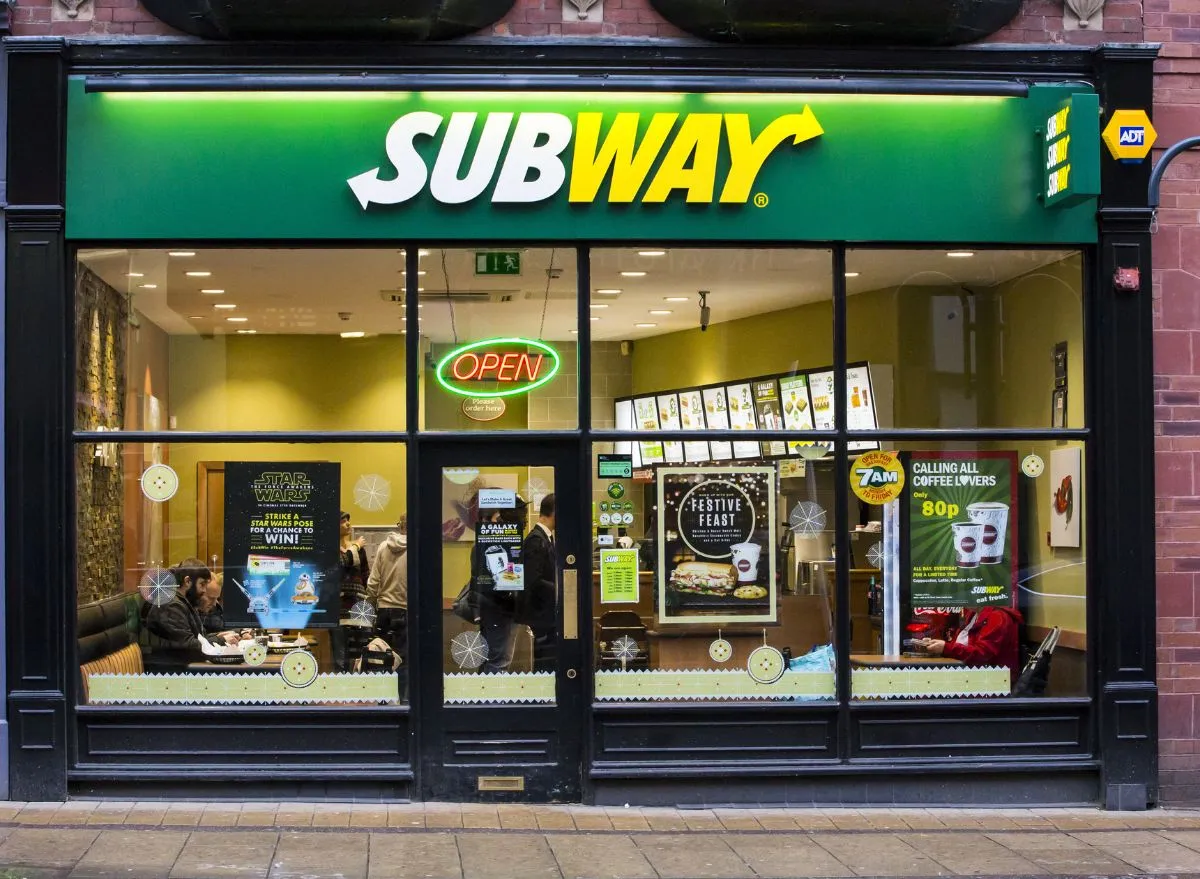 The product recommendations in this post are recommendations by the writer and/or expert(s) interviewed and do not contain affiliate links. Meaning: If you use these links to buy something, we will not earn a commission.
In the mood for something light, like a wrap, but don't have the time to throw one together? Enter the restaurant chain wrap. Perfect for when you are low on time or energy but don't feel like settling for a burger or chicken nuggets, a tasty wrap ordered from your favorite local sit-down restaurant chain or picked up through a drive-thru always hits the spot.
Another plus? Not only are these wraps quick and easy, but they're also pretty tasty, too. This is because restaurant chains don't overlook the details when it comes to making these handhelds. Subway, for one, offers tons of wrap options, from steak and cheese to sweet onion teriyaki and everything in between. Others, like Cheesecake Factory, carry lettuce-based wraps, if you're not in the mood to eat bread. And you don't want to miss out on the Chick-fil-A wrap, which may just become your new go-to order at the chicken chain. There's truly something for everyone.
From tasty veggie-based wraps at one of your favorite sit-down spots to McDonald's snack wrap dupes that are pretty hard to pass up, read ahead to learn more about the restaurant chains that serve the best wraps.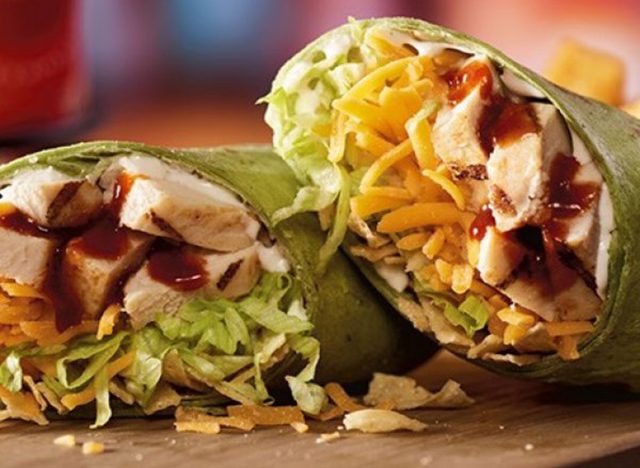 Whiskey River BBQ Chicken Wrap: 890 cal, 46 g fat (12 g saturated fat), 1920 mg sodium, 76 g carbs (4 g fiber, 13 g sugar), 42 g protein
At Red Robin with friends and family and aren't in the mood for a burger? Try out the restaurant chain's Whiskey River BBQ Chicken Wrap. The mouth-watering dish is made with sliced chicken breast, Whiskey River BBQ sauce, cheddar cheese, crisp lettuce, crunchy tortilla strips, and ranch sauce, all stuffed instead of a flour tortilla. If this wrap looks familiar, it's because the restaurant also carries a Whiskey River BBQ burger that's made with the same lip-smackingly good barbecue sauce, of course, plus crispy onion straws, cheddar cheese, lettuce, tomato, and mayo.
Cool Wrap: 660 calories, 45 g fat (9 g saturated fat), 1420 mg sodium, 32 g carbs, (14 g fiber, 5 g sugar), 43 g protein

6254a4d1642c605c54bf1cab17d50f1e

You may associate Chick-fil-A with delicious fried chicken sandwiches, but the incredibly popular fast-food chain also makes a pretty good wrap. Its Chick-fil-A Cool Wrap, which can be found right under its entrée offerings, is made with sliced grilled chicken, fresh green leaf lettuce, and shredded Monterey jack and cheddar cheeses, all rolled up in a flaxseed flour flatbread. The chain recommends enjoying it with  avocado lime dressing, but you can also order it with various other sauces, too, including garden herb ranch dressing, honey poppyseed dressing, and light balsamic vinaigrette dressing.

The wrap tastes delicious as-is, but according to Mashed, some social media users suggest ordering it warm with fried chicken for a truly delightful dish.
Asian Chicken Lettuce Taco Wraps: 450 cal, 15 g fat (TK saturated fat), 1040 mg sodium, 49 g carbs (3 g fiber, 32 g sugar), 29 g protein
Cheesecake Factory seemingly has it all—crispy salads, hearty chicken dishes, filling pasta, mouth-watering desserts, and, you guessed it, tasty wraps. A standout wrap on the chain's menu is the Asian Chicken Lettuce Taco Wraps, which are made from a combination of grilled chicken, shredded carrots, bean sprouts, cucumber, cilantro, and rice noodles, all stuffed into pieces of crisp butter lettuce and served with a spicy peanut and cashew sauce. This flavorful dish appears on the restaurant's menu under "Small Plates and Appetizers" and tastes great, whether ordered alone, as a side, or as an appetizer.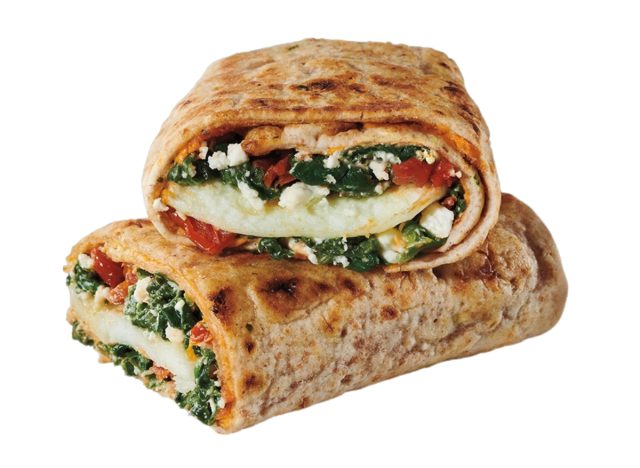 Spinach, Feta, & Egg White Wrap: 290 cal, 8 g fat (3.5 g saturated fat), 840 mg sodium, 34 g carbs (3 g fiber, 5 g sugar), 20 g protein
Try one of Starbucks' delicious egg white wraps the next time you visit a location to pick up your favorite coffee drink. One buzzy option is the Spinach, Feta, & Egg White Wrap, made with cage-free egg whites, spinach, feta, and sun-dried tomato cream cheese, all placed inside a whole wheat wrap. Besides wraps, Starbucks also sells a bevy of other dishes, including turkey bacon, egg white, and cheddar sandwiches, ham and Swiss cheese baguettes, and, of course, no shortage of sweet treats.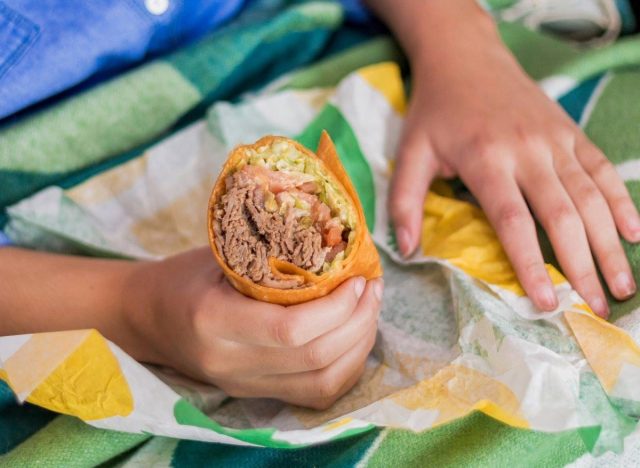 Steak Wrap (includes American Cheese): 570 calories, 20 g fat (7 g saturated fat), 1700 mg sodium, 55 g carbs (3 g fiber, 4 g sugar), 43 g protein
Although well-known for its sandwiches, the popular sandwich chain also makes a sweeping range of wraps, including tasty options like steak and cheese, tuna, meatball marinara, and oven-roasted turkey. One standout wrap is the steak and cheese, filled with a double portion of shaved steak enrobed in melted American cheese and topped with green peppers and red onion. One of the best parts is that you can customize it to your liking. For instance, you can choose to add additional toppings like lettuce, tomatoes, spinach, bacon, pickles, avocado, jalapeños, and banana peppers. You can also switch out the American cheese for pepper jack, provolone, Swiss, Monterey cheddar, or shredded mozzarella. And don't forget the sauces: Subway offers a lot of them, including roasted garlic aioli, peppercorn ranch, and honey mustard.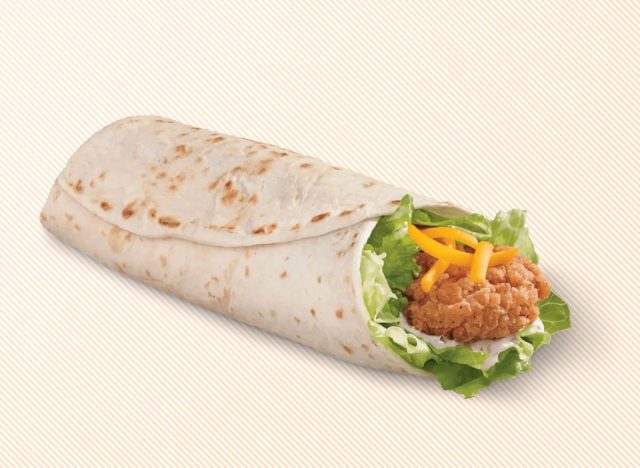 Flamethrower Spicy Chicken Wrap-Crispy: 360 cal, 21 g fat (4.5 saturated fat), 820 mg sodium, 31 g carbs (2 g fiber, 1 g sugar), 12 g protein
If you were a fan of the McDonald's snack wraps that dominated during the 2000s—why did the chain ever get rid of these?—then you'll love Dairy Queen's version. Dubbed the Flamethrower Spicy Chicken Wrap, this delectable little treat is made with a crispy (or grilled) 100% seasoned all-tenderloin chicken strip, crispy lettuce, shredded cheddar cheese, and the chain's very own Flamethrower sauce, all tucked into a flour tortilla. Order this with a side of fries and a Blizzard, and you have an ideal fast-food order.