18 Cozy Sheet Pan Breakfast Recipes For Easy Weight Loss
Simple breakfast recipes that you can make using only a sheet pan.
Having a crowd for breakfast or whipping up a holiday morning meal for the family usually entails going out to grab the 'good' bagels or spending quality time flipping pancakes. The other option is always the basic breakfast casserole, but why not take a hint from a simple dinner-time hack and whip out your trusty sheet pan? The following recipes are healthy, easy to throw together, and tried-and-true crowd-pleasers. Whether you've got a house of pancake lovers or everyone prefers a savory breakfast, there's something for everyone. Here are 18 healthy breakfast recipes you can make right on a sheet pan. And, if you're wondering about dinner, here are 35+ Sheet Pan Recipes That Are Beyond Easy to Make.)
Sheet Pan Breakfast Bake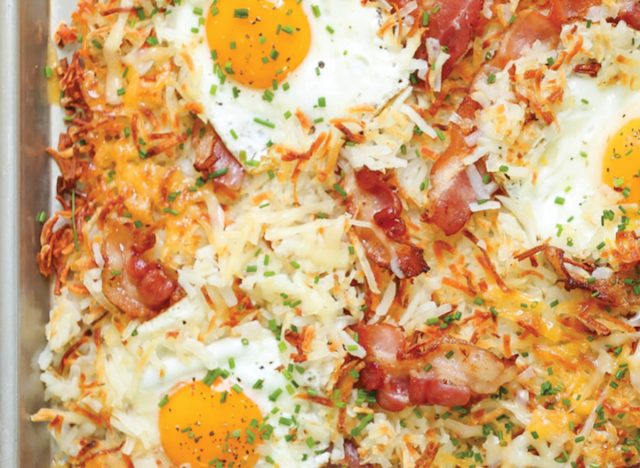 Damn Delicious makes a sheet pan breakfast that is not only easy but delicious. It's full of eggs, bacon, and most importantly, crispy hash browns. Topped with cheese, this meal checks all the boxes for a perfect breakfast without a lot of clean-up.
Get the recipe from Damn Delicious.
Sheet Pan Cinnamon Rolls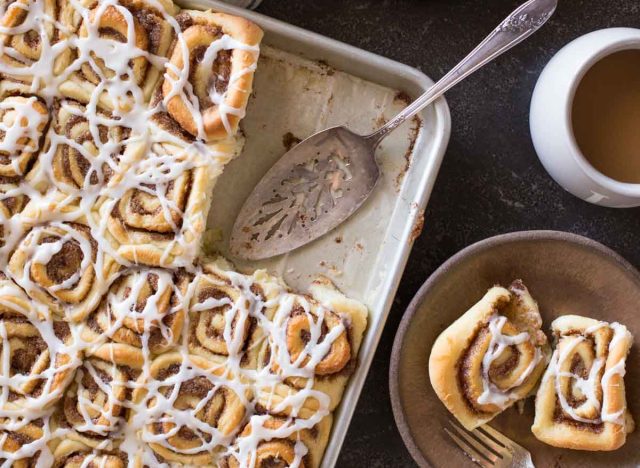 No one could possibly resist the smell of this recipe by Lovely Little Kitchen baking in the oven. This is true comfort on a sheet pan, you don't even need to be scared of the burnt sugar. This recipe calls for a sheet of parchment paper to line your sheet pan making clean-up even more of a breeze. There's also a neat explanation of cutting the rolls with dental floss to make sure they don't get flattened.
Get the recipe from Lovely Little Kitchen.
Sheet Pan Breakfast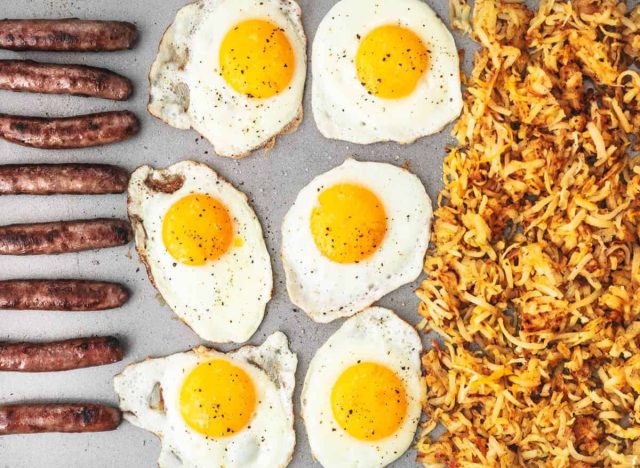 This recipe from Creme de la Crumb is full of options. There are instructions to keep the foods separate instead of nesting into the hash browns. Another choice includes turning the food into a breakfast bowl with more veggies and Southwest flavors.
Get the recipe from Creme de la Crumb.
Sweet Potato Sheet Pan Breakfast Hash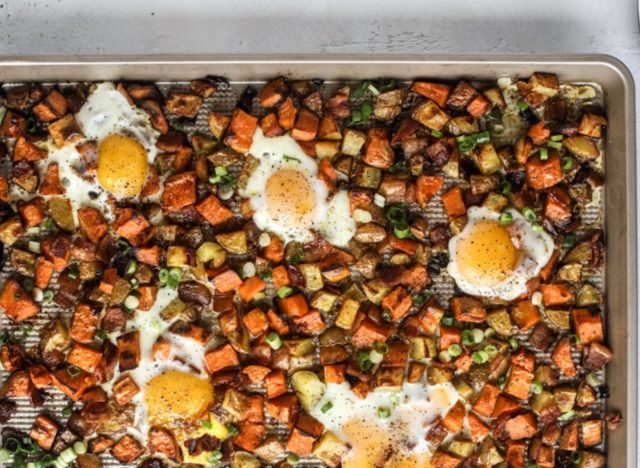 Crispy hash is the star of this recipe, made from both Yukon Gold and sweet potatoes with bacon, onion, and garlic. After getting the right soft in the middle and crunchy outside texture, eggs are added to make it a full meal. Hot sauce and green onions add even more flavor. All of this taste and a super-easy cleanup make this recipe from How Sweet Eats a sheet pan win.
Get the recipe from How Sweet Eats.
White Chocolate Cranberry Muffins Sheet Pan Recipe
Quick and easy, Tasty Oven's recipe gives you the best part of the muffin, a sheet full of muffin tops. Using almond milk and just a little butter, they are just 110 calories a piece and come together in just 25 minutes start to finish.
Get the recipe from Tasty Oven.
Sheet Pan Breakfast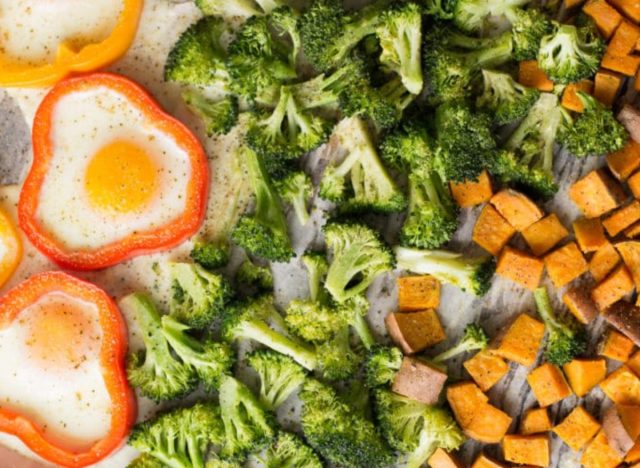 Liz and Tyler at The Clean Eating Couple add lots of veggies to their sheet pan breakfast. Crisp sweet potatoes and fresh broccoli cook with red and yellow pepper rings holding the eggs. This colorful selection of vegetables is packed with nutrition to start your day right.
Get the recipes from The Clean Eating Couple.
Sheet Pan Pancakes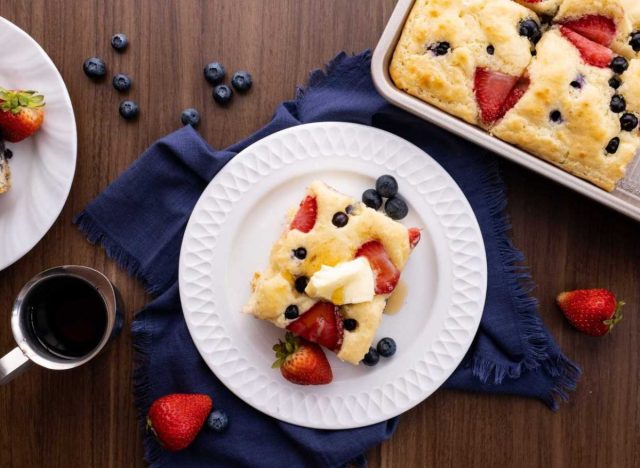 Tired of eggs but don't want the mess of traditional pancakes? Then this sheet pan recipe is for you! Using a homemade pancake recipe base, Dinner Then Dessert teaches the method of successful cookie sheet pancakes and offers a whole list of optional toppings. Yum!
Get the recipe from Dinner Then Dessert.
Breakfast Kale and Potato Sheet Pan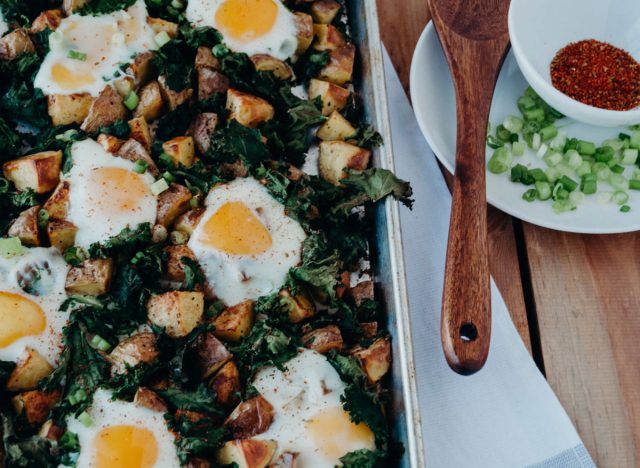 This hearty breakfast can become a dinner just as easily. Chili powder, onions, garlic, and oregano season the potatoes and kale make a cozy nest for the eggs.
Get the recipe from Healthy Little Peach.
Whole 30 Breakfast Pan Bake with Potatoes, Brussel Sprouts and Bacon
If you are following the Whole30 diet plan, Paleoish Krista has got your sheet pan breakfast recipe. As with all sheet pan meals, the cleanup is minimal. This recipe makes the most of the nutty sweetness of Brussel sprouts cooked with salty bacon.
Get the recipe from Paleoish Krista.
Sheet Pan Vegan Sausage and Vegetables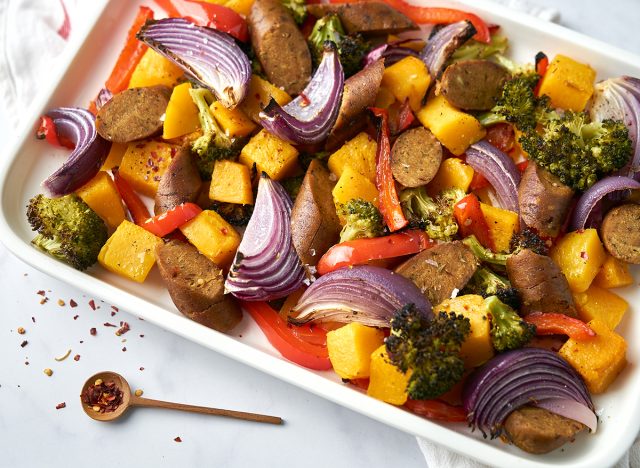 Carlene Thomas, RDN, created a vegan sheet pan breakfast dish for ETNT that uses No Evil sausage to replace any meat product. Add that to butternut squash, red bell pepper, broccoli, and red onion and we promise you won't miss the meat.6254a4d1642c605c54bf1cab17d50f1e
Get our recipe for Sheet Pan Vegan Sausage and Vegetables.
Easiest Full Sheet Pan Breakfast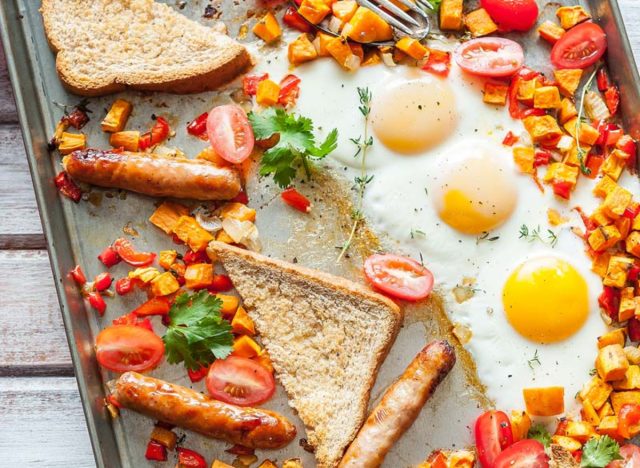 This breakfast has it all – eggs, sausage potato hash, and toast. The best part is that it's all cooked on one pan! Imagelicious gives instructions on variations like spices and portions to make it perfect for you.
Get the recipe from Imagelicious.
Sheet Pan Breakfast Hash and Eggs
If you like to meal prep, this recipe is for you. Meal Prep on Fleek not only tells you how to prepare a delicious sheet pan breakfast with potatoes, eggs, and bacon but gives information on portions for the week. Each recipe makes four containers of a hearty, daily breakfast.
Get the recipe from Meal Prep on Fleek.
RELATED: This Major Grocery Chain Is Putting Purchase Limits on Bacon and Other Popular Items
Sheet Pan French Toast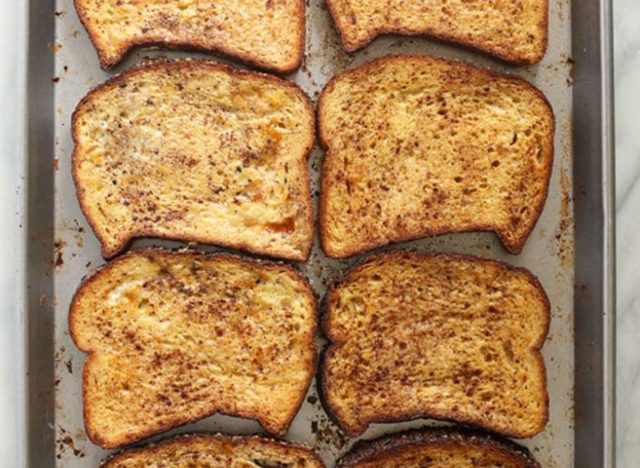 Making French toast on a sheet pan is probably the only way to enjoy serving a crowd. With much less time invested and very little mess, breakfast is ready in around fifteen minutes. Fit Foodie Finds points out that everyone is able to enjoy warm food at the same time and includes lots of topping ideas. Sounds like a party!
Get the recipe from Fit Foodie Finds.
Sheet Pan Omelet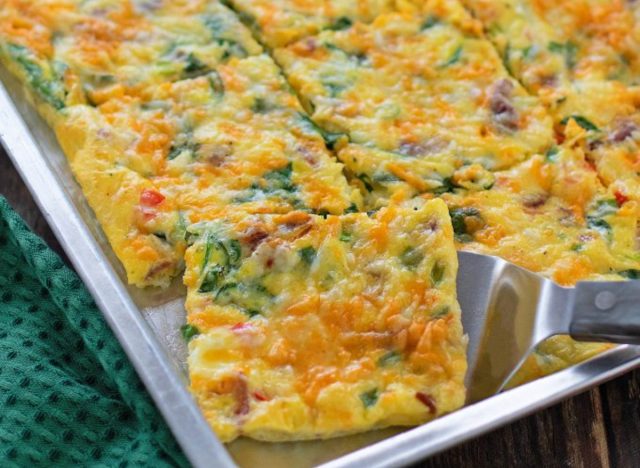 Melissa's Southern Style Kitchen creates a recipe to enjoy eggs omelet-style and filled with bacon, spinach, onions, peppers, and cheese. Again, this recipe is crowd-friendly, allowing multiple servings to be made at the same time. This makes twelve servings to serve with fruit or toast, hot sauce optional.
Get the recipe from Melissa's Southern Style Kitchen.
Sheet Pan Breakfast Sandwiches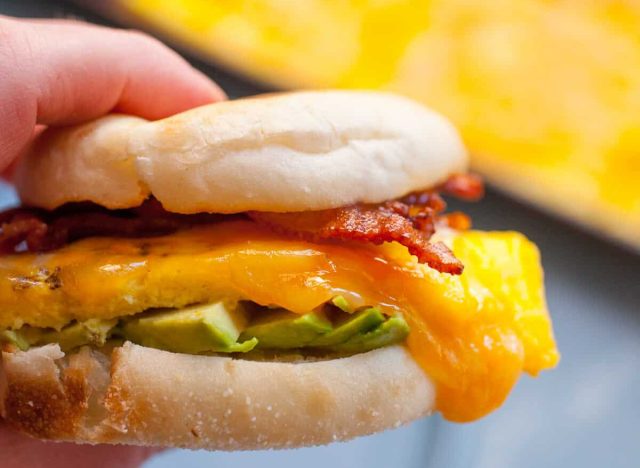 Macheesmo takes a little different approach to our other all-in-one recipes. This recipe teaches someone to make eggs that can go onto the fresh bread of your choice – biscuits, English muffins, or toast. The eggs can be cut into portions and frozen, simply reheating when it's time with a quick one minute in the microwave. Breakfast couldn't be easier!
Get the recipe from Macheesmo.
Sheet Pan Breakfast Pizza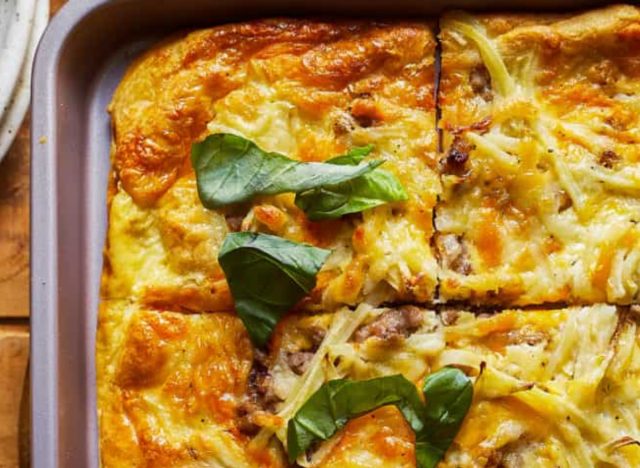 The Cookie Rookie uses a sheet pan to make breakfast pizza made with crescent rolls. The filling is made from sausage, eggs, hash browns, and cheese with endless toppings that can be added. The crust is easy pre-made crescent rolls pressed out flat onto the cookie sheet. I know crescent rolls don't last long in my house. I'm sure this recipe won't linger in yours.
Get the recipe from The Cookie Rookie.
Keto Sheet Pan Breakfast
If you are looking for a Keto recipe, this sheet pan creation from Hip 2 Keto is satisfying enough for breakfast or dinner. Radishes are used in the recipe as a substitute for the usual potatoes, roasted with olive oil and bacon for ultimate flavor.
Get the recipe from Hip 2 Keto.
Sheet Pan Gluten Free Pancakes
Using Bob's Red Mill Gluten-Free Flour, coconut sugar, and almond milk, this recipe by Seasonal Cravings cuts the problems experienced with a food sensitivity to the protein.
Get the recipe from Seasonal Cravings.
Get more easy breakfast recipes:
91+ Best Healthy Breakfast Recipes for Weight Loss
13 Best Southern Breakfast Recipes