22 Cozy Breakfast Casserole Recipes That Are Perfect for Weight Loss
Make the restaurant-worthy breakfast casseroles ahead of time for the easiest morning ever.
Sure, stacks of pancakes and platters of French toast are delicious, but have you ever started your day off with a homemade breakfast casserole? Usually made with a variety of hearty, easy-to-find ingredients, these casseroles not only are full of flavor but also high in protein, which can help keep you fuller, longer.
Restaurant-bought and freezer-aisle options are often packed with unnecessary carbs and fats, so why not make some healthier versions at home? You can freeze many of these and break them out for an easy weekend breakfast for the whole family. From breakfast casseroles infused with Tex-Mex flavors, to others that incorporate unexpected ingredients (such as pesto!) here are some of the best breakfast casserole recipes that are perfect for weight loss. (Plus, don't miss our 91+ Best Healthy Breakfast Recipes for Weight Loss."
Whole30 Green Machine Veggie Casserole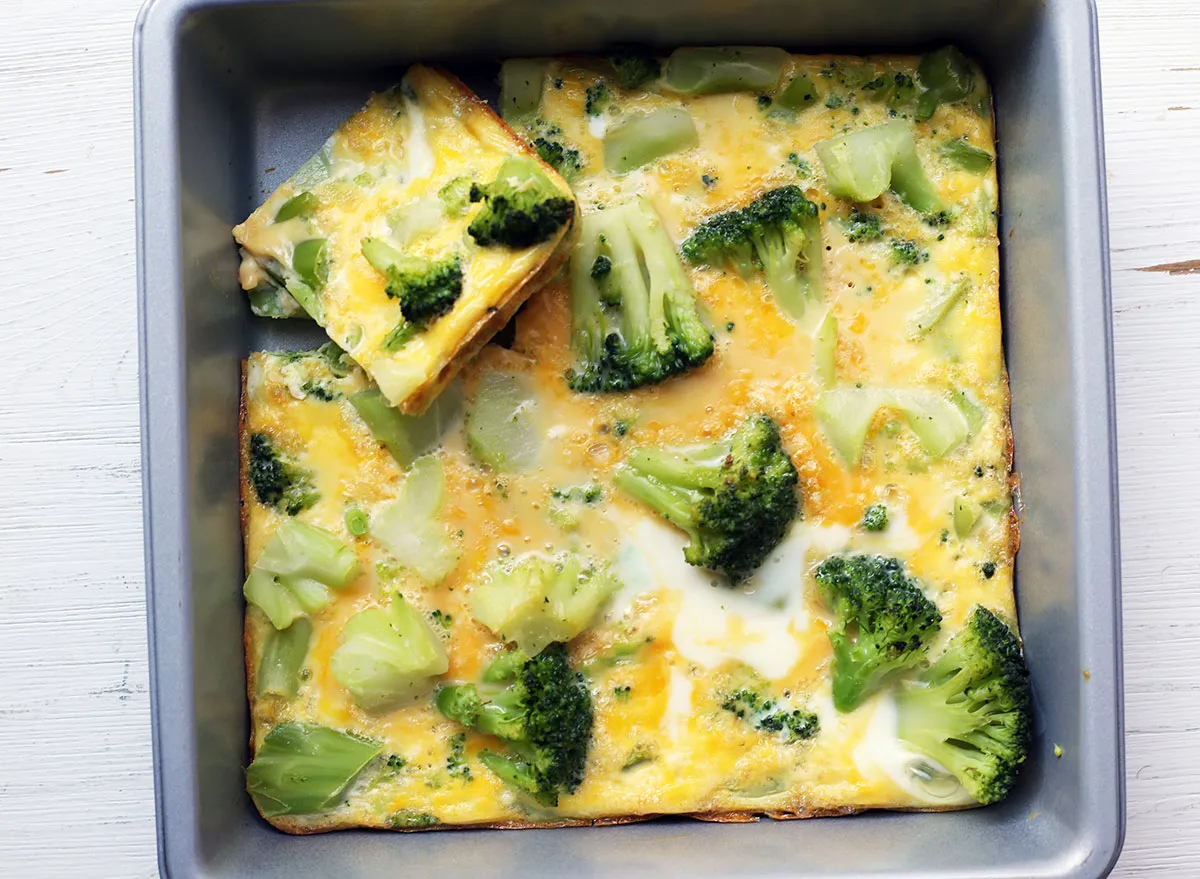 This healthy casserole recipe, which calls for chopped green vegetables and coconut milk, is a perfect one to make especially if you follow a Whole30 diet. This dish particularly pairs well with a fruit parfait or a bowl of berry oatmeal.
Get our recipe for Green Machine Veggie Casserole.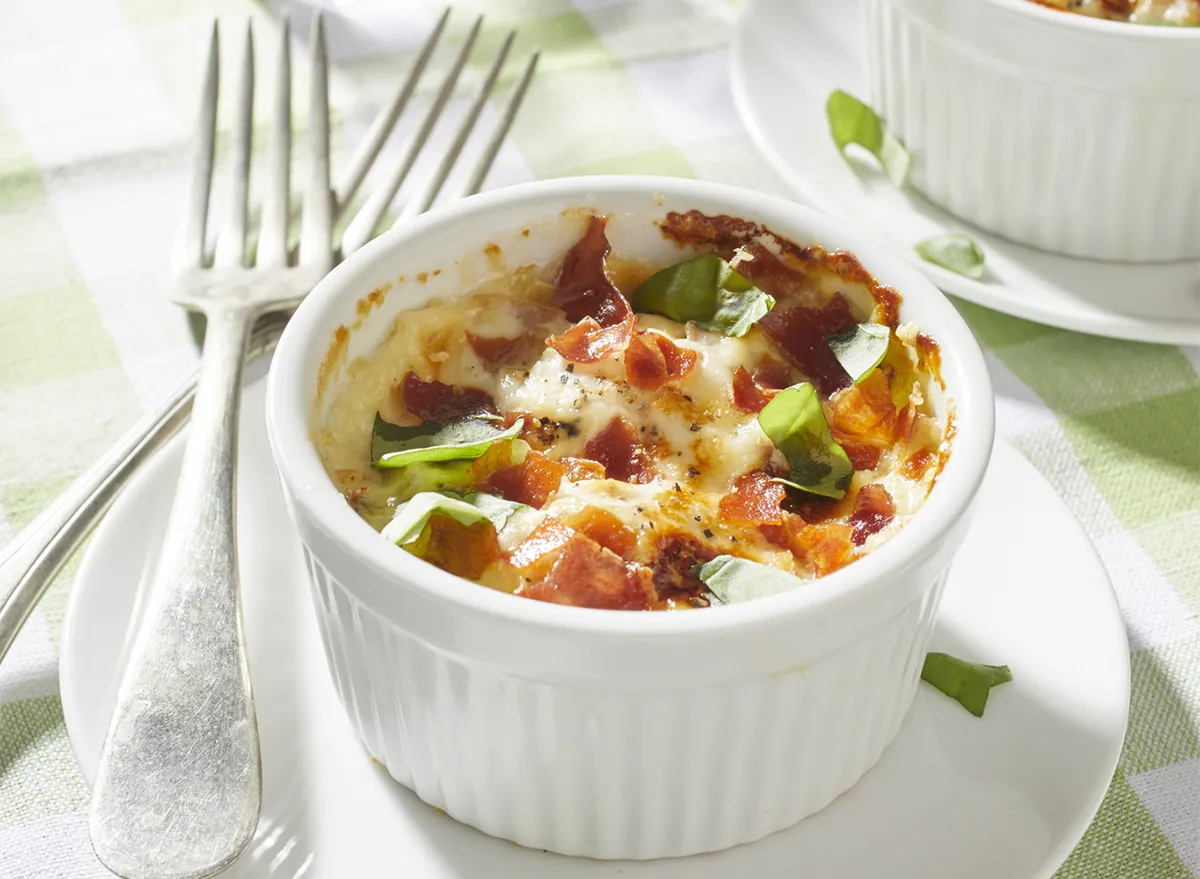 Parmesan, prosciutto, and basil transform a breakfast egg bake into something extraordinary. One of the best parts is that it is high in protein but low in calories.
Get our recipe for Keto Baked Eggs.
Keto Breakfast Casserole with Mushroom, Kale, and Onion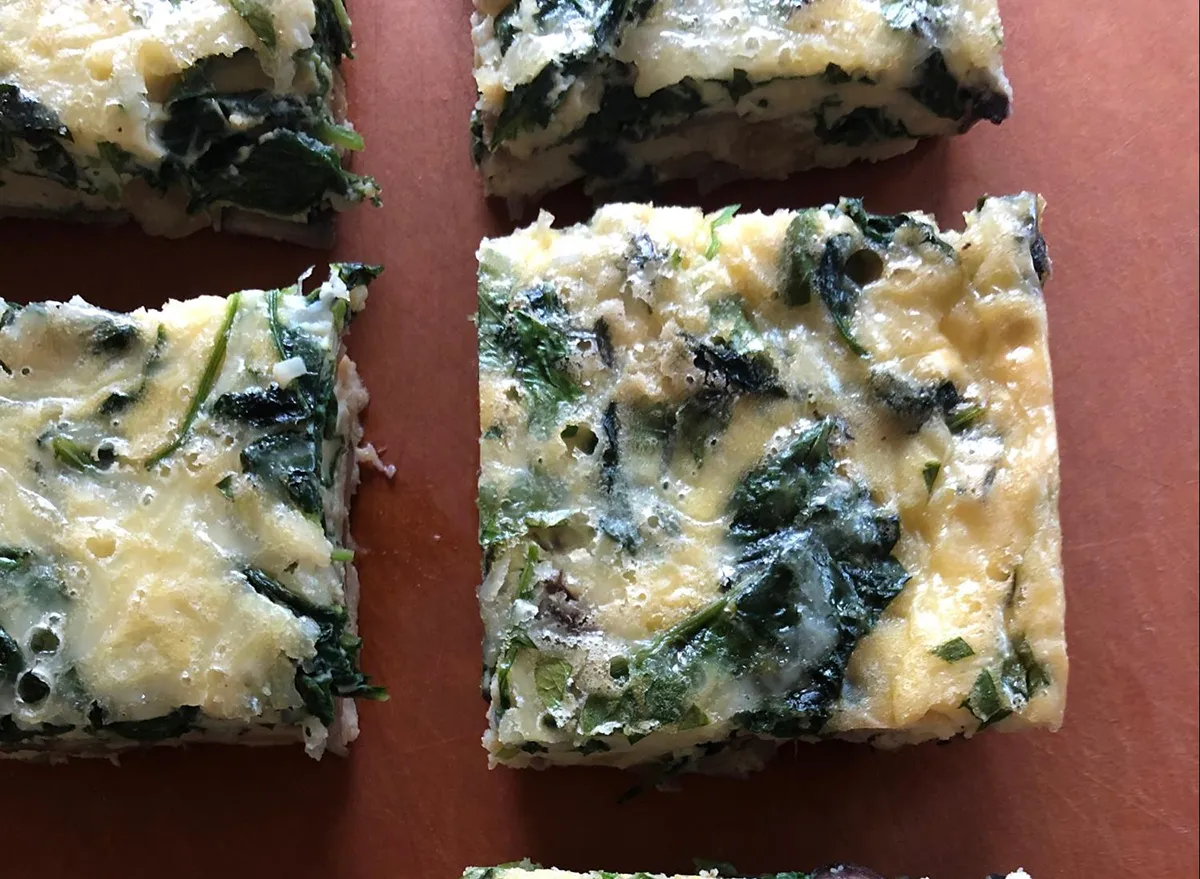 If you follow a Keto diet then you have to give this savory breakfast casserole a try. Filled with thinly sliced cremini mushrooms, chopped baby kale, and shredded gruyere, this delectable dish takes under an hour to make.
Get our recipe for Keto Breakfast Casserole with Mushroom, Kale, and Onion.
Light Sausage Spinach Egg Casserole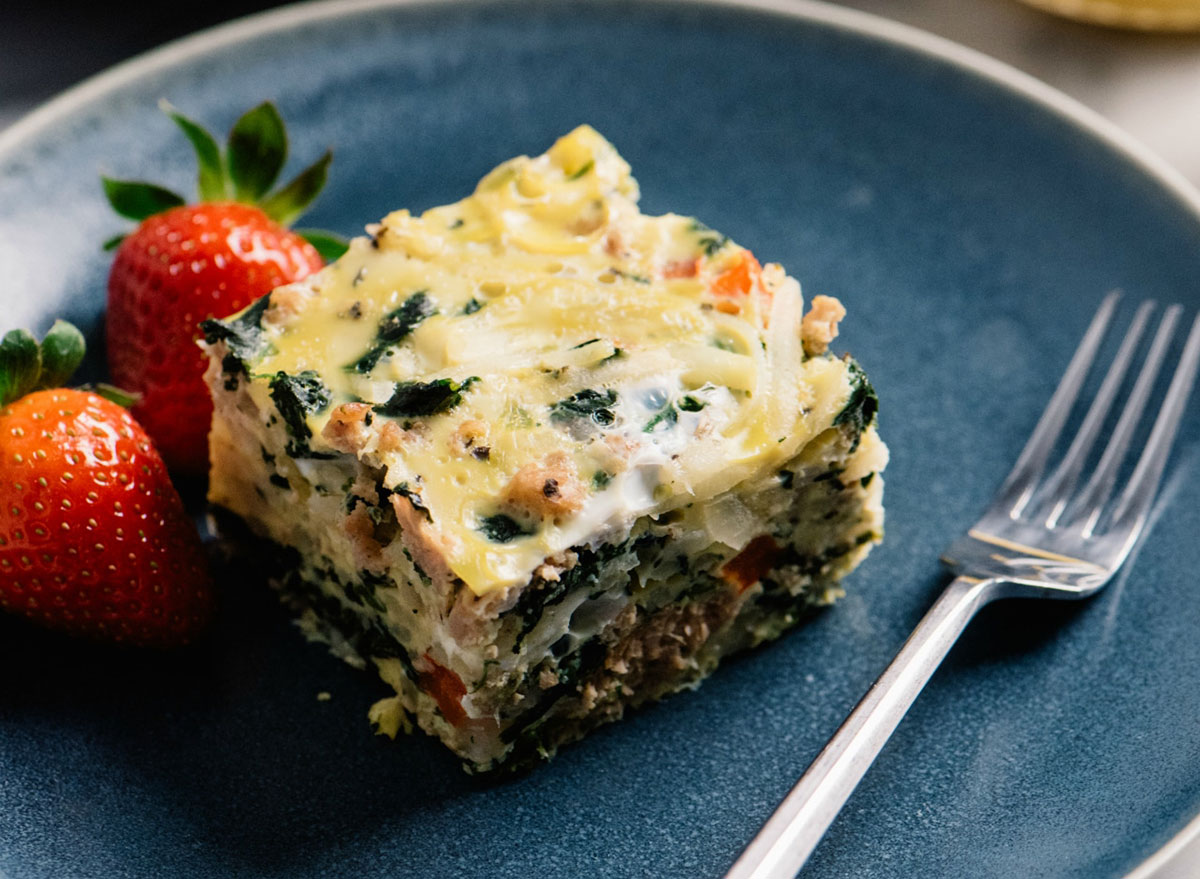 This sausage egg casserole, which uses frozen hash browns to get its hearty texture, can easily be made to be Whole30-friendly. Another plus? There is no dairy found in this recipe—almond milk is used in lieu of heavy cream and cow's milk. Feel free to experiment with vegan sausage if you are looking to go meat-free.
Get the recipe from Kim's Cravings.
Vegetarian Breakfast Casserole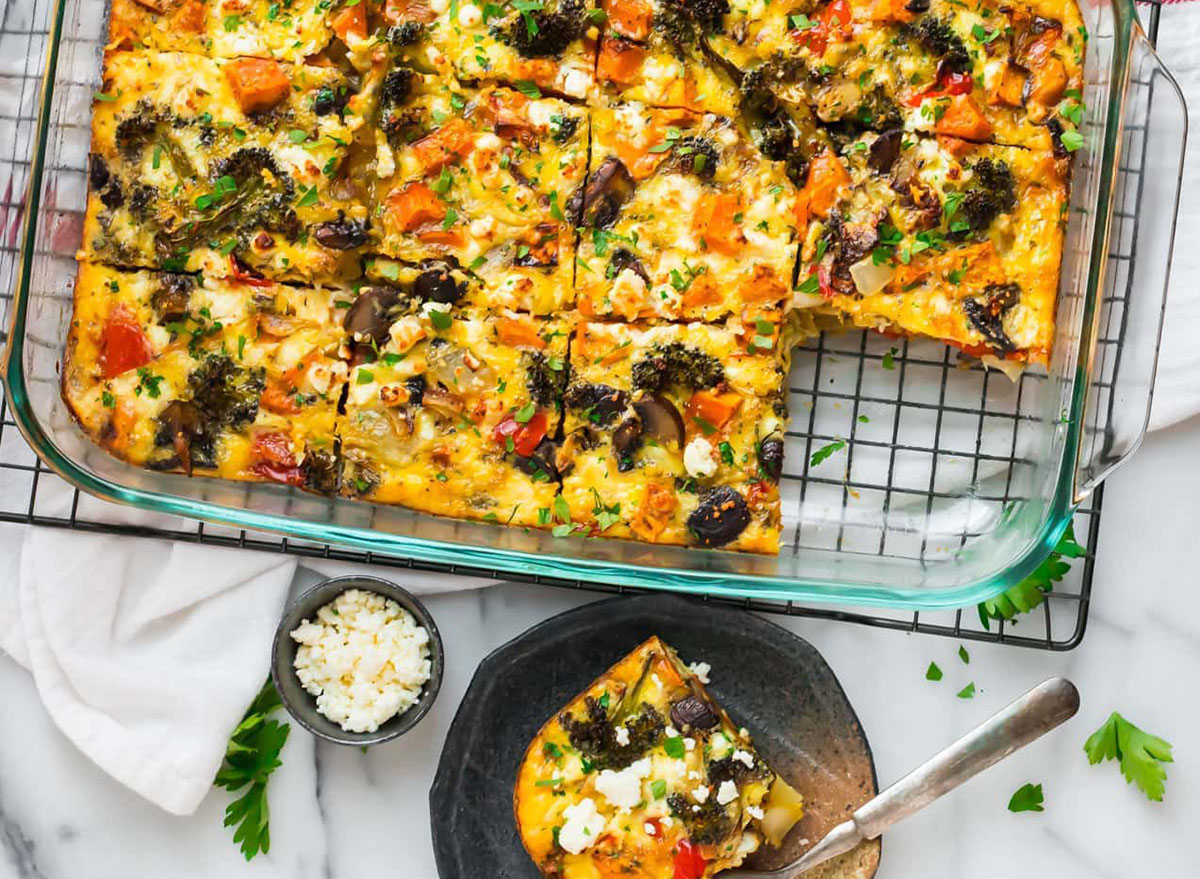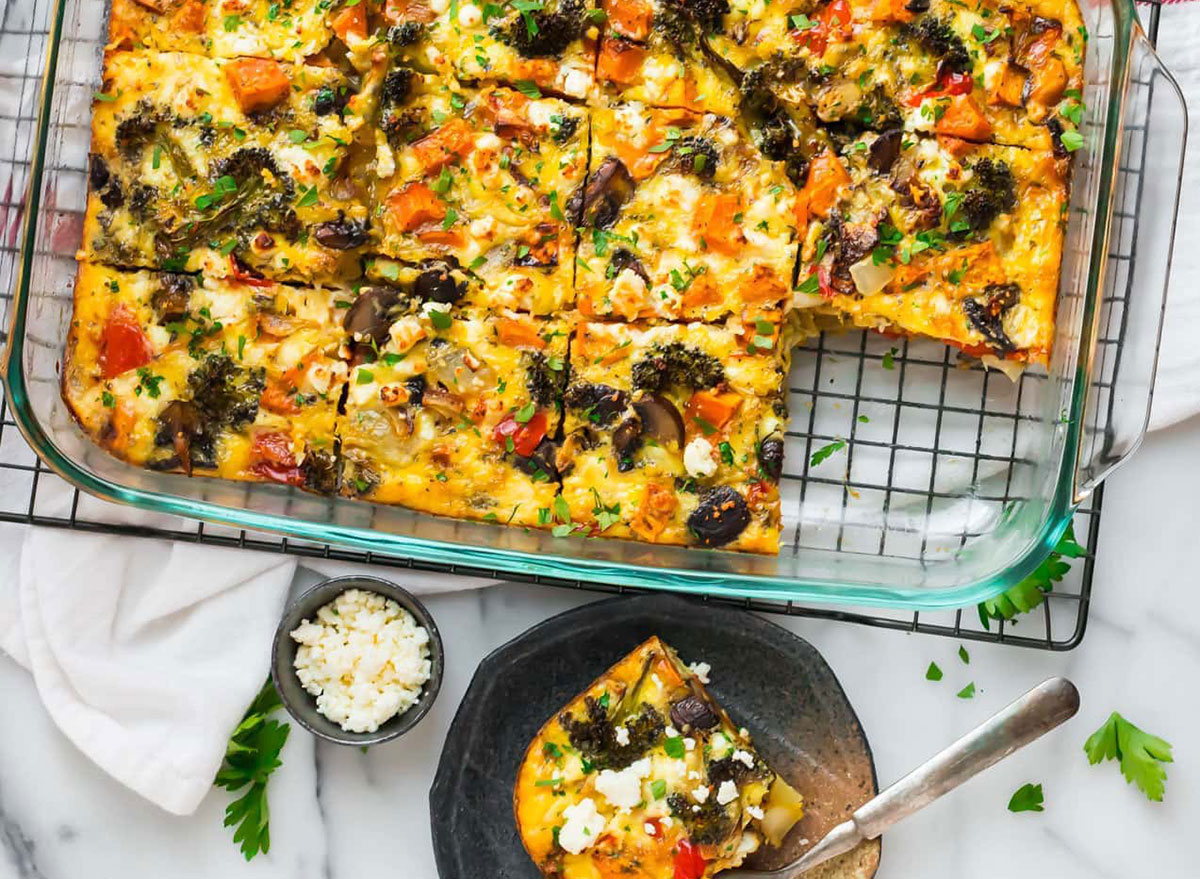 Perfect for holiday brunches or weekend breakfasts, this low-carb vegetarian breakfast casserole is delicious at any time. Bonus: It is just 188 calories per serving, and is packed with 11 grams of protein.
Get the recipe from Well Plated.
Tex-Mex Egg and Cheese Cauliflower Casserole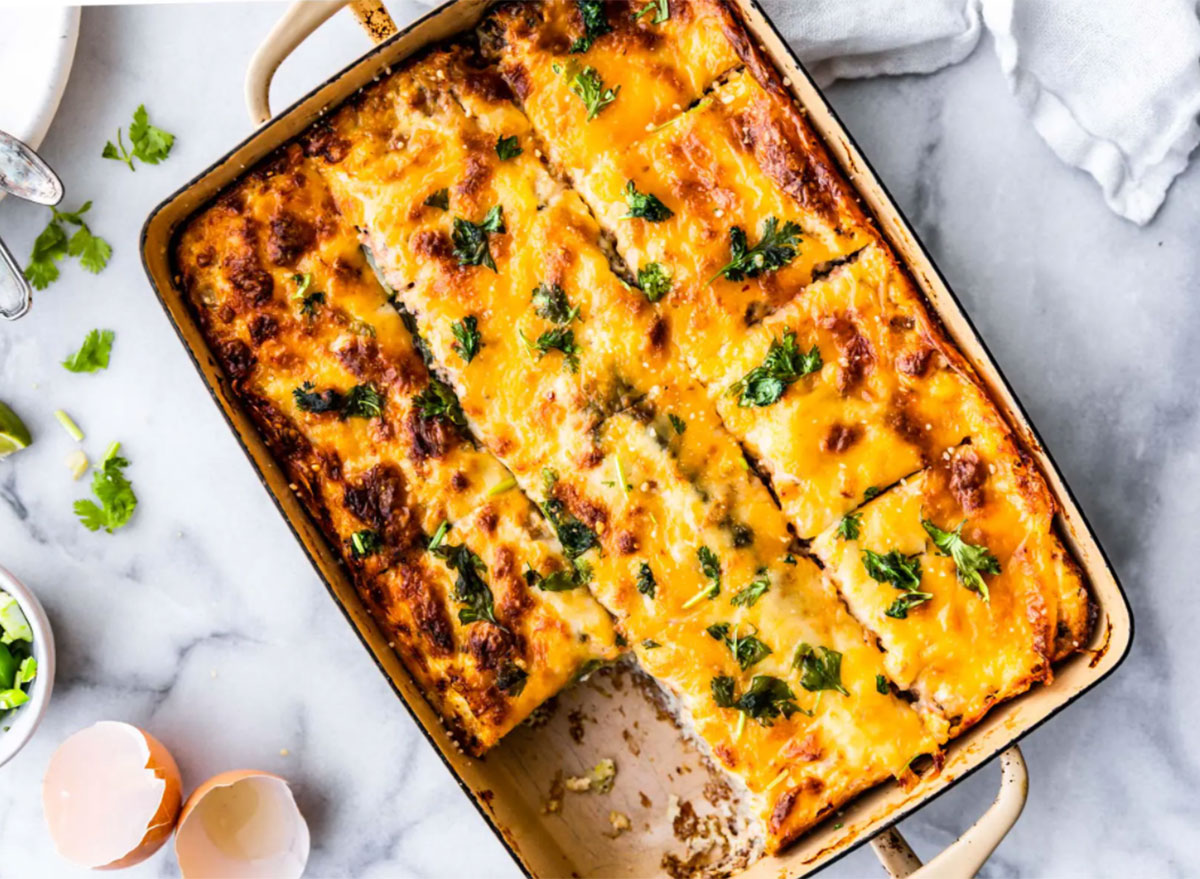 Bright Mexican spices take the front seat in this one-of-a-kind egg and cheese cauliflower casserole that is full of fresh vegetables. Loaded with 16 grams of protein, this simple dish may just become your next morning go-to.
Get the recipe from Cotter Crunch.
Whole30 Breakfast Casserole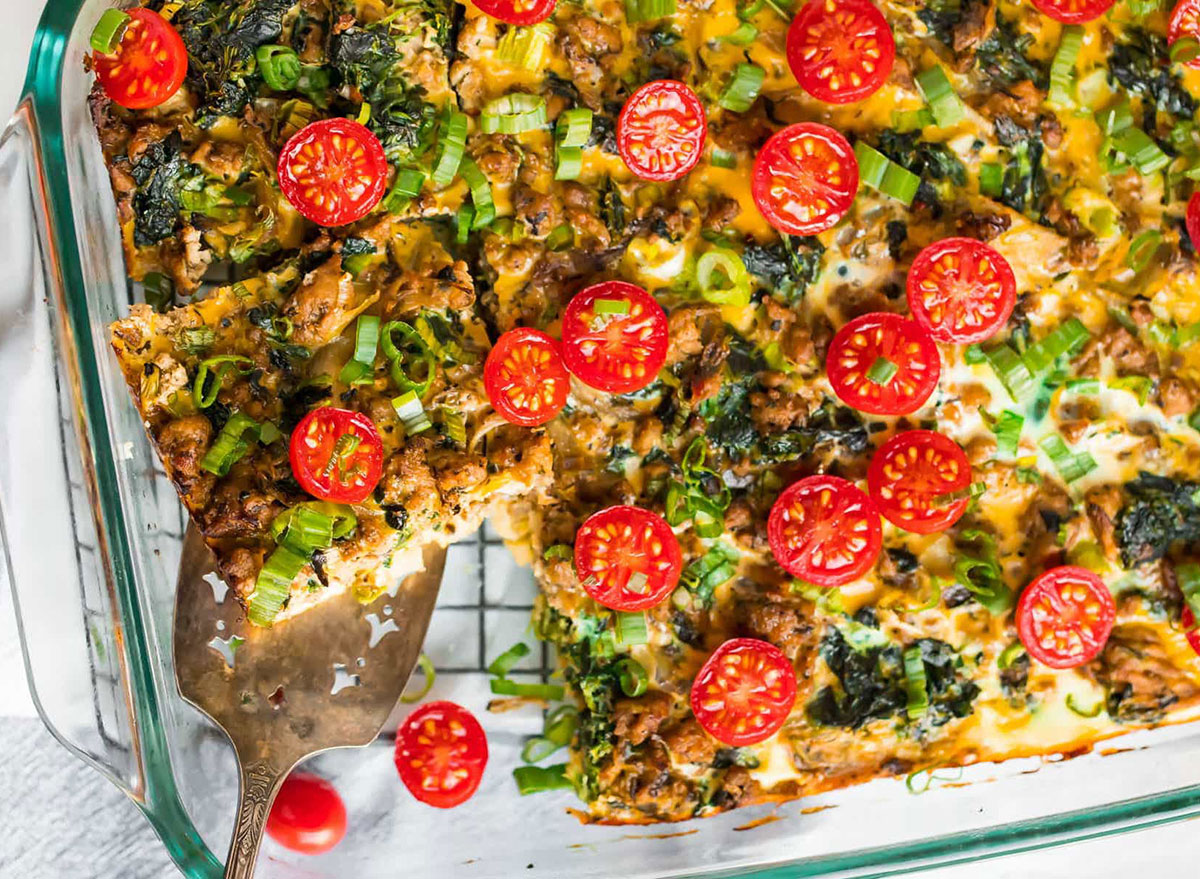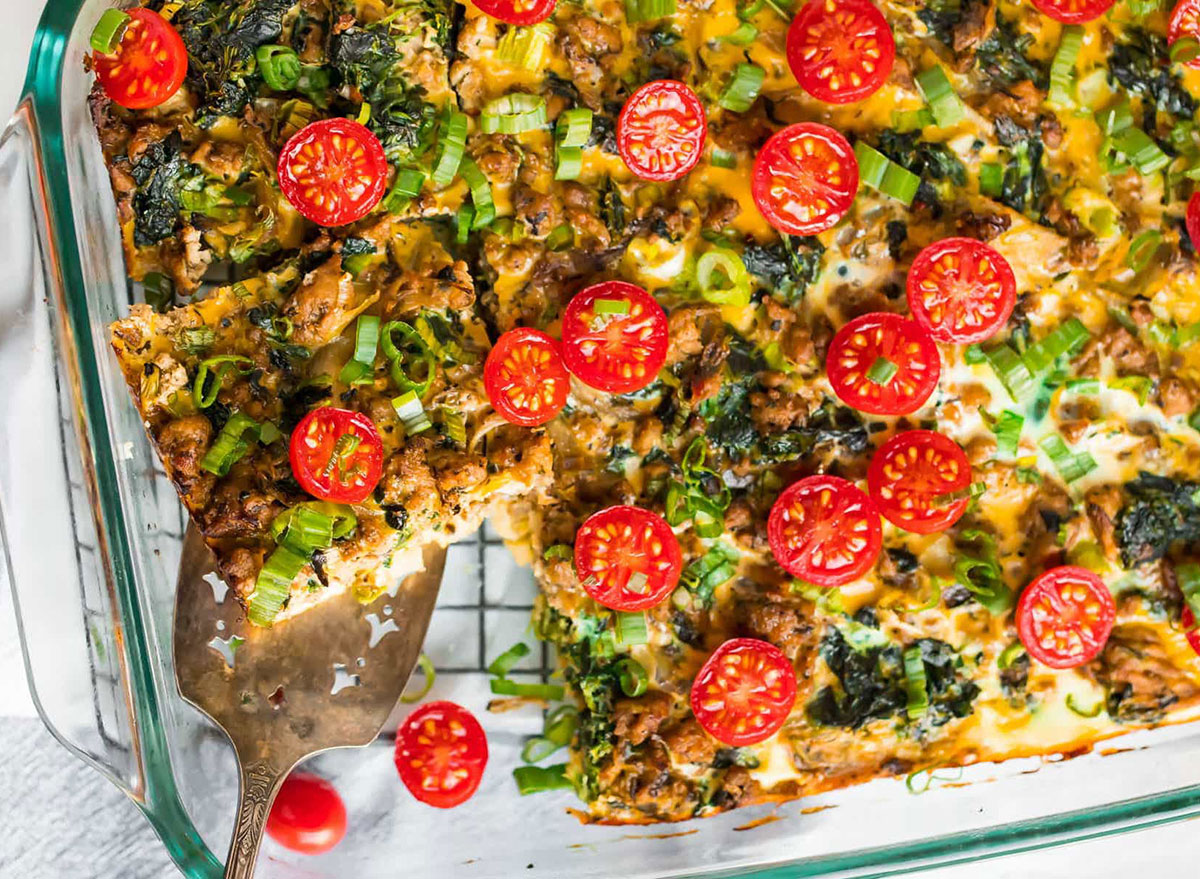 Don't let the name fool you—this Whole30 casserole, which is low in carbs and high in protein, can be enjoyed for lunch or dinner, too. May we suggest serving it alongside a cup of coffee, an arugula salad, or with a bowl of chicken soup?
Get the recipe from Well Plated.
Veggie-Loaded Breakfast Casserole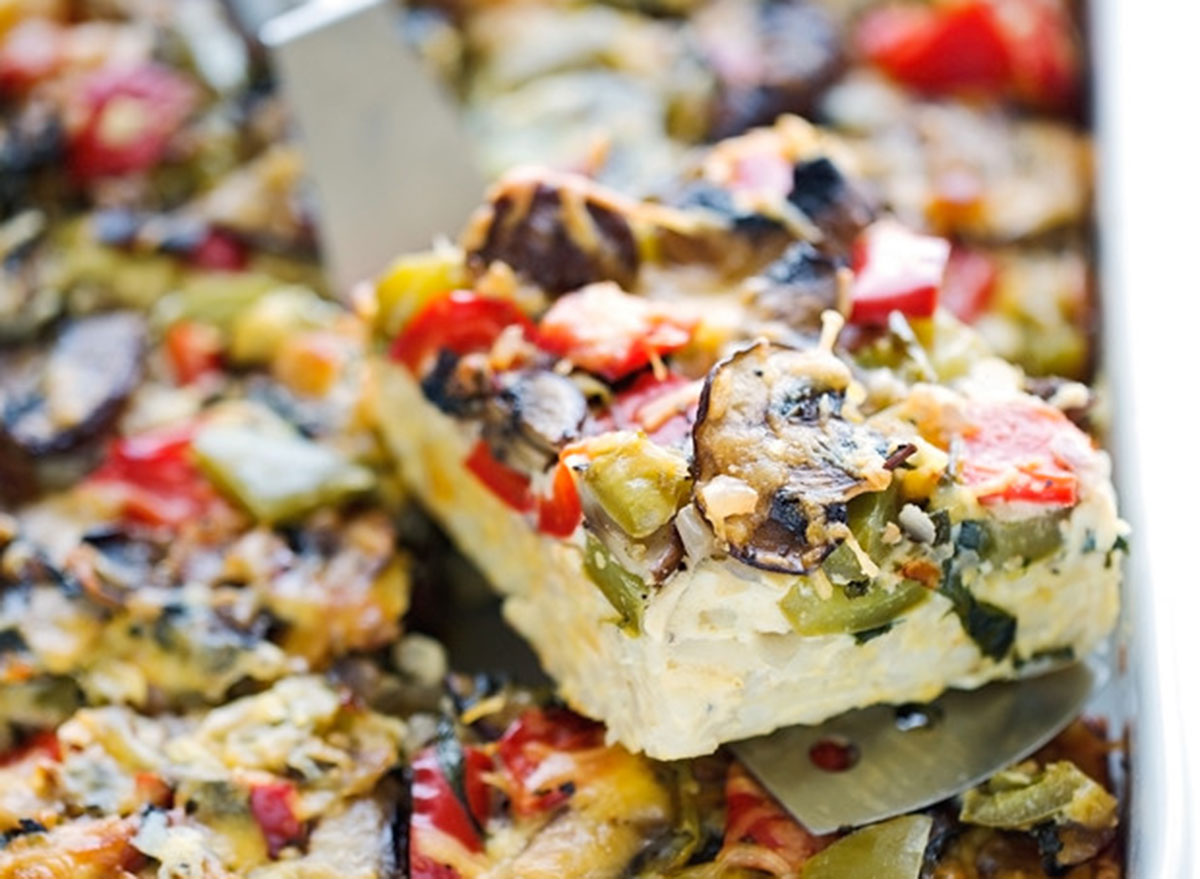 This breakfast casserole, which is only 172 calories per serving, requires just 20 minutes of prep time. Hint: Be sure to saute the vegetables before adding them to the casserole mixture. This will help the casserole achieve full flavor potential.
Get the recipe from Little Spice Jar.
Crockpot Egg Casserole with Vegetables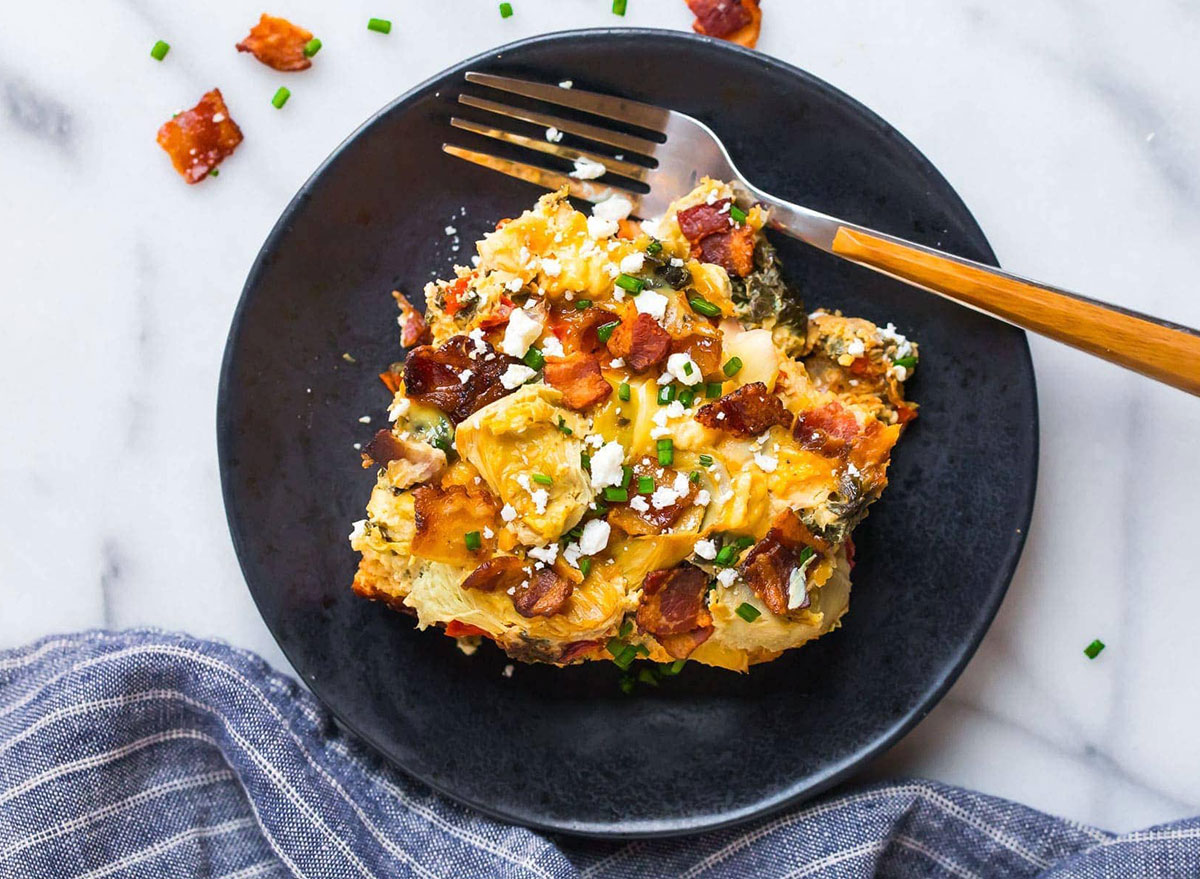 This slow-cooker casserole, which is low in calories and saturated fat, is made with a bit of Dijon mustard and cayenne powder which helps give it a bit of an edge. We imagine this casserole would make the perfect centerpiece for a breakfast spread.
Get the recipe from Well Plated.
Sausage Egg Casserole with Veggies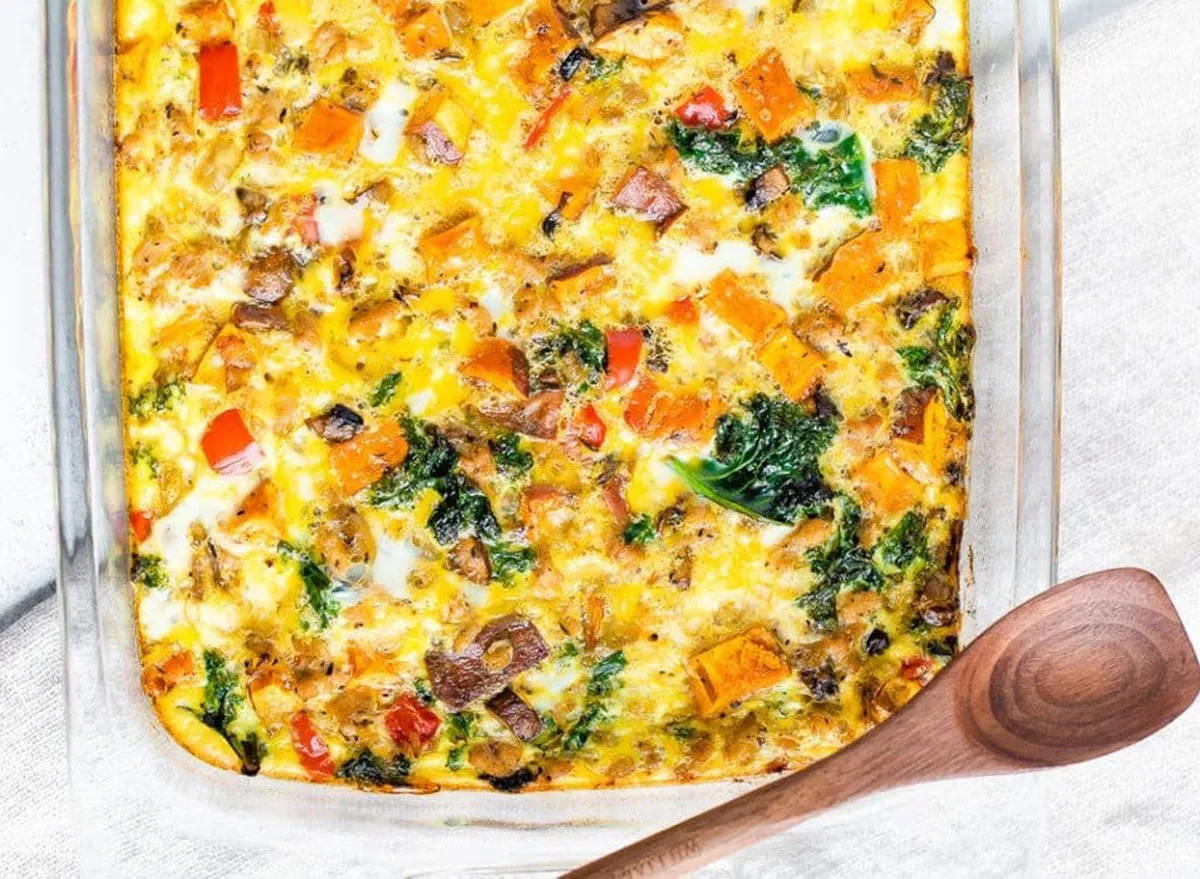 Chunks of sweet potato, mushroom, and red bell pepper are all found in this colorful casserole that can easily be frozen for future meals. This recipe is a great choice for those looking for dairy- and gluten-free breakfast options.
Get the recipe from Eating Bird Food.
Keto Monte Cristo Breakfast Casserole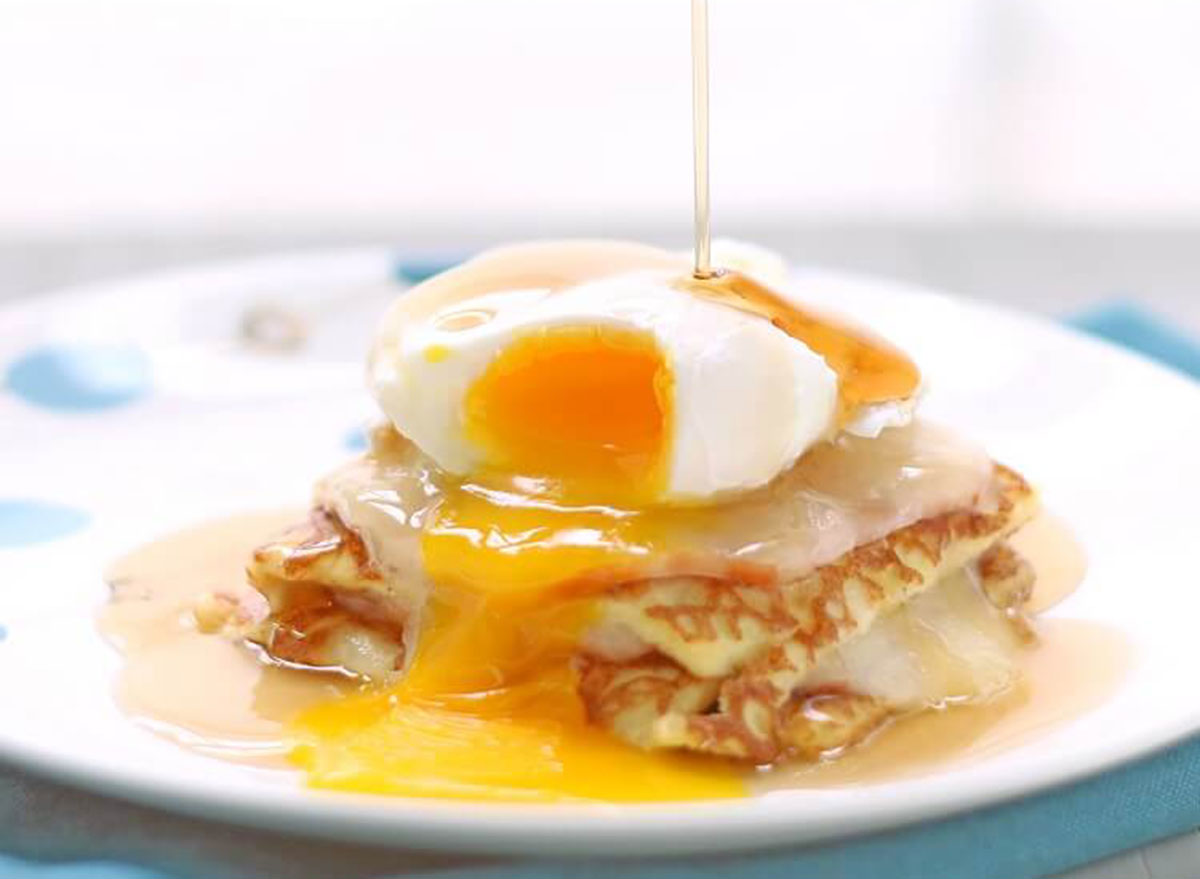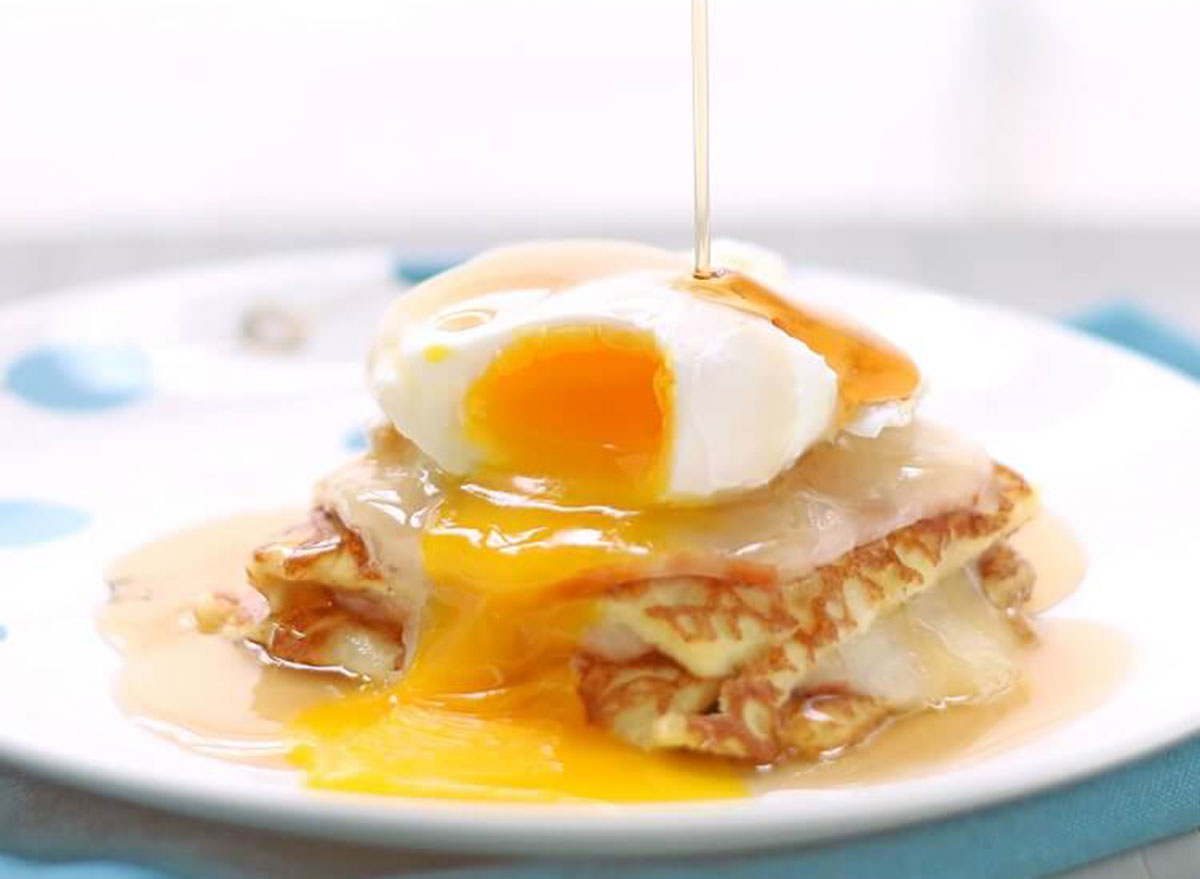 This Keto casserole, which is high in protein and low in carbs, is a combination of some of the most delicious ingredients around: keto cream cheese pancakes, Canadian bacon, shredded Gruyere, and a drizzle of sugar-free maple syrup.
Get the recipe from I Breathe I'm Hungry.
Light Mexican Breakfast Casserole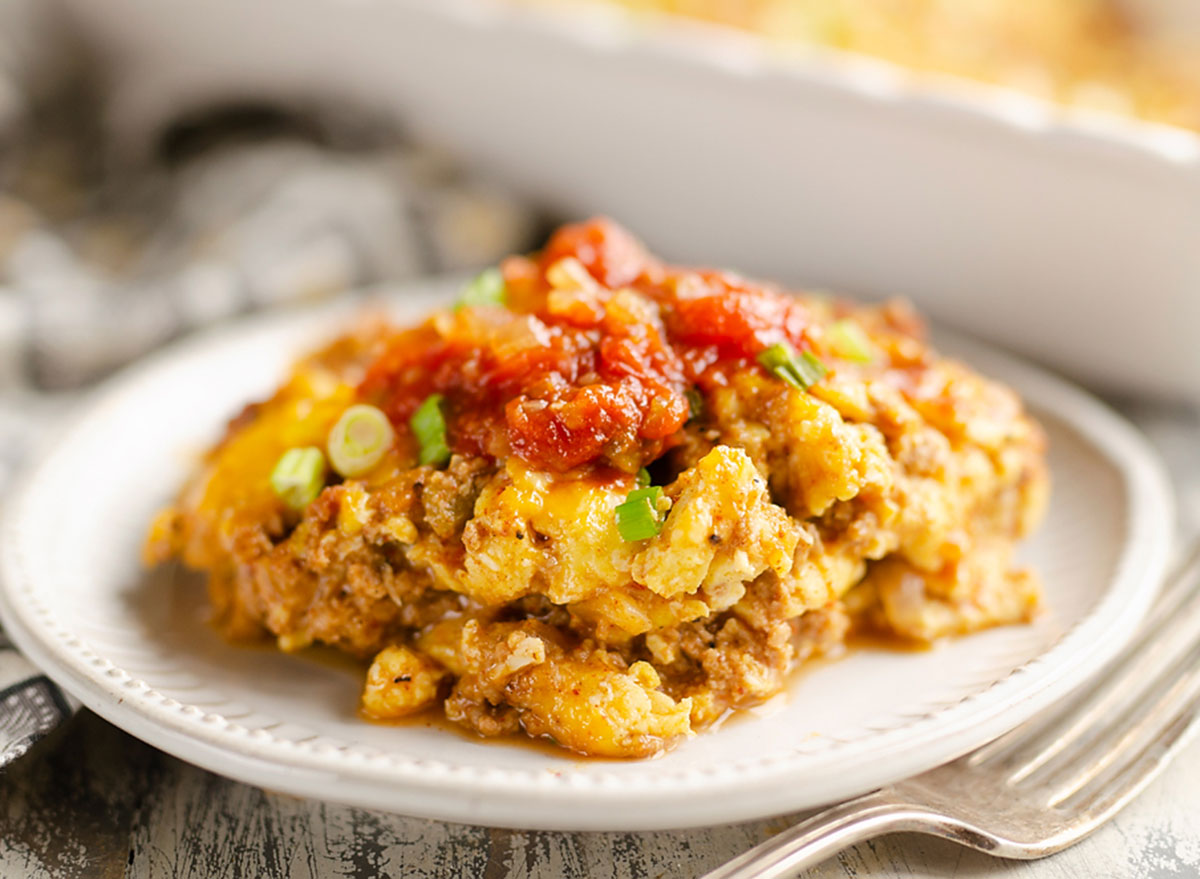 This low-carb casserole, which is full of flavor and texture, can easily be prepared and refrigerated overnight to make for an easy morning meal.
Get the recipe from The Creative Bite.
Ham and Cheese Low-Carb Breakfast Casserole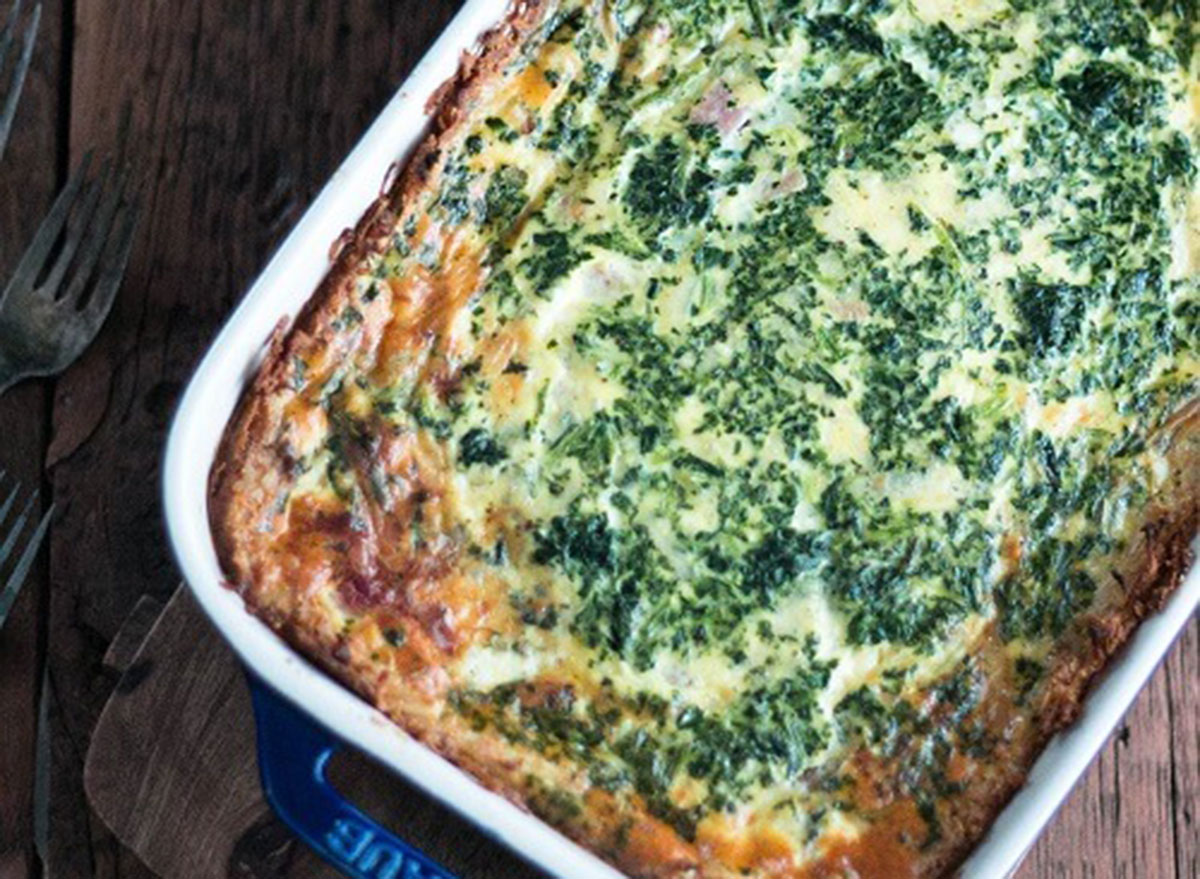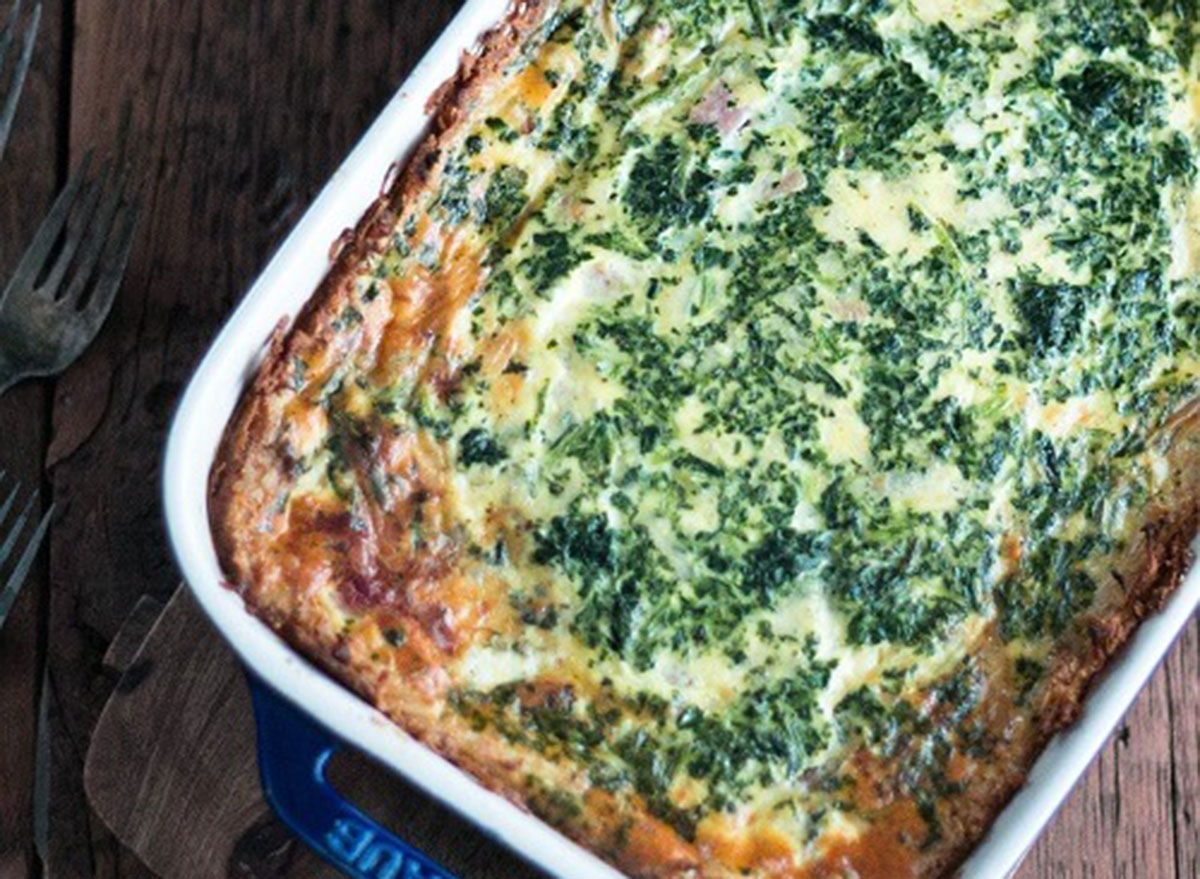 This low-carb casserole-meets-quiche has a flaky pastry crust base that adds another dimension of flavor and texture. Whether served with mimosas or fresh-squeezed juice, this easy-to-make recipe is sure to be a hit among family and friends.
Get the recipe from I Breathe I'm Hungry.
Sweet Potato Breakfast Casserole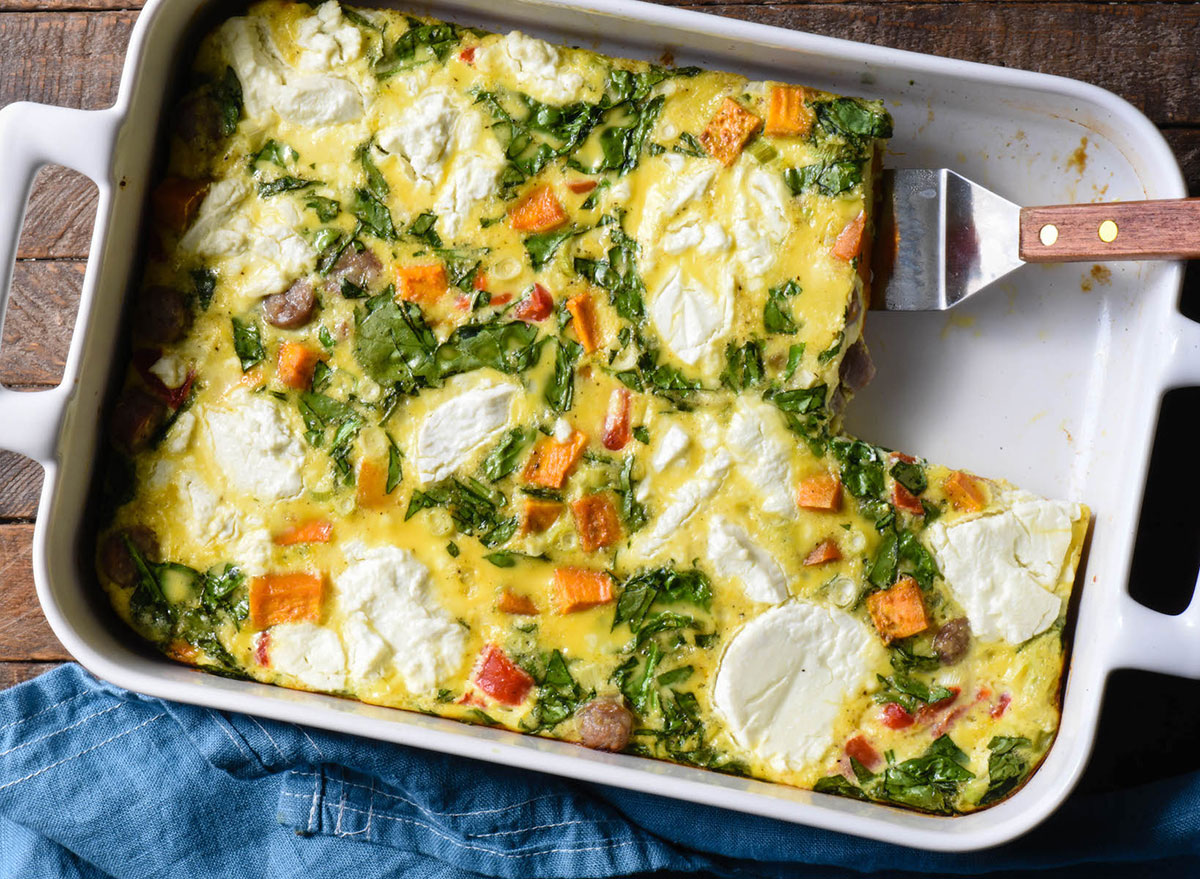 This casserole uses a classic fall ingredient, sweet potato, to add a bit of earthy sweetness to it. Added bonus: This special breakfast dish can easily be reheated in the toaster oven or standard oven.6254a4d1642c605c54bf1cab17d50f1e
Get the recipe from Foxes Love Lemons.
Healthy Fiesta Egg Casserole
This healthy egg casserole, which is filled with fire-roasted tomatoes, oat flour, and cheddar cheese, is a meatless, low-carb, and gluten-free option. Make sure to dress with a dollop of sour cream and fresh sliced avocado before serving for the full experience.
Get the recipe from The Yummy Life.
Creamy Spinach and Potato Breakfast Casserole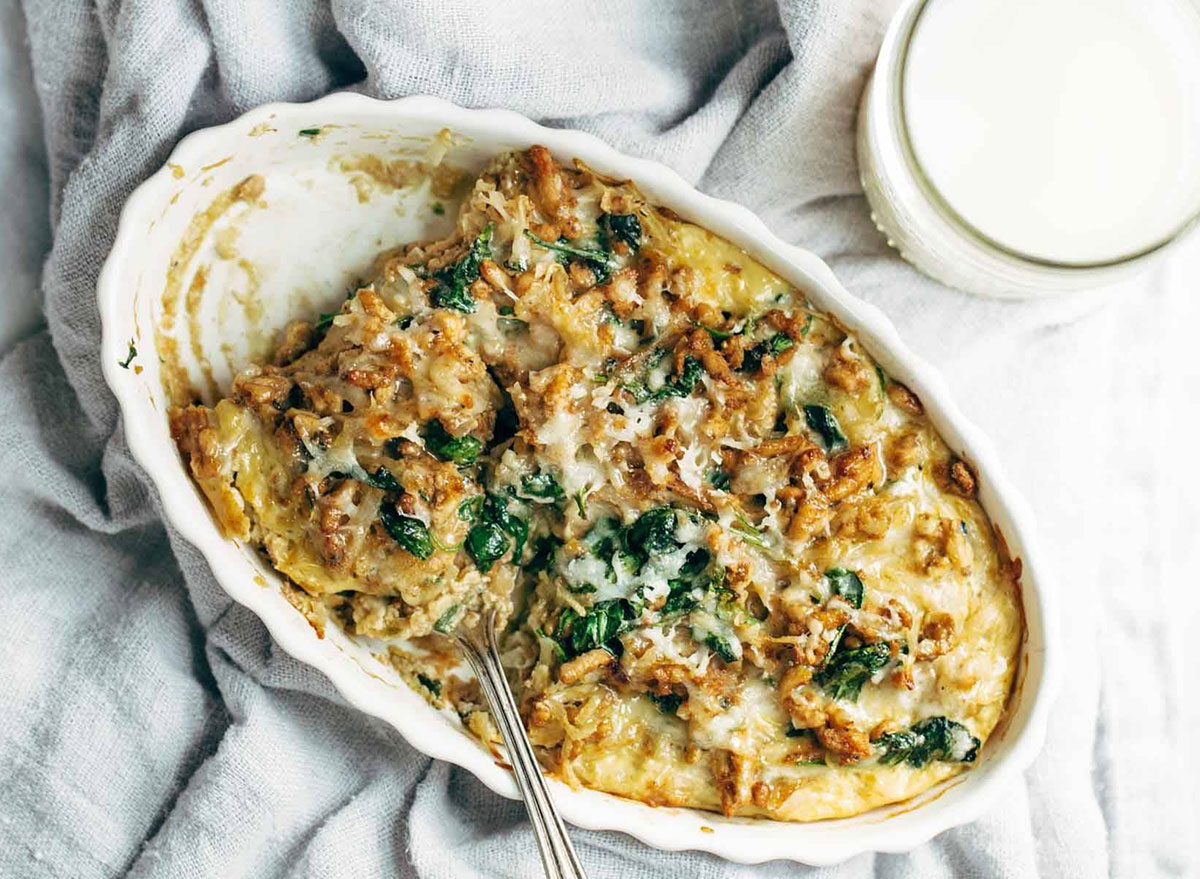 Chili-spiced turkey meat and seasoned potatoes shine bright in this creamy spinach and potato breakfast casserole that is low in carbs, calories, and fat. A plus is that it takes just 40 minutes to make from start to finish.
Get the recipe from Pinch of Yum.
Cauliflower Hash Browns Slow Cooker Breakfast Casserole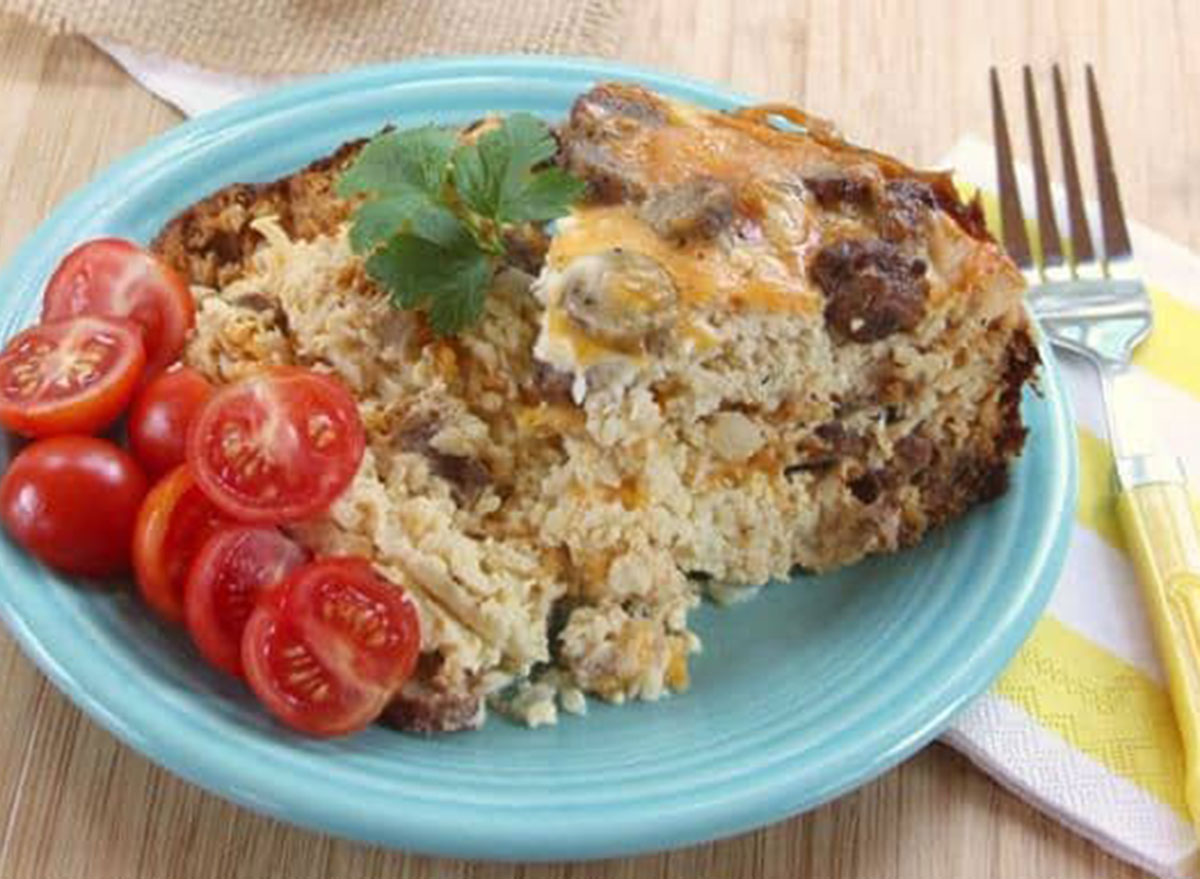 Cauliflower proves, once again, that it has the ability to make any dish healthier and tastier. This casserole, which is centered around homemade cauliflower hash browns and pre-cooked turkey breakfast sausage, can easily be made in the slow cooker.
Get the recipe from Cupcakes and Kale Chips.
Vegan Oatmeal Breakfast Bake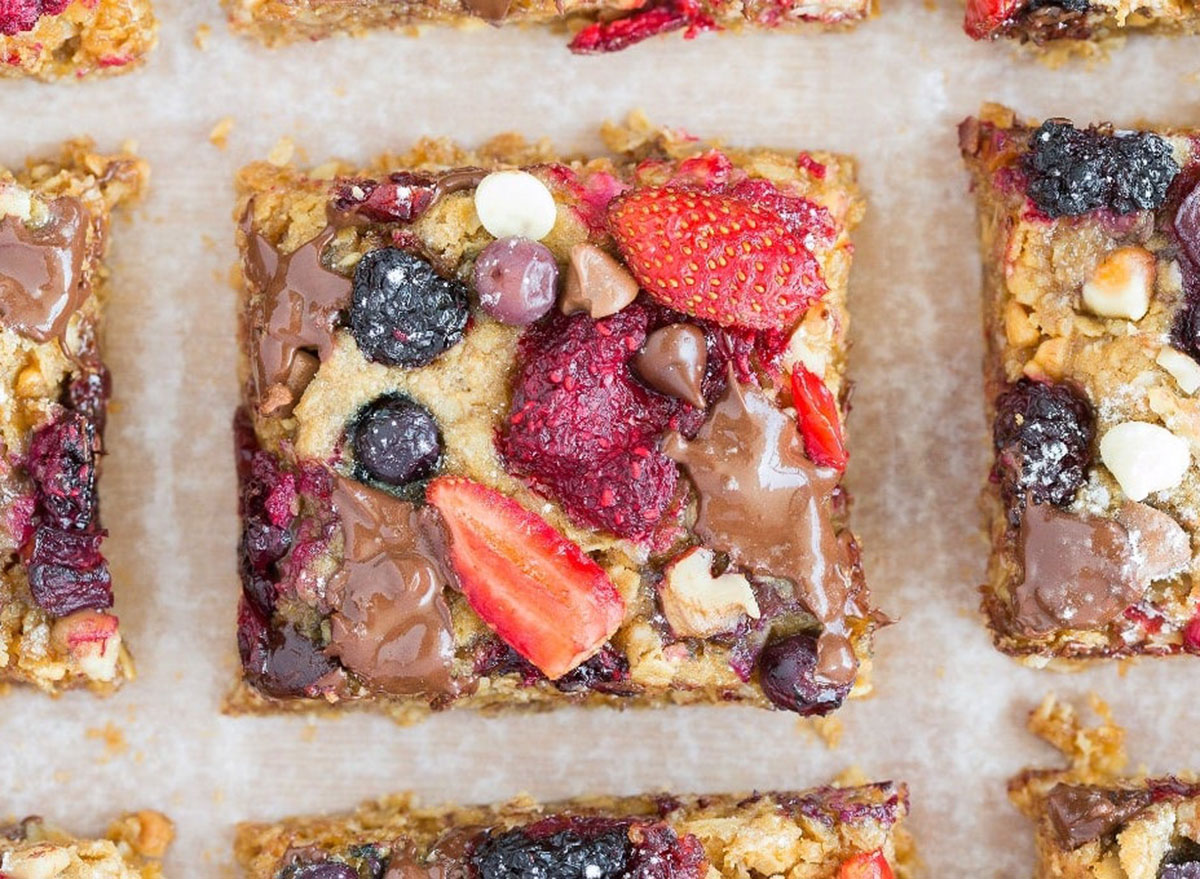 This baked oatmeal breakfast casserole is full of delicious ingredients, such as mixed berries and peanut butter, and can easily be made keto- and paleo-friendly. We especially love how this recipe can be customized to one's liking in just a few simple steps. For instance, feel free to toss in some chopped nuts or experiment with different types of fruits and vegetables.
Get the recipe from The Big Man's World.
Healthy Breakfast Casserole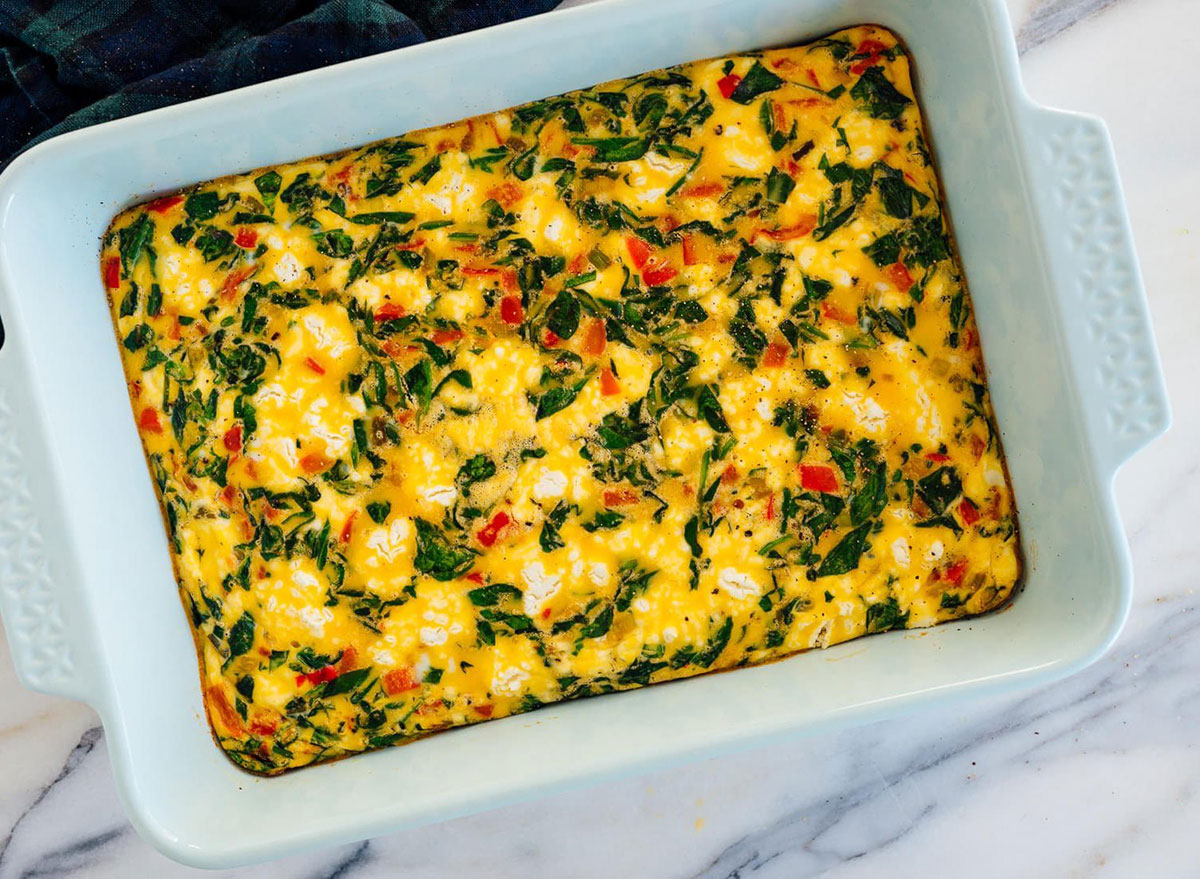 This healthy breakfast casserole features a medley of freshly chopped ingredients, including red bell peppers and baby spinach. Make sure to add a few dashes of hot sauce, such as Cholula, before baking to give this tasty breakfast dish a bit of extra added heat.
Get the recipe from Cookie and Kate.
Roasted Veggies Breakfast Casserole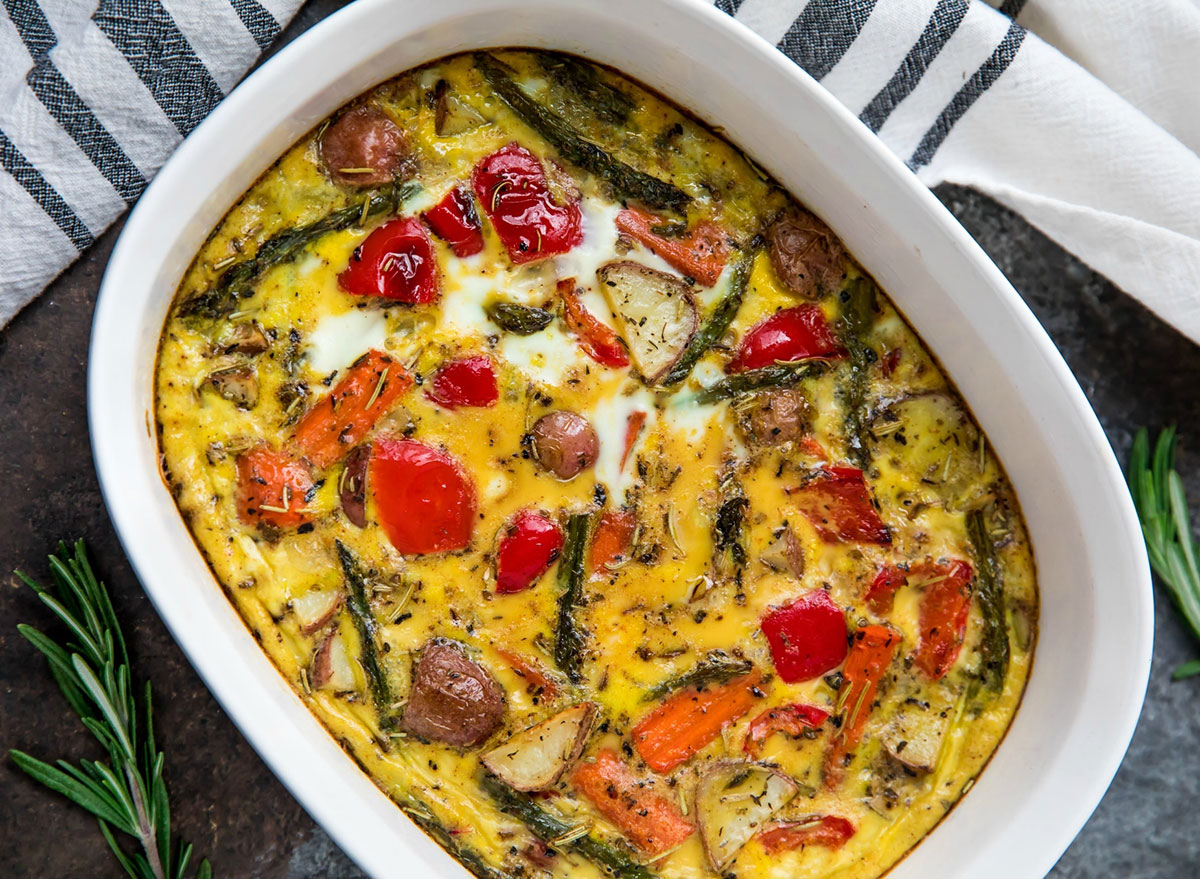 A roasted vegetable's place is not just on the dinner plate, but in a flavorful breakfast casserole, too. Hint: Use leftover cooked vegetables from the night before to cut back on time and effort.
Get the recipe from Kim's Cravings.
7 Veggie Pesto Breakfast Casserole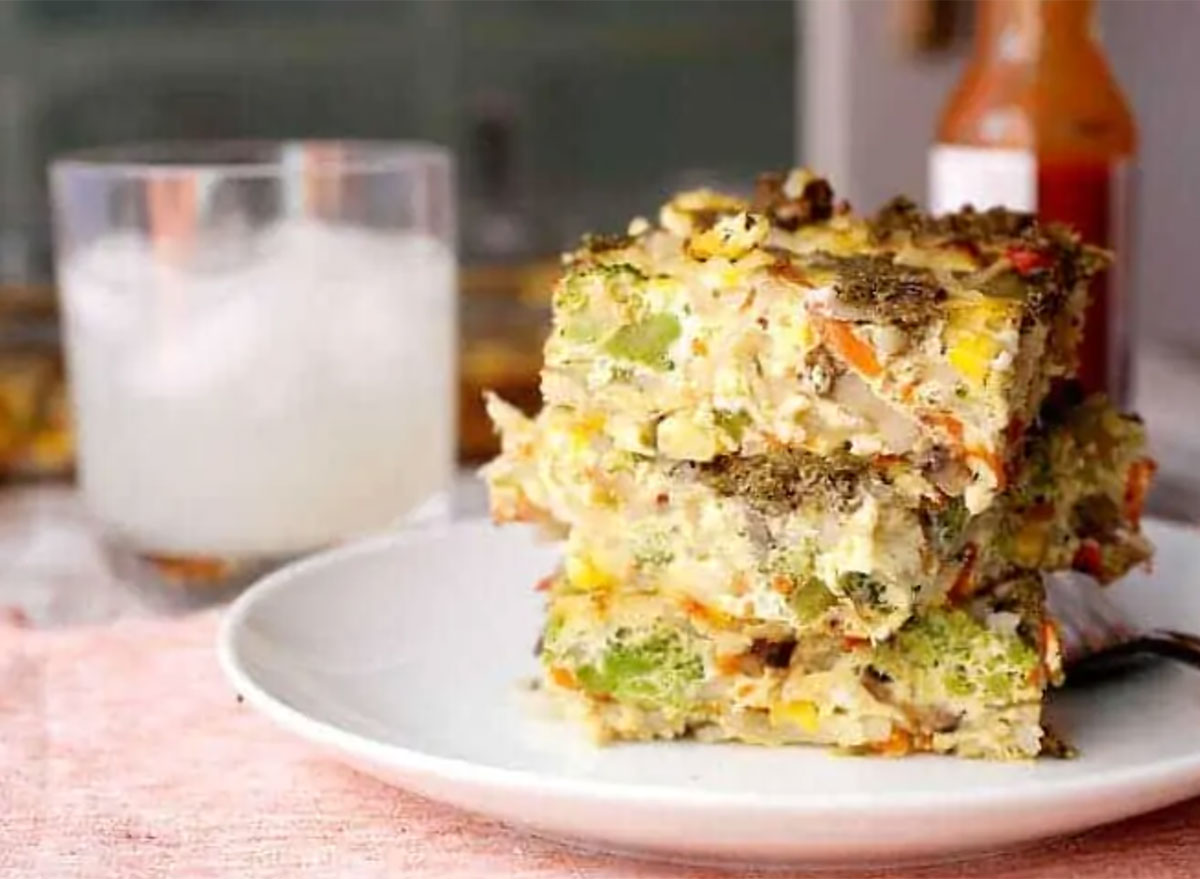 This colorful breakfast casserole, which is made using 7 different vegetables, gets its unique flavor from an unexpected ingredient—pesto. We suggest serving this delicious dish with a side of fresh-cut fruit and a steamy cup of tea.
Get the recipe from Macheesmo.
Triple Berry Quinoa Breakfast Bake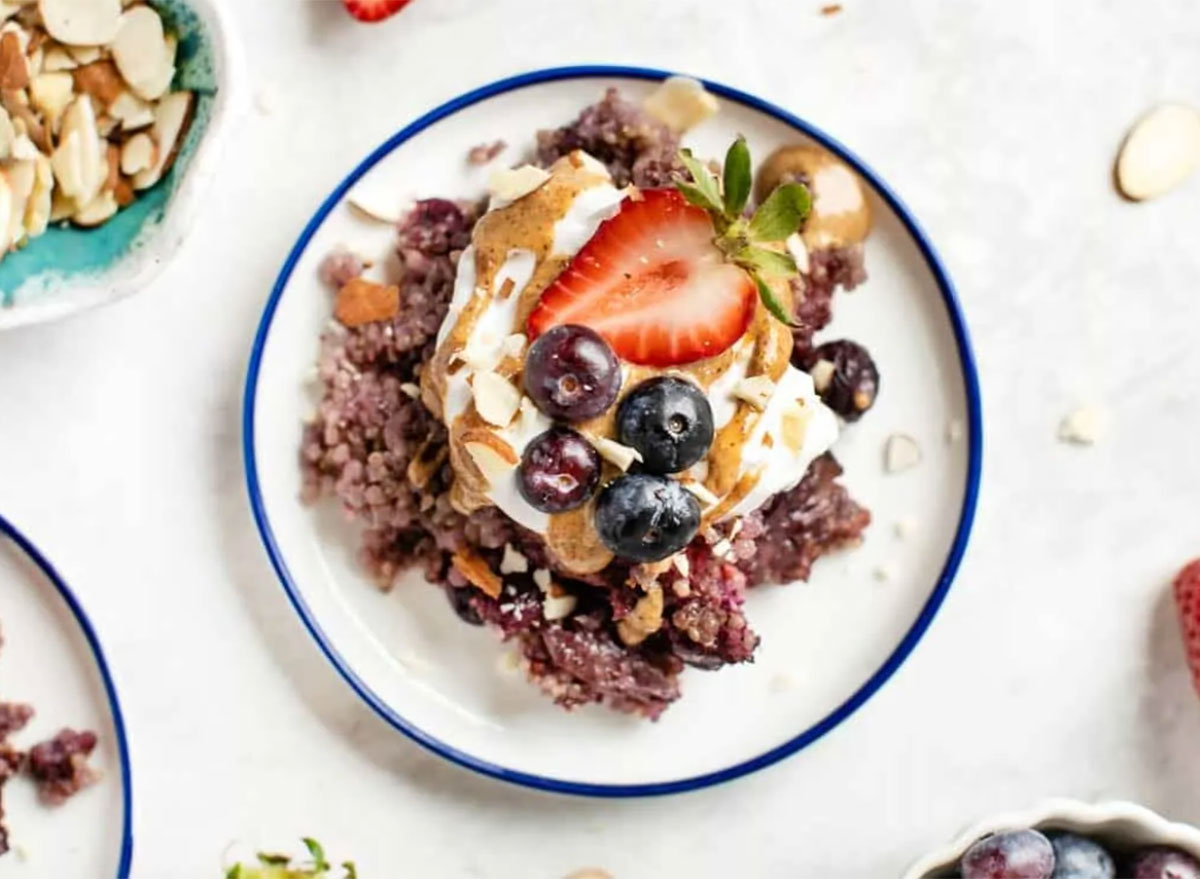 Quinoa makes a welcome appearance in this cozy breakfast casserole that is made without eggs, milk, or dairy. Expect luscious fruits, such as tangy blueberries, sweet raspberries, and juicy strawberries, in every bite.
Get the recipe from Simply Quinoa.
Read more about building the best breakfast: 
15 New Twists on Classic Breakfast Recipes
30 Nutritionist-Approved Healthy Breakfast Ideas