Here's Every Single Item on Starbucks' New Summer Menu
A new plant-based breakfast sandwich? Yes, please!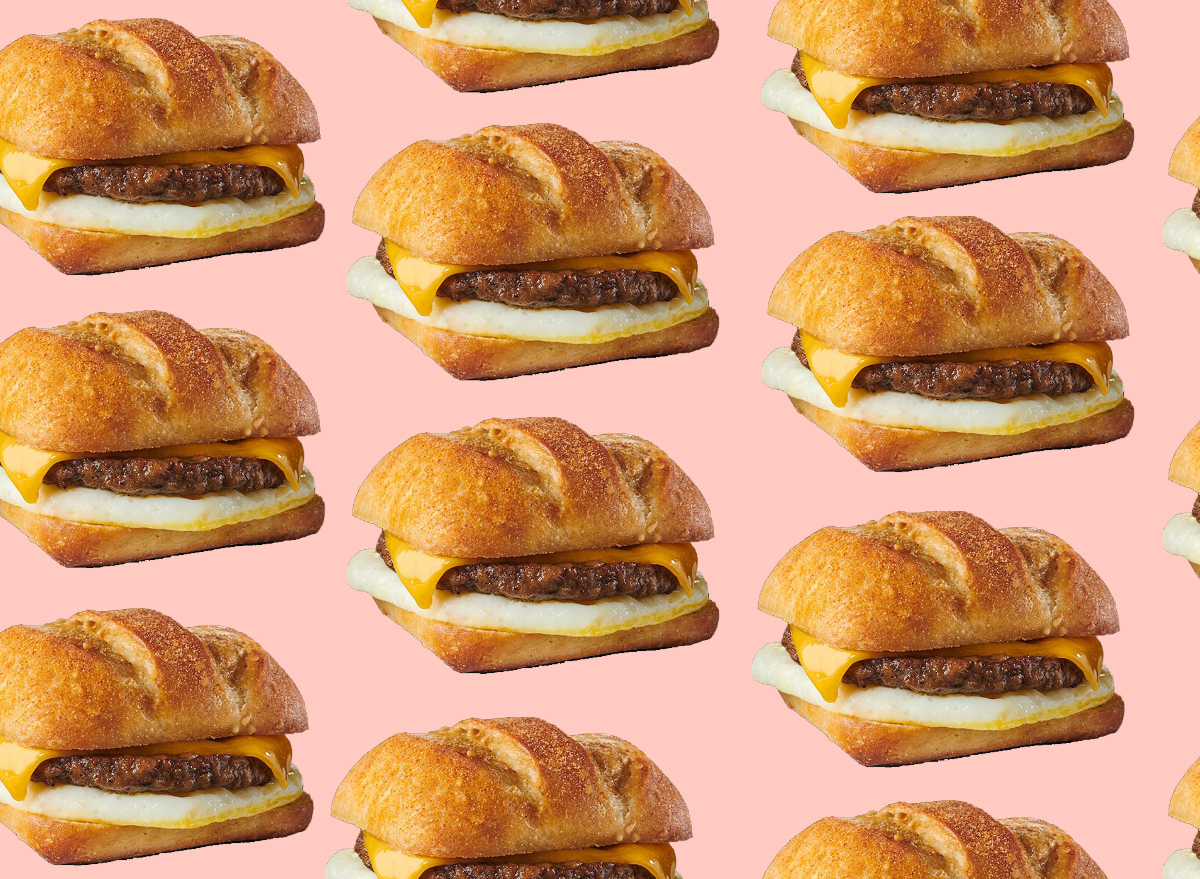 Summer is in full swing, and that means you're going to want to feast on some new foods that bring on the seasonal vibes. And that's where Starbucks comes in, adding a few new additions to their summer menu that you're just going to want to try. Especially the new Impossible breakfast sandwich.
That's right, Starbucks has officially partnered with the plant-based brand for a new sandwich that is available at most U.S. locations, starting today. That's not all either—there are new drinks you can now sip on as well. There are two new cold-brew coffee drinks—cinnamon and dark cocoa—that are made with almond milk foam.
Sounds rather delicious! Let's take a closer look at each item, shall we?
Impossible Breakfast Sandwich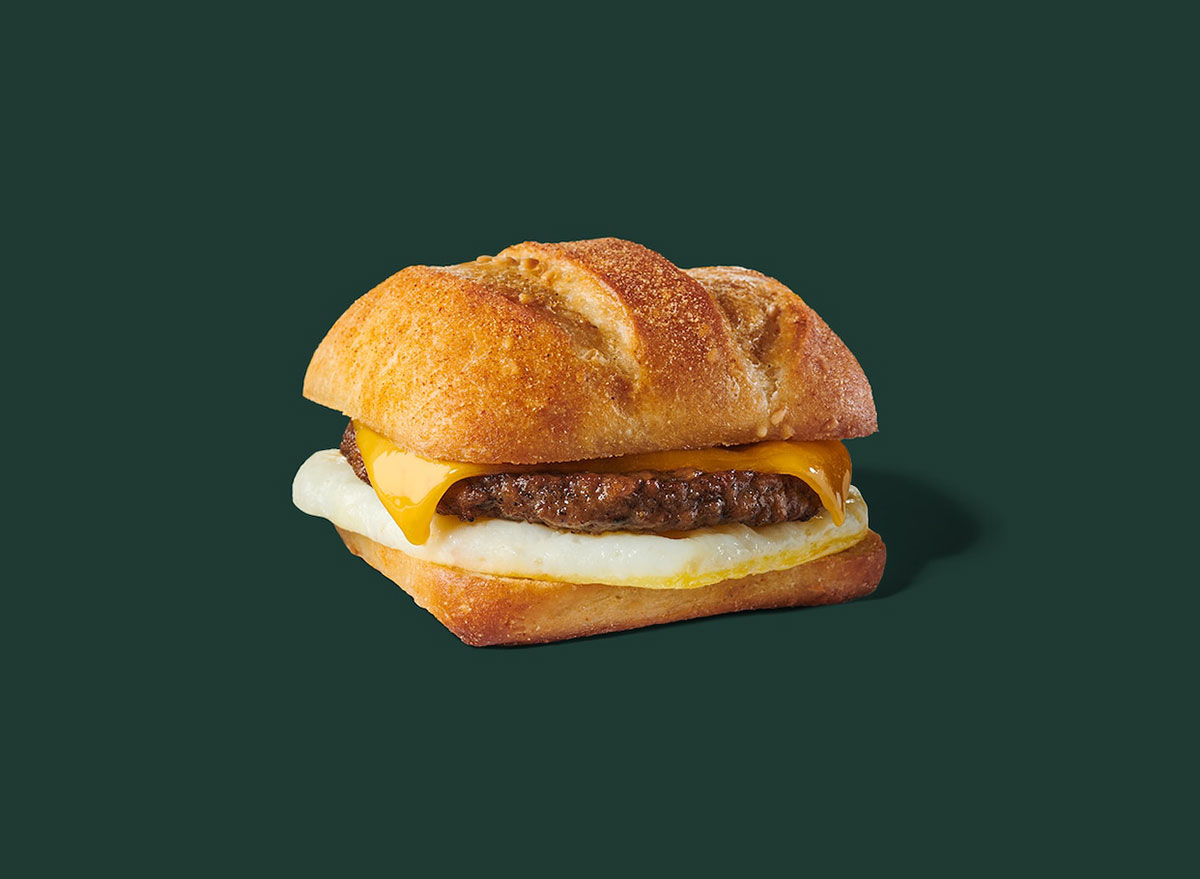 Per 1 sandwich
: 430 calories, 23 g fat (8 g saturated fat, 0 g trans fat), 830 mg sodium, 36 g carbs (3 g fiber, 4 g sugar), 22 g protein
This breakfast sandwich is truly on the savory side, as it's an Impossible sausage patty combined with a cage-free fried egg and aged cheddar cheese, all nestled between two slices of artisanal ciabatta bread. It's simply the plant-based version of a classic sausage breakfast sandwich, and it's a rather filling way to start your morning, coming in with 22 grams of protein.6254a4d1642c605c54bf1cab17d50f1e
"We're pleased to add the Impossible Breakfast Sandwich, made with Impossible plant-based sausage, to Starbucks menu in the U.S., to meet the growing customer-interest in plant-based options," said Michael Kobori, chief sustainability officer at Starbucks in a press release. "Over the years, in response to customer interest, we have added plant-based milk alternatives such as soy, coconut, almond, and oat milk. We are thrilled to expand our plant-based menu into food with this new breakfast sandwich."
We did happen to pick this sandwich up ourselves today, and it's a solid portion size—not an over or underwhelming sandwich—and it tastes fresh, given that it's a fast-food breakfast sandwich. But one thing to keep in mind is the sodium—you're getting 830 milligrams here and with every bite, you can taste the salt. Keep in mind though, Dunkin's Beyond Meat Sausage breakfast sandwich clocks in at 810 milligrams of sodium, and highly salty fast foods is not a new concept. Just be sure to have some water on hand, and watch your sodium intake for the rest of the day. Speaking of drinks though…
Cold Brew with Cinnamon Almond Milk Foam
Per grande size
: 40 calories, 1 g fat (0 g saturated fat, 0 g trans fat), 35 mg sodium, 7 g carbs (0 g fiber, 6 g sugar), 1 g protein, 205 mg caffeine
Here, you get Starbucks Cold Brew topped with lightly sweet cinnamon, vanilla syrup, and almond milk cold foam. Yep, it's non-dairy and only 40 calories. You can also order the Cold Brew with cinnamon oat milk foam at certain locations, too.
Cold Brew with Dark Cocoa Almond Milk Foam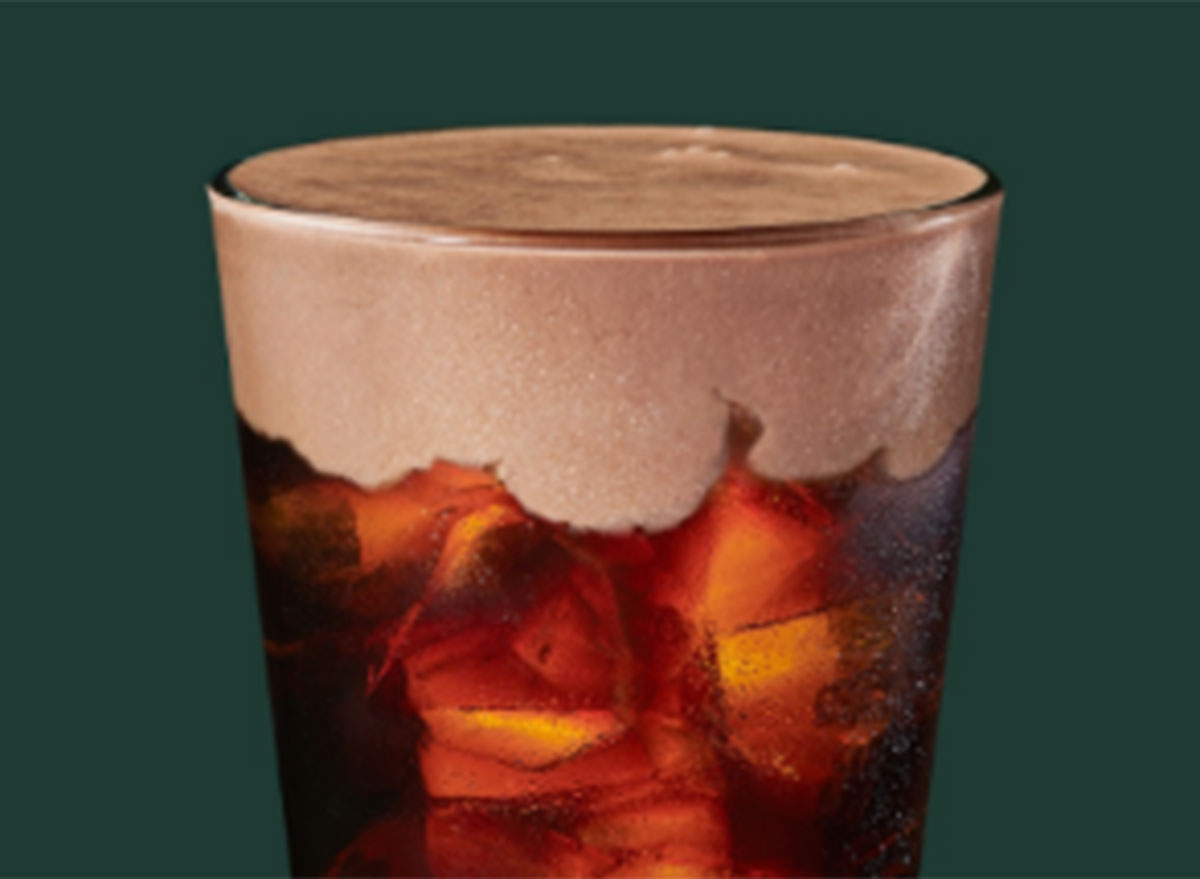 Per grande size
: 40 calories, 1 g fat (0 g saturated fat, 0 g trans fat), 25 mg sodium, 4 g carbs (1 g fiber, 3 g sugar), 1 g protein, 160 mg caffeine
The other new non-dairy Cold Brew option is topped with a lightly sweet mocha sauce, cocoa powder, and almond milk cold foam. This version actually has less sodium and caffeine than its cinnamon counterpart, so something to keep in mind when you're getting your coffee fix this summer.
Jennifer Maldonado
Jennifer Maldonado is a senior editor at Eat This, Not That!, specializing in food and health content.
Read more about Jennifer