12 Best Sugar-Free Candies to Satisfy Your Sweet Tooth
Regardless of your reason for cutting back on sugar, these sugar-free candies will satisfy your sweet tooth without calories or carbs.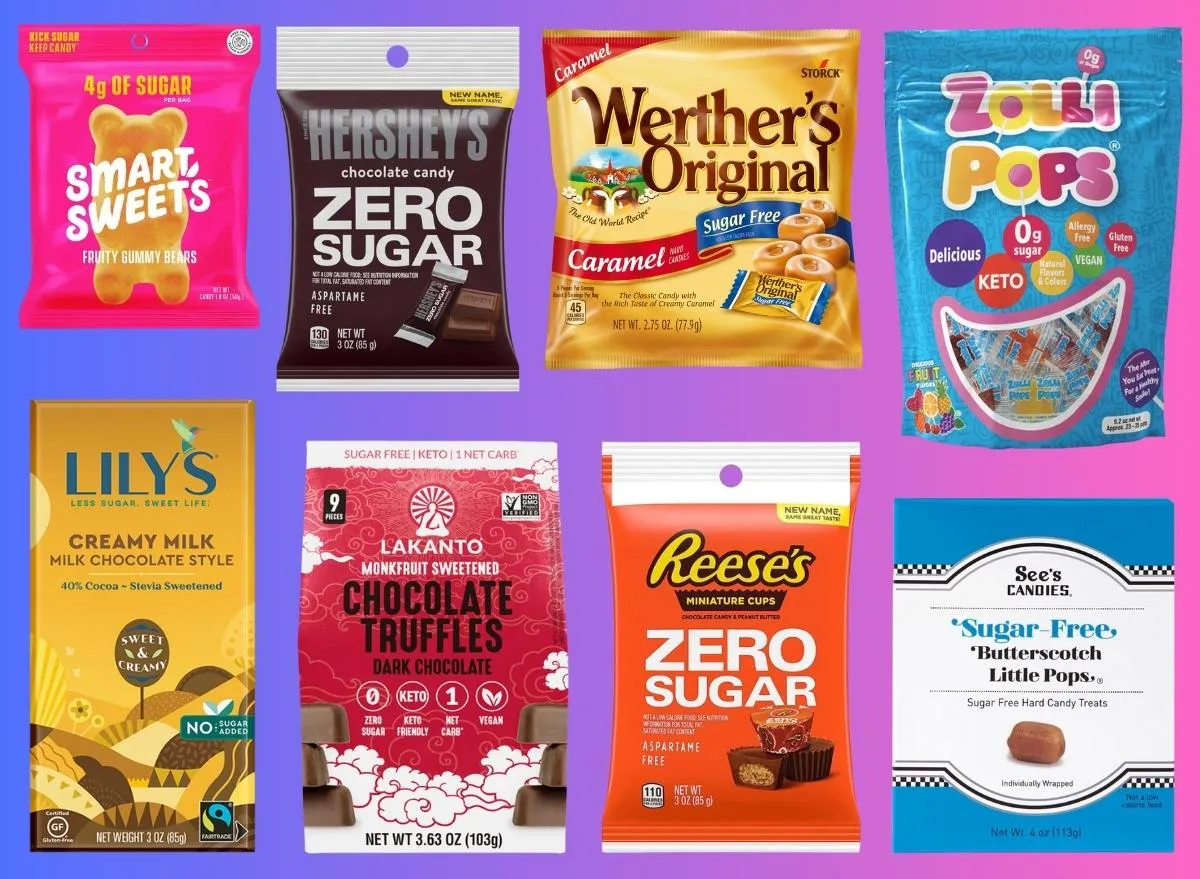 The product recommendations in this post are recommendations by the writer and/or expert(s) interviewed and do not contain affiliate links. Meaning: If you use these links to buy something, we will not earn a commission.
Whether you have diabetes or you are looking for a lower-sugar candy alternative, we've got you covered! We spoke with registered dietitians and nutrition experts to find out exactly which sugar-free candy brands they recommend.
When searching for a sugar-free alternative, you'll find yourself faced with a variety of sweeteners to choose from. It might take some trial and error to find out which ones you like and which ones you don't care for so much.
Many candy companies use artificial sweeteners like sugar alcohols, Splenda, sucralose, acesulfame potassium, or a combination of any of these. Some of the newer zero-calorie sweeteners on the market include Stevia, Monk fruit, and allulose, which come from more natural sources in plants and don't tend to have as strong of an aftertaste.
For folks with diabetes, sugar-free candy can be tempting. It sounds like a win-win to be able to enjoy something sweet without impacting your blood sugar. However, many of the products that use sugar alcohols, such as xylitol, mannitol, and sorbitol, might still raise your blood sugar. Sugar alcohol, while technically not a source of sugar, still gets absorbed as a type of carbohydrate and can impact your blood sugar later. It's important to consider this when you look at the total carbohydrates in these products.
Lastly, sugar-free products may have a negative impact on gastrointestinal health. Sugar alcohols in particular are highly fermentable in the gut, and in large quantities, can cause gas, bloating, and unwanted gastrointestinal cramping or pain.
These are all things to think about when you are picking out the best sugar-free candy brand for you. Let's take a look at exactly which candy brands the experts recommended! Read on, and for more, don't miss 25 Healthy, Low-Sugar Soda Alternatives.
Sweeteners: Erythritol, Stevia Extract
One of the leading sugar-free chocolate brands on the market, Lily's, is sweetened with Stevia. The brand has a variety of product lines from semi-sweet baking chocolate to chocolate bars.
Lauren Harris-Pincus, MS, RDN, founder and author of The Everything Easy Pre-Diabetes Cookbook shares why she enjoys it: "I love Lily's Sweets for all things sugar-free baking and snacking. They offer so many flavors of sugar-free chocolate chips, bars, and candy treats made with naturally derived non-nutritive sweeteners and natural colors like red beet, turmeric, radish, and spirulina. Their unsweetened chocolate, cocoa butter, and vanilla are certified Fair Trade by Fair Trade International."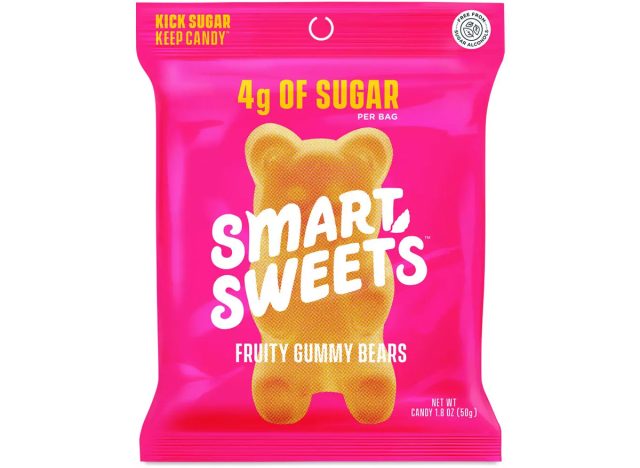 Sweeteners: Alluose, Stevia Leaf
"In moderation, Smart Sweets is a good option for those trying to reduce sugar intake. This candy is made sweet by the naturally occurring sugar, Allulose, but does not spike your blood sugar like regular sugar. It's best to limit the amount you consume as large quantities of Allulose can cause stomach discomfort," registered dietitian nutritionist Megan Warnke, RDN, CDCES emphasizes.
Smart Sweets do not have any added sugar, although some of their products do have low amounts of total sugar from their natural ingredients. Although relatively low, many of their products contain 2-4 grams of sugar per serving. With upwards of 10 grams of fiber per serving, many of these products' sugar content is offset by the balance of fiber.
Sweeteners: Isomalt, Acesulfame Potassium
Toby Smithson, RD, CDCES, founder of Diabetes EveryDay and author of Diabetes Meal Planning and Nutrition for Dummies explains why she loves this sugar-free chocolate: "As a person living with type 1 diabetes, a registered dietitian, and a diabetes educator, I like using Werther's Sugar Free Candy for satisfying my sweet tooth. When looking at the nutrition facts label, make sure to review the portion size, calories, carbohydrates and if the candy has more than 3 grams of saturated fat. Sugar-free candies do not indicate 'all you can eat.'"
In terms of nutrition, "the Werther's Sugar Free Caramel Chocolate Hard Candy contains 40 calories, 1 gram of saturated fat, and 14 grams of carbohydrate for five candies. Insider's tip: you can get the sweet satisfaction from just one of these hard candies which is 1/5th of the calories, carbs, and fat," Smithson says.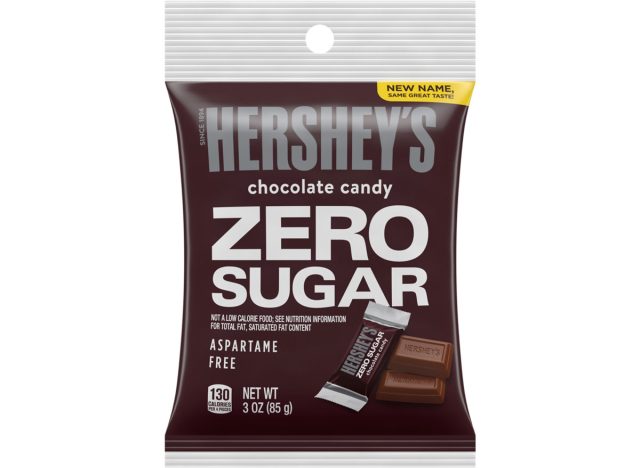 Sweeteners: Maltitol, Polyglycitol
If you love classic milk chocolate, but don't want the sugar rush, Hershey's Milk Chocolate Zero Sugar fits the bill. In a five-piece serving, you'll get 160 calories and 20 grams of sugar alcohol coming from maltitol. You might want to adjust your portion size as too much sugar alcohol could upset your stomach.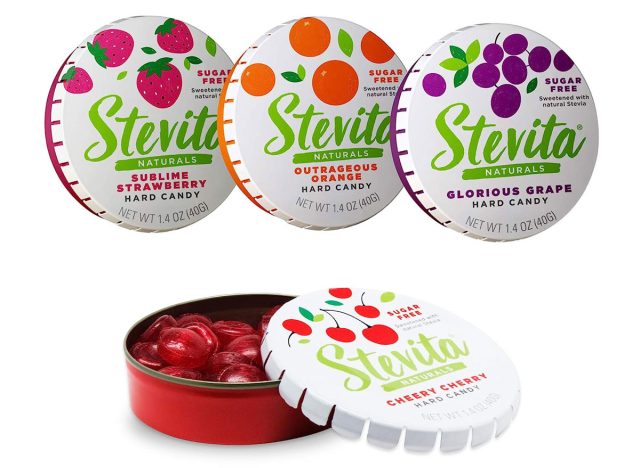 Sweeteners: Isomalt, Stevia
"People with diabetes or low-carb dieters can enjoy Stevia Naturals Hard Candy. These fruit-flavored candies contain 1.5 grams of sugar alcohols, no added sugar, and just three calories per serving. They're the perfect on-the-go treat to fulfill a sweet tooth craving without causing a blood sugar spike," recommends Haley Bishoff, RDN, a registered dietitian nutritionist and owner of Rūtsu Nutrition in Las Vegas, NV.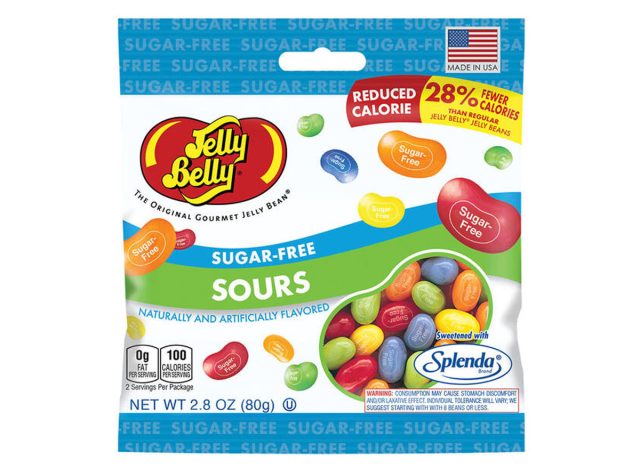 Sweeteners: Maltitol Syrup, Maltitol, Sucralose
Sugar-free jelly beans are one of the latest candies to introduce a sugar-free option. A 35-piece serving clocks at 100 calories and 33 grams of sugar alcohol. While this product has no added sugar, you may find that the sugar alcohols can still impact your blood sugar and still contain calories. Consider reducing your portion size or pairing these with a protein or high-fiber option for better blood sugars after snacking.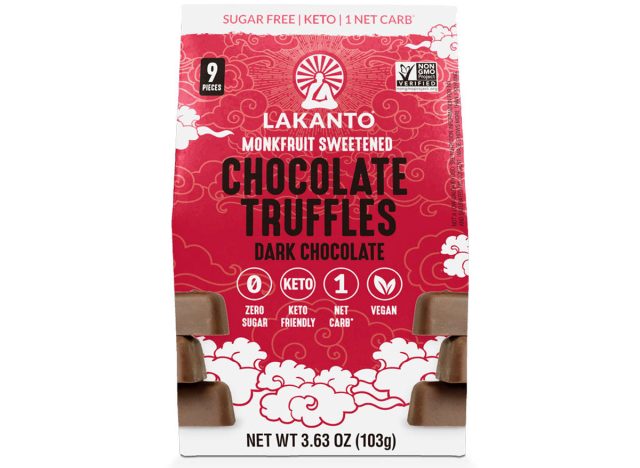 Sweeteners: Erythritol, Monk Fruit Extract
If you are looking for a decadent chocolate truffle, look no further than Lakanto's Sugar-Free Chocolate Truffles. Made with a combination of sugar alcohols and Monk fruit, this chocolate has a more balanced flavor profile than its competitors on the market. Even further, three pieces will get you 6 g of fiber which further helps balance your blood sugar and prevent a glucose spike.
Sweeteners: Maltitol, Lactitol, Sucralose
"People with diabetes should be able to enjoy the iconic combo of chocolate and peanut butter without a blood sugar spike! Thankfully, Reese's makes mini sugar-free peanut butter cups. A serving of 3 mini sugar-free peanut butter cups provides 4 grams of net carbs compared to 15 grams of net carbs in regular peanut butter cups," Sheri Berger, RDN, CDCES suggests.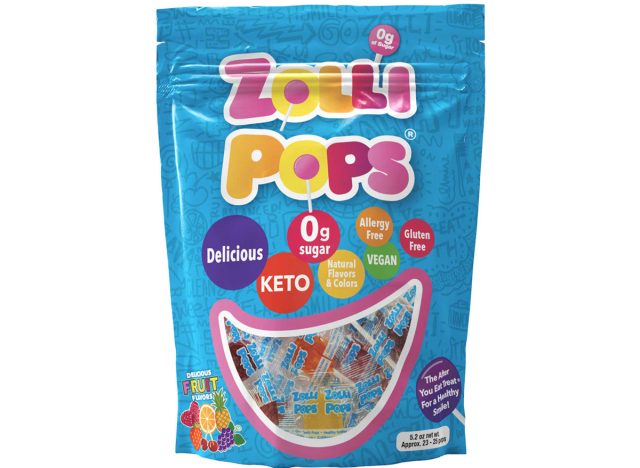 Sweeteners: Erythritol, Stevia
Traditional lollipops are high in sugar, but Zollipops has you covered with a sugar-free alternative. One pop is 25 calories and contains 11 grams of sugar alcohol. If you like this brand, Zolli Pop makes other lines of candy like taffy, caramels, and gummies that are all sweetened with sugar alcohols and do not contain added sugar. Whether you're on a low-carb diet or watching your sugar intake, this is a great option!
Sweeteners: Maltitol, Sucralose
Lauren Manaker MS, RDN, LD. a Charleston-based registered dietitian shares her recommendation: "Sees Sugar Free Butterscotch Little Pops are sweetened with sucralose instead of table sugar. They also contain a little fat, which may help with blood glucose control. I appreciate that they are made with quality ingredients and have zero added sugar."6254a4d1642c605c54bf1cab17d50f1e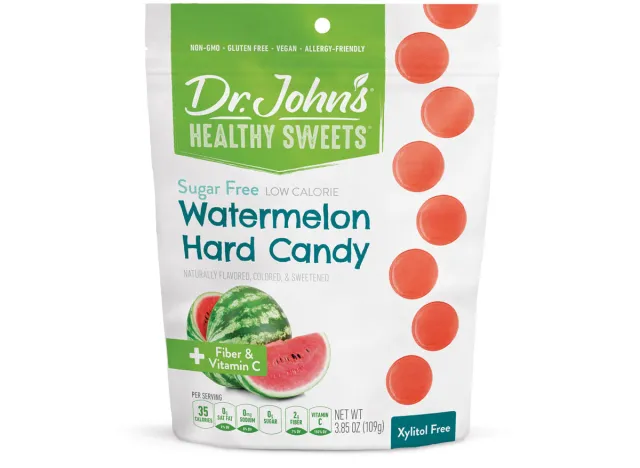 Sweeteners: Isomalt, Erythritol, Stevia Leaf Extract
If you love Jolly Ranchers' Watermelon flavor, you'll love Dr. John's Sugar-Free Watermelon candy. Made with erythritol, this candy has 14 g of sugar alcohols and only 35 calories in a four-piece serving. To boot, you'll get 2 grams of fiber to balance out the carbohydrate in this candy and further keep your blood sugar stable.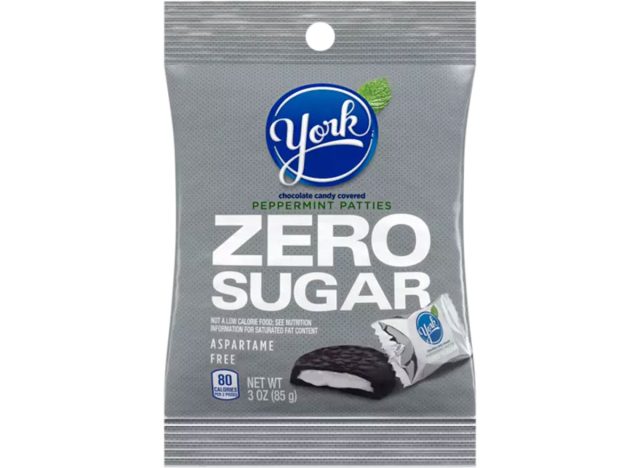 Sweeteners: Maltitol, Isomalt, Maltitol Syrup
Taste the nostalgia of a peppermint patty without the sugar in their Zero Sugar York Peppermint Patty candy. In a three-piece serving, you'll get 120 calories and zero sugars. However, they do use maltitol as their sweetener of choice which contains 21 grams of sugar alcohol per serving. Keep in mind that sugar alcohols may give you some tummy trouble, and you can adjust your portion size based on your response here.
Caroline Thomason, RDN
Caroline is a women's health Registered Dietitian and diabetes educator based in Northern Virginia.
Read more about Caroline