10 Best Trader Joe's Foods To Buy For Weight Loss
Navigate Trader Joe's like a pro with these healthy items that are excellent for weight loss.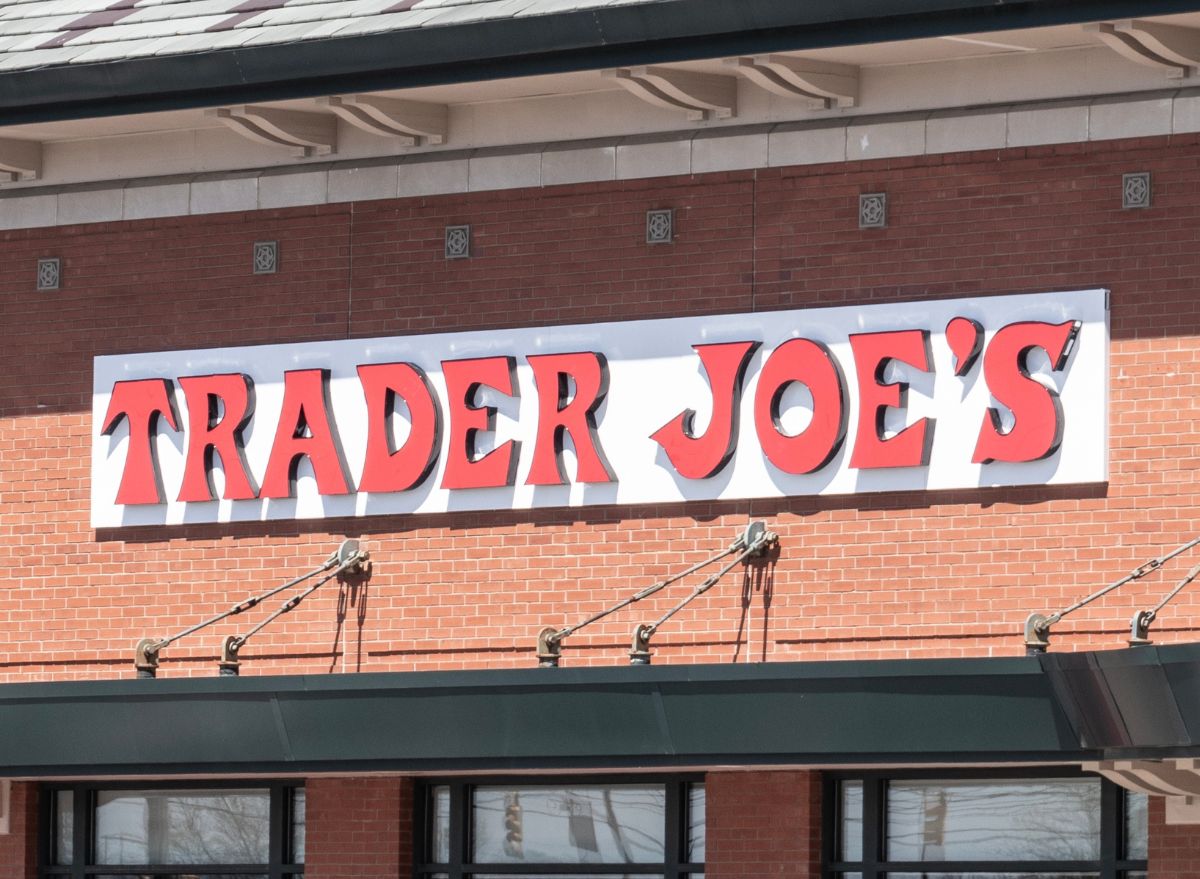 Eating for weight loss looks different for everyone. While some choose to follow structured diets, others may opt for calorie counting. No matter your path to weight loss, navigating the grocery store can be tricky. With so many foods to choose from, stocking your fridge and pantry has never felt so overwhelming. Luckily, Trader Joe's has excellent options when it comes to weight loss-friendly items. In fact, we're here with 10 of the best Trader Joe's foods for weight loss to add to your shopping cart ASAP.
While there are plenty of packaged meals and snacks that can be incorporated into a weight loss meal plan, one of the best ways to set yourself up for grocery store success is to stick to the perimeter of the store for the majority of your food. This is typically where less processed foods are kept, like produce, proteins, dairy, and eggs. Loading up on these foods can contribute to a well-balanced diet and may also reduce your shopping costs. When choosing packaged items from the middle of the store, look for foods with minimal added sugar, keep an eye on sodium content, and compare options to optimize for fiber content. This will help minimize empty calories in your foods while simultaneously improving your satiety after meals.
Next time you head to Trader Joe's, bring this list with you to help guide you through the store. Here are the 10 Best Trader Joe's foods for weight loss. Keep reading to learn more, and when you're finished, be sure to check out the 10 Best Sam's Club Foods to Buy for Weight Loss.
Spicy Jalapeño Chicken Sausage
Protein is a filling nutrient but can require more preparation and cooking time compared to carb and fat-based foods. If you need easy ways to boost protein in your diet, check out the Spicy Jalapeño Chicken Sausage from Trader Joe's. Each link provides 11 grams of protein and is only 100 calories. Additionally, there is less sodium in these fully-cooked sausages compared to many other sausage varieties. With chicken as the main ingredient, they are lean and only provide 2 grams of saturated fat. This variety is great for those who love spice, and they have several other flavors available to complement a wide range of dishes.
Hearts of Palm Pasta
Over the years, many varieties of pasta have emerged. You'll find some varieties made with beans and lentils, and others made from vegetables. This is the case for this Hearts of Palm Pasta at Trader Joe's; it's a starchy noodle alternative made from hearts of palm, a white vegetable that comes from certain palm trees. This pasta contains no sodium and provides only 20 calories per serving. You can count on 2 grams of fiber per serving as well, and a total of 6 grams for the full package. This makes for a filling, low-calorie base to a meal. Top it off with low-sugar tomato sauce and a lean protein for a well-balanced meal.
Steamed Lentils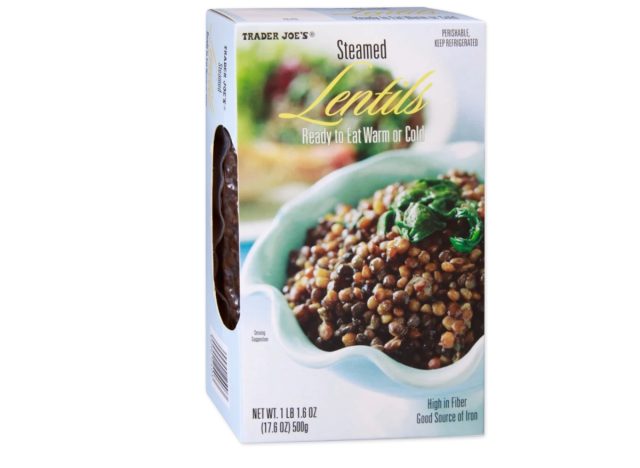 Lentils are a nutrition powerhouse and serve as a source of plant-based protein. Not only do these legumes pack in plenty of filling protein, but they're also known for their fiber and iron content. Preparing lentils at home can take some time, so these ready-to-eat Steamed Lentils are a great alternative. Made with only salt and some essential oils, they have a mild flavor and can complement many dishes. Directly from the fridge, you can add them to a salad, incorporate them into a homemade soup recipe, or prep them as a side dish to your favorite protein.
Crunchy Almond Butter No Salt
Nut butters are notorious for containing added sugar, but this Crunchy Almond Butter is an exception! Made with only almonds, you'll get healthy fats, fiber, and protein in each serving of almond butter without added sugar, salt, or oils. The nutrient composition of this almond butter makes it a filling ingredient that can create a balanced snack. Enjoy this nut butter with a banana or apple for a low-prep snack, mix it into your favorite energy ball recipe, or simply enjoy a spoonful of it for a quick snack.
Green Goddess Salad Dressing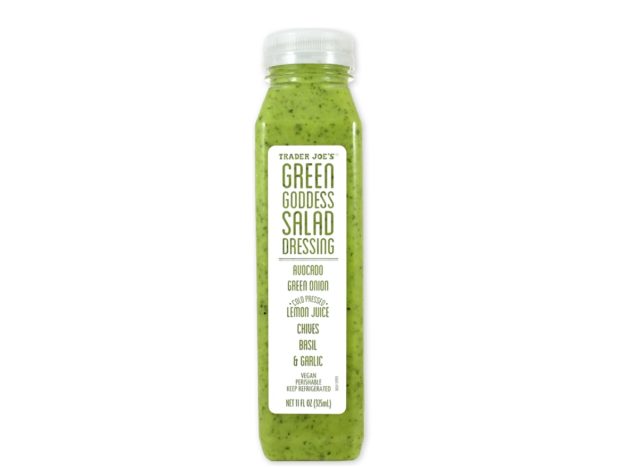 Many salad dressings pack a surprising amount of added sugar and salt—not to mention, questionable preservatives and additives. However, you'll recognize every ingredient in this refrigerated Green Goddess Salad Dressing, and you won't see any added sugar. With ingredients like apple cider vinegar, green onion, parsley, and basil, this dressing packs plenty of flavor and is only 20 calories per serving. This is much lower than the typical 100+ calories you'll find in most commercially prepared dressings, and it allows you to top your salad with a hearty portion for relatively few calories.
Organic Spaghetti Squash Nests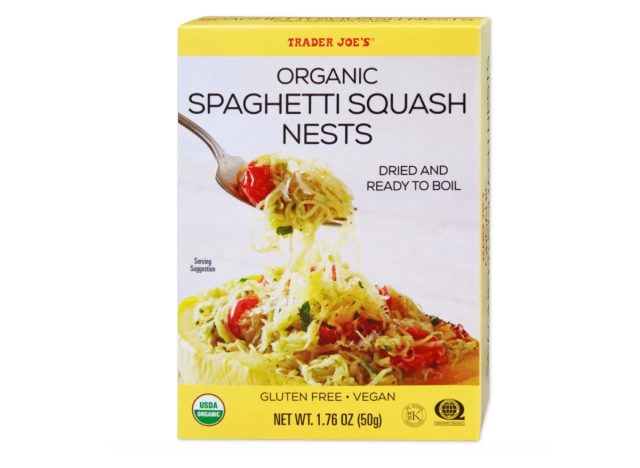 Another pantry item made 100% from a vegetable, these Organic Spaghetti Squash Nests make it fun and easy to incorporate produce into a meal. Spaghetti squash makes a nutrient-dense alternative to pasta or can be used as a side vegetable or other starch replacement at meals. Simply drop these nests into boiling water, and drain them after a few minutes. Use them in place of pasta with sauce and protein, toss them with olive oil and seasoning to serve alongside lean protein, or serve homemade chili over a serving of squash to incorporate veggies and fiber into your meal for only 40 calories.
Super Seedy Cheese Snack Bites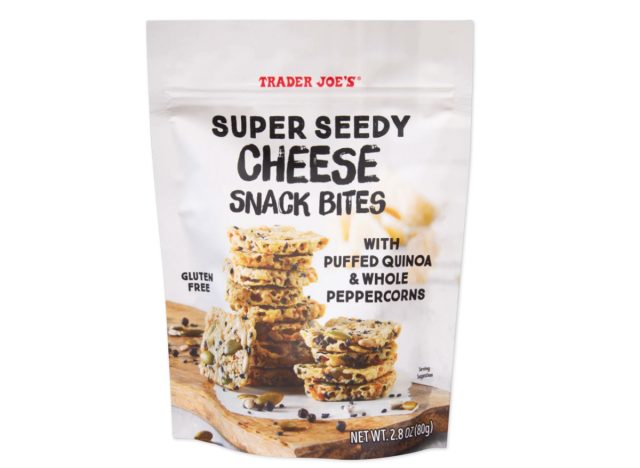 Traditional crackers and chips contain minimal protein and aren't known for being the most filling snack. These Super Seedy Cheese Snack Bites are made from cheese, seeds, and puffed quinoa, allowing them to provide a whopping 12 grams of protein per serving. The cheese base of this snack does lead to a higher calorie count than other options on this list, so stick to one serving for a snack. However, they make for a filling travel snack and can be paired with a serving of fruit for an easy way to incorporate some filling fiber.
Cruciferous Crunch Collection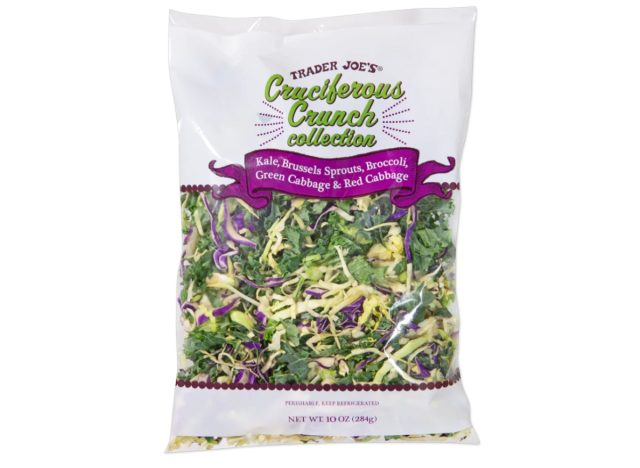 Veggies are known for packing fiber, vitamins, minerals, and antioxidants, and this combination of kale, Brussels sprouts, broccoli, and green and red cabbage is no exception. This Cruciferous Crunch Collection adds great texture to a salad, not to mention a hearty dose of fiber. Use this mix as the entire base of your salad, or mix with leafy greens for a variety of textures. Top with the Green Goddess dressing, nuts, and protein for a flavorful, filling meal. If you prefer your veggies warm, sauté these veggies and incorporate them into a stir-fry dish.6254a4d1642c605c54bf1cab17d50f1e
Jicama Wraps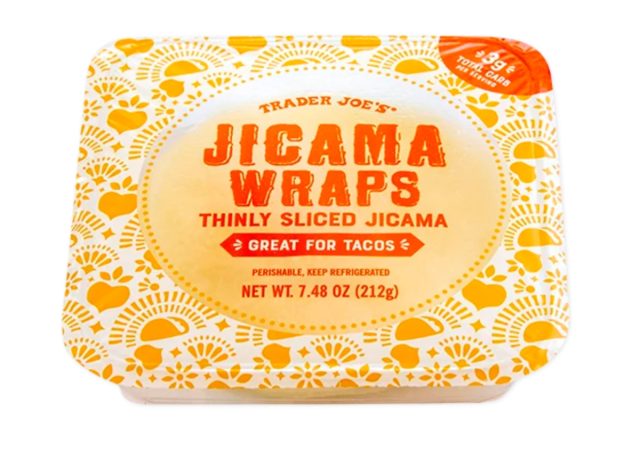 One of the more unique items at Trader Joe's are these Jicama Wraps that are made entirely from Jicama. With a texture similar to an apple and a mild flavor, this versatile ingredient can be used as a low-carb alternative to bread wraps or as a fun way to incorporate fiber into a snack. Two wraps provide only 15 calories, leaving plenty of room to incorporate other foods into your meal. Use these wraps in place of tortillas, whether it be a lunch wrap or taco Tuesday, or wrap them with prosciutto for a crisp, salty snack.
Cauliflower Pizza Crust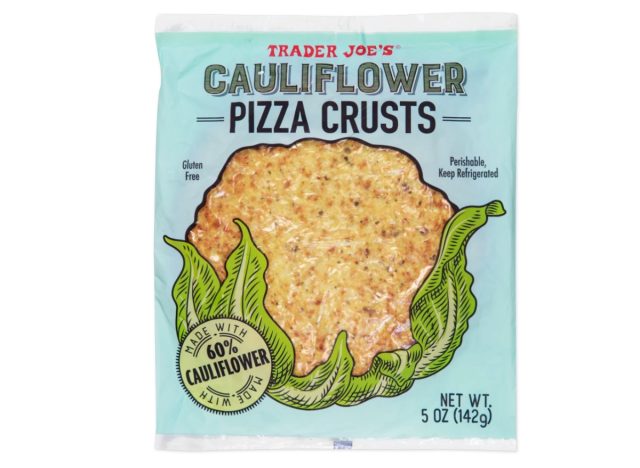 These Cauliflower Pizza Crusts wrap up our list of the best Trader Joe's foods for weight loss. Compared to many other cauliflower crust brands that include starchy ingredients like brown rice, this option is made with 60% cauliflower. Along with liquid eggs, Parmesan cheese, and a variety of herbs, this makes for a low-carb alternative to traditional pizza. Despite cauliflower being the first ingredient, you won't find much fiber in this crust, but it does pack 10 grams of protein per serving and contains zero added sugar. Load this pizza crust with sauteed veggies to boost fiber, use a no-added-sugar sauce, and top it off with shredded cheese and cooked ground turkey for a well-rounded, filling meal.
Melissa Rifkin, MS, RDN, CDN
Melissa is a Connecticut-based registered dietitian with over 15 years of experience, including clinical and outpatient settings, and runs the popular nutrition education Instagram account, Confessionofadietitian.
Read more about Melissa