10 Worst Burger King Orders, According to Dietitians
If you're heading to the drive-thru, you may want to avoid these unhealthy BK orders.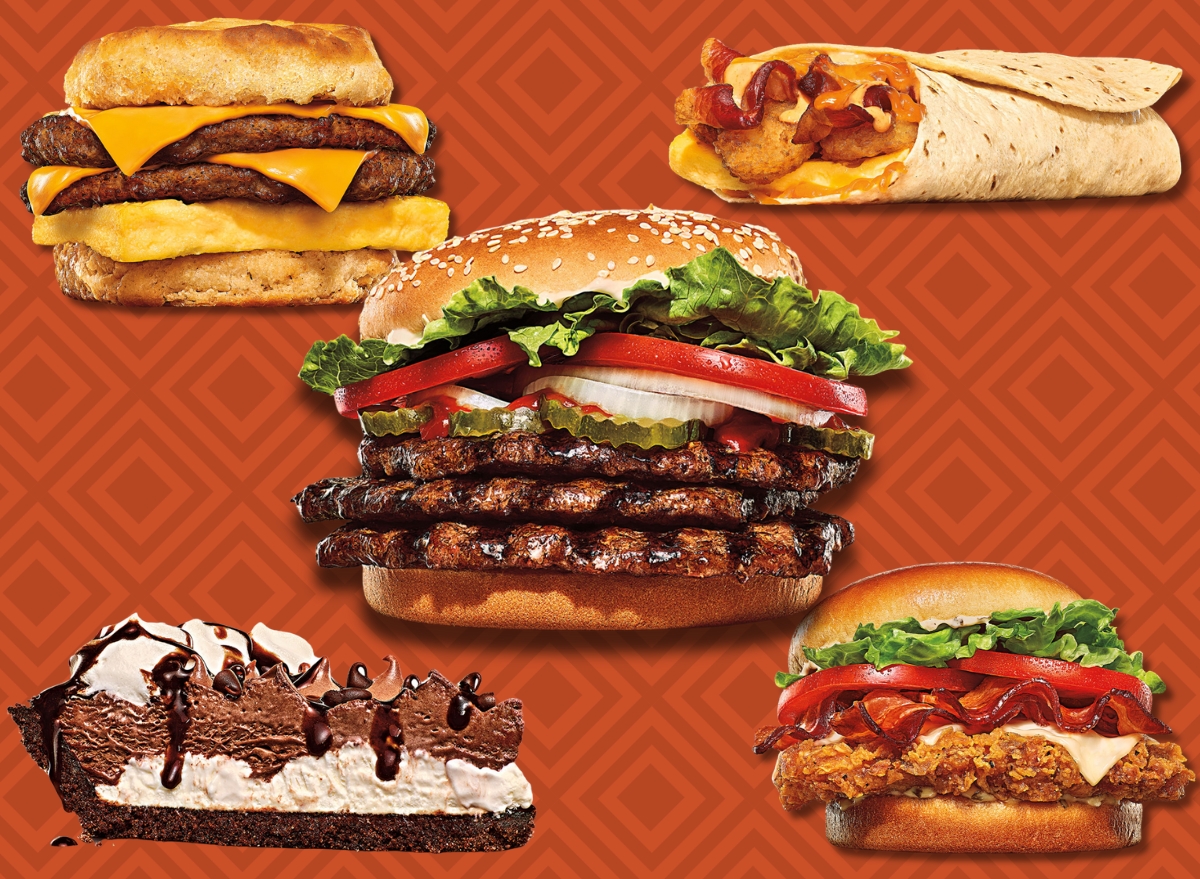 Known for its signature burger, The Whopper, Burger King is one of the largest fast-food hamburger chains in the world. Fast food can be a convenient way to feed a family with multiple food preferences and serves as an option when you need something quick, but this may sometimes be at the expense of your health. Sure, one fast-food meal is unlikely to cause serious complications, but frequent trips to the drive-thru could have a negative impact on your wellness. Even if you aren't headed to Burger King with healthy eating in mind, the ingredients and nutrition facts of some of the most popular Burger King orders may surprise you.
The name says it all: fast-food is generally geared toward those looking for a quick meal more so than a nutritious one. However, with meals loaded with sodium, sugar, and saturated fat, you may think twice before your next order. In fact, there is research that indicates just how bad highly processed food can be for your body. One article noted that participants who ate an ultra-processed diet consumed about 500 calories more per day than those eating a minimally processed diet and also gained weight, while the less processed group lost weight.
Fortunately, with more and more research being conducted on nutrition and its health implications, many restaurants have increased their healthy offerings. However, Burger King hasn't done much to take this step yet. You won't find any salads or grilled chicken options on this menu, which means portion control is your best option for a healthier item here. If you are wanting to make a healthier choice a Burger King, skip the sides that can easily add 300 calories to your meal and choose drinks without added sugar. And when in doubt, avoid these 10 worst Burger King orders. Read on, and for more, don't miss 10 Worst McDonald's Orders, According to Dietitians.
Double Sausage, Egg & Cheese Biscuit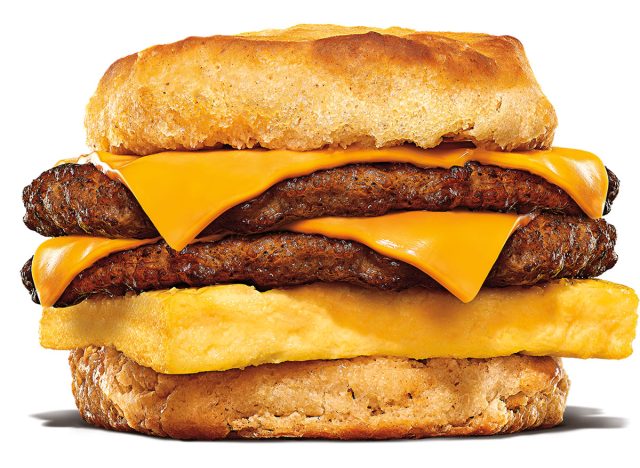 Nutrition
: 852 calories, 65 g fat (29 g saturated fat), 2,522 mg sodium, 34 g carbs (1 g fiber, 3 g sugar), 33 g protein
Breakfast meats, like sausage, are known for their high fat, saturated fat, and sodium content. With two sausage patties, two slices of cheese, an egg, and a buttery biscuit, this breakfast sandwich is loaded with all three of these nutrients. Perhaps most worrisome is the 2,500 milligrams of sodium, which is more than the recommended intake for an entire day. Next time, stick with the regular Sausage, Egg, & Cheese Biscuit to save several hundred milligrams of sodium.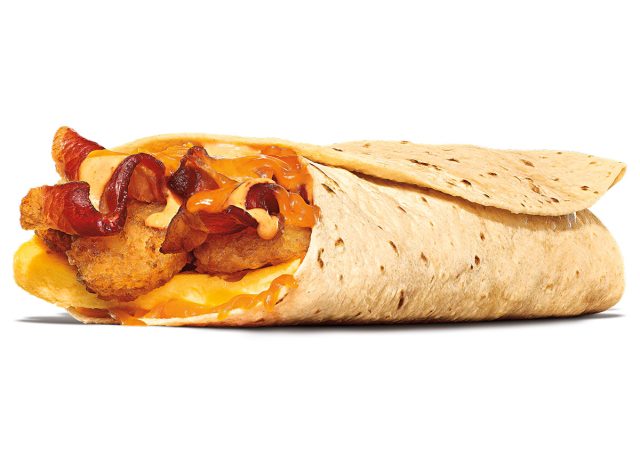 Nutrition
: 805 calories, 44 g fat (16 g saturated fat), 2,039 mg sodium, 69 g carbs (4 g fiber, 4 g sugar), 33 g protein
Another breakfast option that will nearly bust your sodium budget for the day, this Egg-Normous Burrito packs bacon, egg, cheese, and fried hashbrowns into a flour tortilla. At over 800 calories, this is one of the most calorie-dense options on the BK breakfast menu.
While it contains a good amount of protein for a meal, it is lacking in fiber. Eating a breakfast rich in fiber has been associated with lower mortality, giving plenty of reasons to skip this meal. Instead, opt for higher-fiber breakfast options from home, like whole grain bread, oatmeal, or a fruit smoothie.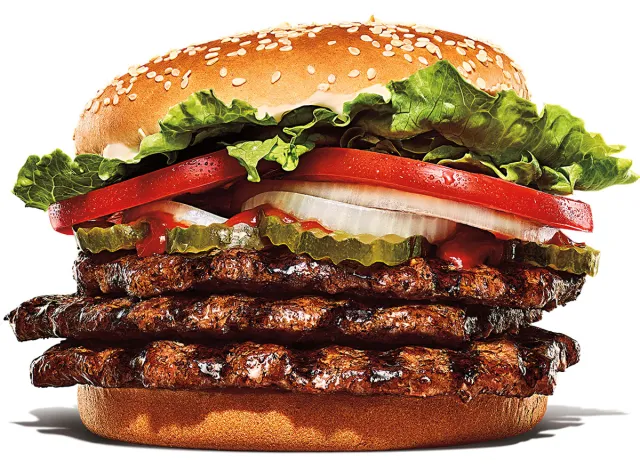 Nutrition
: 1,170 calories, 80 g fat (27 g saturated fat), 1,300 mg sodium, 56 g carbs (3 g fiber, 13 g sugar), 72 g protein
Burgers can be a good source of protein and provide valuable nutrients like iron. However, this Triple Whopper provides high amounts of worrisome ingredients, too. With 80 grams of fat, 27 of which are saturated, this Burger King order was not created with heart health in mind. Saturated fat should be limited as much as possible in your diet, as eating too much may increase your risk for heart attack and stroke. A single patty Whopper has 15 grams less of saturated fat, making it a better option.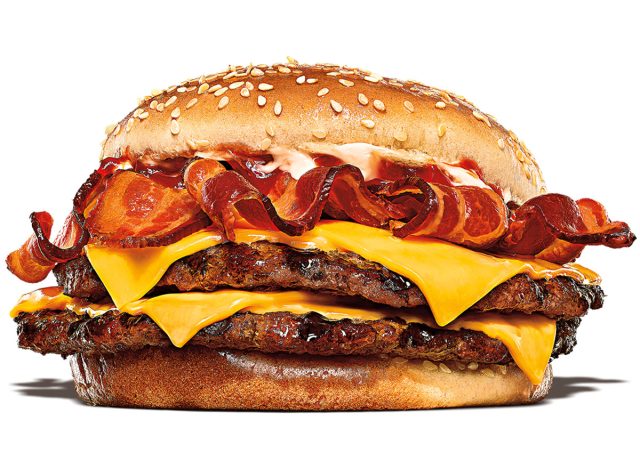 Nutrition
: 1,200 calories, 81 g fat (32 g saturated fat), 2,270 mg sodium, 58 g carbs (3 g fiber, 15 g sugar), 66 g protein
If you thought the saturated fat of the Triple Whopper was astonishing, the Bacon King has it beat. With over 30 grams of saturated fat, this burger also meets daily sodium needs in one single item. And, at 1,200 calories, this sandwich is the calorie king. While everyone's calorie needs are different, few people require more than 1,000 calories in a single meal.
Nutrition
: 1,090 calories, 75 g fat (25 g saturated fat), 2,050 mg sodium, 56 g carbs (3 g fiber, 12 g sugar), 61 g protein
If everything is bigger in Texas, as the saying goes, then this Texas Double Whopper burger is true to form. Another Burger King order with over 1,000 calories, not including sides or a drink, this burger is loaded with two beef patties, bacon, and American cheese. All three of these main ingredients pack a high total fat and saturated fat content, along with sodium, making it less than ideal for heart health.
When it comes to ordering a burger, simple is better. A single patty with mustard and veggies can meet your nutrient and calorie needs for a meal without going overboard on the more concerning nutrients.
Spicy BK Royal Crispy Chicken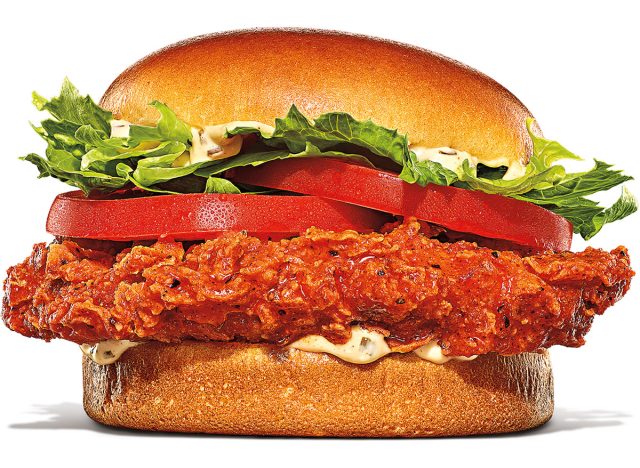 Nutrition
: 760 calories, 49 g fat (8 g saturated fat), 1,580 mg sodium, 58 g carbs (4 g fiber, 11 g sugar), 31 g protein
While you may automatically think of a chicken sandwich as being healthier than a burger, don't let this fried option fool you. Although it has far fewer grams of saturated fat than many of the burger options, the Spicy BK Royal Crispy Chicken still packs nearly 50 grams of total fat and close to 1,600 milligrams of sodium. If you are looking for a chicken option, you are better off with a 9-piece order of Chicken Fries that have only 15 grams of fat and about half the sodium.6254a4d1642c605c54bf1cab17d50f1e
Bacon and Swiss BK Royal Crispy Chicken
Nutrition
: 764 calories, 45 g fat (11 g saturated fat), 1,922 mg sodium, 56 g carbs (4 g fiber, 11 g sugar), 42 g protein
Another chicken option with a surprising calorie and fat count, this Bacon and Swiss BK Royal Crispy Chicken sandwich gets a boost of saturated fat from bacon and cheese. This sandwich is a great reminder of why simple is better. The addition of royal sauce, processed meat, and cheese adds little nutritional value for the calories. When available, a grilled chicken sandwich can be a healthy fast-food option. Unfortunately, you won't find this on the BK menu.
Chocolate Oreo® Cookie Shake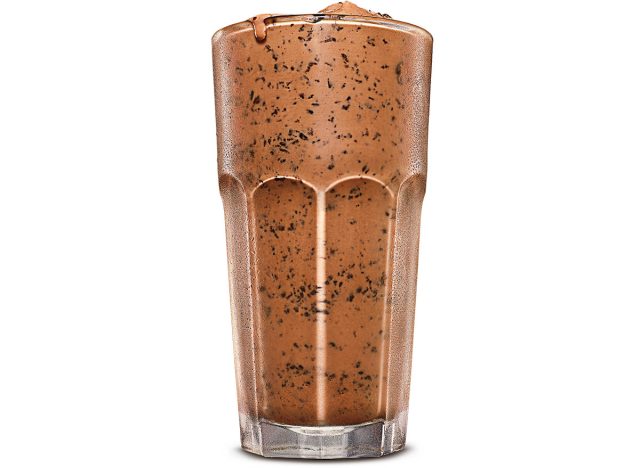 Nutrition
: 674 calories, 17 g fat (10 g saturated fat), 474 mg sodium, 115 g carbs (2 g fiber, 91 g sugar), 13 g protein
If you are headed to the drive-thru for a sweet treat, this shake may catch your eye. While you likely won't find a low-sugar milkshake at any fast-food chain, you may be surprised at just how much sugar is in this Chocolate Oreo® Cookie Shake. Nearly 100 grams can be found in a single shake, an amount equivalent to about 2.5 cans of soda. Added sugar can increase your risk of developing chronic diseases, like diabetes, and should be limited as much as possible. Instead of a shake, try a single soft-serve cone that contains only 16 grams of sugar.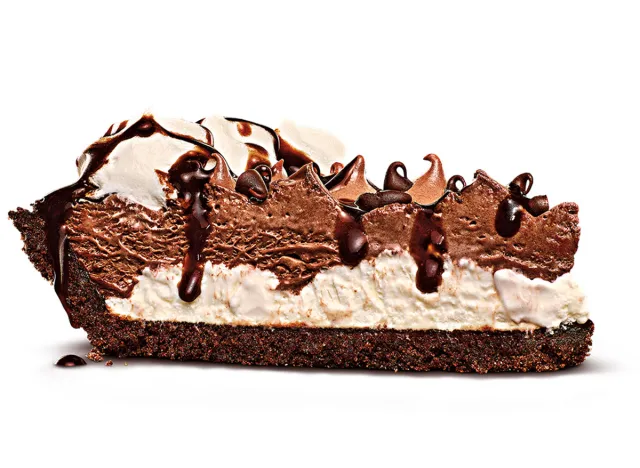 Nutrition
: 310 calories, 18 g fat (12 g saturated fat), 230 mg sodium, 32 g carbs (1 g fiber, 22 g sugar), 3 g protein
Although the calorie count in this HERSHEY'S® Sundae Pie dessert is half that of the chocolate shake, this Burger King order has more fat and saturated fat. Portion control makes this a more reasonable dessert, but you're still better off with a soft-serve cup or cone. Because these treats are mostly made up of empty calories, enjoy them on special occasions only and consider sharing them to limit your intake of saturated fat and added sugar.
Frozen Fanta® Blue Raspberry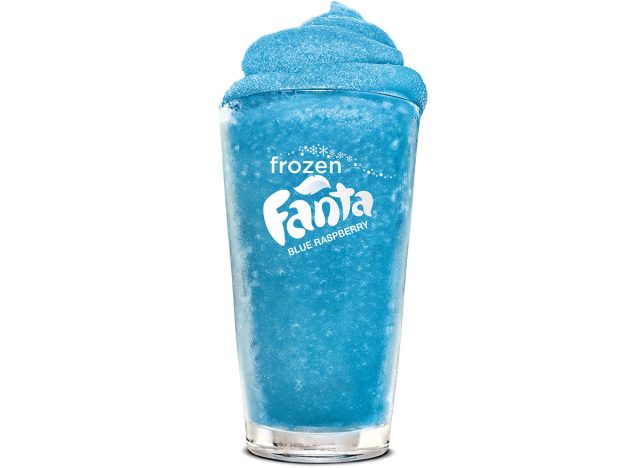 Nutrition
: 243 calories, 0 g fat (0 g saturated fat), 84 mg sodium, 66 g carbs (0 g fiber, 66 g sugar), 0 g protein
Perhaps the least nutritive item on the BK menu, aside from a regular soda, is the Fanta Blue Raspberry drink. The calories in this blended frozen drink come entirely from sugar! When you consider this drink may be in addition to one of the high-calorie entrée items on this list, it definitely contributes to a seriously unhealthy meal. Not to mention, this drink contains food dye and coloring which have been linked to a number of concerning outcomes.
Melissa Rifkin, MS, RDN, CDN
Melissa is a Connecticut-based registered dietitian with over 15 years of experience, including clinical and outpatient settings, and runs the popular nutrition education Instagram account, Confessionofadietitian.
Read more about Melissa
Sources referenced in this article