9 Worst Dips to Always Leave on the Grocery Store Shelves
These dips are dripping with fat, salt, and unhealthy added ingredients.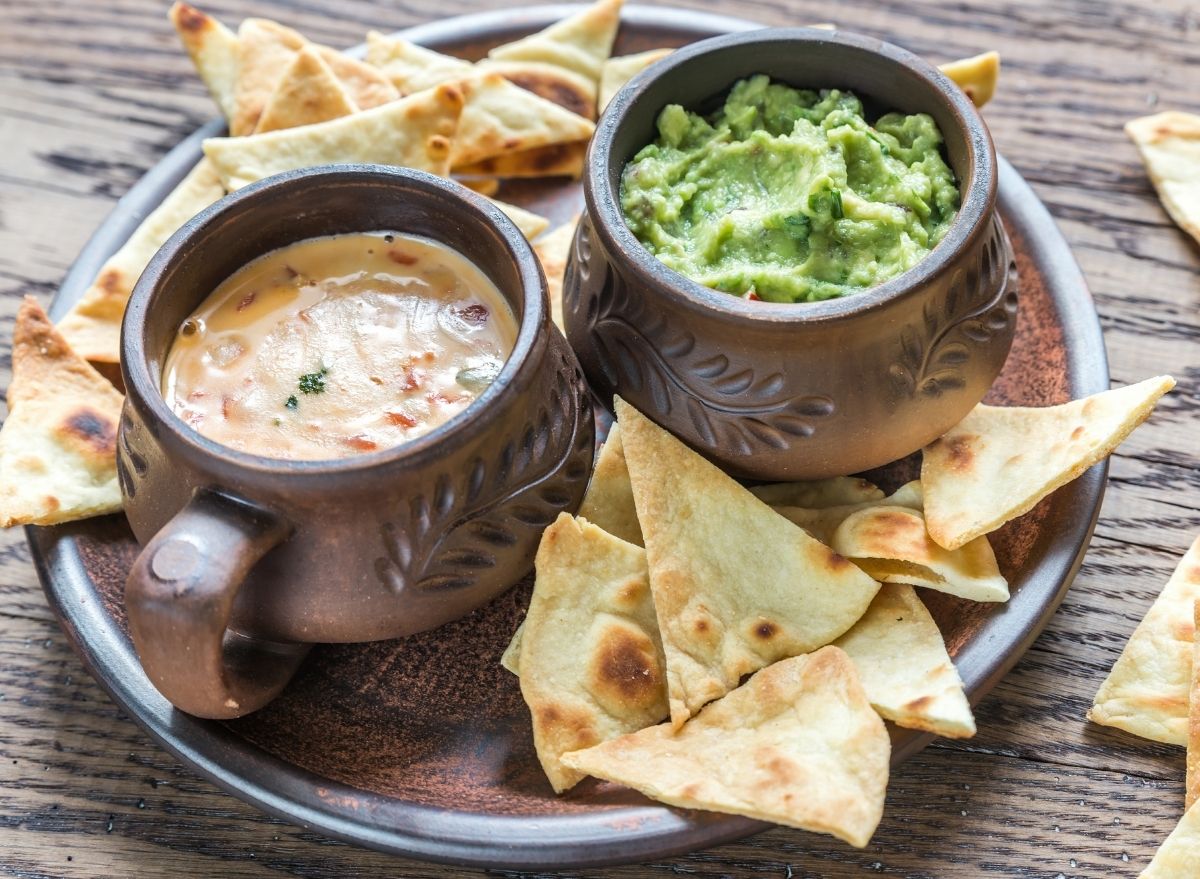 A great dip changes a snack into a treat—it can elevate the humble tortilla chip or cracker by making those crunchy but nearly flavorless starches a vessel for bursting flavor. Unfortunately, too often that flavor comes courtesy of ingredients you should really never put in your body. According to Healthline, the unhealthiest dips are often "loaded with high-calorie ingredients, salt, sugar, and other additives."
While there are plenty of healthy dips out there, like a low-calorie salsa or hummus, generally speaking, the world of dips is one where nutrition is not a factor. We rounded up nine of the worst offenders, but know this is merely the tip of the dip iceberg: always check the label for nutrition stats and ingredients. If you find any of the first few ingredients a red flag or the last few unpronounceable, it's probably best you leave that dip on the shelf and keep right on shopping.
Plus, if you're thinking about a burger tonight, skip these 8 Worst Fast-Food Burgers to Stay Away From Right Now.
Kraft Cheez Whiz Original Cheez Dip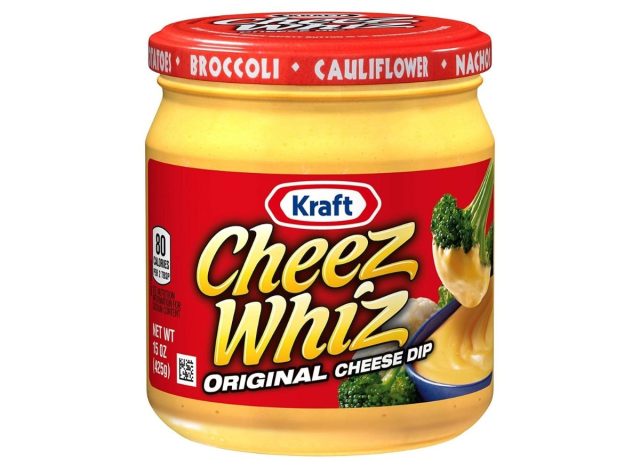 Much like when the cereal "Froot Loops" uses an alternative spelling of the word "fruit," it's a red flag when Kraft here calls their product "Cheez Whiz" instead of "Cheese Whiz." The first ingredient of this dip is whey, not cheese, and  a single two-tablespoon serving will net you 19% of your daily sodium, and the last ingredient listed, out of 20, is "natural flavor."
President Pub Cheese Spreadable Cheese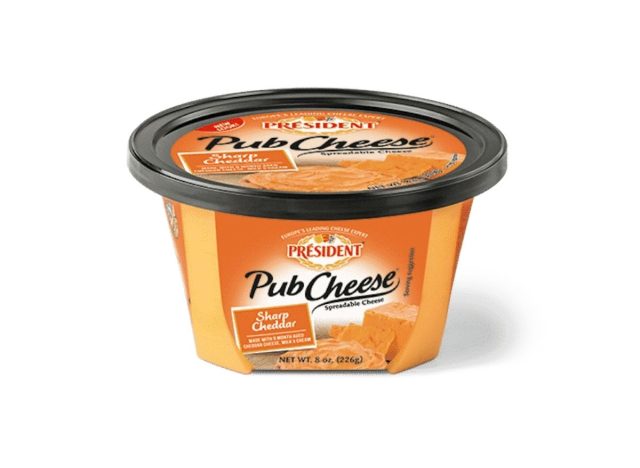 To its credit, most of the ingredients in this dippable, spreadable cheese product are indeed dairy-related. The first four ingredients are cultured pasteurized milk and cream, cheddar cheese, whey, and skim milk. Not to its credit, a two-tablespoon serving of this stuff has 21% of your daily saturated fat and a fair amount of salt and cholesterol to boot.6254a4d1642c605c54bf1cab17d50f1e
Dean's French Onion with Bacon Dip
The name of this dip doesn't sound healthy: Dean's French Onion with Bacon Dip. With 250 milligrams of sodium and 2.5 grams of saturated fat in one 60-calorie serving, this is definitely one to skip. Also, there are more than 30 ingredients in this little package.
REALTED: 6 "Mexican" Dishes No One Eats in Mexico
This is a wildly popular dip with well over 12,000 reviews and counting on Amazon and a 4.7-star overall rating at the time of this writing. But popularity and even good taste do not a good dip choice make. This cheesy, mildly spiced dip gets 25 of its 40 per-serving calories from fat, it features multiple preservatives and artificial colors, and, as with most all of these dips, it's packed with sodium.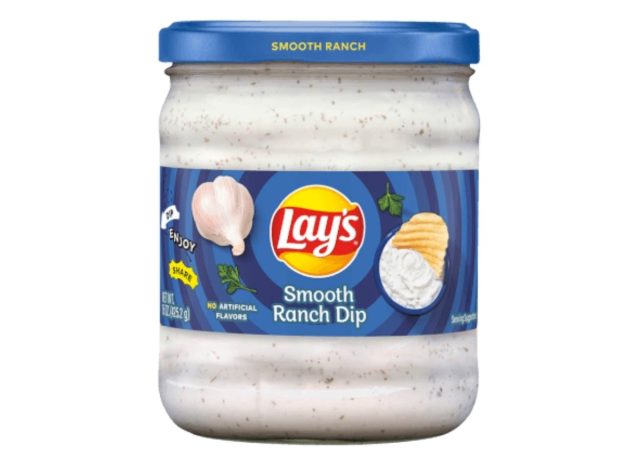 Listen to the first few ingredients found in a jar of Lay's Smooth Ranch Dip and ask yourself: "What would I be putting in my body with this stuff?" The list starts out: water, sunflower oil and/or canola oil, whey protein concentrate, modified corn starch, and then it moves on to the "less than 2% of the following" inclusions, like salt and MSG (which is of course not as dangerous as many think) and glucono delta lactone and datem and more. In other words, aside from the water that starts things out, you really don't want to ingest any of this stuff. Make your own ranch dressing with whole ingredients.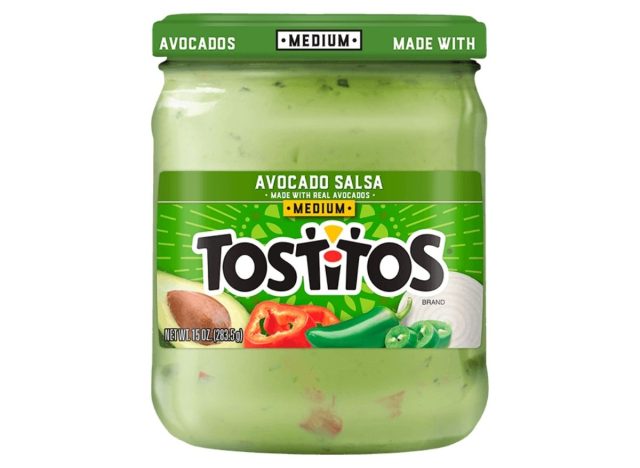 Tostitos Avocado Salsa isn't as bad an offender as some in sheer terms of nutrition stats, but it's hardly healthy, what with four grams of fat per two-tablespoon serving and a decent amount of sodium. Its greater offense is duplicity. While this dip does indeed have real avocados in it, as proclaimed clearly on the label, avocado is the fourth ingredient listed, coming after water, crushed green tomatoes, and various oils. Plus, guacamole is so easy and quick to make!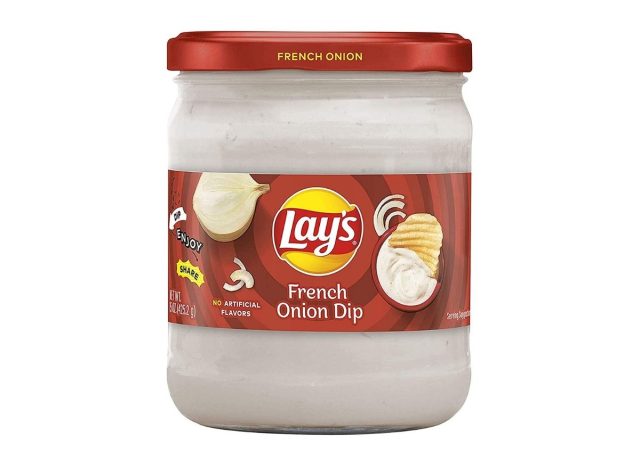 At least the third ingredient here is onions, though that comes after "sunflower and/or canola oil" in the list of what's found in Lay's French Onion Dip. Relatively high in sodium and fat, this dip is devoid of a single vitamin or mineral in amounts worthy of noting.
Marie's Chunky Blue Cheese Dressing + Dip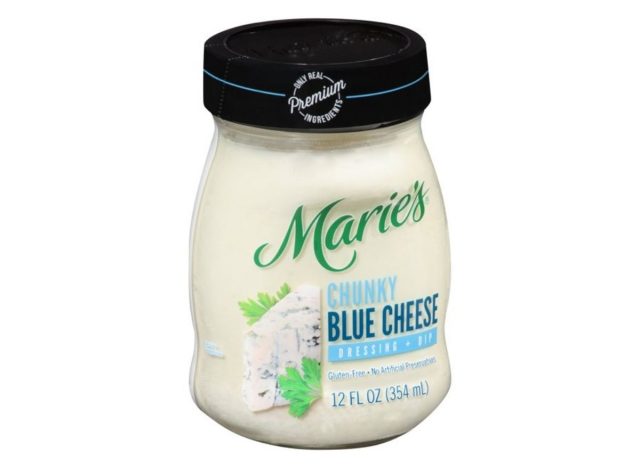 Again here's a dip where the name doesn't exactly hint at health, what with the word "chunky" leading things off. The reality is nonetheless pretty stark: This stuff has 160 calories per two tablespoons, a whopping 28% of your daily recommended fat, and 18% of your saturated fat per serving.
Tostitos Queso Blanco Dip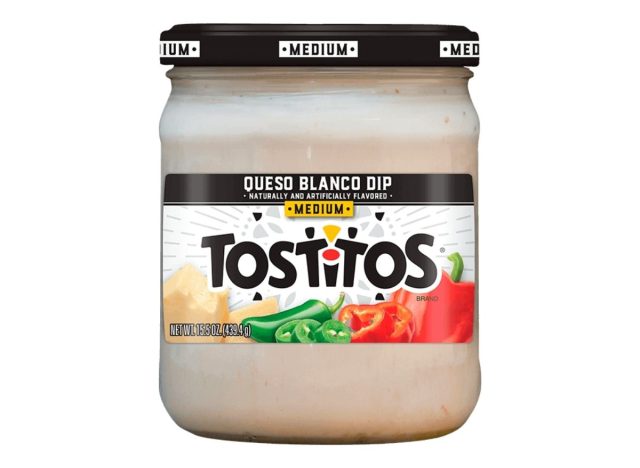 Of the two dozen or so ingredients found in Tostitos Queso Blanco Dip, you can likely readily identify 11, have a passing familiarity with three or four (we're putting MSG and maltodextrin in this category), and will be baffled by the rest (such as sodium hexametaphosphate, e.g.). Your best bet here is to play it safe and not put any of this dip made up of so many mystery ingredients into your mouth.
Plus, be sure to skip all of the 100 Unhealthiest Foods On the Planet.
Steven John
Steven John is a freelancer writer for
Eat This, Not That!
based just outside New York City.
Read more about Steven