22 Things You Should Never Buy At Trader Joe's
Most TJ's eats are organic and all are GMO-free—but that doesn't mean you should throw them in your cart.
Trusting in Trader Joe's is easy. They sell products from their private label and hold them up to a certain standard — no artificial flavors, preservatives, MSG, or trans fat — that we definitely approve of. But not so fast! Just because their ingredients lists get gold stars all around doesn't mean their nutrition labels do, too. Among all the healthy options, we tracked down some sodium-soaked, fat-filled Trader Joe's products with sky-high sugar levels.
Don't let calorie bombs like these slip by you. Instead of blindly trusting, why don't you start taking a peek at each product before it makes it into your kitchen? That mindfulness, along with these best supermarket shopping tips ever, will have you wheeling out only groceries that hold up to your standard.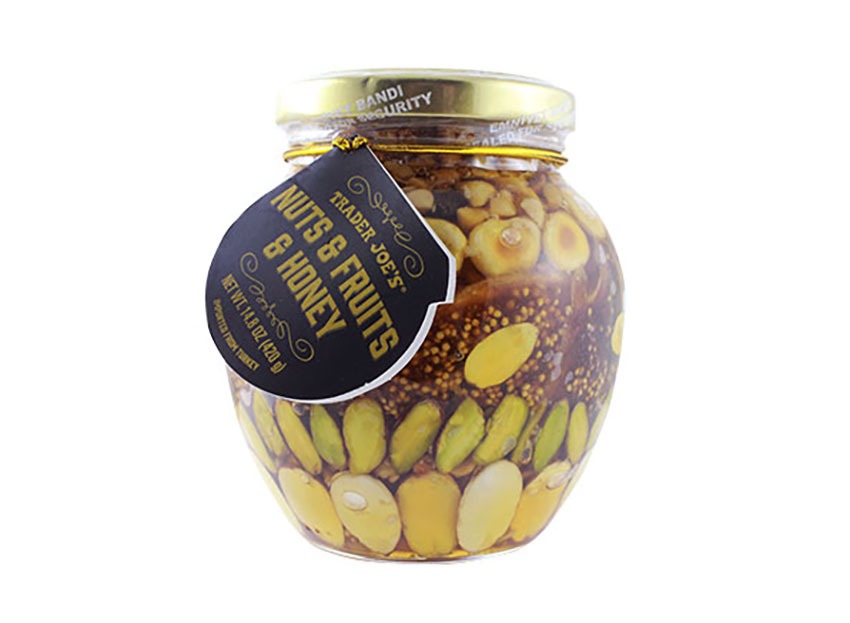 Per 1/4 cup (60 g): 300 calories, 14 g fat (11 g saturated fat), 35 mg sodium, 33 g carbs (3 g fiber, 26 g sugar), 9 g protein
There's nothing worse than falling for a seemingly healthy snack hiding a nutrition label that belongs on the back of a dessert. If you thought you couldn't go wrong with a handful of fruits and nuts, Trader Joe's is here to change your mind with this blend of peanuts, figs, almonds, pistachios, hazelnuts, currants, walnuts, coconuts, sesame seeds, and honey. With 300 calories in just one serving and almost 30 grams of sugar, this mix is more of a cheat meal than a topping for overnight oats.
Ghost Pepper Potato Chips
Per 13 chips (28 g): 140 calories, 8 g fat (1 g saturated fat), 170 mg sodium, 17 g carbs (< 1 g fiber, < 1 g sugar), 2 g protein
As far as chips go, these aren't bad at first glance. While we don't love the 8 grams of fat found in 13 of them, they're potato chips so we'll take them for what they are. Plus, they're spicy enough to up your water intake with each snacking sesh. The only real problem is the yeast extract lurking in the list of ingredients. An MSG substitute, this additive was found by Vanderbilt University researchers to contain enough free glutamate to pose problems for MSG-sensitive people. Sidestep the trap with a bag of Sriracha Kettle Cooked Potato Chips instead.
Curried White Chicken Deli Salad
Per 1/3 cup (104 g): 310 calories, 21 g fat (3.5 g saturated fat), 210 mg sodium, 16 g carbs (2 g fiber, 11 g sugar), 13 g protein
We love salads packed with protein, but not when they're filled with fat. This package of curried white chicken, toasted cashews, green onion, and honey rings in at 21 grams and that's just for one serving; eat the whole thing and you'll end up tripling that number, coming in just below the 66 grams of fat found in 2 Big Macs, not to mention hitting almost 1,000 calories. So don't let the word "salad" trick you into thinking this bright yellow blend is a wholesome choice.
Broccoli & Cheddar Cheese Quiche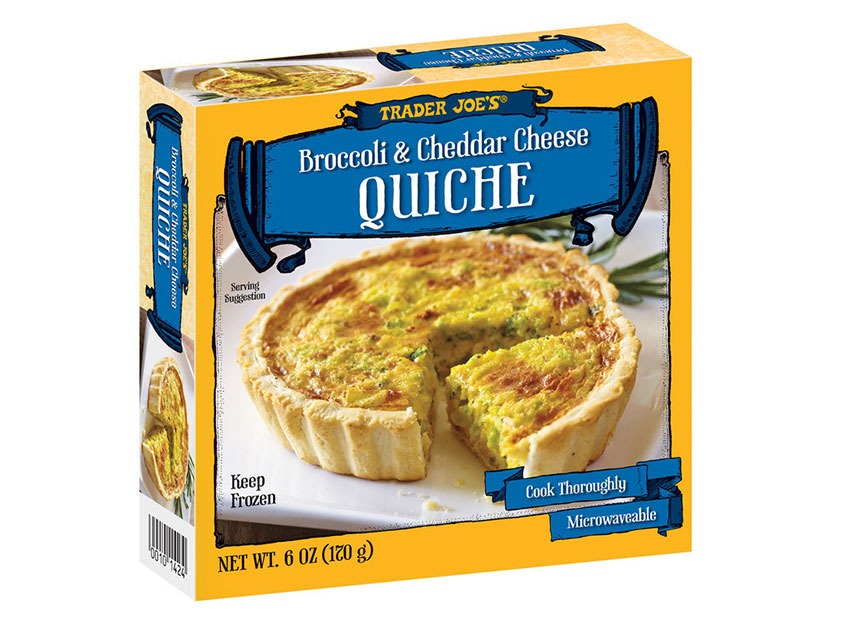 Per 1 quiche (170 g): 460 calories, 30 g fat (15 g saturated fat), 910 mg sodium, 32 g carbs (2 g fiber, 4 g sugar), 17 g protein
Don't even think about buying this unless you're willing to share with friends. With almost 500 calories in one quiche and close to half your daily intake of sodium, this dish would be bad enough even without its 30 grams of fat. You can eat a small slice or, better yet, leave this in the frozen aisle and buy broccoli, cheese, and eggs instead to whip up an omelet of your own at home.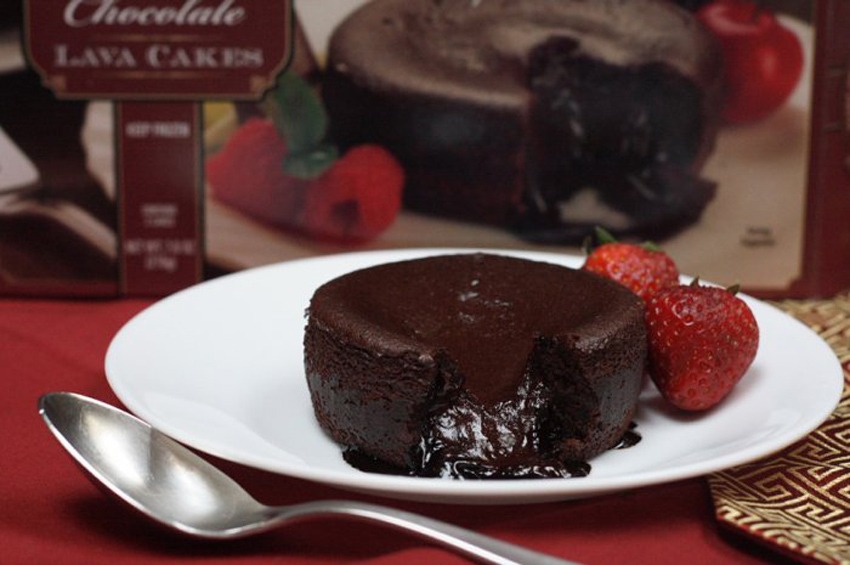 Per 1 dessert (95 g): 420 calories, 27 g fat (16 g saturated fat), 50 mg sodium, 40 g carbs (3 g fiber, 31 g sugar), 6 g protein
It's good to treat yourself every now and again, but maybe you shouldn't treat yourself this much. One of Trader Joe's lava cakes has almost an entire day's worth of saturated fat, plus a whopping 31 grams of sugar. Not that we're surprised — the dessert is a chocolate cake with a chocolate center, after all.
Uncooked Ground Buffalo Burgers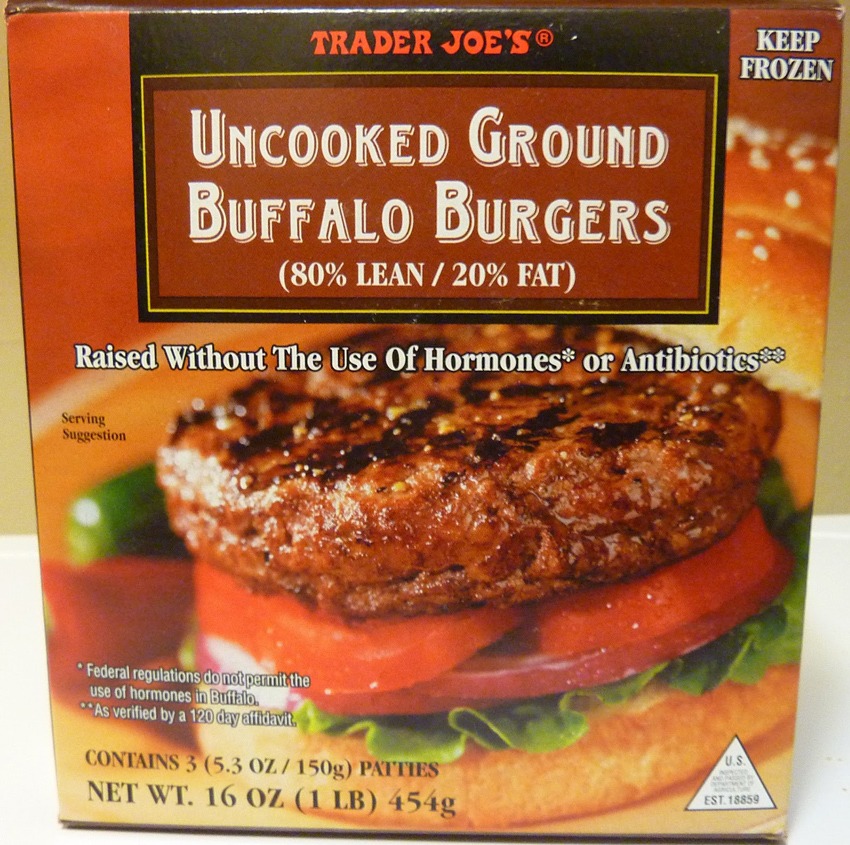 Per 1 patty (150 g): 330 calories, 29 g fat (10 g saturated fat), 135 mg sodium, 0 g carbs (0 g fiber, 0 g sugar), 28 g protein
Planning a BBQ? Pick different patties. These ground buffalo ones may be crazy high in protein, but that doesn't justify their fat content. 29 grams is only the beginning when you consider the other toppings you'll add to your burger, so start with a better base. The frozen aisle is full of them — grass-fed Angus beef burgers, anyone?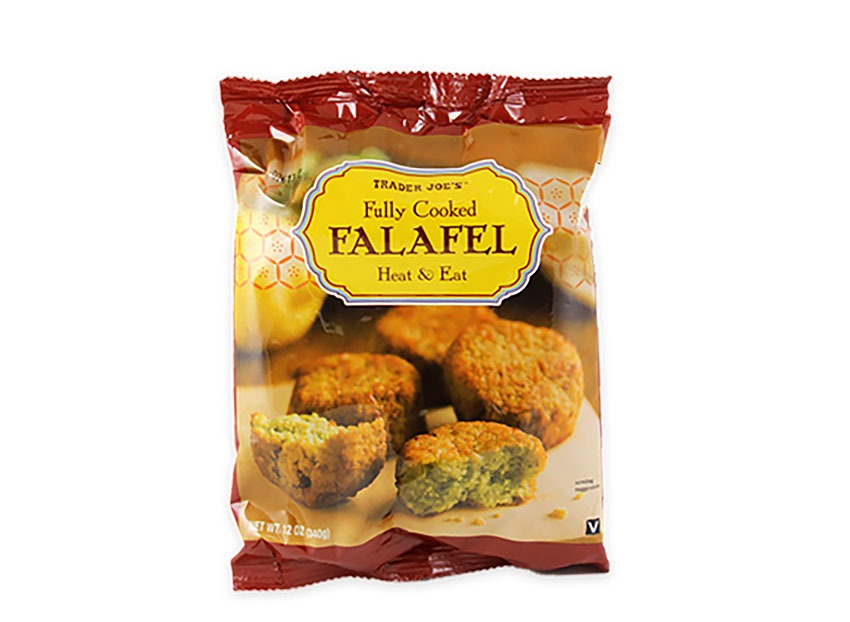 Per 3 pieces (85 g): 320 calories, 19 g fat (3 g saturated fat), 490 mg sodium, 30 g carbs (6 g fiber, 5 g sugar), 8 g protein
First of all, no one ever pops three pieces of falafel into their mouth and calls it a day, especially when there are twelve in each of these Trader Joe's bags. Whether you're having a couple extra or adding some of these to a bed of rice and veggies, you're guaranteed more than the 320 calories and 19 grams of fat in one serving. We recommend heating and eating something else instead. Better yet, make your own baked version with canned chickpeas from Trader Joe's to cut back on fat and calories.
Chicken & Vegetable Wonton Soup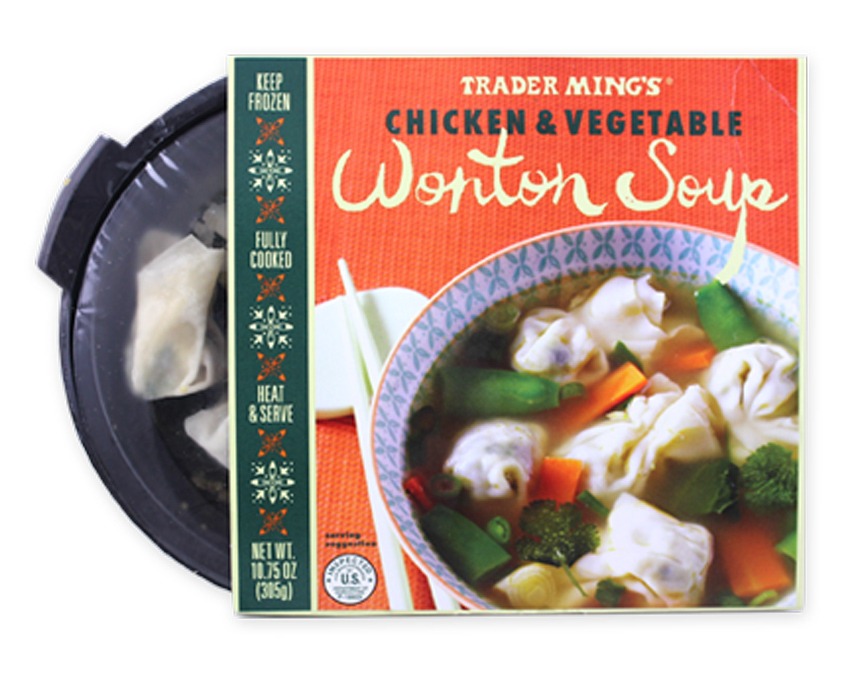 Per 1 bowl (305 g): 220 calories, 3.5 g fat (1 g saturated fat), 1,060 mg sodium, 35 g carbs (3 g fiber, 6 g sugar), 11 g protein
Spoon up some serious salt, half of your daily dose to be exact, with just one bowl of Trader Joe's wonton soup. Chicken and vegetables in broth might sound healthy enough, but the 1,060 milligrams of sodium this product is packing will wreck your weight-loss goals. According to a study by Deakin University's Centre for Advanced Sensory Science, added salt in your diet can increase your total food intake by 11 percent. We'd much rather chow down on any of these high-protein soups for abs instead.
Pumpkin Pie Spice Cookie Butter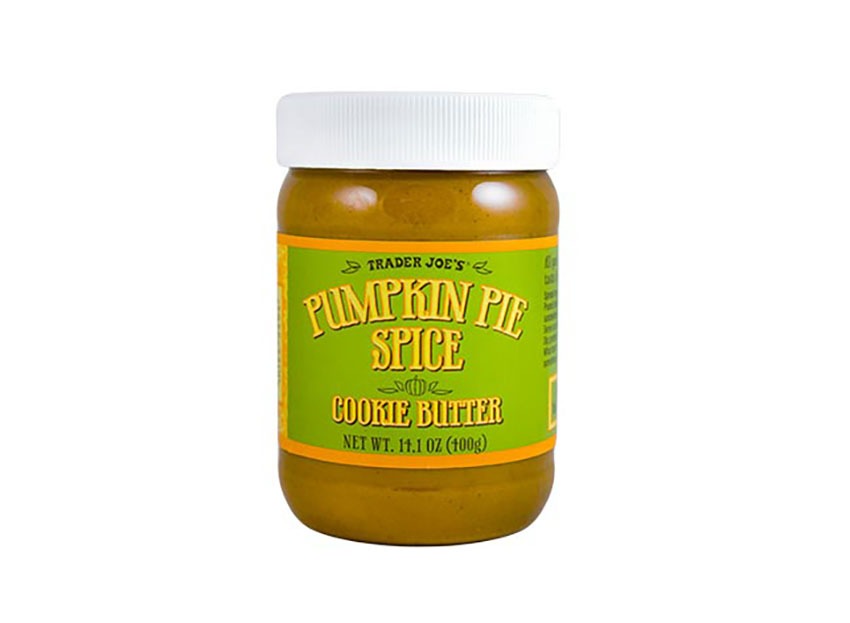 Per 2 tbsp (37 g): 220 calories, 15 g fat (4 g saturated fat), 50 mg sodium, 20 g carbs (1 g fiber, 11 g sugar), 1 g protein
Walking away from this fall fan favorite isn't an easy task. What's not to love about cookie butter blended with pumpkin puree and Joe Joe's? Well, there's the fat content for starters. 15 grams of it in every two tablespoons and, let's be honest, you'd have to have superhuman strength to only eat that much. And then there are 11 grams of the sweet stuff on top of that, which is simply too much sugar for a spread like this. Whether you avert your eyes or toss the jar into someone else's basket doesn't matter to us, just as long as you're checking out without it.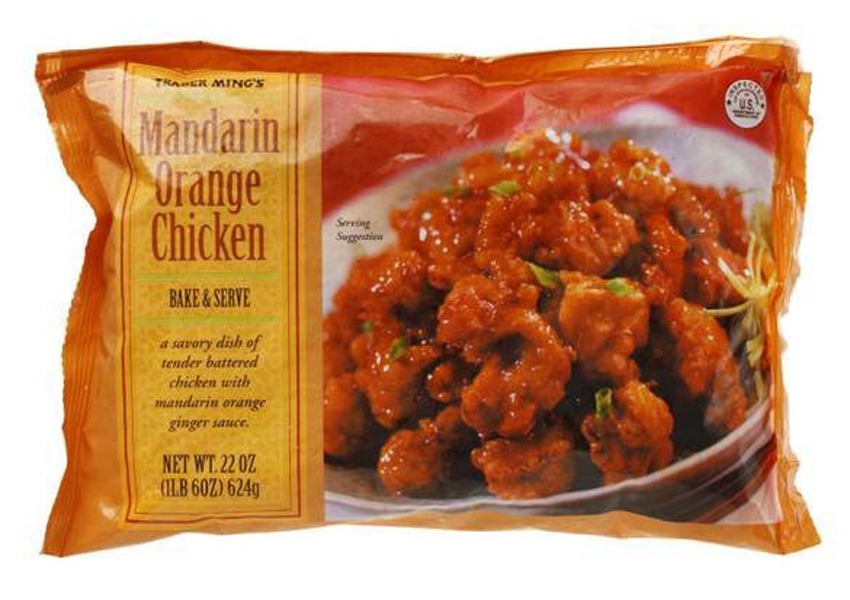 Per 1 cup (140 g): 320 calories, 16 g fat (3.5 g saturated fat), 330 mg sodium, 24 g carbs (1 g fiber, 6 g sugar), 21 g protein
If you're one of the customers who made this orange chicken the #1 item on the Trader Joe's popularity list in 2011, we sure hope you've changed your ways by now. While we may be all for MSG-free Chinese food, there's nothing rewarding about a plate of deep-fried chicken smothered in sweet and sour sauce. Do yourself a favor and buy the shiitake mushroom dish instead to cure your chicken craving.
Organic Brown Sugar & Cinnamon Frosted Toaster Pastries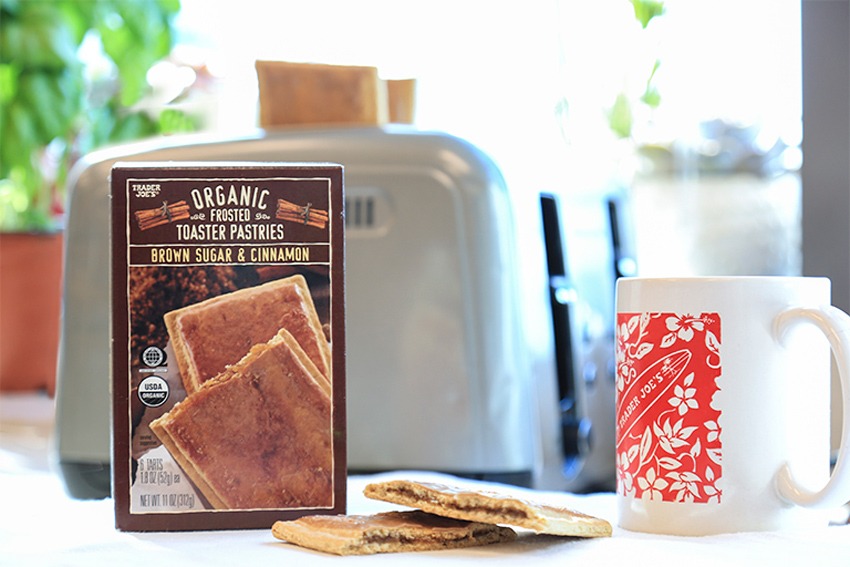 Per 1 pastry (52 g): 200 calories, 4 g fat (2 g saturated fat), 115 mg sodium, 39 g carbs (< 1 g fiber, 21 g sugar), 2 g protein
How do these toaster pastries stack up against Pop-Tarts of the same flavor? Not well. With only 10 fewer calories and 3 fewer grams of fat, the Trader Joe's version is hardly better for you. It even has 6 more grams of sugar! This might be a sign that you should stay away from anything with the word "pastries" in it when breakfast is involved. Even if it's childhood nostalgia you're after, it's a widening waistline you're going to get.
Speculoos Cookie Butter Cheesecake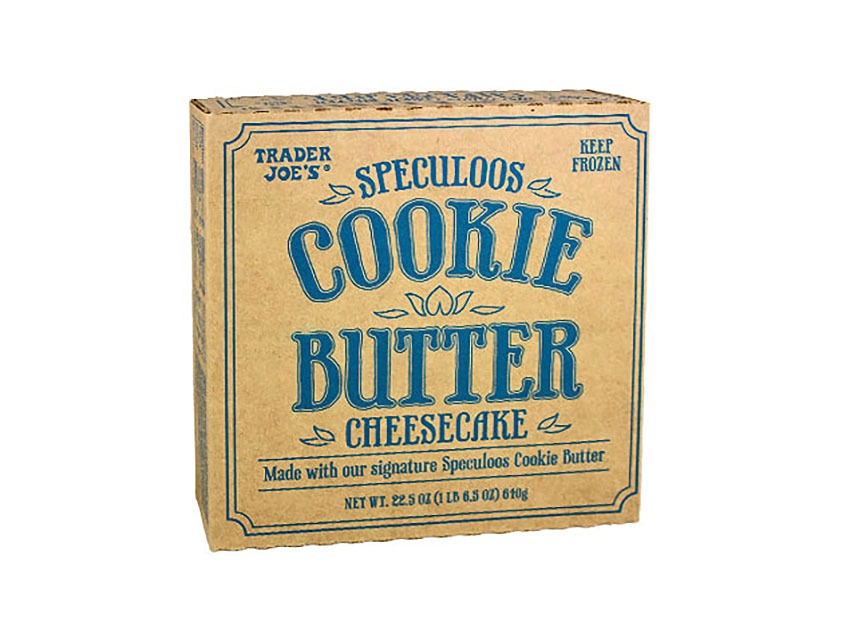 Per 1/6 cake (106 g): 410 calories, 45 g fat (14 g saturated fat), 220 mg sodium, 43 g carbs (0 g fiber, 29 g sugar), 4 g protein
A cheesecake made with cookie butter is a powerful thing that can tempt even the most diligent dieter — no wonder they're so hard to find. Sweet tooths are drawn to this dessert like a moth to a flame, but if you happen to stumble across one of these rare frozen aisle treats on your next trip to Trader Joe's, it's not your lucky day. Unless you consider 410 calories, 45 grams of fat, and 29 grams of sugar lucky.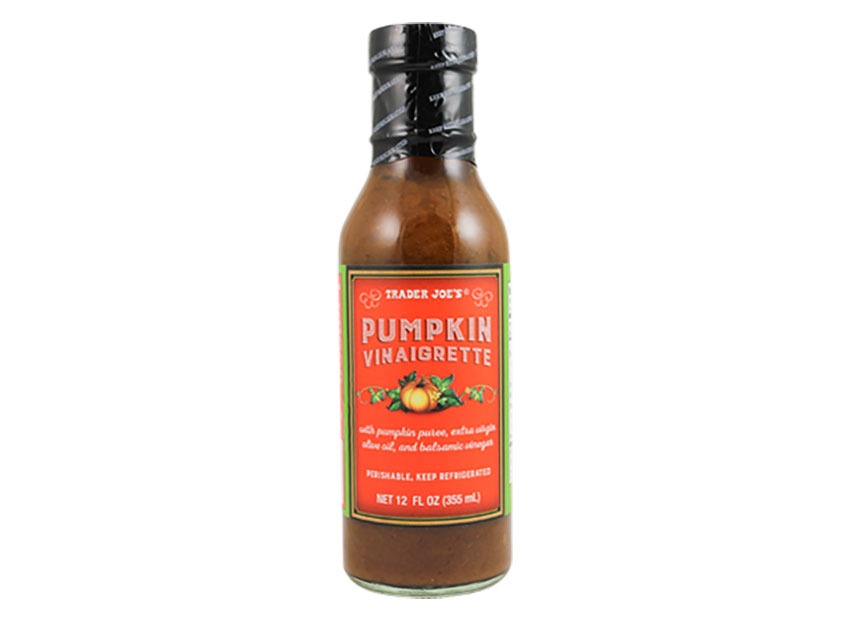 Per 2 tbsp (30 g): 110 calories, 10 g fat (1.5 g saturated fat), 230 mg sodium, 5 g carbs (0 g fiber, 4 g sugar), 0 g protein
Fall in Trader Joe's is a magical time of year. With so many pumpkin products lining the shelves, it's tempting to grab all the limited time items you can get your hands on, but resist the urge if you can. Many of them will end up doing your body more harm than good, like this pumpkin vinaigrette. We won't deny that this sounds like an amazing addition to a salad, but at what cost? Topping a healthy meal with 10 grams of fat and 230 milligrams of sodium is just not okay — not when these salad dressings for weight loss exist.
Pork Carnitas And Chicken Asada Burritos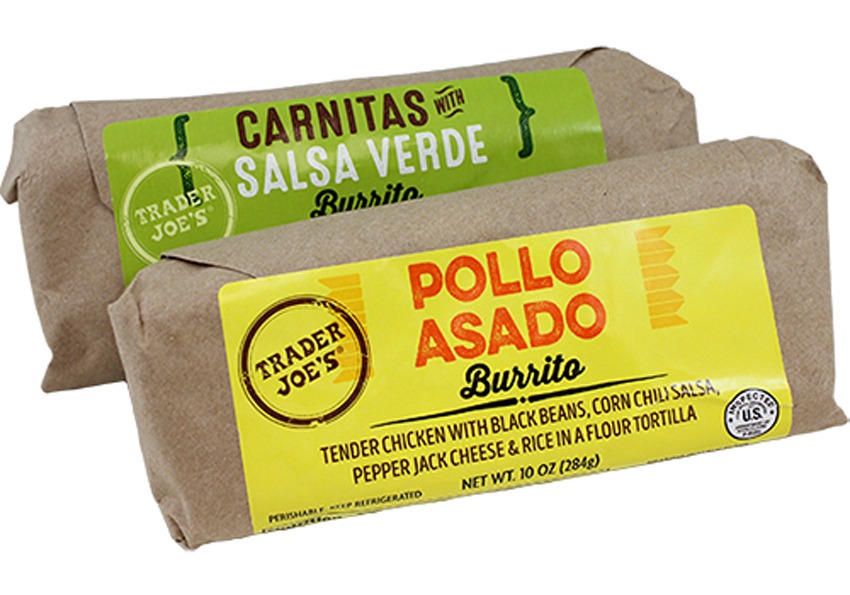 Per 1/2 pork burrito (142 g): 270 calories, 8 g fat (2.5 g saturated fat), 760 mg sodium, 40 g carbs (5 g fiber, 2 g sugar), 12 g protein
Per 1/2 chicken burrito (142 g): 300 calories, 9 g fat (2.5 g saturated fat), 790 mg sodium, 42 g carbs (5 g fiber, 4 g sugar), 14 g protein
Conflicted over which of these burritos to buy? We've got the answer for you: neither. Whether you choose to chew the chicken or the pork, you're looking at consuming around 300 calories, almost 800 milligrams of sodium, and close to 10 grams of fat. We should mention that those numbers are for half of the burrito, so multiply everything we just said by two. If that isn't enough to send you in the other direction, we don't know what is.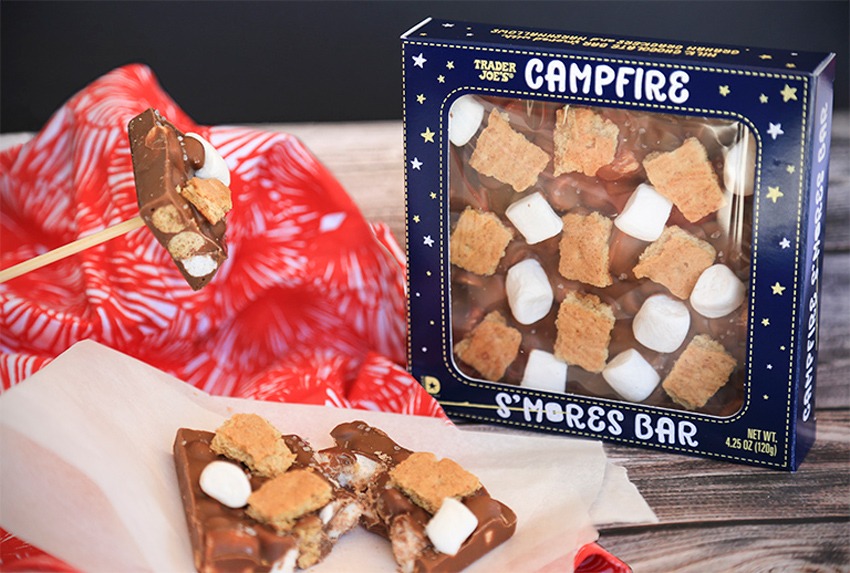 Per 1/3 bar (40 g): 180 calories, 8 g fat (5 g saturated fat), 125 mg sodium, 26 g carbs (< 1 g fiber, 19 g sugar), 2 g protein
If you wanted a product to take all the fun out of making s'mores but keep all the fat and sugar involved in eating them, this bar is for you. Instead of roasting marshmallows over a fire, you can break off a chunk of chocolate with graham cracker chunks, mini 'mallows, and sea salt — which, last time we checked, wasn't a component of the s'mores trifecta. Eating only a third of this sorry imitation will set you back 19 grams of sugar and 8 grams of fat. You'll only have to avoid it during the summer months; after that, it isn't available in the candy section anymore.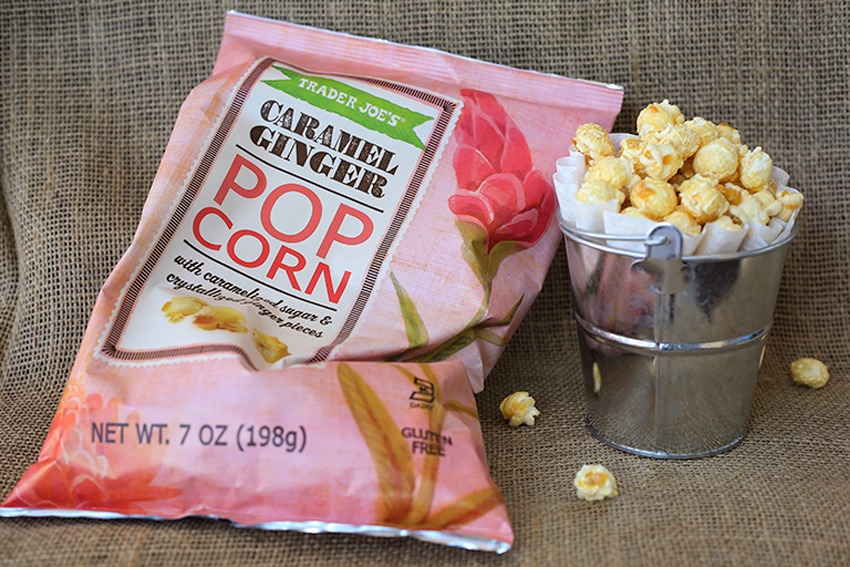 Per 1 cup (28 g): 110 calories, 1.5 g fat (0 g saturated fat), 150 mg sodium, 24 g carbs (< 1 g fiber, 19 g sugar), 1 g protein
We should all establish a general rule not to eat foods covered in caramelized cane sugar, starting with this Trader Joe's popcorn. That's because this crunchy coating can turn an innocent bag of mushroom kernel corn into a super sugary snack when combined with crystallized ginger pieces. The flavor's weird enough to justify indulging in a couple kernels when it's the store's sample of the day, but other than that, leave these popped pieces behind.
6254a4d1642c605c54bf1cab17d50f1e
Per 1 pie (283 g): 800 calories, 46 g fat (25 g saturated fat), 1,180 mg sodium, 64 g carbs (3 g fiber, 3 g sugar), 34 g protein
Believe it or not, replacing the syrupy fruit in a standard dessert pie with beef, veggies, and gravy actually doesn't actually do you any favors. In fact, you may be worse off. The sugar content in this steak and stout pie is definitely lower than a slice of peach cobbler, but it also has 800 calories, 46 grams of fat, and half your daily dose of sodium. We're all about the protein involved, but that's beside the point considering the rest of the nutrition label.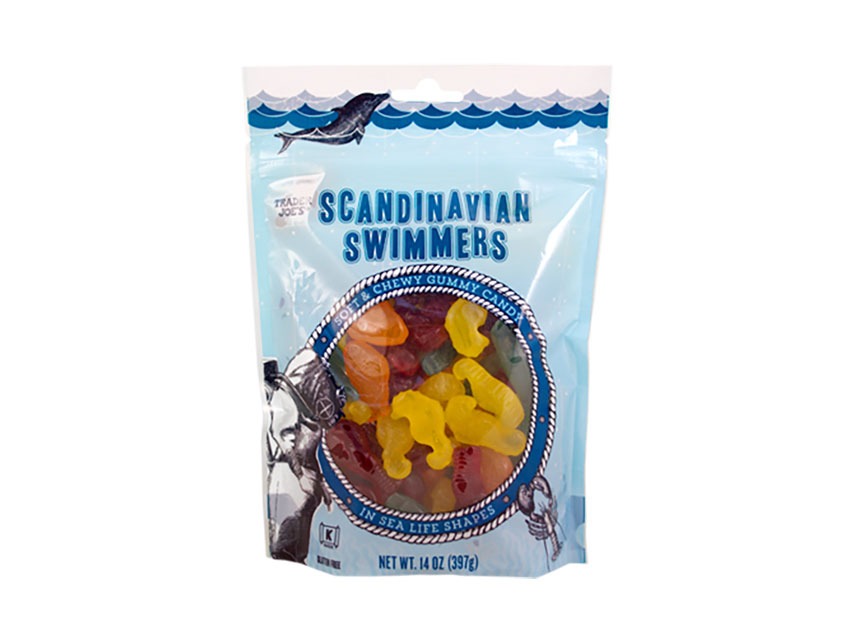 Per 9 pieces (42 g): 160 calories, 0 g fat (0 g saturated fat), 25 mg sodium, 39 g carbs (0 g fiber, 27 g sugar), 0 g protein
Next time you see these colorful candies at Trader Joe's, just keep swimming. These sea creatures may taste good going in — they are flavored like huckleberry, mango peach, orange, and berry, after all — but they won't feel good making their way through your system. With almost 30 grams of the sweet stuff in just 9 pieces, you'll have to be very careful with the rest of your daily sugar intake. According to a study in the Journal of the American Medical Association, people who get 25 percent or more of their calories from added sugar are doubly likely to die from heart disease than those keeping the number below 10 percent. So keep your sweet tooth away from these and chomp on some antioxidant-rich dark chocolate instead.
Lemon Chicken And Arugula Salad
Per 1 container (260 g): 300 calories, 8 g fat (1 g saturated fat), 830 mg sodium, 41 g carbs (3 g fiber, 16 g sugar), 16 g protein
Ditch the dressing if you've got your heart set on this salad. Throwing the spicy pimento packet out means cutting 80 calories and 300 milligrams of sodium — that's enough to make this chicken, quinoa, and couscous salad a nutritious option.
Simply Nutty Dark Chocolate, Nuts, & Sea Salt Bar
Per 1 bar (40 g): 200 calories, 16 g fat (2.5 g saturated fat), 100 mg sodium, 14 g carbs (7 g fiber, 5 g sugar), 7 g protein
Dark chocolate has its benefits, but it should be eaten in moderation — unlike this granola bar, which is both dipped and drizzled in the stuff. Out of the three flavors available, this one is the worst Trader Joe's has to offer. Two-hundred calories is a hefty amount to consume with one simple snack, and tackling a quarter of your daily fat intake at the same time is a little nutty, don't you think?
Sweet Corn, Burrata, & Basil Ravioli
Per 1 cup (105 g): 210 calories, 7 g fat (3.5 g saturated fat), 450 mg sodium, 30 g carbs (5 g fiber, 2 g sugar), 9 g protein
It's hard to feel good about knocking out 9 grams of protein with just five of these pasta pockets when you're basically ingesting just as much fat at the same time, as well as 30 grams of carbs. There are so many plant protein options out right now killing the pasta game, so it couldn't hurt to make the switch to lentils or chickpeas. And since Trader Joe's has black bean noodles on their shelves now, you've got no excuse not to.
Gluten Free 3 Cheese Pizza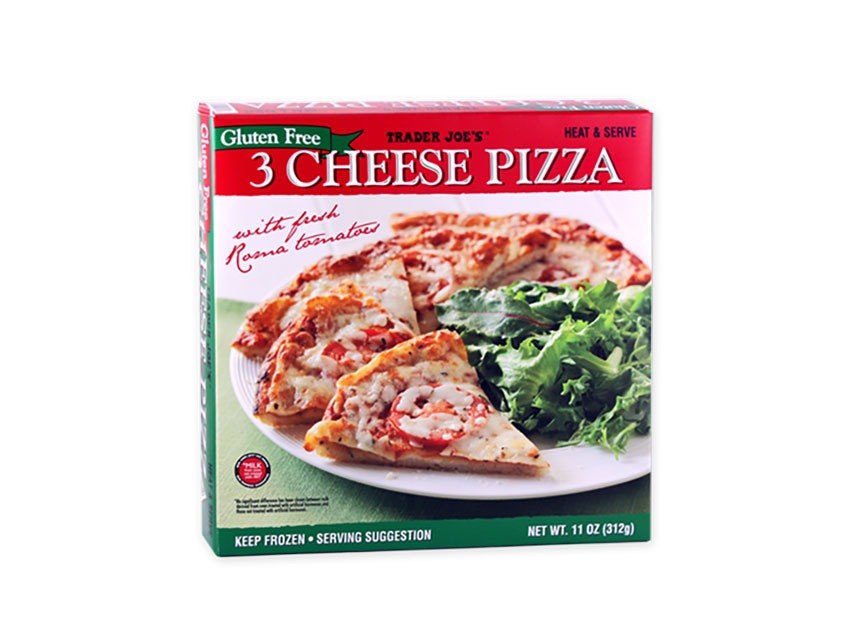 Per 1/2 pizza (156 g): 350 calories, 18 g fat (7 g saturated fat), 520 mg sodium, 35 g carbs (1 g fiber, 6 g sugar), 13 g protein
Even if you're gluten-free and limited on what grocery options are available to you, you shouldn't settle for fatty products like this when you're shopping at Trader Joe's. Frozen aisle finds like this are more common than we'd like to think, so don't let the fresh Roma tomato slices and rice, potato, and tapioca crust fool you. As healthy as that sounds, this product still packs almost 20 grams of fat per serving. Good thing we've scoured the rest of the frozen section for the best and worst frozen Trader Joe's products; you can't go wrong!