8 Unhealthiest Restaurant Tacos to Stay Away From Right Now
When that taco craving hits, there are some options you're going to want to avoid.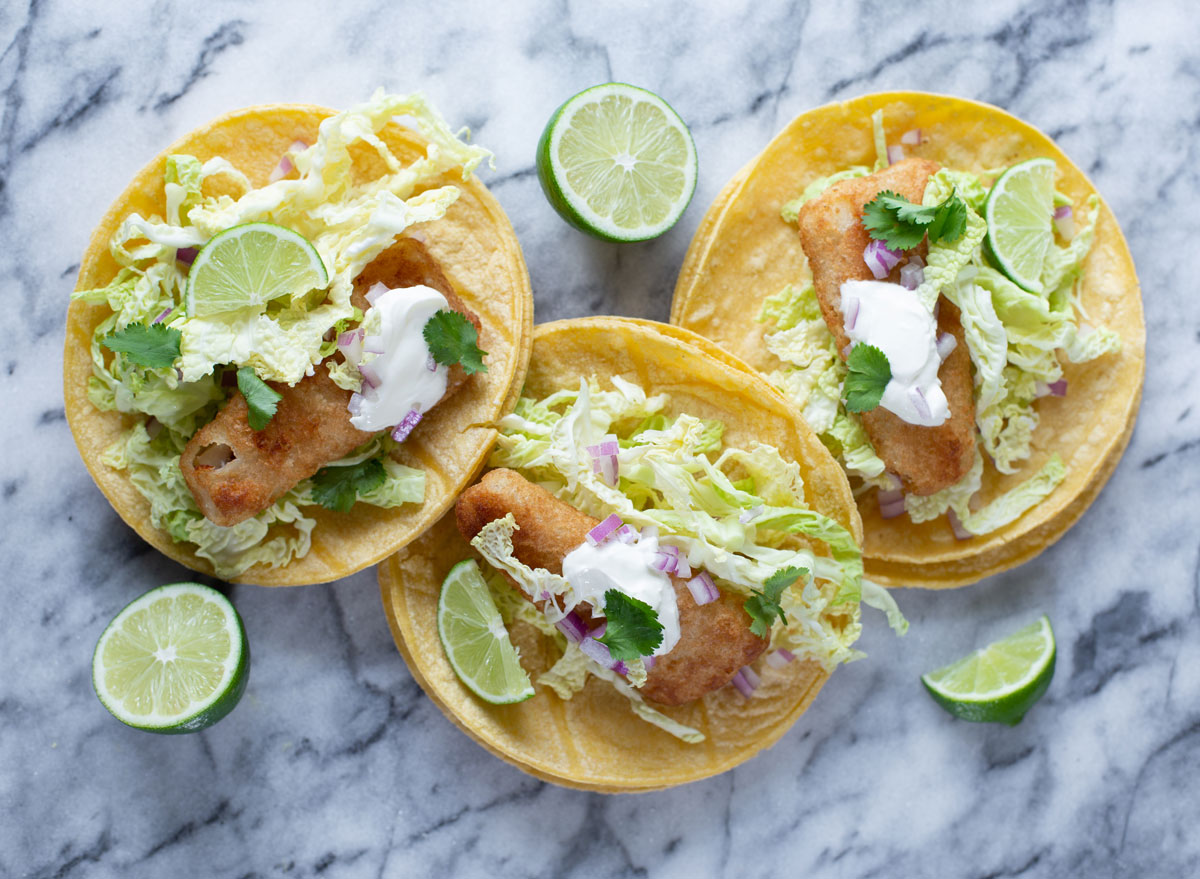 Tacos are a beloved food staple from Mexico that can be summed up as simple, yummy goodness. Typically consisting of a tortilla, a protein, and loads of toppings (we're partial to salsa and cilantro), they're a handheld, flavorful meal that Americans love–which is why they're on the menu at so many restaurants.
Unfortunately, they can quickly become super unhealthy depending on the ingredients they're made of.
"There are definitely ways to enjoy tacos in a healthy way that provide good nutrition to your diet," says Maggie Michalczyk, RDN, registered dietitian nutritionist and founder of Once Upon A Pumpkin. "Being aware of what can make a taco less healthy is helpful when it comes to making the best choices for you."
How to spot the unhealthiest restaurant tacos
Here are four giveaways that your tacos are unhealthy, according to Michalczyk.
Fried Shells: "Traditionally taco shells are often deep-fried to achieve that signature crispy texture. While undeniably delicious, fried shells add extra calories and might be cooked in less healthy oils. Instead, choose tacos with soft whole-grain or corn tortillas," she says.
Portion Sizes: "Tacos, often served in pairs or threes, can quickly add up in terms of calories and portion size. Depending on the size of the taco, opt for smaller-sized tacos or share a plate with a friend. Many restaurants offer 'street-style' or 'mini' tacos that can be a great option to help with portion sizes," she says.
Excessive Toppings: "Taco toppings like sour cream and extra cheese can quickly escalate the calorie and fat content of your meal. Instead, choose healthier toppings like salsa, plain Greek yogurt, pico de gallo, or guacamole for more healthy fat and staying power. Load up on veggies like lettuce, tomatoes, onions, and peppers to add flavor and nutrition," she says.
Processed & Fried Meats: "Tacos featuring processed meats like chorizo or heavily seasoned ground beef often contain high levels of sodium. Also, battered options like fish will be higher in fat, calories, and sodium. Opt for leaner protein sources like grilled chicken, fish, or veggies and beans for a typically lower sodium option," she says.
Here are 8 of the unhealthiest tacos to stay away from.
With these tips in mind, we identified the absolute unhealthiest taco order at eight popular restaurant chains. Read on to learn about what to avoid next time you're dining out, and for more, don't miss The #1 Unhealthiest Order at 9 Major Fast-Food Mexican Chains.
BJ's Restaurant & Brewhouse Fried Mahi-Mahi Tacos
PER MEAL
: 960 calories, 39 g fat (7 g saturated fat, 0 g trans fat), 3,345mg sodium, 121 g carbs (18 g fiber, 13 g sugar), 33 g protein
BJ's Restaurant & Brewhouse offers fried mahi-mahi fish tacos on the menu that have a whopping 39 grams of fat, the highest out of all the taco options at BJ's. Plus, the sodium content is 3,345mg. The American Heart Association recommends no more than 2,300 milligrams of sodium per day for most adults, and this dish is coming in with way more than 3,000 milligrams.
Bahama Breeze Coconut Shrimp Tacos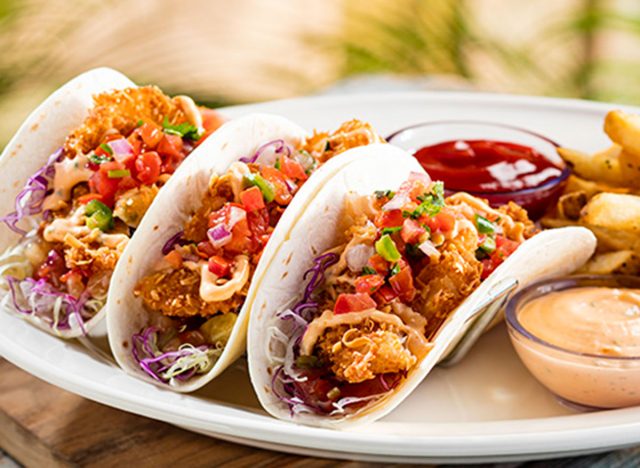 PER 2 TACOS
: 840 calories, 57 g fat (11 g saturated fat, 0 g trans fat), 1,380 mg sodium, 67 g carbs (5 g fiber, 17 g sugar), 16 g protein
The coconut and pineapple chutney added into these shrimp tacos from Bahama Breeze ups the sugar content to 17 grams. Topped with a Sriracha aioli, these fried shrimp tacos are also high in fat.
Hooters Baja Fish Tacos (Fried)
PER MEAL
: 870 calories, 49 g fat (9 g saturated fat, 0 g trans fat), 1,940 mg sodium, 77 g carbs (6 g fiber, 6 g sugar), 27 g protein
These fried fish tacos available at Hooters feature tempura battered cod, which packs a lot of added carbs and fat. Plus, the soft flour tortillas stack up the carbs, too.
Applebee's Chicken Wonton Tacos
PER MEAL
: 600 calories, 26 g fat (5 g saturated fat, 0 g trans fat), 1,530 mg sodium, 58 g carbs (3 g fiber, 27 g sugar), 32 g protein
Applebee's only has one taco option on their menu. And while it may seem low in calories, these tacos are loaded with sodium and sugar. One order has 27 grams of the sweet stuff!
Cheesecake Factory Crispy Beer Battered Fish Tacos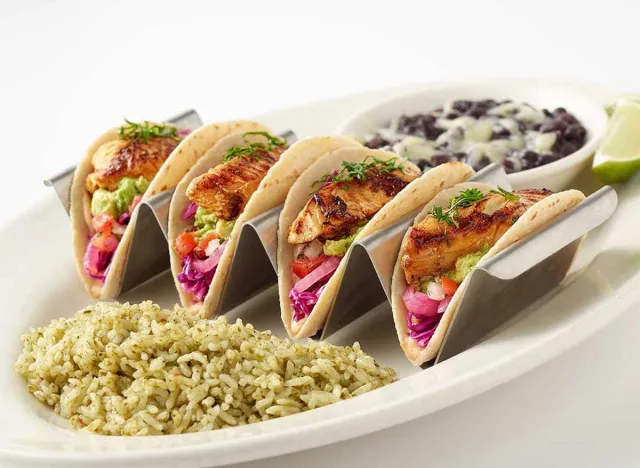 PER MEAL
: 1,330 calories, 63 g fat (10 g saturated fat, 0.5 g trans fat), 2,210 mg sodium, 140 g carbs (18 g fiber, 12 g sugar), 52 g protein
The carb count on Cheesecake Factory's Crispy Beer Battered Fish Tacos is the highest on this list. Topped with a creamy Chipotle Sauce, they also pack a high fat content—out of this dish's total calories, 42% come from fat.
Cracker Barrel Pancake Tacos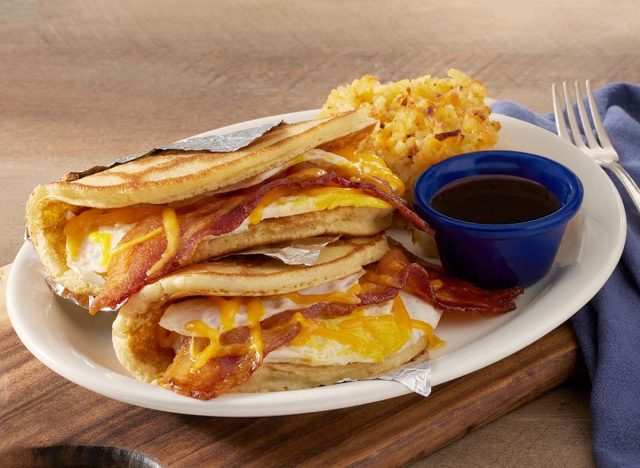 PER MEAL
: 930 calories, 50 g fat (21 g saturated fat, 0.5 g trans fat), 2,560 mg sodium, 77 g carbs (<1 g fiber, 7 g sugar), 43 g protein
Cracker Barrel offers tacos only on their breakfast menu in pancake form. Their pancake tacos are stuffed with bacon, eggs, and cheese. And while you get a good amount of protein, they're also high in sodium (more than what's recommended per day!) and saturated fat.6254a4d1642c605c54bf1cab17d50f1e
On the Border Dos XX Fish Tacos w/ Creamy Red Chile Sauce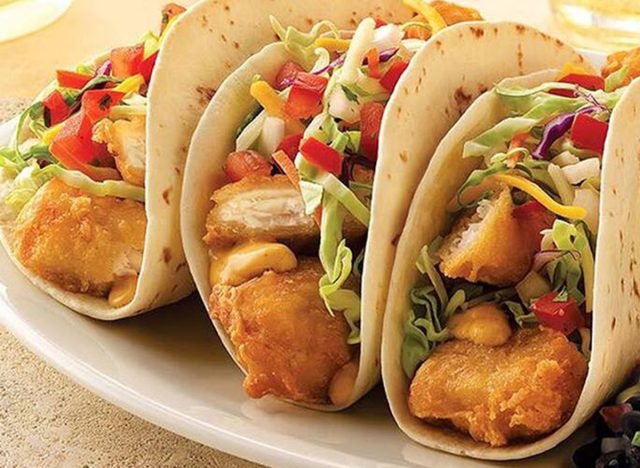 PER 3 TACOS
: 1,650 calories, 117 g fat (27 g saturated fat, 0 g trans fat), 2,790 mg sodium, 102 g carbs (3 g fiber, sugar not provided), 51 g protein
Although these tacos don't have "beer battered" in the name, that's exactly what they are–which means they are high in carbs (102 grams!), calories, and saturated fat thanks to a creamy red chile sauce, cheese, and flour tortillas.
Bonefish Grill Bang Bang Shrimp Tacos with Fries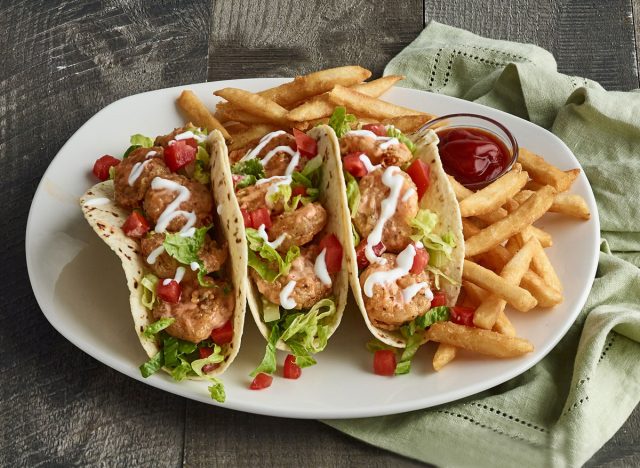 PER MEAL
: 1,560 calories, 96 g fat (21 g saturated fat, 1 g trans fat), 4,050 mg sodium, (12 g fiber, 8 g sugar), 43 g protein
One of the most popular dishes on the menu at Bonefish Grill is the Bang Bang Shrimp. The sweet and savory flavor means that it's packed with not only sugar but almost double the American Heart Association's guidelines for daily sodium intake.