13 Non-basic Burger Recipes to Spice up Your Labor Day BBQ
Add the ingredients for any of these creative burger recipes to your grocery list ahead of your weekend grilling.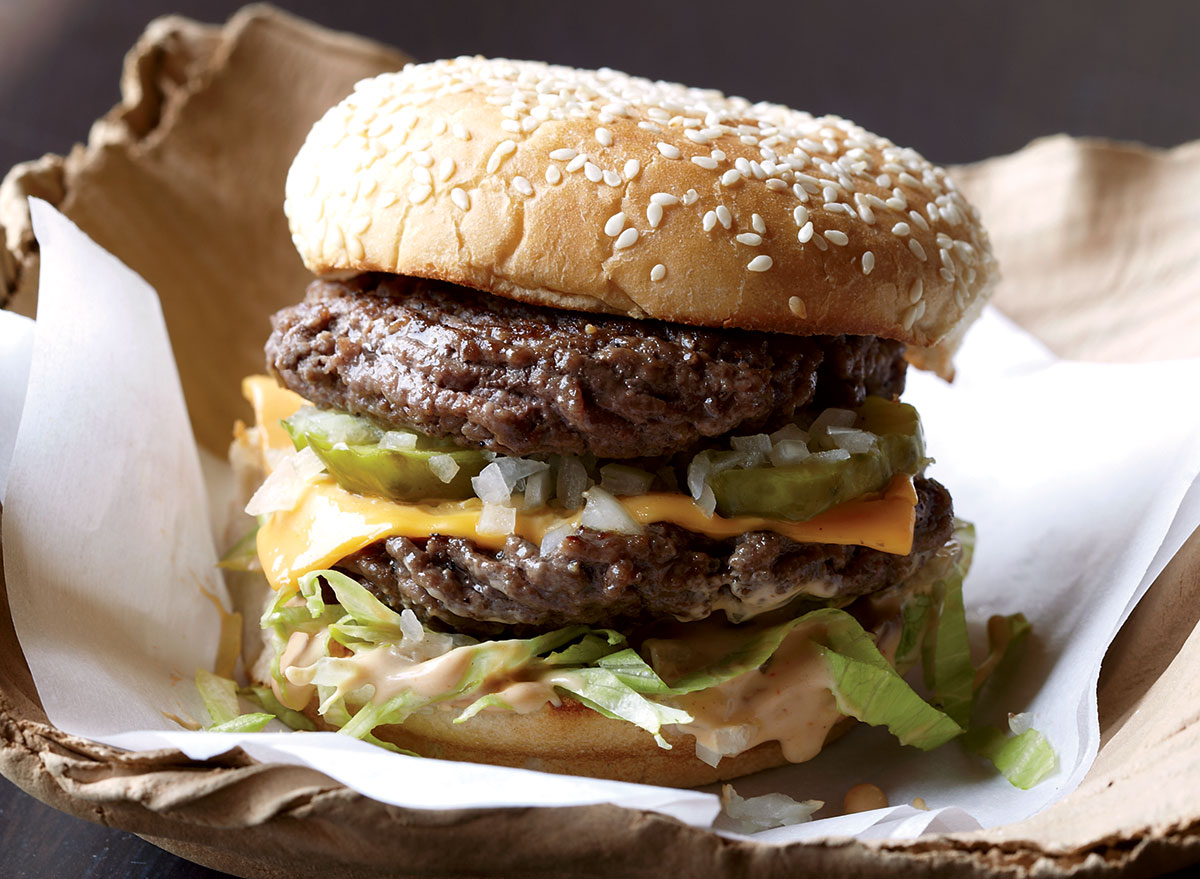 You've worked hard all year long, and Labor Day weekend is the time to celebrate all of that labor with some well-deserved relaxation and fun. There are few better ways to spend your long weekend than with a barbecue, and what food is more perfect for a barbecue than burgers? This year, though, don't go for the same old burgers you have every year; mix things up a bit with the non-basic burger recipes in this list!
Whether they have unique toppings like pepperoni or pineapple, or are made of something you didn't even know a burger could be made of, like cauliflower, these burgers are far from traditional and are healthier options than any burger restaurant or fast-food place, as well. Read on, and for more, don't miss 10 Foods You Never Knew You Could Grill.
Chicken Burger with Sun-Dried Tomato Aioli Recipe
Everyone's had a beef burger, and turkey burgers are increasingly popular, too, so mix it up at your Labor Day BBQ by serving this chicken burger. Even if guests have had chicken burgers before, the addition of the recipe's sun-dried tomato aioli is certain to spice up the barbecue menu, and one serving is relatively low on calories.
Get our recipe for Chicken Burger with Sun-Dried Tomato Aioli.
Thai Turkey Burger Recipe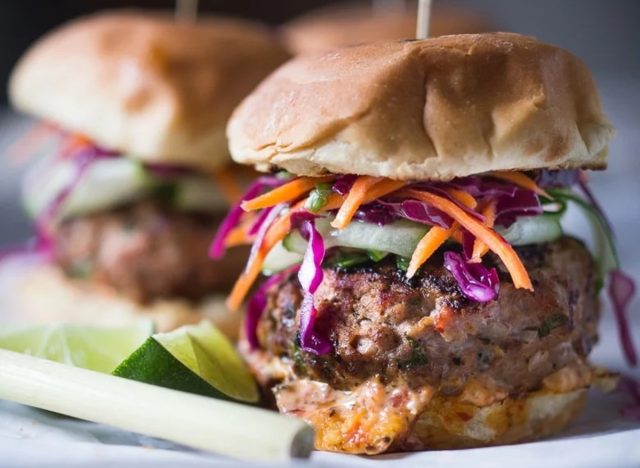 It's been disputed whether the hamburger's origins lie in Germany or the United States, but the Thai Turkey Burger's flavor profile won't remind you of either country and will instead take you straight to Thailand. The burger is infused with lemongrass, Thai basil, and ginger and topped with a vegetable slaw to ensure that not only is it a delicious turkey burger, but a good way to get your veggies in, as well.
Get the recipe for Thai Turkey Burger with Asian Slaw from Feasting at Home.
Spicy Cauliflower Burger Recipe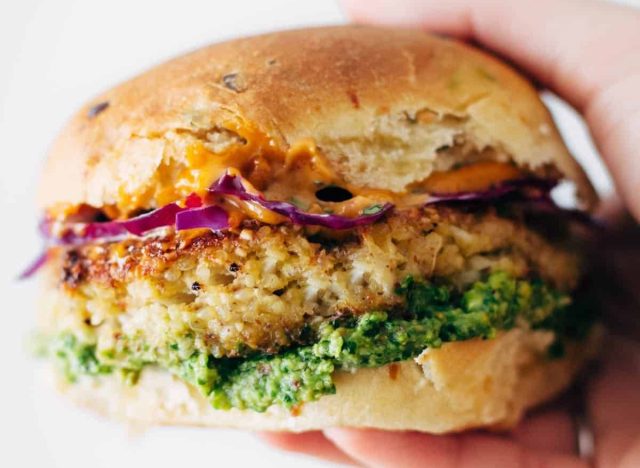 Sure, cauliflower can be a great vegetarian and healthier substitute for chicken wings, but did you know that you can also make a burger out of the versatile vegetable? This recipe kicks up the patty's flavor with cumin, chili powder, or cayenne, whichever spice you prefer, and also has pepper jack cheese in the patty to help hold it all together.
Get the recipe for Spicy Cauliflower Burgers from Pinch of Yum.
Mexican Green Chili Veggie Burger Recipe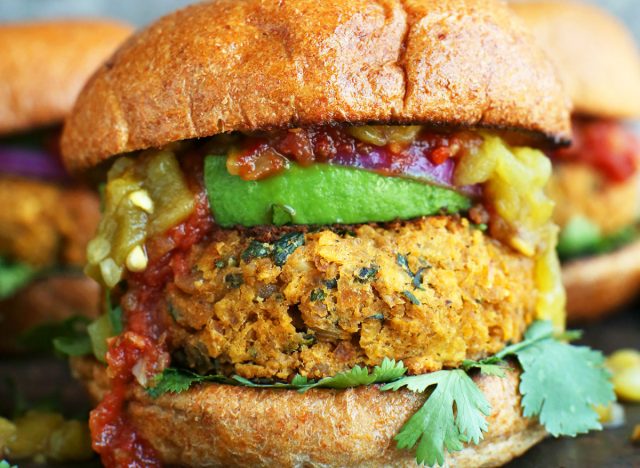 There are plenty of toppings you can place on your burger to infuse it with a bit more flavor or texture, but if you really want to kick things up spice-wise, try adding chili peppers into the actual burger, like in this recipe for the Mexican Green Chili Veggie Burger. The patties are composed of chickpeas, green chilis, and finely crushed tortilla chips, and the burger's low calorie count makes it good for your waistline, as well.
Get the recipe for Mexican Green Chili Veggie Burgers From Minimalist Baker.
Red Wine-Infused Mushroom Swiss Burger Recipe
You could always just grill up some of the same hamburgers as always at your Labor Day barbecue, or you could make the dish more elegant with the addition of mushrooms, Swiss cheese, and a red wine-infused patty. This fancy burger is also lower in calories than any restaurant-made specialty.
Get our recipe for Red Wine-Infused Mushroom Swiss Burger.
Healthy Ultimate Burger Recipe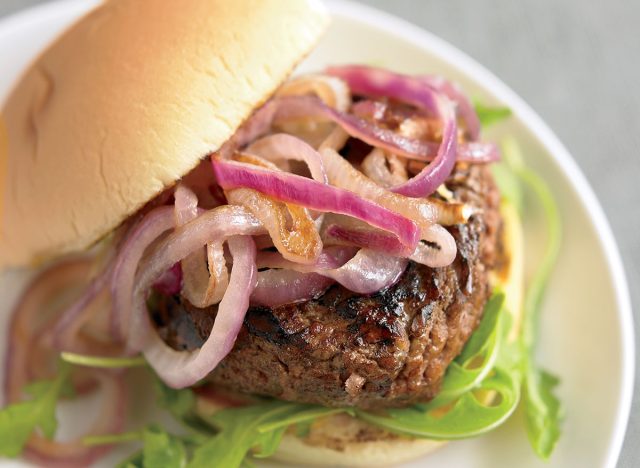 You may think there's nothing like going to a restaurant and ordering a delicious burger, but it's actually possible to recreate that experience at home, well the food part of that experience at least. This burger recipe is made out of equal parts sirloin and brisket and topped with arugula and caramelized onions.
A bonus—the burger comes in at a fraction of the calories and saturated fat that you'd find in a burger from almost any restaurant. Sometimes it helps to make things at home. The healthy ultimate burger may not seem too extraordinary, but with the calories saved by making a healthier burger, go crazy on different toppings to spice things up—this recipe recommends bleu cheese.
Get our recipe for The Healthy Ultimate Burger.
Ultimate Patty Melt Recipe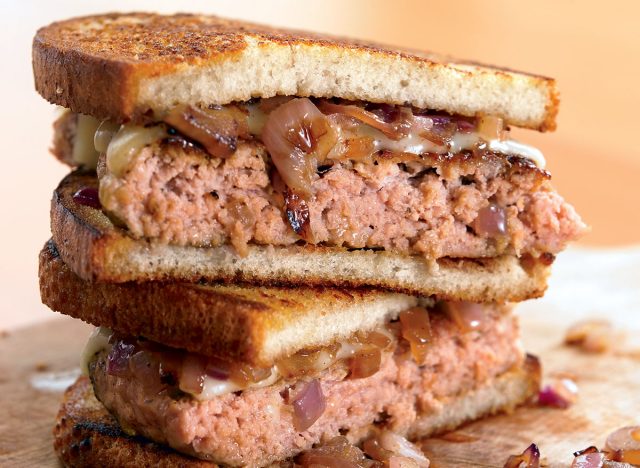 When you think of a patty melt, it's more likely that your thoughts take you to a diner rather than a Labor Day barbecue, but this inventive recipe is so delicious that you'll be inspired to make it a new BBQ staple. The recipe calls for a patty made out of either sirloin or turkey, both options will result in a lean and delicious burger, and Swiss cheese to top it, which has fewer calories than cheddar.
Get our recipe for The Ultimate Patty Melt.
Grilled Pizza Burger Recipe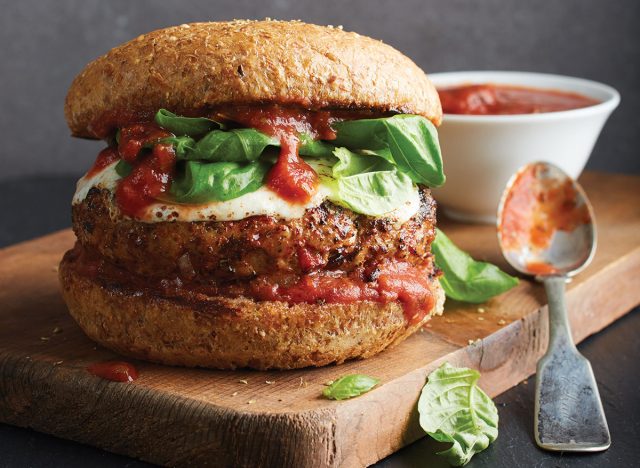 In most cases, pizza and burgers aren't the healthiest choices for a meal; however, this recipe manages to combine the two and still remain low in calories, saturated fat, and sodium. That doesn't mean that it compromises on any of the taste, either. The patty is seasoned with oregano and red pepper flakes, as any good pizza should be, and the burger is topped with warmed pizza sauce and toppings. One of the perks of this burger is that just like pizza, you're able to customize the toppings on it however you want—go for a sweet and spicy combination with some grilled pineapple and hot peppers, or keep it traditional with plain cheese.6254a4d1642c605c54bf1cab17d50f1e
Get our recipe for Grilled Pizza Burger.
Portobello Mushroom Burger Recipe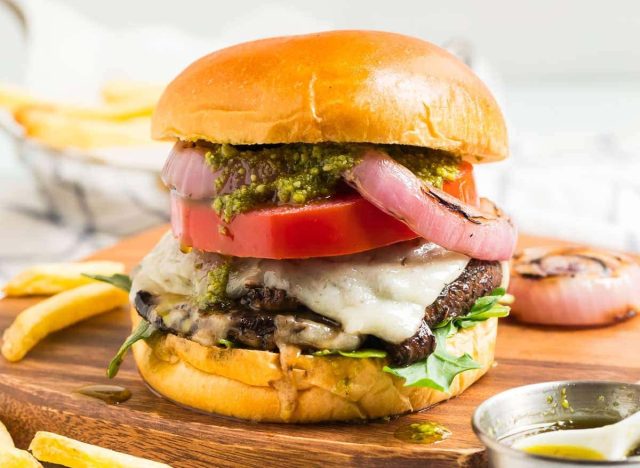 A lot of homemade veggie burger recipes require a lot of work when putting together the patty, but for mushroom lovers, this one's relatively simple: marinate a portobello mushroom cap and put it on the grill. Because this burger patty consists solely of a portobello mushroom cap and seasonings, it remains low in calories, fat, and sodium, while not sacrificing any savory flavor.
Get the recipe for Stuffed Portobello Mushroom Burger from Well Plated by Erin.
Baked Falafel Burger Recipe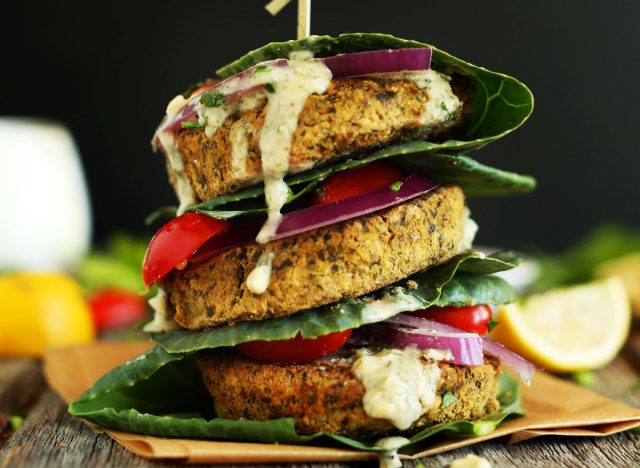 Not all burgers have to be made on a grill—give yours a rest over Labor Day weekend, and try out this baked falafel burger recipe for a real way to spice things up. Speaking of spice, this burger, which only has seven ingredients, is seasoned with garlic, cumin, salt, and pepper, making the savory patties packed with flavor. As this vegetarian-friendly burger is baked, it's not loaded with the grease that you'd see in other burgers.
Get the recipe for Baked Falafel Burgers from Minimalist Baker.
Brown Butter Burger Recipe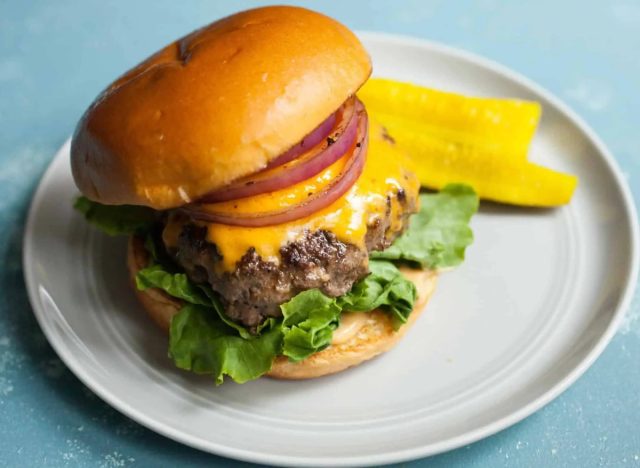 This recipe requires a bit of extra effort, but it's worth it to impress your Labor Day barbecue guests with the flavor bursting out of these brown butter-coated patties. Before the burger is put together, the recipe's titular brown butter needs to be prepared by letting butter heat up on the stove and separating out the browned solids at the bottom of the pan from the rest of the melted butter. By adding browned butter to the burger patty, the burgers will have a nutty flavor and will be extremely moist.
Get the recipe for Brown Butter Burgers from Macheesmo.
Easy Grillable Veggie Burger Recipe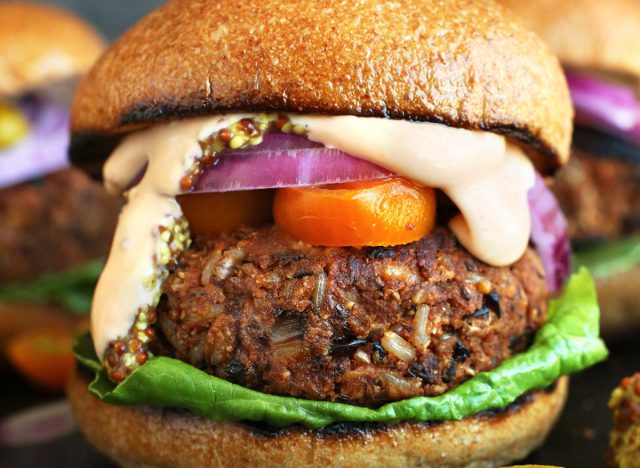 One of the most enjoyable parts of Labor Day weekend is grilling up food for your friends and family, and just because this burger doesn't feature any meat doesn't mean it's not entirely grillable. This protein-packed veggie burger is made with black beans, brown rice, and walnuts, and is relatively low in saturated fat and calories.
Get the recipe for Easy Grillable Veggie Burgers from Minimalist Baker.
Best Copycat Big Mac Recipe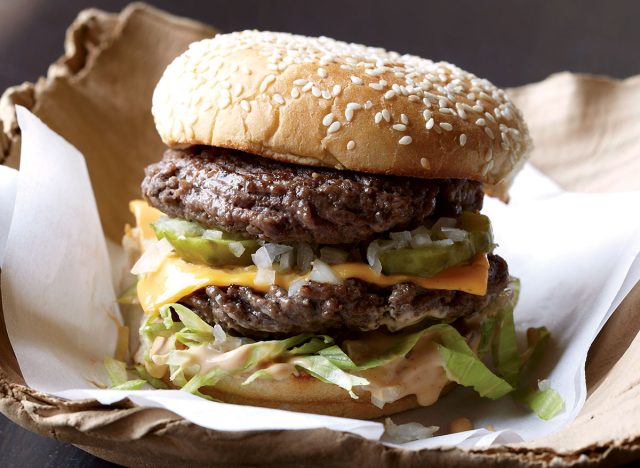 We all love the Big Mac, McDonald's iconic signature hamburger, which features two thin patties sidled between three buns, lettuce, cheese, pickles, and of course, Big Mac sauce. But it's safe to say the Big Mac isn't exactly the healthiest burger available. Our Best Copycat Big Mac Recipe is a recipe that's just as delicious, but with far fewer calories.
Get our recipe for The Best Copycat Big Mac.
Choosing any of these recipes is sure to impress your guests this Labor Day weekend. And remember—one burger isn't going to derail your healthy eating routine! Rather than cutting out burgers from your meal entirely, consider adding more vegetables to your plate to stay fuller longer, ditch half of the bun for an open-faced burger, or even sub out the bun with lettuce.