Whole Foods Market Is Selling 12 Days of Half-Priced Fancy Cheeses
Plus: Here's exactly what to pair with each one.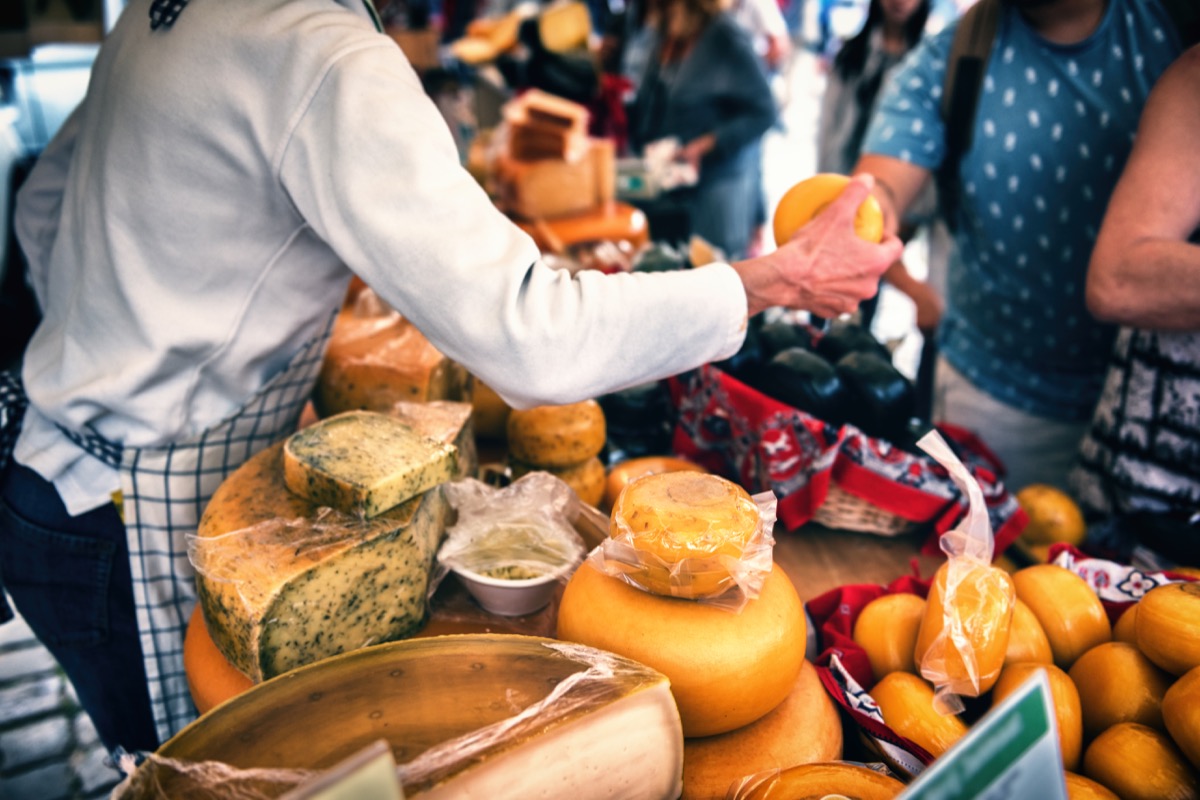 Whole Foods is kicking off the Christmas season in the best way possible: with tons and tons of cheese.
This month, the grocer is turning the cheer dial past 10, past 11, and straight to 12 with their "12 Days of Cheese" celebration, which showcases a different artisanal cheese every day between Dec. 12 and Dec. 23. Each of the cheeses will be marked down to half-price on their respective day during the holiday promotion. These aren't your average cheeses either—many of them are exclusive to Whole Foods Market, and some of them have even won awards. Prices will vary by location, but you'll be getting a deal no matter where you live in the country.
Now, you're probably wondering what pairs best with all of these cheeses. After all, in this high season of extravagant holiday parties, nothing beats a wine-and-cheese night. To that end, we consulted with Joey Wells, the global senior buyer of specialty cheese at Whole Foods Market, to figure out the best beer, wine, cracker, and additional food pairings for each cheese. Here are the 12 specialty cheeses, along with their perfect pairings for a curated holiday party spread. Cheers! And for more cheese tips, see 22 Creative Uses for Ricotta Cheese (That Aren't Lasagna).
December 12: Roth Pavino Cheese
Beer pairing: Doppelbock
Wine pairing: Cloudveil Pinot Gris
Cracker: Apricot, Fig & Lemon Lesley Stowe Raincoast Crisps
Additional food pairings: Dalmatia Organic Fig Spread
Wells describes Roth Pavino as a flavorful alpine cheese—which is also known as mountain cheese, as it refers to the style in which the cheese was made. French, Swiss, and Italian cheeses alike can all be referred to as mountain cheeses so long as they're made in the Alps with unpasteurized cow's milk.
Roth Pavino, in particular, has a nutty profile, which Wells says enables the cheese to pair well with a variety of foods and drinks.
"Doppelbock beers have a rich malty flavor with notes of caramel and dark fruit, which pairs well with the rich hazelnut tones of the cheese," he says. "We chose the Cloudveil Pinot Gris to accompany this cheese and the added pairings because the classic apricot, pear, and slight citrus notes will complement the cheese along with the chosen fig spread and the apricot, fig, and lemon crisps from Lesley Stowe."
Want to create a picture-perfect spread? See How to Build the Perfect Charcuterie Board for tips!
December 13: Istara P'tit Basque Cheese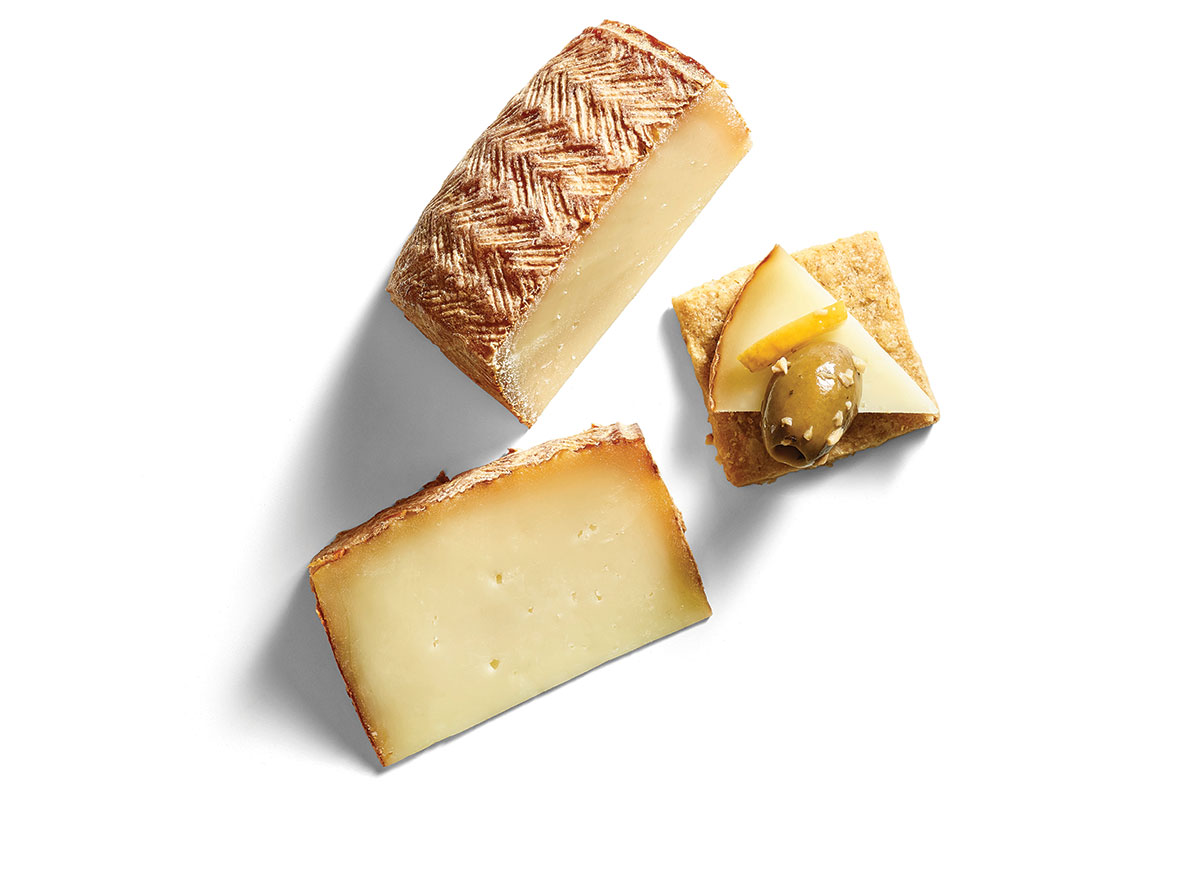 Beer pairing: Pilsner
Wine pairing: Les Pierres Grises Saint Veran
Cracker: Effie's Homemade Oatcakes
Additional food pairings: Mediterranean Market Lemon Garlic Olives
"Istara P'tit Basque is a wonderful small, sheep's milk cheese from France. The cheese is mildly earthy with a subtle, sweet finish," says Wells.
The cheesemonger suggests pairing this French cheese with a pilsner because it lends a clean and refreshing finish, which complements the flavor profiles of Istara P'tit Basque. Similarly, a mineral-rich wine, like Les Pierres Grises Saint Veran, pairs harmoniously with the earthy notes that are especially apparent when you first bite into the cheese. Lemon garlic olives will go best with the cheese when you pair with that wine.
"We love the oatcakes with this pairing for the lightly sweet flavor from the oats and the biscuit-like texture with the cheese," says Wells.
Looking for more wine options? You can't go wrong with 13 Best Boxed Wines Even Wine Snobs Will Approve Of.
December 14: Uplands Cheese Pleasant Ridge Reserve Cheese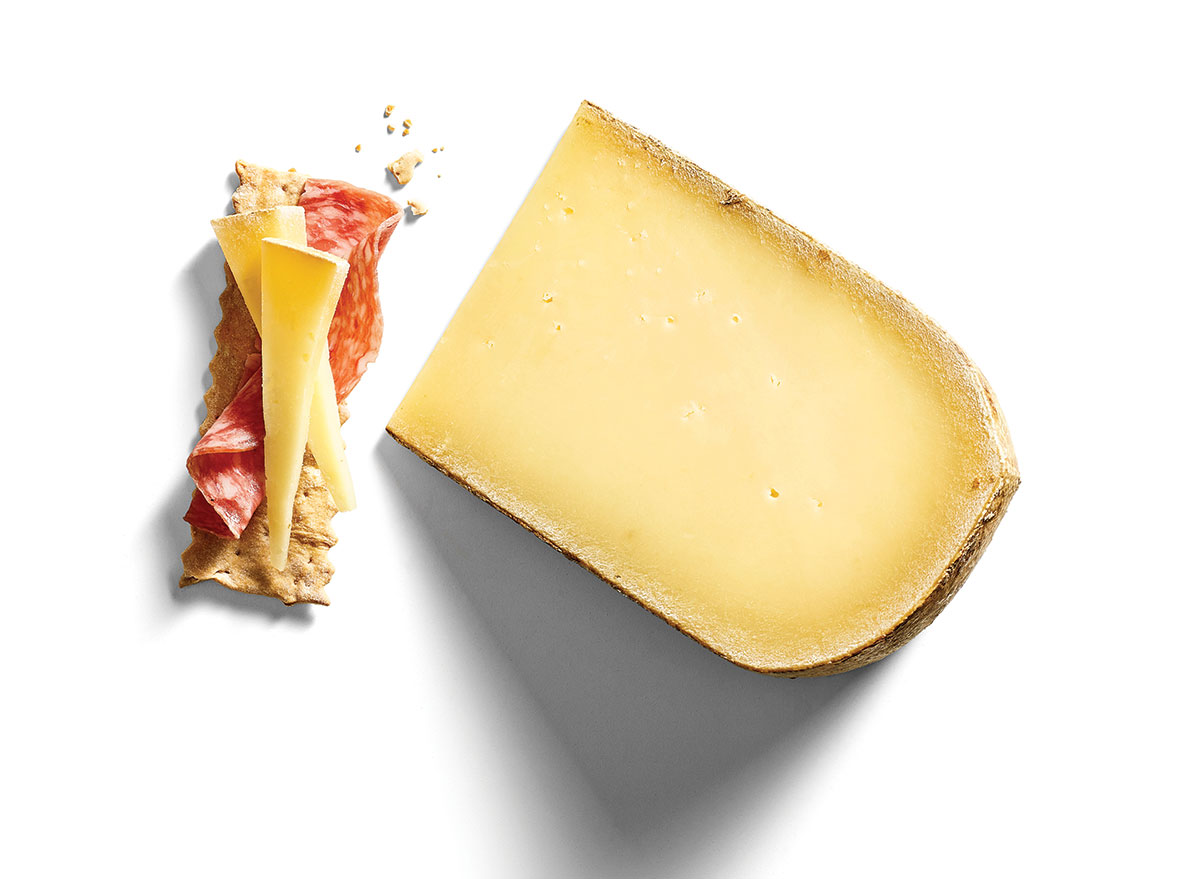 Beer pairing: Brown Ale
Wine pairing: Jacques Bardelot Champagne Brut
Cracker: Rustic Bakery Onion Crème Fraiche Flatbreads
Additional food pairings: Gusto Sliced Genoa Salami
Wells says that Uplands Cheese Pleasant Ridge Reserve—which is made from raw Wisconsin cow's milk—is one of the most coveted cheeses in the United States.
"We love the Jacques Bardelot Champagne Brut with this cheese because the effervescence cuts through the cheese with bright flavors of apple and pear," says Wells.
The hint of crisp apple and malty flavor prevalent in brown ale also pairs well with this cheese.
"The salami adds a rich note to the pairings, while the flatbreads chosen give the entire pairing a perfect platform with a toasty, savory flavor profile," he adds.
Read more: This is the Fastest Way to Chill a Bottle of Champagne
December 15: Neal's Yard Dairy Keen's Cheddar Cheese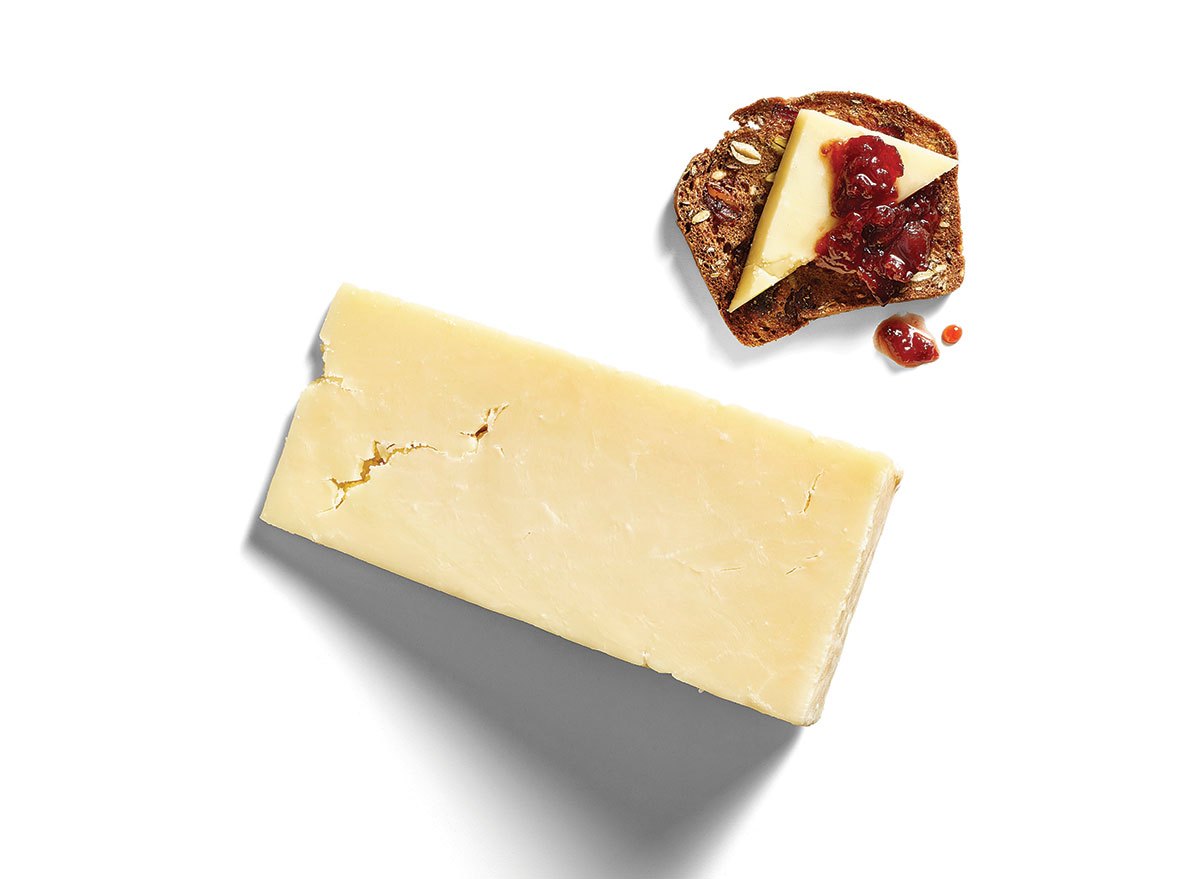 Beer pairing: English IPA
Wine pairing: Cala Cabernet Sauvignon
Cracker: Cranberry Hazelnut Lesley Stowe Raincoast Crisps
Additional food pairings: Bonnie's Jams Cranberry Cherry Cabernet Jam
Wells says that Neal's Yard Dairy is one of only two remaining producers creating Protected Designation of Origin cheddars, meaning they follow certain rules to produce cheddar with special characteristics respective to the cheese's origin, England.
"Made from unpasteurized cow's milk cheese in England, the pale yellow cheese is earthy and tangy with a lasting smooth finish. Cabernet Sauvignon will create a bold accompaniment to this cheese as it's full-bodied and full-flavored," he says.
Top the hazelnut crisps with a thin slice of the cheddar and then gently coat with the rich cherry jam, Wells suggests. Serve with the cabernet sauvignon to go alongside this elegant Christmas party appetizer.
Read more: This Is the Real Difference Between Pinot Noir, Cabernet, and Other Red Wines
December 16: Cypress Grove Humboldt Fog Cheese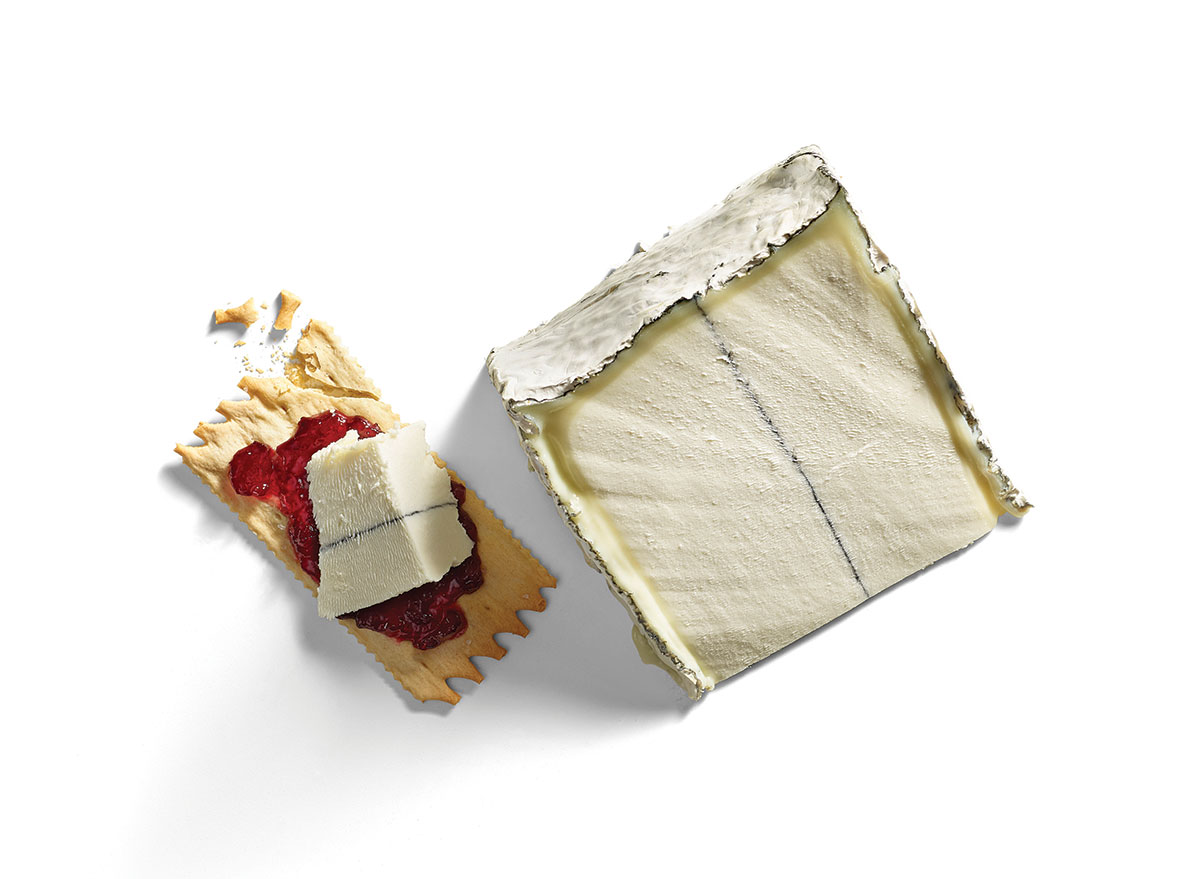 Cider pairing: Hard Apple Cider
Wine pairing: Madame Liberté Brut
Cracker: La Panzanella Mini Original Croccantini
Additional food pairings: Dalmatia Sour Cherry Jam
The Cypress Grove Humboldt Fog is one of Wells' most beloved goat cheeses.
"This velvety creation honors tradition with the ash line in the center. The cheese has a soft texture, a pillowy bloom rind, and has rich notes of fresh grass and hints of bright citrus," he says.
Hard ciders pair better with this cheese over beer primarily it helps accentuate the crisp flavor and aromatics of the cheese. The bright and bubbly Madame Liberte' Brut wine lends a citrus finish, which complements the same attributes of the cheese.
"Adding the jam will give a balanced finish of tart and sweet that gives just enough contrast to pull out all the complexities of the cheese and the beverages," says Wells. "This is why we recommend the Croccantini as the perfect cracker for these pairings, as they create a stable frame for the cheese and jam without the flavors competing."
December 17: Emmi Cave Aged Le Gruyère Cheese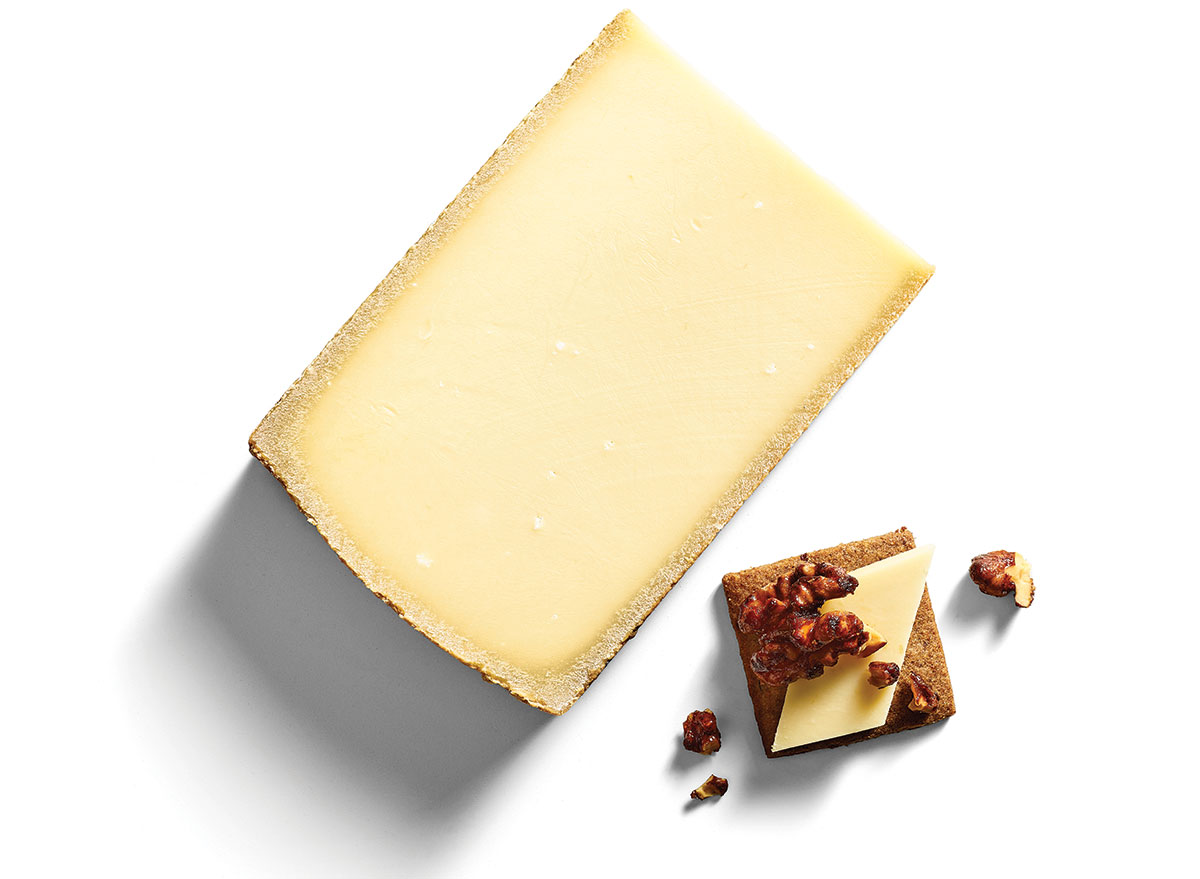 Beer pairing: Amber Ale
Wine pairing: Criterion Sauvignon Blanc
Cracker: Effie's Homemade Nutcakes
Additional food pairings: Mitica Caramelized Walnuts
The flavors in this dense, dark golden cheese with brown rustic rind are complex. Wells says upon the first bite you'll pick up on sweet, almost fruity flavors that then transform into rich earthy and nutty tones. The vibrant citrus notes in the Sauvignon Blanc will help bring out this cheese's distinctive flavors.
"Amber ales ranging from deep gold to red in color are slow-fermented and rich, medium-bodied beers with a balanced flavor profile that will complement the flavors of the cheese," says Wells. "Caramelized walnuts will enhance the fruit notes in the cheese, as well as the flavors of the wine or the beer."
Effie's Nutcakes help to elevate all of the pairings and accompany Emmi Cave Aged Le Gruyère's innate nutty flavor.
Related: 13 Vegan Cheese Products So Delicious, You Won't Know the Difference
December 18: Sweet Grass Dairy Thomasville Tomme Cheese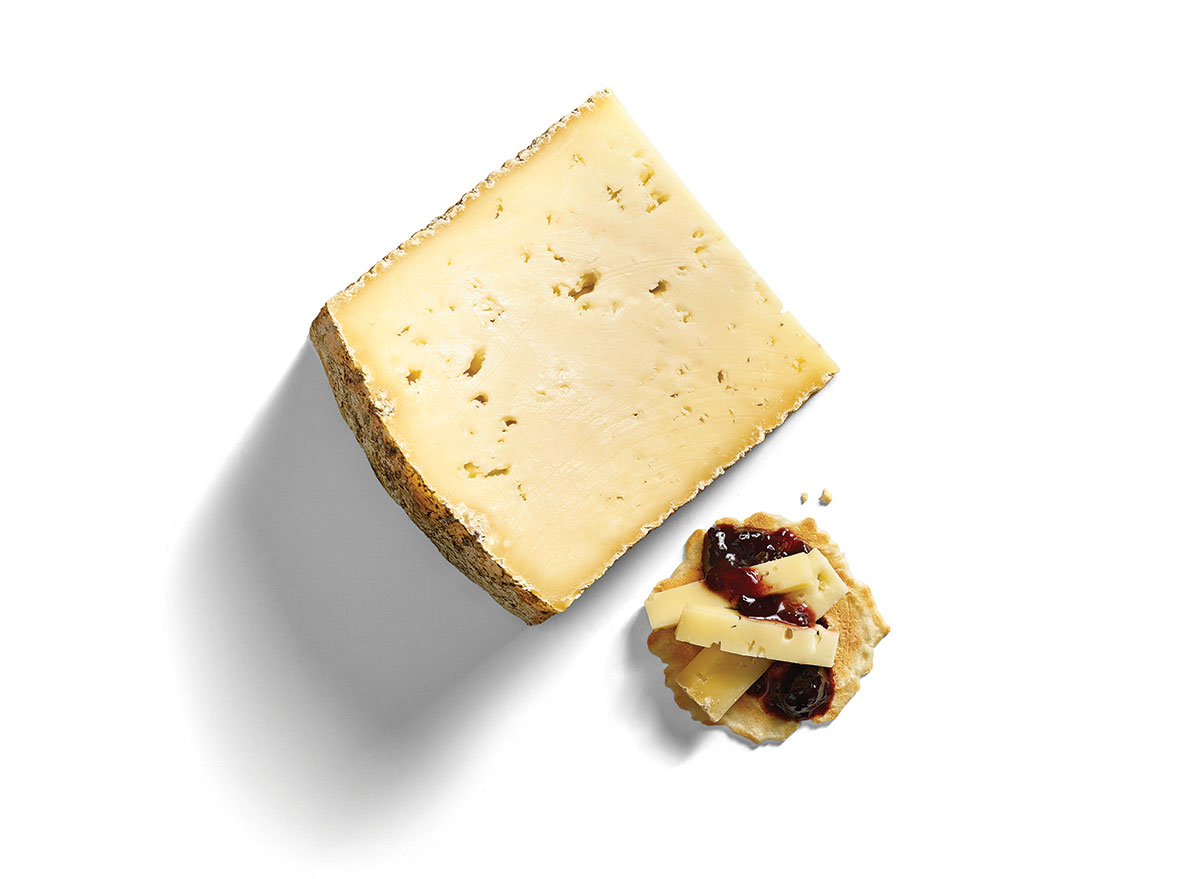 Beer pairing: Gose/Sour
Wine pairing: Frey Sun & Rain Organic Chardonnay
Cracker: 34 Degrees Natural Crisps
Additional food pairings: Bonnie's Jams Bourbon Berry Jam6254a4d1642c605c54bf1cab17d50f1e
Wells says this cheese "has a rich golden color, open, semi-firm texture and has savory, grassy, tangy flavors with a long-lasting buttery finish."
The cheese, which hails from Thomasville, Georgia goes well with a sour beer, as it adds depth to the cheese's robust flavors in addition to a perfect balance of acidity.
"Bright chardonnay with rich notes of green apple and rich butter will complement the cheese, bringing out the savory start of the flavors and the rich butter finish," he adds.
Wells points out that the rich notes of dark fruit in the bourbon berry jam, "create layers of flavor with the notes of butter in the cheese."
December 19: Mitica Cordobes Cheese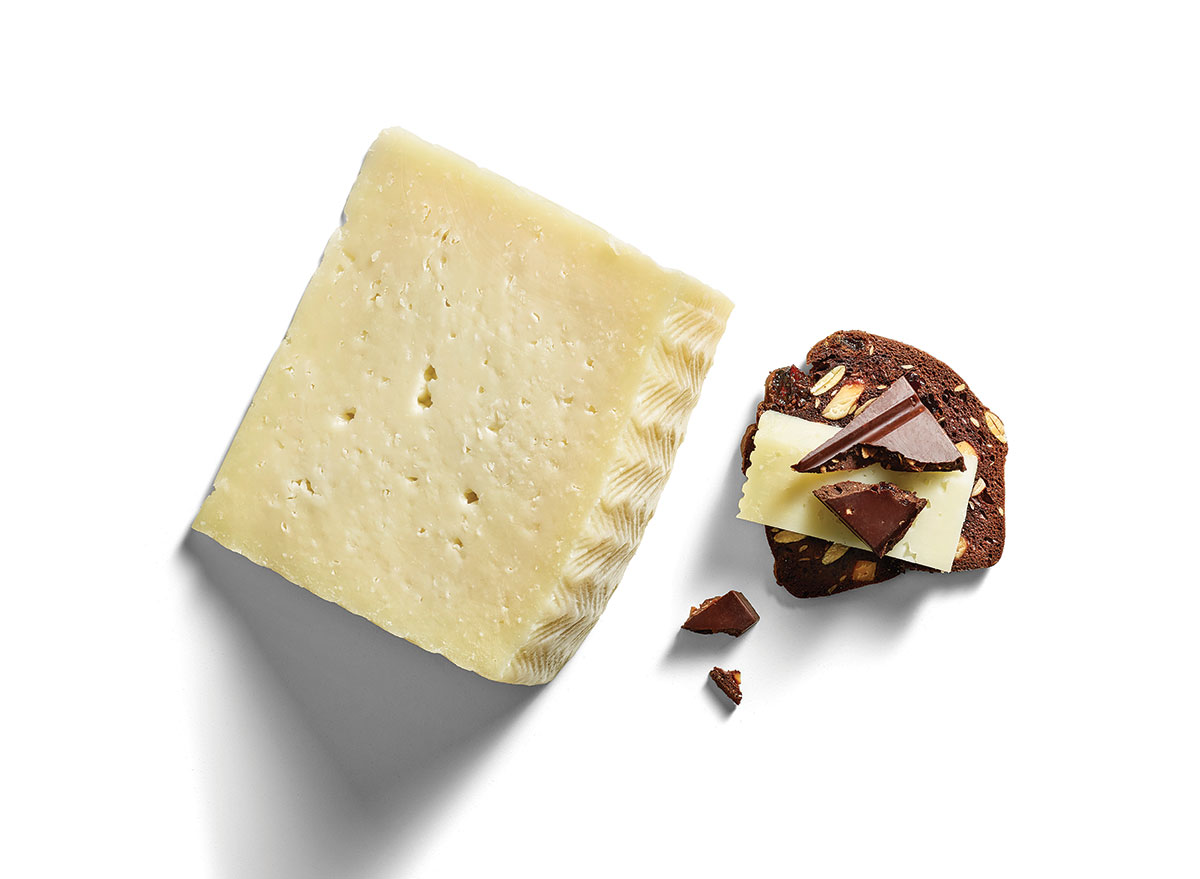 Beer pairing: American Wheat Ale
Wine pairing: Giné Giné Priorat
Cracker: Hazelnut Cocoa Lesley Stowe Raincoast Crisps
Additional food pairings: Vosges Manchego Cherry Dark Chocolate Bar
"Young and velvety in its texture, the flavors are classic to the area of production with a perfect balance of the sheep milk flavors," Wells says.
Giné Giné Priorat offers bold notes of black fruit and crème de cassis (a sweet liqueur made from blackcurrants), which adds depth to the savory creamy cheese. An equally pleasant beverage pairing is a classic wheat ale, which inherently creates a toasted flavor. The cherry dark chocolate and hazelnut cocoa crisps are the icing on the cake, as they tie all of the dynamic flavors together.
December 20: Rogue Creamery Oregon Blue Cheese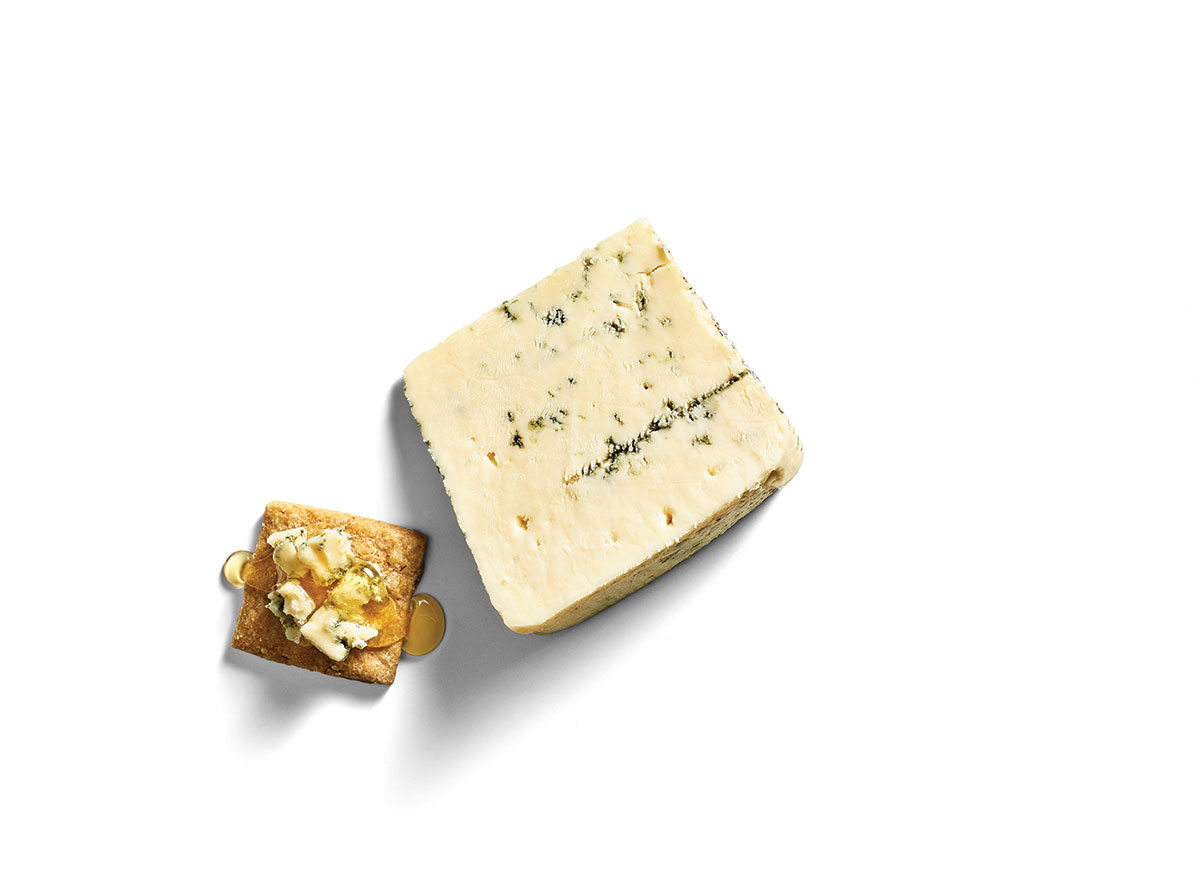 Beer pairing: Imperial IPA
Wine pairing: Upper Left Merlot
Cracker: Effie's Homemade Oatcakes
Additional food pairings: Mitica Orange Blossom Honey
"Oregon Blue is a rich, semi-soft, near spreadable raw cow's milk blue cheese with a pale yellow paste and generous blue veining," says Wells. "The aromatics are bright yet earthy and the flavor is mellow, with creamy butter notes and a sweet finish."
An Imperial IPA will balance Rogue Creamery Oregon Blue's inherent earthy aromatics. Merlot, with its prominent berry notes, marry well with the fruity flavor profile of the cheese.
"The honey is a perfect drizzle for the cheese and will bring out the sweetness while adding a depth of flavor to the beverage selections," Wells adds.
Related: Should You Start Eating Local Honey For Your Allergies?
December 21: Klare Melk Truffle Gouda Cheese
Beer pairing: Imperial Stout
Wine pairing: Adelsheim Pinot Noir
Cracker: 34 Degrees Natural Crisps
Additional food pairings: Creminelli Tartufo Uncured Italian Salami
This savory yet tangy gouda cheese from Holland is entwined with aromatic earthy truffles. An Imperial Stout is the perfect beer pairing for this particular type of cheese, as the notes of raisin, fig, and—depending on the brand, chocolate—complement its flavor profile well.
"Pinot noir will lead off with notes of dark berries and light spice that will complement the cheese without fighting the flavors and aromatics," says Wells.
December 22: Cellars at Jasper Hill Harbison with Processo Cheese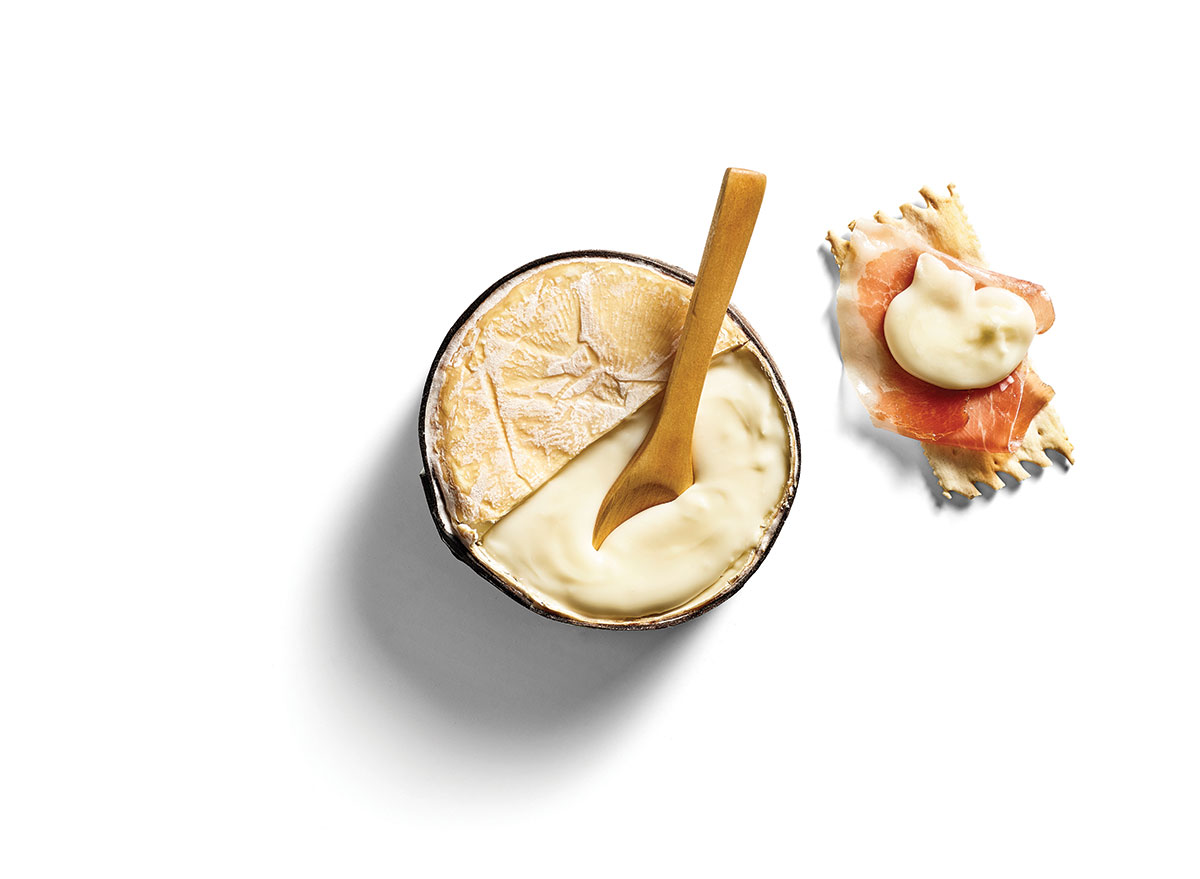 Beer pairing: Oatmeal Stout
Wine pairing: Presto Prosecco
Cracker: La Panzanella Mini Original Croccantini
Additional food pairings: La Quercia Sliced Ridgetop Prosciutto
"This amazing, soft-ripened pasteurized cow's milk cheese from Vermont is wrapped in bark directly from the farmlands at the dairy," says Wells. "The flavor profiles are complex with a sweet, woodsy profile and deep tones of dark mustard."
For the holidays, Wells says they wash the cheese in Prosecco to add notes of citrus and green apple. Pair the cheese with a smooth oatmeal stout to mimic its creamy texture.
December 23: MonS Mary dan les Étoiles Cheese
Beer pairing: Saison
Wine pairing: De Chanceny Crémant de Loire Brut
Cracker: 34 Degrees Natural Crisps
Additional food pairings: Savannah Bee Co. Honeycomb
On the 12th and final day, Whole Foods Market will serve MonS Mary dan les Étoiles, a special ash-ripened goat cheese named after a special member of the team.
"The cheese has deep earthy aromas and a flavor profile that is pleasingly acidic and savory with a sweet, yet tangy finish," says Wells.
Known for its complexity of balanced mats, spice, and fruit, the cheese expert says this beer makes for the perfect backdrop to the grassy, sweet notes of the cheese. De Chanceny Crémant de Loire Brut is the chosen wine pairing largely because of its bright citrus notes and bubbly texture. And for more drink pairings, check out The Healthiest Red Wines—and Which Ones to Buy.