17 Last-Minute Christmas Party Appetizers You Can Make The Day Of
If you're in a pinch for time, these are the best appetizers you can create just hours before the party.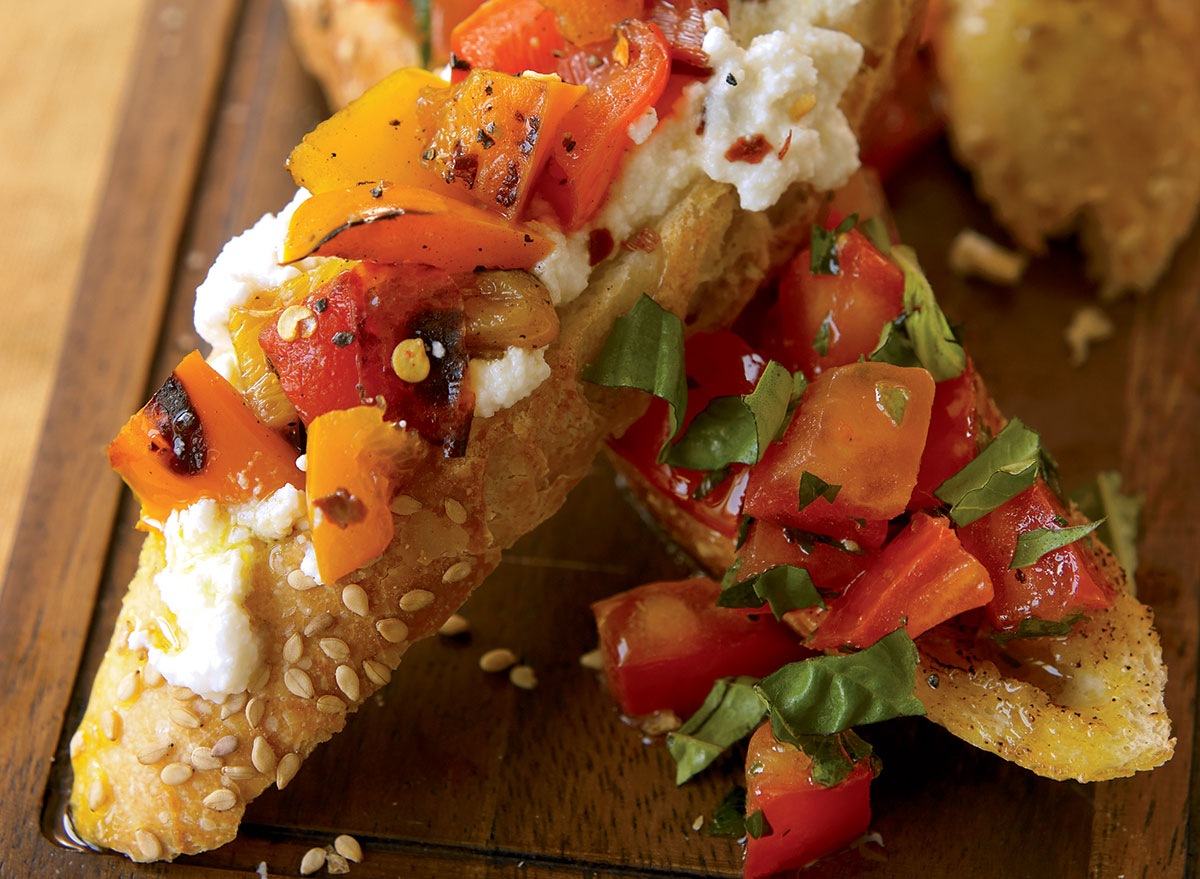 It's the day of the Christmas party you're hosting, and while you managed to perfectly adorn your house with tinsel, sleigh bells, and yes, even mistletoe, you still might need some food ideas that are quick, low-maintenance, and easy to feed your guests while they sip on festive cocktails and enjoy a night of merriment. It sounds like you're in need of some ideas for last-minute Christmas party appetizers, and we've got you covered.
Here, we hand-picked a diverse list of finger foods—or hors d'oeuvres if you're feeling fancy—all of which are easy to make and don't take a lot of time to prepare.
Here are 17 low-effort Christmas party appetizers.
Smoky Deviled Eggs with Bacon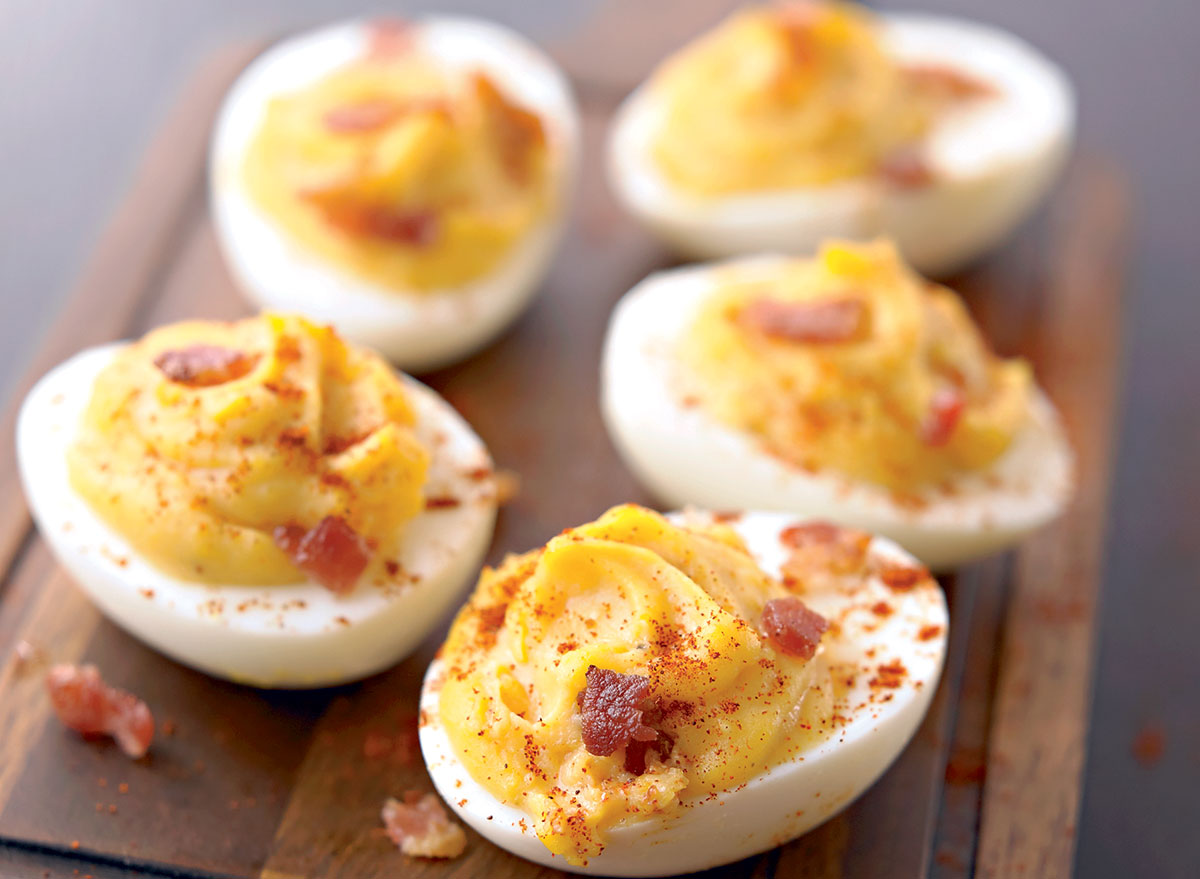 Deviled eggs may just be the best Christmas party appetizer you could serve. Why? They're bite-sized and easy to chew, which is important because at a party, you're busy socializing and don't want to have to stop for long to munch on elaborate hors d'oeuvres. For a smoky essence, dust the deviled eggs with smoked Spanish-style paprika.
Get our recipe for Smoky Deviled Eggs with Bacon.
Shrimp Cocktail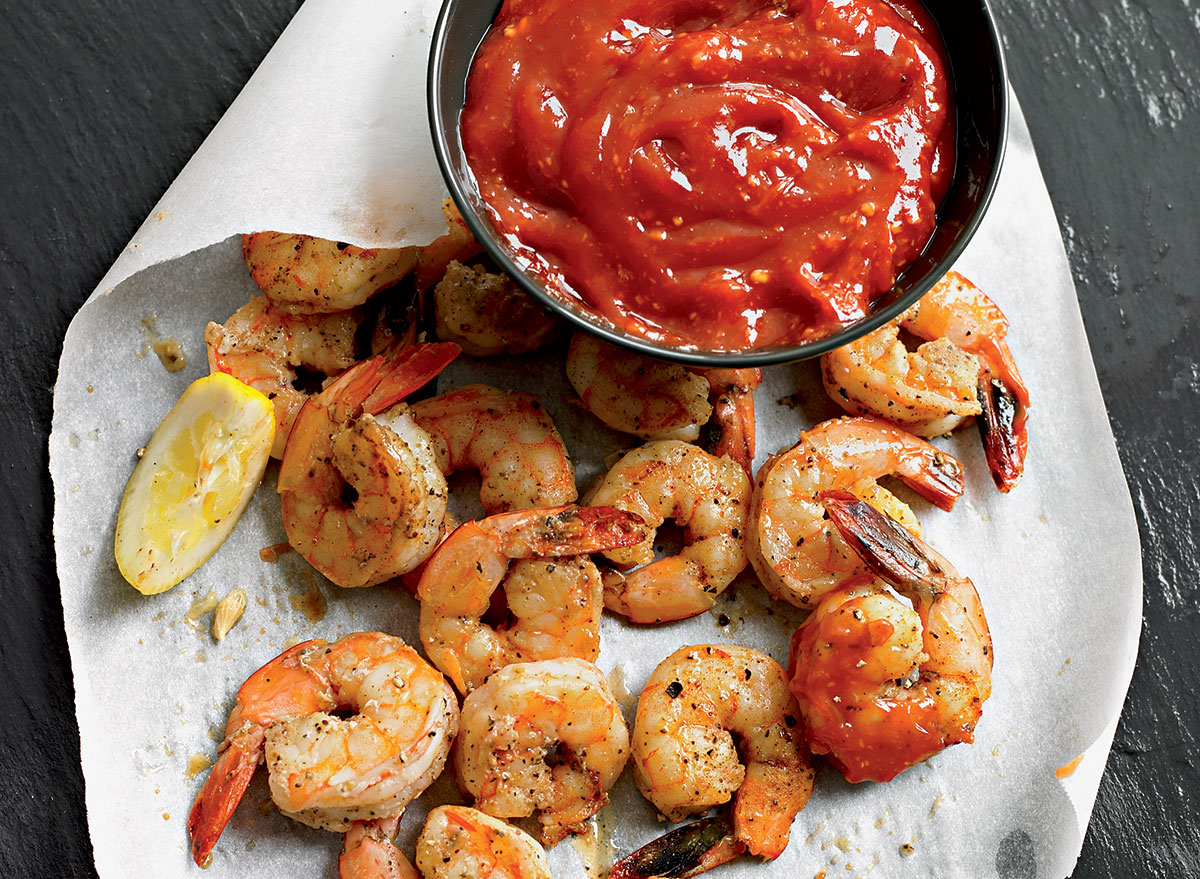 What fancy Christmas party is complete without some shrimp cocktail? This Christmas party appetizer is high in protein and goes along well with a myriad of other finger foods. Unlike a traditional shrimp cocktail, though, this recipe calls for roasting the shrimp and using Old Bay seasoning, which gives the shrimp a distinctive, savory flavor.
Get our recipe for Oven-Roasted Shrimp Cocktail.
Cranberry Orange Relish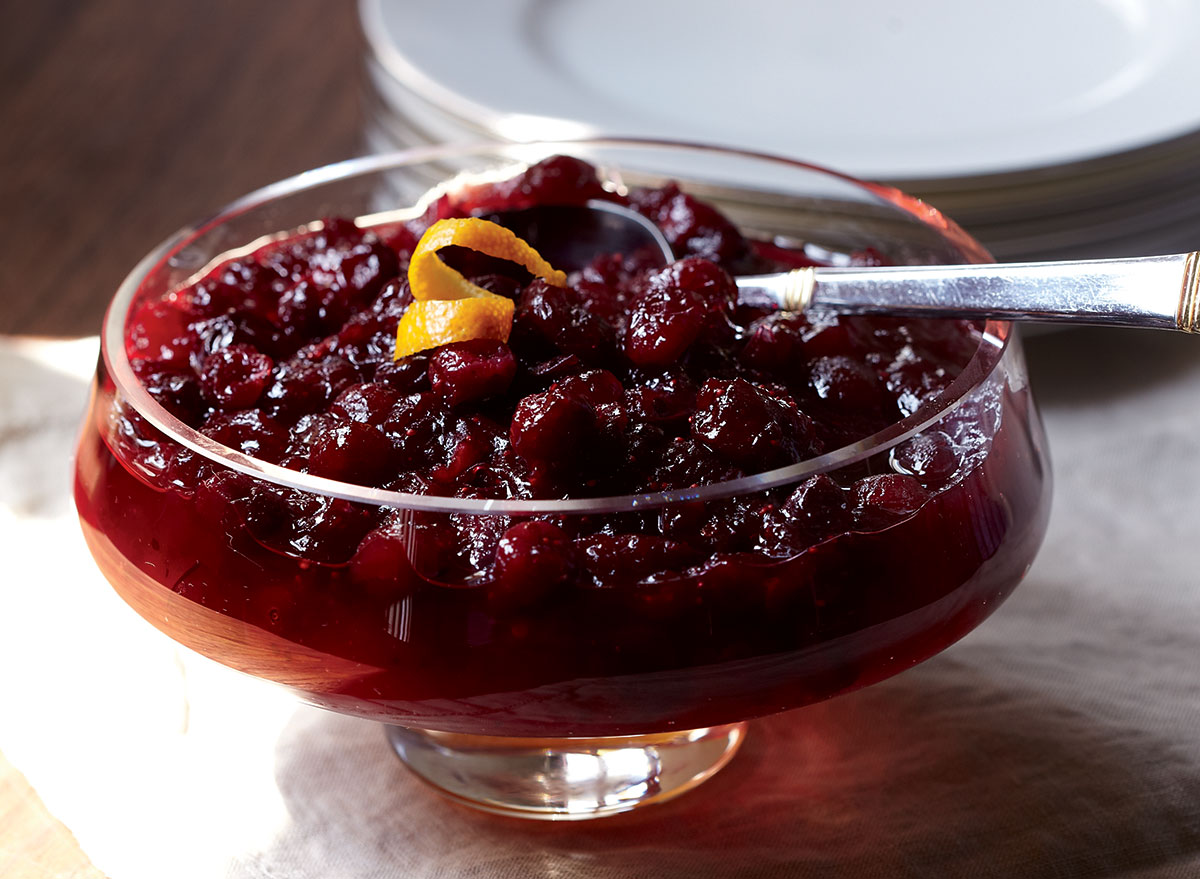 Nothing screams Christmas like cranberry relish. At a party, you can use the relish to put on top of crackers with thin slices of cheese such as white cheddar. This appetizer will take you 30 minutes tops to prepare from start to finish, and for most of the cooking time, the ingredients are just simmering on the stove!
Get our recipe for Cranberry Orange Relish.
Queso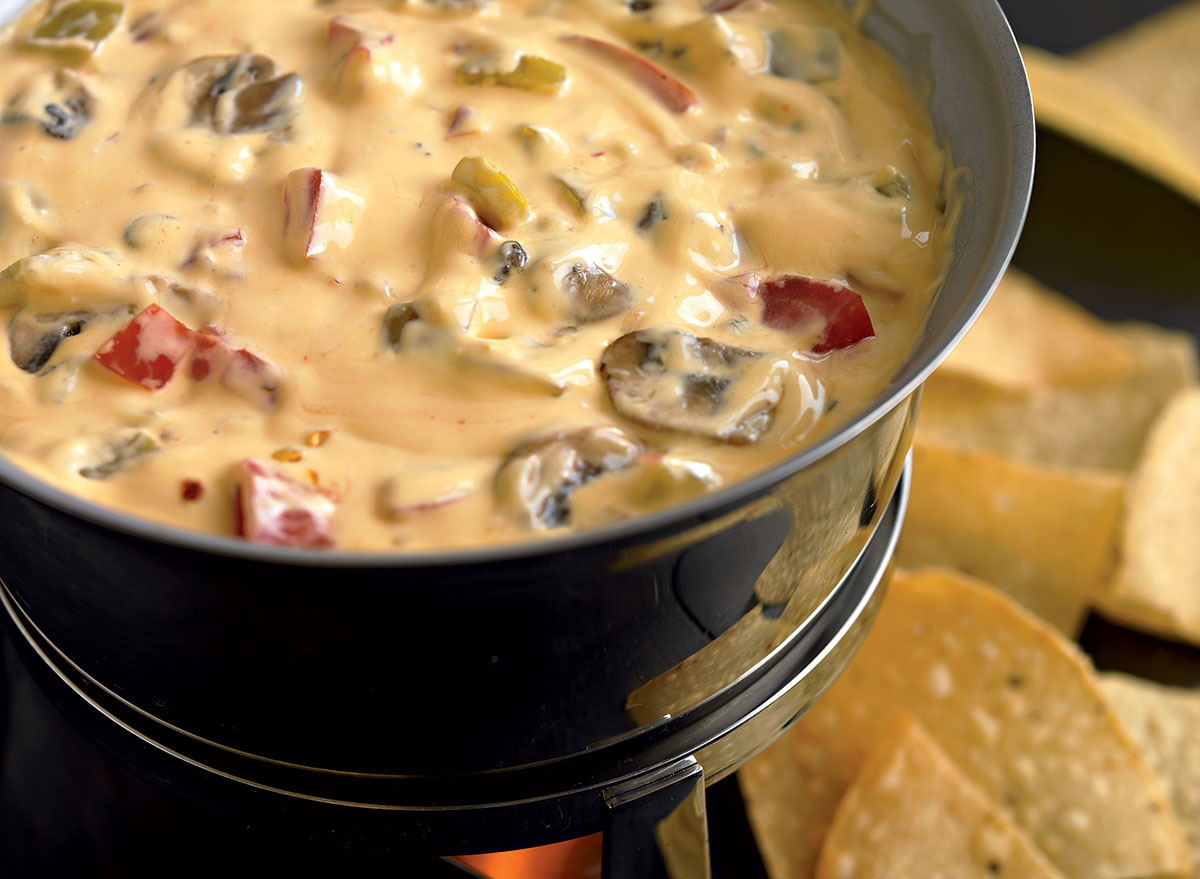 Speaking of cheese, queso anyone? Queso with tortilla chips is one of those appetizers that will work at just about any party, not just ones for the Super Bowl. This is another super easy Christmas party appetizer that will warm your guests.
Get our recipe for Appetizer-Ready Queso Fundido.
Stuffed Jalapeños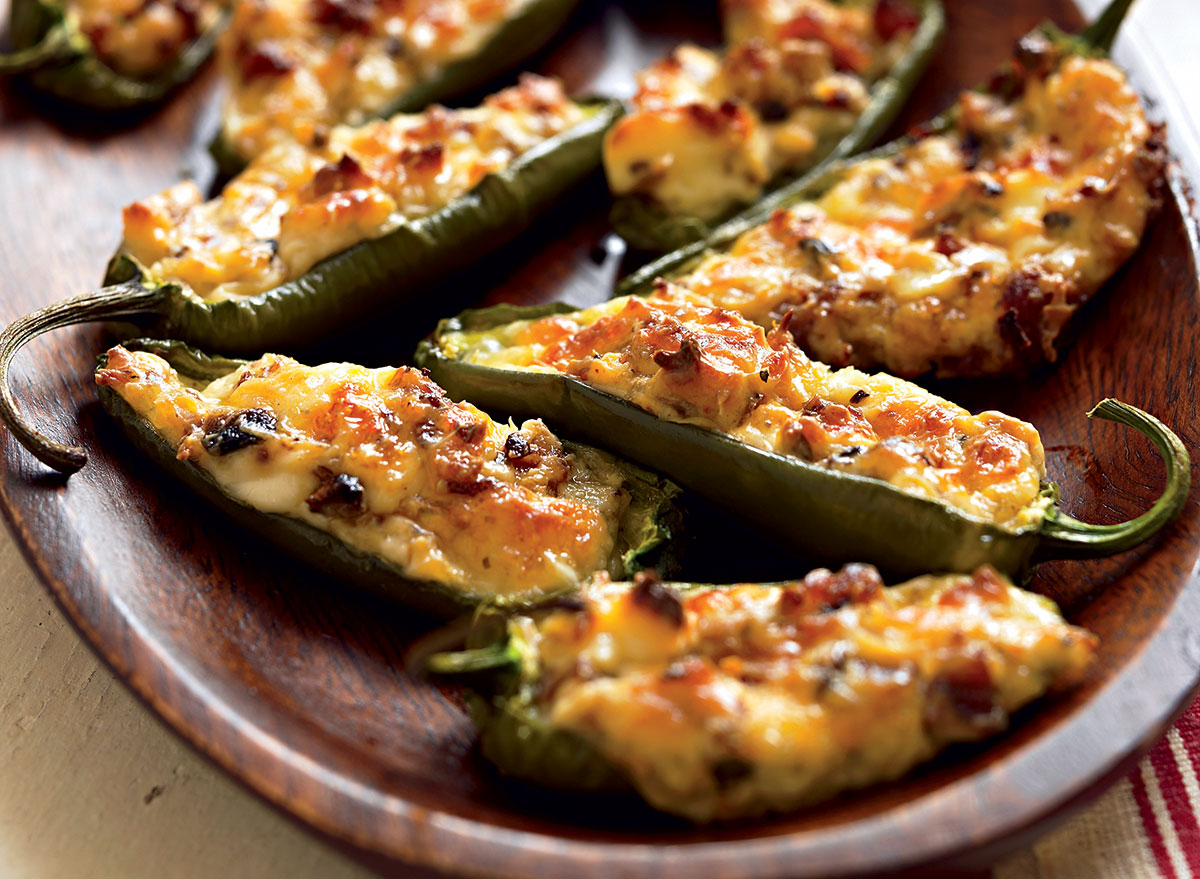 Who doesn't appreciate a jalapeño popper? These poppers are stuffed with savory chorizo and whipped cream cheese and then topped with shredded Monterey Jack cheese. Your guests won't be able to keep their hands off this finger food.
Get our recipe for Stuffed Jalapeños.
Bruschetta
Chips and salsa are great, but what's even more filling is a crispy bruschetta with fluffy ricotta cheese. The real kicker? It will only take you about 20 minutes to prepare and broil from start to finish.
Get our recipe for The Best Bruschetta Recipe, Two Different Ways.
Tuna Nicoise Salad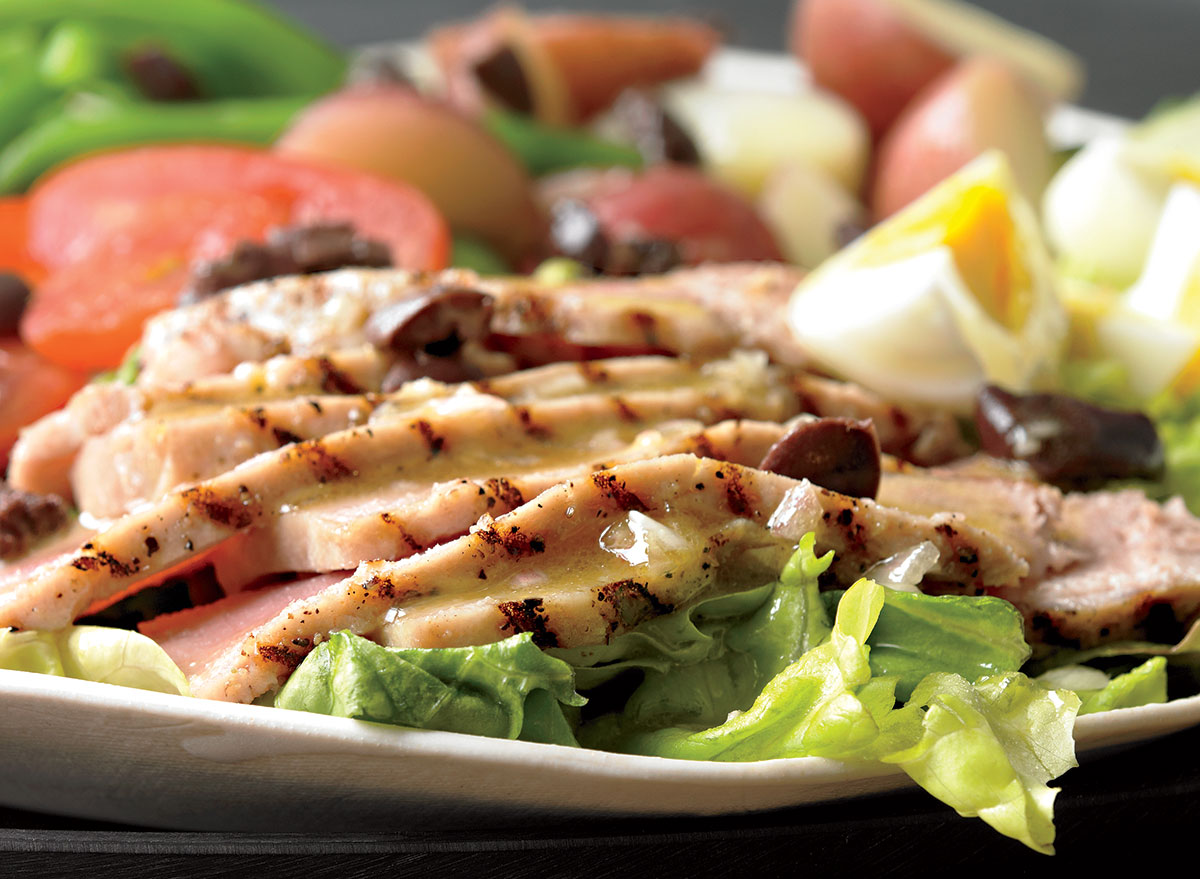 Native to Nice, France, a Nicoise salad is the perfect way to eat some greens while receiving some healthy fats and protein from the eggs and tuna. This is a healthy Christmas party appetizer to offer your guests who are trying to steer clear of traditional carb-heavy hors d'oeuvres.
Get our recipe for French-Inspired Tuna Nicoise.
Swedish Meatballs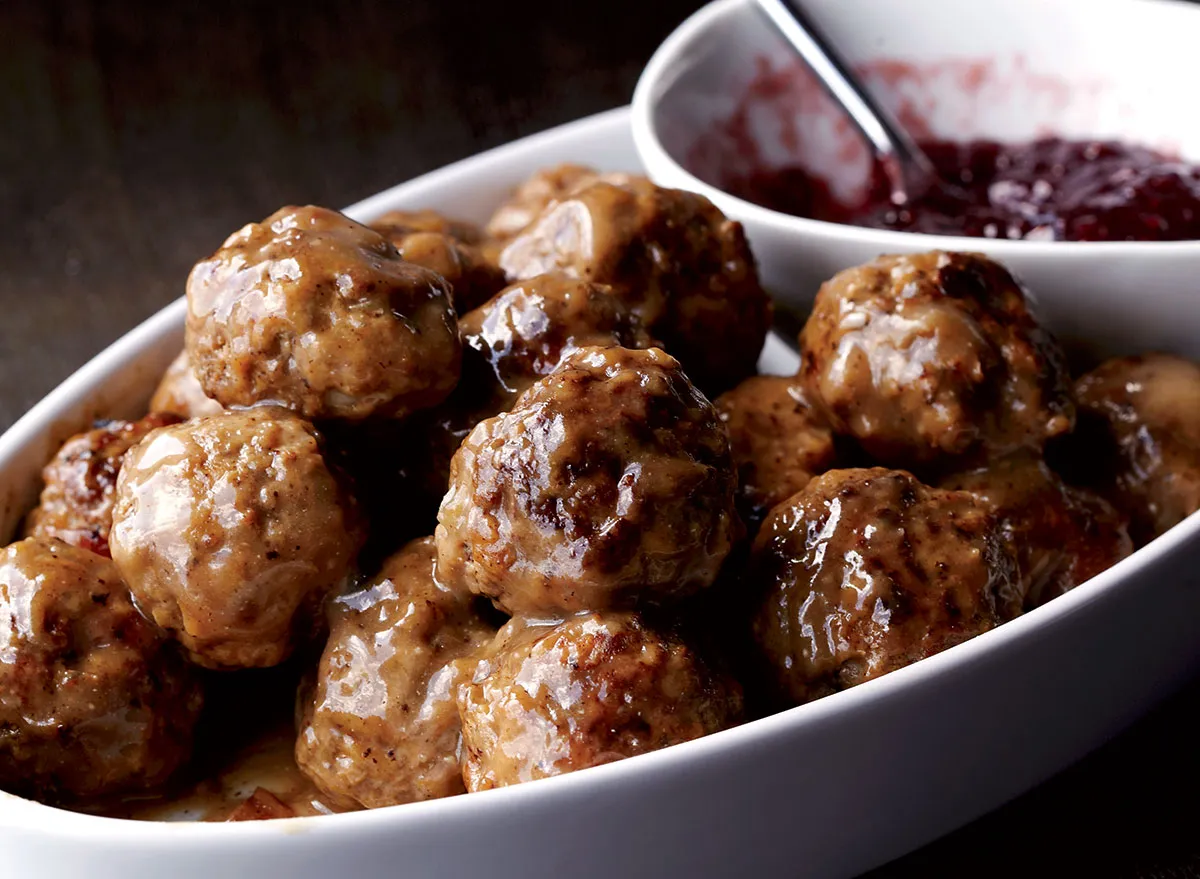 Meatballs may just be the most filling appetizer you can get at a Christmas party. Instead of red meat, though, this recipe calls for a leaner protein: turkey. Serve the meatballs with toothpicks, and don't skimp out on the cranberry or raspberry marmalade for dipping!
Get our recipe for Lean Turkey Swedish Meatballs.
Crab Cakes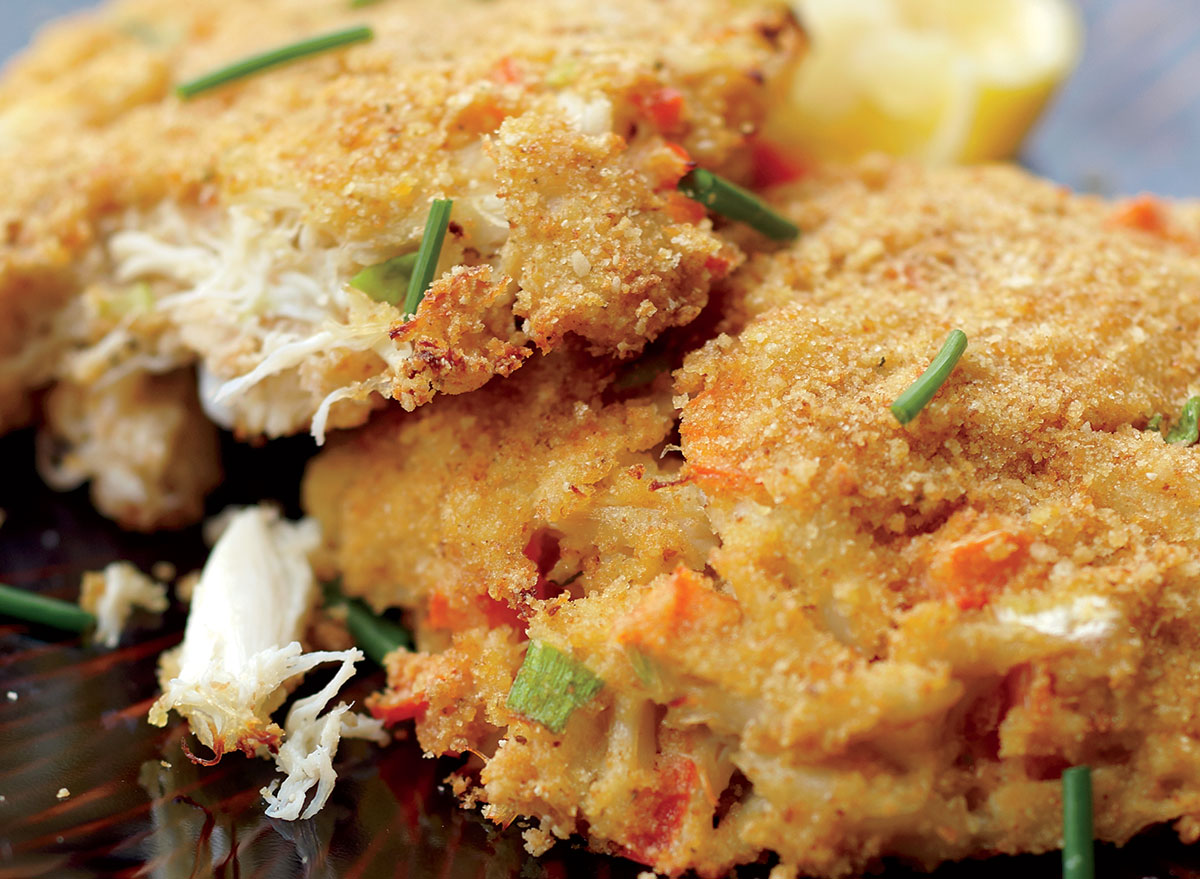 Crab cakes are a wonderful finger food to offer at a party. Impress your guests with these fried seafood patties and sweet mango avocado salsa.
Get our recipe for Baked Crab Cakes with Mango-Avocado Salsa.
Baked Potato Soup
OK, we get it, baked potato soup might not be a traditional go-to appetizer, but serving up mini ramekins of the warm food will be much appreciated by all your guests come the holiday season.
Get our recipe for Hearty Baked Potato Soup.
Minestrone with Pesto Soup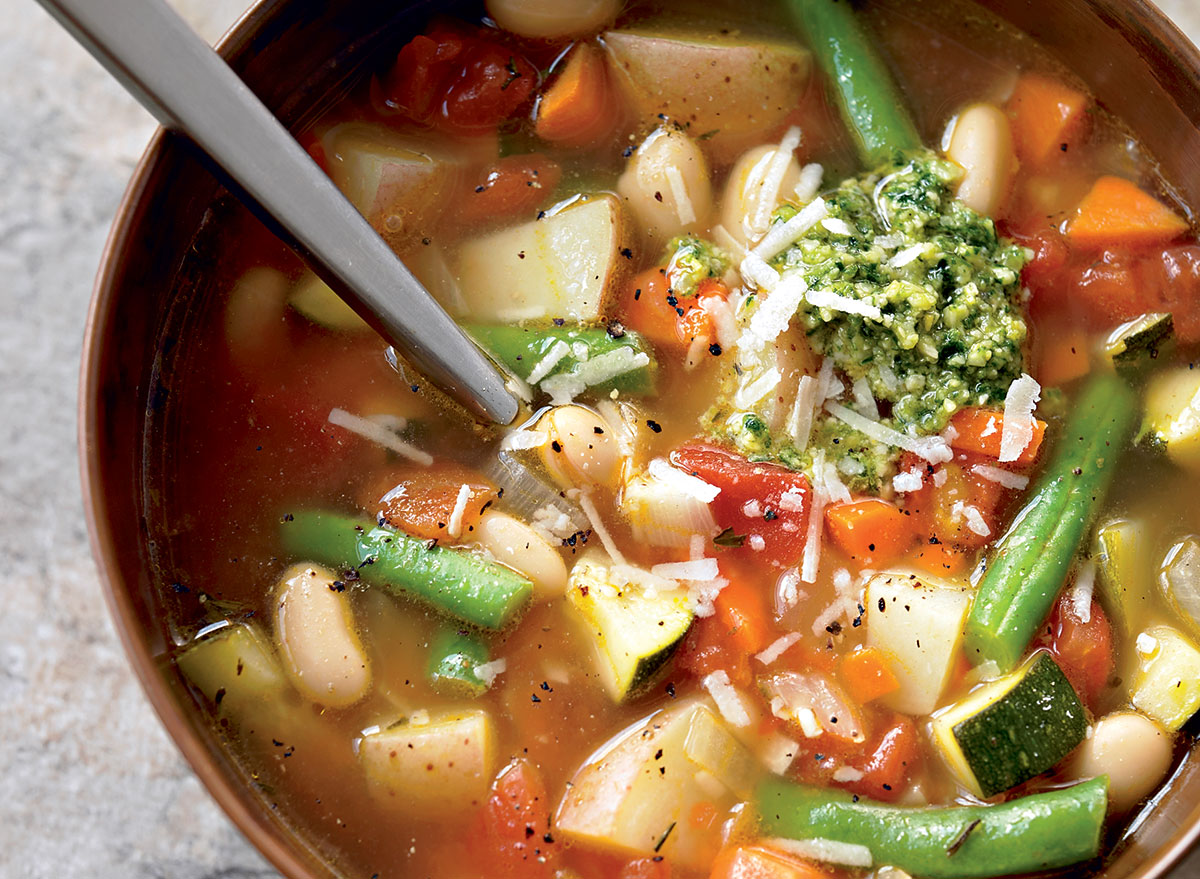 In a similar vein, minestrone soup is another good Christmas party appetizer, especially for those looking for lighter fare. This soup is chock-full of healthful ingredients, including zucchini, green beans, diced tomatoes, and white beans.
Get our recipe for Veggie-Packed Minestrone with Pesto.
Bacon-Wrapped, Stuffed Dates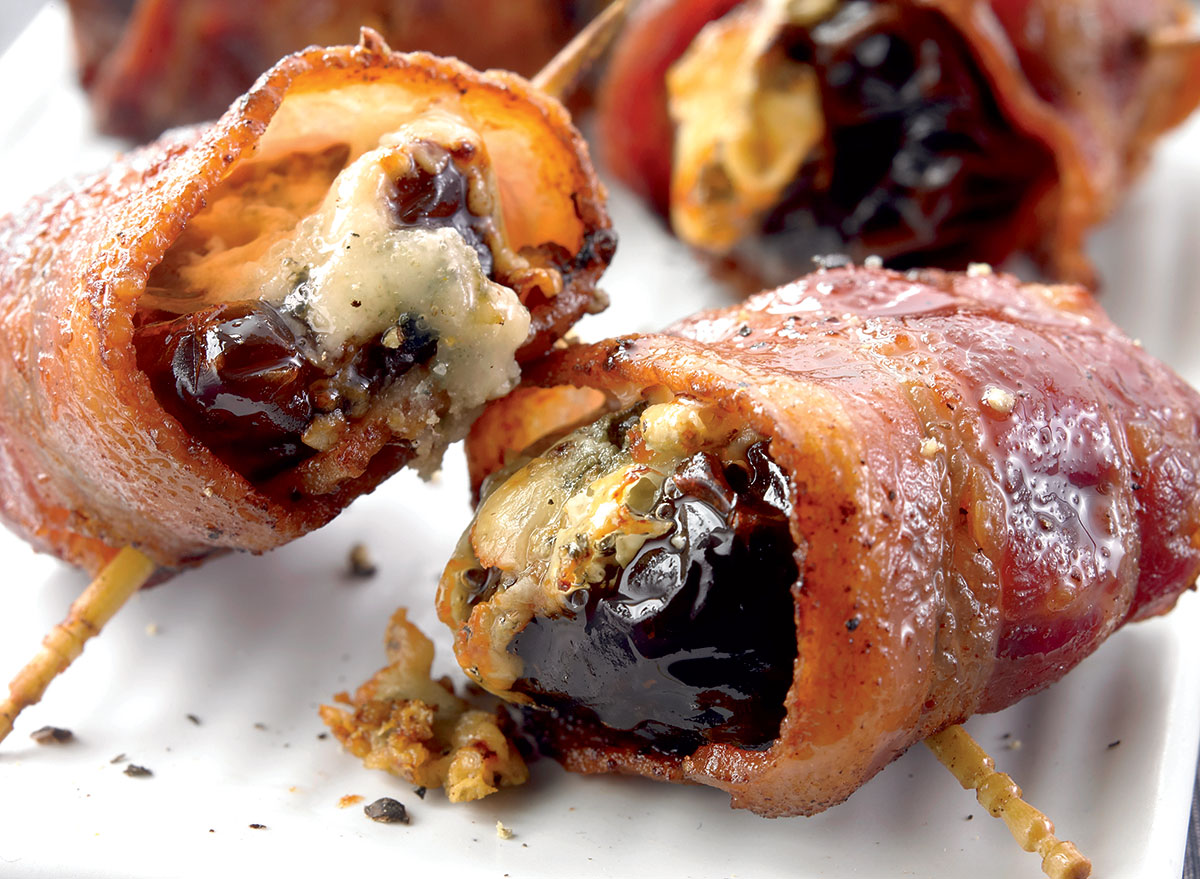 This may be the most scrumptious combination of sweet and salty one could put on a stick. Crispy bacon encloses creamy blue cheese, almonds, and Medjool dates.
Get our recipe for Bacon and Blue Cheese Stuffed Dates.
Spinach Artichoke Dip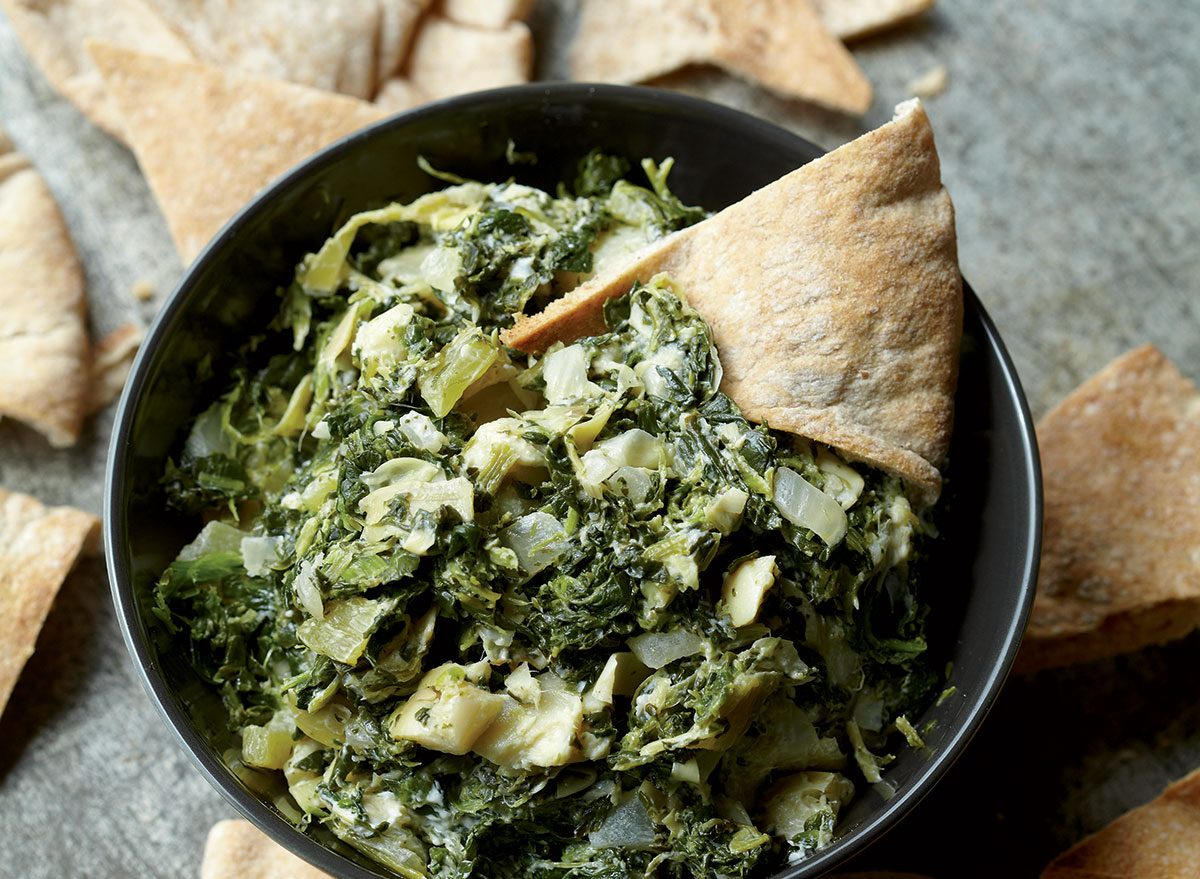 A spinach artichoke dip inherently elevates the food scene at any gathering. Instead of turning to a high-fat variety, though, opt for our recipe, which employs lighter ingredients such as whipped cream cheese and olive oil-based mayonnaise to produce that gooey consistency but with a richer flavor.
Get our recipe for Easy Spinach Artichoke Dip.
Hot Party Nuts
This blogger calls this appetizer St. Nick's Drop It Like It's Hot Party Nuts, so we just had to include it. These sweet yet spicy nuts are sweetened with maple syrup and dusted with cayenne pepper. Raw almonds, cashews, pecan halves, and walnut halves hold the spotlight, but what you may not know is swirled into the mix is one tablespoon of chia seeds. The best part? It's one of the easiest Christmas party appetizers you can whip up in a jiffy—it takes a total of 20 minutes to make from start to finish.6254a4d1642c605c54bf1cab17d50f1e
Get the recipe from Ambitious Kitchen.
Charcuterie Board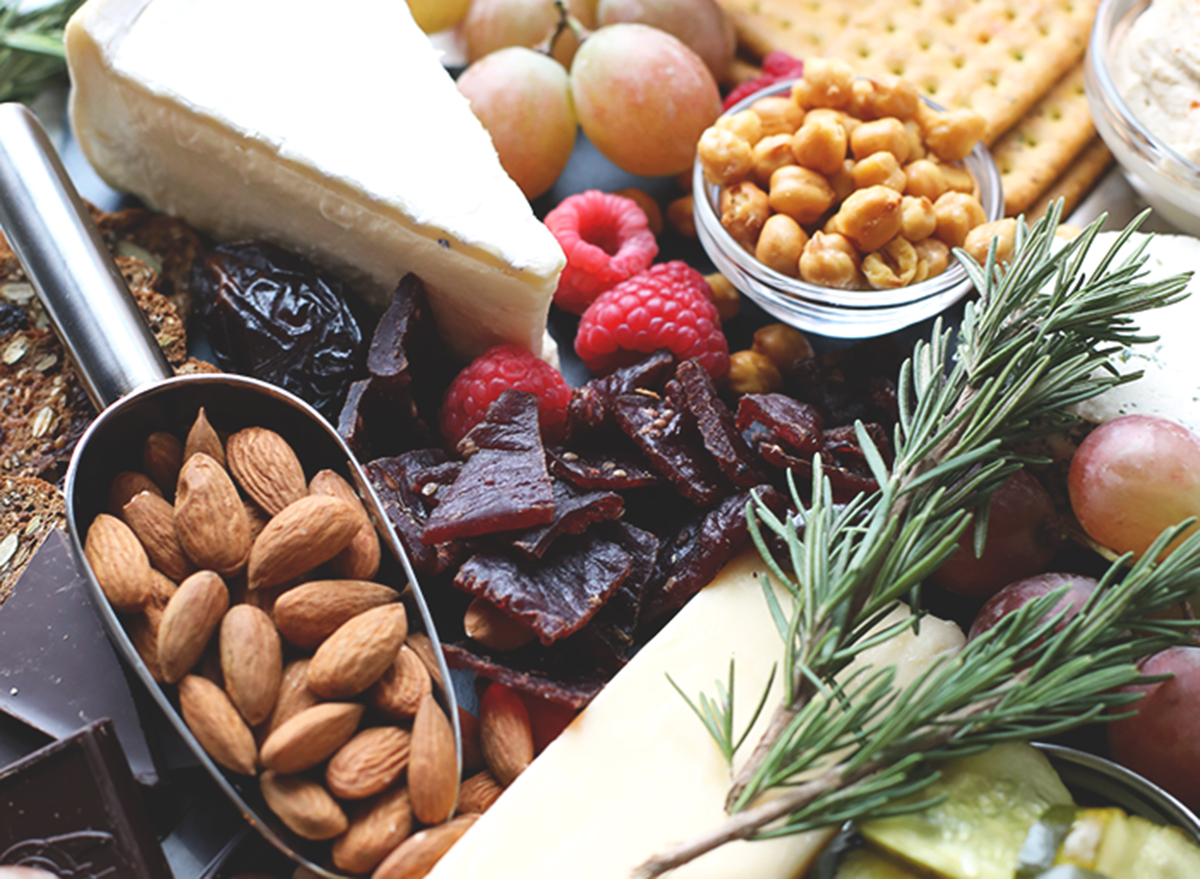 You can't have a successful party without a charcuterie board! This blogger breaks down all of the essential components: cheese, fresh and dried fruit, nuts and seeds, jams and spreads, veggies, meat, crackers, fresh herbs, and dark chocolate/sweets. Essentially, you could mix and match whatever combinations you want, which is ideal, especially if you're in a pinch for time.
Get the recipe from Fit Foodie Finds.
Cheesy Bacon-Wrapped Puff Pastry Twist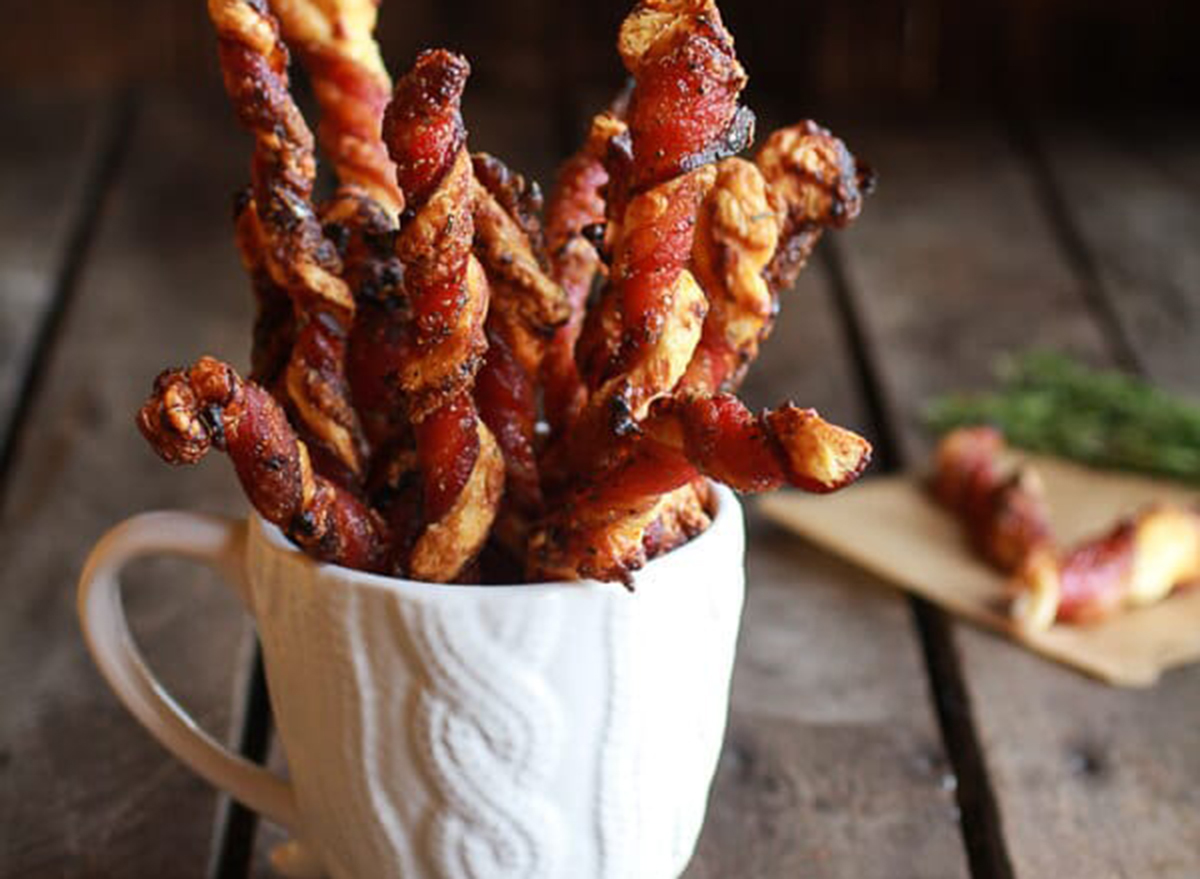 How adorable are these bacon-wrapped pastry twists? They fit the description for finger food. Thin strips of bacon are coiled around equally thin strips of a cheesy puff pastry and are then coated in brown sugar and rosemary. If you have an hour to kill, this is the crafty appetizer you should volunteer to bring to the Christmas party if not make it for your own celebration!
Get the recipe from Half Baked Harvest.
Butternut Squash Crostini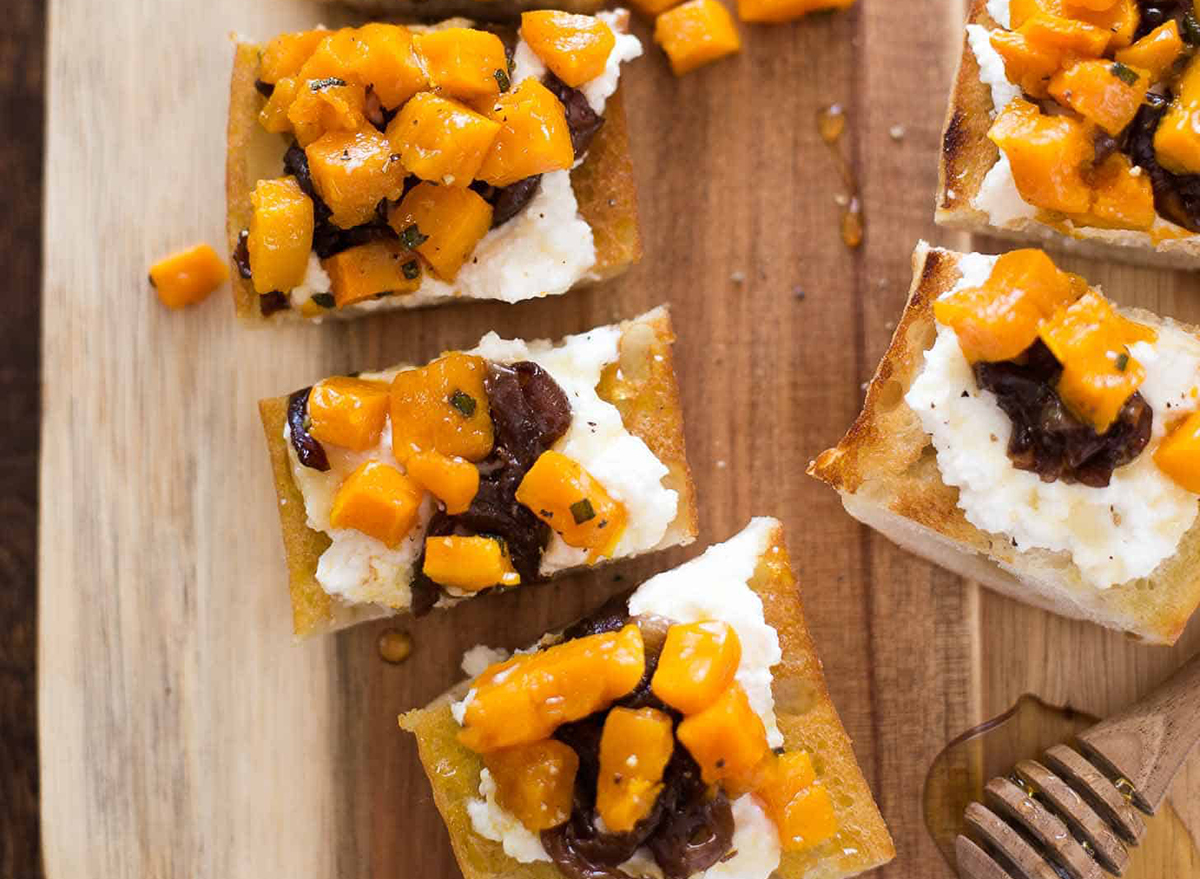 Last but not least is this scrumptious butternut squash crostini. Not only does this crispy baguette have creamy ricotta and savory butternut squash layered on it, but it also has red wine caramelized onions. What a perfect way to jazz up a bread-based dish!
Get the recipe from Inquiring Chef.