The World's 10 Healthiest Granolas
We've found the 10 best granolas that focus on natural ingredients and are much better than the average mix.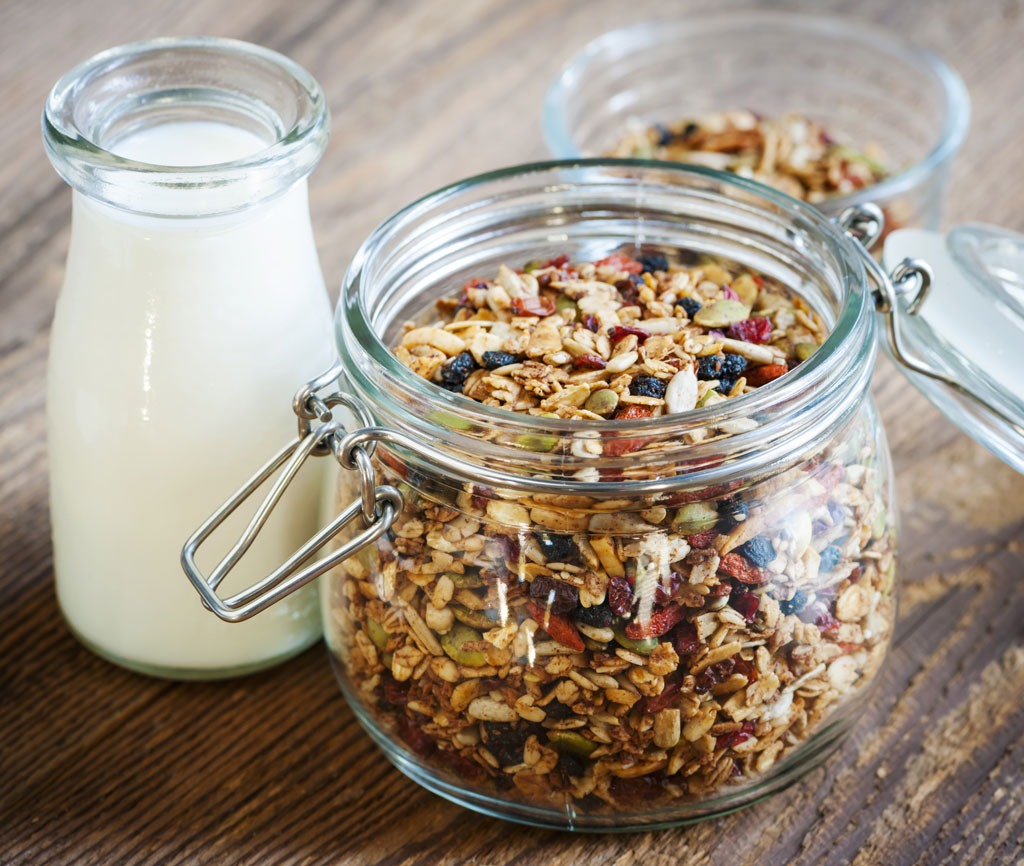 This post contains affiliate links. If you use these links to buy something, we may earn a commission.
On the surface, granola seems like the perfect healthy snack: it's loaded with rolled oats, nuts and seeds high in omega-3s, and tasty-but-good-for-you sweets like dark chocolate, dried cranberries, and raisins.
In reality, finding healthy granola is pretty difficult. Many store brands are loaded with sugar, turning your "healthy" snack into something resembling a dessert. Plus, nutritionists agree that portion control is tricky when it comes to serving up the right amount.
"Granola tends to be on the denser side, so if you're not careful it's easy to mindlessly eat more than one portion," says Amy Gorin, MS, RDN, a plant-forward registered dietitian nutritionist in the New York City area.
Still, plenty of widely-available granolas keep the sugar content to a minimum—and as long as you're reading the label for serving size, it can be a healthy snack when tossed on top of Greek yogurt or served with a little milk (or just eaten out of the palm of your hand!).
What are the benefits of eating granola?
It's worth looking for a granola that's low in sugar because it's a powerhouse snack option when eaten wisely.
"Granola can be a great source of fiber, protein, and healthy fat, all important nutrients to include at meals and snacks for weight management and blood sugar control," says Lainey Younkin, MS, RD, registered dietitian at Lainey Younkin Nutrition.
How? Well, the trifecta of fiber, protein, and healthy fats causes you to feel fuller for longer, which means you may eat less overall—and be better positioned to lose weight or keep maintaining a healthy weight. Plus, some studies suggest that dried fruits and nuts, as well as whole grains, can have a positive effect on blood glucose levels and insulin resistance.
Finally, the convenience of granola is tough to beat: many brands sell granola in single-serve pouches or packets, making it easy to grab one on the go, and even brands sold in larger portions can be broken down into small, portable sizes in reusable containers.
According to Harvard Health, planning meals and snacks in advance can help dieters better manage their weight and lead to an overall healthier lifestyle. That means granola can be a valuable snack to have in your weight-loss toolbox if you choose the right kind.
How to shop for the healthiest granola brands.
The key to finding the healthiest granola is knowing what to look for on the nutrition label. Nutritionists recommend keeping an eye on three things: sugar content, serving size, and whole grains. And it wouldn't hurt if the granola was low-calorie, as well.
low-sugar: "The less sugar the better," says Younkin. "Look for less than five to 10 grams per serving when possible." But remember that not all sugar is actually called "sugar" on nutrition labels—you also have to look for ingredients like brown rice syrup, maple syrup, tapioca syrup, or corn syrup (really anything with "syrup" in the name!).
serving size: Younkin says that if you're comparing two different granolas, make sure to compare nutrition facts for the same serving size. Where one brand might have eight grams of sugar per two-thirds of a cup, another could have eight grams per one-third, meaning you'll end up with 16 grams of sugar for the same amount of granola.
whole grains: The first ingredient on the label of any granola you buy should be a whole grain, like oats. Also look for whole grains like chia seeds, millet, almonds, and sunflower seeds; these add-ins will help you stay fuller for longer and increase the nutritional benefit of your snack.
The 10 best granolas to buy
Of course, not all granolas are created equal. If you still love the crunchy and versatile food, no need to worry—we've compiled a list of the best granola money can buy. These bags of low sugar granola focus on natural ingredients and are much better than the average mix.
Ready to shop? The healthiest granolas on our list use whole, natural ingredients, are low calorie, and use little added sugar.
Here are 10 of the healthiest granolas at the supermarket.
1/3 cup (30 g)
: 110 calories, 3 g fat (0 g saturated fat), 25 mg sodium, 20 g carbs (4 g fiber, 5 g sugar), 3 g protein
If you've asked yourself "is KIND granola healthy?" before, let us answer your question. Gorin recommends this brand because its first ingredient is oats, not sugar. With sweet blueberry clusters and omega-3-rich flax seeds, it's tasty and healthy. If you opt for a two-thirds cup serving (double the nutrition information for the "snack size" above), you get five grams of protein, eight grams of fiber, and a boost of heart-healthy fats.
"Together, that trio of nutrients helps keep you fuller for longer," she says, "and you also get 10 percent of your daily value for iron."
6254a4d1642c605c54bf1cab17d50f1e
1/3 cup
: 130 calories, 6 g fat (3.5 g saturated fat), 135 mg sodium, 19 g carbs (2 g fiber, 7 g sugar), 3 g protein
Younkin eats this low-calorie granola brand pretty much exclusively, sprinkling the pumpkin cinnamon variety over plain Greek yogurt or eating it with almond milk as a nighttime snack or after-dinner treat.
Erin Palinski-Wade, RD, author of Belly Fat Diet For Dummies, also recommends the Purely Elizabeth brand. "I love that this granola incorporates ancient grains and uses only nutrient-dense coconut sugar as a sweetener," she explains. "With two grams of fiber and three grams of protein per serving, it's filling while having fewer calories than many other brands."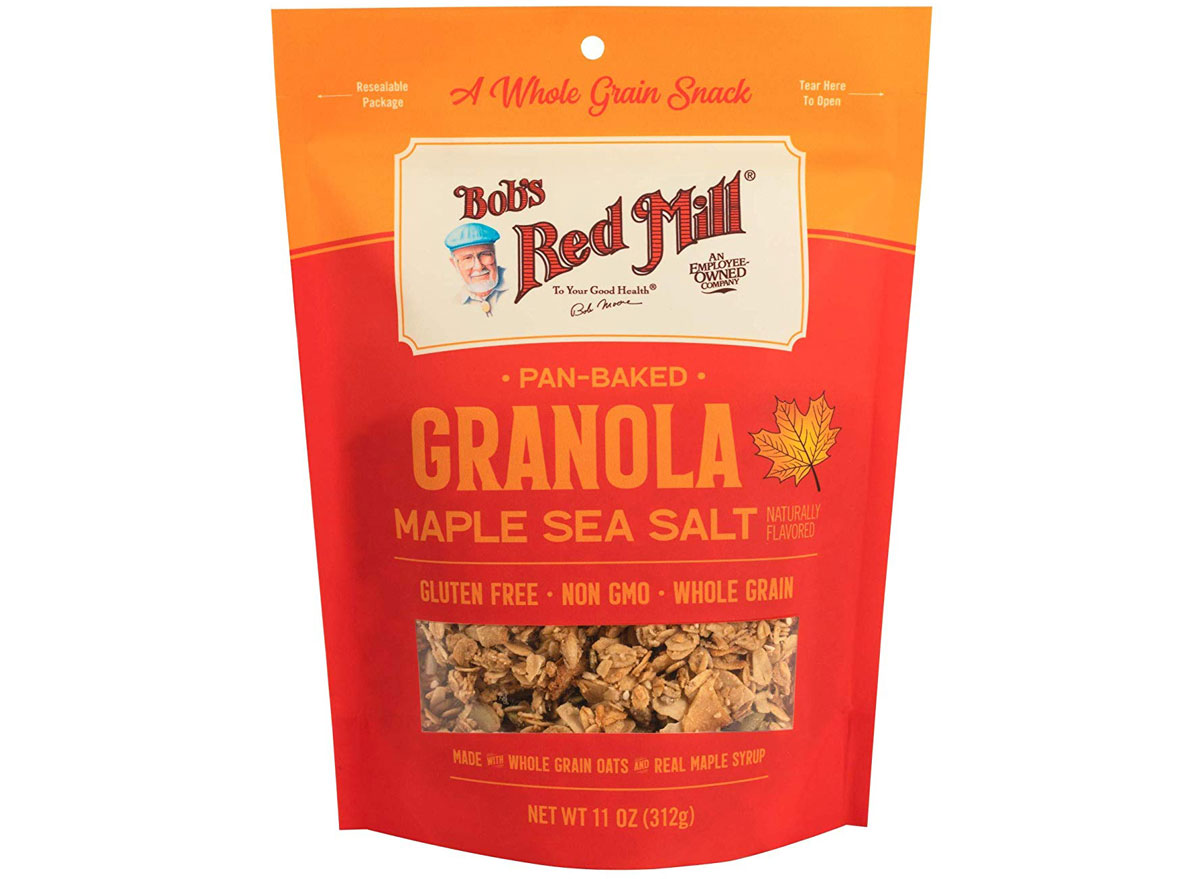 1/4 cup
: 150 calories, 7 g fat (4.5 g saturated fat), 90 mg sodium, 17 g carbs (2 g fiber, 5 g sugar), 3 g protein
Palinski-Wade says that Bob's Red Mill granola is a nutritional home run. Each serving has seven grams of sugar or less, plus whole grain fiber and protein. The brand is also free of gluten, soy, dairy, and egg, and is Non-GMO Project-verified.
"This granola tastes like it came right out of the oven, and with four flavors there is always variety to choose from," she adds.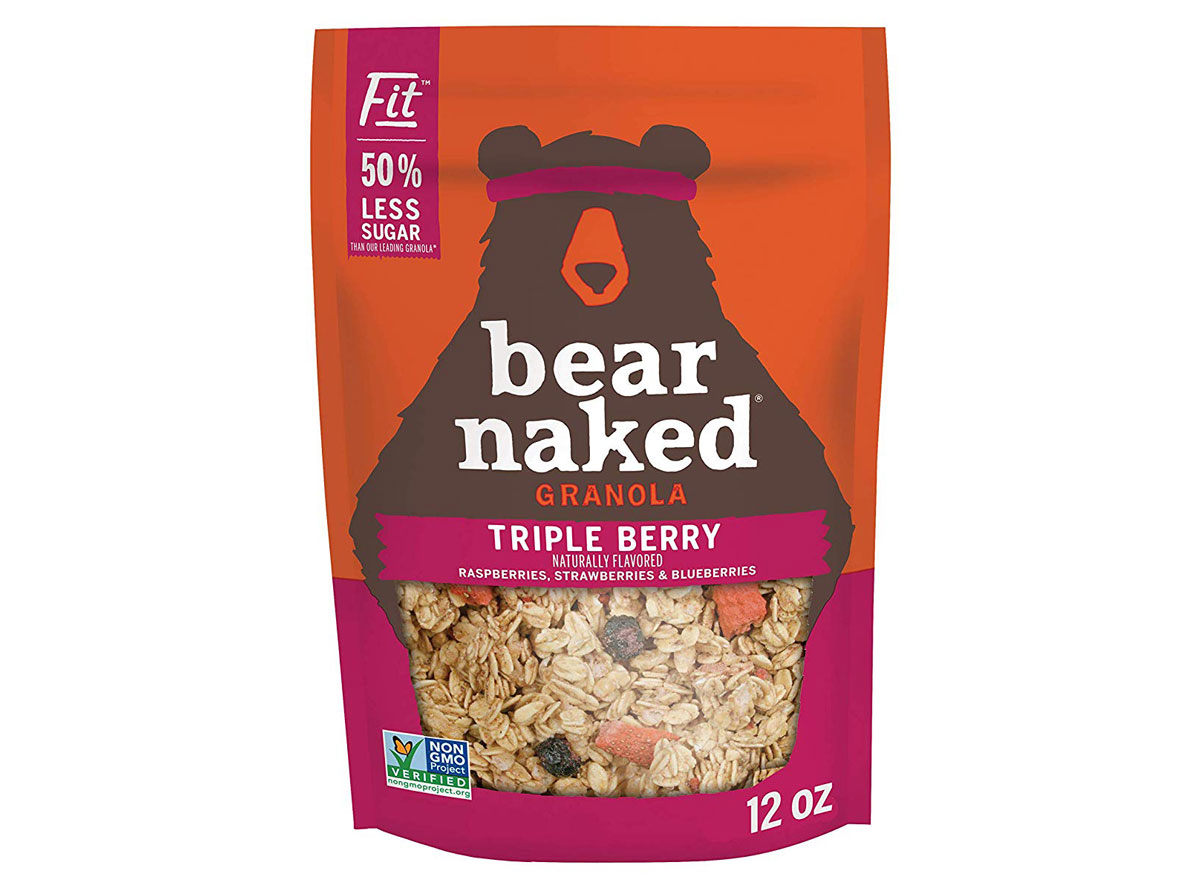 1/4 cup
: 100 calories, 1.5 g fat (0 g saturated fat), 0 mg sodium, 21 g carbs (3 g fiber, 3 g sugar), 3 g protein
The triple berry blend by Bear Naked Fit has a lot to offer: six grams of fiber and seven grams of protein, with only six grams of sugar. The one caveat is the inclusion of brown rice syrup and cane syrup—but the brand still keeps the sugar content low by subbing some of the sweet stuff for monk fruit extract. Plus, you get an antioxidant blast with the combo of three different dried berries.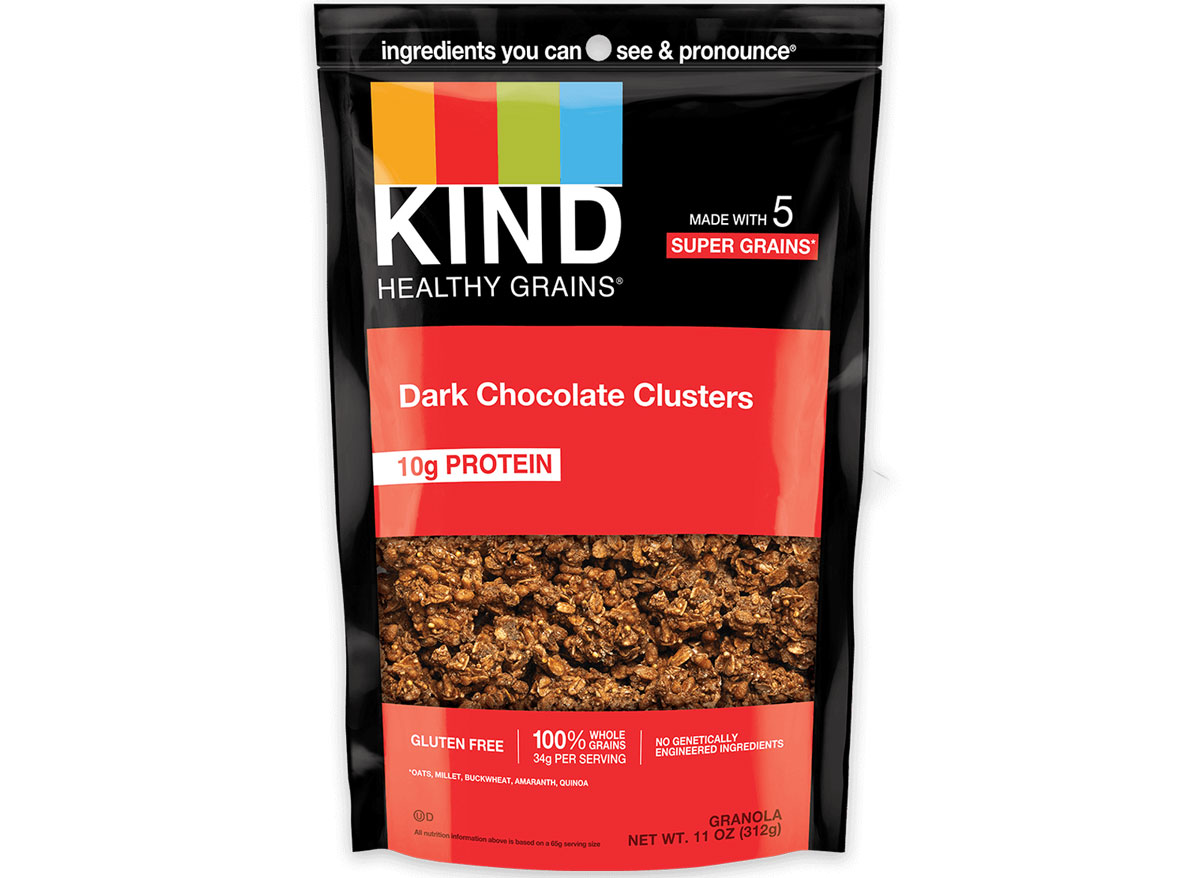 1/3 cup (30 g)
: 110 calories, 3 g fat (0.5 g saturated fat), 65 mg sodium, 18 g carbs (2 g fiber, 3 g sugar), 5 g protein
If you tell us something has dark chocolate in it, you can basically sign us right up—but it's even better if we can say the dark chocolate is good for us.
"In addition to protein and fiber, you get a good amount of iron from this granola, as well as some potassium and calcium," explains Gorin. "Plus, you can satisfy your sweet tooth with a food that will actually help fill you up!"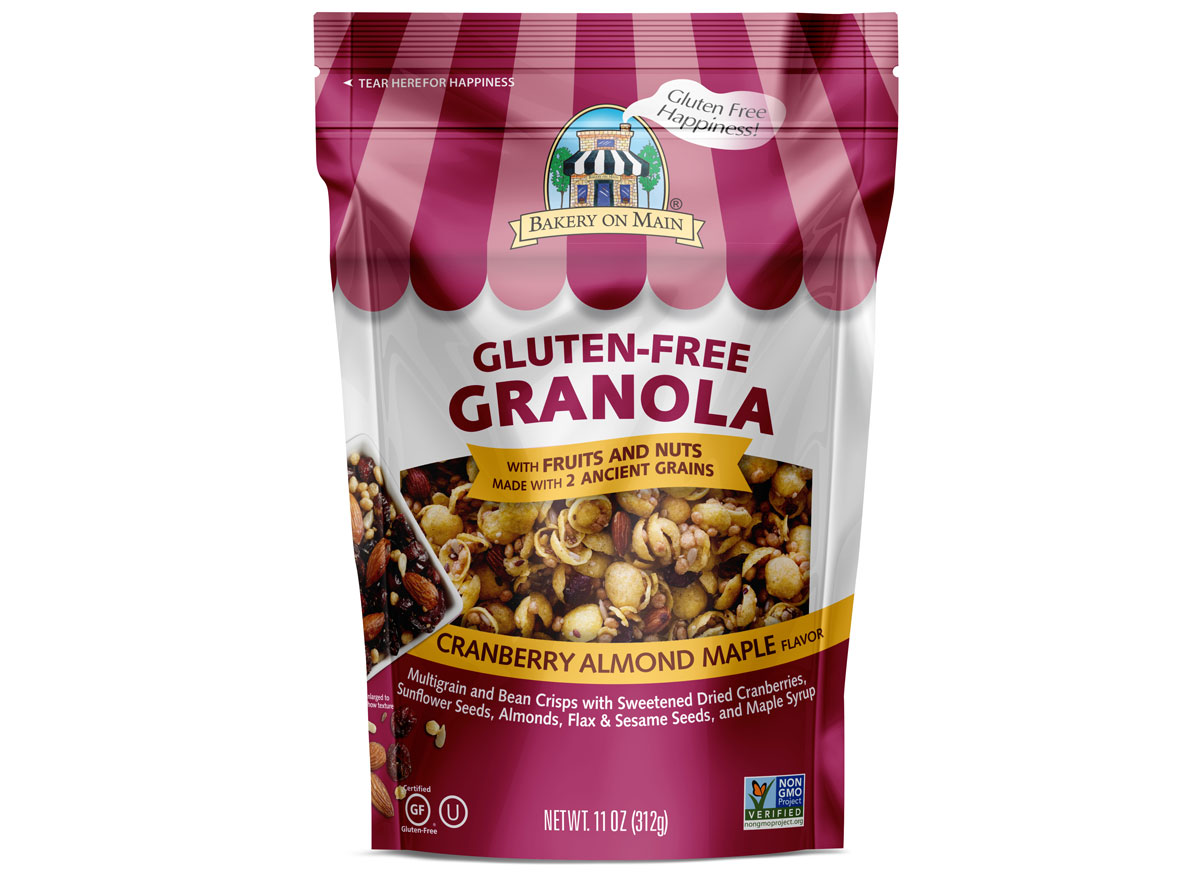 1/3 cup
: 140 calories, 6 g fat (0.5 g saturated fat), 10 mg sodium, 19 g carbs (2 g fiber, 7 g sugar), 2 g protein
The Bakery on Main granola isn't messing around with whole grains: Gorin likes this one because it's made with ingredients like navy beans, brown rice, millet, sunflower seeds, and almonds. With that kind of roster, you not only get two grams each of protein and fiber in every serving, you also get heart-healthy mono- and polyunsaturated fats.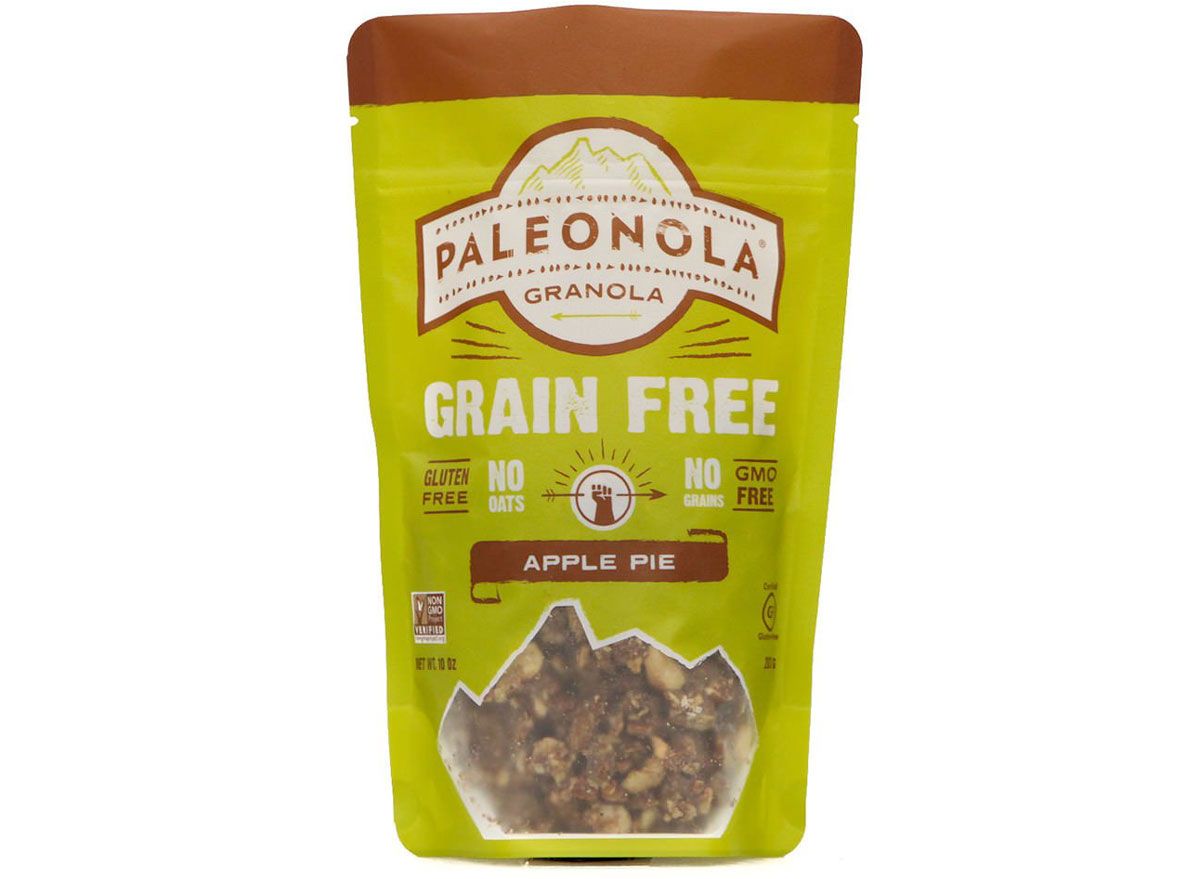 1/4 cup
: 170 calories, 15 g fat (3.5 g saturated at), 10 mg sodium, 7 g carbs (2 g fiber, 4 g sugar), 4 g protein
The serving size for this granola isn't huge (only ¼ cup), but everything else about it totally hits the nutritionist mark: it's got four grams of sugar and protein, two grams of fiber, and a star-studded whole grain lineup of almonds, pecans, and pepitas mixed with oh-so-yummy dried apple and coconut.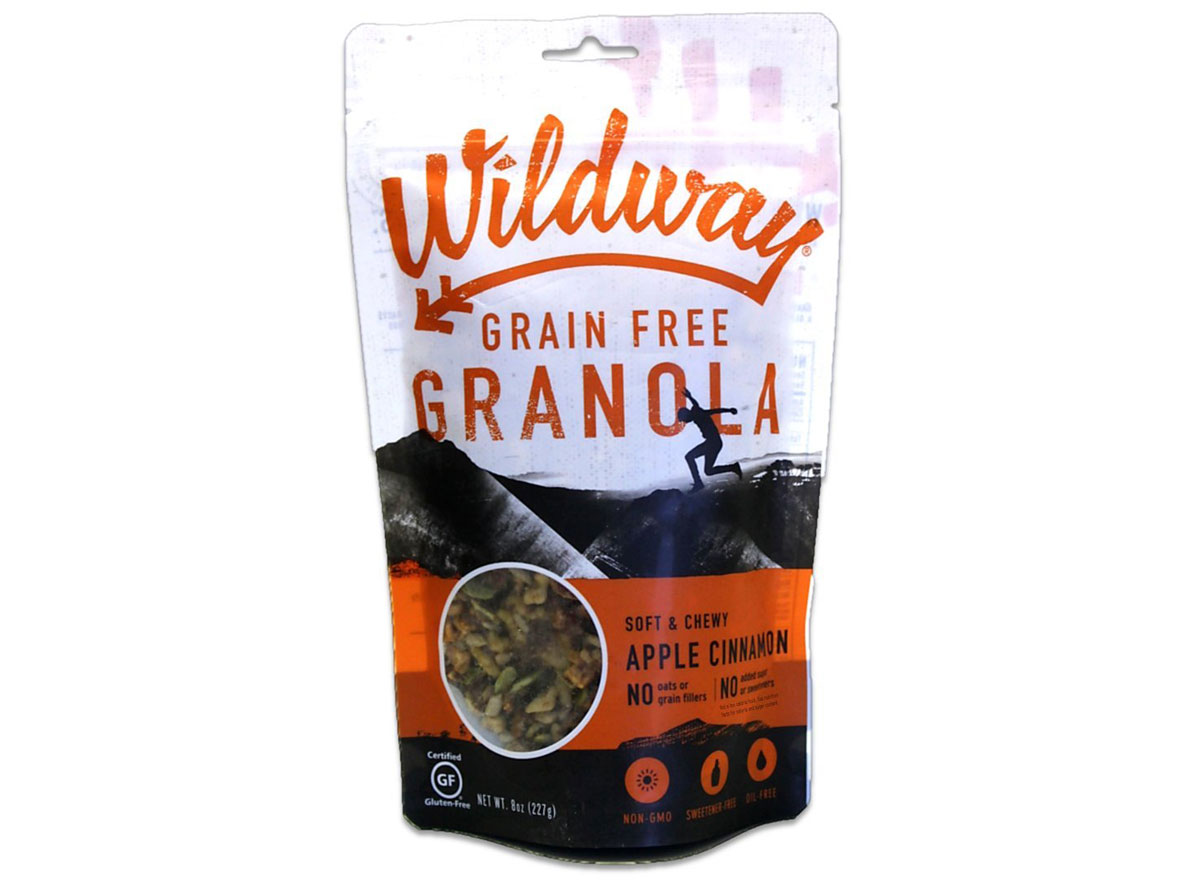 1 package
: 280 calories, 20 g fat (2 g saturated fat), 50 mg sodium, 23 g carbs (5 g fiber, 16 g sugar), 7 g protein
If you're limiting or avoiding grains, Palinski-Wade recommends the Wildway brand. Since it's made up entirely of nuts, seeds, and dried fruit, it's a great choice for people who have gone grain-free (or pretty close to it). It has no added sugar and works well as a solitary snack or a topping on yogurt or salad.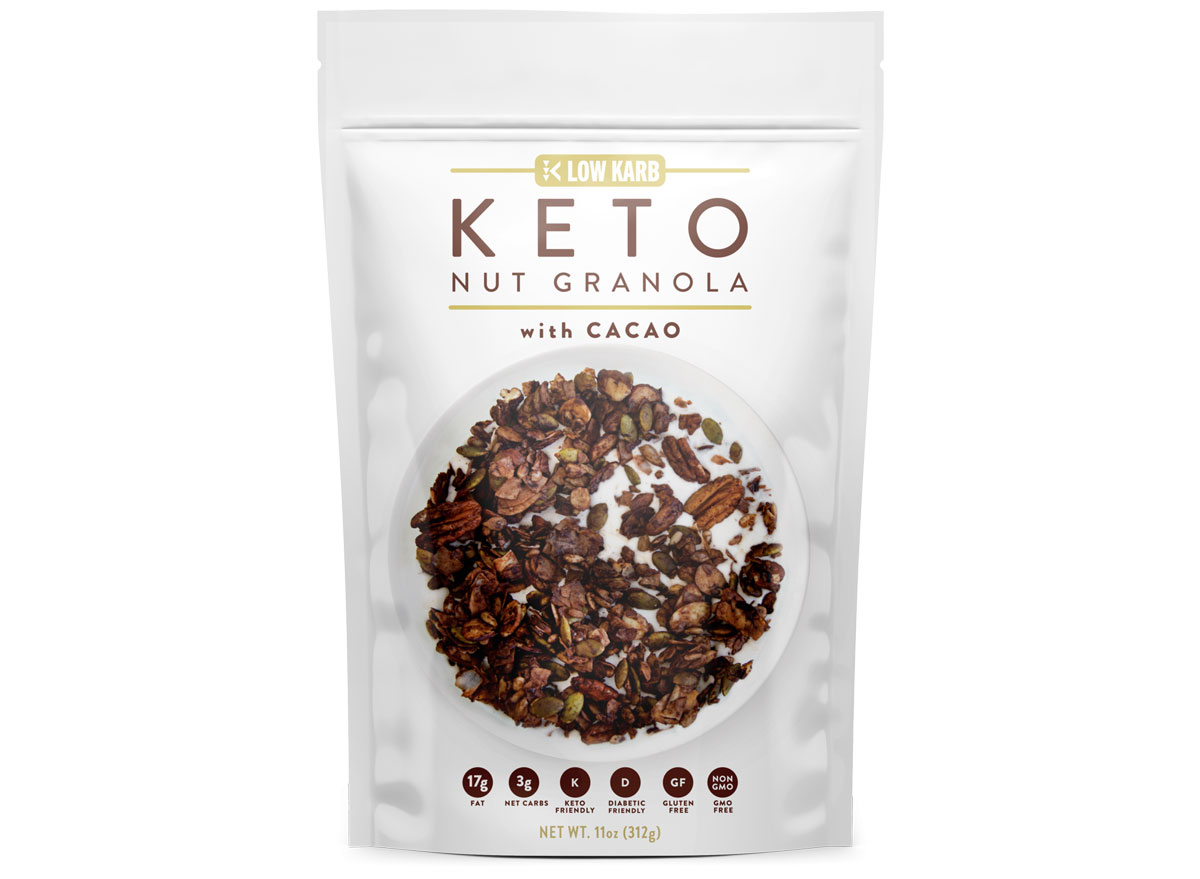 1/3 cup
: 190 calories, 17 g fat (6 g saturated fat), 0 mg sodium, 12 g carbs (4 g fiber, <1 g sugar), 5 g protein
Attention carb-cutter chocoholics: there's a granola for you, too, and it's the keto nut granola from Low Karb. It's only three net carbs for each ⅓ cup serving, and Palinski-Wade says the nuts and seeds provide a filling source of fiber and protein while the cacao helps satisfy cravings for sweets without a large amount of added sugar.
1/3 cup
: 180 calories, 14 g fat (2 g saturated fat), 55 mg sodium, 9 g carbs (5 g fiber, 1 g sugar), 6 g protein
You don't have to be diabetic to enjoy this granola, but Palinski-Wade loves that there's a granola option out there if you are.
"This blend of nuts, seeds, and brown rice is sweetened naturally with stevia and provides five grams of filling fiber per serving," she says. "With only four grams of net carbs, it's a great way to satisfy a craving for granola without spiking blood sugar levels."
The granola brands you should skip
Now that you know what to look for in the granola aisle, you're also primed to know what to avoid. Here are three brands to pass right on by the next you're granola shopping.
Nature's Valley Oats & Dark Chocolate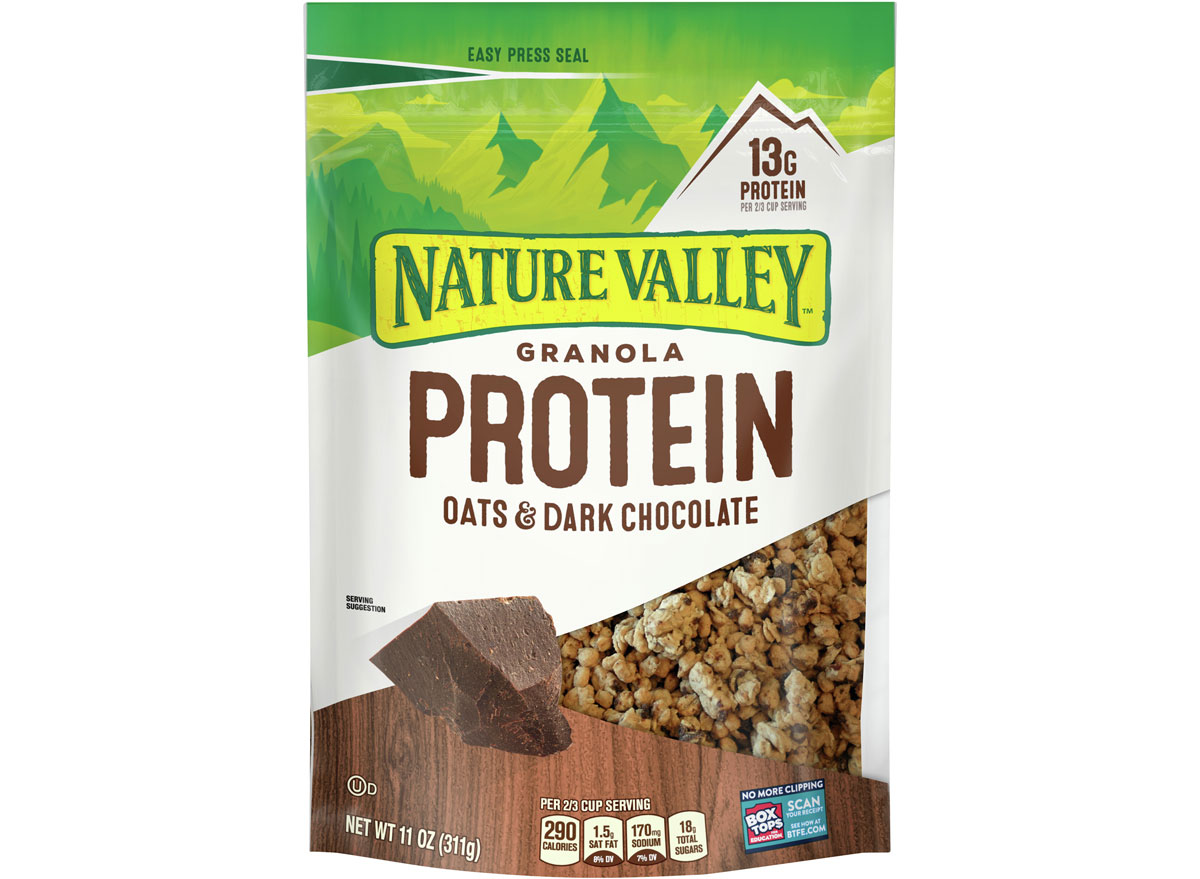 Palinski-Wade likes that the main ingredient in this granola is whole grains, but unfortunately, the sugar content is way too high. It packs in 12 grams per ½-cup, the equivalent of about three teaspoons, making it higher in sugar than she would generally recommend.
Quaker Simply Granola Oats, Honey & Almonds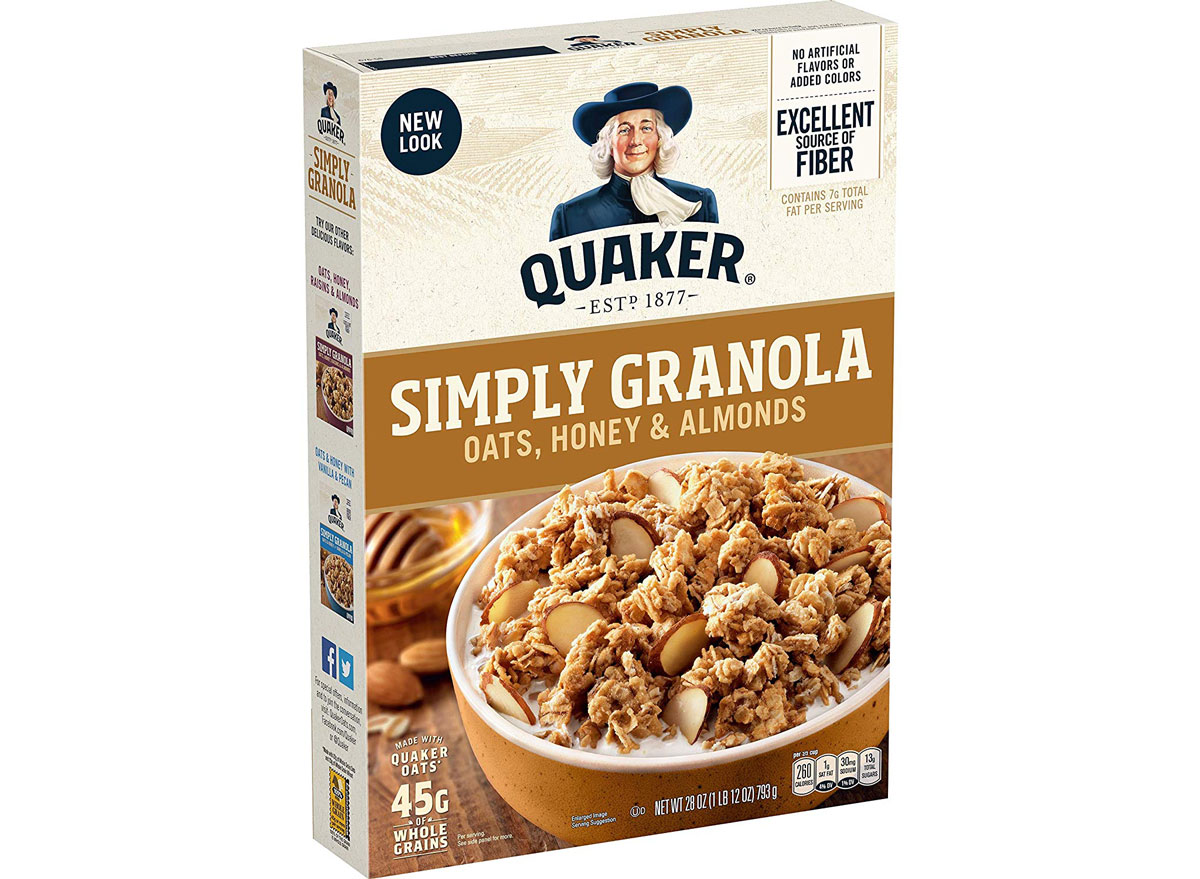 A ⅔-cup serving of this granola nets you seven grams each of protein and fiber. It also has 13 grams of sugar, with brown sugar showing up as the third ingredient on the label. As far as sweet post-dinner treats go, those aren't bad stats—but don't mistake this one for a healthy breakfast or snack choice.
Cascadian Farm Oats and Honey Granola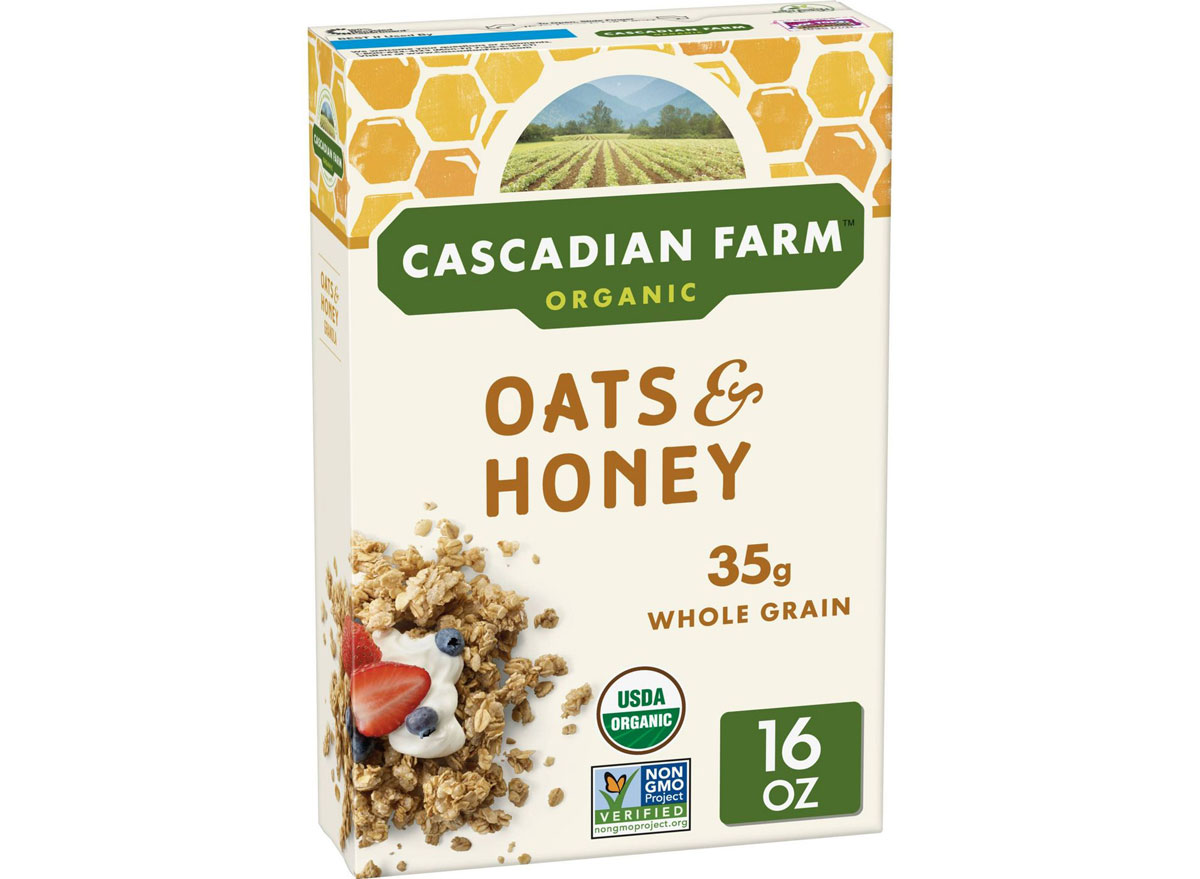 Do not pass go, do not collect $200…and definitely do not buy this granola if you're trying to be health-conscious. It has a whopping 260 calories and 14 grams of sugar per each ⅔- cup serving, making it one of the highest in total carbs and added sugar, says Palinski-Wade (not to mention that the second ingredient listed here is cane sugar, so it's just not great all around).