Yoplait Debuts New Yogurt With More Protein Than Greek
Yoplait is looking to reinvigorate the yogurt aisle with this low-sugar addition.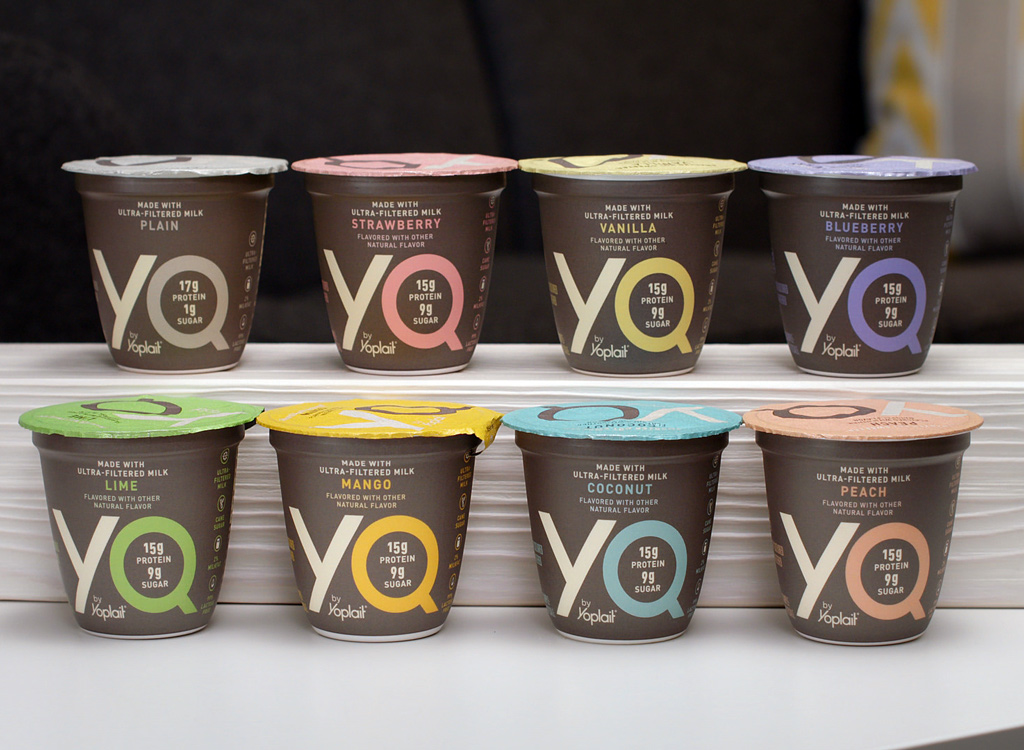 Yoplait just debuted a new line of yogurts dubbed YQ and it's giving Greek a run for its money. The new 'gurt boasts 15 to 17 grams of metabolism-revving protein, almost no lactose, and the flavored varieties packs in 40 percent less sugar than Greek yogurt. Color us surprised! This new healthy innovation is coming from the same brand that makes a Cherry Cheesecake yogurt with a whopping 21 grams of sugar. (For reference, that's 5 more grams of sugar than what you'd find in a serving of Breyer's Cherry Vanilla Ice Cream.)
"YQ by Yoplait is not a Greek yogurt but a new entry in the emerging 'simply better' segment of the category," General Mills, the company that produces Yoplait, told Food Business News. "The products do not have the tart tang or chalky aftertaste of Greek-style yogurts." So how does Yoplait achieve this stellar nutritional profile and balanced flavor?
How does YQ compare to Greek?
Yoplait ultra-filters its milk to remove 99 percent of the naturally-occurring lactose and then combines the dairy with live and active cultures that then go through "a special stirring technique perfected by Yoplait in France," General Mills' blog reports. This proprietary process lends the plain 5.3-ounce cup an impressive 17 grams of protein and reduces the sugar to a mere gram. The flavored tubs inject a bit of sweetness coming from cane sugar and fruit, which results in a lowly nine grams of sugar per serving, and come in coconut, peach, mango, lime, strawberry, blueberry, and vanilla—and pack in 15 grams of protein.6254a4d1642c605c54bf1cab17d50f1e
"We talked to thousands of people to really understand what they were missing from the yogurt aisle," Doug Martin, vice-president of marketing for Yoplait USA, told Food Business News. "We heard loud and clear the need for a smart snack option—something made with simple ingredients, less sugar, and higher protein … Through our use of simple ingredients, ultra-filtered milk, and active cultures, we've created a protein-packed, less-sweet flavor profile with a thick, smooth, extra creamy texture. It's unlike anything that exists in the yogurt aisle today."
From what we know of the nutritionals, it seems like Yoplait has genuinely developed a decent yogurt offering—we'll just have to wait until the innovation hits store shelves nationwide in late June to put the ingredients (and taste) to the test. Until then, cool down and stay lean with one of our 25 Best Yogurts for Weight Loss. And if you're looking to further cut back on the sweet stuff, check out The 14-Day No Sugar Diet. This easy-to-follow, six-step program of healthy eating and movement helps readers lose at least 7 percent of their body weight to slash their risk of diabetes by 60 percent!
April Benshosan
April is a born-and-raised Brooklynite who has a passion for all things health, wellness, and tastebud-related.
Read more about April
More content from
Groceries