The Best Breakfast Foods to Eat If You Have Diabetes, Says Dietitian
Beat the blood sugar roller coaster with these easy options.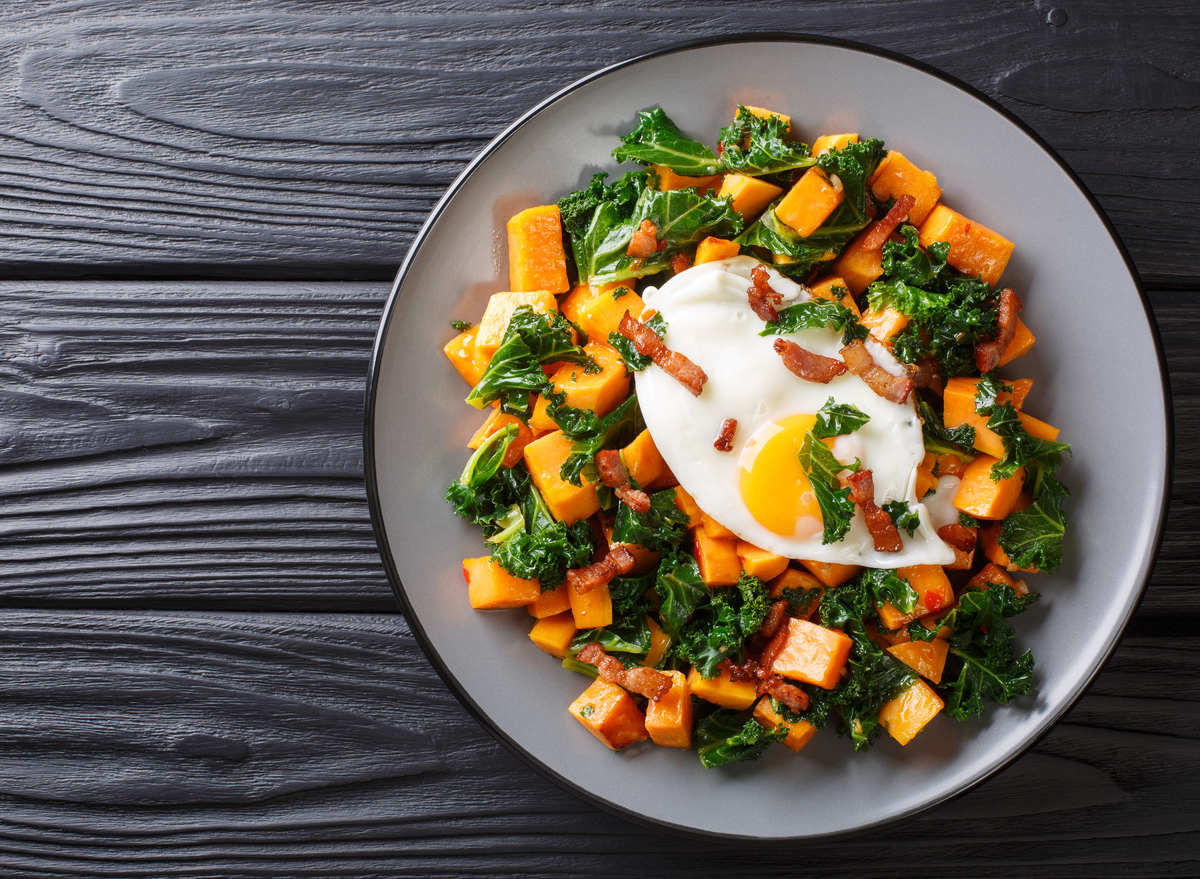 Diabetes can make mealtimes feel overwhelming and confusing. Between choosing foods that don't spike your blood sugar and making sure you're keeping track of that carb count, it's no wonder breakfast can be a hard meal to cook for—especially given that so many popular breakfast foods are loaded with added sugars. So what's a diabetic to do?
Whether you've been diagnosed with type 2 diabetes, you're pre-diabetic, or you're simply looking to keep that blood sugar low, we're setting the record straight with the best breakfast foods to eat for diabetes. We would even argue these options are great for anyone who's working toward better health!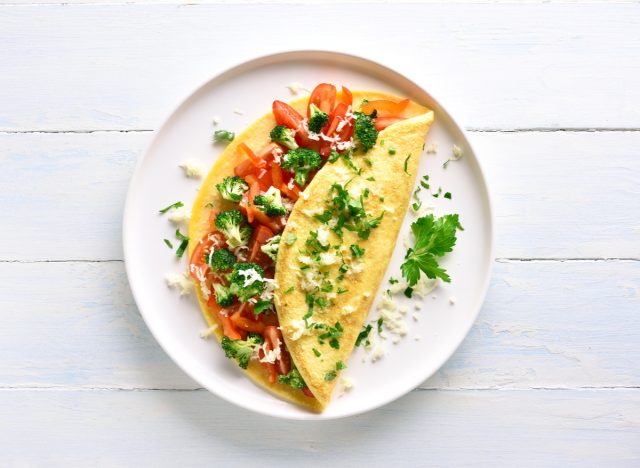 Eggs are a powerful protein-packed breakfast option to keep blood sugar levels stable all day. Many studies have found that beginning your day with a high-protein breakfast can prevent drastic swings in your blood glucose for hours to come.6254a4d1642c605c54bf1cab17d50f1e
Omelets are a filling option because they can be packed with nutrient-dense veggies and a sprinkle of cheese for extra satisfaction!
If you're focused on macronutrient-balanced meals, add a slice of whole-grain toast to round out this hearty breakfast.
For even more recipe ideas, check out our list of the 19 High Protein Breakfasts That Keep You Full.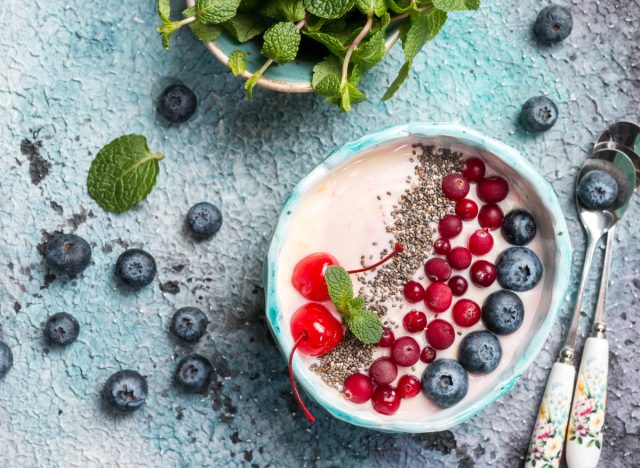 Greek yogurt is packed with protein and can be quite low in natural sugars, as the bacteria in yogurt utilize lactose sugar during the fermentation process.
Choose a plain or no sugar added variety for the best blood sugar balance, like one of these Best Greek Yogurts, According to Dietitians.
Opt for high-fiber, filling toppings to round out this breakfast option. Consider chia seeds, berries, and nuts as easy add-ons to your breakfast bowl!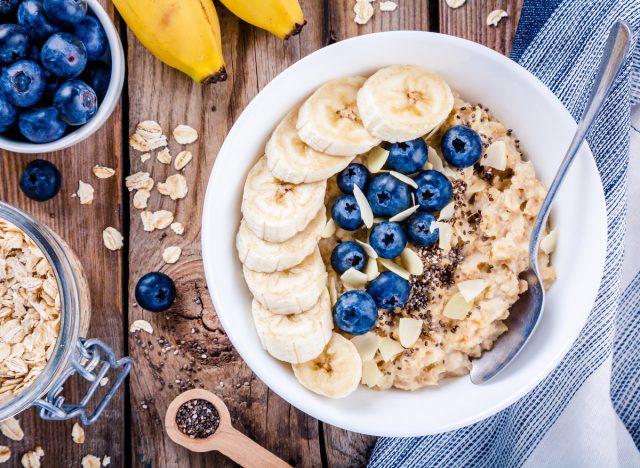 While oatmeal is predominantly a complex carb, it's a superstar when it comes to its health benefits. Oatmeal is chock-full of soluble fiber, which is responsible for a lower blood sugar response and aids in decreasing cholesterol.
Balance out your bowl by adding chia seeds, flaxseeds, protein powder, nuts, and fresh or frozen fruit.
For an easy recipe, you can combine 1/2 cup of dry oats with one cup of water, a scoop of vanilla protein powder, one tablespoon of chia seeds, and top with a cup of berries or half a banana!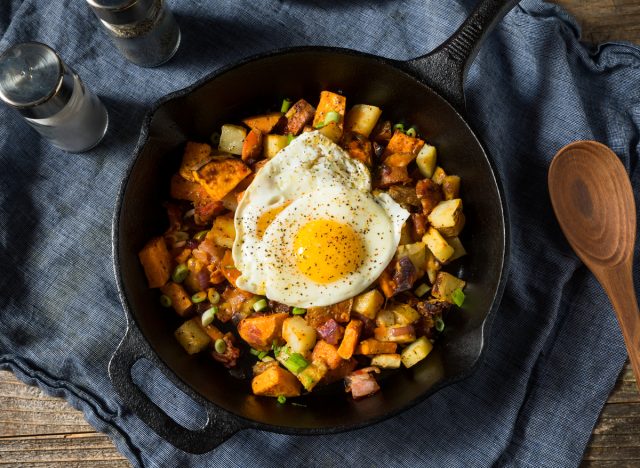 A breakfast hash is an easy meal to prepare as a big batch for the week. It reheats even better than the first time. Make this one on Sunday, and set yourself up for success for the week.
Start with sweet potatoes or regular potatoes. Add in some breakfast veggies like onions, peppers, and mushrooms. Season with garlic powder and pepper.
You can roast these ingredients in the oven or sauté them on the stovetop. Either way, this dish is a crowd pleaser!
For best blood sugars, add a protein. Consider adding some chicken sausage or an egg on top to complete the dish.
We've all heard of breakfast for dinner, but what would dinner leftovers for breakfast look like?
Repurpose steak into steak and eggs, roasted veggies into a hash or make a breakfast burrito with leftover rice, beans, and salsa.
Get creative here! Just because it doesn't have typical breakfast foods doesn't mean we can't eat it at breakfast time. Focus on balanced options by including a protein source and high-fiber carb. Bonus points if you also get a veggie into breakfast.
For even more tips for diabetics, read these next:
This Common Habit Can Lead to Diabetes, Studies Warn
Caroline Thomason, RDN
Caroline is a women's health Registered Dietitian and diabetes educator based in Northern Virginia.
Read more about Caroline