The Best Chicken Parm In Every State
It's an Italian-American classic, but which restaurant has the tastiest offering in your state?
Chicken parm, a staple dish on many Italian-American restaurant menus, is equal parts flavor and comfort. It is one of those foods that can be enjoyed during any occasion—from family celebrations to date night or a splurge-worthy night in (it's not always cheap!). Lucky for us, this menu favorite can be found practically anywhere.
From classic chicken parm options that are made with fresh, simple ingredients, to other reimaginings of the traditional dish (we're talking mushrooms, spinach, and maybe even a classic Mornay sauce) that will have you raving for days, these are the best-tasting chicken parm entrees available in all 50 states. And for more, check out The Best Cheesesteak in Every State.
ALABAMA: Gambino's Italian Grill in Fairhope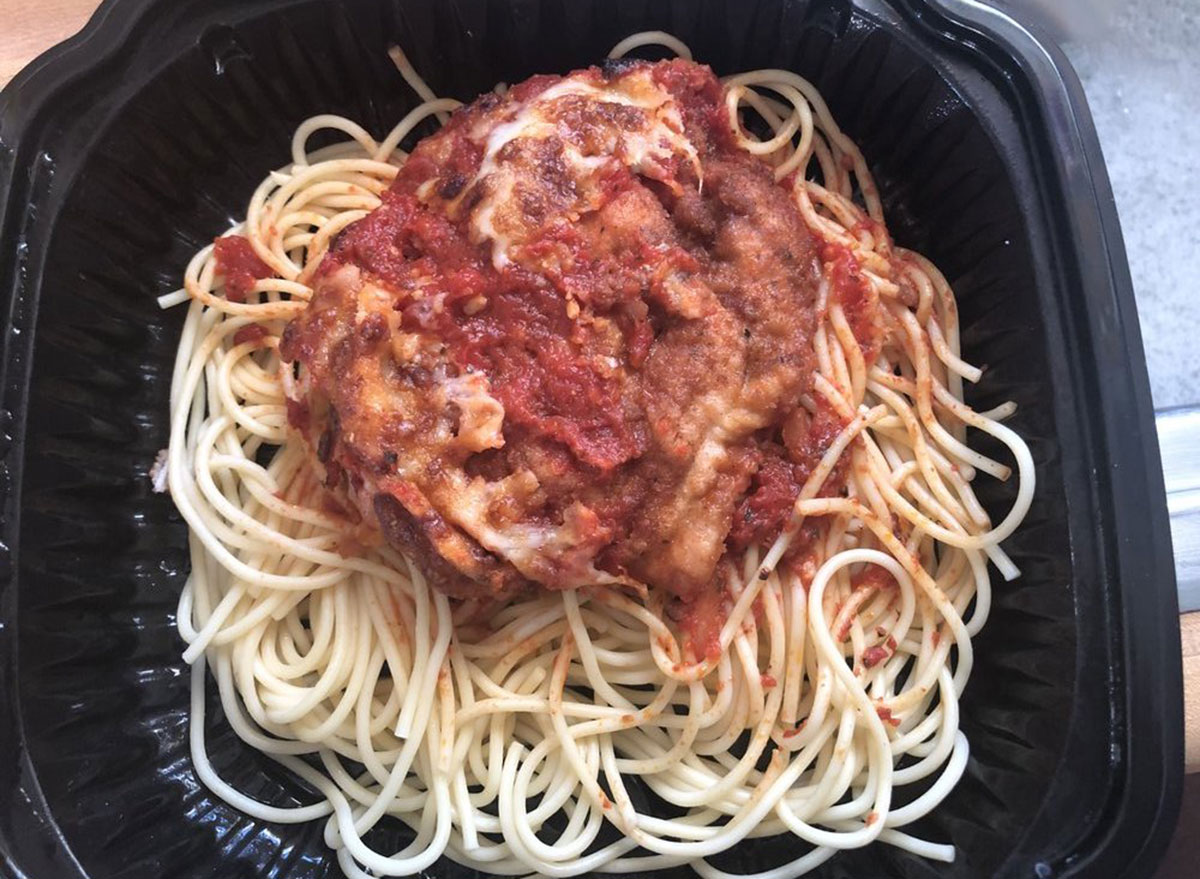 Gambino's Italian Grill, a popular restaurant just outside of Mobile, serves up a chicken parmesan combo dish that is straight out of a food lover's dream. Teeming with flavor and texture, the "Gambino's Taste of Italy" entree platter comes loaded with chicken parm, homemade lasagna, chicken and veal cannelloni smothered in Alfredo sauce, and penne. Hey, we didn't say it was healthy…
ALASKA: Moose's Tooth in Anchorage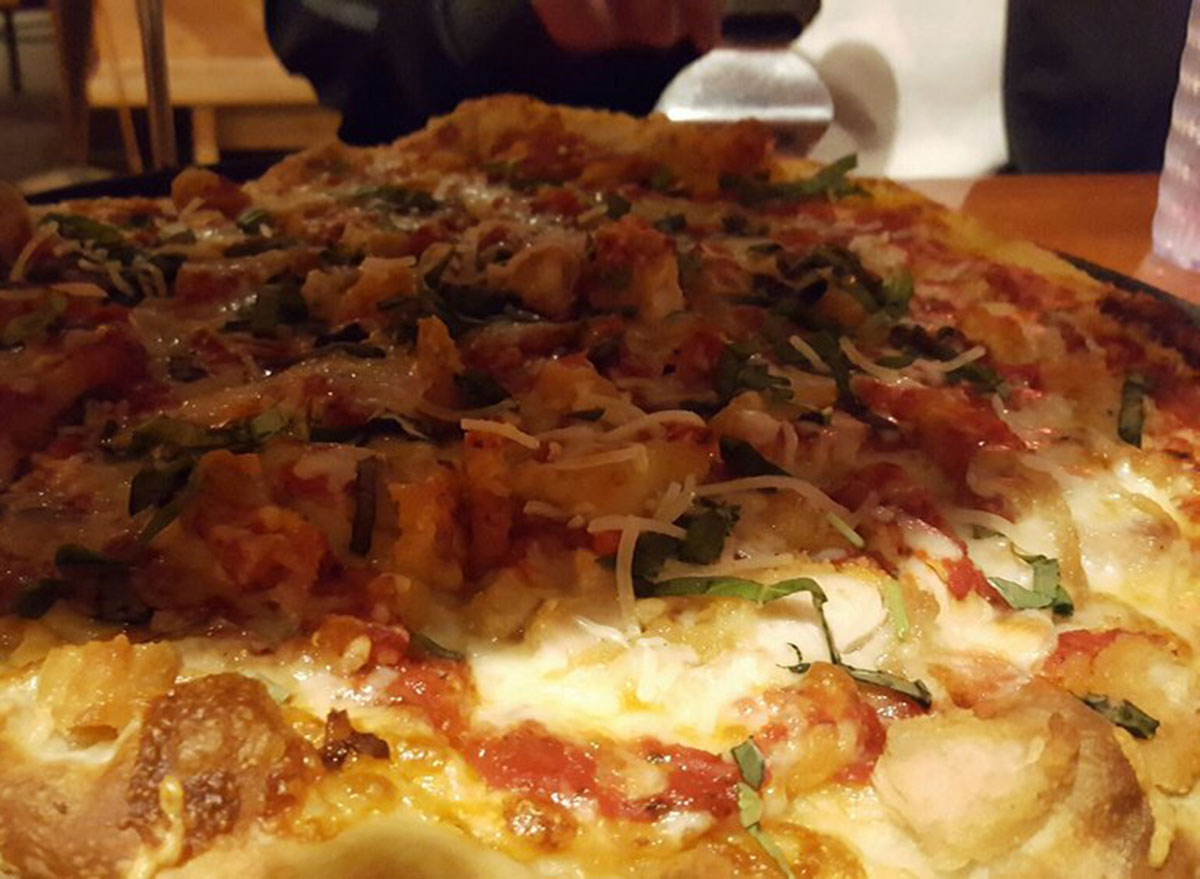 Moose's Tooth in Anchorage whips up a delicious chicken parm pizza loaded with breaded chicken, tomato sauce, parmesan, basil, provolone, and mozzarella cheese. Be sure to enjoy your pie with an order of one of their raspberry wheat beers or apple ales.
Related: The Best Healthy Chicken Parm Recipe
ARIZONA: DeFalco's Italian Eatery and Grocery in Scottsdale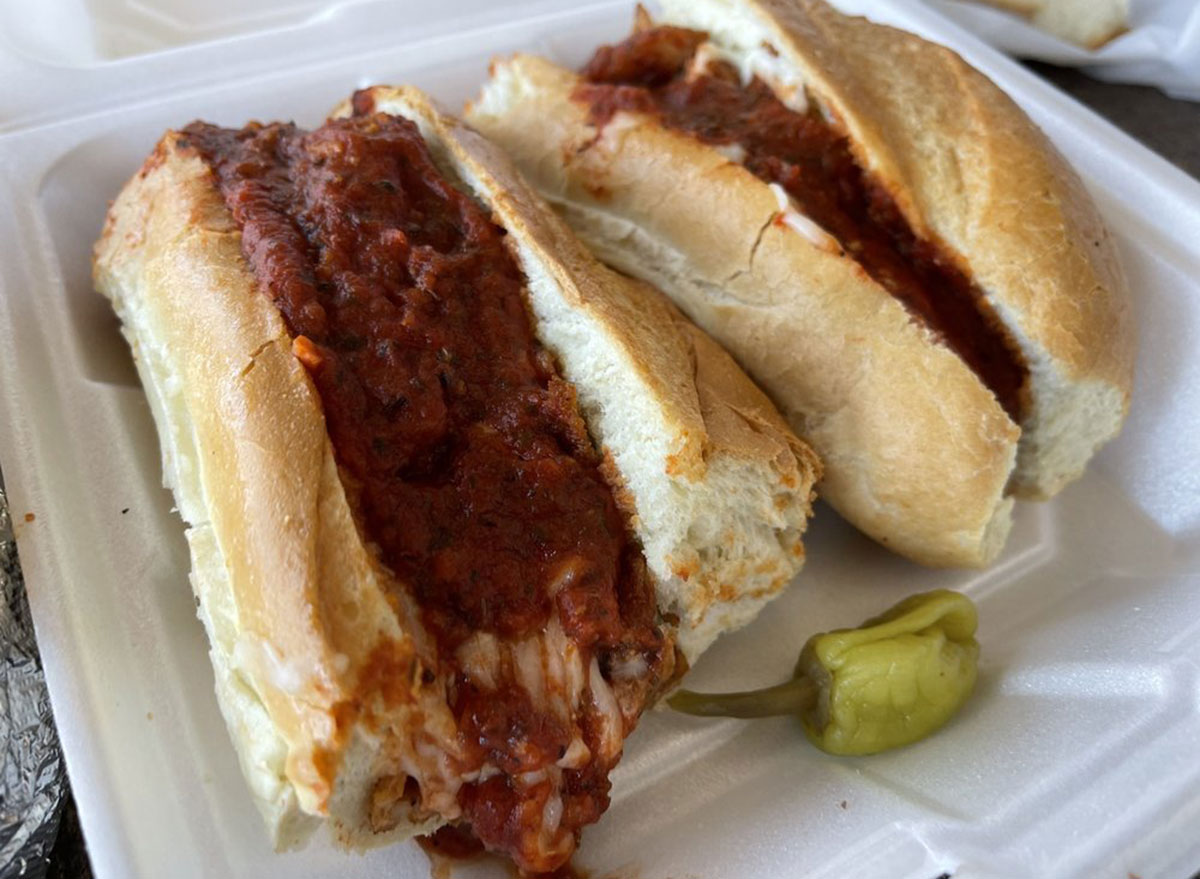 DeFalco's has been creating mouthwatering Italian specialties for the Scottsdale community since the 1970s. Family-owned and operated, DeFalco's long list of delicacies includes homemade meatballs, imported parma prosciutto, Dalmatia fig spread, and much more. One of their most popular items is their chicken parm sandwich, which is stuffed with juicy chicken, fresh mozzarella, and tasty marinara sauce.
Related: The Worst Chicken Wings in America
ARKANSAS: Renzo's Pasta and Italian Steakhouse in Fayetteville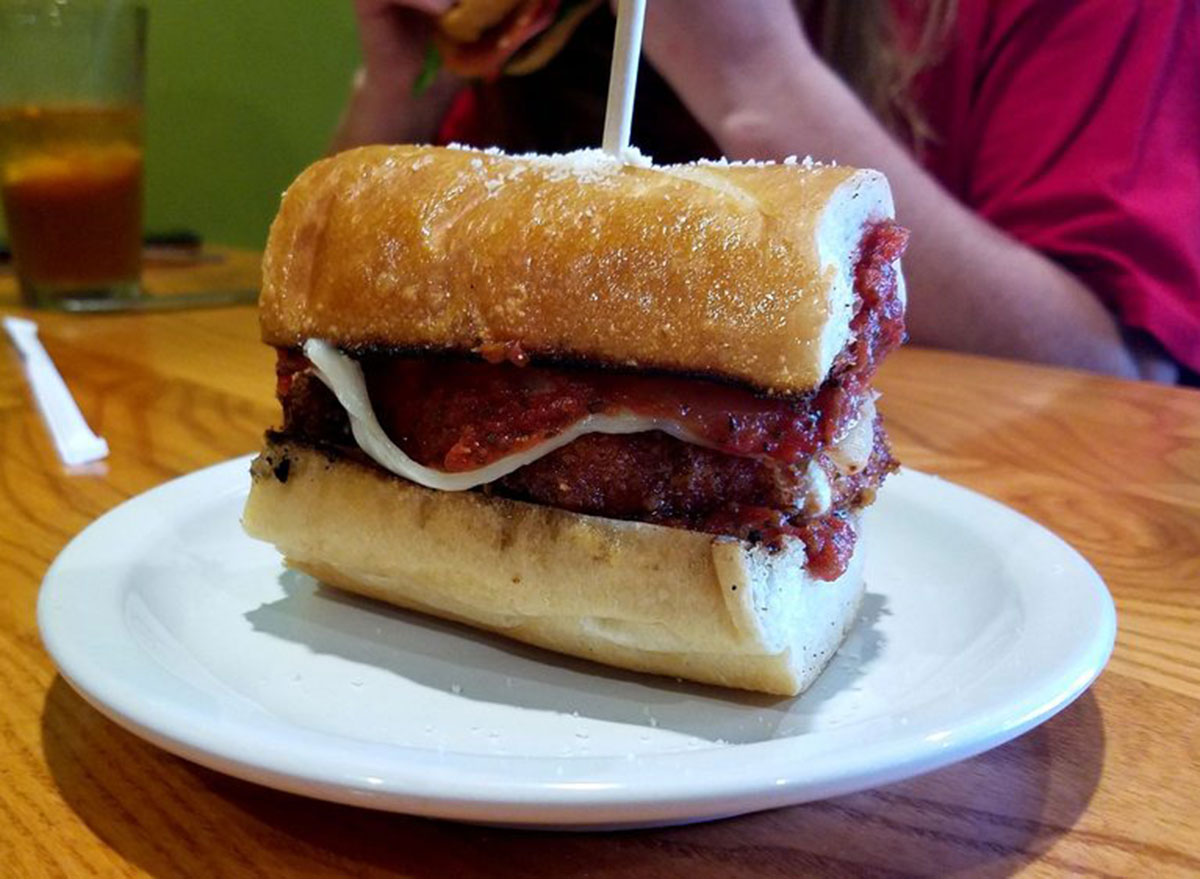 Hand-breaded and smothered in cheese and sauce, Renzo's chicken parm comes complete with an order of spaghetti marinara. If you are looking to end your meal with a decadent dessert, go ahead and try an order of their tiramisu, which is made with layers of mascarpone, espresso, and subtly sweet ladyfinger cookies.
Related: 15 Ways to Make Your Favorite Meals Meatless
CALIFORNIA: Frankie's on Melrose in Hollywood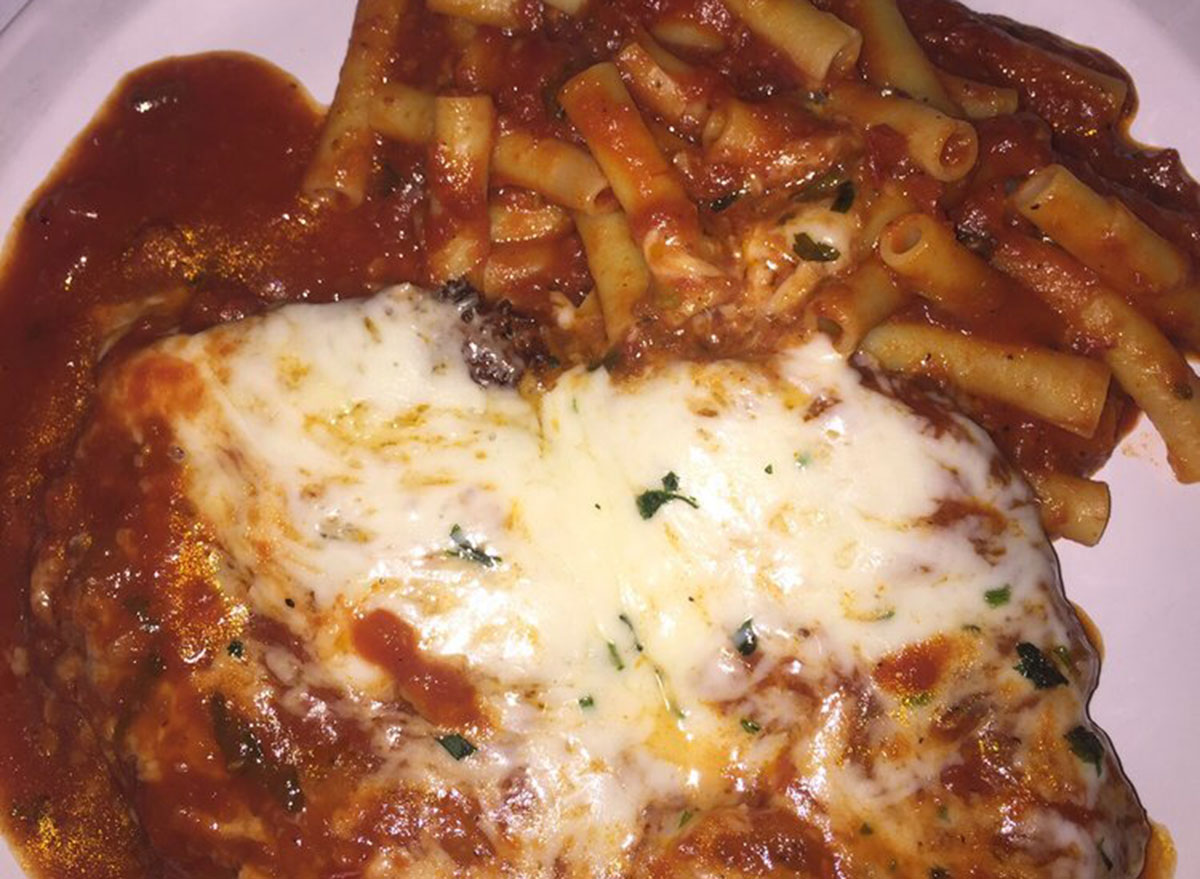 The chicken parm dish at Frankie's on Melrose, the old-school Italian restaurant just a short drive from the Los Angeles County Museum of Art, is definitely one to write home about. Rich and flavorful, this fan-favorite comes with a choice of either the vegetable of the day or pasta marinara.
COLORADO: Parma's Trattoria and Mozzarella Bar in Louisville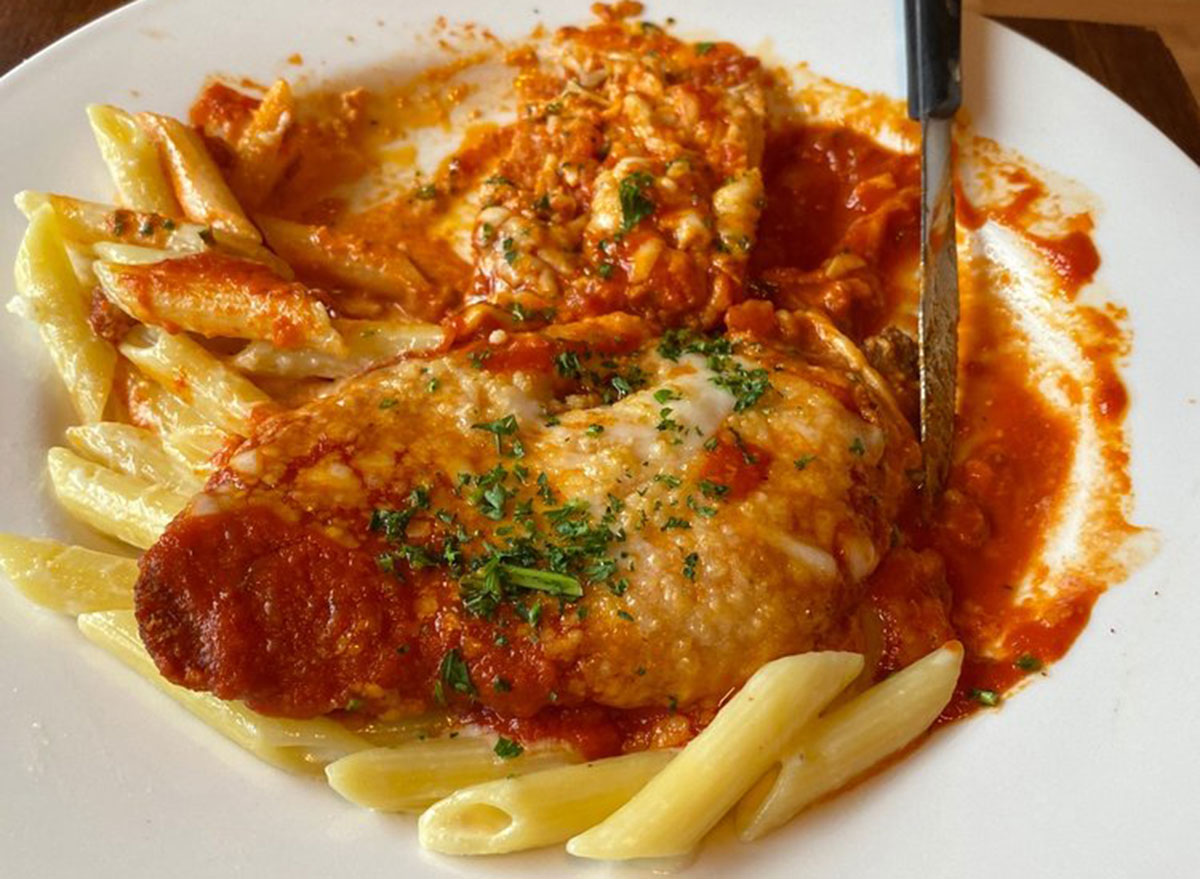 Parma's menu is packed with a variety of Italian meats and cheeses, innovative pasta dishes, and delicious entrees that will keep you coming back for more. One of their most raved-about selections is their chicken parm, which comes with a warm side of penne Alfredo. Even better? Parma sources organic ingredients from local farmers to help make their creations.
CONNECTICUT: Salute in Hartford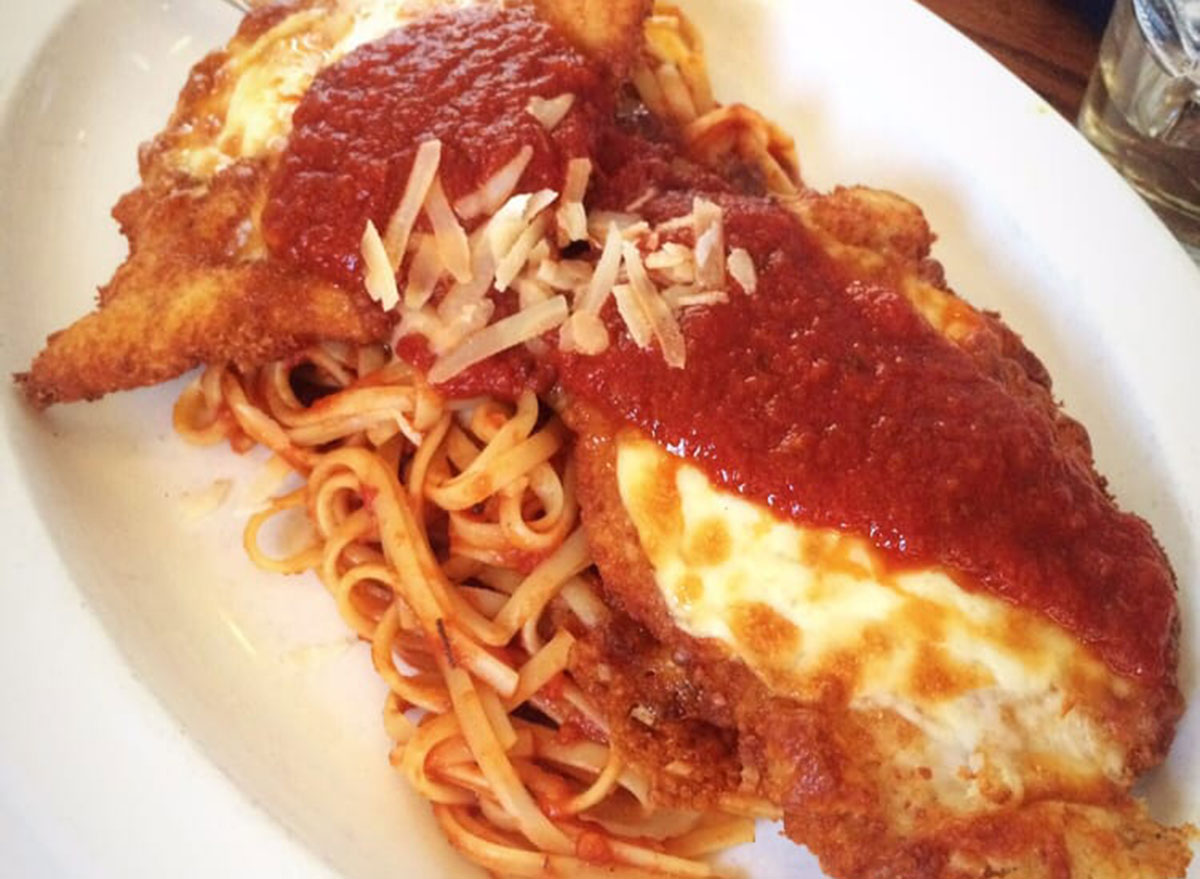 This downtown Hartford Italian restaurant, outfitted in contemporary decor, is lauded for its superb chicken parm.
DELAWARE: Scalessa's in Wilmington
Scalessa's, nestled just steps away from Trolley Square, offers amazing Italian fare including baked gnocchi, lasagna, and a Sunday gravy that grandma would be proud of. One of their must-try dishes is their chicken parm, which is made using provolone cheese and oregano.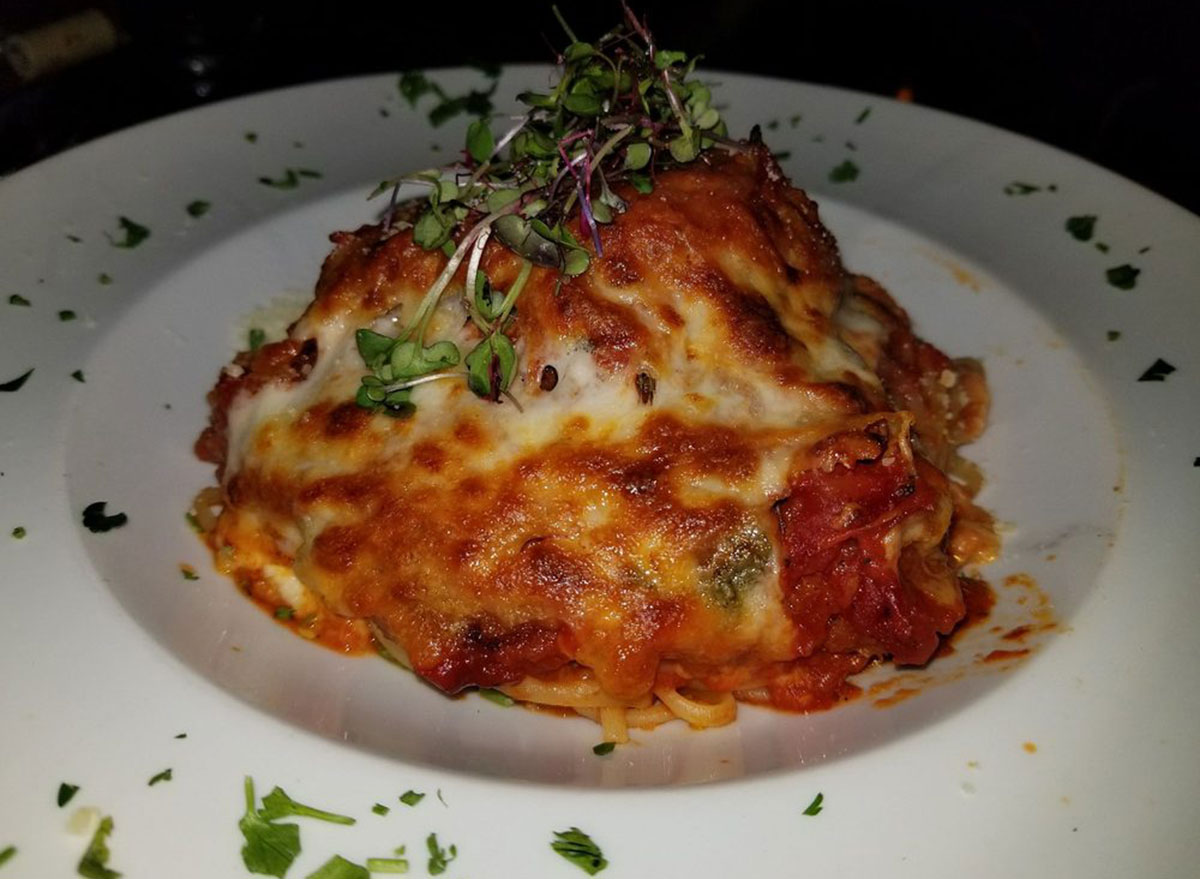 Crust, the Florida restaurant that was named one of the Top 100 Restaurants of 2019 by OpenTable, makes a chicken parm and linguine entree that people can't stop talking about. Their limoncello cake, a delicious dessert made with Sicilian lemon-infused cake, Italian mascarpone, and white chocolate shavings, is a great accompaniment to it.
GEORGIA: Gio's Chicken Amalfitano in Atlanta
Gio's Chicken Amalfitano has a menu that features popular chicken dishes from the Amalfi Coast. One of their most talked about is the chicken parmesan.
HAWAII: Ferraro's Bar e Ristorante at the Four Seasons Resort Maui at Wailea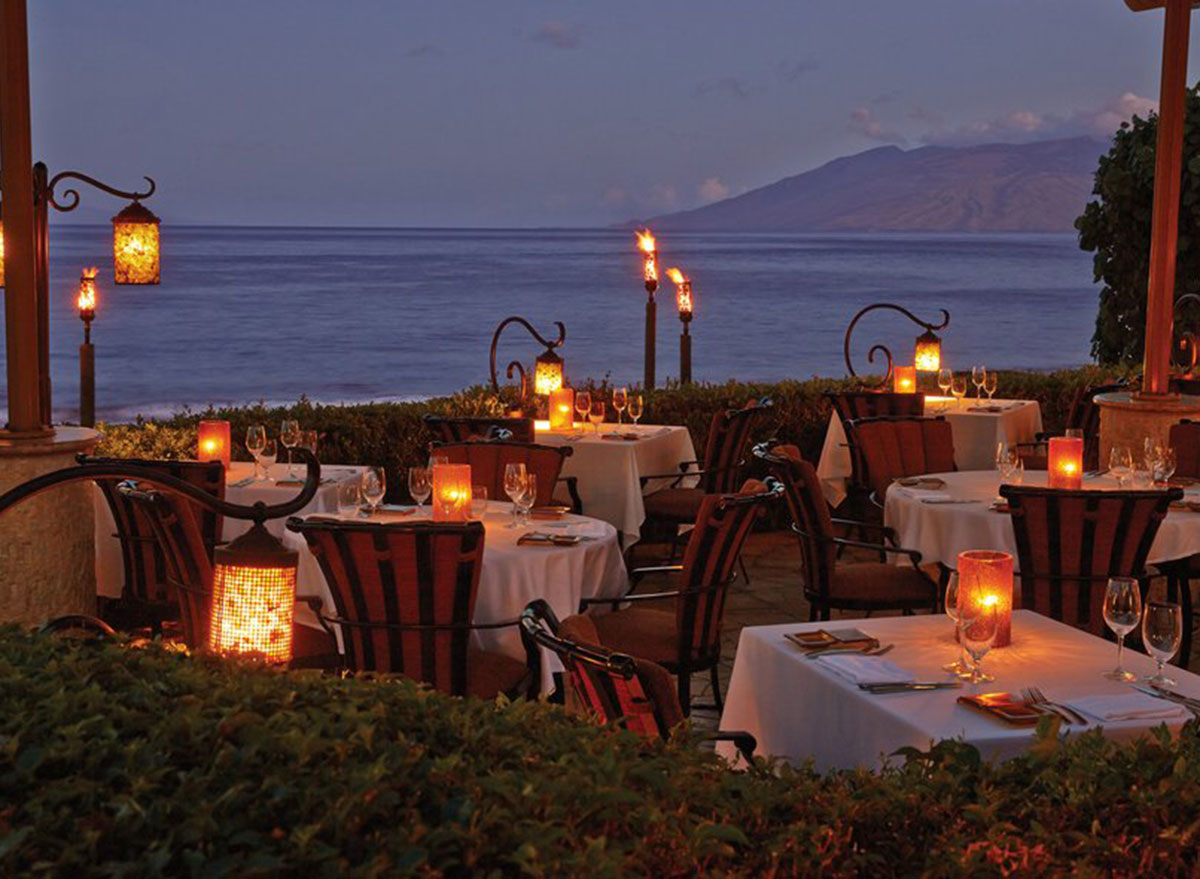 At Ferraro's Bar e Ristorante, the Four Seasons's fine dining restaurant in Maui, you can eat delicious chicken parm oceanside while listening to live music—what could be better?
IDAHO: Luciano's in Boise
Walk, don't run, to Luciano's in Boise, one of Idaho's most beloved neighborhood Italian restaurants which serves Tuscan-inspired cuisine. Their chicken parm is so good that it has been described by some Yelp reviewers as "unreal."
ILLINOIS: Volare Ristorante Italiano in Chicago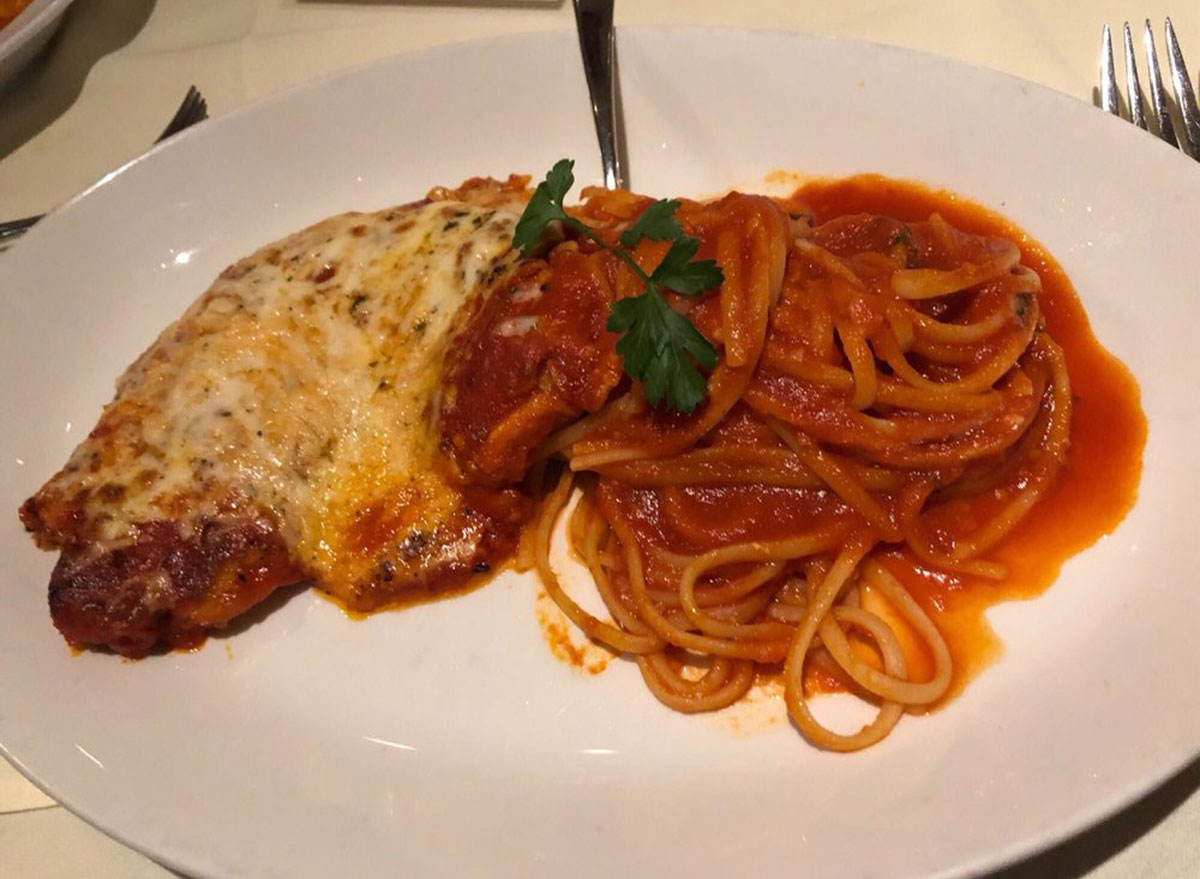 The chicken parmigiana at Volare in Chicago is lip-smackingly good and pairs well with their homemade ricotta almond cheesecake that is topped with caramelized apples.
INDIANA: Mama Carolla's in Indianapolis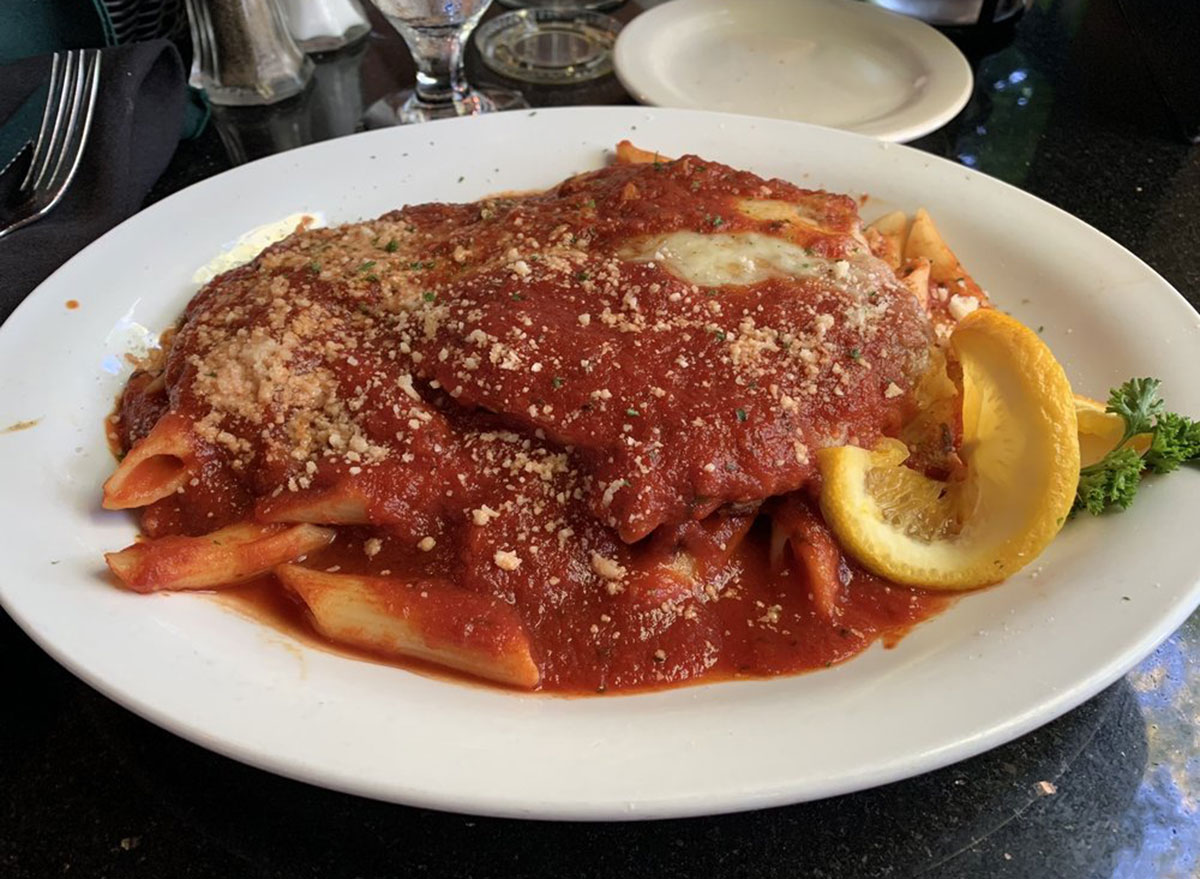 Mama Carolla's, the buzzy Italian restaurant housed in a beautiful stucco villa, has a full bar, a garden, and some mouthwatering Sicilian-style chicken parm that you cannot miss.
IOWA: Biaggi's Ristorante Italiano in Des Moines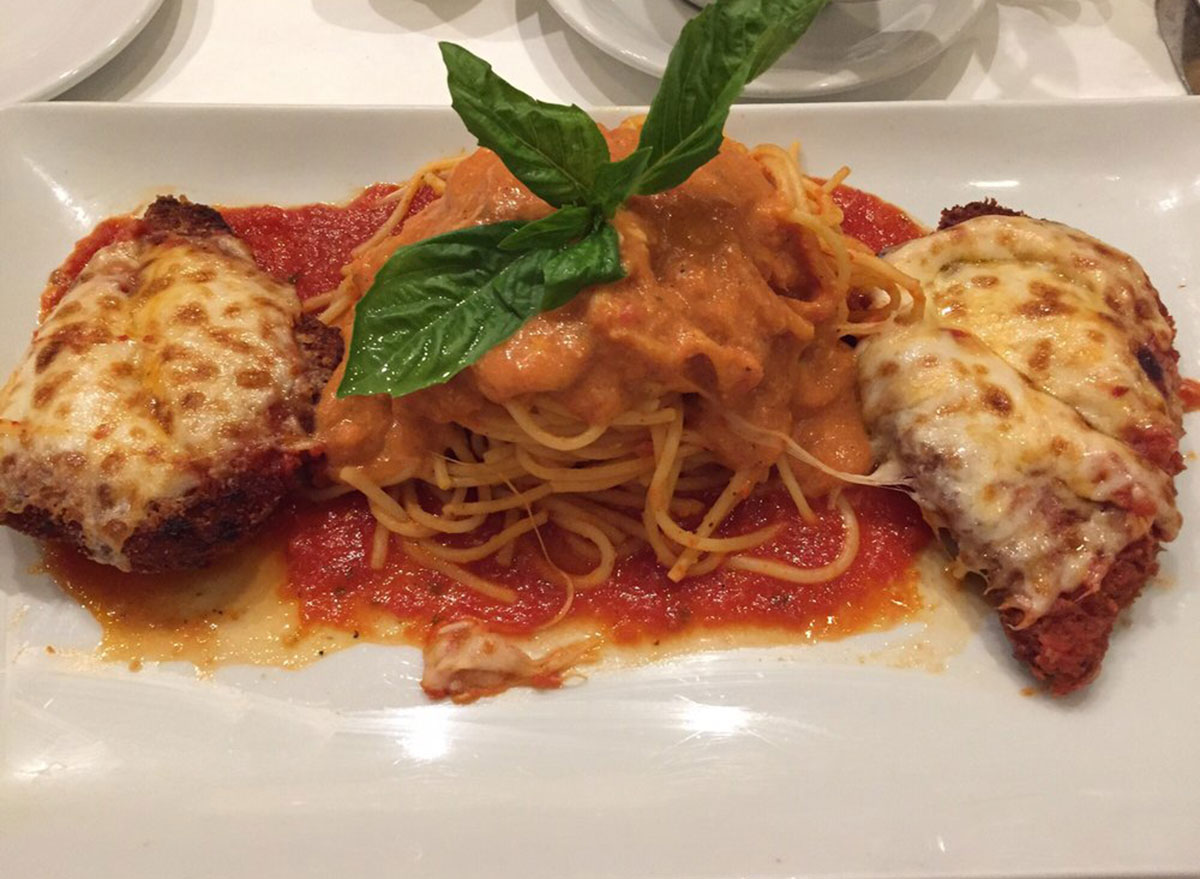 Crispy and cooked to perfection, Biaggi's chicken parm meal is a must-try if you are in the Des Moines area.
KANSAS: Topeka Pizza in Topeka
Topeka Pizza makes a chicken parm pizza pie that is heaping with melted cheese, mouthwatering sauce, and delicious breaded chicken.
KENTUCKY: Silvio's in Louisville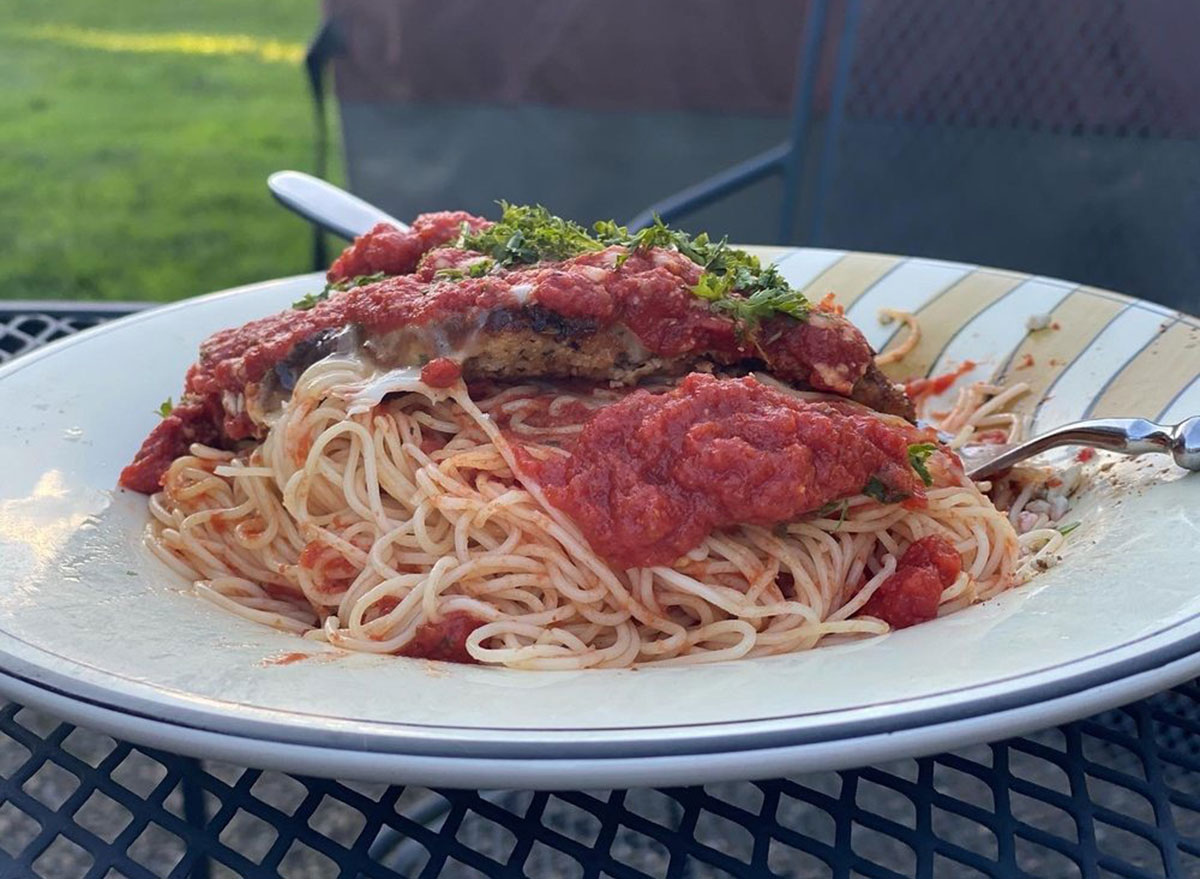 Since 2015, Silvio's has been serving the Louisville community Italian food you will definitely want to write home about. Their chicken parm, which is served with your choice of pasta, joins other tasty classics, such as shrimp scampi and pasta fagioli on the menu.
LOUISIANA: Vincent's Italian Cuisine in New Orleans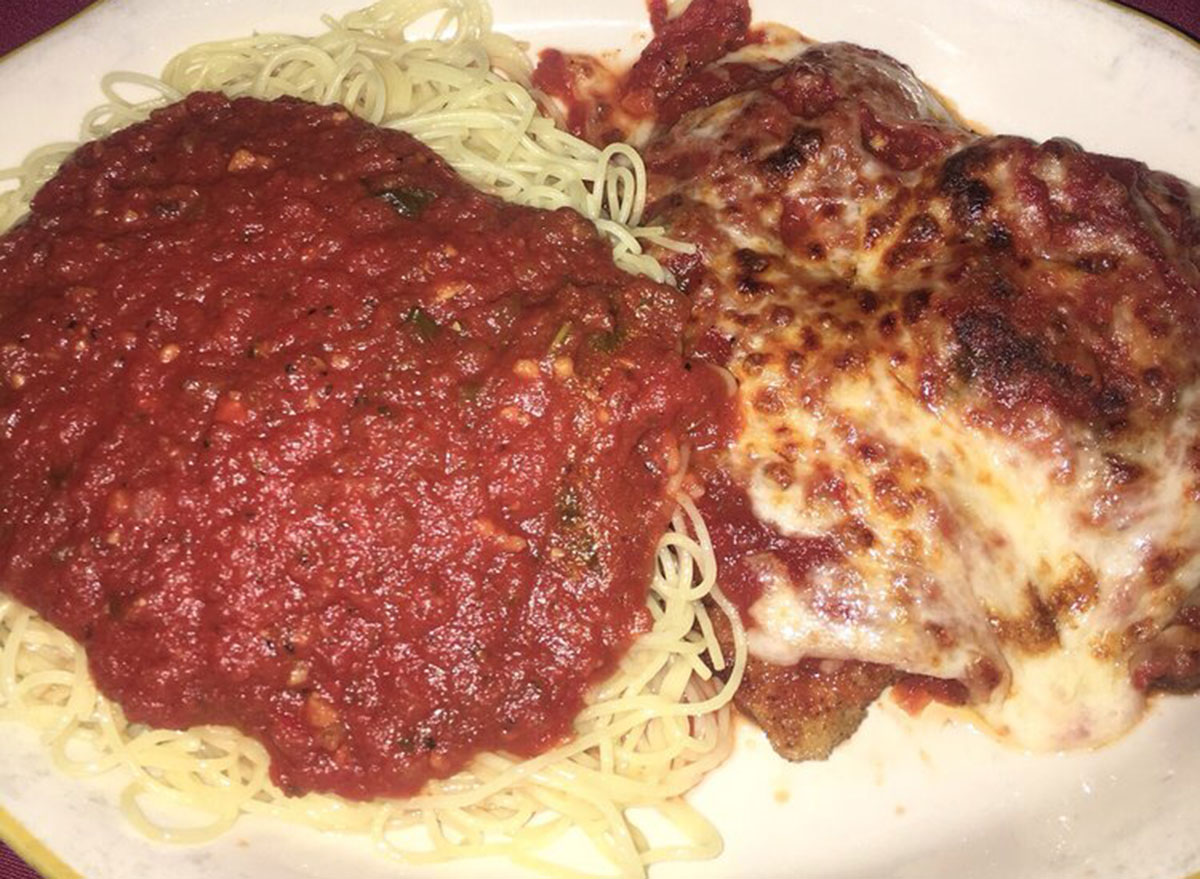 Founded in 1989, Vincent's Italian Cuisine in New Orleans makes a scrumptious chicken parm using panéed chicken, melted mozzarella cheese, red sauce and is served on a bed of perfectly cooked angel hair pasta. We also love that Vincent's has not one, but two, easy-to-get-to locations.
MAINE: Lena's Italian Comfort in Portland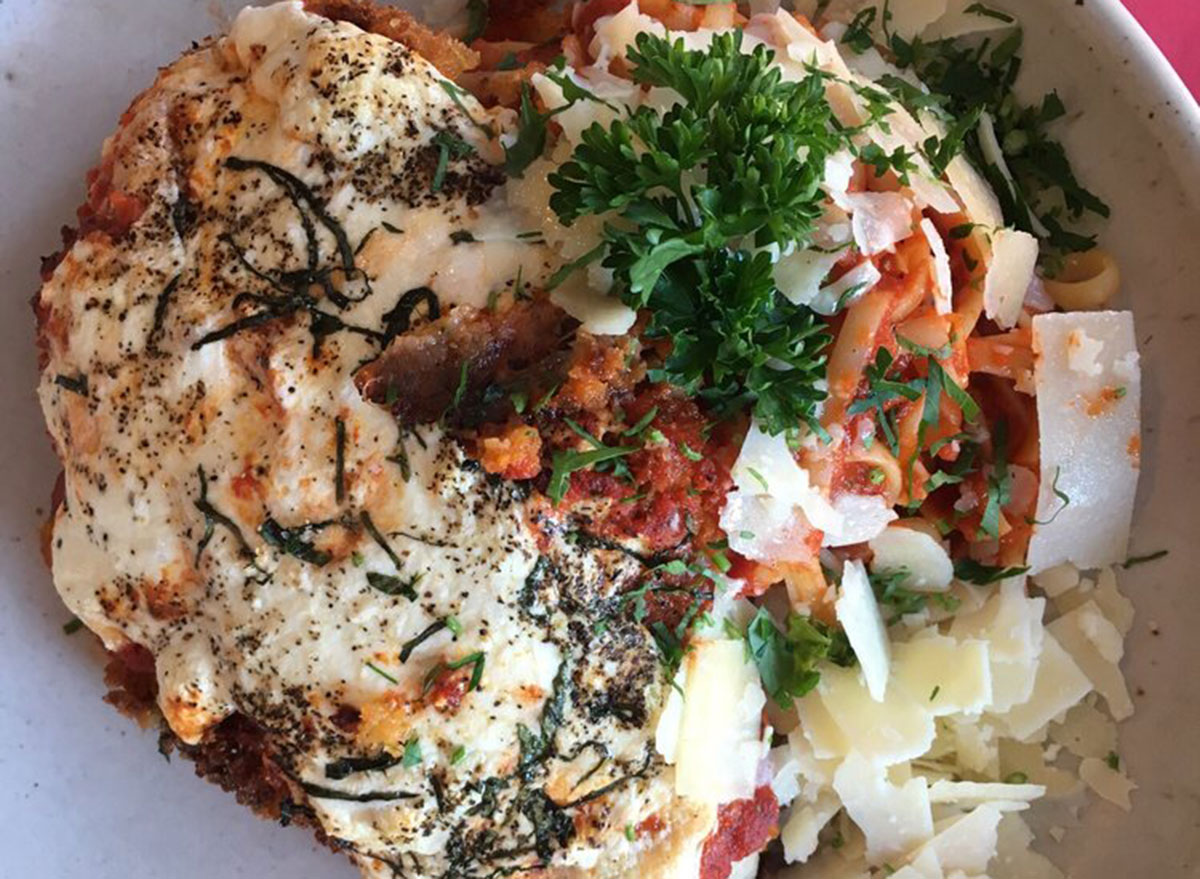 During the evening the Portland Pottery Cafe converts into Lena's Italian Comfort, a cozy eatery that is known for its flavorful Italian offerings, such as homemade meatballs, beef and sausage lasagna, and one of their most talked-about dishes: chicken parm. Be sure to grab a slice of their chocolate caramel cake or a few of their polenta butter cookies before you leave to really end the night right.
MARYLAND: Brendali in Baltimore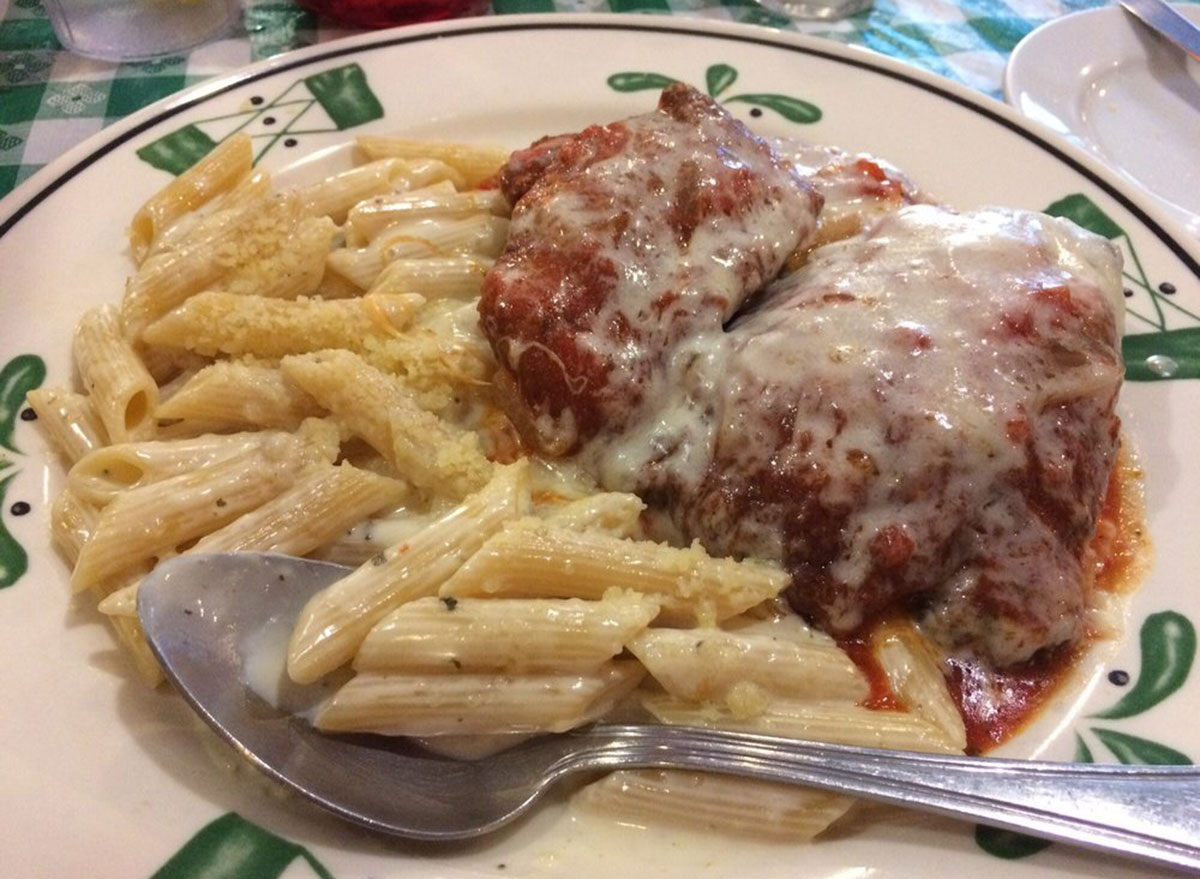 Open for dinner Monday through Sunday, Brendali is a perfect spot for tasty Italian food for an affordable price. For instance, their chicken parm entree is not only a tried and true favorite but is also under $14. If sandwiches are more your thing, you can also get their chicken parm as a sub.
MASSACHUSETTS: Carmelina's in Boston
If you are looking for scrumptious Sicilian comfort food prepared with a Mediterranean flair, then look no further than Carmelina's in Boston. Smoked mozzarella and al dente rigatoni give their classic chicken parm entree a little extra "oomph" that will definitely have you coming back for more.
MICHIGAN: Pop's For Italian in Detroit
Pop's For Italian in Detroit cooks up huge servings of mouth-watering chicken parm that's been described by Yelp reviewers as "to die for," "amazing," and "massive." Sign us up!
MINNESOTA: Mucci's Kitchen in Saint Paul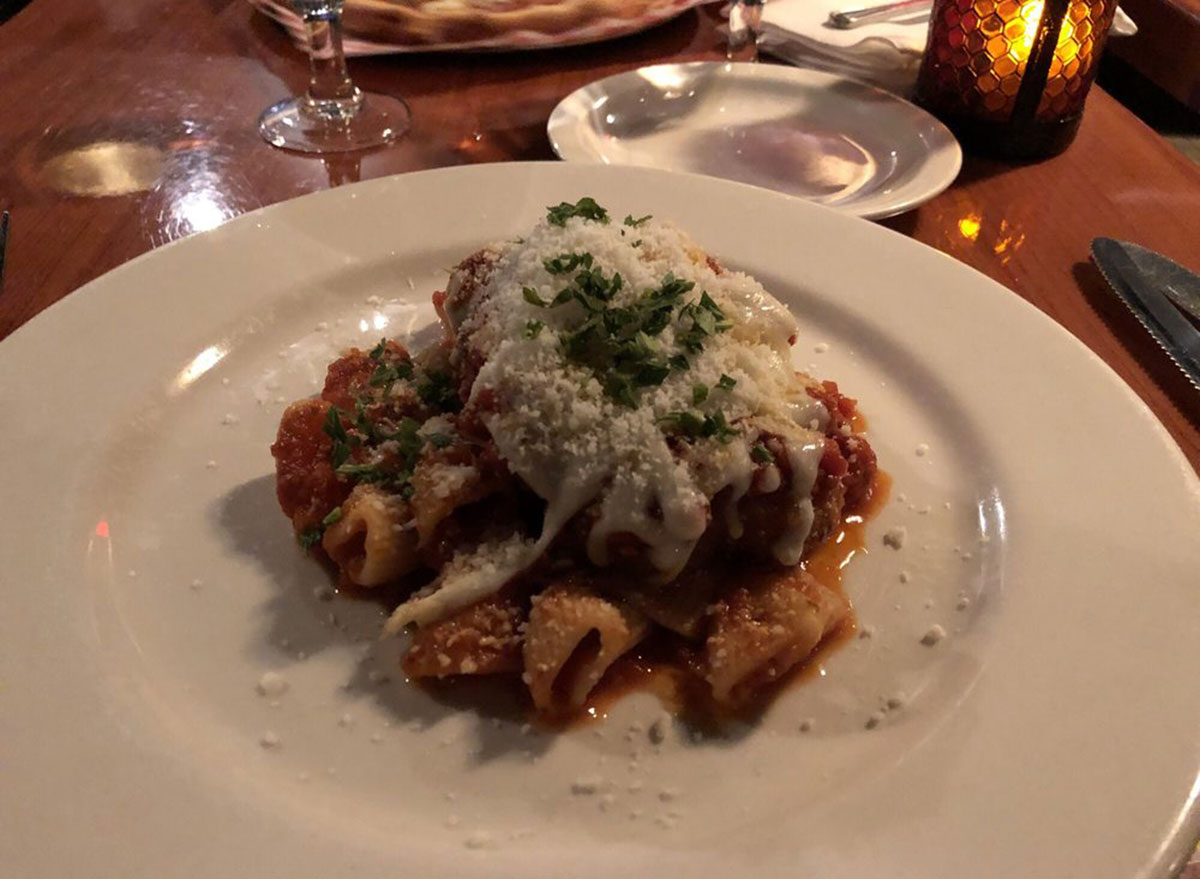 Mucci's makes one of St. Paul's best chicken parms using breaded chicken cutlets, Mucci's very own sauce, and pecorino. The delicious dish also comes with a side of spaghetti, so you know you will be leaving satisfied.6254a4d1642c605c54bf1cab17d50f1e
MISSISSIPPI: The Sicilian II in Biloxi
The Sicilian II in Biloxi was named the best Italian restaurant in Mississippi by MSN, and with their delicious chicken parm entree, we can understand why. Their chicken parm, which is hand-breaded and lightly pan-fried, is served with a heaping side of perfectly prepared spaghetti.
MISSOURI: Cascone's Italian Restaurant in Kansas City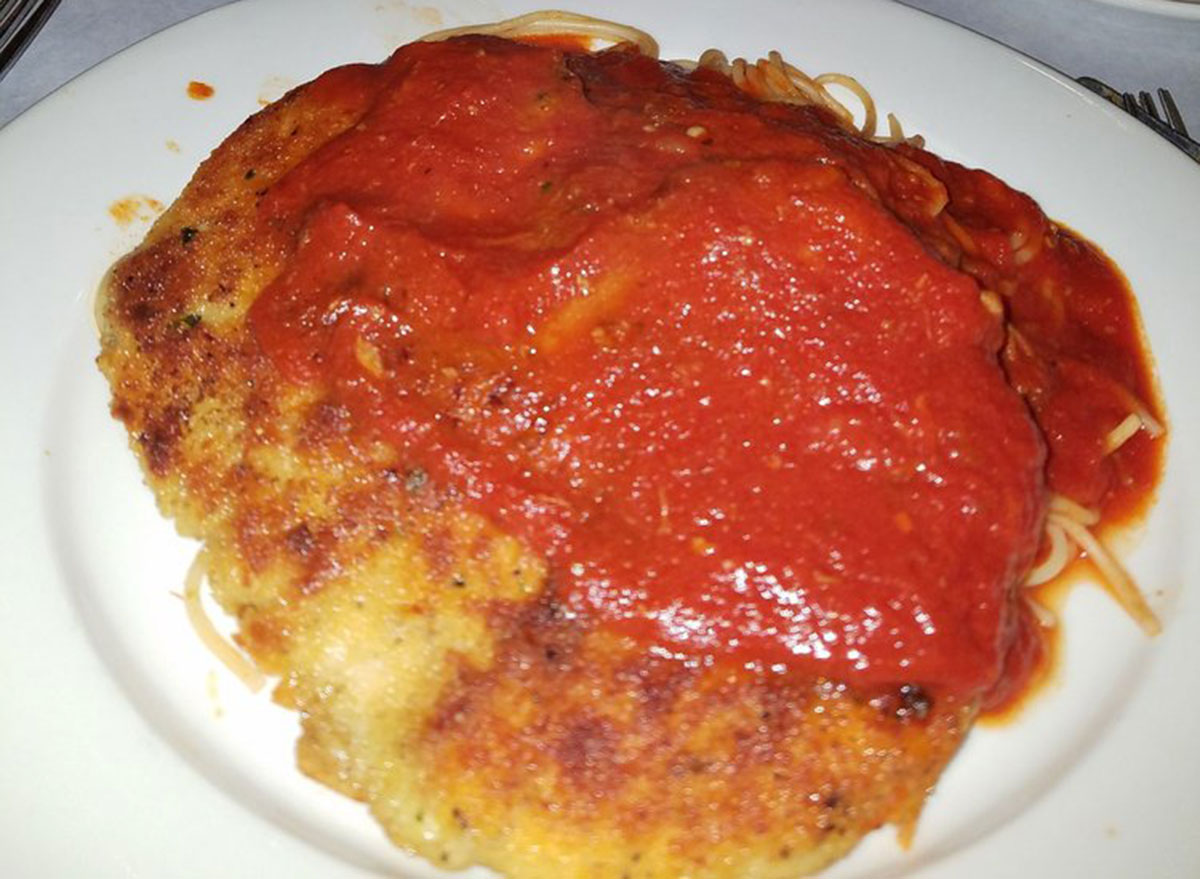 Since 1954, the family-owned Cascone's has been providing the Kansas City community with an exciting variety of Italian cuisine, including gnocchi alla vodka, veal limonata, and chicken parmigiana. We also love how diners have the option to substitute the dish's red sauce for a creamy Alfredo instead if they want to try something new.
MONTANA: On Broadway in Helena
On Broadway in Helena, creates a chicken dish reminiscent of chicken parm that has restaurant-goers raving. It's called "Chicken Broadway" and it is basically a reimagined classic that is bursting with even more flavor: Breaded chicken is layered with fresh mushrooms and Monterey Jack cheese, baked in a mornay sauce, and then smothered with melted mozzarella. The side of pesto linguine it is served with really is the cherry on top.
NEBRASKA: Spezia in Omaha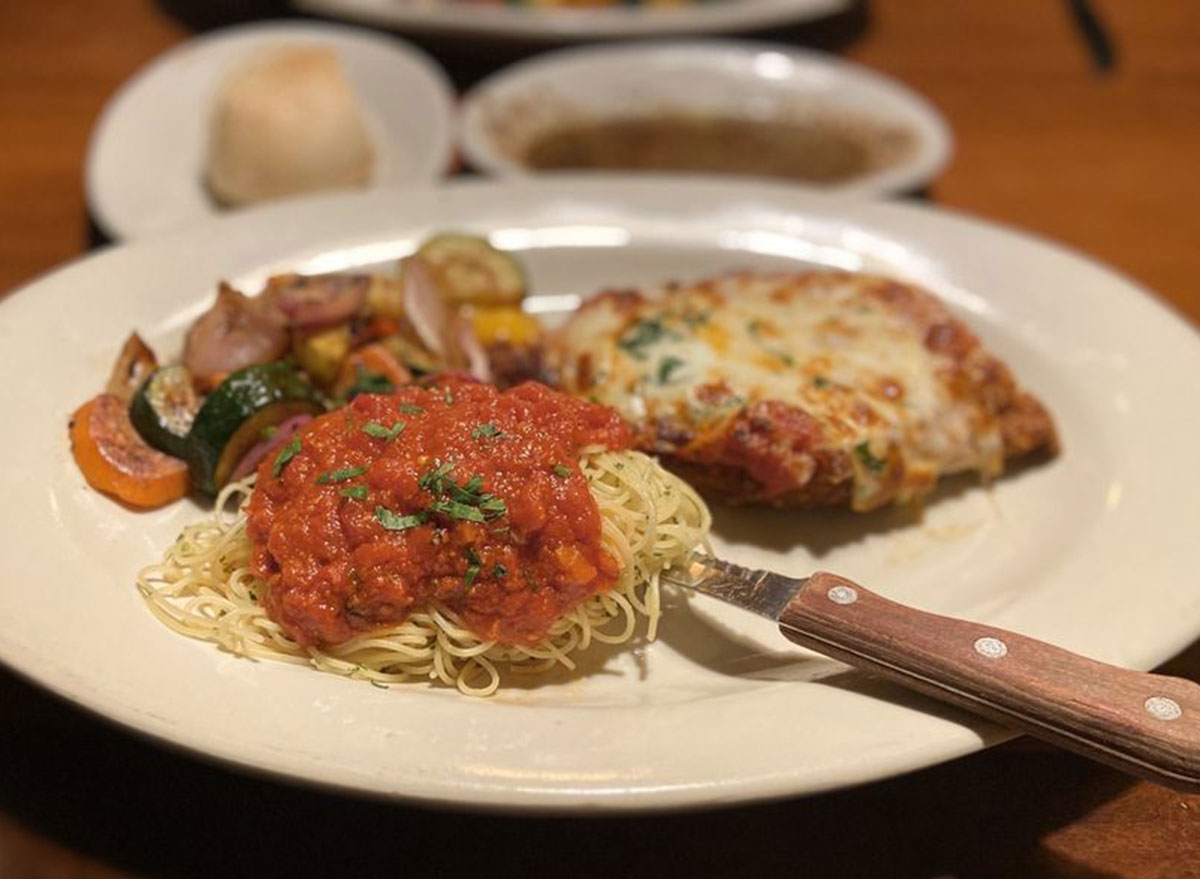 Spezia's flavorful chicken parm is made fresh using local, free-range chicken breast, tomato sauce, fresh mozzarella, parmesan cheese, and a filling serving of al dente capellini pasta.
NEVADA: Buddy V's Ristorante in Las Vegas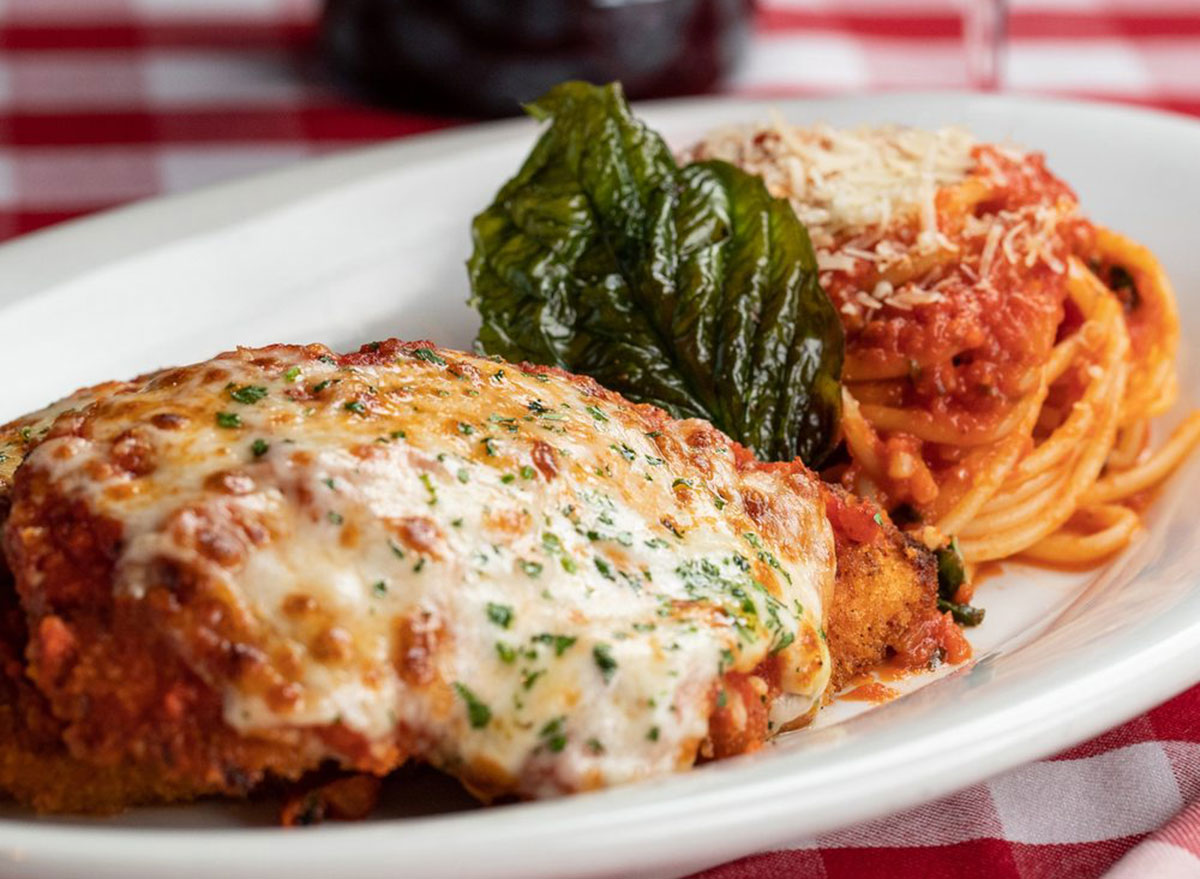 As it turns out, Cake Boss's Buddy Valastro doesn't know just a thing or two about cakes, but he knows a lot about Italian cooking also. Buddy V's Ristorante in Las Vegas offers a long menu of innovative Italian dishes, such as porcini mashed potatoes, Buddy's Caprese, and macaroni and cheese carbonara. A fan favorite, however, is their oven-baked chicken parm which is made using two types of cheeses—provolone and mozzarella.
NEW HAMPSHIRE: Mangia in Manchester
Mangia in Manchester is a quaint neighborhood restaurant that has been making delectable Italian dishes, such as their chicken parm, since 2005. Made with roasted garlic and thinly sliced chicken cutlets, this dish is definitely a memorable one.
NEW JERSEY: Laico's in Jersey City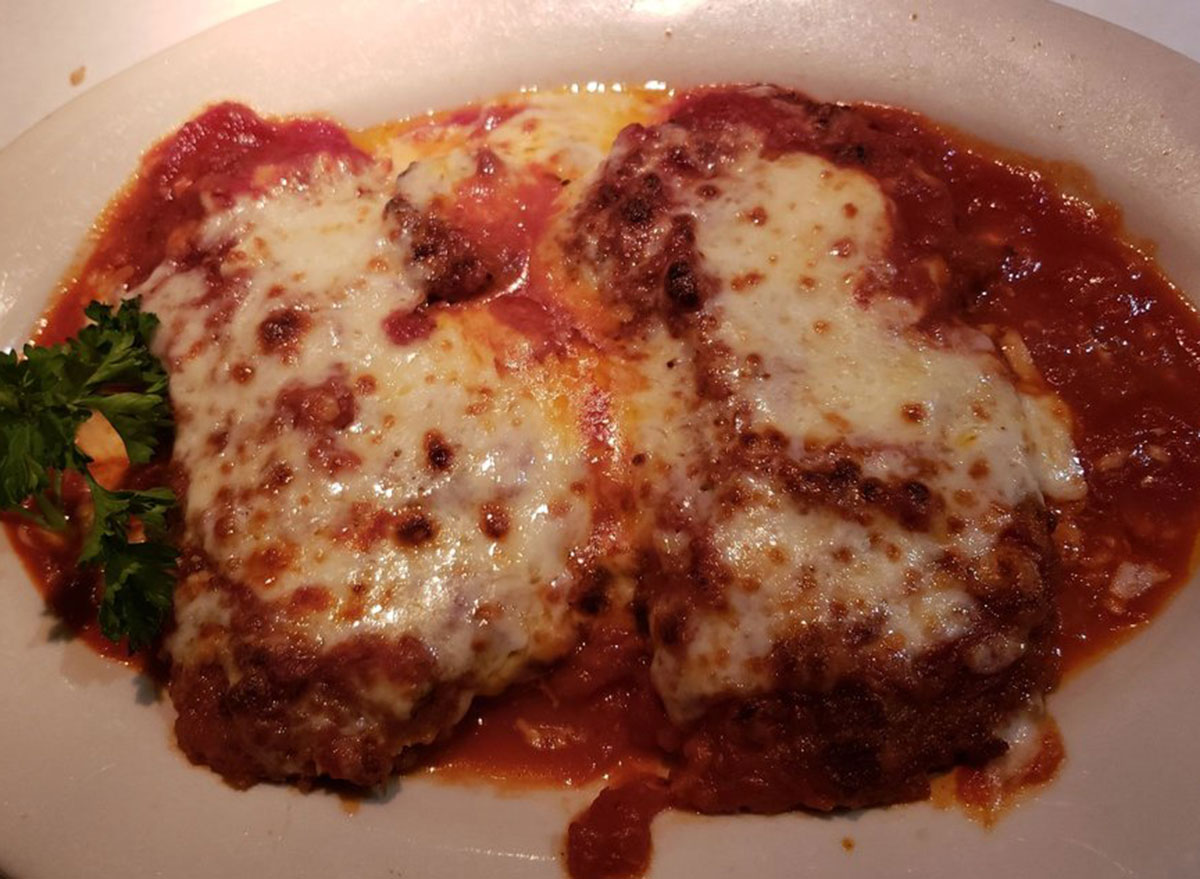 Run, don't walk, to Laico's, Jersey's very own Italian fine dining restaurant that has been a community staple since the 1970s. We love how their chicken parm is available to order alone or as a combination platter alongside their homemade eggplant parm.
NEW MEXICO: Piccolino in Santa Fe
At Piccolino in Santa Fe, you can enjoy a piping hot serving of chicken parm family-style on an old-school checkerboard tablecloth. Their extensive menu also guarantees that you will find something for everyone.
NEW YORK: Da Nico Ristorante in New York City
Found right in the center of New York City's Little Italy, the family-owned and operated Da Nico has been cooking up Italian-American classics since 1993. You can't visit without trying their homemade chicken parmigiana.
NORTH CAROLINA: Gravy in Raleigh
Gravy in Raleigh makes a fabulous chicken parm using shredded mozzarella, parmesan-breaded chicken cutlets, and beautifully seasoned sauce. You can even request it to be gluten-free if you would like.
NORTH DAKOTA: Davoni's in Jamestown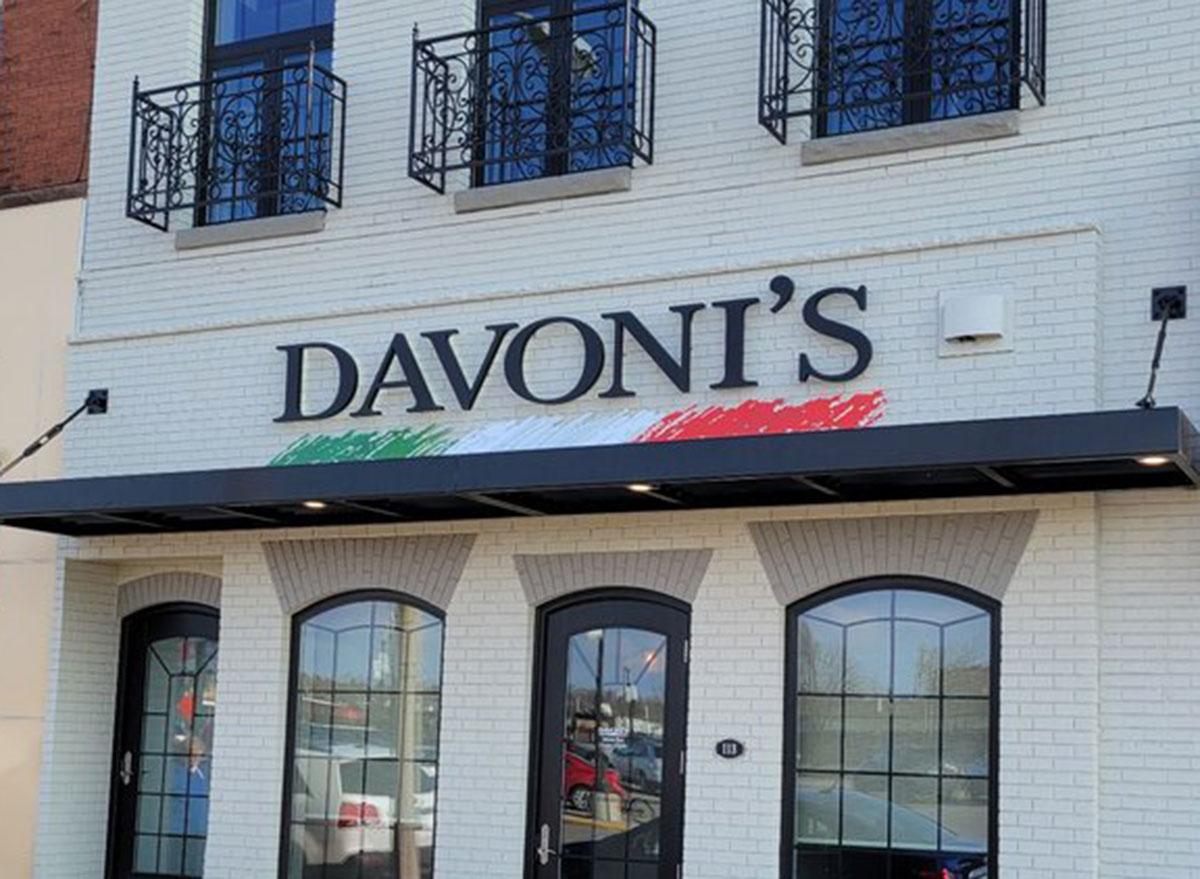 Davoni's, the popular rustic Italian restaurant in Jamestown, has a menu that features some of the best Italian cuisine found in North Dakota. One of their most popular dishes is their chicken parm which is served with angel hair pasta.
OHIO: Moretti's in Dublin
Moretti's, the popular Dublin, Ohio eatery, adds a bit of pizzazz into their beloved chicken parm recipe by incorporating mushrooms.
OKLAHOMA: Vito's Ristorante in Oklahoma City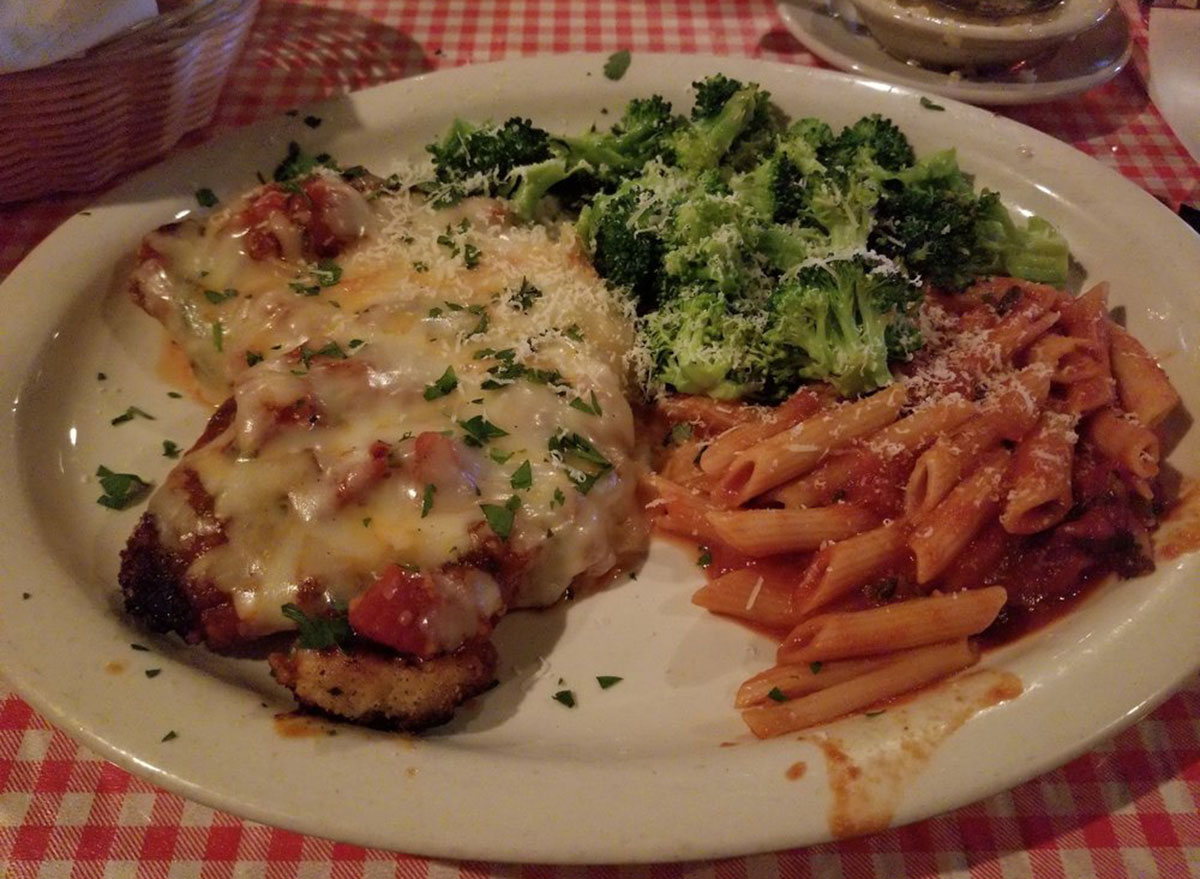 Family recipes, such as the one for chicken parm, have been passed down generations and truly take centerstage at Vito's Ristorante in Oklahoma City.
OREGON: Bocci's on 7th in Portland
This "boutique-style" restaurant uses quality ingredients to recreate some amazing Italian dishes. Their chicken parm entree is one of their standout dishes, and pairs well with an antipasto plate starter and some Italian panna cotta.
PENNSYLVANIA: Little Nonna's in Philadelphia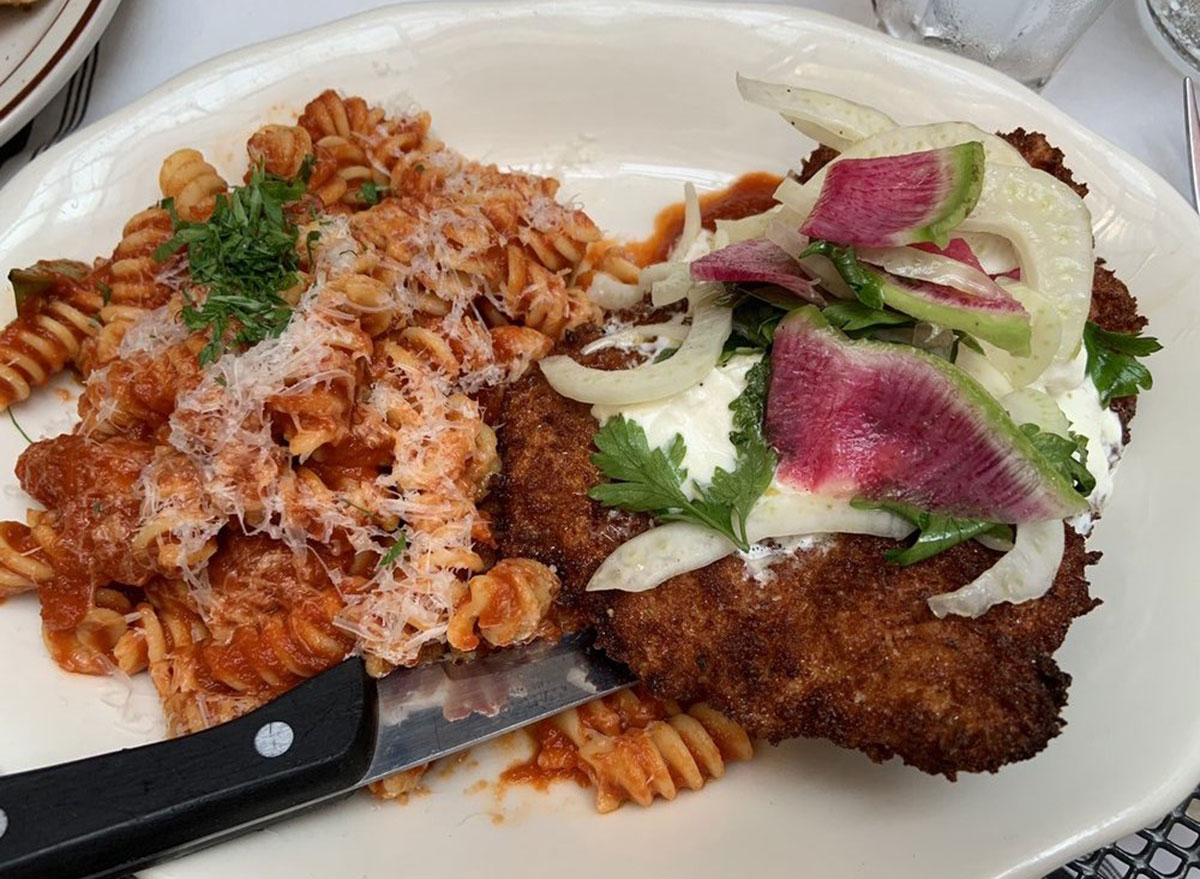 Little Nonna's inventive chicken parm entree comes complete with delicious marinara sauce, basil, creamy burrata, shaved radish and fennel salad, and the macaroni of the day.
RHODE ISLAND: Mike's Kitchen in Cranston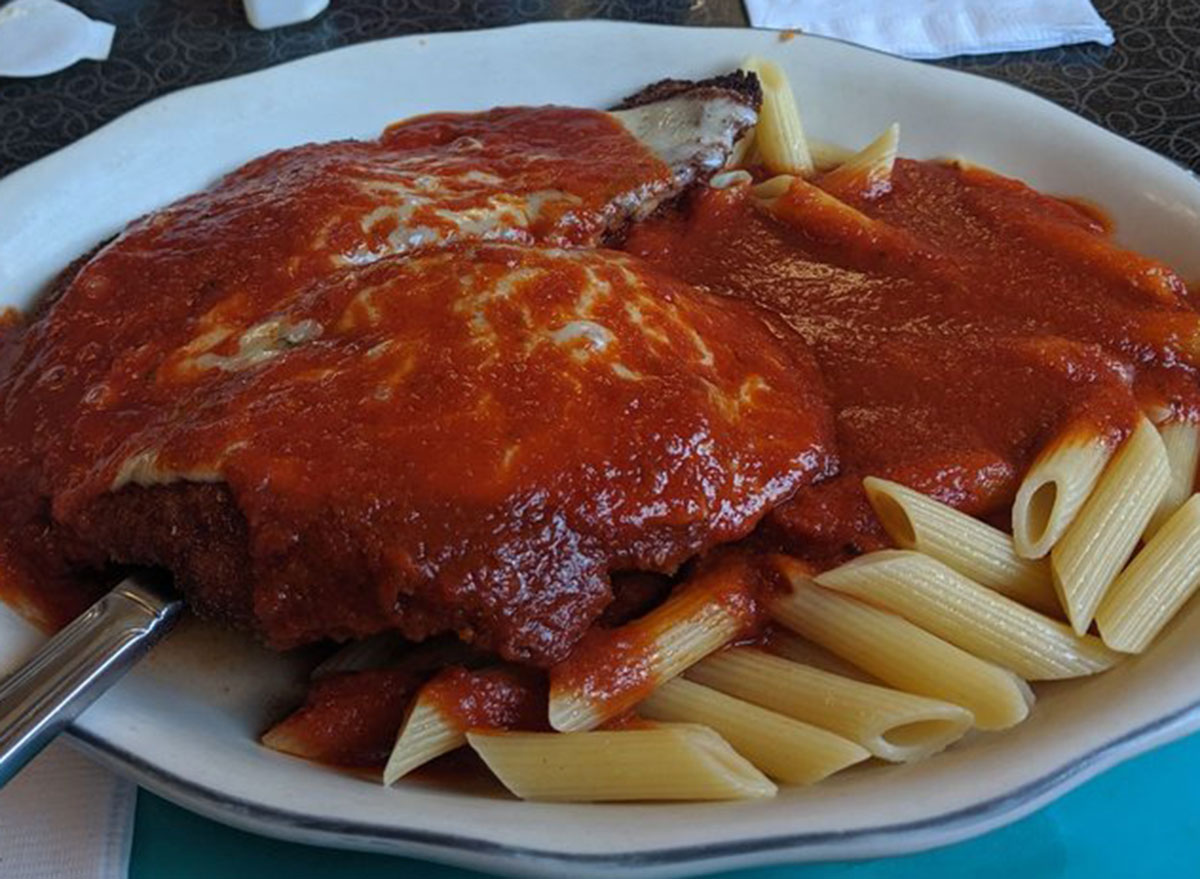 Rhode Island's best chicken parm is not found in a traditional restaurant, but instead in a VFW hall. Mike's Kitchen, which is situated in the Cranston VFW near the corner of Atwood Avenue and Randall Street, surprisingly serves up some of the neighborhood's best Italian fare, including classic chicken parm.
SOUTH CAROLINA: Mondo's Italian Restaurant in Charleston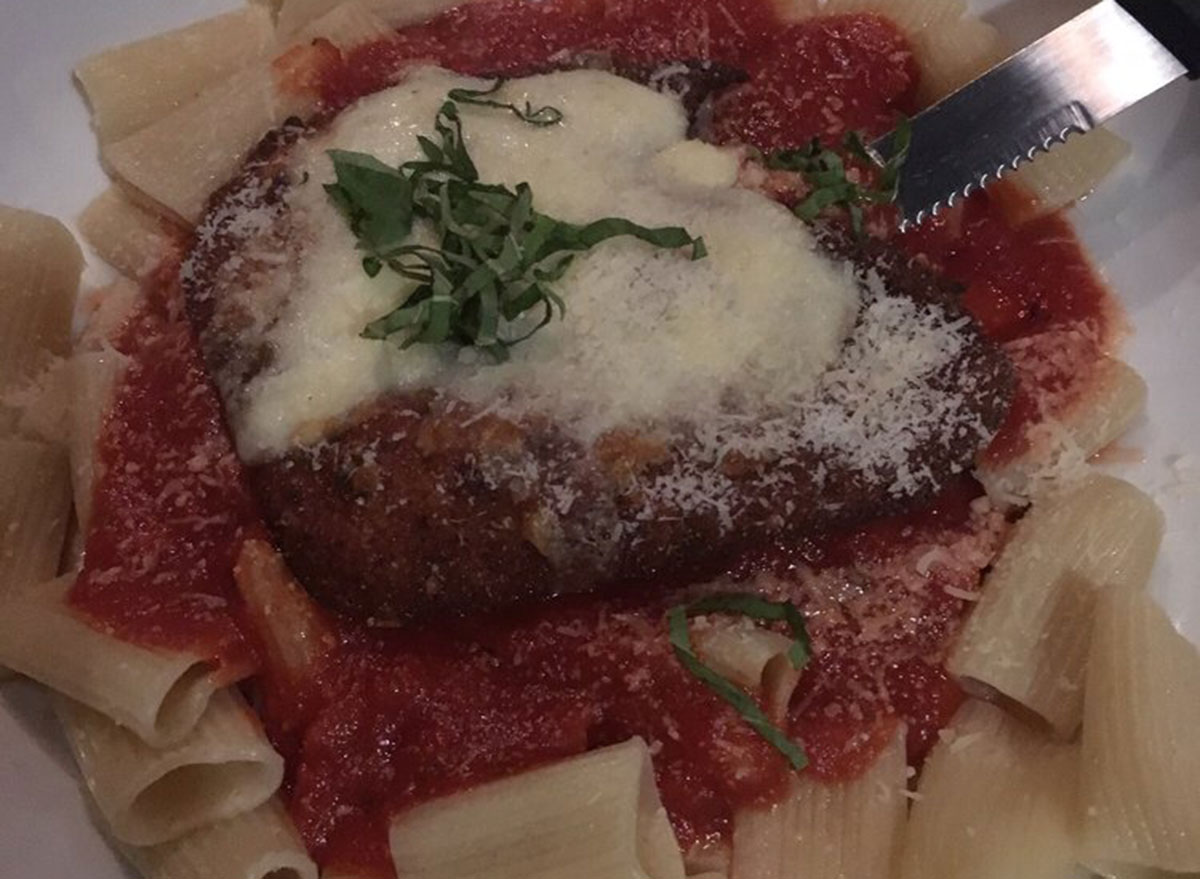 Served piping hot and over a bed of rigatoni pasta, Mondo's chicken parm may quickly become your go-to restaurant dish.
SOUTH DAKOTA: Piesano's Pacchia in Rapid City
Piesano's Pacchia in Rapid City injects a bit of their own unique flavor into their chicken parm sandwich by including a healthy serving of spinach.
TENNESSEE: Pastaria in Nashville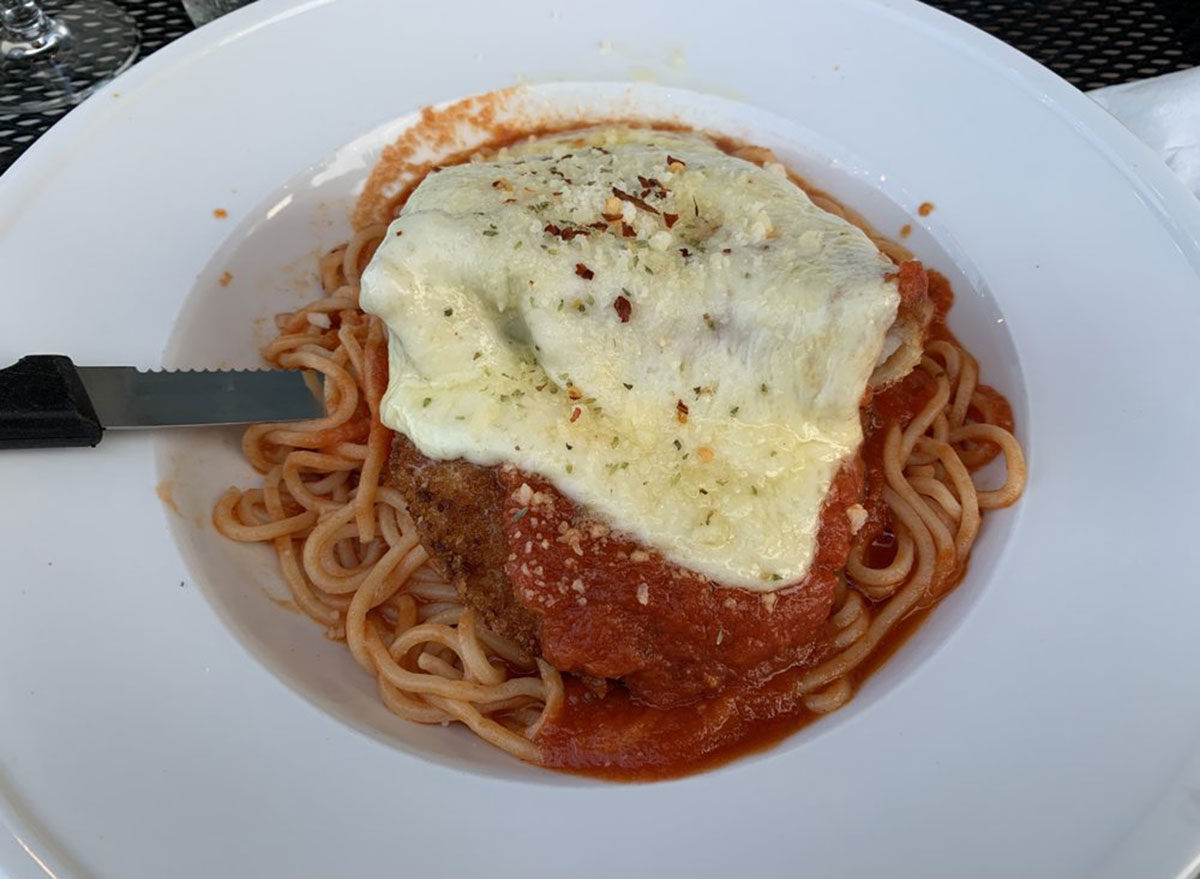 Pastaria gives classic chicken parm a creative spin by using crispy chicken breast, Grana Padano, tomato sauce, mozzarella, oregano, and chili and chitarra pasta.
TEXAS: Mandola's Deli in Houston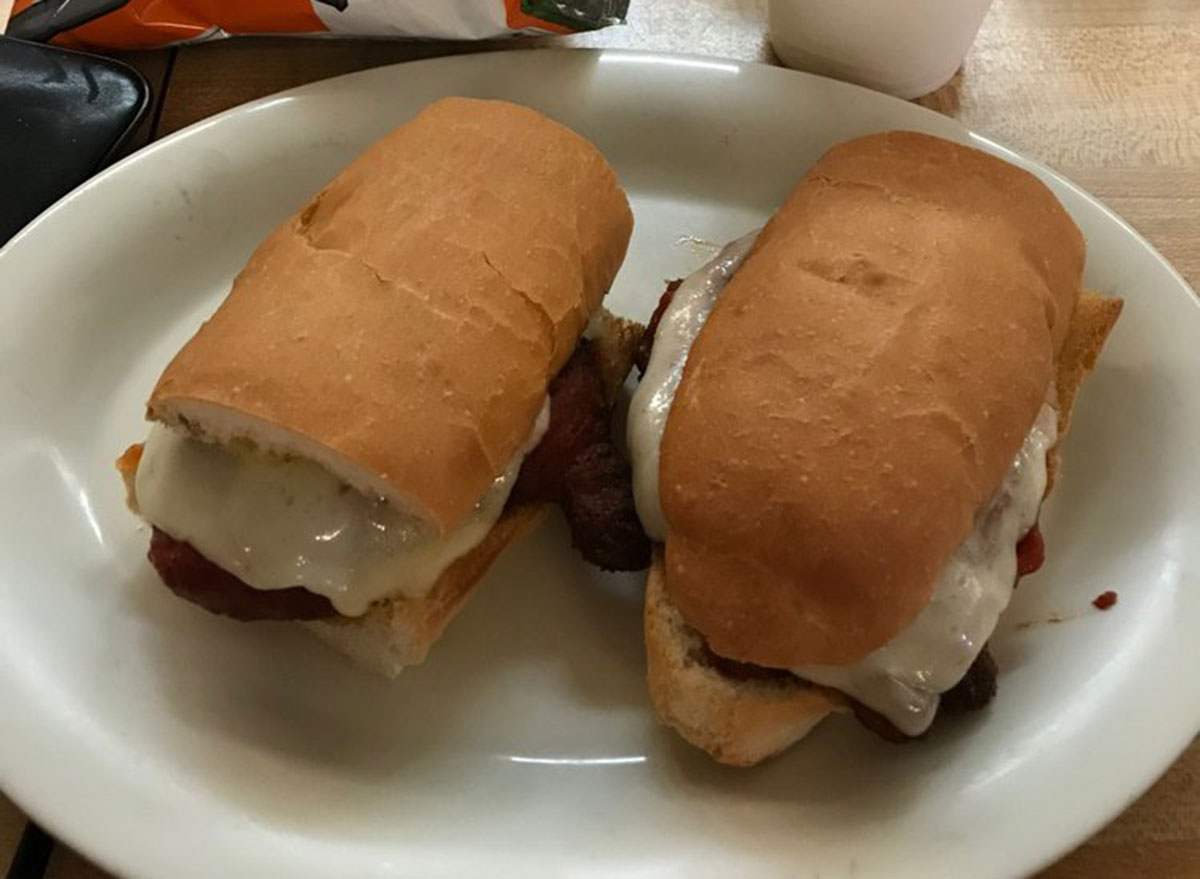 Mandola's Deli takes lip-smacking chicken parm and recreates it as a po' boy sandwich—this is one you cannot miss.
UTAH: Carmine's in Salt Lake City
Chef Carmine of Carmine's in Salt Lake City makes some of the best authentic Neapolitan dishes in town. A must-have is their chicken parm, which is made with marinara sauce, mozzarella cheese, and is served with spaghetti.
VERMONT: Sarducci's in Montpelier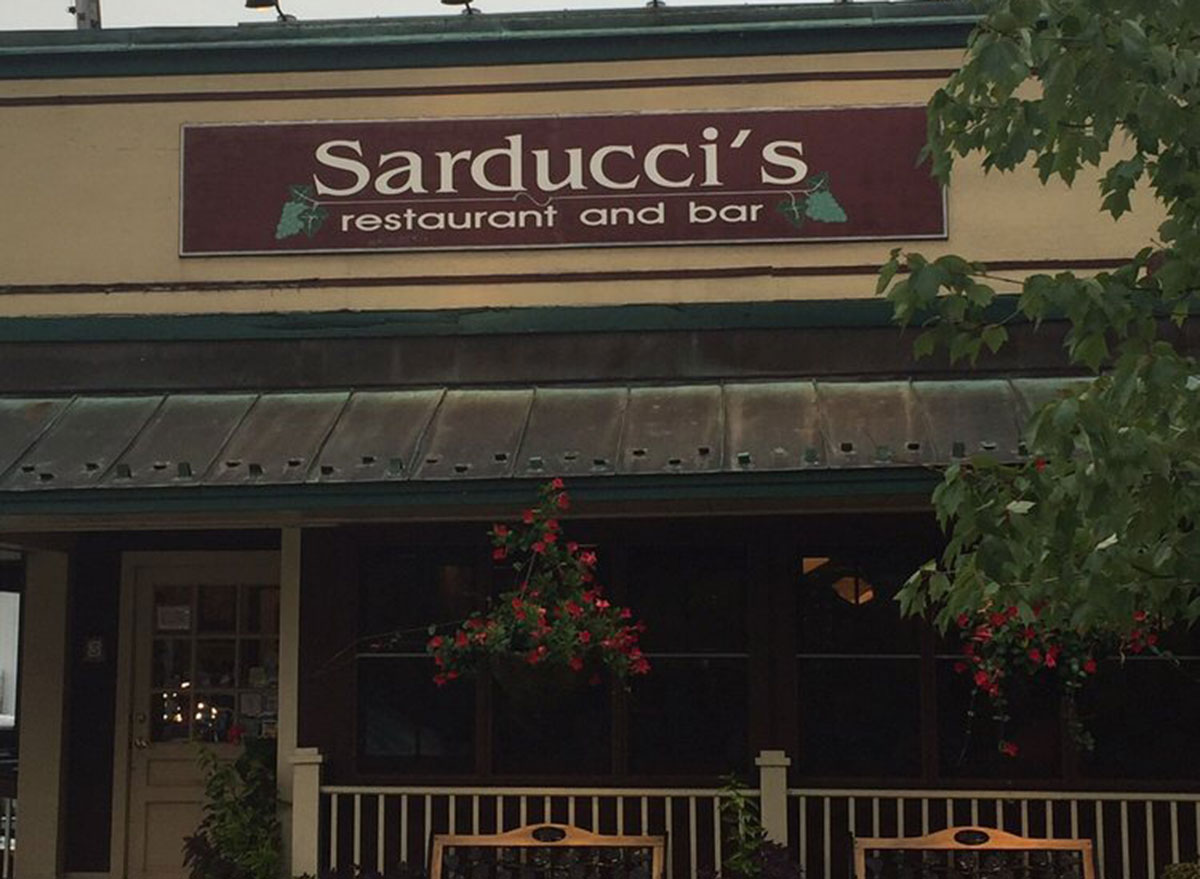 Seasoned to perfection, the chicken parm at Sarducci's in Montpelier will have you asking for seconds.
VIRGINIA: Mannino's Italian Bistro in Virginia Beach
The father and son chef team at Mannino's Italian Bistro in Virginia Beach whips up some award-winning Italian recipes that are truly unforgettable. One of our favorites is their chicken parm, which features parmesan breaded chicken breast baked with flavorful red sauce and is topped with melted mozzarella.
WASHINGTON: La Rustica in Seattle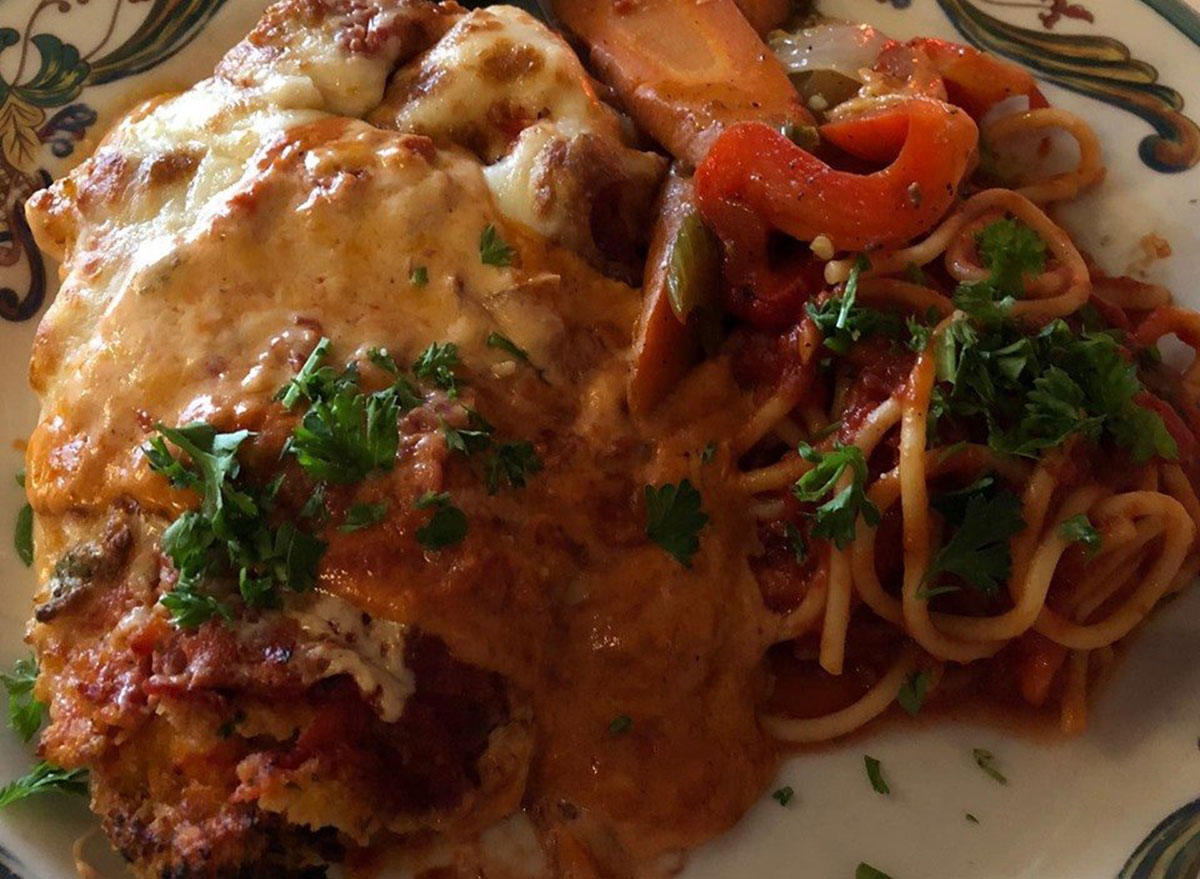 The husband and wife team behind La Rustica in Seattle serves up a delicious chicken parm, known as "Pollo Parmigiano," that's made using refreshing marinara sauce and cream parmigiano.
WEST VIRGINIA: Peppebroni's in Morgantown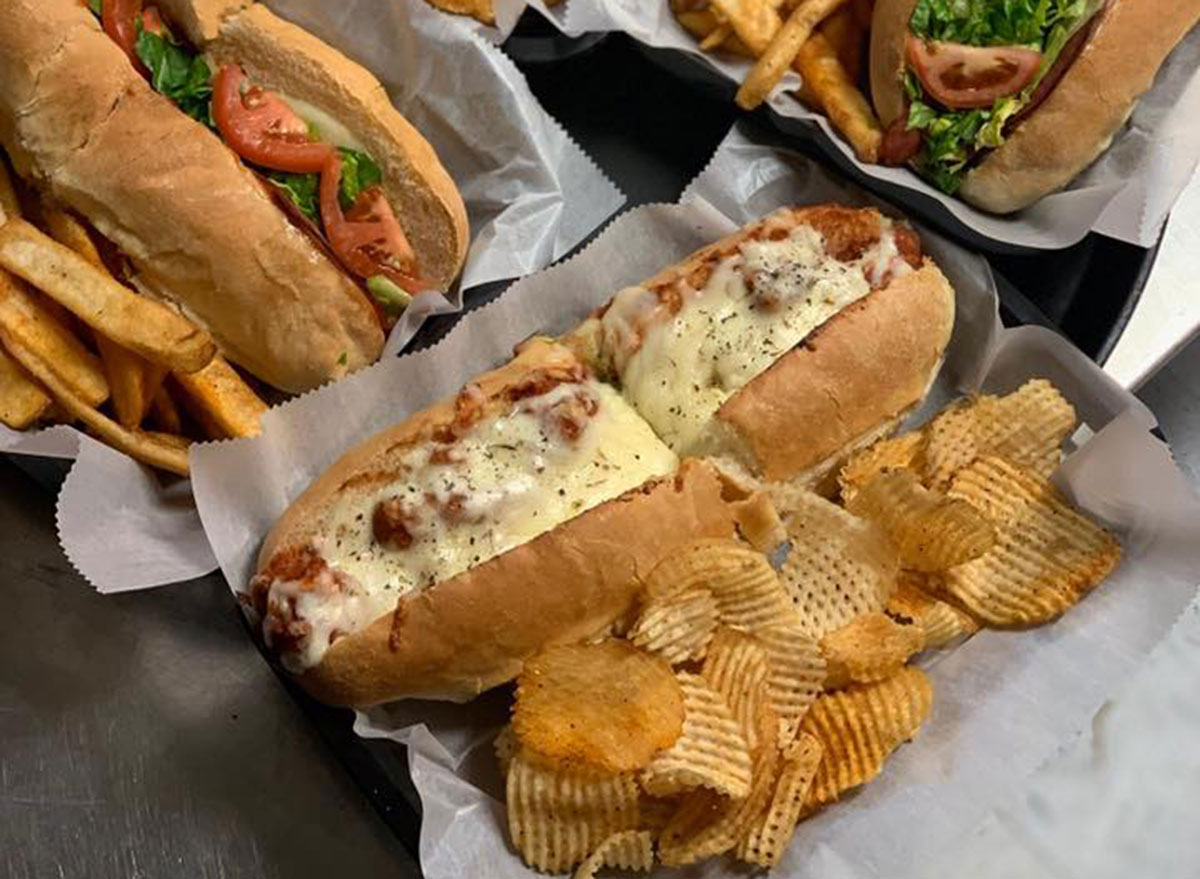 Peppebroni's in Morgantown makes a scrumptious chicken parm hoagie that may just quickly become your favorite sandwich in town.
WISCONSIN: Tenuta's Italian Restaurant in Milwaukee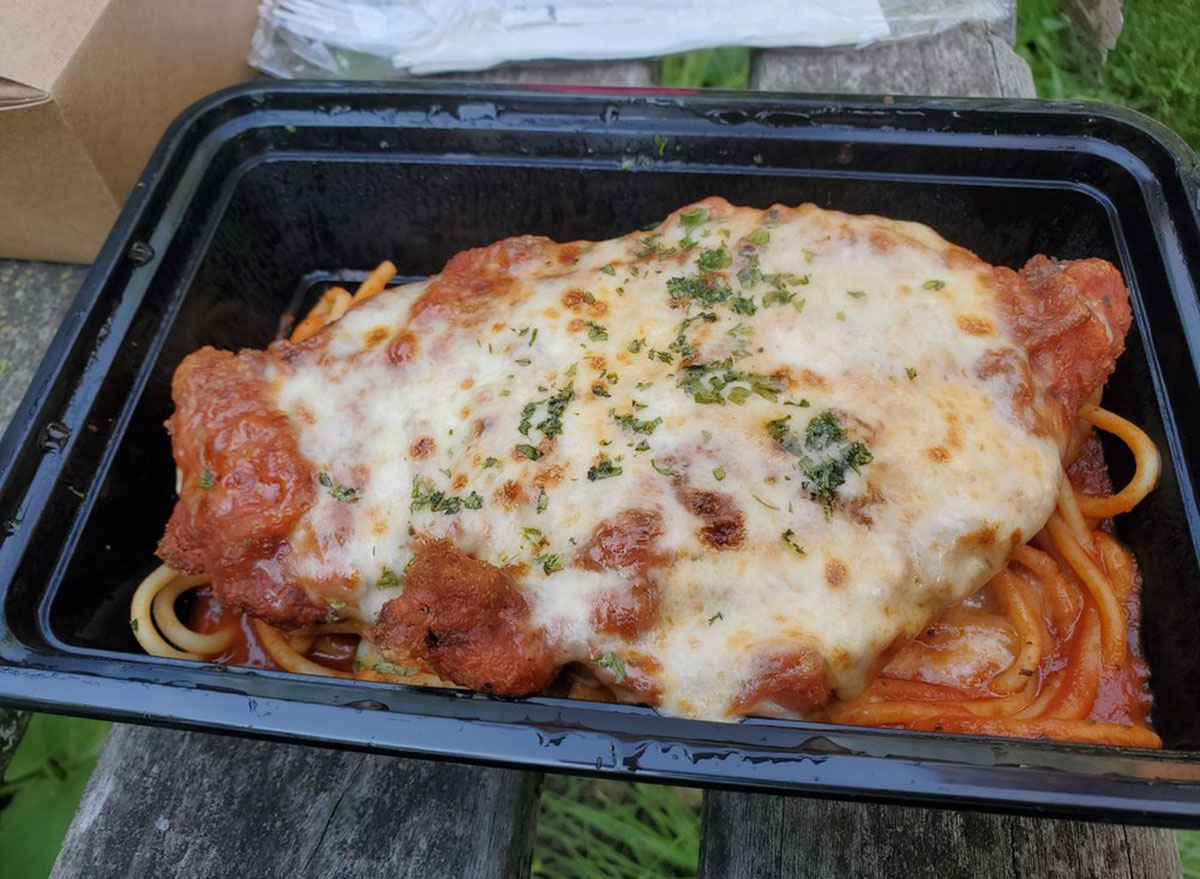 Tenuta's, a Milwaukee community staple, makes a chicken parm that finds the perfect balance of both taste and texture. Another dish you cannot miss? Their tiramisu.
WYOMING: Calico Restaurant and Bar in Wilson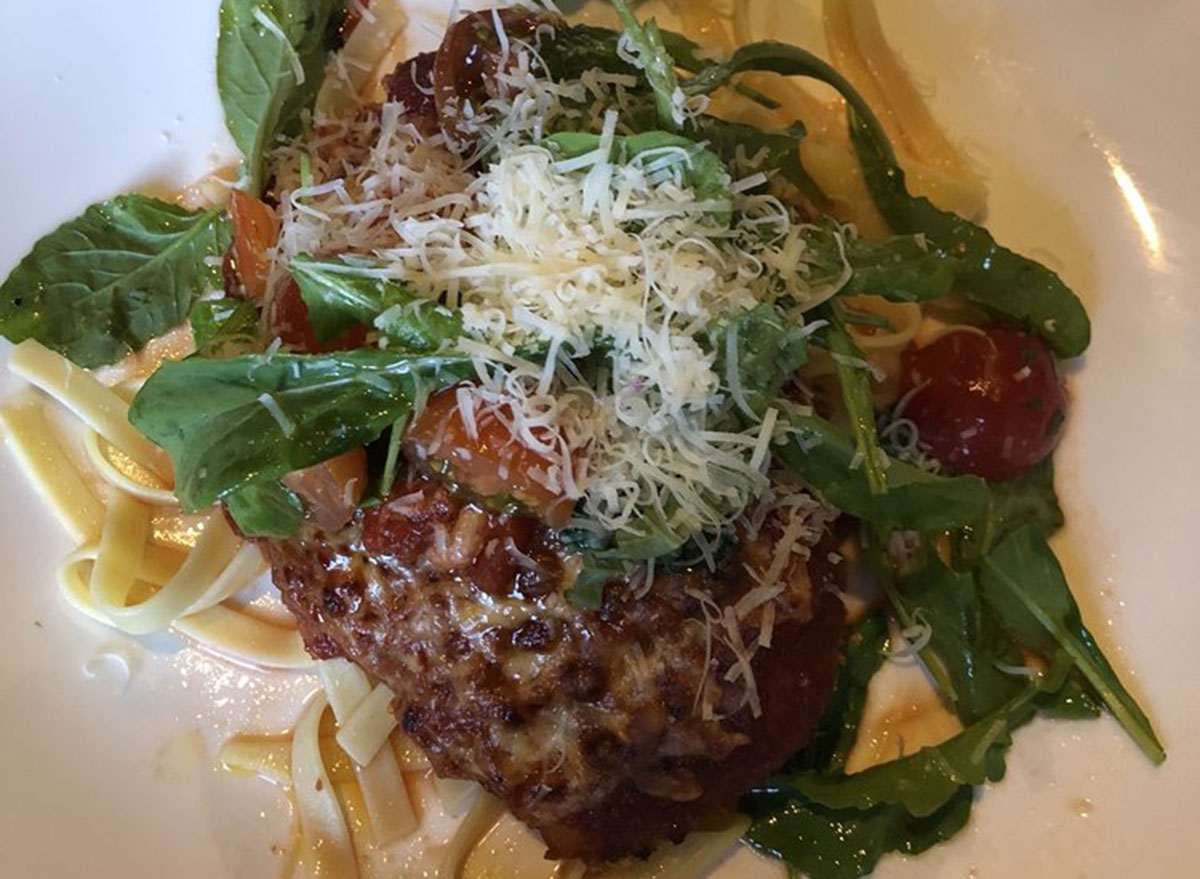 Calico, the welcoming Wyoming restaurant that is surrounded by one and a half acres of beautiful lawns and gardens, has been a staple in Wilson for decades because of its delicious food. One of the customers' favorites is the chicken parm meal, which comes with a delicious side of warm fettuccine pasta topped with parmesan, arugula, and fresh tomatoes.
For more, check out The Best Pasta Dish in Every State.