7 Fast-Food Restaurants That Serve the Best Chicken Nuggets
The best versions of these bite-sized pieces of chicken are served up crispy on the outside and juicy on the inside.
Chicken nuggets have become a quintessential fast-food item, and it's no surprise why. The best versions of these bite-sized pieces of chicken are served up crispy on the outside, juicy on the inside, and offer the perfect vehicle for tasting all kinds of dipping sauces. Their easy-to-handle shapes and sizes make it a great option for kids meals, but every adult with a heart for nostalgia knows you can never be too old for a six-piece nugget yourself.
Robert C. Baker, an agricultural scientist from Cornell University, is famously associated with "inventing" the chicken nugget, during a period of the 1960s when food industry leaders were looking for new ways to popularize poultry. It wasn't until McDonald's hired Chef Rene Arend to develop an innovative recipe in the 1980s however, that the fast-food chicken nugget we know and love today came to exist.
Since then, fast-food restaurants have clamored to offer chicken in nugget form for the benefit of their fried-poultry-fan customers. Here are the fast-food chains that serve up the best chicken nuggets.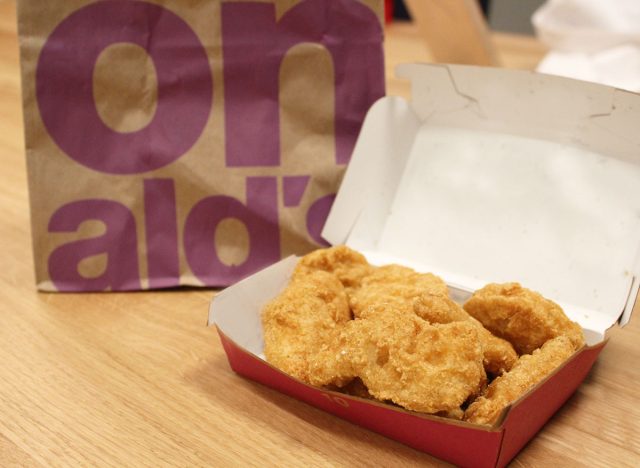 McNuggets have been part of the McDonald's menu since 1983, and their popularity has never faltered. Now made with 100% white meat, the nostalgia nugget comes in four distinct shapes, and everyone seems to have a preference as to which is their favorite.
While the classic McNugget has withstood the tests of time, McDonald's likes to switch things up every so often, like the on-and-off the menu Spicy McNuggets.
Even nutritionists advocate for McDonald's chicken nuggets over other menu items. "You get 13 grams of satisfying protein and less than one-quarter of your saturated fat allotment," explain the Nutrition Twins. "Plus, at only 280 calories, you can step up the nutrition by adding apples and still have far fewer calories than most other items on the menu."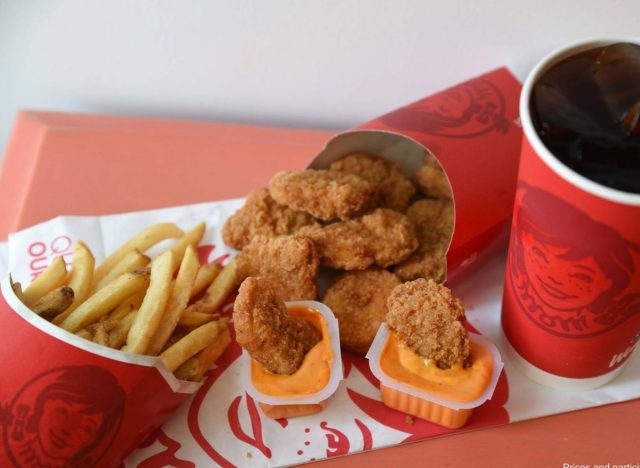 The lightly breaded, well-seasoned nuggets from Wendy's are typically a "solid choice" amongst fast-food nugget fans. Customers really like pairing the all-white-meat nuggets with the simple dipping sauces and the restaurant's famous Frosty treats. Wendy's also serves a spicy version of their chicken nuggets.
These poultry bites have even provided moments of viral fun, dating back to 2017 when the famous "free chicken nuggets for a year" tweet by Wendy's fan Carter Wilkerson went viral. While he did not meet the agreed-upon goal of 18 million retweets, Wendy's chose to grant Wilkerson the complimentary nuggets for a year, and he also made the Guinness Book of World Records.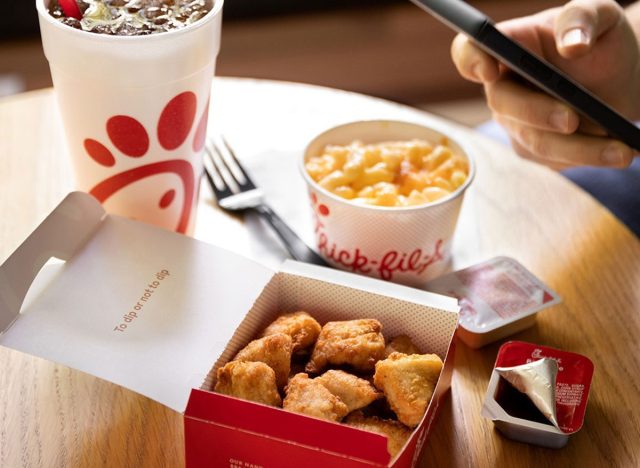 This southern-based chicken brand has the advantage of not one but two different nugget options: traditional breaded and fried and also grilled, which is a healthier option competitors haven't yet mastered. Fans love the option of having the taste of the company's famous sandwich in pop-in-your-mouth form.
Chef Tiana Gee especially enjoys the Chick-fil-A chicken nuggets because "you can tell that it's a piece of chicken" and not ground-up mystery meat. Even wild animals love Chick-fil-A's chicken nuggets, as captured by someone in Florida whose chicken nuggets were swiped by a curious black bear.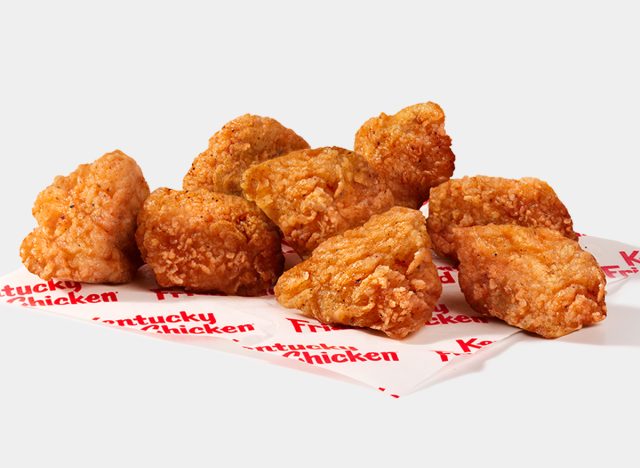 The home of fast-food fried chicken has served up nugget-esque chicken for decades, first in true nugget form, then phased out as popcorn chicken and crispy strips became more popular. As of March 27, however, KFC moved its revamped Kentucky Fried Chicken Nuggets from test run to main menu item, a move customers hadn't seen since the 1990s. The premium nuggets are made with 100% white meat chicken and hand-breaded with KFC's Original Recipe, so nugget fans can taste those 11 herbs and spices in a bite-sized form.
It's hard to imagine that chicken nuggets weren't part of Popeyes' menu from the beginning, but it's true: this item debuted in July 2021 and has been part of the permanent offering ever since.
The restaurant took inspiration from their viral chicken sandwich campaign: "Just like our game-changing Chicken Sandwich, our new Chicken Nuggets are unlike anything you may have experienced before," Sami Siddiqui, Popeyes Americas president, said in a statement for the release of the nugget news.
"We aim to show the world once again the magic of Popeyes chicken with our new Nuggets." Popeye's Chicken Nuggets pack all of the restaurant's cajun seasonings into easy-to-snack-on pieces, and pair especially well with the brand's Bayou Buffalo or blackened ranch dipping sauces.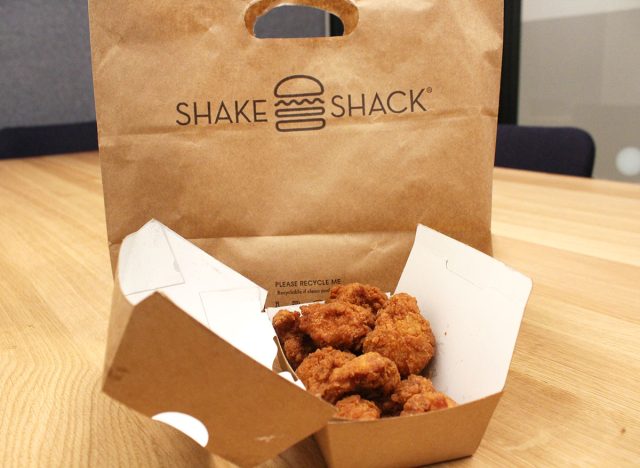 Shake Shack is known for its burgers, but the chain also offers a delicious option for chicken lovers with its Chick'n Bites. These chicken nuggets are a fan favorite because they come from antibiotic-free chicken and are cooked to crispy perfection. 6254a4d1642c605c54bf1cab17d50f1e
"This is grade-A Louisiana restaurant-level fried chicken," one editor at Eat This, Not That! said in a taste test of fast-food chicken nuggets. "Put it on a plate with some collard greens and no one would know it was takeout."
These are also a good option for those with high blood sugar, because of their reasonably low carbohydrate count (only 15 grams per six nuggets). "I appreciate that these bites feel like a more grown-up version of a chicken nugget," explains Justine Rosado, RD, CDN, CDCES, of the Nutrition Queens.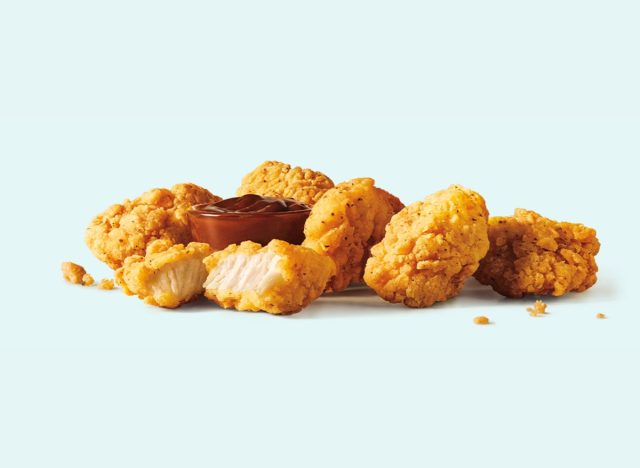 Sonic is home to fan-favorite Jumbo Popcorn Chicken, a menu item that falls somewhere between traditional chicken nuggets and easily snackable crispy-fried competitors. Diners like how meaty the nuggets feel and taste, which contain 100% all-white meat that's breaded before it is fried. Dipping sauces certainly enhance the traditional versions, but the restaurant's Buffalo Sauced Jumbo Popcorn Chicken and Honey BBQ Sauced Jumbo Popcorn Chicken options come perfectly slathered for a different kind of flavored fix.
Katka Lapelosova
Kat is a born and raised New Yorker exploring the world as she writes, eats, and everything in between.
Read more about Katka