The Most Outrageous Food Challenges in Every State
If you love eating the biggest and spiciest meals, add these locales to your bucket list.
If you love to seriously eat, America has some over-the-top challenges that can push any diner to its limits. Whether you love gorging on massive hamburgers or pizzas, taking on huge cuts of steak, or digging into some spicy food, many restaurants turn dining out into an actual sport. These types of meals test the levels of endurance of anyone hungry enough, brave enough, or foolish enough to take them on.
Whether you love the idea of reigning over the best food challenge in your state or just want to know what kind of massive meals await anyone bold enough to take them on, here's the master list of the greatest food challenges across the U.S. If you decide to take any of these on, make sure you come hungry and brace yourself for feast-sized portions that guarantee to push you to the limits.
If you do decide to engage any of these restaurants on their own turf, make sure you know what you're getting yourself into and consult a doctor to be sure you're healthy enough. After demolishing these feasts, go easy on yourself with at least a week's worth of healthy meals.
ALABAMA: Wintzell's Oyster Challenge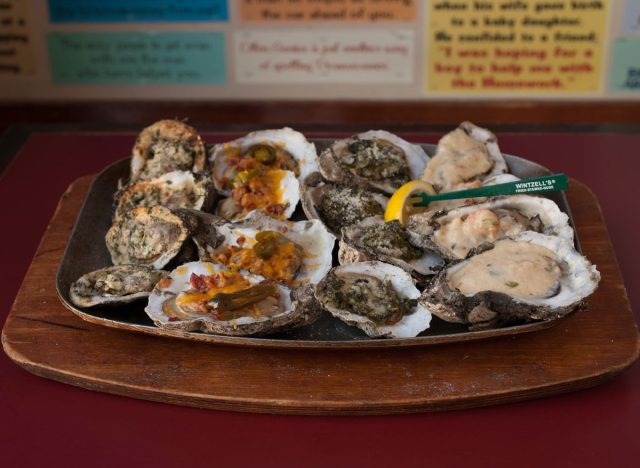 If you love seafood, you can't miss hitting up Wintzell's Oyster House the next time you find yourself in Alabama. The Telegraph ranks this challenge up there as one of the most ridiculous food challenges in the U.S. and anyone looking to bring home glory has to eat 422 oysters in one hour.
ALASKA: Kodiak Arrest Challenge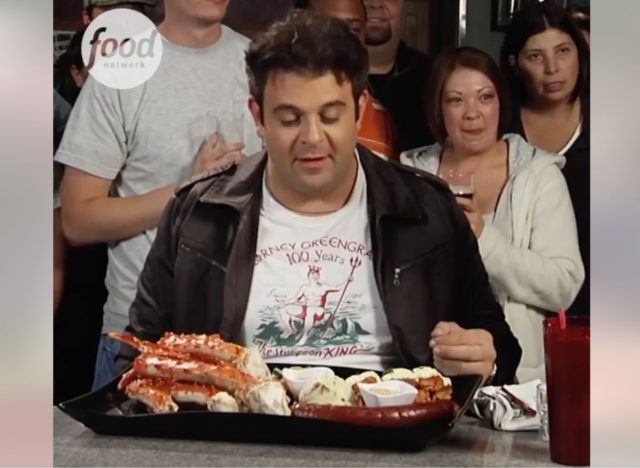 When you want to eat big in Alaska, you need to take a trip over to Anchorage's very own Humpy's Alaskan Alehouse. Through these doors lie the Kodiak Arrest Challenge, featuring a foot of reindeer sausage, seven crab nuggets, three pounds of Alaskan King Crab, various side dishes, and a wild berry crisp with ice cream. Eaters have 60 minutes to down this $180 meal that The Telegraph claims is one of the best challenges in the U.S.
ARIZONA: Broken Yolk Cafe Special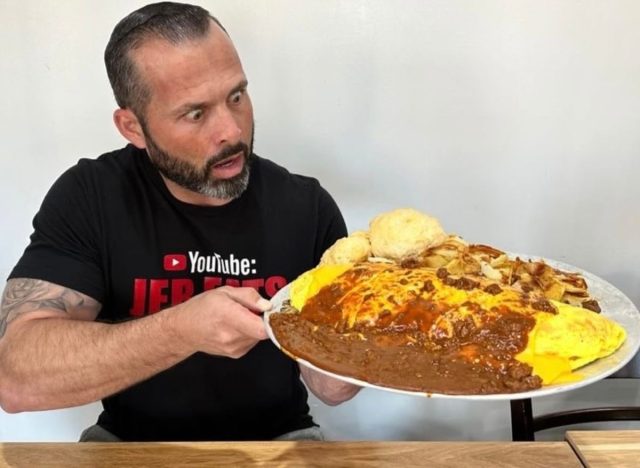 Anyone who finds themself in Mesa, Arizona has the chance to take on the Broken Yolk Cafe Special for a chance to get added to the Broken Yolk Cafe's wall of fame. This massive 12-egg omelet is loaded with cheese, mushrooms, onions, cheese, chili, and a side of home fries and biscuits  Anyone who can't finish this meal in under an hour has to pay a grand total of $25.95 and walk out the doors with their heads bowed in shame.
ARKANSAS: Three-Pound Burger Challenge
Most people come to Anglers White River Resort for fishing, but if they stop in for a bite at the resort they could be in for a challenge. The restaurant has a three-pound burger that towers above most seated diners.
CALIFORNIA: The Kitchen Sink Challenge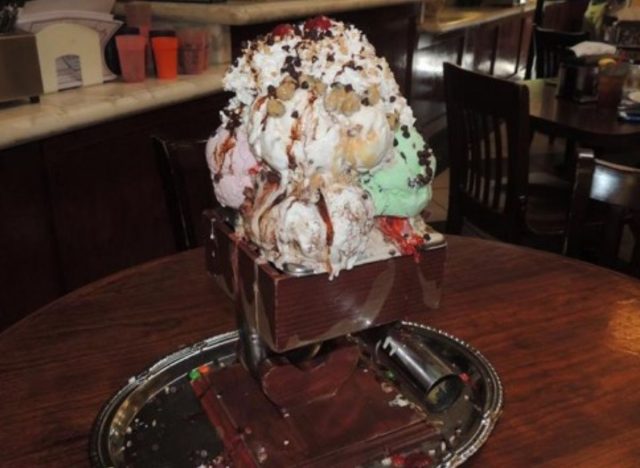 If a massive cupcake couldn't take you down, San Francisco's Kitchen Sink Challenge just might. Ranked as one of the top 15 eating challenges in the U.S., The Kitchen Sink Challenge consists of eating a huge sundae loaded with three sliced bananas, eight scoops of ice cream, eight toppings, whipped cream, almonds, and cherries. The stakes are high—if you manage to finish off one of these sundaes that normally serve six people, you win ice cream for a year from the San Francisco Creamery.
COLORADO: Big Daddy Breakfast Burrito Challenge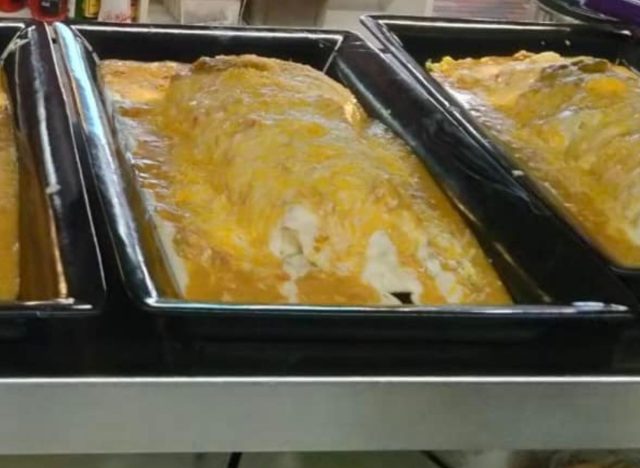 Sure you could opt for a regular breakfast burrito at Aunt Alice's Kitchen in Longmont, Colorado, but you could also take on the "Big Daddy" Breakfast Burrito Challenge. You have one hour to finish an enormous 96-ounce burrito stuffed with eggs, bacon, onions, tomatoes, potatoes, and peppers. If you can't eat it all you have to fork over $20 and you won't be immortalized on the restaurant's wall.
CONNECTICUT: Frankenstein Challenge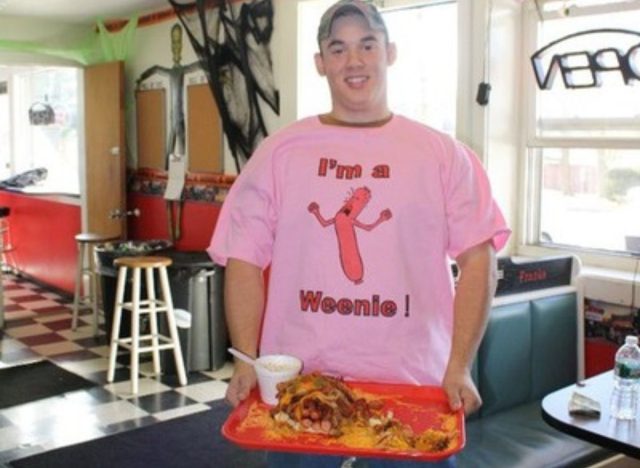 When a free t-shirt and a picture on a restaurant's wall of fame is on the line, anyone with a competitive spirit has what it takes to face Famous Frank's Frankenstein Challenge, the best eating challenge in Connecticut. Anyone who accepts this meal has 30 minutes to eat a hot dog consisting of 24 sausages, and three pounds of toppings on a hoagie roll.
DELAWARE: Monster Burger Challenge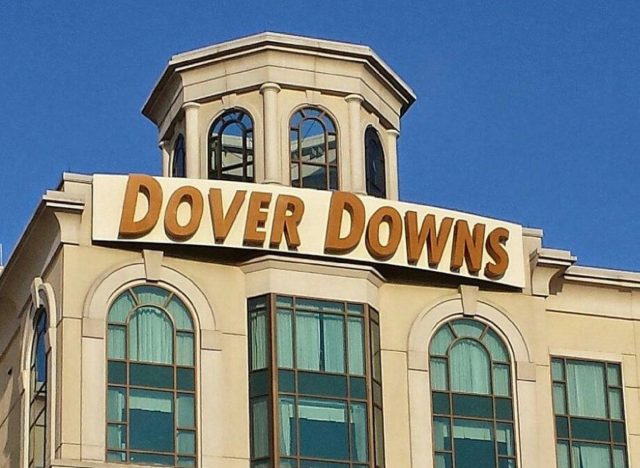 Many patrons who visit Delaware's Dover Downs Casino have come in to play some slots, but a brave few want to take on the casino's Monster Burger Challenge. Diners have 45 minutes to eat $26 worth of 4 half-pound burgers, cheese, pickles, fried onions, and onion rings squished together between two large, buttered buns. Extra-hungry patrons get the meal for free if they finish the side of fries and milkshake too.
FLORIDA: The Inferno Bowl Challenge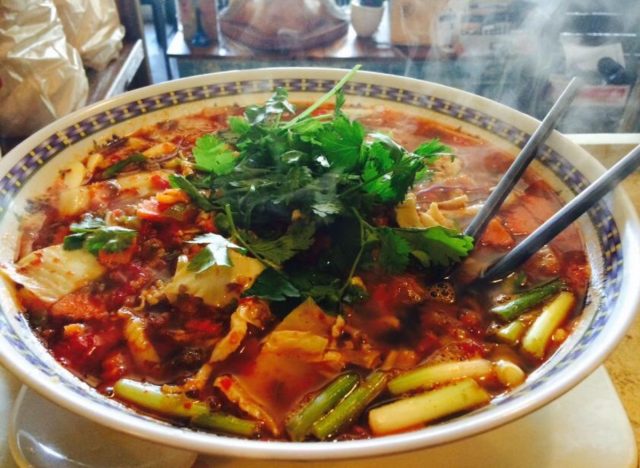 The best eating challenges push eaters to the limit and no one can deny that Nitally's Inferno Bowl Challenge fails to test even the most seasoned eater. This Florida-based challenge tasks diners to eat an incredibly spicy bowl of soup seasoned with ghost chili in 30 minutes for a chance to win $100. If they fail, diners have to pay up and dish out $65 for the soup and a guaranteed case of heartburn.
GEORGIA: The Carnivore Challenge
Anything called The Carnivore Challenge truly has the potential to rank as one of the top eating challenges in America. Diners can visit Big Pie In The Sky in Kennesaw and ask for an 11-pound pizza loaded with meat. If you and a friend can finish it in 60 minutes or less, you can win $250 and join the select few who have successfully finished this pizza in time.
HAWAII: M.A.C. Daddy Pancake Challenge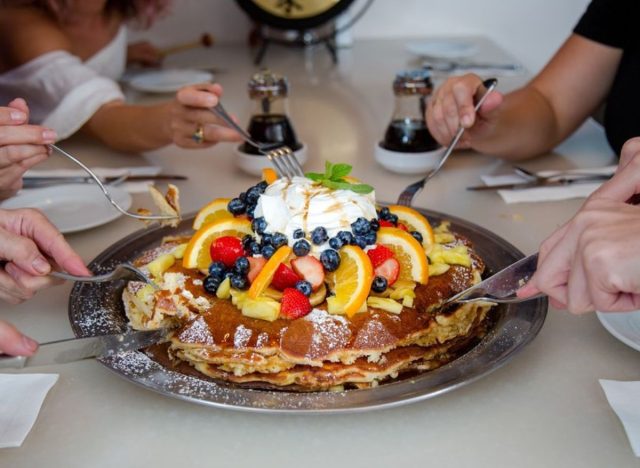 Some diners can't wait to wake up and get their day going with a massive challenge. Luckily, Hawaii's M.A.C. 24/7 delivers and serves up their M.A.C. Daddy Pancake Challenge featuring three 14-inch pancakes topped with fruit. Patrons have 90 minutes to finish the breakfast and can walk away with a free meal, but few have successfully completed the challenge.
IDAHO: Two-Pound Burger Challenge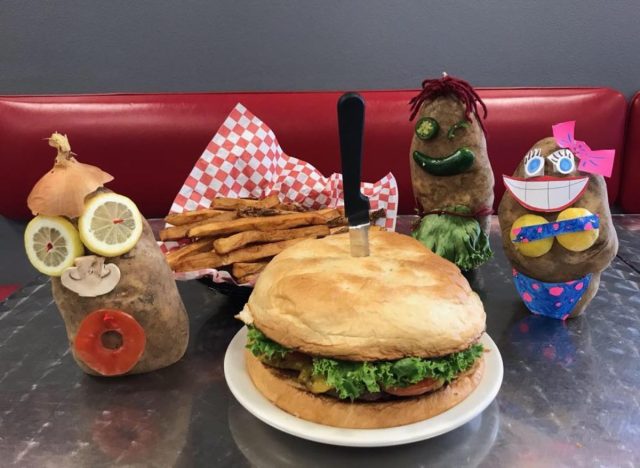 If your love for burgers is XXL, then head down to Big Jud's restaurant for an XXL burger challenge, that wasn't made for the weak. The challenge involves eating a 2-pound burger that gets topped with 10 pieces of bacon and numerous layers of mushrooms, blue cheese crumbs, slabs of swiss cheese, and all the works (tomato, lettuce, spread). For any diner that finished the huge patty concoction, a side of fries, and a drink in 30 minutes, you win a free t-shirt and your picture placed on Big Jud's wall of fame. Plus, of course, your whole meal will be free!
ILLINOIS: Po'Boy Challenge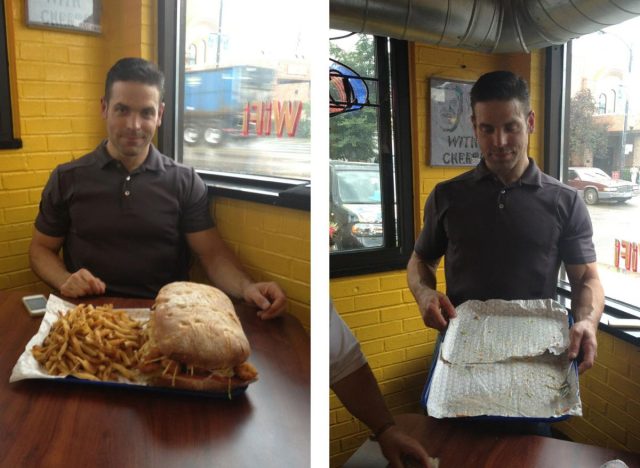 Seafood is the name of the challenge game at Fatso's Last Stand in Chicago, Illinois. The Po'Boy Challenge takes a confident diner who can finish a 2-pound of fried jumbo shrimp hoagie with coleslaw, pickles, lettuce, tomatoes, special sauce, cheddar cheese sauce, and a big pile of shoestring fries on the side in under 45 minutes. Winners who get through it all under the time limit receive a T-shirt, their name on a plaque that hangs on Fatso's wall, a free meal, AND a $50 gift card to the nearby Lockdown Bar and Grill.
INDIANA: The J&J's Kitchen Sink Challenge
When you need to take on the best eating challenge in Indiana, make your way to any J&J's Pizza Shack and ask about their Kitchen Sink Challenge. Anyone can order a massive deep-dish pizza that comes with 11 toppings meant to serve at least six people. Diners have to finish the whole pie in order to claim the meal as free, but to date, no one has completely polished off this pie.
IOWA: Adam Emmenecker Challenge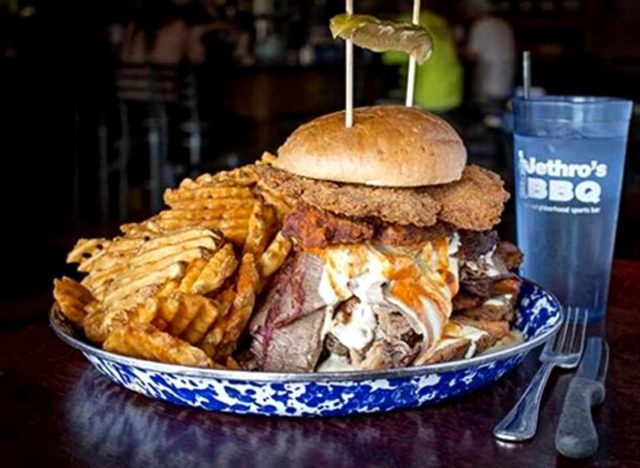 If you love frybread, you can't miss a stop off at Iowa's Jethro's BBQ. The restaurant takes the love of these items to new levels with its signature loaded challenge that pits diners against a plate of pork tenderloin, topped with buffalo chicken tenders, white cheddar sauce, fried cheese curds, Texas brisket, applewood smoked bacon, cheeseburger, spicy pickle and surrounded with a pound of fries. The restaurant was nominated by ESPN for "National Fanwich of the Year" and when famous TV star, Adam Richman from the Travel Channel's Man vs Food tried to beat the plate-full but failed.
KANSAS: Ultimate Destroyer Challenge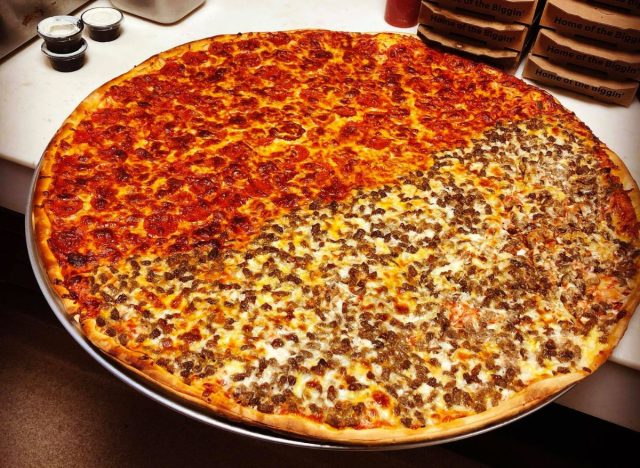 The next time you're absolutely starving in Shawnee, Kansas, there's always the chance to consume a pizza the size (and weight) of a small child! Old Shawnee Pizza holds the Ultimate Destroyer Challenge for diners, where anyone can take a stab at finishing a nearly 30", 11-pound pizza with an abundance of toppings. Brave competitors have one hour to eat all 18 slices and if successful, they'll be rewarded with $100 cash!
KENTUCKY: Pounder Challenge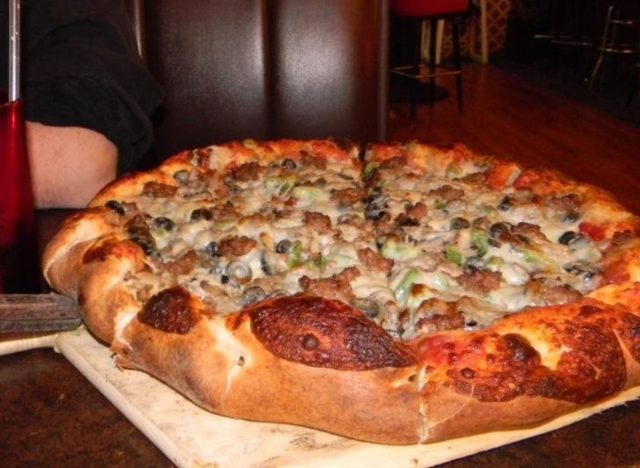 Make sure to come hungry if you take on The Pounder Challenge at Pizza By the Pound, the top-ranked eating challenge in Kentucky. Diners have the chance to chow down on an 8-pound pizza and if they can finish it in an hour, they win $100 and don't have to pay for the meal.
LOUISIANA: The 15 Dozen Club Challenge
If you love oysters, you can't miss New Orleans' Acme Oyster House's 15 Dozen Club Challenge. Diners have to eat at least 180 oysters for a chance to win a t-shirt and a free meal. Anyone who wants to keep the good times rolling can keep order oysters after hitting 180, with the current record holder having demolished 528 shellfish in one sitting.
MAINE: Montsweag Burger Challenge
Maine doesn't pull any punches when it comes to delivering some massive food challenges, but the best comes from the Montsweag Roadhouse. Hungry patrons can indulge in polishing off the restaurant's Surf & Turf Burger, Whole Farm Burger, and Poutine Burger alongside an order of Fried Onion Crisps, a Route 1 Pile Up Dessert, and the restaurant's root beer in under an hour. According to Only In Your State, the meal ranks as one of the heaviest food challenges in the state and anyone who finishes it earns some serious bragging rights.
MARYLAND: Mountain Main Food Challenge
Few people can eat a pile of one dozen wings, a full rack of ribs, a deluxe sandwich, two sides, four pieces of cornbread, and a drink in under an hour. Maryland's Archie's Barbeque believes that some hungry folks out there have what it takes to tackle the state's best food challenge and reward those with big enough stomachs with a free meal.
MASSACHUSETTS: Eagle's Challenge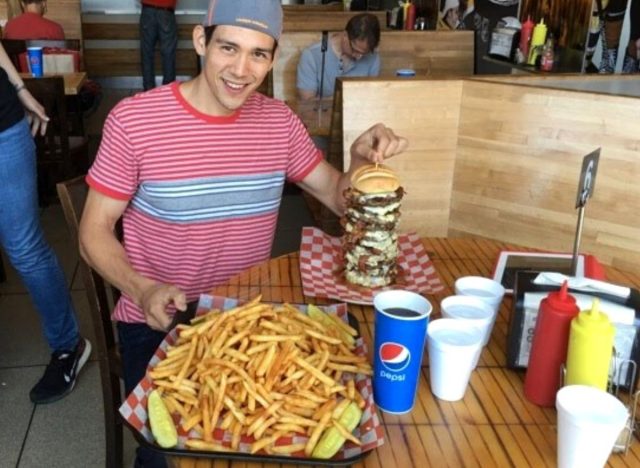 Massachusetts has a ton of great food challenges, but none of them hold a candle to Boston's Eagle's Challenge at Eagles Deli and Restaurant. According to Boston Magazine, diners have one hour to down six pounds of hamburgers topped with 24 slices of bacon, 24 slices of cheese, 5 pounds of fries, and a pickle in one hour. This challenge beats out the competition thanks to a whopping calorie count of 15,000, but winners get the meal for free, $100, a t-shirt, and their name on the wall.
MICHIGAN: Dog Central Challenge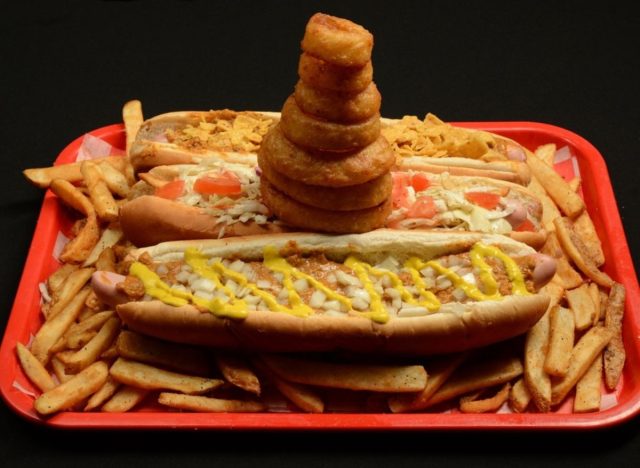 When you have to take on a massive hot dog, you know you have your work cut out for you. Food enthusiasts can opt to take on the Dog Central Challenge, Michigan's best food challenge, by having to devour three-foot-long hot dogs with chili and two extra toppings, fries, onion rings, and a 20-ounce drink. Winners get $10 and a free meal, but losers have to pay $25.
MINNESOTA: The Giant Banh Mi Challenge
A whole lot of tasty Vietnamese ingredients are combined to create The Giant Banh Mi Challenge, one of the best challenges in the Twin Cities, according to Thrillist. Lu's Sandwiches in Minneapolis serves up a challenge for anyone who can defeat this meaty, 3.75-pound sandwich in under 25 minutes. The winner of this challenge gets bragging rights, a free meal, and a t-shirt. But beware, if you can't pass the challenge then you'll have to cough up $20 for the enormous plateful.
MISSISSIPPI: Monster Burrito Challenge
If you find yourself in Southaven, make sure to visit Maria's Cantina for the biggest burrito challenge you have ever laid your eyes on. Brave diners can order the Monster Burrito Challenge, a 5-pound burrito packed with meat, veggies, and beans. If you finish the item in 45 minutes, you win $100, but unlike many other challenges, winners don't get this burrito on the house, so plan to use some of that prize money to cover your tab.
MISSOURI: Hail Mary Burger Challenge
If you love burgers, you can't miss Missouri's Hail Mary Burger Challenge, a test put forward by Stadium Grill to see who can eat four beef patties that exceed one pound apiece, a fried egg, bacon, onion straws, and pulled pork situated between two massive ciabatta buns. Anyone who can finish the meal in under an hour gets the item for free and a $50 gift card to the restaurant every month for a year.
MONTANA: 78-ounce Steak Challenge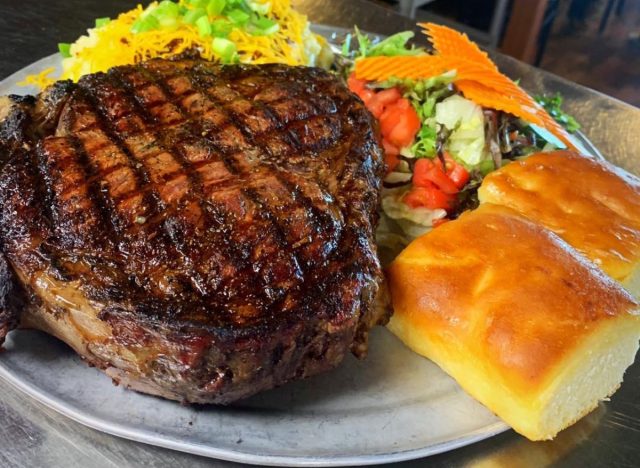 Lots of people love steak, but do you love steak enough to try to eat 78 ounces in one shot? Bull Mountain Grille in Billings, Montana invites you to try. This juicy steak is also available in 12-ounce, 16-ounce, 20-ounce, and 40-ounce sizes, in case you want a normal portion while you watch someone else take on this behemoth.
NEBRASKA: Stellanator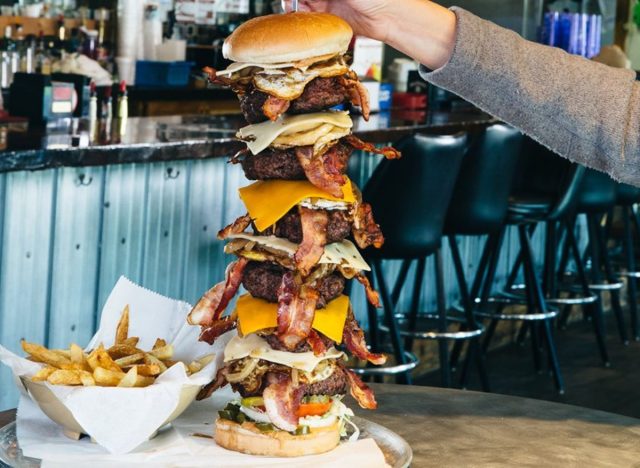 Nebraska has a ton of food challenges, but only one can rank as the best in the state. According to Oh My Omaha, the Stellanator ranks as one of the most formidable—patrons of Stella's Bar & Grill have 45 minutes to eat a burger consisting of six burger patties, six fried eggs, six slices of cheese, 12 strips of bacon, lettuce, tomato, fried onions, pickles, jalapeños, and even peanut butter alongside a side of fries. If you win, you get a t-shirt and your picture on the wall of fame. If you fail, you have to pay for the meal and your photo goes on the wall of shame.
NEVADA: Phozilla Challenge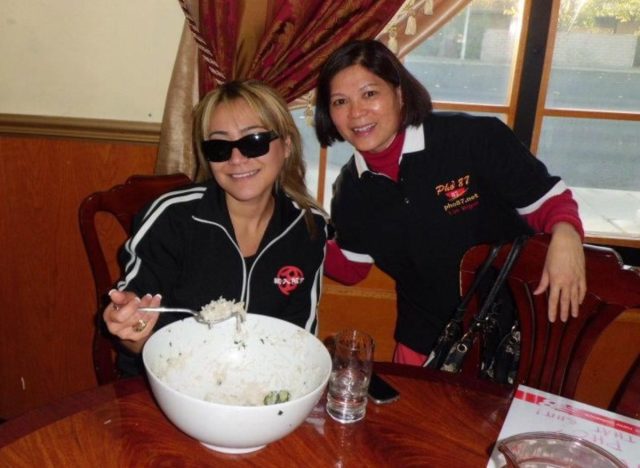 When it comes to bulk eating challenges, no one does it like Pho 87's Phozilla Challenge in Las Vegas. The restaurant gives participants 33 minutes to eat an 11-pound bowl of pho for the chance to win a jackpot currently valued at $1,987. This serious challenge even comes with an entry fee, so make sure to bring your appetite if you take this one on.
NEW HAMPSHIRE: Feedback Challenge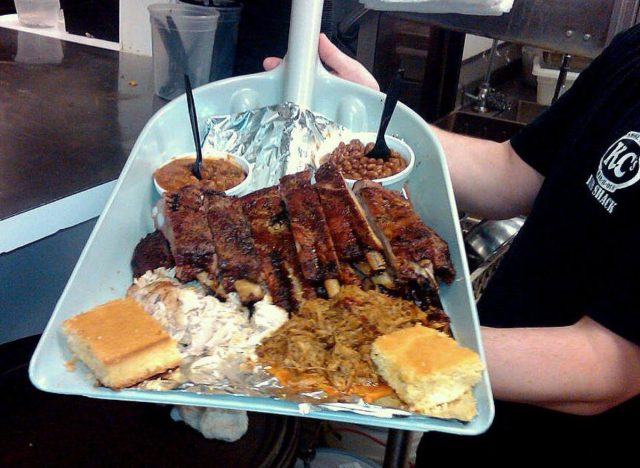 KC's Rib Shack knows how to dish out a ton of food, but also presents the best eating challenges in New Hampshire. Participants have 30 minutes to eat 6 pounds of barbecue that consists of a full rack of ribs, half a pound of pulled pork, chicken, brisket, and sausage apiece, plus two different sides and two pieces of cornbread. The meal comes served on a shovel and if you win, you get your photo on the restaurant's wall of fame.
NEW JERSEY: The Mount Olympus Challenge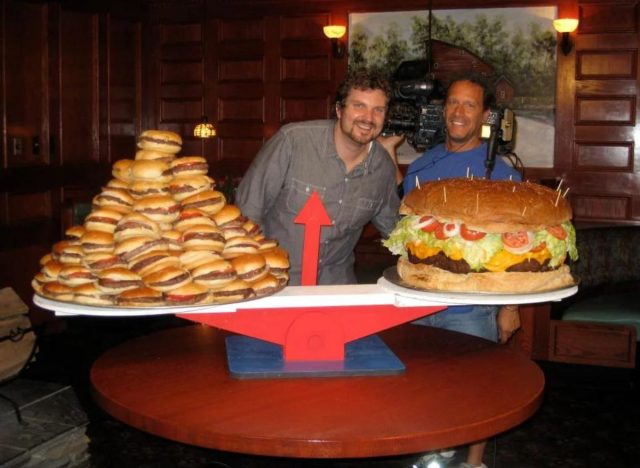 New Jersey has made a name for itself thanks to serving up some huge meals. The Mount Olympus Challenge raises the bar with a 50-pound burger that you and up to four other friends have to eat in three hours at the Clinton Station Diner. With this much food on the line, no other food challenge in New Jersey can touch this task.
NEW MEXICO: Travis on a Silver Platter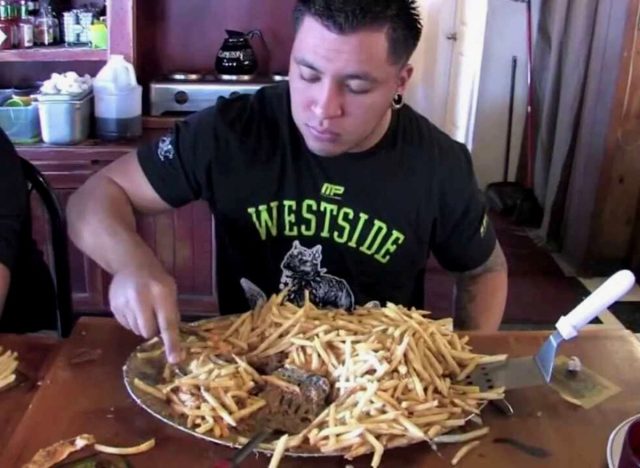 No one does Tex-Mex food like New Mexico and the infamous Travis on a Silver Platter takes the cake when it comes to serving up some truly colossal food. Grandma K and I Diner challenges patrons to eat a 14-pound burrito in 60 minutes and the entire meal comes coated in fries. The restaurant does cut you some slack by providing you with a pair of tongs and a spatula as utensils.
NEW YORK: The 9-Pounder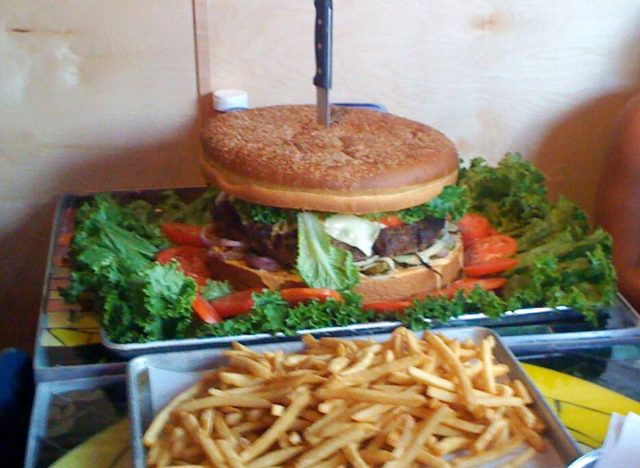 If you crave a burger but always end the meal wanting a bit more, New York's BGR The Burger Joint has a challenge just for you. You and potentially a friend have the chance to eat a 15.4-pound burger where the patty weighs in at a whopping 9 pounds alone. Journey Ranger ranks it as one of the wildest eating challenges in the U.S. and anyone who can eat the burger in one sitting can walk away without paying for it.
NORTH CAROLINA: Papi Grande Challenge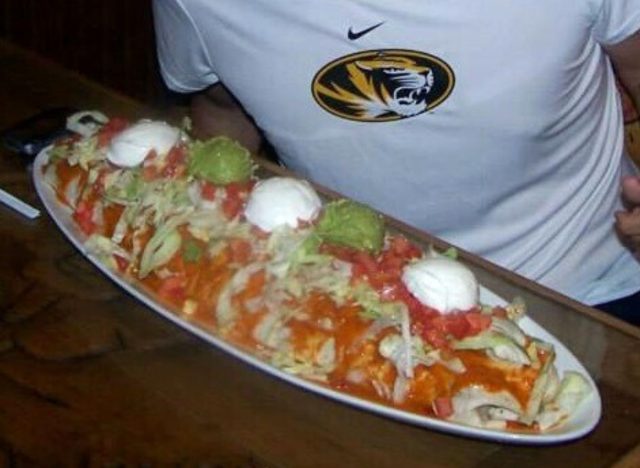 North Carolina knows how to eat right and the Papi Grande Challenge at El Cerro Grande serves up enough burrito ingredients for up to seven people. If you finish the platter of ingredients in an hour, you don't have to pay.
NORTH DAKOTA: The Pig Out Omelet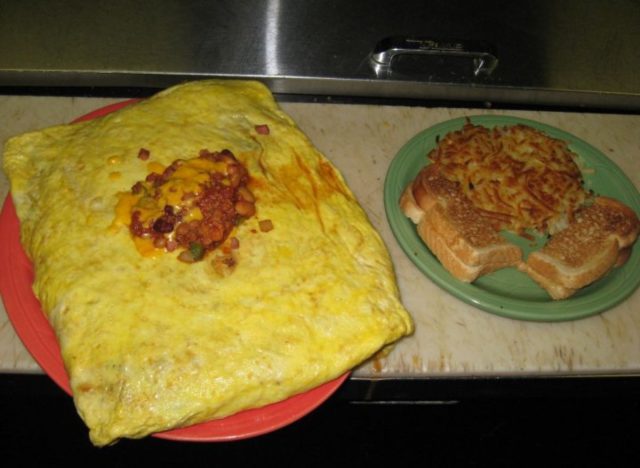 Any challenge from a mom-and-pop restaurant is going to test a person's limits (and stomach!). Mr. and Mrs. J's Family Restaurant has a signature Pig Out Omelet that pits hungry participants against the biggest egg breakfast anyone's ever seen, with 12 eggs and everything under the sun inside—onions, peppers, mushrooms, tomatoes, cheese—alongside hashbrowns and two slices of toast. If you can finish it all in one hour, you win a free t-shirt and the chance to place your name on the establishment's Pig Out Board.
OHIO: Fat-n-Skinny Breakfast Challenge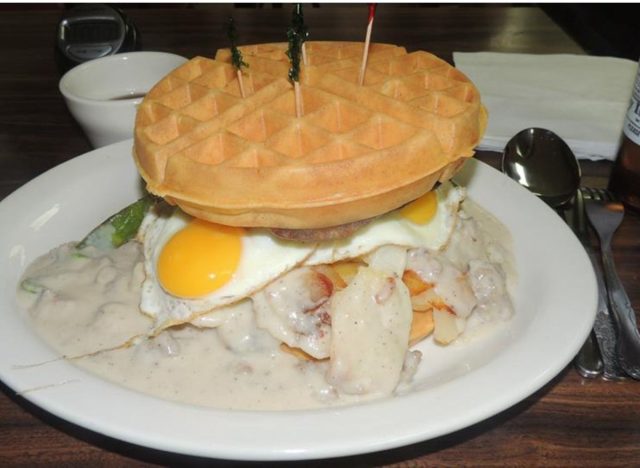 Ohio knows how to get folks ready for the day by challenging them to eat a ton of food the moment they wake up. Kj Cafe's Fat-n-Skinny Breakfast Challenge presents ambitious diners with 4 pounds of breakfast food that includes sausage patties, home fries, gravy, eggs, and Belgian waffles. On paper, this seems doable but participants only have 25 minutes or less to down everything, or else pay for the whole meal.
OKLAHOMA: Big Burger Challenge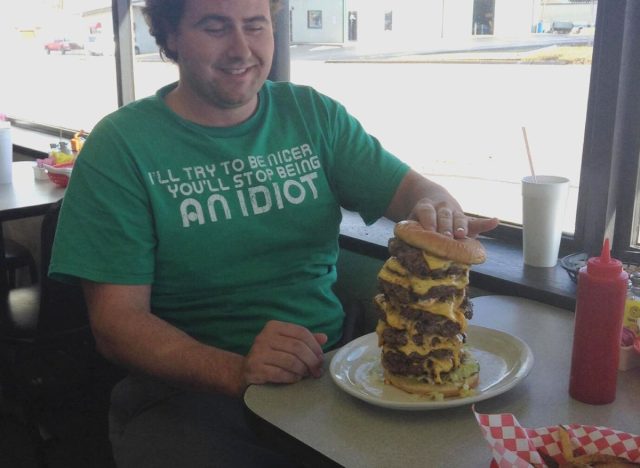 Oklahoma takes its burgers seriously and Paw Paw's Hamburgers takes this item to the next level with its Big Burger Challenge. If you eat a 5-patty burger in 30 minutes, your meal gets served up for free and you get a t-shirt, but you can step up the challenge by eating a burger with over 15 patties to get your likeliness on the restaurant's Wall of Champions
OREGON: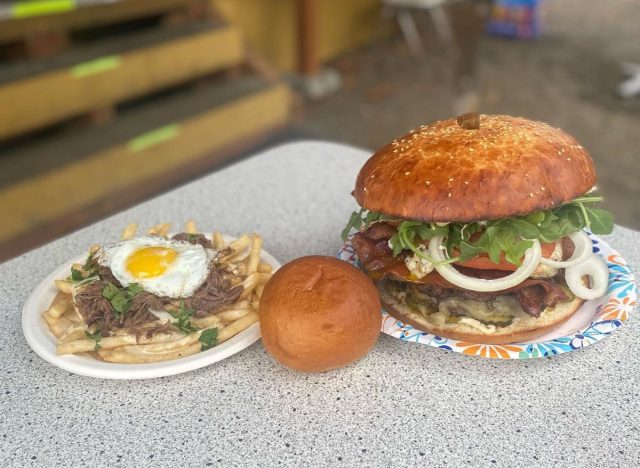 Aaron and Jack's Snack Shack in Monmouth, Oregon invited hungry customers to take on the "Smash the Beaver" challenge. The challenger must eat a seven-pound burger ladened with toppings, including six pieces of bacon, four pieces of cheese, three eggs, onions. arugula, and pickles. You can also just drop by the restaurant to see one of these challenges take place if you're more of a normal-sized burger person.
PENNSYLVANIA: Mean Pasta Challenge
P-Dub's Sports Bar & Grille in Monaca, Pennsylvania has a few challenges for the adventurous eater. Fans of extreme food can take on the Ghost Wing Challenge, BIG 76'er, Himesburger Challenge, or the Mean Pasta Challenge. For the most side-splitting experience go for the pasta challenge where you'll have to eat a pound of pasta and 10 Breadsticks in 12 Minutes or pay $17 for the privilege of getting heartburn.  If you win you get a free meal and a free T-shirt.
RHODE ISLAND: Pizza V. Wiener Works Challenge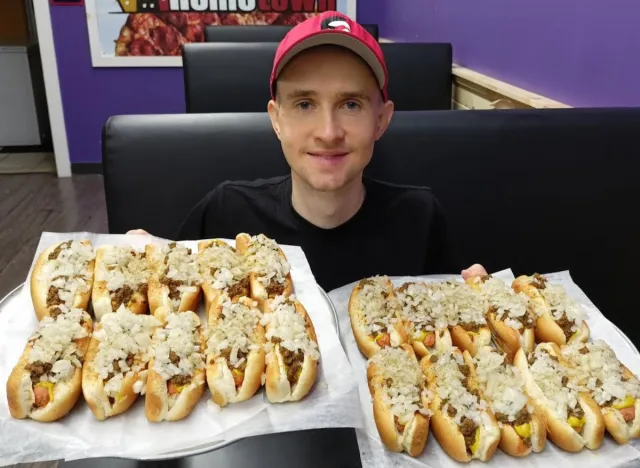 When a restaurant named Gators Pub and Lumber Jack Pizza sponsors a food challenge, you might immediately assume it has something to do with pizza. The restaurant offers up something even more devious, tasking diners to down 15 sausages with the works, a 32-ounce beer or milkshake, and a pound of fries. The stakes are high—losers have to pay $25 but winners can walk away with a free meal.
SOUTH CAROLINA: Five Five Challenge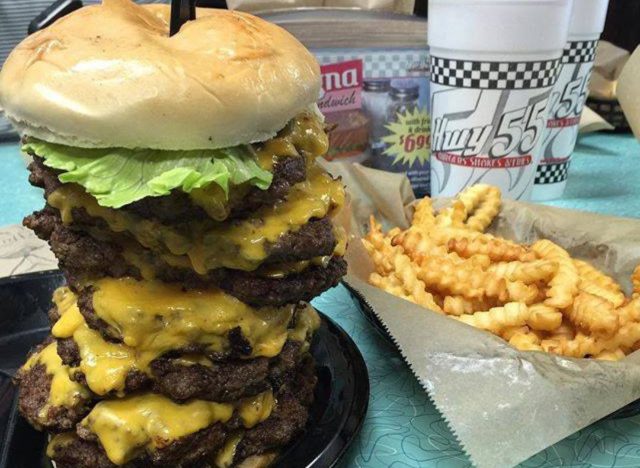 South Carolina pulls out all the stops when it comes to the state's best eating challenge at Highway 55 Burgers. The restaurant gives diners 30 minutes to eat a 55-ounce, fully decked-out burger, fries, and a 24-ounce drink. Losers have to plan to pay the bill for all the food.
SOUTH DAKOTA: Monster Nacho Challenge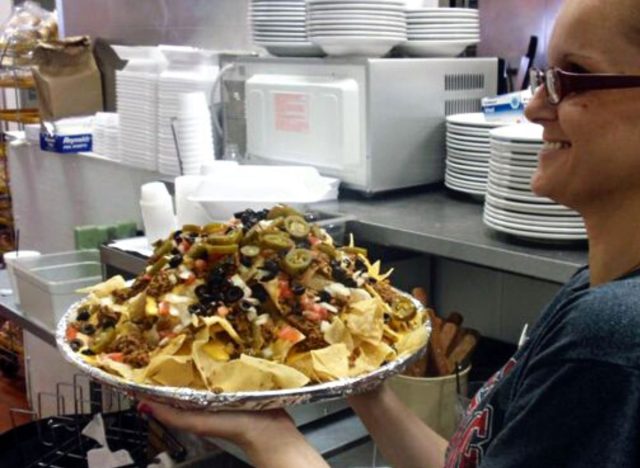 You have your work cut out for you if you decide to take on the Monster Nacho Challenge in South Dakota. Patrons get 45 minutes to polish off 5 pounds of chips, waffle fries, cheese, beef, and more. Anyone who finds themself in Sioux Falls at the OverTime Grill can take home the glory and finish the meal in time to avoid paying for the meal.
TENNESSEE: Kookamonga Challenge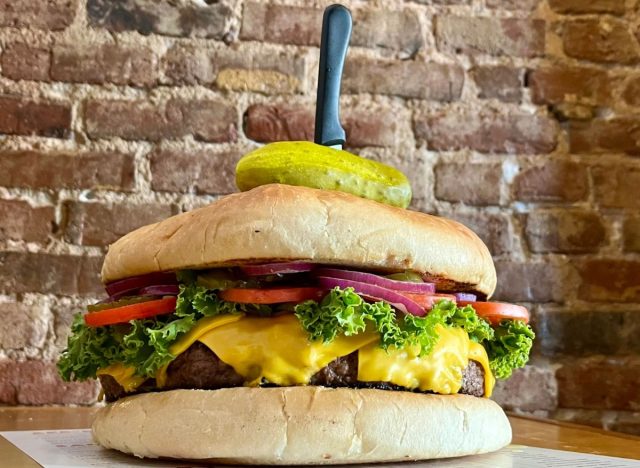 Anyone who enters through the door of Cordova's Kooky Canuck has the chance to face the Kookamonga Challenge. The meal contains 7.5 pounds of food, including a 4-pound beef patty, and participants only have 60 minutes to down the feast for a chance to walk out the doors without paying.6254a4d1642c605c54bf1cab17d50f1e
TEXAS: The 72-Ounce Steak Challenge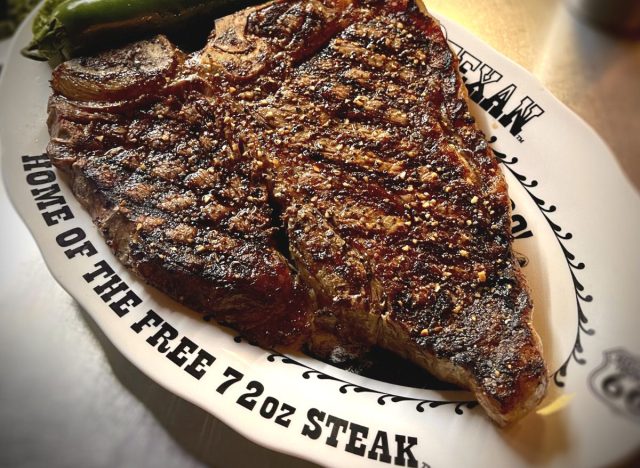 Everything's bigger in Texas, including the state's food challenges. The Big Texan Steak Ranch takes eating to the next level with a contest that pits contestants against a 72-ounce steak, shrimp cocktail, baked potato, salad, roll, and butter in 60 minutes without leaving the table.
UTAH: Purgatory Wing Challenge
Utah has a ton of food challenges, but none can touch Wing Nutz's monthly contest that actually pits eaters against each other. Participants have to eat 10 incredibly spicy Purgatory Wings as fast as possible and can't have any water. The person who finishes off the wings the quickest gets a cash prize of $50. With a competition like this, onlookers can have as much fun as the diners.
VERMONT: Dozer Challenge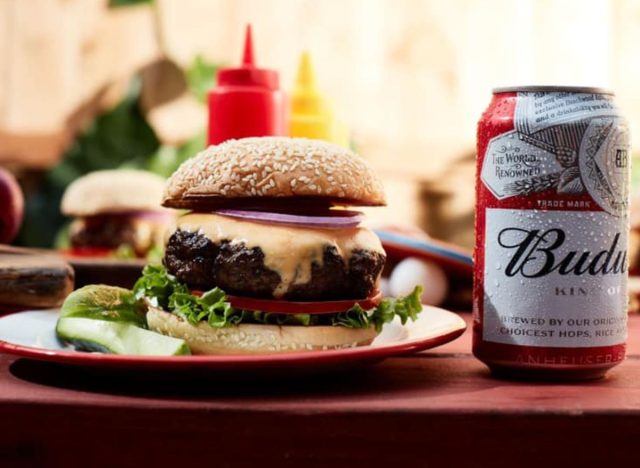 When you only have 30 minutes to finish off two one-pound beef patties, eight slices of bacon, four slices of cheese, and a ton of toppings on a cornbread roll with a side of fries, you have your work cut out for you. If you can somehow manage to make it through the meal, you can win your picture on the wall of Vermont's Rozzi's Lakeshore Tavern and a free t-shirt.
VIRGINIA: The Baronator Challenge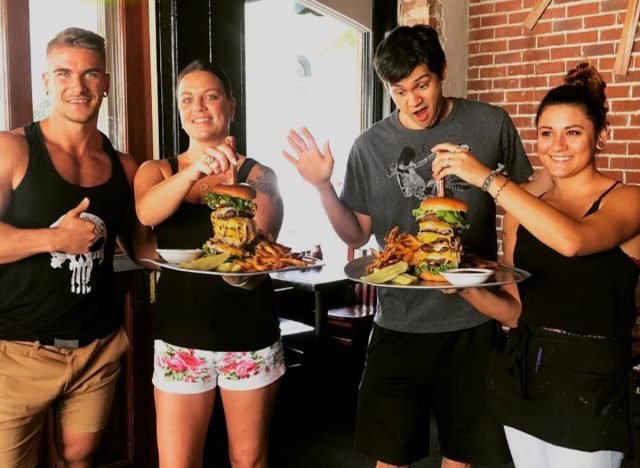 Baron's Pub in Virginia has a namesake challenge that can even make diners with the biggest appetites nervous. Diners have the chance to win a free meal by finishing a three-pound burger served on a one-pound bun that comes with two pounds of cheese, mushrooms, onions, tomatoes, and a pile of fries.
WASHINGTON: The Pho Superbowl Challenge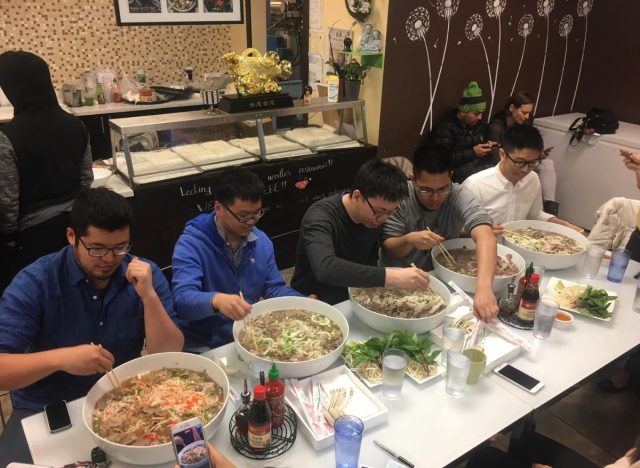 Downing a ton of pho can feel impossible even when you're extra hungry, and Seattle's Dong Thap Noodles takes this item to the next level with a bowl of pho featuring 3 pounds of noodles, 3 pounds of meat, and 3 liters of broth. Anyone who can get through this monstrosity gets $100 and the challenge ranks as one of Munchpak's top food challenges across America.
WEST VIRGINIA: The Challenge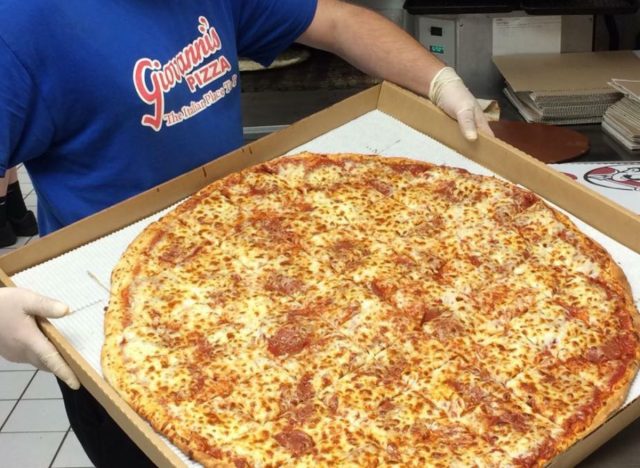 If demolishing a 10-pound 30-inch pizza sounds like a good time to you, head to Giovanni's Pizza in West Logan, West Virginia. If you'd like to set a new record, you'll have to be 11 minutes 43 seconds. Maybe just enjoy a slice and let someone else take it on.
WISCONSIN: The Unforgiven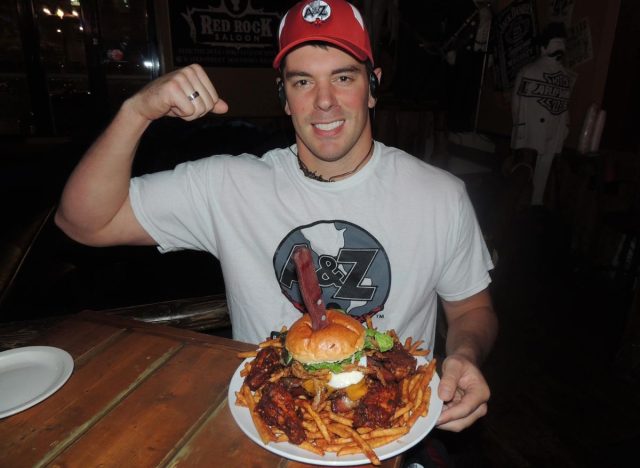 When The Telegraph ranked the best eating challenges in the U.S., they couldn't leave out Milwaukee's The Unforgiven at Red Rock Saloon. Diners have to eat two two-pound cheeseburgers, a deep-fried chicken breast, a pound of fries and onion rings, and six wings seasoned with ghost peppers. Fortunately, there's no time limit for this contest.
WYOMING: Born in a Barn Challenge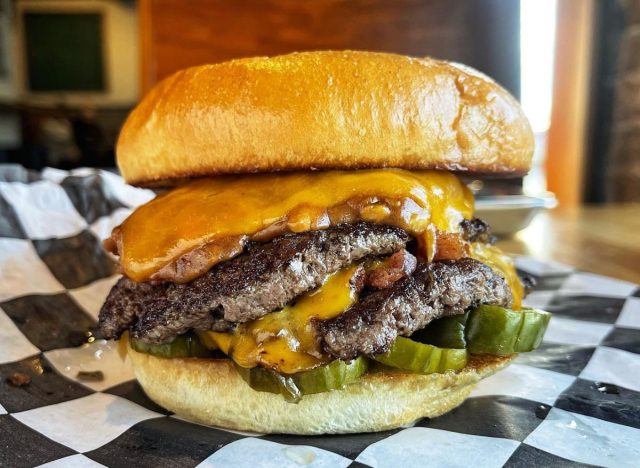 Born in a Barn has been focused on quality burgers and wings since St. Patrick's Say 2013. It also has one of the most outrageous food challenges in Wyoming. An adventurous customer has one hour to eat a massive burger with 14 patties, lettuce, onion, cheese, and onion sauce with one pound of fries and a 32-ounce soda.