I Tasted 7 Popular Cream Cheese Brands & This Is the Best
Finding what brand of cream cheese takes on the real essence of the cream cheese.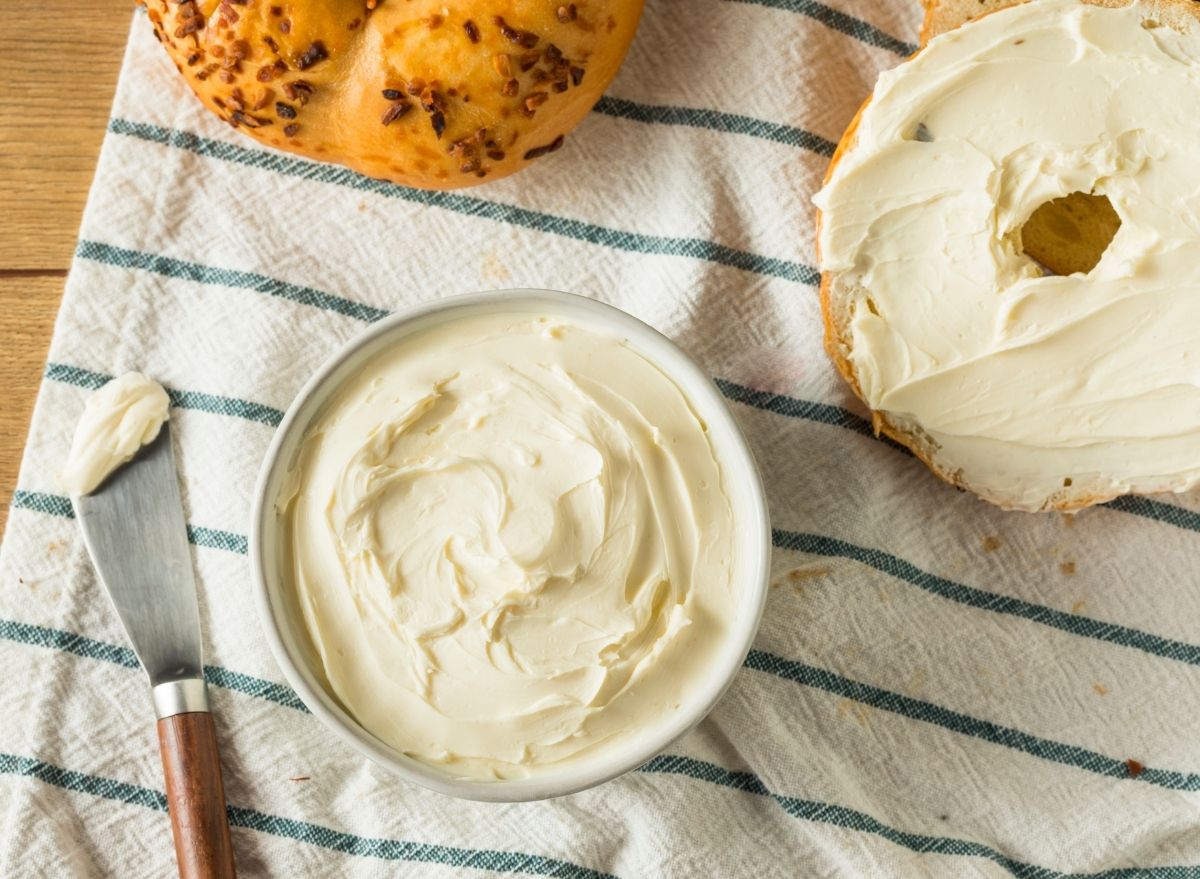 Cream cheese is a magical ingredient in the kitchen. While many people use it as a spread for bagels, there are so many other things the simple spread can do. One of my favorite ways to use cream cheese is to throw a block of it into my enchilada filling and let it melt down so it makes the filling super creamy, but it doesn't really overwhelm the Mexican flavors I have going on. My mom also uses cream cheese as her secret ingredient in her gooey macaroni and cheese to make it extra rich and delicious. But what is the best tasting cream cheese out there?
You may be thinking that cream cheese is cream cheese and all of them taste the same, and I thought that too before testing out seven different cream cheeses to see which one was really the best. I tasted each cream cheese on a club cracker without any additional seasonings so I could get the real essence of the cream cheese. Here's the thing with cream cheese, it all pretty much tastes the same, but slight differences in texture, consistency, and tang can really change the overall experience. So if the great cream cheese shortage of 2021 has got you thinking about trying out a different variety, here are some options ranked from worst to best. (If you're in the mood for peanut butter instead, check out We Tasted 10 Popular Peanut Butters & This Is the Best!)
Worst: Great Value Cream Cheese Spread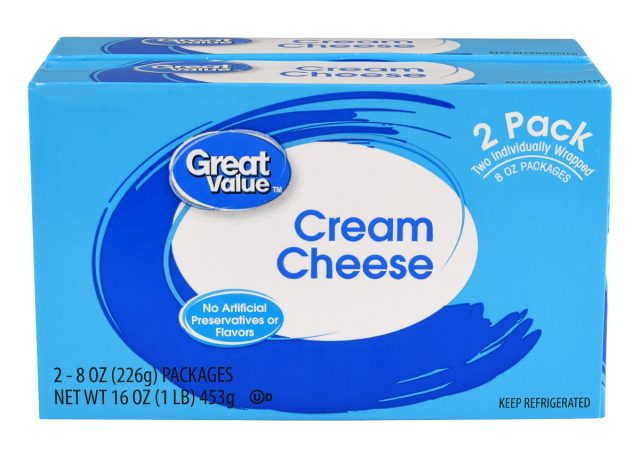 The Great Value Cream Cheese Spread is the only one I tasted that came in a little tub versus a brick covered in foil like the others. The spread was creamy, but it lacked the tang I liked from some of the other brands. I would use this if I was mixing it into something with a lot of extra flavor like macaroni and cheese or making a cheese ball, but not just to put on a bagel.
Happy Farms Original Cream Cheese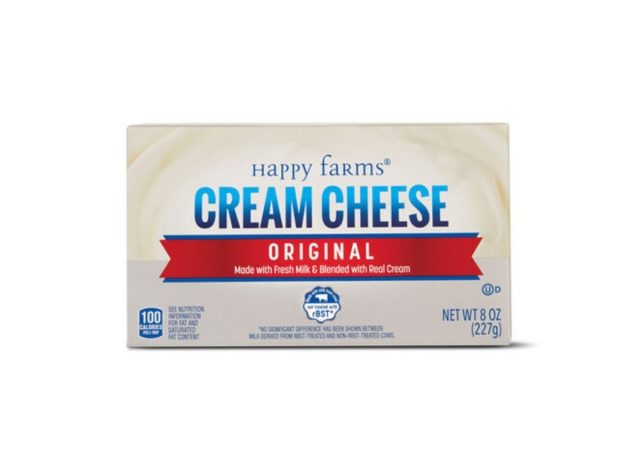 This cream cheese had a good taste but was a little thicker than I would have liked. The thickness made it hard to spread on my cracker without it breaking, which means it would likely tear into a bagel rather than schmear right on. It did have a good tangy flavor without being overly sharp. I would use this if I was making a hot dip because at that point it wouldn't matter about the thickness if it's getting melted and getting other ingredients added to it.6254a4d1642c605c54bf1cab17d50f1e
Publix GreenWise Cream Cheese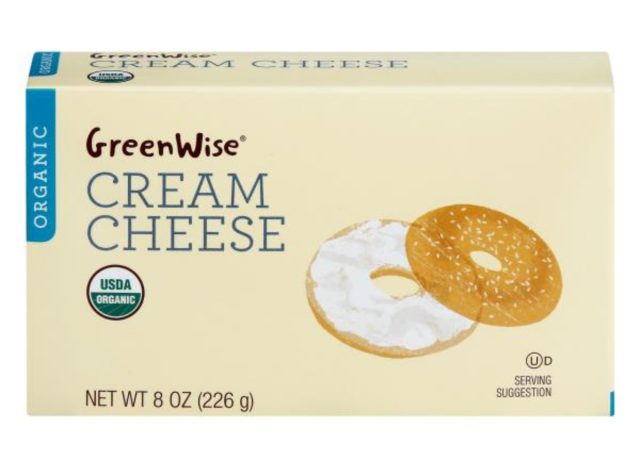 Greenwise is the organic brand for Publix grocery stores. This cream cheese was perfectly creamy and perfectly spreadable right out of the refrigerator. It did lack a distinct tanginess that I want from a cream cheese. I would use this one, again, if I was making a bagel bar for friends and they were going to load up their bagels with toppings like onions, smoked salmon, and everything bagel seasoning.
Organic Valley Cream Cheese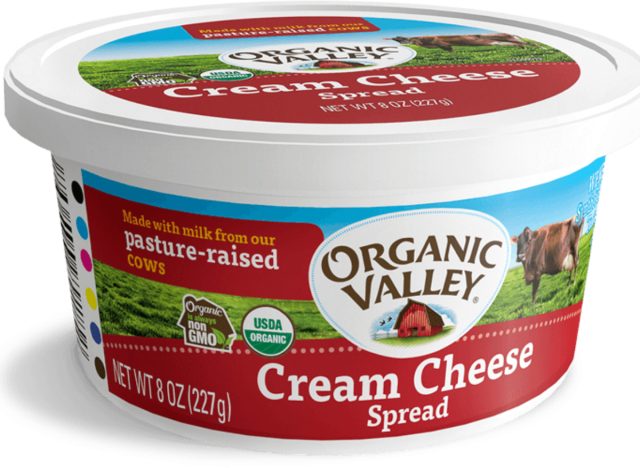 One of the more expensive cream cheese options that I found was from Organic Valley, and while it was a bit pricey it was worth it if you're a brand loyalist. The cream cheese was easy to spread straight from the fridge and had a good tang to it. I would use it in almost any way possible because it was so good.
365 Whole Foods Market Cream Cheese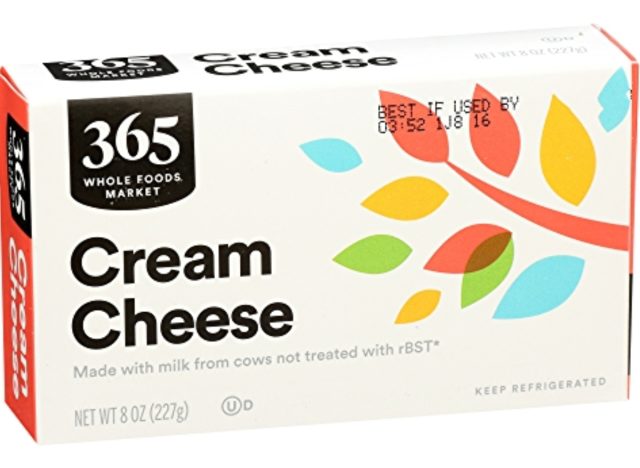 The organic cream cheese from Whole Foods Market is one of the best that I tried. The brick came away from the foil easily without leaving big chunks behind that I needed to scrape out of the corners. The flavor was on point without being too tangy, and it was easy to spread. I would use this in hot or cold dishes, along with just spreading it onto a bagel for an easy breakfast or snack to walk out the door with.
Publix Regular Cream Cheese
Publix cream cheese is the grocery store-brand favorite in this taste test. The brick of cream cheese came completely unwrapped from the foil with ease, it had a distinct tangy taste without being too much, and it was perfectly spreadable. Between this and the best cream cheese on the list, I was really splitting hairs because they tasted so similar.
Best: Philadelphia Original Cream Cheese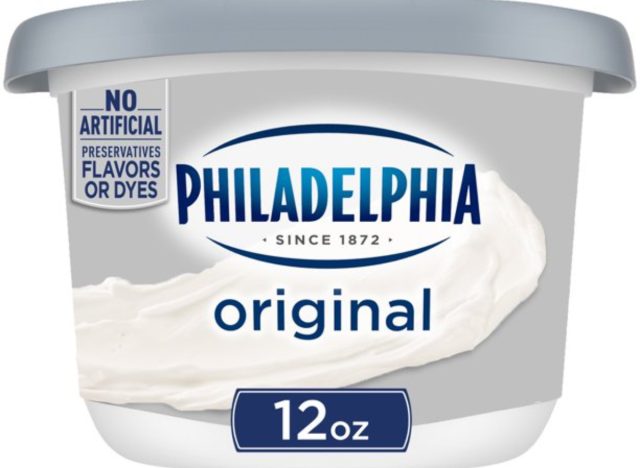 There's a reason that Philadelphia Original Cream Cheese is sold on every store shelf–it's because it's that good. The cream cheese was easy to unpackage and was tangy and smooth without being overly sharp. It spread nicely onto a cracker and would do the same on a bagel. If you're looking for a cream cheese that can do everything you need it to do in the kitchen this is the one to pick up.
Check out more exclusive taste tests:
We Tasted 8 Hot Dog Brands & This Is the Best
We Tasted 7 Ranch Dressings & This Is the Best!
Megan duBois
Megan duBois is a travel and lifestyle journalist with bylines across the internet and in print at Delish, Conde Nast Traveler, Travel + Leisure, Yahoo Lifestyle, and more.
Read more about Megan