The Best Trader Joe's Products For Weight Loss
Trader Joe's private-label products are top quality and affordable—and they can also help you slim down!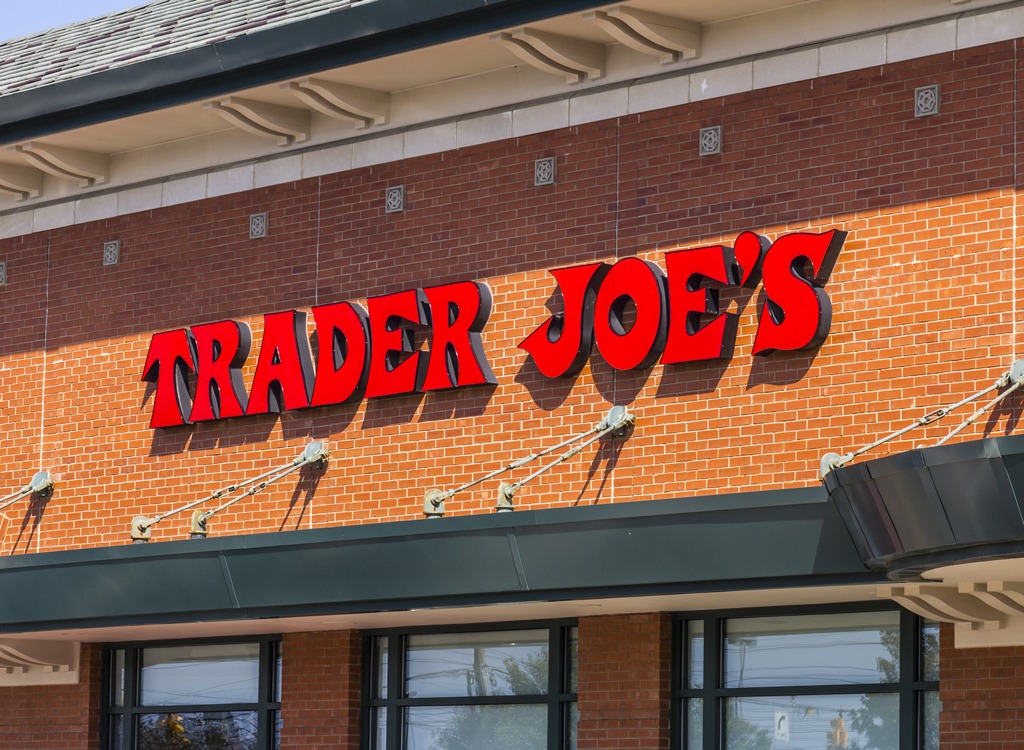 We know the popular supermarket chain avoids marketing their products, and that may be why countless hidden health gems secretly lurk on TJ's shelves. We're here to uncover them for you with our ultimate shopping list with the best Trader Joe's products for weight loss.
What makes the chain's private label so impressive? It's the fact that the discount supermarket develops its products to fit high-quality standards. Every product is free of artificial flavors, artificial preservatives, artificial colors, MSG, added trans fats, dairy ingredients from cows injected with rBST hormones, and genetically modified ingredients (GMO-free)—all things that tend to make foods a "Not That!".
Those high standards make Trader Joe's products an impressive alternative to pricier specialty stores. And because the chain is always on top of food trends and health news, they're continually introducing new products. That's why we've rifled through to find the best weight loss foods Trader Joe's has to offer. These aren't too-good-to-be-true deals: you really can get healthy must-haves on the cheap. So take this list with you next time you go grocery shopping.
Organic Herbal Flavored Waters
Per 1 container
: 0 calories, 0 g fat, 0 mg sodium, 0 g carbs, 0 g protein
If you're addicted to drinking detox water, Trader Joe's is here to make your routine a little easier. Instead of shoving fruit slices into your water bottle, now you can simply pick up a calorie-free Herbal Flavored Water at the store. With no sugar added, these lemon ginger and lemongrass spearmint drinks are made up only of purified water and organic extracts. One look at the nutrition label, and you'll know you're getting a lot of added flavor without any added consequence.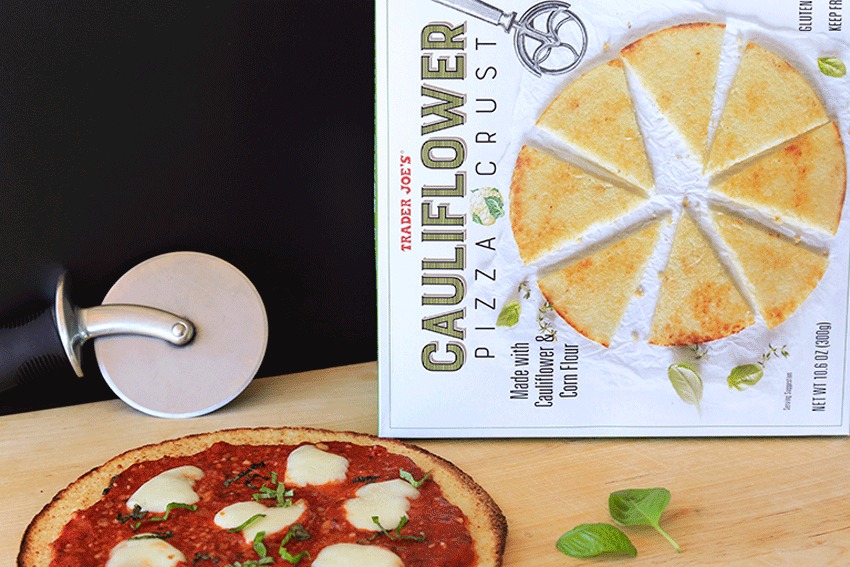 Per 1/6 crust
: 80 calories, 0 g fat, 220 mg sodium, 17 g carbs (1 g fiber, < 1 g sugar), 1 g protein
You may be gluten-free or just looking to cut carbs, but either way, you're going to wish Trader Joe's had released cauliflower pizza crust sooner. This gem clocks in at just 80 calories a slice, and you can thank the pizza's base for that. While most crusts of this kind are held together with eggs or cheese, Trader Joe's uses cornstarch, potato starch, olive oil, and sea salt to keep theirs together. The nutty, riced cauliflower will be great at absorbing the flavors in the ingredients around it, so the sky's the limit when it comes to toppings. You can pile them on without piling on the pounds!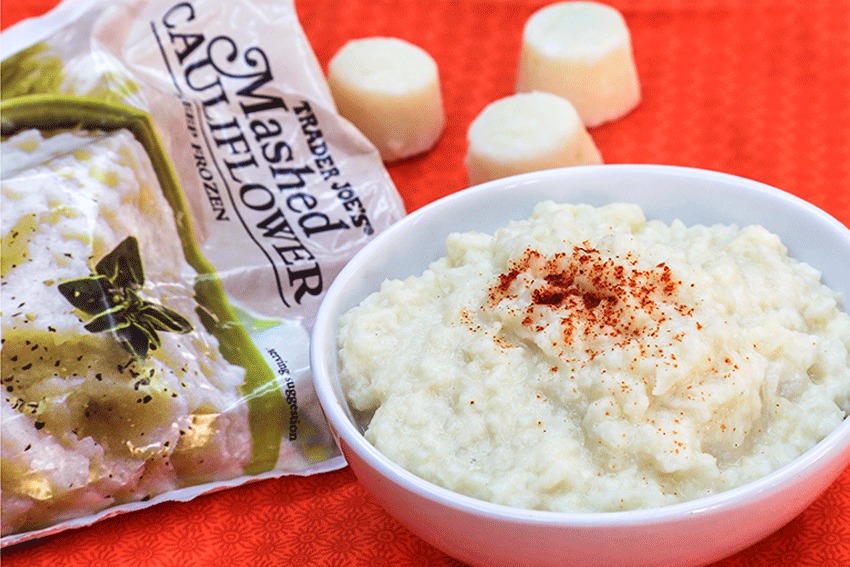 Per 1 cup
: 50 calories, 2 g fat (1 g saturated fat), 270 mg sodium, 7 g carbs (2 g fiber, 3 g sugar), 2 g protein
Cauliflower chunks and bits team up in this new dish for a creamy, yet textured dish that can rival any bowl of mashed potatoes with just a fraction of the carbs. Seventy percent of it is made up of the white veggie, while the rest contains recognizable ingredients like skim milk, white pepper, and rice flour. Use it as a side dish for all kinds of different meals or cook up a bigger bowl with mix-ins of your choice.
Organic Coconut Aminos Seasoning Sauce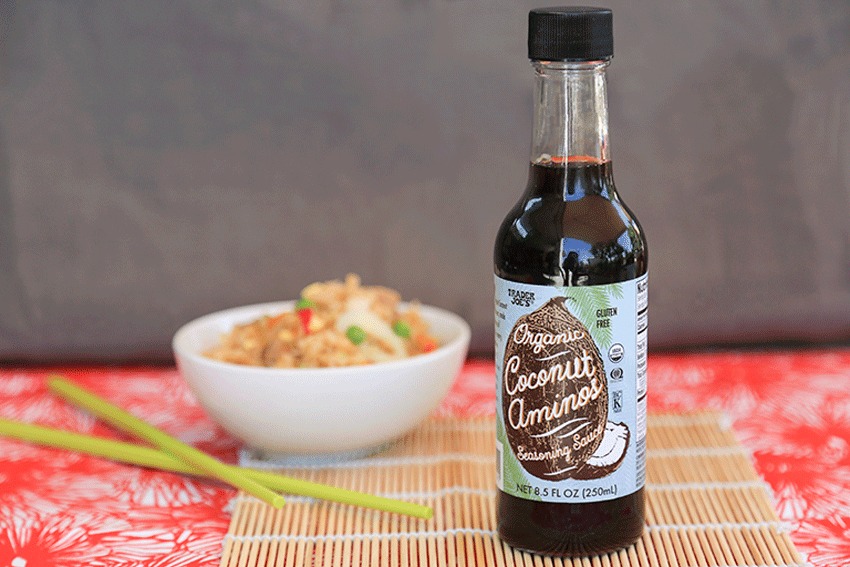 Per 1 tbsp
: 20 calories, 0 g fat, 300 mg sodium, 5 carbs (0 g fiber, 5 g sugar), 0 g protein
What do you get when you mix the sap from a coconut blossom with water and sea salt? Surprisingly enough, a slightly sweeter soy sauce replacement for anyone looking to cut back on their sodium intake while ingesting 13 different amino acids, all at the same time. (For reference, regular soy sauces can clock in at upwards of 900 milligrams of sodium per tablespoon!)
Just a Handful of Rainbow's End Trail Mix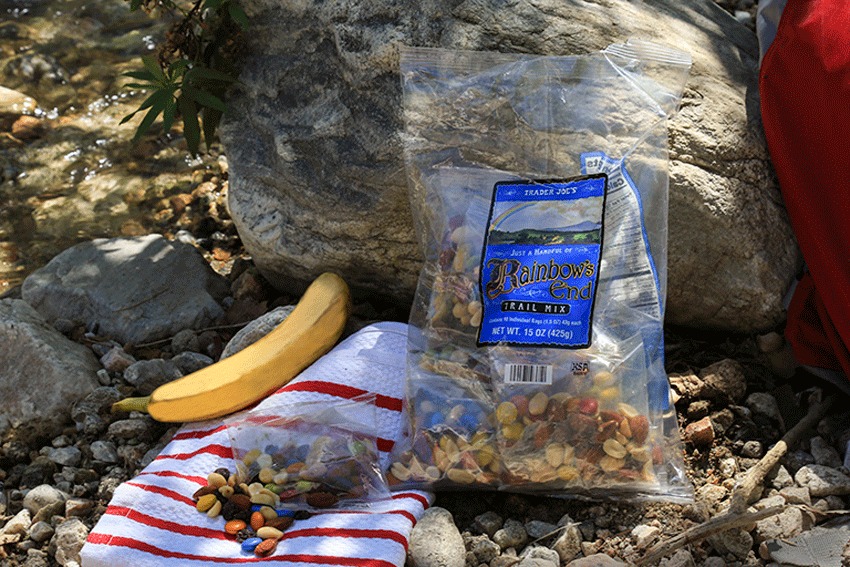 Per 1 bag
: 210 calories, 13 g fat (3 g saturated fat), 80 mg sodium, 21 g carbs (2 g fiber, 16 g sugar), 5 g protein
While this trail mix may not be new to Trader Joe's, its packaging is. Before, you'd have to dig into the bag if you wanted a snack and trust yourself to have enough self-control to stop eating once you'd reached a single serving. But now, this mix of milk chocolate candies (made with no artificial coloring), roasted and salted peanuts and almonds, and California raisins, is prepackaged into one-ounce bags. This isn't just convenient to throw in your bag, but a smart way to stop yourself from eating too much. Each serving is 210 calories, 13 grams of fat, and 16 grams of sugar after all.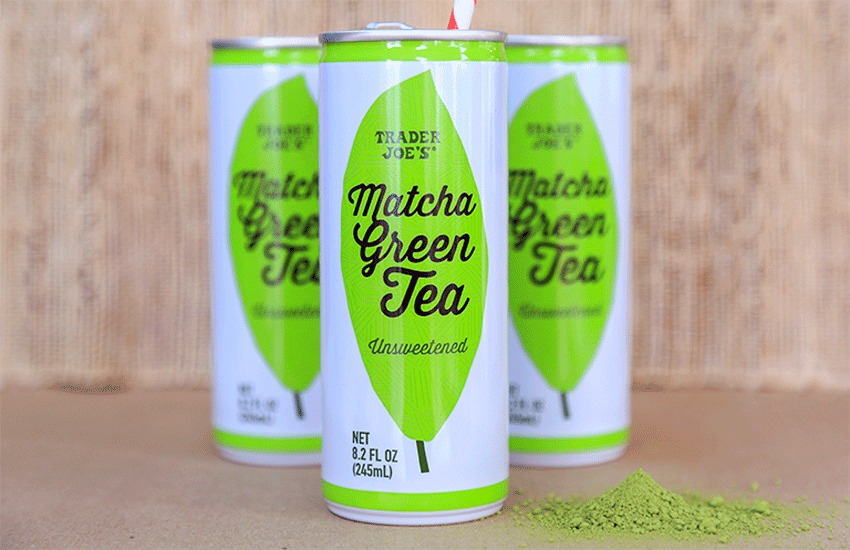 Per 1 can
: 0 calories, 0 g fat, 15 mg sodium, 1 g carb (0 g fiber, 0 g sugar), 0 g protein
Further down on this list, you'll see that Trader Joe's recently began selling matcha green tea powder, but now they've got another option for those in a rush — cans of the stuff that you can chill and crack open with much less effort. So if you're as addicted to this trendy flavor as everyone else, adding this cheap drink to your Trader Joe's shopping list won't do any damage to your bank account or your scale. It's free of calories, sugar, and fat — talk about a triple threat.
Unsweetened Sunflower Seed Spread
Per 2 tbsp
: 210 calories, 16 g fat (2 g saturated fat), 100 mg sodium, 4 g carbs (2 g fiber, 1 g sugar), 7 g protein
Trader Joe's original Sunflower Seed Butter only had 3 grams of sugar, but if even that small amount was enough to scare you off, try their new unsweetened version. It only has a single gram of sugar, and it comes naturally from the seeds themselves. We're going nuts for it because it's also slightly lower in sodium with the same amount of protein and a shorter ingredients list, consisting of just roasted sunflower seeds and salt.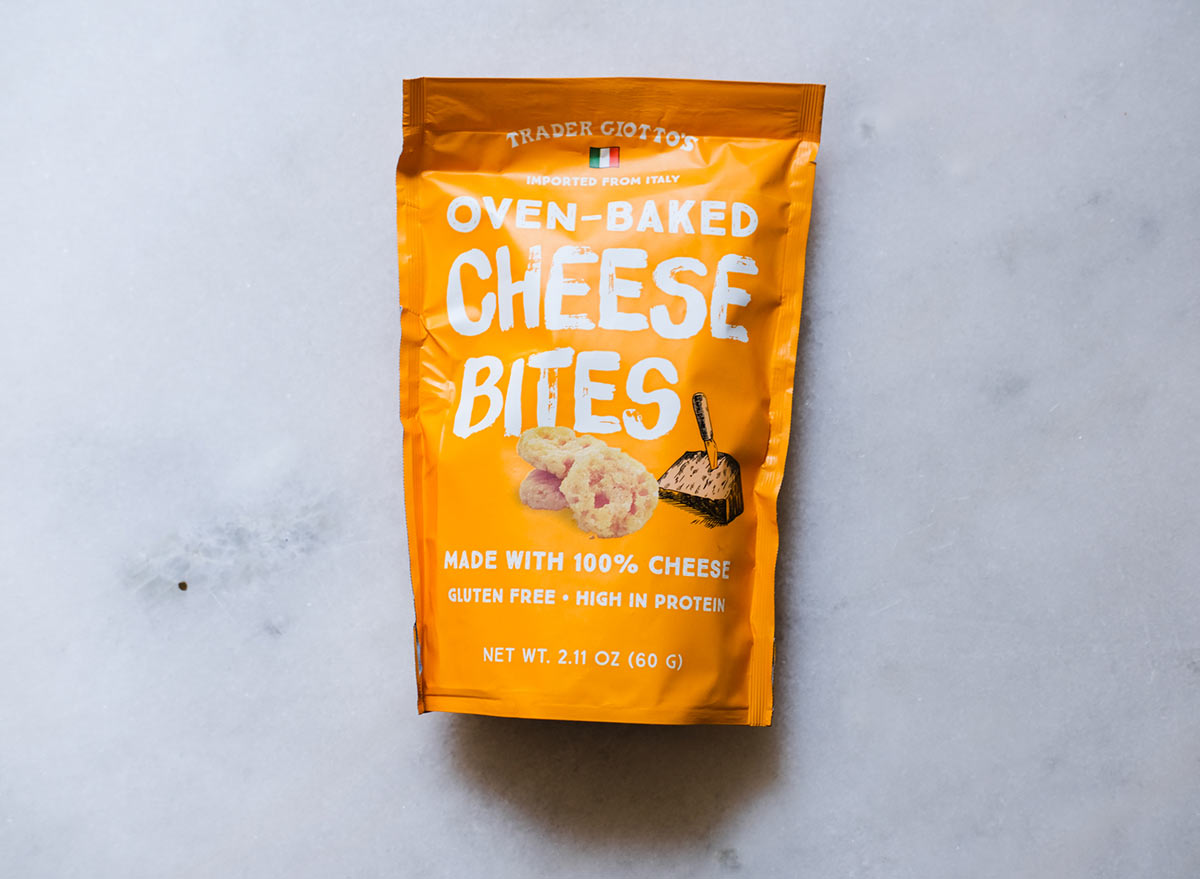 Per 1/2 package
: 170 calories, 12 g fat (8 g saturated fat), 310 mg sodium, < 1 g carbs (0 g fiber, 0 g sugar), 15 g protein
Unlike carb-laden Cheez-Its, Trader Giotto's Oven-Baked Cheese Bites are a low-carb snacktime dream come true. Made with a blend of Grana Padano and semi-aged cheese, these crunchy little bites are boldly cheesy and jam-packed with a staggering 15 grams of protein per serving. Say hello to muscle mass and goodbye to a stalled metabolism.
Strawberry Raspberry Oatmeal Cup

Per 1 container
: 220 calories, 3.5 g fat (0.5 g saturated fat), 0 mg sodium, 38 g carbs (6 g fiber, 5 g sugar), 9 g protein
Tart Cherry Chia Oatmeal Cup

Per 1 container
: 230 calories, 6 g fat (1 g saturated fat), 80 mg sodium, 36 g carbs (6 g fiber, 6 g sugar), 9 g protein
Take one glance at our list of best and worst instant oatmeals and you'll see how impressive these oatmeal cups are. Not only are they low in sugar, but they're high in fiber and protein, two macronutrients that have some serious staying power. Eat one, and you won't be constantly watching the clock waiting for lunchtime.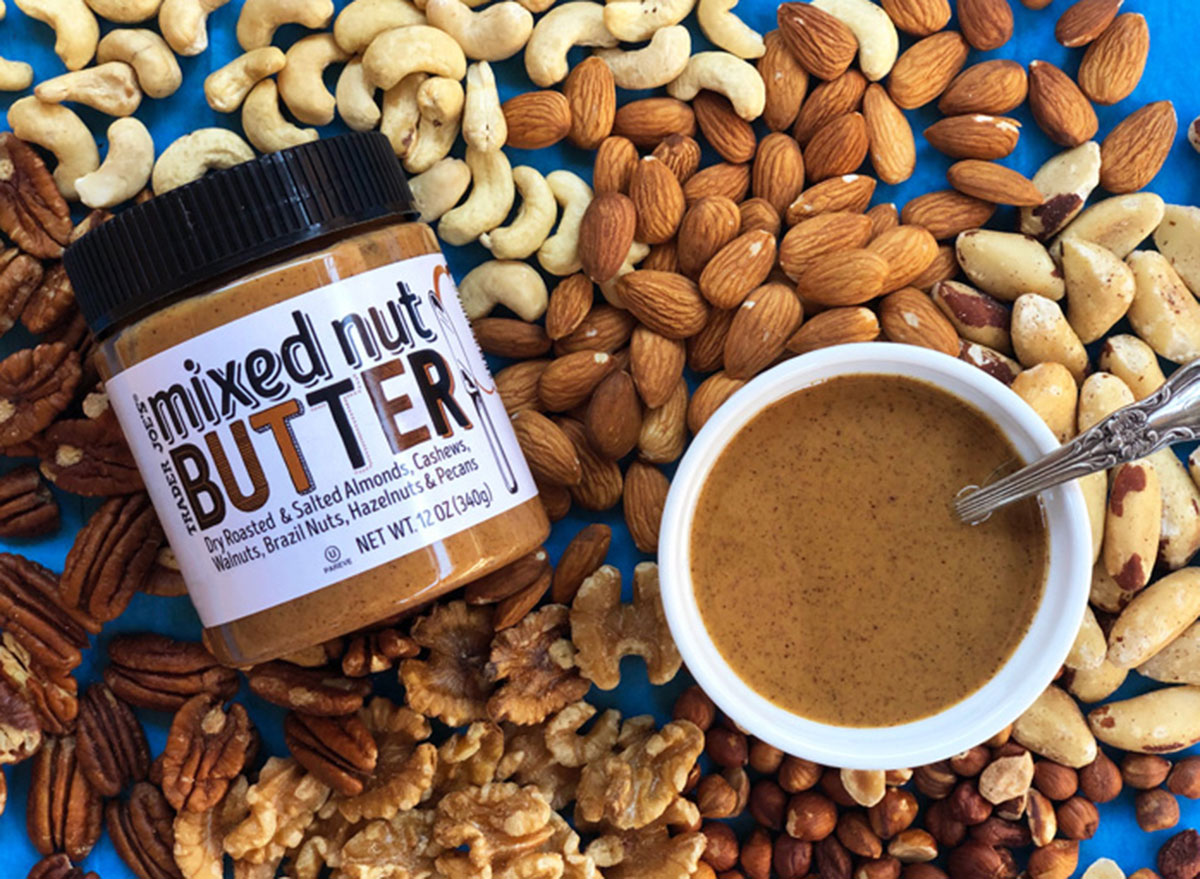 Per 2 tbsp
: 190 calories, 18 g fat (2.5 g saturated fat), 35 mg sodium, 7 g carbs (2 g fiber, 1 g sugar), 5 g protein
Why settle for one nut butter when you can reap the benefits of several in one jar? Each nut provides different health benefits: According to a study printed in The Journal of the International Society of Sports Nutrition, almonds can help you burn more fat and carbs during workouts thanks to being rich in the amino acid L-arginine; walnuts are one of the best sources of anti-inflammatory omega-3 fatty acids; and just a single Brazil nut contains your daily recommended intake of selenium, a micronutrient that helps you maintain metabolism health. Besides essentially acting like a multivitamin, this spread has no added sweeteners and no added oils, unlike some of the worst nut butters.
Organic King Coconut Water
Per container
: 45 calories, 0 g fat, 95 mg sodium, 11 g carbs (0 g fiber, 8 g sugar), 1 g protein
There's only one ingredient in this coconut water: coconut water. It doesn't sound surprising, but compared to what other brands tend to add to their containers (including emulsifiers, stabilizers, and sugar), it's actually quite impressive. Even better: TJ's keeps the sugar count per serving to a mere 8 grams—which is a whopping 40% lower than leading brands. We love sipping on coconut water after workouts as an alternative to sugary sports beverages since it's teeming with the hydrating and muscle-soothing electrolyte potassium.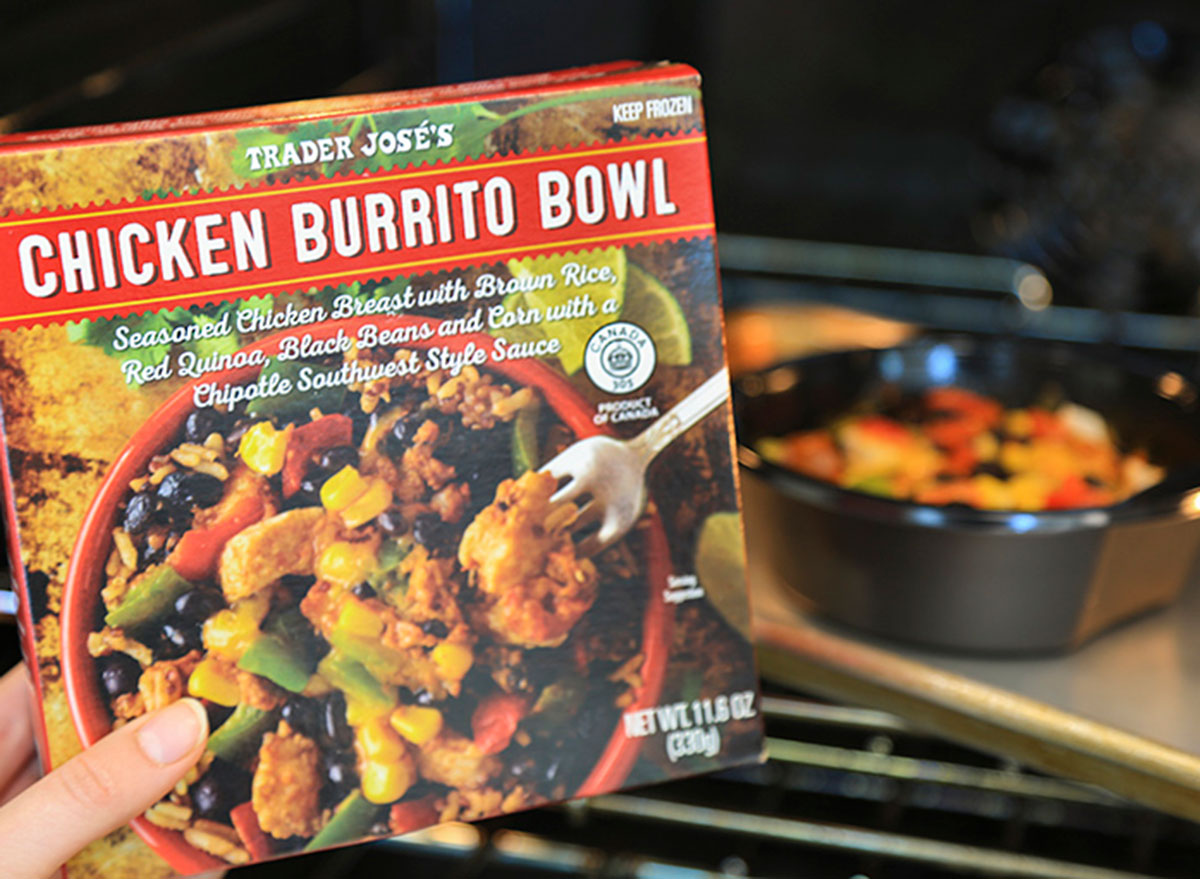 Per bowl
: 380 calories, 11 g fat (4 g saturated fat), 560 mg sodium, 54 g carbs (10 g fiber, 3 g sugar), 22 g protein
This hearty bowl of seasoned chicken breast, brown rice, red quinoa, black beans, corn, bell peppers, and cheddar cheese is the late-night worker's dream. The smoky southwestern-style meal is well-rounded—with 22 grams of protein and an excellent 10 grams of fiber—and will help you meet all of your better-body goals. Add it to your Trader Joe's shopping list pronto.
Per packet
: 5 calories, 0 g fat, 0 mg sodium, 0 g carbs, 0 g protein
Looking to fry belly flab? You've come to the right place. Matcha green tea is a primo source of EGCG, a powerful antioxidant that research has shown to boost metabolism and promote the release of lipids from fat cells. Add a packet to a cup of warm water, or steep it cold for a refreshing drink.
Organic Toasted Coconut Granola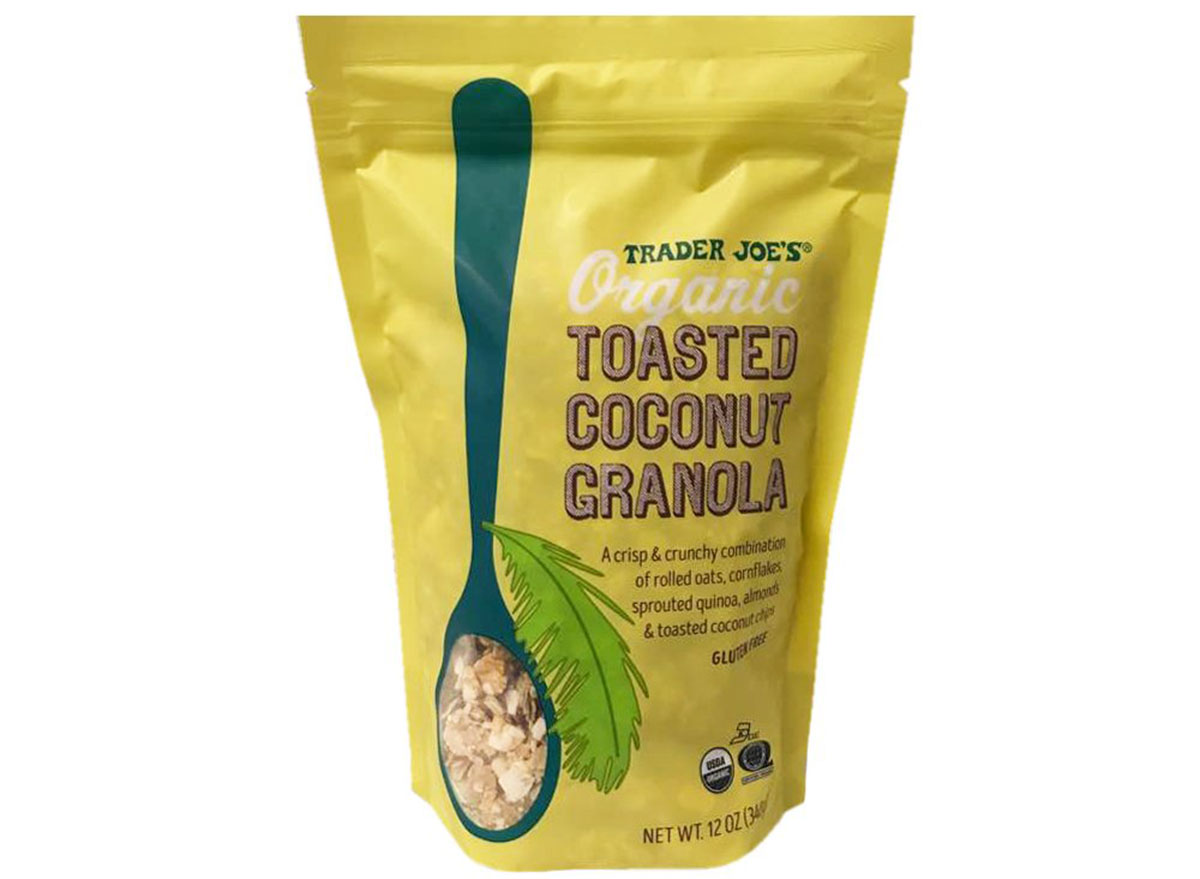 Per 1/3 cup
: 130 calories, 5 g fat (3 g saturated fat), 50 mg sodium, 18 g carbs (2 g fiber, 6 g sugar), 3 g protein
This granola is made from a blend of rolled oats, coconut flakes, roasted almonds, and quinoa, all bound together with a light layer of coconut oil and touch of cane sugar. For a generous ⅓ cup serving, you're only consuming 6 grams of sugar, which is fairly low considering some brands pack in upward of 12 grams.
Organic Chocolate Chip Chewy Granola Bars
Per 1 bar
: 100 calories, 2.5 g fat (1 g saturated fat), 10 mg sodium, 18 g carbs (1 g fiber, 8 g sugar), 2 g protein
Looking for a snack that will satisfy your hunger pangs without sending your blood sugar through the roof? Allow us to introduce you to your snacking savior. It has just the right amount of carbs to give your brain the energy boost it needs without flooding your system with sugar. Snacking helps to maintain your blood sugar levels throughout the day, which keeps you from overeating out of starvation at your next meal.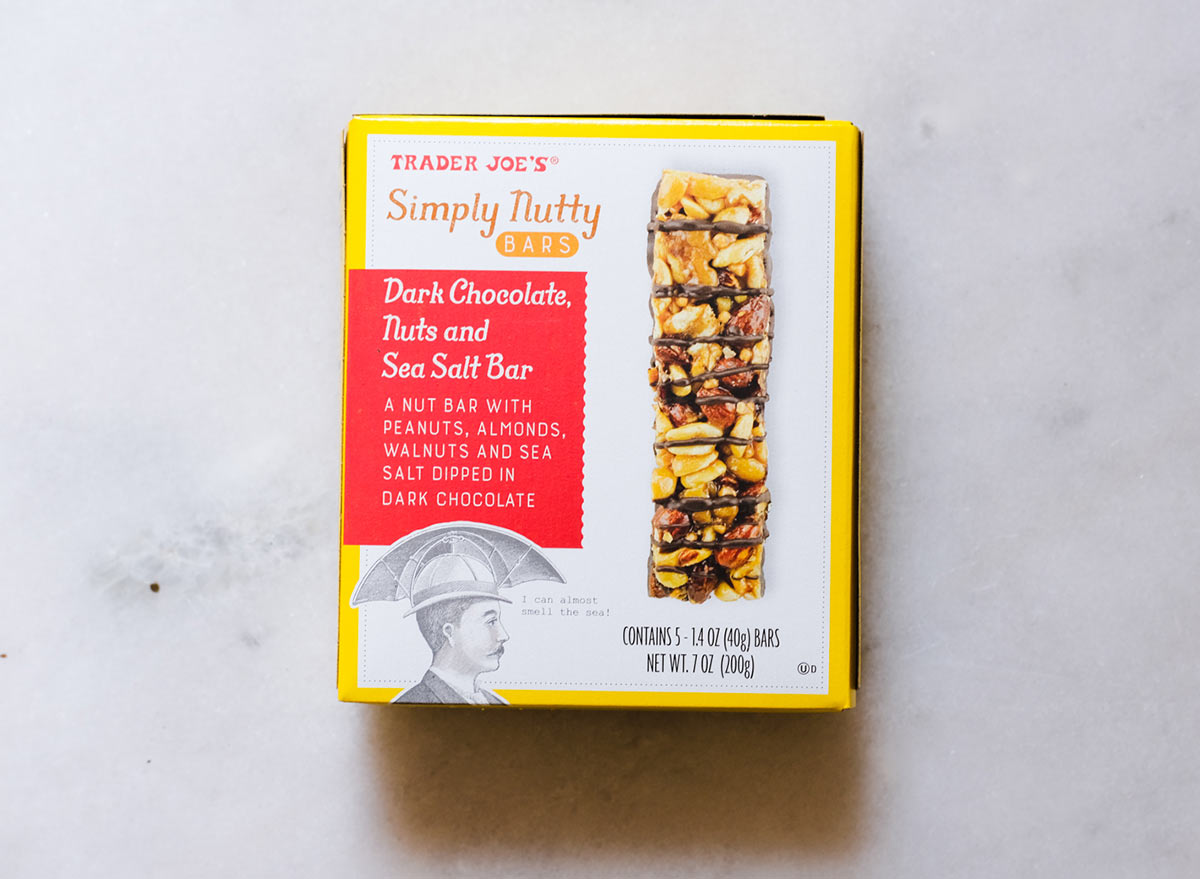 Per 1 bar
: 200 calories, 16 g fat (2.5 g saturated fat), 100 mg sodium, 14 g carbs (7 g fiber, 5 g sugar), 7 g protein
Have an afternoon sweet tooth? Simply Nutty Bars a great way to get in your chocolate fix without completely overdoing it. Plus, between the nuts and the seeds, this bar provides a great amount of fiber that can easily increase your daily fiber intake.
Hold The Cone Chocolate Ice Cream Cones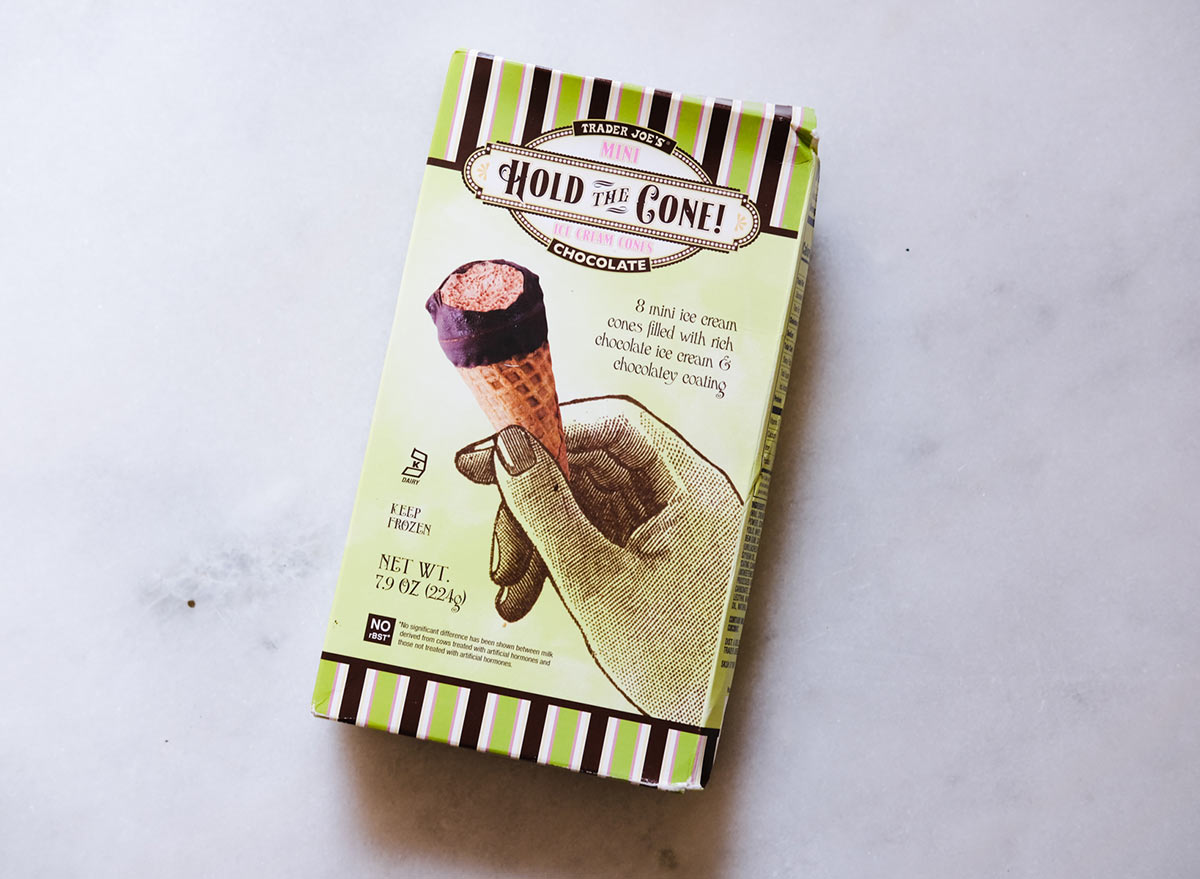 Per 1 cone
: 70 calories, 3 g fat (2.5 g saturated fat), 10 mg sodium, 9 g carbs (0 g fiber, 5 g sugar), 0.25 g protein
Portion control never looked so cute! These Hold The Cone ice cream cones are only 70 calories per and keep the sugars down to a mere 5 grams. They are the perfect fix for your sweet tooth at night, and will leave you feeling satisfied without totally overdoing it on a "normal" sized cone.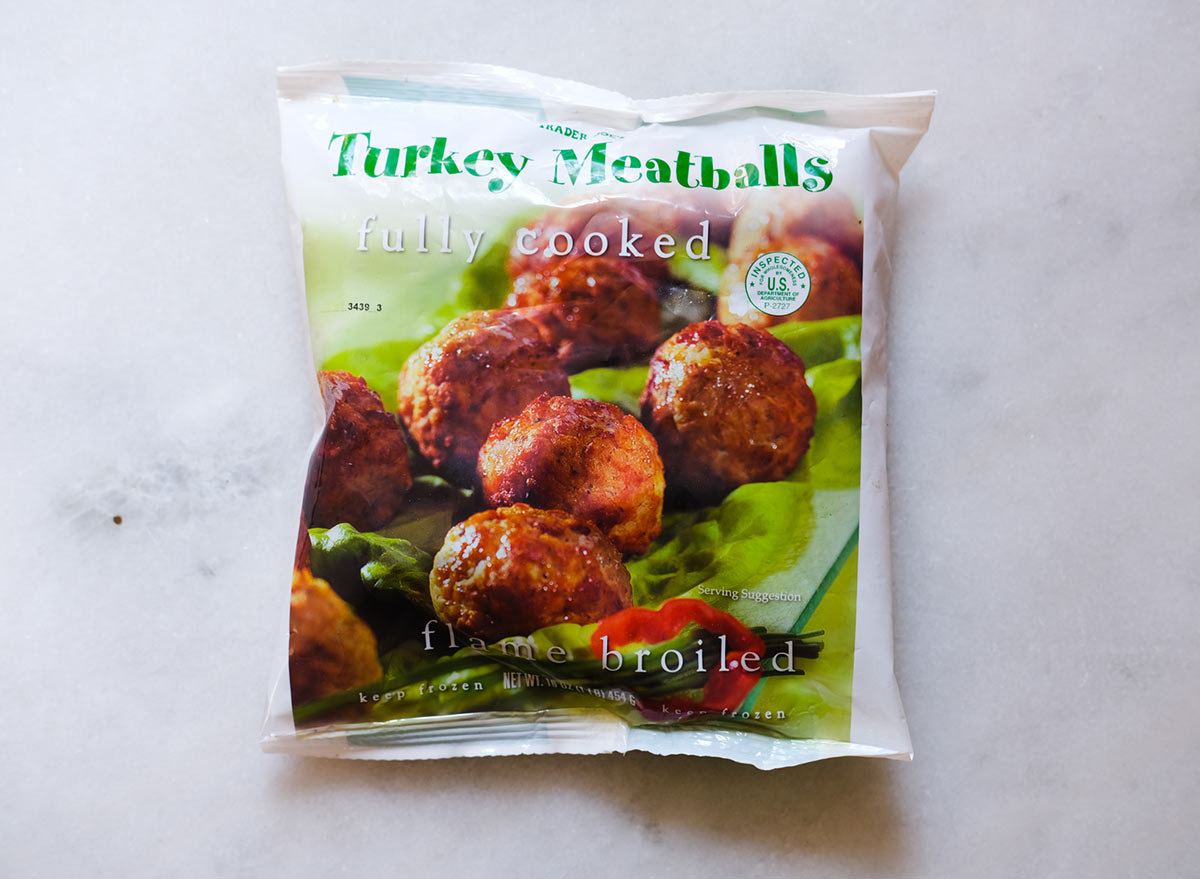 Per 2 meatballs
: 100 calories, 5 g fat (2 g saturated fat), 400 mg sodium, 5 g carbs (2 g fiber, 1 g sugar), 12 g protein
Lean out your spaghetti and meatball dinner with these frozen, fully-cooked turkey meatballs! Top them on a plate of zucchini "zoodles" or a bed of lettuce with your favorite low-calorie tomato sauce for an easy (and low-carb) weeknight meal.6254a4d1642c605c54bf1cab17d50f1e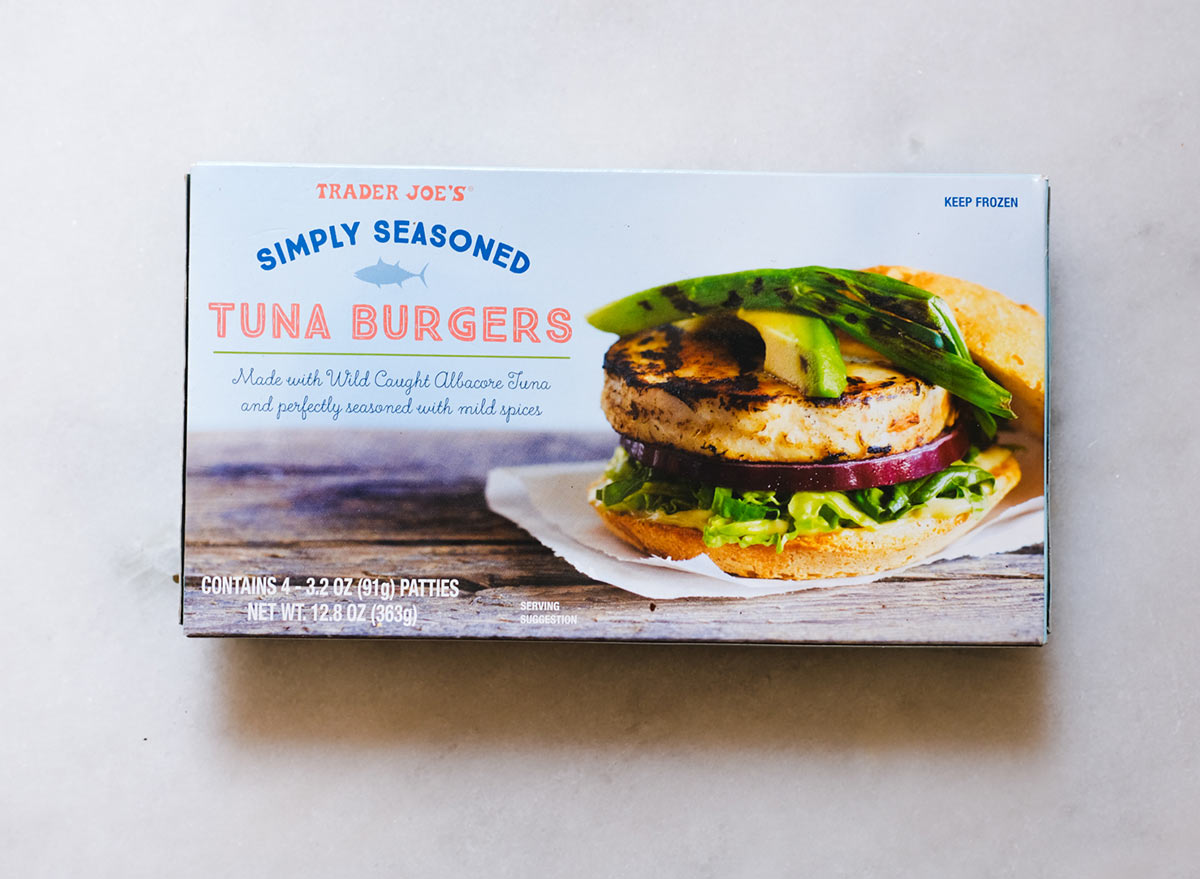 Per 1 burger
: 150 calories, 7 g fat (2.5 g saturated fat), 290 mg sodium, 4 g carbs (0 g fiber, 0.5 g sugar), 18 g protein
For an instant boost of protein, turn to these frozen tuna burgers! Top them with slices of avocado, fresh vegetables, and a whole wheat bun for an easy weeknight dinner.
Per 1/3 pizza
: 250 calories, 12 g fat (7 g saturated fat), 490 mg sodium, 24 g carbs (3 g fiber, 3 g sugar), 14 g protein
Don't feel like making a pizza with that cauliflower crust? Just buy this cheese pizza instead. You can eat 1/3 of the pizza for only 250 calories!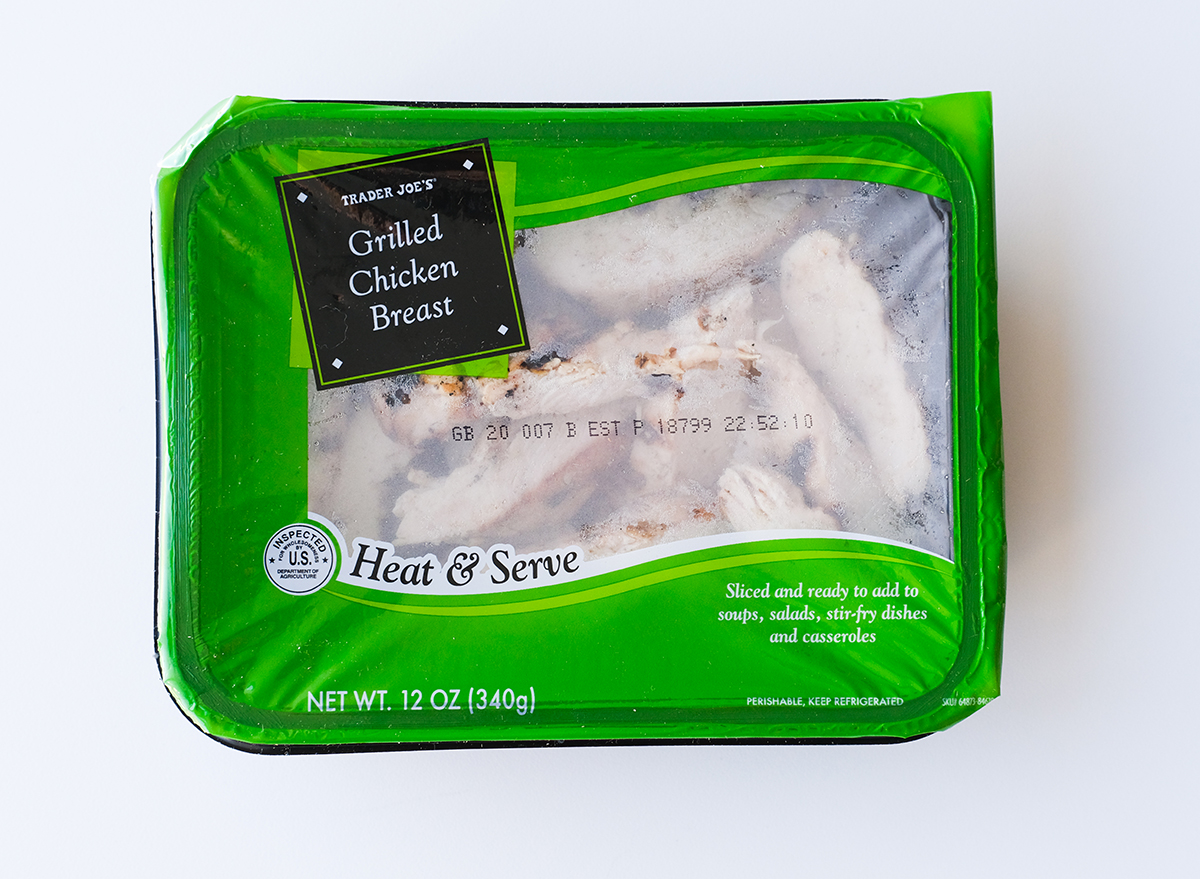 Per 4 oz
: 130 calories, 4.5 g fat (1.5 g saturated fat), 630 mg sodium, 0 g carbs (0 g fiber, 0 g sugar), 27 g protein
This grilled chicken breast makes throwing together salads, sandwiches, and grain bowls that much easier.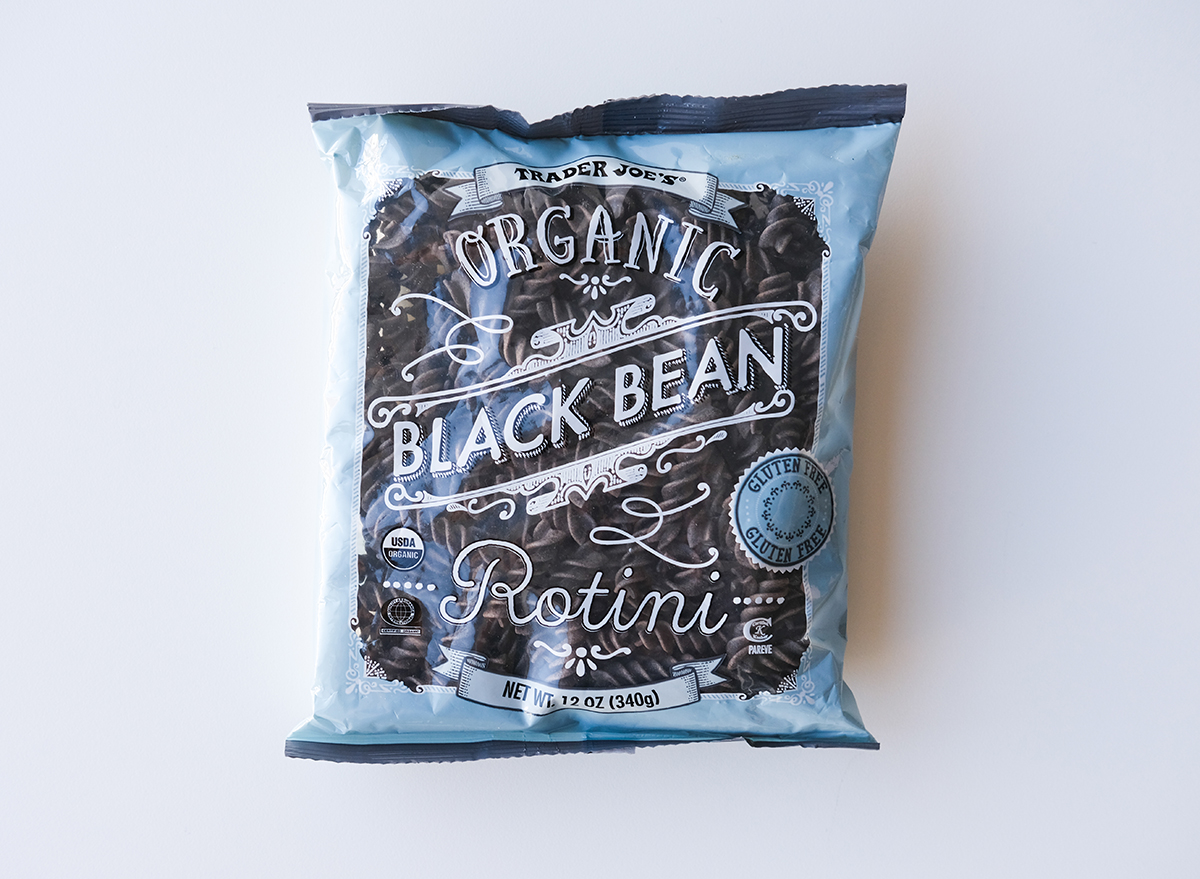 Per 3/4 cup
: 200 calories, 1.5 g fat (0 g saturated fat), 0 mg sodium, 35 g carbs (15 g fiber, 2 g sugar), 14 g protein
Need an easy boost of fiber? Swap out your usual pasta and turn to this black bean rotini instead! 3/4 cup gives you a whopping 15 grams of fiber a day.
For more grocery shopping tips, be sure to sign up for our newsletter!
Olivia Tarantino
Olivia Tarantino is the Managing Editor of Eat This, Not That!, specializing in nutrition, health, and food product coverage.
Read more about Olivia