7 Best YouTube Trainers To Follow for At-Home Workouts
These fitness pros will keep you motivated, engaged, and coming back for more.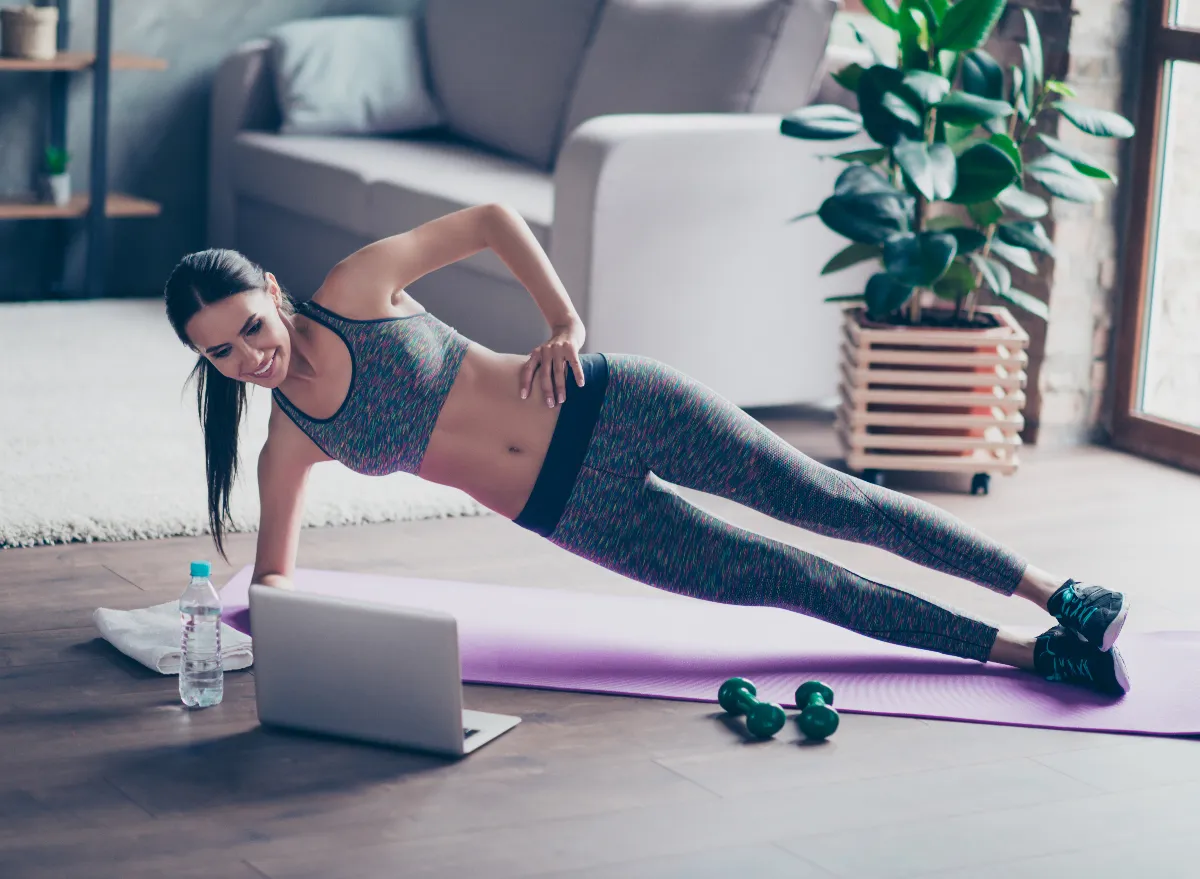 Whether you have a remote job or simply don't like to work up a sweat at the gym, the beautiful world of YouTube workouts is here to slay every day. All you need is to carve out a bit of time in your busy schedule, open up your laptop, choose an easy-to-follow routine, and you're good to go. Of course, as with selecting just the right exercises to do, it can be challenging to pinpoint the best YouTube trainers to follow for at-home workouts. Finding a fitness pro who keeps you engaged, on task, and progressing is so important, especially when you're exercising at home.
Of course, keeping your eye on the prize—aka, your end goal—is important, but you also want to have some fun while you're moving. We did the hard work for you and rounded up some of the absolute best YouTube trainers you should start following ASAP. If you're ready to kick up your workout game, listen up and check out the below. Keep reading for our favorite YouTube trainers to follow for at-home workouts. And when you're finished, don't miss The Top 10 HIIT Videos on YouTube Right Now, Rated by a Trainer.
Chloe Ting has over 24.8M subscribers on YouTube, and it's clear to see why. Ting is one of the first YouTube fitness pros to pop up when you search "at-home workouts" and sort by the most views. With 412 videos and counting on her profile, you will never get bored with your home fitness routine.
Ting offers workouts and healthy recipes, so you can pair your exercise with some tasty homemade treats. Whether you're looking to sculpt abs in two weeks, get shredded, lose weight, perform a standing workout, or achieve a round butt, Ting has you covered. She starts off her videos with an engaging intro and tells viewers how many exercises the workout includes, along with how much work you'll do versus the amount of rest time you'll have. The onscreen timer makes it easy to follow along.6254a4d1642c605c54bf1cab17d50f1e
Pamela Reif is another popular YouTube trainer you'll want to subscribe to, with her at-home workouts raking in plenty of views. Reif has 9.66M subscribers and 236 videos, so you'll have a ton of content to choose from. She keeps things upbeat, engaging, and on-trend, from her music choices to themed workouts, like this 10-minute Barbie dance workout that makes cardio way more fun. Reif's content is always up-to-date, so you'll likely have something new to look forward to whenever you work out. Get ready to burn calories, do a bit of dance cardio, sculpt your abs, and work your entire body.
Lucy Wyndham-Read, a qualified fitness trainer and weight loss expert, offers more than 1,000 free at-home workouts on her profile and has over 25 years of experience. Whatever you're looking to accomplish, Wyndham-Read has your back. For instance, her seven-day, seven-minute workout to lose belly fat / melt one to two inches off your waistline raked in 142M views and received an incredible response from viewers, with many of them noting they experienced a noticeable difference within the seven-day timeframe.
Wyndham-Read explains on her profile, "I am here to make fitness simply a part of your lifestyle, my exercise videos are about fun, quick, effective workouts … everyone is invited so come and join our community LucysSquad and fall in love with fitness."
You can count on Lilly Sabri to bring on high-energy vibes and results-driven workouts. Her videos are quick, efficient, and super relatable. If you're looking to burn leg fat and tone your legs, sculpt a flat tummy, melt excess body fat, get fit for beach season, shapen and round your butt, or sculpt an hourglass waist, Sabri certainly has the right routine for you. Her videos are fun and simple to follow, and they aren't total time-suckers!
Whether you're strapped for time or feeling totally unmotivated in the AM, Yoga with Adriene has just the yoga session for you. Adding more yoga to your life is a smart idea—especially if you work a desk job. Stretching yourself out and achieving your inner zen can work wonders for both your mind and body on a daily basis. Gear up for videos on yoga for bone health, quick restorative flows, yoga for beginners, yoga for lymphatic flow, yoga for your hips, yoga to start your day, and even date night yoga!
Joe Wicks—aka, The Body Coach TV by Joe Wicks on YouTube—is everything you need and more in a virtual, at-home trainer. He recently shared a "seven days of sweat" challenge that's broken down into a workout for each of the seven days, 20 minutes per workout, with no equipment required. "Do it with me and you'll feel amazing. Over seven days and just 20 minutes a day, we are going to transform the way we feel, so stick with me all the way and let's do this together," he noted in the first clip.
If you're not looking for a seven-day situation, we totally get it. Wick also offers excellent sessions focusing on moves that are easy on the knees, advanced HIIT, full-body with dumbbells, and more. If you don't have much time to spare but still want to fit in some exercise, Wick has 10-minute workouts that will do the trick. And if you're just starting out in your fitness journey, there are plenty of YouTube videos to choose from in Wick's "First Steps To Fitness" series.
If you really want to get pumped up for your workouts at home, check out cultfitOfficial. Although this YouTube channel features a collection of fitness trainers, every single one will have you feeling motivated, engaged, and ready for more. Plus, there's a wide variety of fitness content to choose from, including cardio workouts, face yoga, fat-loss routines, Tabata for beginners, yoga for beginners, rapid recovery, and full-body workouts. The team's "lose belly fat in seven days challenge" is one of the most-viewed at-home workouts on YouTube, raking in more than 74M views.
Alexa Mellardo
Alexa is the Mind + Body Deputy Editor of Eat This, Not That!, overseeing the M+B channel and delivering compelling fitness, wellness, and self-care topics to readers.
Read more about Alexa