30 New Twists on Classic Thanksgiving Recipes
These recipes will shake up your Thanksgiving menu.
As you gear up for Thanksgiving, you may feel creative fatigue making the same items as last year. And even if you're only serving your immediate household, you still want the meal to be special! The easiest way to spice up tired, old menus is by substituting in modern takes on classic dishes, showing off what you can do in the kitchen while still sticking with holiday flavors.
Accomplishing this balancing act can prove difficult, as finding brand-new takes on classic recipes can eat up a huge amount of time. But fear not—we've rounded up some of the best modern twists on Thanksgiving staples. Get ready to get creative with these 30 nontraditional Thanksgiving recipes we think might just become instant classics.
And for more, don't miss these 30 Thanksgiving Recipes That Take 30 Minutes.
Appetizers
Autumn Glow Salad with Lemon Dressing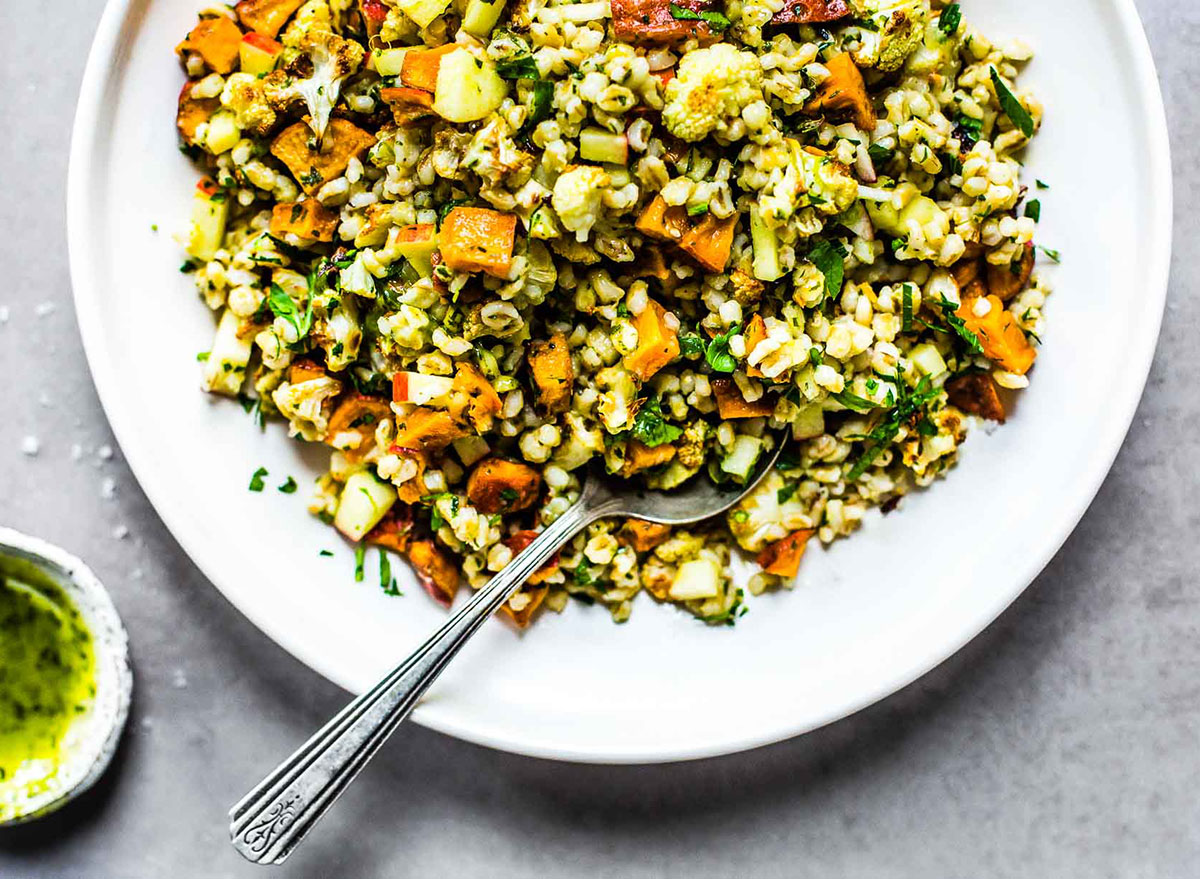 If you're getting tired of the regular salads you always prepare for Thanksgiving, this recipe presents a great seasonal twist on a classic. Apples pair beautifully with freekeh (or another grain of your choice) and a mix of spices. The result will remind you of the holiday spirit, while still being fun enough to treat your tastebuds.
Get the recipe from Pinch of Yum. 
Cranberry Brie Pastry Tarts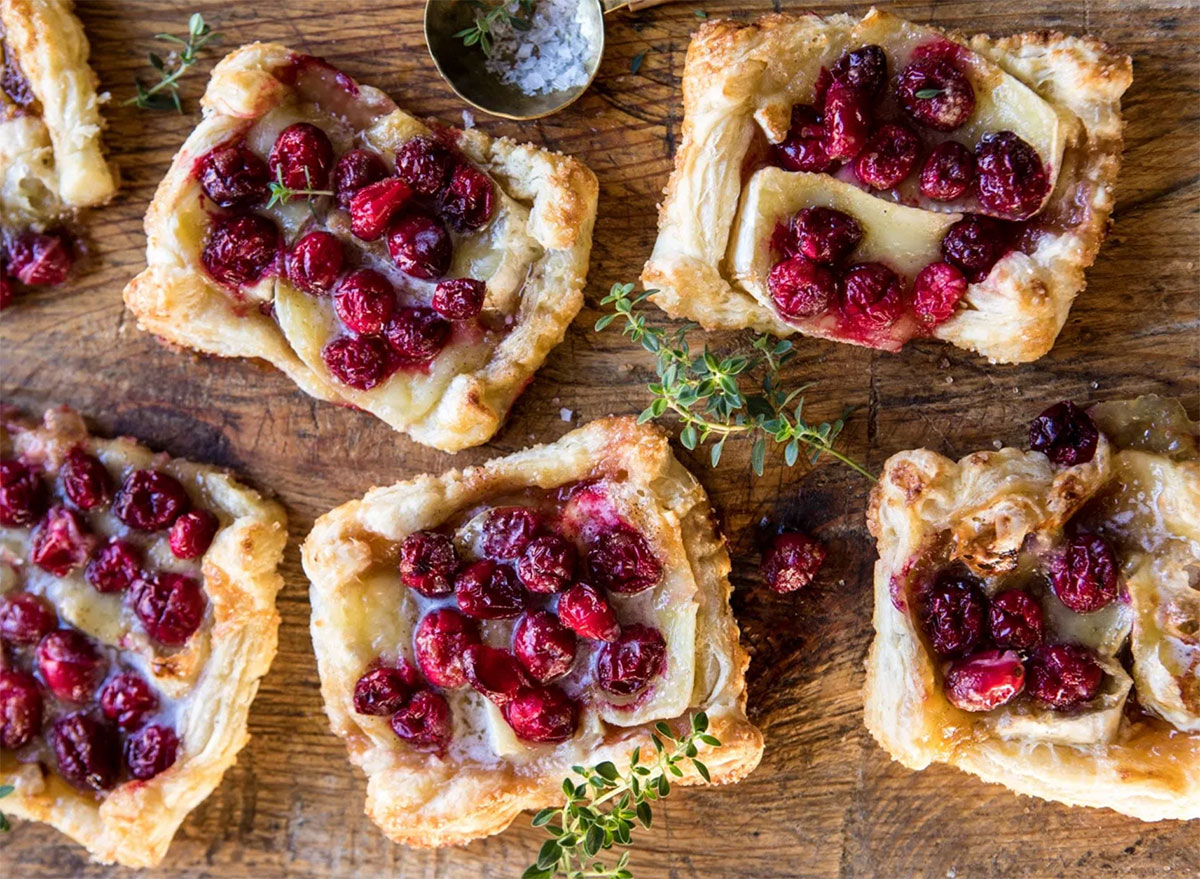 Nothing serves to impress like mini pastries. These cranberry brie tarts will do the trick, and they're easier to make than you think.
Get the recipe from Half Baked Harvest. 
Looking for a recipe with more local flavor? Don't miss The Top Thanksgiving Recipe from Every State.
Instead of placing a bowl of loose nuts and fruit out, why not mix up the usual by serving this assorted array of spiced nuts? They're simple to make—just roast the nuts in the oven with a variety of herbs and seasonings, and you're sure to impress your company.
Get the recipe from Well Seasoned. 
Need more Thanksgiving recipe ideas? Don't miss these 50 Quick and Easy Thanksgiving Recipes.
Bacon Brussels Sprout Salad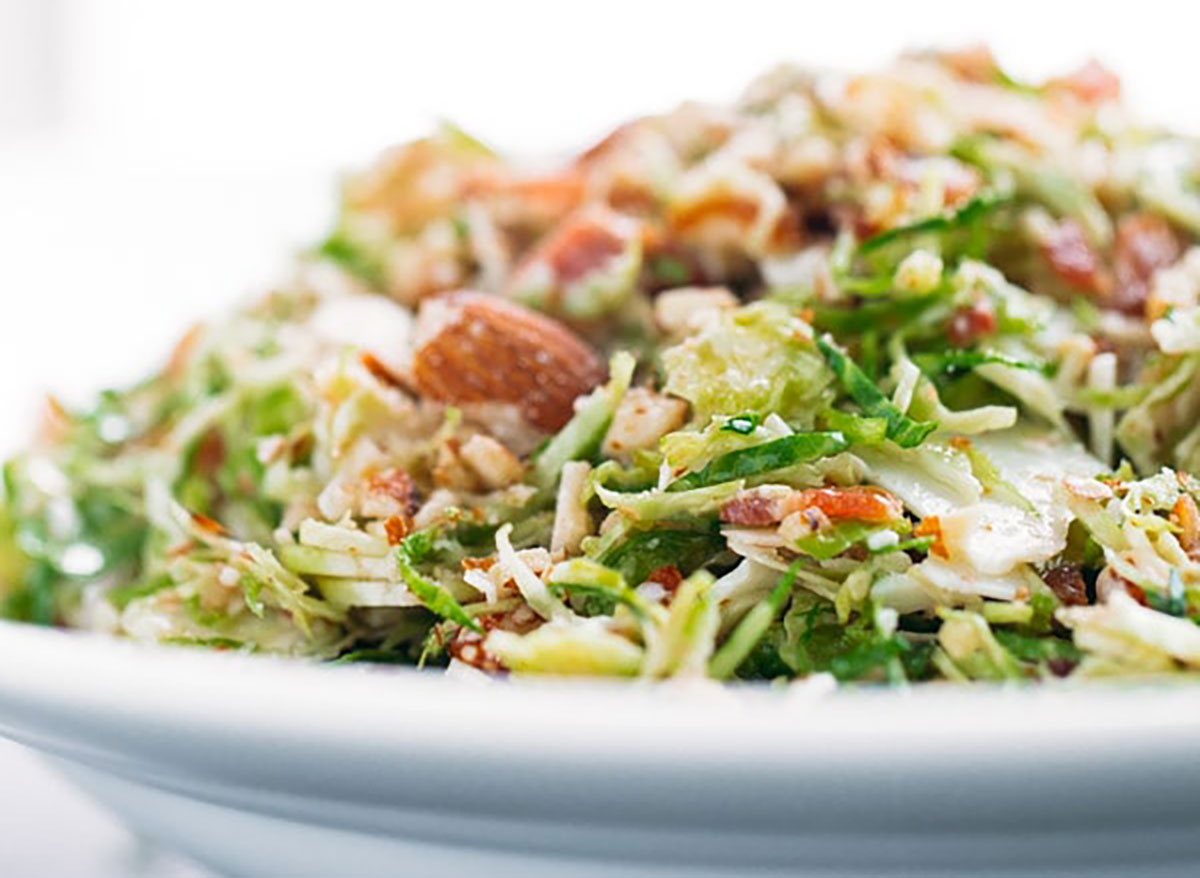 This new variation on the vegetable serves you with a solid dose of hearty greens, while the bacon adds some extra savory flavor. With Brussels sprouts in season this time of year, this might be the perfect salad for you.
Get the recipe from Pinch of Yum. 
And while you're cooking the rest of your meal, don't miss these 30 Thanksgiving Tricks That Will Save You Time in the Kitchen.
Pork Sausage Apple Stuffing in Pancetta Cups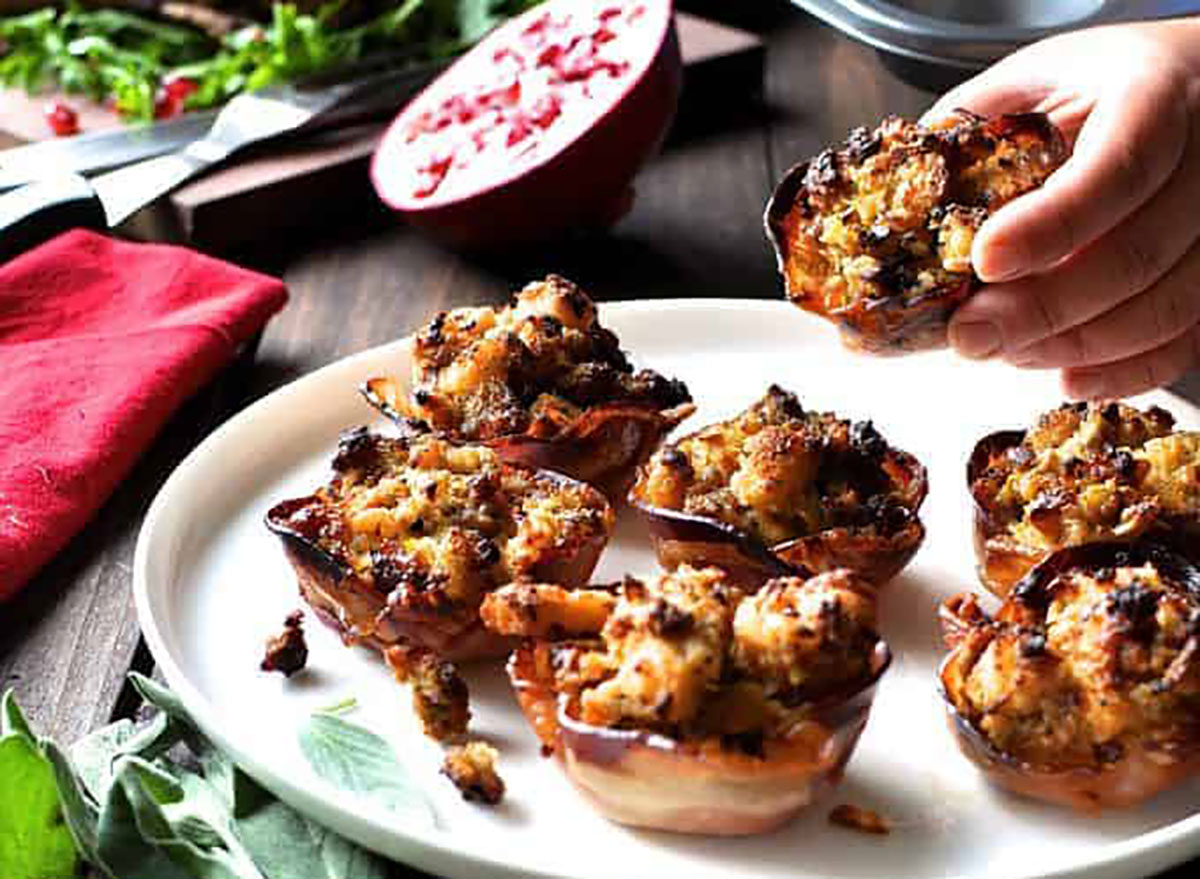 Maybe you're looking at your current menu and thinking about how you need to include some new appetizers. This recipe does just that and appeals to every carnivore in your household. This starter will keep your family coming back for more.
Get the recipe from Recipe Tin Eats. 
And as you go along with this recipe, don't miss these 30 Secrets for Making Perfect Stuffing.
Side Dishes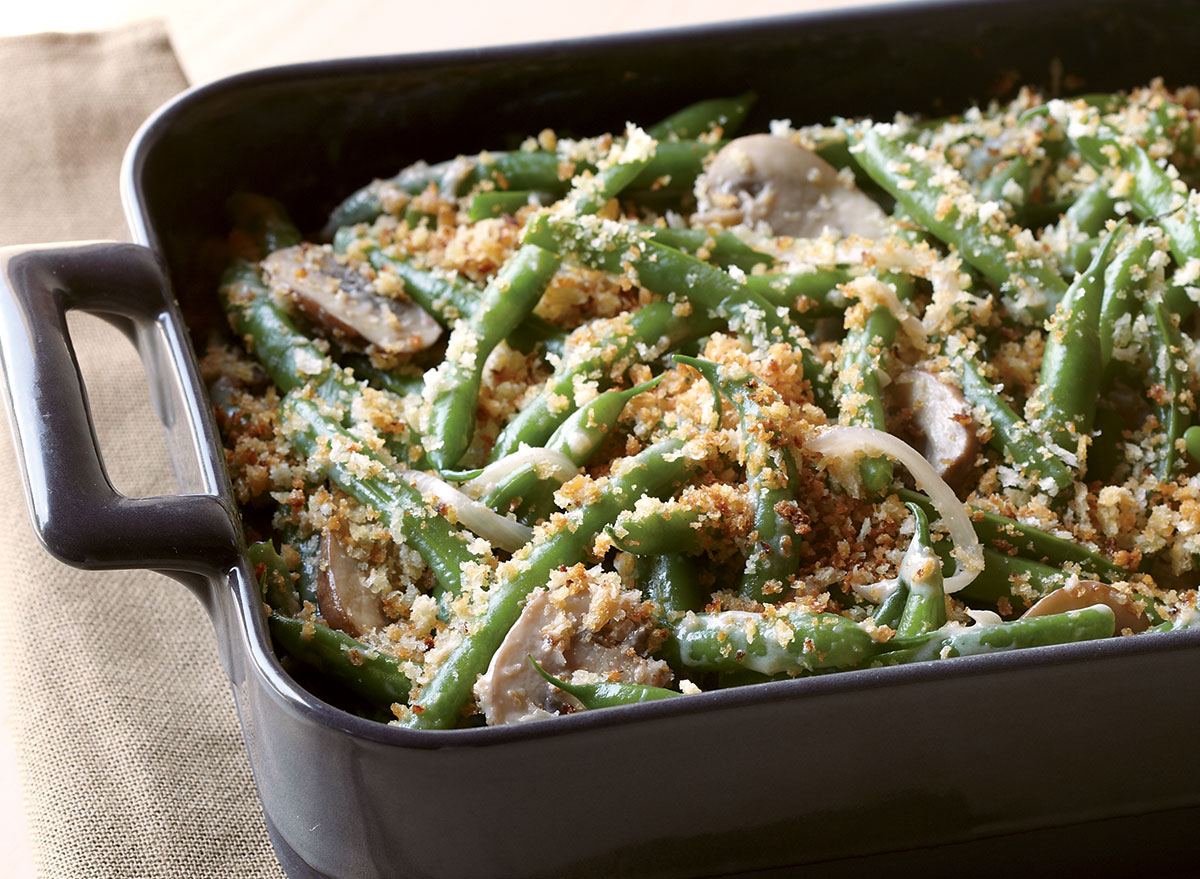 Green bean casserole must have Cream of Mushroom soup in it, right? We disagree. This recipe relies on fresh produce, including sliced mushrooms, for a new spin on the classic dish.
Get our recipe for Green Bean Casserole.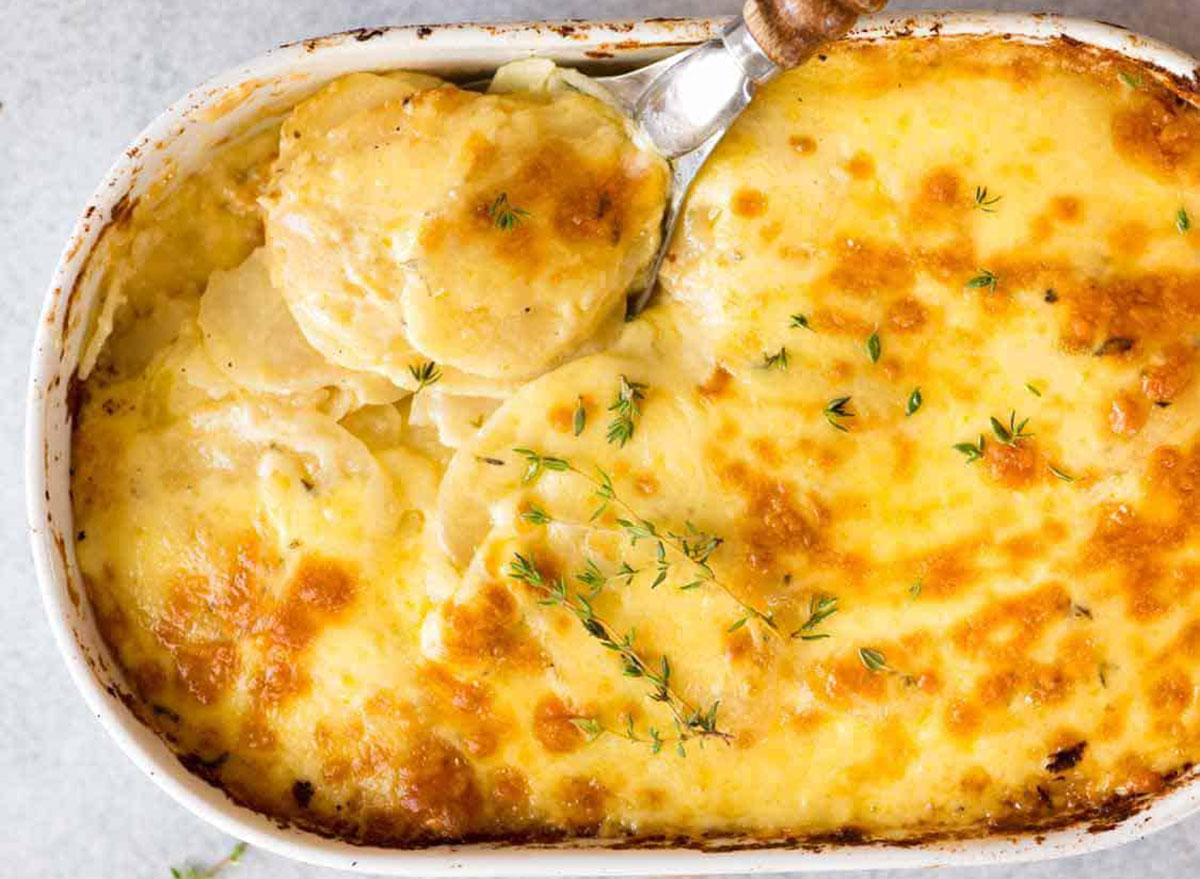 Julia Child made this potato dish famous decades ago, and for good reason, too. Instead of serving mashed potatoes this Thanksgiving, opt for this classic, which incorporates the flavors of France. You'll impress your family and leave them wanting more.
Get the recipe from Recipe Tin Eats. 
And for more fun spud suggestions, see our 13 Creative Ways to Use Potatoes.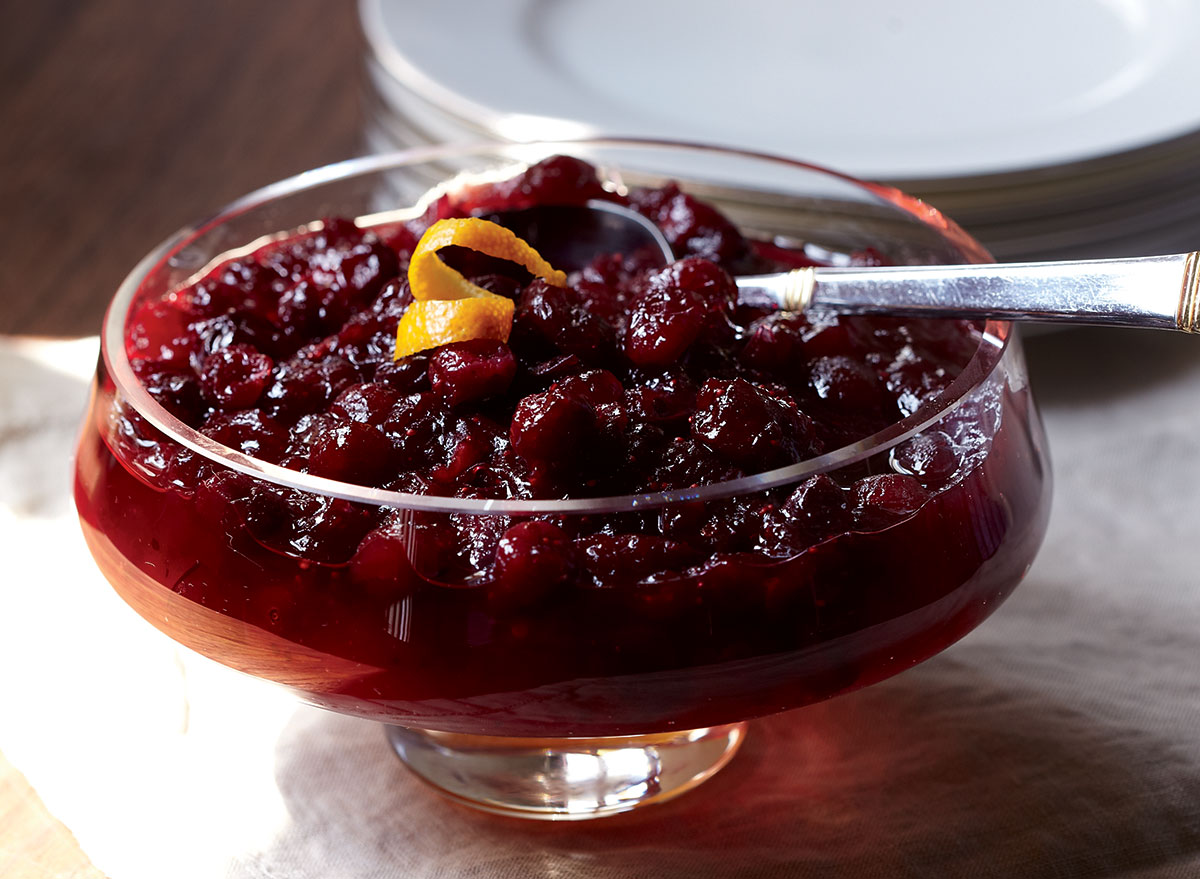 If you grew up with cranberry sauce every Thanksgiving, you might feel burned out on this holiday staple. Why not liven up your table spread with this take on a favorite recipe, now brightened with orange and citrus? You might even rediscover your love for this easy-to-make sauce.
Get our recipe for Cranberry Orange Relish. 
Vegetarian Shepherd's Pie
This take on the classic Shepherd's pie stays true to the original flavor while cutting the meat found in a classic version of the dish. Whether you need to serve vegetarians or are just looking for a lighter version of a holiday staple, this is your answer.
Get the recipe from Pinch of Yum.
Roasted Sweet Potato Stacks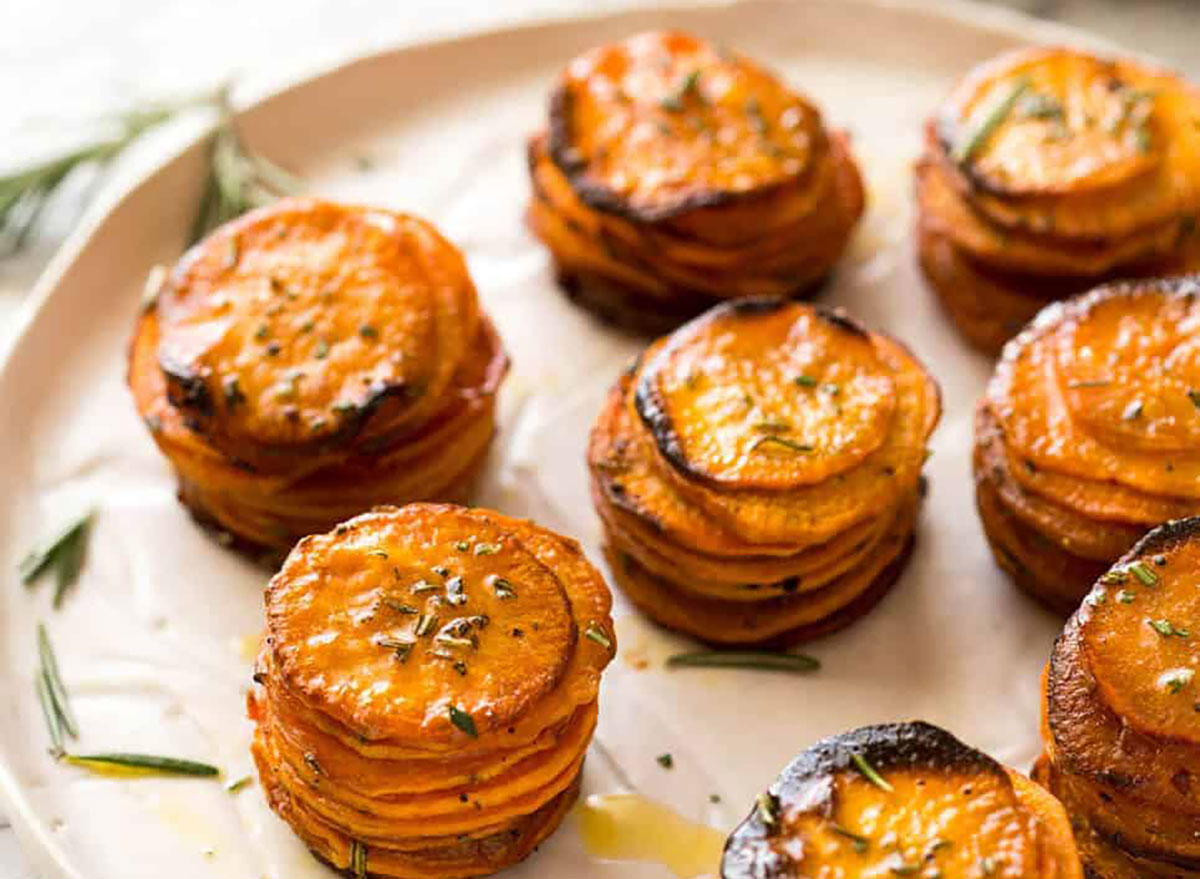 These sweet potato stacks look like they came out of the kitchen of a Michelin-rated restaurant! With very few ingredients and a low difficulty level, you can replace any starchy side you had in mind with these stacks to blow everyone away.
Get the recipe from Recipe Tin Eats.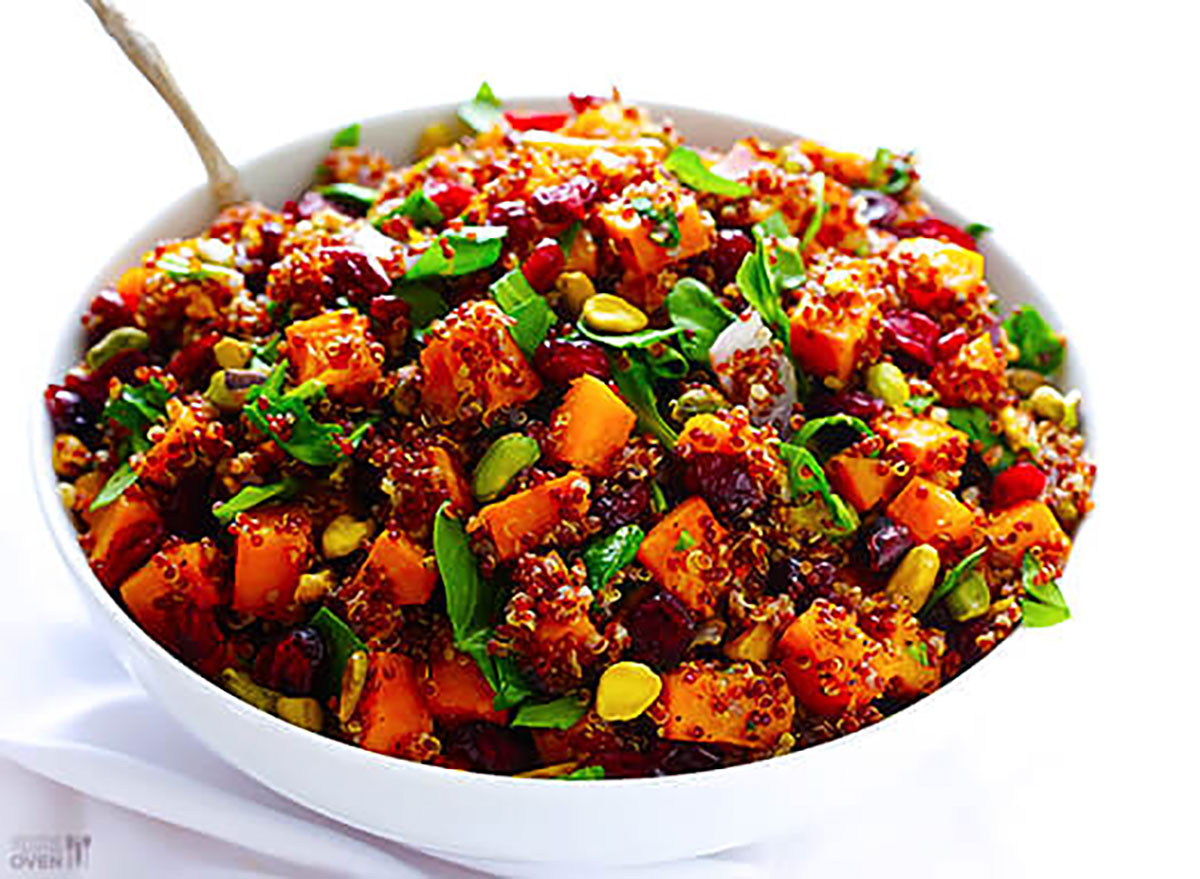 Stuffing is one of the classic sides of every Thanksgiving get-together, but it can feel played out. A great modern take comes in the form of quinoa "stuffing," marrying together whole grains, spinach, and cranberries.
Get the recipe from Gimme Some Oven.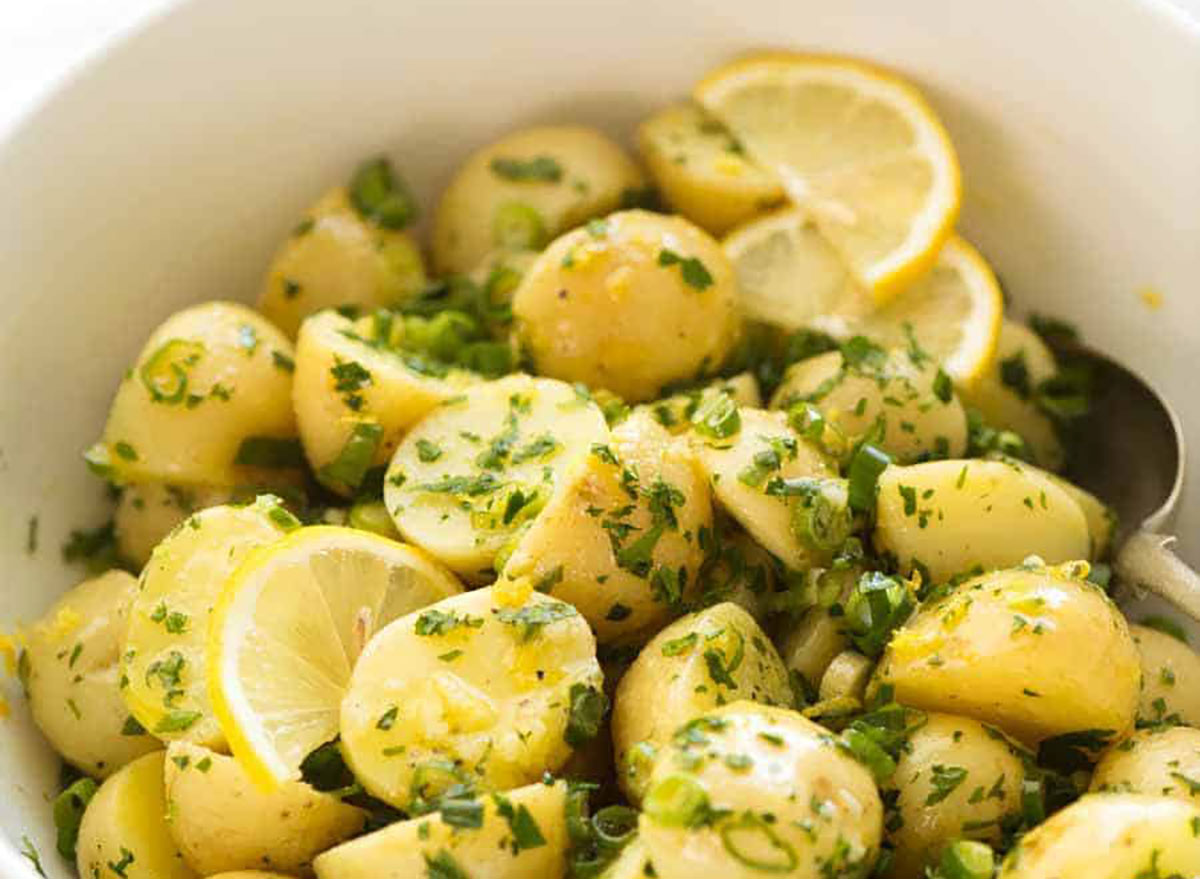 If you love a side of potato salad but want to forgo mayonnaise, this might be your new favorite recipe. The recipe eschews mayo for olive oil and preserves all of your favorite elements of the side while enlivening the flavor with extra lemon.
Get the recipe from Recipe Tin Eats. 
Delicata Squash Bake with Tahini Sauce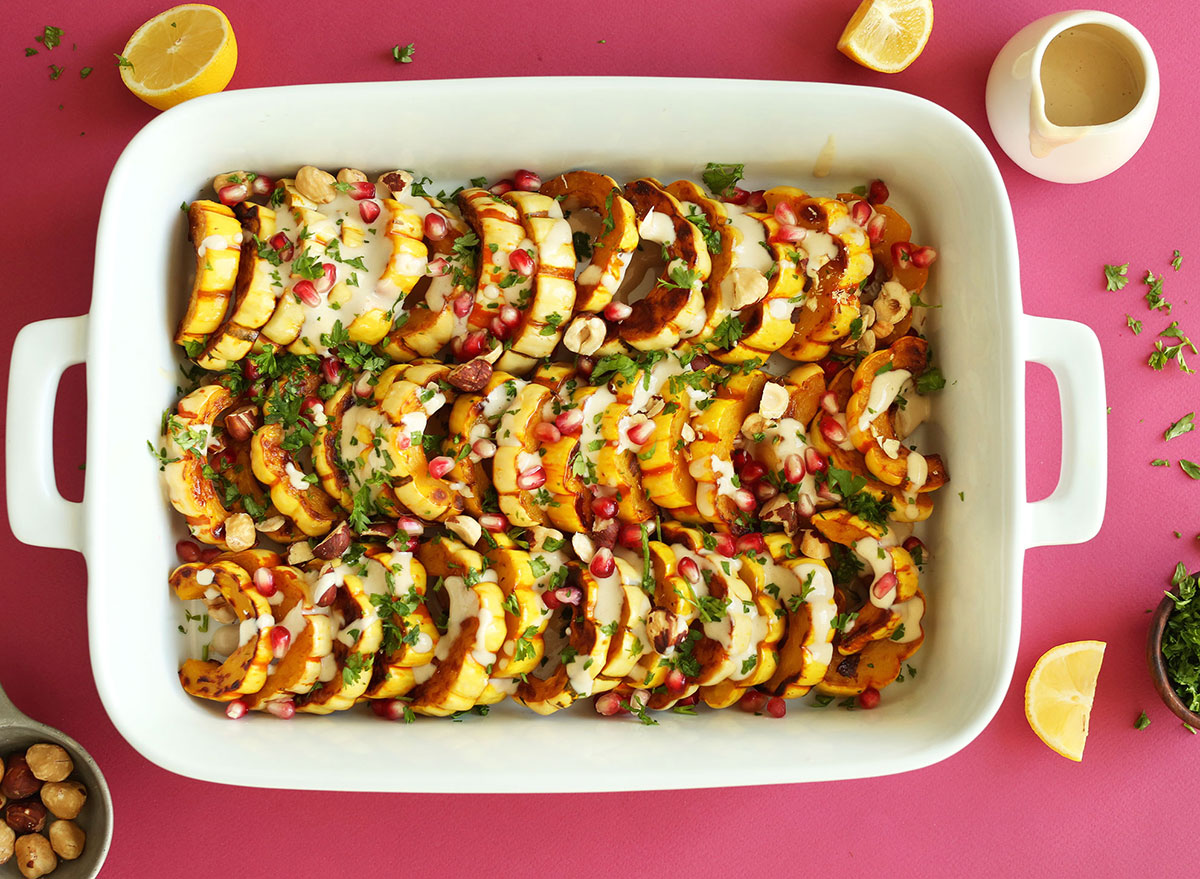 Thanksgiving is the perfect season to serve squash, and this recipe will top any squash bake you had before. Thanks to fresh ingredients for a big boost of flavor, this is the perfect addition to your Thanksgiving spread.6254a4d1642c605c54bf1cab17d50f1e
Get the recipe from Minimalist Baker.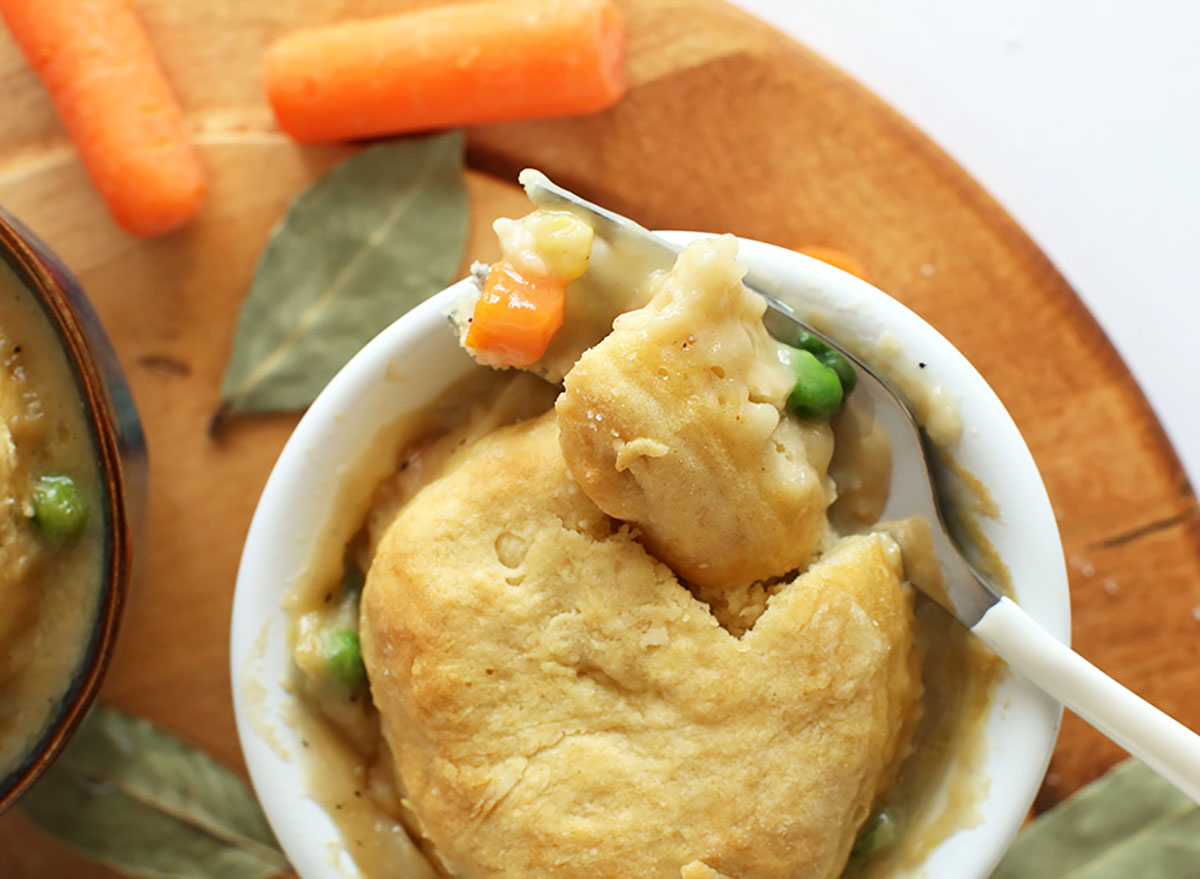 These easy vegan pot pies capture all of the flavors of a pot pie and can accommodate a vegan diet. These are sure to be a hit with even the meat-eaters at your table.
Get the recipe from Minimalist Baker. 
Cheese and Garlic Pull-Apart Bread
If you crave carbs and need to serve a big group, this cheese and garlic bread is just what you need. It is incredibly easy to make, and you can use bread from the store, making it an incredibly convenient option for when you have a million things to do. This will easily replace any regular bread side you once had on your table.
Get the recipe from Recipe Tin Eats. 
Wondering how long all these holiday foods will keep? This is Exactly How Long You Should Keep Thanksgiving Leftovers.
Main Courses
Maple-Glazed Spatchcock Turkey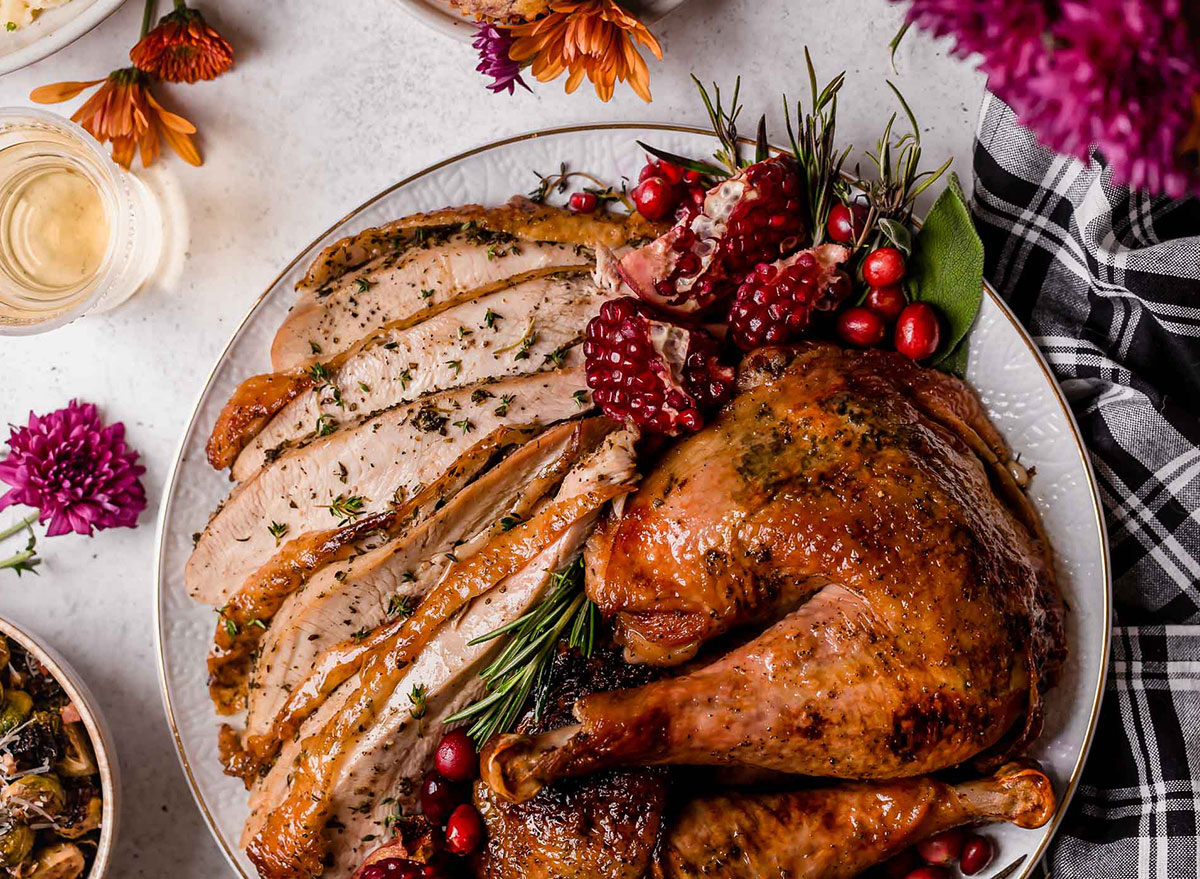 Spatchcocking, or splitting open and grilling, has become one of the most popular trends when it comes to roasting your Thanksgiving fowl. For a great take on this trend, try a maple-glazed spatchcocked turkey that doesn't rely on extra salt for flavor. The glaze locks in moisture for the juiciest bird.
Get the recipe from Plays Well with Butter. 
Garlic Herb Slow Cooker Turkey Breast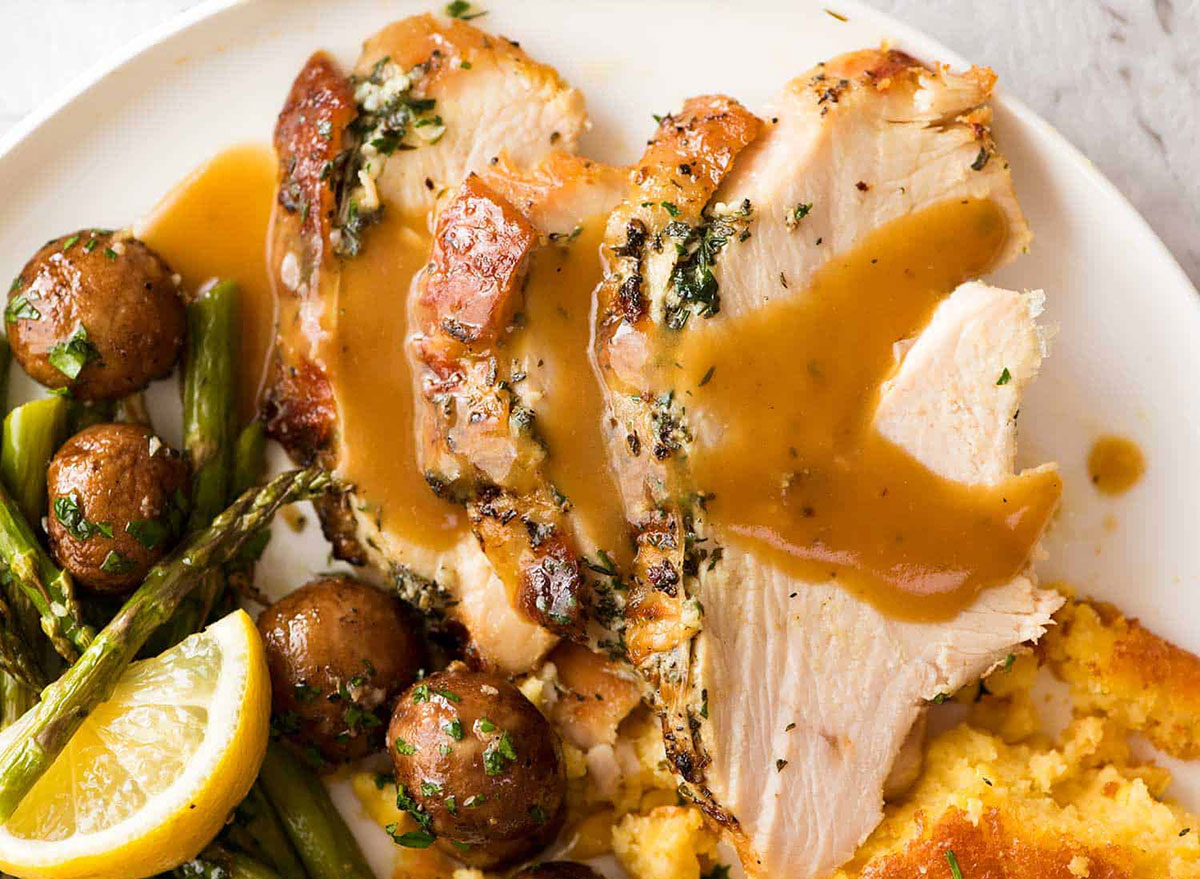 If you have to cook in bulk but don't want to roast a turkey, this time-saving alternative has come to your rescue. By slow-cooking, you buy yourself some extra time to do those much-needed chores around the house, while preparing a sumptuous, moist turkey breast infused with garlic for each of your family members. For a great take on the traditional turkey, it is hard to beat this one.
Get the recipe from Recipe Tin Eats. 
And if you're serving ham instead of turkey this year, don't miss these 10 Tasty Side Dishes for Your Holiday Ham.
Cajun Baked Turkey Breast with Dressing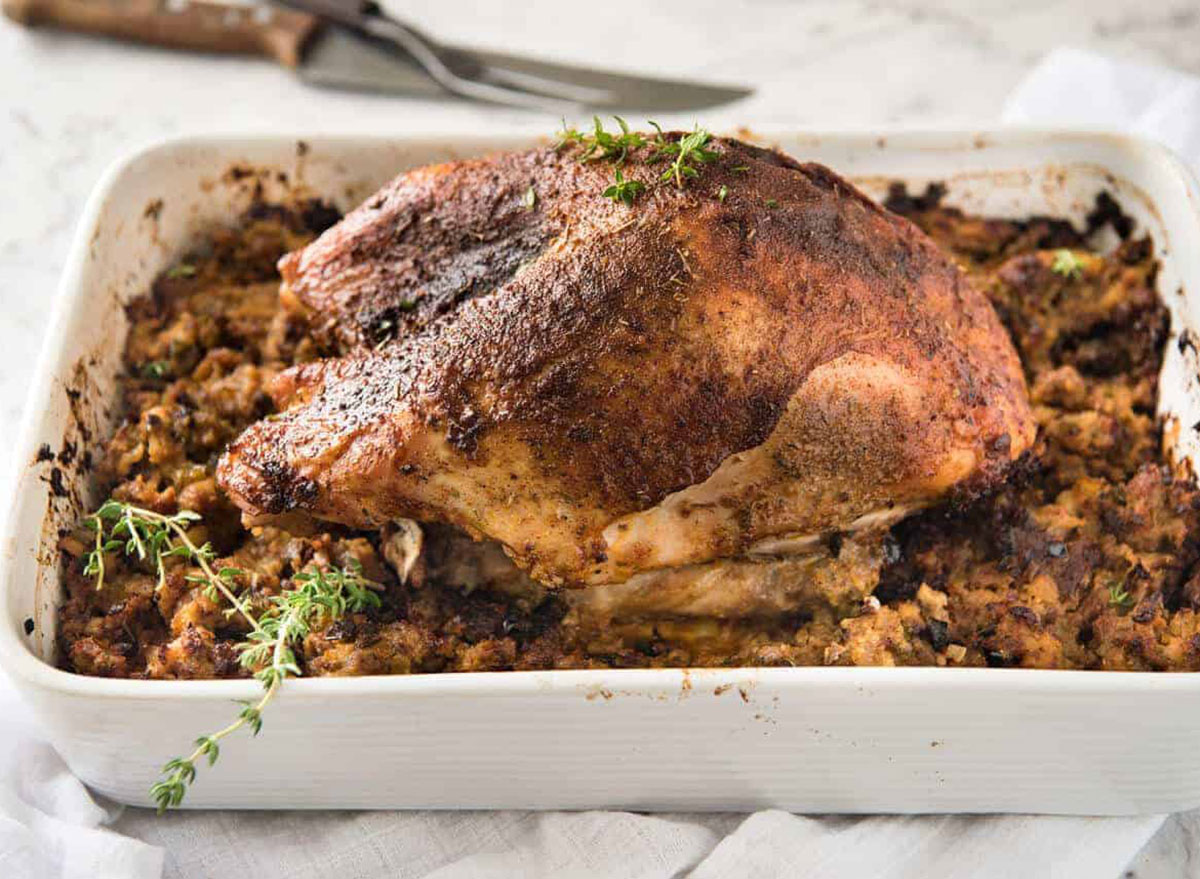 You may start to feel tired of the same old flavors in your turkey. Not to worry, as you can put a great twist on your recipe by switching to a Cajun-inspired bird that will pack in the flavor. If you want to have your turkey stand out this holiday season and infuse a bit of spice, this bird won't lead you astray.
Get the recipe from Recipe Tin Eats. 
Thanksgiving can be a difficult holiday if you have a strict diet or are gluten intolerant. Lucky for you, these lentil meatballs will make you forget about any other item on your Thanksgiving menu, given how much flavor is packed into each serving. With high amounts of protein and iron, these fortifying "meatballs" are sure to make it back to holiday menus for years to come.
Get the recipe from Minimalist Baker. 
Vegan Lentil Nut Meatloaf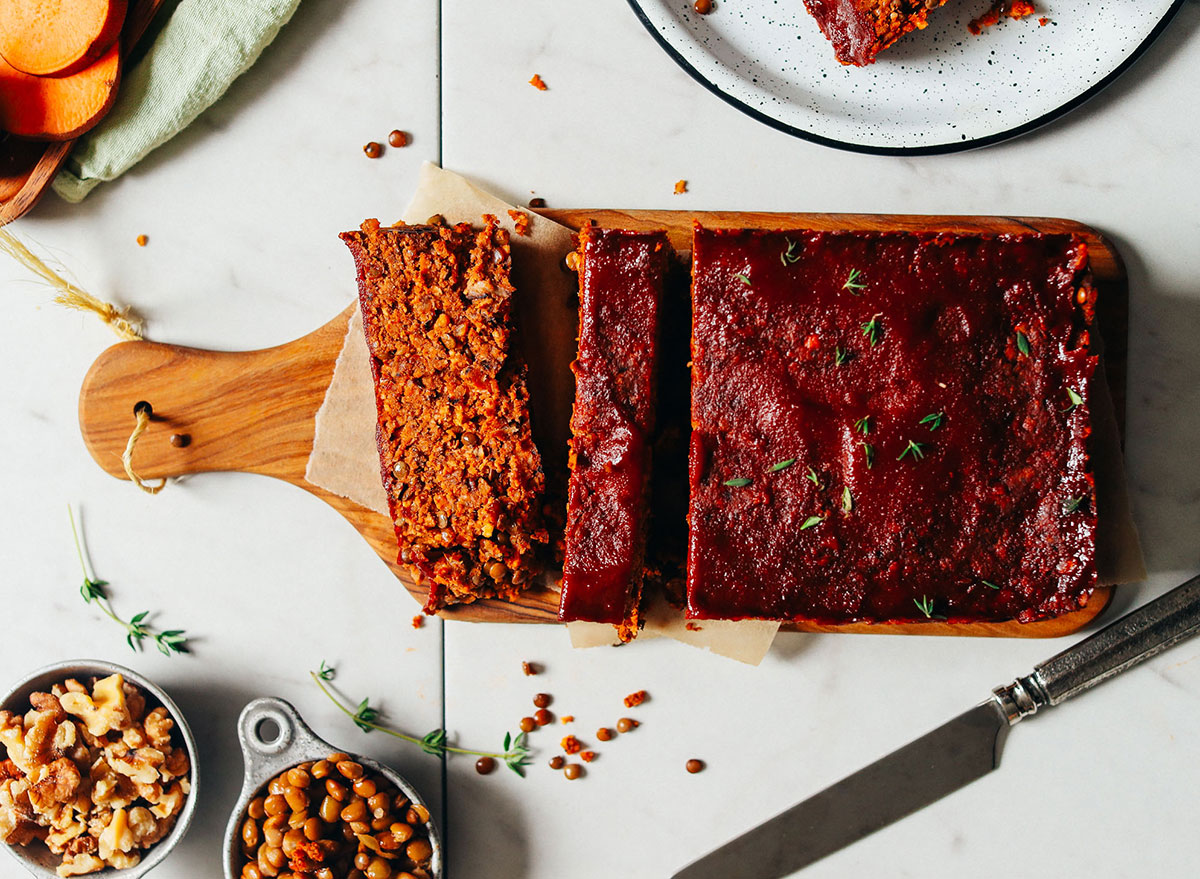 In the same trend as lentil meatballs, this vegan lentil nut meatloaf will have you drooling. The high fiber content will keep you full, too, so vegans at your table can rejoice that they have their own star of the show this year.
Get the recipe from Minimalist Baker. 
Need more recipe ideas for the holiday? These Are The Only 25 Thanksgiving Recipes You'll Ever Need.
Desserts
Fudgy Pumpkin Brownie Bites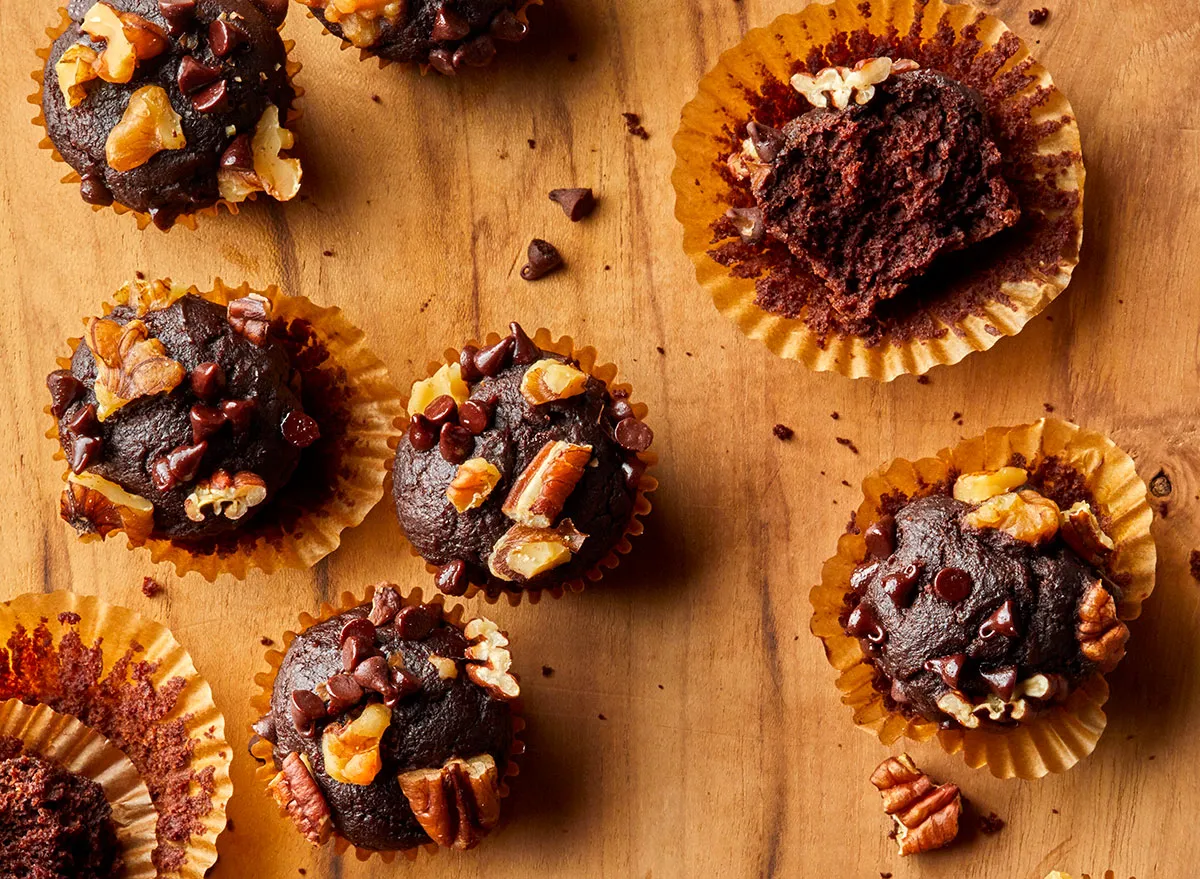 Whoever thought that the combination of pumpkin and chocolate could be so delectable? This hot take on the classic brownie will spruce up your dessert menu and have everyone coming back for seconds.
Get our recipe for Fudgy Pumpkin Brownie Bites.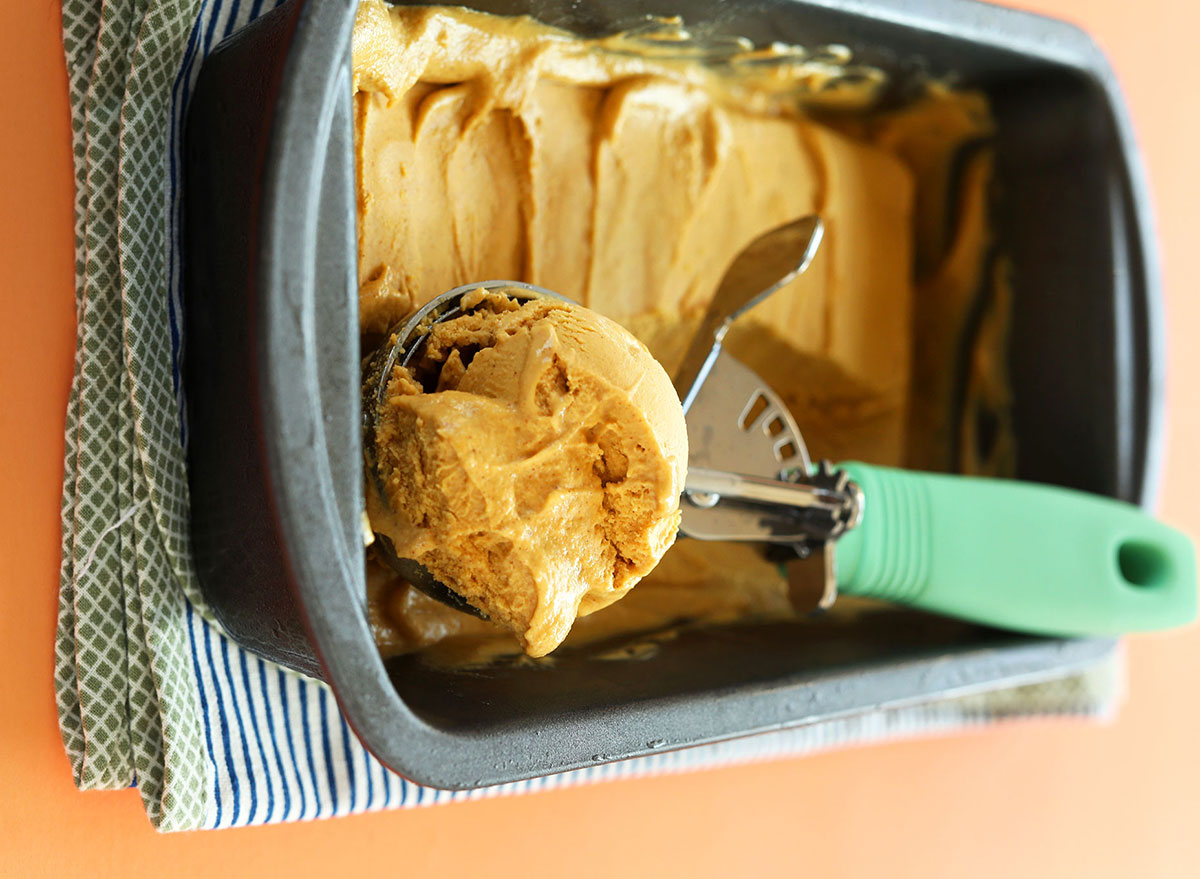 You may have never even considered making ice cream before, but there is a good chance your stand mixer already has an attachment for it. With this foolproof recipe, you can impress everyone who comes to visit. For an even easier time, you can pre-freeze a metal pan in lieu of an ice cream bowl to help set your ice cream mixture.
Get the recipe from Minimalist Baker. 
Chocolate Chip Pecan Pie Bars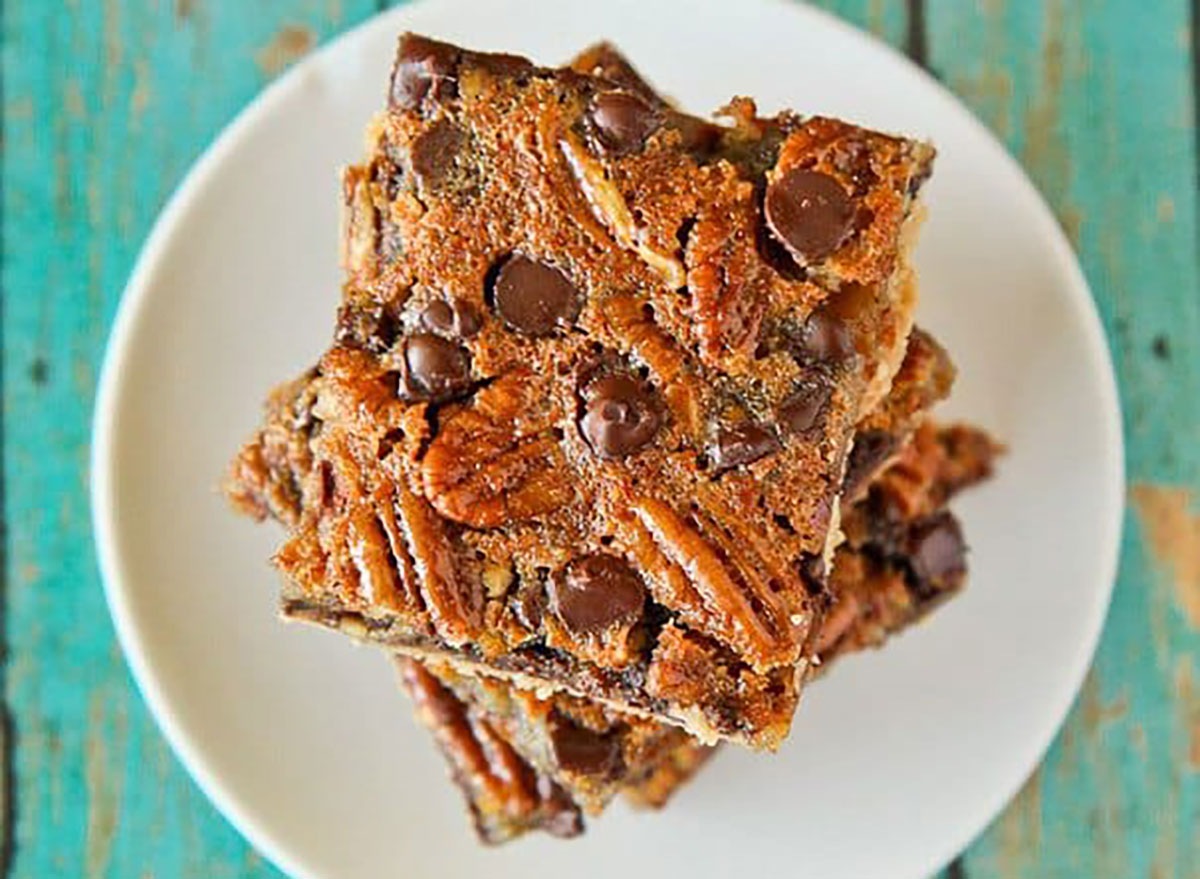 The perfect marriage of pecan pie and chocolate chip cookies comes in bar form in this delectable amalgamation. These bars are just as easy to make as a cookie, making them the perfect addition to a Thanksgiving spread.
Get the recipe from Love from the Oven. 
Mini Pumpkin Cheesecakes with Gingersnap Crusts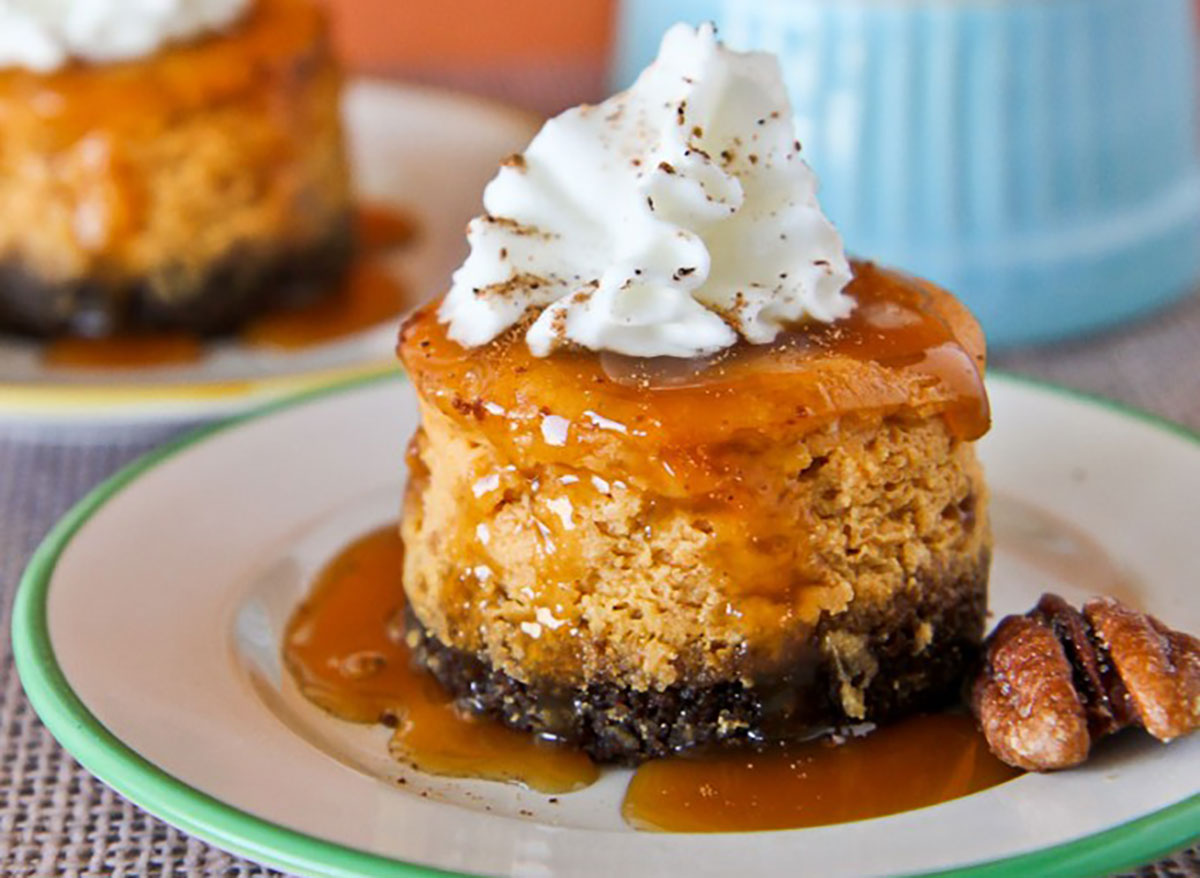 Pumpkin pie and maybe even gingersnap cookies grace your table each season, but by combining these two classics, you're creating a treat that no one will forget. The small size of each mini cheesecake means you can pre-plan how much to make, and you will have fewer leftovers than if you bake a whole pie.
Get the recipe from Love from the Oven.
Nothing could be easier to make than this vegan, gluten-free pumpkin roll. By combining all the ingredients in one bowl, you ensure easy cleanup while making a dessert that anyone can enjoy. It packs in the flavors of a pumpkin pie in an appealing roulade, making it an instant classic that your family will demand for years.
Get the recipe from Minimalist Baker. 
Need more ideas for your holiday dessert table? These Are the Absolute Best Desserts to Serve on Thanksgiving.
Cranberry Orange Cake with Lemon Glaze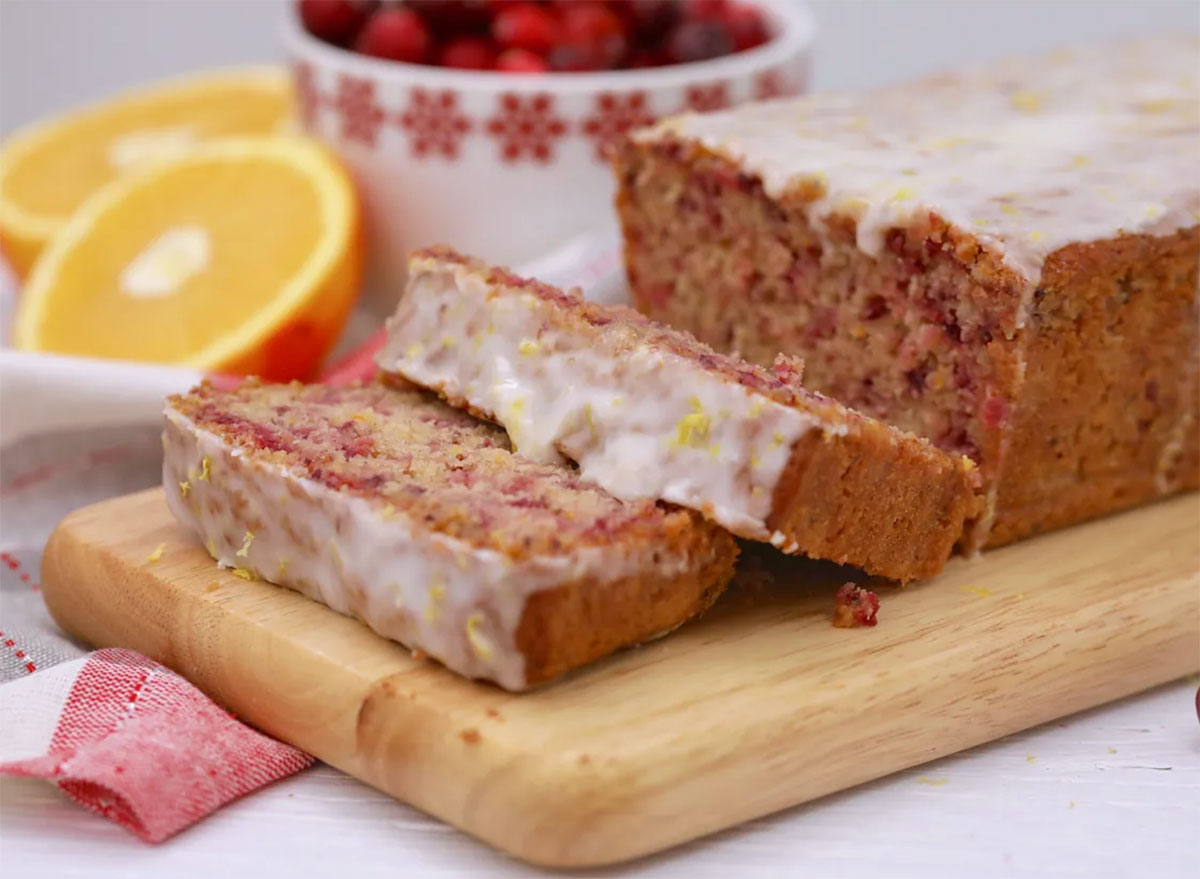 Cranberry is one of the flavors most associated with the Thanksgiving season, so it makes sense to take advantage of the fruit and show off its sweet side. By pairing cranberry and orange, you can present your family with a bright, citrusy cake.
Get the recipe from Bigger Bolder Baking. 
Two-Ingredient Dark Chocolate Truffles
Everyone loves truffles, and these delectable treats will go fast at the end of your feast. They are incredibly easy to make—you just need to melt and set chocolate in the freezer. That means you can make these ahead of time and spend more time with your family.
Get the recipe from Minimalist Baker.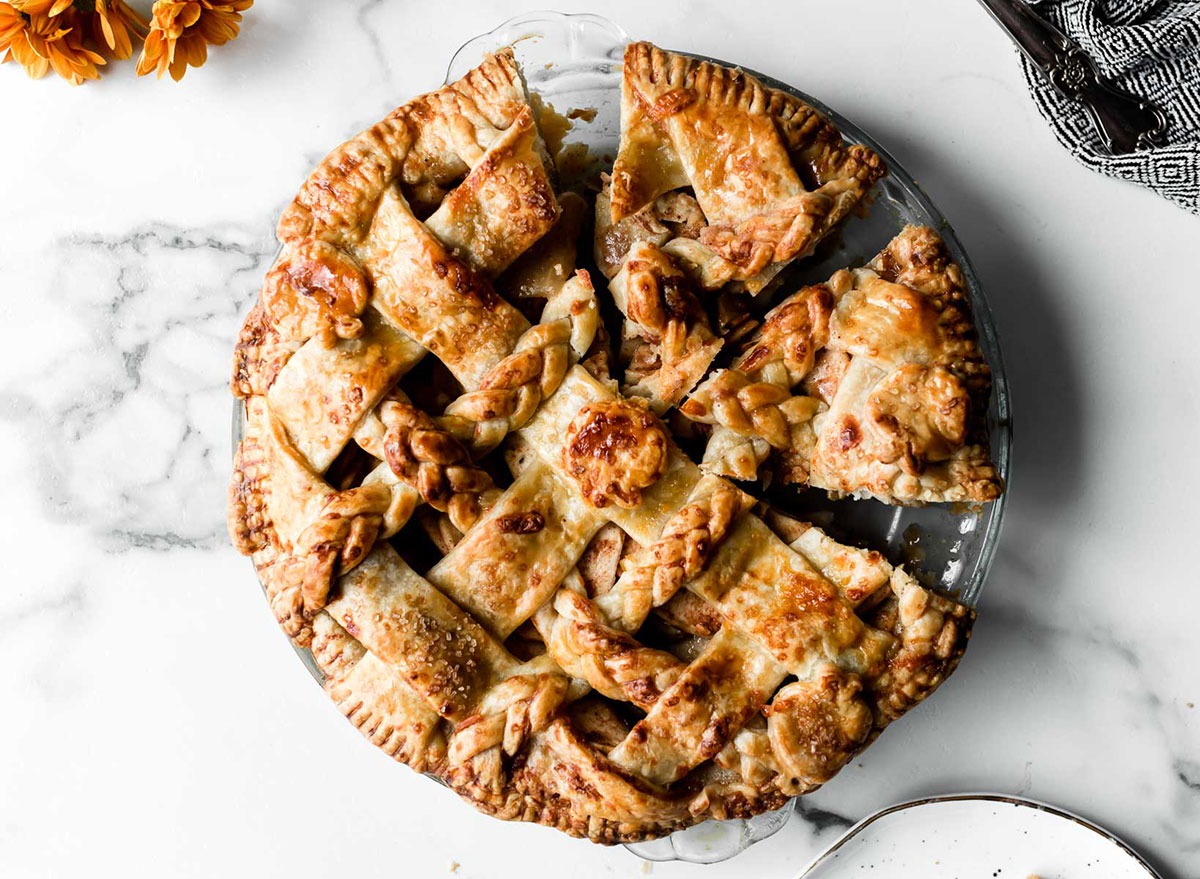 This twist on apple pie marries two unlikely flavors you never would have guessed pair so well together. The apple tartness cuts through the richness of the cheddar, and it's a great new alternative to the classic apple pie.
Get the recipe from Sally's Baking Addiction. 
You may have had pumpkin bars before, but never like this. These bite-sized delectables can be made ahead of time and set in the fridge, giving you more prep time on Thanksgiving Day. Treat yourself and your family to these bars for a stress-free dessert.
Get the recipe from Recipe Tin Eats.
When you have a room of mouths to feed, no dessert is as versatile as a bar. These caramel apple crisp bars take the best qualities from an apple pie, combined with caramel in bite-sized portions.
Get the recipe from Pinch of Yum. 
Whatever you serve at your Thanksgiving dinner, you can't go wrong by adding a few of these recipes to your table. And if you want to be extra prepared for the holiday, don't miss these 50 Make-Ahead Thanksgiving Recipes.