30 Thanksgiving Tricks That Will Save You Time in the Kitchen
Cook smarter, not harder.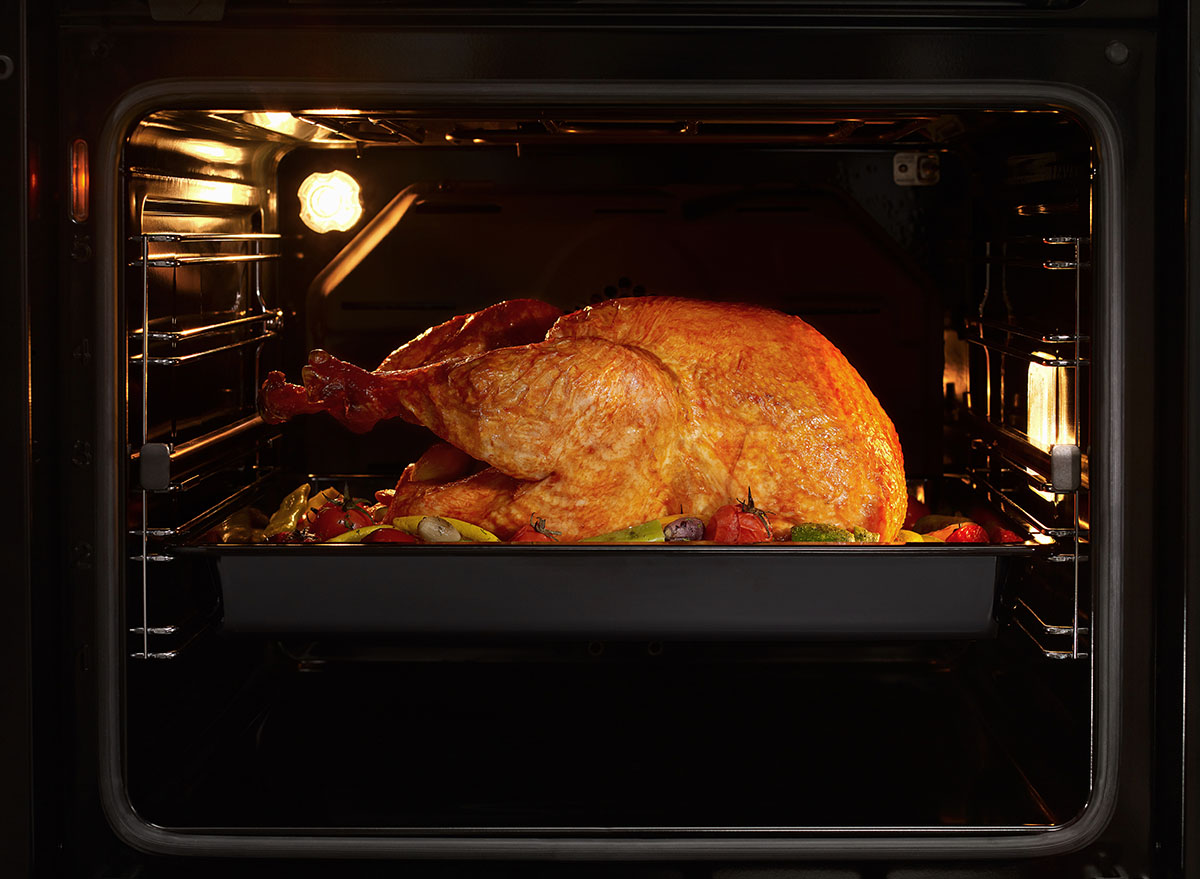 Cooking a Thanksgiving feast is quite the feat. Not only does it take some culinary prowess to achieve that juicy turkey and those creamy mashed potatoes, but putting together such a large meal also requires a whole lot of planning. Waiting to prep all of those side dishes on the same day? That's a "don't" on our list. Not giving turkey enough time to thaw out? That's fowl play!
So, when it comes to making Thanksgiving prep easier and saving time in the kitchen, who better to ask than professional chefs, who are accustomed to managing busy kitchens and appeasing guests? Here, they share their 30 best Thanksgiving tips and tricks to help make the holiday run smoothly.
Make your cranberry sauce a week in advance.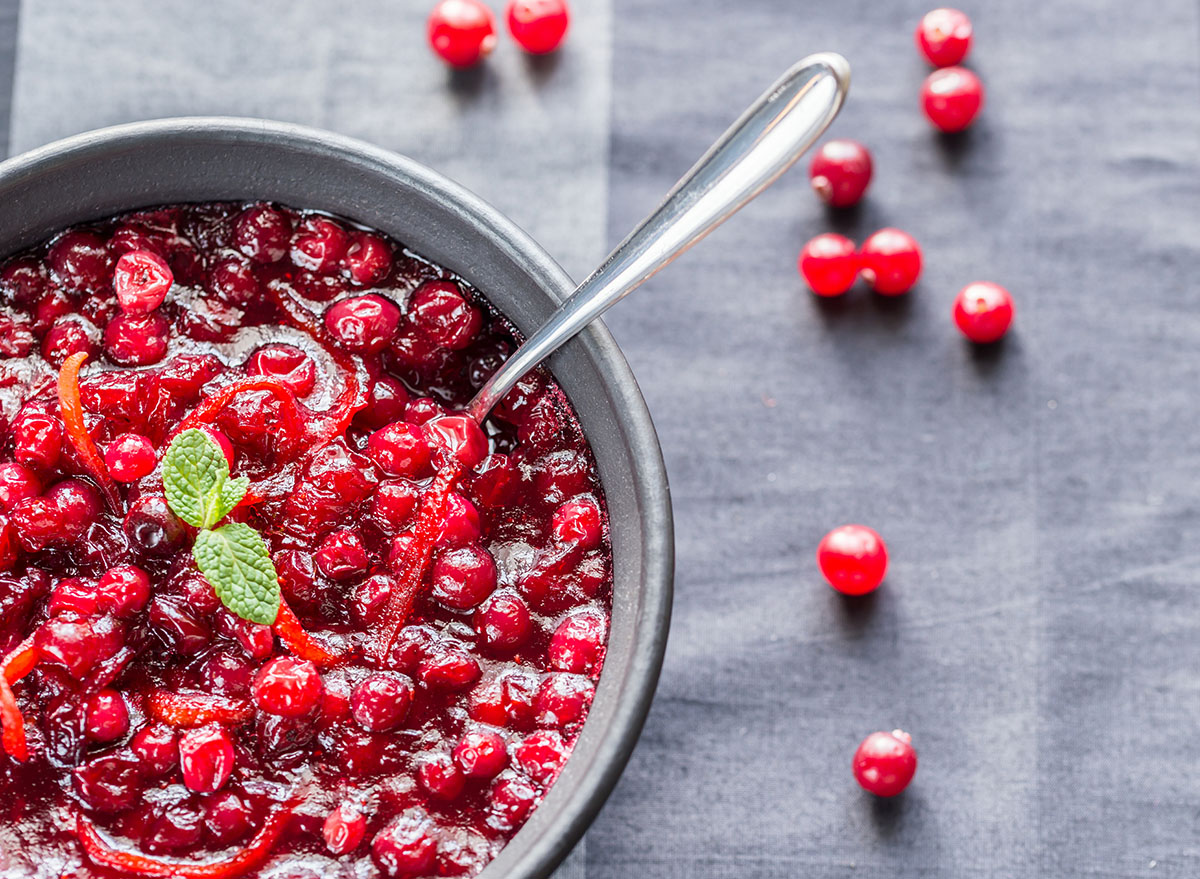 Cranberry sauce is among several Turkey Day side dishes that you can make in advance, says Chef Eve Bergazyn, with The Gourmandise School of Sweets & Savories, a cooking school located in Santa Monica, California. The sauce's high acidity keeps it tasting fresh and bright while you store it jarred in your fridge. We personally love this Cranberry Orange Relish Recipe for a vibrant turkey pairing!
You will want to leave your sauce out for at least an hour before serving it, though, so that it gets to room temperature, Bergazyn says. Stir in a touch of warm water or orange juice to loosen it if it's too thick, she suggests.
Have a solid plan in place.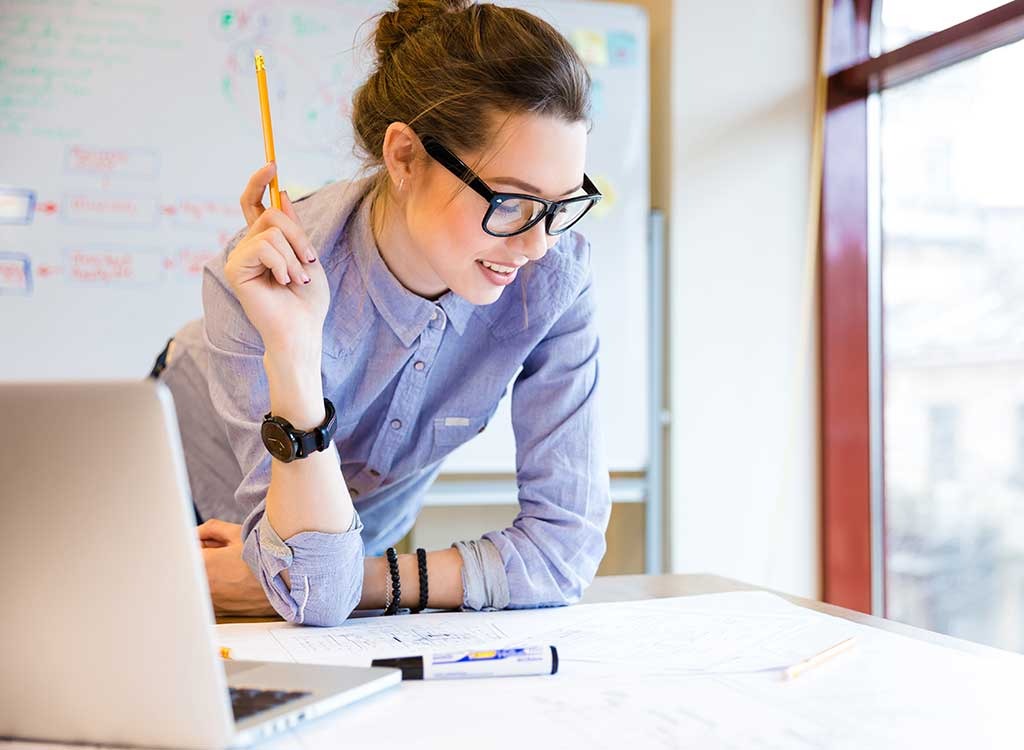 You're going to really want to hone in on the details here, with everything from shopping lists to timelines for when different dishes are going to be cooked, says Chef Dave Leyva of the Culinary Institute of America at Copia. For bonus points, gather up dishes, serving utensils, wine glasses, and table linens ahead of time. This way, you'll know ahead of time if you need to borrow anything from family members or friends.
Another part of having a solid plan? Ask your guests about food allergies and dietary restrictions ahead of time, Leyva says. That way, you won't be surprised come Thanksgiving trying to remember every ingredient in every single dish.
Plan when you will thaw your turkey.
Perhaps one of the biggest mistakes home chefs make is not giving their turkey enough time to thaw, which then delays that feast. Plan your thawing schedule in advance, says Chef Tony Seta, a Big Green Egg culinary partner. For every four pounds of meat, the turkey needs 24 hours in the fridge. That means if you've got a 20-pound bird, you'll want to move it from the freezer to the fridge five days prior to cooking, he says.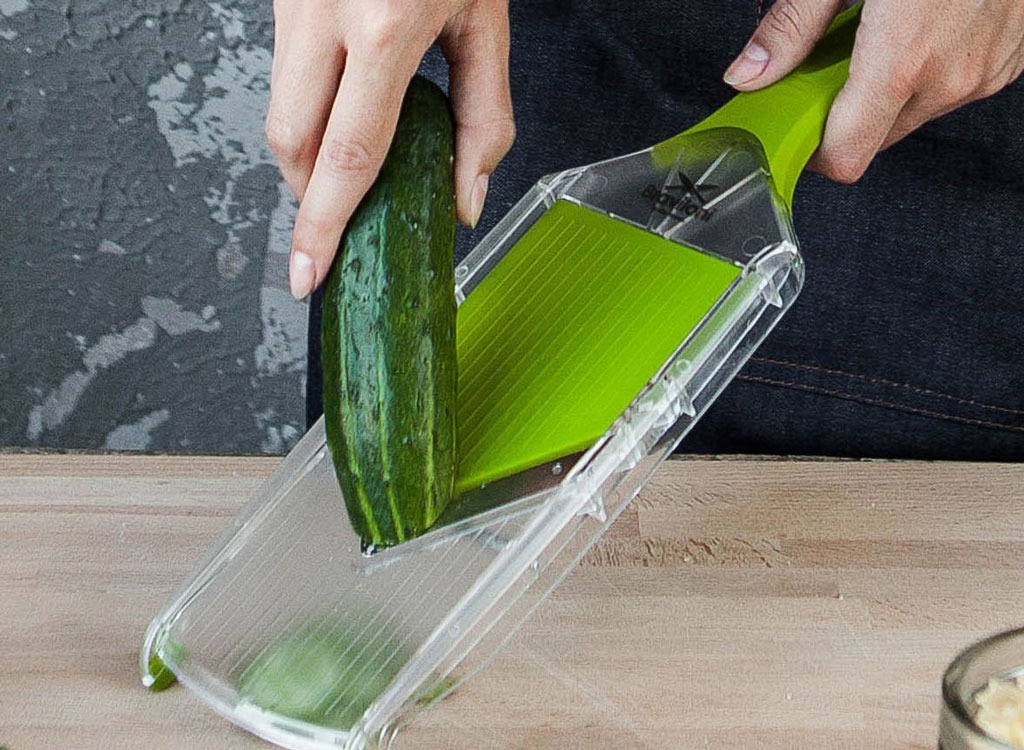 A mandoline can be the MVP of your holiday prepping tasks. Of course, exercise extreme caution, because these chef-approved gadgets are super-sharp. A mandoline can save you time by slicing root vegetables, onions, and apples for your pies, says Executive Chef Dolan Lane of Red Star Tavern in Portland, Oregon. "It keeps the cuts consistent to help ensure all the veggies cook evenly," Lane says.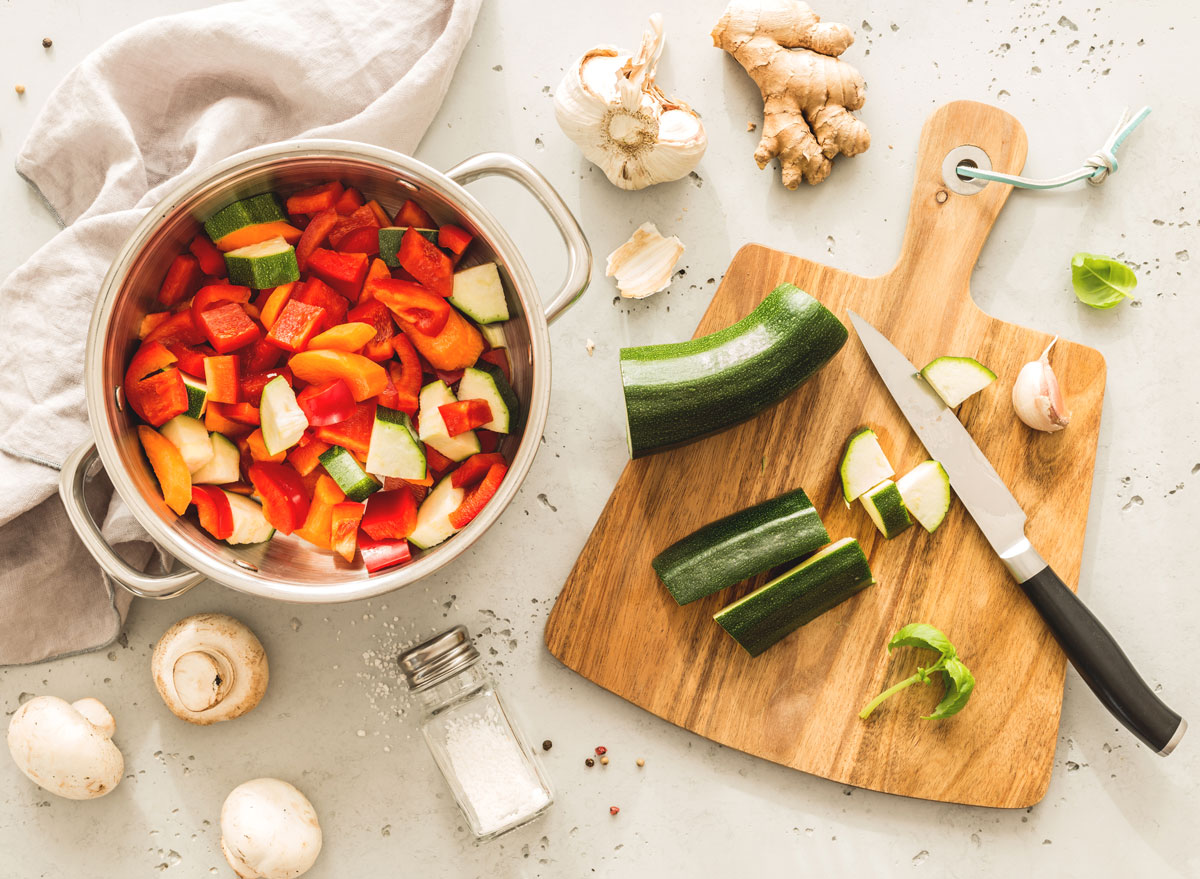 Being prepared and organized are important when you're hosting a large meal like Thanksgiving. To help, embrace the French culinary concept of "mise en place," which translates roughly to "everything in its place," suggests Mark Ford, executive chef of Anoosh Bistro in Louisville, Kentucky.
Have pinch dishes of herbs in place, and plan out your oven schedule. If you want to make a sweet potato casserole, for example, you could chop the sweet potatoes a day or two beforehand and mix them with eggs, flour, and seasoning into a dish. That way, you just have to bake it come Thanksgiving, Ford suggests.
Divvy up the tasks like a chef.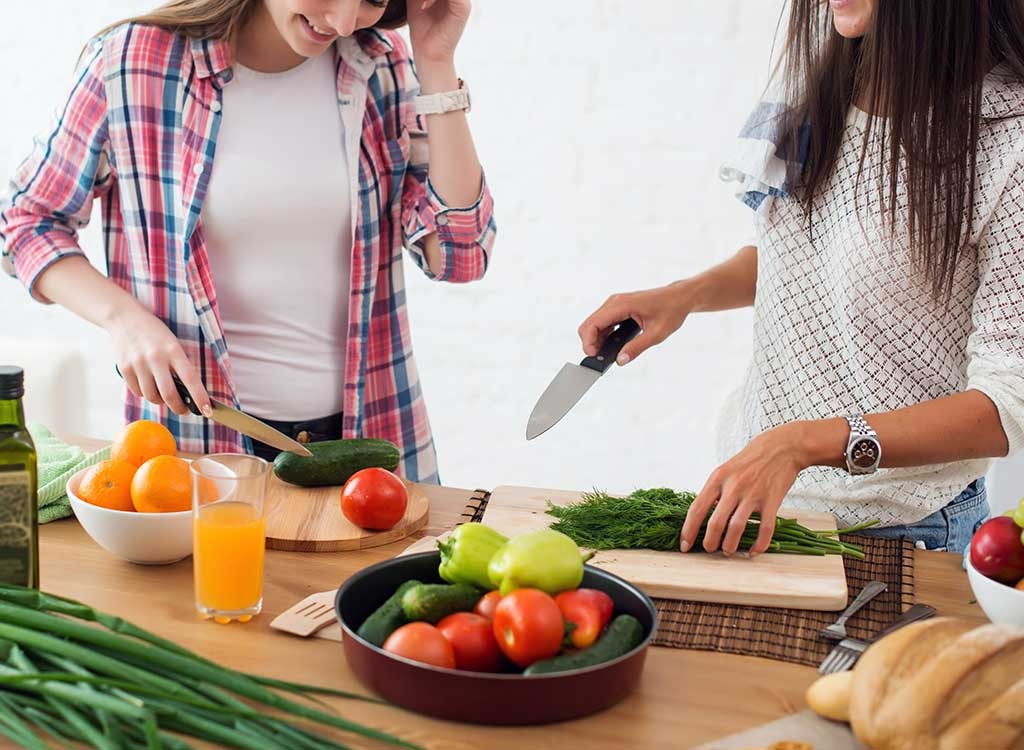 In the past, you may have tasked your kitchen helpers with being responsible for certain dishes. But you might want to think like a chef and assign out tasks instead. "One person chops, one sautés, one cleans, and so on," suggests Adrienne Guttieri, executive chef of Trademark Taste + Grind in New York City. "It makes holiday prep a fun time and less stressful."
Prep your pie crusts ahead of Turkey Day.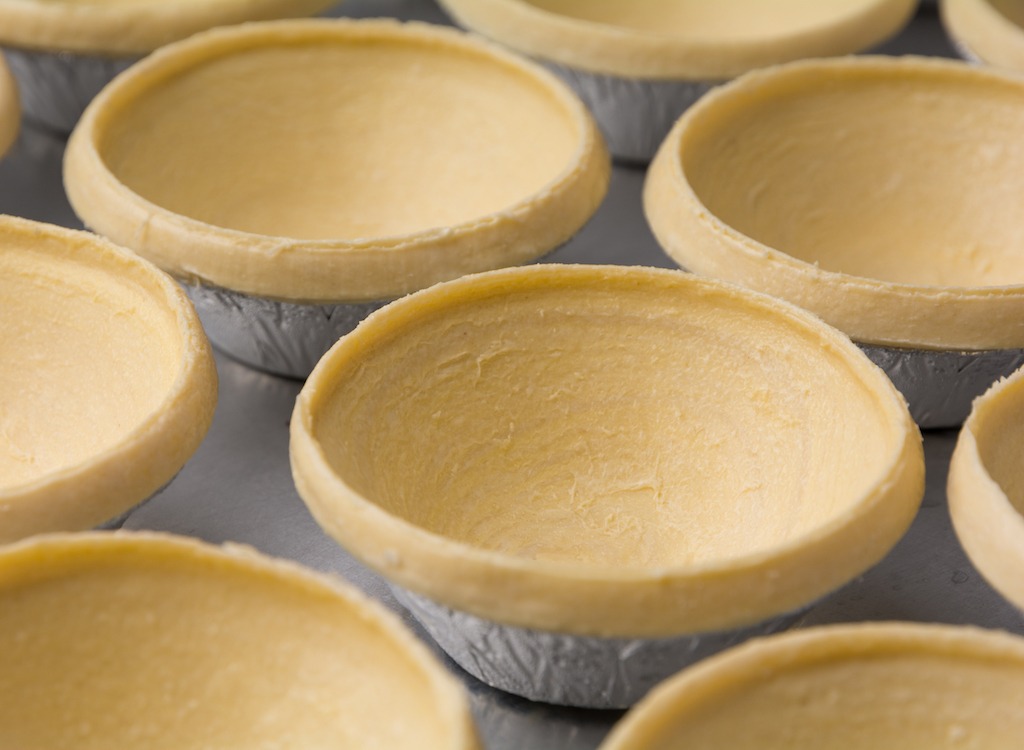 You can get a one-week headstart on turkey day by prepping your homemade pie crusts in advance and then freezing them, says Sandra McElroy, owner and chef at Mendocino, California's Trillium Cafe. When you pull them out of the freezer, they'll be ready to bake; just pour in the filling and place in your pre-heated oven. This works especially well with pumpkin pies, she says.
As guests are arriving, have an easy-to-assemble cheese platter ready, McElroy says. Having snacks at the ready buys home chefs more time to prep dinner if needed.
Whether it's a festive fall sangria or a spiked cider, make a big batch. "Batch cocktails are great for parties and an easy way to offer guests a cocktail without tending bar," says Jeremy Allen, the general manager and head bartender at MiniBar Hollywood in Los Angeles, California. You can make a passive batch, where the alcohol is already mixed in and the cocktails are ready to drink, or an active batch—that is, the mixer can be shaken or mixed with the alcohol set out at the bar.
Prep your rolls in advance.
Make the dough for your rolls ahead of time and freeze them, suggests Head Pastry Chef Ann Kirk of Little Dom's in Los Angeles, California. "The night before baking, transfer the shaped rolls from the freezer to the fridge and let them thaw overnight," she says. "In the morning, let them proof at room temperature for a few hours prior to baking."
Brine your turkey outside if possible.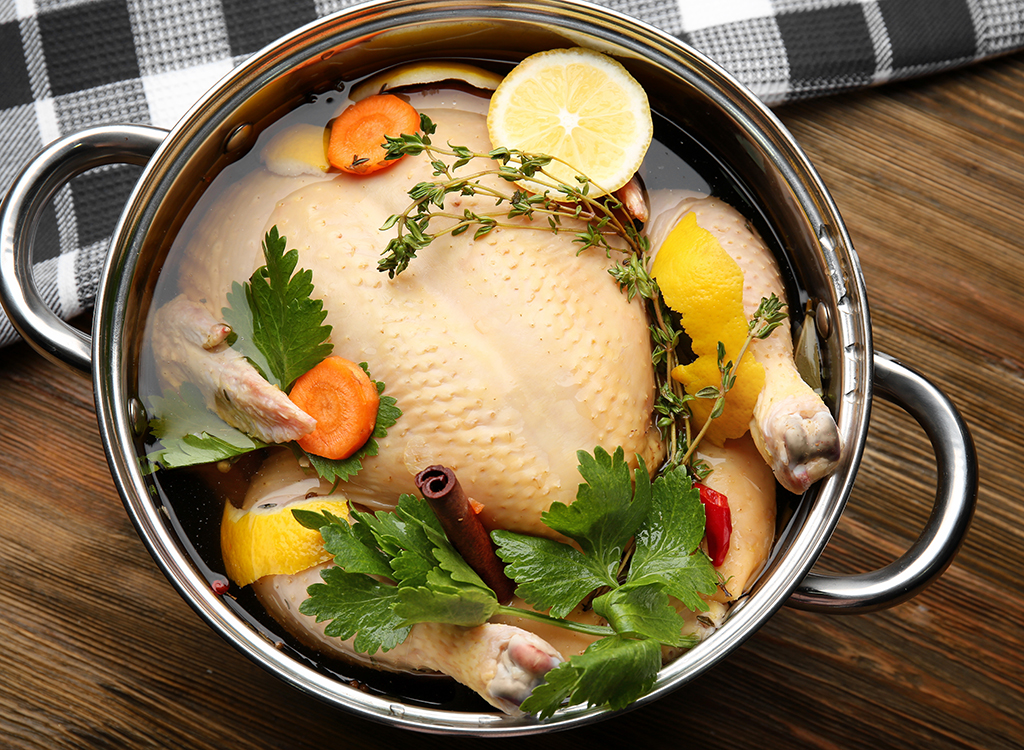 Leading up to Thanksgiving, refrigerator space is prime real estate, and brining a turkey requires a lot of space. If you live in say, Florida, go ahead and skip this tip. But, proceed if you're in an area where the outside temperature mirrors the same temps as your fridge, around 32 to 40 °F.
Save fridge space by using a food-safe bucket. Line it with a trash bag, drop your turkey in, add the brine, and tie it off, says Christian Graves, the executive chef at Citizen Rail in Denver. Even if the temps are cool, Graves recommends adding some ice on top of the brine bucket and placing it in a cooler. "Not only will this save you space, but it will also make for easy cleanup," he says.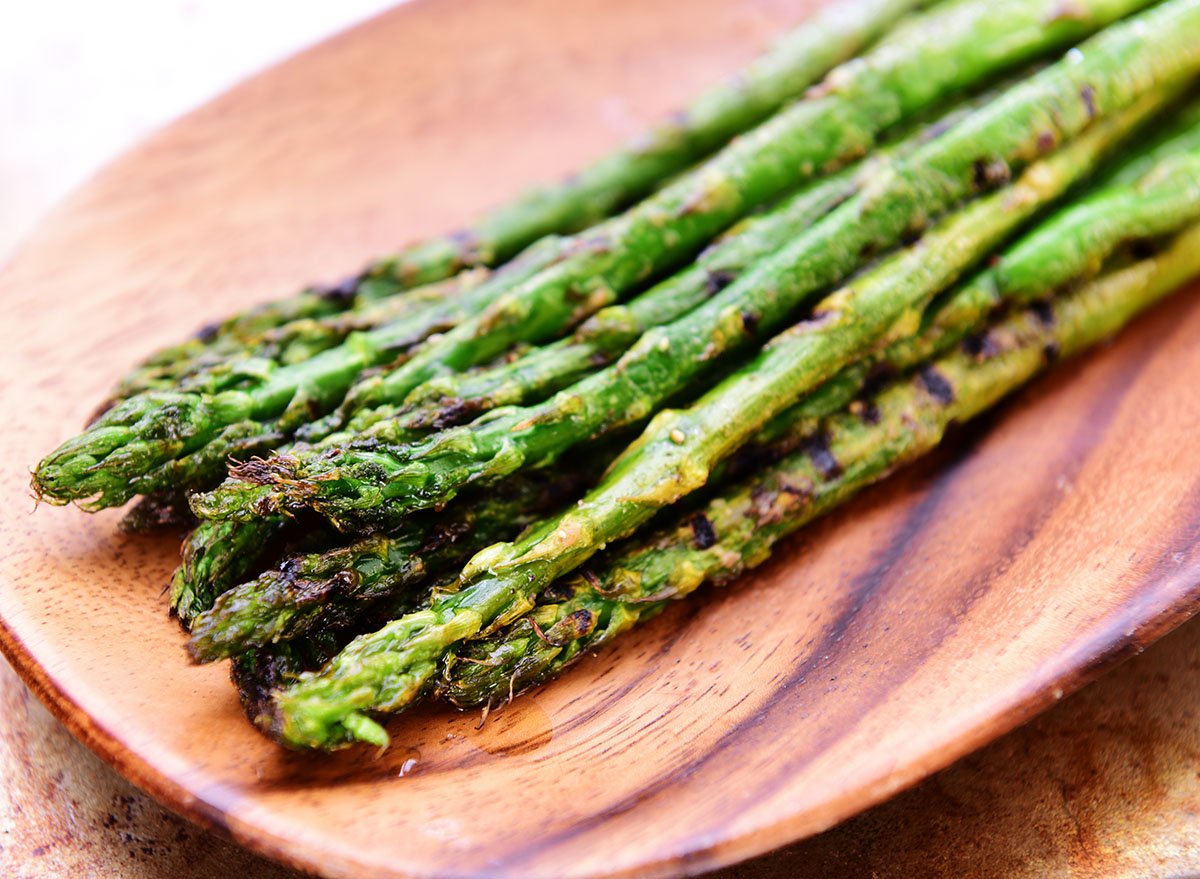 Dice up your root veggies and place them in foil with a healthy dollop of butter, a spring of rosemary, and a dash of salt and pepper, Graves suggests. Wrap the veggies into a packet shape, and then place them into a 375-degree oven or over the grill for 20 minutes. Turn once or twice during the cooking process. Bonus: Your dishwashing team will thank you, because the foil packets make cleanup easy.
Peel your potatoes beforehand.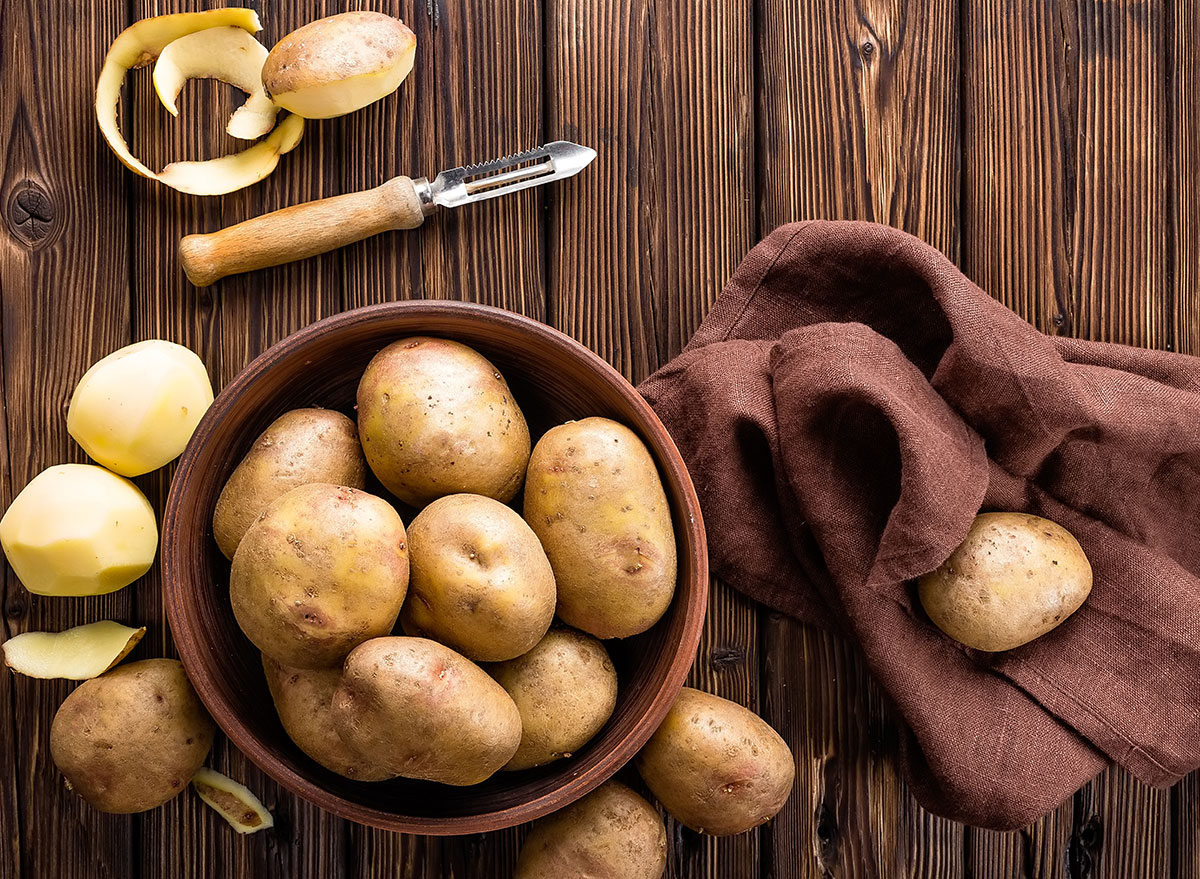 Mashed potatoes need to be cooked the same day you serve them. But you can get the hard work out of the way by peeling and cutting your taters one or two days in advance, says Executive Chef Heather Terhune with Tre Rivali and The Outsider in Milwaukee, Wisconsin. Make sure you store the potatoes in a bowl of water at room temperature. You'll want to try our Best Garlic Mashed Potatoes Recipe with this trick!
Make stuffing in advance.
You might be surprised to learn that stuffing freezes really well. "Save time on Thanksgiving Day by making it up to two weeks in advance, and thaw it in the fridge two days prior," Terhune says.
Bake your pies the night before Thanksgiving.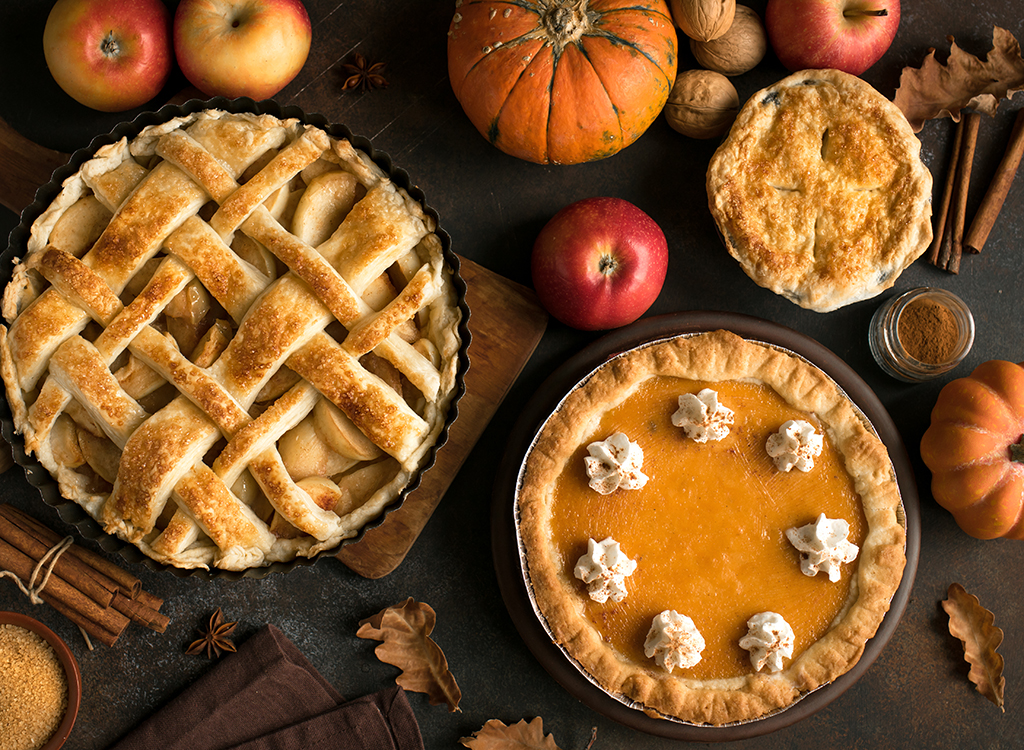 We're proposing a new tradition: Bake your pies the night before Thanksgiving. They'll hold up just fine. And that way, you're not tying up valuable oven space on Thanksgiving day, Terhune says.
Spatchcock your turkey by taking out the backbone, Terhune suggests. "The result is more crispy skin, and it cooks faster," she says.
It may be tradition, but cooking your bird with stuffing can actually prompt some food-safety concerns. Bacteria can survive in stuffing that has not reached 165 °F, which could cause food poisoning.
A better option for imparting turkey flavor on your bird? Take a ladle full of the turkey pan drippings when the turkey is taken out of the oven, and ladle it over the stuffing before reheating, Terhune suggests. "You get all the flavor as if you roasted the stuffing inside the bird," she says. This is the easiest and quickest way to flavorful stuffing without any food-safety issues.
Store your turkey stock right.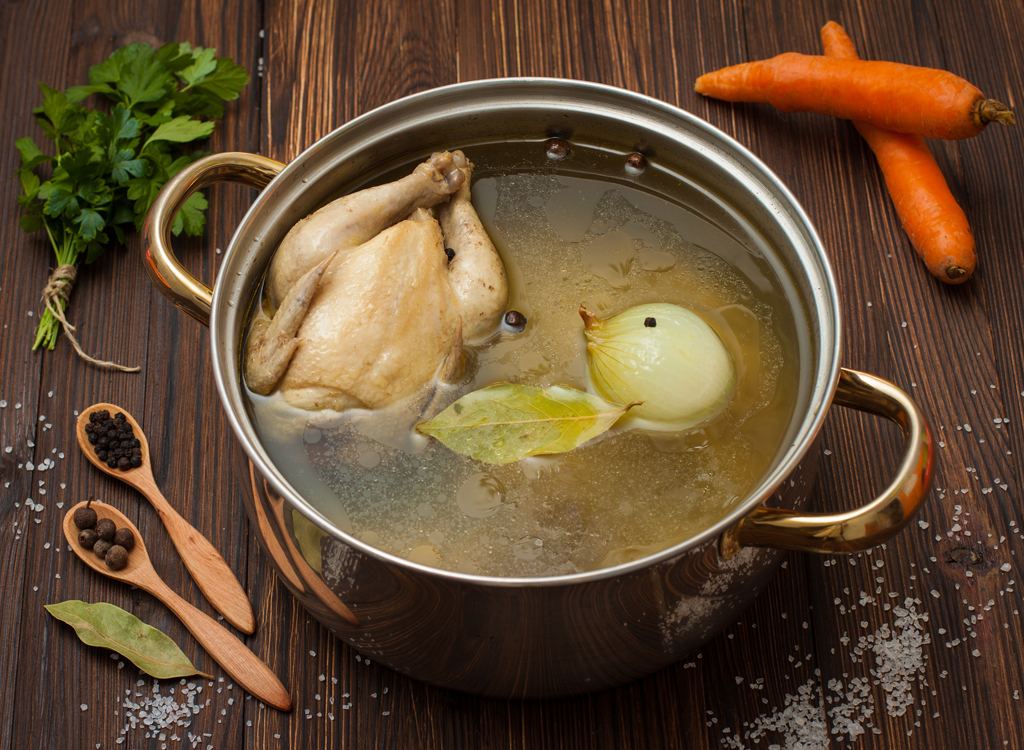 Store your turkey stock in stackable quart-sized takeout deli containers for easy access, says Executive Chef Kevin Atkinson of Sable Kitchen & Bar in Chicago. That way, you'll have it on hand to glaze your veggies, add flavor to your stuffing, reduce it for gravy, or make soup with leftover turkey and vegetables.
Have plastic wrap on hand.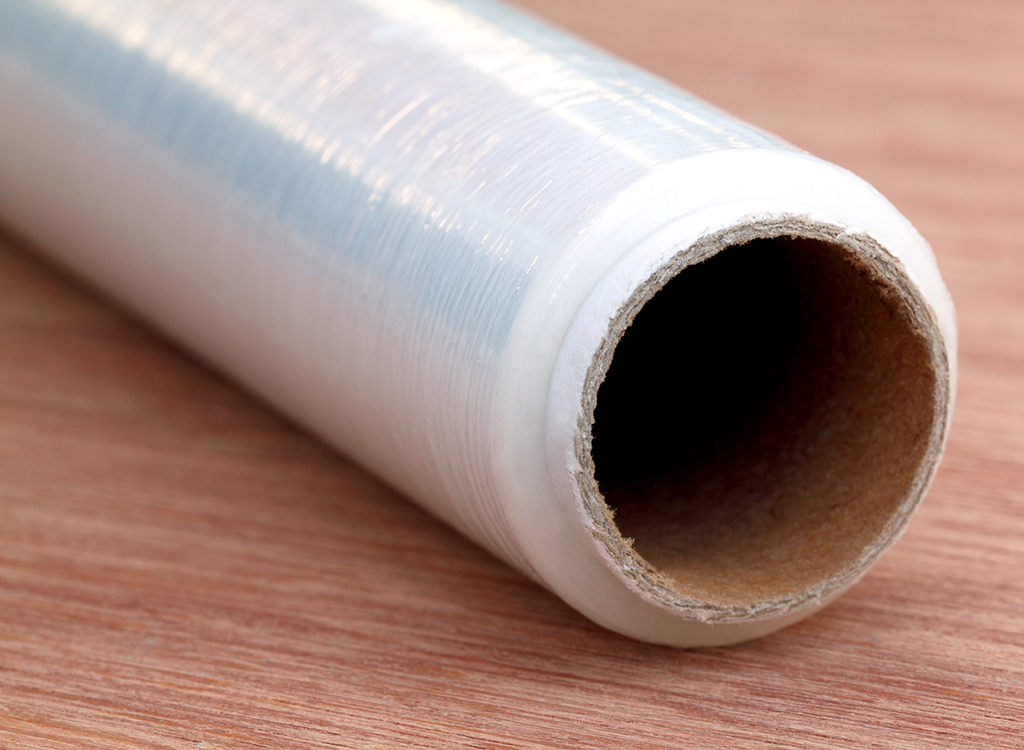 No matter how well you plan, getting everything to be ready at the exact same time is an impossible task. Call in plastic wrap for backup, suggests says Executive Chef Walter Pisano of Tulio in Seattle. "Wrap the sides of the serving bowls with plastic wrap to keep them warm until guests actually sit down," he says. Now you won't have to spend time microwaving or putting things in the oven to heat back up!
Add mascarpone to your mashed potatoes.
The secret to fluffy, creamy mashed potatoes isn't working overtime to whip 'em into perfection. Add mascarpone, suggests Chef Katie Collier of Katie's Pizza and Pasta in St. Louis, Missouri. One cup of mascarpone for every five pounds of potatoes is a good ratio, she says. This will be your little secret shortcut to mashed potatoes perfection.
Add figs to your dressing.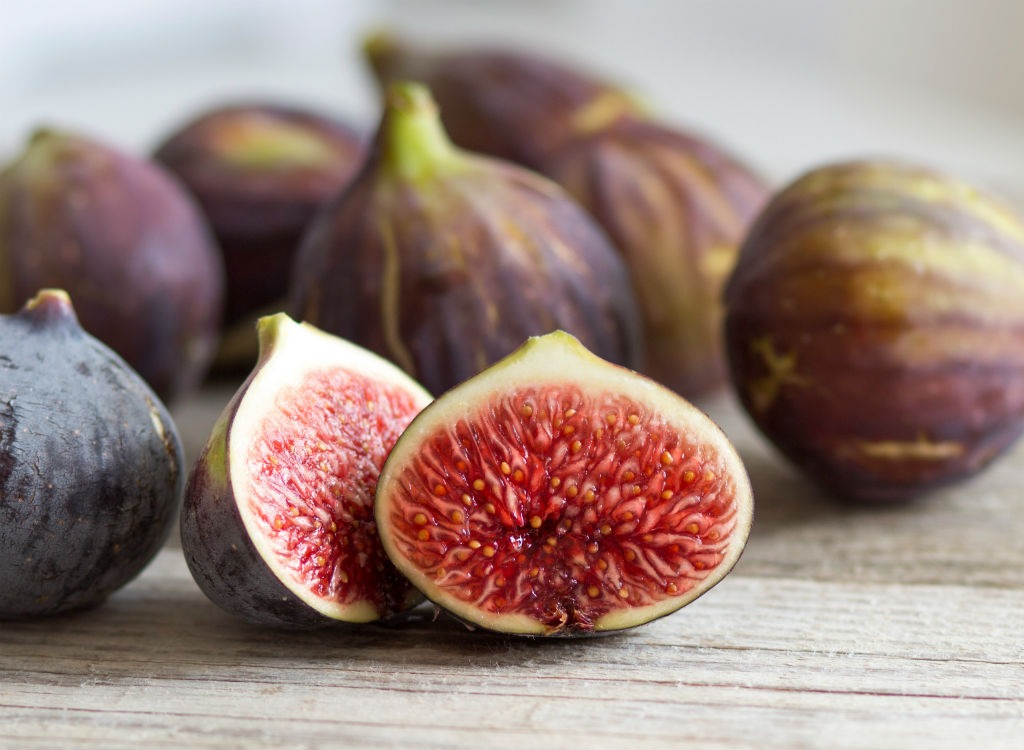 An easy way to take your stuffing up a level without time-consuming prep work is to add in some dried Mission figs, Collier says. She suggests one cup of dried, chopped figs for every pan of stuffing to give an elevated and modern flavor to an otherwise old-school dish. No more time waiting for the sausage to cook up with this trick!
Purchase an actual thermometer.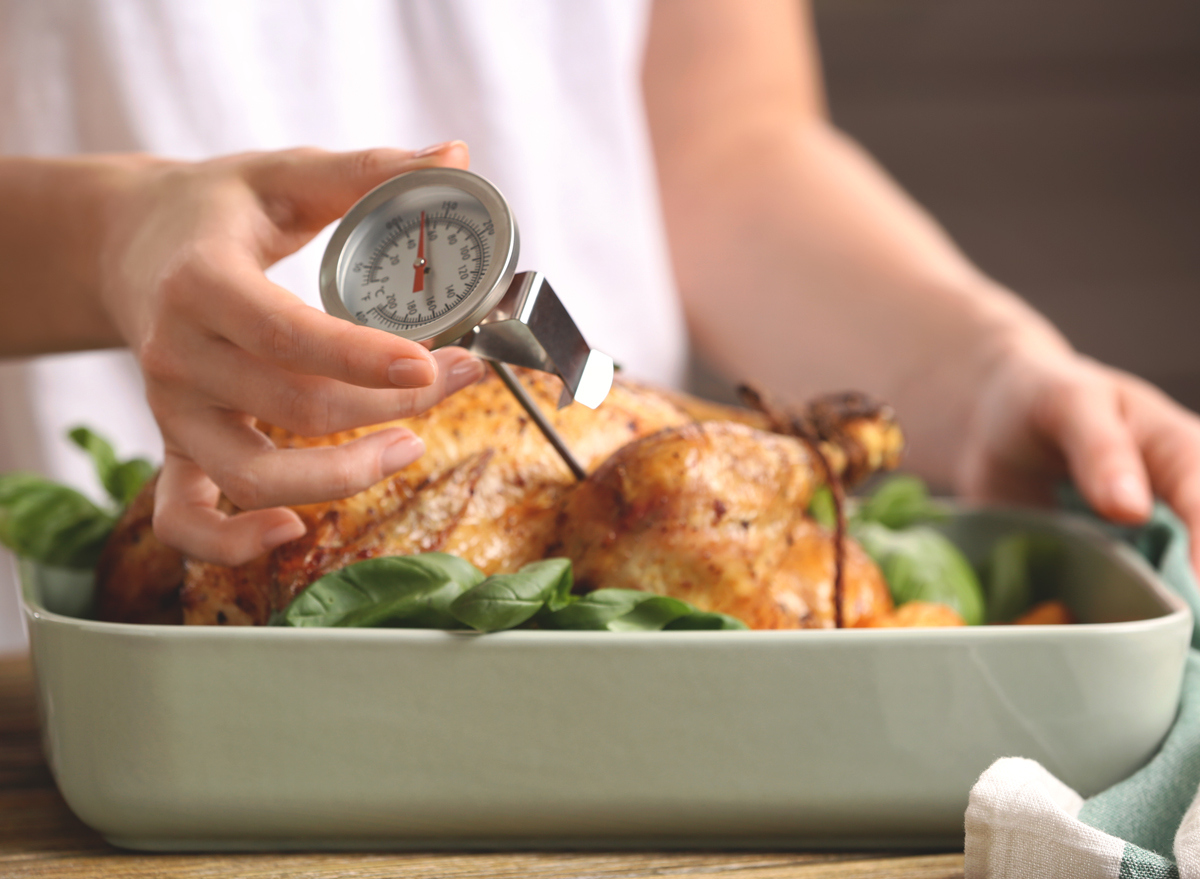 Don't rely on the pop-up thermometers inserted in the turkeys, says Julie Harrington, R.D. and chef. Instead, purchase a digital cooking thermometer.
"While the pop-up thermometers pop-up when the bird is cooked to a safe 165°F, it doesn't factor in carryover cooking," she says. An overcooked bird is a dry one. Here's what to do instead, according to Harrington: Check for doneness by inserting your thermometer in the thickest part of the turkey, around the thigh and avoiding the bone.
Pull the turkey out of the oven when it reaches 155°F because it will continue to rise another 10 degrees or so out of the oven, making its way to 165°F. This gives you more time to use your oven for other items!
Roast your turkey in a foil pan.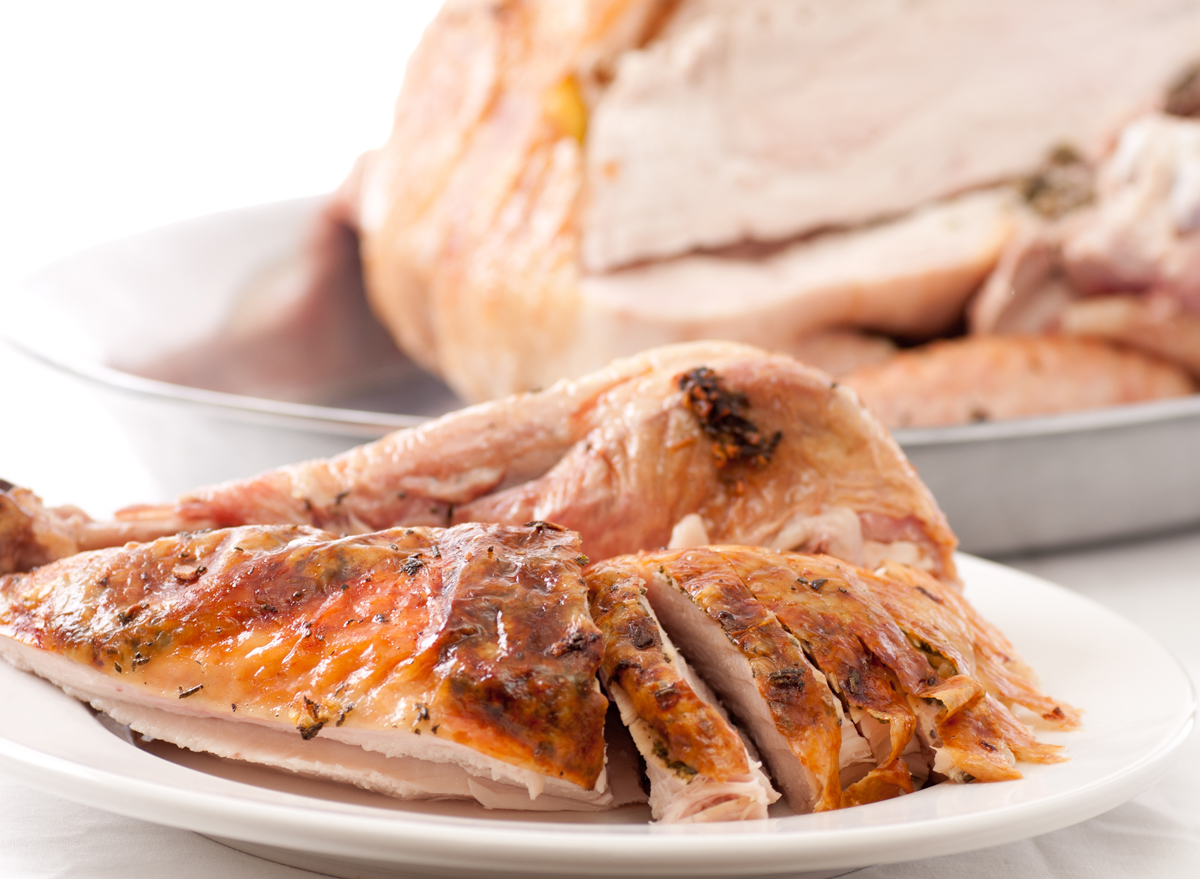 When you roast your turkey in a foil pan, you don't have a roasting pan to cleanup, Bergazyn says. The trick here is to set the foil pan on top of a cookie tray or other sturdy pan to help you get it out of the oven and avoid spilling fat everywhere, she says.
Make a Brussels sprout salad in advance.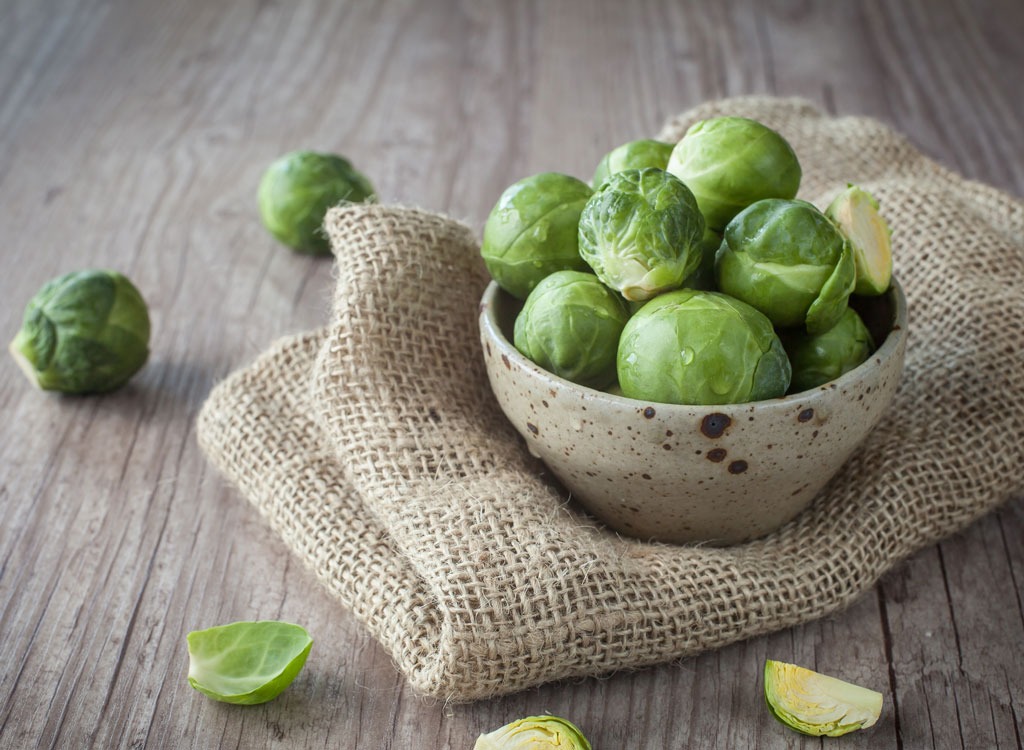 To help free up space on your stovetop or in your oven (and thus save you time), serve Brussels sprouts in a salad instead of roasting them this year, suggests Bergazyn. To do this, shred your Brussels with a mandoline two days before Thanksgiving and sprinkle with a touch of salt. Or, you can buy shaved Brussels sprouts at the supermarket.
A couple of hours before the meal, toss with toasted pecans or walnuts, dried cranberries, and your favorite vinaigrette, she suggests. It's an easy, crunchy, fresh side that's not competing for space in the oven.
The traditional roast turkey may look nice in all of your #gobbletillyouwobble Instagram posts, but the problem is, cooking a single bird that has both white meat and dark meat at one temperature means the leaner parts of the bird can dry out. That's why lots of chefs break down their turkeys.
"I like to butcher the turkey into pieces," says Frank Proto, director of culinary operations at the Institute of Culinary Education. "The breasts cook quicker than the legs and thighs, so I cook them separately." This means less time waiting for your turkey to be done.
Be specific in assigning out dishes.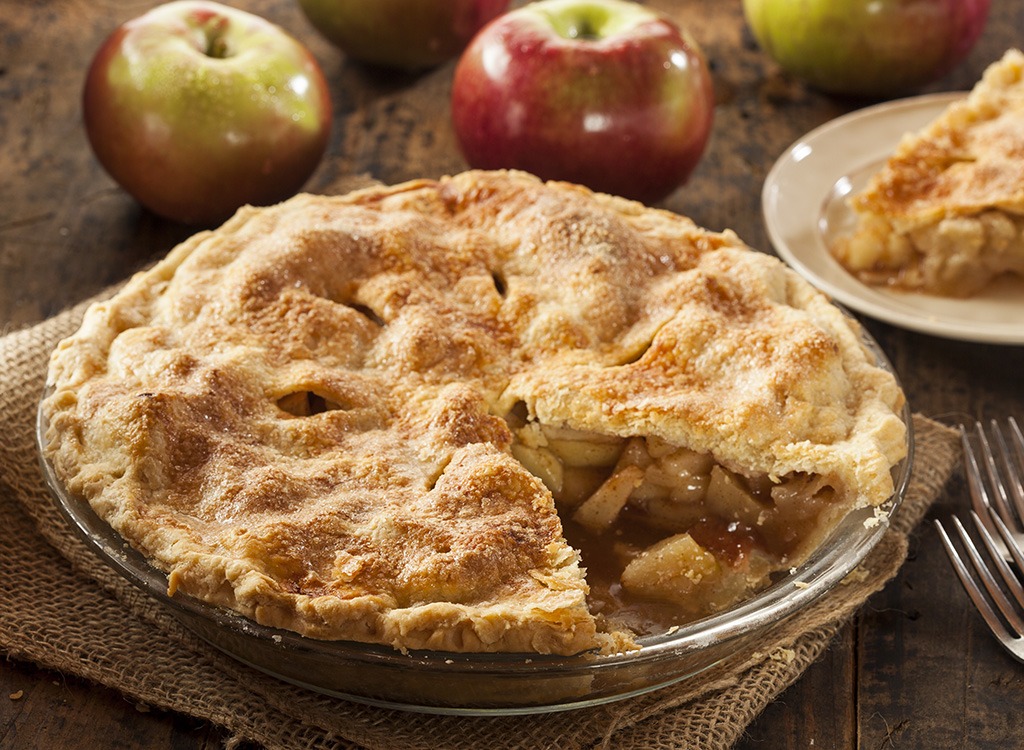 6254a4d1642c605c54bf1cab17d50f1e
Your guests will likely ask what they can bring, so be specific, says Proto, and have them bring things you actually need. "Don't say you need desserts, say 'we need an apple pie,'" he suggests.
Looking for the perfect dessert? Tell your guests to try out this Best-Ever Apple Pie Recipe.
Shock your green beans in salt water.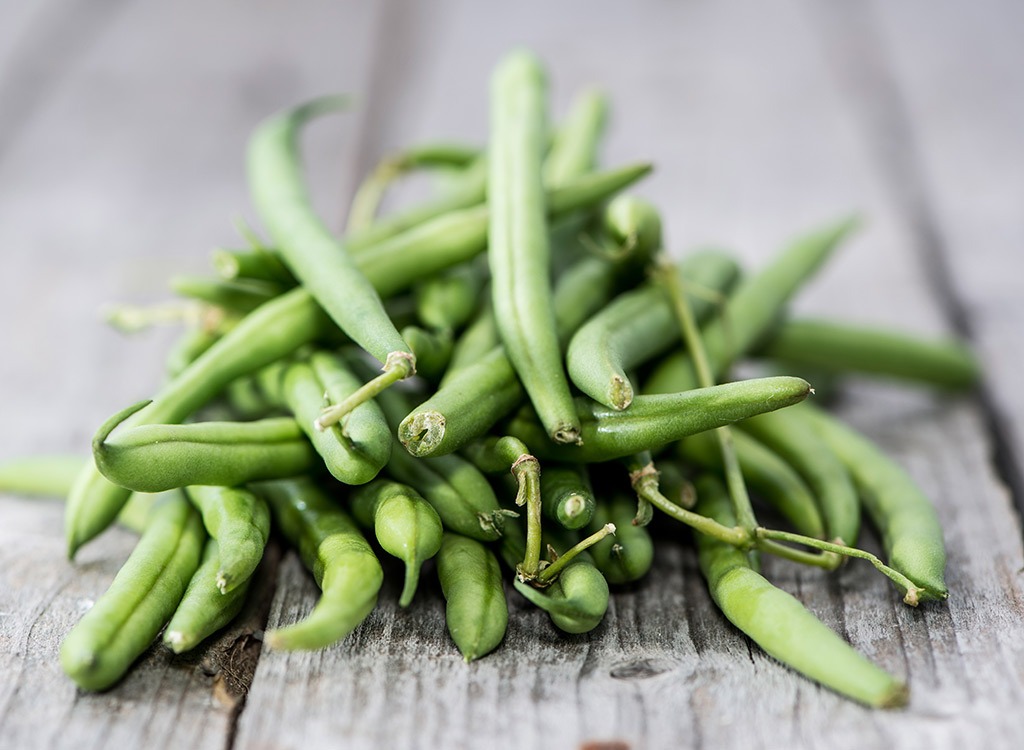 When blanching your green beans, shock them in salt water instead of plain water, says Chef Chris Scott, with the Institute of Culinary Education. This will help your green beans (and any veggies, actually!) retain their flavor, so you can get a quick, simple side on the table ASAP.
Think beyond traditional storage containers.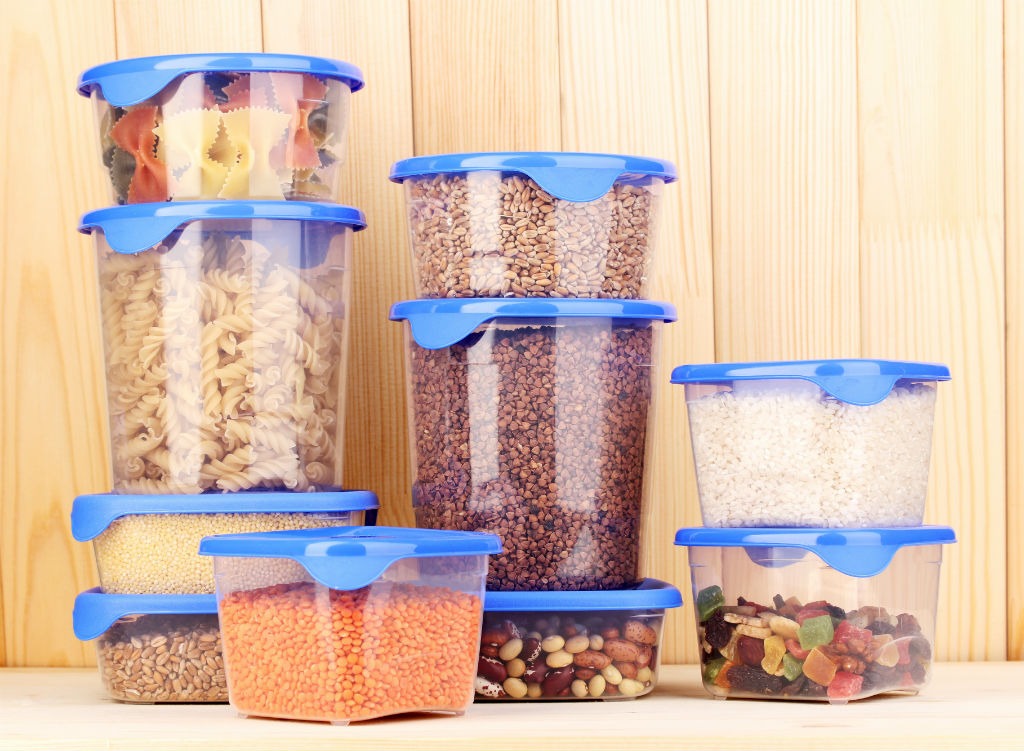 Is it starting to feel like a real-life game of Tetris in your fridge? Save space and time organizing your fridge by using gallon zippered storage bags instead of traditional plastic storage containers, suggests Joshua Smith, owner of New England Charcuterie and Director of Culinary Innovation for Alltown Fresh. "These bags stack efficiently and are great for cranberry sauce, stuffing, and mashed potatoes," he says.
Serve dishes in stoneware.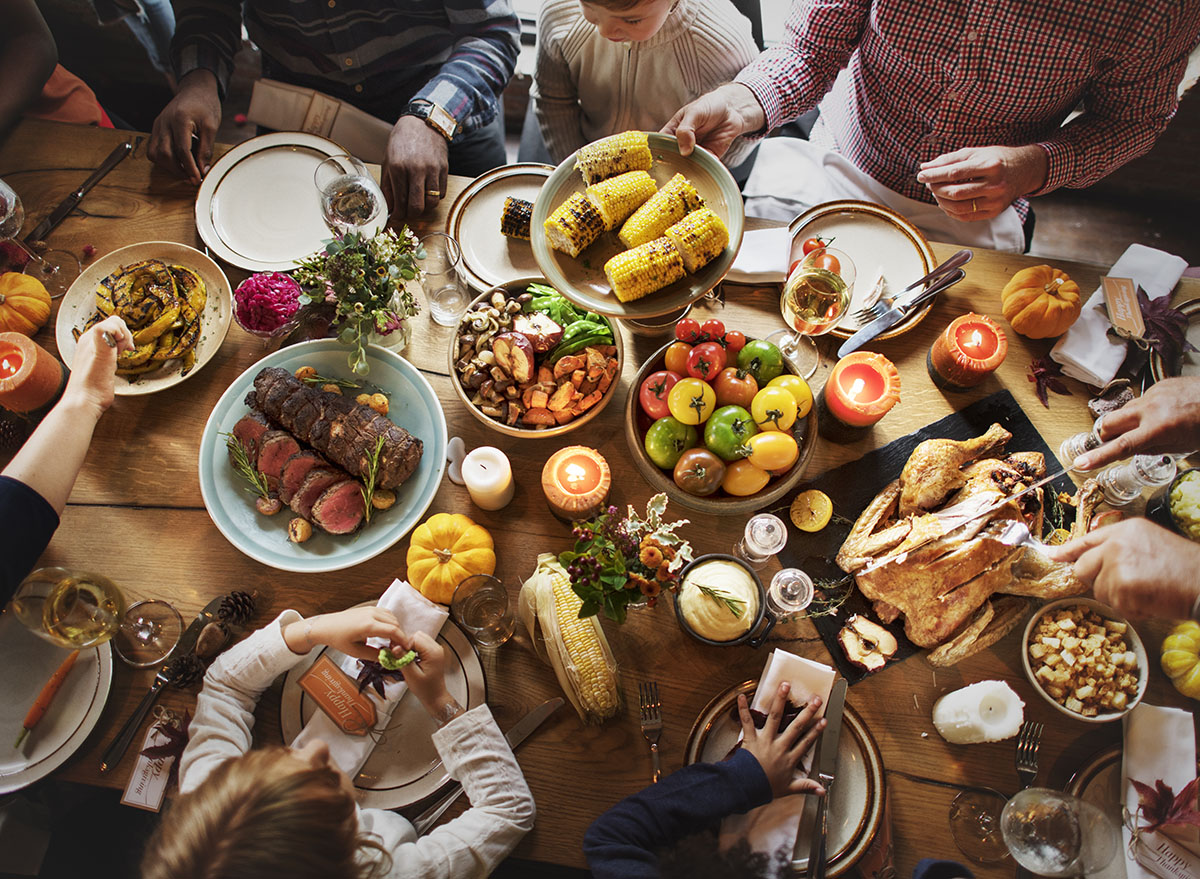 When it comes time to serving all those sides with the turkey, stone cooking ware is great for retaining heat, Smith says. This means less time reheating all that food!
Make a self-service dessert buffet.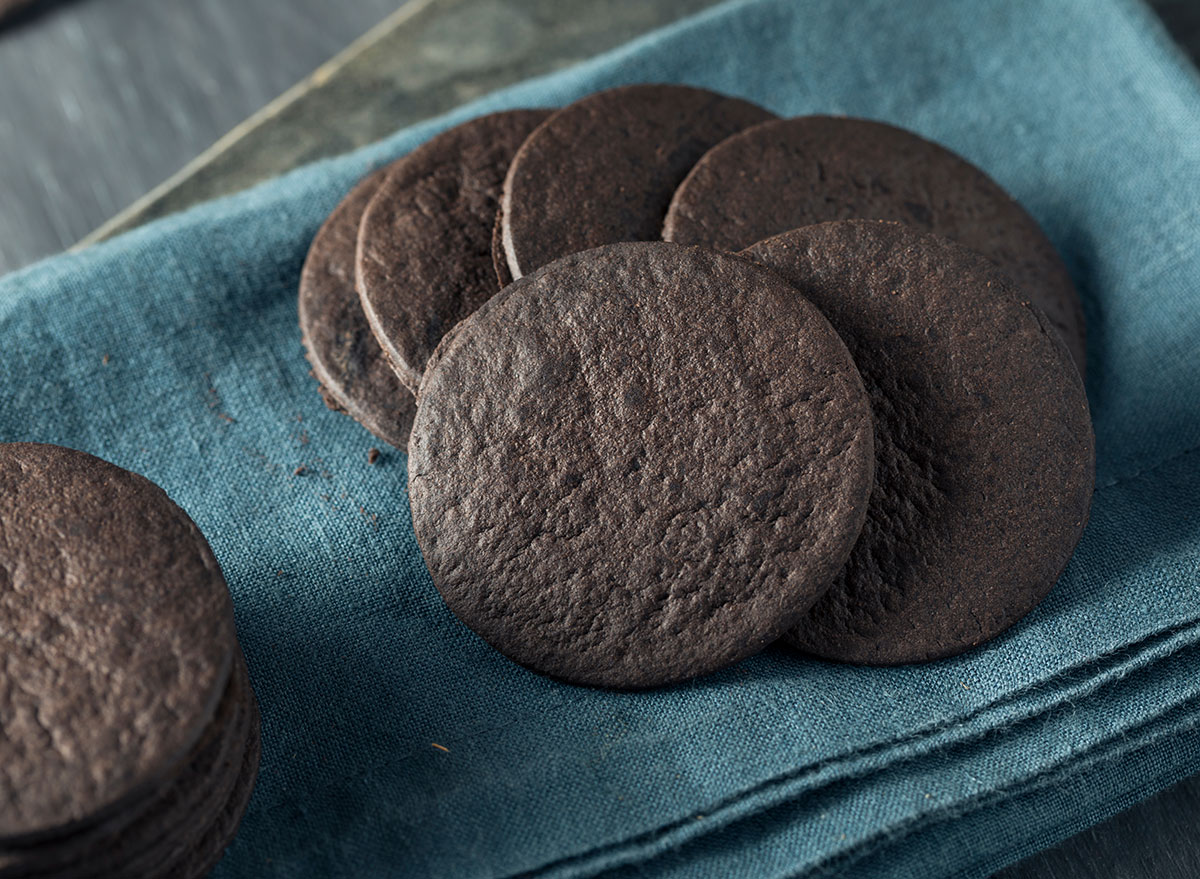 Set out pies, desserts, and coffee in another room, Leyva says. After a big meal, it's nice to get up from the table, digest, and let guests grab desserts when they're ready.
By keeping these chef-approved tips in mind, you'll be able to spend less time in the kitchen on Turkey Day, and more time with family and friends. Oh, and because you did the cooking, sit back and enjoy that pie while the others do the dishes.