27 Desserts That Won't Make You Fat
These desserts are perfectly portioned, low in calories, and will satisfy that sweet tooth!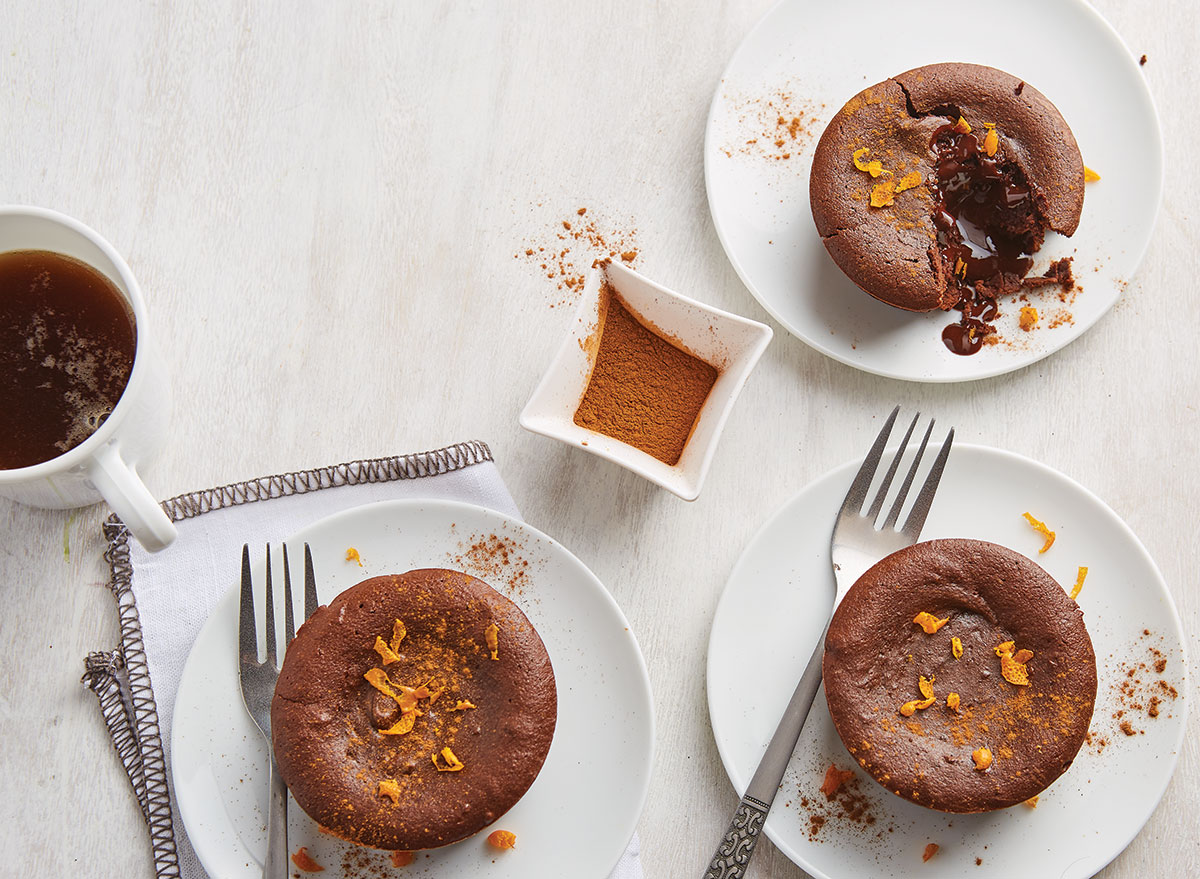 Newsflash: There's nothing wrong with having dessert. Life is all about balance, and by giving your body some of the foods it loves—like a little bit of chocolate—can help further your overall weight loss. The trick is to portion out your dessert. Instead of eating the entire pint of ice cream in one sitting, scoop out the right portion, and save some for another day! This is why we chose a few of our favorite sweet treats that are easy to portion out, which we have deemed the desserts that won't make you fat.
All in all, if you properly portion out your desserts and keep it lower in calories, you'll absolutely see success in your weight loss journey. Plus, because our list of treats are properly portioned, low in calories, and made with all kinds of healthy ingredients, these desserts certainly won't make you fat. So prep one of these sweet treats this week and indulge in a portioned dessert when you're craving for sweets comes around. And speaking of desserts, don't you think these 15 Classic American Desserts Deserve a Comeback?
Dark Chocolate Dipped Bananas Recipe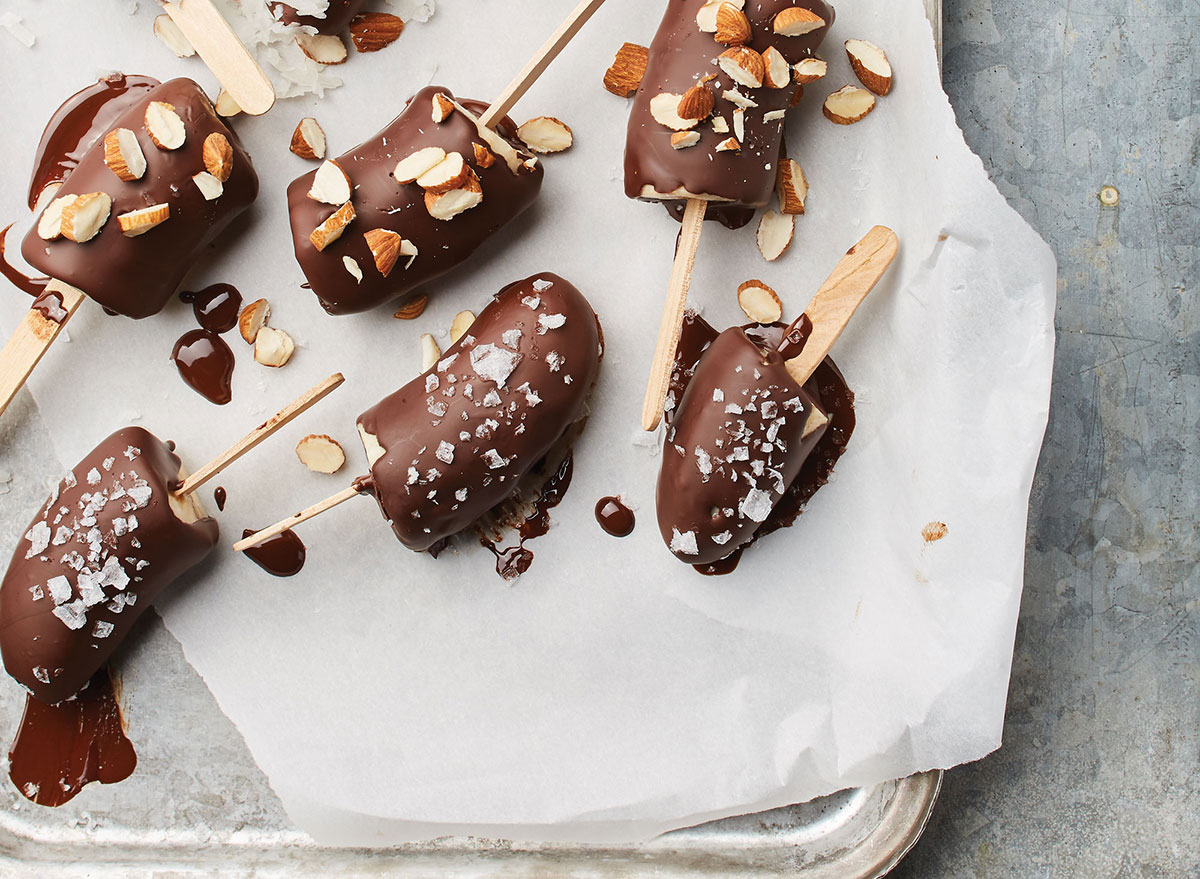 Bananas are a great choice not only in terms of taste, but they can even benefit your health. Bananas can help you lose weight, reduce belly bloat, fight cancer, and increase your energy. This is a delicious, dessert-like way to get the benefits of bananas with the sweet taste you crave post-dinner.
Get our recipe for Dark Chocolate Dipped Bananas. 
2-Step Affogato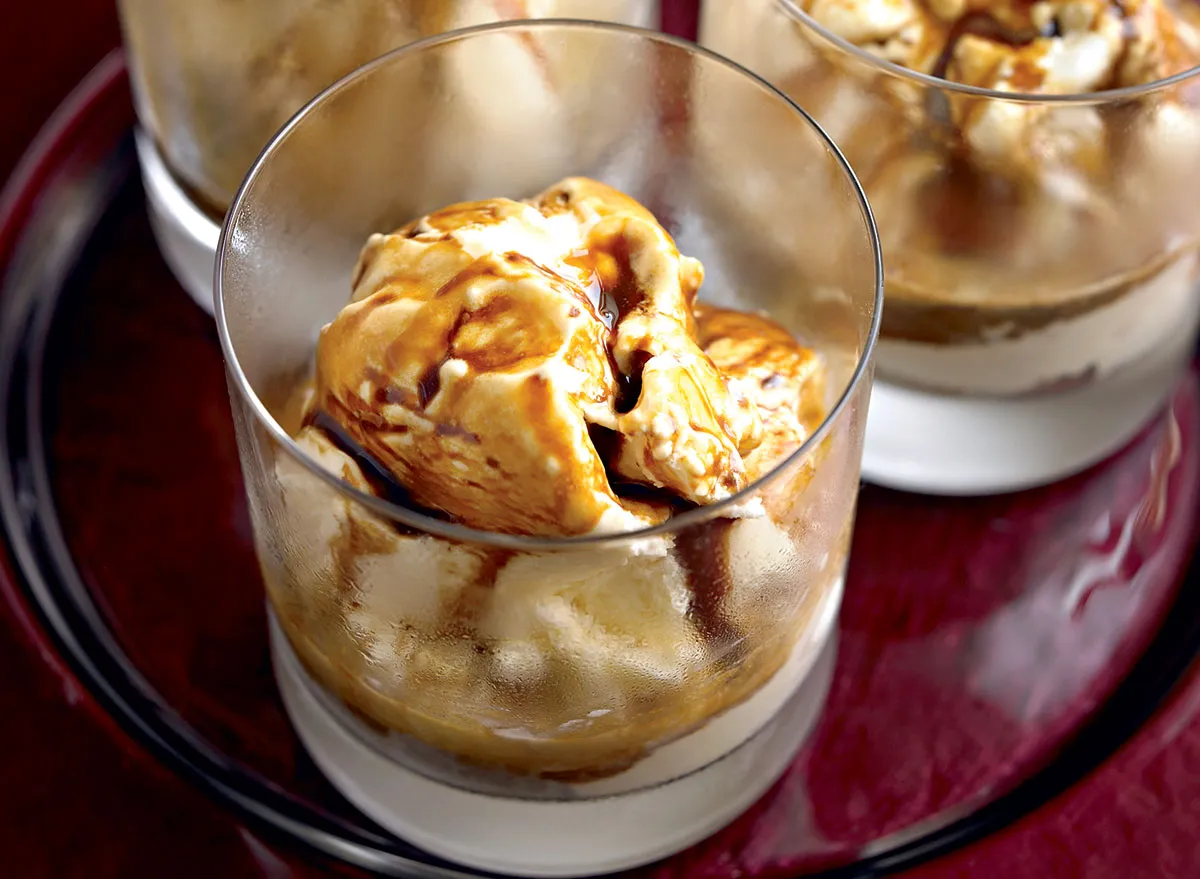 This Affogato recipe, however, is a dessert that earns its keep. In this recipe, we do things a little differently: here we take two traditional caps to a meal—ice cream and espresso or coffee—and combine them into one happy glass of gustatory joy. If you don't have an espresso machine, no problem: simply brew a brute-strength batch of coffee by using 1⁄4 cup grounds and 1 cup water.
Get our recipe for Affogato. 
Cocoa-Coconut-Oat Cookies With Chocolate Chunks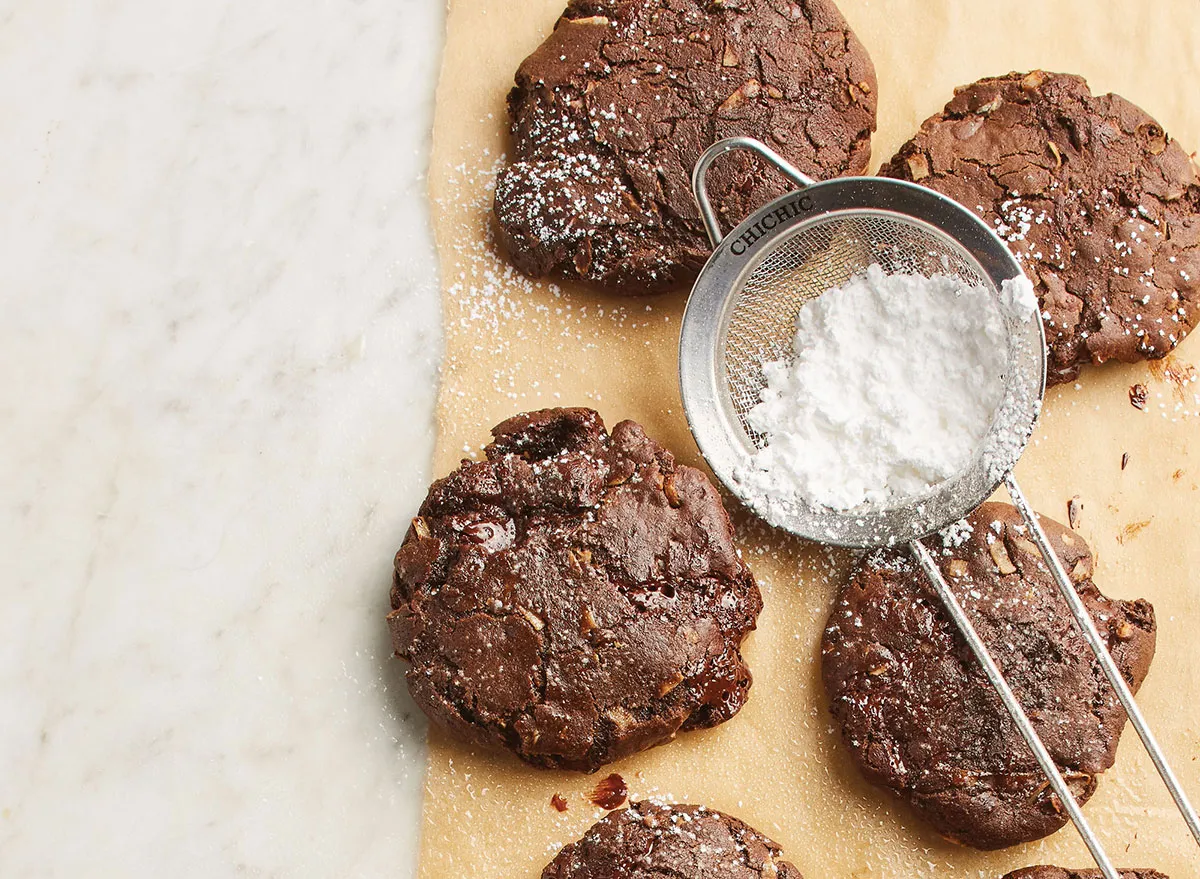 It may sound strange at first, but trust us, making some healthy baking swaps will save you a lot of calories while packing in some extra natural nutrients to your dessert! While this recipe calls for unsweetened applesauce, others have tried swapping out sugar with honey, maple syrup, or even bananas in other recipes. Having oats in the recipe is also great for your health. Oats are high in fiber and have nutrients that will help lower cholesterol and stabilize blood sugar.
Get our recipe for Cocoa-Coconut-Oat Cookies with Chocolate Chunks. 
Fudgy Raspberry Brownies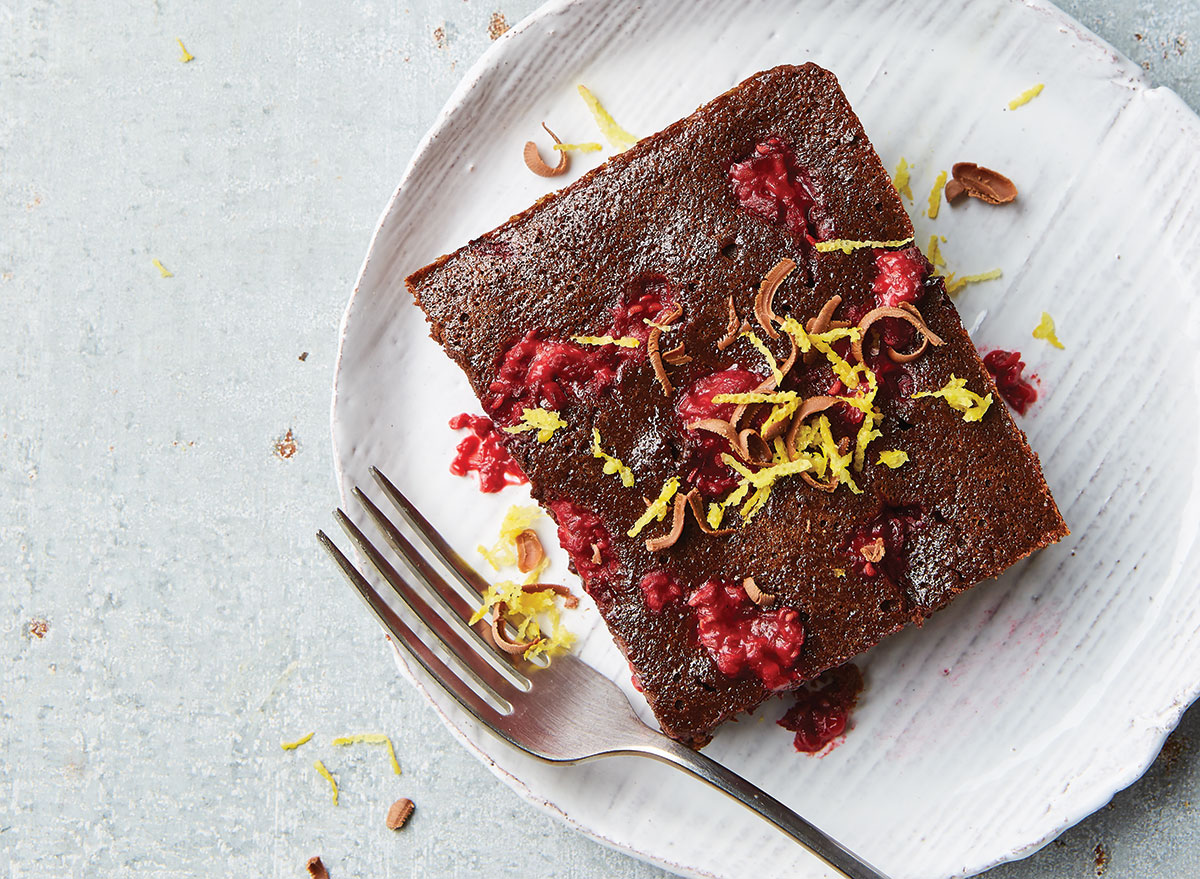 A healthy dose of frozen raspberries, along with a garnish of lemon zest, takes these brownies to the next level. There are so many flavors going on, and each of them complements the others perfectly. Plus, this recipe calls for applesauce and whole-wheat flour, so it's a lot lighter than some of the other dessert options out there. Each brownie—this recipe makes 15—clocks in at just 230 calories, so you won't tank your nutrition goals by indulging in them
Get our recipe for Fudgy Raspberry Brownies. 
Key Lime Pie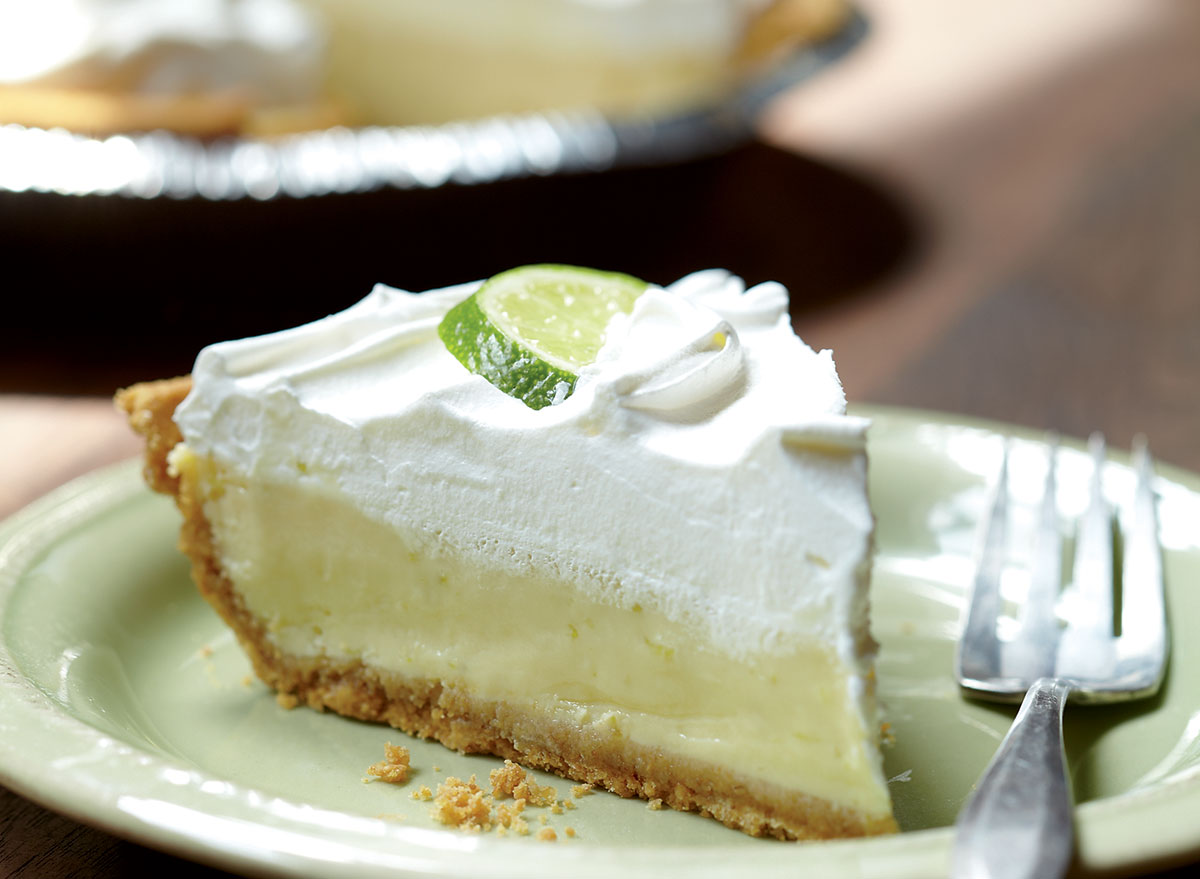 This is the easiest pie in the history of baking. Mix, pour, bake, serve, devour. Simple as that. It's so easy, it'll become your go-to for potluck and dinner parties.
Get our recipe for Key Lime Pie. 
Carrot Cupcakes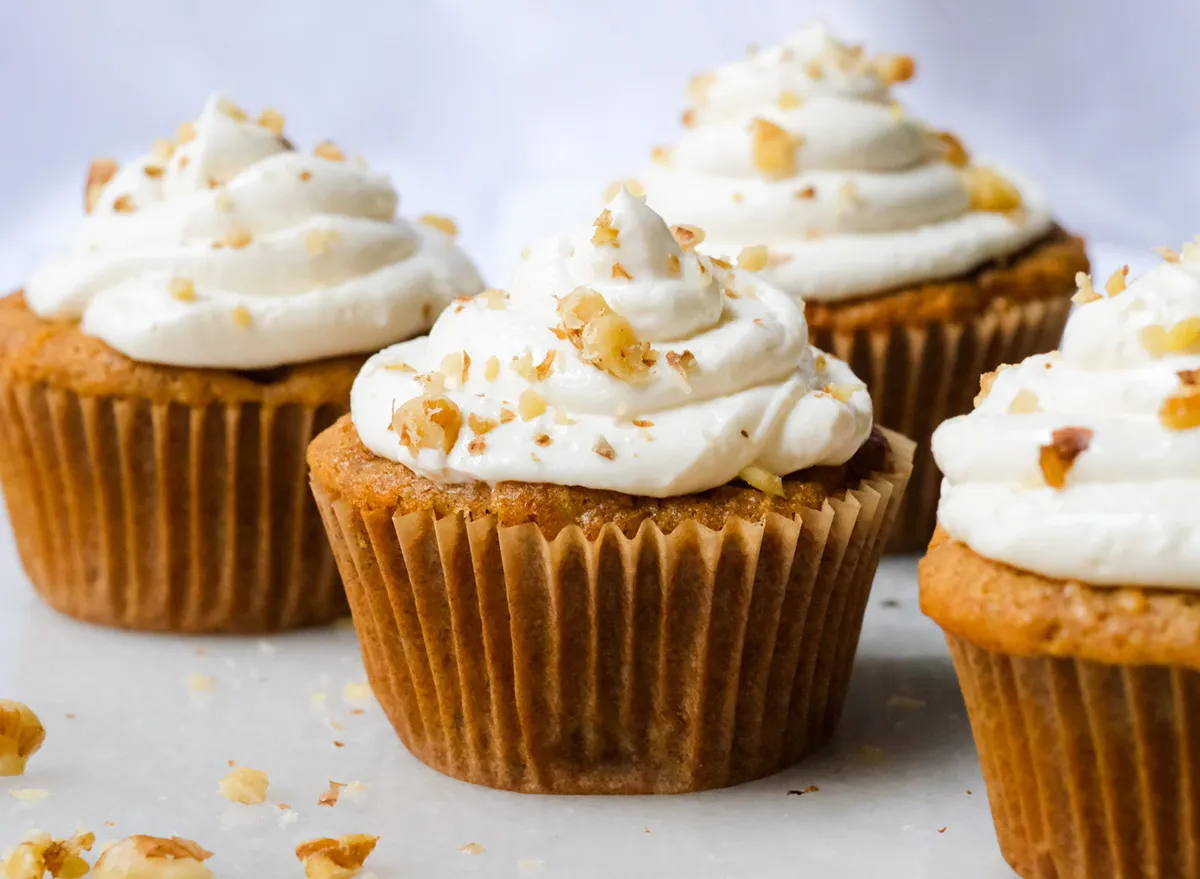 Although we do add some sugar, maple syrup, and even some crushed pineapple to give it a nice mix of flavors, we didn't use nearly as much as some recipes call for. And guess what? It still tastes absolutely delicious!
For this carrot cupcake recipe, we even lightened up the cream cheese frosting. Typically carrot cake (or carrot cupcakes) are served with a cream cheese frosting that have a buttercream base. Instead, we turned to Greek yogurt with some milkfat in it still to give it that fattiness we desperately love in cream cheese frosting—without completely overdoing it on the fat content. This cream cheese frosting is also naturally sweetened with pure maple syrup.
Get our recipe for Carrot Cupcakes. 
Smoothie Popsicles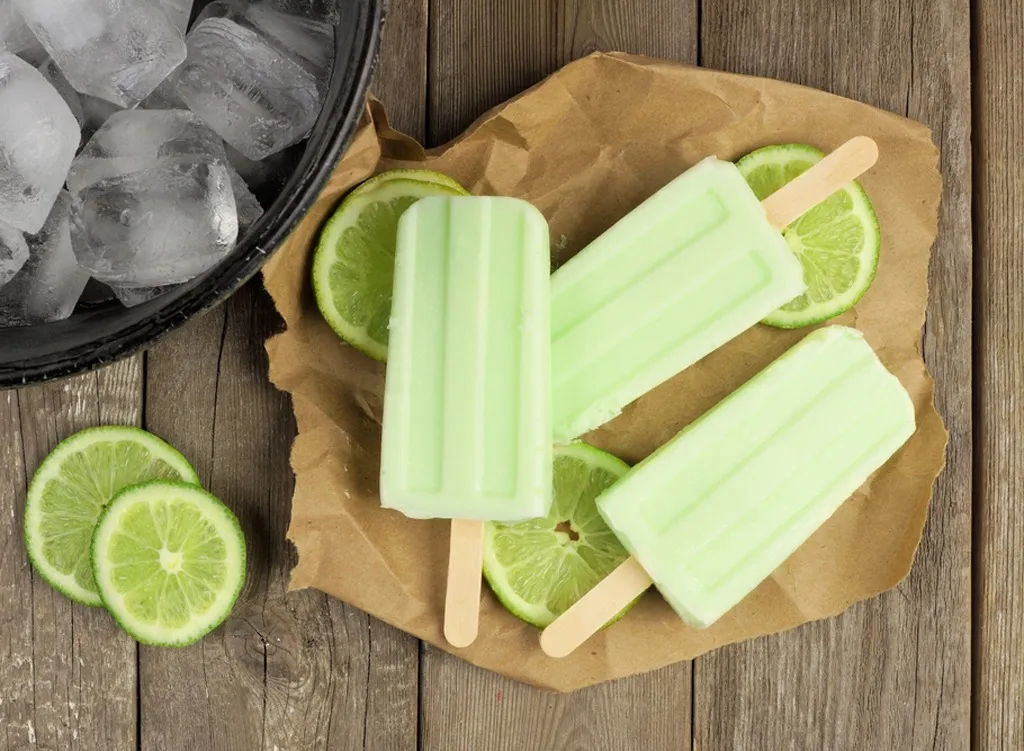 Instead of kicking your favorite sip to the curb in the height of summer, why not turn it into a popsicle? You'll get the good-for-your-gut probiotics along with the flavor you love in a smaller, more easily digestible package. (Not to mention, homemade pops are far healthier than the ultra-processed, sugar-laden ones.)
Get our recipe for Smoothie Popsicles. 
Banana Coconut Ice Cream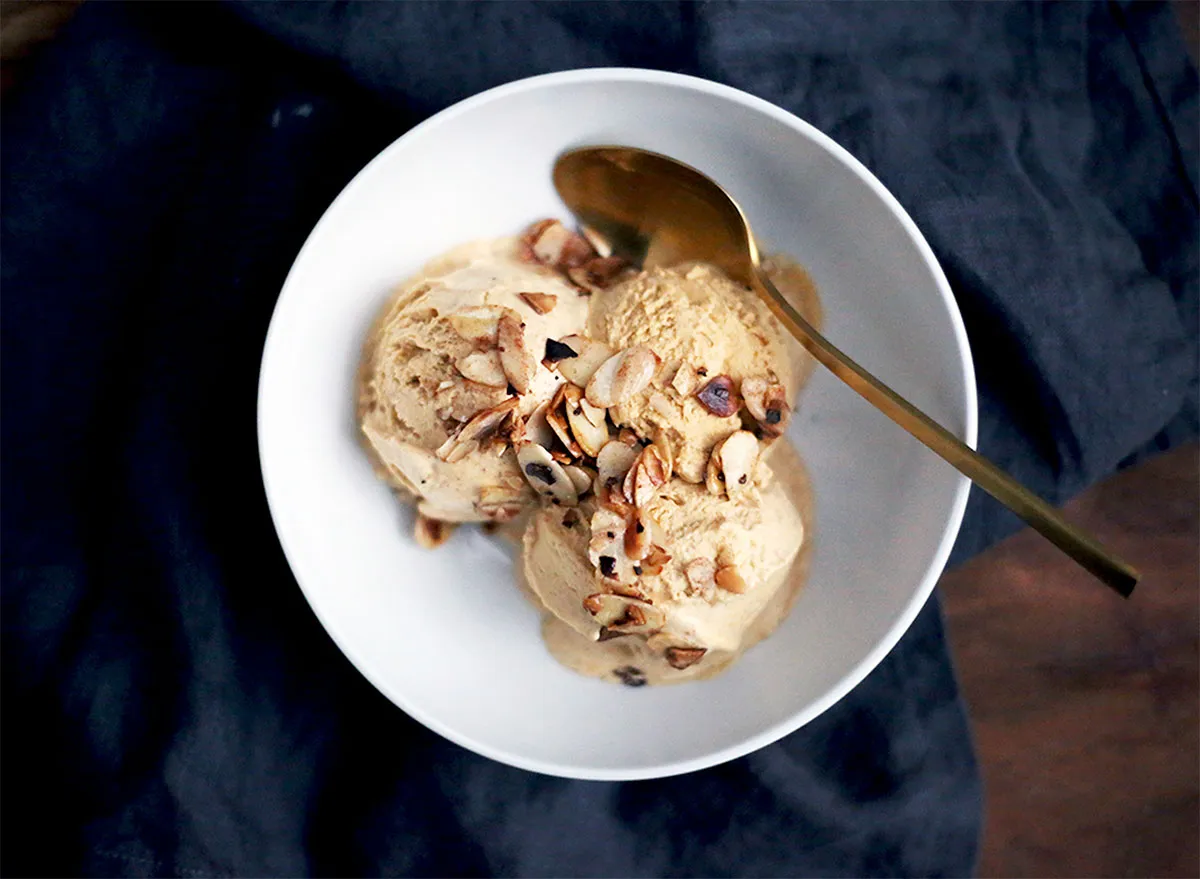 It's actually pretty simple—bananas and coconut milk give this ice cream body and flavor. Roasting the bananas with a touch of date syrup gives them a more nuanced taste once frozen, and adds caramel notes to the final product. We top it all off with sliced almonds that get caramelized in date syrup, too, which is an excellent source of the crunch factor.6254a4d1642c605c54bf1cab17d50f1e
Get our recipe for Banana Coconut Ice Cream. 
Coconut Fruit Tart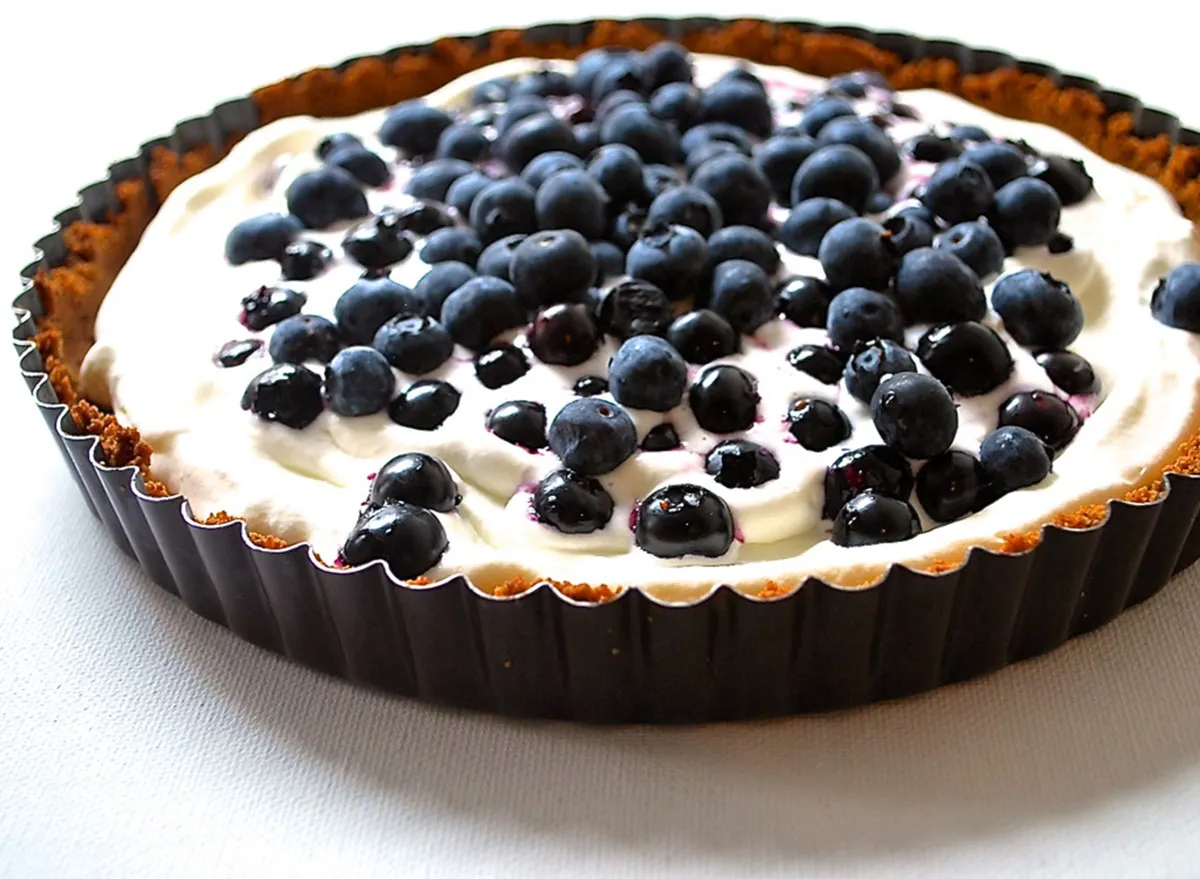 The nutty, sweet, press-in crust has a little dash of cardamom which pairs beautifully with the creamy cashew and coconut filling. It's absolutely fantastic with fresh berries, but feel free to use any seasonal fruit, from sliced fresh peaches to chopped quince or plums, or even fresh citrus.
Get our recipe for Coconut Fruit Tart. 
Warm Sautéed Apples with Caramel Drizzle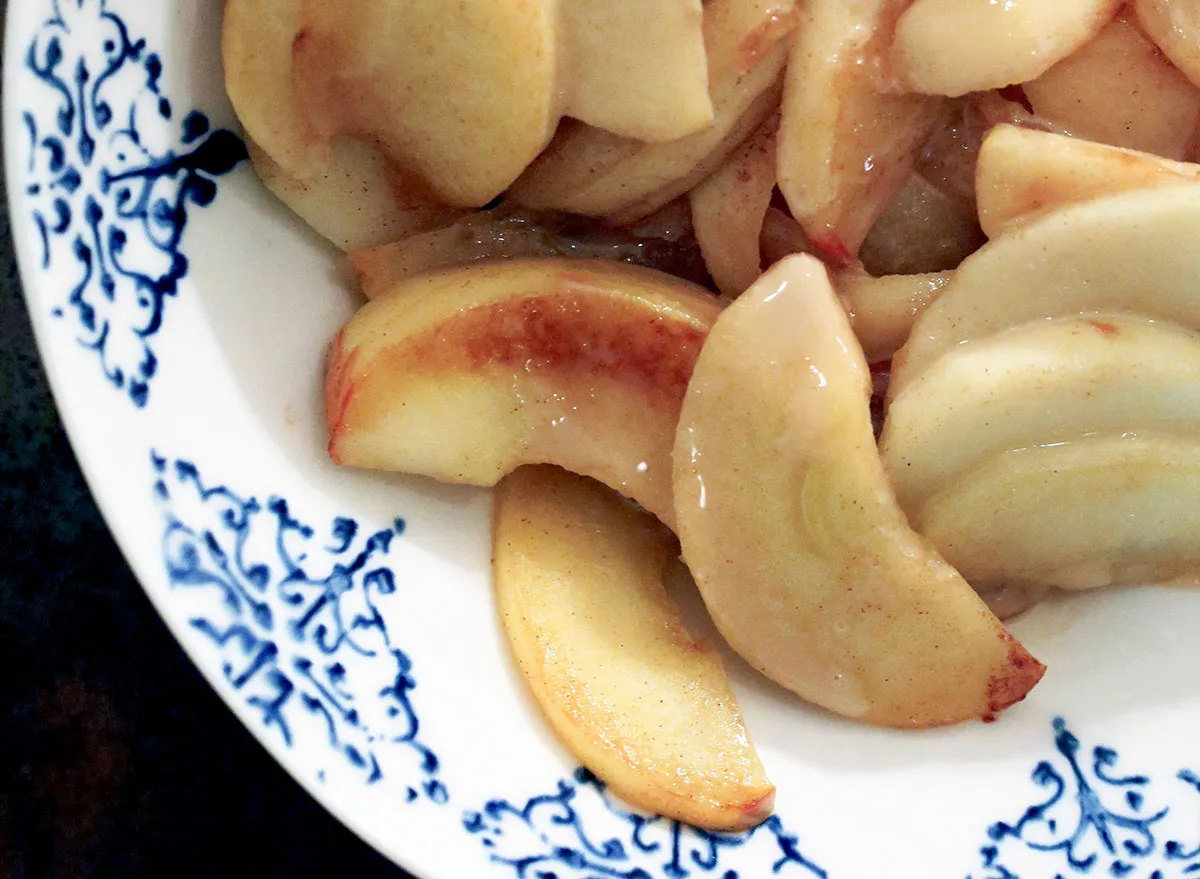 This warm, sweet, and spiced Whole30 apple dessert is so simple and light, it deserves a spot in your everyday rotation. You're basically cooking apples with cinnamon, then drizzling them with some velvety, syrupy sweet sauce. We like to think of it as a deconstructed apple pie.
Get our recipe for Warm Sautéed Apples with Caramel Drizzle. 
Instant Pot Lemon Cake
If you haven't discovered how versatile an Instant Pot can truly be, this dessert recipe is the one to win you over. Steaming a gluten-free lemon cake batter in an Instant Pot yields a cake that has a delicate, soft, and tender crumb. The Instant Pot baking method is especially well-suited for almond flour-based batters like this one. To make it work, you'll also need a 7-inch springform pan and a trivet.
Get our recipe for Instant Pot Lemon Cake. 
Keto Chocolate Chip Cookies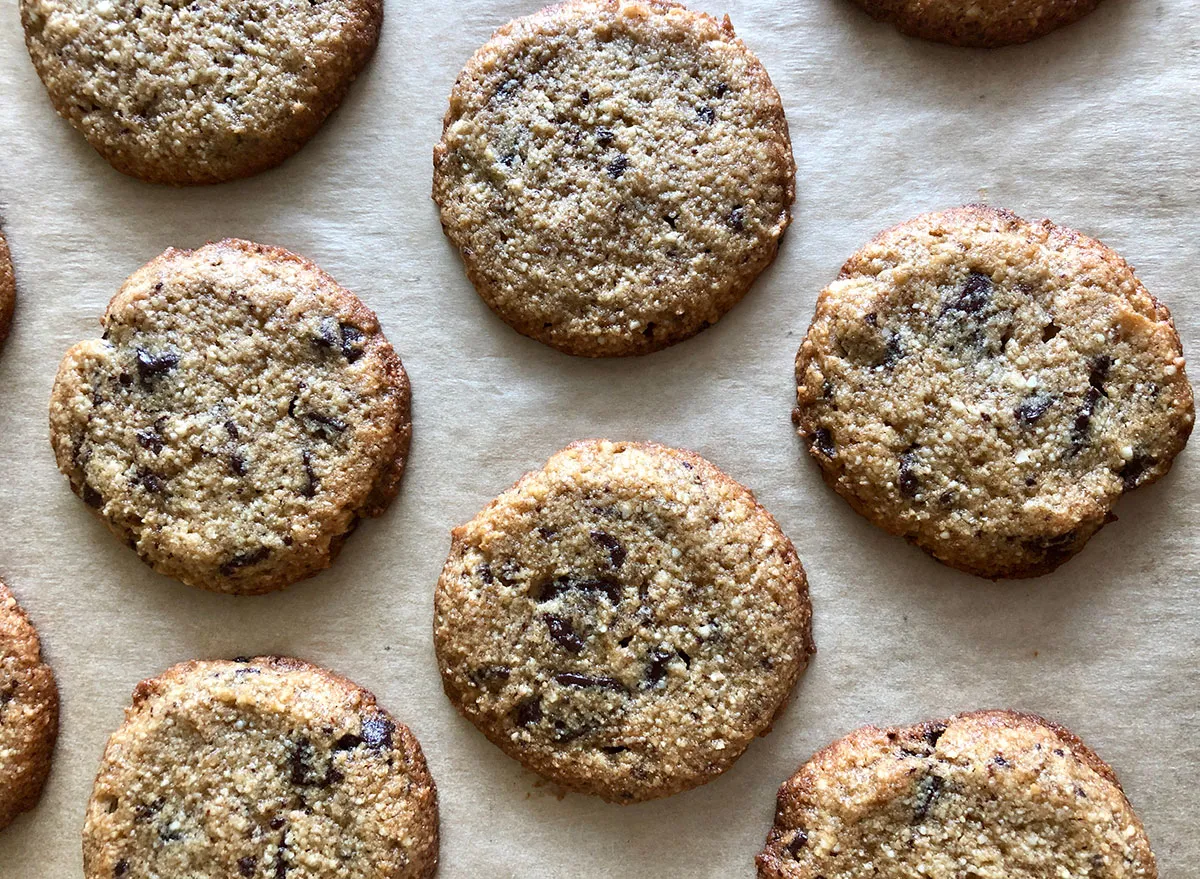 So you've decided to follow the keto diet, but you've still got a sweet tooth. But just because you're following a low-carb diet doesn't mean you have to give up dessert entirely. These keto chocolate chip cookies will stand up to any other cookie recipe out there, and they won't derail your goals of staying in ketosis.
Get our recipe for Keto Chocolate Chip Cookies. 
Low-Carb Keto Peanut Butter Cookies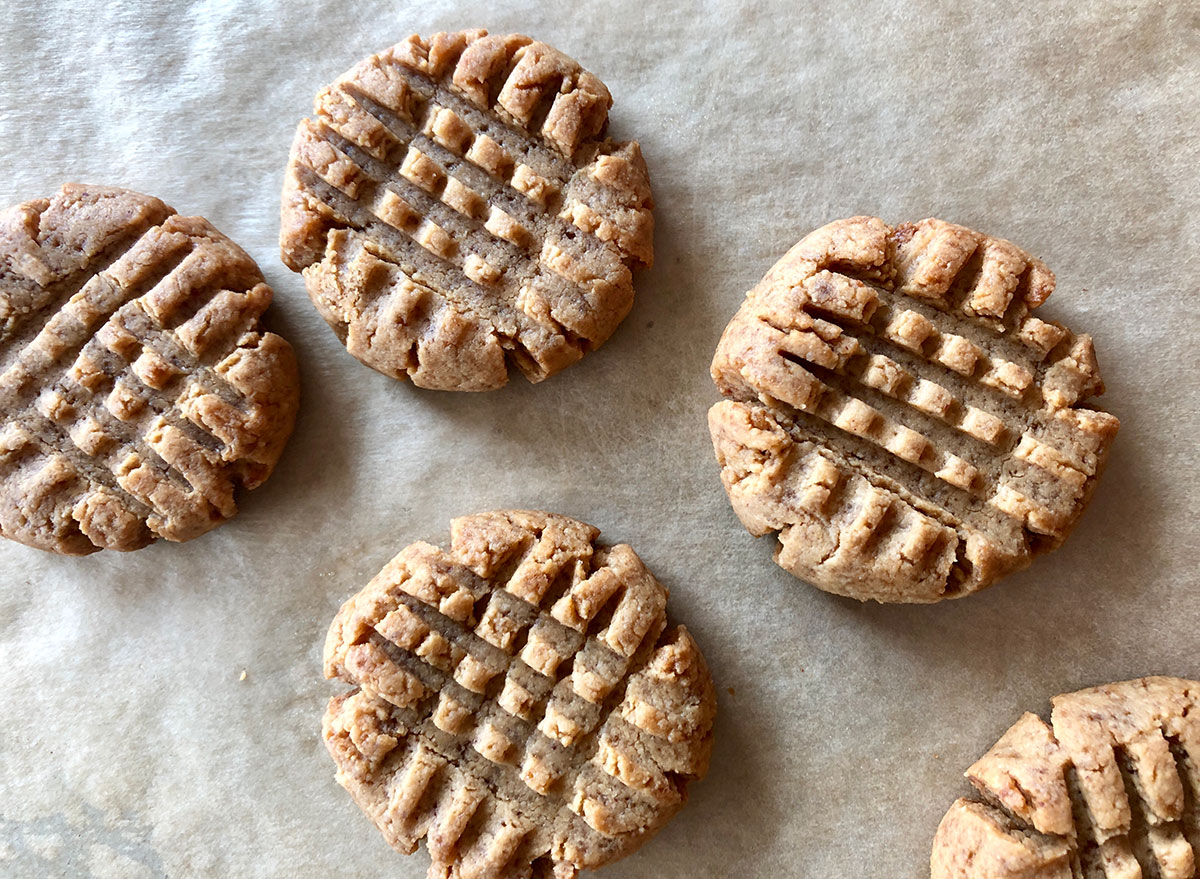 With just four ingredients, these keto peanut butter cookies are so simple. You don't have to get out the hand mixer, measure out any flour, or do anything complicated for this recipe. Just stir a few pantry-staple ingredients in one bowl, and you're good to go.
Get our recipe for Low-Carb Keto Peanut Butter Cookies. 
Keto Latte Swirl Brownies
This brownie recipe comes out to just 140 calories a serving, so go ahead and indulge. With instant coffee powder and dark chocolate, this treat is so delicious, you'll barely even remember it's keto-compliant.
Get our recipe for Keto Latte Swirl Brownies. 
Dark Chocolate-Covered Almond Clusters With Coconut-Matcha Sprinkle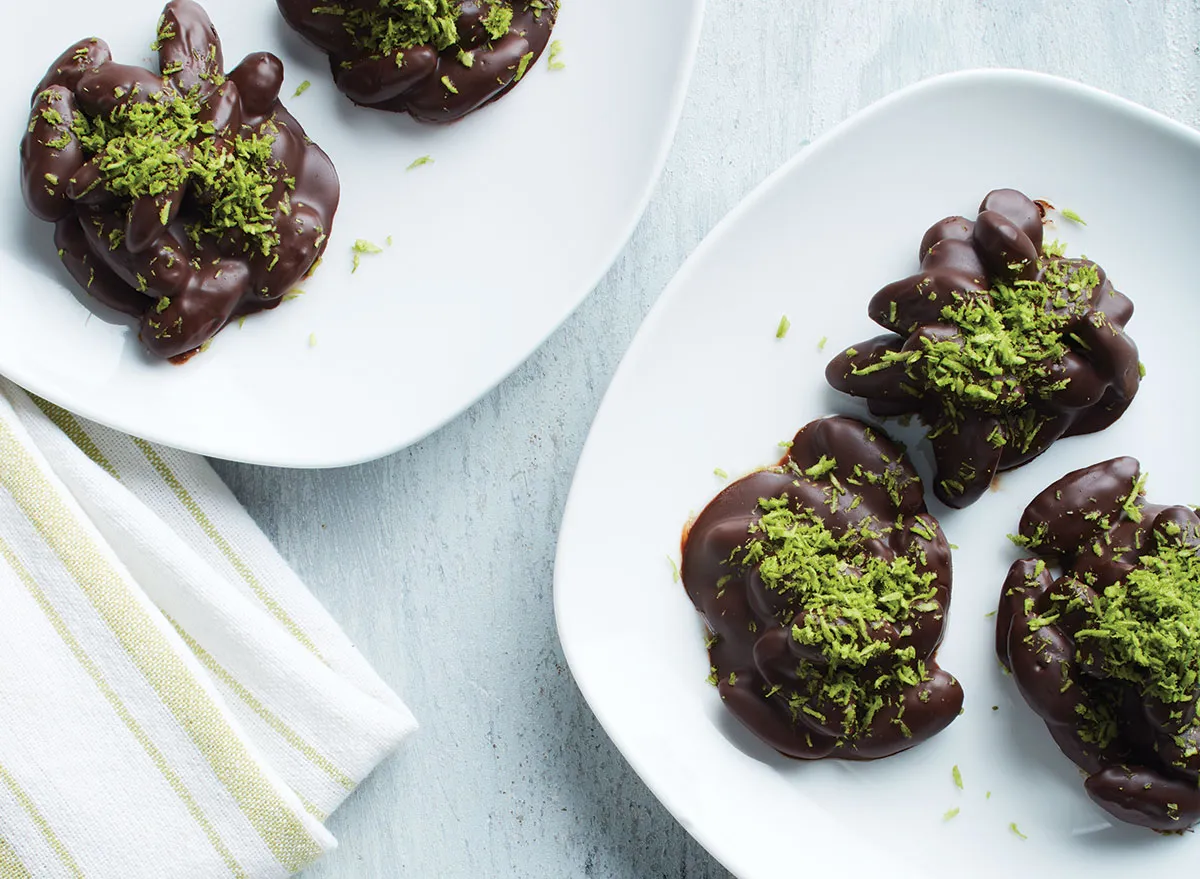 These nutty chocolate clusters aren't the turtle candy you might remember from childhood. In fact, they're even better. These dark-chocolate almond clusters take dessert to a more sophisticated (and healthy) level, thanks to shredded coconut and matcha powder.
Get our recipe for Dark Chocolate-Covered Almond Clusters with Coconut-Matcha Sprinkle. 
Fresh Fruit and Cream Tart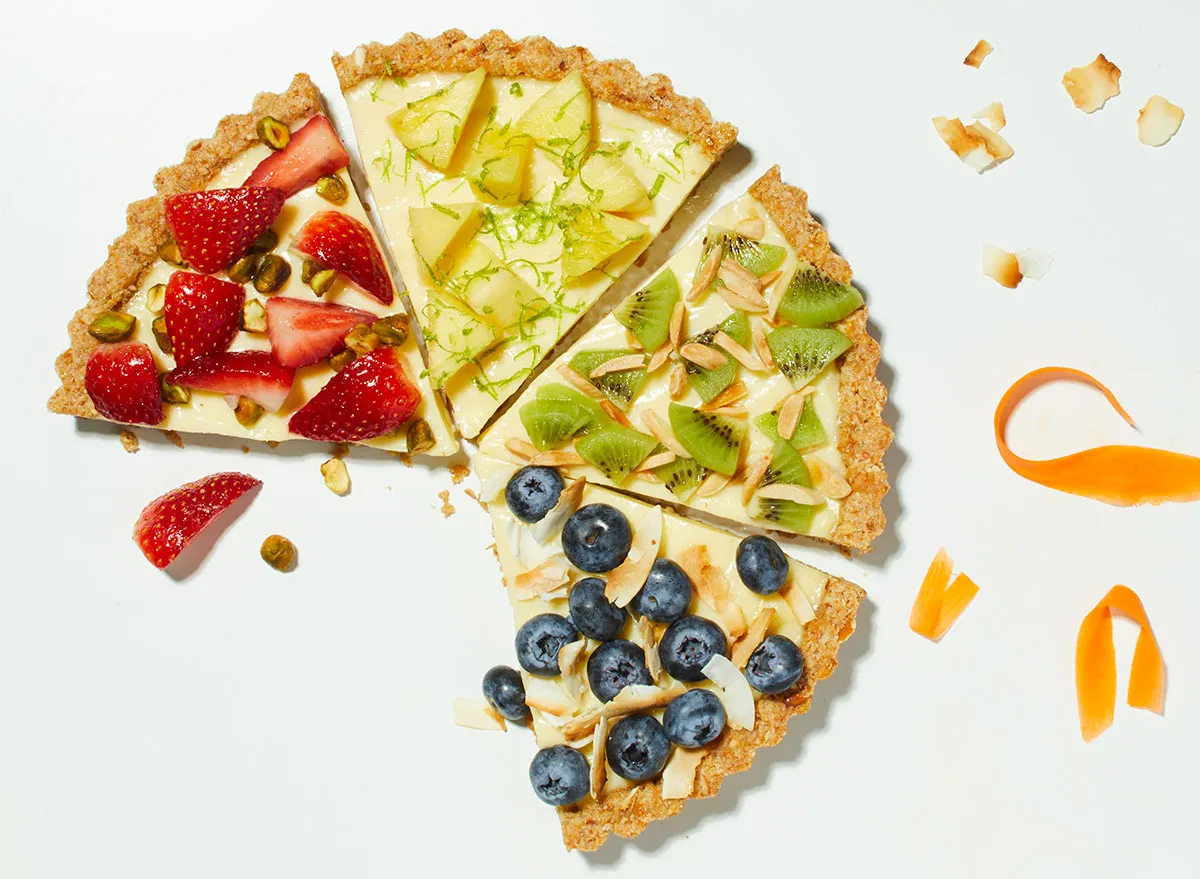 The best thing about this fruit and cream tart is how versatile it is. There are numerous combinations you can try. Simply choose your favorite fruit and favorite extra crunch! We have five options for fruit toppers that come with the recipe already. However, you can make up your own fun and fruity combinations—the sky's the limit with this fruit tart recipe!
Get our recipe for a Fruit and Cream Tart. 
Low-Sugar Orange Dream Cream Puffs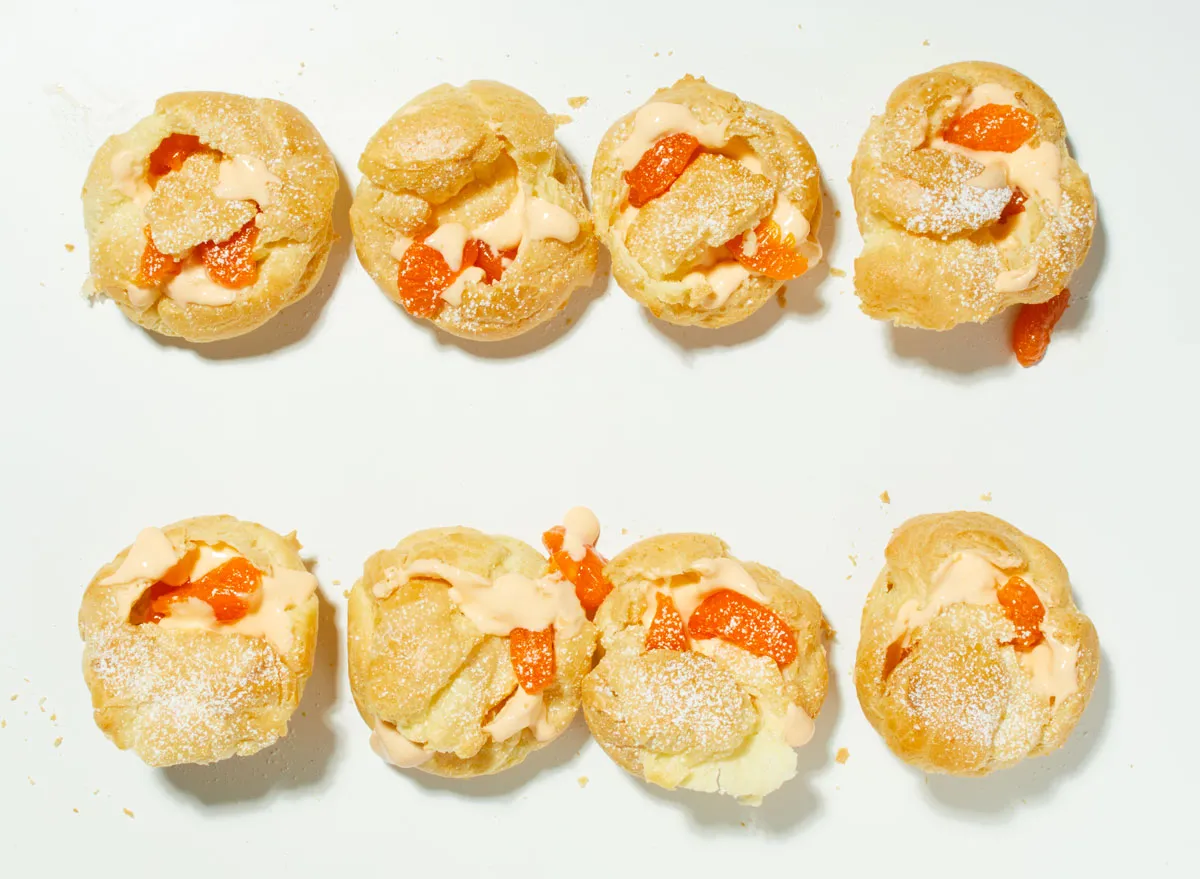 This dessert is also naturally sweetened, thanks to the can of mandarin orange segments in the recipe. It gives the cream puff a tangy and sweet flavor, while still keeping that sugar count really low. Topped with powdered sugar, these orange cream puffs are so dreamy, you won't believe how low-sugar it is!
Get our recipe for Low-Sugar Orange Dream Cream Puffs. 
Strawberry Rhubarb Ice
Making this recipe is really simple, including the easy ingredient list. All you have to do is boil the rhubarb to soften it, then blend it up with the strawberries. As you work on this recipe, you can easily hull strawberries using a straw! Adding orange juice will add some extra tang to the ice, while the sugar will sweeten it up—making it a delectable light dessert for a hot day.
Get our recipe for Strawberry Rhubarb Ice. 
Coffee and Chocolate Meringue Cookies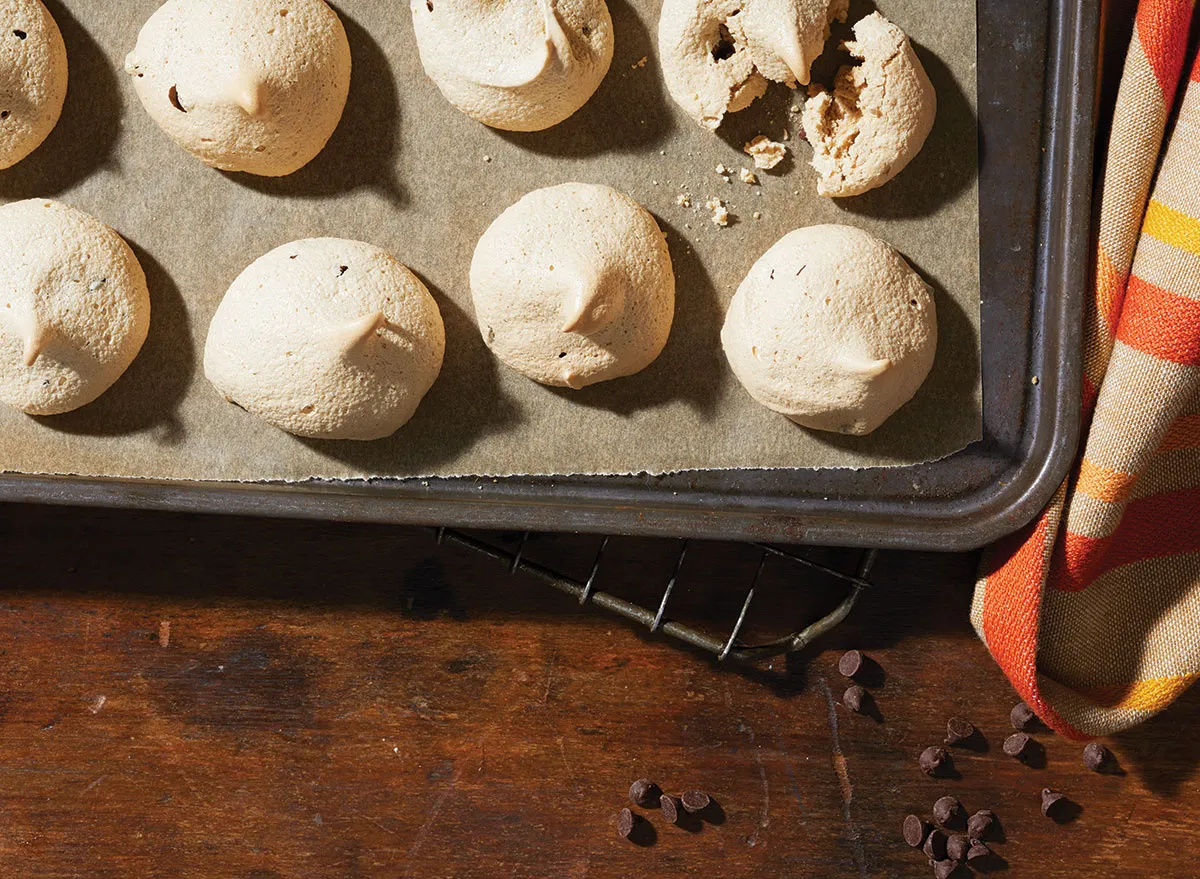 If you're looking for a light, low-calorie dessert, look no further than the meringue. These coffee and chocolate meringues are just 71 calories each, but you'd never know it from how flavorful they are.
Get our recipe for Coffee and Chocolate Meringue Cookies. 
Poached Pears With Spiced Chocolate Sauce
When it comes to fall fruit, apples tend to take the spotlight. But plenty of pear varieties are in season at the same time, and they're just as delicious in dessert recipes. Take, for example, this scrumptious treat, which combines poached pears with a rich chocolate sauce. Spices like cinnamon and nutmeg accentuate the flavor of the chocolate. Apple juice and more cinnamon flavor the pear for a truly unforgettable taste.
Get our recipe for Poached Pears with Spiced Chocolate Sauce. 
Cinnamon-Orange Lava Cakes Recipe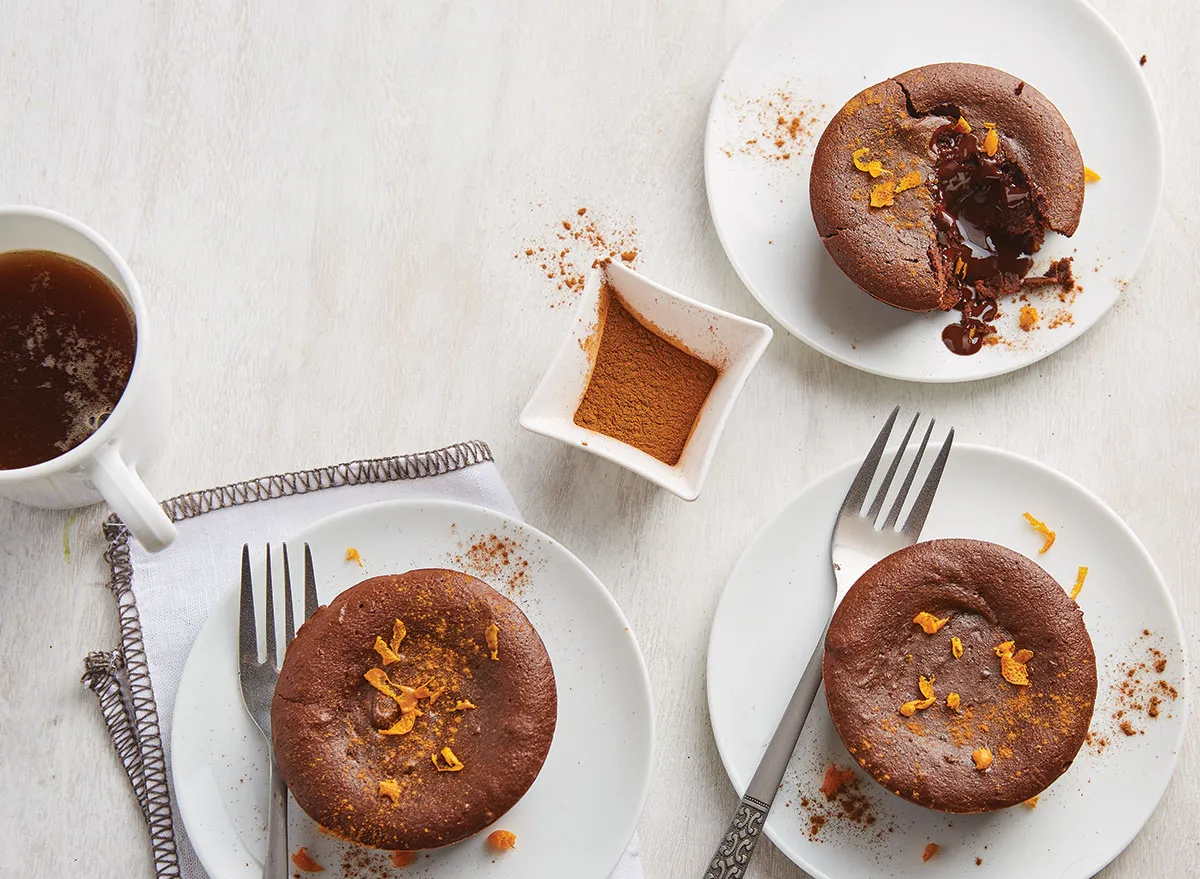 There's something so satisfying about tucking into gooey lava cakes. The chocolate filling seeps out onto your plate, and the whole thing feels decadent. It might seem complicated to recreate this treat at home, but it doesn't have to be! All you need are some ramekins and a bit of time.
Get our recipe for Cinnamon-Orange Lava Cakes. 
Espresso Granita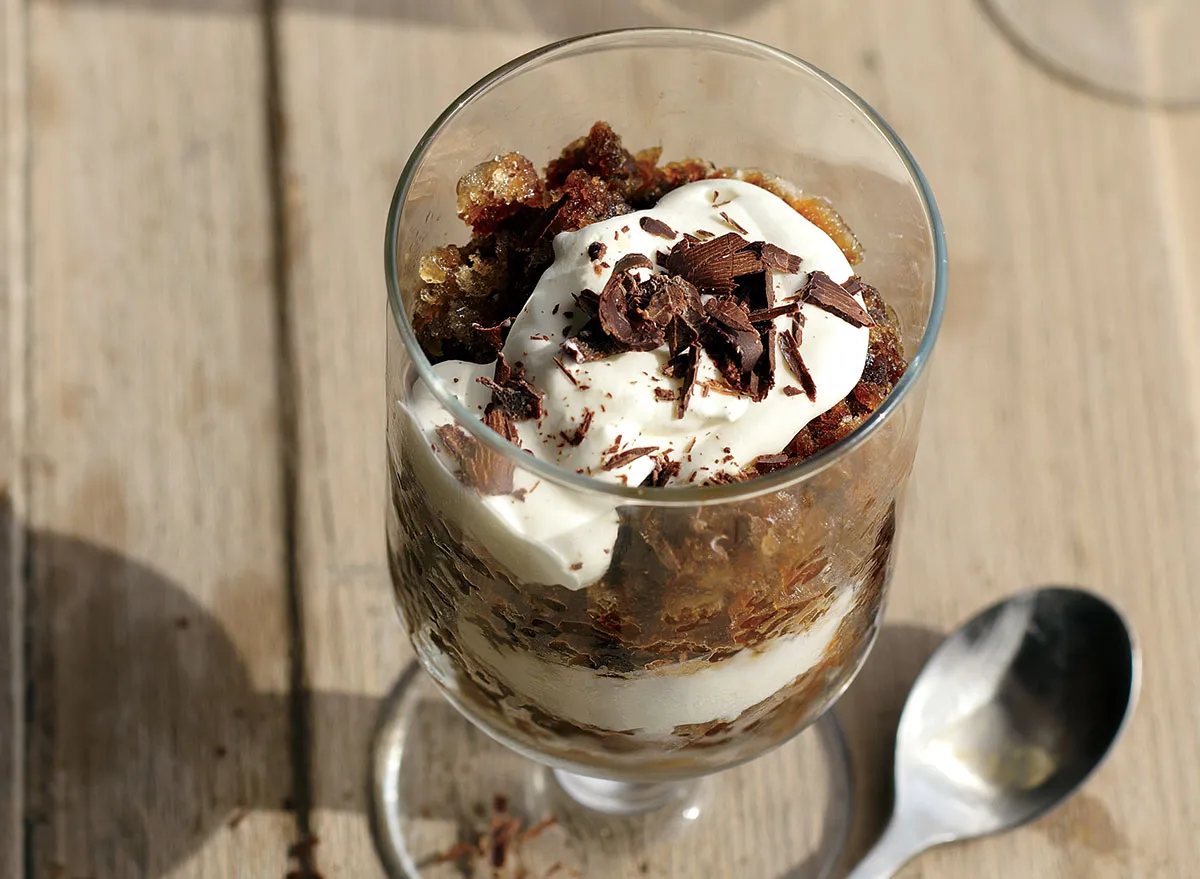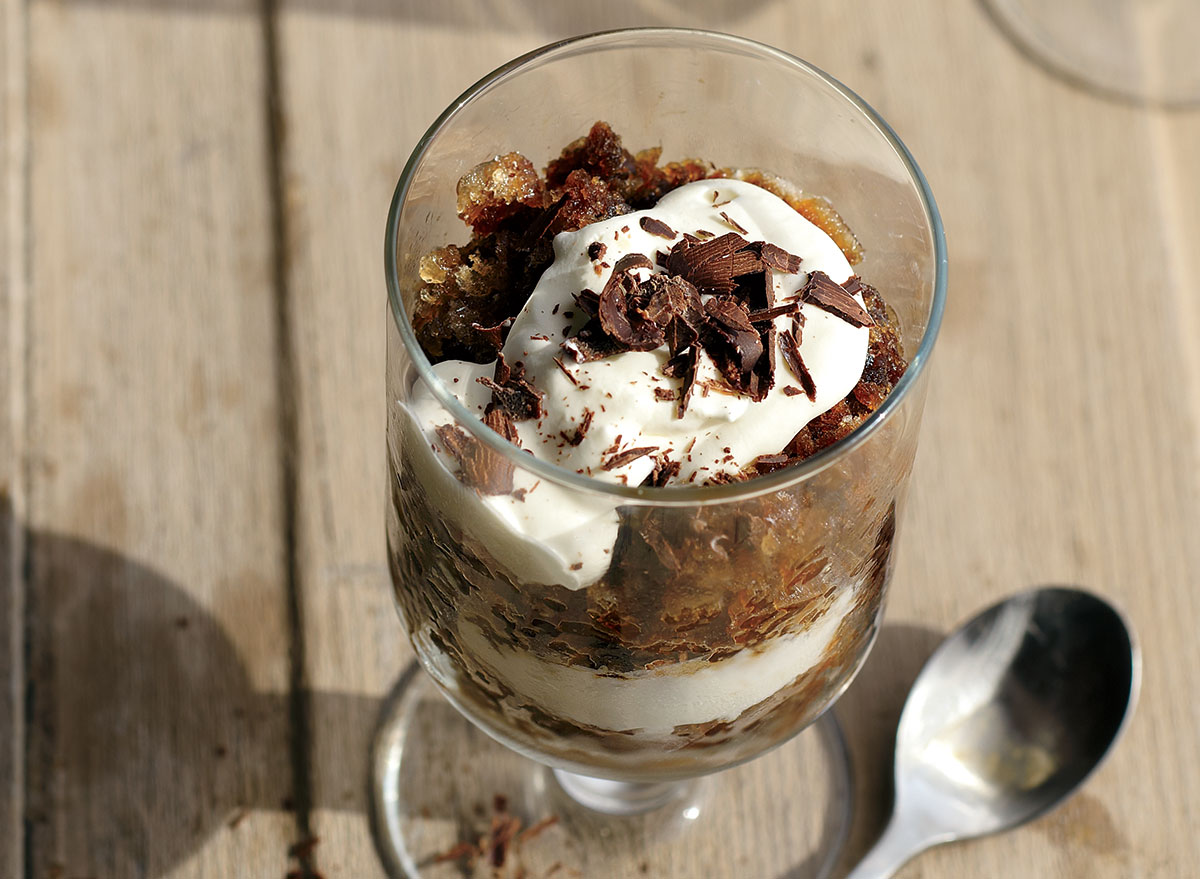 When it comes to dessert, it's best to stay in—especially if you learn to make granitas, frozen desserts that are every bit as satisfying as ice cream and easy enough for a 6-year-old to make. And that's where our espresso granita comes in.
Get our recipe for Espresso Granita. 
Egg-Free Chocolate Pudding With Olive Oil and Sea Salt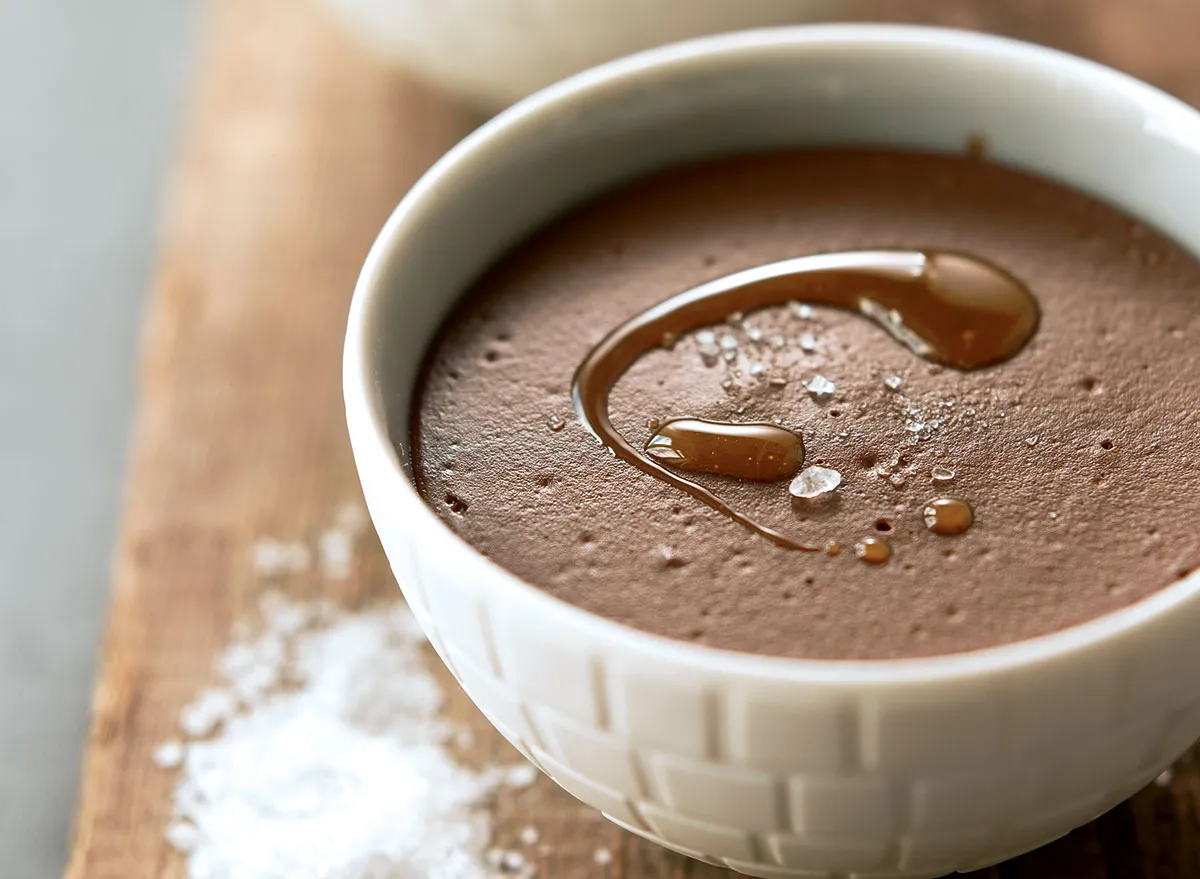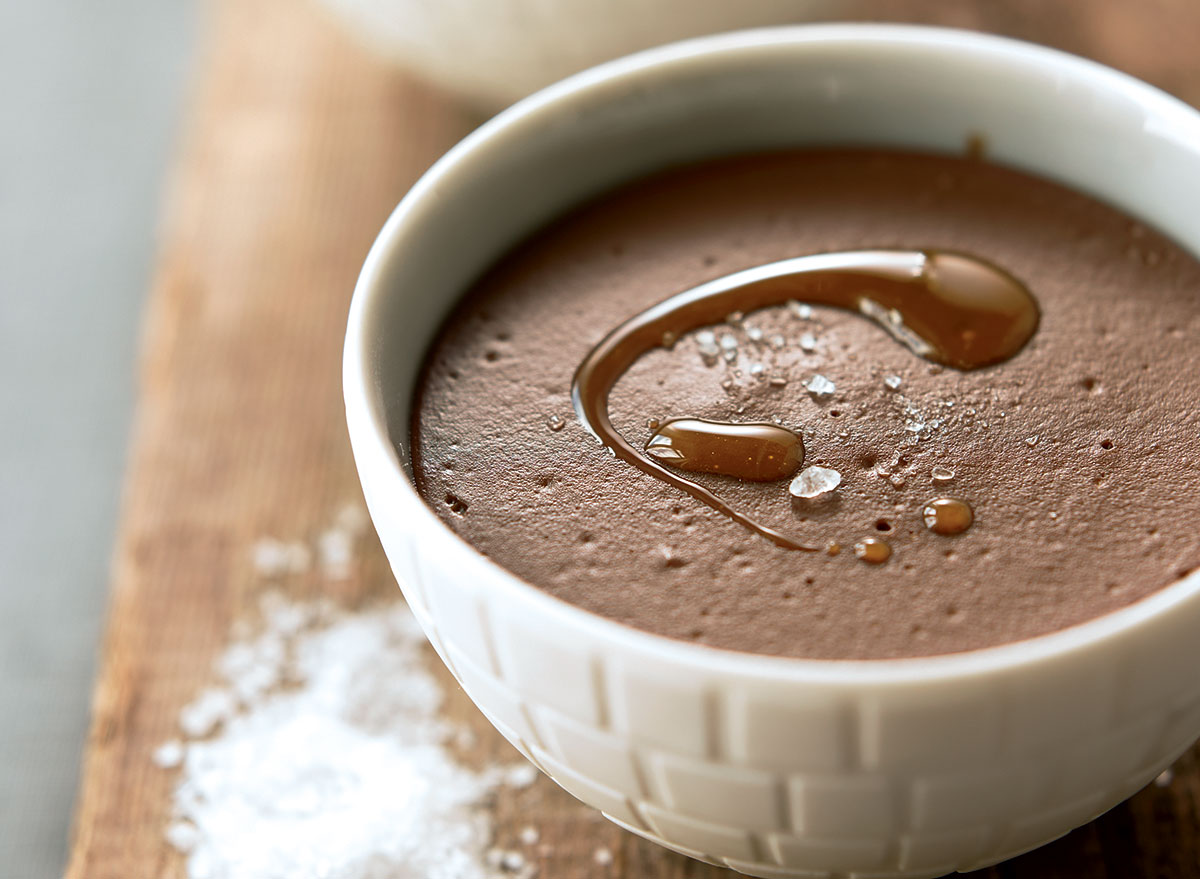 It might sound like a strange way to eat dessert, but the sweet-salty combination of chocolate, peppery olive oil, and crunchy little flakes of salt brings to mind a bag of chocolate-covered pretzels. Who could resist that?
Get our recipe for Egg-Free Chocolate Pudding with Olive Oil and Sea Salt. 
Grilled Strawberry Shortcake With Balsamic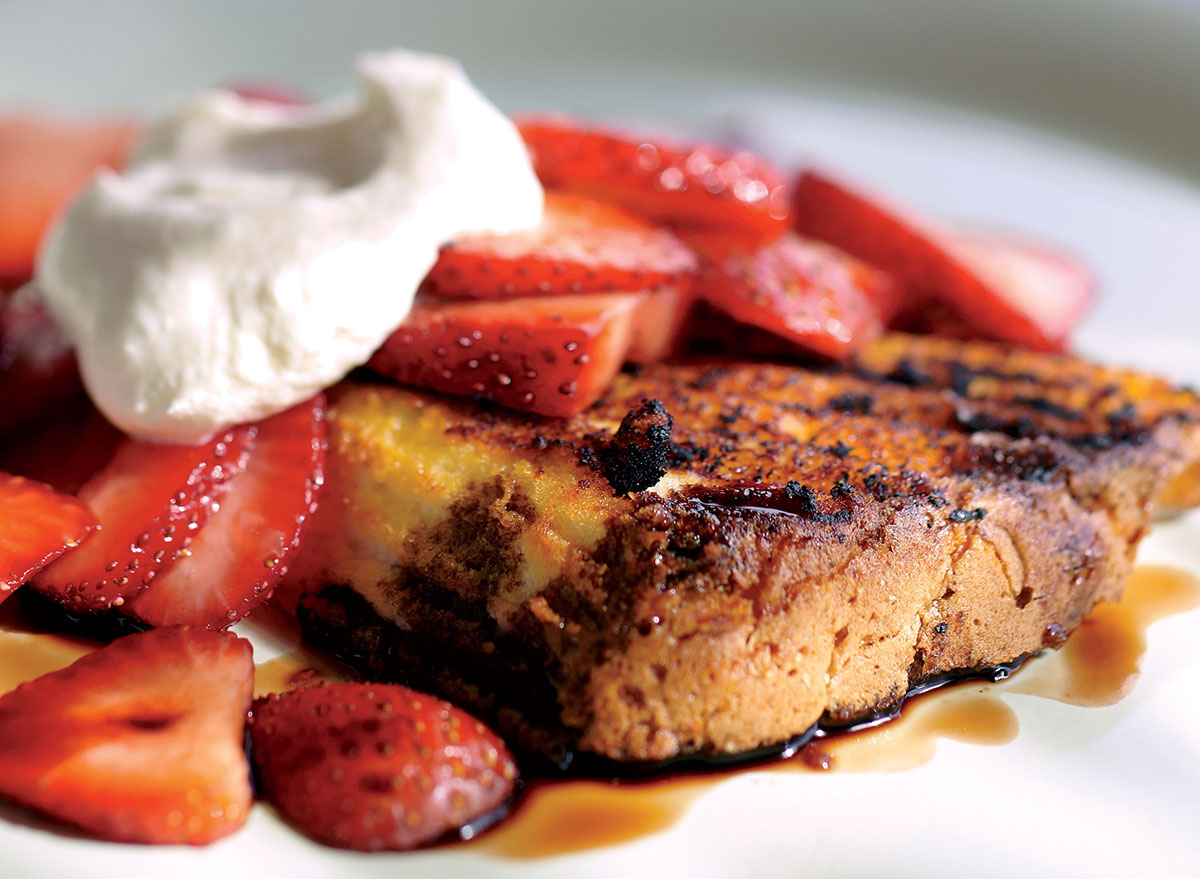 Here, low-calorie angel food cake picks up the smoke and char of the grill and is topped with strawberries soaked in balsamic vinegar and black pepper, an irresistible combination adored throughout northern Italy.
Get our recipe for Grilled Strawberry Shortcake with Balsamic. 
Fruit Pizza
Making a healthy fruit pizza recipe means swapping out some ingredients to make the recipe overall healthier. While this sugar cookie still has sugar in it, we swapped out using all-purpose flour with whole-wheat flour, so you can shift away from the refined carbohydrate. Another easy swap for this sugar cookie fruit pizza recipe was swapping out a powder sugar-based icing with a low-fat cream cheese instead. We even whipped up the cream cheese with a bit of honey to give it sweetness, which pairs extremely well with all of the fresh fruit on top.
Get our recipe for Fruit Pizza. 
Pumpkin Cheesecake
What better way to celebrate the fall season than a delicious pumpkin cheesecake? Not only that, but a pumpkin cheesecake that is actually considered healthy! This easy-to-make pumpkin cheesecake cuts the sugar and fat, and adds some Greek yogurt that will leave your gut feeling happy.
Get our recipe for Pumpkin Cheesecake. 
Mini Chocolate Cakes
Can chocolate cake ever truly be a healthy dessert? Yes, it can, if it has no gluten, dairy, or refined sugar. Not only is this recipe delicious, but it's also one that every baker should have in their arsenal. These dense and chocolatey mini cakes are easy to whip up, and they have a light yet rich crumb with a puffed, crackly top that looks like a soufflé. Make sure to use creamy rather than crunchy almond butter to get the smoothest texture in your cake batter.
Get our recipe for Mini Chocolate Cakes. 
Don't feel like making dessert? Then dig into one of these 25 Low-Calorie Desserts to Buy Under 150 Calories.
Eat This, Not That!
Inspired by The New York Times best-selling book series, Eat This, Not That! is a brand that's comprised of an award-winning team of journalists and board-certified experts, doctors, nutritionists, chefs, personal trainers, and dietitians who work together to bring you accurate, timely, informative, and actionable content on food, nutrition, dieting, weight loss, health, wellness, and more.
Read more about Eat This