"This Is the Dish I Make That Always Makes Me Feel Better"
14 recipe developers, chefs, and food bloggers share their go-to comfort recipes.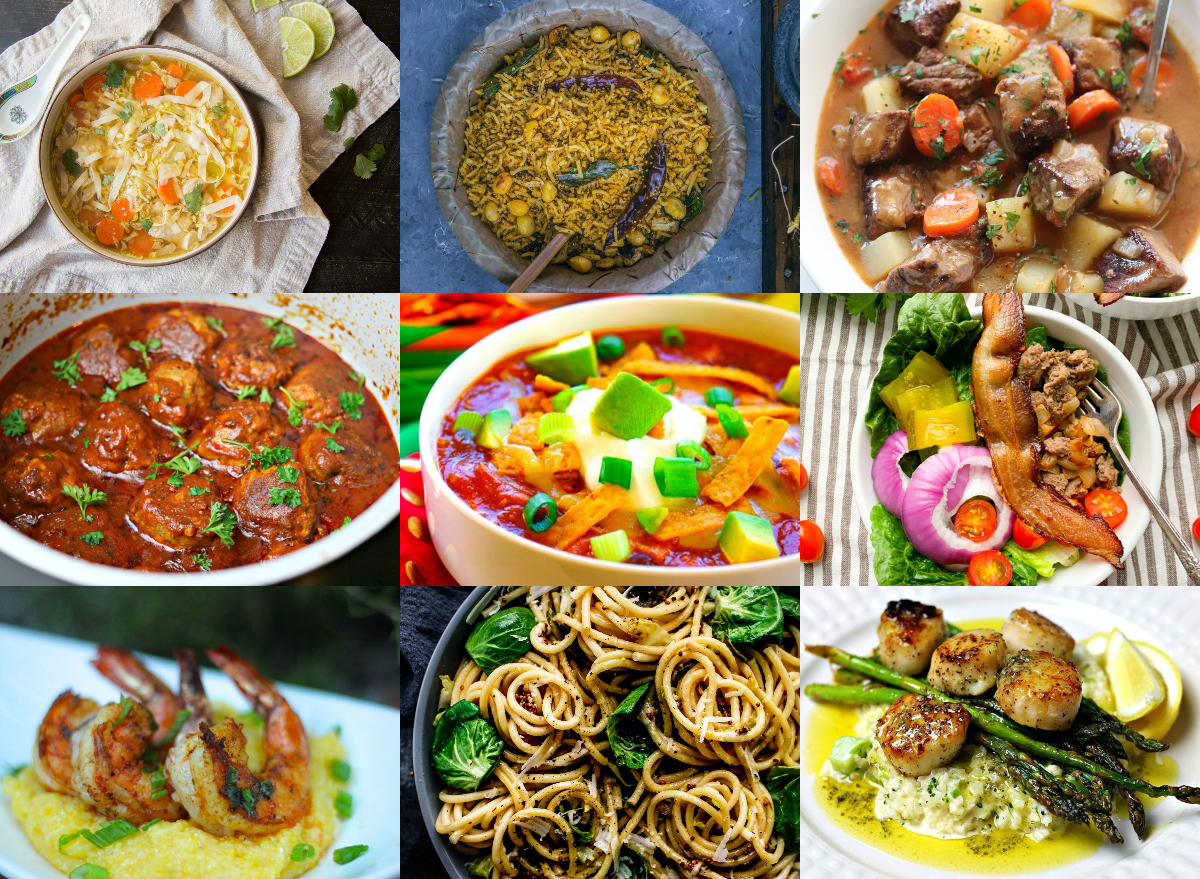 Right now, media outlets are swarming the internet with updates about the COVID-19 pandemic and it's continuous spread in the U.S. During this time, it's inevitable to feel stressed at the uncertainty of events that are on the brink of unfolding, which is why ETNT! wanted to put a little pep in your step by compiling a list of dishes to make when you're feeling down, stressed, or just plain blah.
We reached out to various recipe developers, chefs, and food bloggers across the country to see what their go-to recipe is to make when they need a pick-me-up. Remember, we're all in this together (cue the High School Musical soundtrack), so let's band together and cook these delicious, spirit-lifting recipes at home!
First, the savory dishes:
Italian Sausage Meatballs
"These meatballs remind me of home and the comforts of childhood. They're perfect in a big bowl or as part of a meatball sub! This one cuts down on ingredients by using packaged Italian Sausage meat—something that was one of the last things in stock when my local market ran out of meat."
– Davinah Smith
Get the recipe from Dr. Davinah's Eats, or try our Lean Turkey Swedish Meatballs Recipe.
Savory Sweet Potato Soup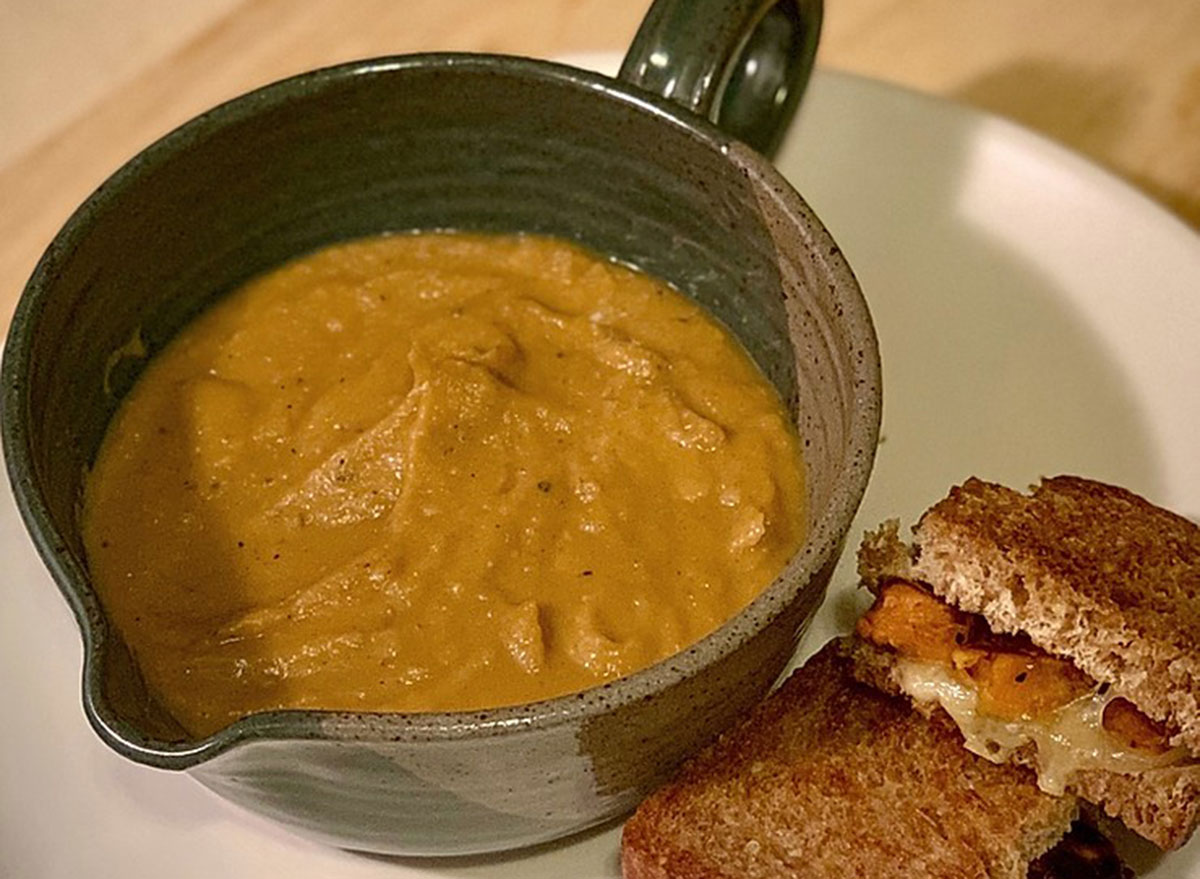 "Soup to me truly feels good to the soul. The warmth of it is soothing and just holding that warm bowl can be so relaxing. Pair it with a grilled cheese on whole wheat bread and now it feels heavenly. This recipe is for a Savory Sweet Potato Soup and it can be altered based on what you have in your kitchen and still be delicious. You can easily replace the sweet potato with another roasted vegetable whether fresh or frozen, the oil can be any oil you have, and the coconut oil can even be replaced with butter if needed."
– Emily Wunder, MSCN, RD, LDN
Get the recipe from Healthier-Taste, or try our 18 Best-Ever Fat-Burning Soup Recipes.
Burger Bowl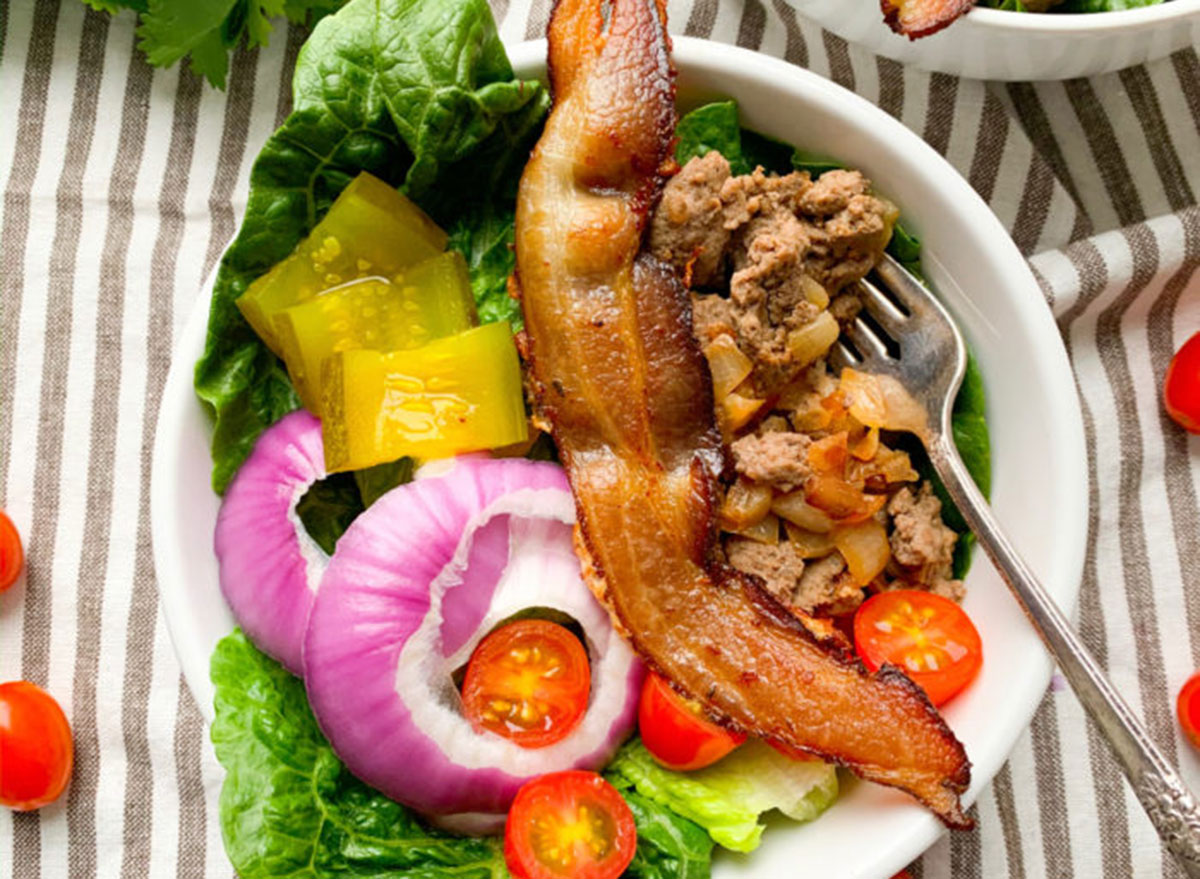 "These Whole30 approved Burger Bowls are filled with all the comforting and hearty flavors of a burger but are made with healthier ingredients. They are great for feeding a crowd since the flavor combinations and toppings are endless and completely customizable. They're a feel good food made with frozen meat and fresh vegetables: the perfect healthy and delicious meal!"
Get the recipe from Organically Addison, or try our Whole30 Blackberry Sage Breakfast Sausage Recipe.
Cheesy Brussel Sprout Pasta
"This recipe is a bit like a cacio e pepe—a simple pasta dish that combines spaghetti with pecorino Romano cheese and pepper. But I'm adding a couple more fun ingredients into my version – thinly sliced and sautéed Brussels sprouts and whole grain mustard."
– Erin from Platings + Pairings.
Get the recipe from Platings + Parings, or try our 35+ Healthy Pasta Recipes for Weight Loss.
Coconut Mustard Rice
"[This] recipe is an ode to my childhood! My grandma would make this very different tasting rice dish called Kayi Sasive Chitranna on certain festive days. Everyone in the family loved it and would look forward to it. It is a South Indian delicacy and literally means Coconut Mustard Rice."
– Priya Lakshminarayan
Get the recipe from Cookilicious, or try our Mediterranean Rice Bowl with Rotisserie Chicken.
Chicken Tortilla Soup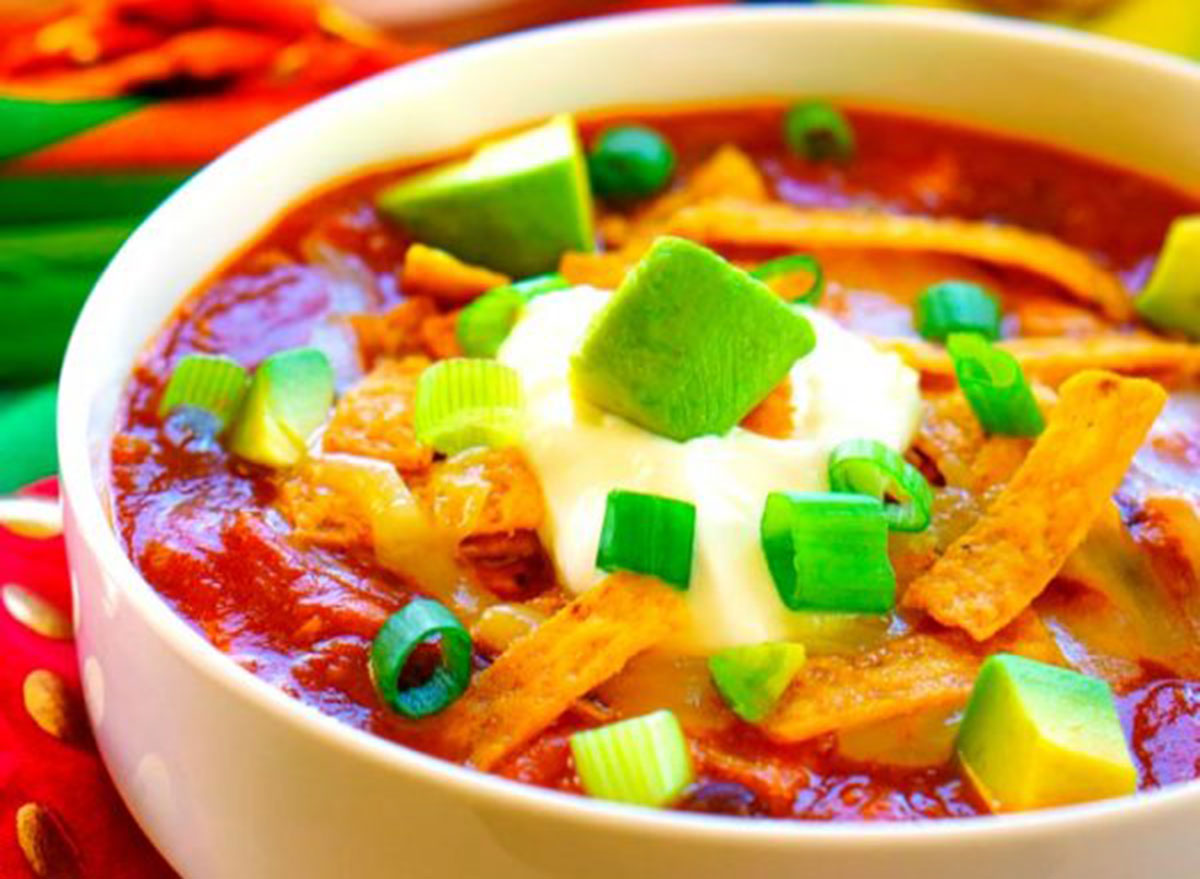 "Mexican food is my all-time favorite comfort food. I always have the ingredients for this Chicken Taco Soup in my pantry so I can make it at a moment's notice. It's delicious on its own or served atop a split piece of cornbread."
– Jillian Wade.
Get the recipe from Food Folks and Fun, or try our Easy Chicken Tortilla Soup Recipe.
Cauliflower Gnocchi with Prosciutto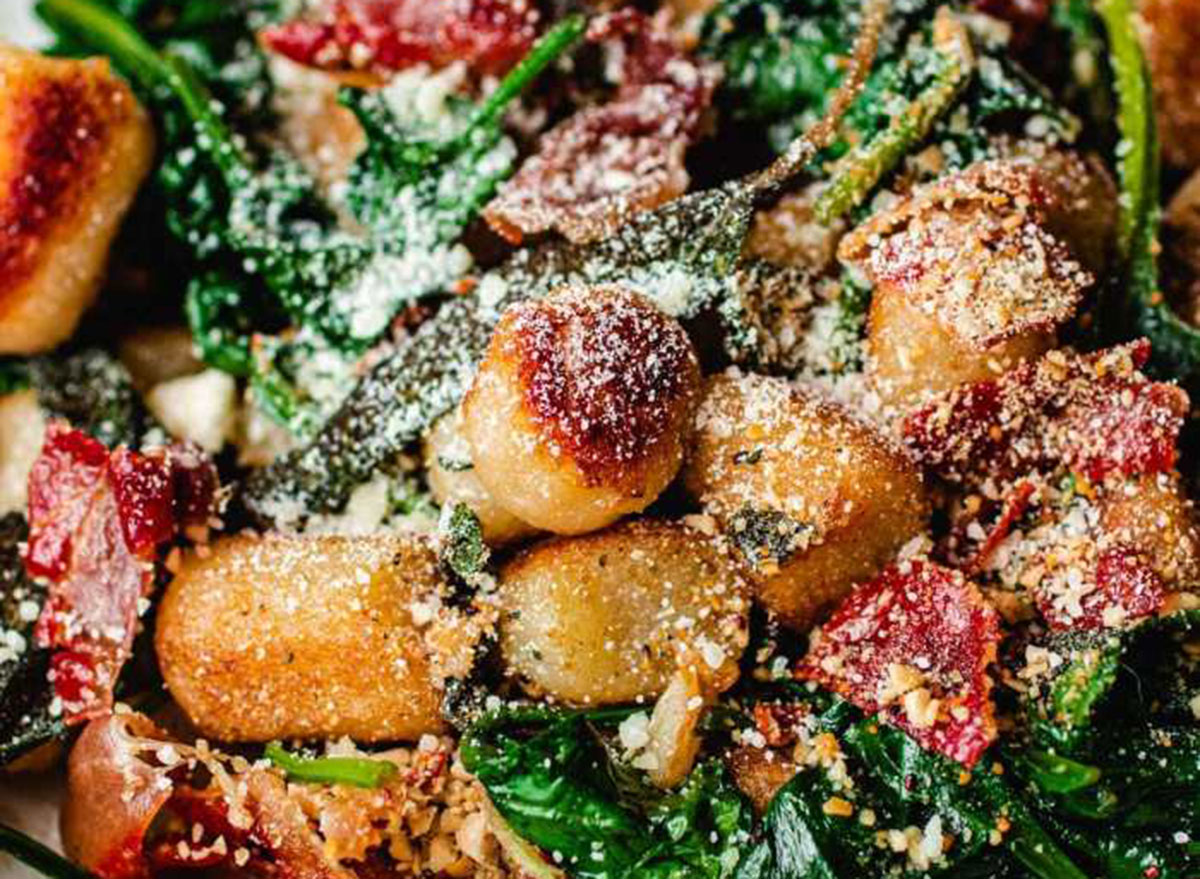 "Trader Joe's Cauliflower Gnocchi with brown butter sage sauce and crispy prosciutto makes an excellent paleo and gluten-free weeknight meal. With a crisp crust outer and soft pillowy center, you can cook from frozen and no need to defrost. It's an easy, fast, and delicious meal that makes you feel good!"
– ChihYu Smith
Get the recipe from I HEART UMAMI, or check out 5 Genius Ways To Turn Trader Joe's Cauliflower Gnocchi Into Dinner.
Classic Beef Stew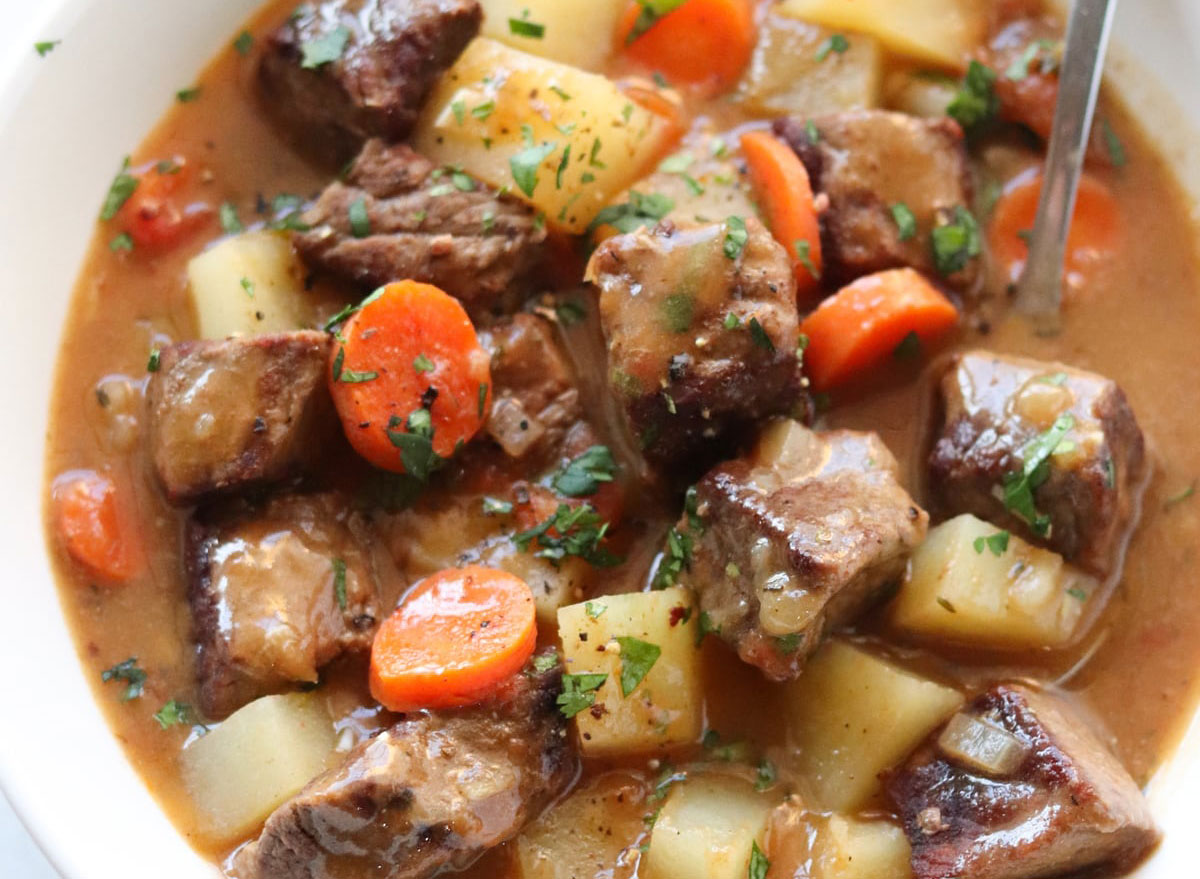 "Good food knows no season, so regardless of the weather, a soul-warming dish like beef stew makes my whole heart feel peaceful. It reminds me of the comfort and coziness I felt as a kid, being with family and enjoying a hot, hearty meal. The whole house smells amazing, and it always brings me right back. You can customize the recipe with whatever veggies with whatever you have on hand, or make it with frozen veggies like peas and pearl onions, and household staples like potatoes and carrots."
– Laura Miner
Get the recipe from Cook at Home Mom, or try our our Best-Ever Beef Stew in Red Wine Recipe.
Seared Scallops & Cauliflower Rice Risotto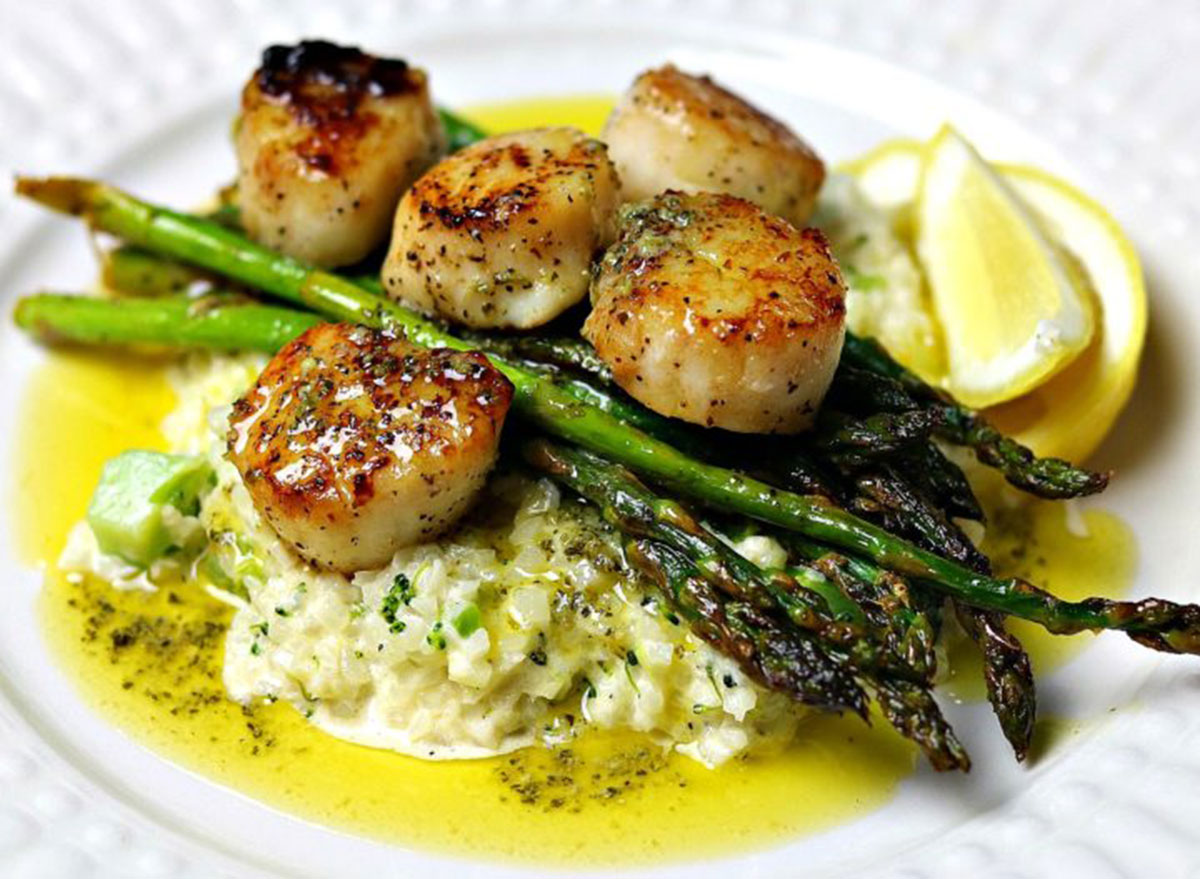 "Being stuck at home doesn't mean that you can't have a date night. This seared scallops with dreamy, creamy cauliflower rice risotto is the ultimate comfort food dish. I love this one because it's a copycat of one of my favorite restaurant meals and I tend to make this with my husband as my sous chef. I often make this with thawed scallops or shrimp and frozen cauliflower rice."
– Davinah Smith
Get the recipe from Dr. Davinah's Eats, or try our Quick Teriyaki Scallops Wrapped in Bacon Recipe.
Lobster Mac & Cheese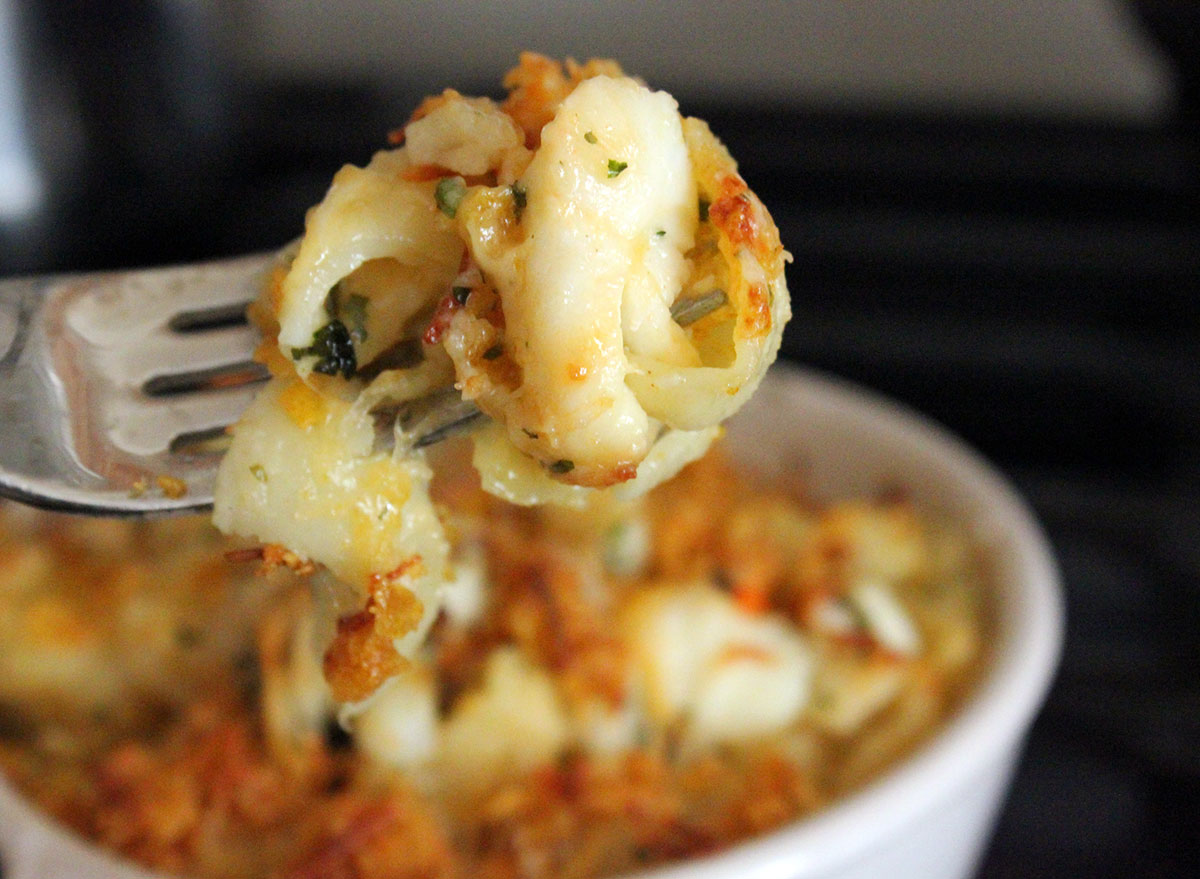 "One of the reasons that I like this recipe is that it represents affordable luxury, and I am all about affordable luxury—pricey lobster coupled with decadent, highly accessible mac & cheese."
– Chef Stephanie Harris-Uyidi 
Get the recipe from The Posh Pescatarian, or try our Spicy Macaroni and Cheese With Jalapeños and Prosciutto Recipe.
RELATED: Fresh Lobster Suddenly Way More Affordable in the Wake of Coronavirus.
Chicken Miso Soup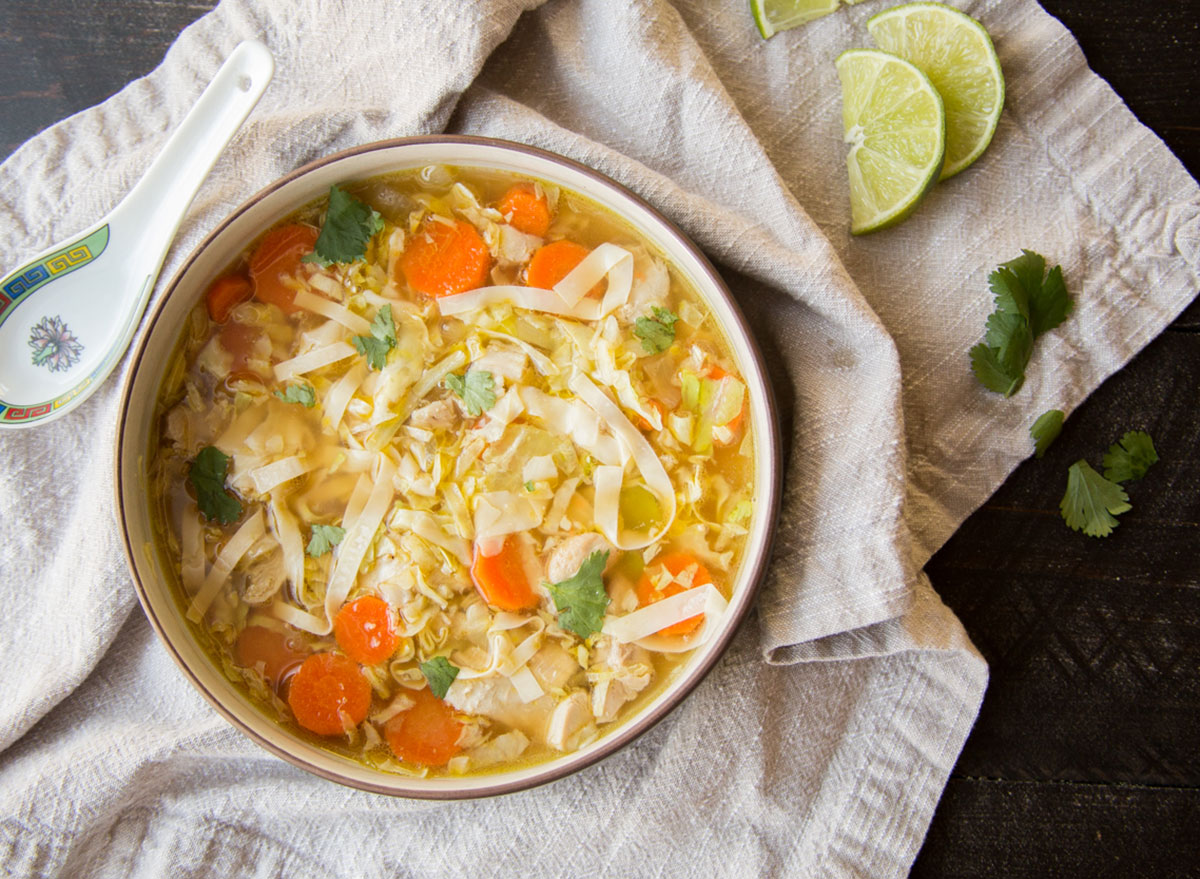 "Chicken miso soup is a more interesting take on chicken noodle soup, and as someone who's Asian, has comforting flavors for me. The addition of ginger is also beneficial if you're sick too. In this time of ingredient scarcity, use any pasta instead of the wonton noodles."
– Jess Dang
Get the recipe from Cook Smarts.
Beef-less Chili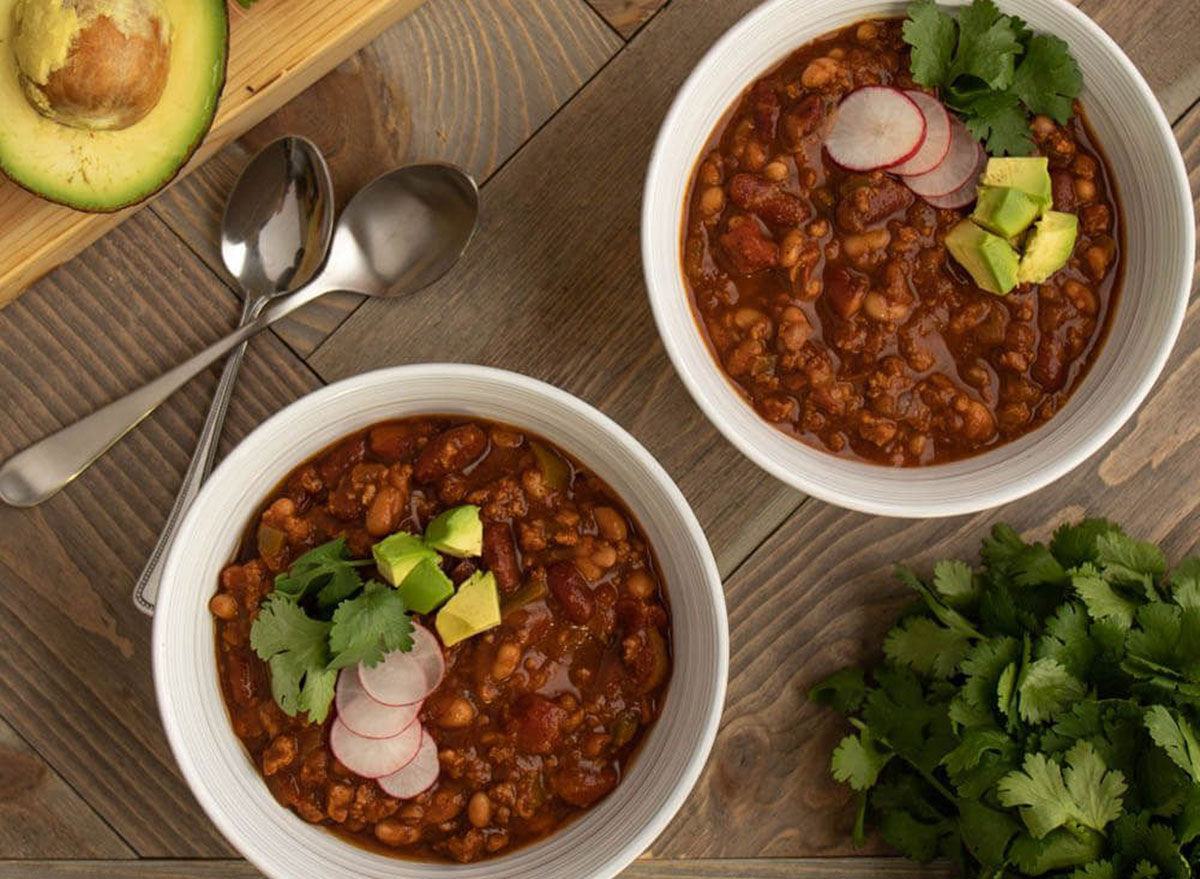 "Growing up, big gatherings meant big pots of chili with lots of topping options. There's nothing more comforting, especially when being stuck inside than a warm, hearty chili. This recipe uses plant-based Gardein Beefless Grounds, which can be purchased in the freezer aisle and is great if you're trying to eat less meat, plus it comes ready-to-use from frozen, no thawing necessary. The recipe also uses pantry staples like dried beans, canned tomatoes, and onions, and leftovers freeze beautifully."
– Rebekah Ziesmer, Development Chef at Conagra Brands
Get the recipe from Ready Set Eat, or try our Instant Pot White Chicken Chili.
Spicy Herbed Shrimp and Gruyère Grits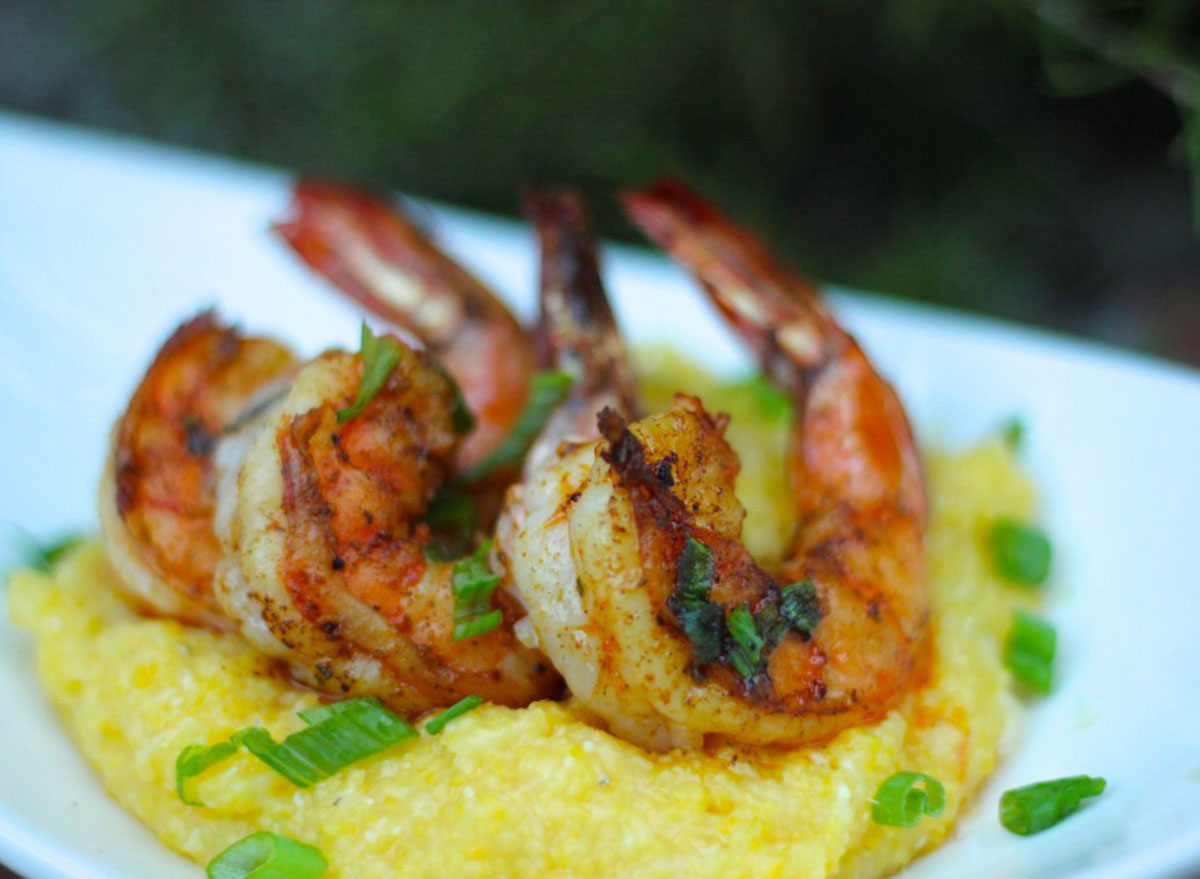 "Shrimp and grits are among my favorite luxury comfort foods. It ranks pretty close to lobster mac and cheese and seafood gumbo."
– Harris-Uyidi 
Get the recipe from The Posh Pescatarian, or try one of these 35 Classic Southern Dishes Your Grandmother Used to Make.
Now, for the sweeter recipes:
Chocolate Glaze Pumpkin Pie Turnovers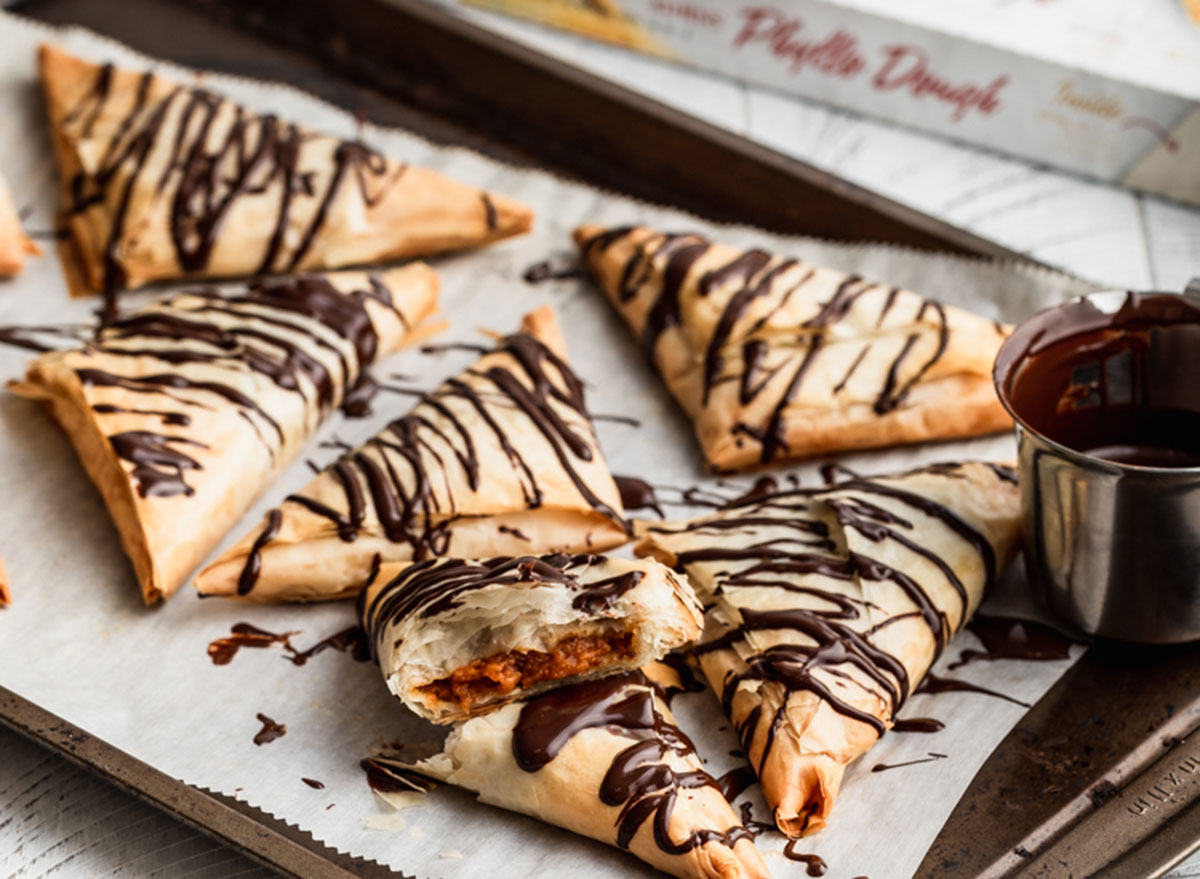 "Flaky and buttery pumpkin filled turnovers with vegan chocolate glaze. A simple and quick healthy treat wrapped in a flaky phyllo crust."6254a4d1642c605c54bf1cab17d50f1e
– Ciara Siller
Get the recipe from Peanut Butter + Chocolate, or try The Flakiest and Crispiest Apple Turnover Recipe.
Paleo and Vegan Fudge Brownies
"Whenever I'm down and need a pick me up, my absolute favorite recipe to make is my Paleo vegan fudgy brownies. Kids love them, adults love them, they're most definitely allergy friendly, and I hear that chocolate helps to improve the mood!"
– Brittany Berlin
Get the recipe from The Banana Diaries, or try The Best Fudgy Brownie Recipe.
Chocolate Peanut Butter Nice Cream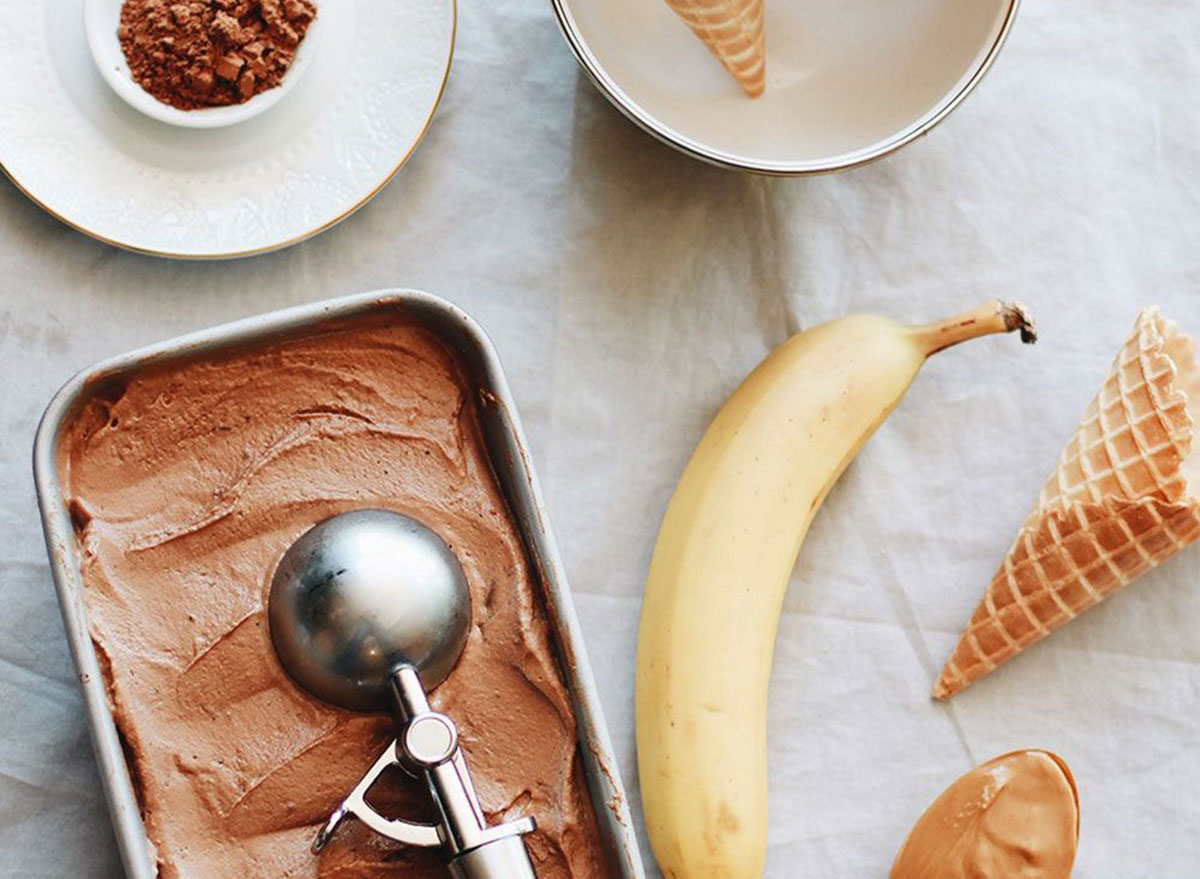 Dairy-free ice cream made from bananas and only two other ingredients? We're so ready to make this recipe at home!
"This is a super simple sweet treat that is creamy and feels indulgent, without any added sugar or dairy. I always have some ripe bananas in my freezer if a sweet craving kicks in, but I don't want to over-indulge. Feel free to play around with adding your own mix-ins too. I like stirring in some toasted coconut chips or crushed Glutino cookies into mine."
– Rebekah Ziesmer
Get the recipe from Ready Set Eat, and check out 12 Delicious Vegan Ice Cream Picks That Won't Make You Miss Dairy.
Avocado Chocolate Mousse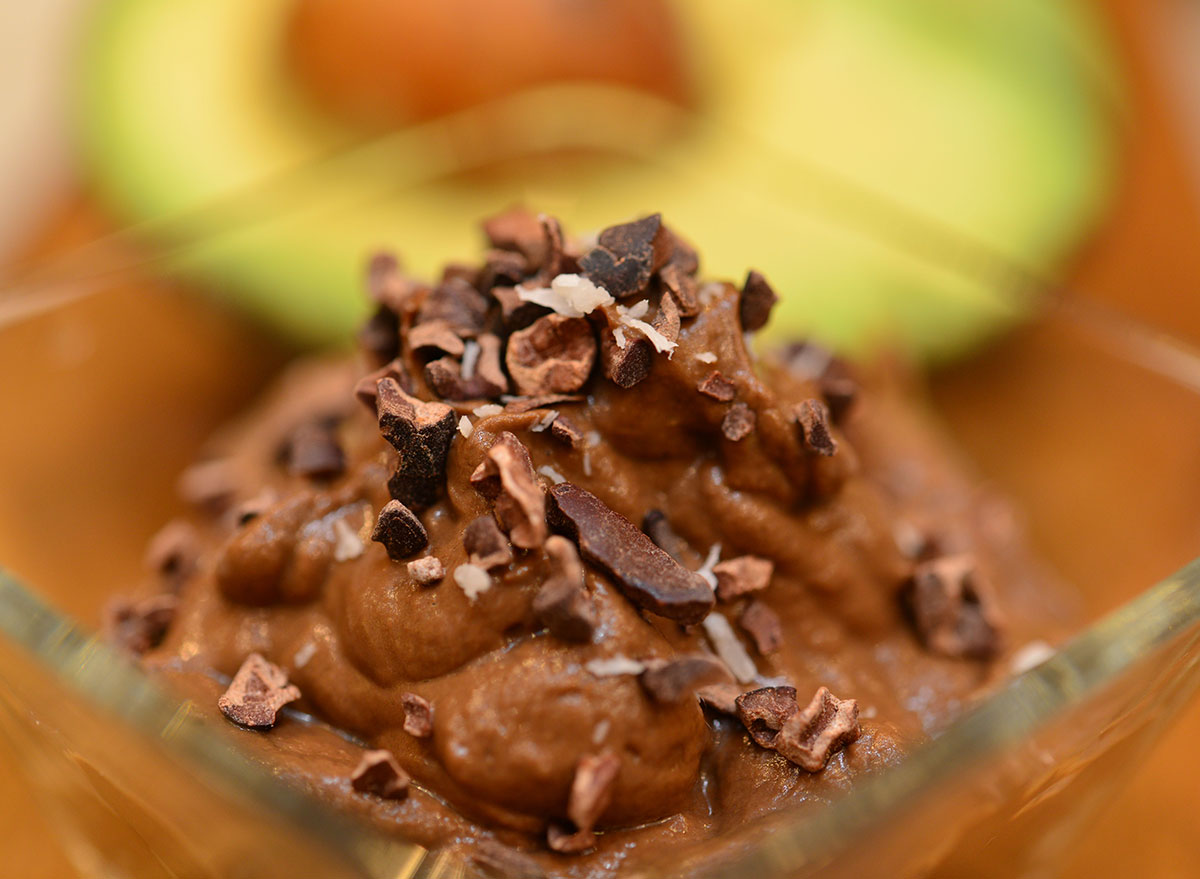 "When I am feeling down, I love to prepare something sweet that satisfies my cravings, provides me comfort and uplifts my mood and spirit. I know that a traditional cake or ice cream could do that but the satisfaction, comfort and good mood will be short-lived."
– Maru Dávila, founder of Flaca Forever.
Get the recipe from Maru Dávila, or try our Creamy Keto Raspberry Cheesecake Mousse Recipe .