What Every Popular Fast-Food Chain Looked Like the Day It Opened
Yes, White Castle actually looked like a real castle.
Drive down the busiest street of any major American city and you'd be hard-pressed to miss the countless fast-food signs that litter the skyline. But before you could rely on these drive-thrus to have an outpost at every rest stop, these fast-food restaurants boasted humble beginnings akin to your local pizzeria. Yes, fast-food restaurants' first locations looked a lot different than they do today!
Oftentimes, broke founders had just a few bucks and big dreams to their name, yet they ultimately launched some of the most successful quick-service restaurants today's America has ever seen.
If you've ever wondered what the Golden Arches of McDonald's looked like before their revenue equated to a small country's GDP or whether or not White Castle was ever an actual fortress, we've got you covered with this inside look into what every fast-food chain looked like on its opening day.
Keep scrolling for some major nostalgia. And if you're looking for another trip down memory lane, check out The Most Popular Fast-Food Chains in Every Decade!
Back in 1964, brothers Leroy and Forrest Raffel wanted to serve up speedy sandwiches instead of all-too-ubiquitous burgers, and so Arby's was born. The first location debuted in Boardman, Ohio. Seven years later, the franchise revamped their signature roast beef recipe, and the slow-roasted, freshly-sliced meat has been served the same way since.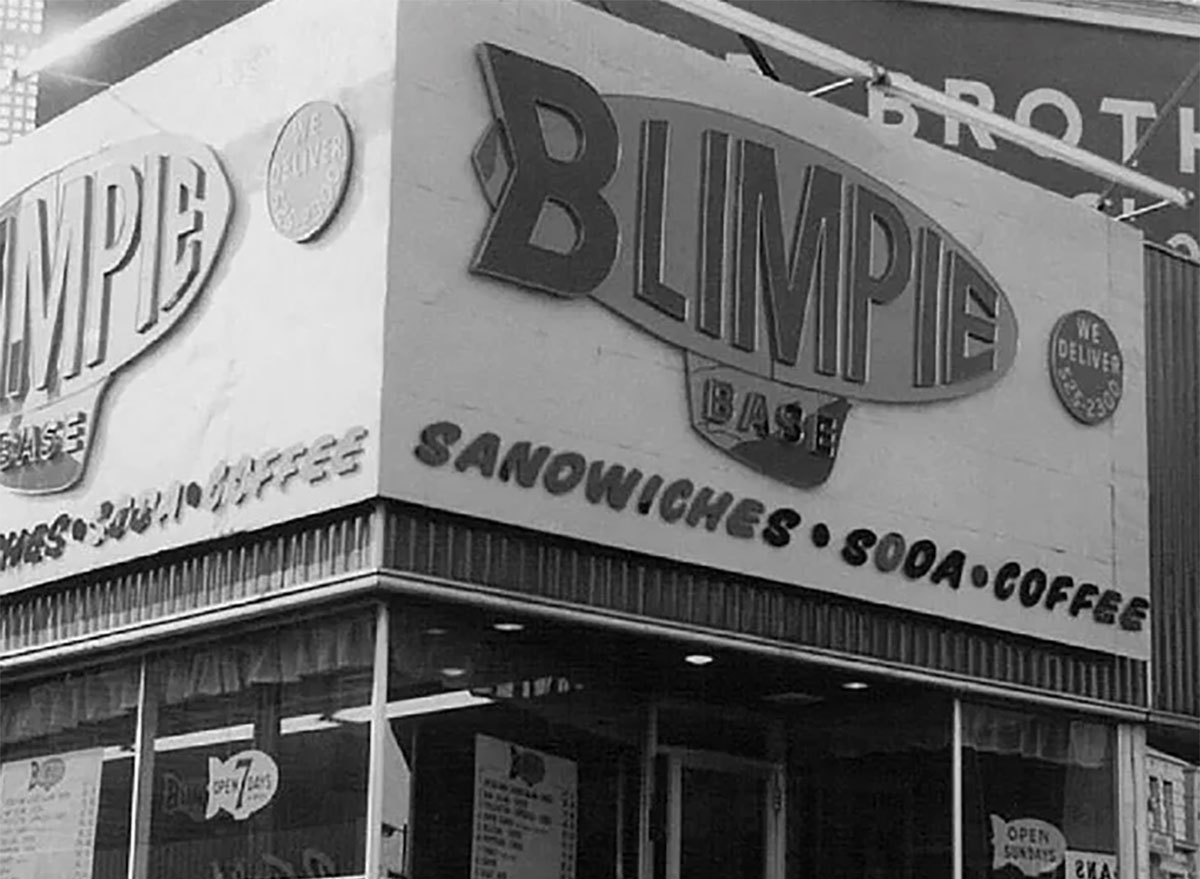 Inspired by an image of a blimp in a dictionary, three New Jersey natives decided to name their bigger and better sub shop Blimpie. Blimpie has been serving hoagies jam-packed with deli meats, cheese, veggies, and condiments since April 4th, 1964.
Seasoned veterans of the business, Jack Fulk and Richard Thomas had a vision when they opened the first Bojangles' Restaurant in Charlotte, North Carolina in 1977. They saw rising consumer demand for quick service and sought out to separate their brand with distinctive flavors made from scratch, topped off with festive restaurant design and friendly Southern-style service.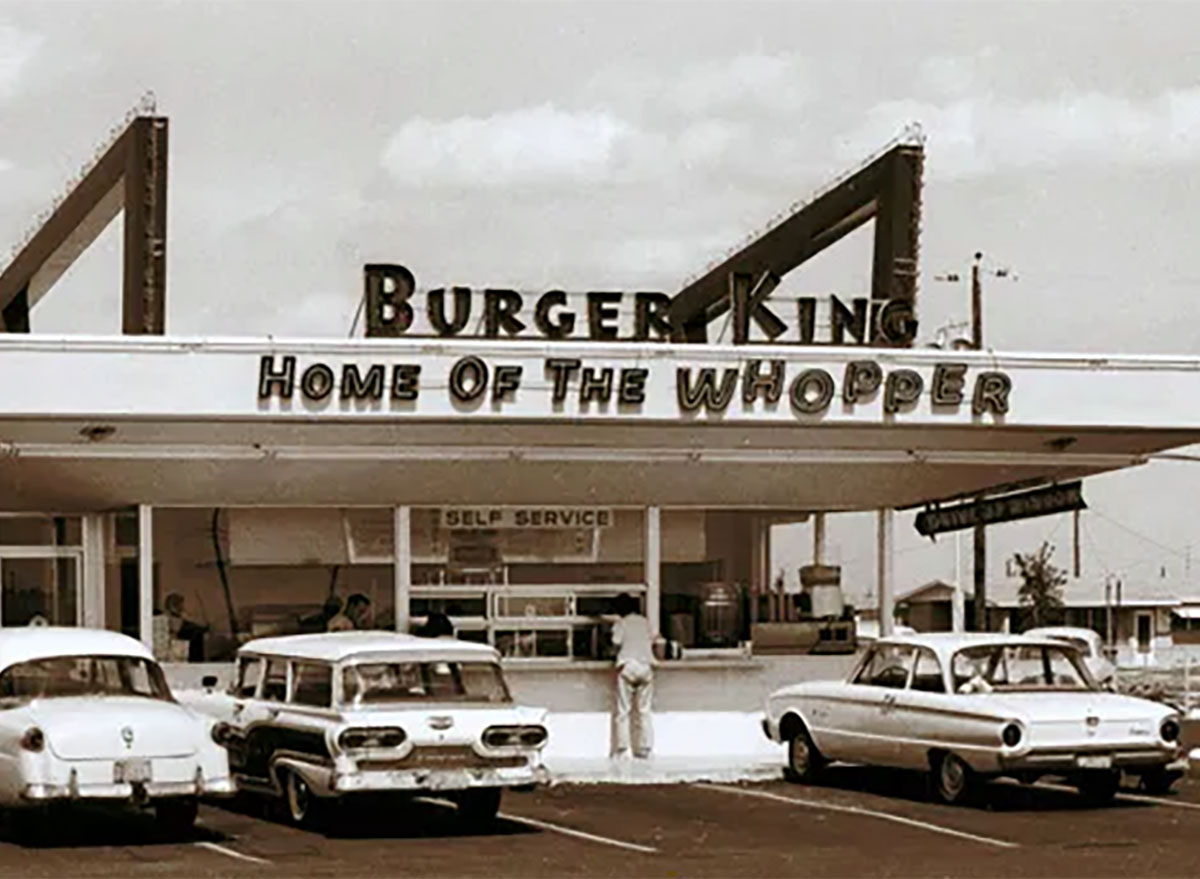 In 1954, James W. McLamore and David Edgerton opened the first Burger King in Miami, where they sold their classic hamburgers and milkshakes for just 18 cents each. The famous Whopper debuted just three years after the chain's inception and is now one of the most iconic fast-food burgers in America.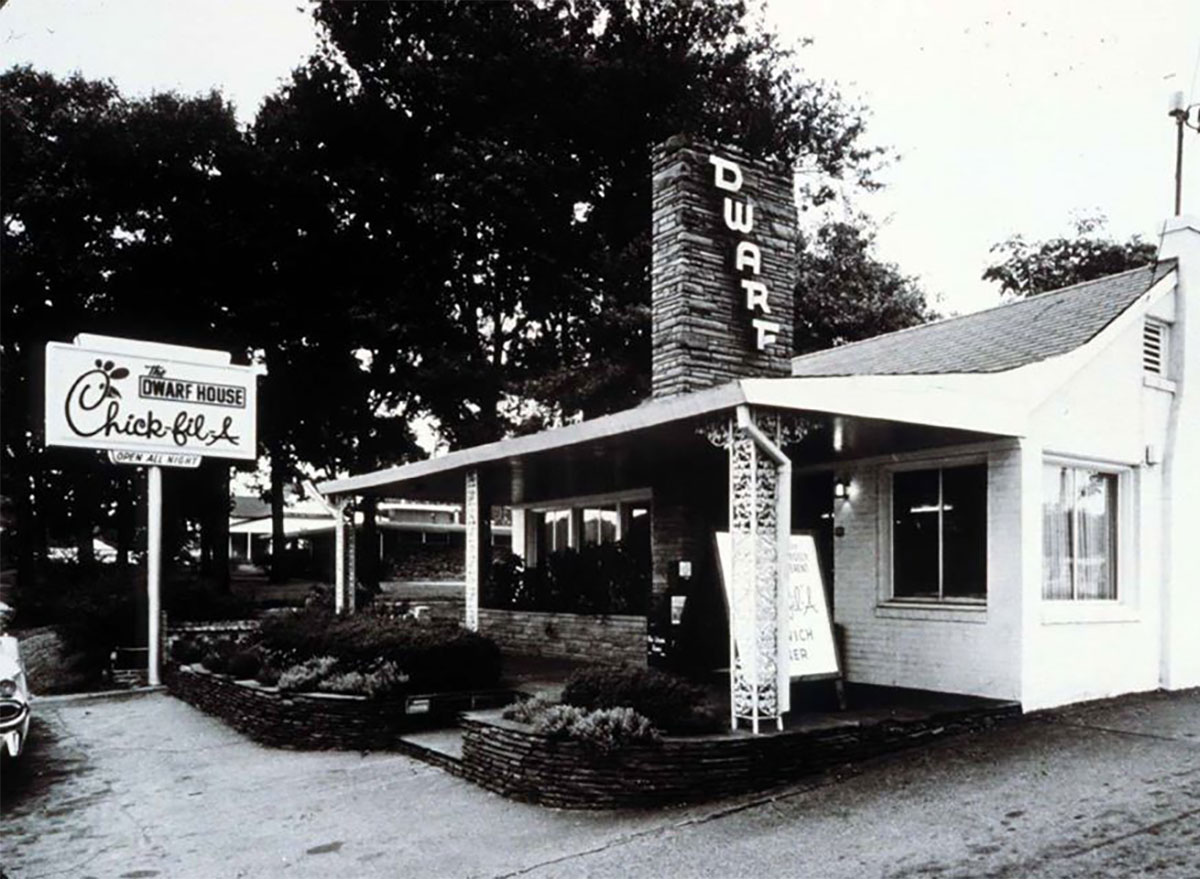 In 1967, the first Chick-fil-A location opened in Atlanta, founded by Truett Cathy. But before that, Cathy opened a diner called The Dwarf Grill in 1946, and it still serves Chick-fil-A classics today.
And if you love the chicken chain, try The #1 Best Meal to Order at Chick-fil-A, Says Dietitian
Backtrack to July 13, 1993, when Steve Ells opened up the first Chipotle location in Denver, Colorado. The brick and mortar shop offered tacos, fajitas, and, of course, the emblematic giant burritos with fillings including beans, lime-cilantro rice, salsa, guacamole, peppers with onions, chicken, pork, and beef.
Headed to Chipotle? ​​This Viral Chipotle Hack Can Get You a Shockingly Cheap Burrito.
Brothers Tom and James Monaghan opened up a pizzeria named Dominick's Pizza in 1960 and later changed the name to Domino's, which spurred the red, white, and blue logo. A little fun fact: The three dots on the logo represent Tom's first three pizza shops.
The year 1948 marked the inception of Open Kettle, a restaurant dedicated to serving premium coffee and doughnuts. In 1950, founder Bill Rosenberg decided to rename the joint Dunkin' Donuts because the sweet treats are just better when dipped in a cup of Joe! Munchkins were introduced to the menu in 1972, followed by bagels in 1996 and Coolatta frozen drinks and breakfast sandwiches in 1997.
Colonel Harland Sanders debuted the first unofficial Kentucky Fried Chicken hotspot: Sanders Court & Cafe in Corbin, Kentucky, which he ran in the 1940s and 1950s. Most notably, the fast food-icon struck success in his sixties, when he cooked for hungry travelers making a pit stop at a service station in Corbin. While the secret 11 herbs and spices are under locks in a safe in Kentucky, Harland Sanders used to store his special blend in his car.
As outlandish as it may seem, Krispy Kreme's glorious empire all began when founder Vernon Rudolph bought a secret doughnut recipe from a French chef. After snagging the write-up, Rudolph began selling his Krispy Kreme doughnuts to local supermarkets around North Carolina in 1937. Passersby were so enticed by the freshly-baked aroma wafting through the streets that they asked to buy the warm treats on the spot. Rudolph complied, selling his Original Glazed doughnuts through a hole in the wall (seriously—he cut a hole in the outside wall of his building).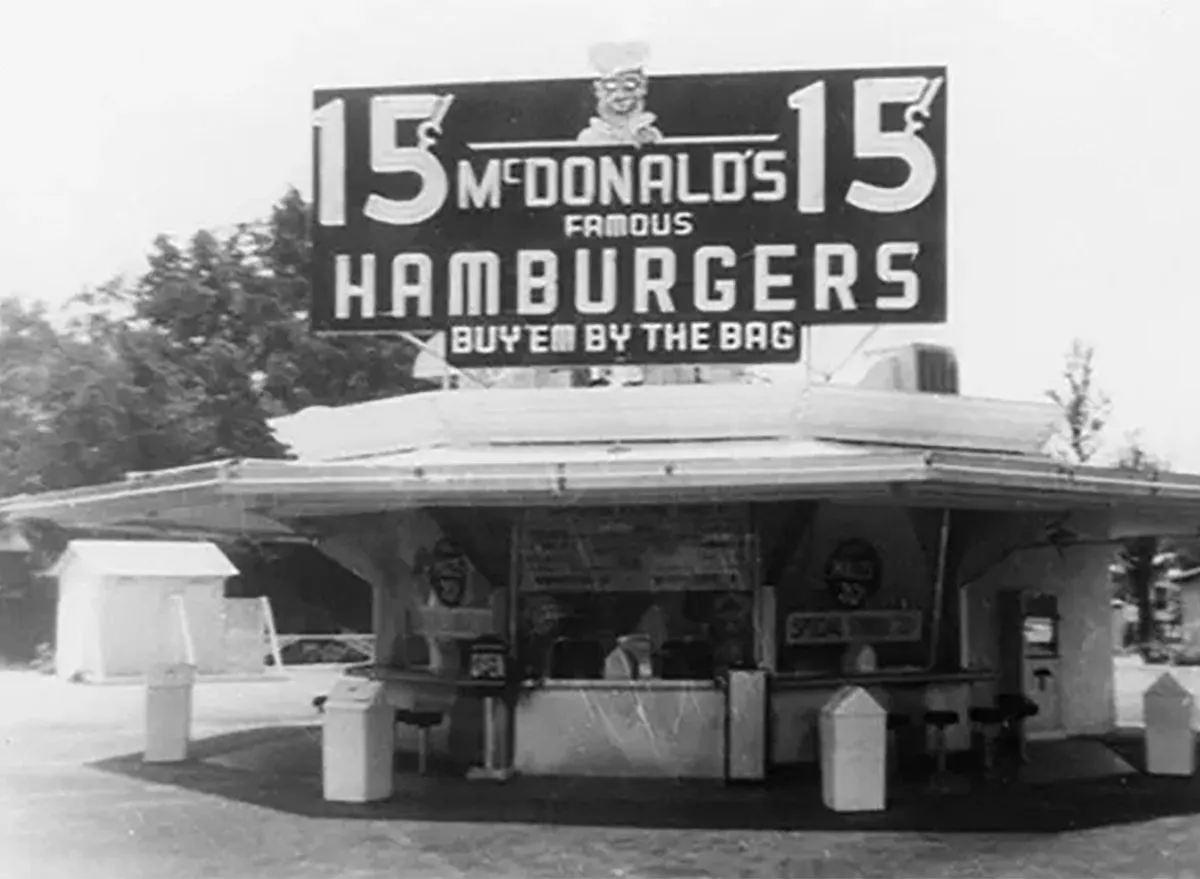 After Dick and Mac McDonald failed in the movie biz, they took the drive-in restaurant business by storm, casting the first Golden Arches in 1948 in San Bernardino, California. The McDonald brothers perfected their Speedee Service System, which cranked out hamburgers for just 15 cents each. In April 1955, Ray Kroc became McDonald's franchise agent and opened up the first franchised location in Des Plaines, Illinois.
On June 15, 1958, University of Wichita students Frank and Dan Carney opened the first Pizza Hut to address the '50s pizza craze. And, ironically enough, the pizza joint's name was influenced by the building's structure, Wichita State University reports. "The building had a sign that would only accommodate nine characters. The brothers wanted to use 'Pizza' in the name and that left room for only three more letters. A family member suggested that the building looked like a hut—and Pizza Hut was born."6254a4d1642c605c54bf1cab17d50f1e
RELATED: Pizza Hut Is the First National Chain to Use This Topping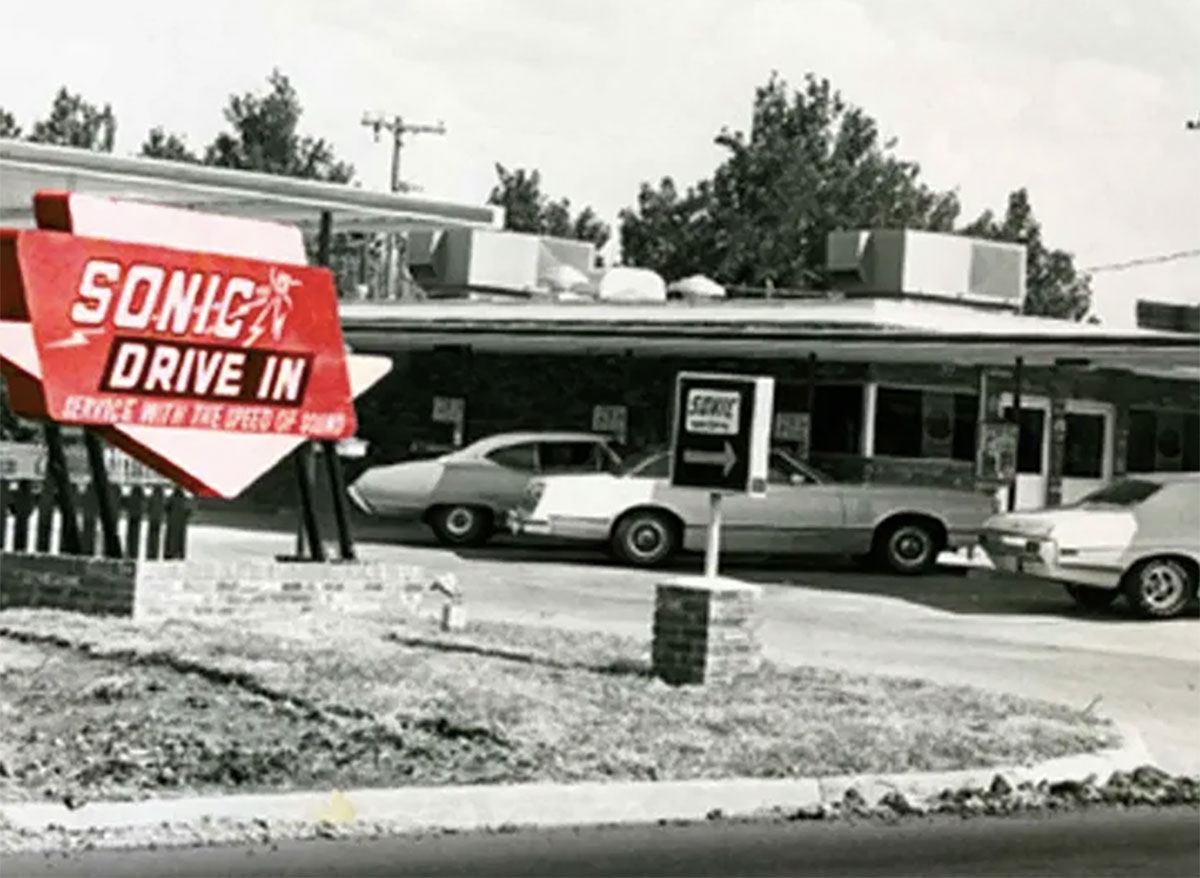 Shawnee, Oklahoma, circa 1953, was the home of the first-ever Sonic Drive-In location, which was originally dubbed the Top Hat Drive-In. Back in the '50s, the fast-food giant had customers place their orders via curbside speakers—without stepping foot outside their cars. This revolutionary technology coined the now-trademarked slogan, "Service at the Speed of Sound." Inspired by the slogan, Troy Smith Sr. changed the name from Top Hat to Sonic Drive-In in 1959.
And for more throwbacks, don't miss these 17 Failed Chain Restaurants From the 1980s That Will Make You Feel So Nostalgic.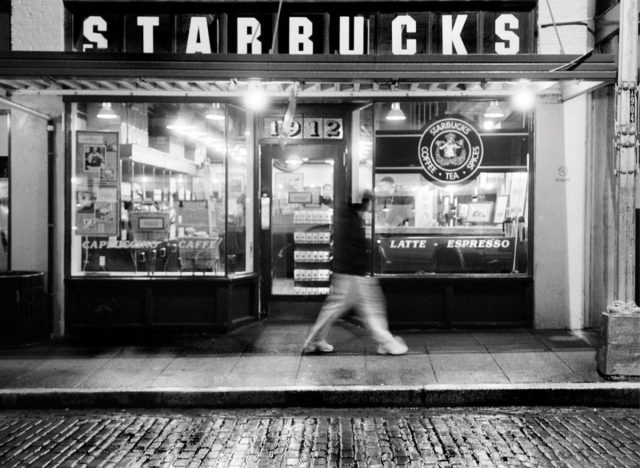 The java giant started small in a 1,200-foot shop nestled in Seattle's Pike Place Market in 1971. Folks from all over the globe flock to the still-standing corner store that's clad with vintage-style manual espresso machines, wooden counters, and a shockingly brown logo—the original. The OG shop boasted no seating, let alone free WiFi, and its address, 1912 Pike Place, is the namesake of Starbucks' signature Pike Place Roast.
In quite possibly the best advice a professor has ever given a student, physicist Dr. Peter Buck changed the life of college freshman and family friend Fred DeLuca when he suggested they open a submarine sandwich shop together to help cover the cost of his tuition. Buck provided the initial investment for a small store in Bridgeport, Connecticut, and the pair opened their first location, originally dubbed Pete's Super Submarines, in 1965. They sold 312 subs on their first day.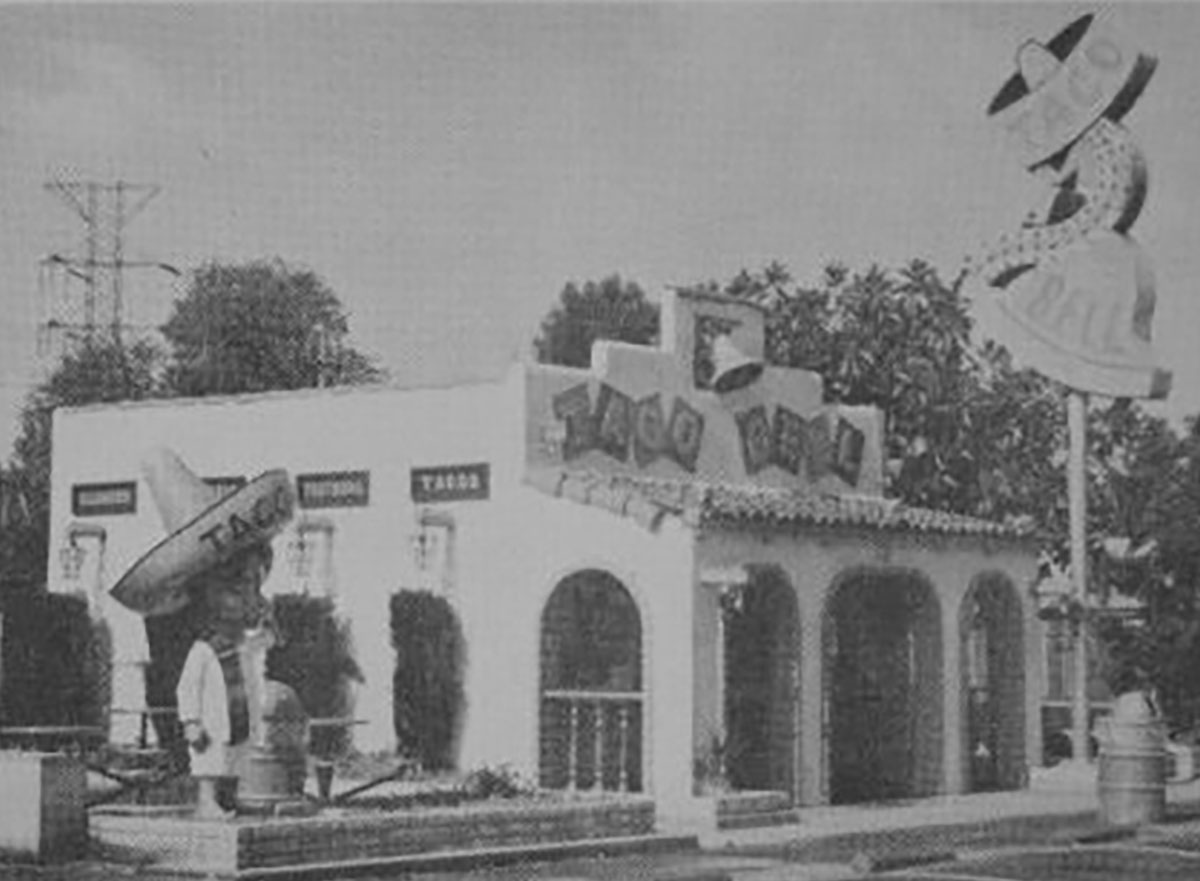 Before Taco Bell became the #1 hotspot for drunk diners, founder Glen Bell created Bell's Drive-In and Taco Tia in the San Bernardino area in 1954. Eight years later, Bell opened up the first Taco Bell restaurant in Downey, California. Decades later, in 2015, executives chose to save Taco Bell Numero Uno from demolition and relocate it to T-Bell's headquarters in Irvine, California.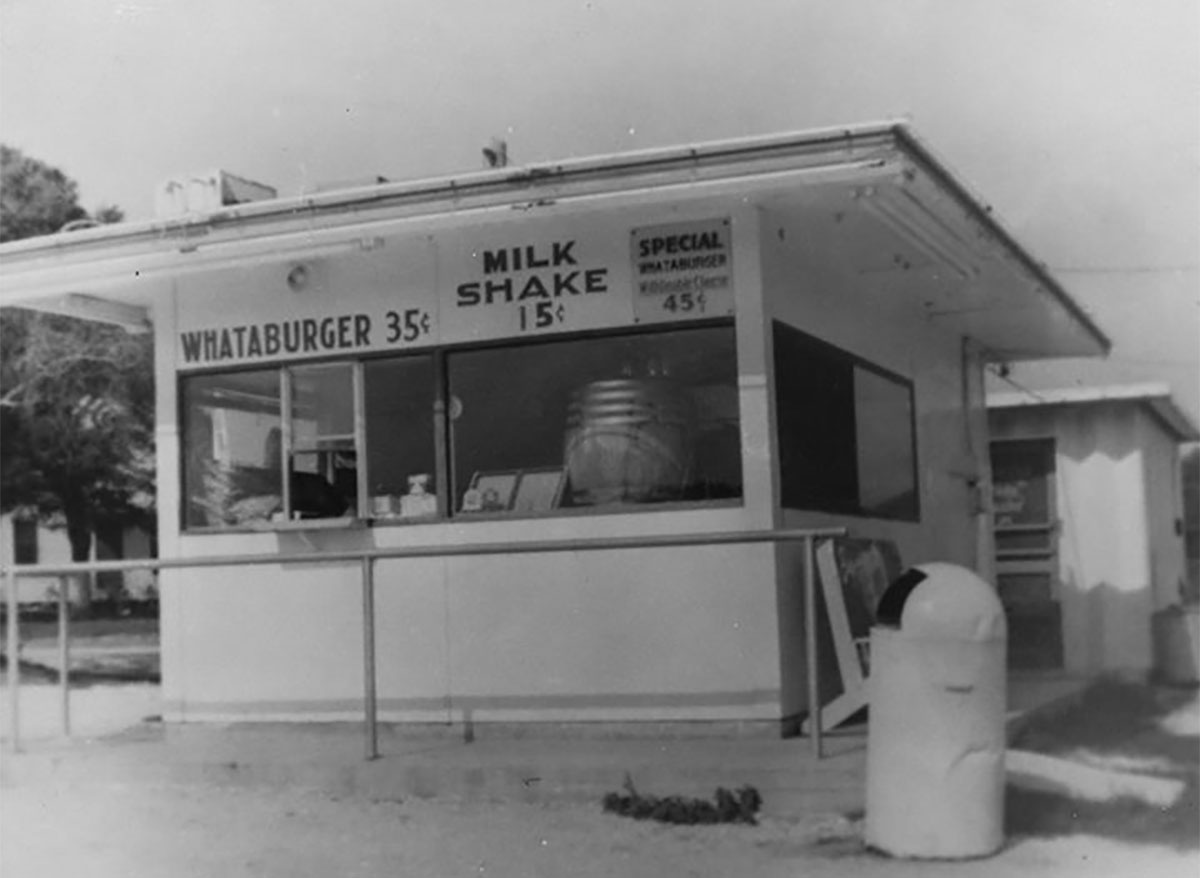 The world's first Whataburger opened its doors in Corpus Christi, Texas, in 1950. Equipped with zero restaurant experience, Harmon Dobson decided to realize his vision of a burger so big that diners couldn't help but say "What a burger!" After Dobson invented the original five-inch burger—which was a whole inch larger than other fast food burgers at the time—the speedy selling rate proved the burgers lived up to their name.
When the two men started building Castles together, they started with #4," White Castle clarified on Facebook. Clad with just $700 and a lofty idea, Billy Ingram debuted his famous sliders in 1921. But if you look close, you'll notice that the fortress-shaped joint is labeled "No. 4." Here's why: "Before partnering with Billy Ingram, our co-founder, Walt Anderson, operated three hamburger stands, but each lacked some of the defining characteristics of our Castles.
April Benshosan
April is a born-and-raised Brooklynite who has a passion for all things health, wellness, and tastebud-related.
Read more about April