15 Frozen Foods Vanishing From Grocery Shelves This Year
Stock up on these classics before they're gone for good.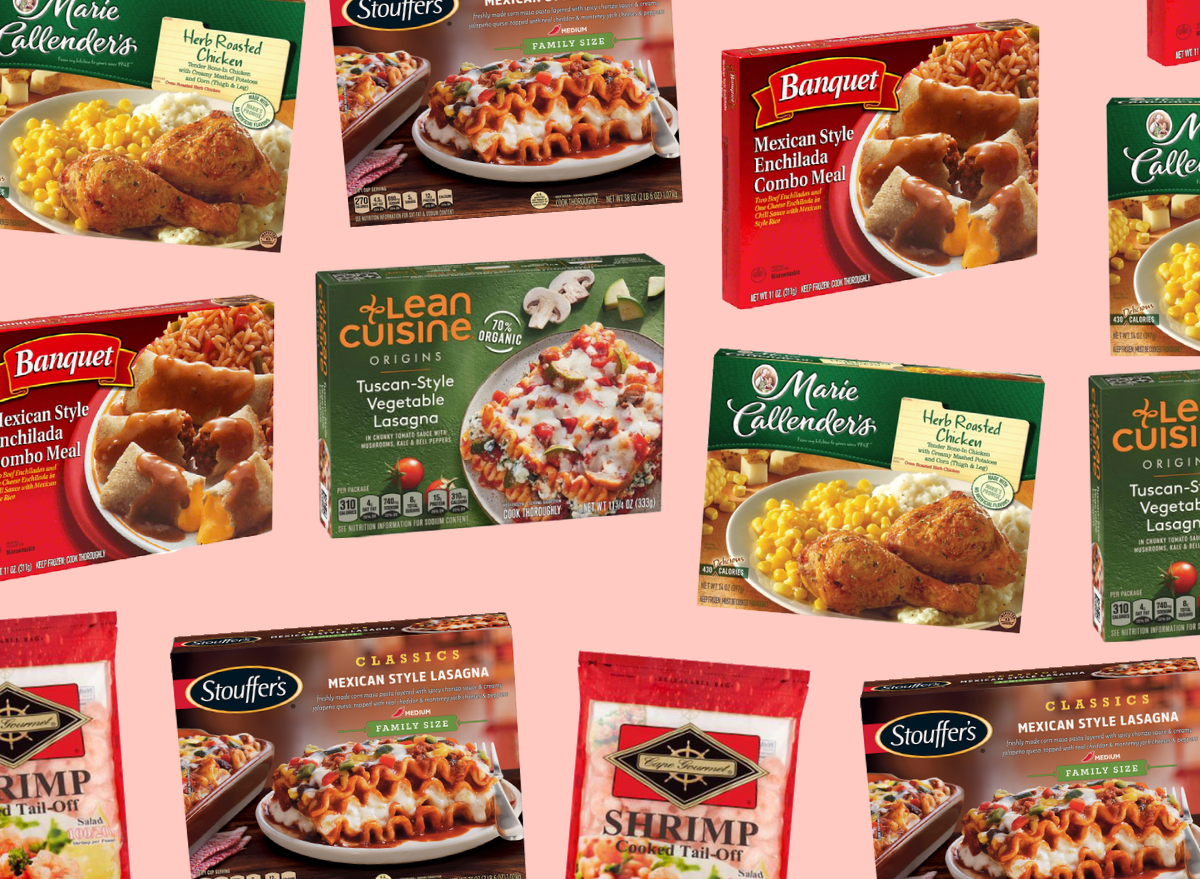 Stepping into a grocery store always feels reassuring—knowing that our favorite foods would fill the aisles gave us comfort, and many of us took this fact for granted. Once COVID-19 disrupted the food supply chain, businesses scrambled to keep up with consumer demands with the limited resources they had on hand. Unfortunately, many brands couldn't keep up and frozen foods took a particularly hard hit and are disappearing from grocery shelves.
2020 saw a wide variety of food companies restructure and consolidate their brands, wiping away their products that just couldn't sell. Whether the item had to get pulled due to lack of consumer interest, racial insensitivity, or financial hardship, frozen foods took a big hit this year, with many of our favorites never to return.
Read on to take stock of the goods we lost in the freezer aisle this year, and for a wider picture of groceries that have recently vanished, explore 8 Grocery Items That May Soon Be in Short Supply.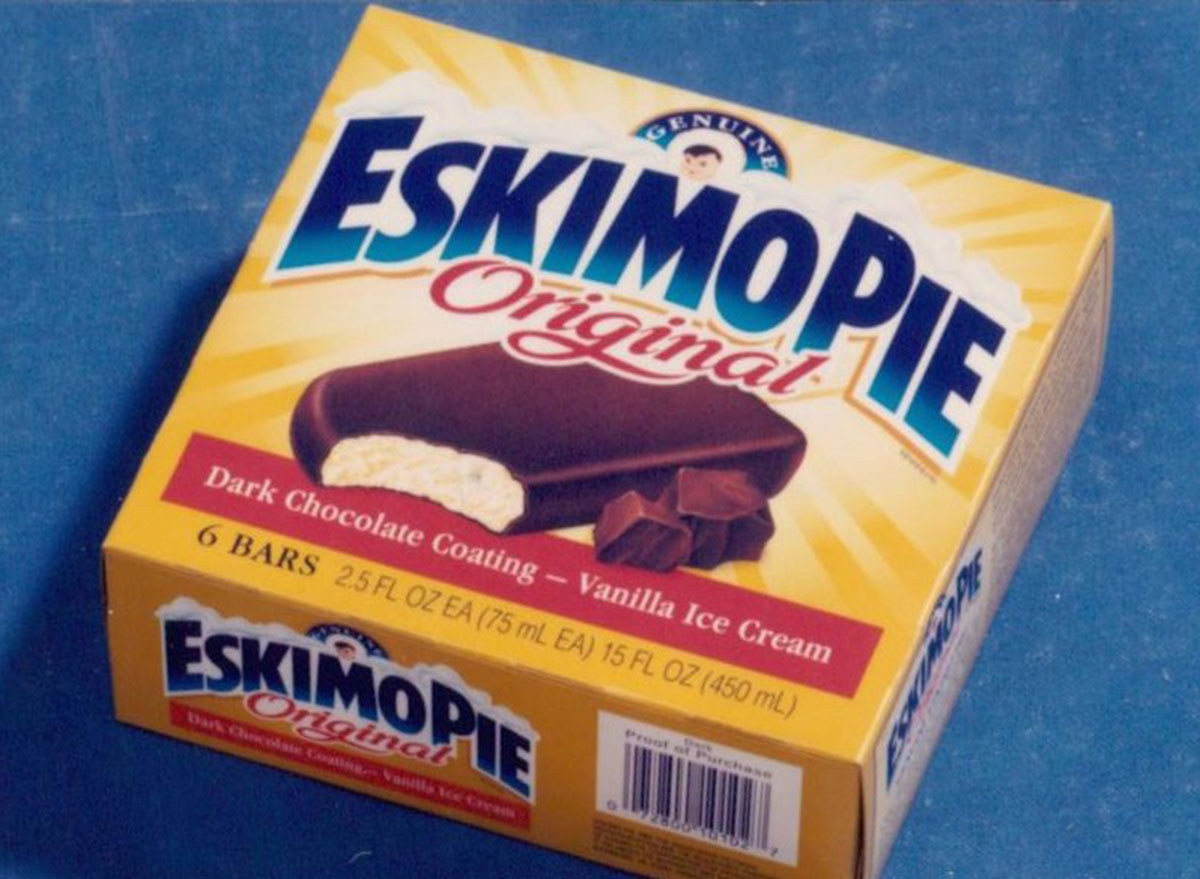 One of the most high-profile groceries that couldn't survive the year came in the form of Eskimo Pies. Due to their insensitive name,public outcry led to their pull from shelves and caused parent company Edy's to completely reimagine the dessert before re-introducing them to stores in a wholly-new form. According to Forbes, Edy's has promptly taken action and with the product unaccounted for, we can only hope to see the ice cream's successor on shelves soon.
You may also be missing these 12 Foods Disappearing From Grocery Store Shelves.
Healthy Choice Pesto and Egg White Scramble
Healthy Choice produced some of the best frozen food over the course of the brand's lifetime. Their Pesto and Egg White Scramble ranked as one of the healthiest options in the freezer section, but overwhelming pressure from food shortages caused the brand to rethink their entire line of goods. Like many other companies, Healthy Choice made the decision to cull a good selection of its product, including this fan-favorite that disappeared well before its time.
For other healthy options, check out our list of 25 Best Frozen Dinners for Healthier Weeknights.
Halo Top makes some of the most decadent dairy-free and health-conscious ice cream any of us could desire, but sadly, flavors that we have come to love couldn't survive 2020—Halo Top recently announced the discontinuation of its classic Pumpkin Pie flavor, alongside a wide variety of other classics. With the selection of dairy-free ice creams dwindling, many of us can only hope our other favorites remain safe. If you still have an ice cream craving, here's How to Make Homemade Ice Cream (Without a Machine!).
Cape Gourmet Cooked Shrimp
When workers had to move off the job due to coronavirus restrictions, the seafood industry took a hit due to the decreased workforce. With a smaller amount of fresh catches coming in, brands had to consolidate their lines, eliminating products that just didn't sell as well as they could. While Cape Gourmet offers up their raw shrimp and a variety of other frozen seafood, their pre-cooked shrimp have quietly vanished from their product line.
Trader Joe's Spicy Salmon Gyoza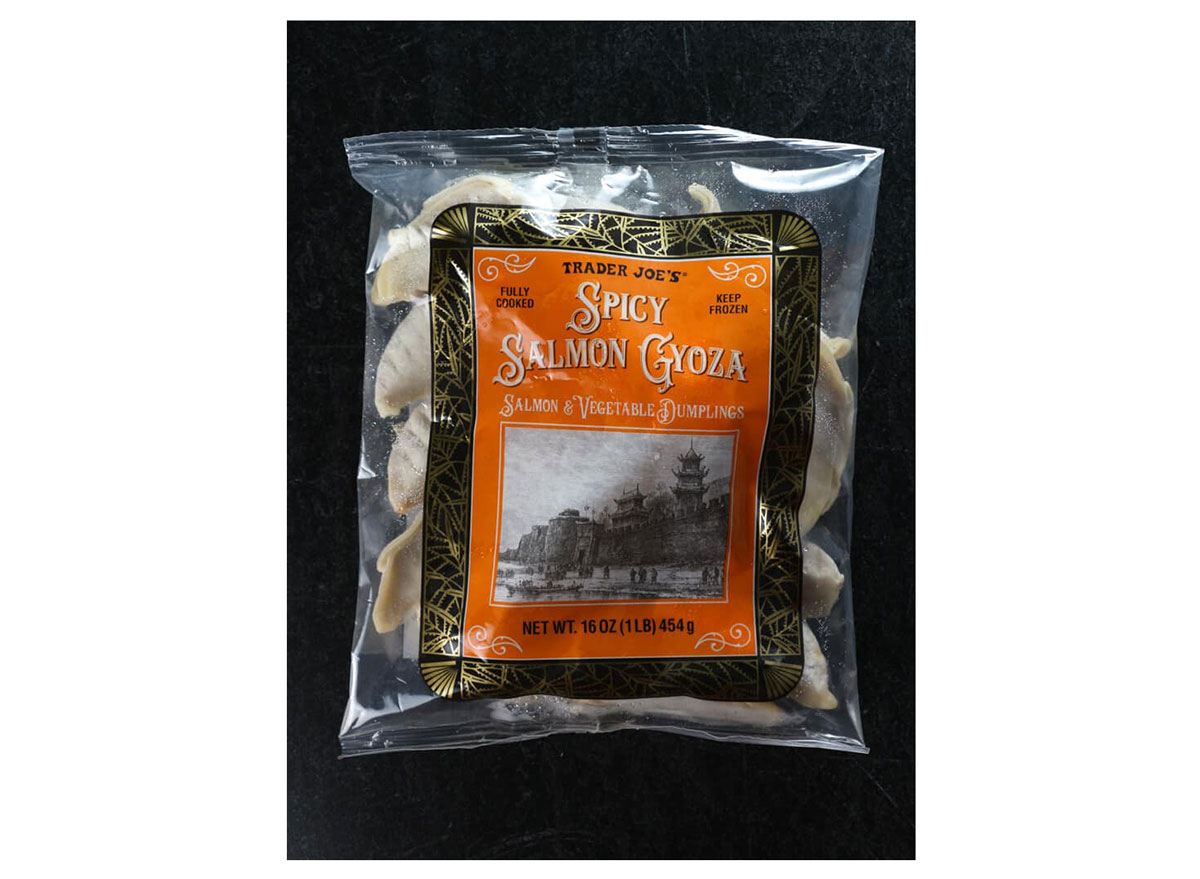 Trader Joe's constantly sees their products coming and going, making the disappearance of their spicy salmon gyozas an unfortunate occurrence. These dumplings loaded with a unique flavor have left the production line, but if you move quickly enough, you might find a pack or two left at your local Trader Joe's. You may also be missing these 15 Beloved Trader Joe's Foods Fans Want Back.
Lean Cuisine's Tuscan Style Vegetable Lasagna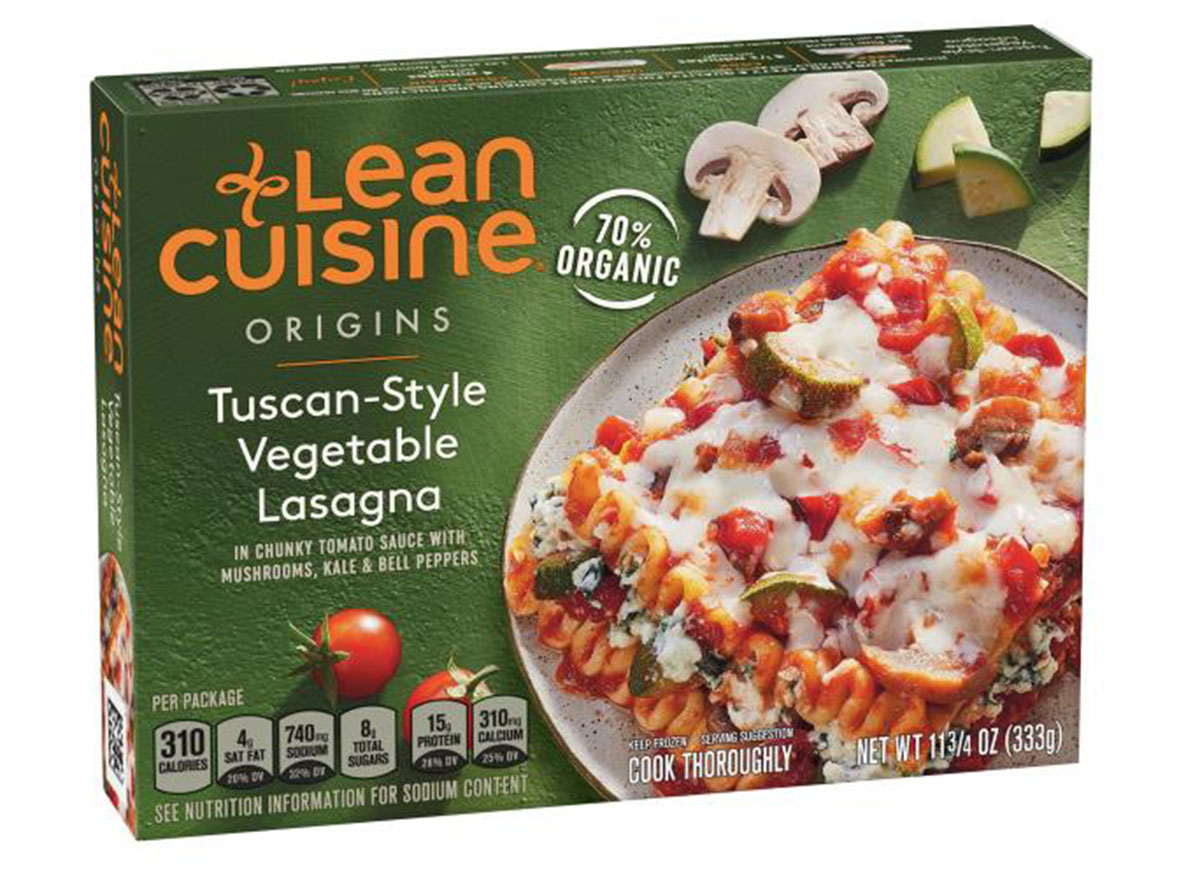 Like many other frozen dinners, Lean Cuisine couldn't sustain the production of its wide variety of pre-made meals due to supply chain shortages. Many of the brand's unhealthiest or worst-selling products had to get cut from production, including the Tuscan Style Vegetable Lasagna. If you loved the flavors of this lasagna, fret not—Lean Cuisine maintains their classic vegetable lasagna, and while its flavor differs from the Tuscan fan favorite, it still can make anyone content in a pinch.
Stouffer's Mexican Lasagna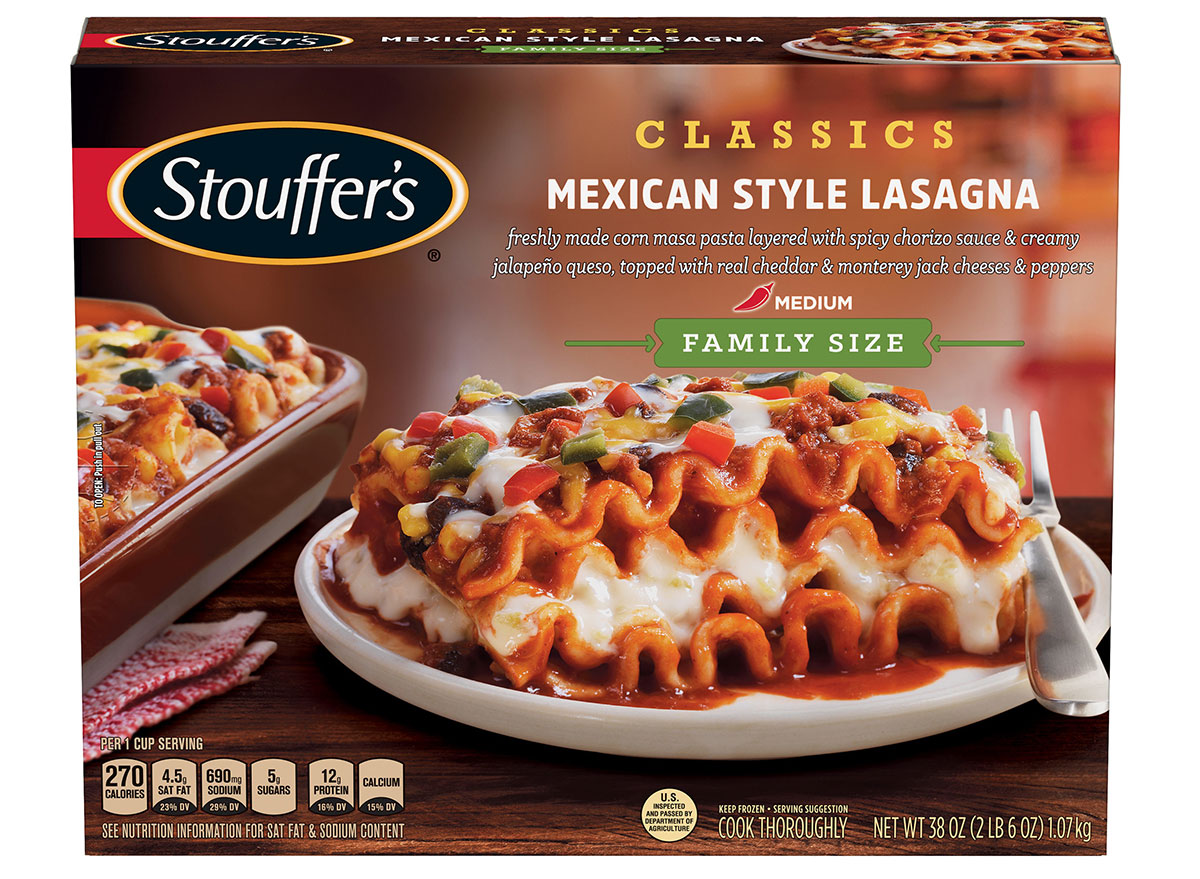 Like Lean Cuisine, Stouffer's couldn't keep the public excited enough to buy their wide range of lasagnas. The unique flavors of the brand's Mexican Lasagna quietly slipped off shelves in the avalanche of discontinued items that hit the brand earlier this year. The dynamic frozen meal may have faded away, but it hasn't been forgotten.
Craving lasagna? Try one of these 23+ Best Healthy Lasagna Recipes.
Good Food Made Simple Organic Cilantro Lime Chicken Entree Burrito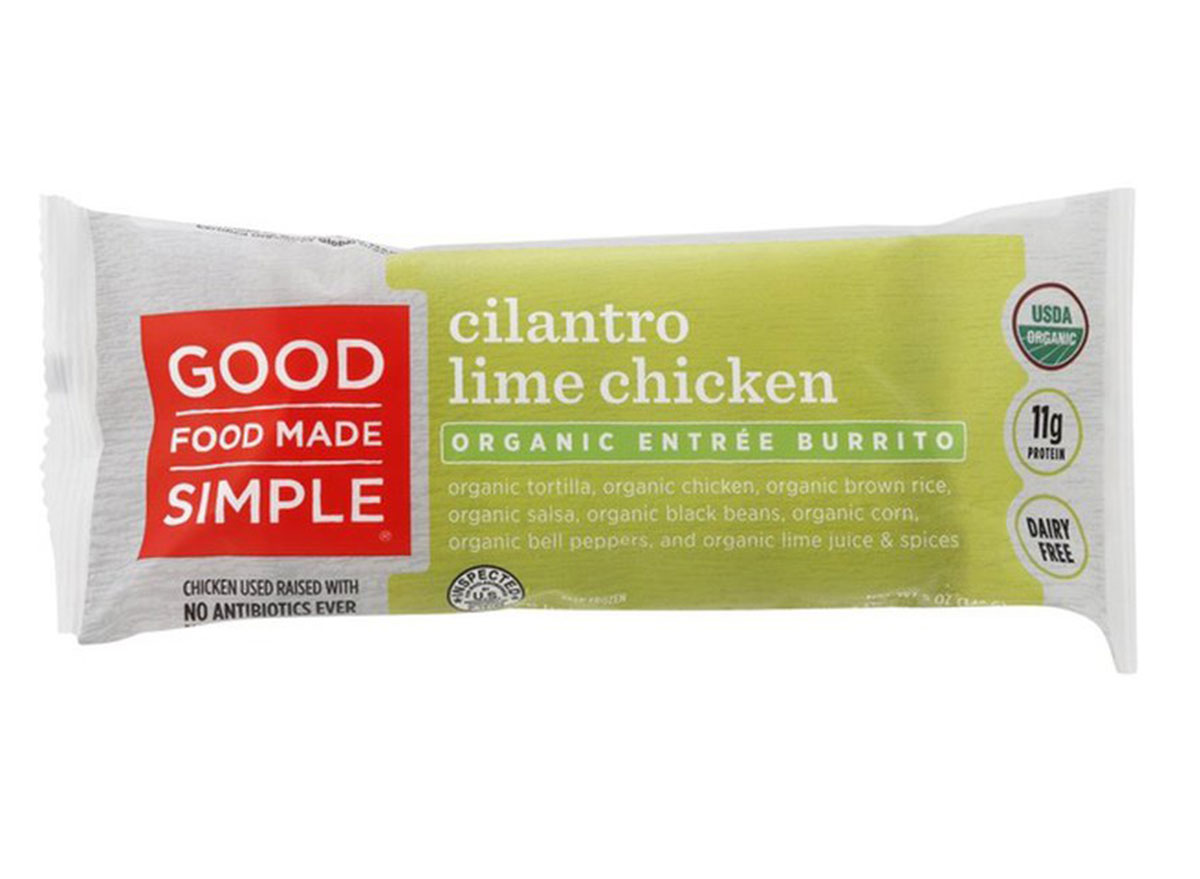 Good Food Made Simple hit the healthy frozen food scene looking to provide a hip alternative to 90's health-conscious holdover brands and find a new consumer base in younger adults looking to stay in shape. The brand couldn't maintain its steam amongst the massive market shifts caused by coronavirus, and as a result, had to jettison its Cilantro Lime Chicken entree.
Breyer's Triple Chocolate Ice Cream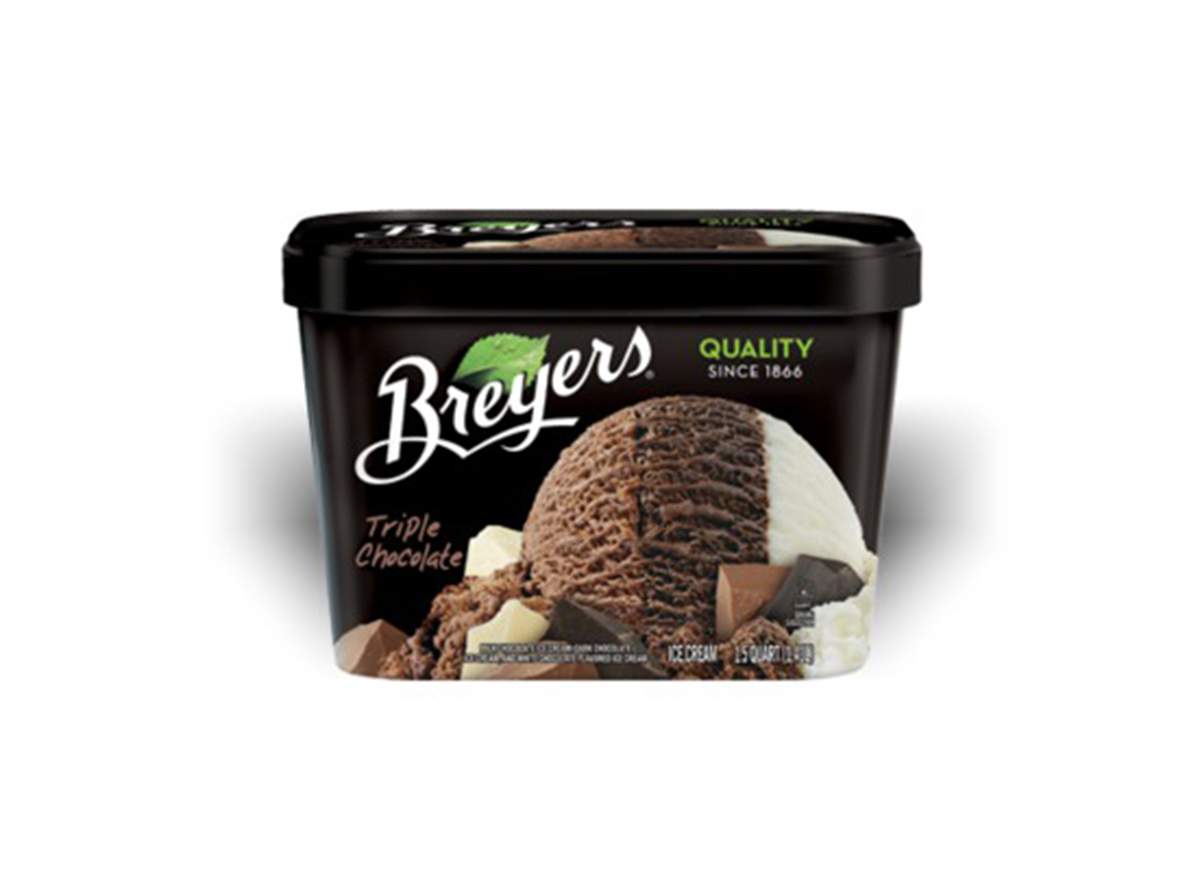 Ice cream brands just couldn't catch a break this year, and even the top companies couldn't keep the public excited about every flavor. Case in point–Breyer's ice cream had to pull their Triple Chocolate flavor due to dwindling sales. While the brand has some strong contenders to replace this flavor in any chocoholic's heart, moving on without this decadent treat makes 2020 that much harder to bear.
Trader Joe's Green Chili Tamales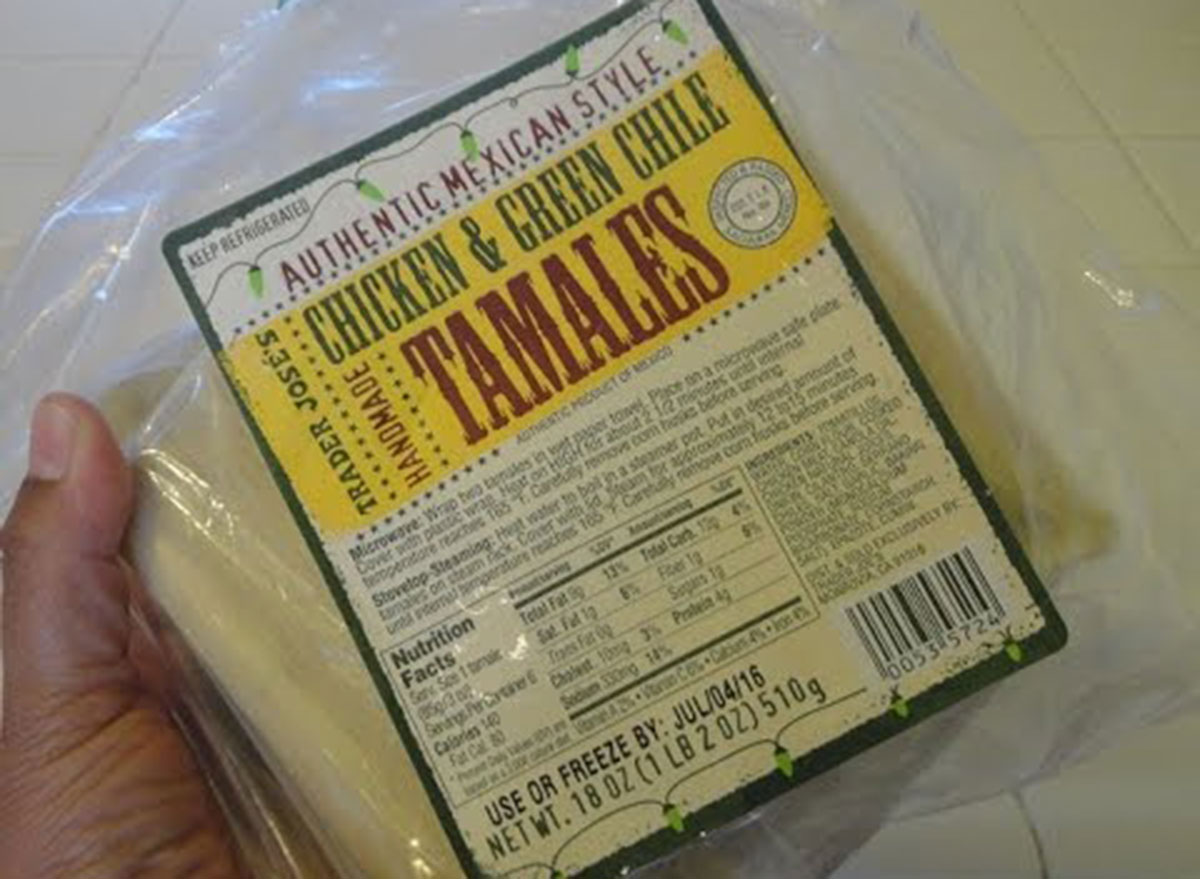 Finding local tamales proves challenging in even the best conditions, so when Trader Joe's pulled its fan-favorite Green Chili Tamales, the world lost a classic dish. Reddit user McSquiffy pointed out the disappearance, and upon further investigation, it appears these products have truly vanished from the grocery chain's product line.
Beetnik Lemon Chicken With Cauliflower Rice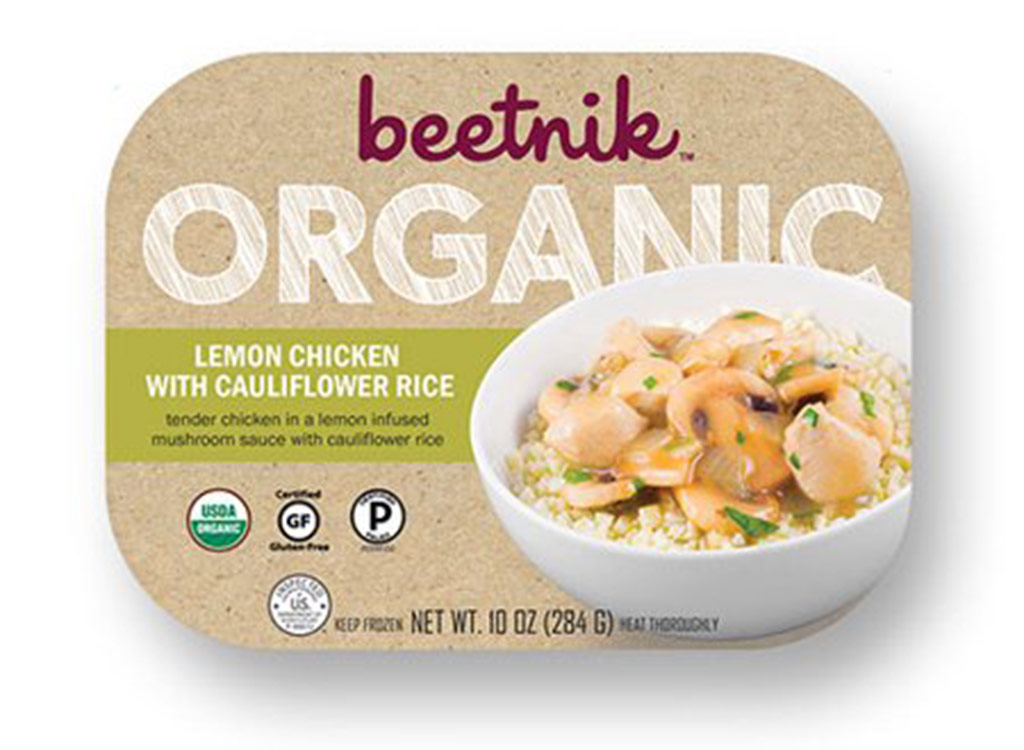 When a competitor comes to challenge an established frozen dinner brand, the group has its work cut out for them. Beetnik could have been a contender, if not for the pandemic throwing a wrench into the supply chain and drastically changing the food landscape for the year. Their lemon chicken with cauliflower rice proved to be a healthy favorite, but couldn't stand the brunt of the economic punch 2020 gave.
Marie Callender's Herb Roasted Chicken Dinner
Like many other frozen food companies, Marie Callender's had to adapt its product line to survive the economic burden the pandemic brought this year. Their classic Herb Roasted Chicken Dinner was officially declared discontinued on their Facebook page, leaving many fans heartbroken.6254a4d1642c605c54bf1cab17d50f1e
Banquet Mexican Style Enchilada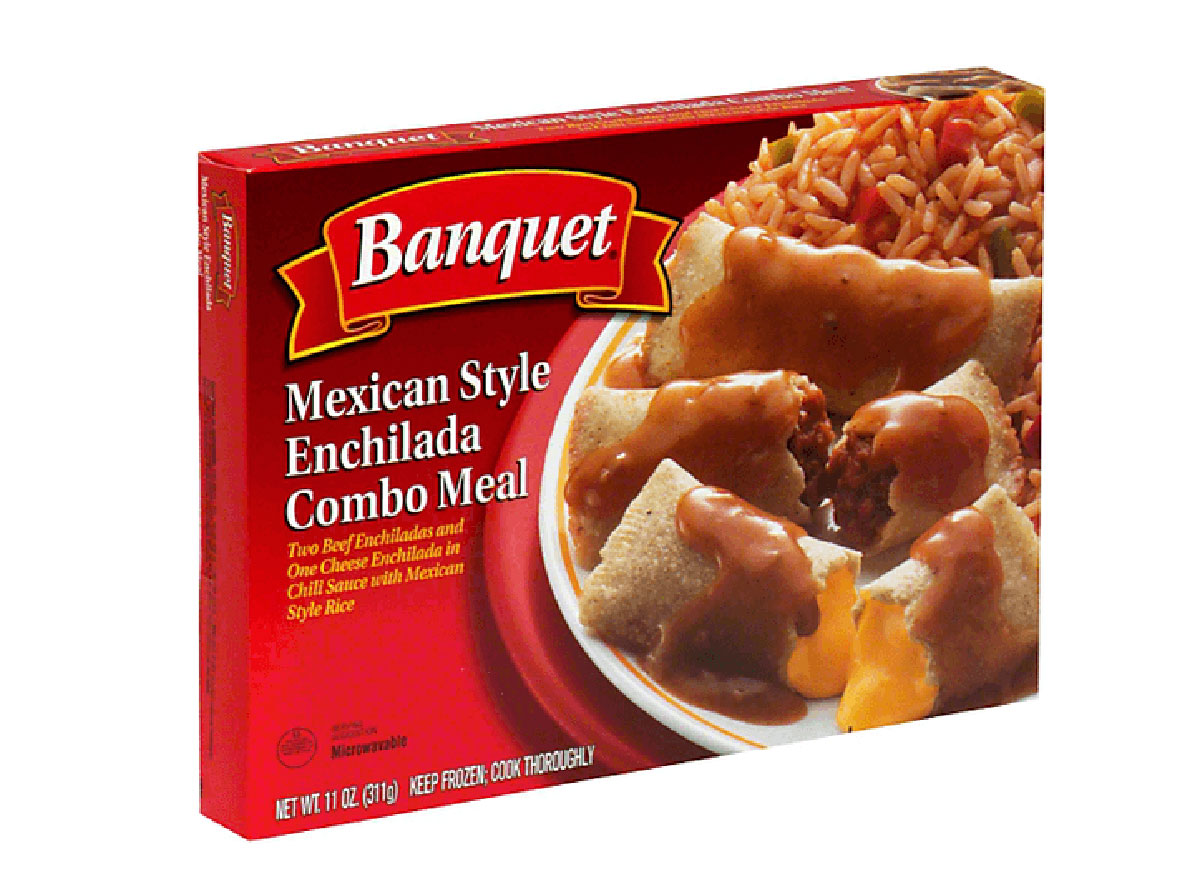 Banquet joins the ranks of major brands that had to cut back this year in order to survive. After culling its stock, the Mexican Style Enchilada dinner found itself on the cutting room floor. With a gap in Tex Mex flavors, we can only hope that Banquet fills in this niche in the coming year. To satisfy your enchilada craving, you can make this Red Chile Chicken Enchiladas instead.
Trader Joe's Organic Woodfired Sicillian Style Pizza
Trader Joe's items come and go, but the loss of their frozen Woodfired Sicilian Style Pizza sorely hurt. Fans on Instagram have pointed out the disappearance across American stores, diminishing the overall available flavors of frozen pizza found at the grocery chain. The bold flavors of red peppers and sausage won us over, so we can only wait to see how Trader Joe's responds to this cut.
You're probably also going to miss these Discontinued Frozen Pizzas You'll Never See Again.
Haagen Daz Dulce De Leche Bars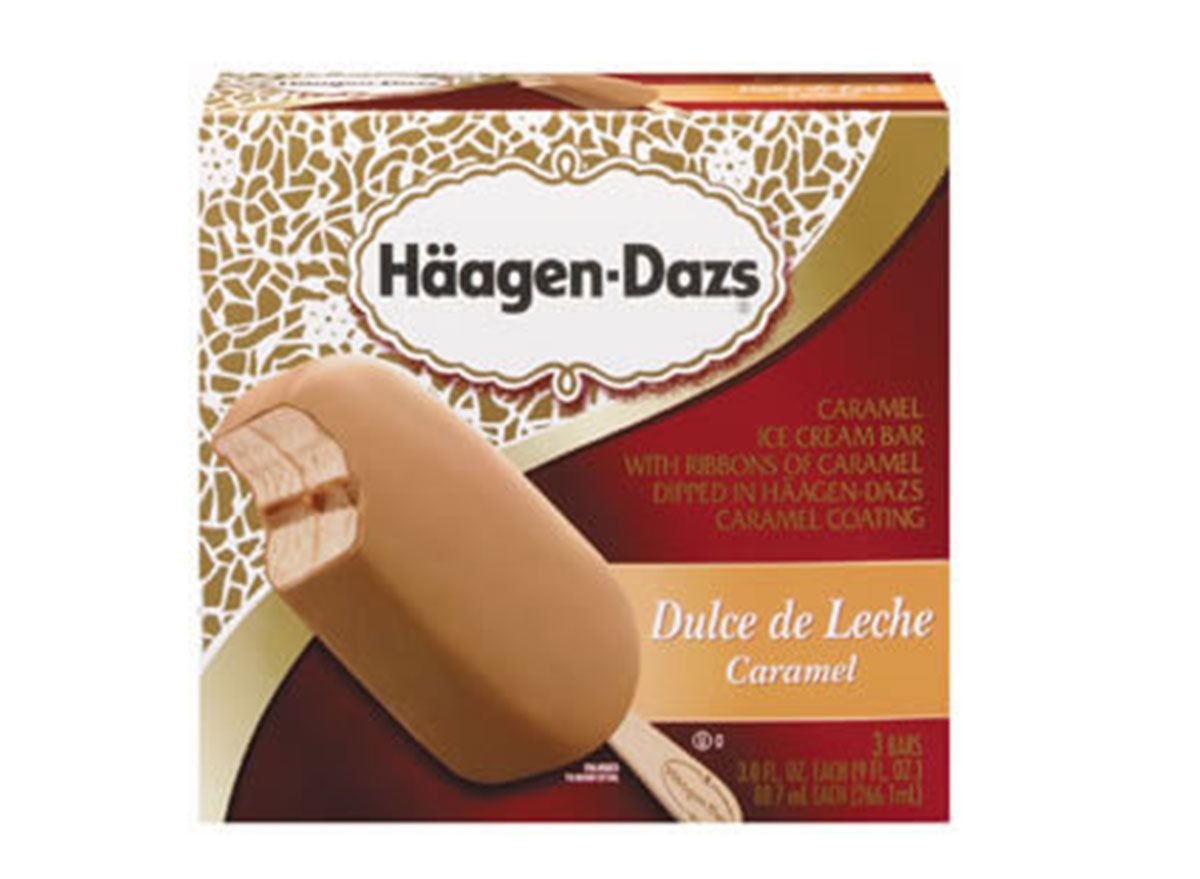 When consumers had to stock up their freezers for the pandemic, they had to make some tough choices when it came to ice cream. Haagen Daz's Dulce De Leche bars didn't see the love they needed, and have since ended up in the brand's flavor graveyard. These sweet treats capture a distinct flavor seen in few other ice cream bars, and hopefully, they will be one of the last food casualties of 2020.
Speaking of items disappearing, you may have also noticed these 20 Beloved Snacks Vanishing From Grocery Shelves as well.