20 Halloween Candies That Are Actually Not That Unhealthy
Healthy candy you can just enjoy yourself, too.
This post contains affiliate links. If you use these links to buy something, we may earn a commission.
Trick-or-treating is a relatively recent tradition, only dating back to the 1950s, according to National Geographic. Since those post-war years saw the rise of the suburban neighborhood crisscrossed by candy-seeking ghosts, princesses, and pirates, candy has become an integral part of Halloween, much to the thrill of children and dentists alike, and often to the chagrin of moms and dads.
This year, whether you are looking for the healthiest candy to hand out to the trick-or-treaters—or if you have a sweet tooth yourself—we've got you covered. Here are 20 of the healthiest candies out there right now that still actually taste like, well, candy. Now, granted, saying "healthy candy" is much like saying "chilly fire" because no candy is really all that nutritious, but from natural ingredients to low-carb candy to reduced sugar options, these are indeed healthier candies, and that's a step in the right direction on Halloween or any other day of the year. (Valentine's Day and Easter, we're looking at you!)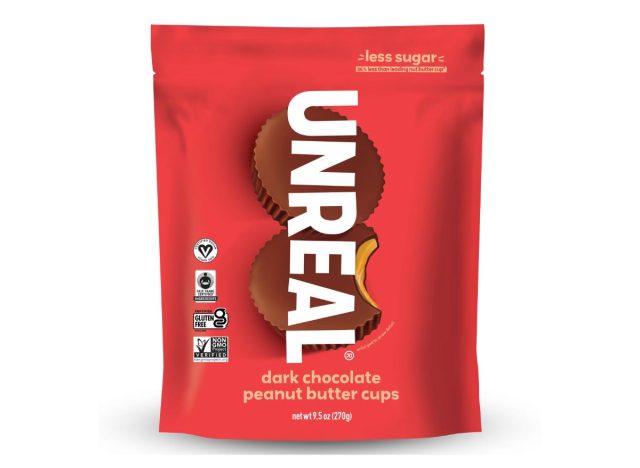 If you really like chocolate but want to eat too much sugar or sugar substitutes, you need to try Unreal. They offer chocolate treats ranging from Dark Chocolate Peanut Butter Cups with five grams of sugar per cup (a Reese's Peanut Butter Cup has 11 grams) to Coconut Bars to Caramel Peanut Nougat Bars. In other words, they have fancy chocolate treats, just without much sugar.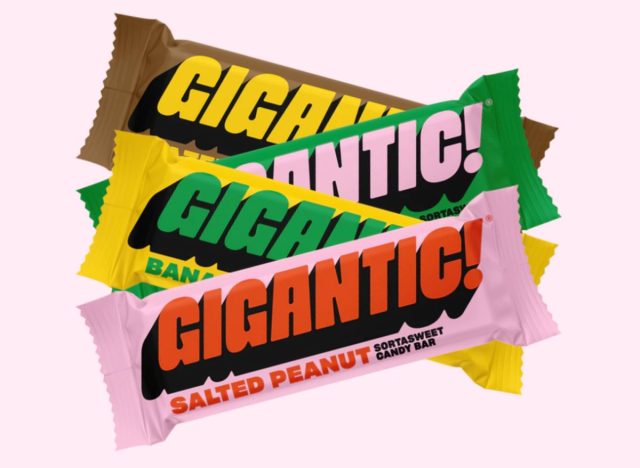 Huge on flavor but low on sugar, these are the candy bar all grown up. Gigantic's candy bars come in (as of the time of this writing) four flavors: Salted Peanut, Hazelnut Café, Almond Horchata, and Banana Pecan. The flavor of each bar is rich and nuanced, yet not very sweet. You won't miss the sugar at all, though, given the genuine complexity of these bars.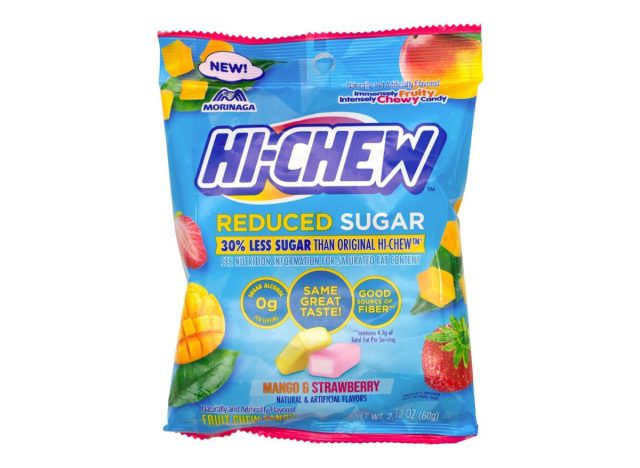 Now let's be clear here: this is still a sugary candy, the "reduced sugar" of it all notwithstanding. Eat a full serving, which is six pieces (more than you need at one time, FYI) and you'll get 13 grams of sugar, which isn't bad but isn't nothing. That said, they have almost a third less sugar than classic Hi-Chew candies, and there is no sacrifice of flavor or texture.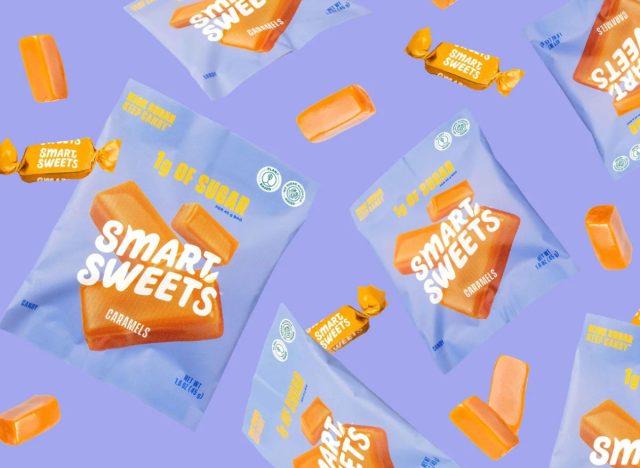 This brand has the "traditional" candy lover covered. Smart Sweets has a lower-sugar take on Swedish Fish, Sour Patch Kids, Gummy Worms, Red Vines, caramels, hard candy, lollipops, gummy bears, cola gummies, and so many more. They offer candies that taste a lot like your favorite sugar bombs, albeit with less sugar. The secret here is sweetening that comes from allulose, a rarer type of sugar that naturally occurs in foods like raisins and maple syrup.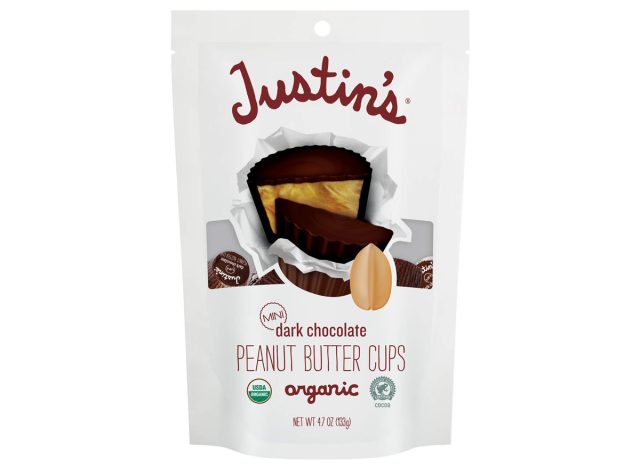 If you like chocolate peanut butter cups, you like Justin's, it's that simple. While not that low in sugar, these chocolatey, peanut butter-rich sweets are made entirely with organic ingredients, so you can feel good about what you're eating. And as the company is part of the Rainforest Alliance, you can feel good about supporting them, too.
YumEarth is another candy brand that allows you to enjoy a healthier take on your favorite mainstream candies, like Skittles, Starburst, gummy bears, and the like. Unlike Smart Sweets, these candies are not super low in sugar but are made with high-quality, organic ingredients. You can also count on YumEarth candies to be free from most of the common allergens, like soy, nuts, dairy, etc.6254a4d1642c605c54bf1cab17d50f1e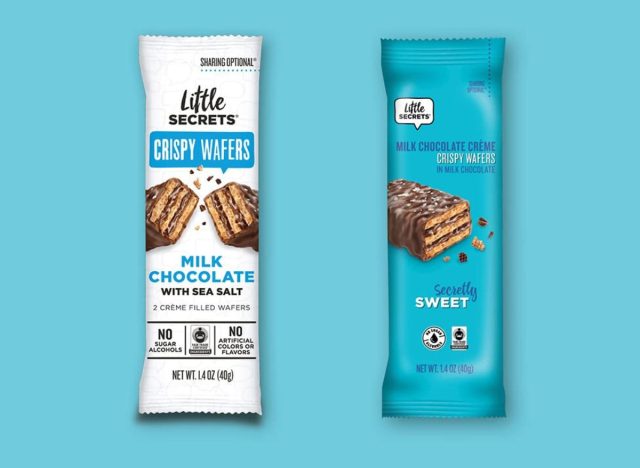 Fancy chocolate bars (and bites) abound here, and all are made with healthier, fair-trade, and sustainably sourced ingredients. Try the Little Secrets Milk Chocolate Crème Crispy Wafers, the Creamy Caramel Cookie Bars in Milk Chocolate, the Peanut Butter Pieces in Dark Chocolate, and so forth. Low in sugar? Not really. High in quality? Indeed.
If you want to be that awesome house that hands out full-sized candy bars, this brand's candy bars will set you back a bit, to be honest. Now, to treat yourself to near perfection in chocolate, Beyond Good is a great brand to consider. Made in Africa using directly-sourced ingredients that offer maximum profits to growers (most of whom are located in Madagascar or Uganda), these are rich, complex chocolate bars produced with maximum focus on the good of people and planet.
Solely makes fruit snacks that masquerade as candy. Seriously, you can give a kid (or an adult) a packet of Solely Whole Fruit Gummies and they'll gobble them down like a sugary sweet, not knowing that the only ingredients are fruit and naturally sourced ascorbic acid, aka vitamin C. Or offer a strip of Solely Fruit Jerky and it will go down like sugary licorice despite being, again, all fruit.
If you want low-sugar candy, Project 7 has you covered. If you want low-carb candy, same story. If you want tasty treats like Sour Fruit Gummies, Gummy Bears, red licorice, lollipops, and many more, well, you get it by now. By combining just a bit of sugar and allulose, this brand produces candy that is full of flavor but pretty OK for you.
Theo is a fancy chocolatier if ever there was one, with candy bar flavors like Coffee Toffee, Cherry Almond, and Pure Dark. You come to Theo as much for the quality as you do the taste. Their superlative chocolate products are all made with organic ingredients, and they are all fair-trade certified.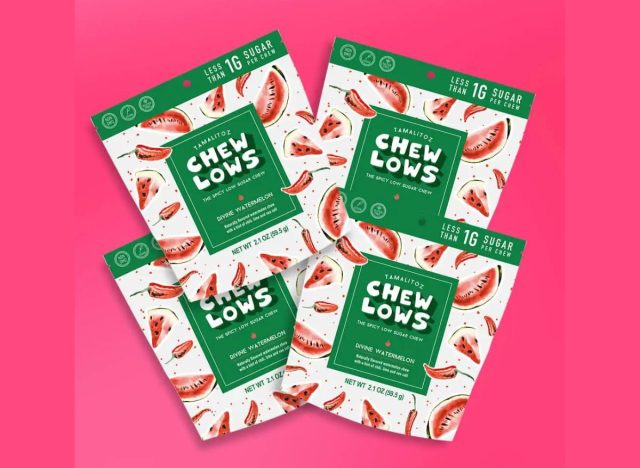 A complex, surprising flavor profile awaits in every one of the hard candies from Tamalitoz (technically called Tamalitoz by Sugarbox). Along with flavors like Divine Watermelon and Pineapple Galore, every one of these candies is infused with a bit of chili, lime, and sea salt, for a taste that's got a bit of heat and a lot of delight. They are a perfect adult candy dish candy, while the company's low-sugar Chew Lows have the same flavor profile in a different texture and, of course, with reduced sugar.
Come for the peanut butter cups—which are as satisfyingly tasty as those from sugar-laden mainstream brands—and stay for the surprisingly delicious coated nuts. SkinnyDipped peanut butter cups are undeniably a candy, while the nuts are more of a sweet snack you can enjoy any time. Though given how low sugar the chocolate peanut butter cups are, you can get after a lot of them, too.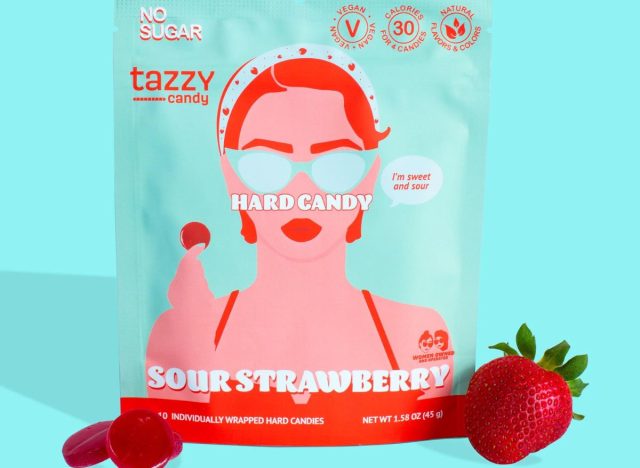 Sweet and tasty, individually wrapped for easy distribution, and free of sugar and quite low in calories, these hard candies check many boxes. They use stevia as a sweetener.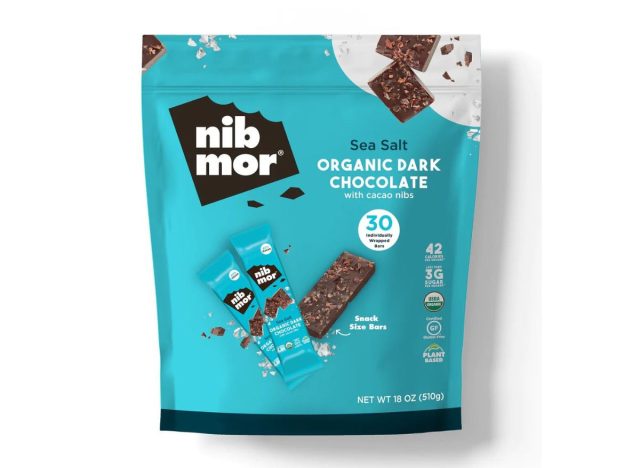 The many individually-wrapped little "snack size" bars you get in a bag of bars from nib mor are simply perfect for handing out on Halloween. They are also great for scratching that proverbial itch when you need a bit of sweet in your life, and with just four grams of sugar and 80 calories per bar (in the Sea Salt Dark Chocolate flavor), no worries, either.
You like sour bears, right? And you're not so big on sugar or carbs, correct? Good, then you're on the same page as Behave, a candy brand that lets allulose do most of the sweetening, lets the fruit do most of the flavoring, and has only 60 calories per pouch. Same story for their sour stars and regular gummy bears, too.
Let's be honest: so-called "fruit snack" brands really put one over on us in the latter years of the 20th century when they convinced consumers that fruit snacks aren't just candy by another name. Let's own it, and say these soft and chewy fruit snack candies are at least indeed made primarily with fruit. And some sugar and other ingredients, but fruit comes first, and hey, it is basically candy, after all, so that's good news.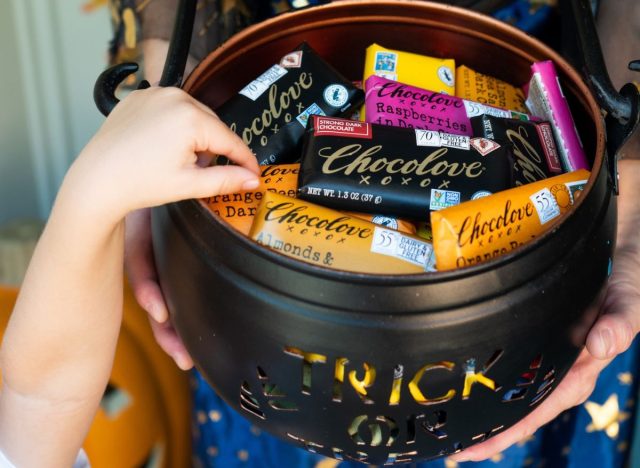 This is another brand of candy bars that are not low-sugar candy but that are made with top-quality ingredients that offset a bit of the sugar guilt, and from a company with practices that will make you feel good about supporting it. And with candy bar flavors like Toffee & Almonds, Mint Crème in Dark Chocolate, and Passion Fruit, it's a brand you really need to check out.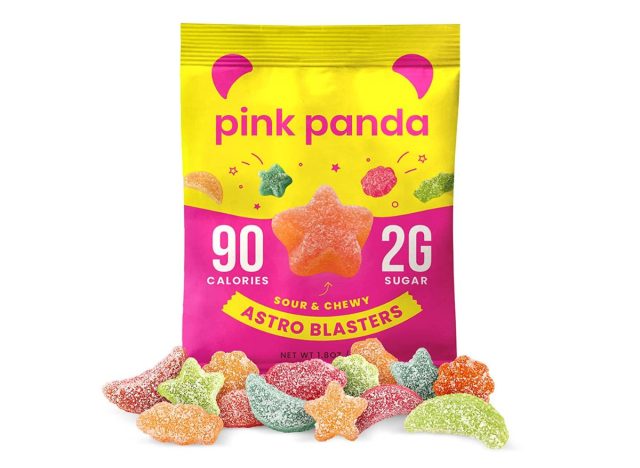 Pink Panda is another brand offering lower-sugar and much lower-carb candies that are reminiscent of many mainstream sweets (Sour Patch kids and the like, e.g.). Their candies are a great choice for satisfying your sweet-and-sour tooth without adding much sugar to your diet. If you like chewy, you'll like this brand. A lot.
This company makes an impressive range of products, from quinoa to granola to chocolate bars, but today, given the trick-or-treating of it all, let's focus on the truffles. Low in sugar (as in four grams per truffle) and bursting with flavor, all c/o organic ingredients, these truffles come in varieties like Salted Caramel, Classic Dark, and Silk Velvet, and they are sublime.
Steven John
Steven John is a freelancer writer for
Eat This, Not That!
based just outside New York City.
Read more about Steven