The Healthiest Drinks to Sip Right Now, According to Dietitians
Beverages are just as important to your health and well-being as the foods in your diet.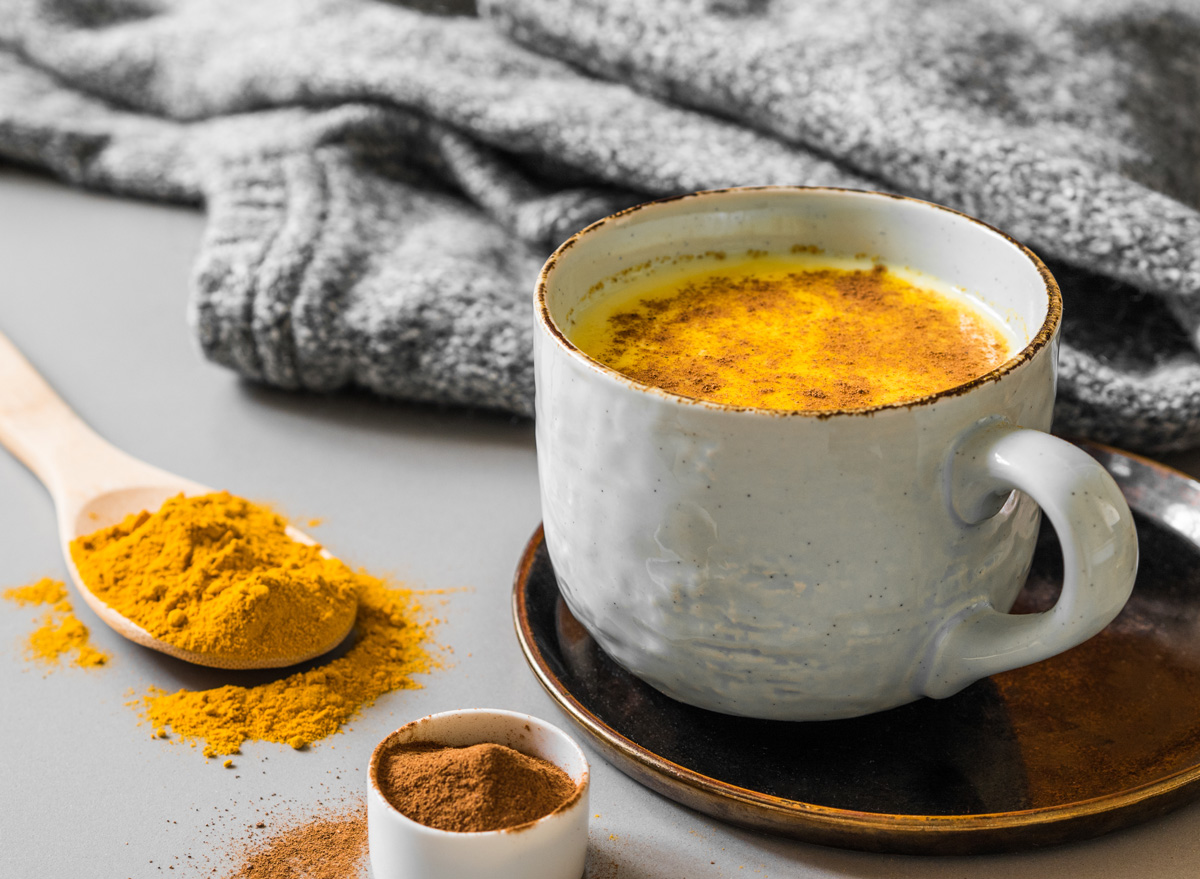 If we were to ask you what steps you could take to be healthier right now, what would you say? Let us guess: eat better and exercise more. While this is true, what many of us overlook is that the beverages we sip on also play an important role in keeping our bodies happy and healthy. We reached out to registered dietitian nutritionists for the healthiest drinks they recommend you start sipping on right now—if you aren't already. Unlike the 40 Drinks You Should Always Leave on Grocery Store Shelves, which may technically keep you hydrated, these drinks each possess unique benefits that support your overall health in more ways than one.
Coffee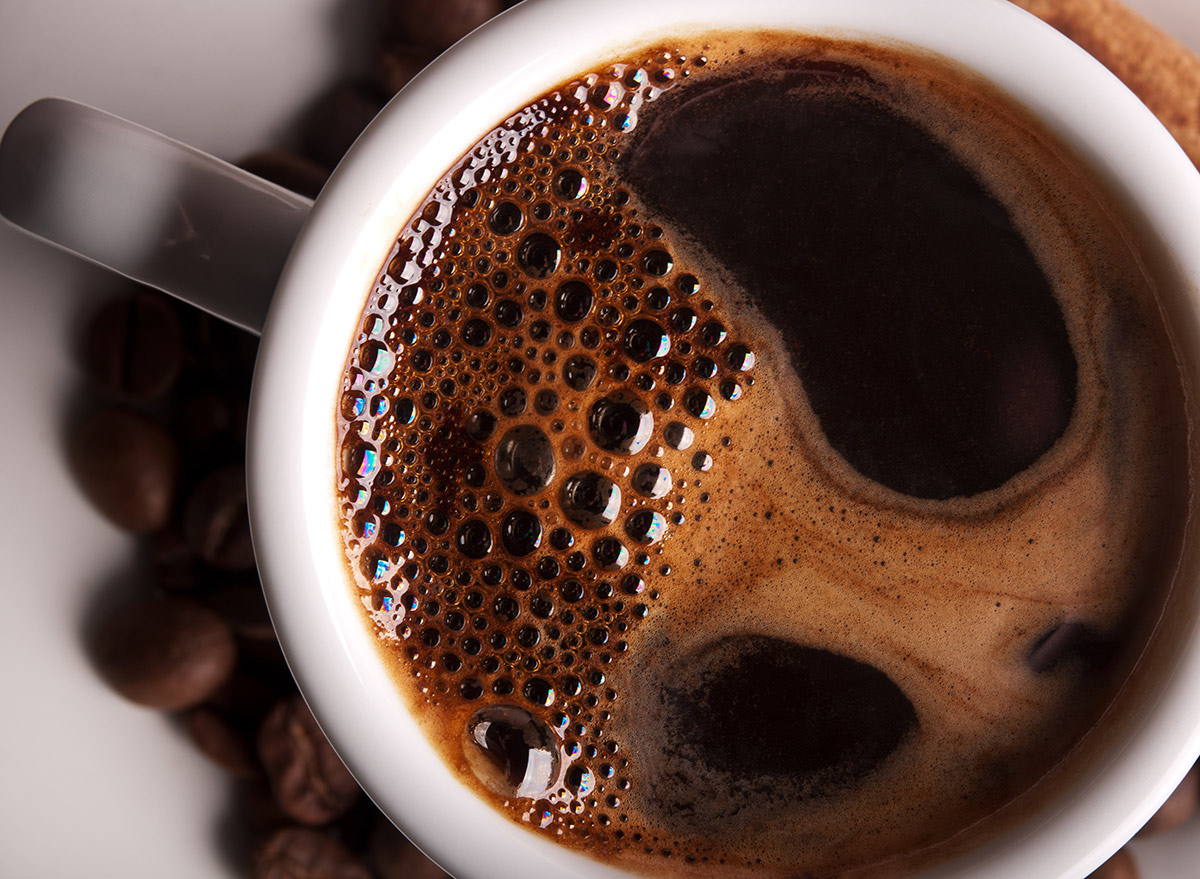 "In a meta-analysis published in the journal BMJ, study participants who drank coffee showed significantly lowered risks of various liver diseases (i.e. non-alcoholic fatty liver disease and cirrhosis). A 2018 meta-analysis concluded that coffee consumption may be inversely associated with the risk of Type 2 diabetes. The caffeine in coffee is great for perking you up and helping you function better. A small boost of caffeine can help you focus. It can even give you an edge on your workout if consumed ahead of your workout," says Amanda A. Kostro Miller, RD, LDN, who serves on the advisory board for Fitter Living. Make sure you're reaping the benefits of java by avoiding the 7 Things You Should Never Add to Your Coffee.
Water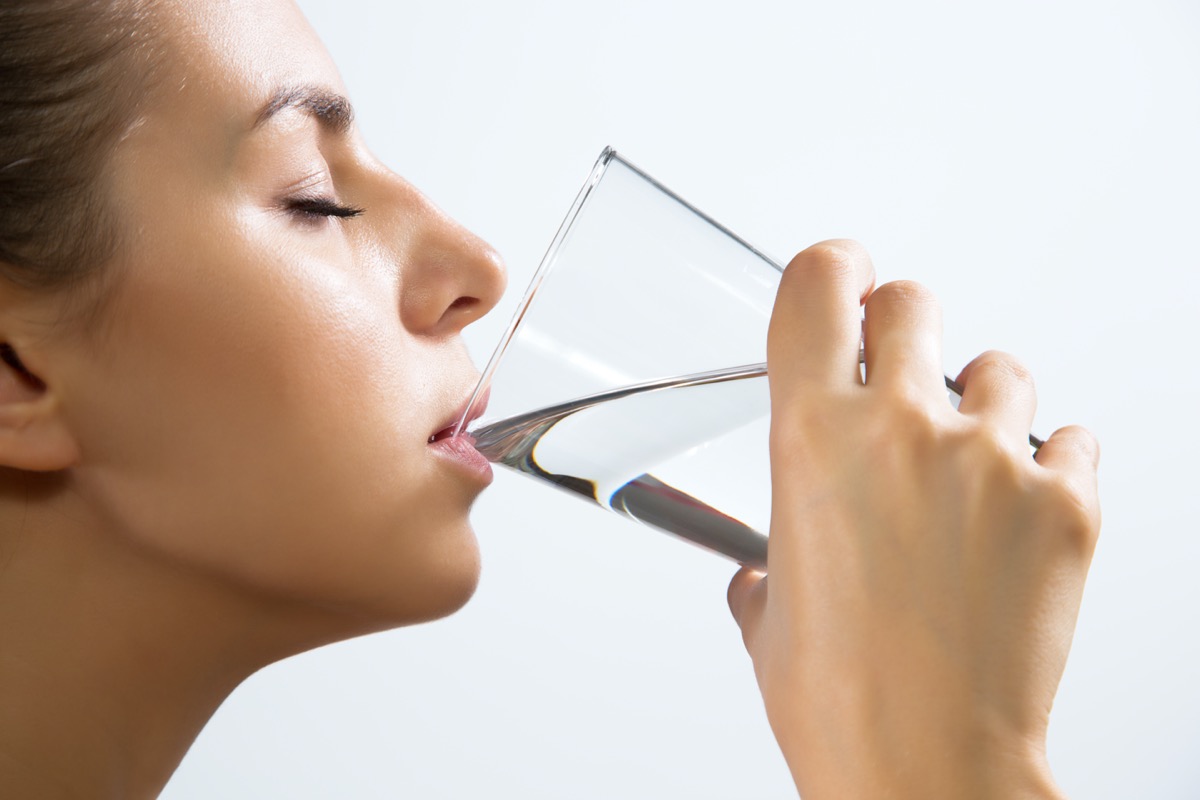 "Drinking water is so important to prevent dehydration. Dehydration may affect energy levels, mood, and even memory. Adequate water also helps prevent constipation and kidney stones. If you don't like plain water, add lemon, sliced orange, or mint to add zest and flavor. Warm water with lemon is just as healthy, especially on a cold winter day," says Lisa Young, PhD, RDN, a registered dietitian nutritionist, author of Finally Full, Finally Slim, and adjunct professor of nutrition at NYU.
"Water plays a role in just about everything we do," adds Jaclyn London, MS, RD, CDN, Head of Nutrition and Wellness at WW (formerly Weight Watchers), "but it's an extra important reminder right now, especially for those of us who have spent lots of time talking on video calls all day every day! That's because we lose total body water from our respiratory tract (as well as our GI tract and through sweat losses) so whether you're choosing bubbles or flat water, staying consistent with H2O throughout the day can help you stay alert, focused, and energized." Read about the effects of dehydration: What Happens to Your Body When You Stop Drinking Water.
Smoothies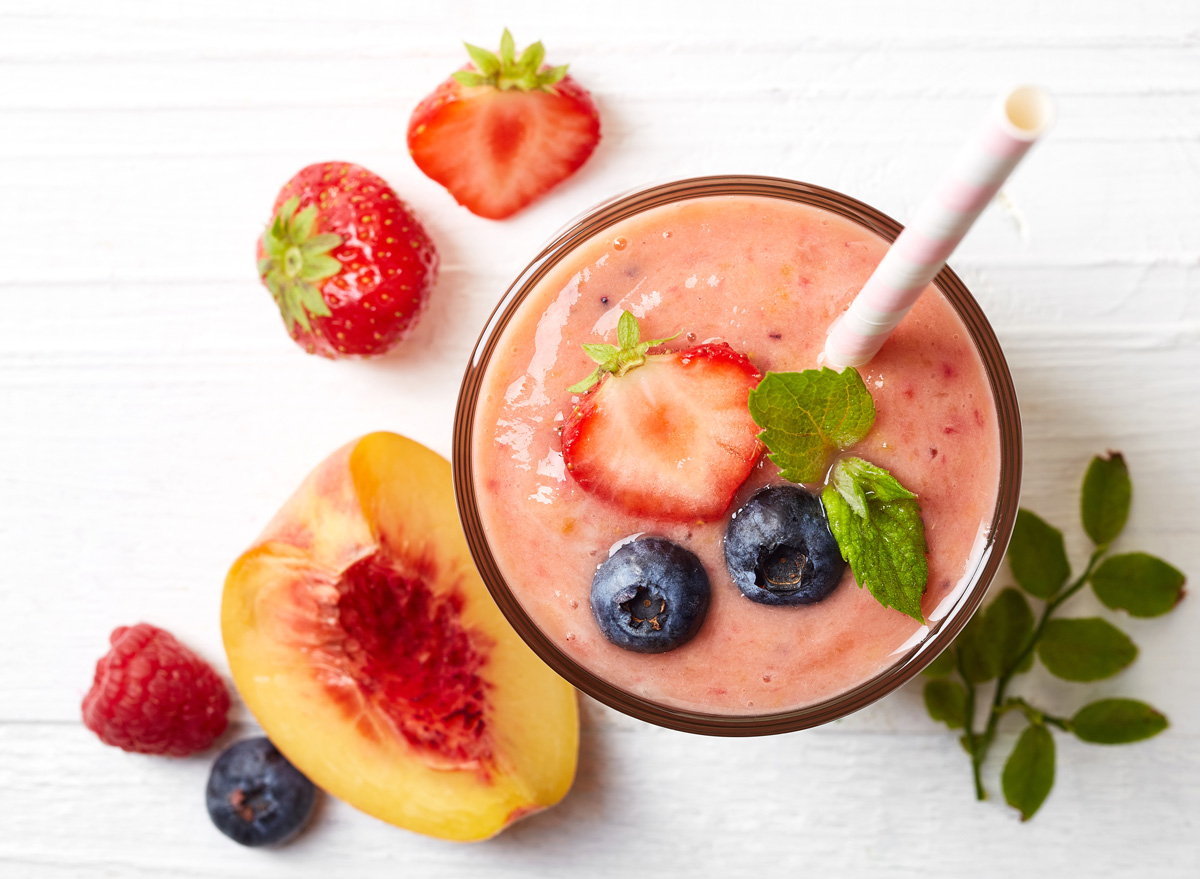 Megan Wong, RD a registered dietitian with AlgaeCal doesn't recommend just any smoothie—she says you should be drinking powerhouse smoothies. "I call these powerhouse smoothies because I always include antioxidant-rich fruits and green leafy veggies. These smoothies protect cells from damage caused by stress, inflammation, and aging, and are packed with immune-boosting vitamins and weight-regulating fiber. Start with plain yogurt (Greek for extra protein), then add in fresh or frozen fruits (eg. berries) and a handful of leafy greens (spinach or kale work great). I use bananas for a creamy texture and natural sweetness, then add milk (or a milk alternative) and ice until I get a nice consistency. Feel free to add other ingredients like cashews, almonds, chia seeds, and hemp hearts for bonus benefits!" she says.
And although making your own smoothie at home means you have to dirty up a blender, Jenn LaVarderra, RD, registered dietitian and expert nutritionist for produce company Naturipe, says it's worth it. "Stick with homemade smoothies as bottled smoothies may contain lots of added sugar."
Golden Turmeric Tea
Golden milk, also known as turmeric tea, is a bright sun-colored beverage made with turmeric, warming spices, and a creamy base. "There's one compound in turmeric that's responsible for the majority of its health benefits: curcumin. Curcumin is extremely effective in fighting inflammation, an underlying cause of several chronic diseases including arthritis, heart disease, and osteoporosis. Studies have even shown that curcumin is more effective as an anti-inflammatory than acetylsalicylic acid (Aspirin) or ibuprofen (Advil)," says Wong. "Research also shows that curcumin may have mood-boosting effects! As an added bonus, you might feel more alert and attentive too. To make sure you're absorbing the curcumin, add a sprinkle of black pepper or a source of fat (like non-skim milk or coconut oil)."
Want to add a health boost to your mug? Add collagen peptides. "Collagen is our body's key structural protein for creating strong and healthy nails, hair, tendons, bones, muscles, and for keeping our skin smooth and youthful," says Acacia Wright, RD, CD, a registered dietitian for Orgain. Wright makes her Golden Milk by simmering coconut milk, maple syrup, turmeric, ginger, cinnamon, and black pepper over low heat for 10 minutes. Then she adds a scoop of collagen peptides once taking it off the heat "Since this recipe is caffeine-free, it can be enjoyed morning or night. I especially enjoy it when I'm looking to uplift and unwind after a stressful day!"
Protein Coffee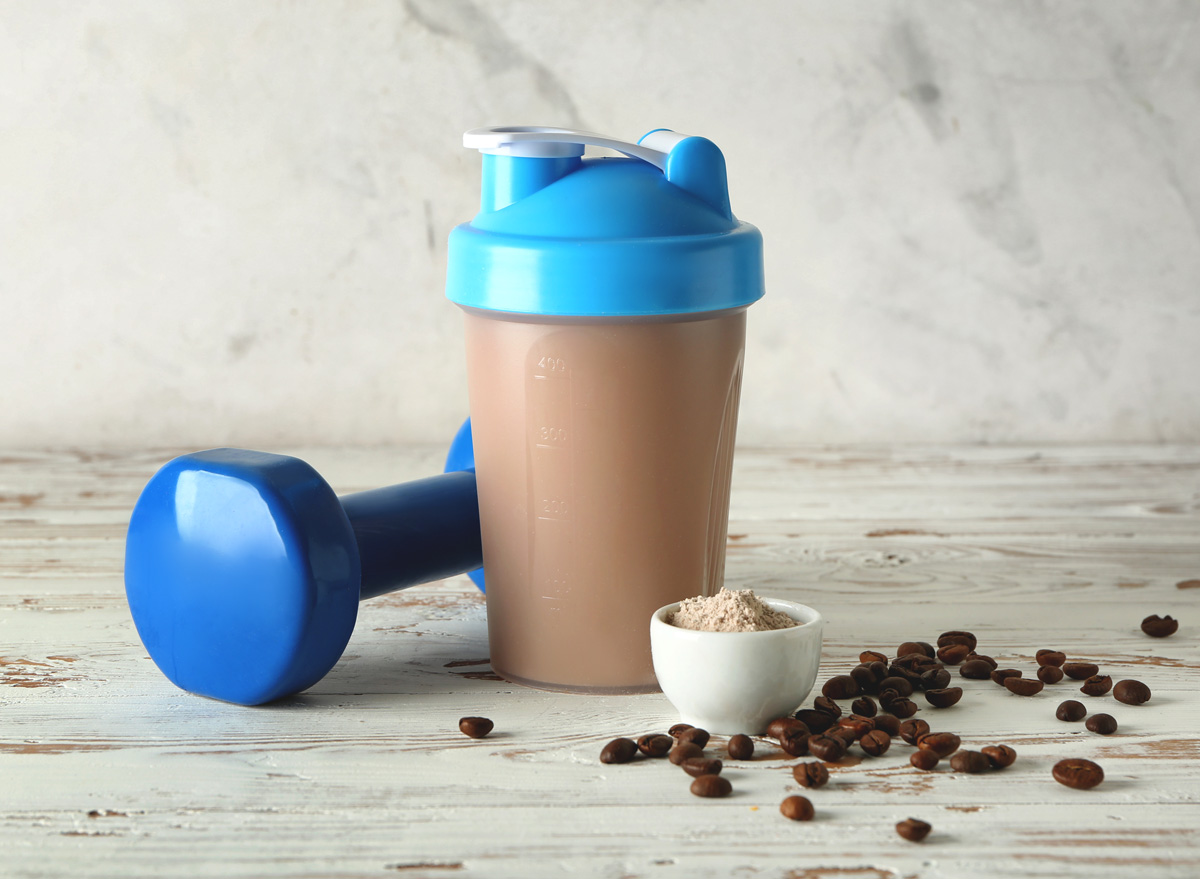 "One of the healthiest drinks is protein coffee!" says registered dietitian Megan Byrd, RD of The Oregon Dietitian. "Simply pour your coffee into a shaker bottle, add the protein powder, and shake until well combined! It's so easy! Not only does it provide extra protein in the mornings, but it helps keep you satiated during the day, preventing excessive snacking and overeating. The higher-quality protein powder you use in your coffee, the more nutritional value it will provide! I choose protein powders that are low in sugar, high in protein, fiber, and probiotics, and keep the sugar substitutes to a minimum. Starting your day with a boost of fiber, probiotics, and protein is healthy and easy!" For some protein powder options, check out our guide to the 12 Best Sugar-Free Protein Powders.
Green Tea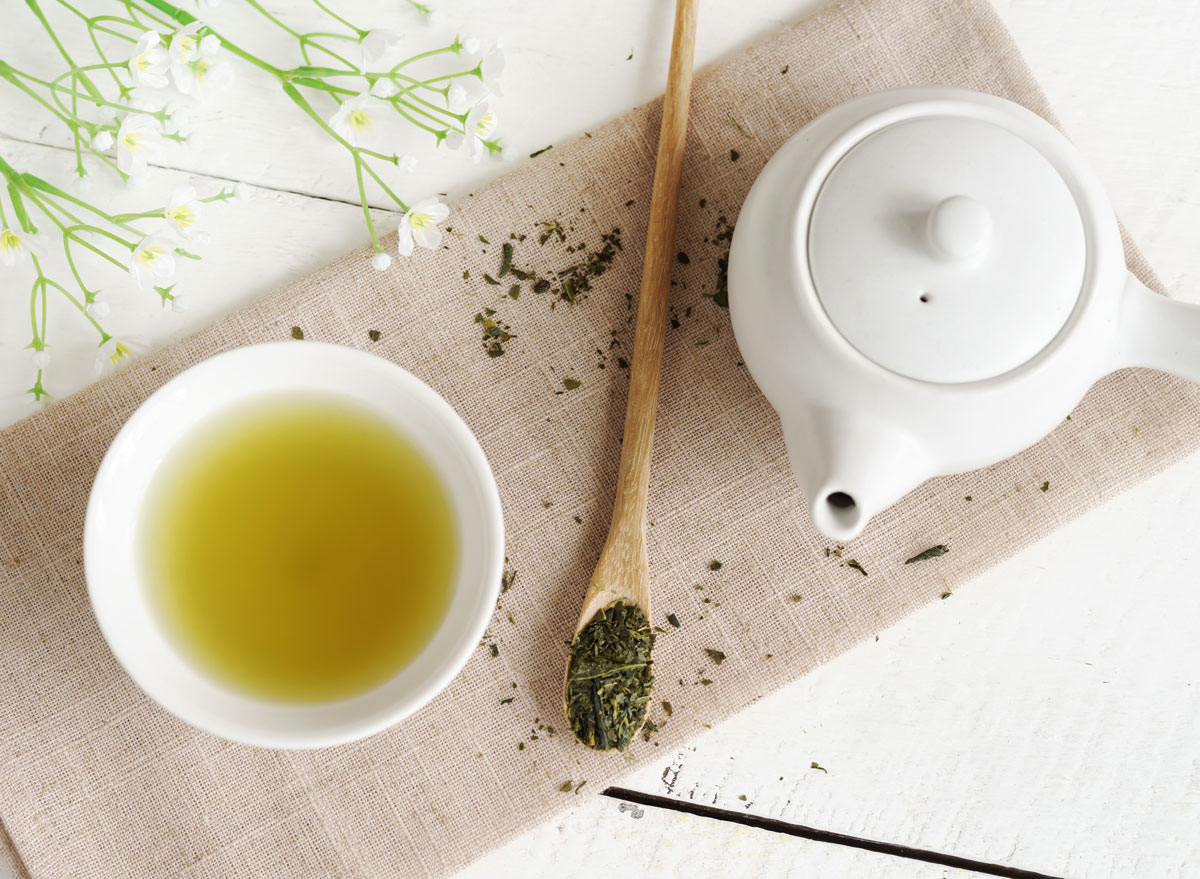 "Green tea is packed with antioxidants which have widespread health benefits from preventing illness, reducing inflammation, and even potentially preventing cancer. They work in the body to prevent and reduce cellular damage from toxins and free radicals. We take them in primarily through plant compounds, phytonutrients, and amino acids in the food we eat and the herbal teas we drink, like green tea. Green tea improves LDL cholesterol by reducing it, but it does not have an effect on HDL levels. The catechins, specifically, are responsible for this action in the body. Aside from the many health benefits, I enjoy the versatility of green tea. It can be enjoyed either hot or cold with added ingredients like honey and lemon or antioxidant-rich berries and citrus fruit," says Trista Best, MPH, RD, LD a registered dietitian at Balance One Supplements.6254a4d1642c605c54bf1cab17d50f1e
Related: 7 Amazing Benefits of Drinking Green Tea
Milk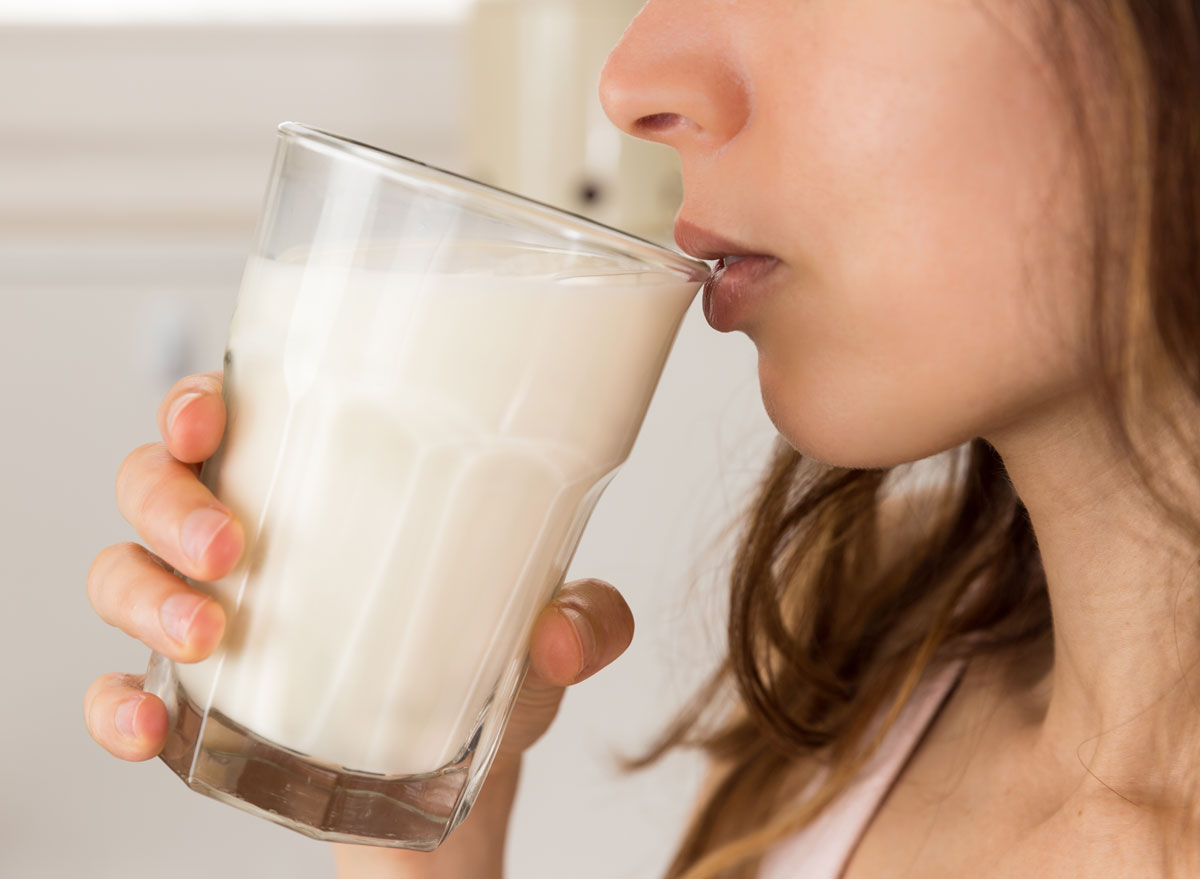 "Often given a bad rap, milk is loaded with great nutrients" says Becci Twombley, RD, the team sports dietitian for the Los Angeles Angels and the L.A. Lakers. "Science is yet to prove the downsides that are proposed such as increasing inflammation or mucous production. What we do know is that whey protein is the best option for promoting muscle repair and collagen formation. Milk contains all of the necessary electrolytes making it an ideal hydration option and is widely regarded as an excellent source of calcium, magnesium, and vitamin D – all crucial to bone health and metabolism. Importantly, however, quality matters! Low-fat milk that is produced in a facility that takes care to process responsibly ensures optimal nutrient delivery without added hormones or antibiotics should be top priority!" See: The Best Dairy Milk Brands To Buy, According to Nutritionists.
Sparkling Water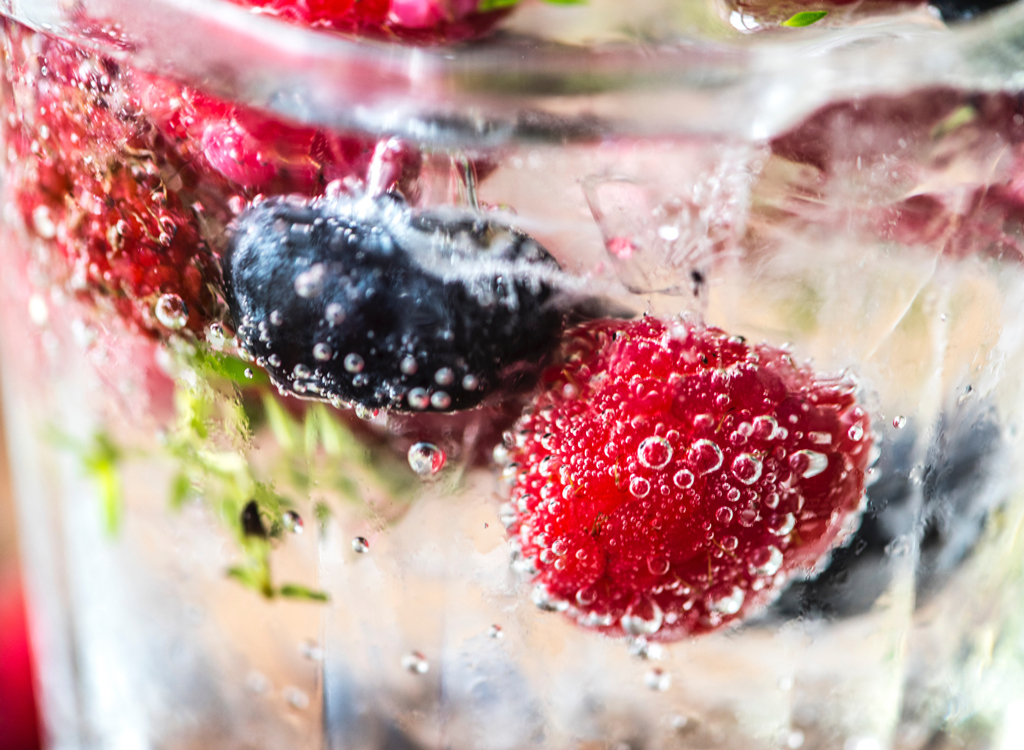 "When I am looking for some fizz, I go for seltzer water to hydrate. It can be a nice alternative to water without the overpowering sweetness of diet sodas. I recommend adding a slice of lime, lemon, orange or cucumber to add a hint of flavor and each of which have their own nutritional benefits," says Brenda Braslow, RD, registered dietitian for MyNetDiary. "I also find plain sparkling mineral water very light and refreshing. The carbonation in the mineral water comes from naturally occurring minerals like salts and sulfur compounds. I avoid the mineral waters with added juice and sugar because the calories can really add up! I like to add my own hint of flavor with mint, a lime, lemon, an orange wedge, or a few berries. Pour it into a tall glass on the rocks and you have a very refreshing drink!" For some healthy options, check out the 10 Best Sparkling Water Brands to Buy In 2020.
Tart Cherry Juice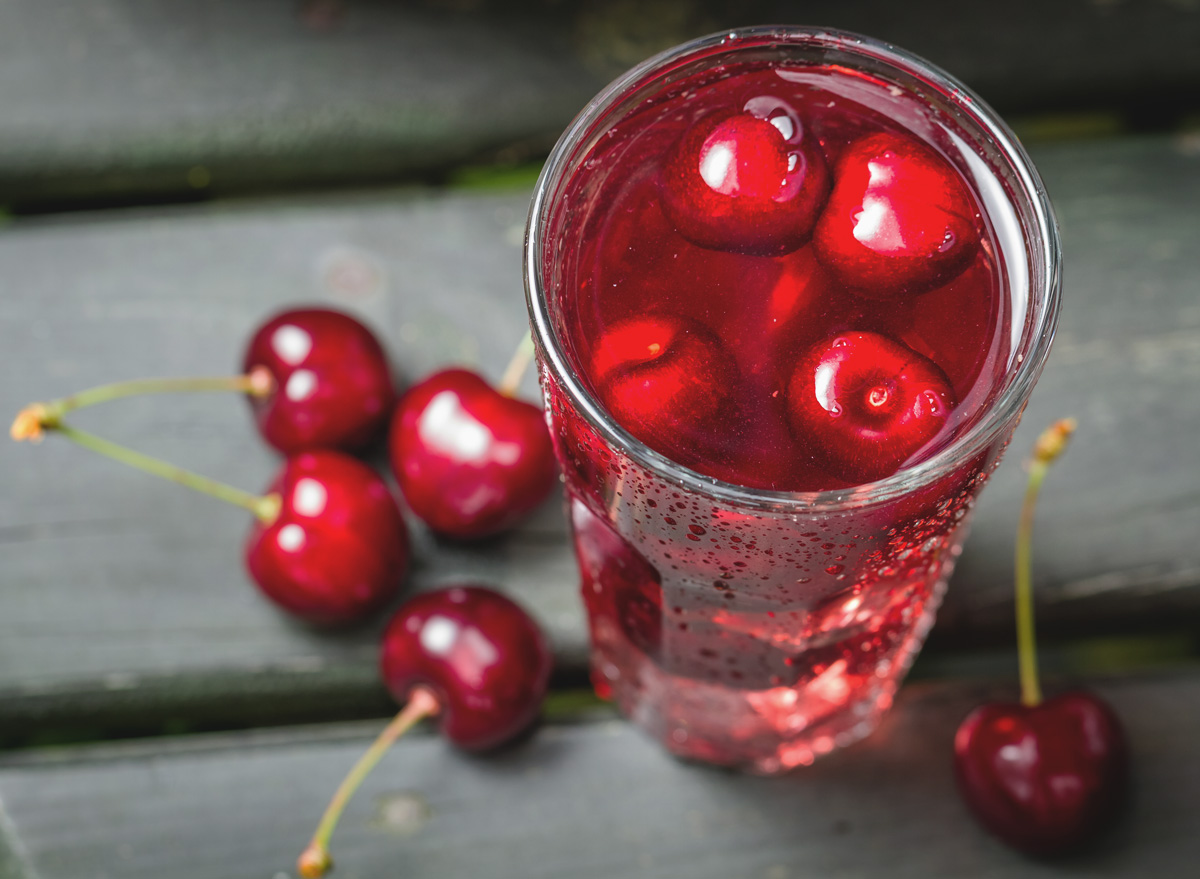 If you're looking for a new kind of nightcap, registered dietitian Dawn Jackson Blatner, RDN, CSSD, author of The Superfood Swap, suggests reaching for a glass of tart cherry juice: "Cherry juice has natural melatonin and has been shown to help improve sleep."
Promoting a restful night's sleep isn't the only benefit of drinking cherry juice. "Drinking 8 ounces of tart cherry juice twice a day will decrease inflammatory markers in the blood that are responsible for poor circulation and high blood pressure. When used after a training session or workout, it supports muscle recovery and can help with sleep quality and pain management especially in those that have osteoarthritis or gout," says Twombley, who adds that her go-to cherry juice is Cheribundi.
Beet Latte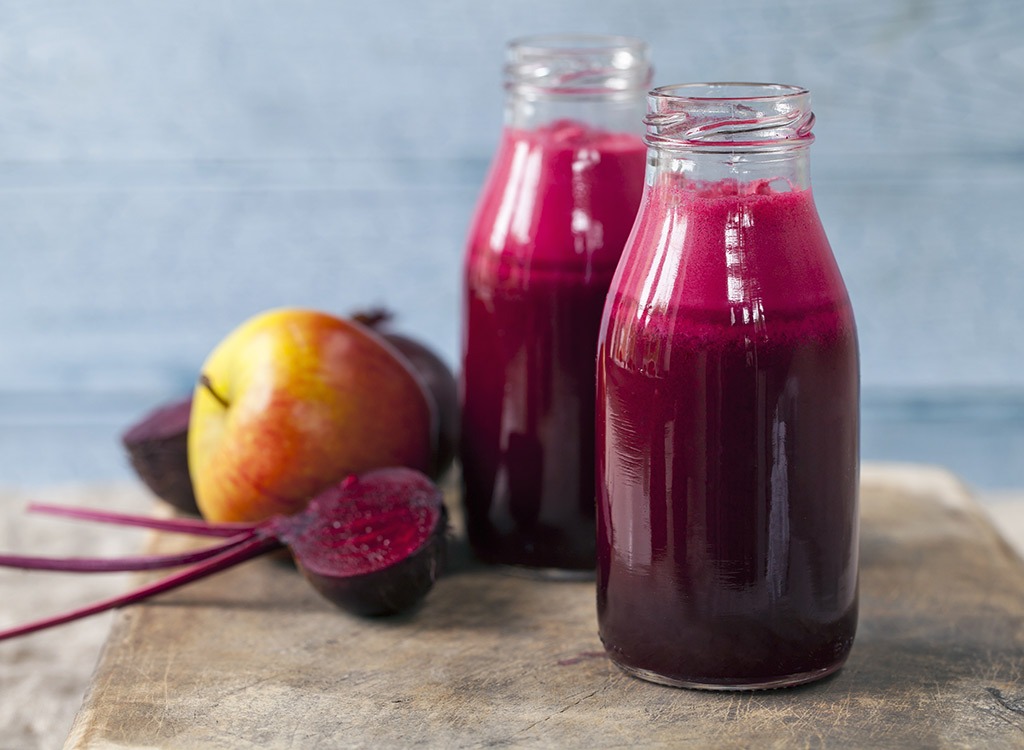 For an energy boost, Twombley suggests keeping beet juice in your fridge, as it supports the body's production of nitric oxide. "Nitric Oxide (NOS) is a chemical that touches every cell of our bodies! As we age, our ability to make NOS declines which makes it so important to eat foods that will promote the conversion of Nitrite to NOS. Better hormone regulation and blood flow will decrease the risk of disease and allow for a better quality of life with energy and libido. While getting the 16 to 20 ounces of 100% beet juice in daily can be a challenge, adding foods like spinach, kale, and arugula or foods high in citrulline like watermelon can also support NOS production."
You don't have to chug beet juice alone to enjoy it. Blatner recommends a beet latte: beet powder blended with a milk alternative. "Beets help create NO (nitric oxide) which opens blood vessels to let more energizing oxygen into your brain & muscles. Natural high!"
Ginger Tea
If you're looking for a cure for after-dinner bloating, Blatner recommends fennel, ginger, or peppermint tea. "Any one of these helps relax the digestive tract and ease bloating and post-meal discomfort."
Green Juice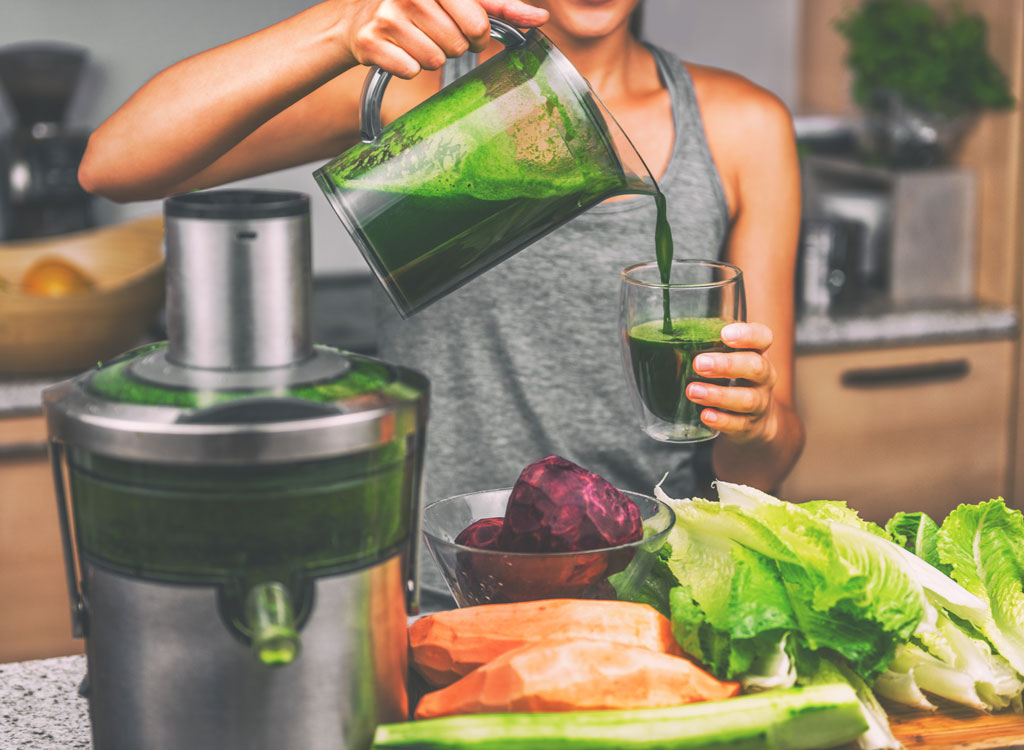 But not just any green juice. Twombley recommends one that includes turmeric and ginger. "Although the buyer must beware of the amounts and quality of the juiced ingredients – the chlorophyll from juiced spinach and kale in combination with the curcumin from turmeric and gingerol in ginger can support the immune system when consumed consistently," she says. "Its important to note this is not a replacement for whole fruits and vegetables that contain much-needed fiber and other nutrients, but juicing can serve as a targeted nutrient delivery to recovering cells."
Protein Drinks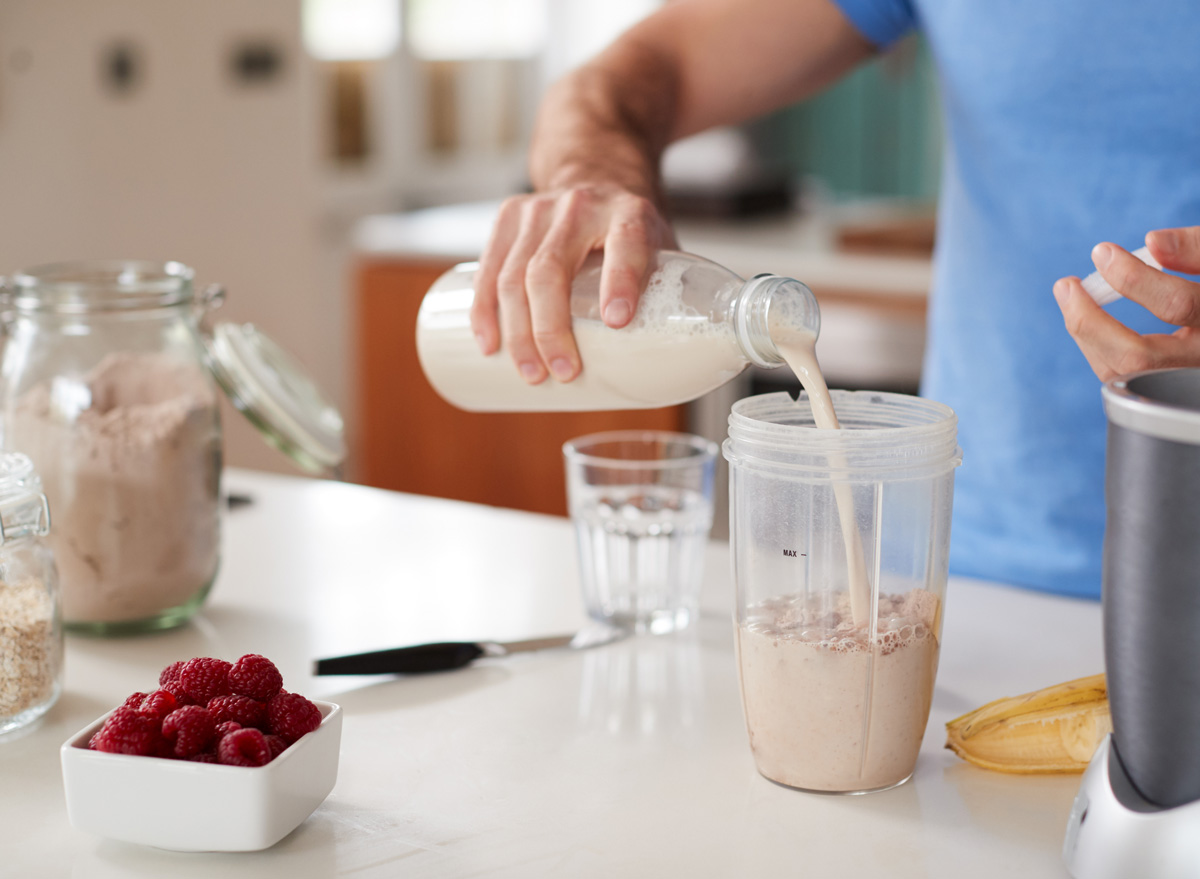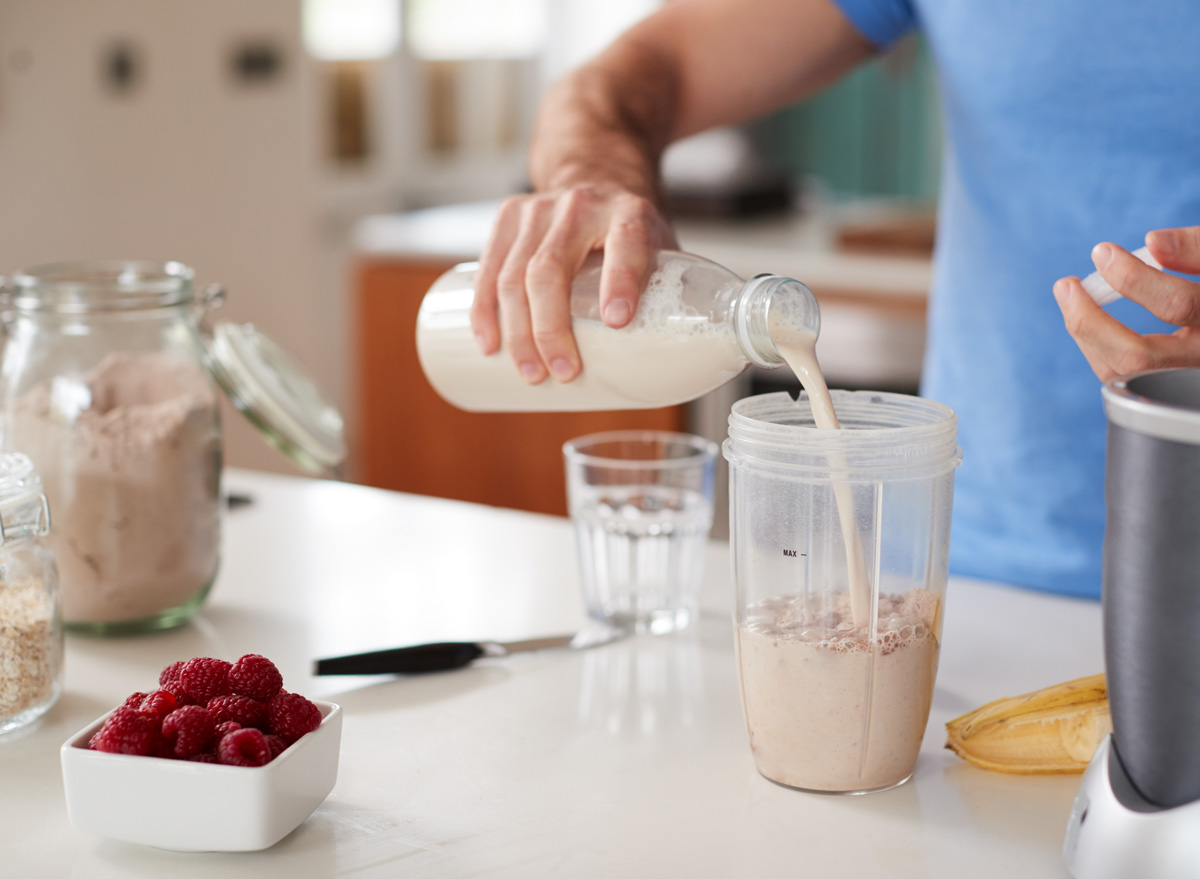 "One of my go-to favorite drinks between meetings or post-workout is a protein drink," says Angie Asche, MS, RD, CSSD of Eleat Sports Nutrition. You're always welcome to make your own protein shake recipe, but if you're in a hurry, consider buying a bottled protein drink. Asche's go-to is Koia, a plant-based bottled protein shake that's on our list of the 10 Best Store-Bought Protein Shakes, According to Experts. "It's so satisfying; providing 18 grams of plant-based protein and only 4 grams of sugar. I'll sometimes have one for breakfast if I'm traveling, and pair it with some fruit like a banana."
Olivia Tarantino
Olivia Tarantino is the Managing Editor of Eat This, Not That!, specializing in nutrition, health, and food product coverage.
Read more about Olivia