11 Quick & Easy Keto Breakfast Recipe Ideas You'll Be Surprised Are Low-Carb
Pancakes, muffins, and casseroles—the low-carb options are endless with the right keto spin.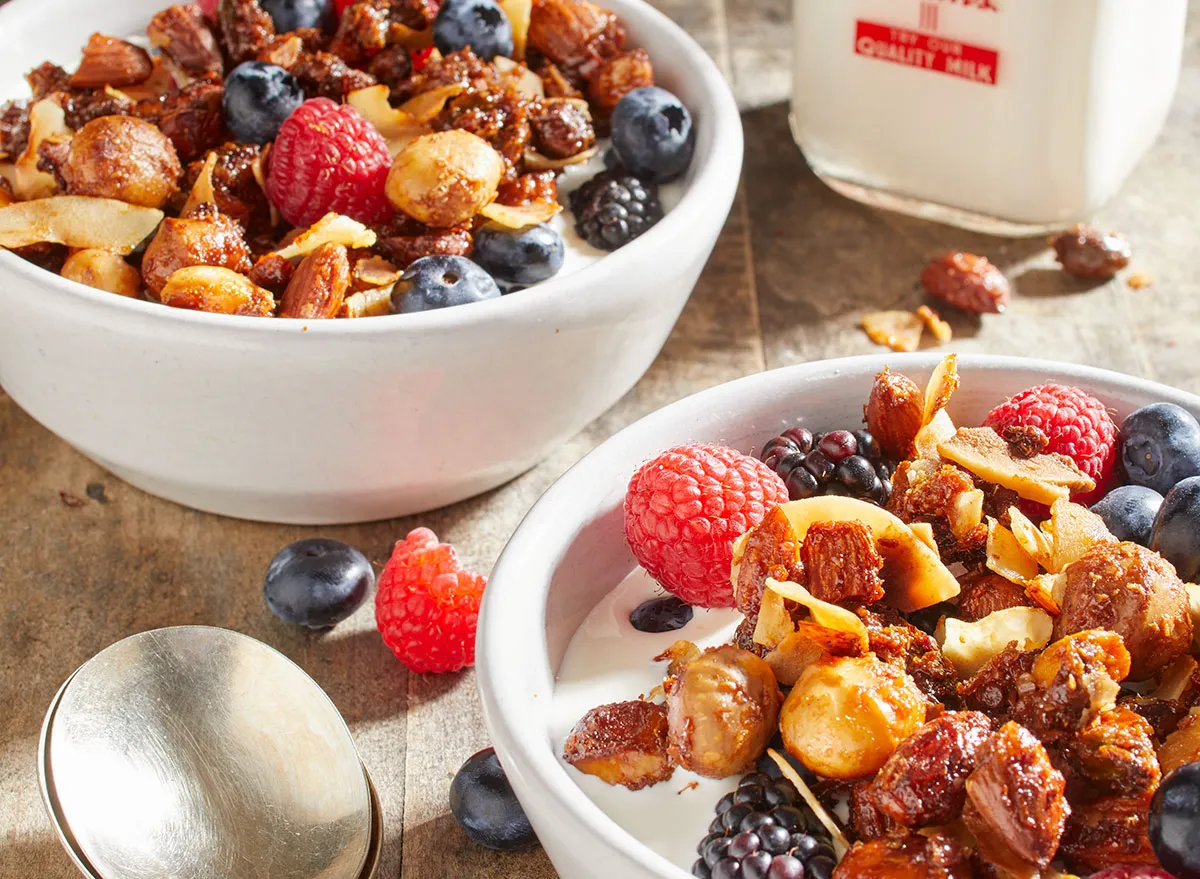 If you've recently adopted the keto diet lifestyle, the first order of business you're going to want to take care of is breakfast. See, now that traditional carbs and sugar are off the table, you're probably wondering what type of keto breakfast ideas are out there that happen to be delicious, low-carb, and low-sugar. Most people don't have a ton of time in the morning to be spending hours in the kitchen preparing and cooking up their first meal of the day, and that's where our quick keto breakfast recipes come in to save the day.
From keto pancakes to a keto breakfast casserole to options that don't include eggs (yes, really!), we've rounded up 11 quick and easy keto breakfast recipes you're going to want to try out ASAP.
Just because you're following a low-carb diet doesn't mean you can no longer kickstart your morning with some flapjacks. What's great about this keto pancakes recipe is that it is very easy to make. While it might call for ingredients that aren't necessarily in your usual pancakes, once you round up the almond flour, coconut flour, and collagen peptides, everything else you'll need you can easily find in your kitchen. Plus, these keto pancakes are truly fluffy, and what better breakfast is there than a plate full of fluffy pancakes?
Get our recipe for Keto Pancakes.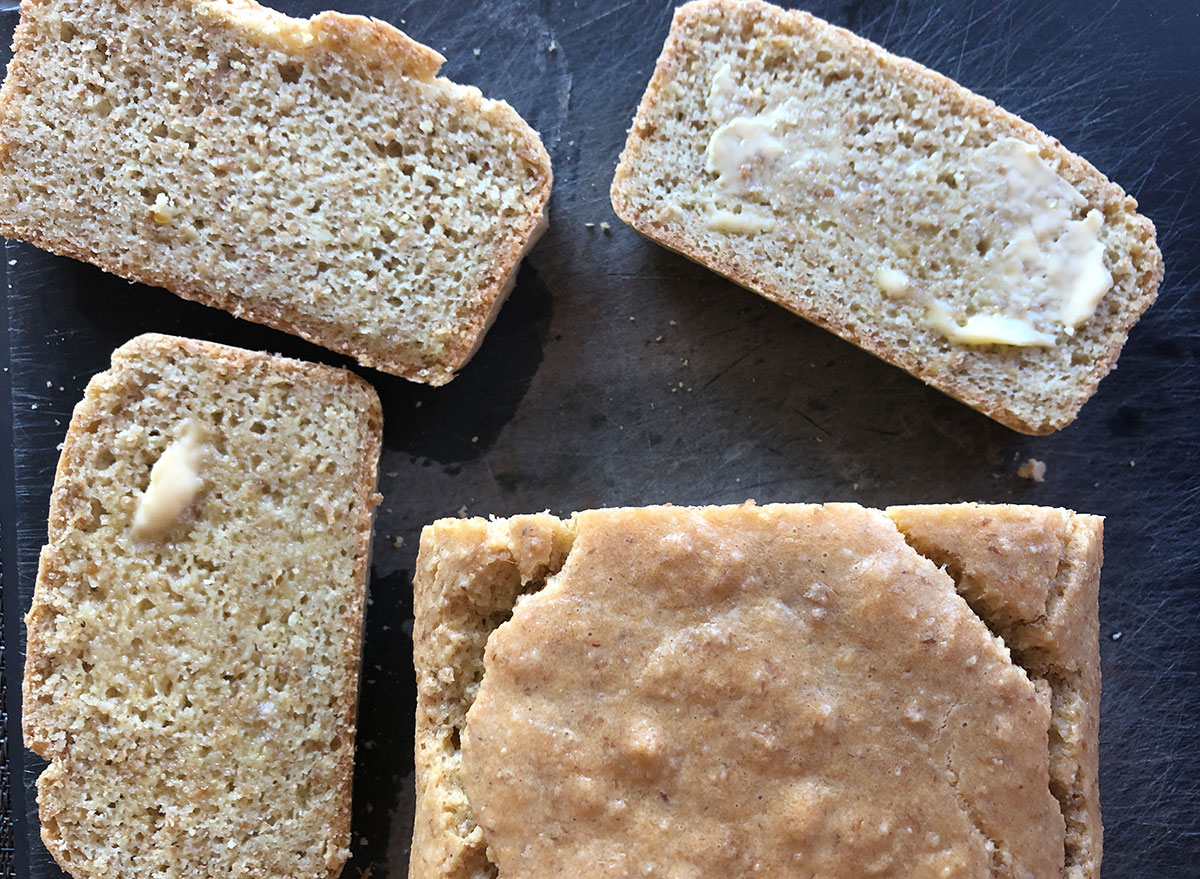 The keto diet is obviously low-carb, so you might think bread is entirely off the table. But this keto bread recipe—which features almond flour, flax meal, vinegar, baking powder, and baking soda—is perfect if you're just wanting a slice to pair with eggs or if you're in the mood to cook up some French toast that's keto-compliant.
Get our recipe for Best Keto Bread.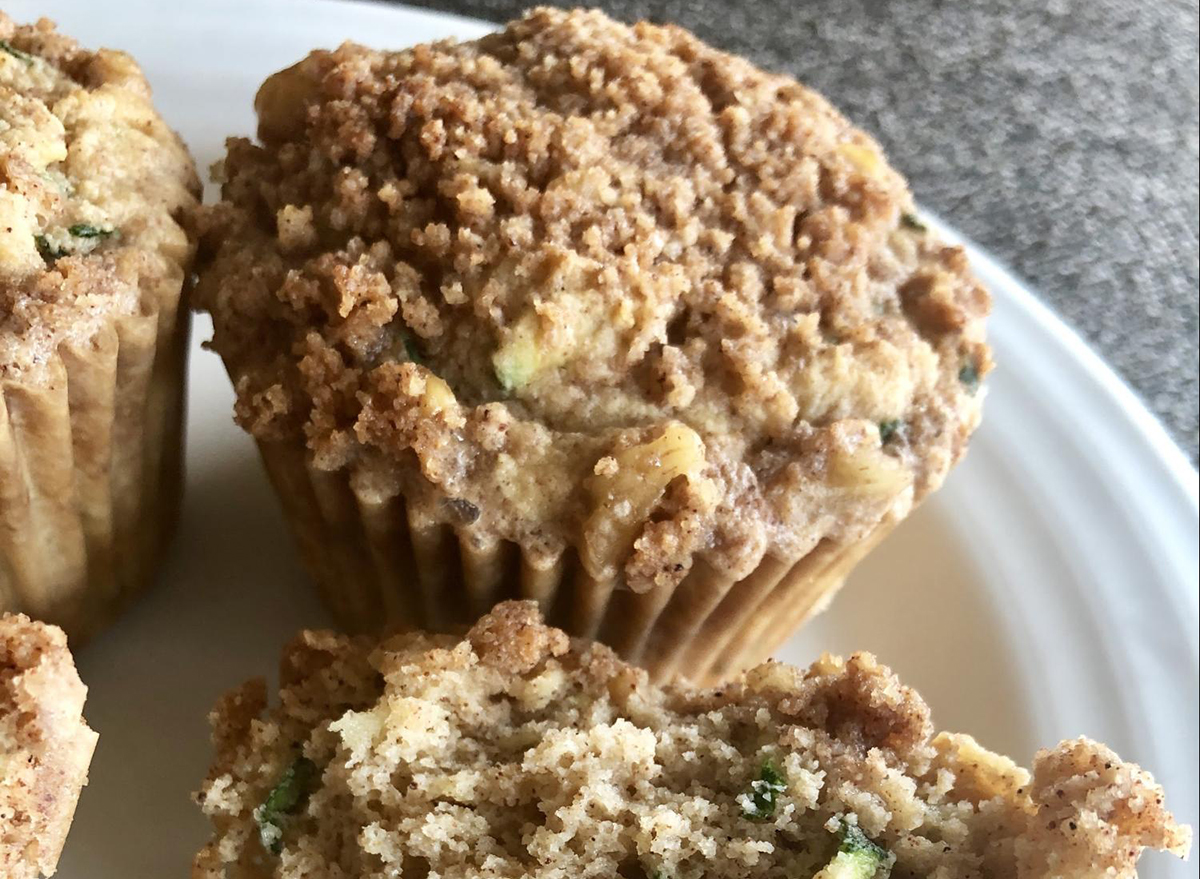 These zucchini streusel keto muffins take about 15 minutes to prep, and then an additional half-hour to bake in the oven, so you don't need a ton of time to have this treat on hand to start your day. These keto breakfast muffins are made with almond and coconut flour, milk, and zucchini, a truly versatile vegetable for these low-carb muffins.
Get our recipe for Keto-Friendly Muffins.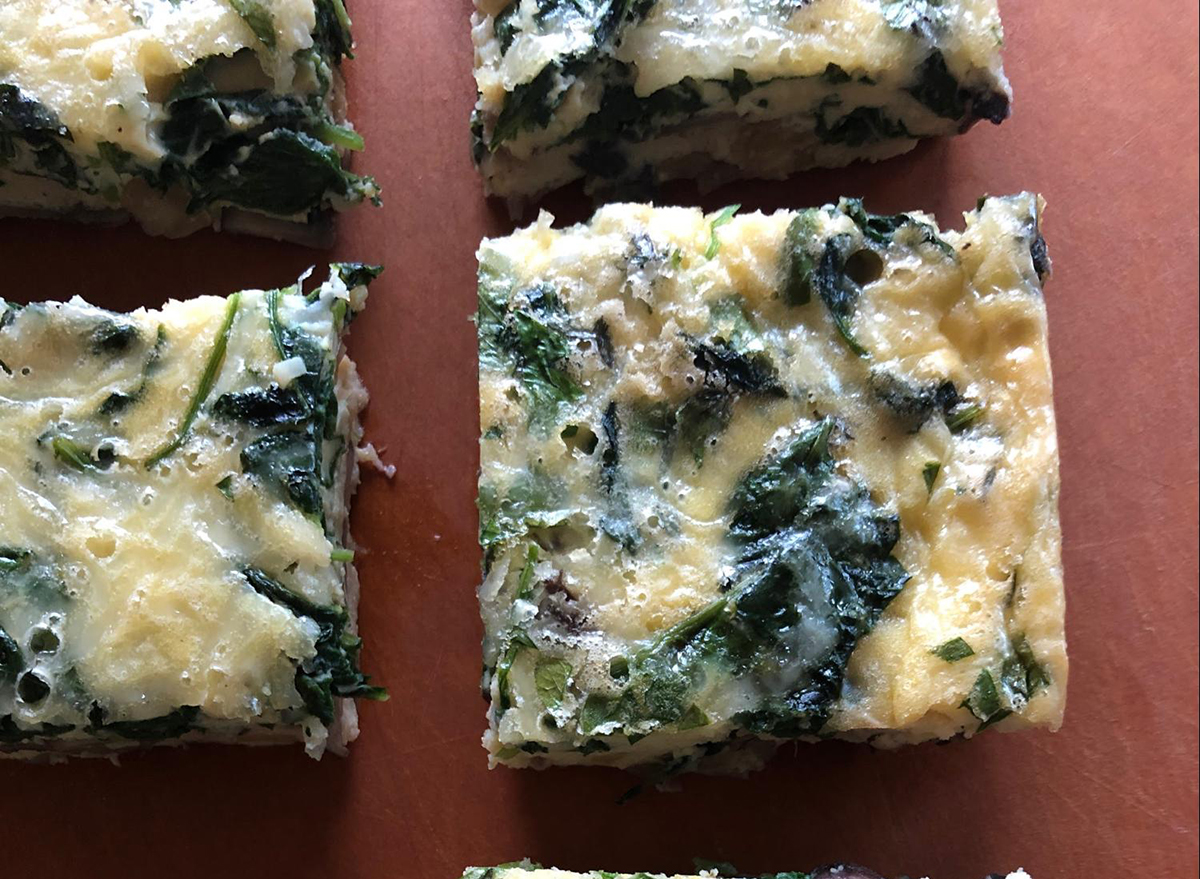 This keto breakfast casserole is the perfect way to change up the typical way to eat eggs. In this recipe, mushrooms, baby kale, and caramelized onions come together in the egg-based casserole for a savory breakfast dish that will leave you with plenty of leftovers you can easily eat over the span of a few days. Talk about an easy meal prep!
Get our recipe for a Keto Breakfast Casserole.
Keto Smoked Salmon on Cucumber Slices With Lemon-Avocado Sauce
There is nothing wrong with having a savory fish dish for breakfast, and this keto salmon dish with cucumbers is proof. What makes this salmon meal is the "everything" seasoning it's topped with. It's all the flavors you would find if you took a bite of an everything bagel—salt, sesame seeds, onion, garlic, poppy seeds—but without the actual bagel.
Get our recipe for Keto Smoked Salmon on Cucumber Slices With Lemon-Avocado Sauce.
Keto Granola With Nut and Coconut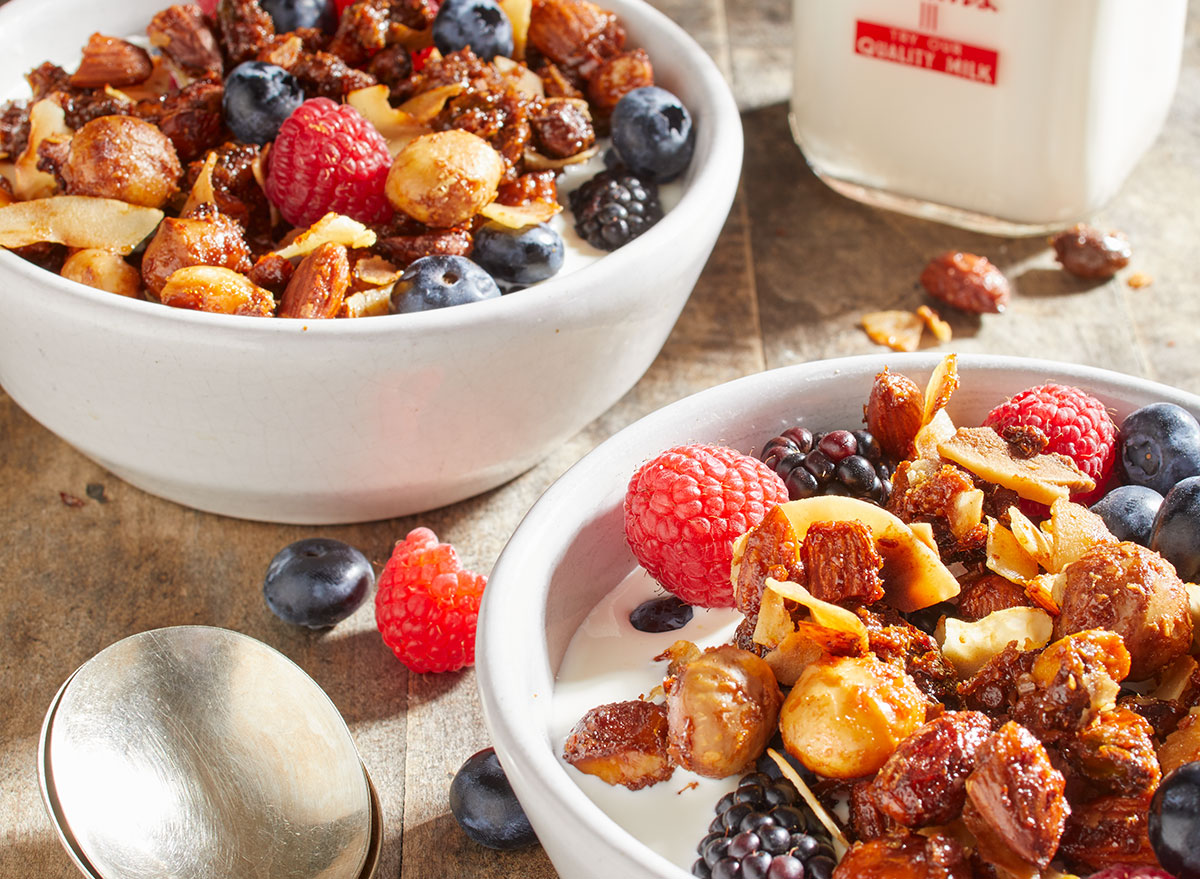 Granola seems like something you wouldn't necessarily be turning to when you're following the keto diet, as it often has a high sugar and carbohydrate count. However, this keto granola recipe keeps the carb count low, as its base is made is of raw almonds, macadamia nuts, pistachio nuts, and coconut chips. Add some berries to this keto granola recipe along with whole milk or even a full-fat yogurt, and you're all set for a filling morning meal.
Get our recipe for Keto Nut and Coconut Granola.
Keto (And Vegan) Golden Milk Chia Pudding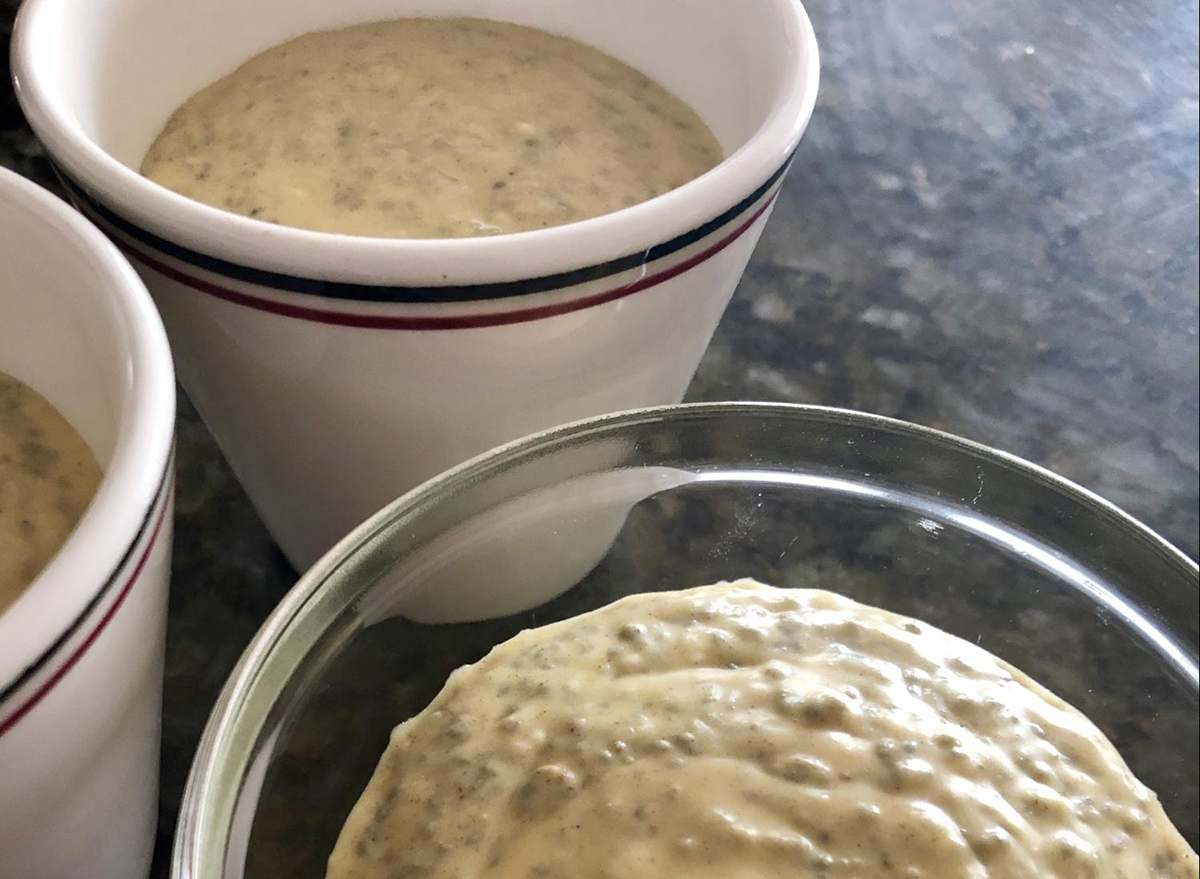 This keto chia pudding recipe features turmeric, cinnamon, ginger, cardamom, and coconut milk. Talk about a spicy and flavorful combination! These ingredients make for a healthy mix, as turmeric is the superfood that has been used in Ayurvedic medicine for thousands of years to help treat everything from inflammation to bacterial-related ailments, while cinnamon has been said to help control blood sugar and fight against diabetes. Plus, this chia pudding recipe isn't just keto-friendly, but it's vegan as well.
Get our recipe for a Keto (And Vegan!) Golden Milk Chia Pudding.
Keto Eggs Baked in Cream With Prosciutto, Parmesan, and Basil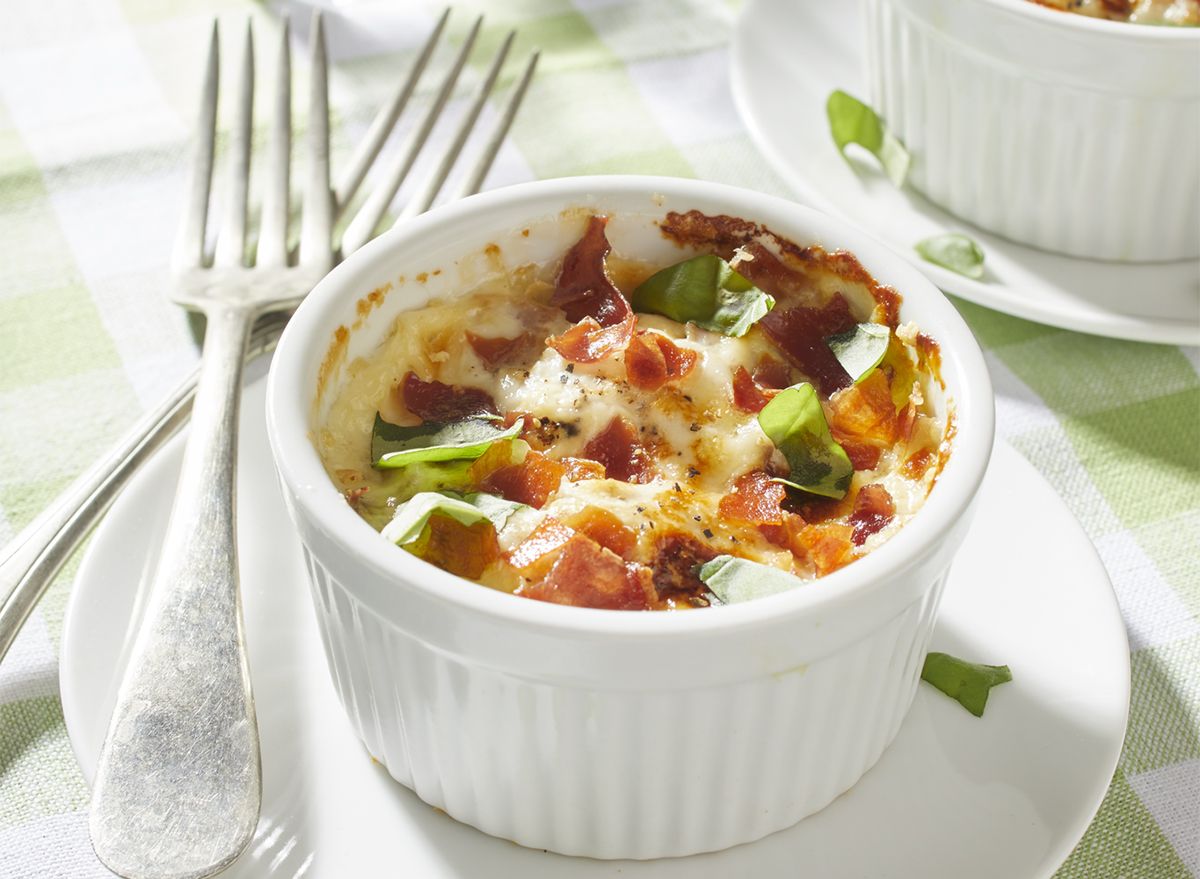 6254a4d1642c605c54bf1cab17d50f1e
Here, we have a keto eggs recipe that brings a ton of flavor and goes beyond a basic scramble. This dish features butter, heavy cream, cheese, eggs, and prosciutto—can you think of anything more appropriate for a keto breakfast?
Get our recipe for Keto Eggs Baked in Cream With Prosciutto, Parmesan, and Basil.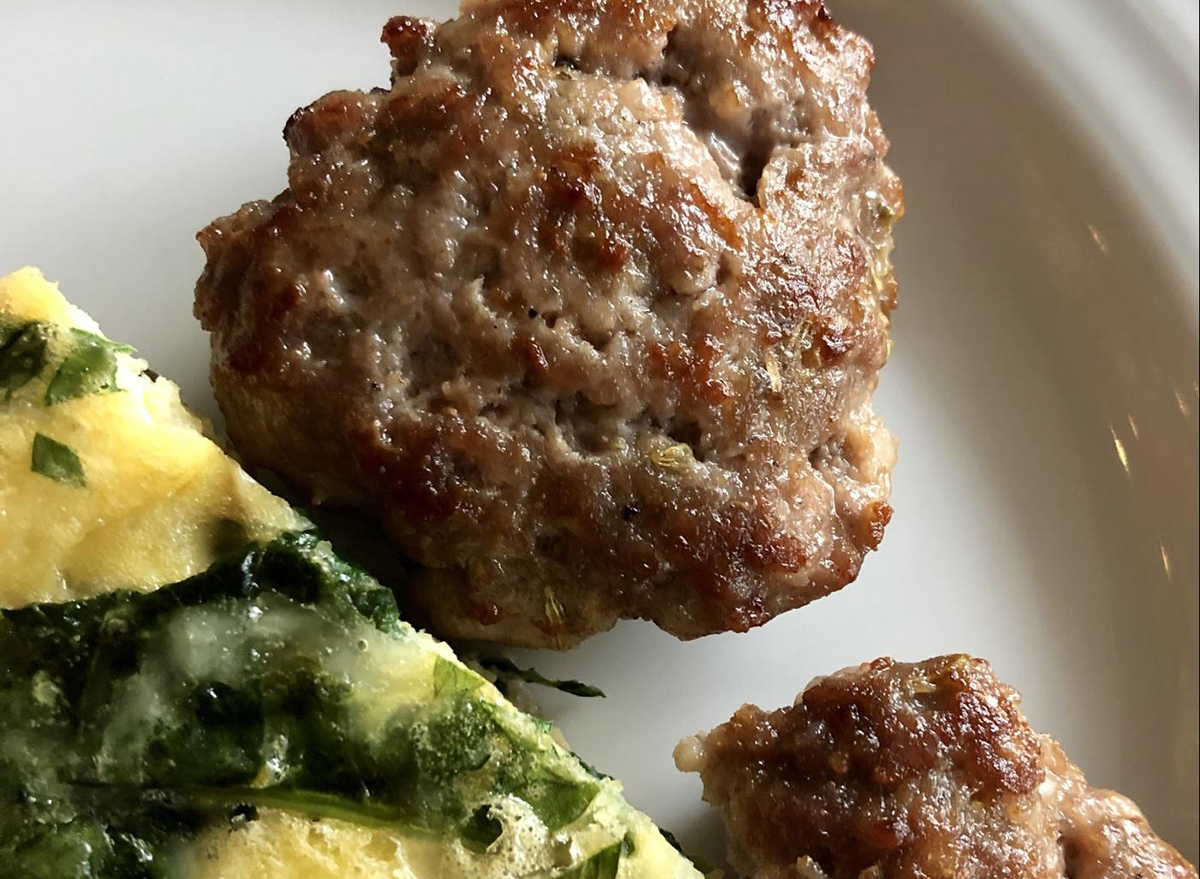 A homemade, keto pork sausage is a lot easier to make than you may think! With just 10 minutes of prep time and six minutes to cook, it doesn't take long for this keto sausage recipe. It is also made with fennel seeds, which are great for helping relieve any bloating you may have, so you're aiding your digestion by adding them to this breakfast dish!
Get our recipe for Keto Breakfast Sausage.
Keto Frizzled Eggs and Sausage With Sauteed Greens Recipe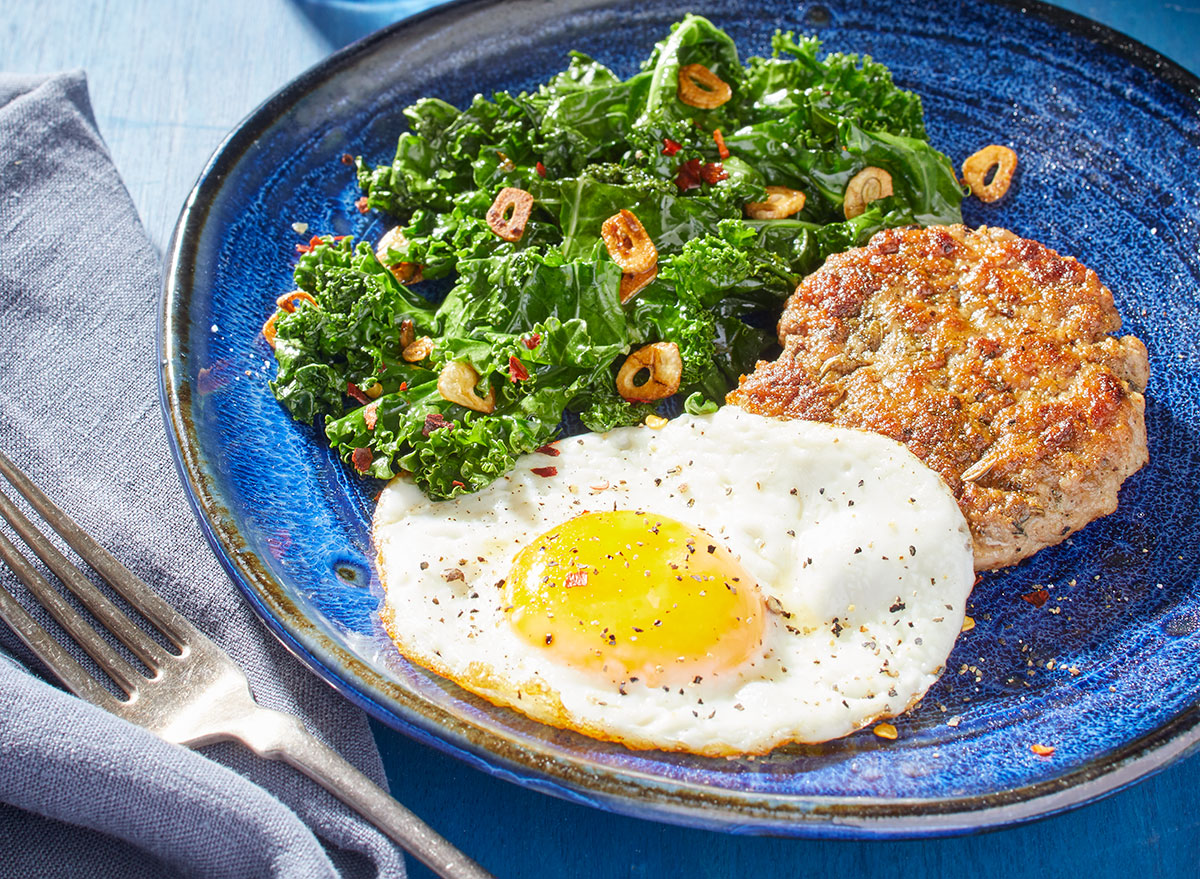 No carbs, no problem! This keto eggs recipe is the perfect dish to have you feeling full and ready for your day. It's full of protein and healthy nutrients that will have you feeling satisfied until lunch.
Get our recipe for Keto Frizzled Eggs and Sausage With Sauteed Greens Recipe.
Keto Bacon and Cheese Breakfast Sandwich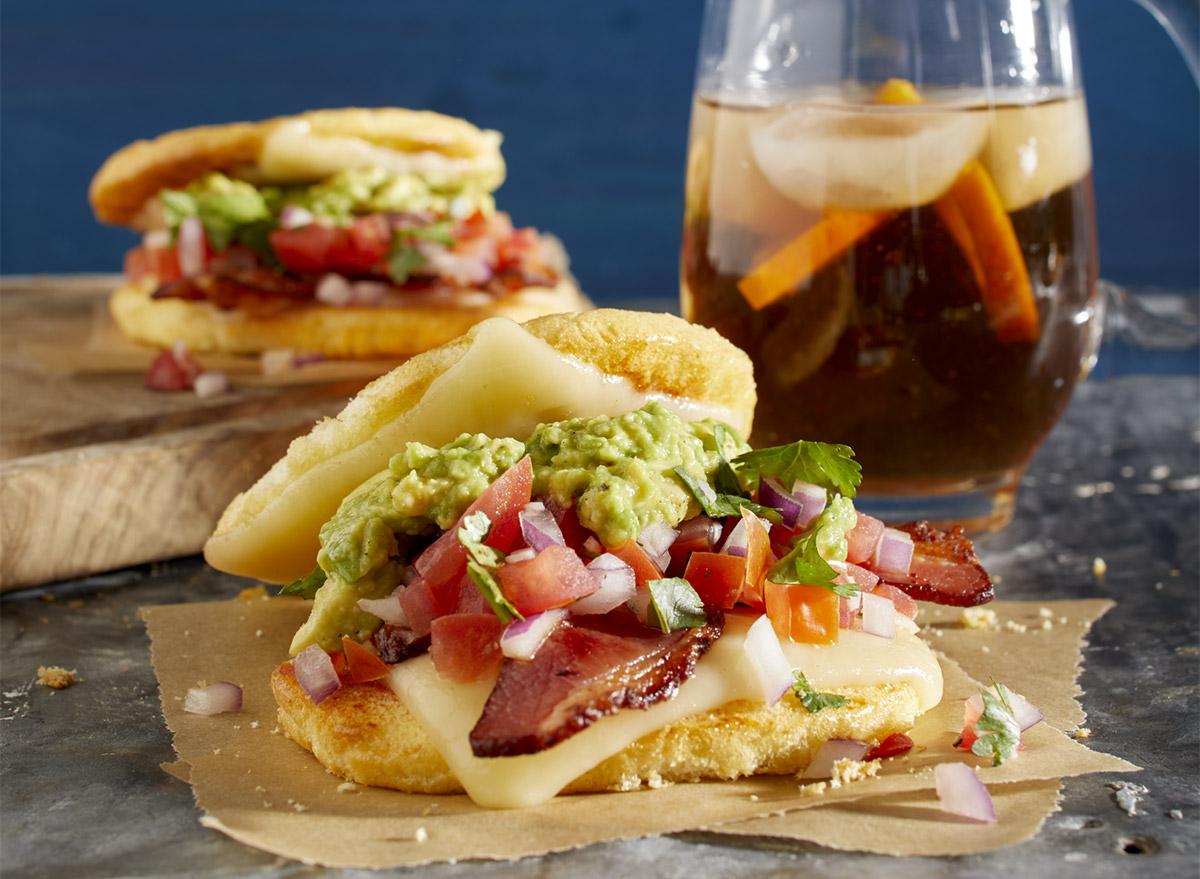 And here we have more evidence that you won't have to give up every breakfast staple you love when you adopt the keto diet. This keto breakfast sandwich with bacon, cheese, pico de gallo, and guacamole uses cloud bread, the lighter-than-air, low-carb bread substitute that's keto-friendly.
Get our recipe for a Keto Bacon and Cheese Breakfast Sandwich.
Jennifer Maldonado
Jennifer Maldonado is a senior editor at Eat This, Not That!, specializing in food and health content.
Read more about Jennifer