8 Kirkland Items You Shouldn't Buy at Costco, Customers Say
Costco has several fan-favorite Kirkland items, but not every product is a winner.
The product recommendations in this post are recommendations by the writer and/or expert(s) interviewed and do not contain affiliate links. Meaning: If you use these links to buy something, we will not earn a commission.
If you're one of Costco's more than 124 million cardholders, there's one brand name that probably pops up more than all the others when you scour the grocer's aisles: Kirkland Signature. The Kirkland Signature stamp only marks private-label products from Costco's beloved house brand, ranging from prepared meals to pantry staples and even cleaning supplies.
While name brands are often more recognizable than private-label goods, many Kirkland brand items have more than proved that they deserve a spot in Costco's limited product inventory. For example, the retailer offers a range of Kirkland cheeses, tantalizing snacks, frozen foods, and even alcohol products that frequently garner praise from shoppers.
But not every Kirkland item has turned out to be a winner with customers—and Costco members are far from shy about sharing when they think a certain Kirkland product isn't up to scratch. Of course, every grocery store product in the world probably has its fans and its critics. However, there are certain Costco products that many shoppers criticize, so any issues with these items come down to more than just personal taste.
Here are eight Kirkland Signature items that customers say you're better off avoiding.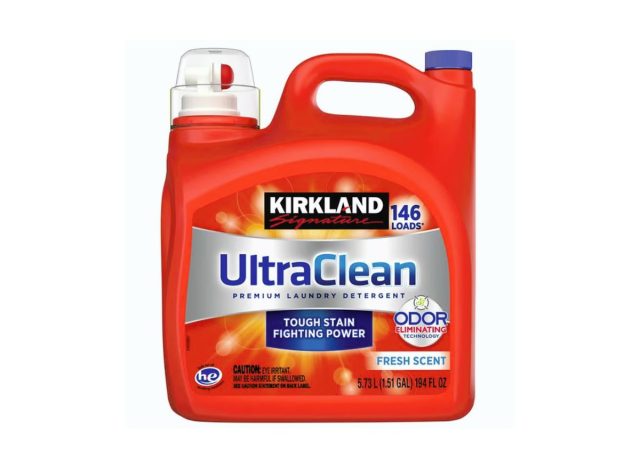 The Kirkland Signature Ultra Clean Liquid Detergent is one product that many Costco shoppers agree leaves a lot to be desired.
In a recent Reddit thread about Kirkland items that should be avoided, the house brand's liquid laundry detergent was one of the most frequently mentioned products. Customers with sensitive skin have reported getting rashes after using the product. Others have complained that the product just doesn't work as well as the other detergent options you'll find at Costco or other grocers.
"Kirkland liquid detergent (not the pods) doesn't really clean my clothes as good as Tide, and my clothes need an additional rinse because of the soap suds left in the washer (yes, I've changed up the amount of detergent I pour in the tank)," a Redditor explained.
Another shopper went so far as to call the product "mystifyingly bad."
Per Serving (1 link)
: 280
cal, 22 g fat (8 g saturated fat), 70 mg sodium, 2 g carbs (0 g fiber, 2 g sugar), 18 g protein
While the Kirkland Signature Original Bratwurst does have its fans, others say that you can do much better than Costco's version of this cookout staple. 
Many Costco customers have knocked the Kirkland brats for both their taste and texture. "Underwhelming," "mediocre," and "bland" are only some of the descriptors that members have used for the unsavory sausages.
"I hated the Kirkland Brats. Just didn't have a good flavor compared to others," one critic shared on Reddit.
If you need to pick up a pack of batteries at Costco, many customers recommend that you stay away from the Kirkland Signature version. Many members have complained on Reddit that these batteries have a major leakage issue. 
"Kirkland batteries are terrible. They don't last as long and there [are] always a few in a pack that break open in a device," one customer shared.
"They seem to corrode rapidly," another shopper noted.
The verdict from these critics is that you'll have much better luck when you opt for name-brand batteries.
"Switched back to Duracell. The Kirkland brand leaks too often," a Redditor wrote.
The Kirkland Signature Bath Tissue wasn't always a highly-criticized product, but astute customers have noticed a major downturn in quality for the household staple. In recent months, they've reported that the paper product has gotten too thin and delicate and tends to release tons of particles into the air when they open a new roll or rip off a piece of tissue. 6254a4d1642c605c54bf1cab17d50f1e
For these reasons, many Costco shoppers have sworn off the Kirkland item and say you're better off buying a name brand.
"It used to be so good. Now it's awful and I'm forced to buy Charmin," one shopper recently lamented on Reddit.
"Just got a new package and yes, it's terrible! Stiffer and rougher," another Redditor wrote.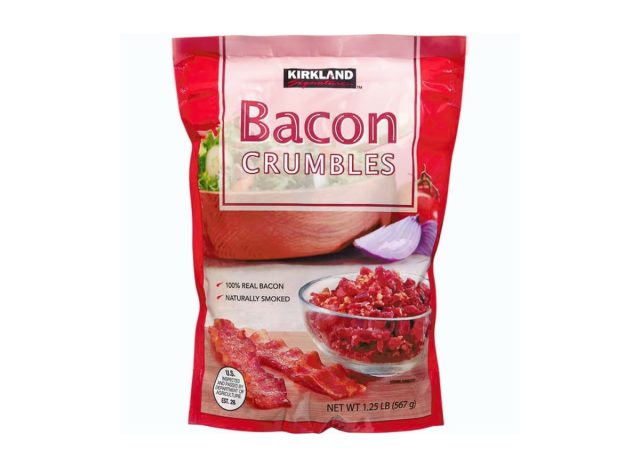 Per Serving (1 tbsp)
: 30
cal, 2 g fat (1 g saturated fat), 125 mg sodium, 0 g carbs, 2 g protein
Many passionate carnivores will attest that even bad bacon is good bacon. Unfortunately, that philosophy doesn't seem to apply to Costco's Kirkland Signature Bacon Crumbles. 
Customers have reported that they're much fattier than name-brand versions. And while it's possible that some shoppers prefer their bacon extra fatty, many found the texture of this Kirkland item to be off-putting. 
"I couldn't believe how bad they were, I couldn't get through the whole bag because of how gristly they were," a shopper groaned on Reddit.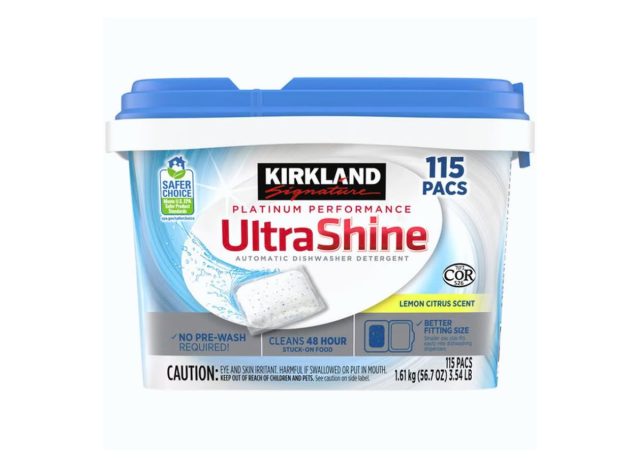 If there's any grocery store product that you'd be better off leaving on shelves, it's one that doesn't properly do its job. The Kirkland Signature Dishwasher Pacs are guilty of this flaw, according to customers.
Many Costco shoppers have complained that they'll wash a load of dishes and find that the cleaning tabs didn't release during the cycle. 
"I returned mine – they would be in the dispenser after a full load ran," a customer wrote on Reddit.
Some shoppers have also reported that the tabs leave an unwanted residue on their dishes, while others said the Kirkland Signature item just doesn't do the job as well as its name-brand rivals.
"The dishwasher detergent. Definitely doesn't clean as well as Cascade," a Redditor said.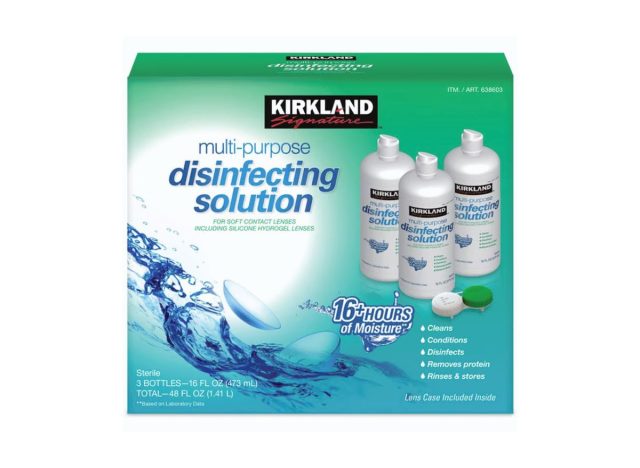 Name brands aren't always an improvement over their private-label counterparts. But when it comes to contact lens solution, many Costco shoppers agree that the name brands are superior.
Customers say that the Kirkland Signature Multi-Purpose Disinfecting Solution is quite literally hard on the eyes. 
"I don't like the Kirkland brand contact solution. My contacts don't feel as comfortable and moist for as long when I use it compared to name brands. Which makes me sad because it's so much cheaper," a customer wrote on Reddit.
"The Kirkland contact lens solution isn't as lubricating as any of the other solutions," another said.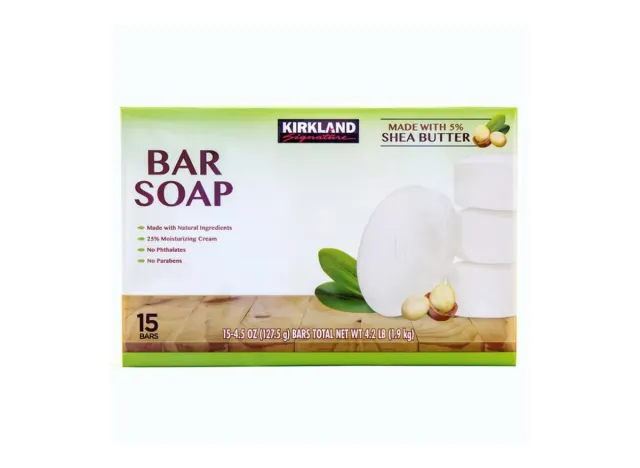 Many customers consider the Kirkland Signature Bar Soap to be a Dove knockoff, but they don't believe it lives up to the popular name brand. Shoppers have complained that the soap dissolves way too quickly in comparison to other brands, giving them less bang for their buck.
To make matters worse, some members said the soap also leaves an undesirable residue in their showers when they use it.
"Their bar soap sucks. It really does dissolve fast and will leave soft scum everywhere in the shower," a shopper wrote on Reddit.
Zoe Strozewski
Zoe Strozewski is a News Writer for Eat This, Not That! A Chicago native who now lives in New Jersey, she graduated from Kean University in 2020 with a bachelor's degree in journalism.
Read more about Zoe