The Worst Guilty Pleasure Foods on the Planet
These sure are delicious, but in terms of your health, they're not doing you any favors.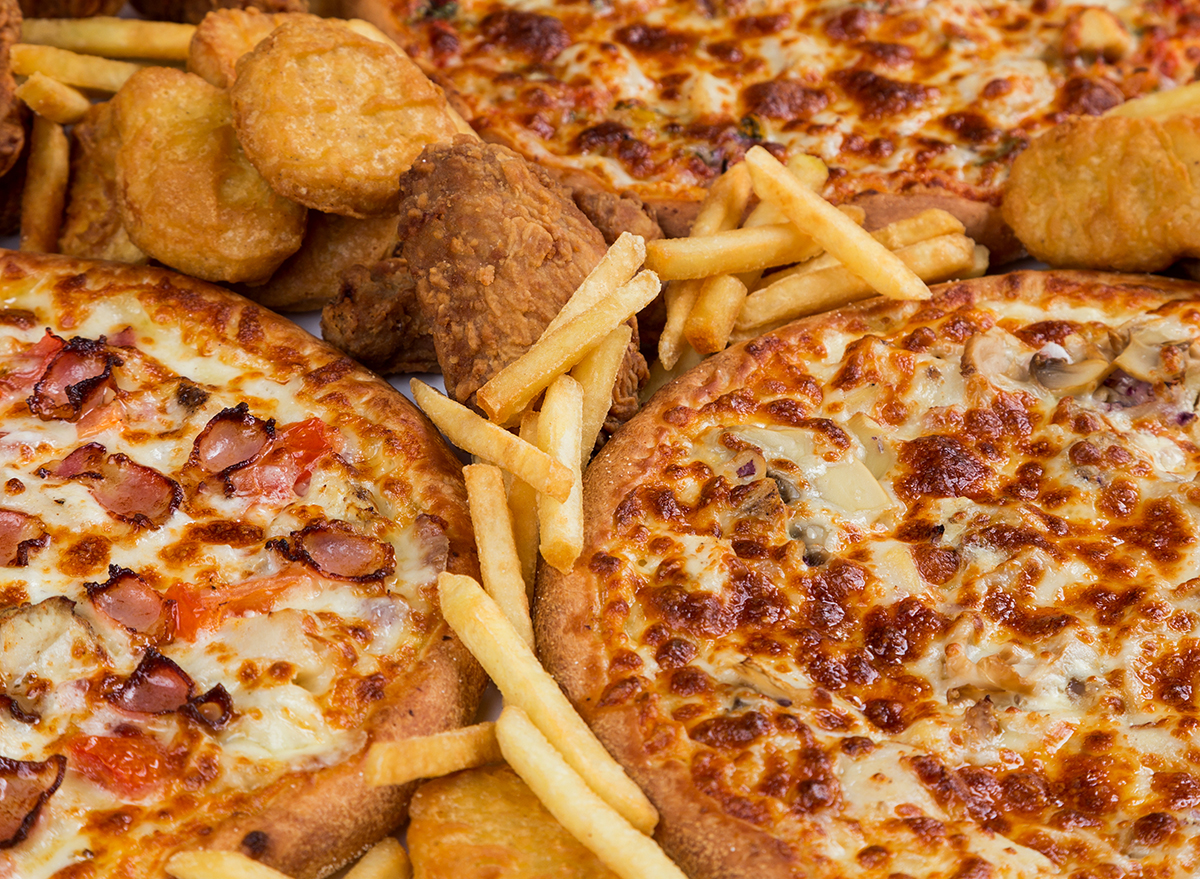 It doesn't matter how many kale-and-quinoa salads you consume or steel-cut oats you spoon into your mouth; we all have a few delicious treats that we simply can't live without. It's one thing to control cravings, but what can't you give up entirely? We set out to find out where Americans draw the line when it comes to our biggest guilty pleasure foods.
We take a look at some of the most popular guilty pleasure foods, and list out the specific items that are the unhealthiest of them all. This way, you know exactly what you're in for if you decide to indulge. And if you're really looking to stock up your kitchen with the right types of food, check out The 7 Healthiest Foods to Eat Right Now.
Belgian waffles tend to be bigger and thicker with deeper grids meant to hold even more syrup, butter, and cream, so that right there is reason enough to avoid choosing this as a breakfast option when you find yourself out to eat at a diner. Plus, they often get loaded with sugar and sweet batters, so they can go from bad to worse. They're also loaded with simple carbs, which makes them too easy to digest and not very promising when it comes to keeping you full and focused.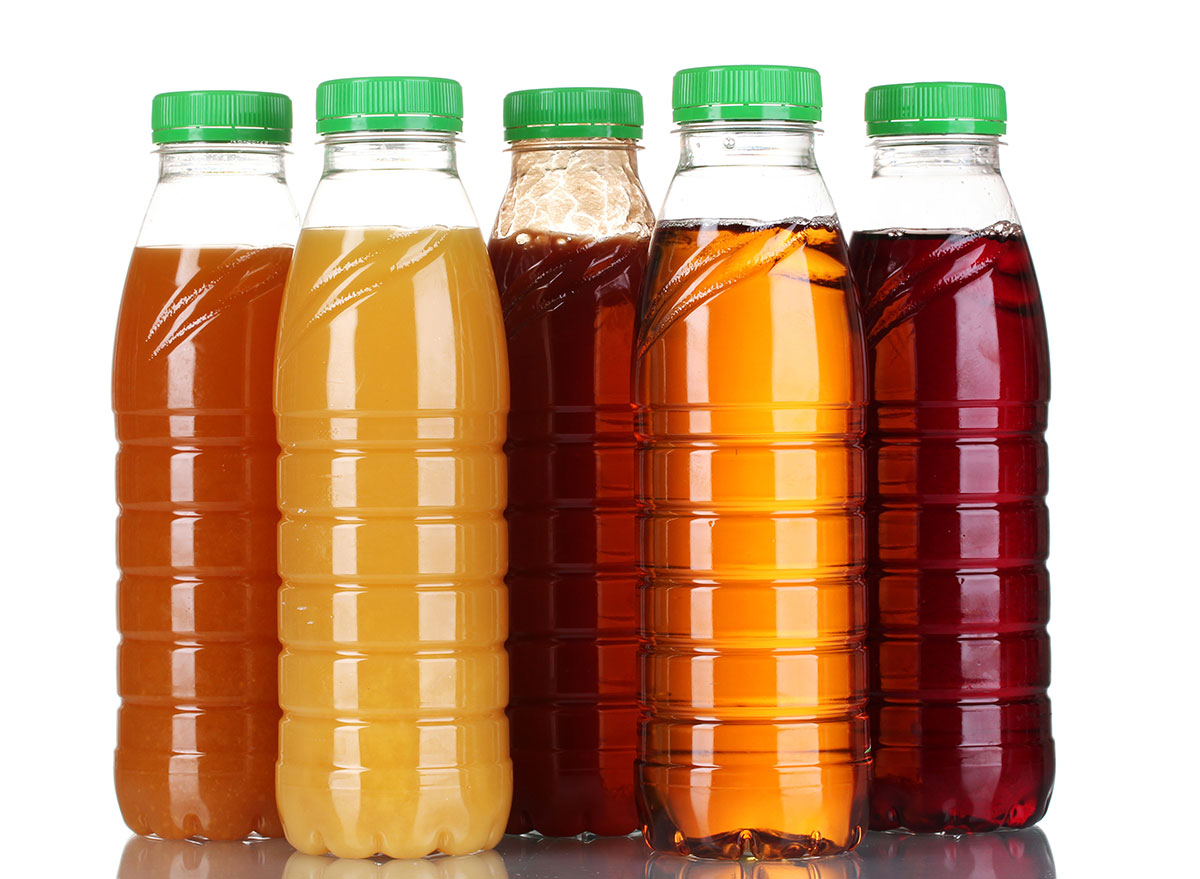 It's natural! What could be wrong? Well, while 100% fruit juice is a better pick than high fructose corn syrup-laden drinks like Sunny D, even the all-natural Welch's Grape Juice still packs up to 36 grams of sugar per cup—or about what you'd get from whipping four Krispy Kreme glazed donuts into a blender. And although this sugar is natural, your body treats it the same way as any other sugar, making juice one of the unhealthiest guilty pleasure foods. What's more, most of the sweetness in juice comes from fructose, a type of sugar associated with the development of visceral adipose tissue in overweight people—yep, that's belly fat—according to a study in the Journal of Clinical Investigation.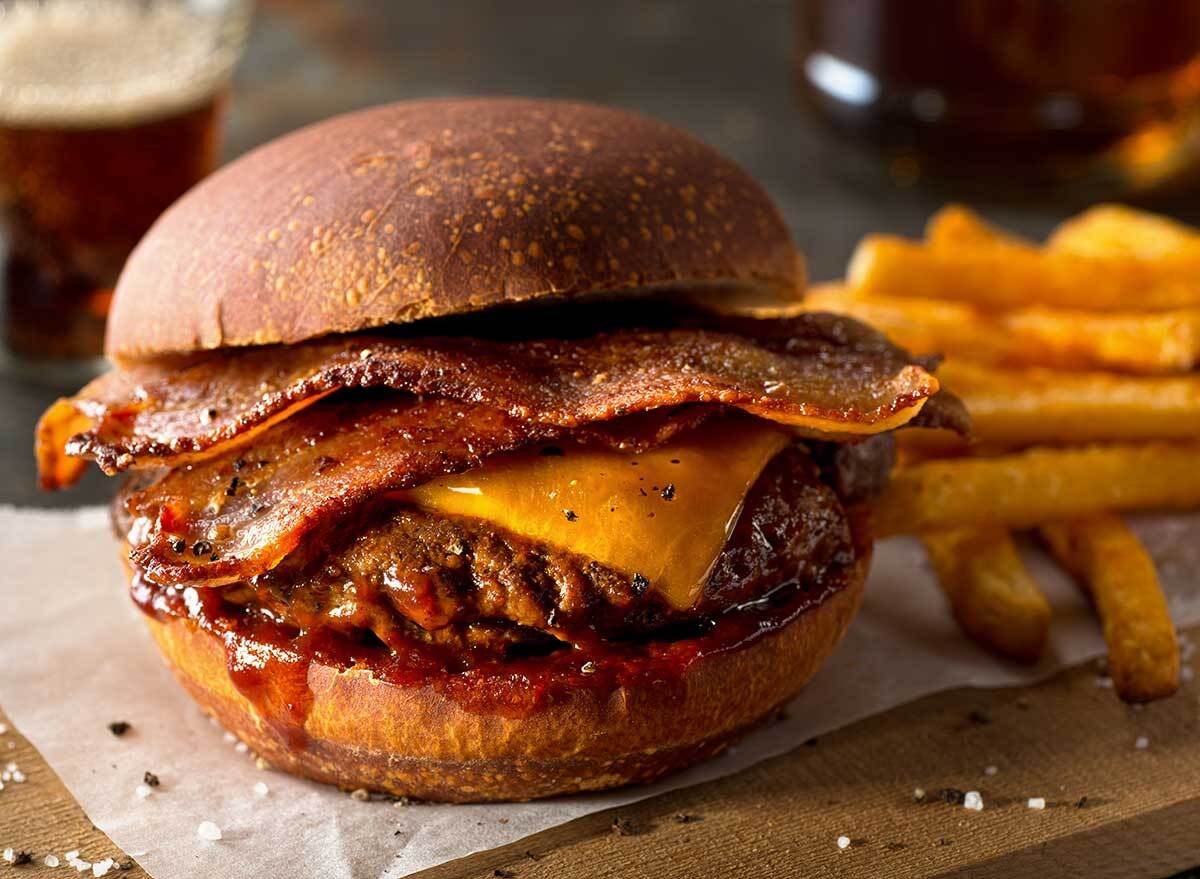 Even if you're a grill master, there are some burgers many people can't imagine never biting into again—and we totally get it. Just make sure it's an occasional indulgence and not a weekly habit, okay?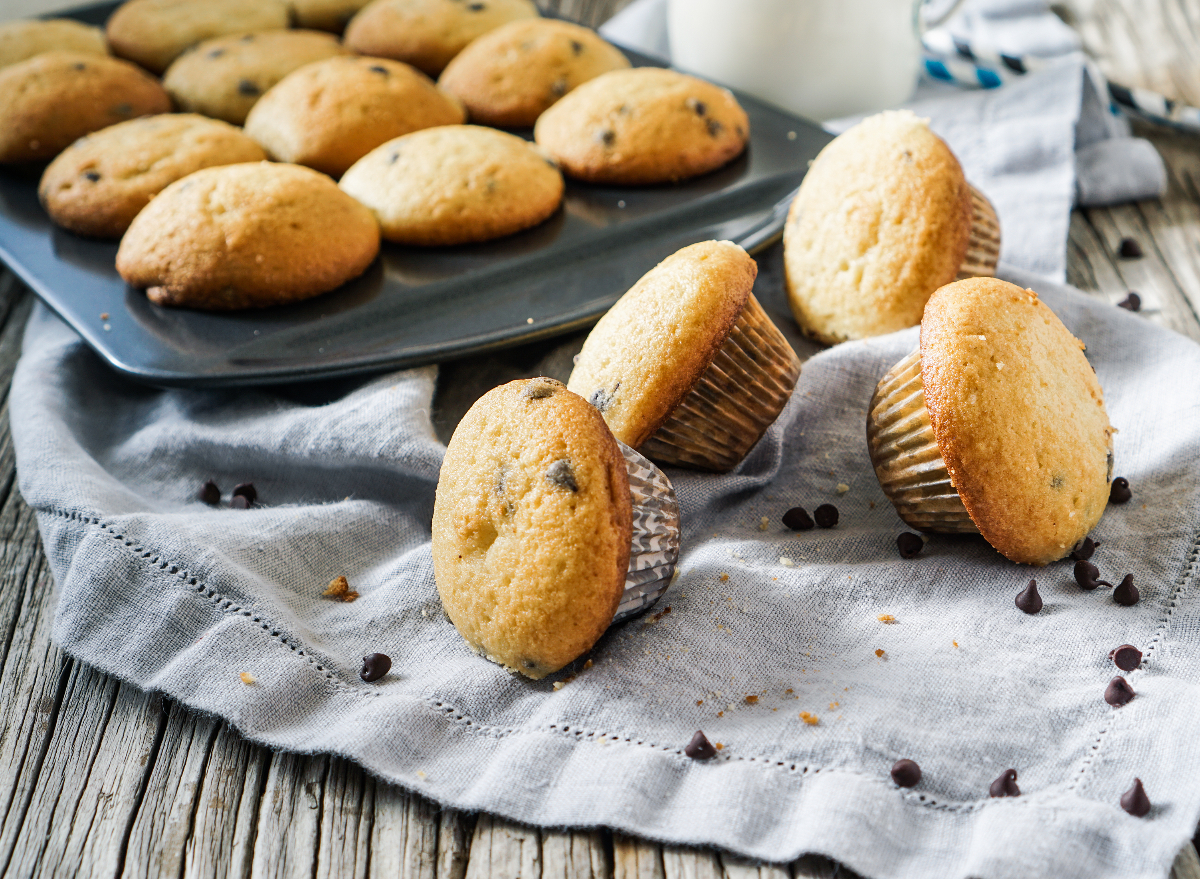 Can someone explain to us why a product that's packed in a box marked "Baked Fresh Daily" contains at least two preservatives? Entenmann's isn't the only one with misleading labeling. Otis Spunkmeyer Muffins look healthy coming in at 210 calories per serving—and then you see there are two servings per muffin. Typically, store-bought muffins contain over 400 calories and a third of the day's fat, and eating half now and "saving the rest for later" is near impossible—likely because foods rich in carbs, fat and sugar can be downright addicting. Plus, many commercial muffins are also spiked with waist-widening soybean oil and additives like mono- and diglycerides.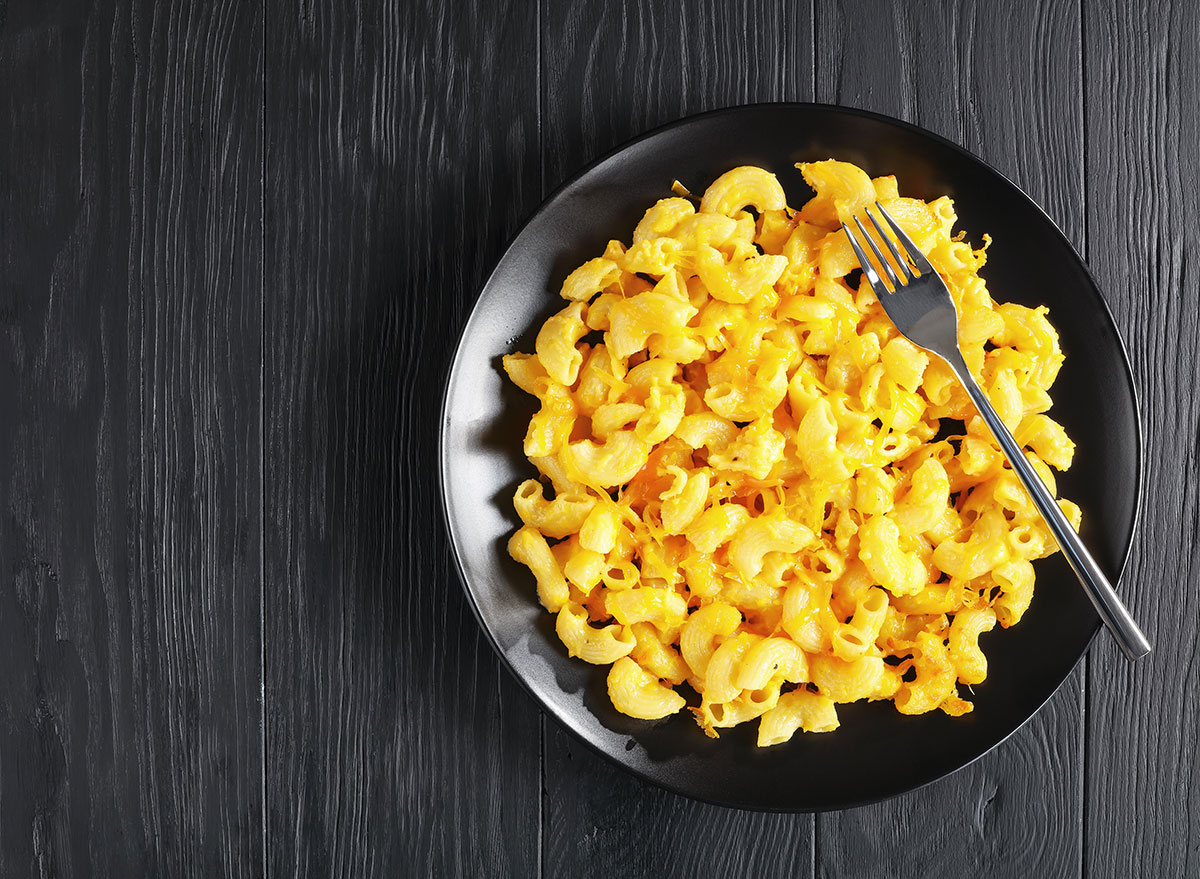 If you have it in you to eat a mere 1-cup serving of Kraft's Three Cheese Mac & Cheese, you'd consume at least 600 milligrams of sodium—and that's not including your salted pasta water or salted butter you add to actually make these cheesy concoctions. As prepared, you hit a third of your day's recommended intake of sodium per serving; and if you eat half the box, you could end up consuming half of your entire day's allotted sodium. High sodium intake is associated with ailments such as hypertension and heart disease, according to the American Heart Association. It may taste delicious, but it's definitely on the list as one of the unhealthiest guilty pleasure foods.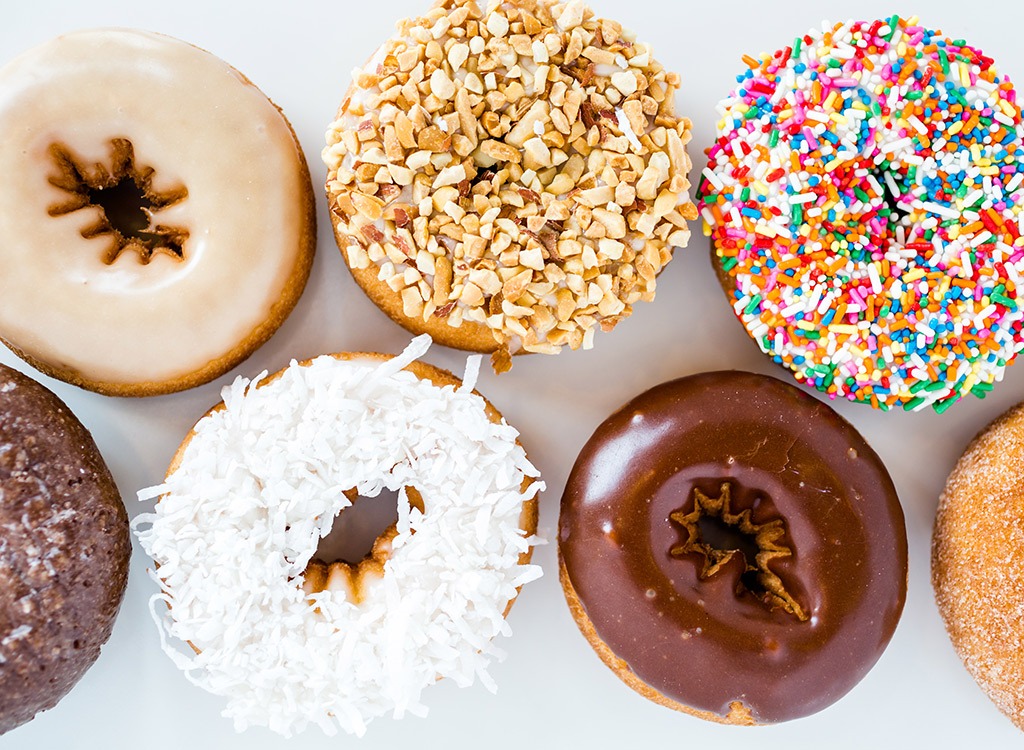 Ah, the mighty donut! Whether it's the classic Krispy Kreme that melts in your mouth or an artisan dark chocolate variety from your local coffee shop, these treats are too tasty to resist. However, the donut frosting alone is questionable. Made of corn, palm oil, and petroleum, this gooey mix can't spoil, and it often replaces dairy products in baked goods. It's commonly contaminated with 1.4 dioxane, a chemical which has been shown to cause cancer in animals and could in humans as well, according to a study in Toxicology and Applied Pharmacology.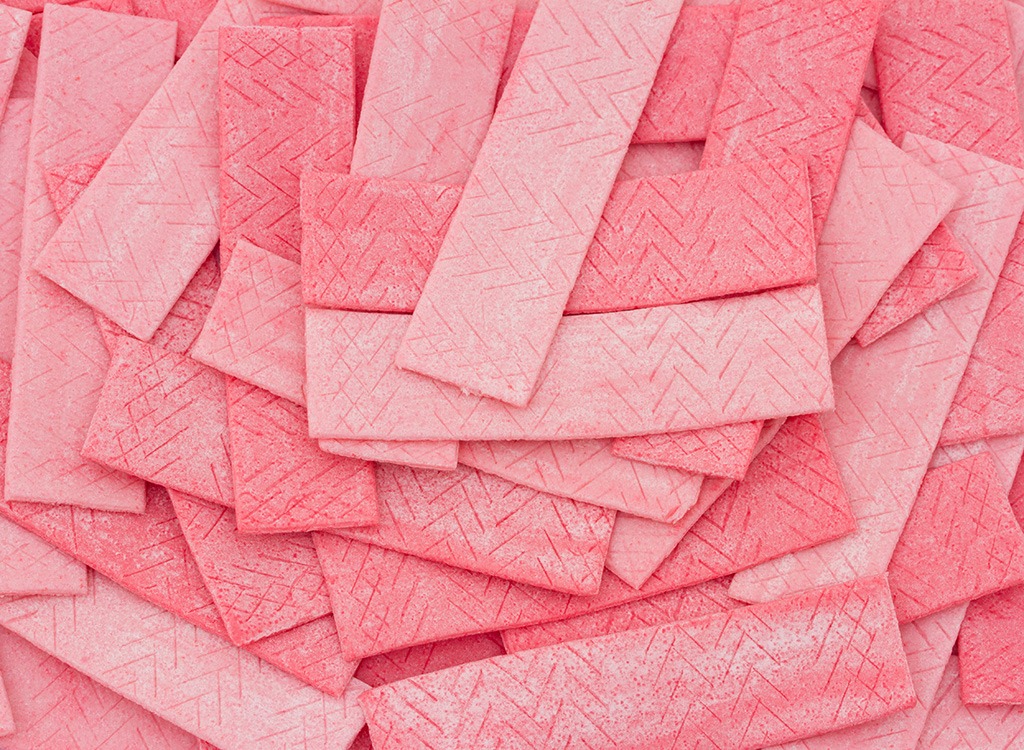 If you don't swallow it, can chewing gum count as a guilty pleasure food? Kinda. Point is this: Although the bulk of gum is indigestible, there are some ingredients that are: the sugar alcohols and artificial sweeteners.
Sugar alcohols are sugar substitutes have been shown to cause bloating and other gastrointestinal distress. Sorbitol, in particular, takes a relatively long time to digest, and any undigested sugar alcohol in your small intestine acts as the perfect environment for the fermentation of bacteria, thus, causing even more bloating and flatulence. As for artificial sweeteners found in popular gums, you're looking at ingesting additives that have been scientifically shown to trigger your sweet receptors and rev hunger—hence another reason why you're always hungry.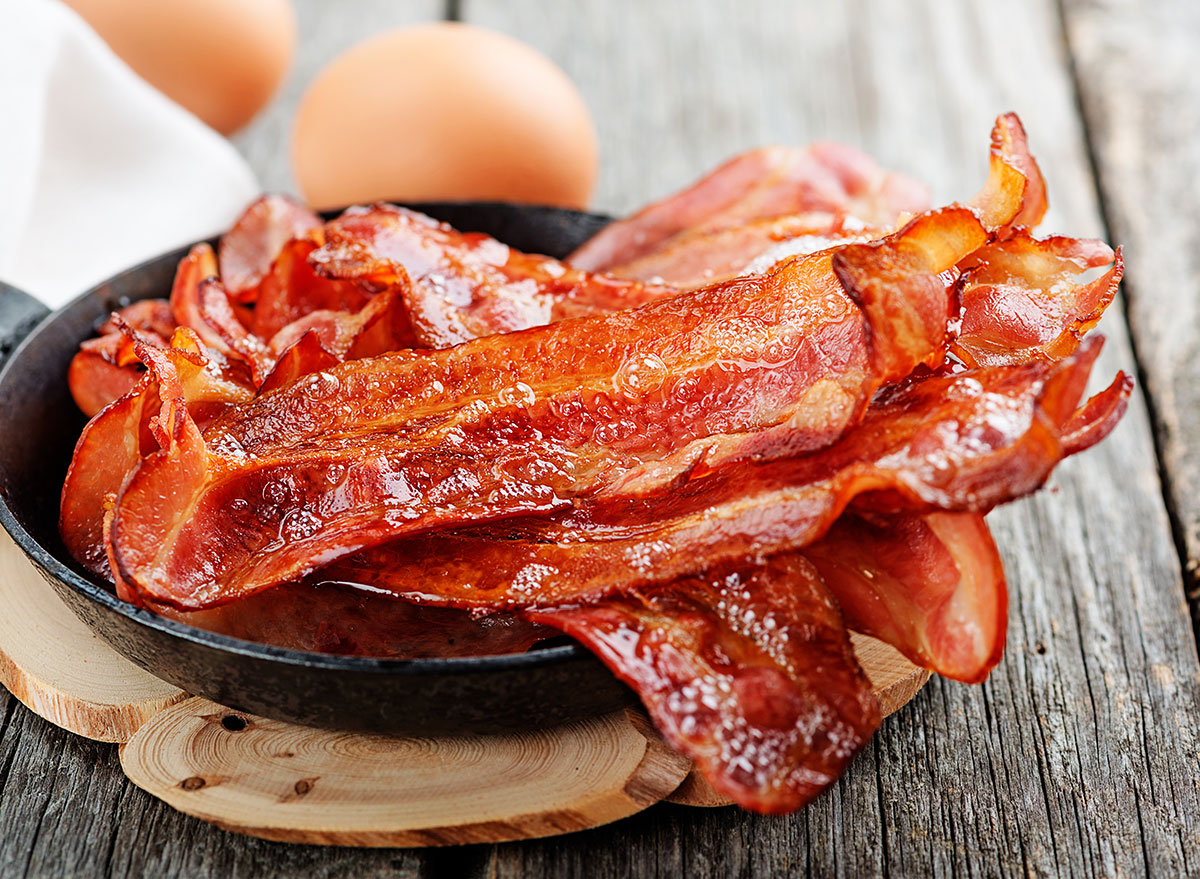 Processed meats are the worst of both worlds. They're typically made from red meats high in saturated fats, and they contain high levels of advanced glycation end products (AGEs): inflammatory compounds that are created when these processed meats are dried, smoked, and cooked at high temperatures. Not to mention, those nitrates and nitrites in cured and natural, "uncured" meats can turn into carcinogenic nitrosamines when exposed to high heat, according to Meat Science. (And you're typically roasting your sausages on a flame-flickering grill and bacon in a frying pan, right?)
The #1 saltiest restaurant meal on the planet? It's from P.F. Chang's. But exactly what it is might surprise you: the Hot & Sour Soup bowl. One serving will fill you up with 9,590 milligrams. That's over FOUR times what the FDA recommends you consume in an entire day. Save yourself from this guilty pleasure food and make one of these 15 Asian dishes healthier than takeout.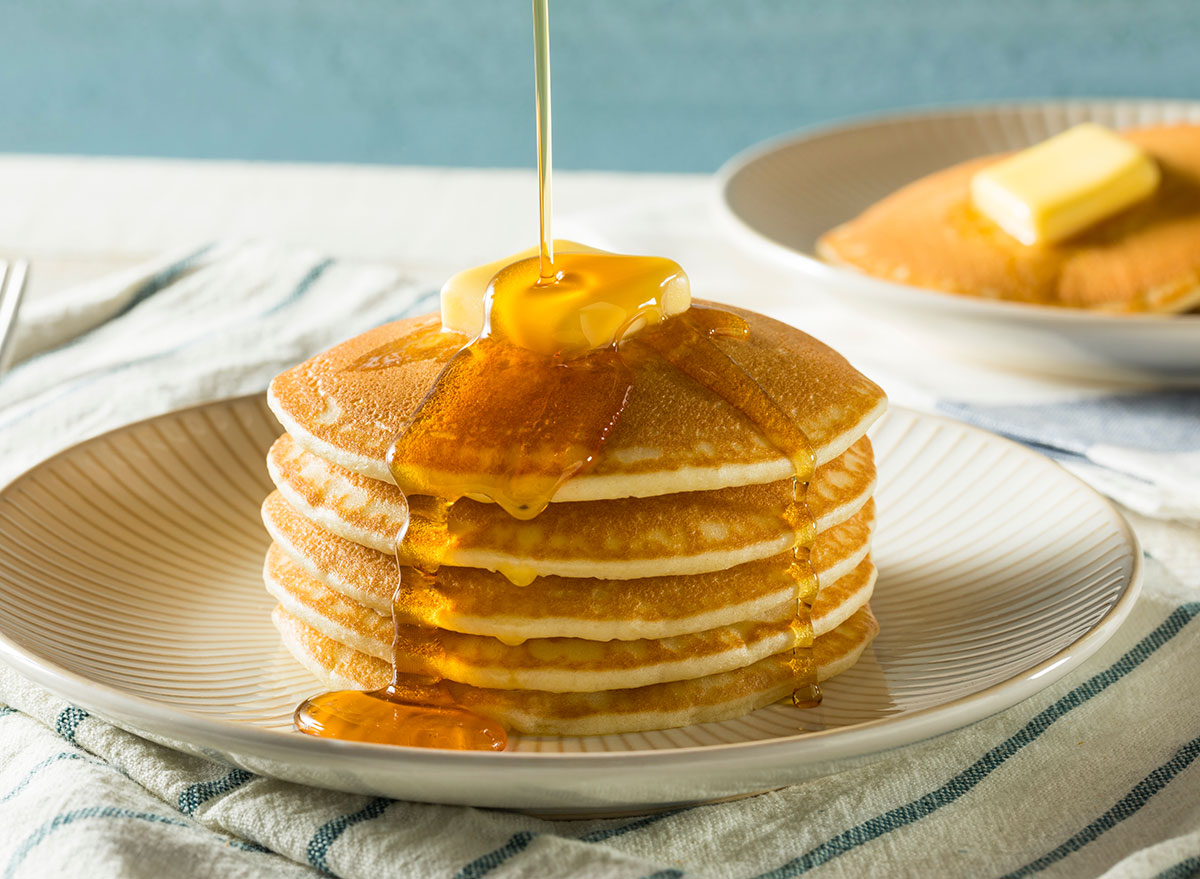 Pancakes are one of the guilty pleasure foods of choice for many people at breakfast time. But you can easily feel less guilty by trying one of these healthy pancake recipes instead!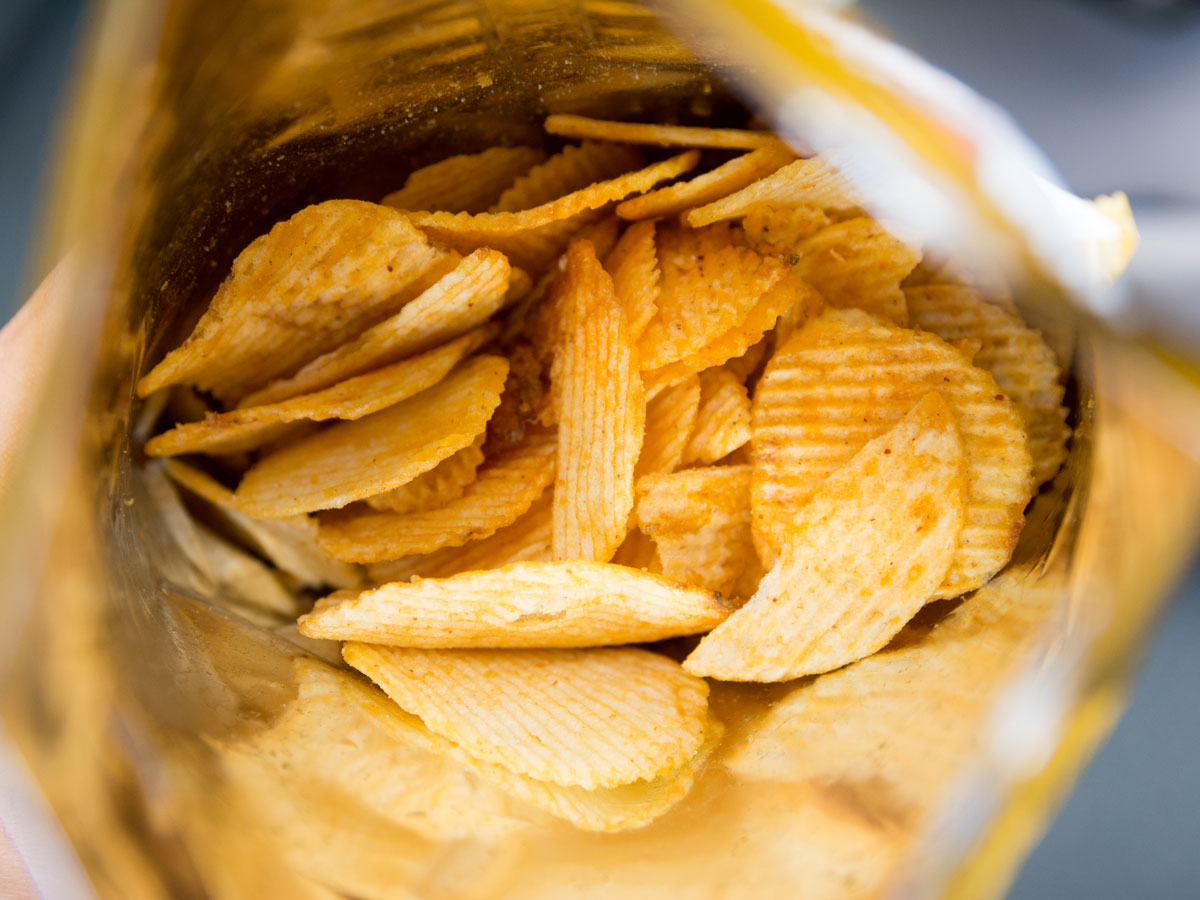 Life, liberty, and the pursuit of potato chips! Potato chips have a load of loyal fans who really don't mind a few greasy fingers. Swap them out with these Beanitos Nacho Cheese White Bean Chips. A serving of these bean-based chips have a whopping 6 grams of belly-filling fiber, so you'll definitely be able to put the bag down once you've eaten your fill. Plus, they're free of MSG, which should let your natural willpower kick in.
There may be healthier pasta options, but indulging in white pasta can be tempting at times. Here are the 30 best and worst pasta brands in America.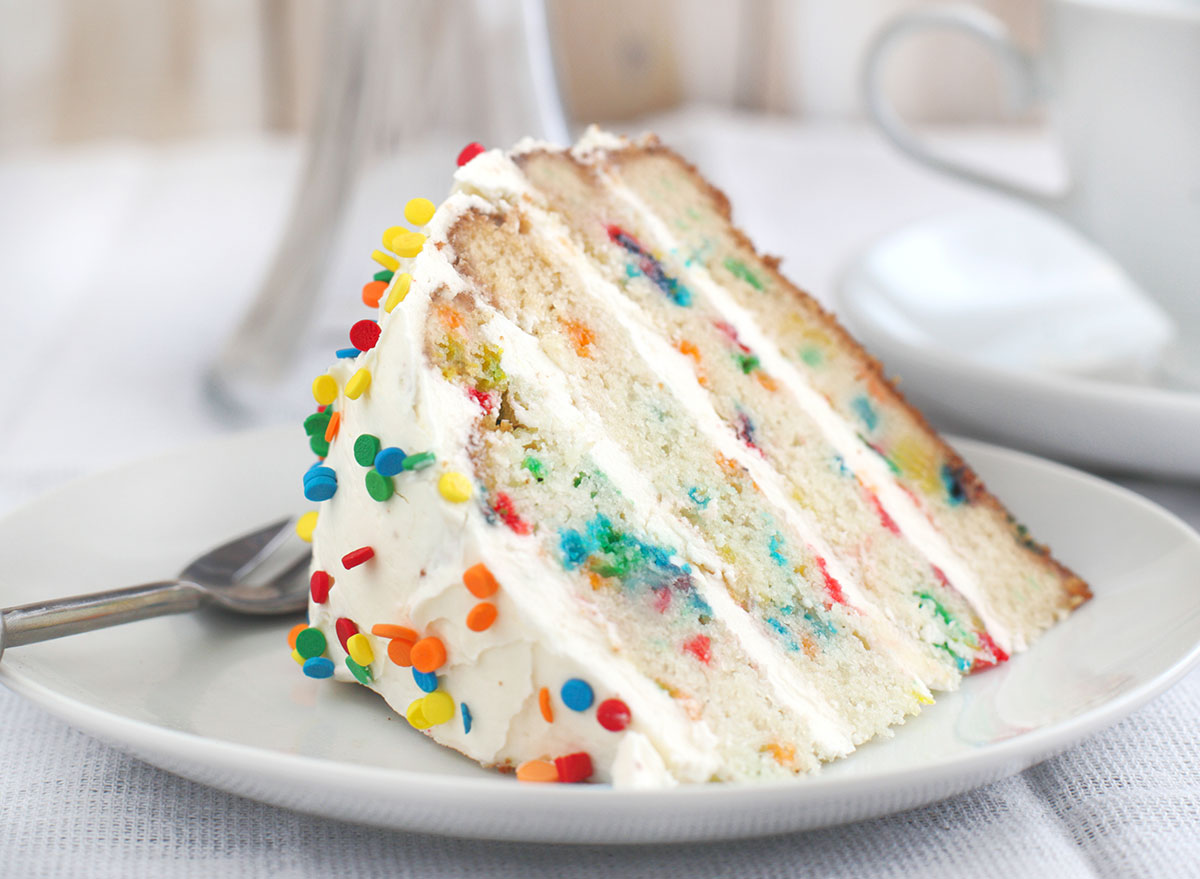 Nothing says "Happy Birthday!" like a slice of sugary, chemical-laden cake, right? Whipping up a cake from a box is much easier than gathering all the ingredients and baking it from scratch. But taking this shortcut could cost you in the health department. Many cake mixes from Duncan Hines, Betty Crocker, and Jiffy are loaded with belly-bloating sugar, and questionable chemicals—that's nothing to celebrate.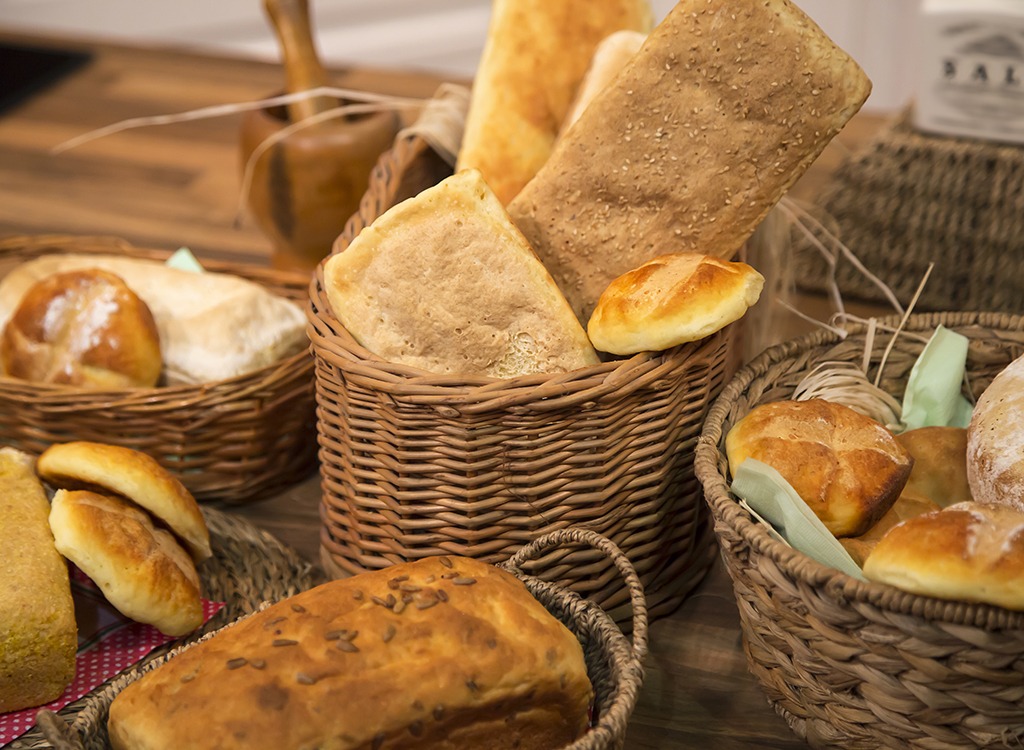 Banned in the United Kingdom and Canada, potassium bromate is still lurking in some U.S. foods such as pizza, wraps, rolls, bread crumbs, and bagel chips, according to a 2015 analysis by the non-profit Environmental Working Group (EWG). The issue? A 1982 study found the dough strengthener induced tumors in rats and led the EPA to conclude bromate is a "probable human carcinogen." It's also been linked to kidney failure and cell deterioration, according to a 2001 toxicological review of bromate by the EPA. While the FDA has encouraged bakers to voluntarily stop using it since 1991, the EWG found evidence of it lurking in 86 different products, including GOYA's Disco Dough sheets for empanadas.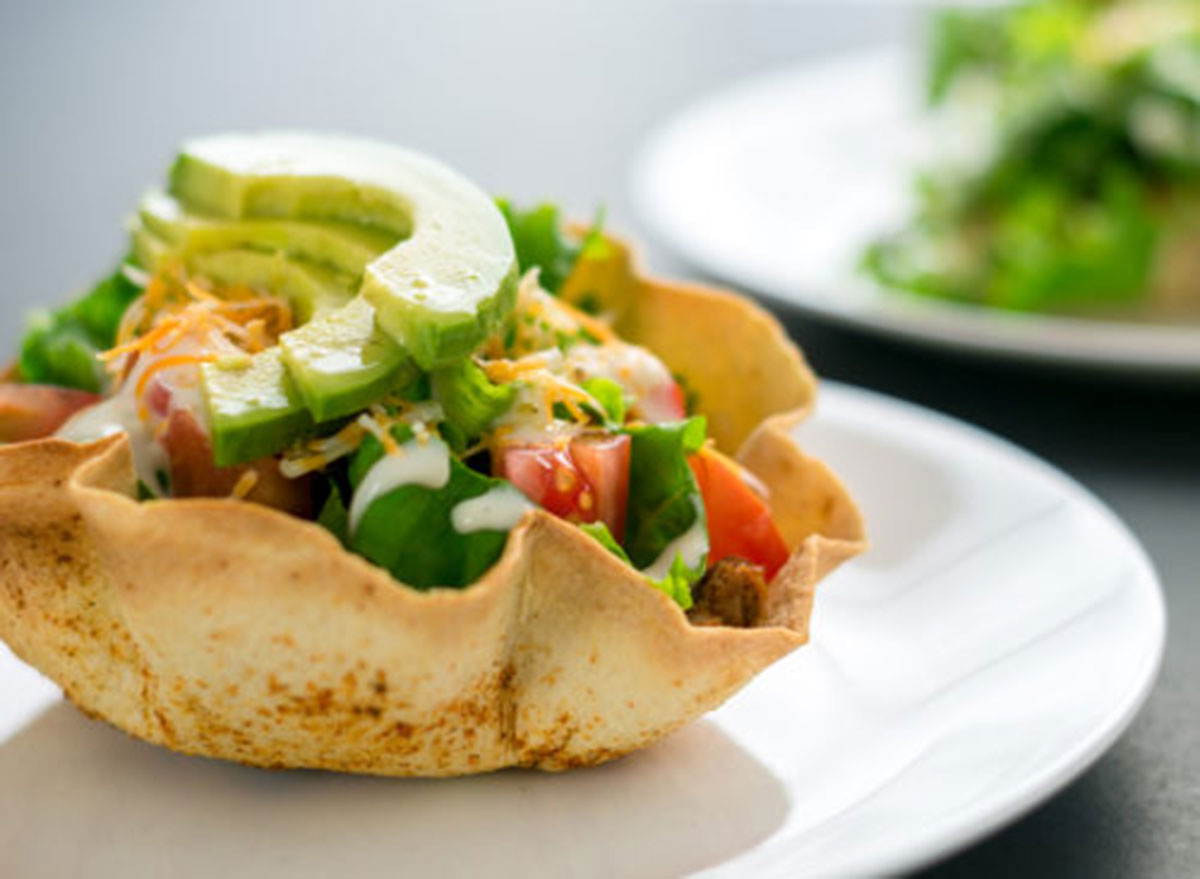 A taco bowl is one of the quickest ways to consume a lot of calories, fat, and sodium all at once. Between the fried tortilla, plus the filling of meat, rice, cheese, sour cream, sauces, and other toppings, things can get out of control quickly. This oversized option is a no-go.
There's nothing like a pile of fresh French fries—especially when they're our top ranked fast-food French fries! But unfortunately, between the sodium and the French-fried goodness, these salty spuds aren't considered the healthiest guilty pleasure foods.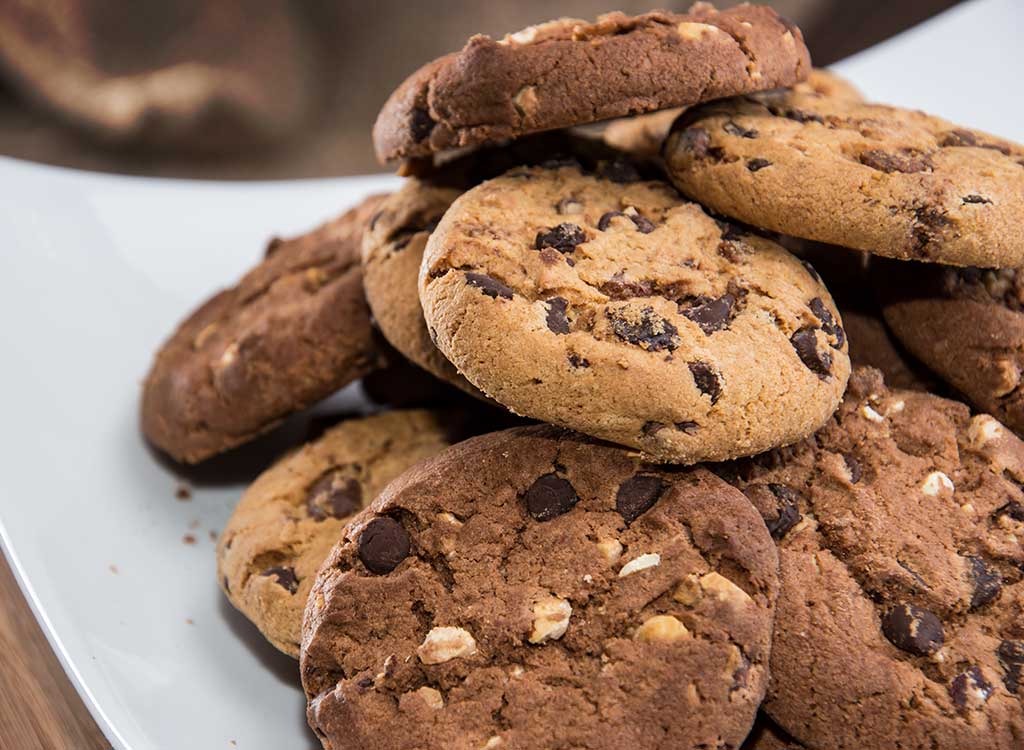 If America had a spirit animal, we think it might just be the Cookie Monster. So you can indulge in your cravings without the guilt, we rounded up the best chocolate chip cookies.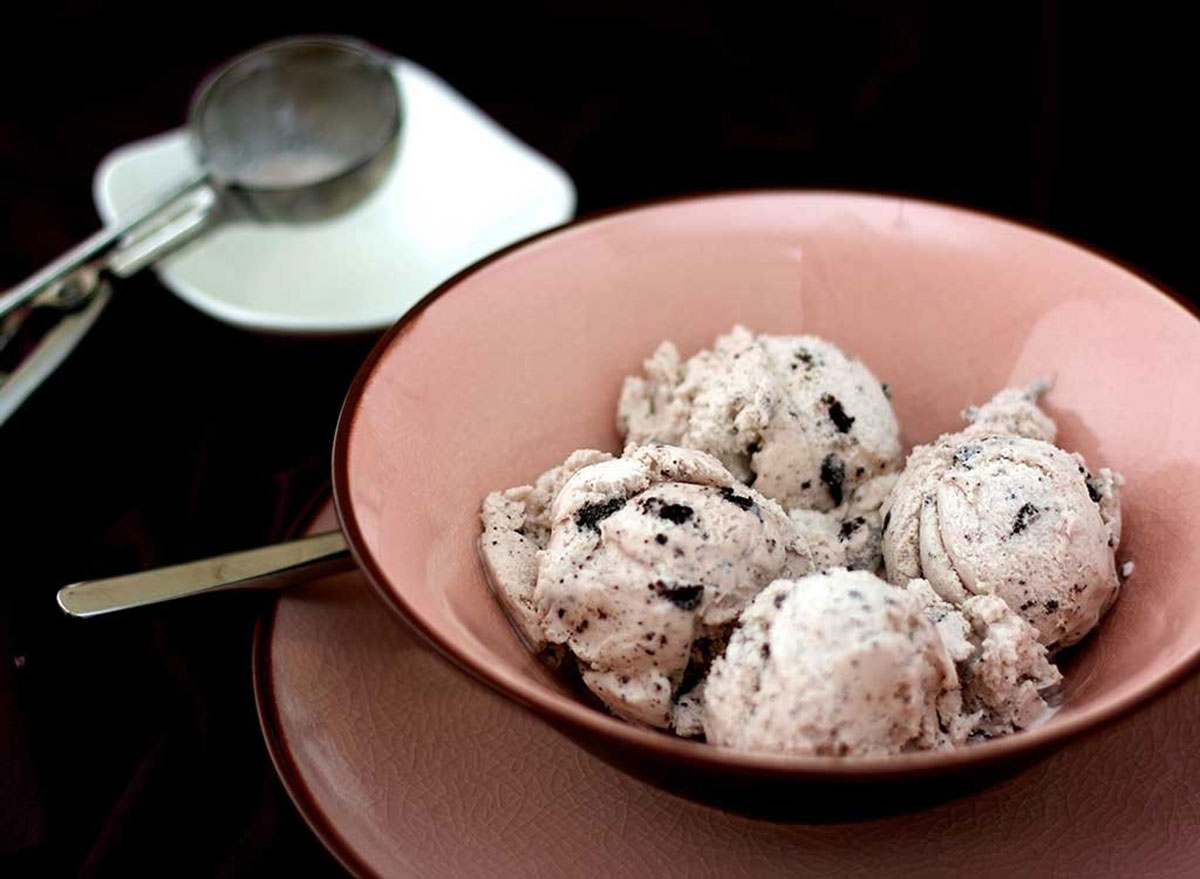 Summer wouldn't be complete without an ice cream cone, bad breakups wouldn't be survived without a pint of Ben & Jerry's, and quaint towns across the country would lose some of their charm without their classic ice cream shops. But some scoops are unhealthier than others, and certainly considered one of the unhealthiest guilty pleasure foods!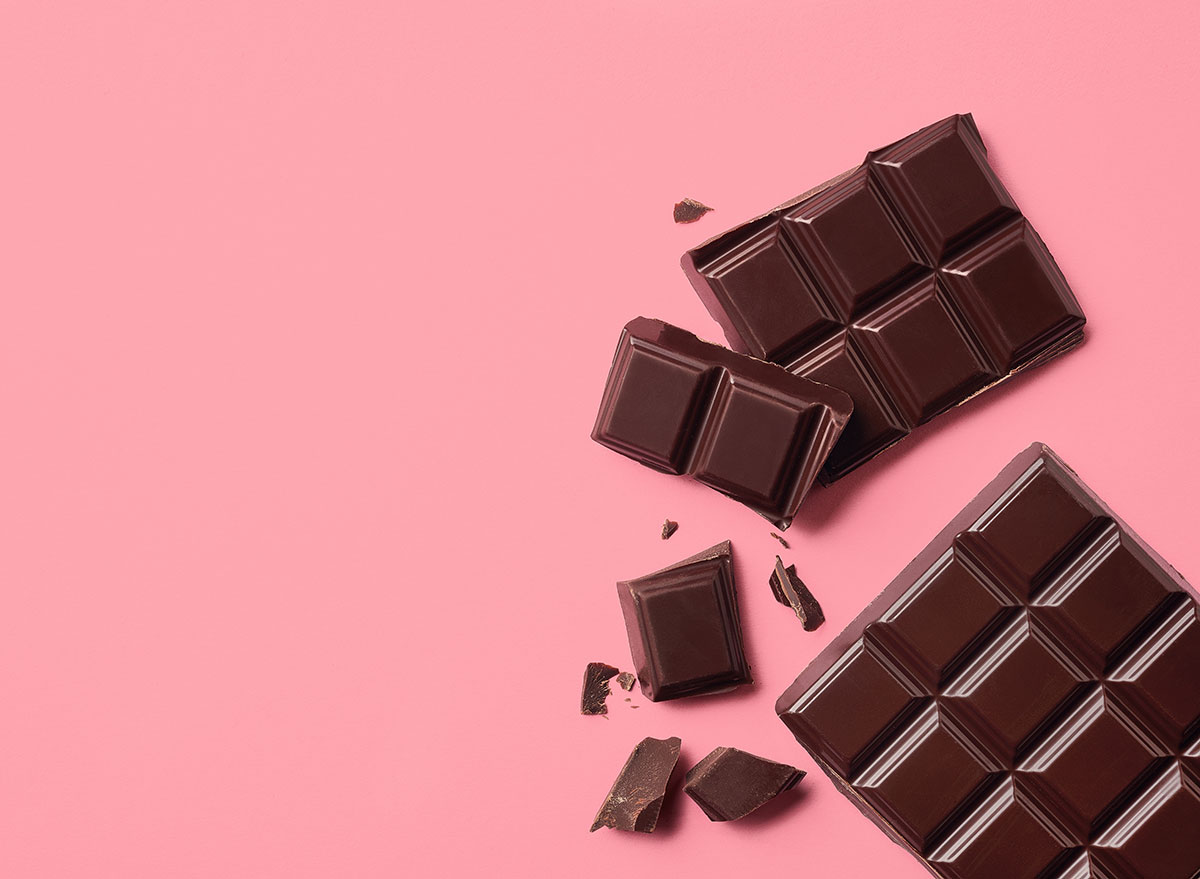 Although most bars are packed with sugar, the simple chocolate bar actually offers some age-fighting antioxidants when it's made of at least 70% cacao. Most other chocolate is considered unhealthy, though, because it's usually packed with sugar, unnatural ingredients, and other preservatives. We vote that you always splurge for the good stuff instead.
All hail the mighty slice of pizza! While delicious, it's not always the most nutritious option. If your mouth is watering, you can satisfy your craving with one of these Best-Ever Healthy Pizza Recipes or by choosing any of the approved picks on our list of 25 Best Healthy Frozen Pizza Pies.
Bleached White Flour Bread
Even if your bread's first ingredient is "wheat flour"—keep reading. If it doesn't mention that it's unbleached, you're likely noshing on a sandwich laced with creepy chemicals. Some manufacturers use an ingredient called azodicarbonamide, which you might recall is the "yoga mat" additive that Subway once controversially used. This plastic dough conditioner is used to make bread dough fluffier. The CSPI agrees you should avoid it, citing evidence that the chemicals azodicarbonamide break down into after baking are recognized carcinogens. So yes, even white bread can be considered one of the unhealthiest guilty pleasure foods.6254a4d1642c605c54bf1cab17d50f1e
Fried chicken, fried calamari, pork rinds, chicken-fried steak. You won't ever see these items marked as an "Eat This." Besides the high fat and calorie content, the main issue with these fried foods is that they contain high levels of inflammatory Advanced Glycation End products, or AGEs. These compounds form when animal-derived products are cooked at high temperatures for a prolonged period of time. According to a 2015 review published in the journal Advances in Nutrition, experts concluded that "sustained exposure to [AGEs] gradually erodes native defenses, setting the stage for abnormally high [oxidative stress] and inflammation, the precursors of disease."
There's no sugar-coating it: sugar wreaks havoc on the body. Consuming too much of the white stuff can lead to obesity, which often causes other health problems like diabetes and heart disease. And many cereals pack more sugar into one bowl than you'll find in a Boston Cream Donut! To make matters worse, many popular varieties like Frosted Flakes and Fruity Pebbles are also laced with Butylated Hydroxytoluene (BHT) or BHA (Butylated Hydroxyanisole), ingredients that are banned in the UK, Australia, New Zealand, Japan, and much of Europe because they are thought to be carcinogenic. You'll also want to check out the 20 Worst "Healthy" Cereals.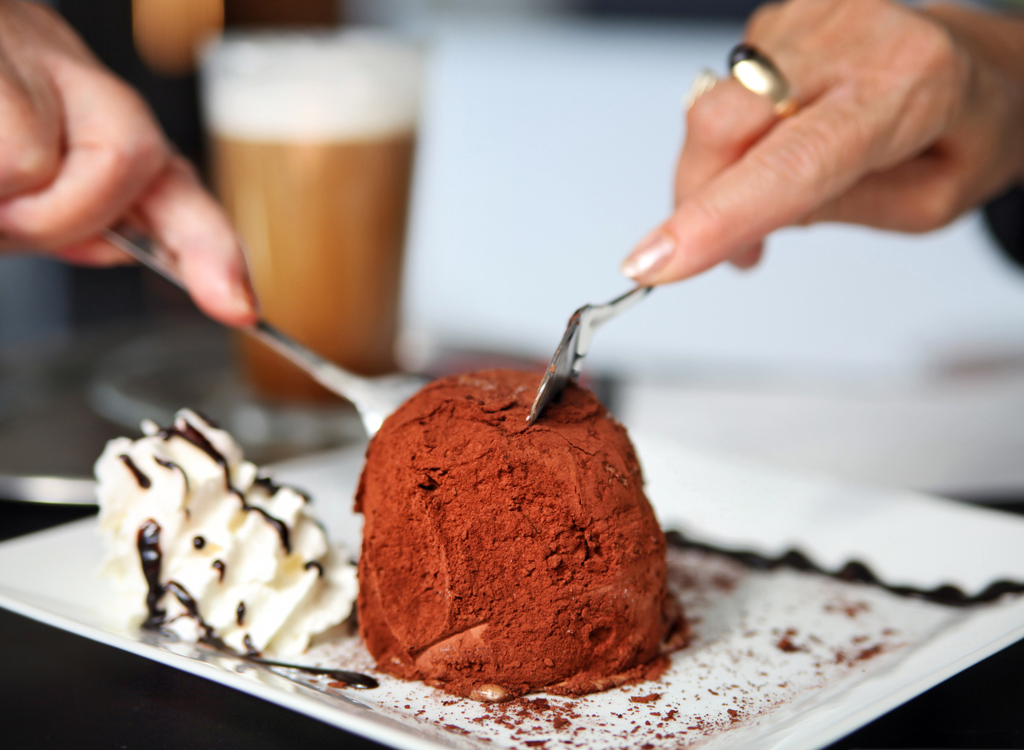 And here you thought we'd say the sugar. And calories. And fat. And everything else. While that's all true, and restaurant desserts are dangerous because the portions are often oversized, it's the sodium content that many people don't even think about. That innocent-looking dessert you is most likely packing a whopping 1,000 calories, along with a ridiculously high amount of sodium and sugar. Check out other evil friends on this list of 20 Restaurant Desserts With More Salt Than A Bag of Pretzels.
According to the Pew Research Center, Americans ate over 90 grams of added sugar a day in 2014—which is 40 grams above the FDA's recommended intake of 50 grams per day and a whopping 65 grams above the World Health Organization's recommended intake of 25 grams, making it one of the most common guilty pleasure foods! Americans' high consumption of refined, white sugar has been linked to everything from increased risk of type 2 diabetes to heart disease to obesity.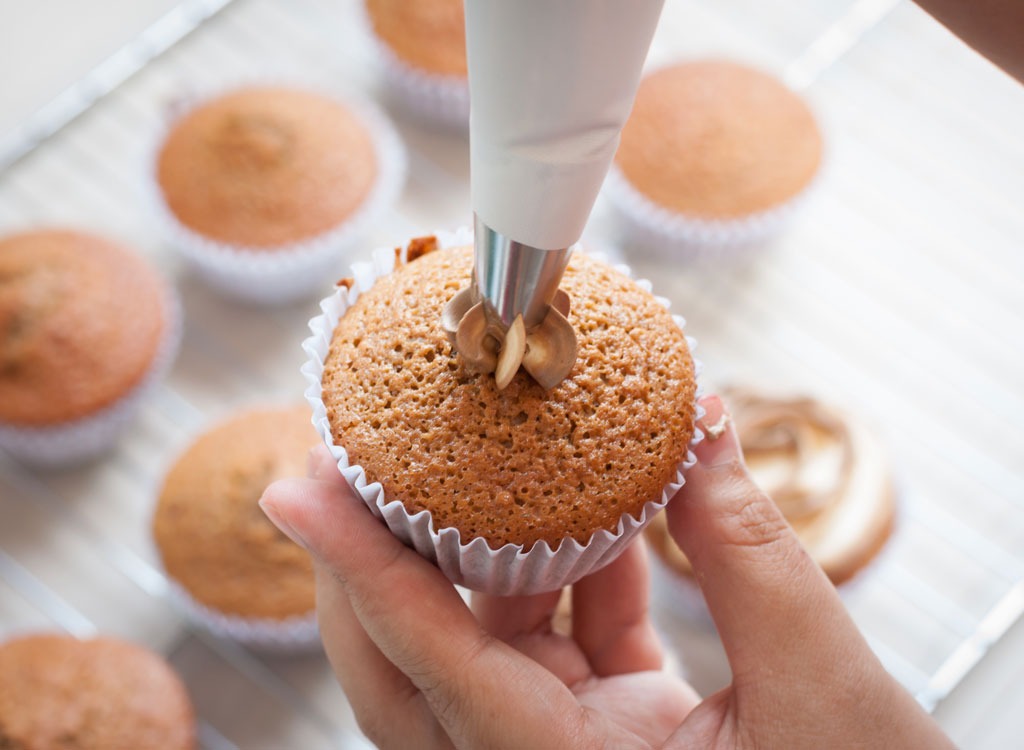 Birthdays are a time to celebrate. Something you shouldn't celebrate? Your frosting being made with chemicals. Many brand-name frostings, such as Duncan Hines' Creamy Home-Style Classic Vanilla, are made with partially hydrogenated soybean and cottonseed oils. And despite being white, many of these frostings are tinted with potentially carcinogen-contaminated dyes (such as caramel color and titanium dioxide) and artificial colors. Lastly, the propylene glycol in many frosting recipes has been linked to poor kidney health by research in the American Journal of Kidney Diseases.
You'll find this on our list of 20 Foods Pretending To Be Something They're Not. Why? Famous syrup brands like Aunt Jemima and Mrs. Butterworth are made with two ingredients we're constantly telling readers to avoid—liver-damaging high fructose corn syrup and carcinogen-contaminated caramel coloring—and one thing we wish they actually had: real maple syrup.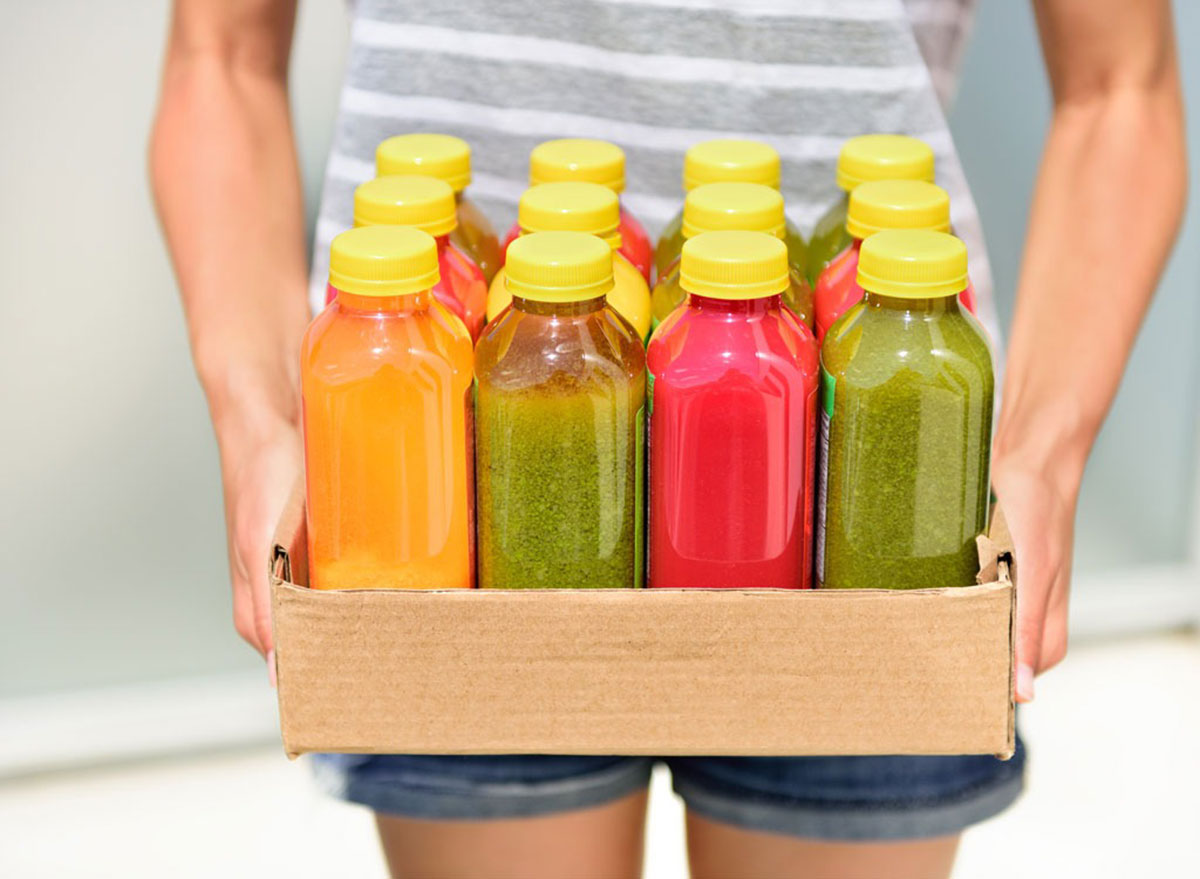 Busy mornings and grab-and-go breakfasts are practically synonymous—so it's easy to see the appeal of store-bought smoothies. They seem like the best way to get what you crave in a pinch. But the timesaving drinks have a downside: Compared to fresh-made drinks, most of them fall short on nutrition and are so calorie- and sugar-filled that your blood sugar is sure to skyrocket, making it one of the unhealthiest guilty pleasure foods.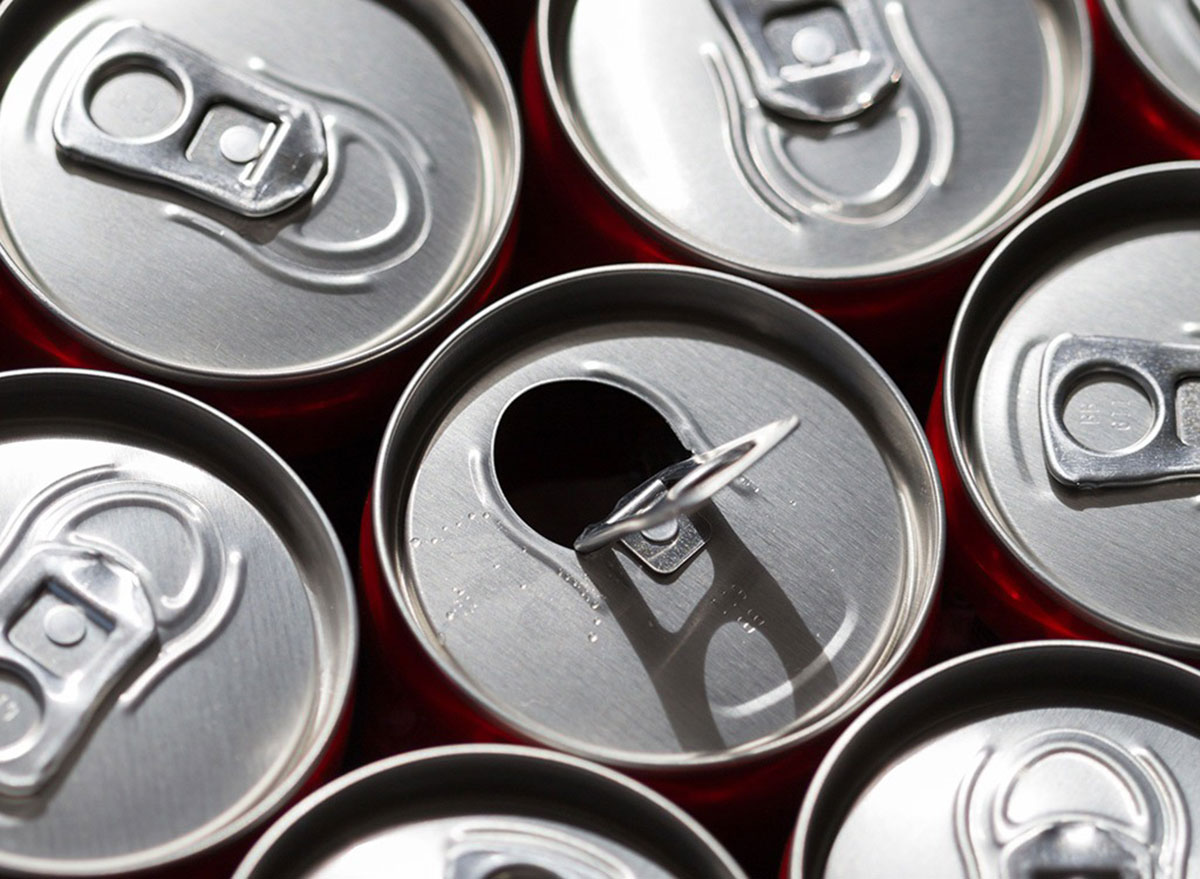 We can only imagine the number of broken Bunsen burners it took to come up with the now-familiar energy drink formula. These medicinal-tasting beverages are simply overpriced chemical cocktails with the caffeine content of a strong cup of coffee and a lot of sugar (or scary artificial sweeteners). Here's why you should be concerned: A University of Maryland study found energy drinks to be 11% more corrosive to your teeth than regular soda. Gross, right? Another unsettling finding came from a case study of a 50-year-old construction worker; having too many energy drinks could destroy your liver. The report, published in BMJ Case Reports in 2016, found that the man developed acute hepatitis after consuming four to five energy drinks every day over the course of three weeks.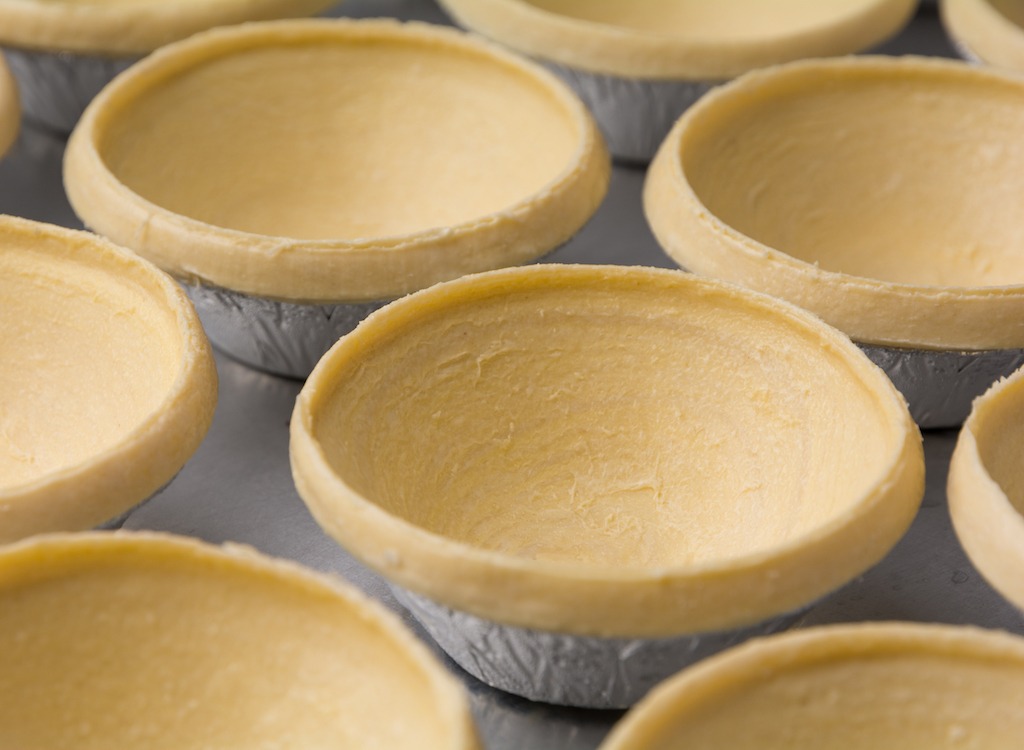 Using a premade pie crust might save you some time when you're baking, but what's on store shelves is anything but healthy for you. Popular brands like Pillsbury's Refrigerated Pie Crust contains BHA and BHT, two preservatives you want to avoid.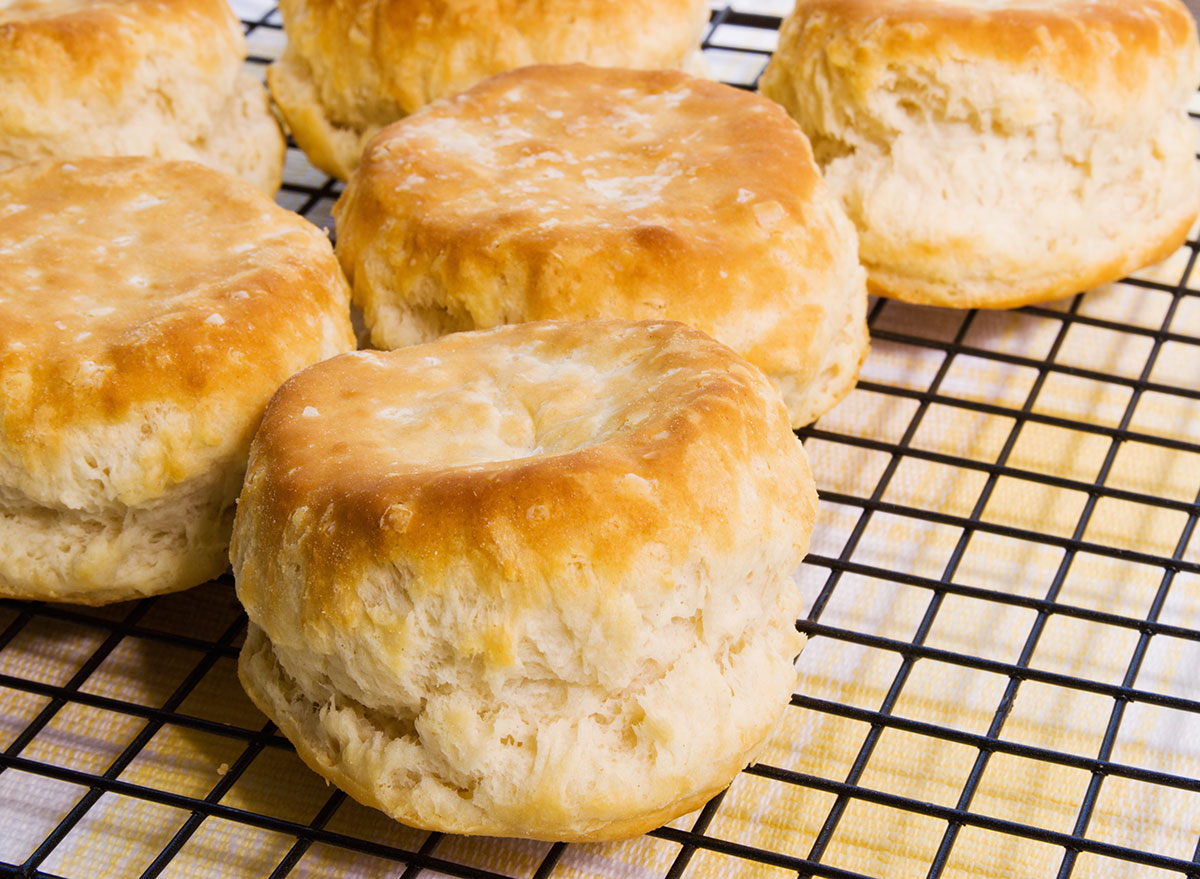 Making biscuits from scratch can take forever, but the majority of the packaged varieties of bagels and muffins are chock-full of sodium and sugar, a double whammy that is bad for your waistline and your overall health.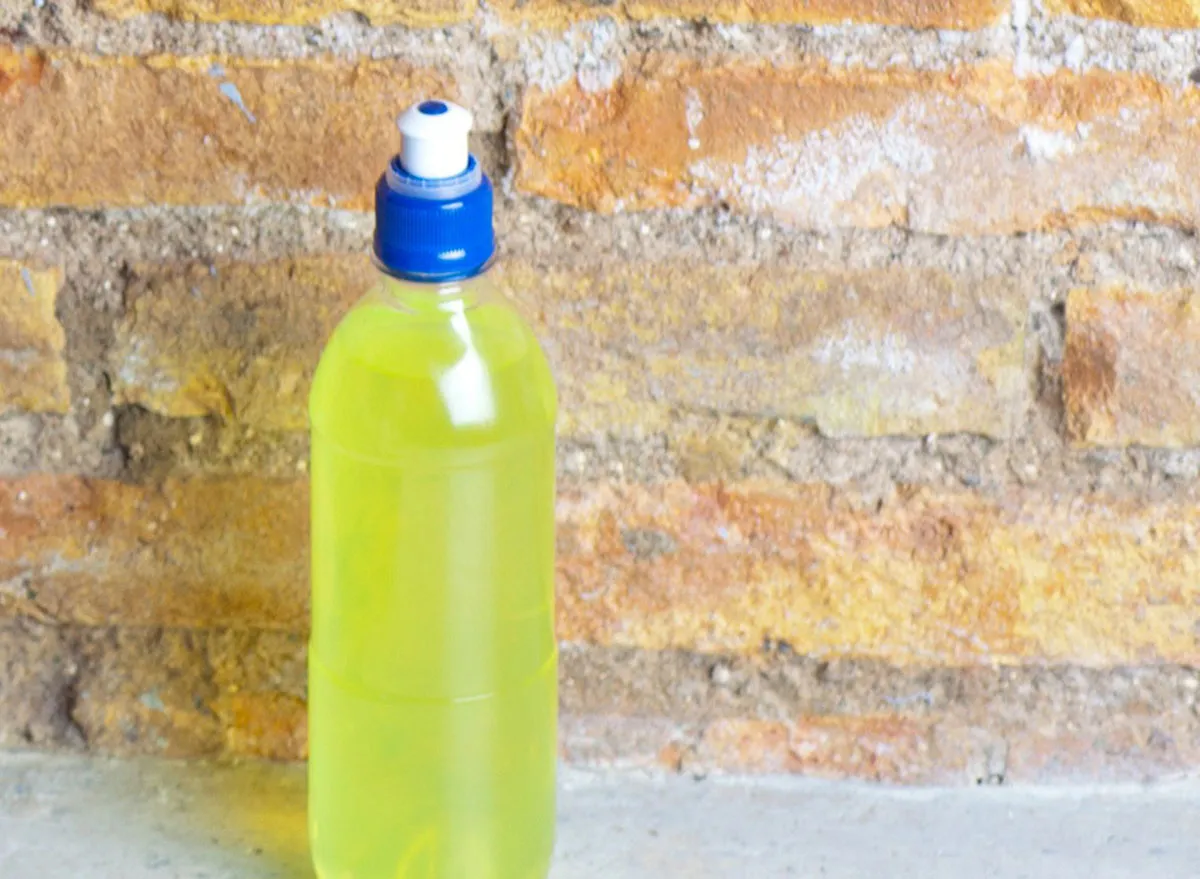 Whoever invented the Gatorade Dunk—the tradition in which winning sports teams dump coolers of the stuff on their coaches—was really on to something. One scan of the nutrition label and it's clear: the sports drink is better off seeping into the sidelines than your stomach. Sure, it provides critical post-workout electrolytes, like sodium and potassium, but it also serves up a hearty helping of calories and sugar. In fact, there are 52 grams of the sweet stuff (which is more than a day's worth) in a 32-ounce bottle. What's more, the beverage is teeming with stomach-churning additives like artificial dyes.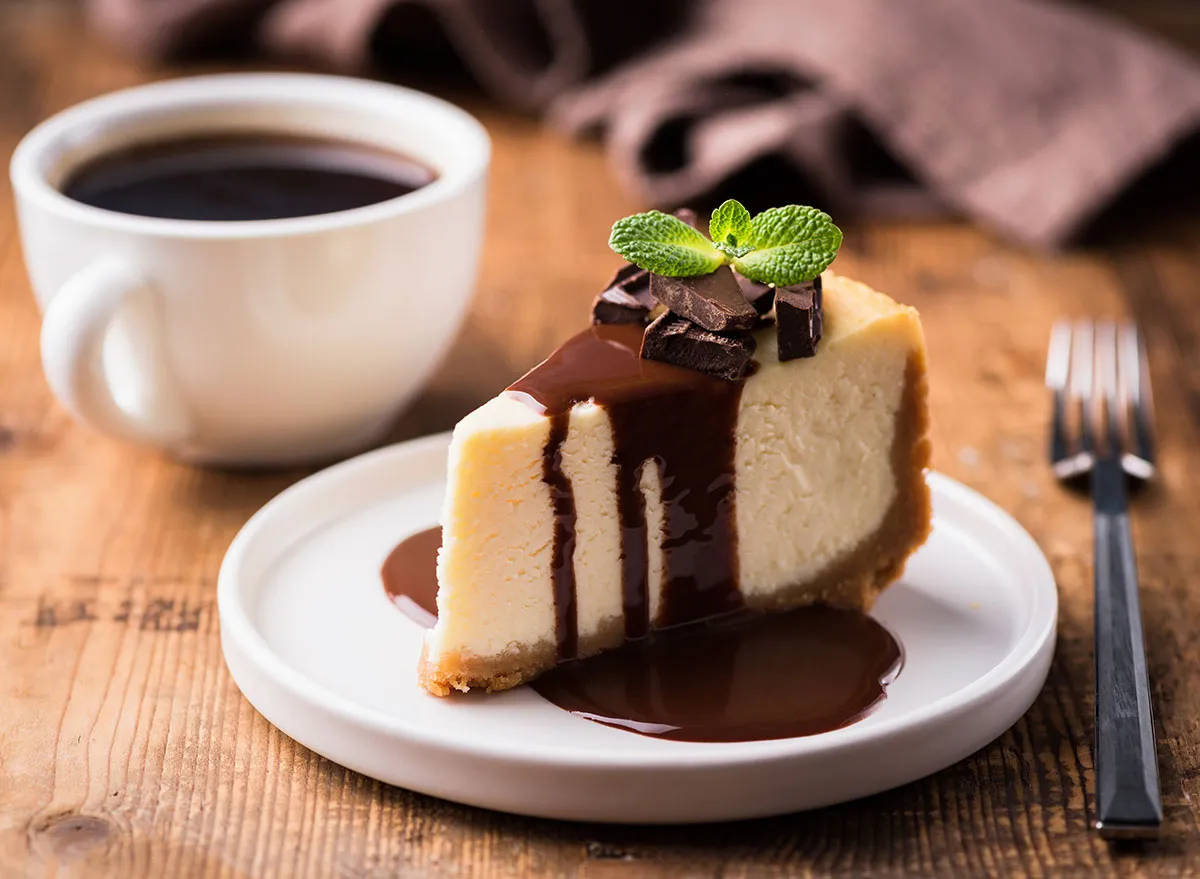 Cream cheese is indulgent on its own, but it soars to new heights when it's made into a decadent, creamy cake. Cheesecake is filled with high amounts of fat, sugar, and sodium, and it will set you back an astronomical amount of calories for one slice of a treat you usually eat after dinner. Just take a look at any cheesecake from The Cheesecake Factory: The Original Cheesecake option has 830 calories and 59 grams of fat, while almost every other option on the menu has more than 1,000 calories.
You know the creamy taste of margarine had to come from somewhere, and usually it's from the addition of vegetable oils—and many blends can include palm oil, which has a high saturated fat content and can also cause inflammation.
Fast-Food Chicken Nuggets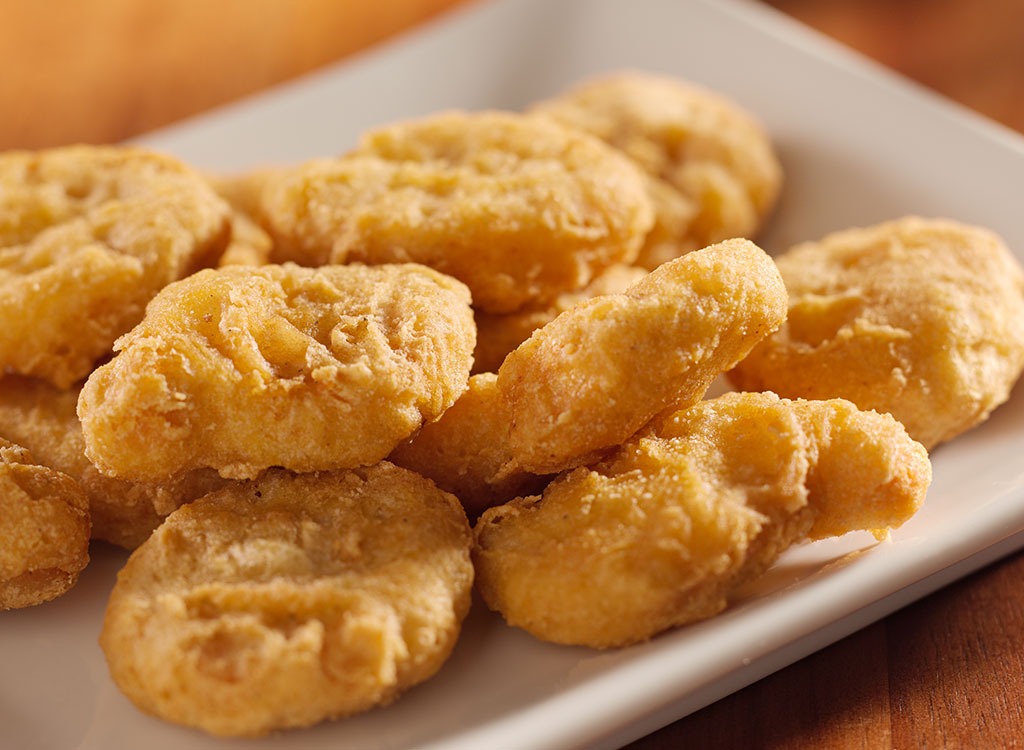 Chicken nuggets all start with chicken but also contain several synthetic ingredients from diglycerides to Red #40 to carrageenan. These chemicals help make overly-processed foods like chicken nuggets possible because that's what keeps the (very few) organic materials in the nuggets from going bad (or looking weird) after days spent traveling on the road or months in the freezer. But even if you buy them at the grocery store, you might not be safe. Check out The Best Frozen Chicken Nuggets You Can Buy, According to Nutritionists so you don't end up stocking up on the bad ones.
Alfredo sauce is made from cream, parmesan cheese, and lots of butter, which together, just wreak havoc on your waistline. In fact, cream is rarely used in authentic Italian pasta dishes, so if you visit Italy, there's a good chance you won't find this dish on restaurant menus. It is present on the Olive Garden menu, however, and it comes in at 1,010 calories, proving this is another all-American-version of a classic dish you're better off without.
The basis of nachos consists of tortilla chips, which although not generally all that bad for you, don't provide any sort of nutrients. Then you add on ground beef or pulled pork, sour cream, guacamole, and an unseemly amount of yellow cheese, and you're in calorie and fat overload. And this bar-food staple is often a go-to appetizer at many restaurants. Just take Applebee's for example, where their nachos come in at 2,000 calories and over 5,000 mg of sodium.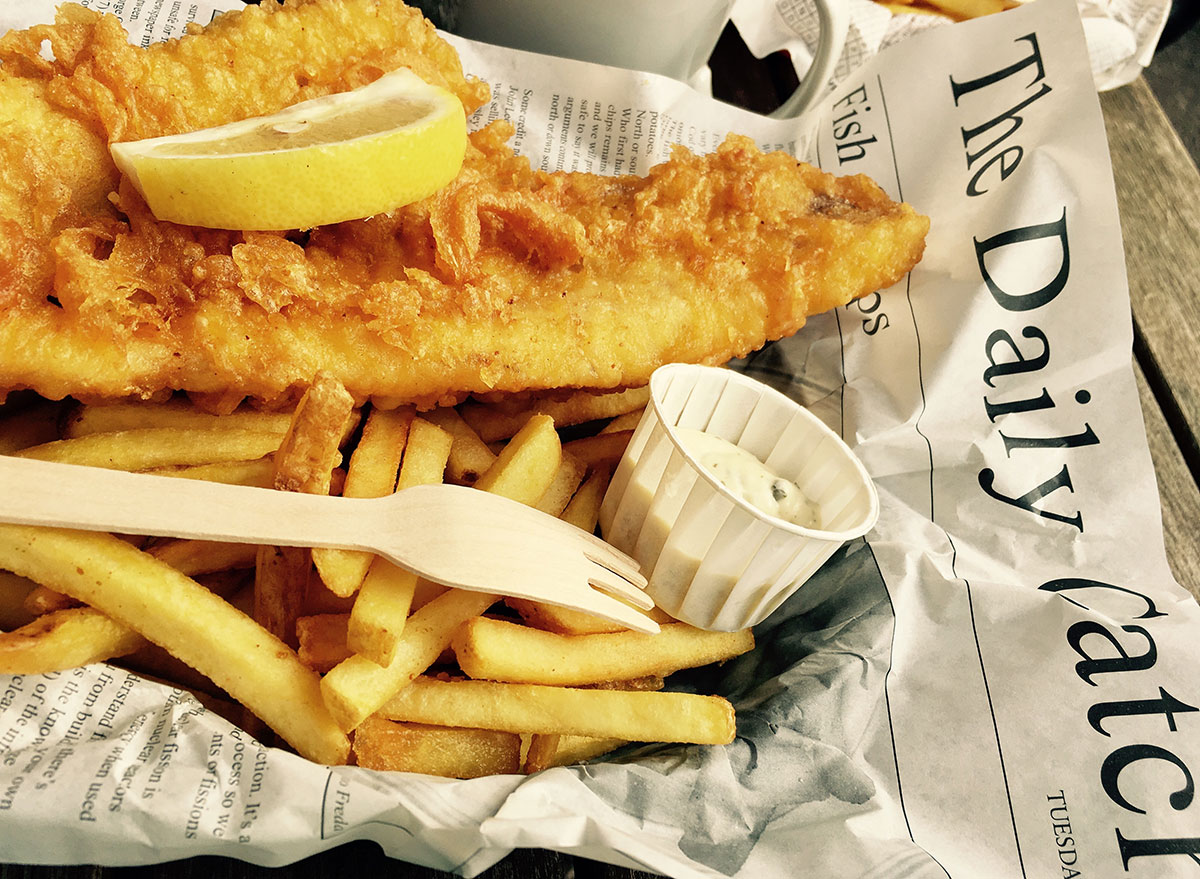 Attack of the beige! Whenever your dinner is monochromatic (in this case, the off-brown hue of deep-fried), you know you're in trouble. Don't blame the fish though—the seafood is packed with lean, muscle-building protein and heart-healthy fats. But the trouble here lies with a massively unbalanced fish-to-fat ratio. A coating of crispy batter and a pile of deep-fried potatoes is just loaded in sodium and fat.
They say getting a great body is 80% nutrition and 20% exercise. Unfortunately, most protein bars are 100% garbage. The combination of sugar, carcinogenic colors, and polysorbate 60, an emulsifier that can create potentially-toxic compounds when combined with other ingredients, makes most protein bars less snack and more health hazard. If you think you're getting a better deal by opting for sugar-free recipes, think again; the artificial sweeteners used in sugar-free protein bars have been linked to weight gain and cardiometabolic risk, according to a study in the Journal of the Academy of Nutrition and Dietetics.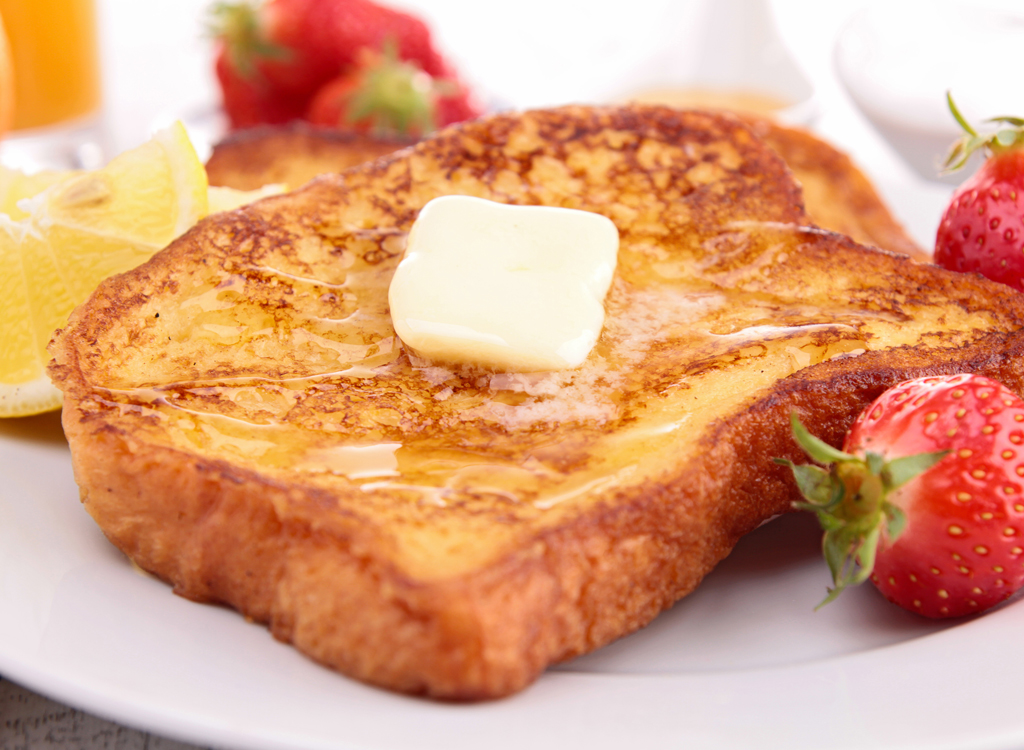 If you make the right choices when eating French toast, it isn't necessarily all that bad, but ordering this breakfast dish out at a restaurant changes everything, as it just adds more fat, sugar, and salt to a meal already high in fat, sugar, and salt as it is. Cheesecake Factory's bruléed French toast has nearly 3,000 calories, which is more than a day's worth of calories in your first meal of the day.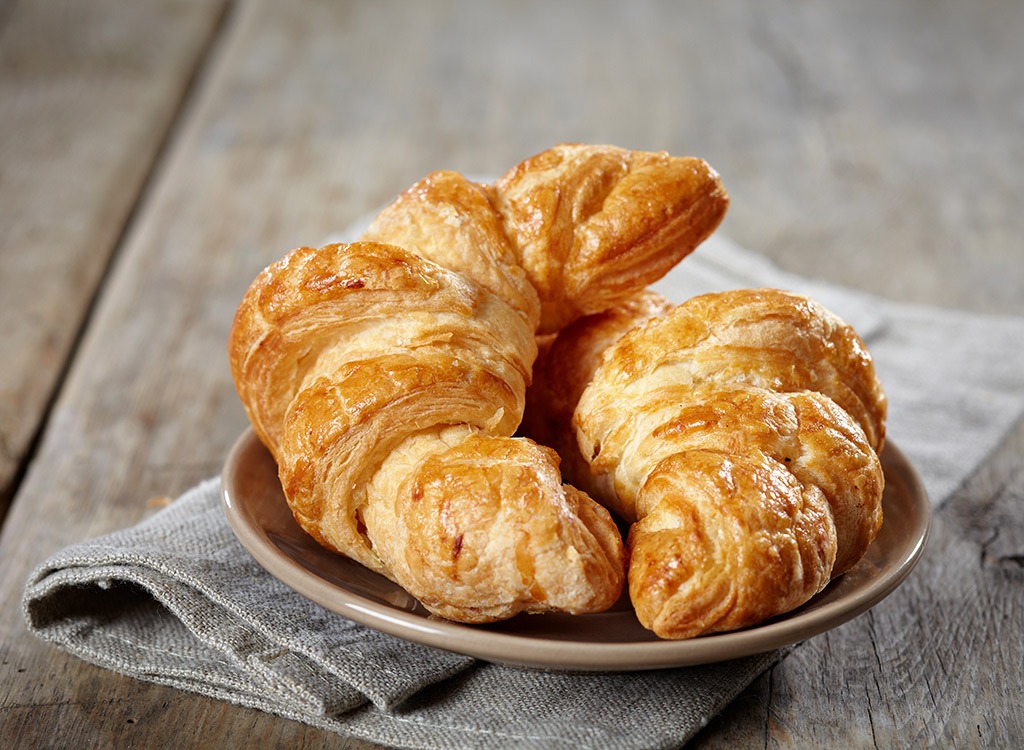 We know, we know—biting into a buttery, flaky croissant is unlike anything else. But if you eat too many of them, pretty soon, your belly could transcend your belt buckle. A butter croissant from Dunkin' Donuts has 19 grams of fat (24% of your daily value), 340 calories, and 8 grams of saturated fat (40% of your daily value)—and you're likely eating all that before you even make it to work in the morning. And that's just for plain. If chocolate croissants are your go-to, you're looking at consuming upwards of 16 grams of saturated fat per pastry from Au Bon Pain, or 80% of your daily value's worth. Sorry, but even croissants are considered one of the unhealthiest guilty pleasure foods.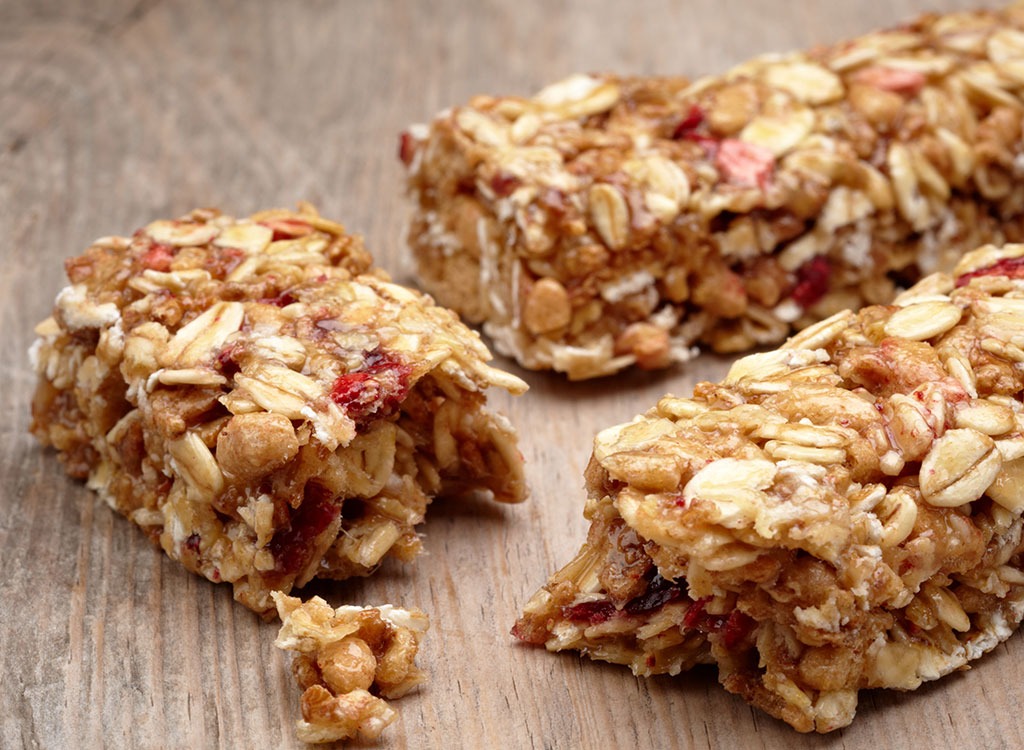 Granola has long been associated with healthy living, although considering all the garbage that's put in granola bars, the link isn't exactly clear. The combination of sugar, corn syrup, and sorbitol, a weight gain-inducing trifecta found in Quaker Chewy Chocolate chip granola bars should be enough to have most health-conscious consumers steering clear, but the fattening soybean oil and widely-banned potential carcinogen BHT are just the icky cherries on top of this unhealthy recipe.
There are plenty of good reasons not to eat hot dogs—their high levels of sodium and carcinogen-producing nitrates are just two—but if you need another, here you go. The BBQ staple is also preserved with sodium phosphates: an ingredient that even McDonald's scrapped from their menu. Studies published in the journals FASEB and Aging have connected high levels of serum phosphates (due to dietary consumption) to higher rates of heart disease, chronic kidney disease, weak bones, and accelerated aging.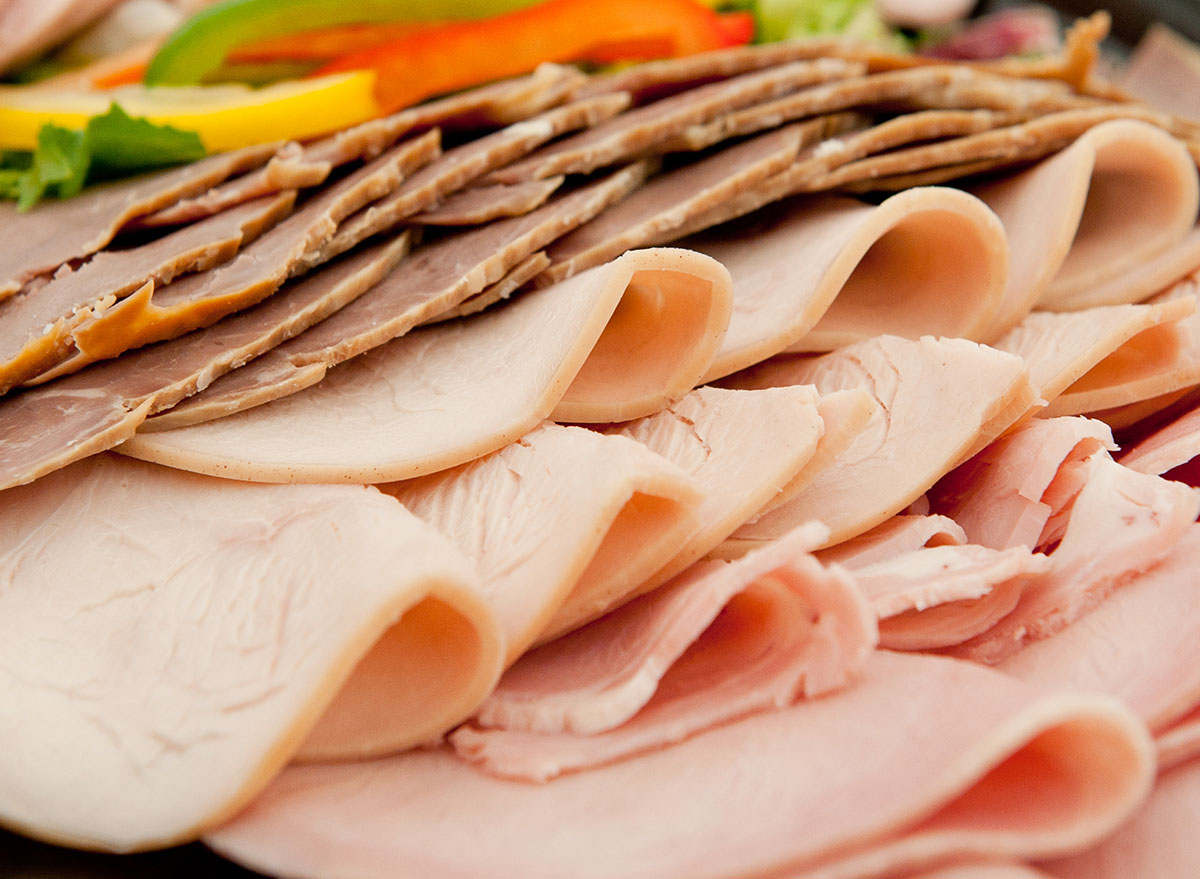 The deli meats you use to make your lunch may be putting your life at risk. How? Consider this: just 2 of those thinly-sliced pieces of meat can contain more sodium than a bag of pretzels, and upwards of 680 milligrams! (And who only uses 2 slices…?) A diet high in sodium puts many at risk for high blood pressure (hypertension) and heart disease, and with the average American consuming 3,400 milligrams of sodium each day, according to the American Heart Association, you should try to choose lower-sodium options whenever they are available.
When reaching for a bottled coffee beverage, you're probably more concerned with how under-caffeinated you're feeling and less about what could be lurking under that label. Unfortunately, some of these sickly-sweet drinks are loaded with more added sugars than you should consume in an entire day, as recommended by the FDA. For example, one 14-ounce bottle of Gold Peak Almond Toffee Coffee Drink contains a staggering 270 calories and 53 grams of sugar. (Another shocker? The whole bottle only dishes out 77 milligrams of caffeine, which is significantly less than the 166 milligrams you'd get for an equal serving size of black coffee.) Other popular drinks, such as Starbucks Coffee-flavored Frappuccino, are nearly as bad, doling out 32 grams of sugar per 9.5-fluid-ounce bottle, making it one of the unhealthiest guilty pleasure foods.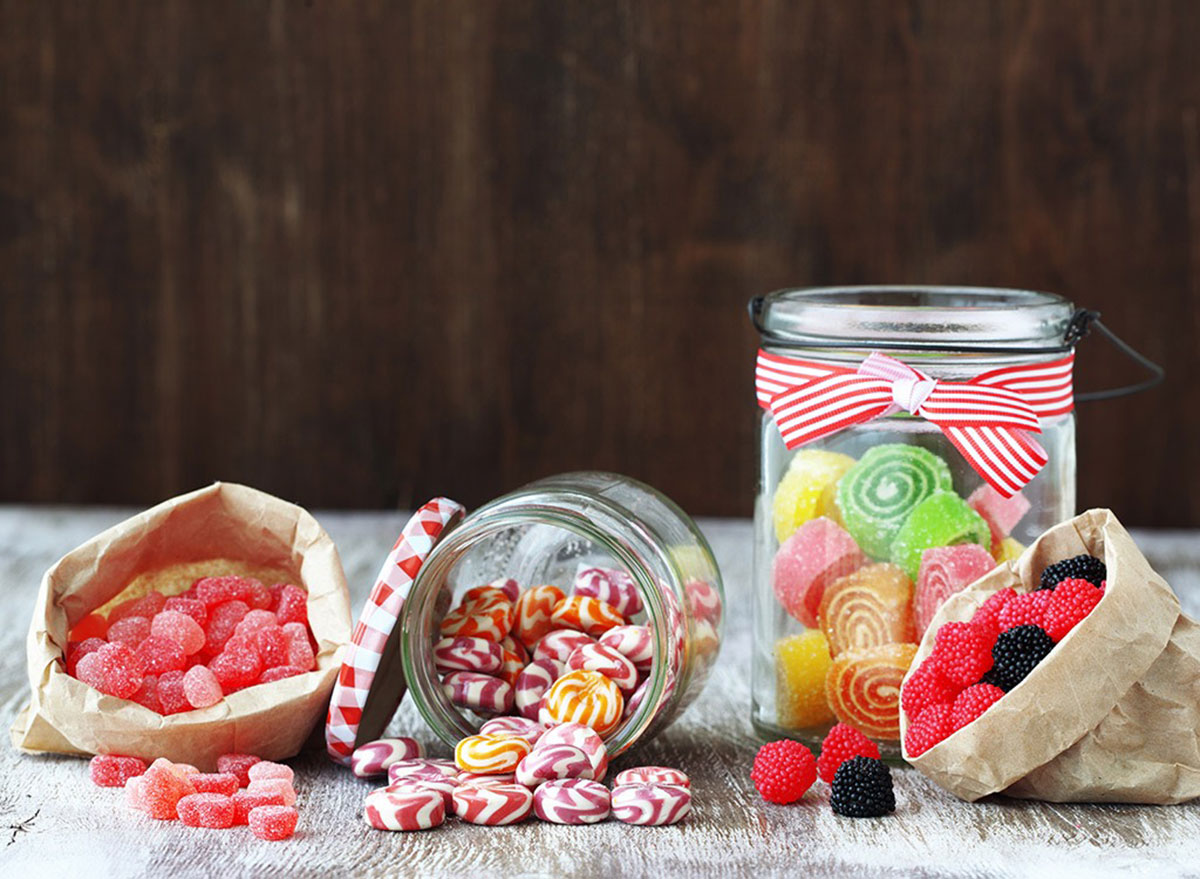 You already knew all the artery-clogging fats and addicting sugars in candy weren't doing you or your family any favors, but you likely didn't realize that certain candies can make it more difficult for your little ones to concentrate. A few years ago, researchers discovered that the artificial colors, Yellow No. 5 and Yellow No. 6 (found in M&Ms), promote Attention Deficit Disorder (ADD) in children, according to a study in the journal The Lancet. In fact, Norway and Sweden have already banned the use of these artificial colors, and in the rest of the EU, foods containing these additives must be labeled with the phrase: "May have an adverse effect on activity and attention in children."
If you have nuggets and fries in your freezer, there's most likely a container of ketchup in your fridge to dip them in. The problem with store-bought ketchup? It's not just tomatoes in there! It's one of those foods you wouldn't think, but it's packed with sugar and preservatives. Instead, try making your own ketchup from scratch.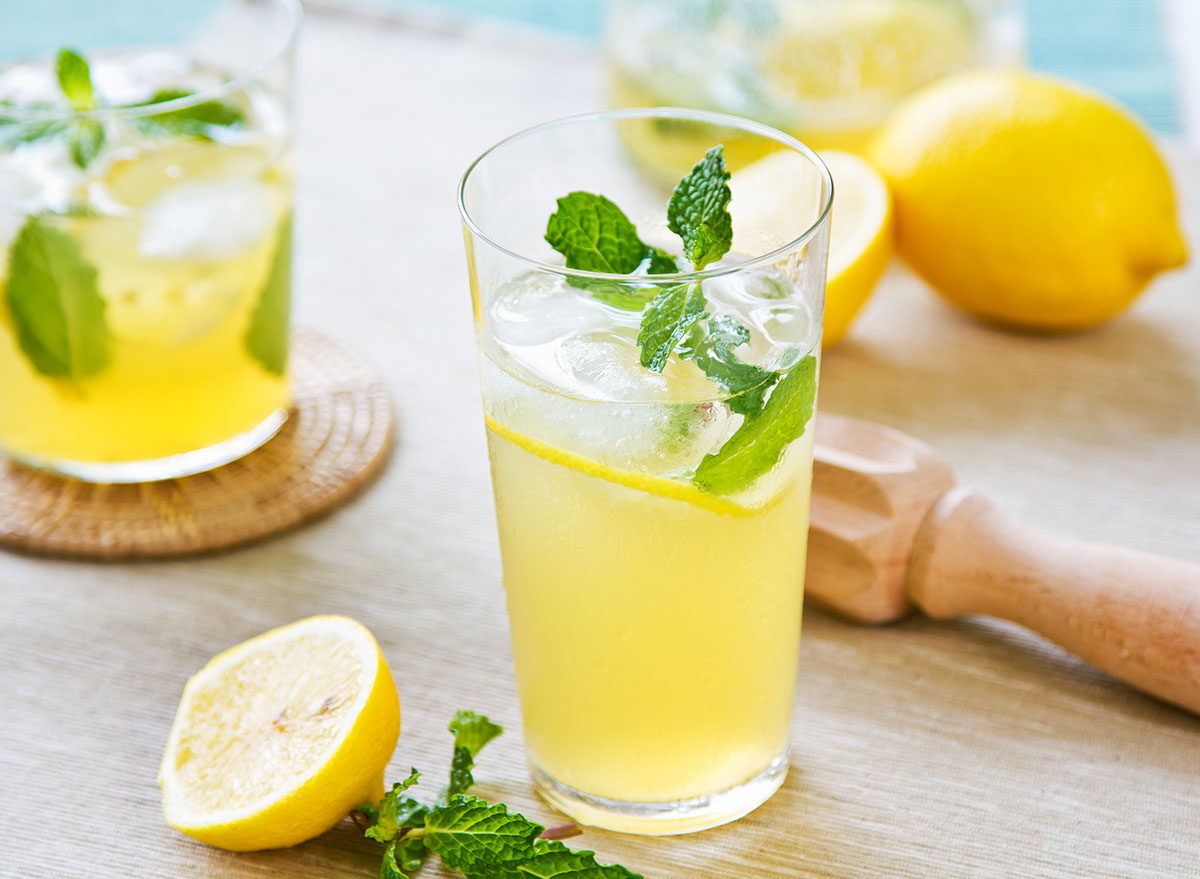 Beyoncé's Lemonade? Great. Pretty much every other kind of lemonade? Mostly garbage. On top of the boatload of sugar that's in most lemonade recipes, brands like Minute Maid give their bottled and canned lemonade drinks a vibrant hue by using yellow #5, which has been linked to hyperactivity and impaired renal function in animal test subjects. Which means it definitely ranks on our unhealthiest guilty pleasure foods list, unfortunately.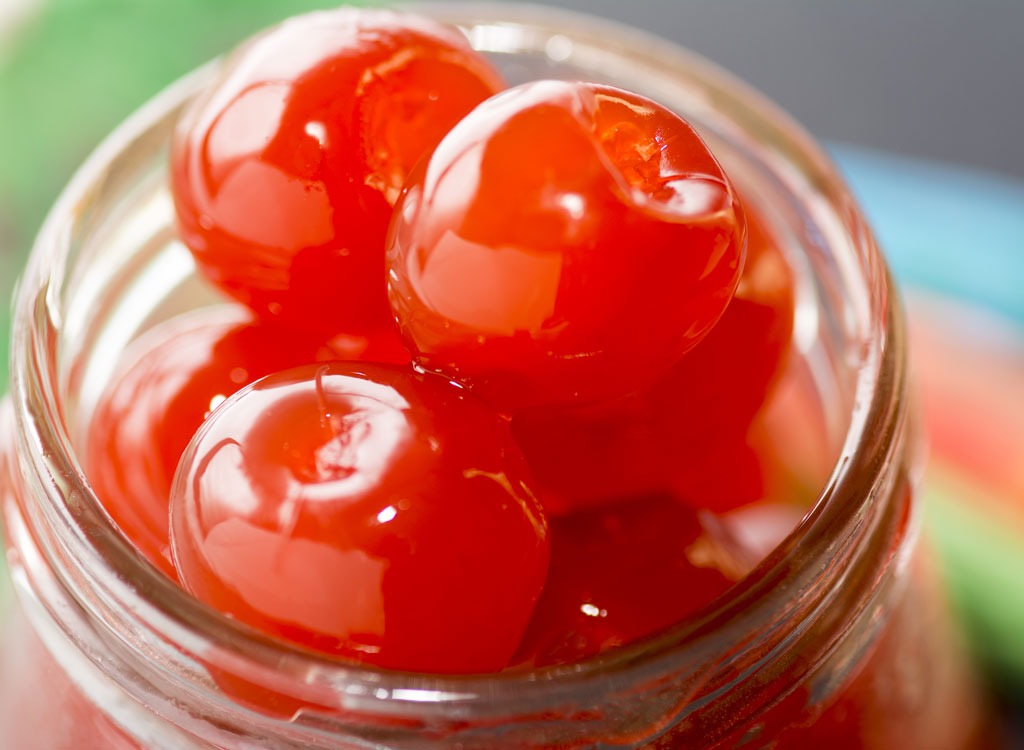 Mix up some preservatives, corn syrup, and dyes and you've got… a sundae topping? Maraschino cherries, known for their vibrant hue and perplexing flavor, are an engineered food that have no place in a healthy diet. When you consider that they can last up to three years in their high fructose corn syrup bath before they even get near their expiration date, you'll definitely want to put them back on the shelf.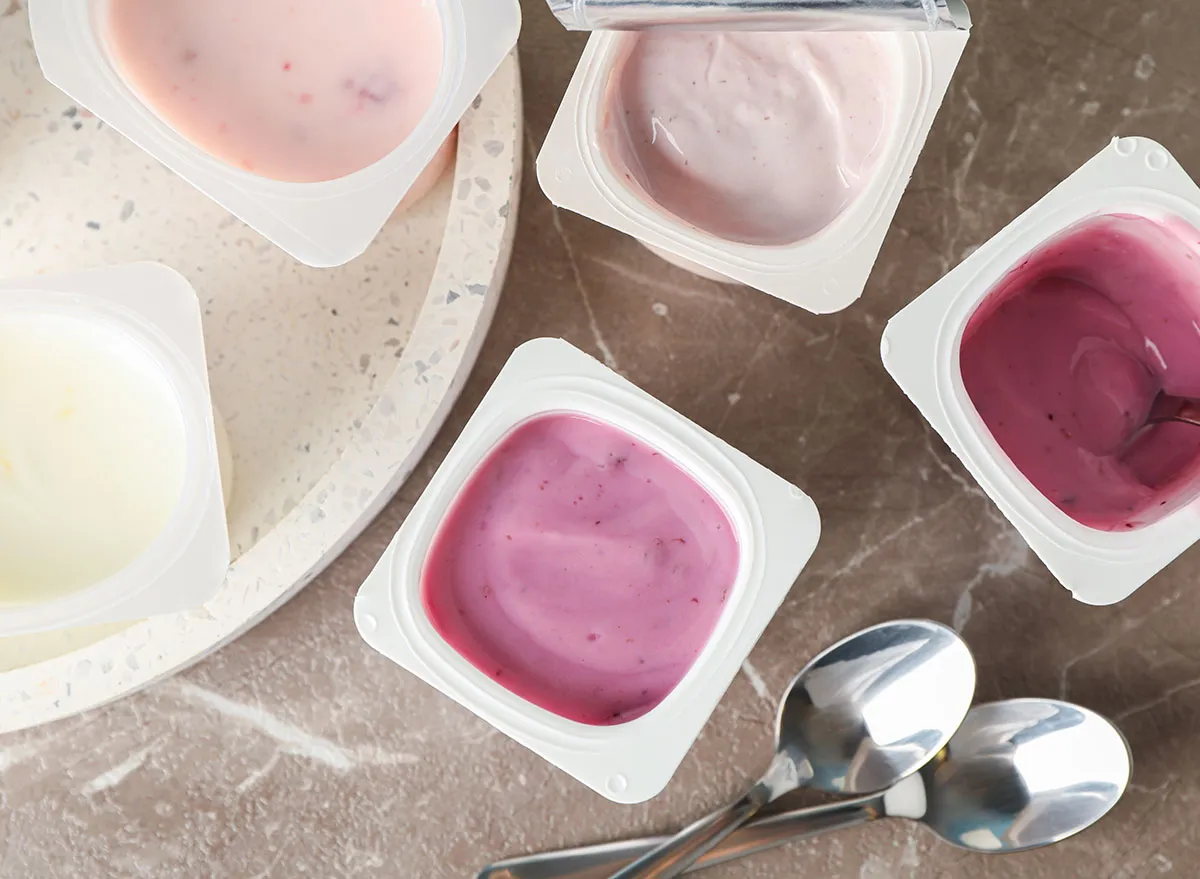 All those smiling models in yogurt commercials obviously haven't checked out the ingredients list on their purportedly healthy snack. Most fruit-flavored yogurts on the market contain precious little actual fruit, sweetening their recipes with sugar instead. And those brilliant hues you thought were the result of fresh fruit in the recipe? They're usually just from fruit juice concentrate. Another additive you have to watch is carrageenan: a plant-based emulsifier which studies have found to cause inflammation in those with gastrointestinal issues.