7 Healthiest New Frozen Items At America's Largest Grocery Chain
The frozen aisle of goodness got some great new additions!
We rounded up some of the latest healthy frozen foods from America's largest grocery chain, Kroger. Frozen foods are great because they stay for weeks without going bad. No need to search Kroger's frozen section yourself. We compiled this list for you with corn, noodles, Brussel sprouts, veggie pasta, pineapple chunks, and even some fudge bars.
With this list in hand, we asked three registered dietitians to have a look and choose their favorite options. Molly Hembree, a registered dietitian for Kroger and a member of the Eat This, Not That! Medical Expert Board; Peggy Kochenbach, a registered dietitian and founder of POK Communications; and Kristian Morey, a registered dietitian at Mercy Medical Center in Baltimore, chose these frozen foods you can toss in your cart the next time you're grocery shopping at Kroger. Keep reading for the experts' choices on nutritious frozen foods. These are just some of the new frozen foods at Kroger.
Kroger Stir Fry Starters Vegetables With Noodles
¼ CUP
: 60 calories, 0 g total fat, 0 mg cholesterol, 25 mg sodium, 12 g carbs (1 g fiber, 1 g sugar), 2 g protein
This stir fry starter with spaghettini pasta also has loads of veggies from broccoli, green peppers, red peppers, mushrooms, carrots, onions, and celery. It's quick and easy. All three registered dietitians are fans of this one.
"Usually, you find frozen noodle + vegetable products heaping with sodium. This product has just 25 milligrams of sodium per serving! It's great to see a variety of seven vegetables in this mix as well," says Hembree.
Kochenbach loves the convenience this nutritious meal provides. She recommends adding protein like chicken breast and a flavorful sauce for a quick and nutritious meal.
"Low in fat and sodium, making it easy to make sure you can control how much oil and salt goes into the dish the way you like it. Just add protein of your choice, and you have a meal in minutes," Morey added.
Private Selection Frozen Mukimame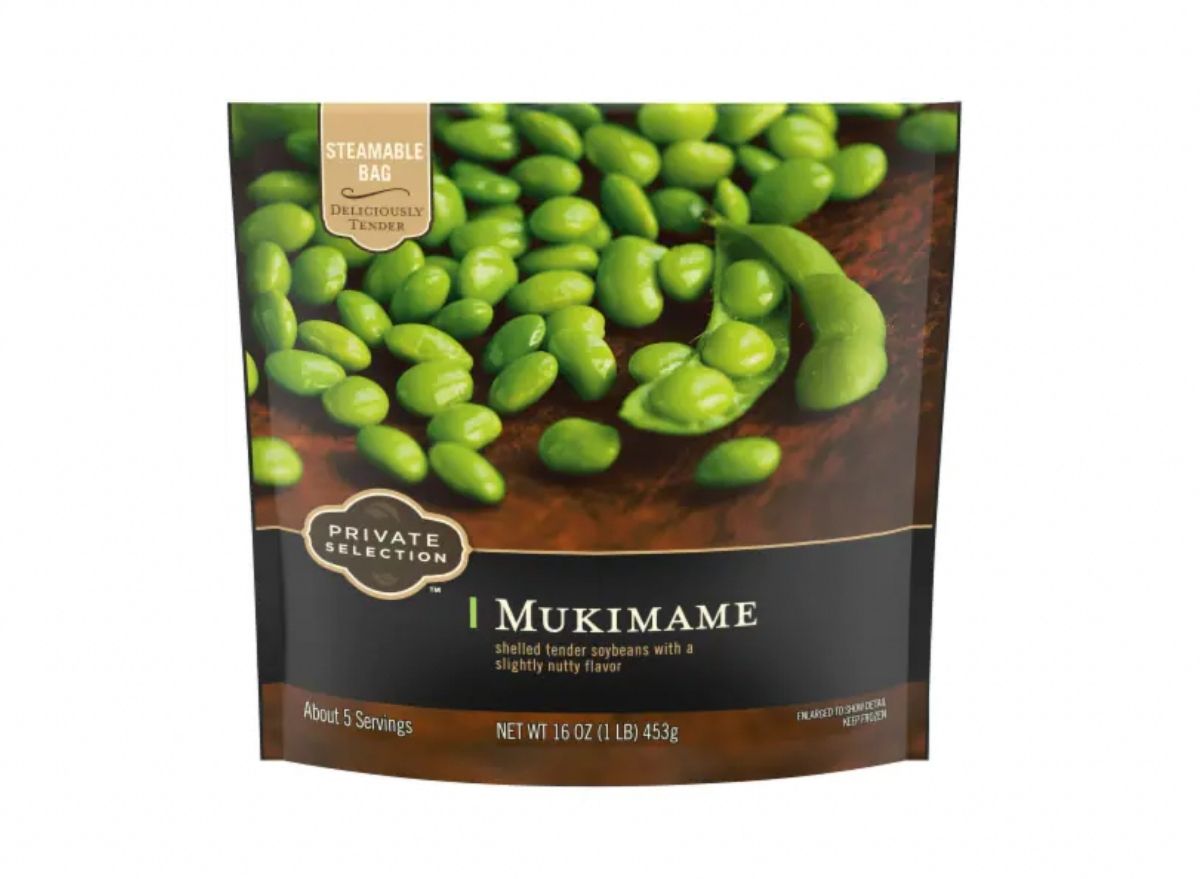 75 GRAMS
: 120 calories, 6 g total fat, 0 mg cholesterol, 10 mg sodium, 8 g carbs (3 g fiber, 2 g sugar), 8 g protein
Mukimame is a high-protein food great by itself or added to meals. It is a "Good source of fiber and vitamin C, while very low in sodium and cholesterol-free. A great complete plant-based source of protein," adds Morey. Kochenbach agrees it's a great plant-based protein.
Hembree agrees. "Mukimame is shelled edamame and a real rival to animal-based protein options. It comes in at 8 grams of protein per serving," she says. "I've had these in a power bowl, and they taste wonderful with some light teriyaki sauce, rice, and vegetables."
Birds Eye Spaghetti Style Marinara Veggie Pasta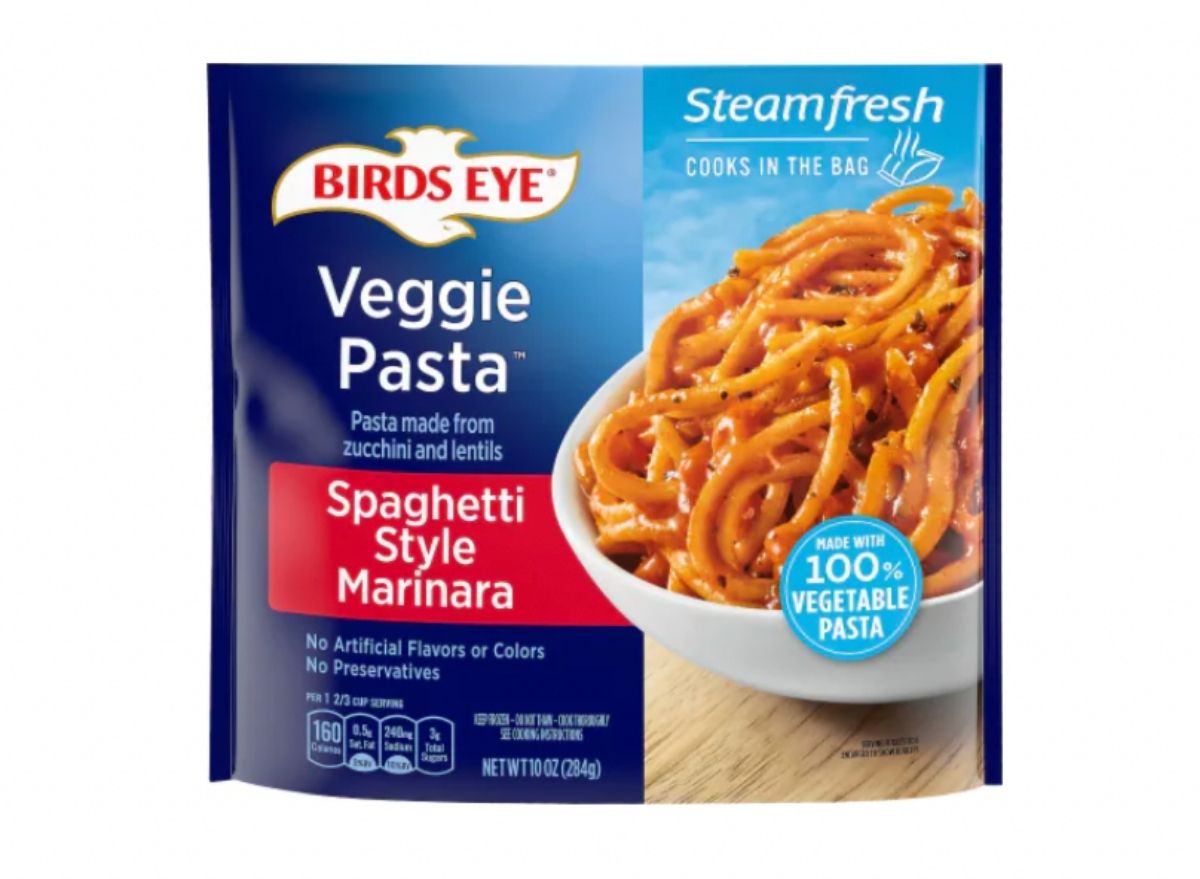 114 GRAMS
: 150 calories, 4 g total fat, 0 mg cholesterol, 240 mg sodium, 22 g carbs (2 g fiber, 3 g sugar), 8 g protein
"This unique product uses lentils and zucchini for the noodles while gathering some great flavor from the savory mushroom base and garlic puree. It has 240 milligrams of sodium per serving which is actually quite low compared to similar items in the frozen section and is a fun way to get a little more vegetables in your meal," Hembree says.
Kochenbach agrees this is a great way to get some veggies in your diet, saying, "Try it as a creative alternative to traditional white-flour pasta."
Morey praises the iron in this pasta, noting it provides 15% of your daily needs in one serving.
Campoverde Pineapple Chunks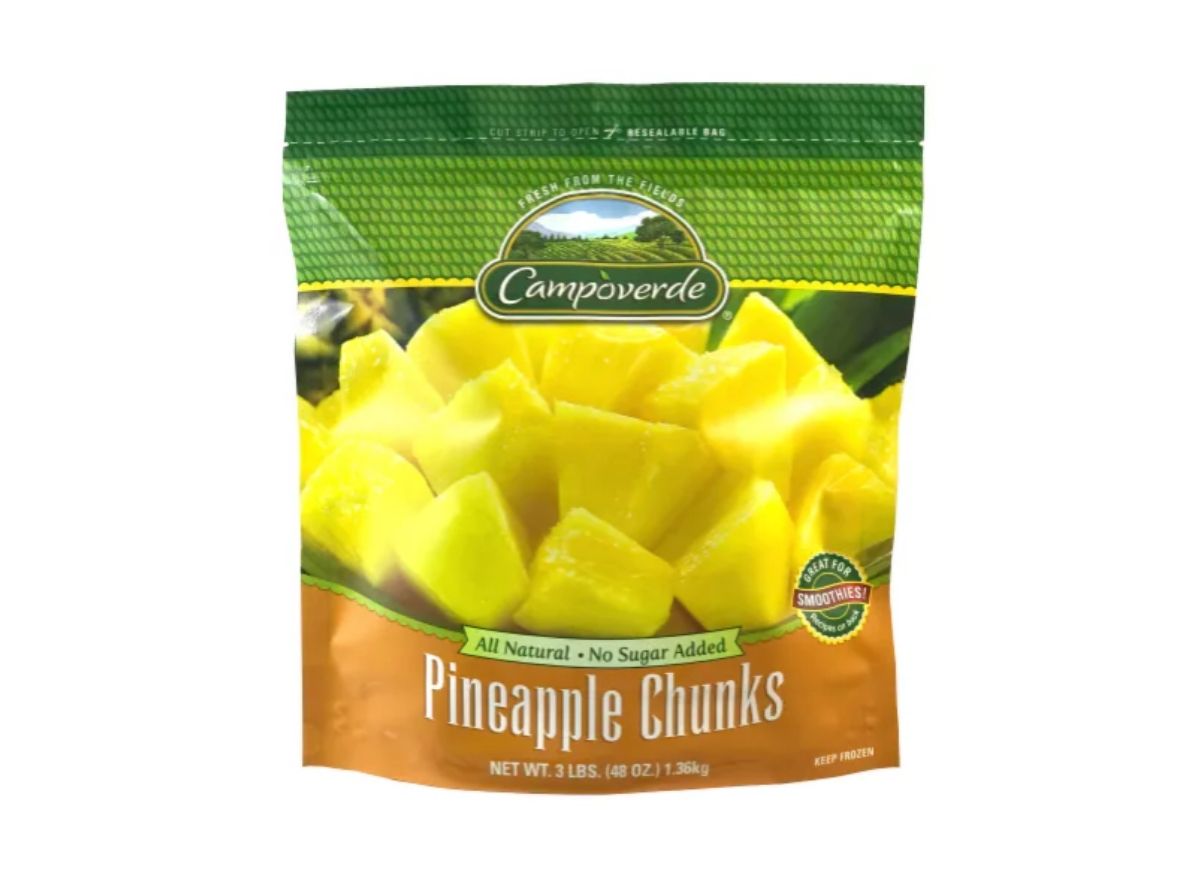 1 CUP
: 110 calories, 0 g total fat, 0 mg cholesterol, 0 mg sodium, 30 g carbs (3 g fiber, 22 g sugar), 1 g protein, calcium 30 mg, iron 1 mg, potassium 247 mg, vitamin C 109 mg, manganese 2 mg
Hembree loves that this frozen Kroger option has one ingredient: pineapple, which has loads of vitamin C and manganese. Plus, there's no added sugar.
"Frozen fruit is great for smoothies, bowls, fruit salad, or to have on hand to defrost to eat on its own. It can be hard to always get to the market to have fresh fruit on hand – frozen no-sugar-added fruit is a great thing to have in stock in the freezer so you always have fruit to enjoy," says Kochenbach.
Birds Eye Steamfresh Premium Brussel Sprouts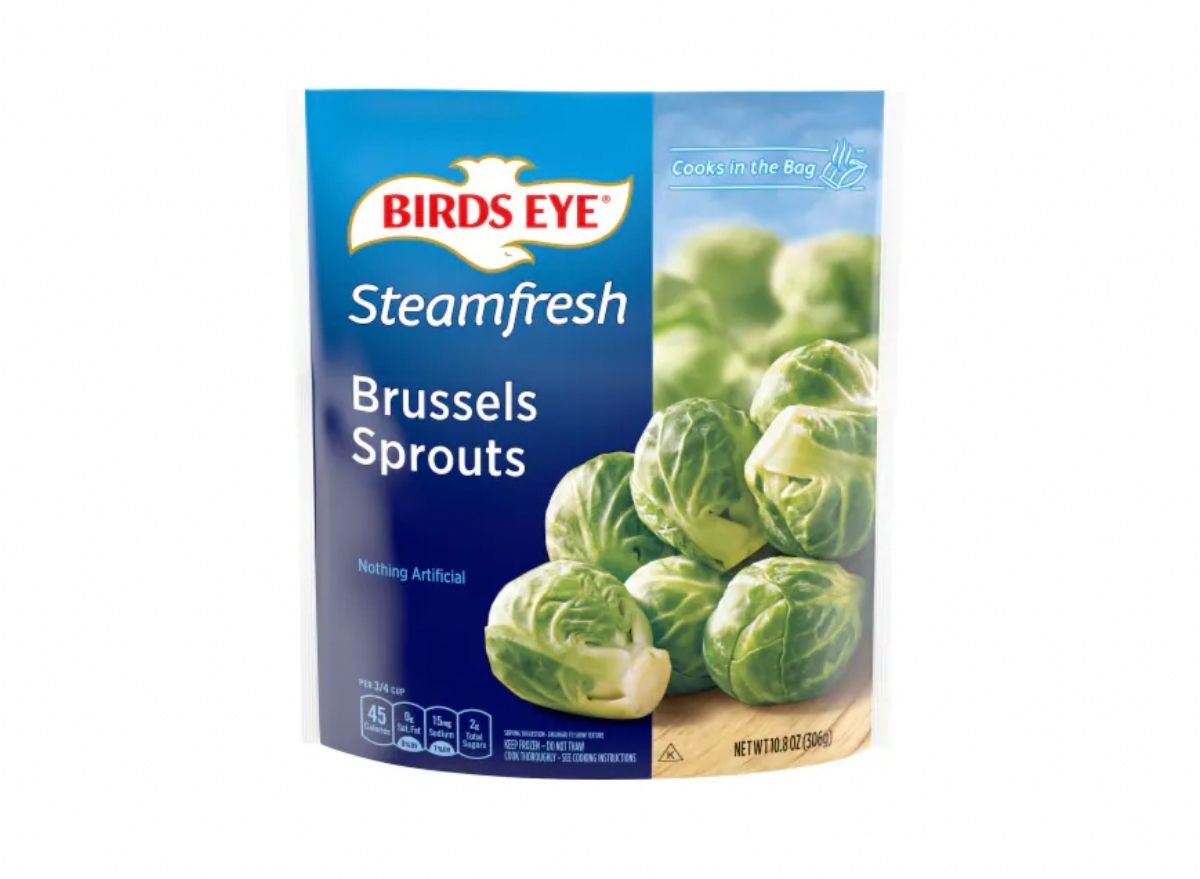 ¾ CUP
: 45 calories, 0 g total fat, 0 mg cholesterol, 15 mg sodium, 7 g carbs (3 g fiber, 2 g sugar), 3 g protein, calcium 20 mg, iron 0.36 mg, vitamin A 2%, vitamin C 48 mg
Brussel sprouts provide some protein, calcium, vitamin C, and vitamin A. Enjoy as a nutritious snack or as a side.6254a4d1642c605c54bf1cab17d50f1e
"It doesn't get much more nutritious than Brussels Sprouts! They are the only ingredient here – no additives or flavors – and Brussels Sprouts are chock full of nutrients and fiber. You can cook them right in the bag, making them quick and convenient – and tasty!" says Kochenbach
Kroger Sweet Corn Cob Tots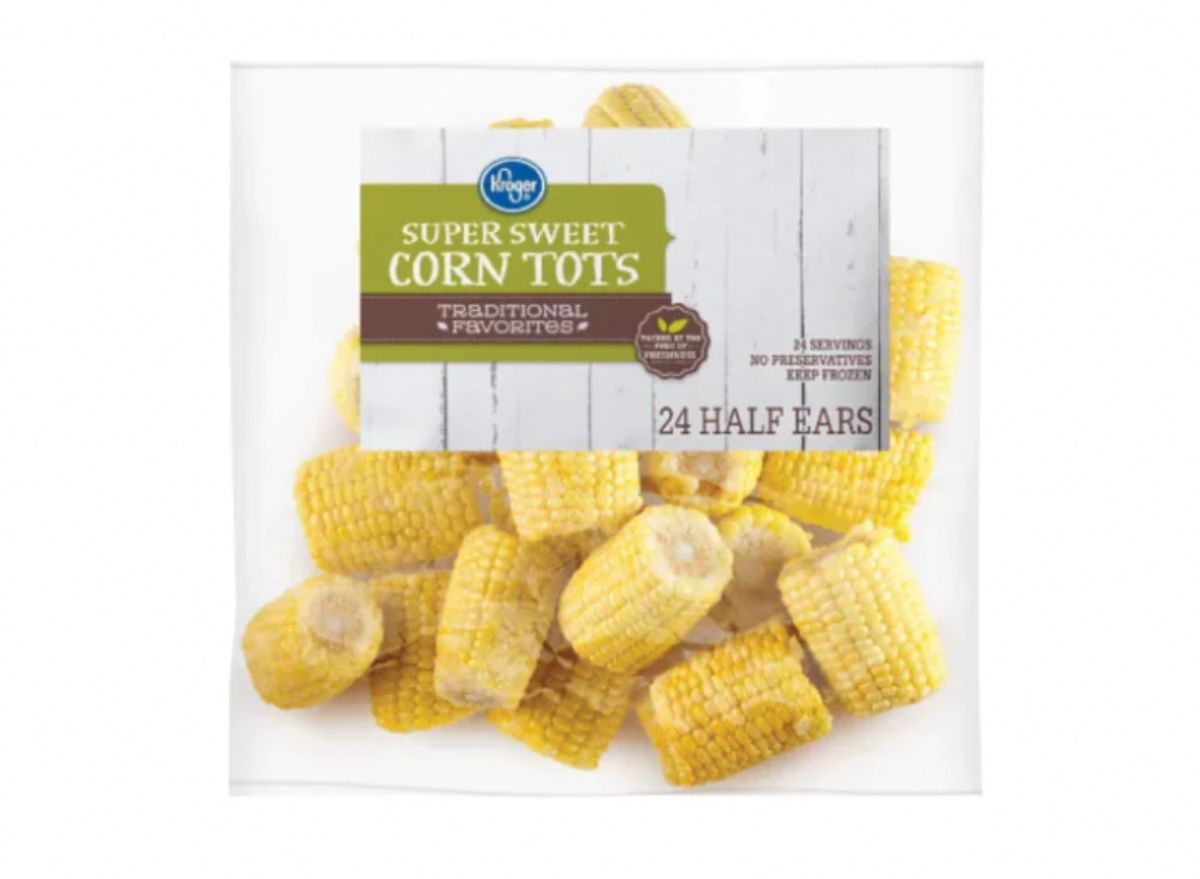 ½ EAR
: 90 calories, 0.5 g total fat, 0 mg cholesterol, 0 mg sodium, 19 g carbs (2 g fiber, 8 g sugar), 3 g protein
Morey loves Kroger's Sweet Corn Cob Tots, noting that it has no added ingredients. Plus, it's perfect for anyone watching portions or carbs. Take what you need from the freezer and heat it for a healthy side for dinner or lunch.
Kroger Low Fat Fudge Bars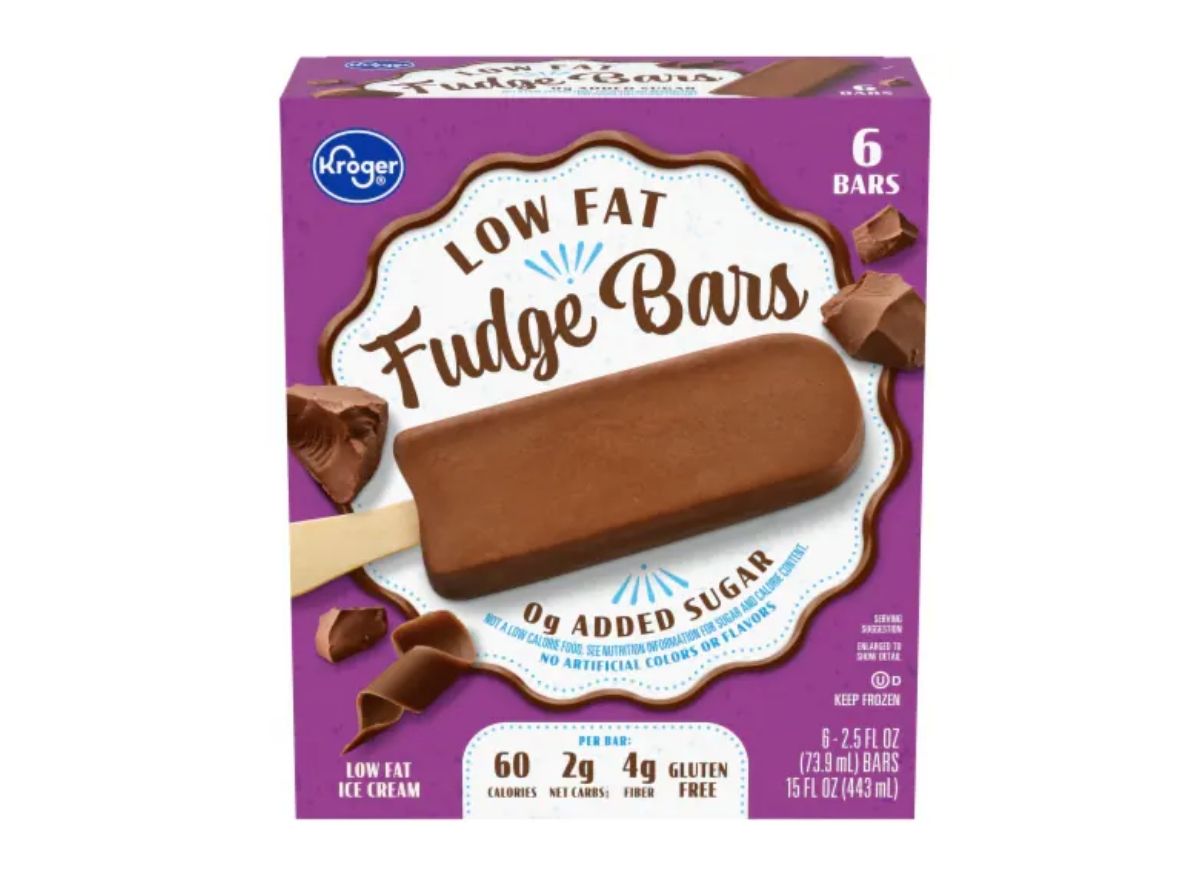 1 BAR
: 60 calories, 1 g total fat, 5 mg cholesterol, 50 mg sodium, 14 g carbs (4 g fiber, 4 g sugar), 4 g protein, calcium 100 mg, iron 0.36 mg, vitamin A 2%
Morey wants to give these Kroger Low Fat Fudge Bars a try, noting that they're low fat and low in sugar. "At just 60 calories for a dessert, I'd definitely give this a try," she admitted.
Great for those late-night chocolate cravings. You can't go wrong with this low-calorie snack.
These aren't the only healthy options there right now. Here are The Best Snacks You Can Buy at Kroger Right Now, Says Dietitian.
Nicole LaMarco
Nicole has a first-degree black belt in Taekwondo and is passionate about everything health-related.
Read more about Nicole