The Worst New Snacks of 2021
With any luck, these snacks won't be around this time next year.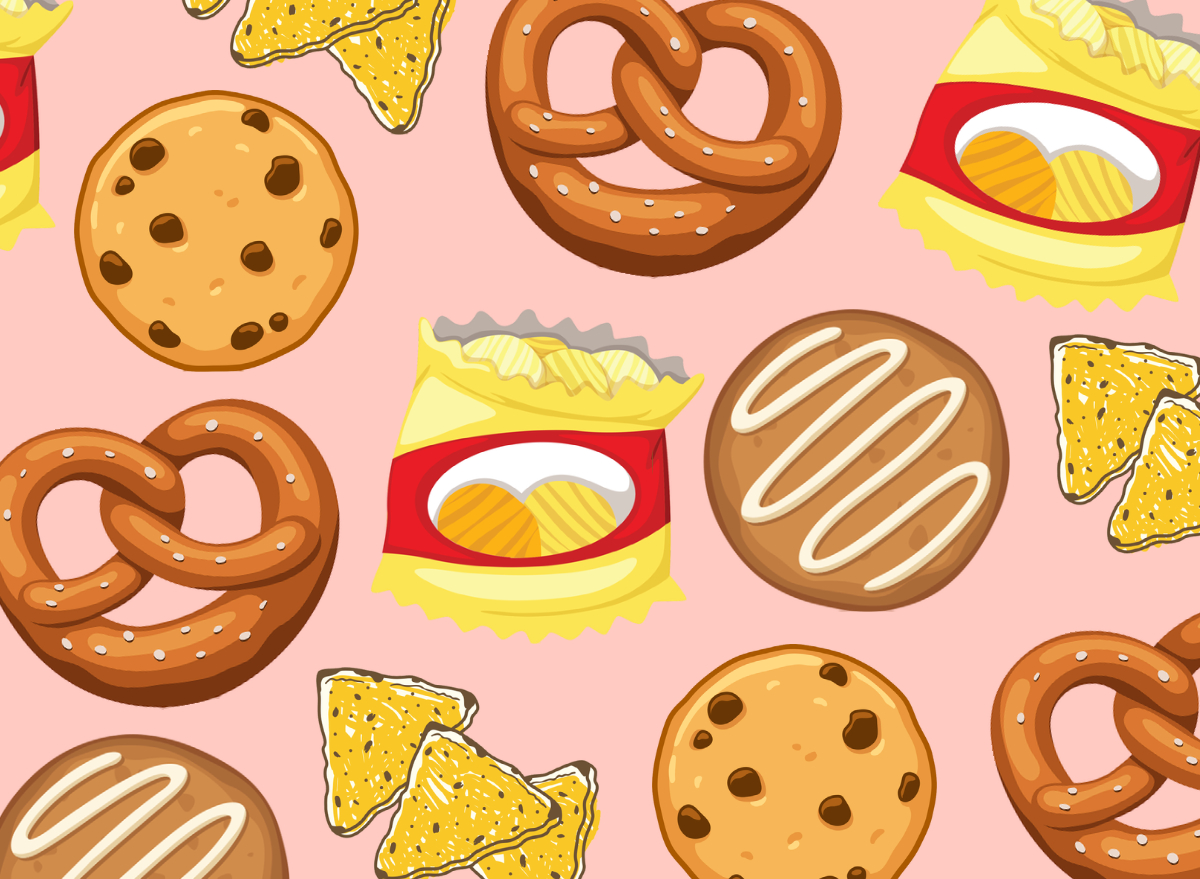 From tasty new chicken sandwiches at fast-food chains across the nation to a few fun new candies to some exciting new soft drinks to sweet and savory snacks, 2021 saw a lot of new foods that we hope stick around indefinitely, becoming classics as they last and last. On the other hand, year two of the global pandemic also saw the addition of plenty of new snacks that we can hope, just like COVID-19, will soon disappear. From legacy brands trying out ill-advised new flavors to snacks based on retro favorites that fail to live up to the past to several entirely new snacks that are simply not good, here is a look at 15 of the worst new snacks to hit grocery store shelves in 2021. Plus, don't miss The Best & Worst Chips in 2021—Ranked!
Cheetos Flamin' Hot Popcorn
Discontent to continue producing Flamin' Hot Cheetos alone, this year the brand added Cheetos Flamin' Hot Popcorn and Cheetos Cheddar Popcorn. The problem? Sodium, more than anything else. A single serving nets you 320 milligrams of the stuff–or nearly 15% of your RDA. And you'll also consume 11 grams of fat, also just less than 15% of your daily max for a 2,000 calorie diet.
Pepperidge Farm Gluten Free Farmhouse Cookies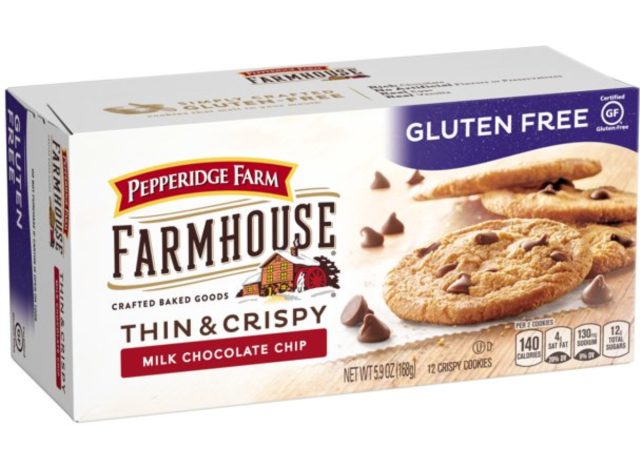 6254a4d1642c605c54bf1cab17d50f1e
The new Pepperidge Farm Gluten Free Farmhouse Cookies are a great option for people with Celiac disease who genuinely need to avoid gluten, but everyone else should avoid these cookies. They pack 20% of your daily recommended limit for saturated fat into just one serving, which is a mere two cookies.
Kellogg's Smorz Jumbo Snax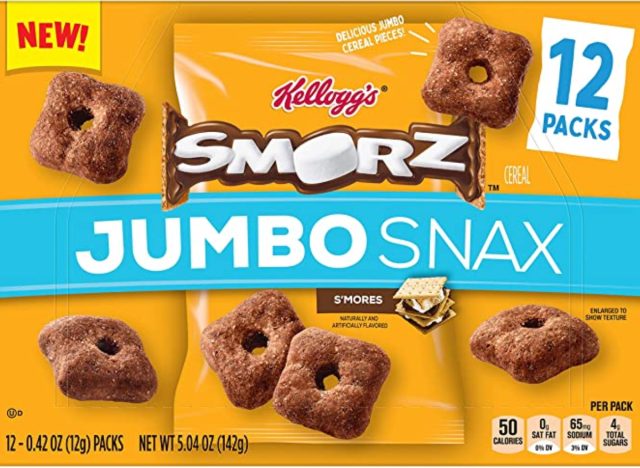 Kellogg's Smorz Jumbo Snax are, unfortunately, really just sugar delivery vehicles with no nutritional value. They have less than a gram of protein per serving, less than a gram of fiber, and yet four grams of sugar per 50 calories. At least they are also low in fat.
Pringles Wavy Moa Burger
These limited-edition Pringles chips, released in partnership with the video game franchise Halo, were met with less enthusiasm than the games themselves. On Reddit, one commenter said, "those Pringles are definitely not how [Halo] Reach should be remembered." Another opined "they were ok. They were good in small bursts if that makes sense. I didn't finish them." Overall, no one was sad to learn they were not a permanent addition to the lineup.
Fruity Pebbles Candy Bar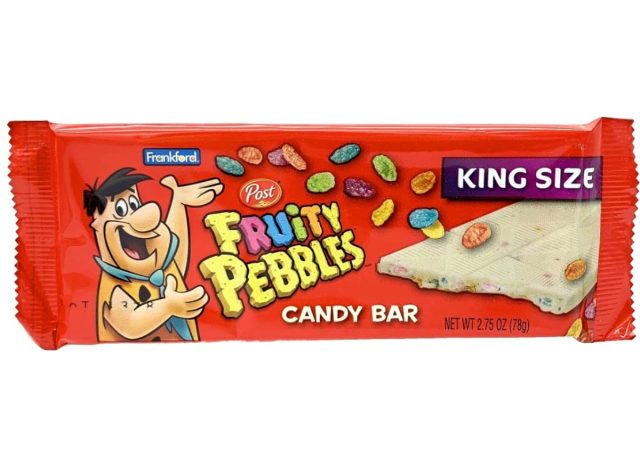 The classic and wildly unhealthy breakfast cereal kids loved in the latter decades of the 20th century is back in… candy bar form. The Fruity Pebbles Candy Bar from Frankford is, according to Amazon customers, not only quite overpriced, but it's "not worth the price," either. Another advises, "Do not purchase this product." To be fair, others say it tastes just like the cereal, so if that's a pro for you, go ahead and consider it.
Hot Pockets Snack Bites Cheesy Beef Nacho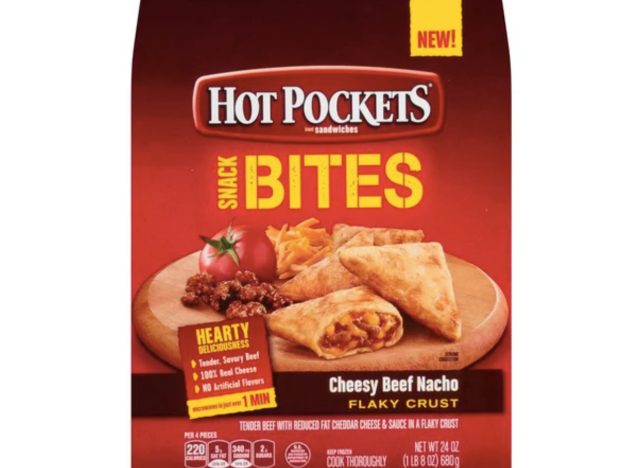 These are really just mini Hot Pockets, and Hot Pockets are not healthy. At all. You'll get a quarter of your daily saturated fat delivered in less than an eighth of your daily calories. And lots of sodium, too. At least they have some protein.
Hostess Lemon Drizzle Baby Bundts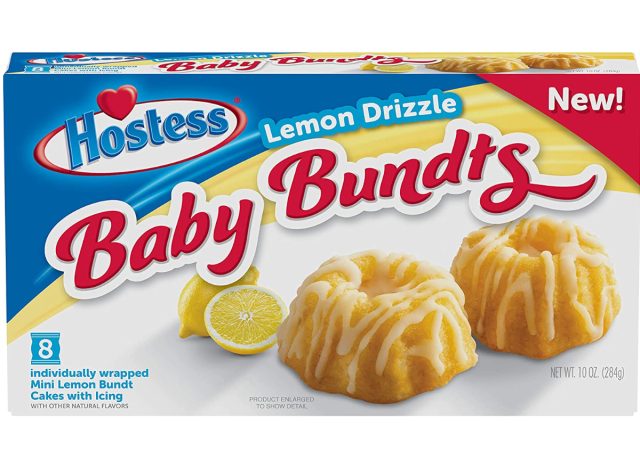 Granted, you likely aren't expecting to find these new Hostess Lemon Drizzle Baby Bundts in the health food aisle, but the extent to which they belong in the unhealthy aisle is pretty appalling. One two-cake serving has 270 calories, 10% of your RDA for saturated fat, and an astounding 27 grams of added sugars. On the plus side, they are adorable.
Tastykake Chocolate Swirls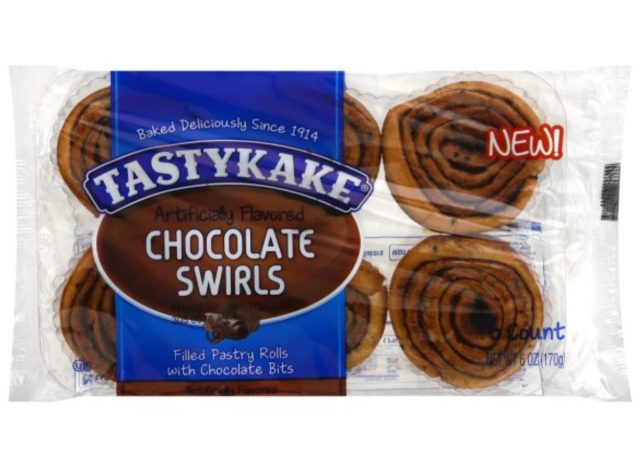 From a nutritional standpoint, these new chocolate rolls from Tastykake are already to be avoided. Next note the fact that they have a measly three-star rating on Walmart's site and just go ahead and pass.
Bella Sun Luci Plant-Based Tomato Jerky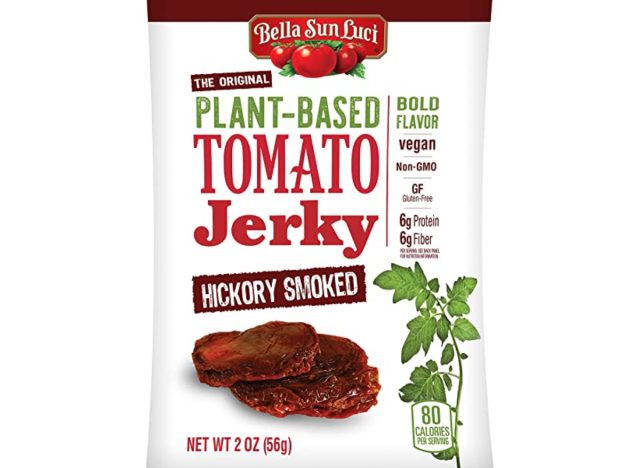 We want this plant-based jerky to be a tasty, satisfying alternative to beef jerky, given how terrible for the planet (and the cow) beef production is, but by most accounts, this tomato jerky is terrible. One Amazon customer said it "tastes horrible" while another decried its "weird texture." And no flavors of the brand's tomato jerky have even a four-star review at present.
Candy Pop Sour Patch Kids Popcorn
This blending of popcorn and Sour Patch Kids candy represents the opposite of synergy. It is, literally, via Walmart's own site: "Popcorn flavored with real Sour Patch Kids pieces." The only saving grace with this madness is that it's a low-calorie snack.
Pop Tarts Peach Cobbler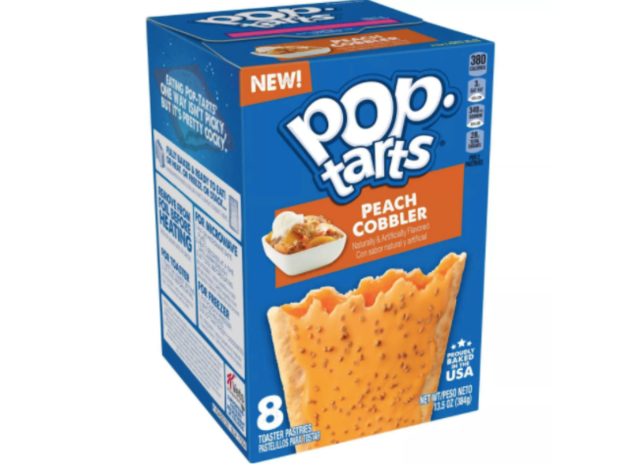 Although these sound delicious, there is not a lot of actual fruit in the new Peach Cobbler Pop-Tarts. You will find something called "peach powder" and "peach juice concentrate," but well before that you will find corn syrup, high fructose corn syrup, palm oil, sugar, and other junk. One reviewer compared the flavor to peach candy or gum.
Froot Loops Straws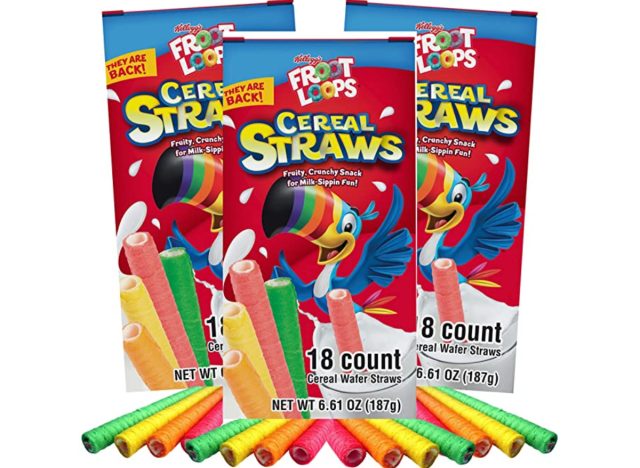 Most of us matured out of Froot Loops about the same time as we passed the sixth grade. Which was in the 1990s for the clear target audience of this new wheat flour, sugar, and maltodextrin-rich food product. They are literally straws made of cereal through which to drink milk, and each straw has more than four grams of sugar.
Ube Tea Cookies
Trader Joe's added these unusual little cookies earlier this year. The primary problem? According to people in the know, they taste nothing like ube, also known as ube halaya, a classic Philippine dessert made from cooked and mashed purple yams. People who have tried these not only cry foul of the flavor but also of the texture and consistency. And some people even reported stomach aches.
SlimFast Low Carb Coconut Caramel Crunch Bars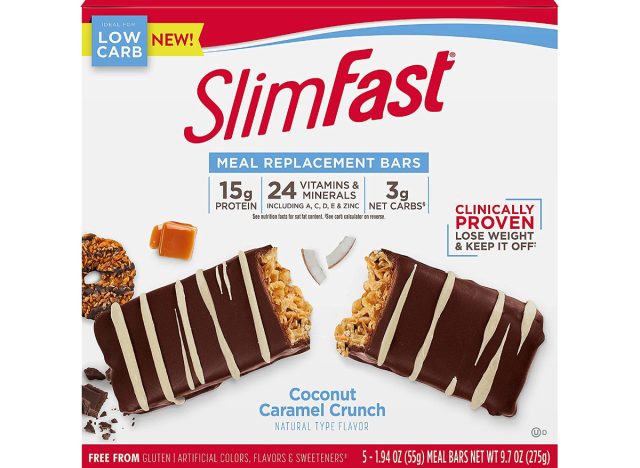 The new Low Carb Coconut Caramel Crunch Bars from SlimFast are, apparently…terrible. While high in protein, moderate in fat, and relatively low in calories per serving, the reviews of these bars are abysmal, as in a 3.2-star average and reviews like "horrible after taste," "they are awful," and simply "yuck."
Hostess Lemonade Stand Twinkies
These limited-time Twinkies were a summer release that came and went without gaining many fans because they were terrible. A reviewer with Junk Banter compared eating one with visiting "the worst lemonade stand you've ever been to." The writer goes on to say they taste nothing like lemonade and that he would never buy them again.
Read more about the best and worst products on the shelves:
The Best & Worst Snacks in America in 2021—Ranked!
The Best & Worst Baked Goods on Shelves in 2021—Ranked!
Steven John
Steven John is a freelancer writer for
Eat This, Not That!
based just outside New York City.
Read more about Steven