18 Restaurant Tricks That Will Save You Money
Dine out on a dime with these insider secrets!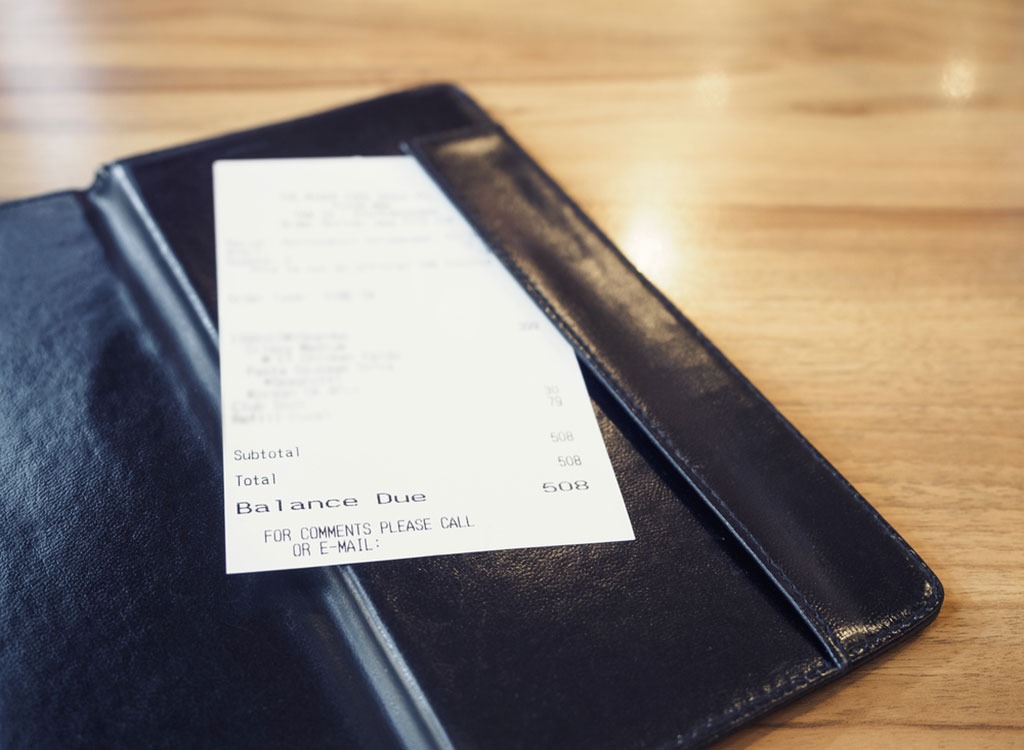 Americans spend more than $825 billion—yes, billion—at restaurants each year, according to the National Restaurant Association. To turn a profit, restaurants generally charge about four times as much per dish as they paid for its individual ingredients—that's a 400% markup!
But here's a bit of good news: You don't have to ditch your favorite restaurant fare altogether to stick to your food budget. According to the group of restaurateurs and wait staff we interviewed, there are tons of ways to cut $5, $10, and even $20 from your bill—without saying farewell to your favorite waitress or forgoing the food you love. Read on to discover their 18 must-know money-saving restaurant secrets and put all that extra cash toward something amazing.
And for more, check out these 15 Classic American Desserts That Deserve a Comeback.
Get it to go and size up.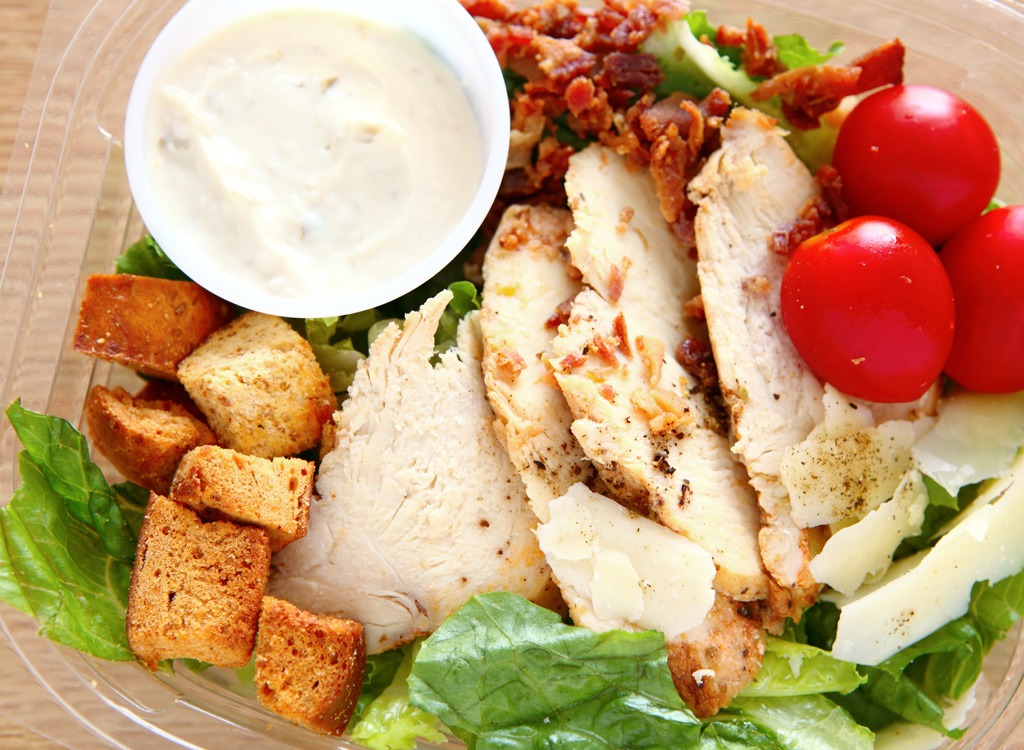 Strange but true: Getting your order to-go may be more economical than eating it in-house—and you'll oftentimes get more food for your money, too. "If you're looking to order a small chicken salad to-go, for example, ask for it in a large to-go box," says Becca, a former waitress from New Jersey. "Servers will often fill the box with more food without ever measuring it, so you'll get more bang for your buck."
By taking your food to go, you can also save cash on costly meal add-ons, too. (Skip delivery, though—the tip and delivery premium are tough on the wallet.) "If you order something like chicken parm to-go, you can easily split it into two servings and beef up the meal with a make-at-home salad, which costs just a few bucks, a $2 glass of wine, and some fruit for dessert. In a restaurant, a meal like that could be $35 per person," Becca says. Following her strategy, conversely, will cost you about $14.
Skip bottled water and sodas.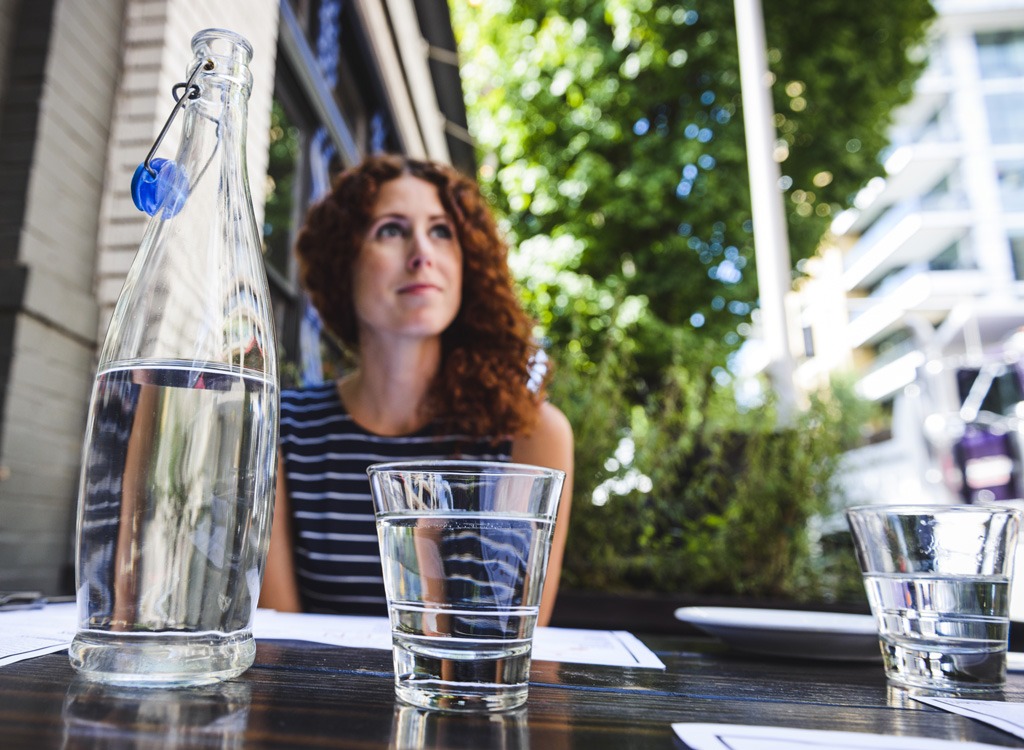 Restaurants make a killing on bottled water and sodas—especially pricier places with an upscale or exclusive ambiance. The same bottle of H2O you can get for next to nothing in a grocery store is bound to be 50% more in a trendy restaurant; I found that one out the hard way. (Six bucks for a bottle of fancy water in a glass bottle? No, thank you!) Even some restaurant owners suggest nixing water to save cash: "One of the easiest ways to save money—without giving up your favorite food—is to skip the bottled water," says David and Tricia DiCenso, owners of Lakeside Restaurant and Bar in Wayne, New Jersey. "Restaurants wouldn't offer tap if it wasn't palatable and safe to drink." The same holds true for soda. A cola that would cost you 20 cents from a bottle at home will likely cost you $2.00 at a sit-down restaurant.
See 17 Secret Waiter Tricks That Diners Never Notice for more things you can learn from restaurant insiders.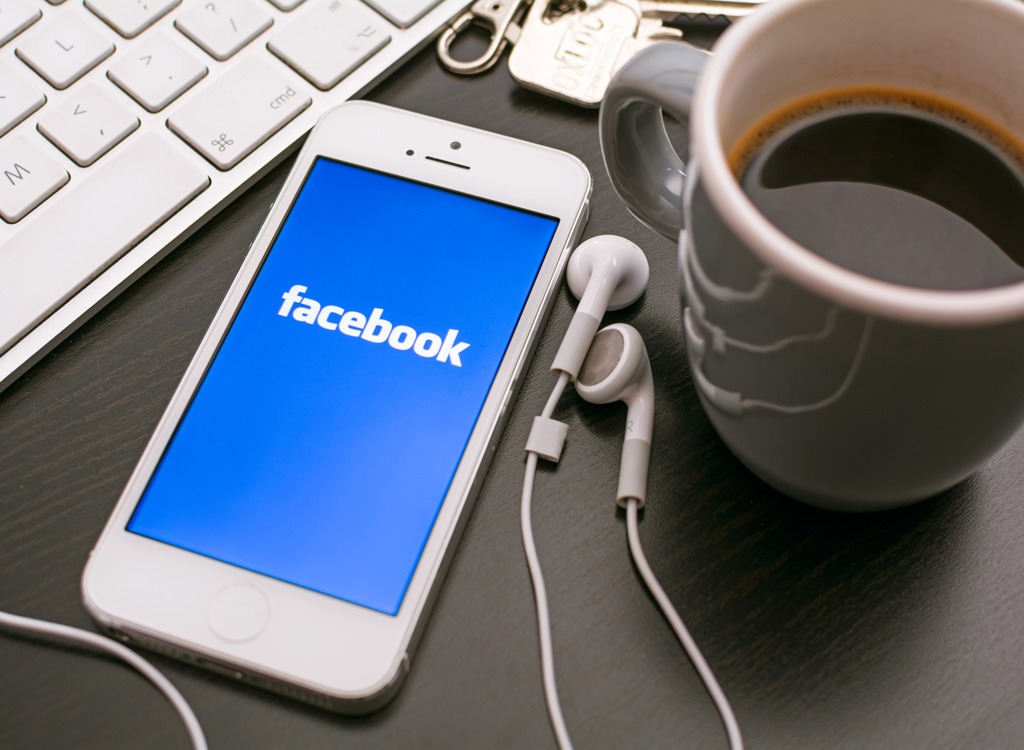 Some of the best restaurant savings are reserved for those resourceful enough to hunt them down. "Check your favorite restaurant's website for special deals or other gems before going out to eat," suggests Eyal Hen, owner of New York City-based Middle Eastern restaurant Nish Nush. "For example, Nish Nush has a special maza hour that you would never know existed if you didn't see the deal on the website first."
Other restaurateurs agree: "Follow your favorite restaurant's social media channels. You never know when a limited promotion or free giveaway might come up," says Leith Hill, former owner of the now-closed New York City cafe Ellary's Greens. "Unlike corporate chains, many smaller restaurants like mine use social media to personally engage with their customers, show our appreciation, and provide valuable promotional deals. I suggest taking a moment to survey your favorite local restaurant's communication channels to see if there's a cost-conscious reason to drop by."
For more ways to save money, try these 50 Amazing Secret Perks in Popular Restaurants.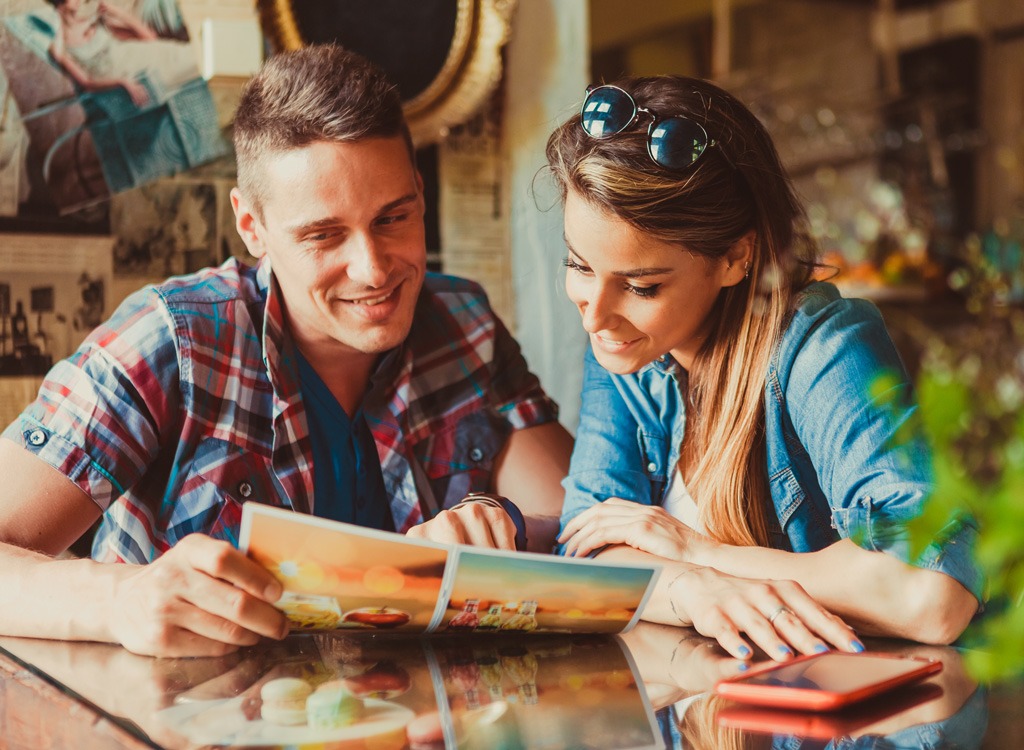 Ordering "linner," or a lunch dish for dinner, is a money-saving hack that Mike DeFalco, the food and beverage manager at NoMa Social in New Rochelle, New York, swears by. "One of the easiest ways to save money while eating out is choosing a lunch dish for dinner. If you've noticed, lunch dishes are only a bit smaller than dinner dishes, and the difference in price can be astonishing."
If your favorite restaurant won't let you order off the lunch menu during dinner, consider dining out for lunch instead of dinner. It's the same great food you love for a fraction of the cost.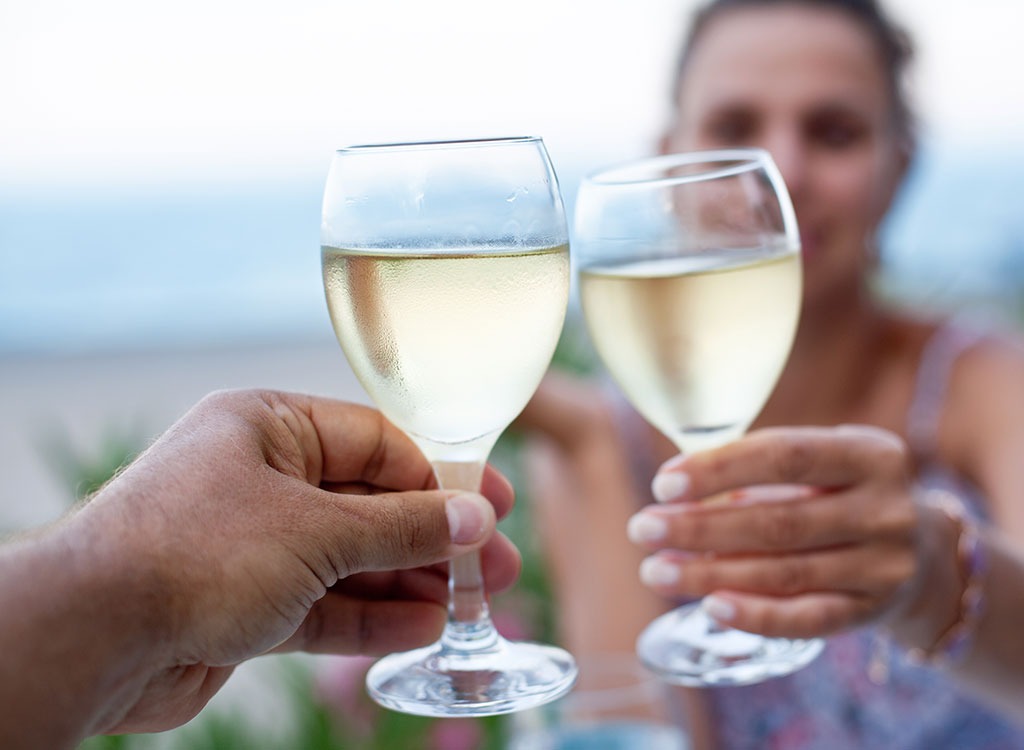 If you're the type of person who considers no meal complete without a bottle of wine, then BYOB restaurants should be your go-to. It's not uncommon for wine to sell for $40 a pop or more, so bringing your own booze from home means you could easily slash a big chunk of change from your check, the DiCensos tell us.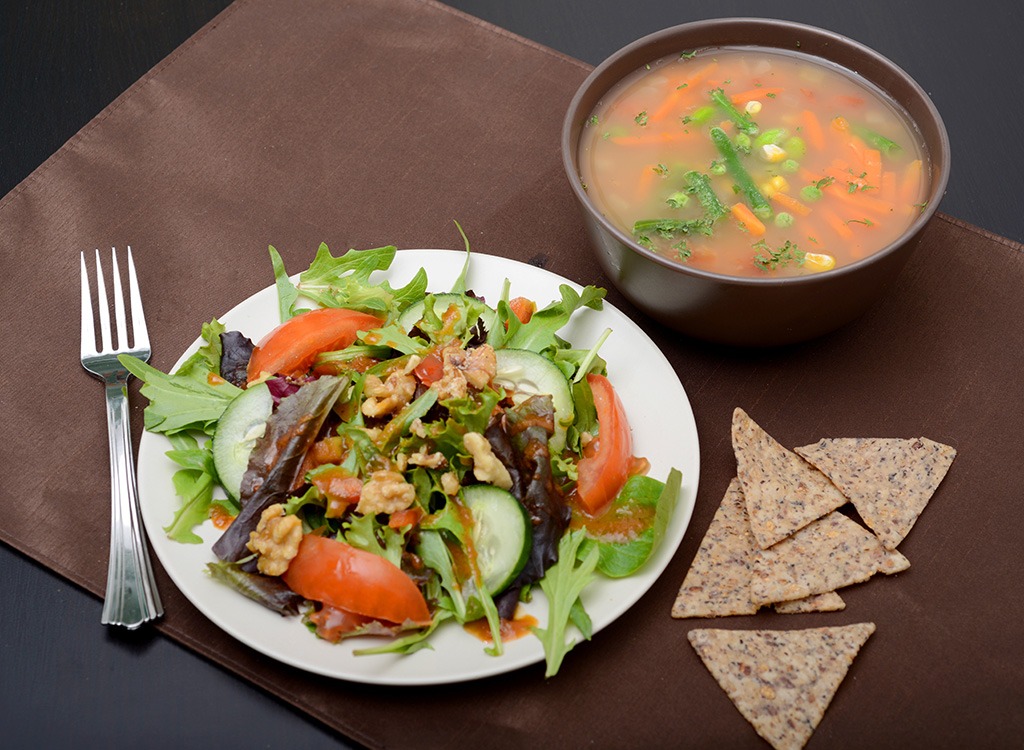 Value meals and combos can actually save you major cash, says Ben Friedman, co-owner of Homegrown Sustainable Sandwich Shop in Washington. "Homegrown's combo menu has some amazing deals, including any half sandwich and any half salad for $10 or less. Plenty of other restaurants offer similar deals, so keep your eyes peeled!"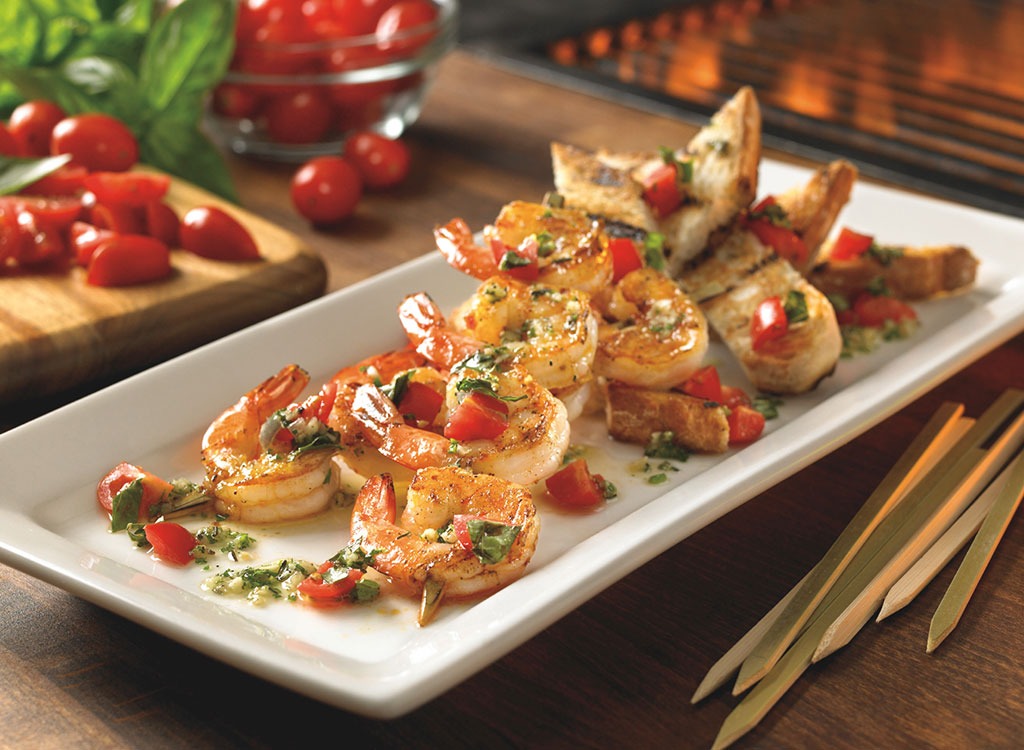 "At my favorite fine-dining spots, I like to share a bunch of small plates with my dinner mates," Friedman say. "Often it's cheaper than getting appetizers and main dishes, and you usually get the same amount of food or more. Plus, you get to try more things on the menu."6254a4d1642c605c54bf1cab17d50f1e
If you're trying to save money, watch out for these 20 Sneaky Ways Restaurants Get You to Eat More Food and Spend More Money.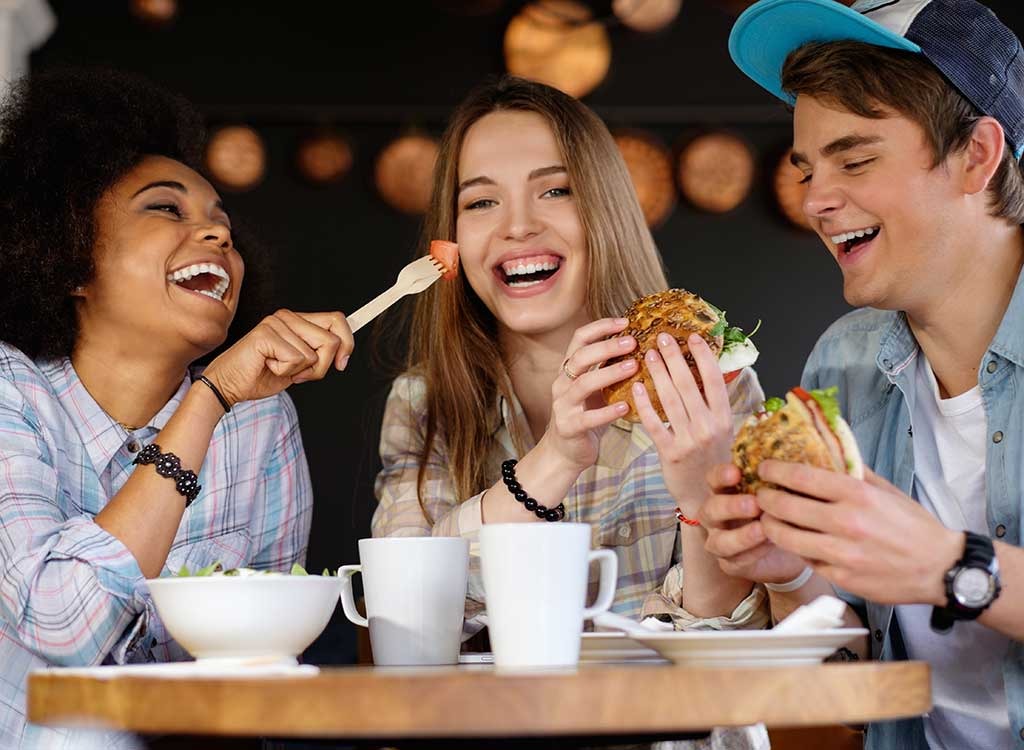 Another tactic Friedman recommends is to just split one entrée with those you're dining out with after you've split some appetizers.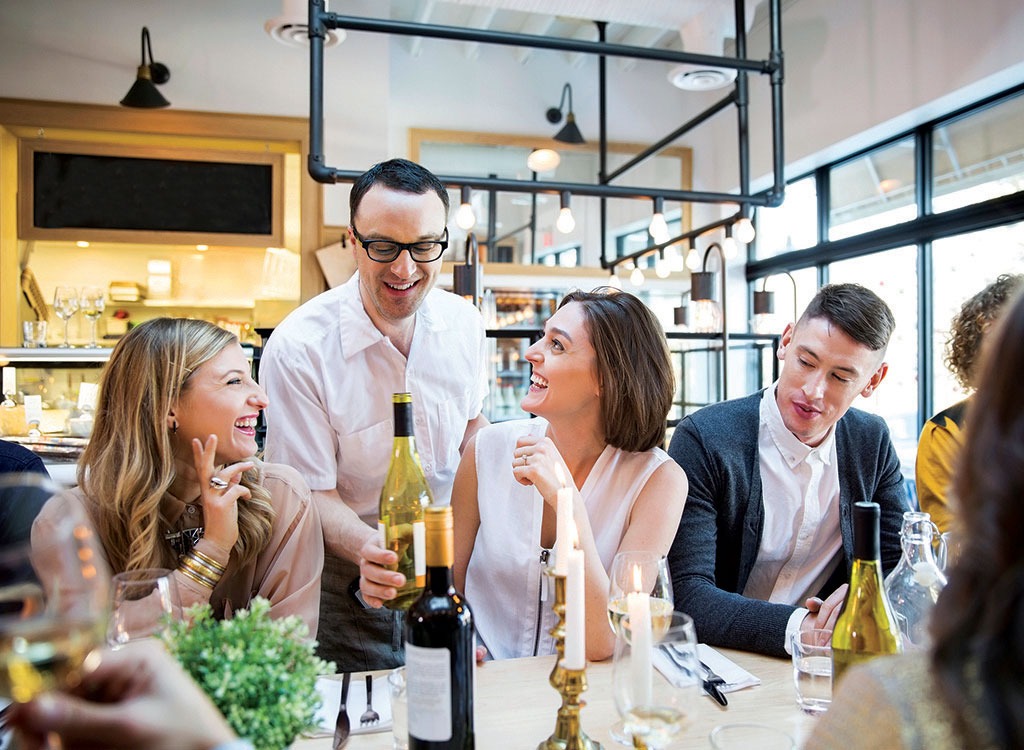 "In today's dining scene, restaurants often source their dish constructions from a local vendor," says Hill. "If you inquire what your server's favorite dish is, or ask about the new ingredients the chef is using, not only are you likely to get the kitchen's preferred offering, you'll raise the odds that your server will provide complimentary tastings and treats." Ever notice how free food tastes better? You can even get free food at these 30 Restaurants With Free Birthday Deals.
Split dessert—or save it for when you're home.
"The hot fudge brownie and molten lava cakes may sound delicious while dining out, however, they just end up being another expense. Wait until you get home to dive into the desserts," suggests DeFalco. Can't pass up the sweets? The DiCensos suggest that each table shares one dessert—instead of each person ordering their own. Dina, a former waitress from Florida, agrees: "Every dessert I've ever served as a waitress came out of a box. Sure, we dressed it up with fresh whipped cream and fruit so it looked like it was made in-house, but we were actually charging $8 a slice for something you could buy in the freezer aisle. Don't waste your money on it."
Ask about status discounts.
"During my years as a waiter, I found that many customers didn't realize they were eligible for discounts," says Anthony, a former Delaware-based server. "If you're a teacher, student with a valid ID, senior citizen, or part of the military, there's a good chance you'll be able to score a discount when you eat out." The only catch? You'll have to ask your server about it. "Many places that offer the discounts won't advertise it, but you can often get 10 to 15% off." Corporate and neighbor discounts are popular, too, so it's worth asking!
Don't order the specials.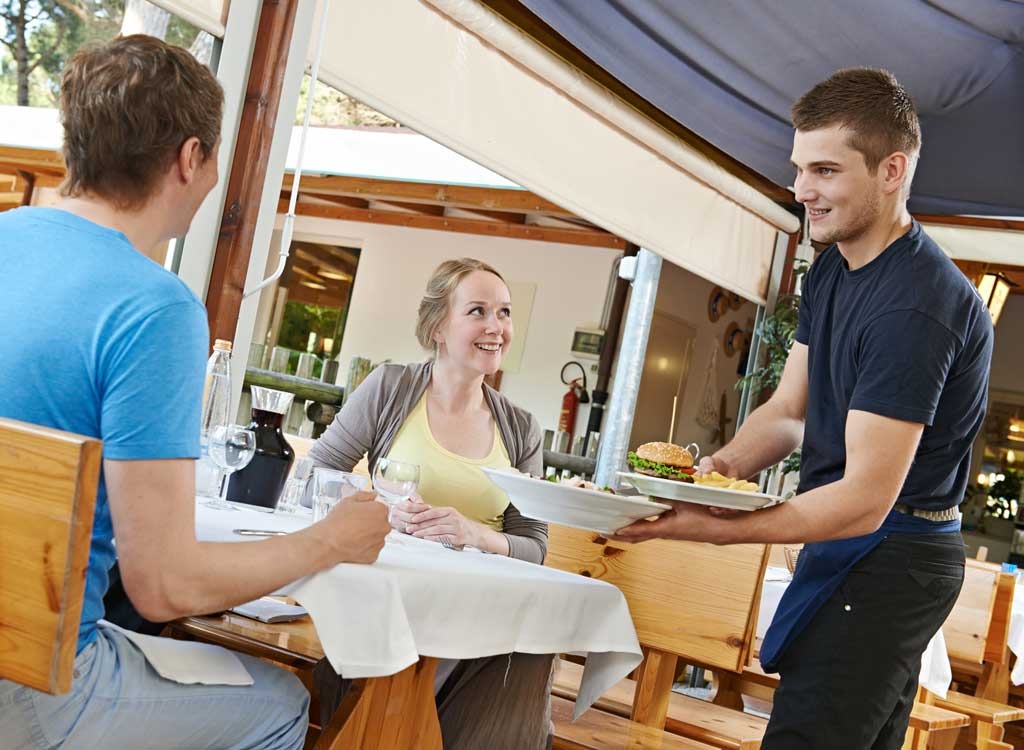 The specials may sound scrumptious, but they're almost always more expensive than the standard menu items, warn the DiCensos. Decide what you'd like to order before your server comes by, and politely decline when he or she asks if you'd like to hear the specials. This way your decision won't be swayed, and your wallet will remain safe.
Well, at ice cream parlors, at least! "I worked at a burger and ice cream shop a few years ago, and parents would always buy each of their kids a small cone, which were $3.35 per 5-ounce serving," Olivia, a former New Jersey-based waitress tells us. "Since kids almost never finish all of their ice cream, it would have been more economical for them to just buy a large for $5.25, which contained three 4-ounce scoops. (And you could get three different flavors.) Depending on who was working, if a parent asked for cones as a side item, we wouldn't charge for them." If you have three little ones, that's $4.80 in savings!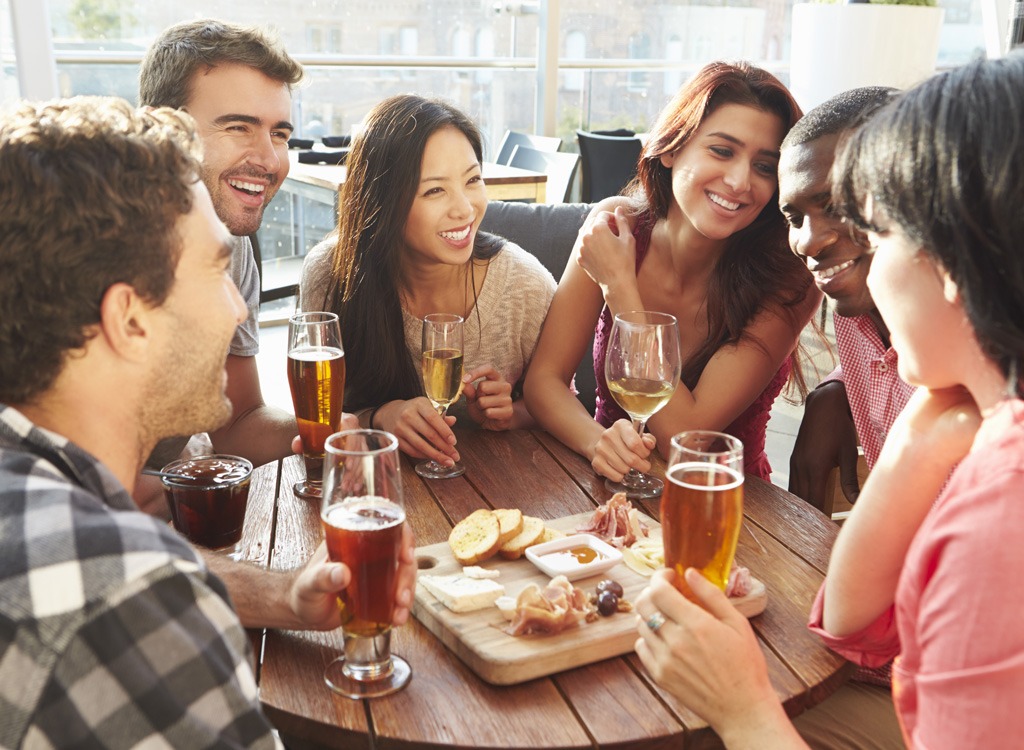 If you're not set on eating at a specific time, hitting up a local happy hour can save you lots of money, and not just on drinks. "We have some guests who regularly come in for happy hour three times a week because of the great deals we offer. It's a good way to sample a variety of different small plates without blowing your budget," says Mellisa Root, co-owner and executive pastry chef at The Hairy Lobster in Portland, Oregon. "I know other restaurants around the country have discounted sips and eats during that pre-dinner time slot, too, so it's worth hunting down a solid happy hour in your area."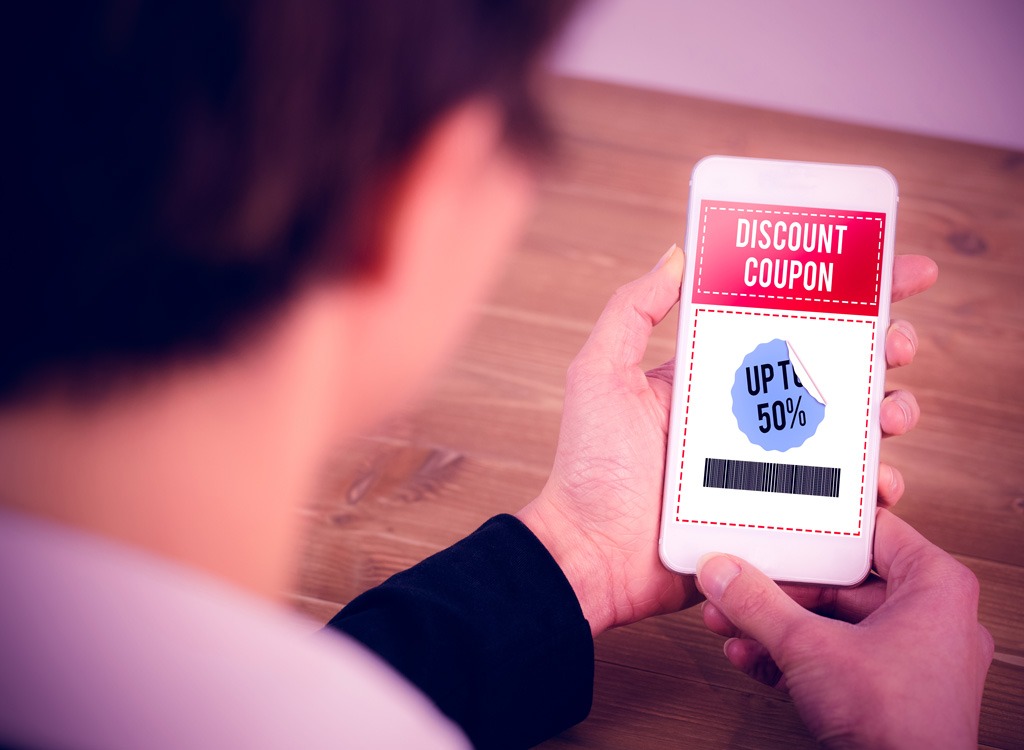 "The customers who get the very best deals are the ones that come through the restaurant with Groupons and LivingSocial deals," says Emily, a Texas-based server. "A lot of times people will come in with a $100 gift card they bought online for $50." We're also fans of Restaurant.com, Gilt City, and Pulsd. Even Yelp.com will sometimes have special deals.
Get an app as your main course.
Ordering an appetizer as your main dish can save you a lot of money. "Appetizers are often bigger portions than people realize," says Anthony. "More often than not, people ask me to pack their entrée to-go if they order an app and something else small, like a salad. Skipping a main dish could easily save you $15 or more." Another thing to watch out for: apps that are also listed as mains. I once ate at a restaurant where they had crab cakes as both an appetizer and a main, served with a side of asparagus. If you simply ordered the crab cake app and side of asparagus, it was cheaper but the same size. Look out for these types of traps!
"When people come in to eat, they're usually starving," Maryland-based waitress Faith tells us. "This usually leads them to devour the entire bread basket and order a bunch of pricey apps right away. Although this is great for me because it ups the tip percentage, it adds a good $15 to $20 to the bill. For this reason, I always eat something small like a piece of fruit or some nuts before I go out to eat. This way I'm not dying of hunger and can order one really delicious dish without spending a ton of money."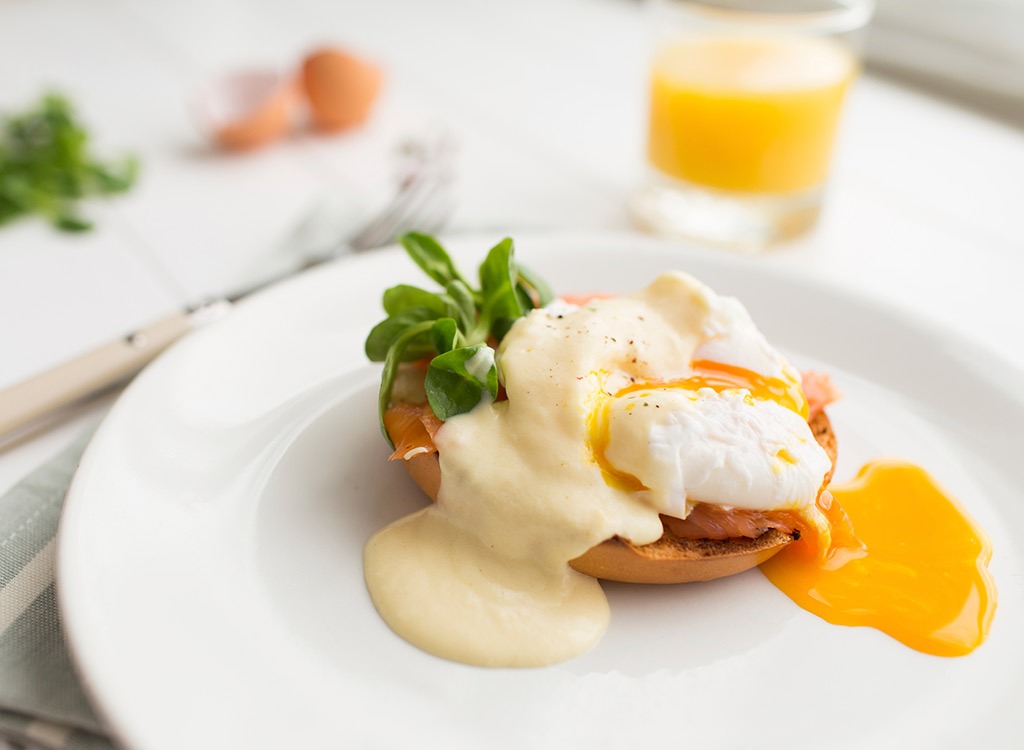 If you like to go out for just one weekly restaurant meal, make it brunch. It's by far the cheapest meal of the weekend, but because it's a mix of lunch and breakfast foods, it still feels like an indulgent special occasion. To ward off extra costs, avoid buffets and bottomless brunches. An omelet or a stack of pancakes might sell for $9 to $12, but if you get the same thing as part of a bottomless champagne brunch, you're looking at $20 or more, warns Faith.
For more, check out these 108 most popular sodas ranked by how toxic they are.