5 Trader Joe's Items Customers Are Avoiding Right Now
If you only want the best Trader Joe's food items, you might want to avoid these complaint-plagued products.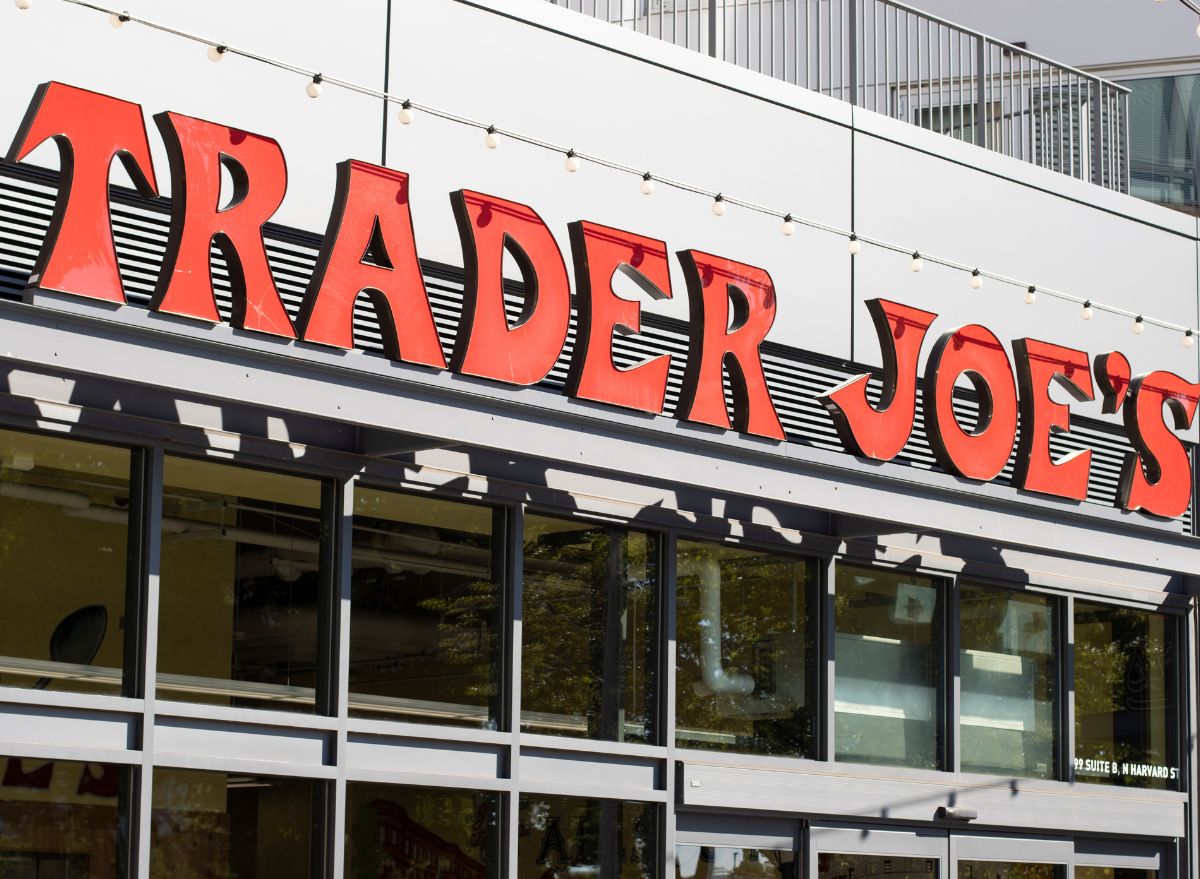 Between the beloved baked goods, snacks, and frozen meals, you'll find no shortage of customer-approved food options at Trader Joe's. Fans of this popular chain are so passionate about its grocery lineup that they run a thriving forum on Reddit filled with product reviews, new product alerts, meal ideas, and tributes to their favorite food items that have been pulled from shelves.
Despite all this fanfare, not even Trader Joe's has a perfect record when it comes to releasing only great products. So, for every few items that go on to become hits with customers, there tends to be one that falls flat or presents serious quality issues. Luckily, Trader Joe's fans are just as quick to share when a product misses the mark, thereby helping shoppers to discern how best to spend their hard-earned dollars.
It's important to note that consumer tastes vary and certain products may be hated by some and beloved by others. But if you want to make sure that only tasty, high-quality Trader Joe's food items are making it into your car, you might want to avoid these five products garnering major customer complaints.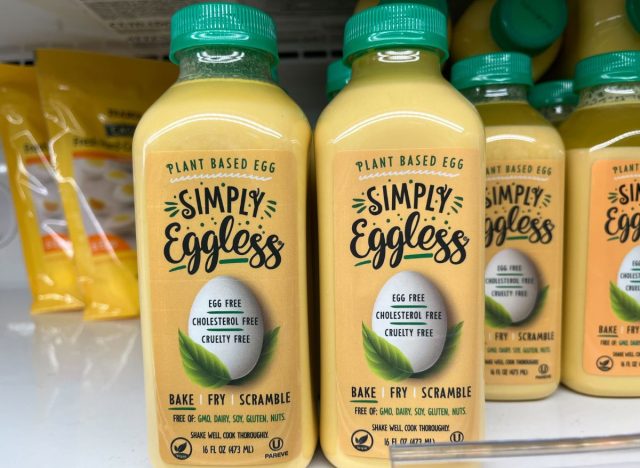 While even some of the most unpopular Trader Joe's products still have some fans, the grocer's plant-based egg alternative, Simply Eggless, seems to be a rare exception to that rule. Trader Joe's customers have reported some truly unsavory experiences with this "horrifically awful" vegan product, including a "plastic burning smell" during the cooking process and a  "rancid oil" taste that quite literally turned their stomachs.
"How could they mess it up so badly? I actually threw up after eating Simply Eggless once, so I'll never buy it again," one customer wrote in a Reddit thread about the product.
Unsurprisingly, Trader Joe's shoppers say that vegans are much better off leaving this product on shelves and opting for other plant-based egg alternatives like Just Egg.
"Trader Joe's is always coming up with fresh ways to punish vegans," another customer wrote.
Uncured Dry Rubbed Sliced Bacon
Bacon comes from one of the fattier cuts of pork, so heavy fat marbling should be expected in most packs of this popular breakfast meat. However, Trader Joe's shoppers say that the chain's Uncured Dry Rubbed Sliced Bacon still gives them more than they bargained for in terms of fat content.6254a4d1642c605c54bf1cab17d50f1e
Last month, a customer warned others on Reddit against buying this bacon after getting a package that was almost completely made up of pure fat. The post has since received more than 180 comments from fellow shoppers, many of whom reported similar experiences with that bacon variety and agreed it was better off avoided.
"I bought bacon there once and experienced the same thing. Never again." a customer commented.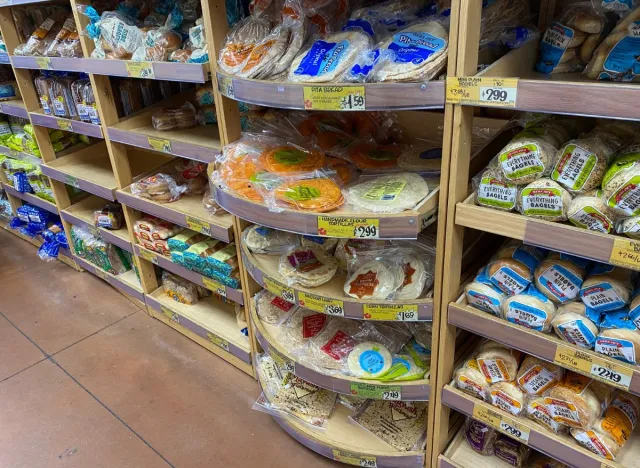 Trader Joe's shoppers have a major issue with the retailer's bread and tortillas, but it's not necessarily because of the taste or texture. Rather, customers say that Trader Joe's tortillas and bread tend to grow mold mere days after purchasing them, an issue they speculated is due to the lack of artificial preservatives in most of the grocer's products.
While some shoppers say they can successfully extend the shelf life of their tortillas and bread from Trader Joe's by storing them in the freezer or fridge, other customers have started to avoid them altogether because of the off-putting mold issue.
"I've given up buying their tortillas, I swear they're moldy by the time I get home," a customer wrote in a February Reddit thread about the mold issue.
"I'm done with [Trader Joe's] bread," another commented. "I swing by the bakery before or after my shopping trip and it's so worth the extra dollar for fresh bread that doesn't mold in 48 hours."
Almond Butter Puffs Cereal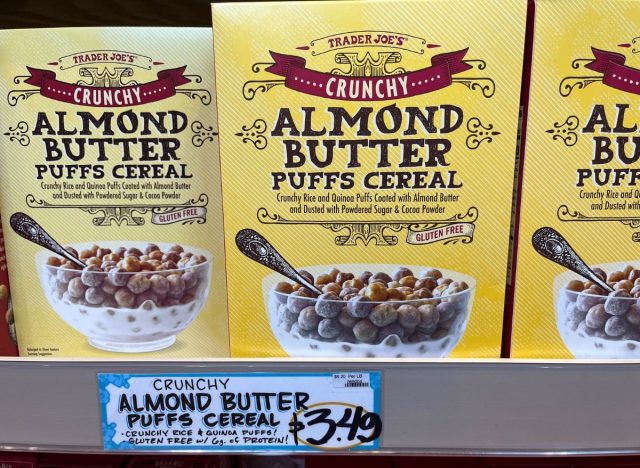 Any gluten-free eaters looking for a tasty breakfast option that fits their dietary restrictions might want to look elsewhere than Trader Joe's Almond Butter Puffs Cereal.
Though the grocer says that these cereal puffs are coated with roasted almond butter, powdered sugar, and cocoa powder, customers say the taste is more akin to "sour cardboard" and "sawdust." To top it all off, customers also say the actual cereal pieces are so tooth-shatteringly hard that taking a bite is like crunching on a spoonful of rocks.
"A bowl of this is a low-flavored jaw workout at gym membership pricing, to boot," a shopper commented in a Reddit thread about the cereal earlier this month.
Several even described it as the "worst cereal" they've ever had, so it should come as no surprise that Trader Joe's shoppers say you're best picking up something else for breakfast.
"I had to force myself to finish these so they don't go to waste but never buying again," another customer commented.
Garlic & Cheese Breadsticks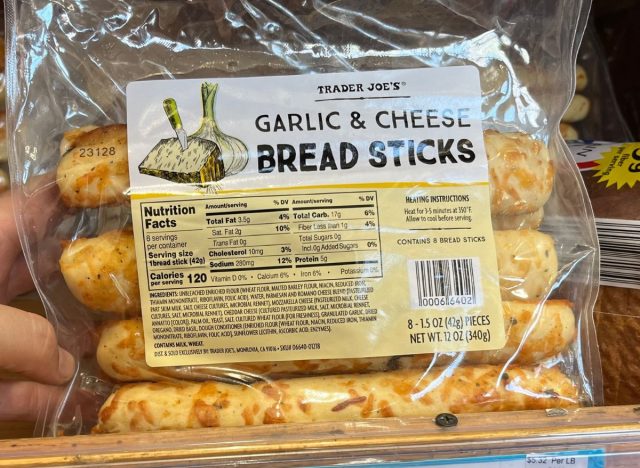 Cheese, garlic, and carbs are usually a winning combination. However, Trader Joe's shoppers say that the grocery chain misses the mark on both taste and texture with its Garlic & Cheese Breadsticks, which are fully cooked but can be heated up in the oven before serving.
"I found them neither cheesy or garlicky," one customer wrote in a Reddit thread about the product this week .
As a result, many customers have filed these disappointing sticks of dough into the "don't buy again" folder.
"They were dry and flavorless except for the garlic which was bitter. Will not buy again," another customer commented.
Zoe Strozewski
Zoe Strozewski is a News Writer for Eat This, Not That! A Chicago native who now lives in New Jersey, she graduated from Kean University in 2020 with a bachelor's degree in journalism.
Read more about Zoe