18 Most Unique Oreo Flavors Ever Released
The popular cookie brand continues to reimagine its iconic confection.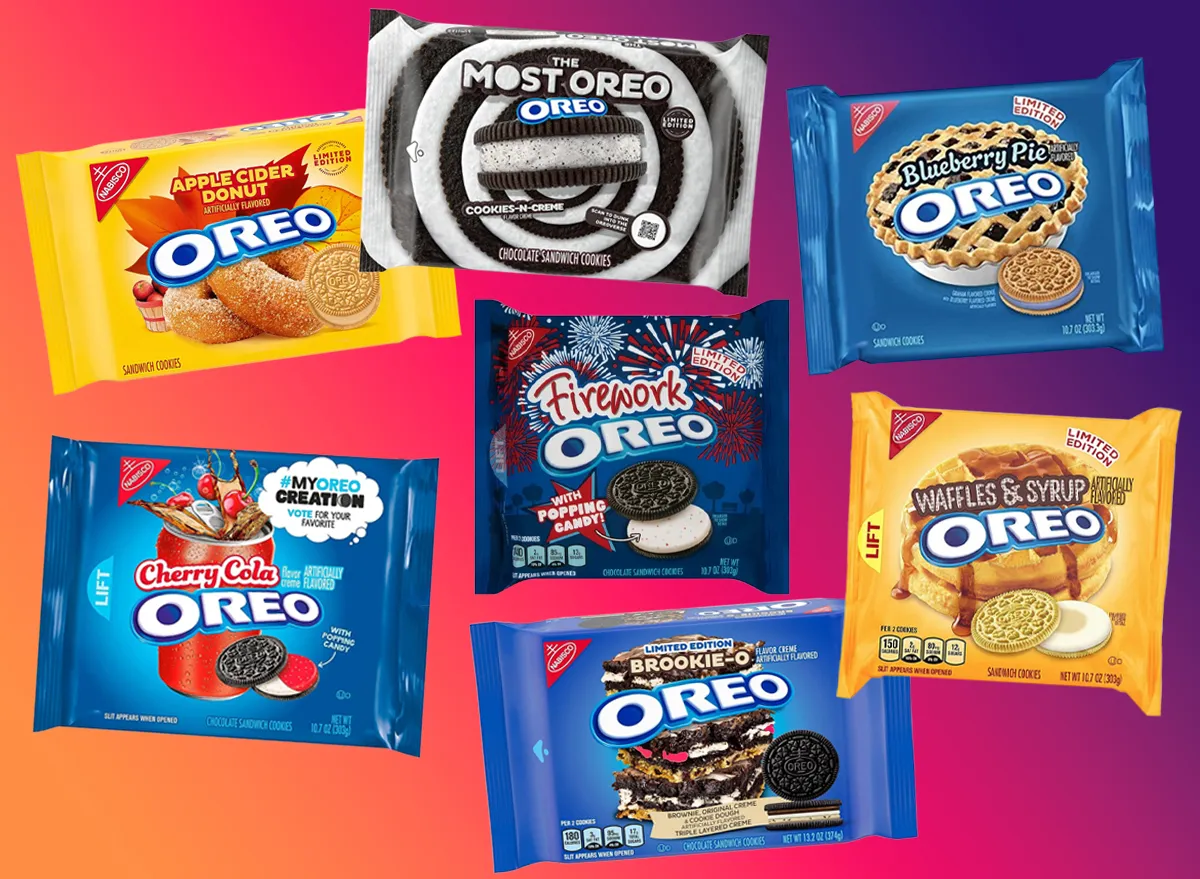 The product recommendations in this post are recommendations by the writer and/or expert(s) interviewed and do not contain affiliate links. Meaning: If you use these links to buy something, we will not earn a commission.
Oreos landed on the shelves in 1912 and forever changed the snack scene. The classic creme-filled sandwich cookie earned comfort-food status, became a popular dessert flavor, and even inspired many copycat products. But if there's one thing that sets Oreo apart from other cookies, it's the brand's lengthy list of flavors.
Over the past 111 years, Oreo has released an expansive variety of cookies, drawing inspiration from candy, snack foods, beverages—you name it. While a lot of these flavors didn't stick around for too long, some were so well-received that they became permanent additions, like Chocolate Peanut Butter Pie.
The next time you stroll down the cookie aisle, you're bound to spot a selection of Oreo varieties beyond the traditional chocolate-wafer-vanilla-creme combo. We rounded up some of Oreo's most attention-grabbing flavors, ranging from the downright creative to some pretty questionable options. Here are 18 of the most unique Oreo flavors ever released.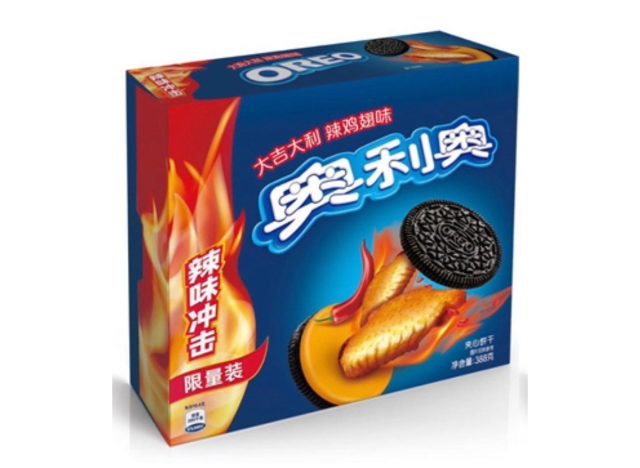 Yes, you read that correctly. Back in August 2018, Oreo introduced its hot chicken wing-flavored cookies, but to consumers' dismay (or relief), they were only available in China, though some curious customers were able to purchase them on eBay.
One reviewer for snack review website The Impulsive Buy wrote, "The flavor was the expected salty, fake chicken," adding, "It did not work at all with the chocolate cookies."
In addition to debuting Hot Chicken Wing Oreos in 2018, Oreo launched its wasabi flavor, which featured a green filling that resembled the spicy Japanese horseradish condiment. One reviewer on YouTube said the creme was "distinctly wasabi," noting that once it kicks in, "you can't escape."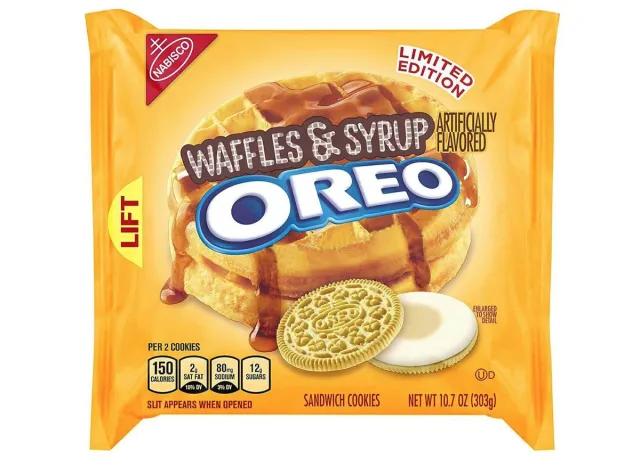 Cookies for breakfast? How about breakfast-flavored cookies? These Oreos were only sold at Albertsons stores in 2017, though the cookie giant welcomed maple back into its flavor lineup in 2019 and again in 2020 with the rollout of its limited-time Maple Creme Oreos.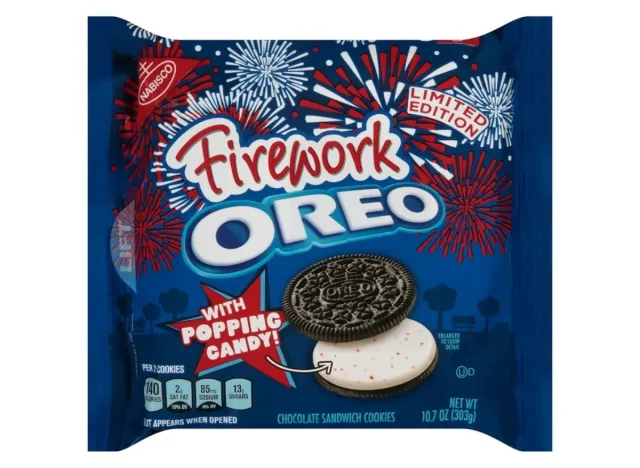 Oreo geared up for the Fourth of July Fourth a bit early in 2017 by unveiling its Firework cookies in the spring. This limited-edition flavor featured vanilla creme speckled with blue and red popping candies—aka Oreo's version of Pop Rocks.
Food & Wine reported that the general consensus among its staff members was that "Oreos are darn good alone and popping candy is just a fun new way to enjoy them even more." Meanwhile, a writer for The Daily Meal wrote, "The only really disappointing part of the Fireworks Oreo is that besides the popping effect, it tastes exactly like a regular Oreo. So it's a stretch to call it a 'new flavor.'"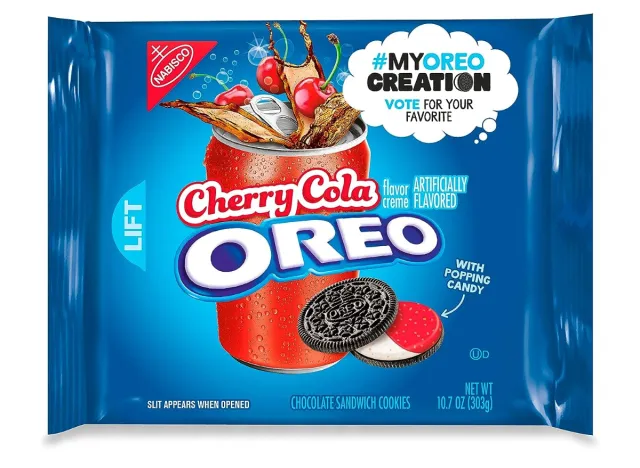 After asking fans for flavor suggestions in its "My Oreo Creation" contest, Oreo crowned Cherry Cola the winner in 2018. The soda-inspired cookie consisted of two chocolate wafers (also known as "basecakes") sandwiching a layer of cherry cola-flavored creme filled with popping candy.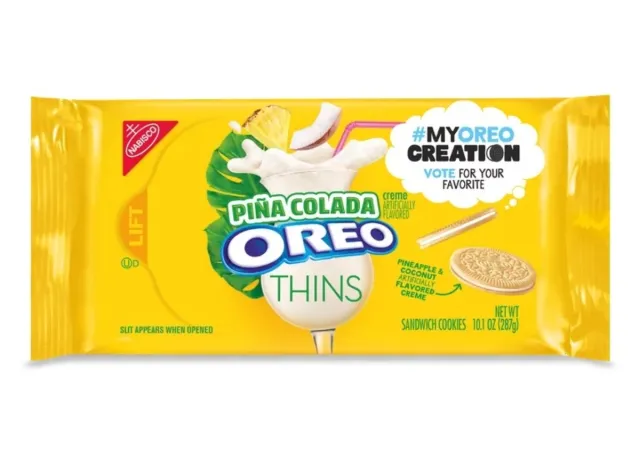 Before choosing the winner for the "My Oreo Creation" contest, Oreo narrowed it down to three finalists, one of which was Piña Colada. Showcasing the flavors of the popular cocktail that inspired it, this product featured a layer of pineapple and coconut-flavored creme sandwiched between two golden Oreos.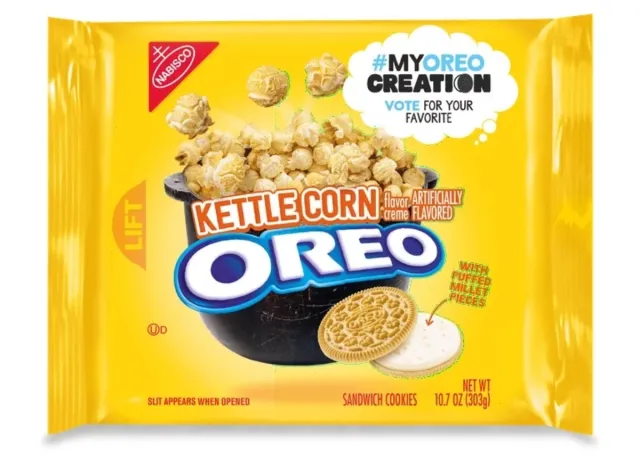 Standing alongside the Cherry Cola and Piña Colada Oreo Thins was the Kettle Corn Oreo. Putting a spin on the sweet popcorn snack, this flavor had a kettle corn-flavored creme made with puffed millet pieces.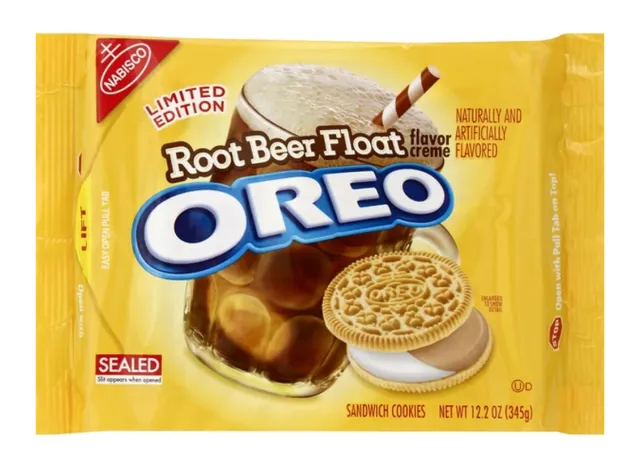 Cherry Cola wasn't the only soda Nabisco transformed into a cookie. During the summer of 2014, the company debuted its Root Beer Float Oreos, which were filled with both vanilla and root beer-flavored creme. One writer for FoodBeast wrote, "There also seems to be the faintest hint of carbonation, possibly from the baking soda, but also possibly from our over-eager imaginations."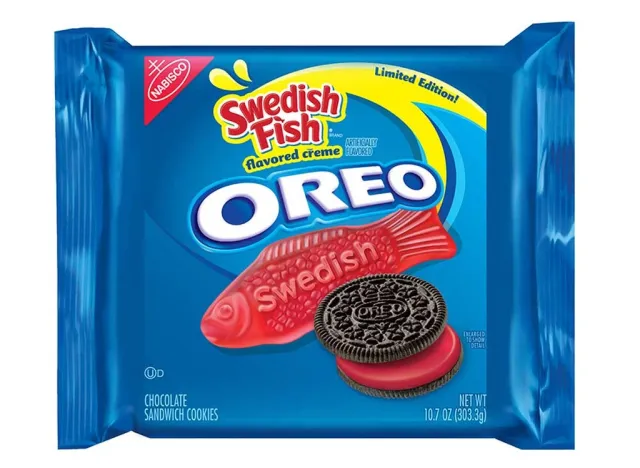 In 2016, cookies and candy came together for one memorable mashup. But memorable doesn't always mean good, as multiple reviewers compared the Swedish Fish filling to cough syrup.
This one was for the Fireball lovers. In January 2018, Oreo dropped another black and red cookie, but this time, it contained cinnamon candy-flavored creme. One reviewer for The Impulsive Buy said, "The cinnamon shines through without overpowering the cookie," going as far as calling this flavor "better than the original."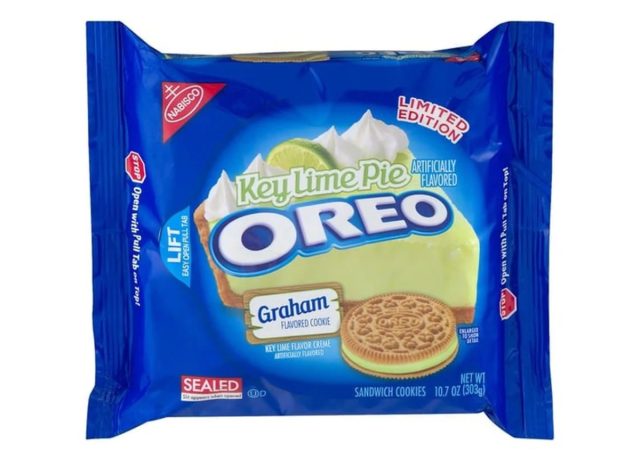 Oreo reinvented the beloved summer pie in July 2015 by sandwiching two graham cracker-flavored cookies between a layer of key lime-flavored creme. The cookies made a return to shelves for a limited time in 2017.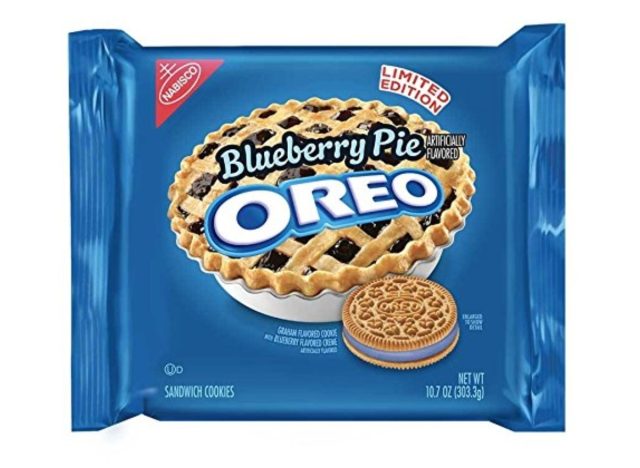 This dessert-inspired Oreo made its first appearance in June 2016—but it was only available at Target. Thanks to rave reviews, Oreo revived this flavor one year later, but made it exclusive to SuperValu chains, including Cub Foods, Farm Fresh, Hornbacher's, Shop 'n Save, and Shoppers.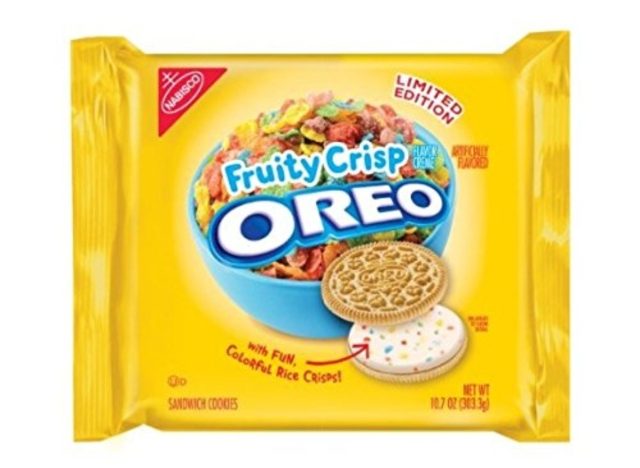 Looks like Skittles aren't the only snack that lets you "taste the rainbow." Along with Blueberry Pie, Oreo also introduced its Fruity Crisp cookies in June 2016. The colorful treat consisted of golden Oreos sandwiching a layer of creme filled with rainbow rice crisps.
If it wasn't already obvious, Oreo loves to pursue dessert mashups. In 2021, the cookie brand combined three different confections for the release of the Brookie-O, which had three layers of creme: brownie, original, and cookie dough. Dubbed a "fan-favorite cookie" by the brand, this flavor returned to stores in September 2022.
Another brownie-flavored Oreo hit the shelves in 2021, but this time, it was filled with both brownie and caramel-flavored cremes. For an additional twist, the classic chocolate wafers were sprinkled with salt, as well.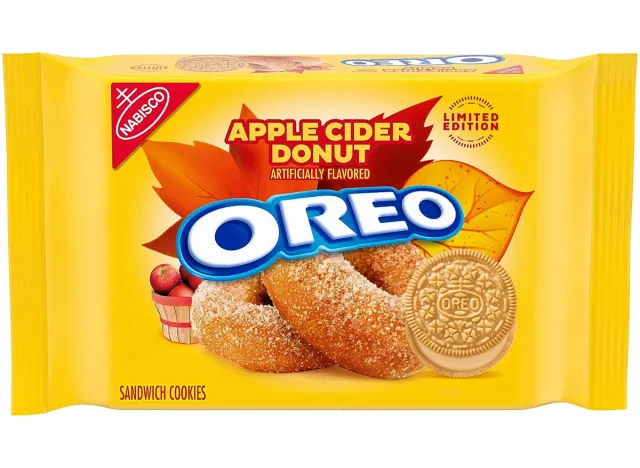 A month after the release of the Salted Caramel Brownie cookies, Oreo decided to welcome the fall season early with the launch of its Apple Cider Donut cookies in August 2021. This wasn't the cookie giant's first fall-themed flavor, though. Oreo previously sold Candy Corn, Caramel Apple, Pumpkin Spice, and Apple Pie varieties, as well.6254a4d1642c605c54bf1cab17d50f1e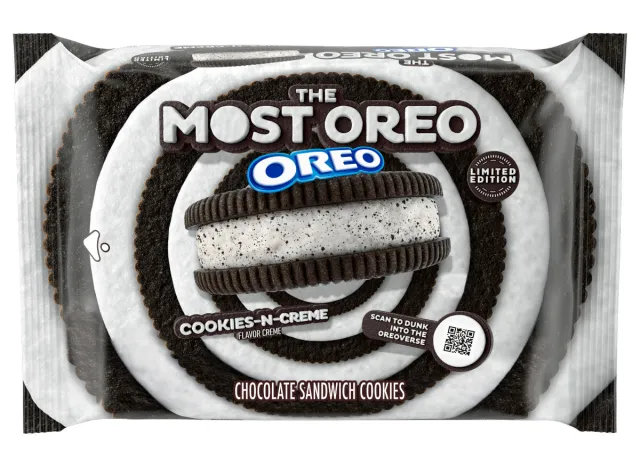 Oreo kicked off 2023 by rolling out its "Most Oreo" flavor yet. The new cookie featured "Most Stuf" levels of creme filled with crushed Oreo bits—so it's essentially an Oreo stuffed inside an Oreo. Staying true to this "meta" theme, Oreo also provides a QR code on the product's packaging to unlock the Oreoverse, where customers can play cookie-themed games.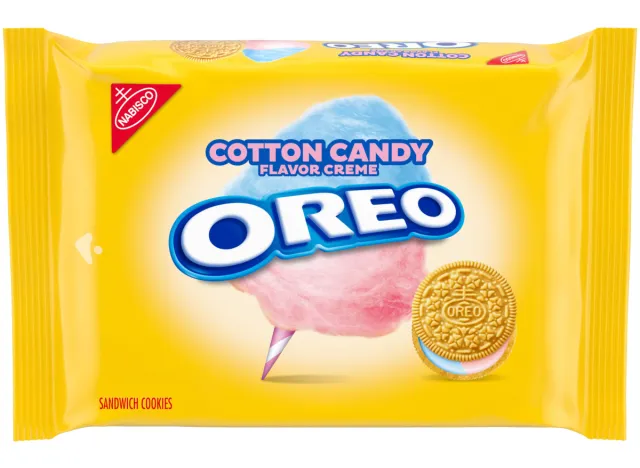 After being off the shelves for eight years, Cotton Candy Oreos returned to stores this past June. Available nationwide while supplies last, these cookies feature two golden Oreo basecakes and a Double Stuf layer of pink and blue cotton candy-flavored creme. Many fans welcomed the news with excitement, while others requested the revival of previous flavors. As Oreo has shown in the past, anything is possible.
Brianna Ruback
Brianna is a staff writer at Eat This, Not That! She attended Ithaca College, where she graduated with a degree in Journalism and a minor in Communication Studies.
Read more about Brianna