13 Ways To Eat Healthy on a Budget, Say Dietitians
Save big with these nifty hacks from the experts.
Think it's impossible to eat healthy on a budget? Think again! While specialty grocery stores like Whole Foods make it seem like eating healthy is only meant for those with deep pockets, there are actually numerous clever ways to eat healthy meals when you're pinching pennies. All it takes is a good plan and a willingness to get creative.
From shopping in bulk to taking advantage of frozen and canned foods, here's how to cook up healthy meals on a budget, straight from registered dietitians who do it themselves. Then, for even more money-saving tips, check out our list of 13 Amazing Tricks for Saving Money at the Grocery Store, According to Employees.
Shop your pantry first.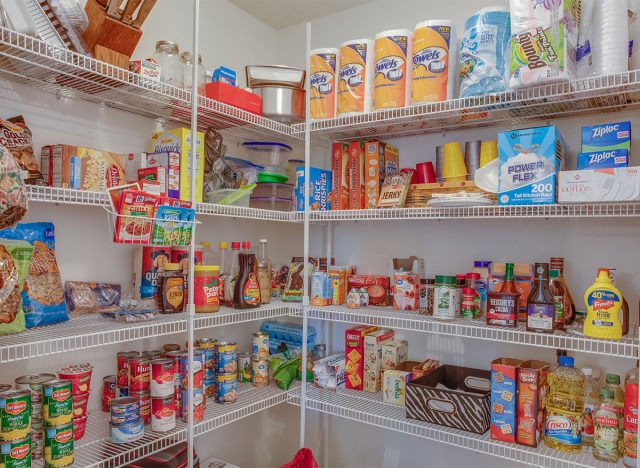 "Before you make a grocery list, make a list of what you already have in your pantry or fridge," says Caroline Thomason, RD, CDCES, a northern Virginia-based dietitian who helps women stop dieting. "Less food wasted means more money saved!"
Buy in bulk.
"Instead of buying canned beans or microwaveable rice, purchase them dried in bulk," says Kelsey Lorencz, RDN at Graciously Nourished. "You can easily make beans or rice in an Instant Pot or on the stove. One bag of dried beans costs the same as a can and makes four times as much.  Plus, you can control the amount of salt you use, keeping the sodium down."
"Shop at Costco, Sam's Club, or BJ's for bulk staple items like canned goods, rice, bread, pasta, and even meats and seafood to throw in your freezer," says Thomason. "You might have to spend a little more upfront, but you'll save in the long run."
Cook more at home.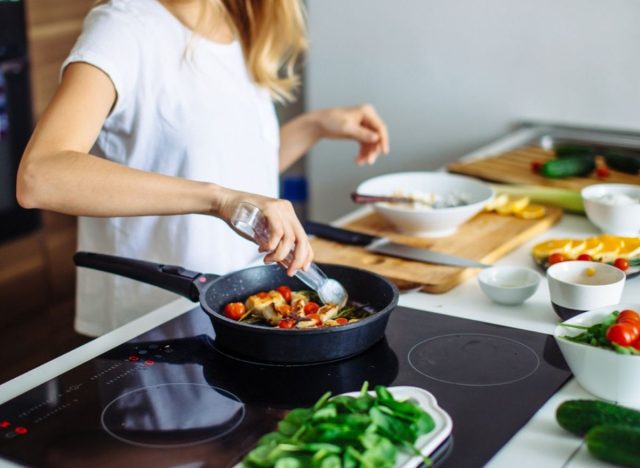 "Cooking more at home will save you lots of money, and lots of calories, sodium, and added sugar," says Lisa Young, PhD, RDN, author of Finally Full, Finally Slim, and member of our medical expert board. "Considerable research has found that home-cooked meals tend to be more nutritious than those we get when dining out."
Swap meat with plant proteins.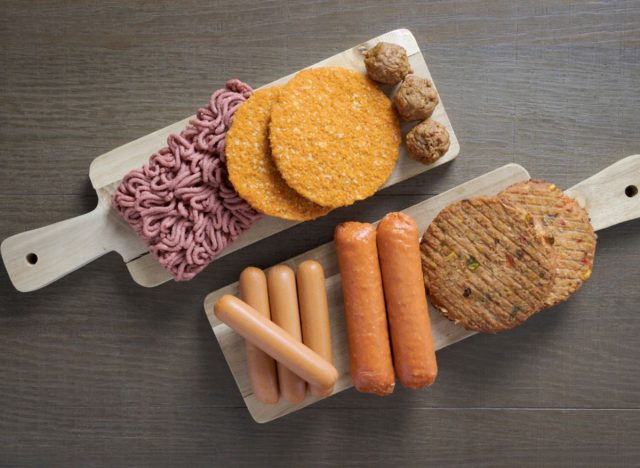 "Replacing meat with plant proteins is another way to save money and improve health," says Young. "Substituting red meat for chickpeas, lentils, nuts, and seeds a few times a week is a great way to save money and eat healthy. Plant protein sources are inexpensive, easy to prepare, and offer a lot in the way of nutrition. And a bonus, you'll get fiber which you would not get in meat."
Shop frozen and canned.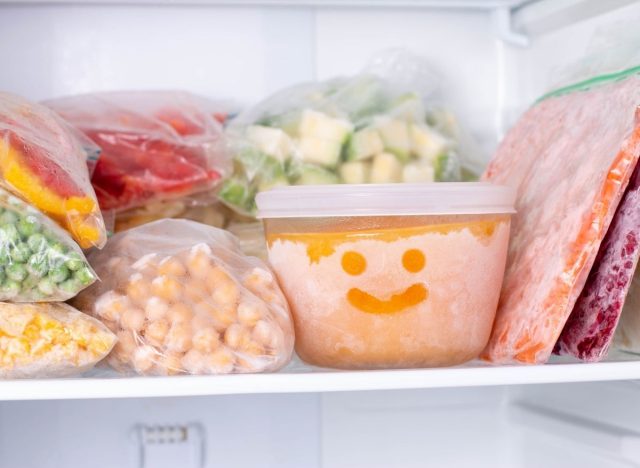 "There is a misconception that fresh produce is the only 'healthy' kind. But that's false," says Amy Goodson, MS, RD, CSSD, LD, member of our medical expert board and author of *The Sports Nutrition Playbook. "Frozen and canned fruits and veggies are picked at their peak ripeness and frozen or canned to preserve freshness. These types of products typically cost less, last longer, and ultimately help prevent food waste. They can be added to all kinds of entrees and side items to amp up your family's produce intake. Pro tip: try to purchase frozen and canned produce without sauces or added sodium."
Lauren Manaker, MS, RDN, LDN, CLEC, CPT, another member of our medical expert board, says she always keeps a bag of frozen broccoli in the freezer to quickly add to stir-fries, sheet pan dinners, and more. Plus, bags of frozen produce—like wild blueberries—are easy for smoothies and yogurt parfaits when you're in a pinch for time.
Repurpose leftovers.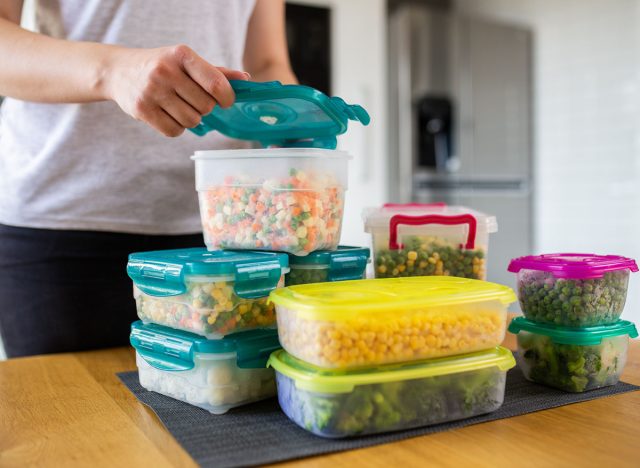 "So many people waste food by not using their leftovers," says Goodson. "Even if your leftovers aren't enough to make a meal, make them an addition to a meal. Have some strips of beef left over? Make quesadillas with whole wheat tortillas and mozzarella cheese. Have bottom-of-the-pot veggies left? Throw them into spaghetti sauce to amp up the nutrients of your pasta. Is your fruit on its last fresh leg? Blend it into a smoothie with milk and yogurt. Using what you have left can help you save at meal time."
Implement the "plan-over."
If you find yourself with more leftovers than you know what to do with, Thomason recommends designating a "plan-over" day where you simply clean out the fridge and get creative.6254a4d1642c605c54bf1cab17d50f1e
"Plan for leftovers by designating a day to clear out the fridge and 'make-do' with whatever is left," she says. "You'll save money by eating the leftovers rather than letting them go to waste."
Add in a variety of grains.
"Many varieties of grains can be an economical option that is packed with antioxidants, fiber, and even protein," says Manaker. "I love to cook a big pot of grains, like sorghum or quinoa, and use it as a base for a slew of healthy dishes throughout the week."
Reach for eggs.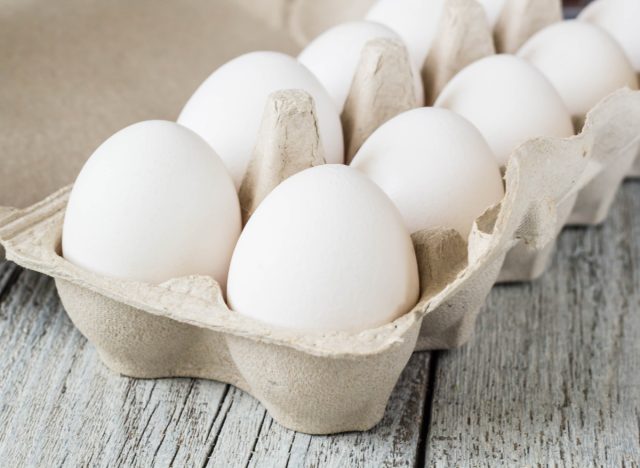 "Eggs are an economical nutrient-packed food that is a great addition to any meal of the day," says Manaker. "Of course, eggs are a source of high-quality protein, but they also contain choline, iodine, vitamin B12, and many other nutrients. I love keeping eggs in my fridge for an easy and healthy protein source. When I have time, I hard boil half a dozen for a good-for-you grab-and-go option too."
Buy produce in season.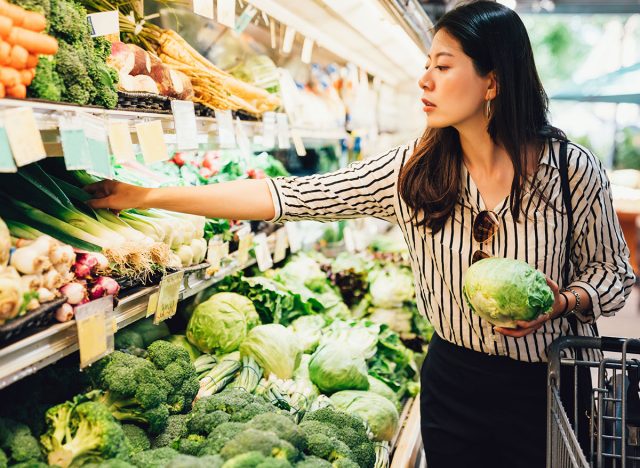 If you're someone who enjoys shopping at the farmer's market for all of that farm-fresh goodness, you could save by preserving in-season produce at peak ripeness to enjoy all year round, according to Lorencz.
"Buy produce when it's in season and freeze, dry, or can it to enjoy all year," she says. "Not only does buying in-season produce save money, but it also increases the nutritional value of the food when you can preserve it at peak ripeness. Bonus savings when you grow it yourself and preserve your harvest."
Plan your meals.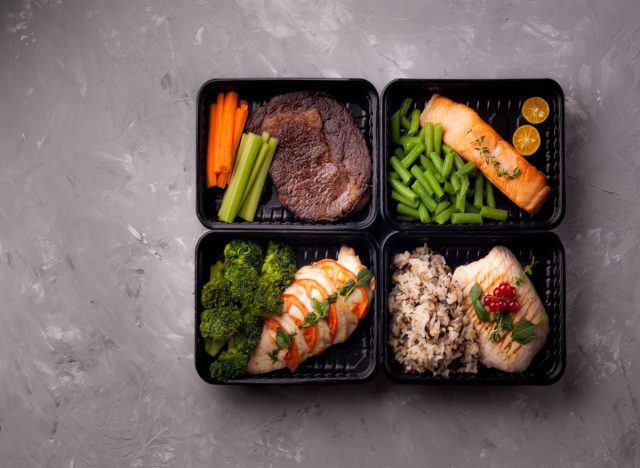 "The importance of meal planning can't be overstated," says Lorencz. "Not only will you waste less food and save more money, but you'll save yourself from ordering takeout at the last minute because you have nothing to eat. Plan healthful meals that use the same few fresh foods to keep costs down. For example, buy a big head of lettuce to use in a salad one night, on a sandwich or burger the next night, and shredded in a burrito bowl later in the week."
Give it a go yourself with this One Full Week of Easy Meals You Can Make at Home.
Be a little flexible.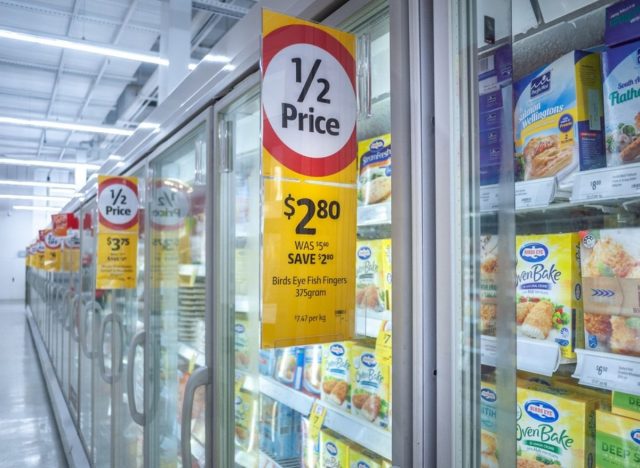 "When trying to save as much money as possible on groceries being flexible can pay off," says Maggie Michalczyk, RDN, founder of OnceUponAPumpkinRD.com, and recent author of The Great Big Pumpkin Cookbook. "Rather than planning your meals and then going grocery shopping, you may want to see what's on sale and plan your meals off of those items. This may require a little more creativity on your end but could be a great way to lower your grocery bill."
Here are 30 Simple Tricks to Make Your Produce Last Longer.
Store your produce correctly.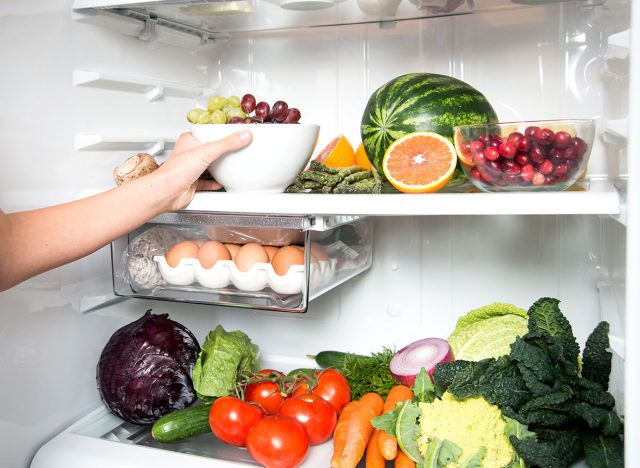 "Nothing's worse than noticing something you just bought is already going bad before you even had a chance to use it," says Michalczyk. "Storing fruits, veggies, herbs, and proteins correctly is the easiest way to get the maximum life out of them. Plus cut down on food waste."