The Best Authentic BBQ Spot in Every State
Whether you prefer ribs, brisket, or pulled pork, we have you covered.
Barbecue is an American staple, from Carolina pork to Texas brisket to Memphis ribs. While you could tour the country and try all the amazing barbecue that's out there, you don't have to travel far to get your barbecue fix. We rounded up the best place for authentic barbecue in all 50 states based on the best reviews and publications.
Plus, if you're up for a sweet treat afterward, check out The Best Dessert Menu in Every State.
ALABAMA: Big Bob Gibson Bar-B-Q in Decatur
Claiming to be one of the oldest barbecue restaurants in the world, Big Bob Gibson has been smoking meats for almost 100 years. This place has won so many awards, that it has an entire page on its website dedicated to the accolades. If a trip to Alabama isn't in the cards for you, Big Bob Gibson ships meats nationwide, so you can enjoy the famous white sauce from 1,000 miles away.
ALASKA: Big Daddy's Bar-B-Q in Fairbanks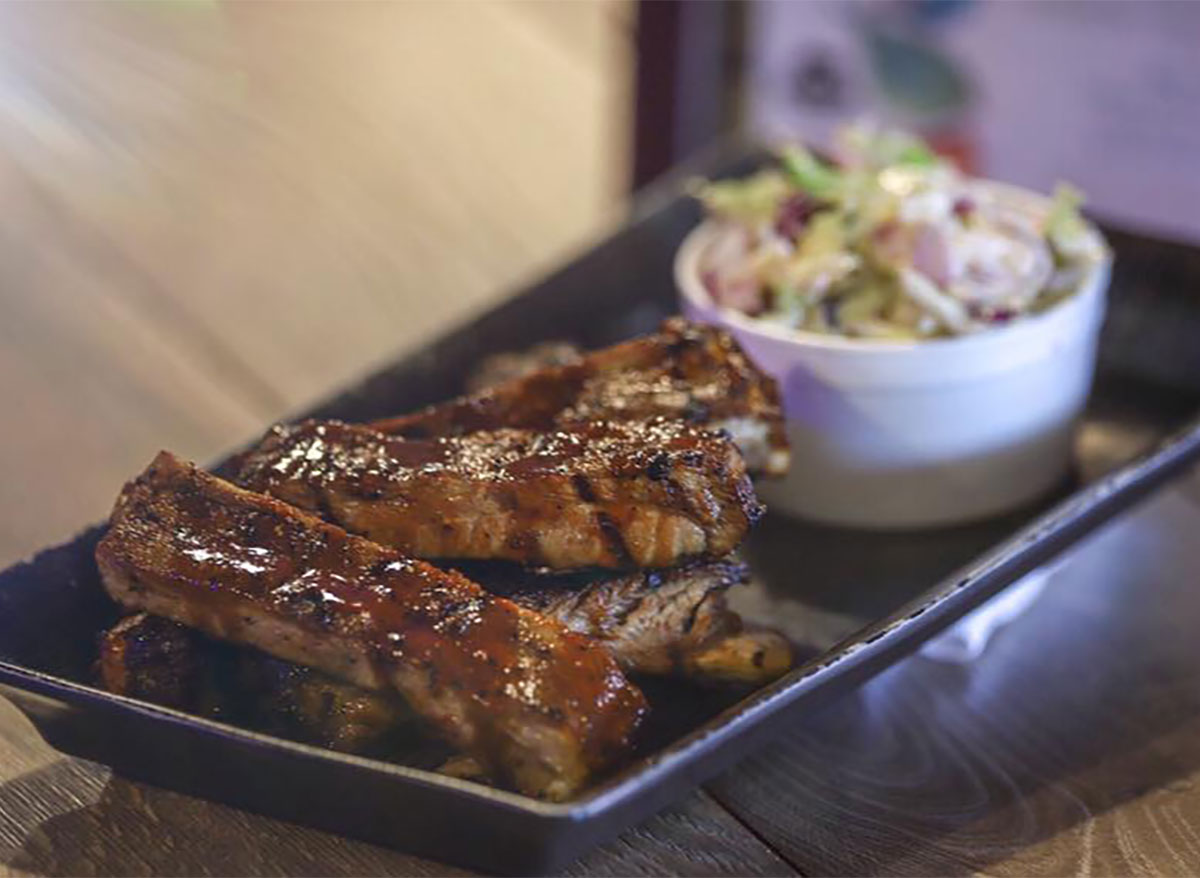 Alaska may not be known for its barbecue, but Big Daddy's boasts itself as being the farthest north you can go for award-winning beans and brisket. Guy Fieri ventured all the way up to Fairbanks on a 2009 episode of Diners, Drive-Ins and Dives and sampled the smoked turkey and Arkansas ribs.
ARIZONA: Little Miss BBQ in Sunnyslope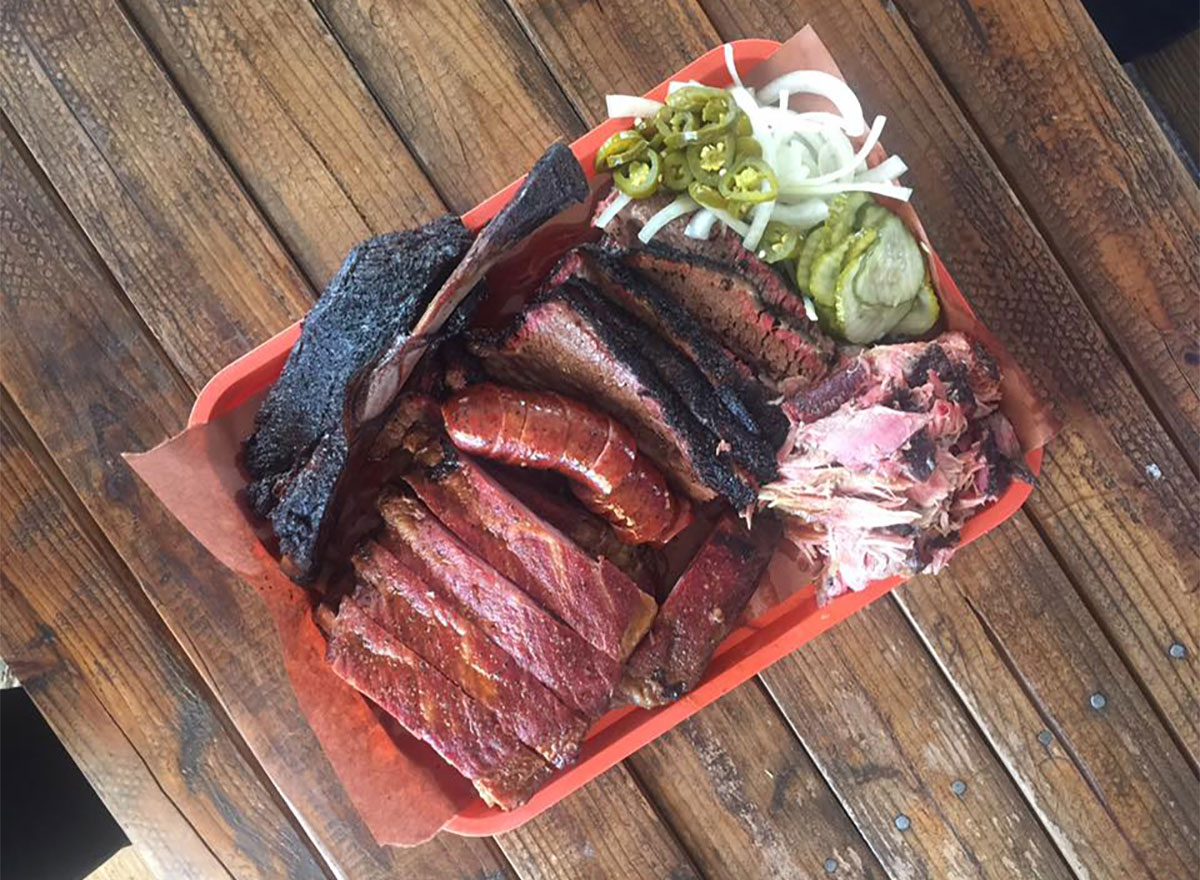 Little Miss BBQ regularly has lines before the restaurant even opens, but reviewers insist that it's well worth the wait. They rave about the ribs, the grits, and the sole dessert option: Bekke's smoked pecan pie. Be sure to get there early, because popular items sell out like hotcakes—or in this case, hot brisket.
ARKANSAS: McClard's Bar-B-Q Restaurant in Hot Springs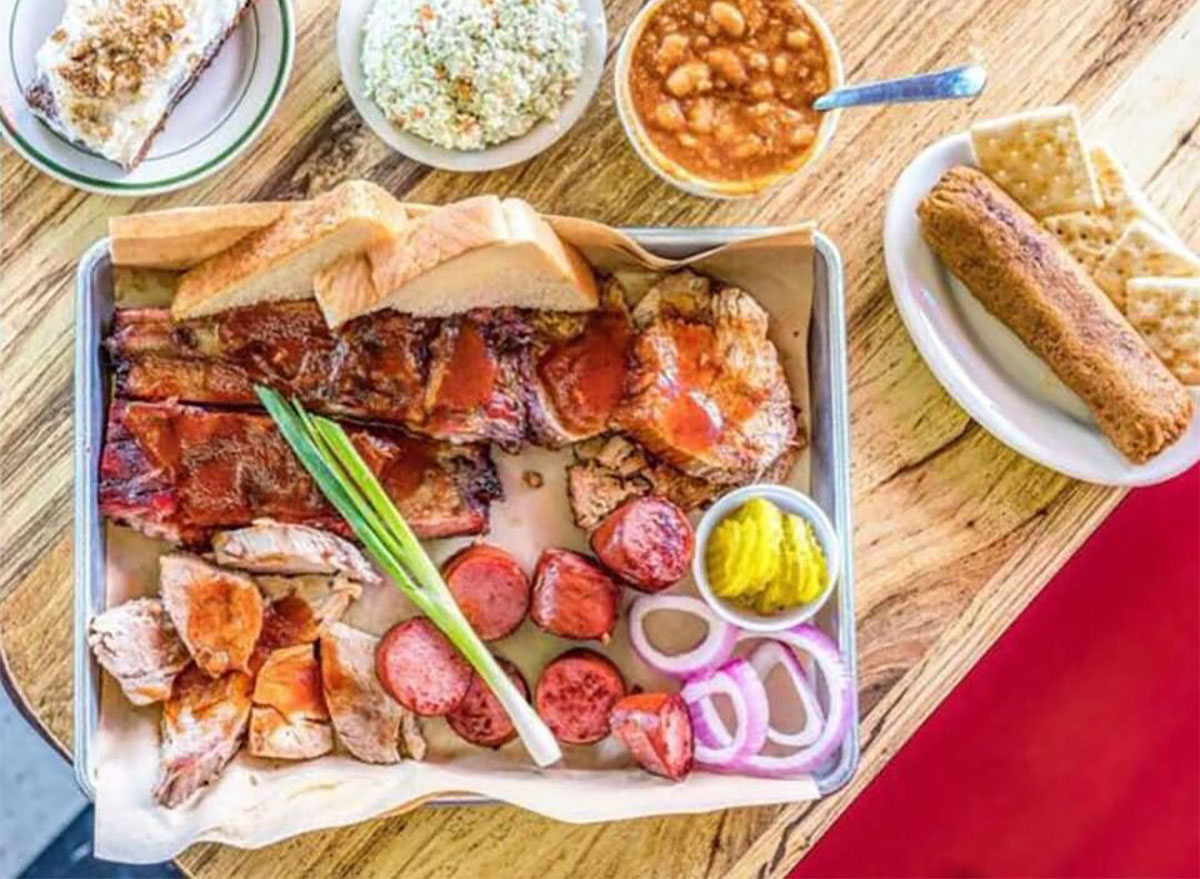 Located just a few blocks from Hot Springs National Park, the McClard family has been barbecuing for four generations, smoking meats as hot as the restaurant's neon signs. Be sure to check the Half and Full Spreads: a massive Frito pie with one or two tamales hidden underneath.
CALIFORNIA: F. McLintocks Saloon & Dining House in Shell Beach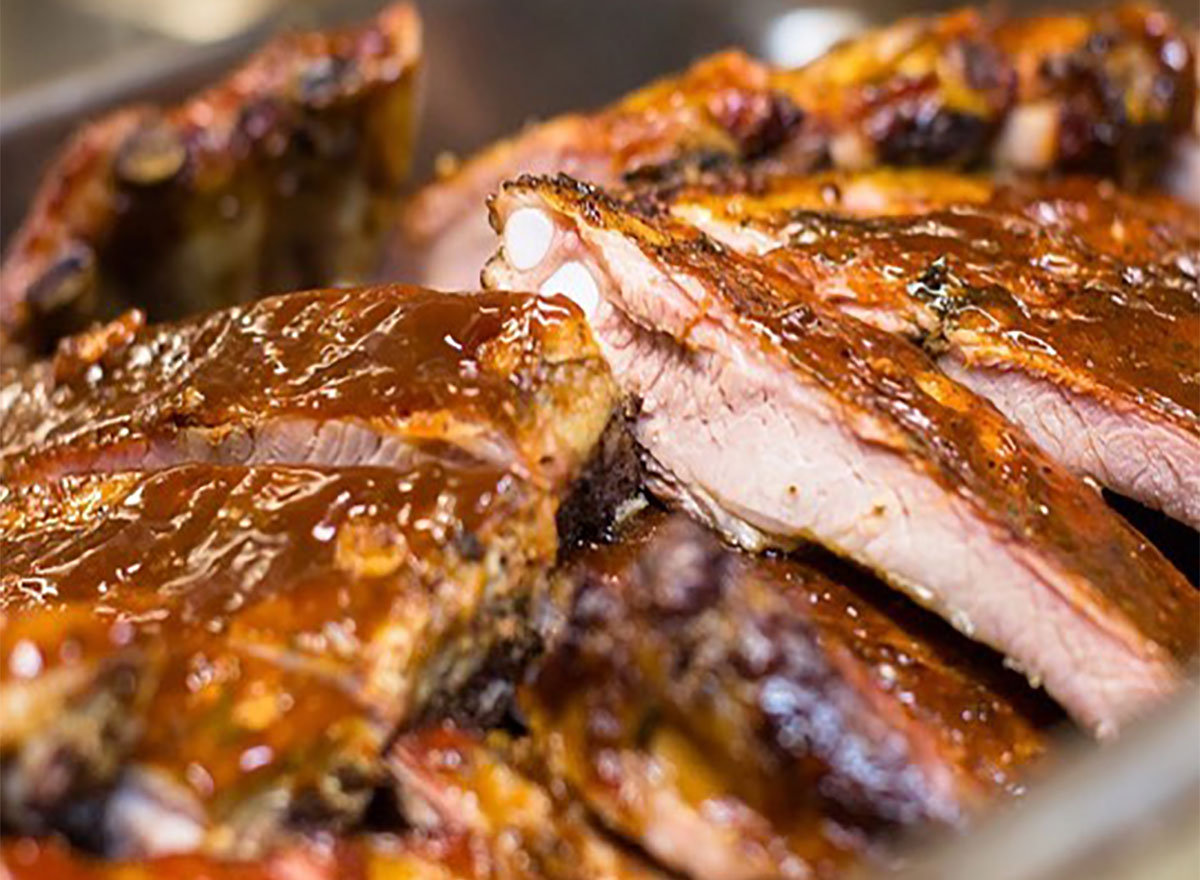 Who knew the beach and barbecue went so well together? F. McLlintocks overlooks the beautiful Shell Beach, setting the perfect scene for surf and turf or a bacon-wrapped filet mignon.
COLORADO: Rudy's Country Store and Bar-B-Q in Colorado Springs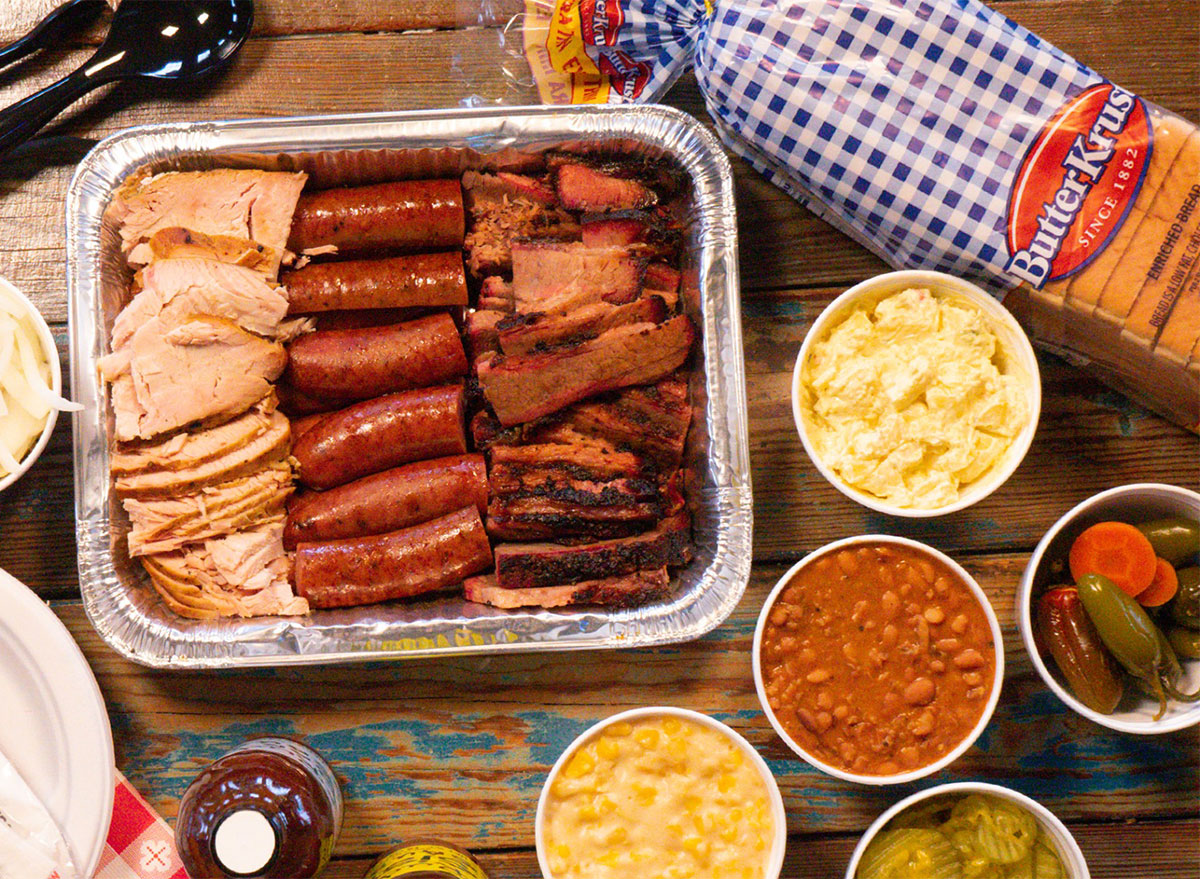 Come to this warehouse in the middle of the mountains for some classic, cafeteria-style barbecue. Fuel up your car at the on-premises gas station and enjoy some tender, dry-rubbed ribs at the indoor picnic tables.
CONNECTICUT: Hoodoo Brown Barbecue in Ridgefield
Connecticut isn't known for its barbecue, but Hoodoo Brown is so good it was featured on Cooking Channel's Man Fire Food. This place is known for its signature sandwich, the Hogzilla: pork ribs, pulled pork, and pork belly topped with Hoodoo Voodoo sauce and fried green tomatoes.
DELAWARE: Limestone BBQ and Bourbon in Wilmington
What goes together better than barbecue and bourbon? Nothing! With all the smoked classics and over 100 bourbons, Limestone is the place to go for barbecue in Delaware.
FLORIDA: Shiver's Bar-B-Q in Homestead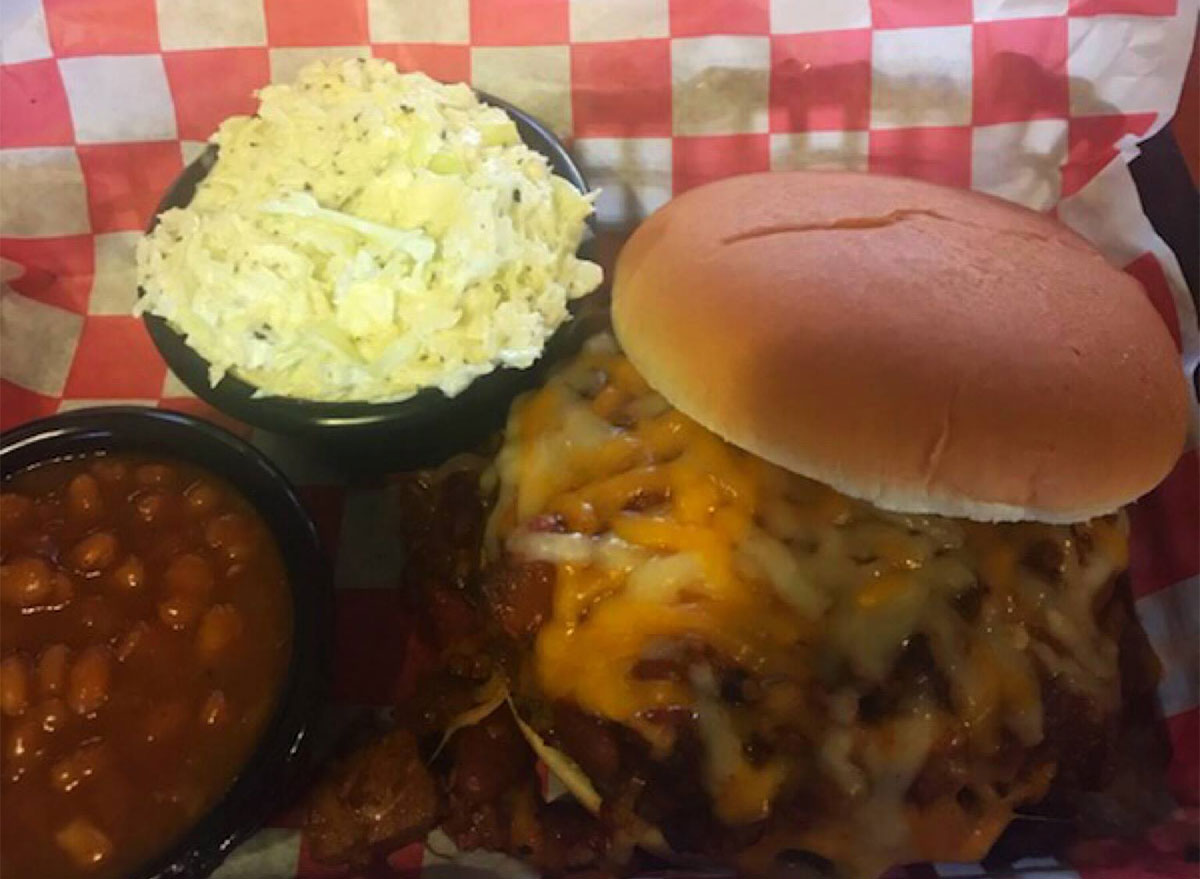 For 70 years, Shiver's has been a barbecue favorite among Miami locals and tourists alike. Stop by in the fall for the seasonal pumpkin soufflé and dine with new friends at the communal picnic tables.
GEORGIA: Fresh Air Bar-B-Que in Jackson
This shack has been slow cooking for more than 90 years, serving up barbecue pork with its signature tomato and vinegar sauce. If you stop by, go for a BBQ Pork Plate, which includes pulled pork and Fresh Air's famous Brunswick stew.
HAWAII: Kau Kau Grill in Honolulu
This restaurant puts a Hawaiian spin on traditional barbecue, serving items like pulehu ribs, ahi tuna, and fried saimin noodles (think ramen but wearing a lei). The restaurant closes at 2 p.m. every day, so be sure to get there early.
RELATED:
IDAHO: Big Daddy's BBQ in Meridian
Big Daddy's has a big menu filled with unique signature items and barbecue classics. Try a sandwich like the Swine and Cheese—a grilled cheese complete with pulled pork, mac and cheese, and barbecue sauce—or the Bourbon BBQ Burger, one of six burgers on the menu. Top it off with some bread pudding, the restaurant's most popular dessert.
ILLINOIS: L. Woods Tap & Pine Lodge in Lincolnwood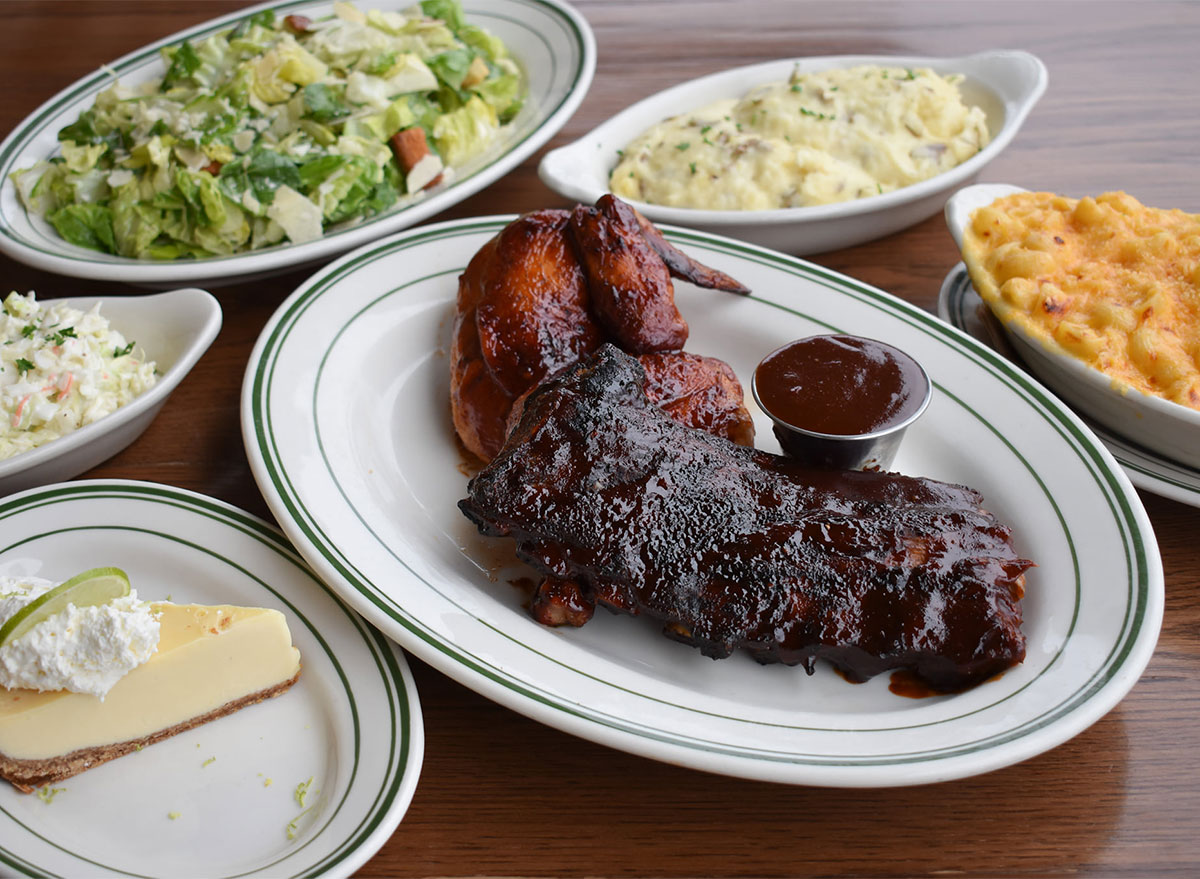 You don't need to get into Harvard Law School to dine at L. Woods. A bit more upscale than some of the other entries on our list, this place serves fillet mignon and calamari alongside the more traditional barbecue items. Be sure to order the Famous Apple Strudel, a giant egg roll filled with baked apples.
INDIANA: Half Liter Beer & BBQ Hall in Indianapolis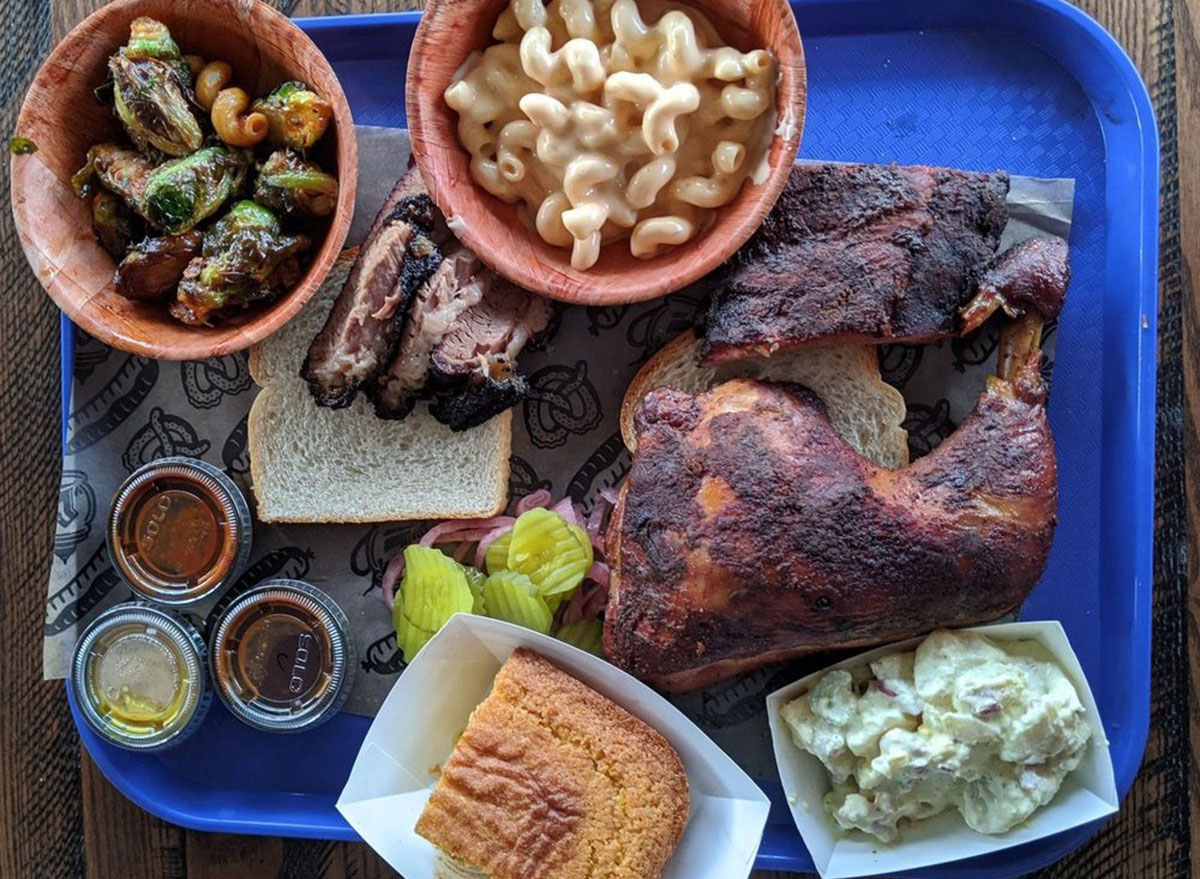 Half Liter also made our list of the best Southern food spots for its "milk punch" cocktails and expansive list of homebrewed beers. As far as the barbecue goes, there's brisket, pork, sausage, and turkey by the pound, plus tacos and a whole bunch of sandwiches.
IOWA: Smokey D's BBQ in Des Moines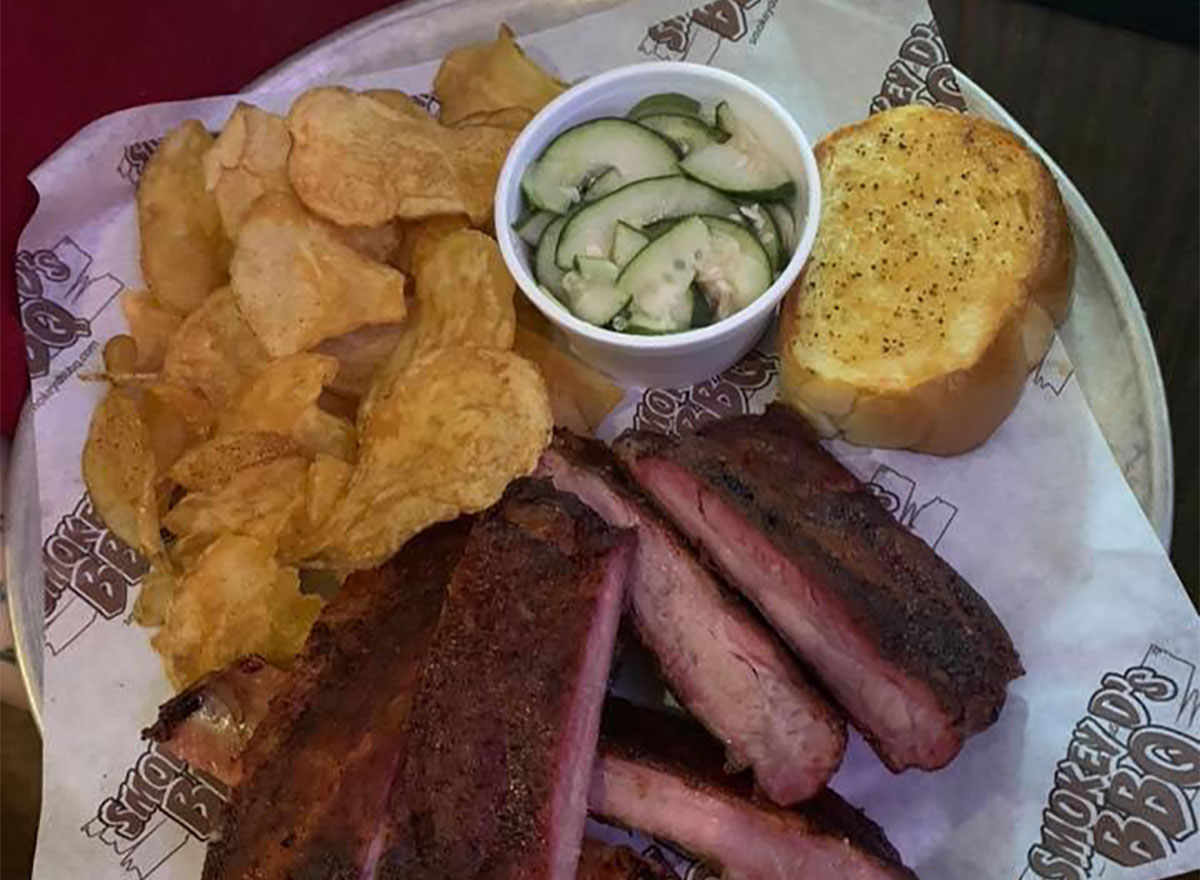 The second entry on our list to be featured on Diners, Drive-Ins and Dives, Smokey D's has an entire wall dedicated to its awards (four world championships!). What began for owners Darren and Sherry Warth as a backyard hobby quickly became a passion and livelihood. After filling up on meats, finish your meal with the apple dumpling.
KANSAS: Jones Bar-B-Q in Kansas City
This famous shack is run by sisters Mary and Deborah Jones, the latter of whom received a makeover on Netflix's Queer Eye. Thanks in part to the massive exposure the restaurant has received and in another part to the secretly formulated barbecue sauce, Jones Bar-B-Q routinely sells out of meat within the first hour of business.
KENTUCKY: Moonlite Bar-B-Q Inn in Owensboro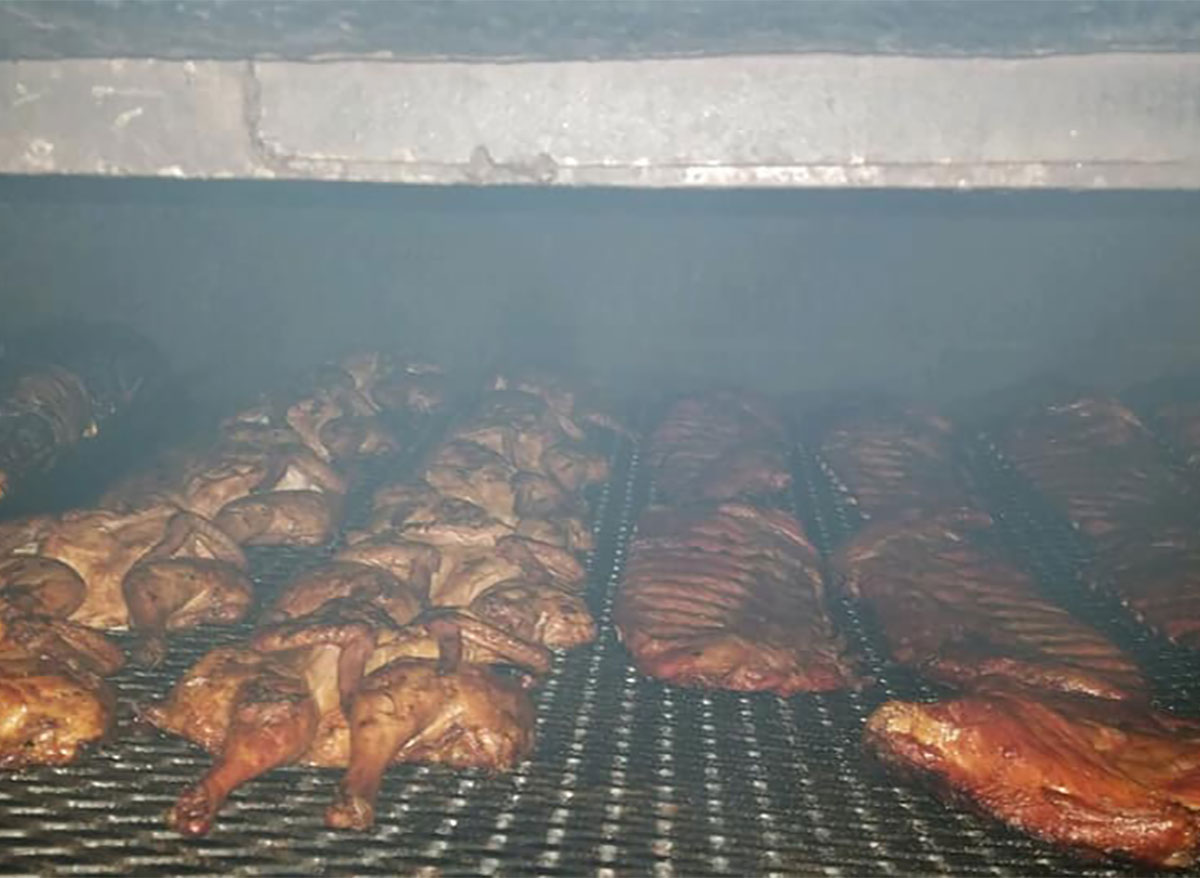 This self-proclaimed "Kentucky tradition" is famous for its barbecued mutton. Go all-in with a mutton plate, or try a sampler plate with mutton, beef, and pork.
LOUISIANA: Cou-Yon's Cajun Bar-B-Q in Port Allen
Come to Cou-Yon's for the barbecue and stay for the Cajun staples like po-boys and étouffée, alongside other fun items including smoked meatloaf and stuffed baked potatoes. Get your serving of vegetables and order some fried green beans, too.
MAINE: Buck's Naked BBQ in Freeport
Buck's has a massive menu with all the meats you can imagine. Chow down on some ribs and burnt ends while you nurse one of the restaurant's huge Bloody Marys.
MARYLAND: Chad's BBQ in Edgewater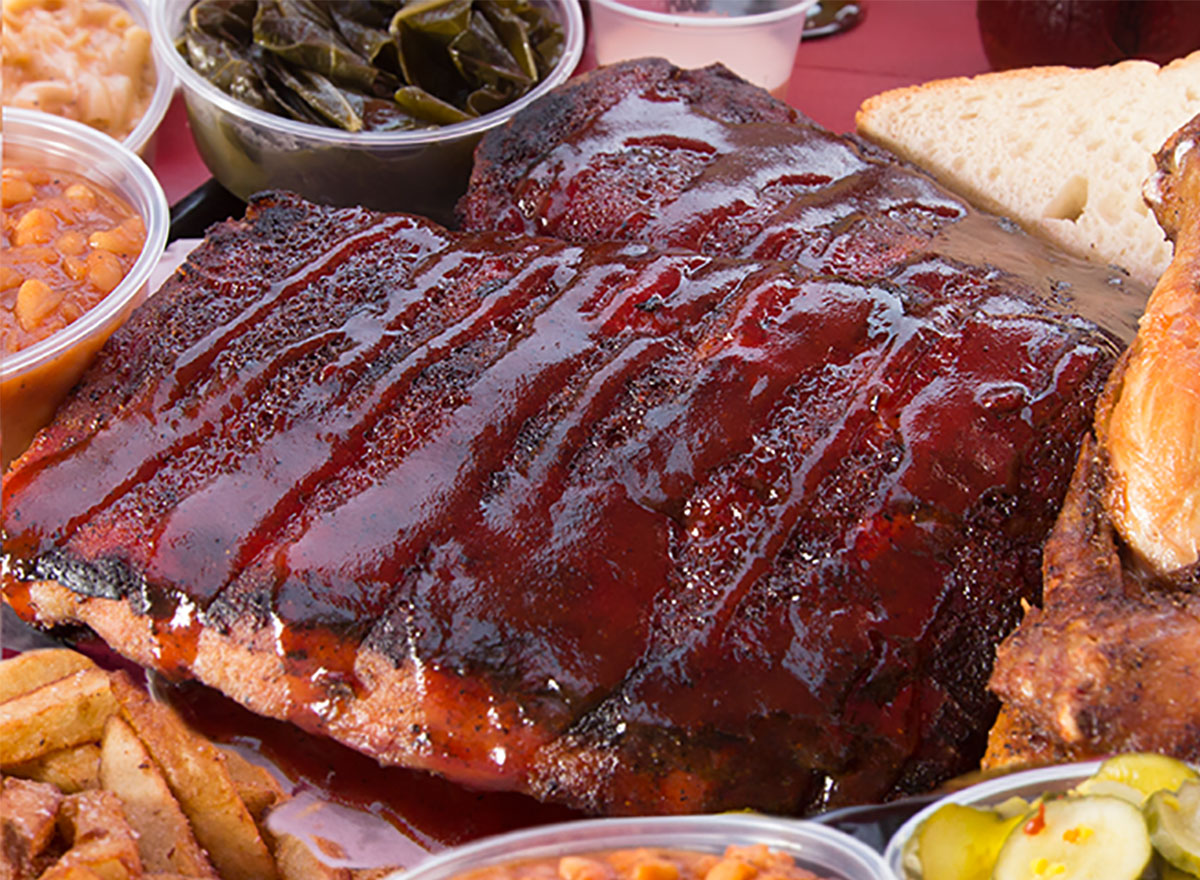 What Chad's lacks in meats—the menu focuses on pork, kielbasa, and chicken—it makes up for in craft beers. With brews from all over the country and many from local breweries, Chad's will leave you more than a little tipsy.
MASSACHUSETTS: B.T.'s Smokehouse in Sturbridge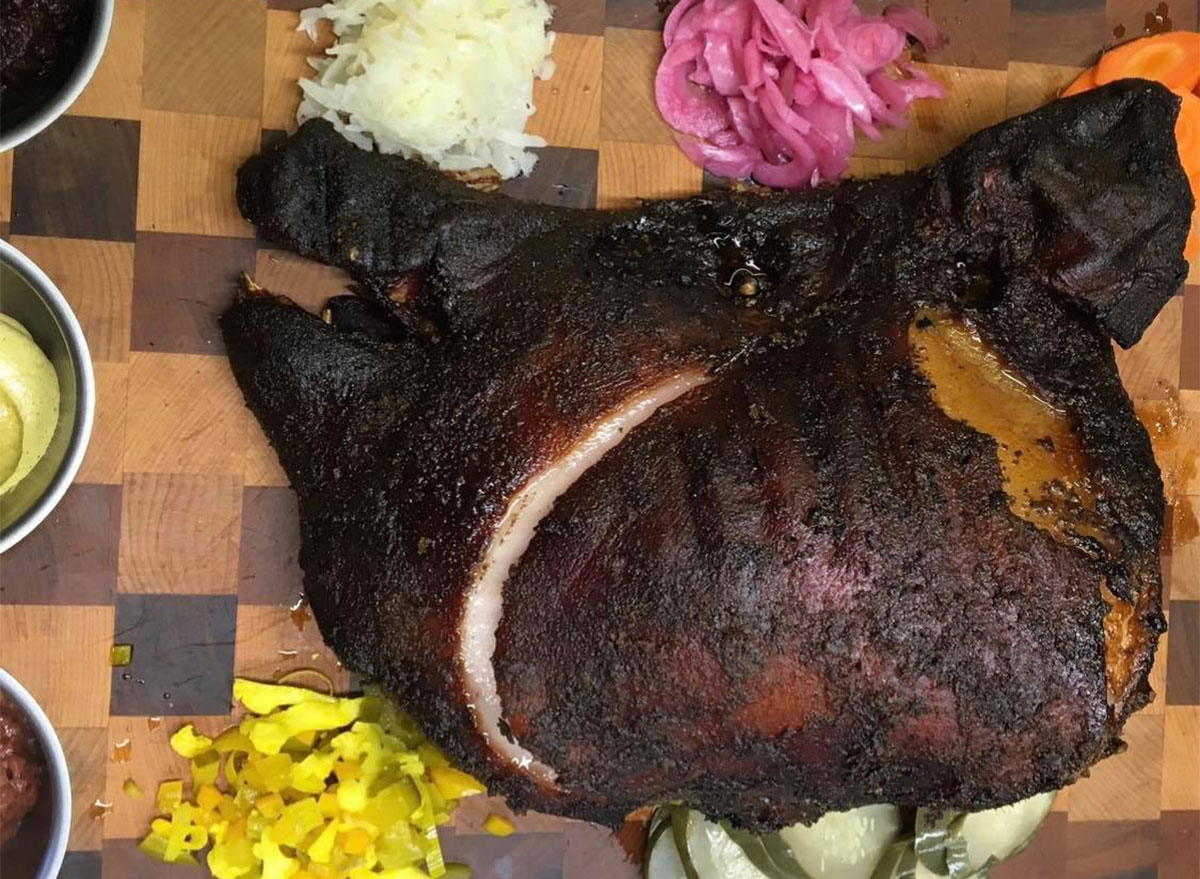 Sandwiches, platters, and meats by the quart are all up for grabs at this New England smokehouse. The restaurant even offers a whole hog for $89, complete with sides and cornbread.
MICHIGAN: The Bone Yard BBQ in Dearborn Heights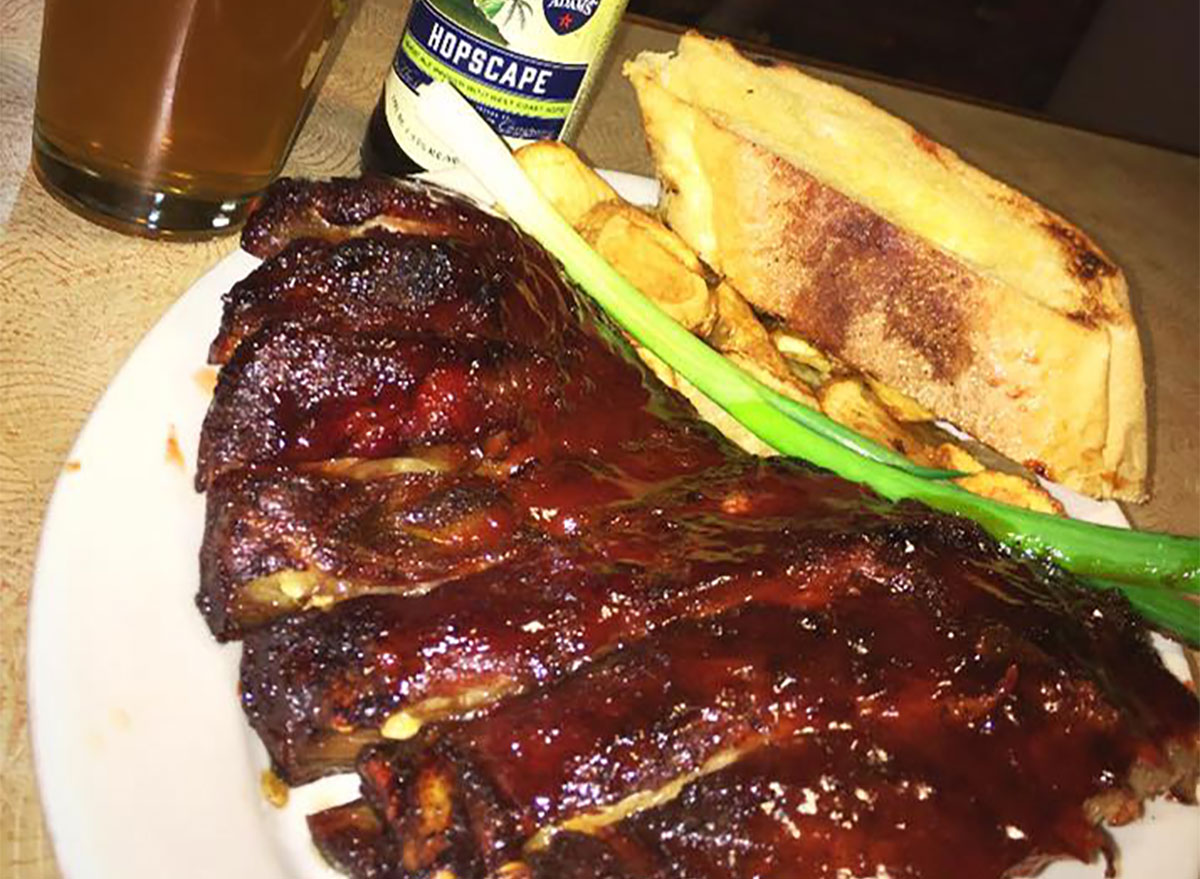 Voted the best ribs in Michigan three years in a row, The Bone Yard has been a barbecue staple in the Detroit area for nearly 50 years. If ribs aren't your thing, try the steak or barbecue chicken.6254a4d1642c605c54bf1cab17d50f1e
MINNESOTA: Jellybean and Julia's in Anoka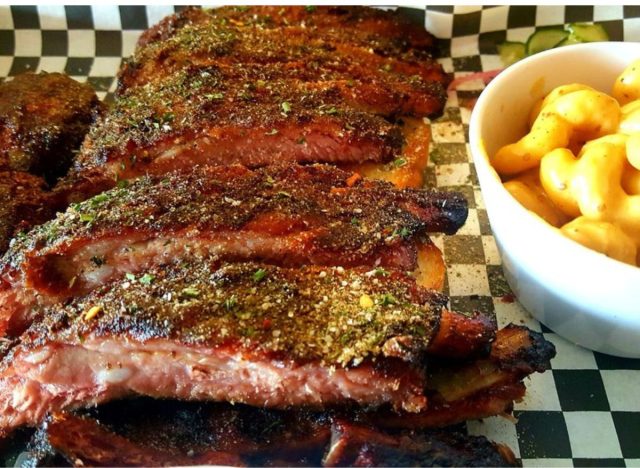 Eater named Jelly Beans and Julia's one of the 15 Essential Barbecue Restaurants in the Twin Cities. Diners rave about the food, including this reviewer who said, "Barbecue at its best! Smokey tender brisket, must-try heart attack sandwich smother in pulled pork, cheese and jalapeño jam. Huge smoked, fried wings (like the biggest I've seen), tangy coleslaw and corn fritters. We left feeling full and happy. Definitely worth the drive to Anoka!"
MISSISSIPPI: The Pig & Pint in Jackson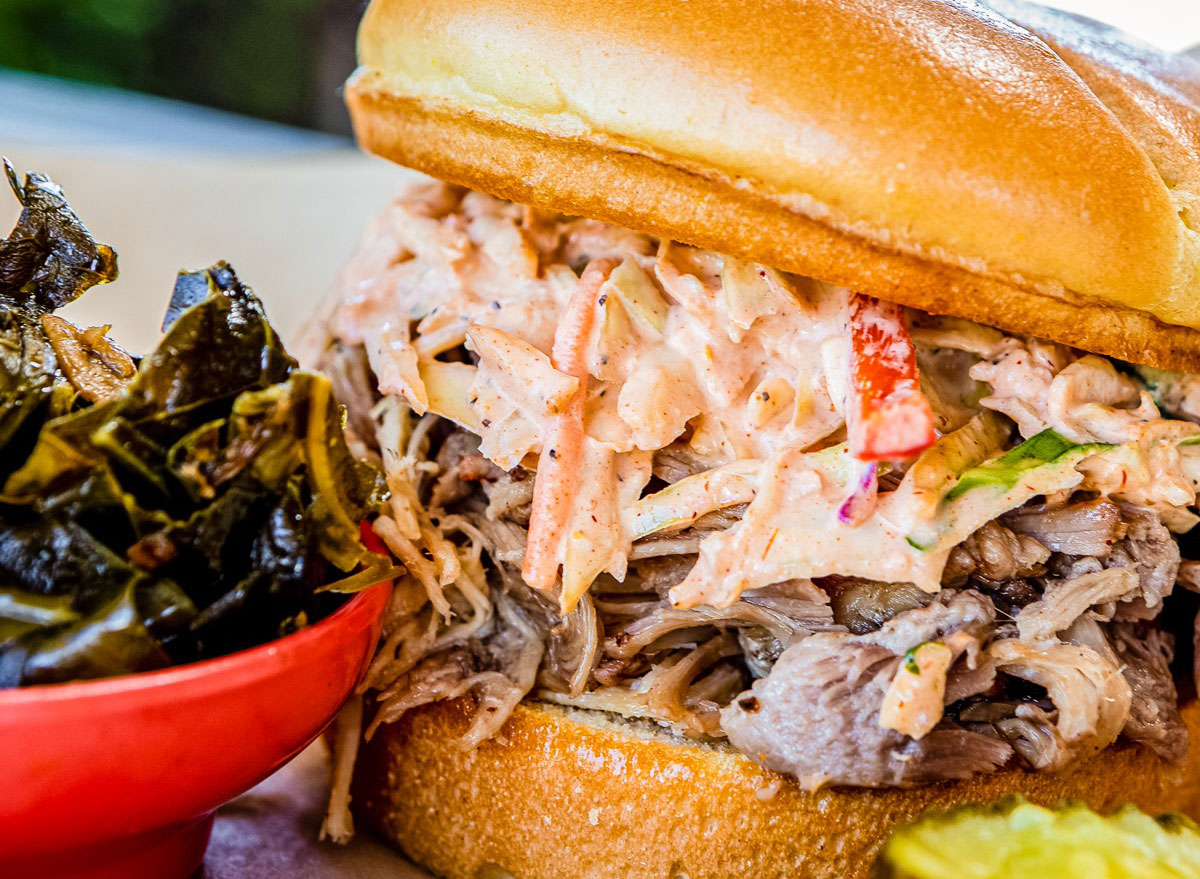 This hip Southern taproom serves Mexicanized takes on barbecue classics, like barbecue tacos and nachos. If you want something a bit more traditional, go for the award-winning baby back ribs, glazed with Pepsi. Top it off with a local craft beer, as The Pig & Pint offers one of the largest selections in the state.
MISSOURI: Harp Barbecue in Raytown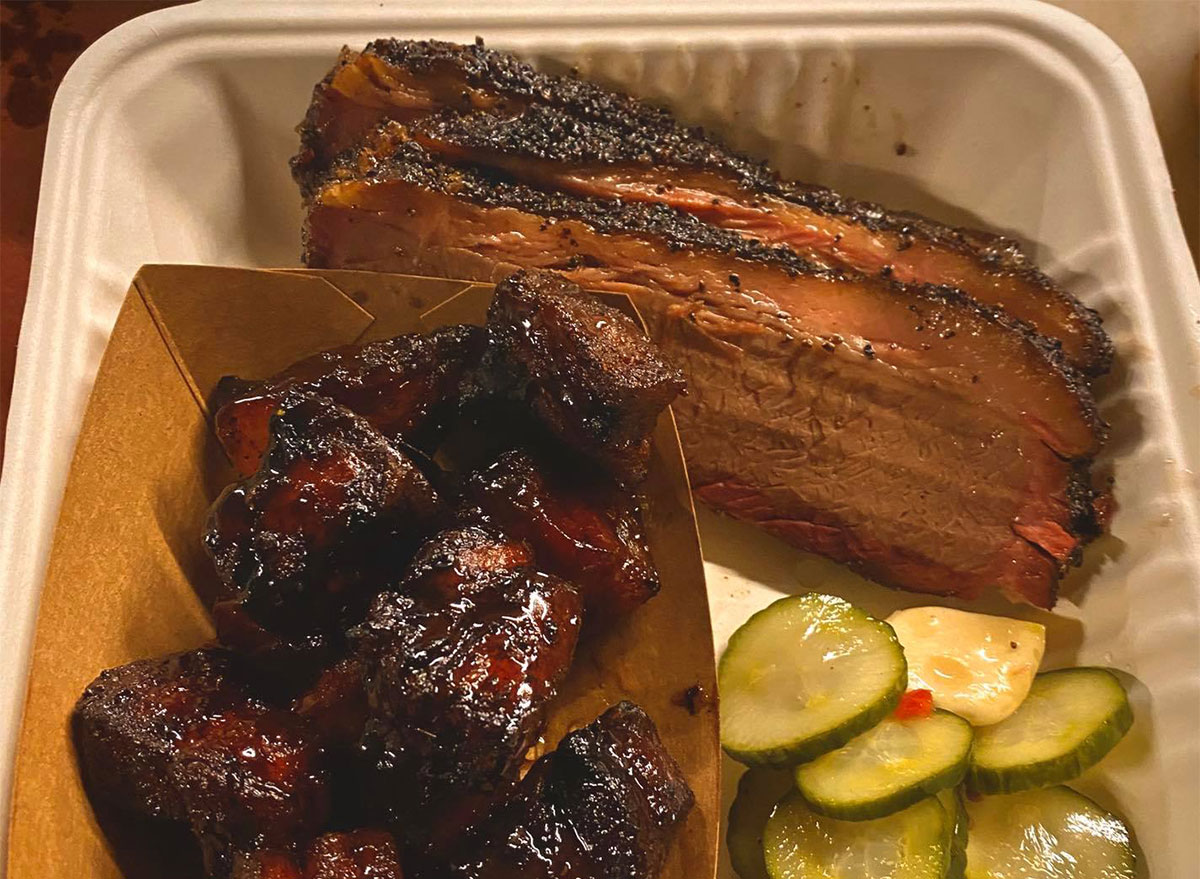 This little pop-up packs a big punch. Hidden inside a brewery and open only one day a week, this spot from chef Tyler Harp draws a line every weekend. He even got a shoutout on Thrillist's list of the country's top barbecue spots, and the restaurant was named the best barbecue in Kansas City by Kansas City Magazine.
MONTANA: The Notorious P.I.G. in Missoula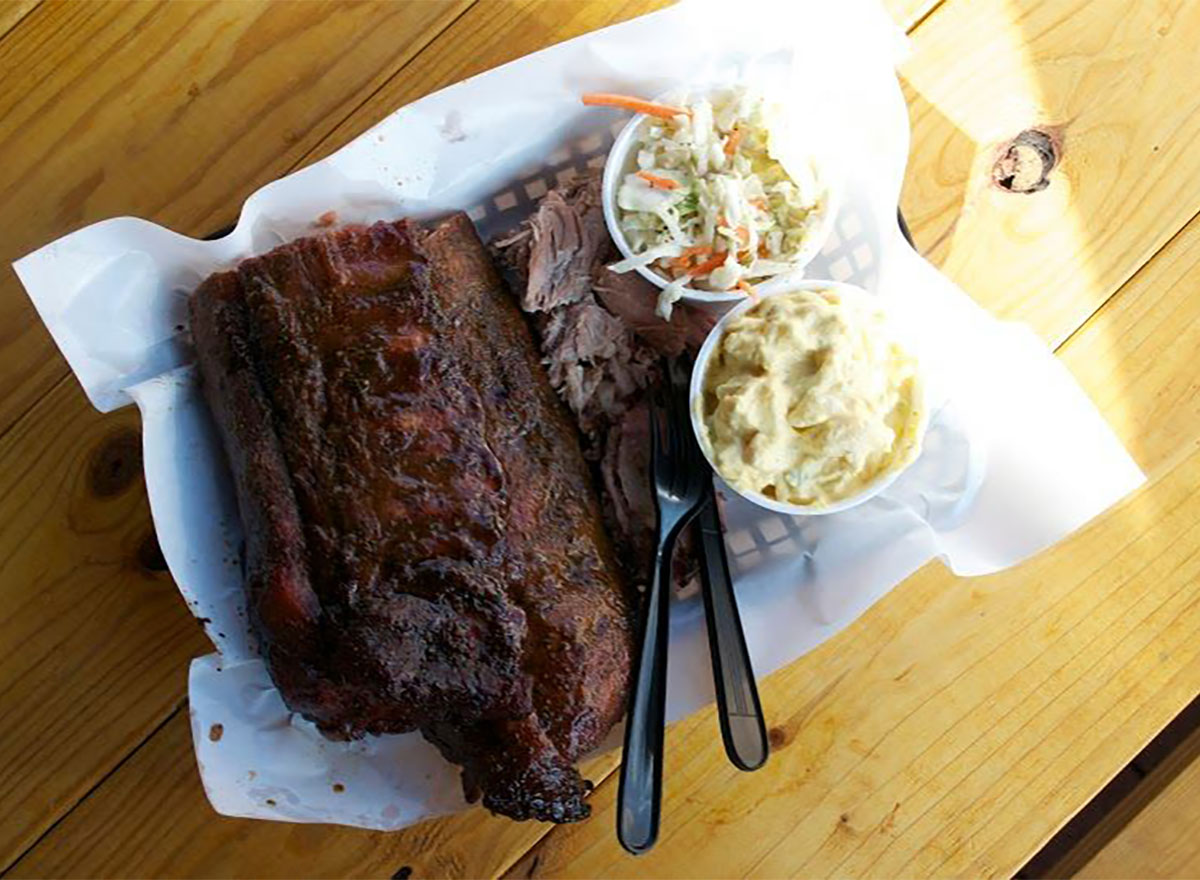 The Notorious P.I.G. serves the kinds of meats its namesake would be proud of: juicy. Don't let the name fool you, as the restaurant also serves burnt ends, brisket, and even pastrami. With four different house barbecue sauces, there's no need for any Salt-n-Pepa.
NEBRASKA: Swine Dining BBQ in Bellevue
Make yourself at home and eat off plastic plates in this cute little log cabin. If you can't decide what to get, try the All in the Pool: pulled pork, beef brisket, and smoked sausage all on a single sandwich.
NEVADA: Fox Smokehouse BBQ in Boulder City
Southern Nevada's self-proclaimed "premier smokehouse" brings all classic meats and fixin's to the desert. Order the BBQ Sundae—a bowl of cowboy beans, coleslaw, mac & cheese, mashed potatoes, gravy, and your choice of meat—and you won't have room for dessert.
NEW HAMPSHIRE: KC's Rib Shack in Manchester
KC's Rib Shack has one of the most well-rounded menus on our list. Hot dogs, burgers, salads, the famous ribs, fried cheesecake, and a full-blown tiki bar make this a place for all tastes.
NEW JERSEY: Hamilton Pork in Jersey City
Hamilton Pork takes a modern approach to barbecue. The large menu contains more upscale versions of classic sides and fusion-inspired wings and tacos, and because it's right across the river from New York City, Hamilton Pork also serves brunch.
NEW MEXICO: Mad Jack's Mountaintop Barbecue in Cloudcroft
Mad Jack's is another one where you'll have to arrive early and wait in line, but reviewers insist the brisket and mac & cheese make the wait more than worth your while. Stop by on the weekend for the supersized Dino ribs.
NEW YORK: Dinosaur Bar-B-Q in Syracuse
Although Dinosaur Bar-B-Q has locations all over the state and two in New York City, the Syracuse location is the OG. The restaurant is known for its BBQ sauce and has several special sandwiches, like the customizable barbecue cheesesteaks.
NORTH CAROLINA: The Original Q Shack in Durham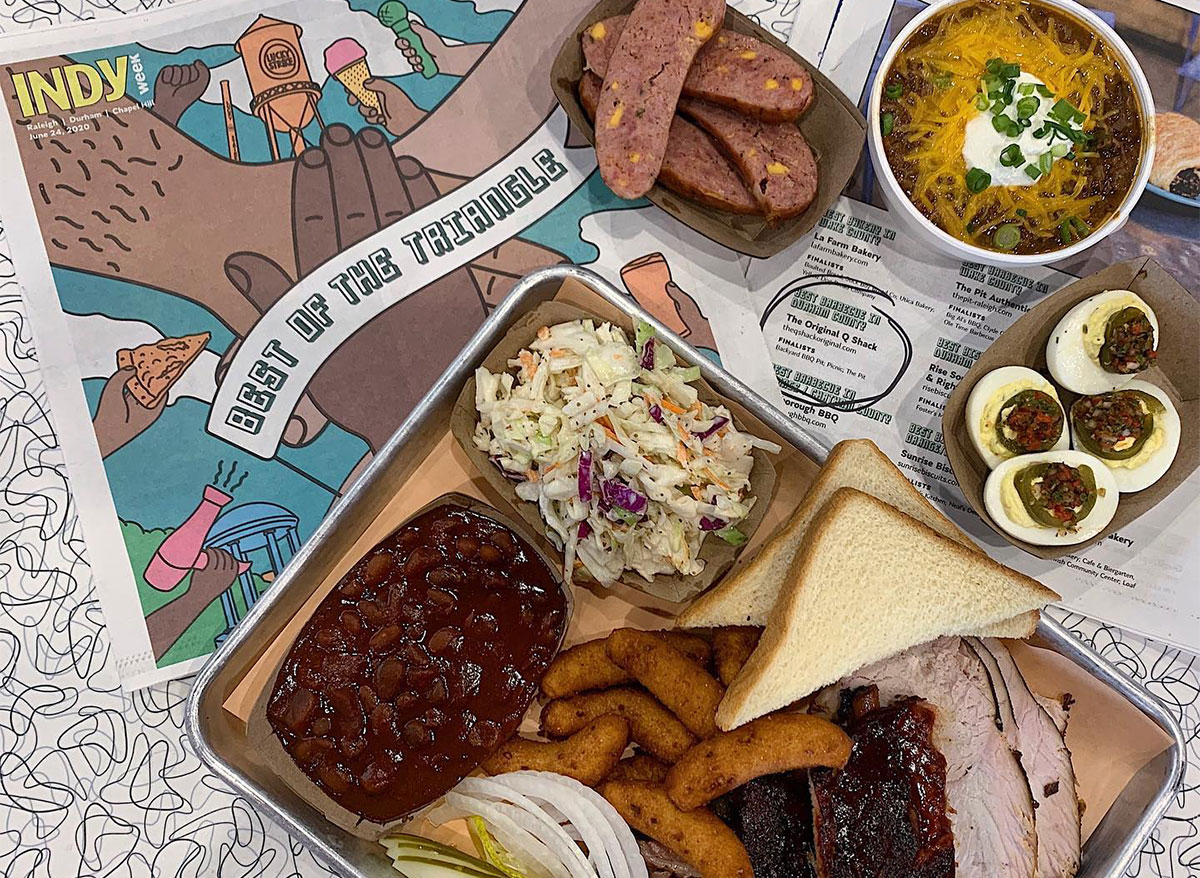 Claiming to make "BBQ tender as a mother's love," Q Shack combines the best of Texas and North Carolina styles. While reviewers think Q Shack makes a mean Texas brisket, it's the Carolina pork here that steals the show, with the hushpuppies in a supporting role.
NORTH DAKOTA: NoBull Smokehouse in Fargo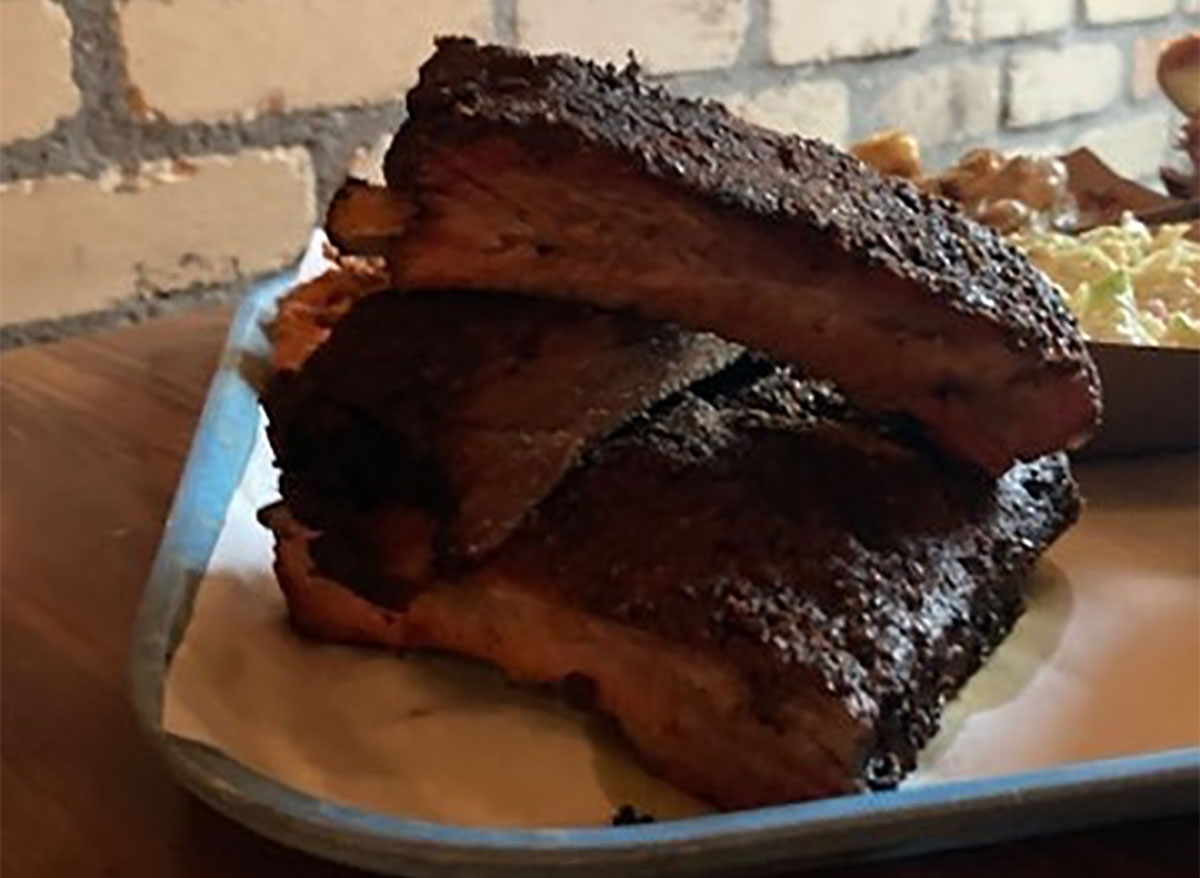 The barbecue at NoBull is all killer and no filler, with a wide array of sandwiches, pizzas, and other unique creations. Try the Smokehouse Meatballs or the COWamari, fried brisket bites served with ranch and horseradish.
OHIO: Uncle Beth's BBQ in North Lewisburg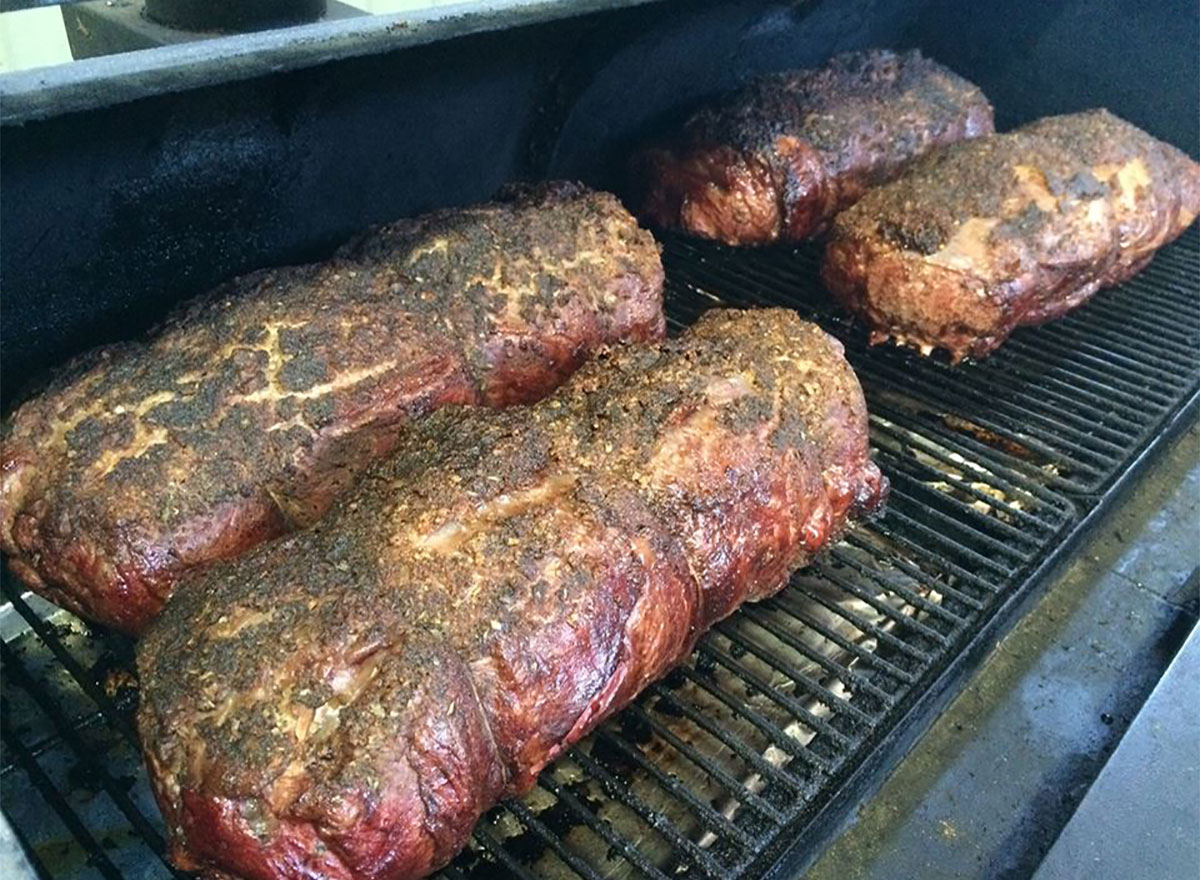 This little log cabin may only be open Thursday thru Saturday, but Uncle Beth's has enough special offerings to keep you counting down to the weekend. With prime rib on Friday, brisket on Saturday, and a rotating offering of desserts, you may even want to come all three weekend days. Check the restaurant's Facebook page for the most updated offerings.
OKLAHOMA: The Butcher BBQ Stand in Wellston
This rustic shack just off the highway has all the meats you could ask for turkey, brisket, pork, chicken, sausage, ribs…even Twinkies! Reviewers rave about the Apple Pie BBQ Beans—be sure to order some before they run out.
OREGON: Storrs Smokehouse in Newberg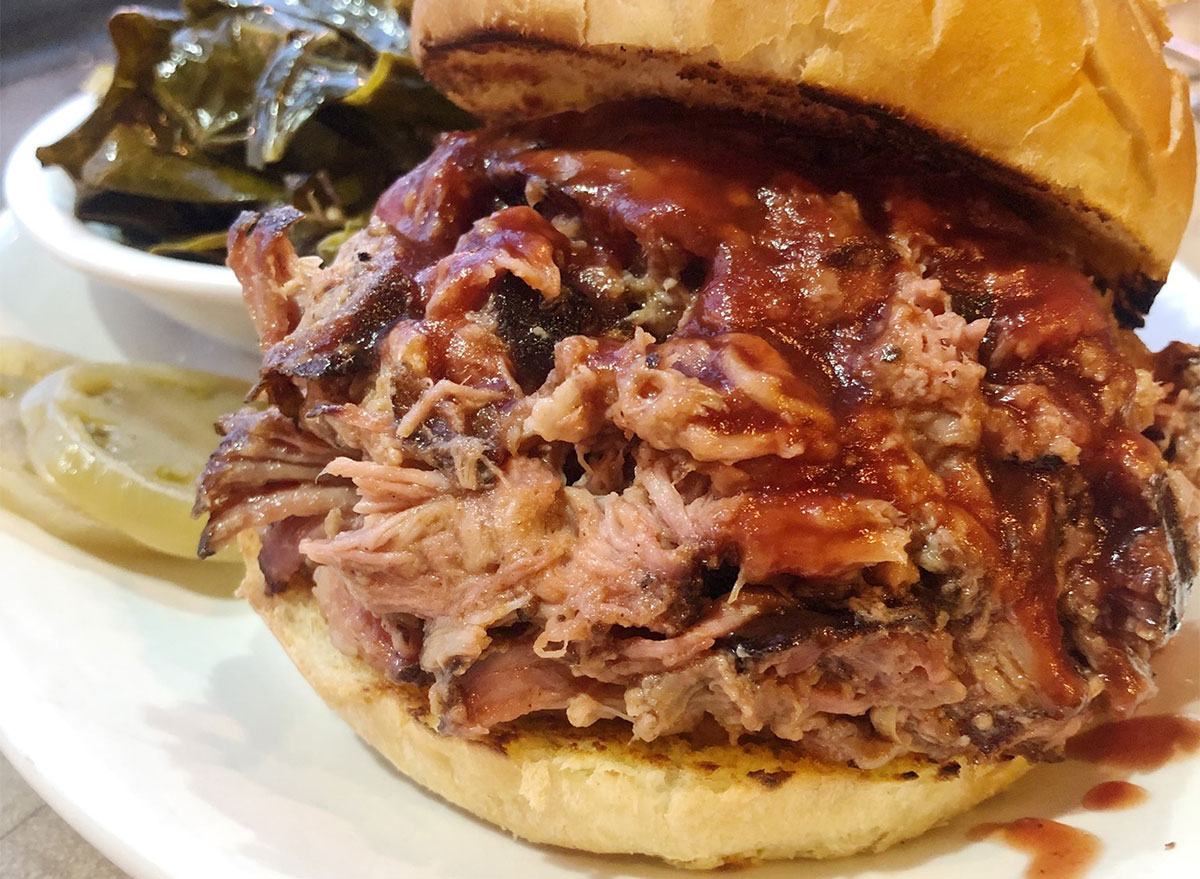 Storrs bills itself as "classic smokehouse flavor with a wine country flair," serving more modern takes on your traditional barbecue. Check the restaurant's Facebook page for specials, like a Nashville Hot Chicken sandwich or smoked bangers with mashed potatoes.
PENNSYLVANIA: Skeeter's Pit BBQ in Shamokin Dam
Located right on the river with tons of outdoor seating, Skeeter's is the perfect place to chow down on ribs while pounding back some local brews. Stop by during the summer months for live music.
RHODE ISLAND: Becky's BBQ in Middletown
Becky's brings good old-fashioned barbecue all the way up to Rhode Island. Offering all the staples with no frills, stop by to get a taste of the South up north.
SOUTH CAROLINA: Shuler's Bar-B-Que in Latta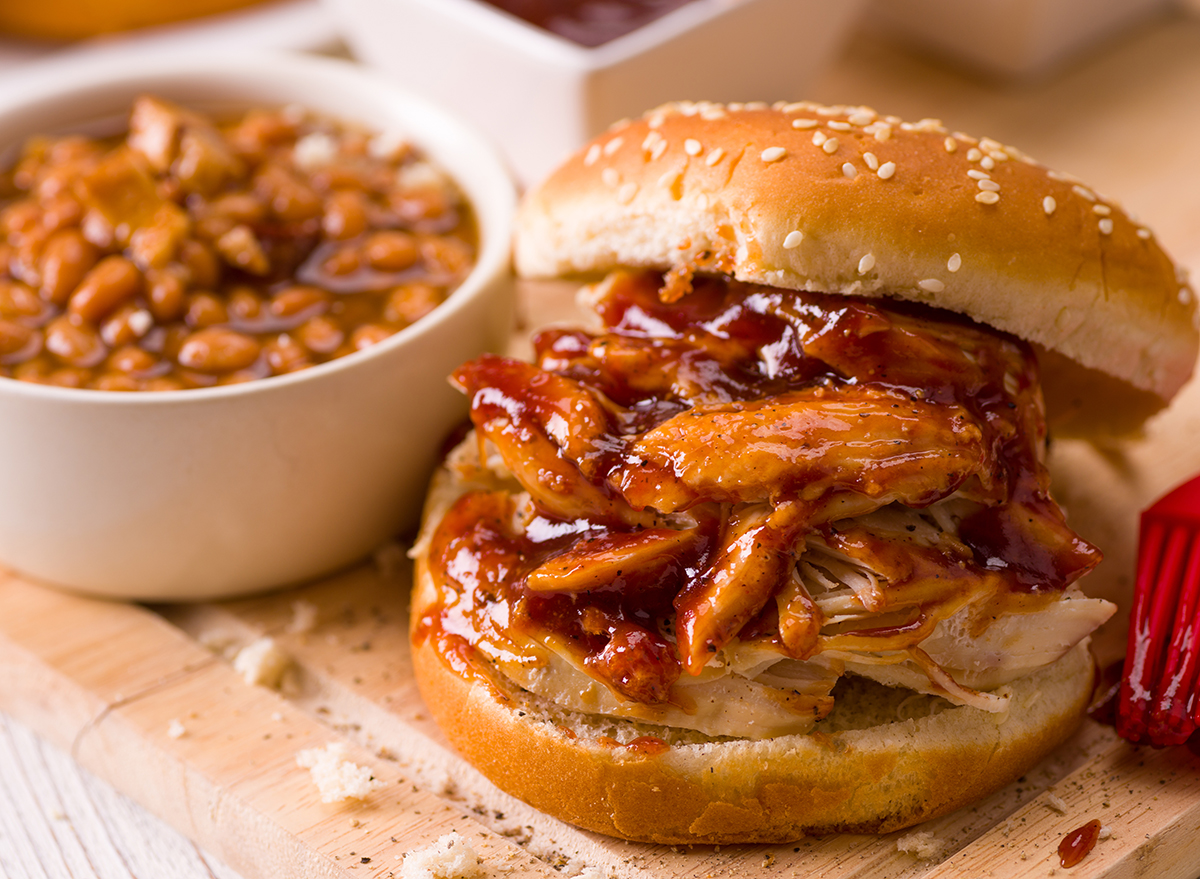 Shuler's serves buffet-style barbecue in an adorably homey atmosphere, alongside a general store and a full-blown bakery. Reviewers love the fried chicken and the wide array of desserts.
SOUTH DAKOTA: J.R.'s Rhodehouse BBQ Pit in Summerset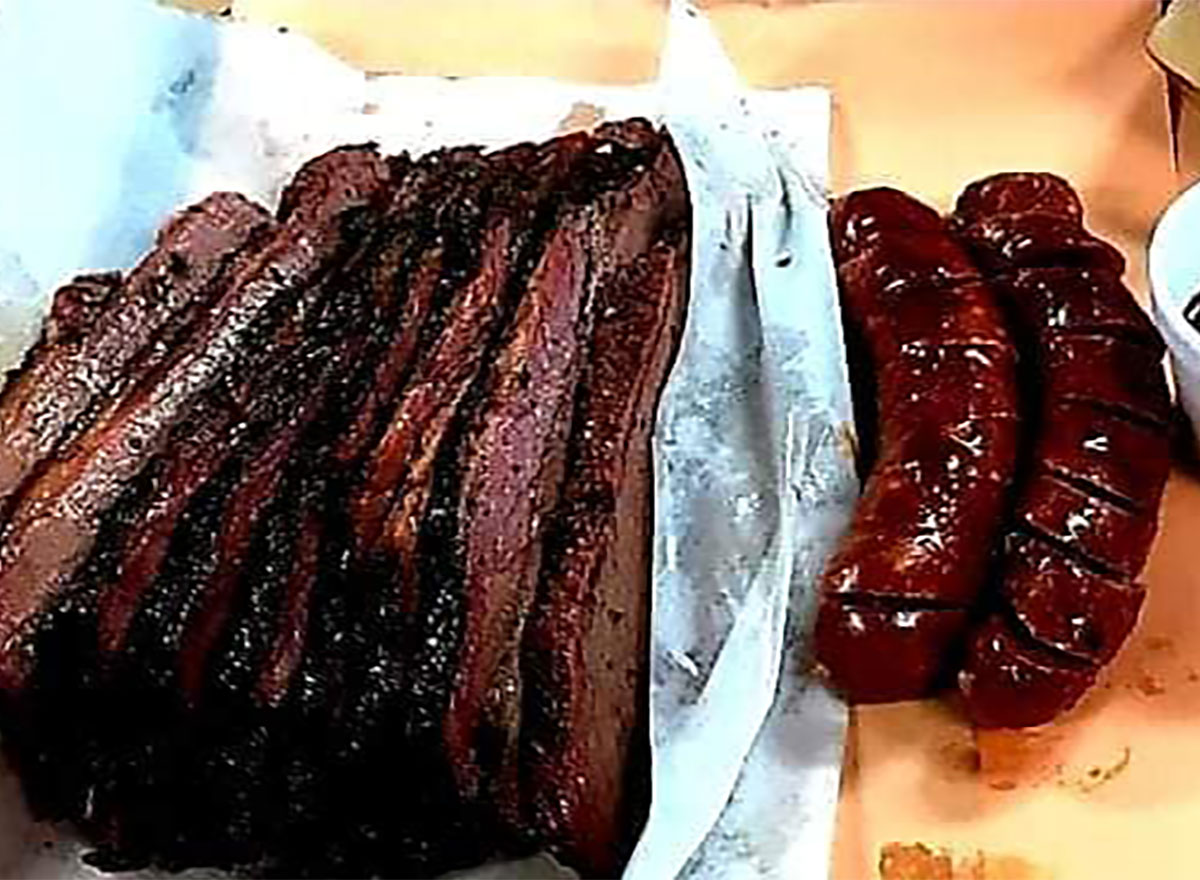 J.R.'s has been open for less than a decade but has quickly risen to the top of South Dakota's barbecue scene. The El Frito-Q!!! Texicano sandwich was featured on a 2017 episode of Travel Channel's Secret Eats, and owner Justin Rhodes continues to bring his Texas barbecue prowess up to the northwest.
TENNESSEE: Charlie Vergos Rendezvous in Memphis
It's no surprise that Tennessee's best barbecue is in Memphis, and Rendezvous has been a heavyweight in the scene for more than 70 years. Come for the complimentary red beans and rice, and stay for the famous charcoal-grilled ribs.
TEXAS: Stanley's Famous Pit Bar-B-Q in Tyler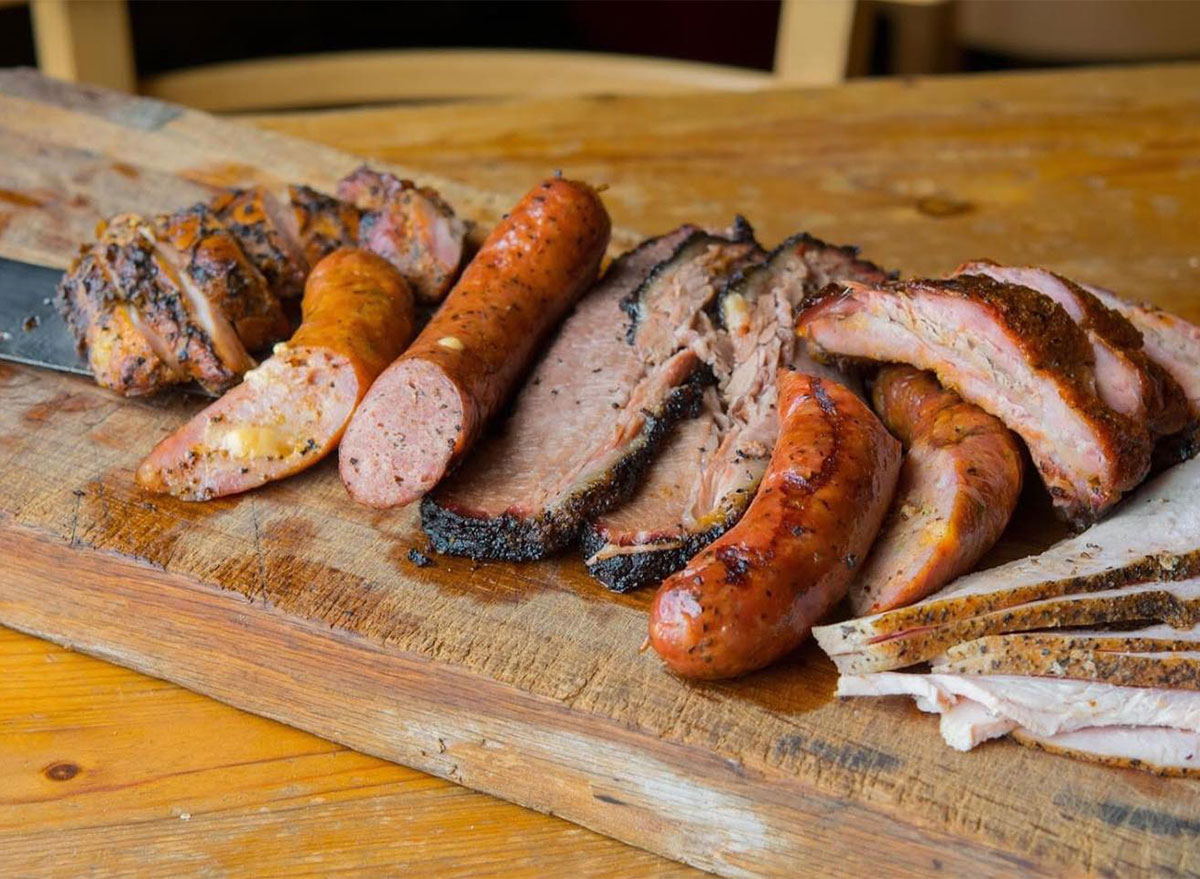 The best in the country's barbecue capital is nothing short of eclectic. A whole bunch of sandwiches, tacos, and 12 whiskey flights draw customers from all over the area. Order takeout or dine in and enjoy some live music.
UTAH: Smokin Bones BBQ in Bountiful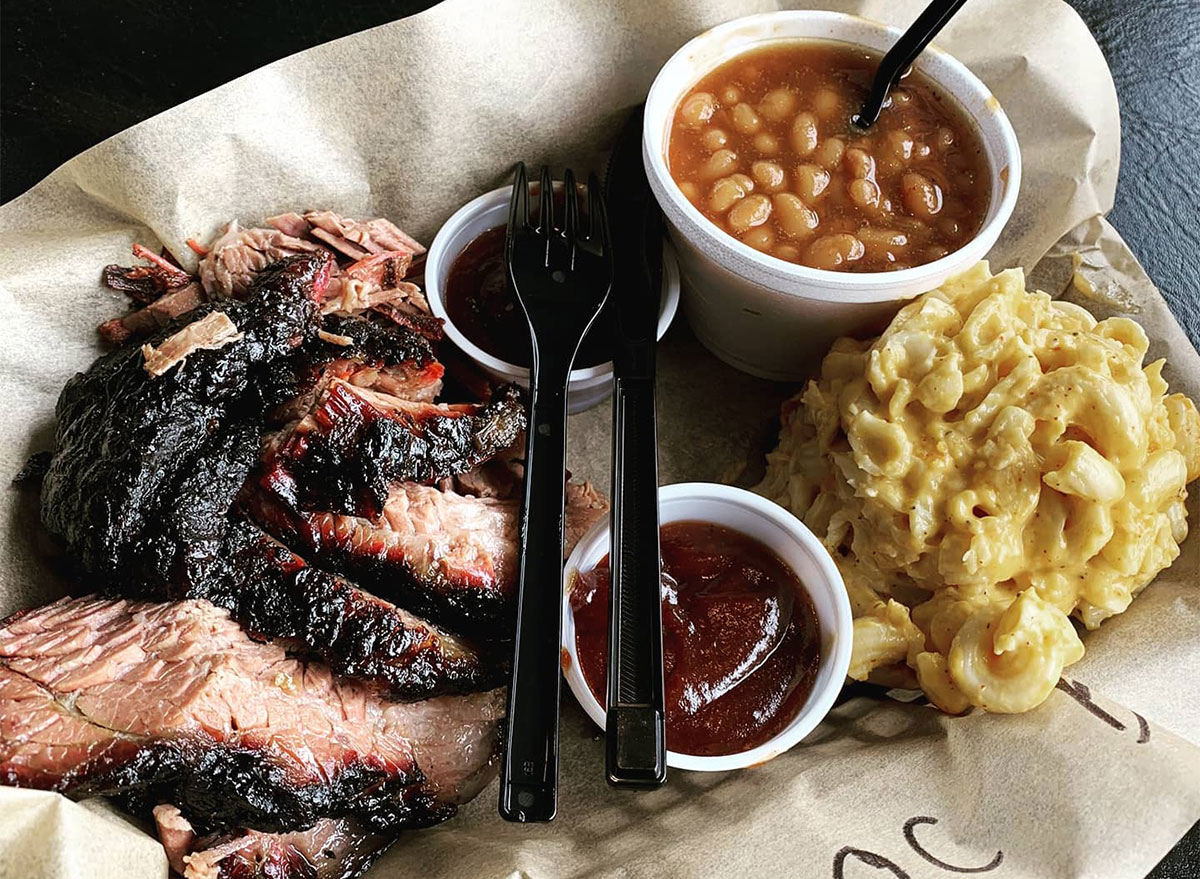 In nondescript, casual digs, Smokin Bones serves the best smoked meats Utah has to offer. The restaurant also has burgers, Frito pies, and big hunks of cornbread.
VERMONT: Big Fatty's BBQ in White River Junction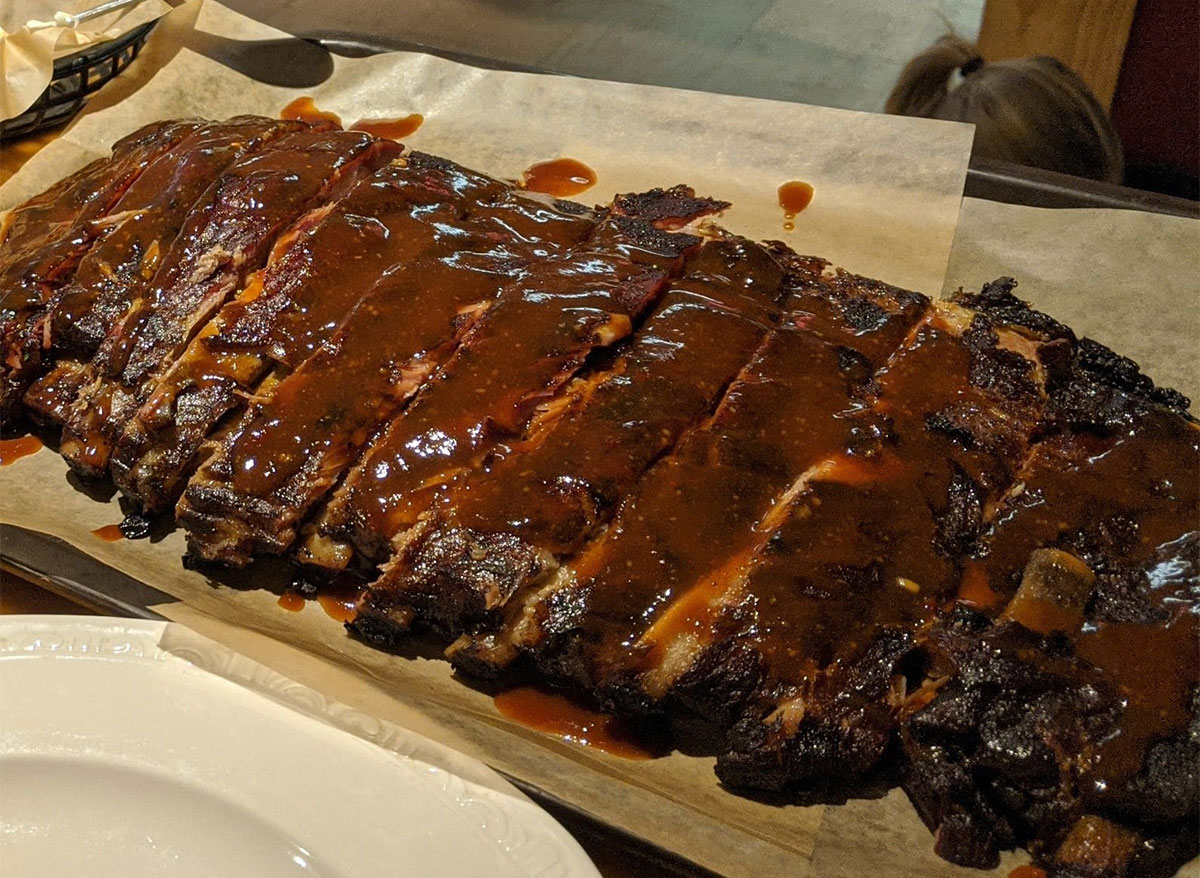 Big Fatty's fat menu has every smoked meat combination you can think of. Want ribs and pulled pork? Or burnt ends and chicken? Big Fatty's has you covered. Mac & cheese fans can choose between the beef brisket mac & cheese or the Cuban mac & cheese, with pulled pork, bacon, and pickles.
VIRGINIA: Monk's BBQ in Purcellville
Alongside all the standard meats, Monk's BBQ has plenty of unique creations, like a brisket cheeseburger, custard-filled cornbread, and a cheddar-stuffed ham sausage. With that, plus a large selection of beers and bourbon, there's something for everyone.
WASHINGTON: Ranch House BBQ & Steakhouse in Olympia
Ranch House has a complete menu filled with meats, salads, burgers, steaks, sandwiches, award-winning chili, and fries. Start off with some chili cheese fries as an app, and finish off with a brisket and sausage sandwich.
WEST VIRGINIA: Dem 2 Brothers and a Grill in Charleston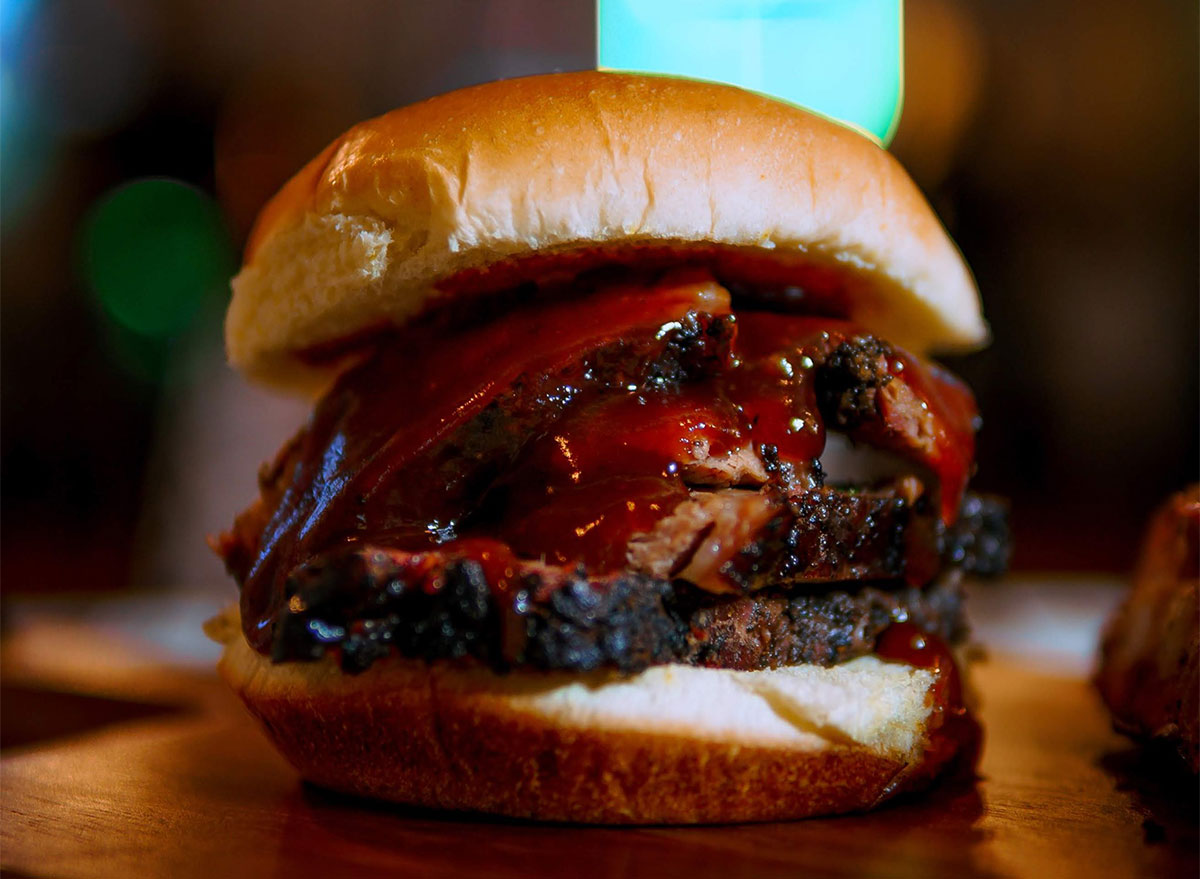 With ribs that have been featured on Food Network's Southern Fried Road Trip, this place is the real deal. Aside from the ribs, reviewers love the brisket, pulled pork, and sweet potato casserole.
WISCONSIN: Bob's Bitchin' BBQ in Dodgeville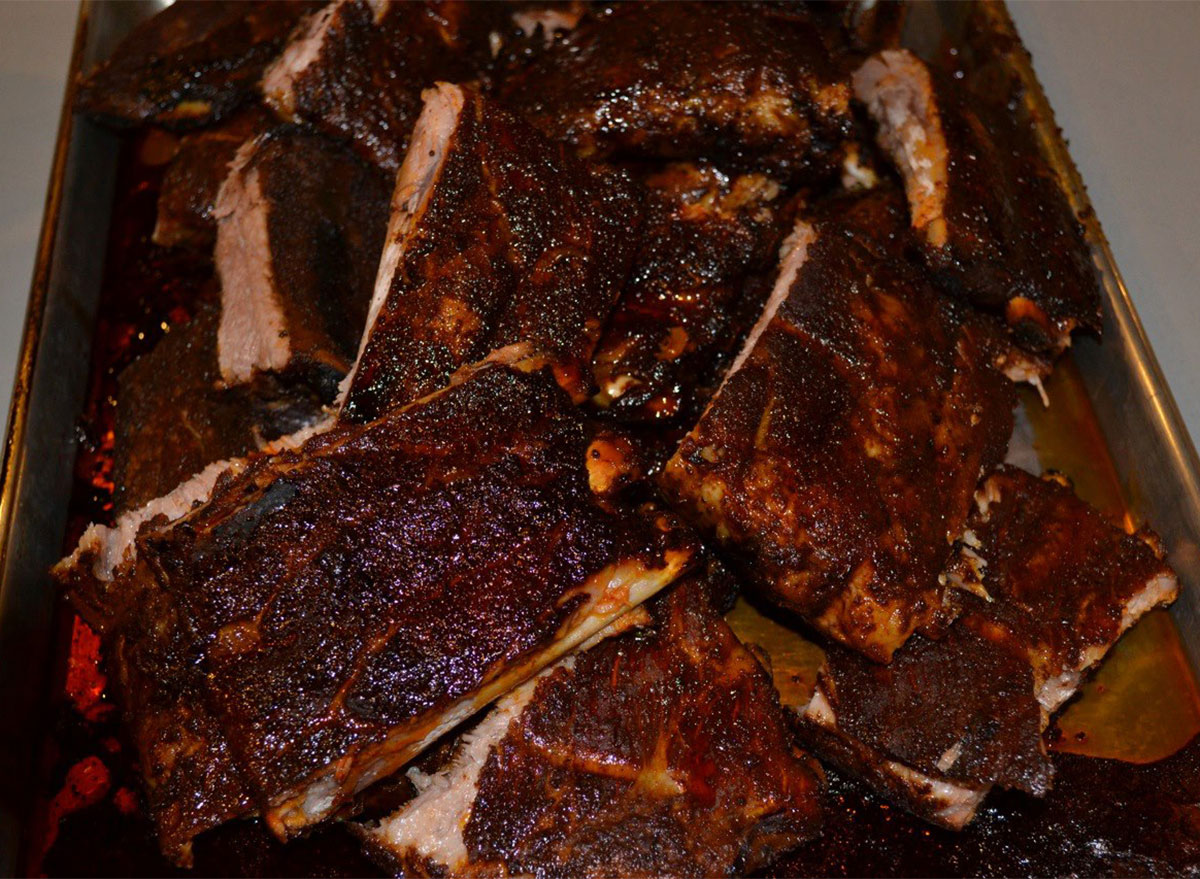 At a whopping five pages, Bob's Bitchin' BBQ has the longest menu on our list. Nine appetizers, 13 sandwiches, 12 dinners, 8 barbecue sauces, and nightly specials round out this required reading for barbecue fans. Pair anything with a craft beer flight for a complete meal.
WYOMING: HQ Southern BBQ in Evansville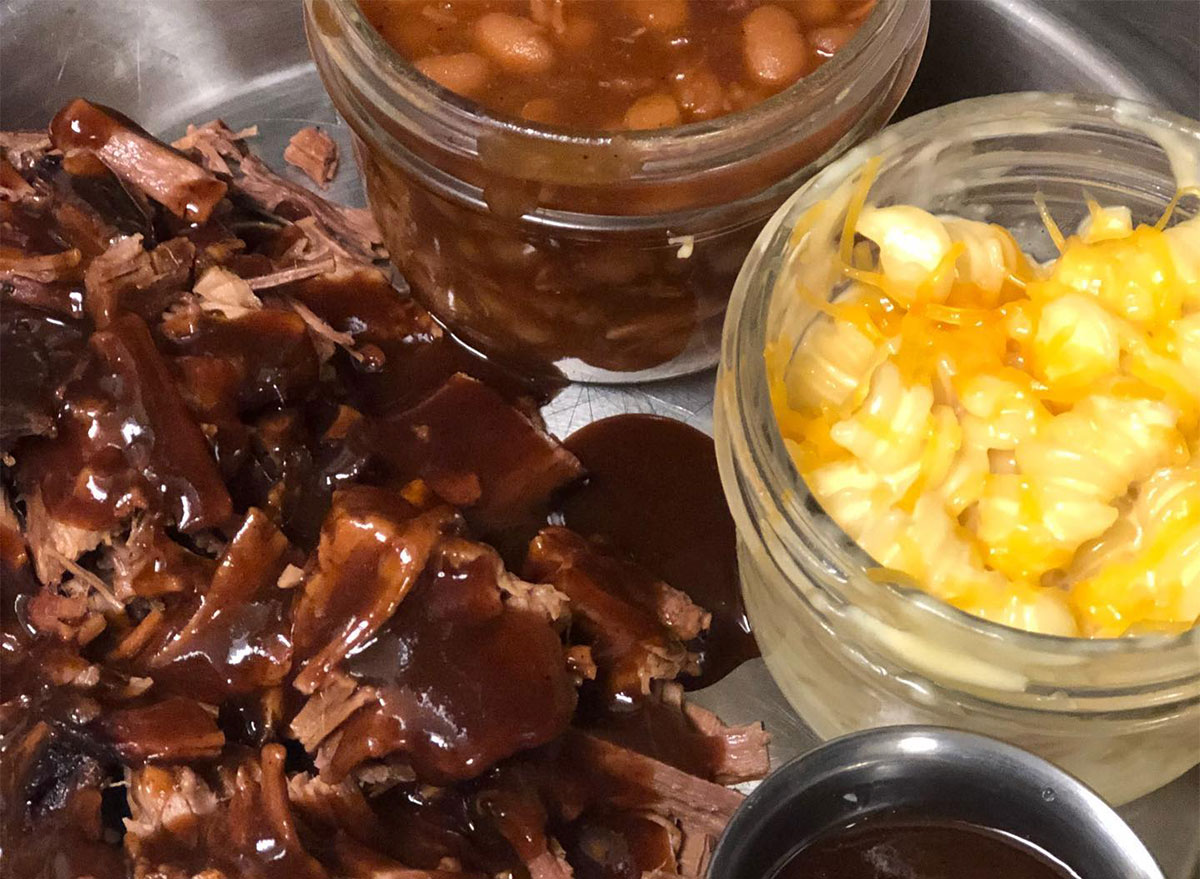 There is no better place to refuel on barbecue than at this joint situated in a former gas station. Redbook Magazine named them the best place for mac & cheese in Wyoming, so even vegetarians can have an exceptional experience.
A preview version of this article was originally published on January 16, 2021.
Luke Gralia
Luke Gralia is a food and lifestyle writer by day and a stand-up comedian by night in New York City.
Read more about Luke