The Best Casserole In Every State
Casseroles prove, once again, that they are the ultimate comfort food.
If you feel like casseroles have been around for what seems like forever, that's because they pretty much have. According to Wikipedia, the idea of the casserole dates back thousands of years, with the dish first starting out as a combination of pounded rice and savory filling. Over time casseroles evolved, with the 1950s being an especially popular era for casseroles as lightweight cookware popped up on the market.
The ever-versatile casserole, which is embraced by all food groups and many cultures, proves it is not just a one-trick dish that appears only during the holidays. This list encompasses every kind of casserole you could possibly imagine (and some you never have) from every corner of the globe. What they all have in common is the ability to warm the eater like a big hug and to warm up even the chilliest of fall days. Here are the best restaurant casseroles in each state. (Plus, don't miss The Best Fried Chicken in Every State!)
ALABAMA: Filet and Vine in Montgomery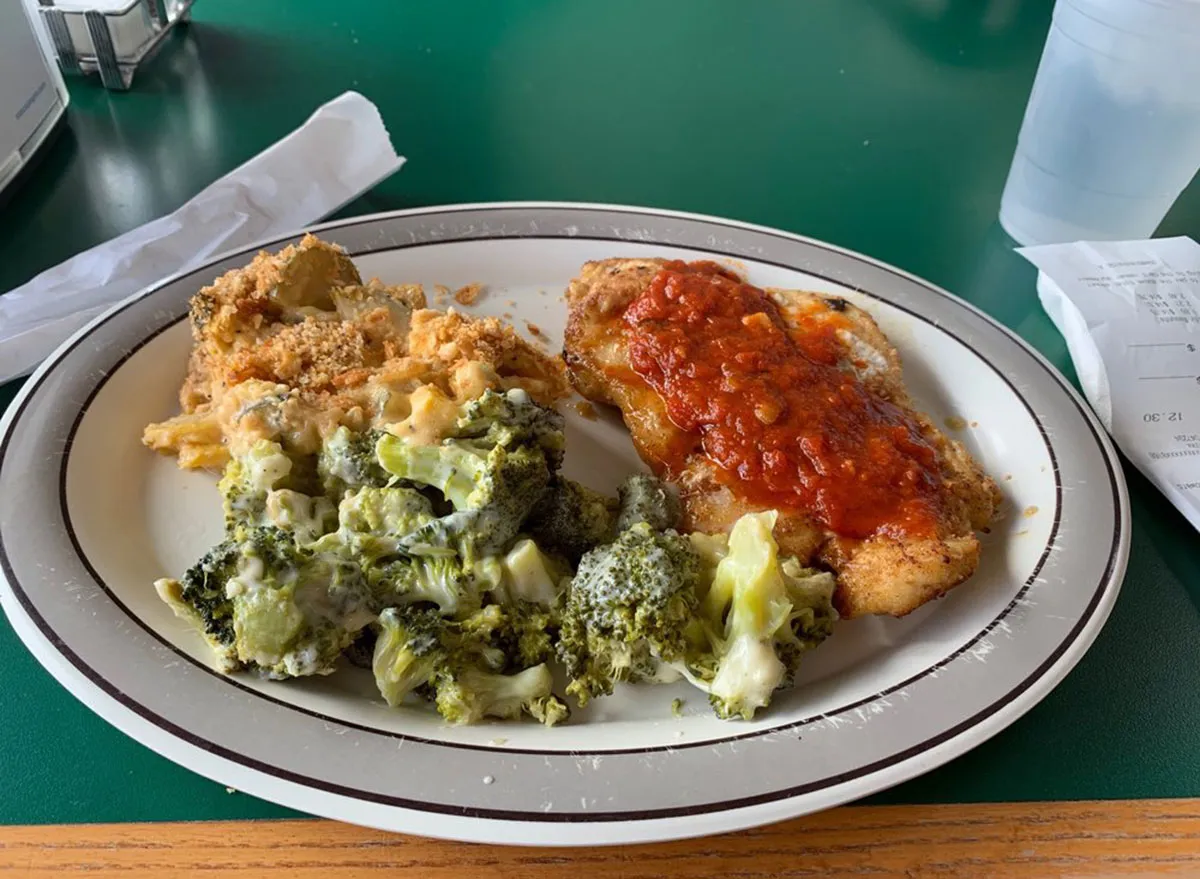 Filet and Vine is the Montgomery market, deli, and wine shop that is found just steps from Alabama State University in Montgomery. Local residents absolutely love the market's hot bar, which has tasty options, such as fried chicken breast, chopped sirloin, and mashed potatoes, available for customers each day. One of its highlights is the sweet potato casserole, which has been described by multiple Yelpers as "amazing".
ALASKA: Sunshine House Bed and Breakfast in Seward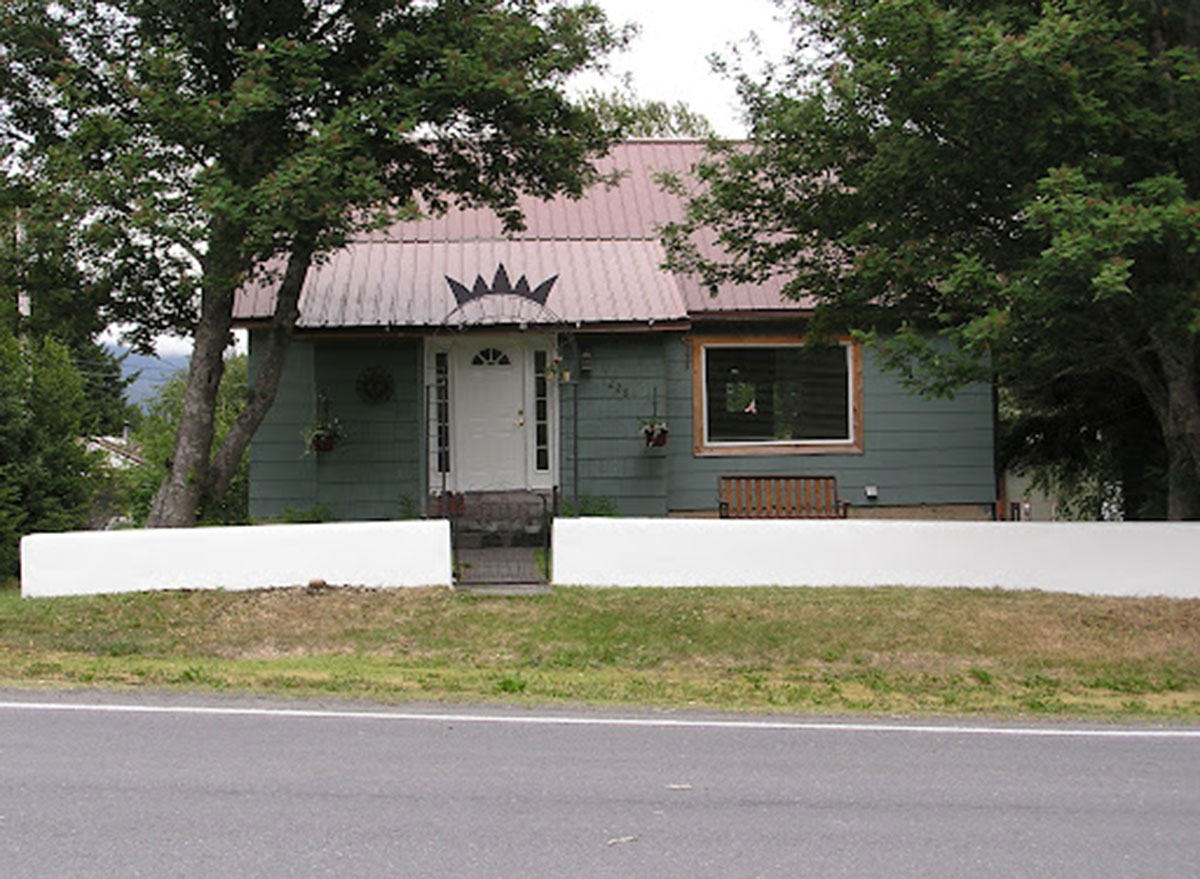 The best Alaskan casseroles may not be found in any old traditional restaurant, but instead in a cozy bed and breakfast in Seward. Sunshine House B&B, which has 5 stars on TripAdvisor, serves a variety of delicious breakfast casseroles, such as French toast casserole and potato casserole.
ARIZONA: True Food Kitchen in Scottsdale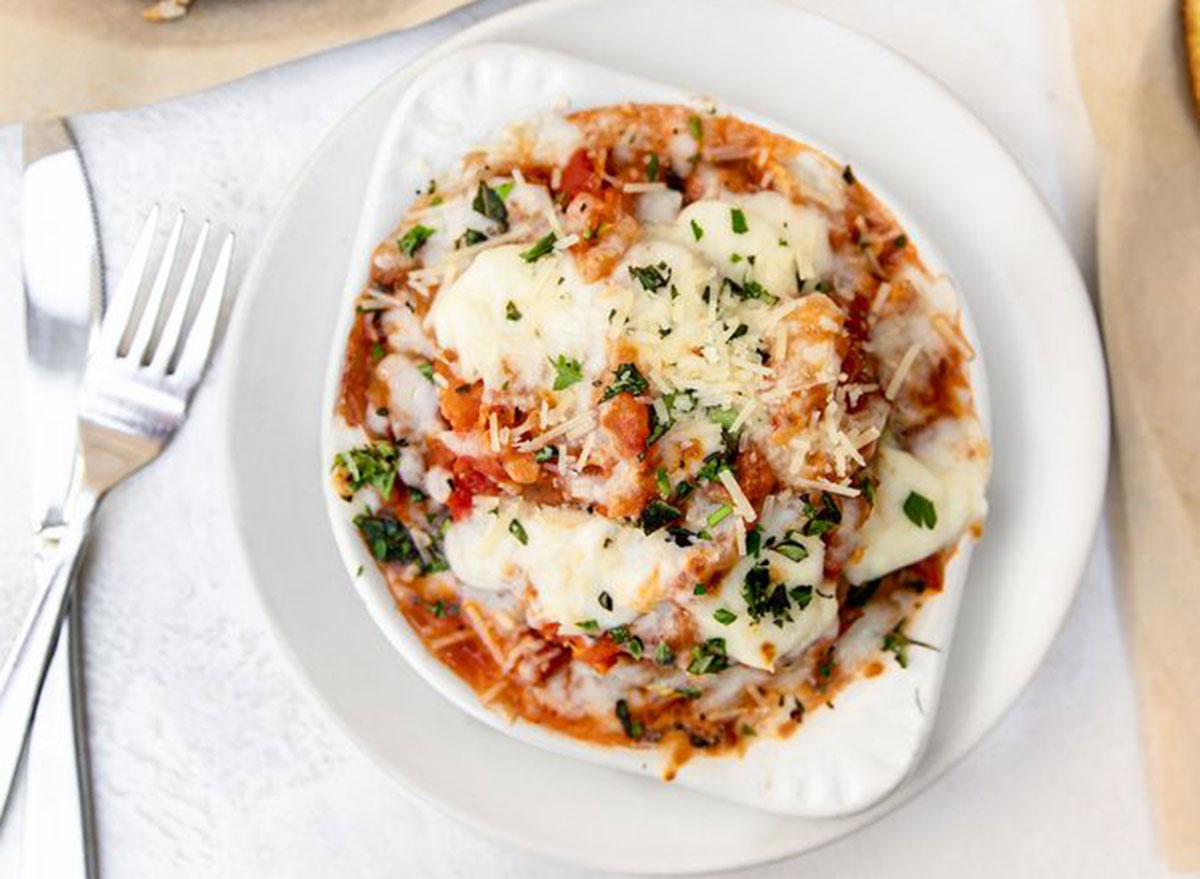 True Food Kitchen is Scottsdale's health-conscious restaurant that serves creative dishes, such as edamame guacamole, Teriyaki quinoa bowls, and butternut squash pizza, that are packed with fresh flavors. A can't-miss item of theirs is the squash casserole, which is an innovative take on a traditional lasagna dish, and is made using crushed tomato, zucchini, caramelized onion, and fresh mozzarella. One Yelper loved it so much that they posted, "I had the spaghetti squash casserole and customized it to be vegan. Ohhh my Jesus, it was too good to be true. One of the best meals I had while visiting Arizona."
ARKANSAS: Cracker Barrel in Conway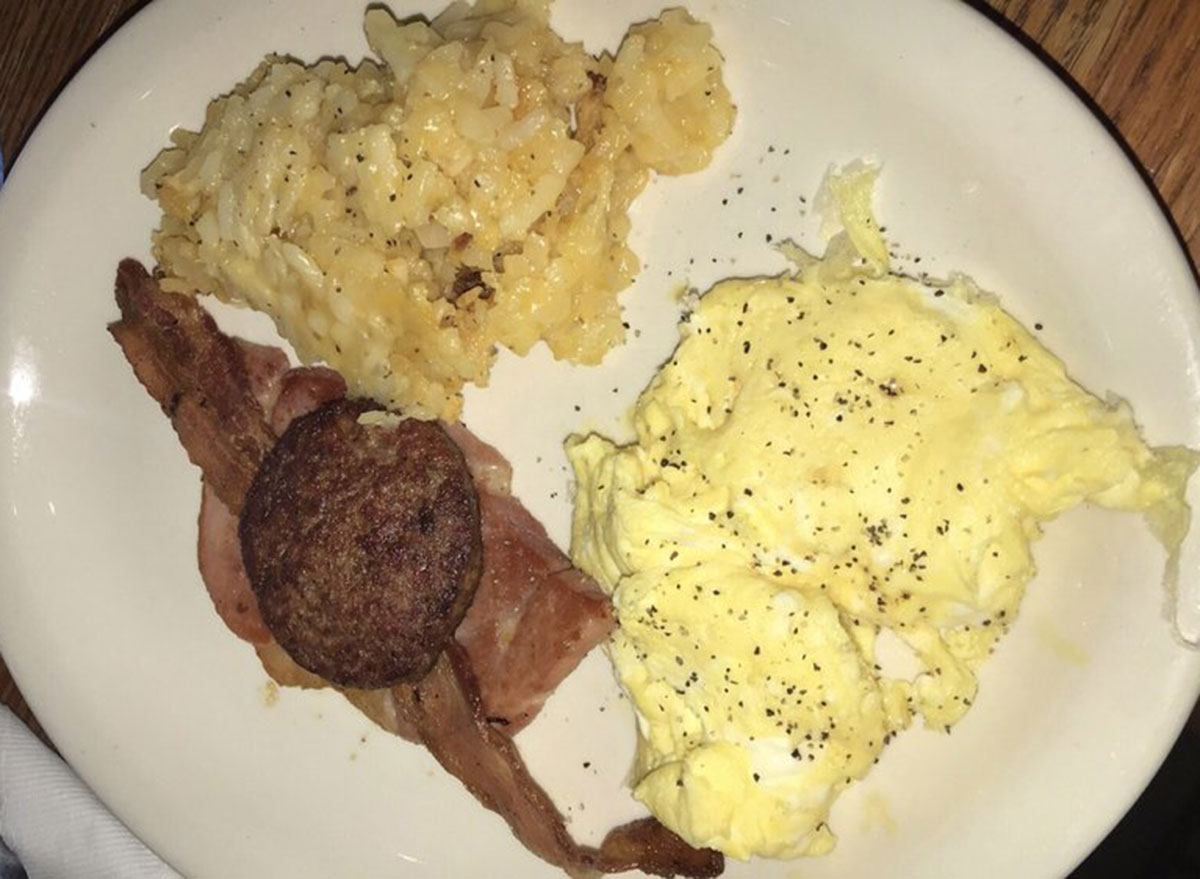 Sometimes all you need in life (or during a road trip) is Cracker Barrel, the popular restaurant chain that makes classic American comfort food. People love the hash brown casserole at this famous spot.
CALIFORNIA: Sun Nong Dan in Los Angeles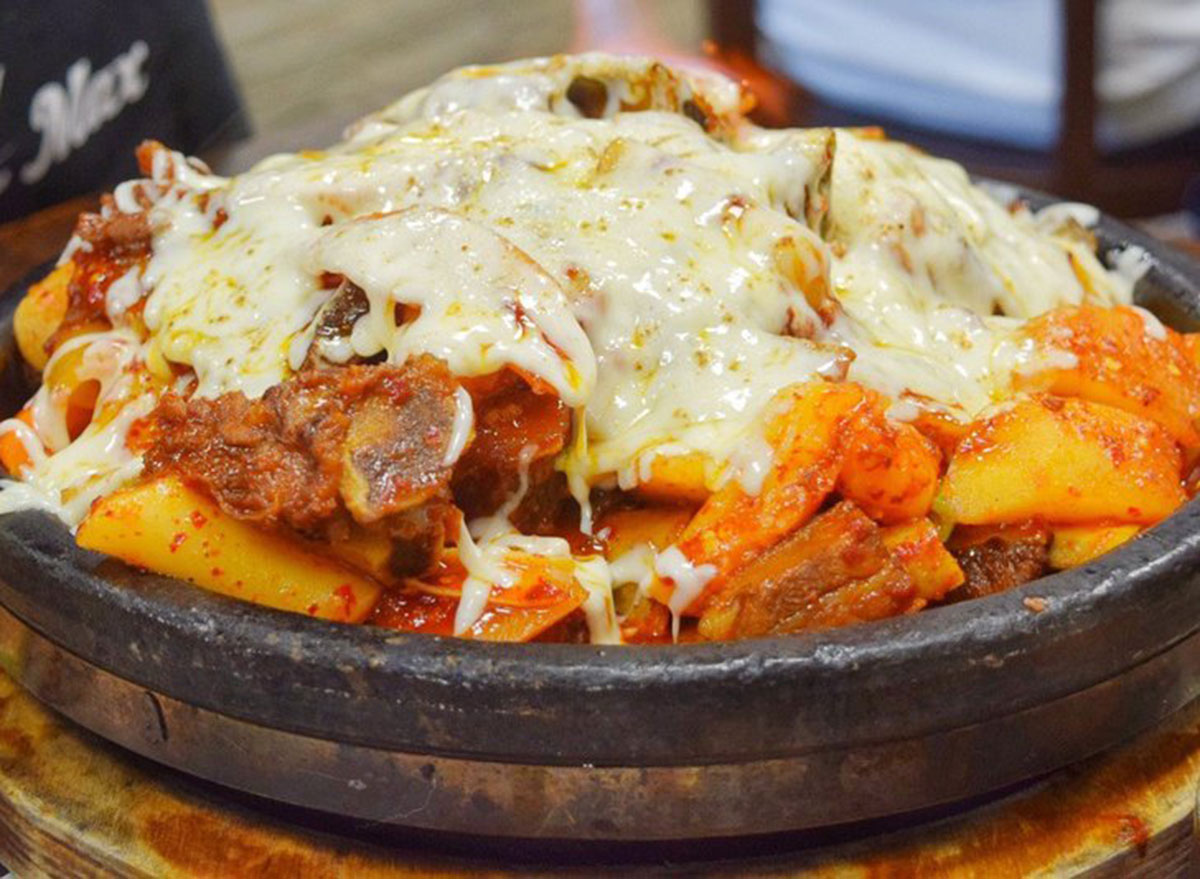 Sun Nong Dang is the popular Los Angeles eatery that makes some of the best Korean dishes in town. Fans of the restaurant suggest trying one of their noteworthy casseroles, which are filled with tasty meats, vegetables, and spices. One Yelp reviewer advises, "If you're with a group of friends, try the galbi jjim, which is a nice braised beef casserole with potatoes, rice cakes, and spicy gochujang sauce."
COLORADO: Sassafras American Eatery, Highlands in Denver
If you find yourself in Denver, do yourself a favor and head into Sassafras, a buzzy breakfast and lunch restaurant that creates dishes influenced by delicious South American cuisine. A must-try is their potato casserole, which Yelp reviewers have described as, "to die for," "on point," and "incredible." We're sold!
CONNECTICUT: Leisha's Bakeria in Bridgeport
Why have plain old French toast when you can have French toast casserole? Leisha's Bakeria, a boutique eatery found right in the center of downtown Bridgeport, makes a French toast casserole that has people talking. "The french toast casserole was amazing!!!," one Yelp reviewer exclaimed about the dish, which is made from scratch using homemade French bread, cinnamon, nutmeg, and bourbon.
DELAWARE: GoodEase Take and Bake in Wilmington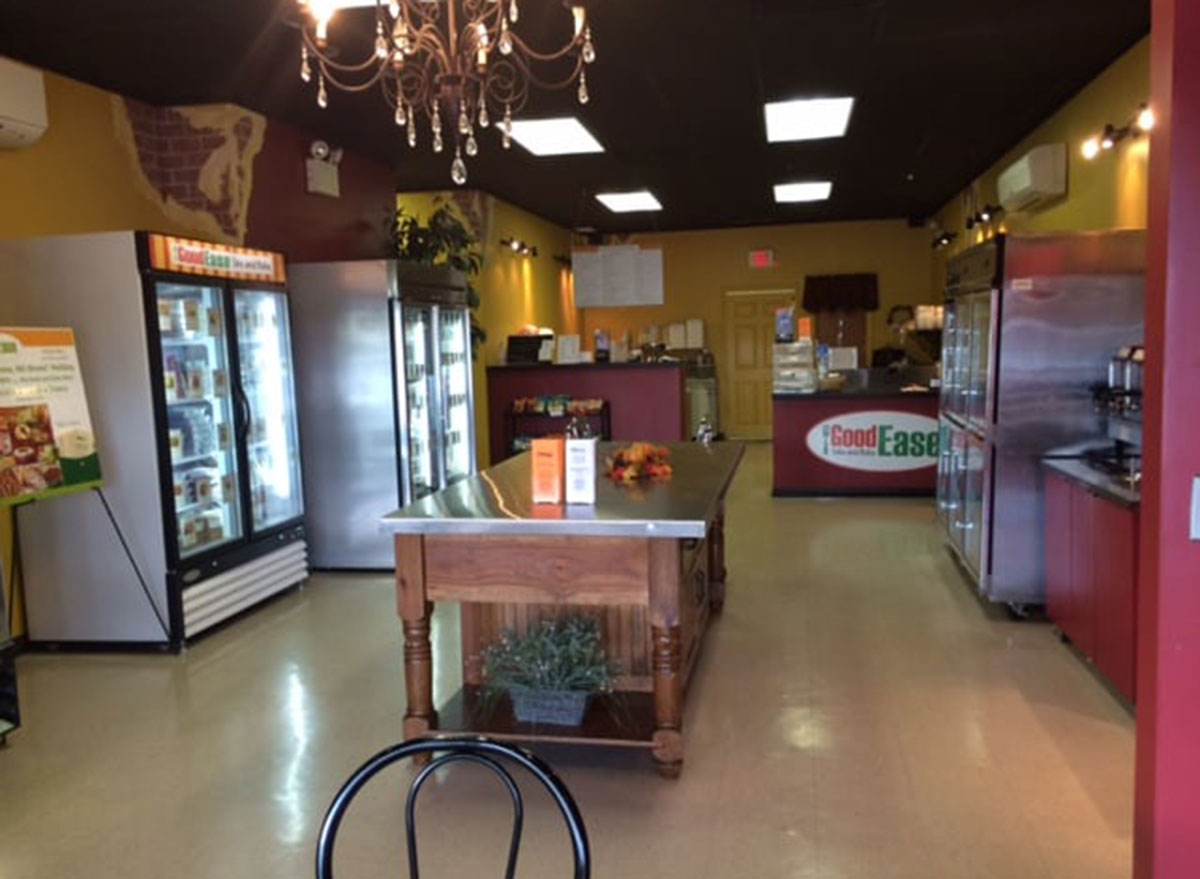 Expect a variety of delicious, easy-to-prepare casseroles at GoodEase in Delaware, a great spot to pick up some premade dinners to wow both friends and family (they will only think you were cooking in the kitchen all day). "When you need a casserole for a family dinner or as a gift of condolence to a neighbor experiencing a loss, etc. this is my go-to place," one Yelp reviewer explained.
FLORIDA: Shiver's BBQ in Homestead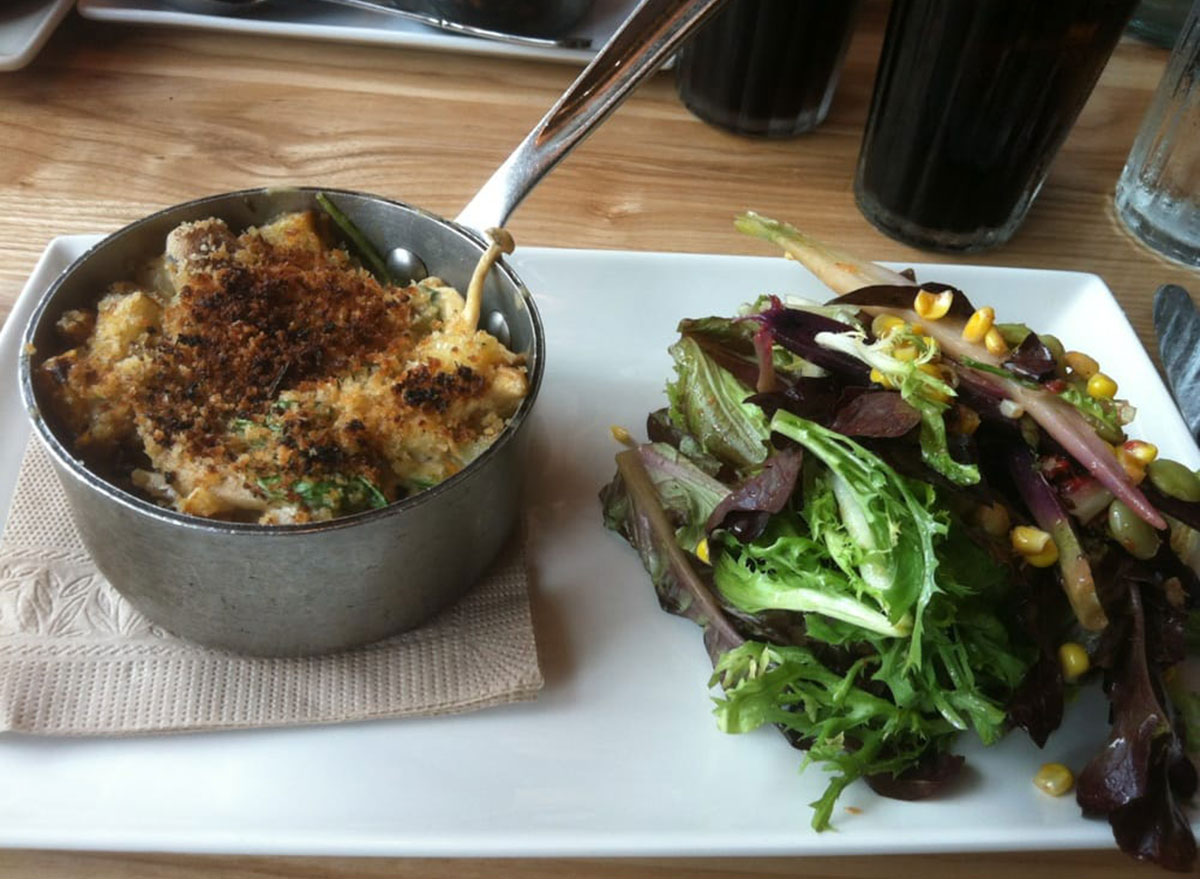 Yelp reviewers have described Shiver's cheesy hashbrown casserole as, "amazing," "delicious," and "exceptional." One person even emphatically wrote, "Please order the cheesy hashbrown casserole! I order it every single time—dining in or taking out—and I cannot share. It's that good."
GEORGIA: OK Cafe in Atlanta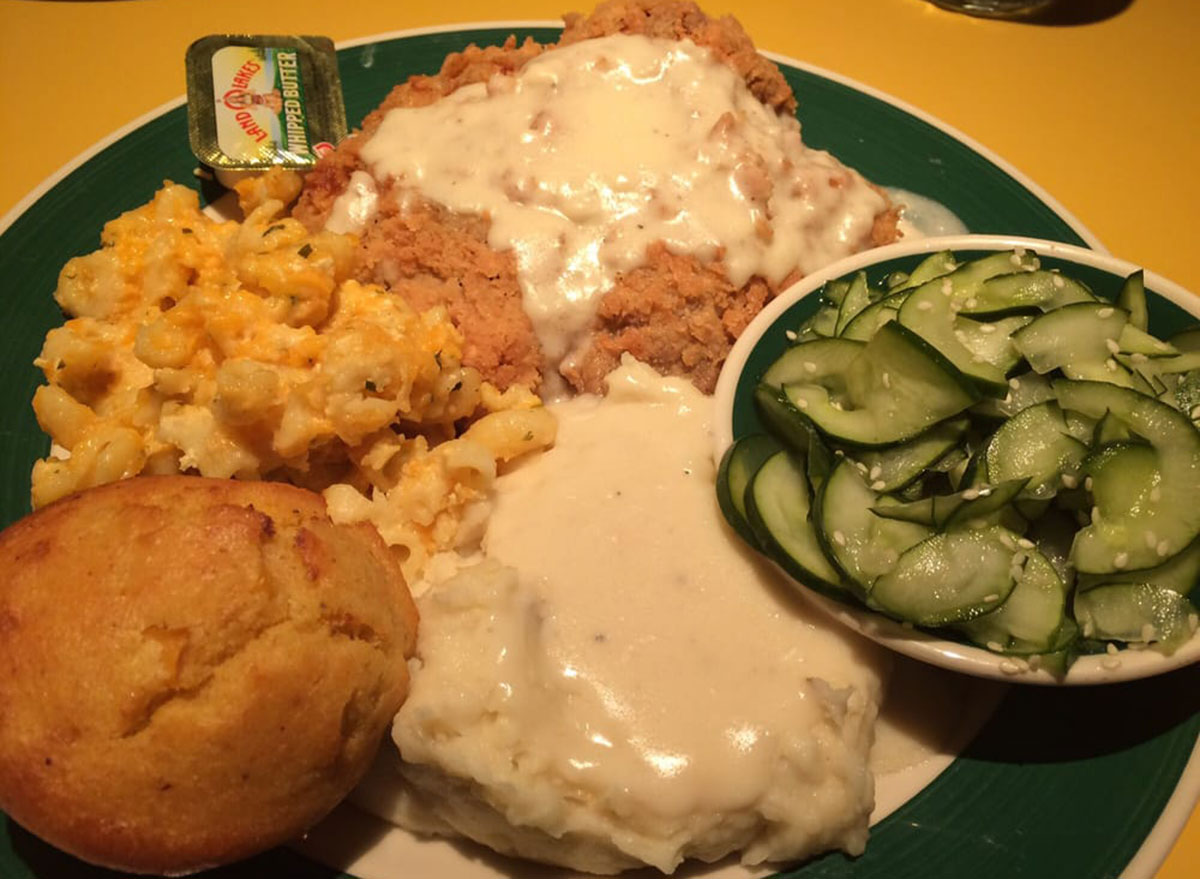 At OK Cafe the squash casserole takes the cake, with many Yelp reviewers applauding it for its incredible taste and unbeatable versatility. "The squash casserole is simply amazing and must be tried regardless of what else you order," one Yelp reviewer wrote, "IMHO, the squash casserole goes with anything and everything."
HAWAII: Odori-Ko in Honolulu
In Honolulu, you will find a deliciously unique casserole at Odori-Ko, a beloved spot known for its flavorful Japanese fare and modern decor. This dish, which is called the Dynamite Casserole, is a succulent combination of seafood and vegetables that are baked in a miso mayonnaise sauce. Truly scrumptious!
IDAHO: Old Home Cooking and Cra in Twin Falls
Old Home Cooking and Cra in Twin Falls makes mouth-watering home cooking using traditional Mennonite recipes. Expect to enjoy foods such as homemade macaroni and cheese, chicken fried steak, and breakfast eggs, if you are here. Of course, don't forget to give their casseroles a try.
ILLINOIS: Nellie's in Chicago
Nellie's Puerto Rican breakfast casserole gives all the other casseroles a run for their money. Known as Pastelón de Huevo, it is made with sweet plantains, ground beef, egg, and cheese—there is truly nothing else like it. One Yelp reviewer enjoyed it so much that they wrote, "There's this egg/ground beef/cheese/plantain casserole that is simply divine. It's basically Puerto Rican lasagna and it rules. Long story short, can't wait to come back to this place week after week." Go ahead, try it yourself!
INDIANA: The Eagle in Indianapolis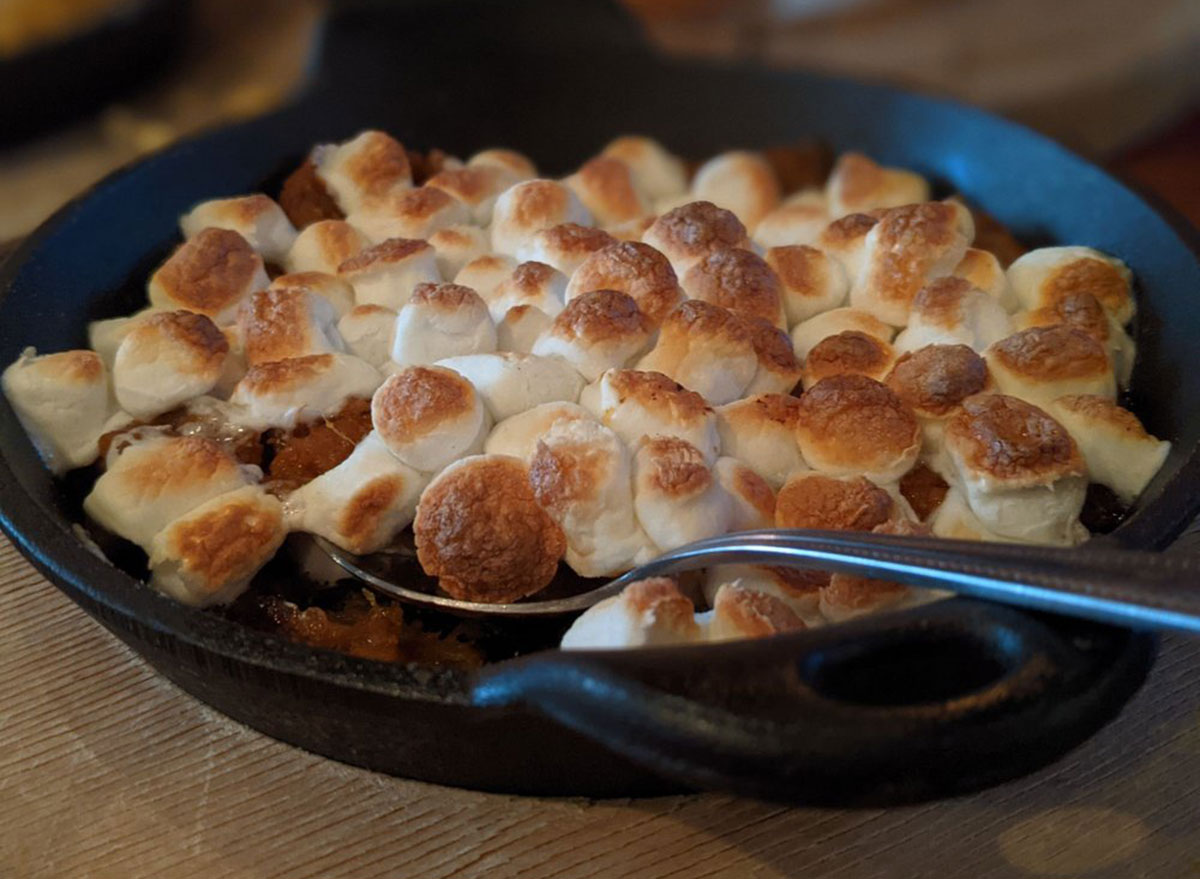 The Eagle in Indianapolis makes a sweet potato casserole that will make you feel like you have been transported back in time to childhood Thanksgivings. "If you love sweets, please do yourself a 'flavor' and get the sweet potatoes," one Yelp reviewer advised, "It's like your grandmother's Thanksgiving sweet potato casserole. The marshmallows are melted to the perfect consistency."
IOWA: Smokey D's BBQ in Des Moines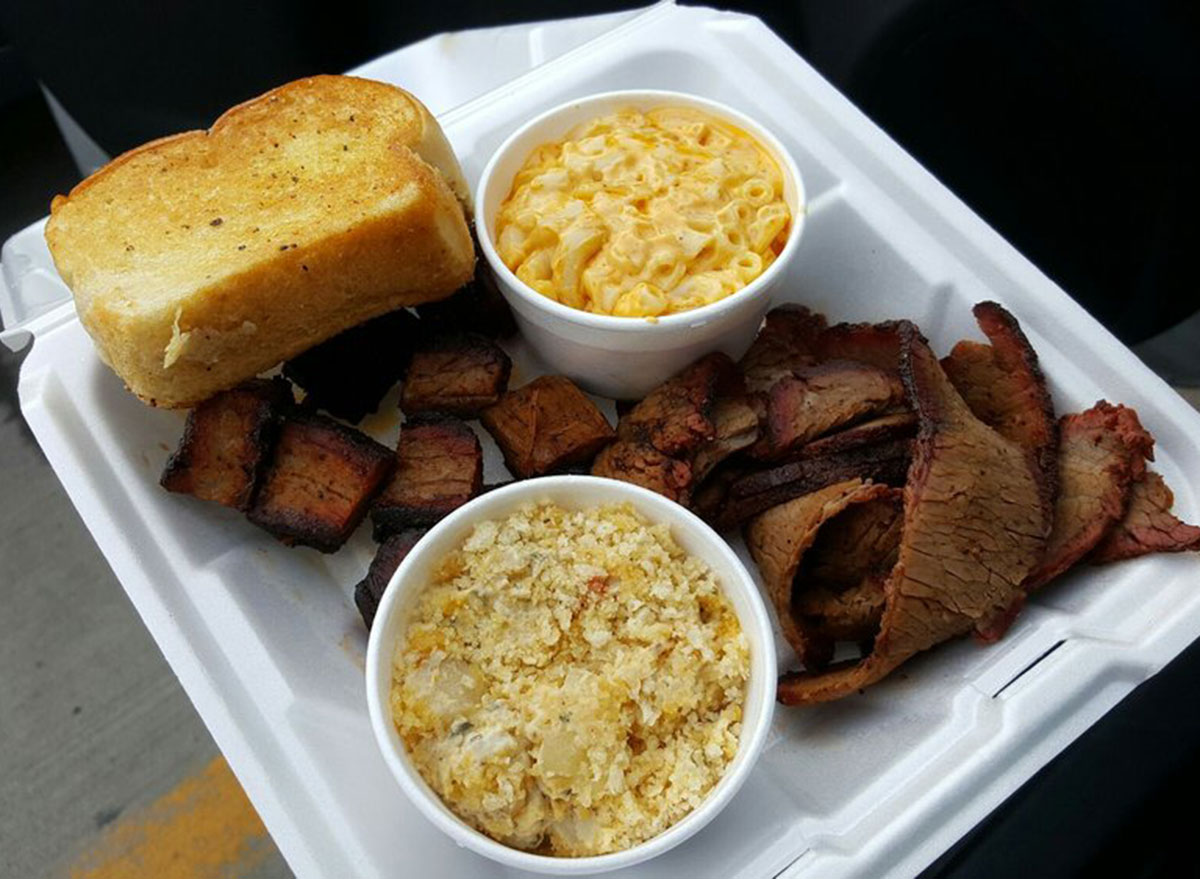 Since 2006, Smokey D's BBQ has been crafting some of the best barbecue in Iowa. One of their sides that has grown quite a following is their potato casserole, which Yelpers have described as "amazingly delicious" and "fantastic". One person even proclaimed, "The burnt ends and cheesy potato casserole are all I've ever gotten. It's so good, I can't imagine anything better."
KANSAS: Pig in Pig Out in Wichita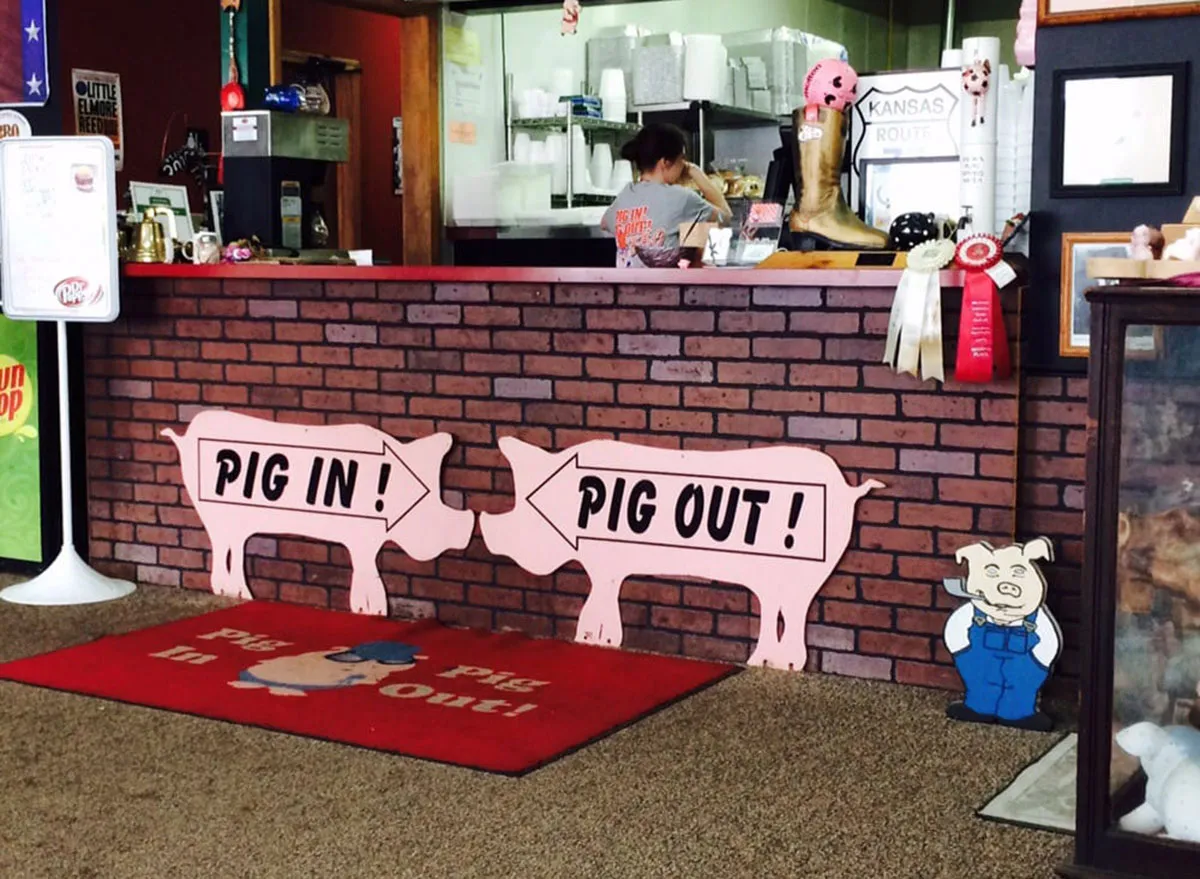 Pig In Pig Out's cheesy corn casserole takes an everyday ho-hum side and transforms it into something amazing. "The corn casserole and mac is a must!!" one Yelp reviewer exclaimed, while another declared the corn casserole is "awesome."
KENTUCKY: Josie's in Lexington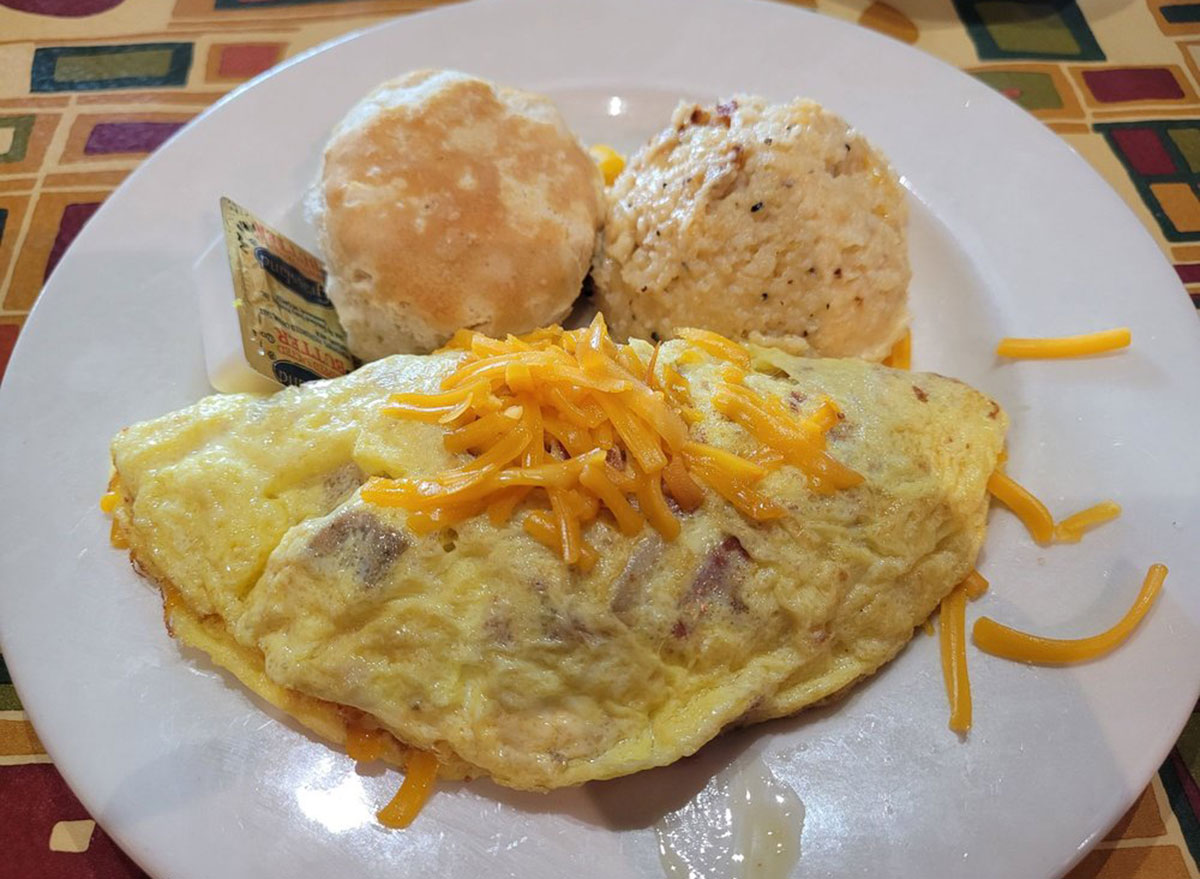 Grits, a Southern staple made from boiled cornmeal, get an exciting makeover at Josie's with their cheese grit casserole. Made using grits and tons of cheese, this tasty dish is available as a breakfast side. Yelp reviewers have described this comforting dish as a "game changer," while others have said this upgraded grits dish made them a grits convert: "These cheesy grits are beyond wonderful. Creamy and savory and soft and fluffy. Not gritty or hard as I'd come to expect. Sooooo cheesy and tomato-y and satisfying. You have to try them even if you hate grits!"
LOUISIANA: Gazebo Cafe in New Orleans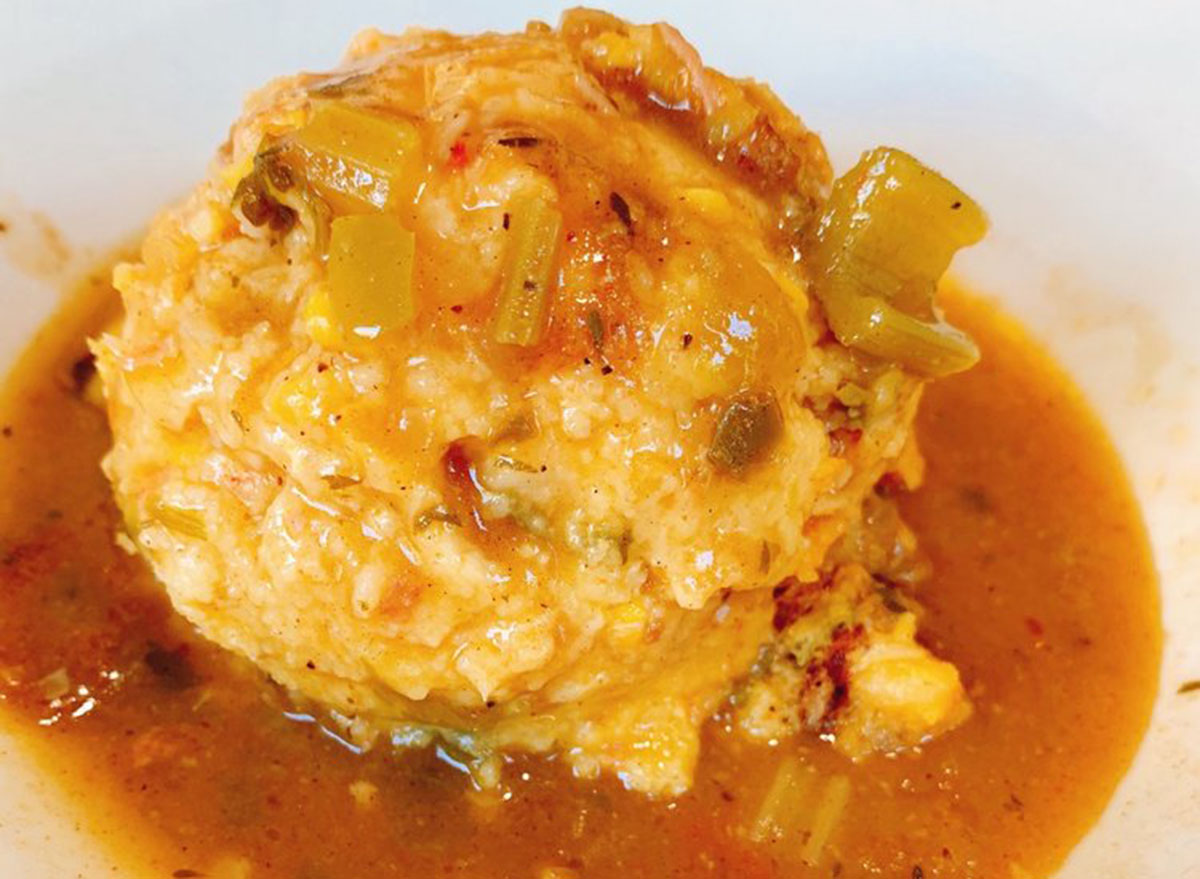 Enjoy one of Louisiana's most popular foods, crawfish, in a superbly prepared casserole at Gazebo Cafe. One Yelp reviewer remarked that it tasted so good that it actually reminded them of Thanksgiving dinner. "I promise you, the casserole tasted like Thanksgiving stuffing with an amazing twist!" they wrote, "It was quite possibly one of the best things I've ever eaten!"
MAINE: Que Pasa Cantina in Portland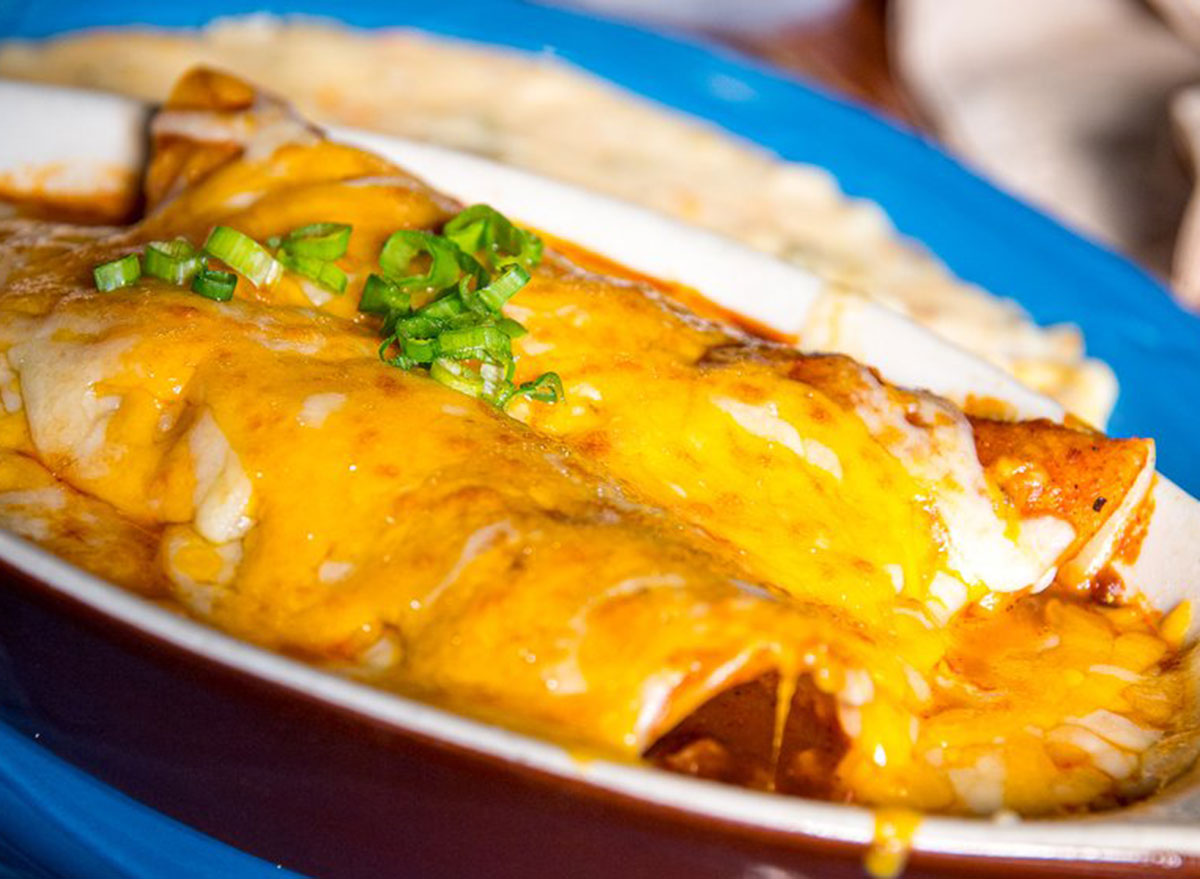 Que Pasa is the in-demand Portland restaurant and bar that serves some of the best Mexican food in the state. In addition to their fish tacos and fajitas, people cannot stop singing the praises of their enchilada casseroles. Baked with layers of chicken, corn tortillas, cheese, and green chile sauce, which is then smothered in crema and chopped tomatoes, this casserole is the perfect comfort food. One Yelp reviewer is such a fan that they wrote, "The chicken enchilada casserole and jalapeño mac & cheese are just outstanding and so different from anything you will find elsewhere."
MARYLAND: Twist Fells Point in Baltimore
Twist Fell Point's noteworthy Moroccan Breakfast Casserole is a hearty mixture of white beans, Angus ground beef, feta cheese, and tomato ragout. Enjoy it alone or with a glass of fresh-squeezed orange juice.
MASSACHUSETTS: Moqueca Restaurant in Cambridge
Made using a combination of mussels, shrimp, and squid, Moqueca's seafood casserole blows all the other casseroles right out of the water. A Yelp reviewer even mentioned in their review it was one of their favorite meals by emphatically stating, "THE SEAFOOD RICE CASSEROLE. This is one of my favorite dishes I have ever had in my entire life. Frealz."
MICHIGAN: Cafe Muse in Royal Oak/slidetitle]

Cafe Muse/ Yelp
Detroit's local CBS news station applauds Cafe Muse, Michigan's Euro-style cafe, for its inimitable breakfast casseroles. These casseroles, which they have aptly named "Quiche of the Week", feature a luscious weekly rotation of quiches made with different tasty ingredients.
[slidetitle num=""]MINNESOTA: Crooked Pint Ale House in Minneapolis
We'll let you in on a little secret—in Minnesota lingo the well-known baked dish, "casserole," often goes by its secret alias, "hotdish." According to USA Today's Reader Choice, Minneapolis' Crooked Pint and Alehouse was awarded the best hotdish in the state for their Jumbo Tater Tots. Made using gigantic tater tots that are scrumptiously stuffed with serrano peppers, bacon, and cheddar cheese, this casserole is so tasty that you may not want to share.
MISSISSIPPI: Mrs. Hippie Eats in Hernando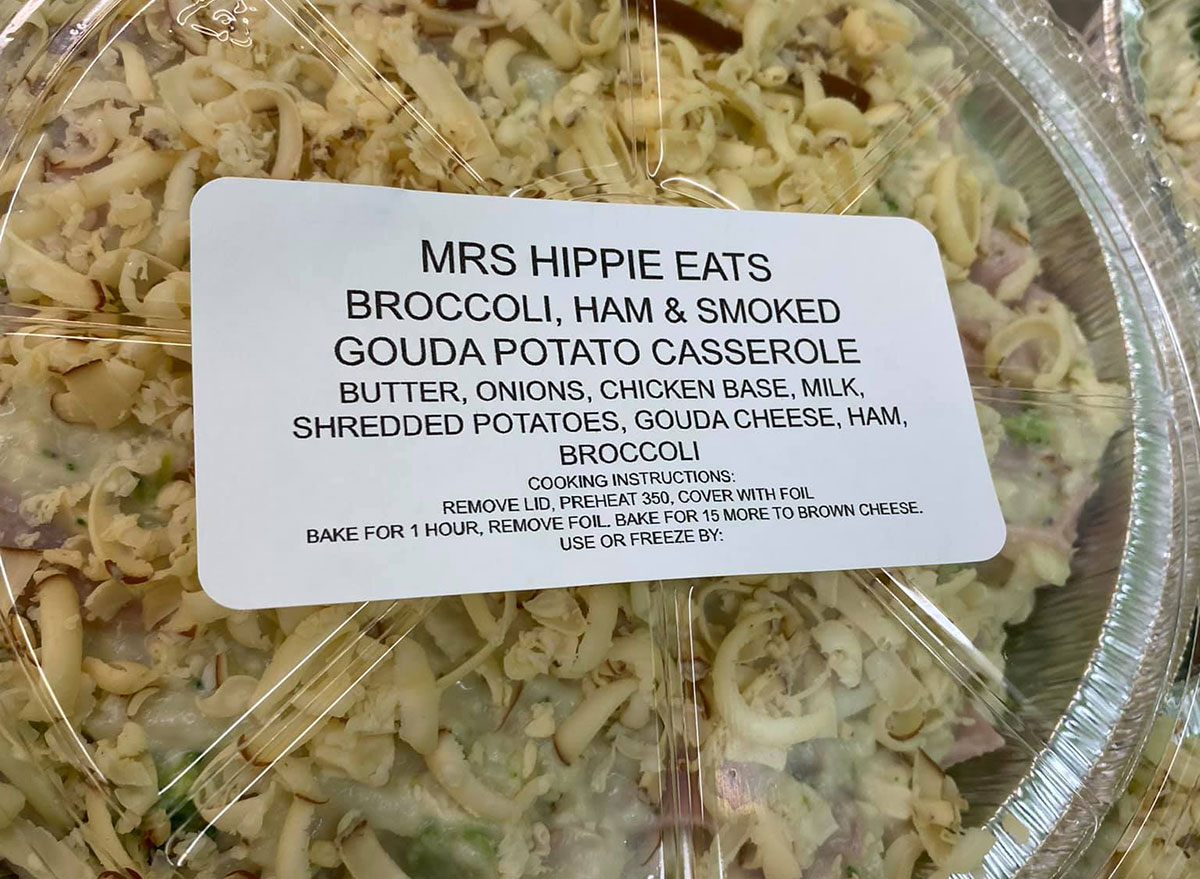 Mrs. Hippie Eats is the corner shop we all wish we had nearby. Operating off of a take-and-bake model, Mrs. Hippie Eats prepares pre-made meals, such as Cajun tortellini bakes, four-cheese lasagnas, and broccoli quiches, that require just a quick pop in the oven once they are brought home. A must-try is their broccoli, ham, and gouda potato casserole, which only tastes like it took you hours to make. Hint: Mrs. Hippie Eats' readymade meals are perfect to stock up on before your next at-home dinner party.
MISSOURI: Char Bar in Kansas City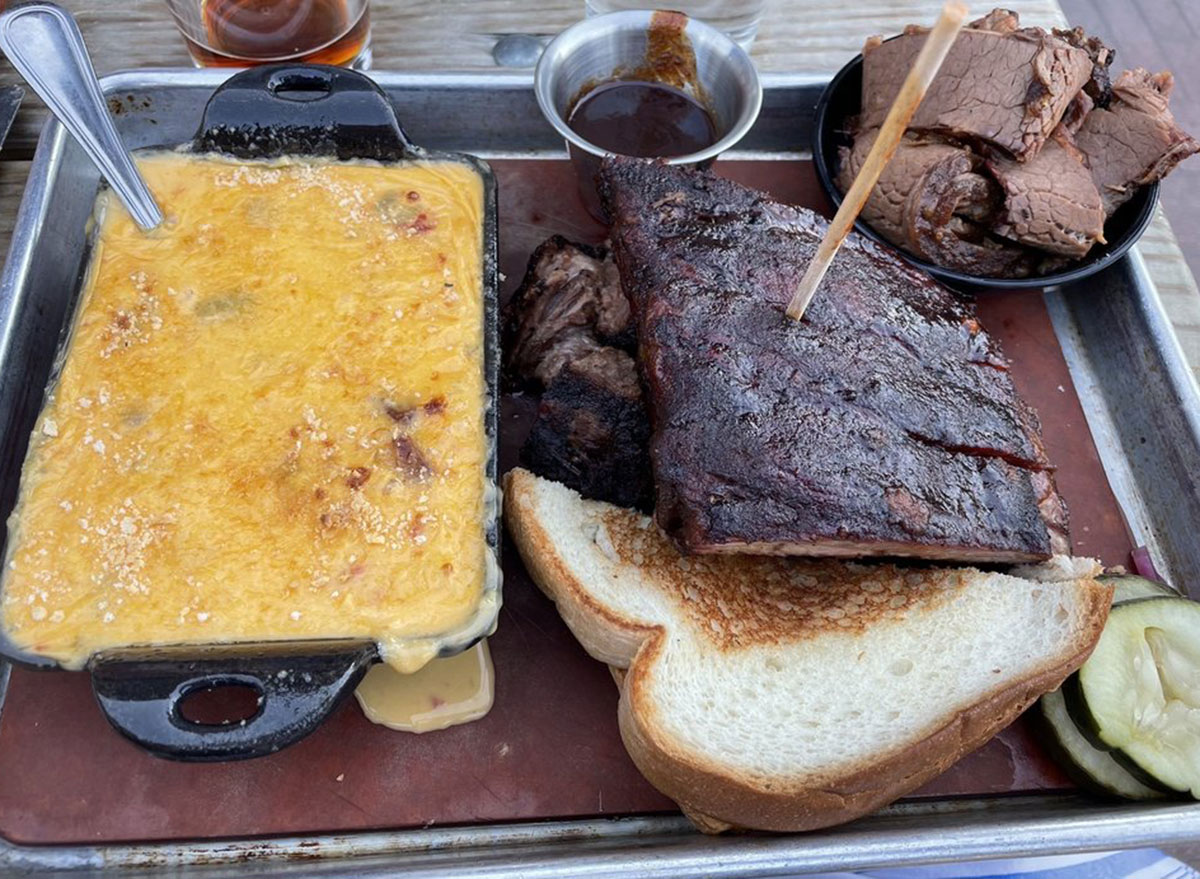 Sure, barbecued meats are great and all, but let's be honest, sometimes it is all about the sides. At Char Bar in Kansas City sides reign supreme—especially their jalapeno cheesy-corn bake which people cannot get enough of.
MONTANA: Catalyst Cafe and Coffee in Missoula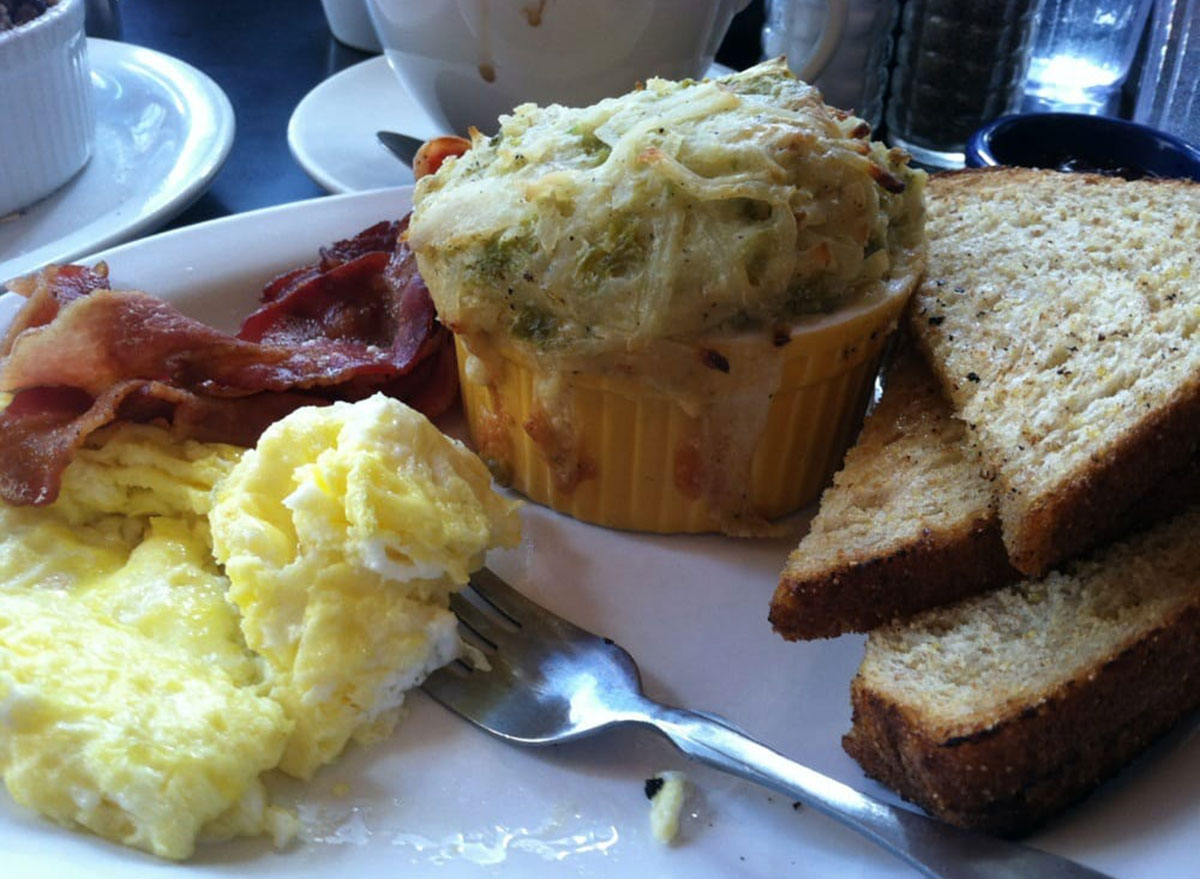 The cheddar potato casserole served at Montana's Catalyst Cafe is definitely having a moment. "The cheddar potato casserole was the best. I loved everything and can't recommend this place enough," one Yelp reviewer mentioned, while another wrote, "I chose the Cheddar Potato Casserole side which was excellent—it was piping hot with a wonderful crust on top—decadent!!"
NEBRASKA: Big Mama's Kitchen in Omaha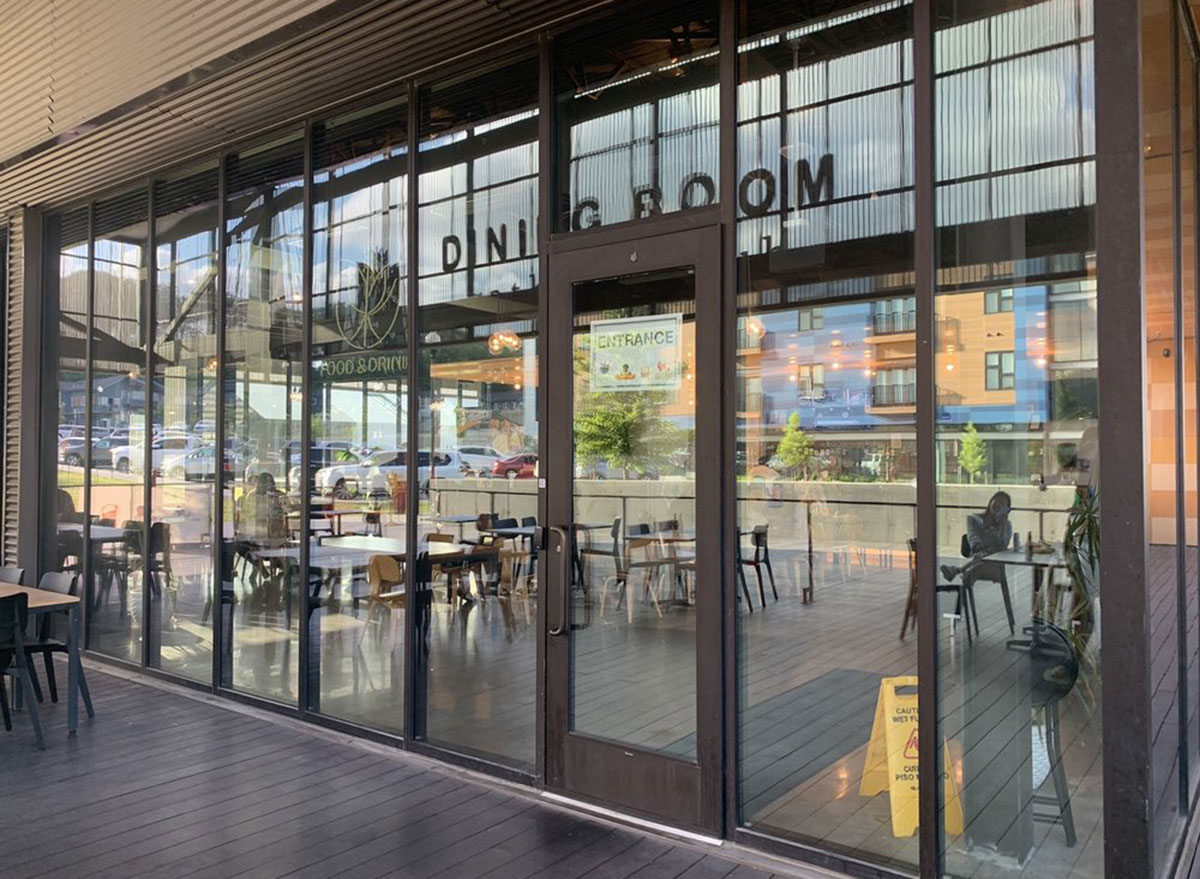 If you are ever given the chance to try out one of Big Mama's casseroles, then you should by all means take it. This beloved Omaha restaurant has a sweet potato casserole and a breakfast casserole that have people talking.
NEVADA: Taste in Las Vegas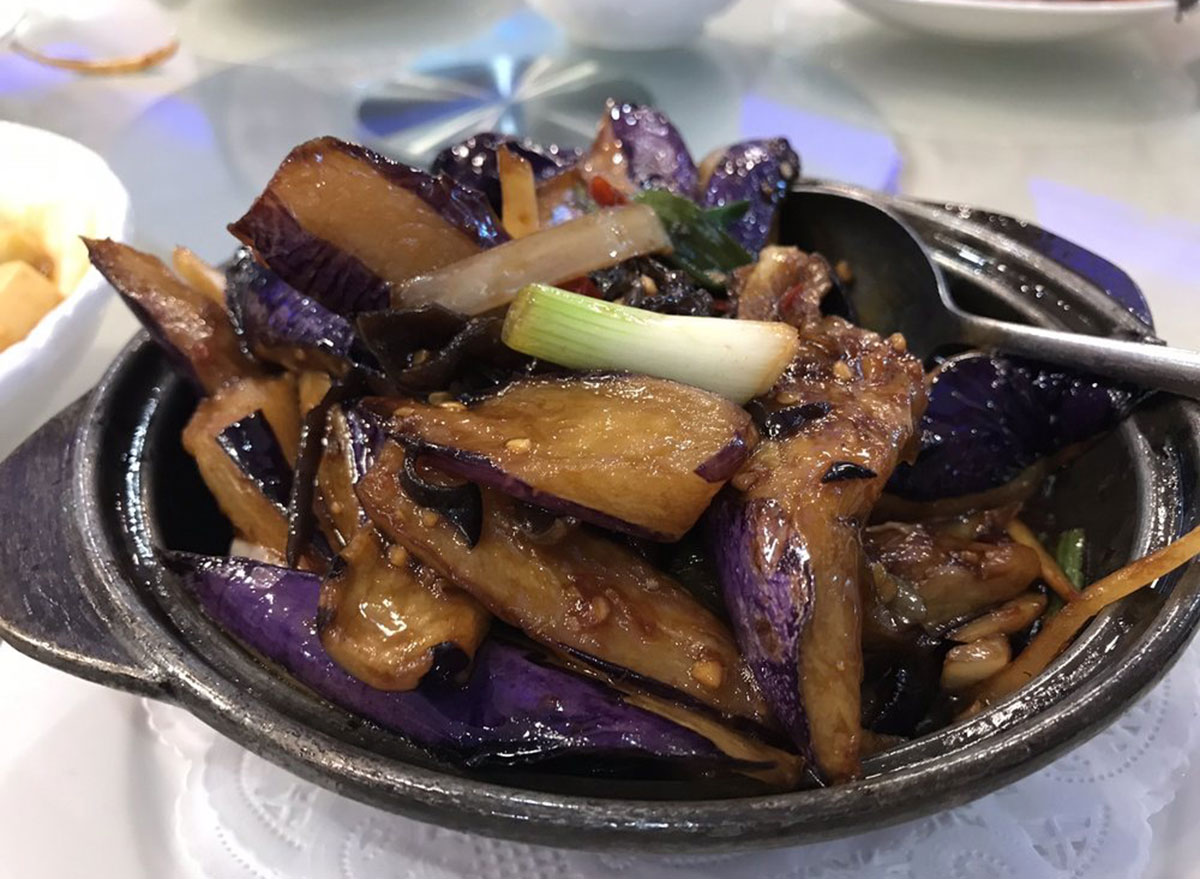 All that Las Vegas casino hopping can make you work up quite an appetite, so why not quell that hangriness by paying a visit to Taste? Boasting a menu that is full of delicious Chinese food, Taste also makes some of the tastiest casseroles in the City of Lights. One Yelp reviewer describes their eggplant casserole as, "a comforting, savory soul-warming dish that is infused with garlic."
NEW HAMPSHIRE: Mr. Mac's in Manchester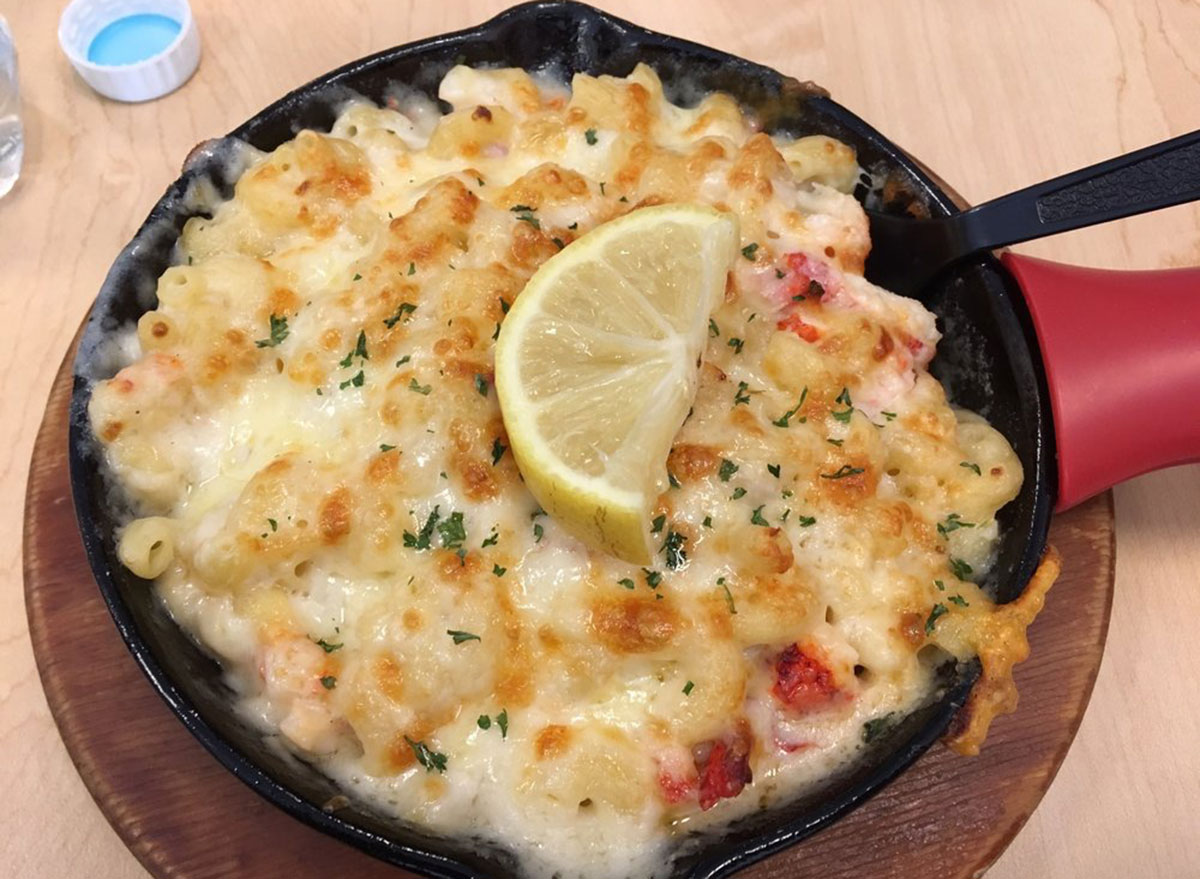 If you are looking for a macaroni casserole-type dish, then head over to Mr. Mac's. At Mr. Mac's you can either pick a macaroni and cheese bake from their menu or opt for a choose-your-own-adventure type that allows you to customize it to your liking. A favorite among this eatery's fans is the pulled pork mac. One Yelp reviewer was so amped about the dish that he wrote, "I got the pulled pork mac and cheese and it was phenomenal! Who would have known that barbecue sauce would be so good with mac and cheese LOL and their pulled pork is really good."
NEW JERSEY: Il Tavolo di' Palmisano in Hoboken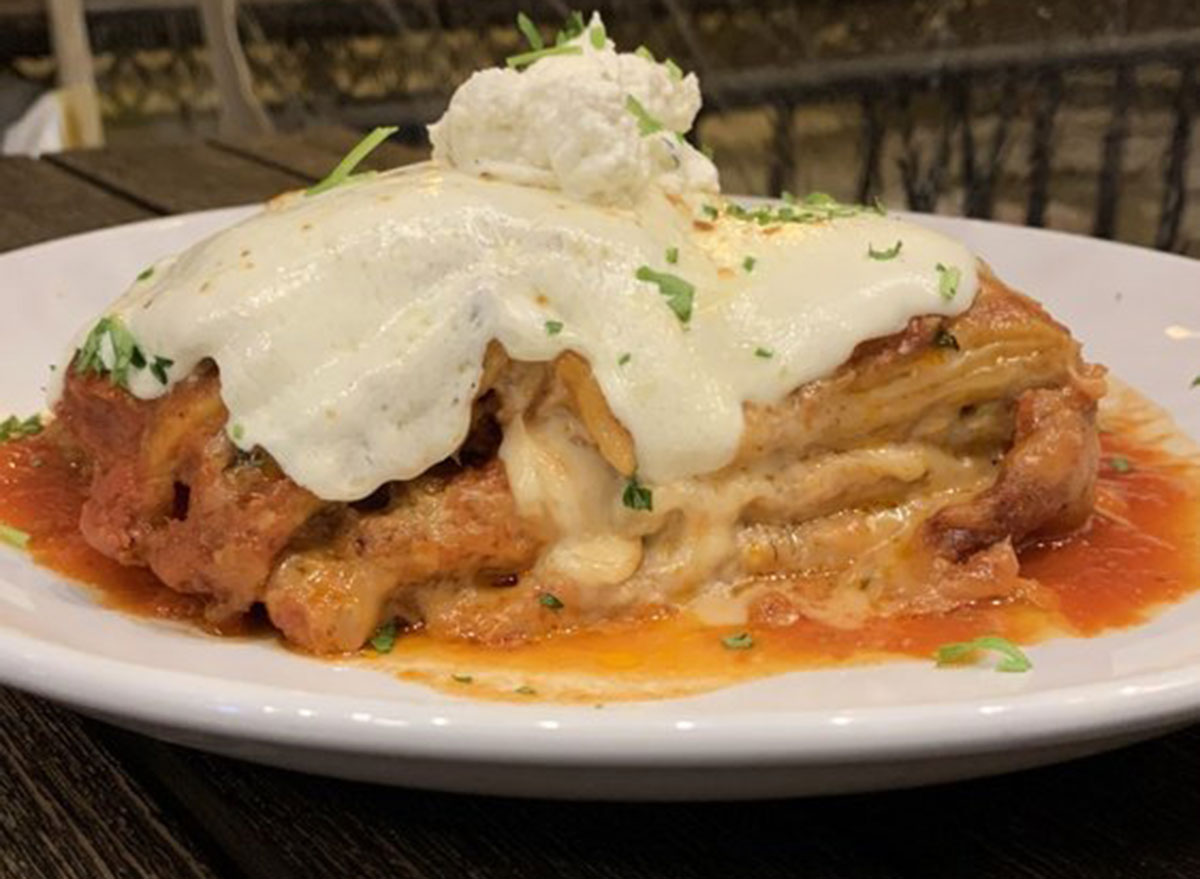 If you are a fan of the traditional Italian-American dish, eggplant parmesan, may we suggest giving the eggplant casserole at Il Tavolo di' Palmisano a go? Made using layered eggplant, parmesan cheese, tomato sauce, and lemon ricotta, one Yelp reviewer described this perfect plate as, "to die for".
NEW MEXICO: Hot Tamales in Rio Rancho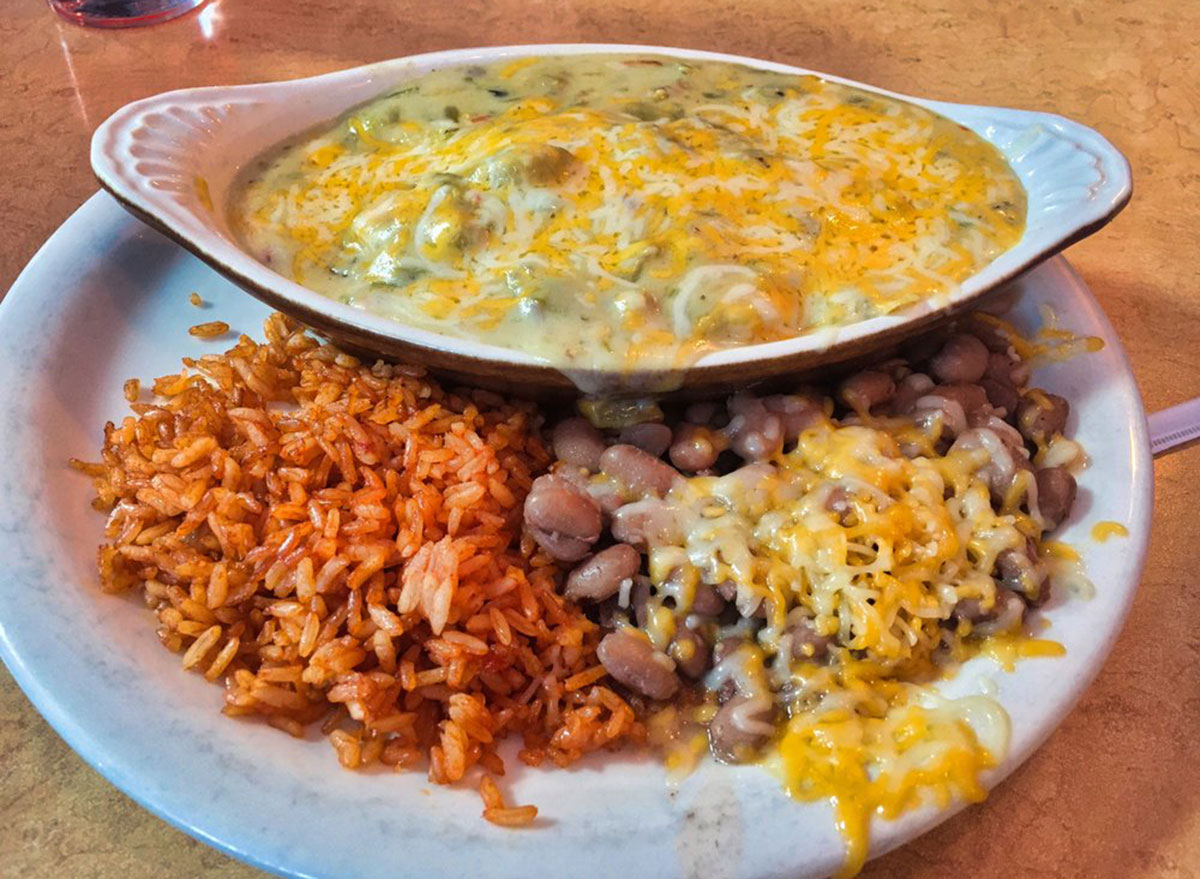 Hot Tamales' Mama's Green Chile Enchilada Casserole features layers of chicken, cheese, and creamy green chile sauce, and is served with a side of Spanish rice and calabacitas. "Outstanding green chili enchilada casserole. A must have here," one Yelp reviewer raved.
NEW YORK: Noodle Village in New York City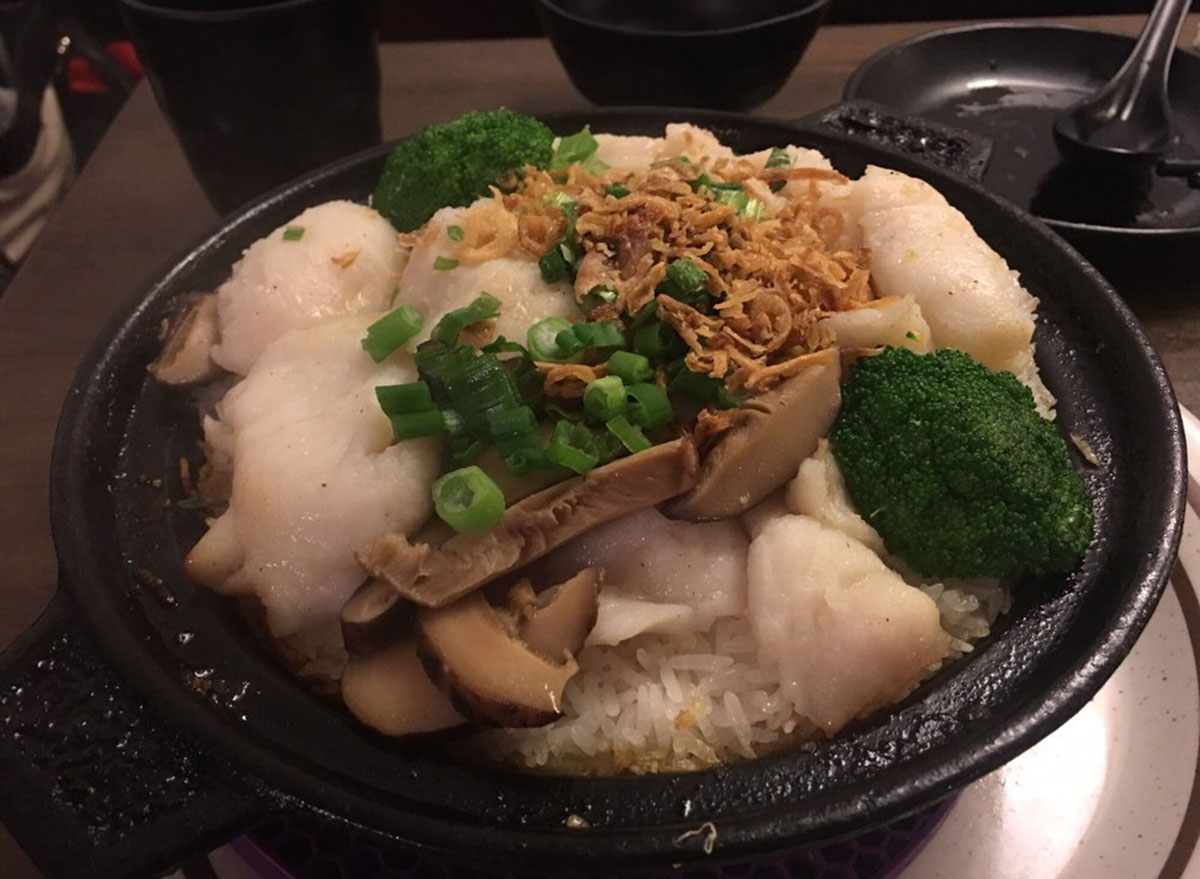 Noodle Village, the late-night Chinese restaurant found in New York City's Chinatown, has a rice casserole that encompasses everything you are looking for in a dish—flavor, texture, and freshness. One Yelp reviewer is such a fan of the rice casserole here that they wrote, "Although this place is called Noodle Village, I think their rice casserole ('Hot Pot Rice') dishes are their best attribute!"
NORTH CAROLINA: Texas Pit BBQ in Angier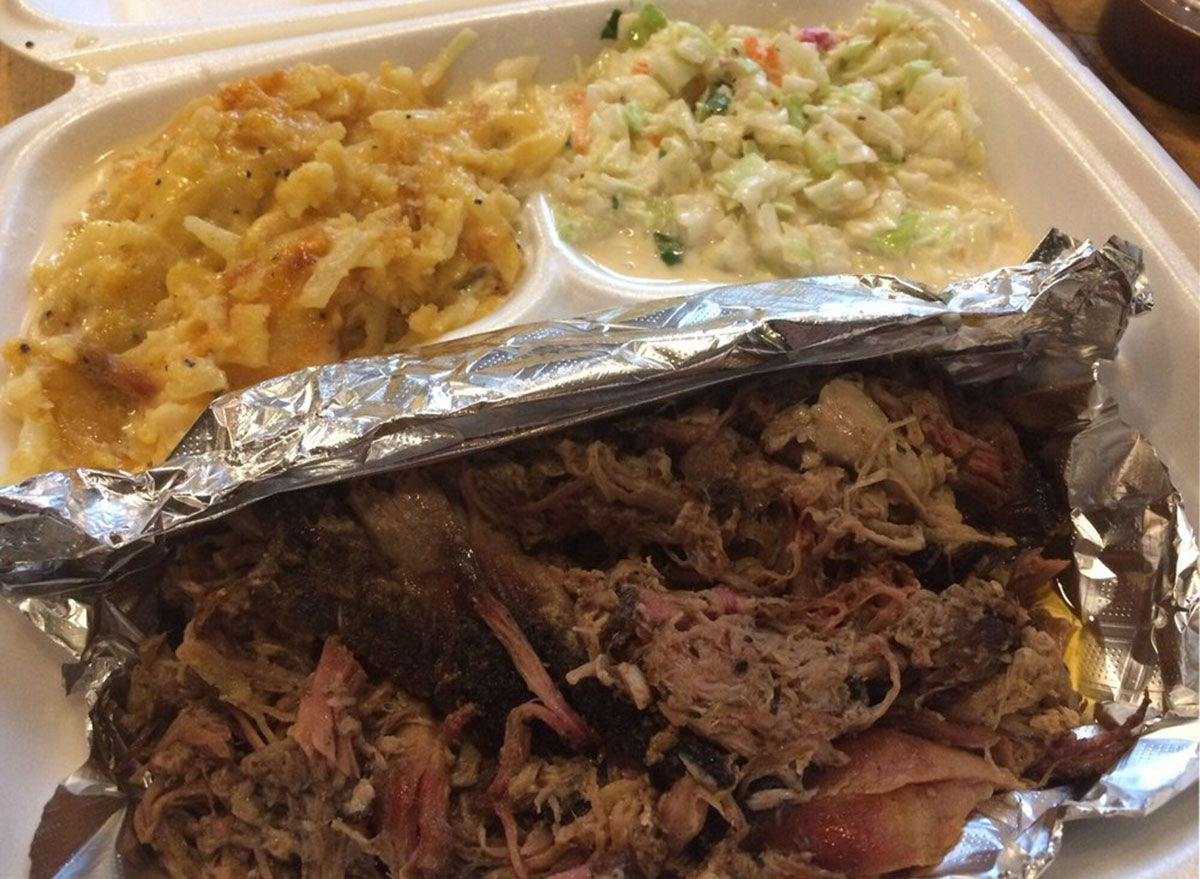 Hashbrown casserole is one of the most talked-about sides at Texas Pit BBQ, a downhome barbecue joint located in North Carolina. One Yelp reviewer reported back that this side was "rich and cheesy" while another said, "I highly encourage you to eat the hashbrown casserole."
NORTH DAKOTA: NoBull Smokehouse in Fargo
Barbecue restaurant aficionados rejoice, this Fargo mainstay not only has some of the best barbecue cooking in town but also has a casserole that will keep you coming back. Their sweet corn casserole, which is available for just $3, was so good it caused one Yelp reviewer to write, "…and that corn casserole OMG!"
OHIO: The Woodbury in Columbus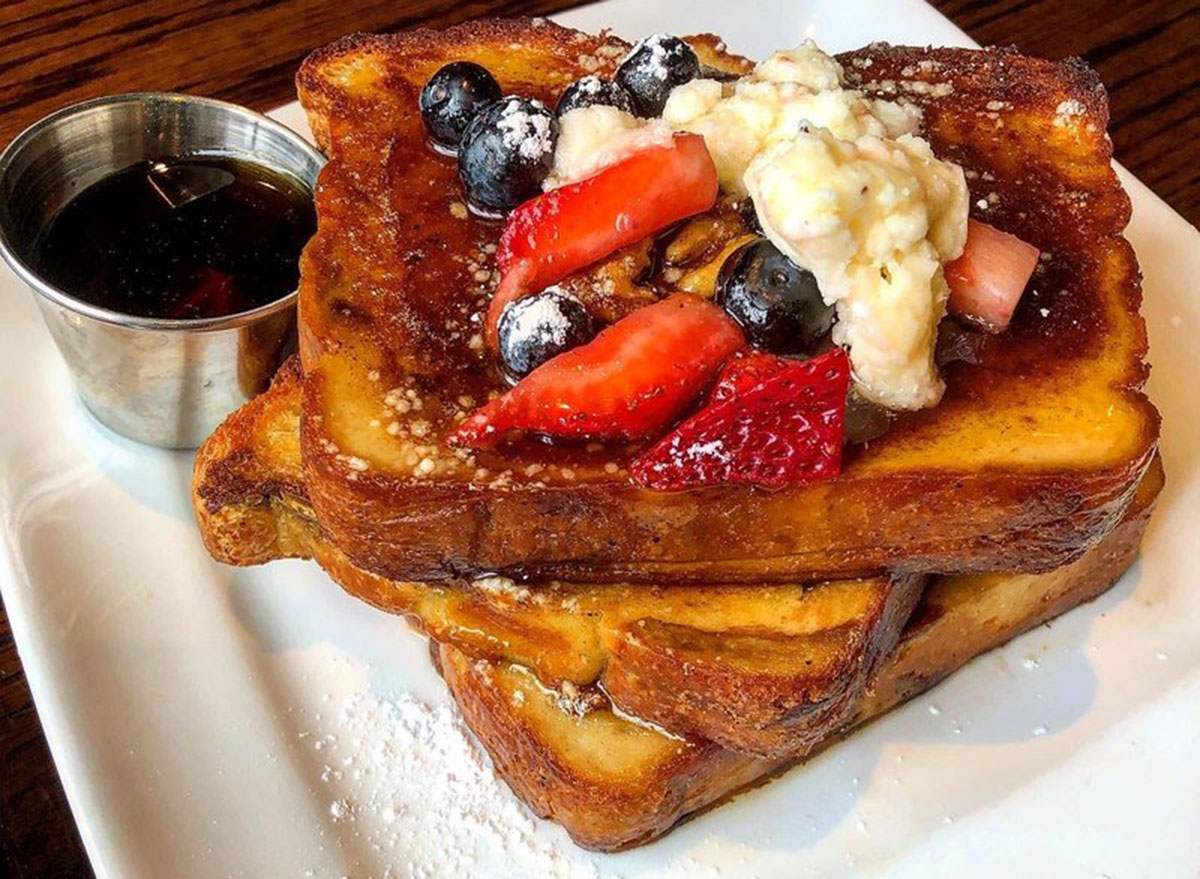 What better way to start off your morning than with a heaping serving of French toast casserole from The Woodbury? This homemade casserole, which is a sweet combination of praline topping, vanilla buttercream, and juicy mixed berries, is almost too good to be true. People love it so much that one person even left a Yelp review stating, "​​I had the French toast casserole with extra praline sauce and it was to die for. It had three huge pieces of French toast and though I wanted to eat it all, I couldn't. We will definitely be back to try more delicious things."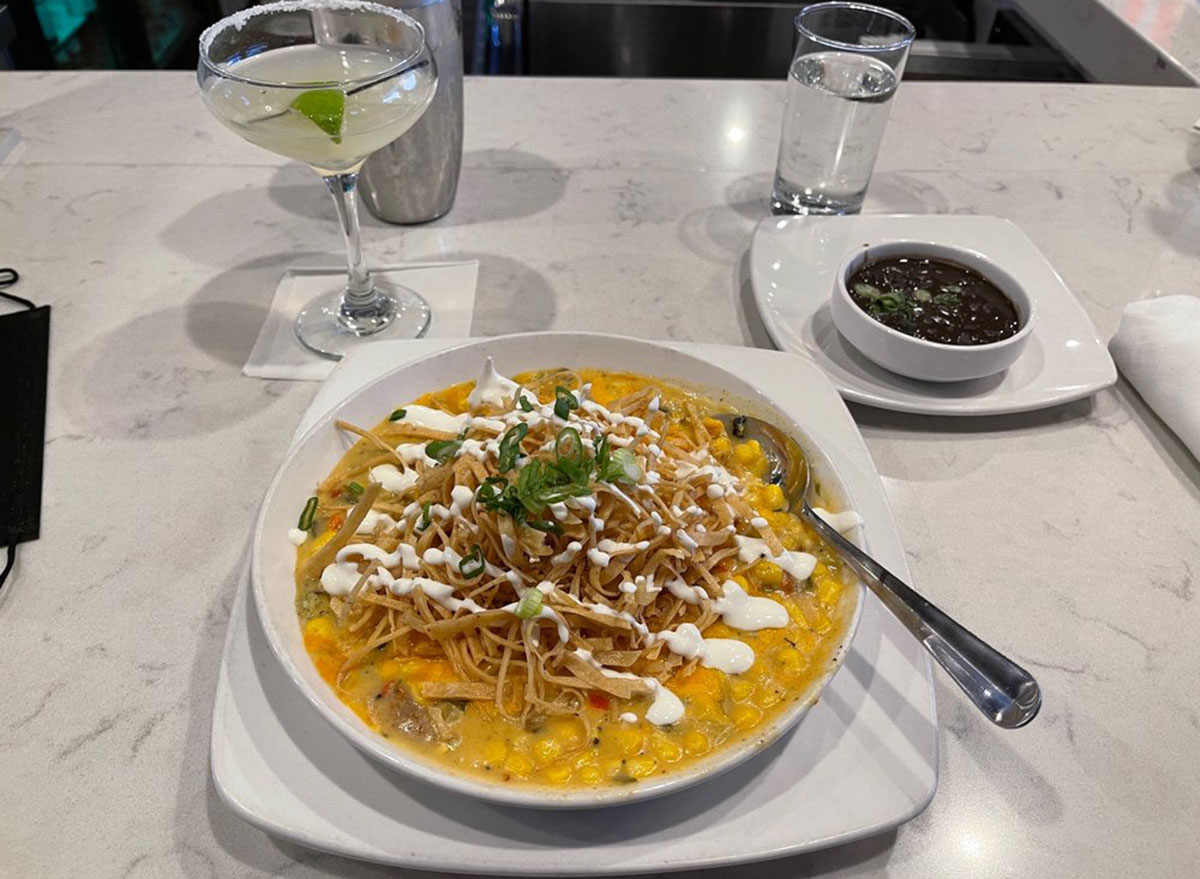 Pub W serves a delicious chicken casserole just like mom used to make. Their Mama's Chicken Casserole special, which one Yelp reviewer described as "deconstructed enchiladas", is the perfect dish to order when you feel like you need some comfort food. As another Yelp reviewer put it, "I would never expect to go to a restaurant and look forward to casserole like I do this one. I love the spice level in the chicken and the tortilla strips are always fresh."
OREGON: Portland Kettle in Portland
Portland Kettle in Oregon offers a rotating casserole selection to its patrons, with a popular option being their rich tater tot casserole. "Tater tot casserole was phenomenal and so was the beef stew," one Yelp reviewer posted.
PENNSYLVANIA: Butcher and Singer in Philadelphia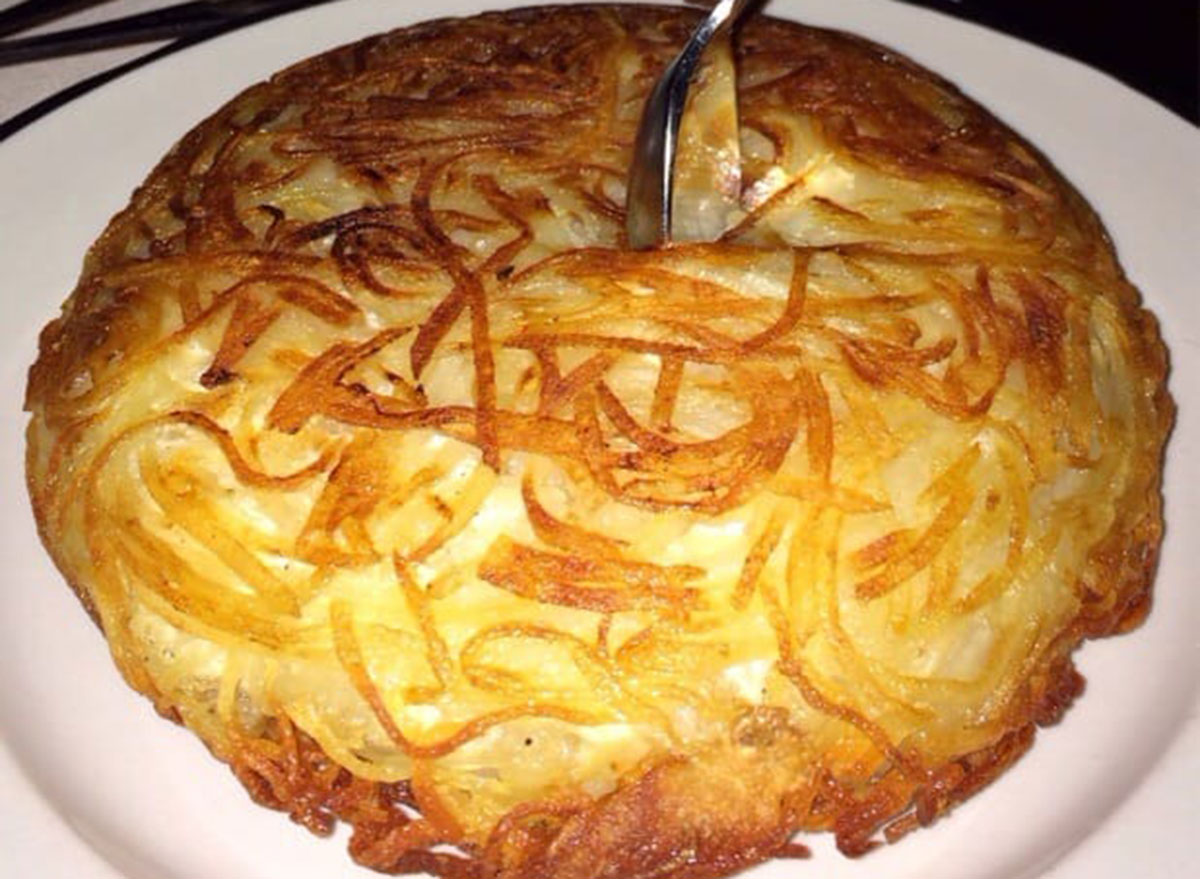 Inspired by the glamour of 1940s Hollywood, Butcher and Singer in Philadelphia is one of the best places in the city to enjoy a sophisticated Sunday dinner. A can't-miss menu item of theirs is the hashbrown casserole side which, as one Yelper put it is, "tender, buttery, and creamy." Another Yelp reviewer was so ecstatic about Butcher and Singer's side options that they posted, "The SIDES, OMG the SIDES!"
RHODE ISLAND: Hemenway's in Providence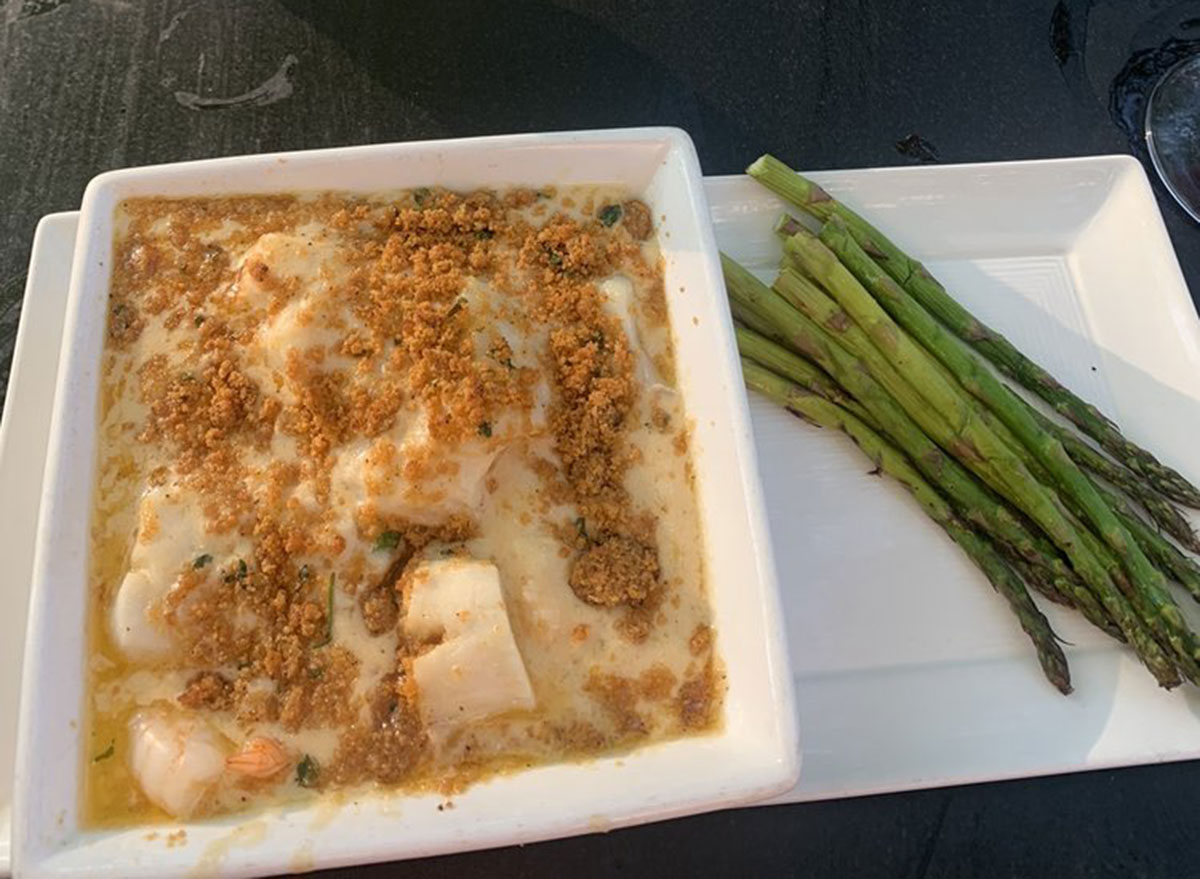 Rhode Island's Hemenway provides diners with a scenic view of the river and also a delicious menu to match. A popular dish at this go-to seafood spot is the seafood casserole, made from a combination of shrimp, lobster, Monterey Jack, sherry cream, and roasted asparagus. "My seafood casserole was fantastic. Rich and delicious," one OpenTable review reads, while another user posted, "Our seafood casserole was outstanding. Couldn't have been better. Keep on the menu."
SOUTH CAROLINA: Croissants Bistro and Bakery in Myrtle Beach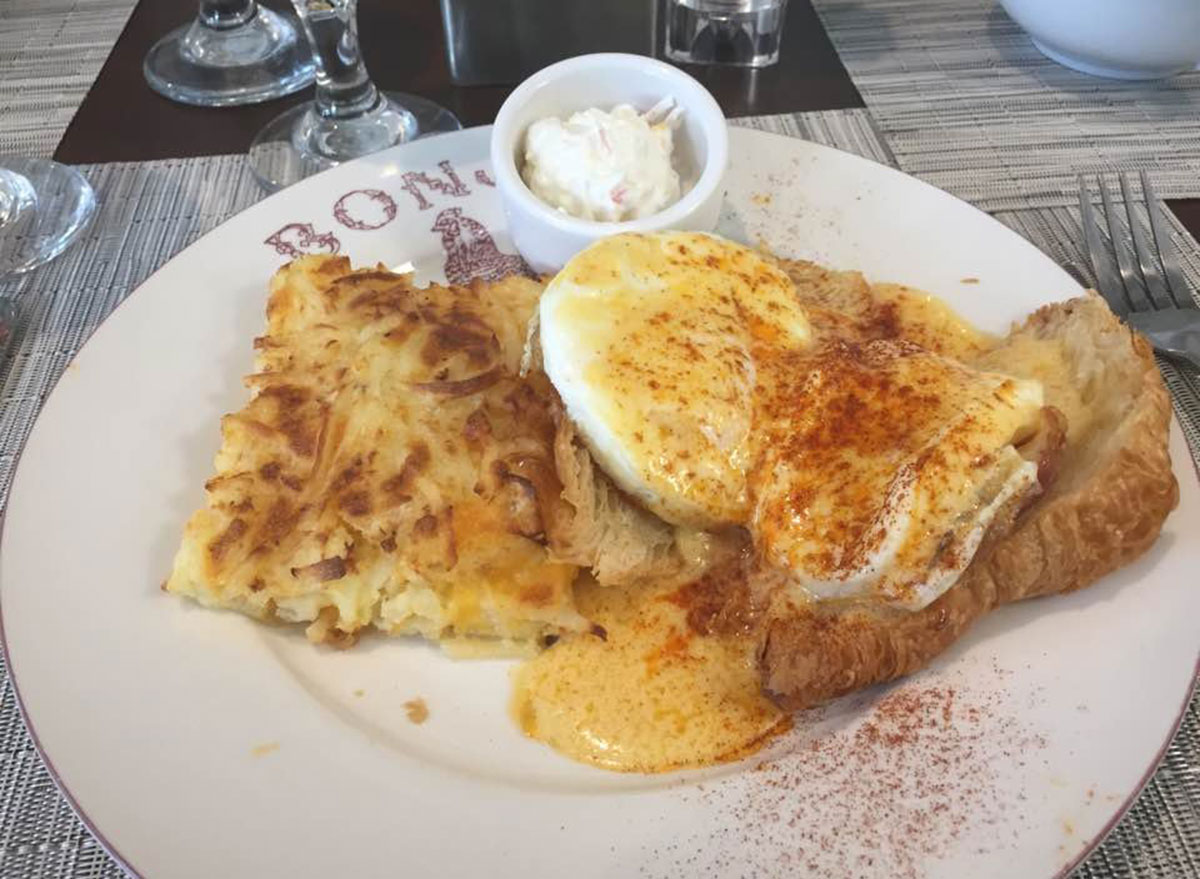 If you are stumped on what to get for a weekend brunch, why not try the hash brown casserole at Croissants Bistro in Myrtle Beach? Lauded by Yelp reviewers as "tasty" and "excellent", this signature casserole side is a perfect companion for a dish of fried eggs and bacon.
SOUTH DAKOTA: Powder House Lodge Restaurant in Keystone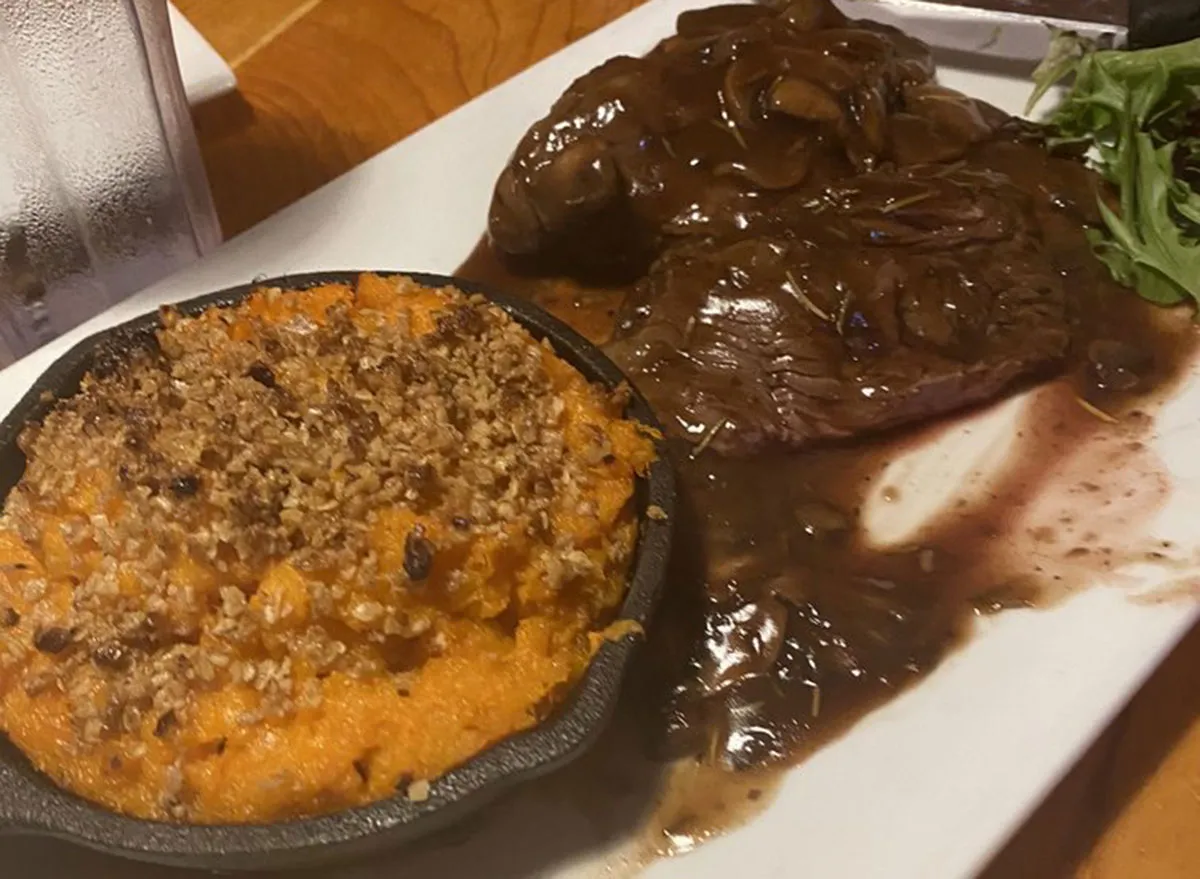 If you stop at Powder House Lodge Restaurant in Keystone make sure to order a side of their sweet potato casserole. "Sweet potato casserole is like dessert!" one Tripadvisor reviewer posted, while another reviewer excitedly said, "For our entrees, my husband had buffalo steak with sweet potato casserole—he loved it!"
TENNESSEE: Arnold's Country Kitchen in Nashville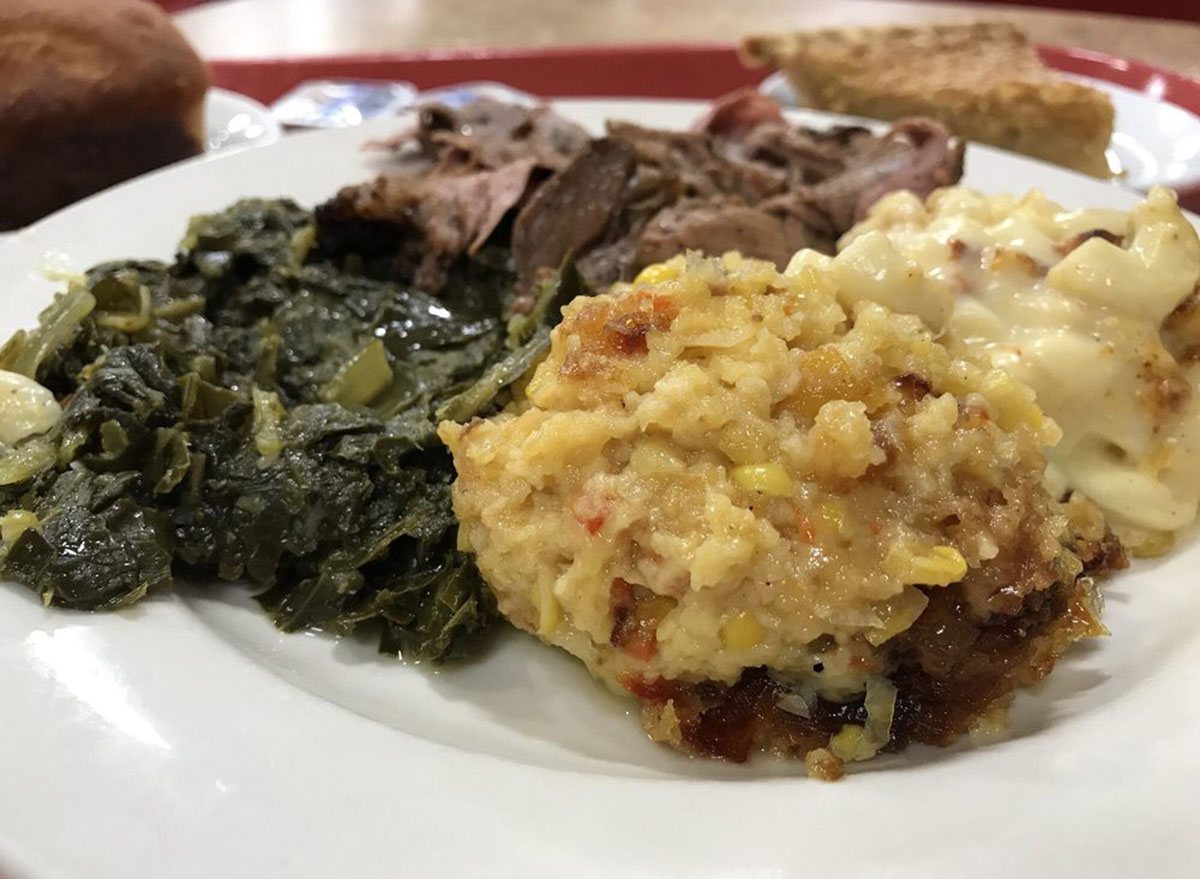 People love Arnold's casseroles, which include a cauliflower option as well as a squash one. One Yelp reviewer reminisced about their positive dining experience at Arnold's by writing, "Arnold's was transcendent, and I don't use that word lightly. I was recently on a month-long road trip through the Midwest and South, and Arnold's was the best food I had the entire time."
TEXAS: Town Hearth in Dallas
Town Hearth is an upscale Texas restaurant that is known for its delicious cocktails and perfected menu. Don't miss their macaroni casserole—one Yelp reviewer loved it so much that they commented, "The food was spot on and SO. FREAKIN. DELICIOUS. I ordered the whole roasted fish, tot poutine, 8 ounce mignon with side of crab leg, fried brussel in honey mustard glaze, and macaroni casserole. I will order everything again!!"
UTAH: Ruth's Chris Steakhouse in Salt Lake City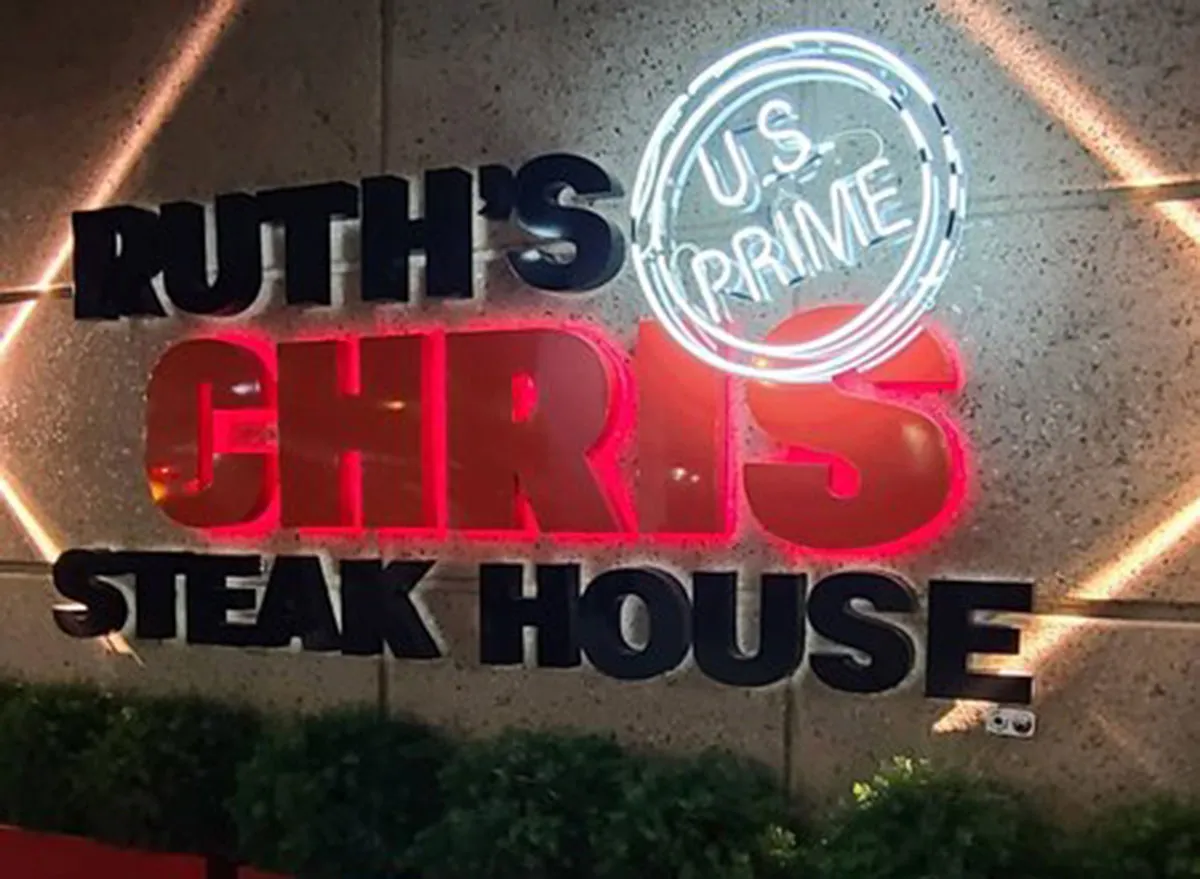 If you want to eat some of the best sweet potato casserole in the state of Utah, you have to head on down to Ruth's Chris Steakhouse. This iconic steakhouse, which has locations throughout the U.S., makes a sweet potato casserole that will have you hooked. As one Yelp reviewer said, "One of our favorite side dishes is their sweet potato casserole. Try it and you'll be addicted to it!"6254a4d1642c605c54bf1cab17d50f1e
VERMONT: Henry's Diner in Burlington
Henry's Diner is the old-school eatery that has been making delicious homemade dishes for the Burlington community since 1925. If you stop by make sure to get an order of their hash brown casserole. One Yelp reviewer is such a fan that they wrote, "French toast and hash brown casserole was AMAZING. Will be back!!"
VIRGINIA: Blue Seafood and Spirits in Virginia Beach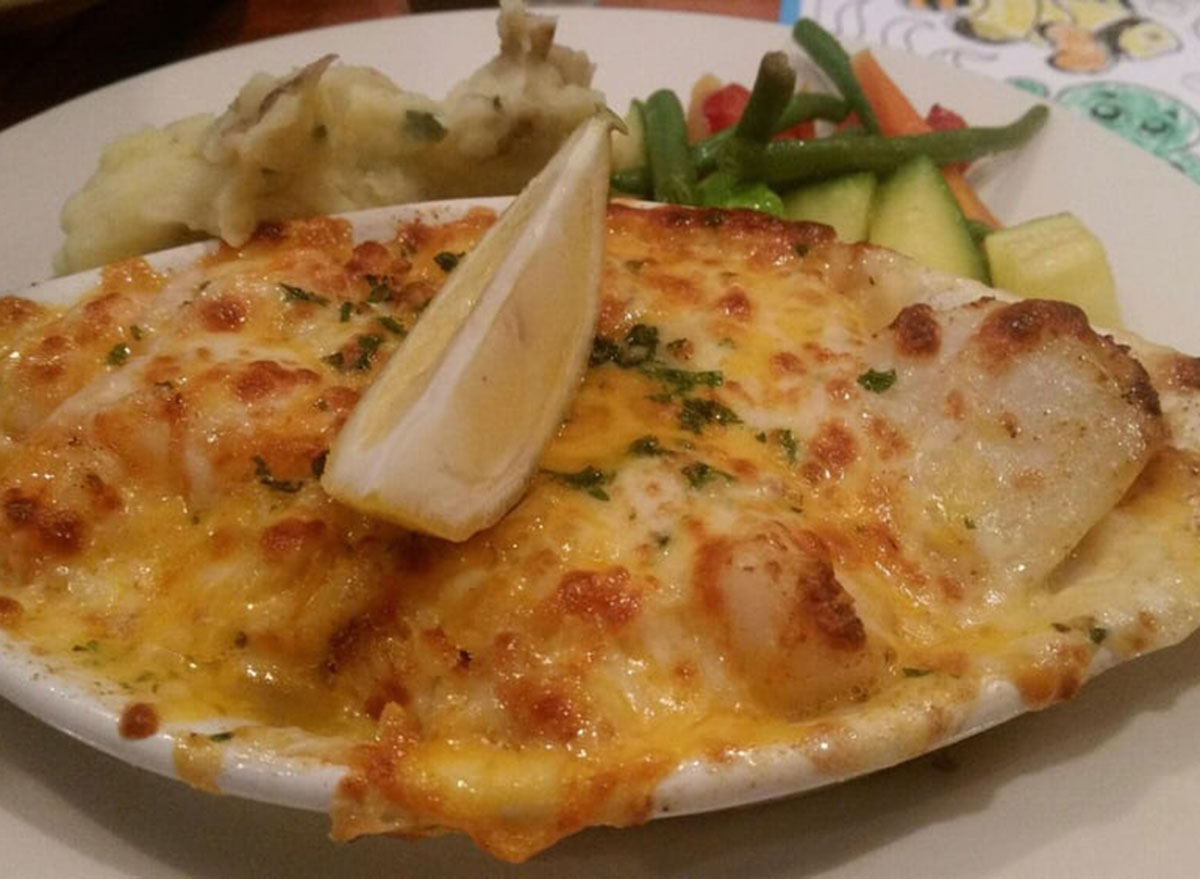 Restaurant goers rave about Blue Seafood's Seafood Belle Haven, which is a baked dish consisting of jumbo shrimp, sea scallops, and crab meat, topped with herbed butter and melted cheese. One Yelp reviewer put it perfectly when they wrote, "If the word Haven in its namesake was switched to Heaven, it would be completely appropriate.
WASHINGTON: Cafe Campagne in Seattle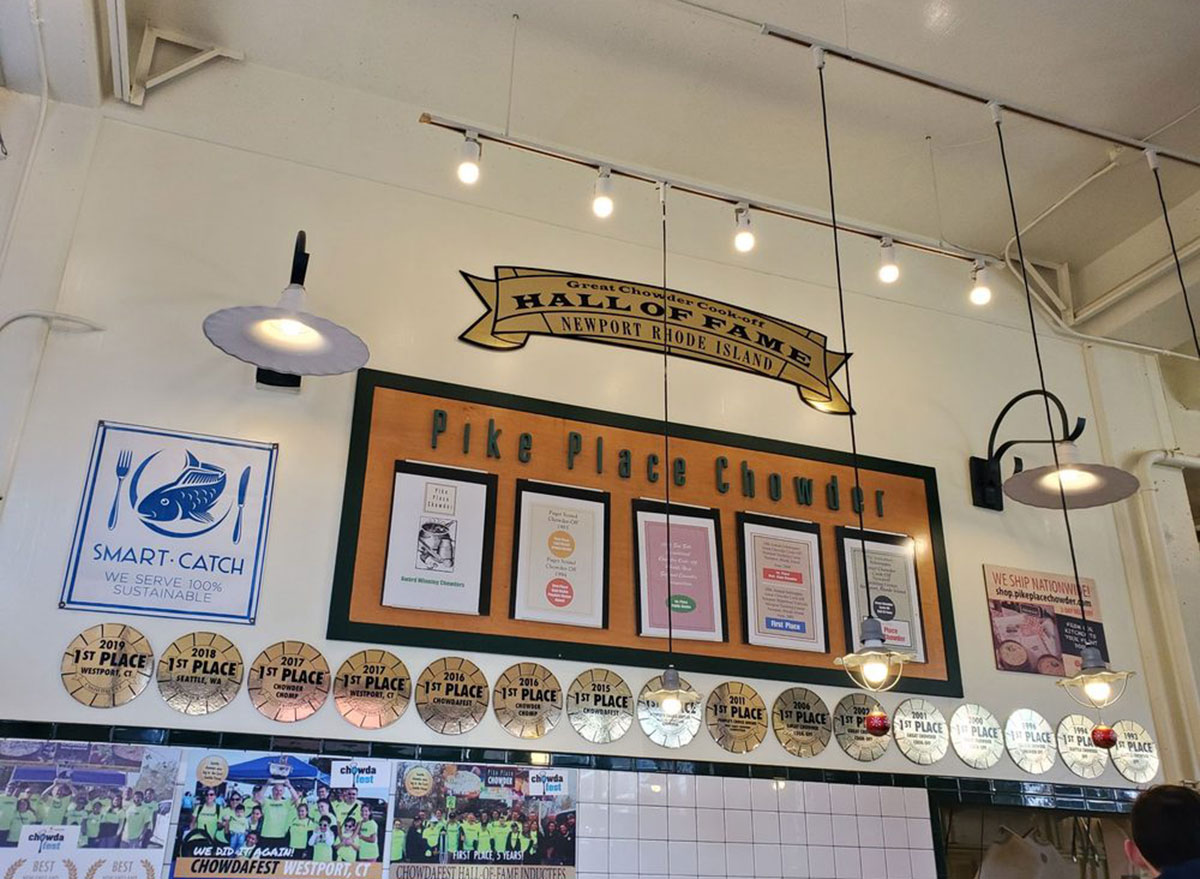 Cafe Campagne, Seattle's famous French restaurant, makes a cassoulet (French for "casserole") that keeps the masses satisfied. Some Yelp reviewers even reported back that their to-go cassoulet options are just as good as in-person. "WOW their to-go cassoulet is almost as good as in-person dining!" they shared, "INCREDIBLE flavors, excellent prep instructions, both in writing and even on YouTube. Cafe Campagne is a total Seattle gem."
WEST VIRGINIA: Dem 2 Brothers and a Grill in Charleston
Dem 2 Brothers and a Grill is applauded for their flavorful sides, with their sweet potato casserole being a customer go-to. As one enthusiastic Yelp reviewer puts it, "Do yourself a favor and get the sweet potato casserole!!"
WISCONSIN: Honeypie in Milwaukee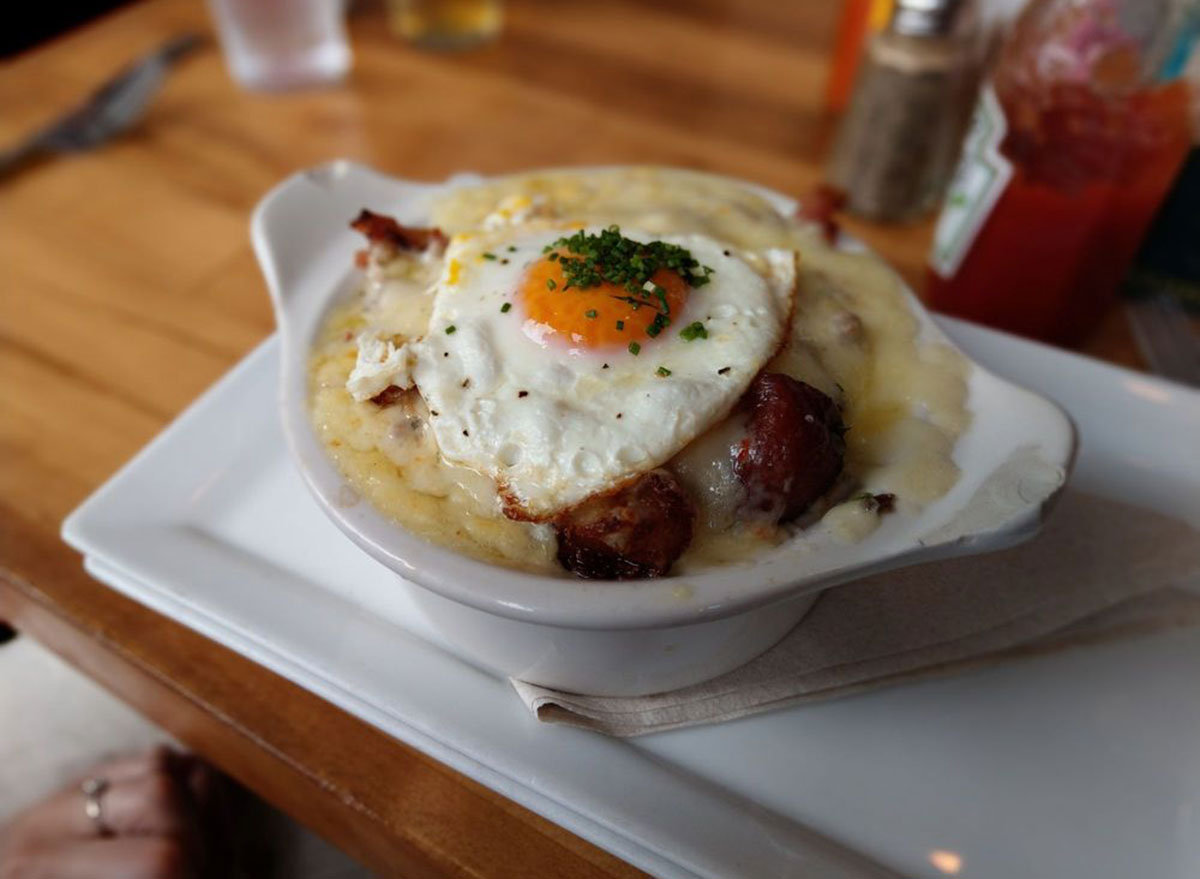 Honeypie's breakfast casserole, which features tasty ingredients such as buttermilk biscuits, roasted potatoes, sausage gravy, and cheese, is a total morning game changer. Yelp reviewers have described it as, "fantastic," "delicious," and "oh-so-good."
WYOMING: Rib and Chop House in Cheyenne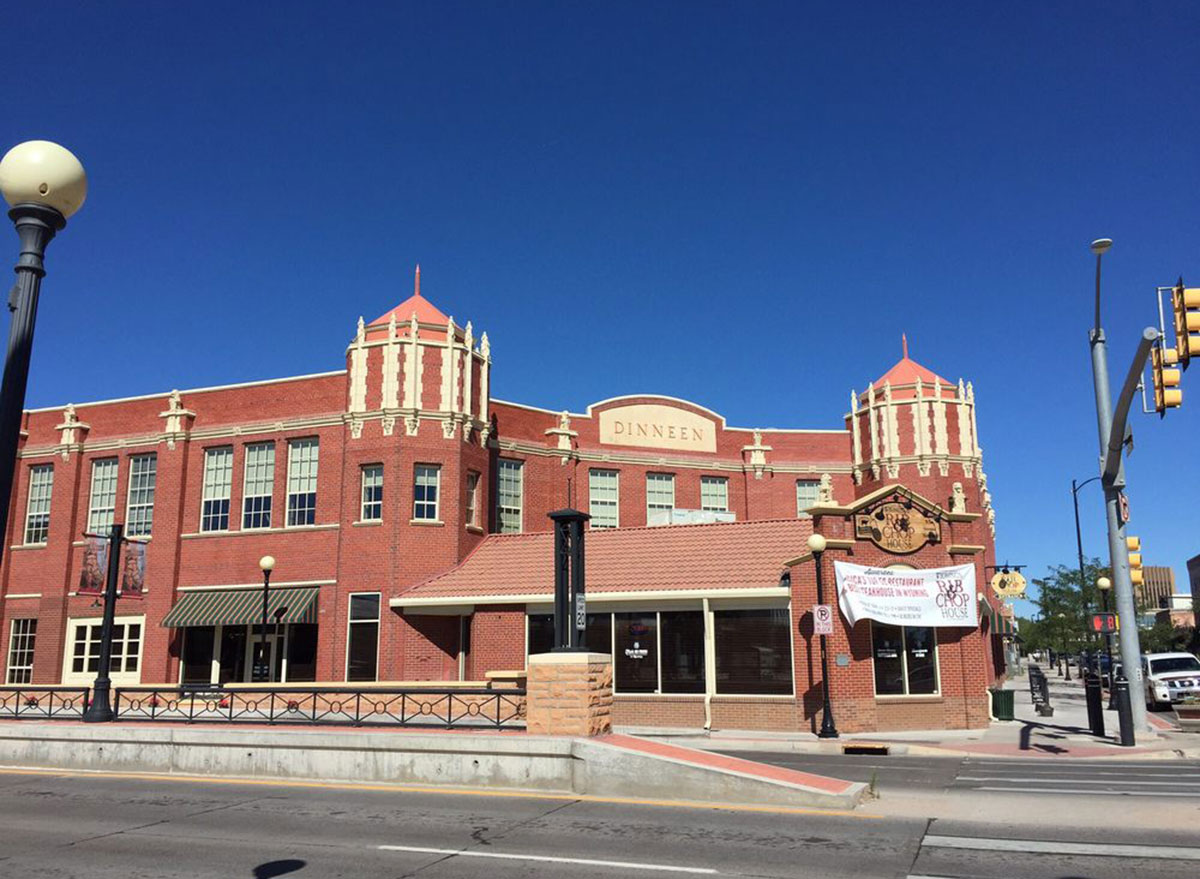 The squash casserole at Wyoming's Rib and Chop House is so good that you may have to order seconds. "I got garlic mashed and squash casserole as my sides, the squash casserole was so delicious! Definitely would recommend it!" one Yelp reviewer shared.
Find out more about the best spots in your state:
The Best Themed Restaurant In Every State