The Best To-Go Dishes in Every State
If you're a huge takeout fan, this is the state-by-state guide you need.
In The Before Times, takeout was mostly an afterthought—something to order from a mobile app or pick up on your way home after a busy day at the office. (Remember commuting?) Back then, the takeout food pyramid was dominated by dishes that travel and reheat well. So that means that meals like pizza, burritos, and lo mein were often the go-to.
But amid the pandemic, takeout became special and a way to stay connected with favorite restaurants amid shutdowns and restrictions. Chefs mastered ways to prepare their best dishes in a to-go format. They carried on with carryout. And if you're still all about that takeout life, there are plenty of spots you might not have truly yet that are offering up some truly delicious meals to-go.
From expertly seasoned kabobs to taqueria-style eats and habit-forming sammies, these are some of the absolute best to-go dishes in every state. And if you're looking for more food fun, check out The Best Steakhouse in Every State.
Read the original article on Eat This, Not That!
ALABAMA: Pork Sandwich from Wilson's Barbeque in Albertville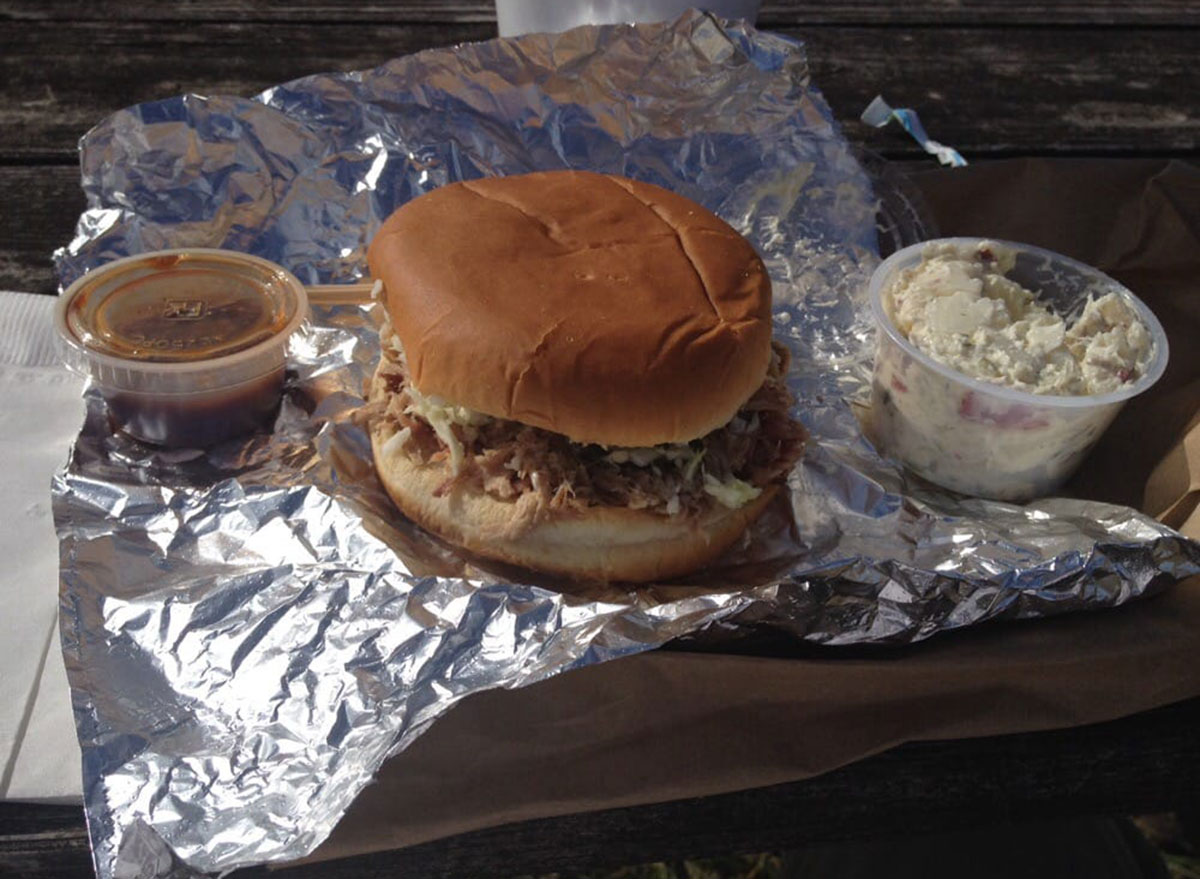 Yes, there's a drive-thru and you can get barbecue on the fly here. But by no means is this Alabama barbecue joint a typical fast-food restaurant. The meat at Wilson's Barbeque is cooked low and slow overnight to give it a signature, smoky taste. Go for the chopped pork sandwich piled with vinegar slaw and drenched in your choice of BBQ sauce.
ALASKA: Mac 'n Cheese Pizza from Moose's Tooth in Anchorage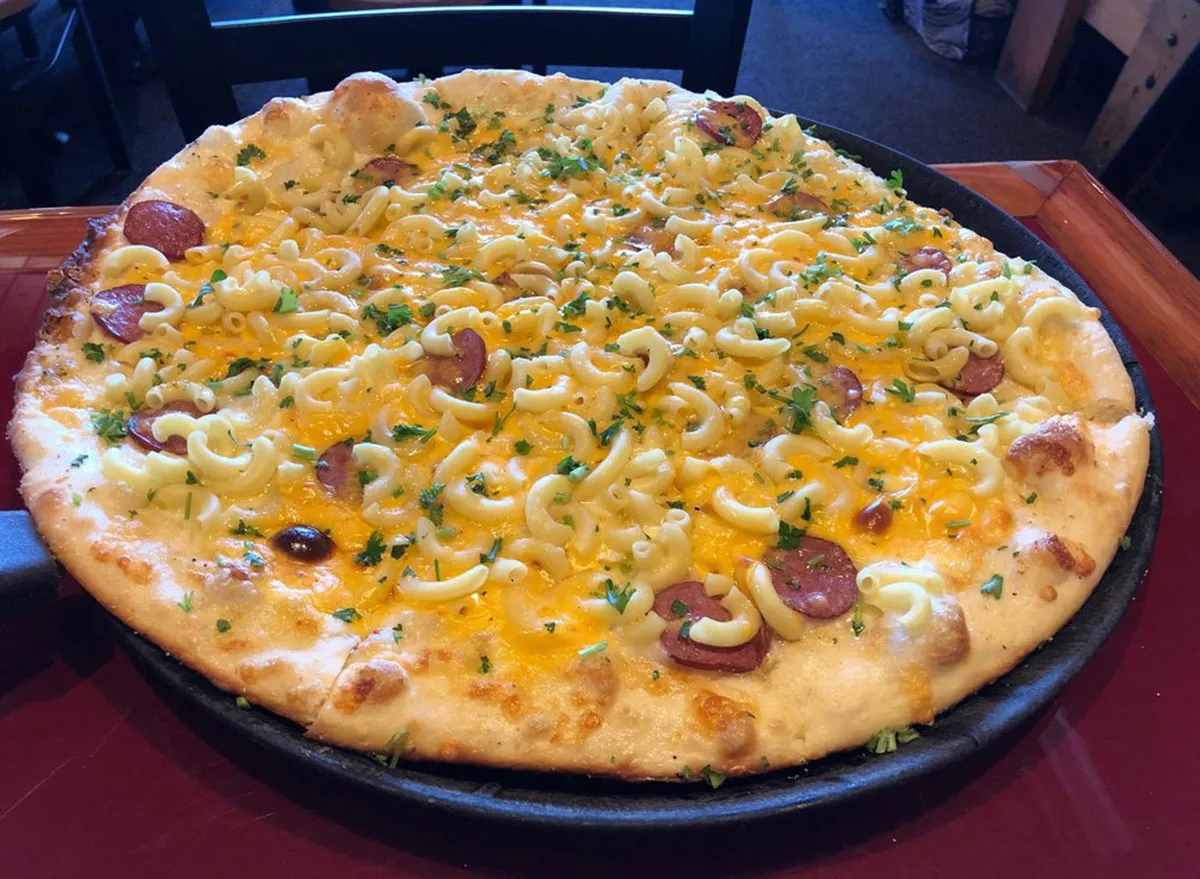 In addition to cheesy macaroni, this unique pizza is also topped with reindeer sausage, an Alaska classic. Moose's Tooth, a favorite spot for pizza and beer in the 49th State, also has six-packs. So you can take some drinks to pair with your pie!
ARIZONA: Koobideh from Kabob Grill n' Go in Phoenix
Phoenix foodies have declared this kabob restaurant their go-to to-go spot. The Koobideh from Kabob Grill n' Go is a popular order for good reason. It comes with a pair of Armenian-style skewers, beef, and pork, that are seasoned with onions and spices. The charbroiled kabob dishes come with basmati rice, a Shirazi salad (made of cucumber, tomato, and onion), grilled veggies, and a choice of dip.
ARKANSAS: Chicken Tikka Family Meal from Star of India in Little Rock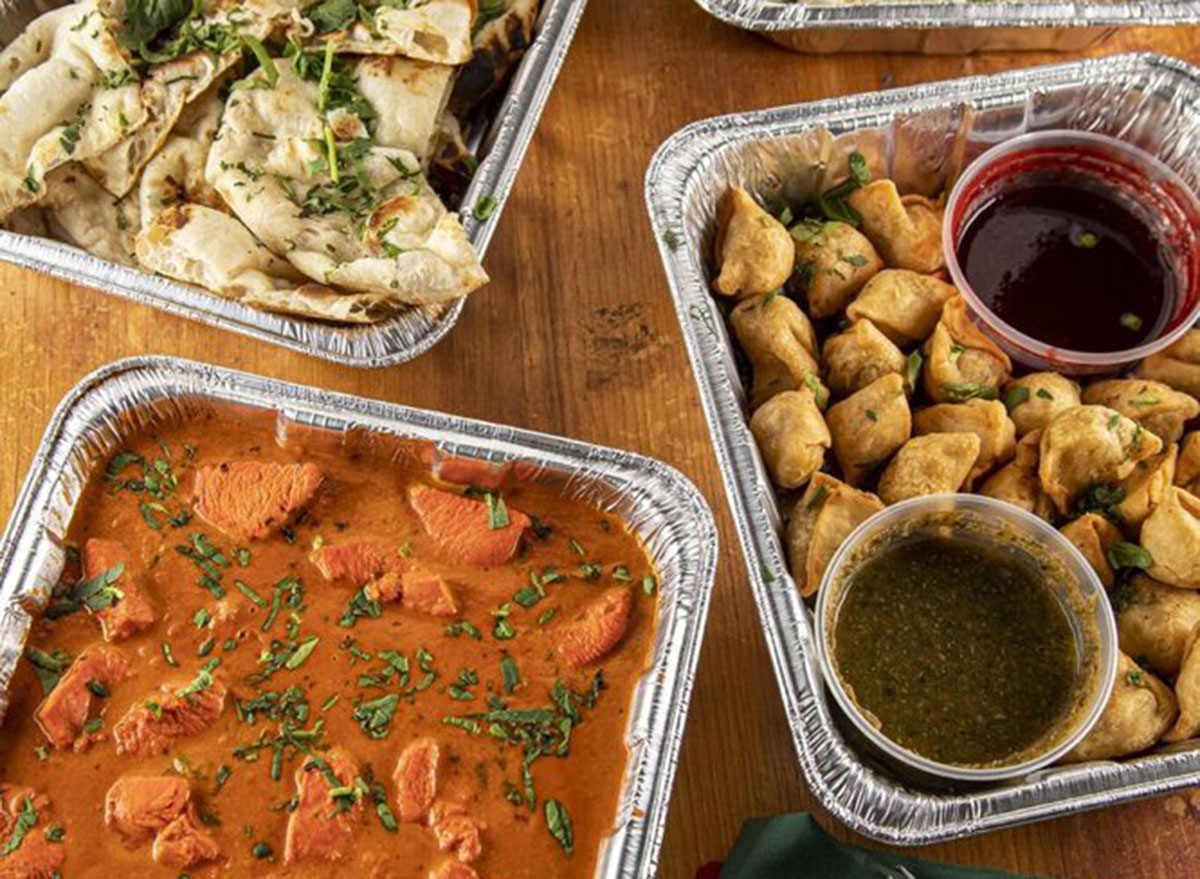 With enough food to feed 10 to 12 people (or a smaller family, with plenty of leftovers), this family-style meal comes loaded. You're getting Chicken Tikka that is cooked in a clay oven, Naan bread to sop up the sauce, rice, vegetable samosa, and mango custard. This should hold over Star of India fans until the buffet reopens!
CALIFORNIA: The Box from Krispy Rice in multiple locations in greater Los Angeles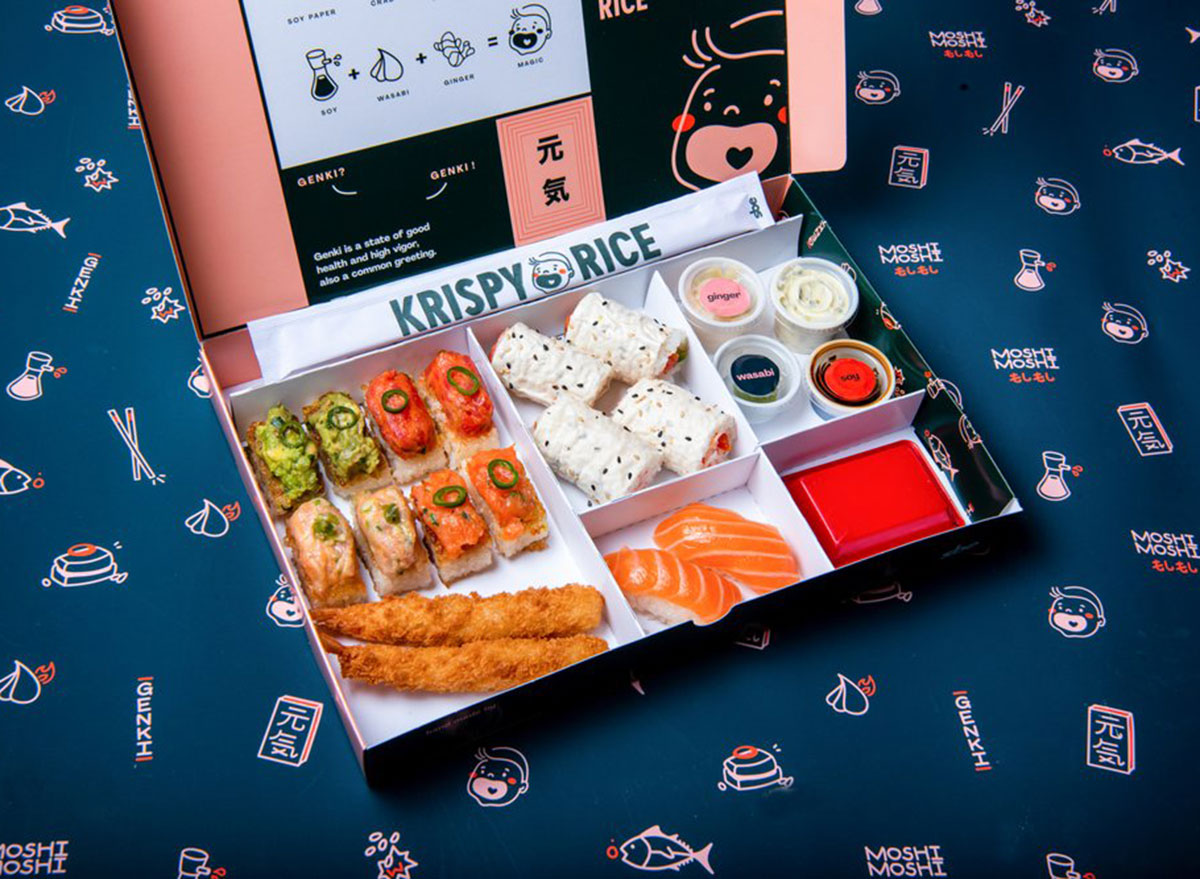 Born out of popular LA sushi restaurant Katsuya, the Krispy Rice concept has expanded to several locations. The Box is a sushi sampler that's packed with popular sushi rolls and snackable edamame. It's delivered in playful pink carbon-neutral packaging that draws inspiration from Japan's kawaii (which means cute) design elements. What we're getting at? Feed your Instagram grid first.
COLORADO: Taco boards from Lola Coastal Mexican in Denver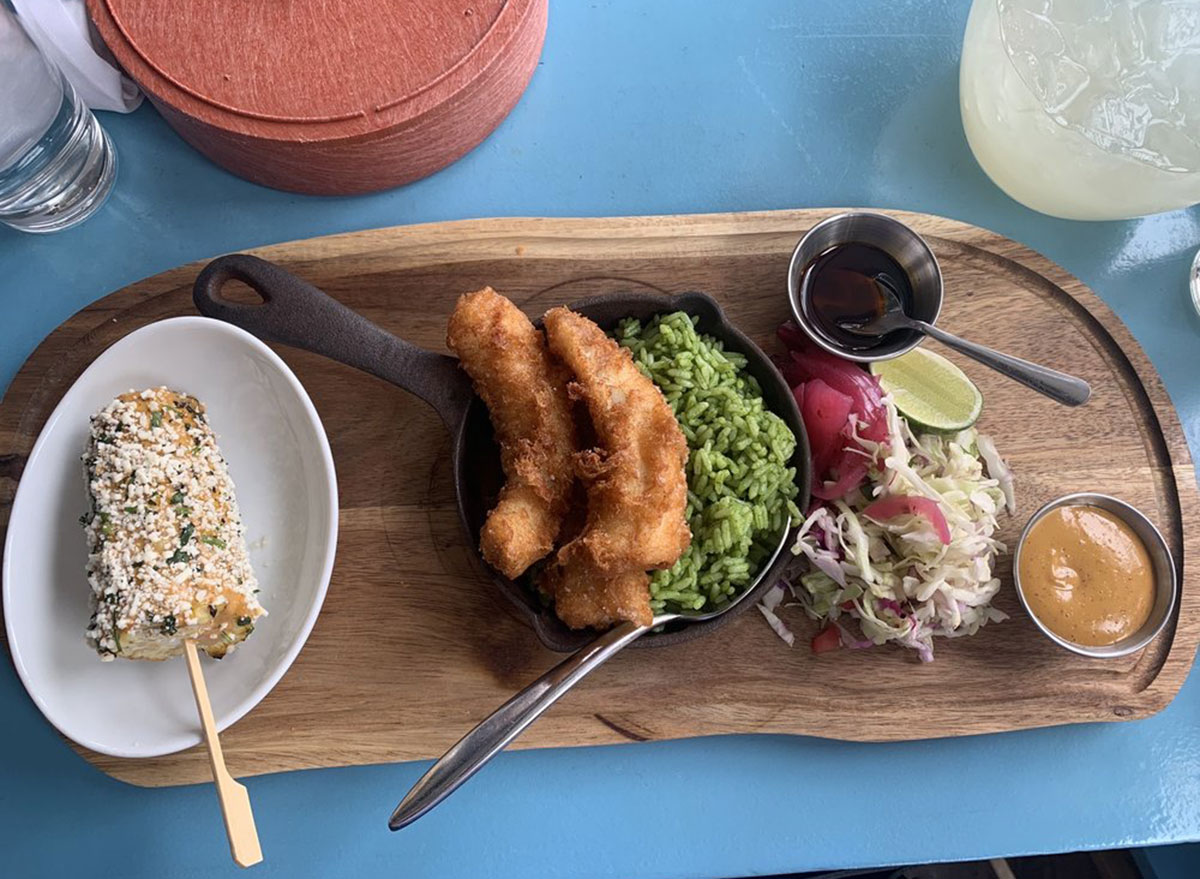 Tacos can be finicky as a to-go dish, falling apart on their way home. So, the team at Lola Coastal Mexican started serving taco boards as a solution to this to-go conundrum. You can choose a protein (carnitas, grilled chicken, fried Baja fish) or seasonal veggies and then get all the fixings. That includes pico de gallo, shredded cabbage, salsa, and warm tortillas. Then, just assemble at home and shake up a margarita.
CONNECTICUT: Lobster Loves Lobster from Go Fish in Mystic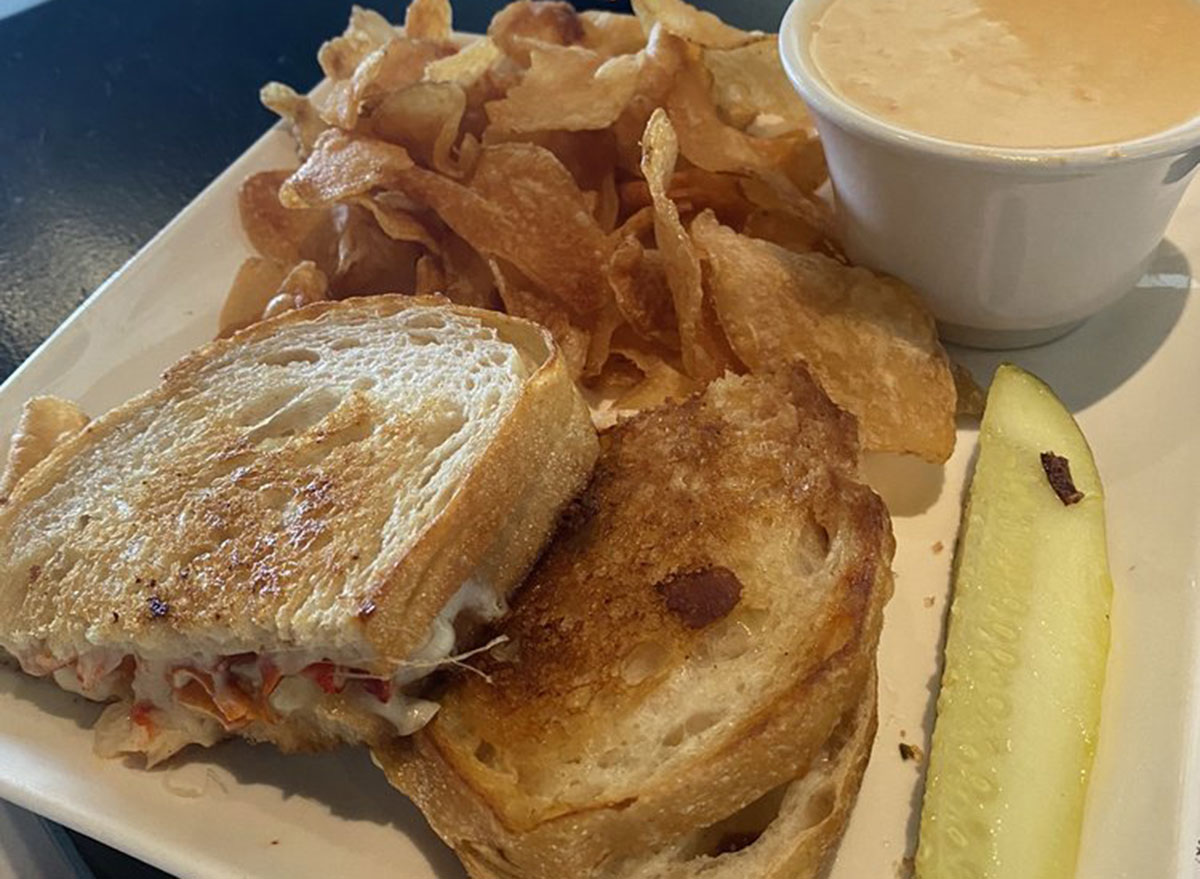 Skip the boring soup-and-salad combo! At Go Fish, which serves fresh seafood, double down on lobster with a lobster grilled cheese sandwich. It's served on grilled sourdough alongside a yummy cup of lobster bisque. To-go cocktails are available here, too.
DELAWARE: Pizza Palooza from Cafe Riviera in Wilmington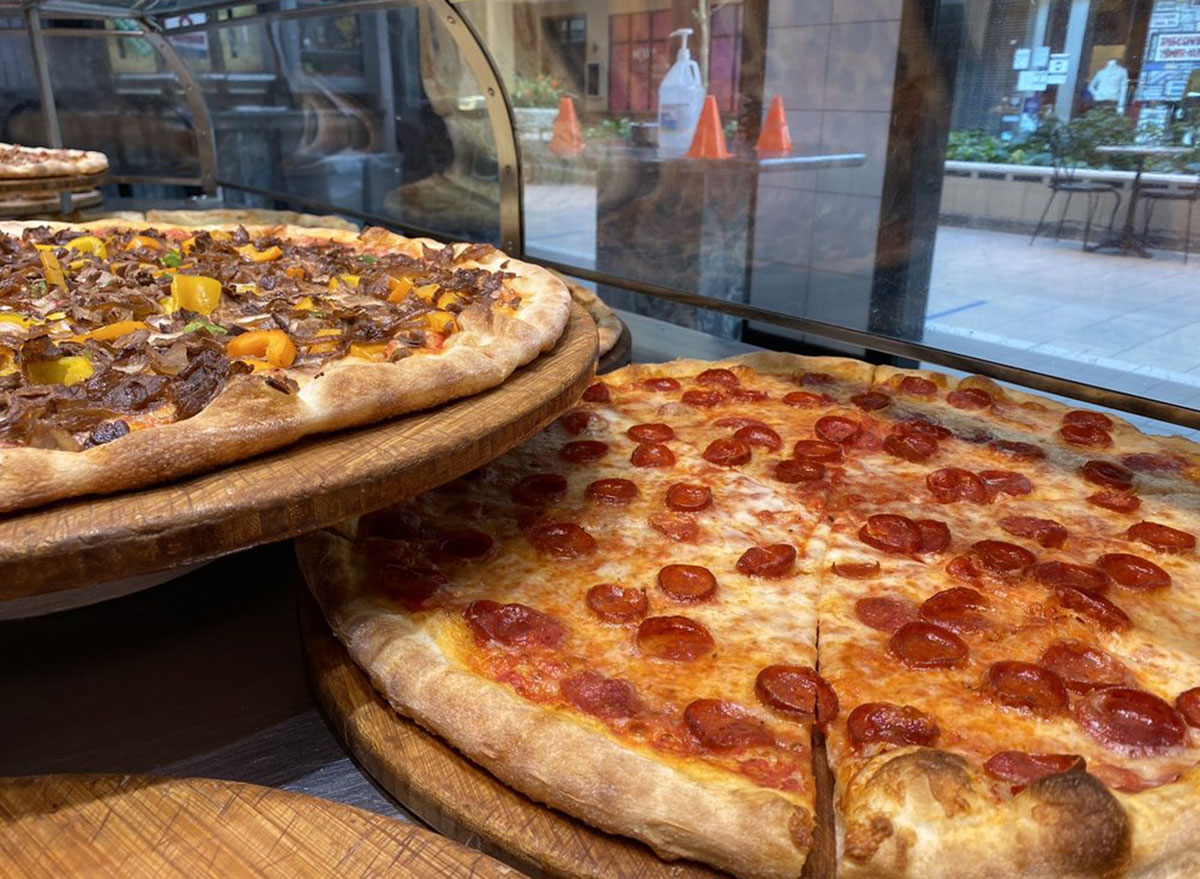 The Pizza Palooza from Cafe Riviera comes with a large pizza, wings, cheese fries, or nachos topped with beef or buffalo chicken. You get a big serving of garlic knots, too. Yeah, you're about to have a next-level pizza night.
FLORIDA: Coconut Burger from Green Bar & Kitchen in Fort Lauderdale
The Green Bar & Kitchen menu is filled with creative vegetarian dishes, from burgers topped with tempeh bacon to gyros made with seitan. The Coconut Burger will convince you mango salsa is your new favorite condiment.
GEORGIA: Johnny Roll from Zunzi's in Savannah and Atlanta
A fan favorite on review sites, Zunzi's is a South African-inspired restaurant that's known for its saucy sandwiches served on French bread. The Johnny Roll is a veggie sandwich, but carnivores will love it, too. It's made with vegan "meatballs," hummus, mixed greens, grilled veggies, and is loaded with sauces.
HAWAII: Kalua Pork and Sweet Onion Quesadilla from Merriman's in Honolulu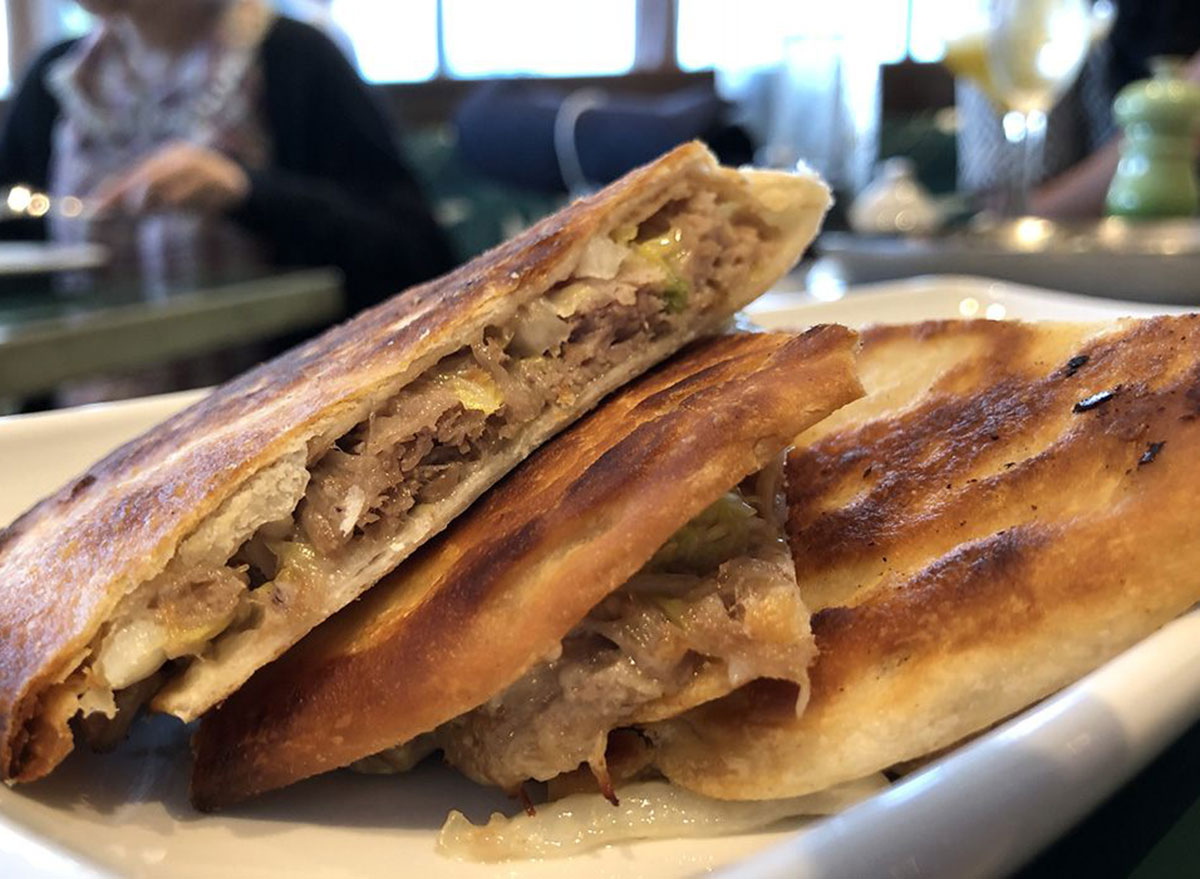 Merriman's Honolulu serves a signature kalua pig quesadilla with mango-chili dipping sauce. A local and visitor crowd-pleasure, the quesadilla is sweet and savory and showcases the island's locally sourced ingredients. While you can take it to go, you might want to dine in next time; the restaurant has live music nightly.
IDAHO: Signature Fried Chicken from Han's Chimaek in Boise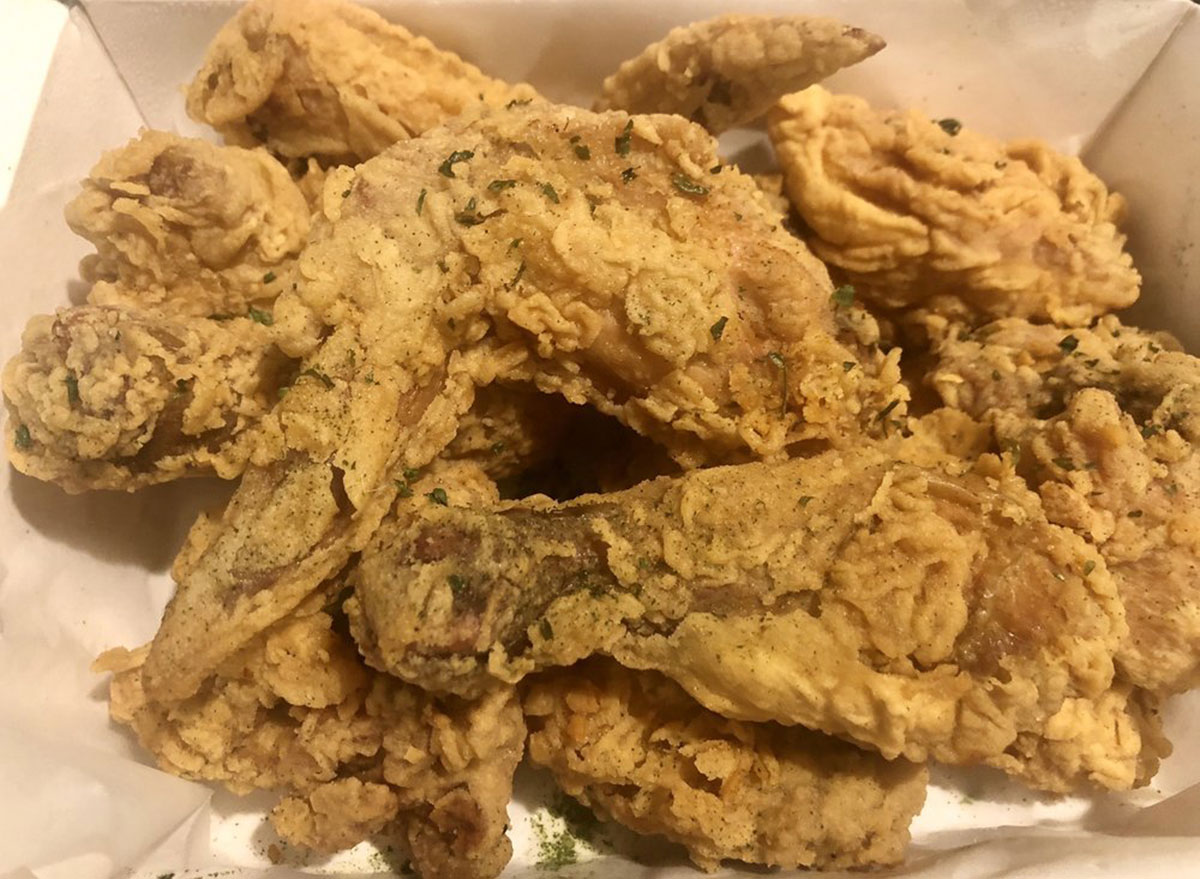 "This place is a gift to Boise," one Yelp reviewer says of Han's Chimaek. The Korean Fried Chicken outpost has a simple menu with double deep-fried wings and whole chicken dishes with your choice of sauces.
ILLINOIS: Fried Chicken Chicharrones from Tiny Taqueria in Chicago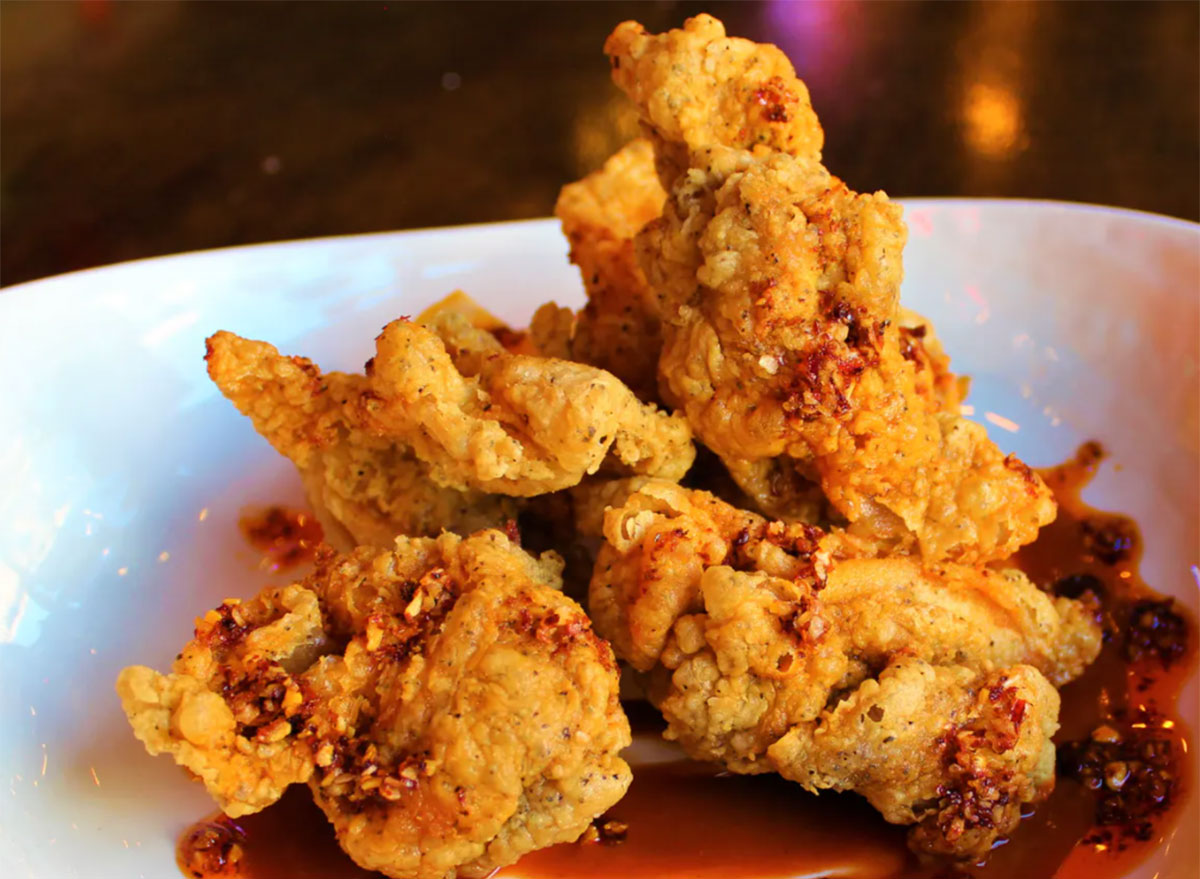 A savvy pandemic pivot, the crew at Green Door Tavern created Tiny Taqueria as a pickup and delivery restaurant. The virtual restaurant whips up elote fries, birria, and other taqueria-style eats. Start with the Fried Chicken Chicharrones. Crispy and juicy chicken thighs are tossed in a chicharrón spice mix with chili mayo and Valentina hot sauce on the side.
INDIANA: Ultimate Pan Platter from Exotic on the Run in Indianapolis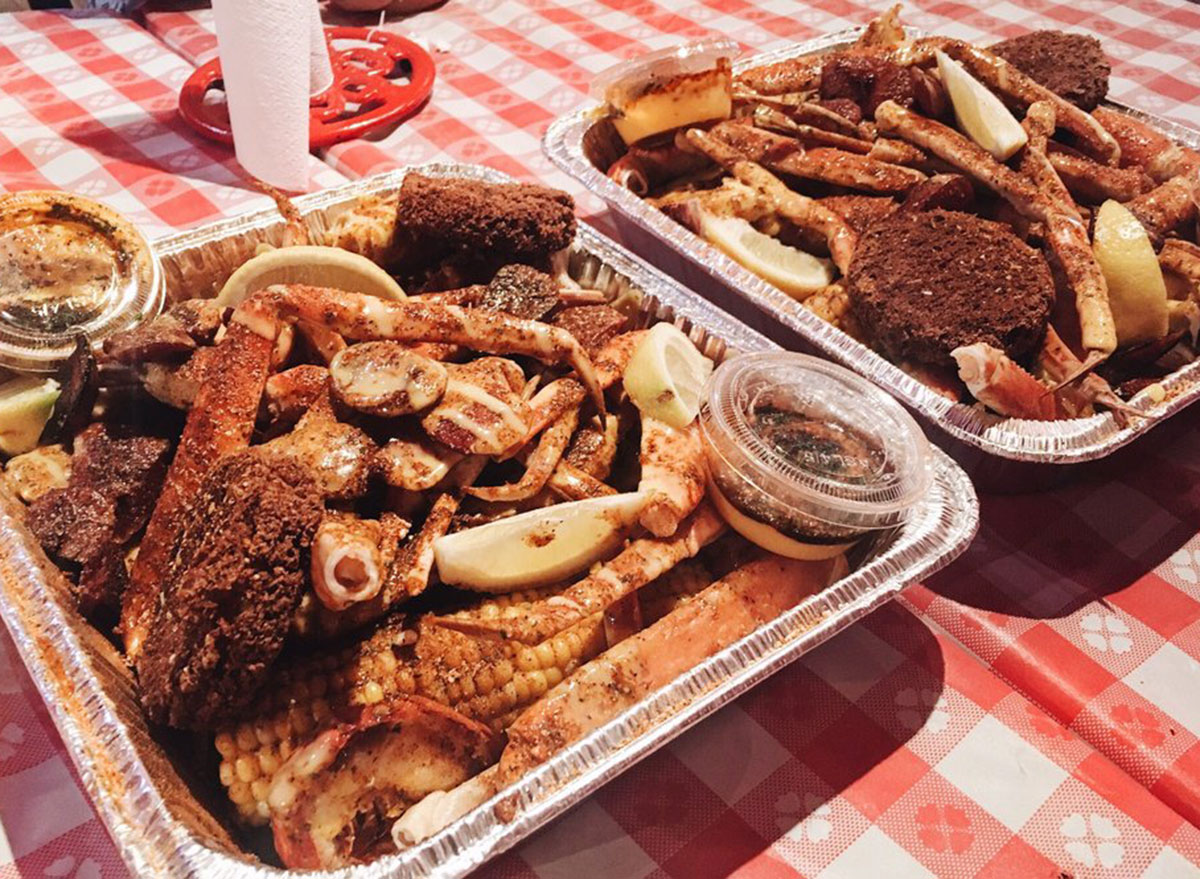 Put on a bib and get to cracking. Exotic on the Run serves everything you need for an epic, at-home seafood boil. The Ultimate Pan Platter comes with lobster tail, snow crab, jumbo shrimp, deep-fried sausage, and more.
IOWA: Fish Fest from The Mucky Duck Pub in Ames
This neighborhood pub offers some of its classic dishes in a family pack perfect for takeout. The Fish Fest from The Mucky Duck Pub serves a dozen people and comes with a pan of fish and another pan of chips plus a generous side of tartar sauce for dipping.
KANSAS: Margherita with Speck at Piatto Neapolitan Pizzeria in Wichita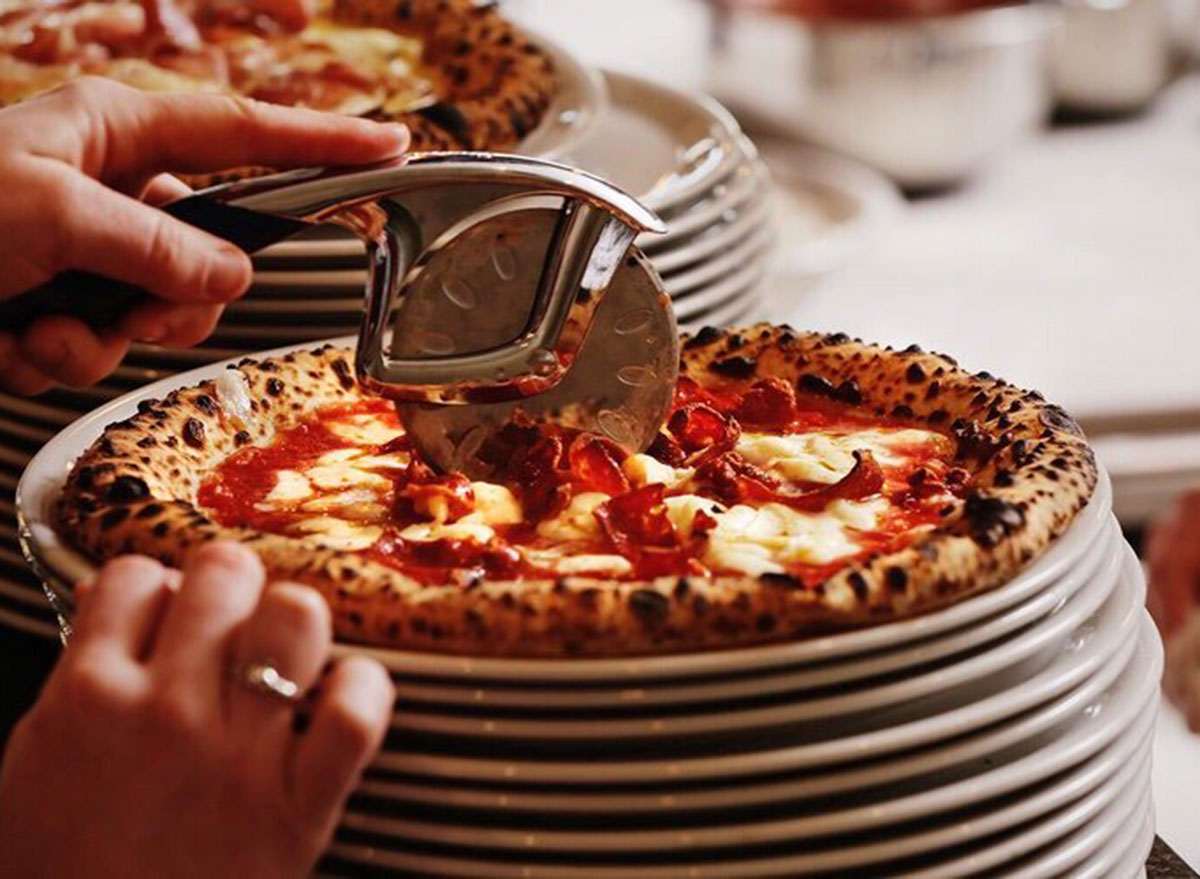 Take a peek at Piatto Neapolitan Pizzeria's menu and you'll get a good understanding of why it has so many repeat customers in Wichita. There's plenty of pie to try, including specialty pizzas topped with everything from spicy salami to crushed pistachios. The Margherita with Speck is topped with fresh basil and mozzarella as well as smoked prosciutto. Can't go wrong with that option! Definitely pick up some billowy, garlicky cheese bread that gets a shake of oregano.
KENTUCKY: Sriracha Bourbon BBQ Ribs at Carson's Food and Drink in Lexington
Really, you'll want to become a repeat carryout guest at Carson's Food and Drink. The Lexington staple created a family to-go menu with dishes like Chicken Rosé Linguini and Spicy Shrimp. The Sriracha Bourbon BBQ Ribs serve four, but we bet the side dishes like smoked gouda macaroni and cheese and garlic mashed potatoes with rosemary gravy will go quickly once they hit your dining room table.
LOUISIANA: Vegan Ceviche from Carmo in New Orleans
Many of the dishes at Carmo are plant-based. But perhaps one of the most interesting ones is a vegan ceviche dish. It's made with mushrooms, beans, and cucumber that is marinated in lime with passion fruit juices. The veggie ceviche also has sweet potato, avocado, and a crunchy corn. Taking it to go just gives your veggies a little more time to marinate and soak up all that good flavor.
MAINE: Arepas from MAIZ in Portland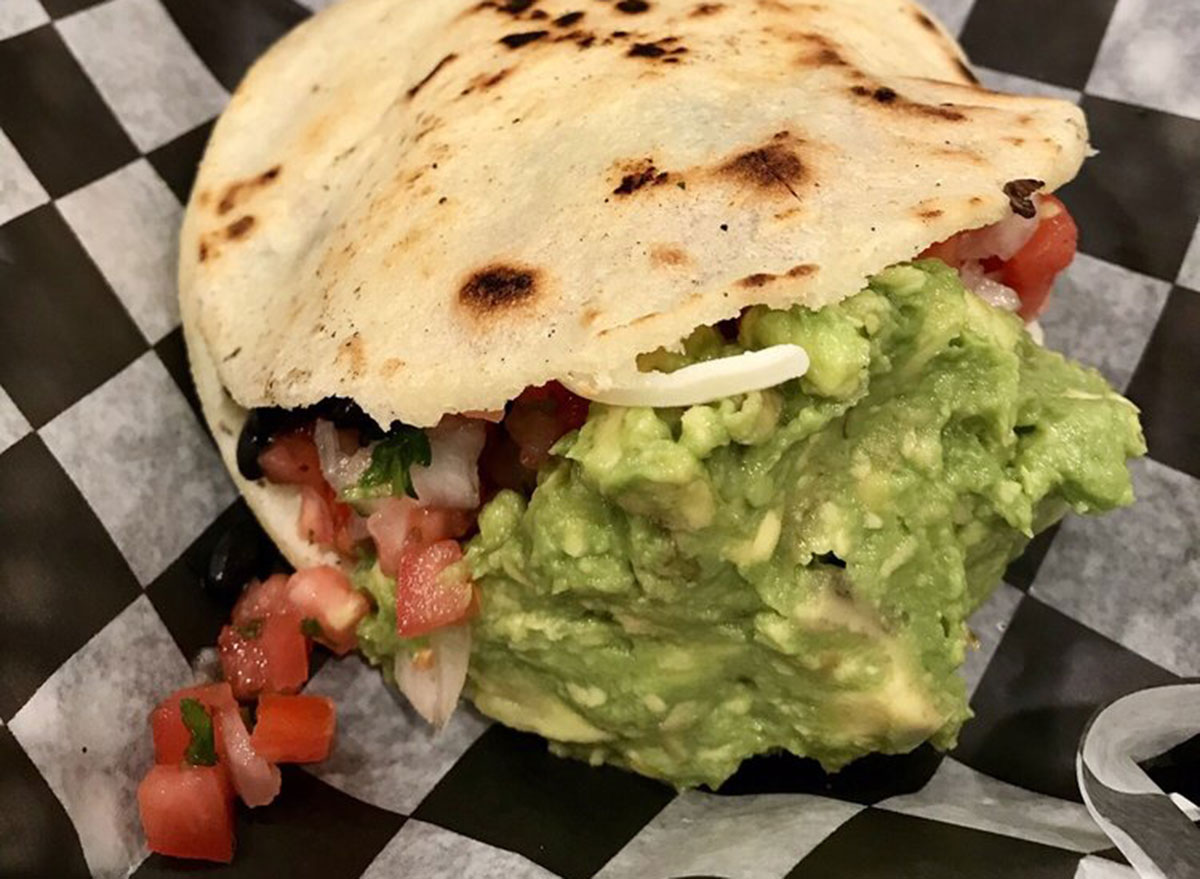 Serving foods from the Caribbean coast of Colombia, MAIZ is known for its homemade arepas that are crafted with ground white corn, grilled and stuffed with fillings. Take some buñuelos to go, as well. The corn and cheese fritters are traditionally reserved for the holidays, but because they're so tasty, they stay on the MAIZ menu all year long.
MARYLAND: Pit Beef from Famous Chaps Pit Beef in Baltimore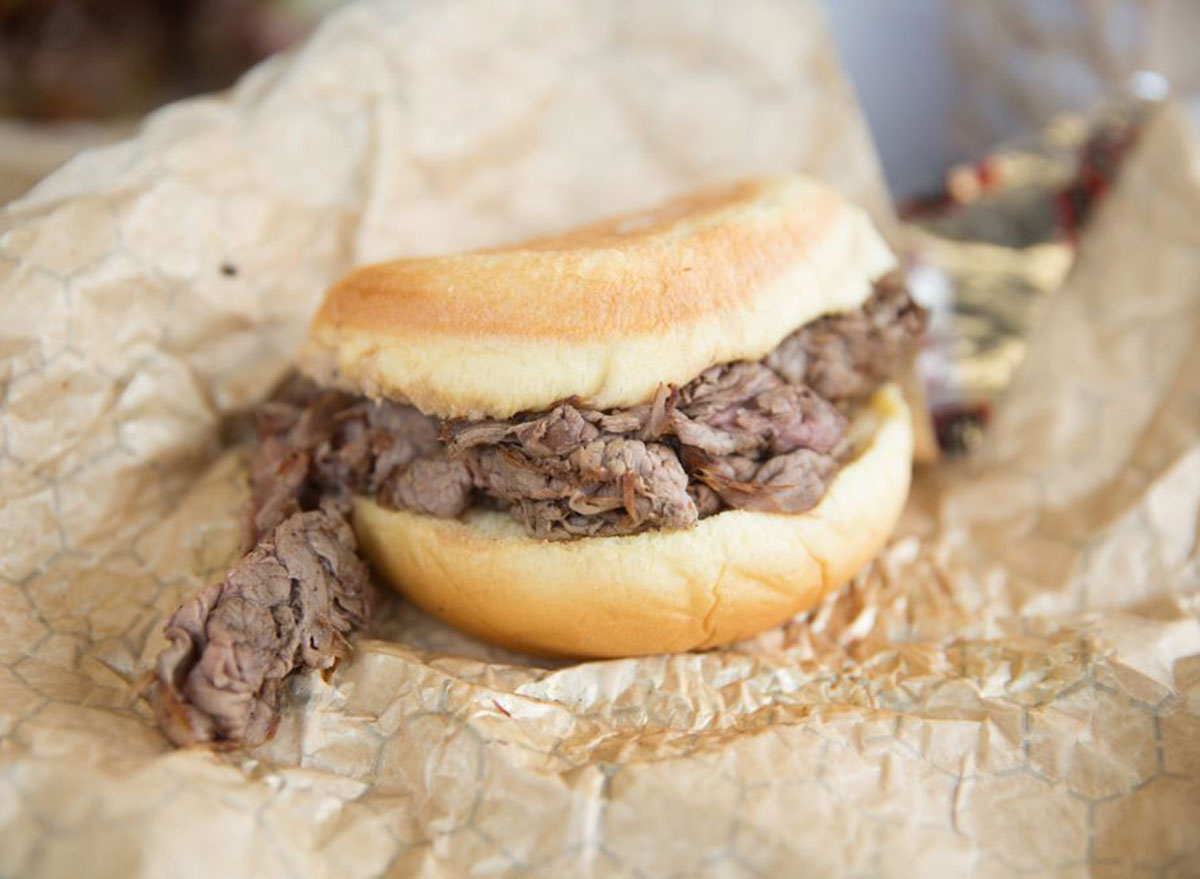 Baltimore's answer to barbecue, pit beef is grilled over a charcoal, sliced thin and served on a roll. For the real experience, don't forget to ask for horseradish laced Tiger Sauce on top. A destination for meat lovers, Famous Chaps Pit Beef is indeed famous. It's been featured on a number of food-travel shows and Guy Fieri is a fan.
MASSACHUSETTS: Pizza from Longboards Restaurant and Bar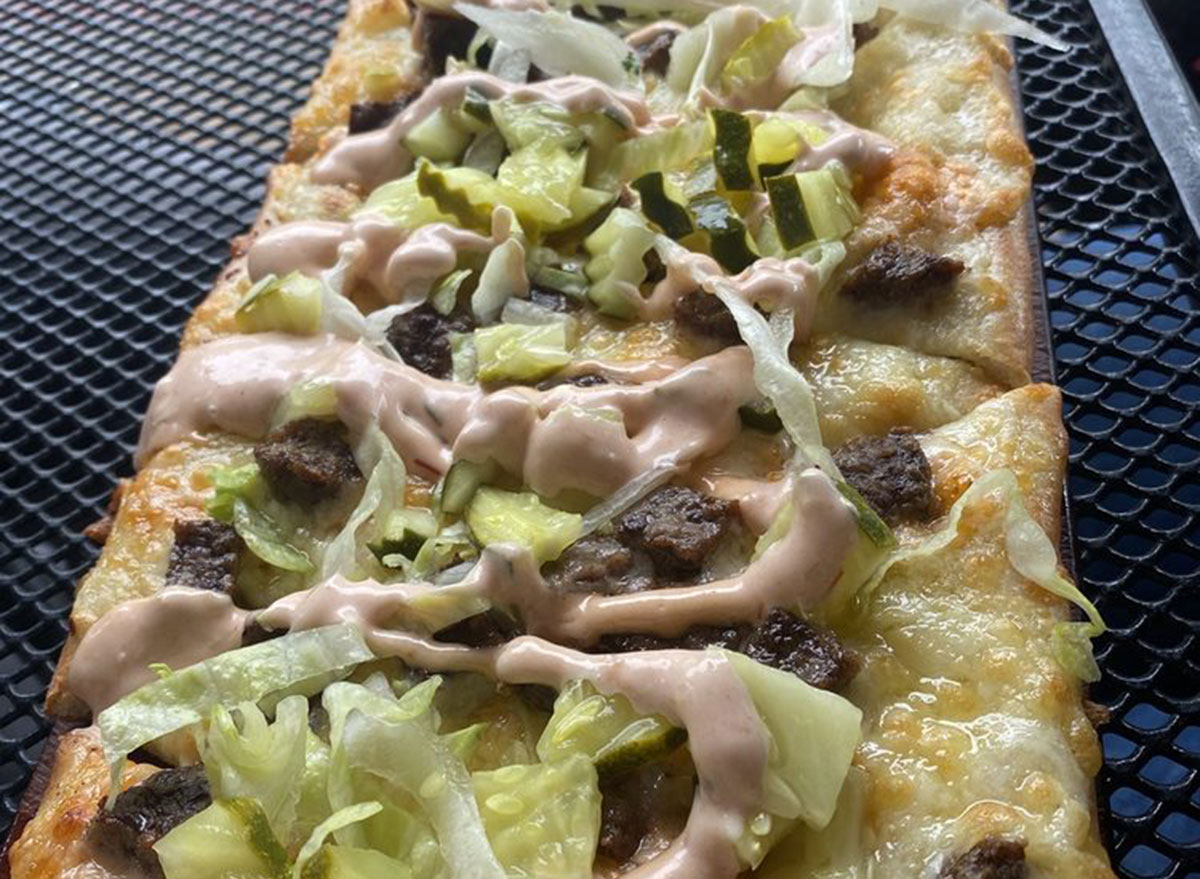 Pizza crust at Longboards is baked with crushed pepper and garlic oil. In addition to traditional toppings, lobster is an option, too. Talk about a decadent pizza! Oh, and don't forget Fido: Longboards also has a dog menu you can order from for your pup.
MICHIGAN: Dry-Aged New York Strip from Grey Ghost in Detroit
Named after a Prohibition-era rum runner along the Detroit River, Grey Ghost's menu will hit a high note with meat-eaters (filet mignon is on the menu) and veggie lovers (kale tempura is, too). The Dry-Aged New York Strip is served with a bright chimichurri sauce. Take home some carrot tartare, too, for some fine dining.
MINNESOTA: Take and Make Crab Lasagna from Broders' Pasta Bar in Minneapolis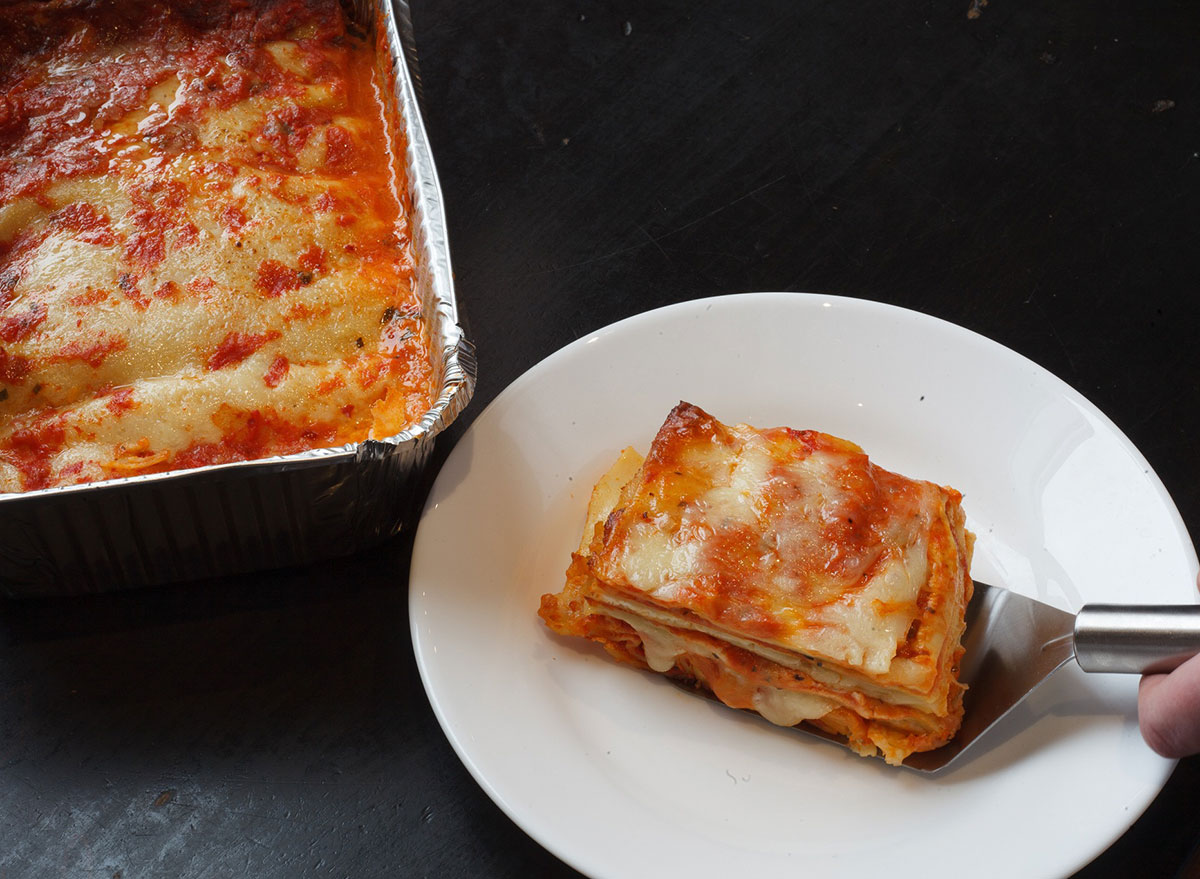 Broders' Pasta Bar makes homemade pasta for its dishes. So that already tells you everything you need to know!
To recreate the experience at home, you can pick up a frozen lasagna from the restaurant's "take and make" menu. The gourmet lasagna is crafted with fresh egg pasta and layered with crab, ricotta, mozzarella, Parmigiano Reggiano, fontina, roasted red peppers and has a chive and paprika filling. To top it off, it's covered in spicy Pomodoro and bechamel.
MISSISSIPPI: Cajun Po-Boys from Oby's in Oxford and Starkville
Take your pick of po-boys from Oby's menu: Alligator, catfish, crawfish, shrimp, or catfish. Do yourself a favor, though, and save room for the bourbon pecan pie with praline sauce.
MISSOURI: Ribs from Pappy's Smokehouse in St. Louis and St. Peters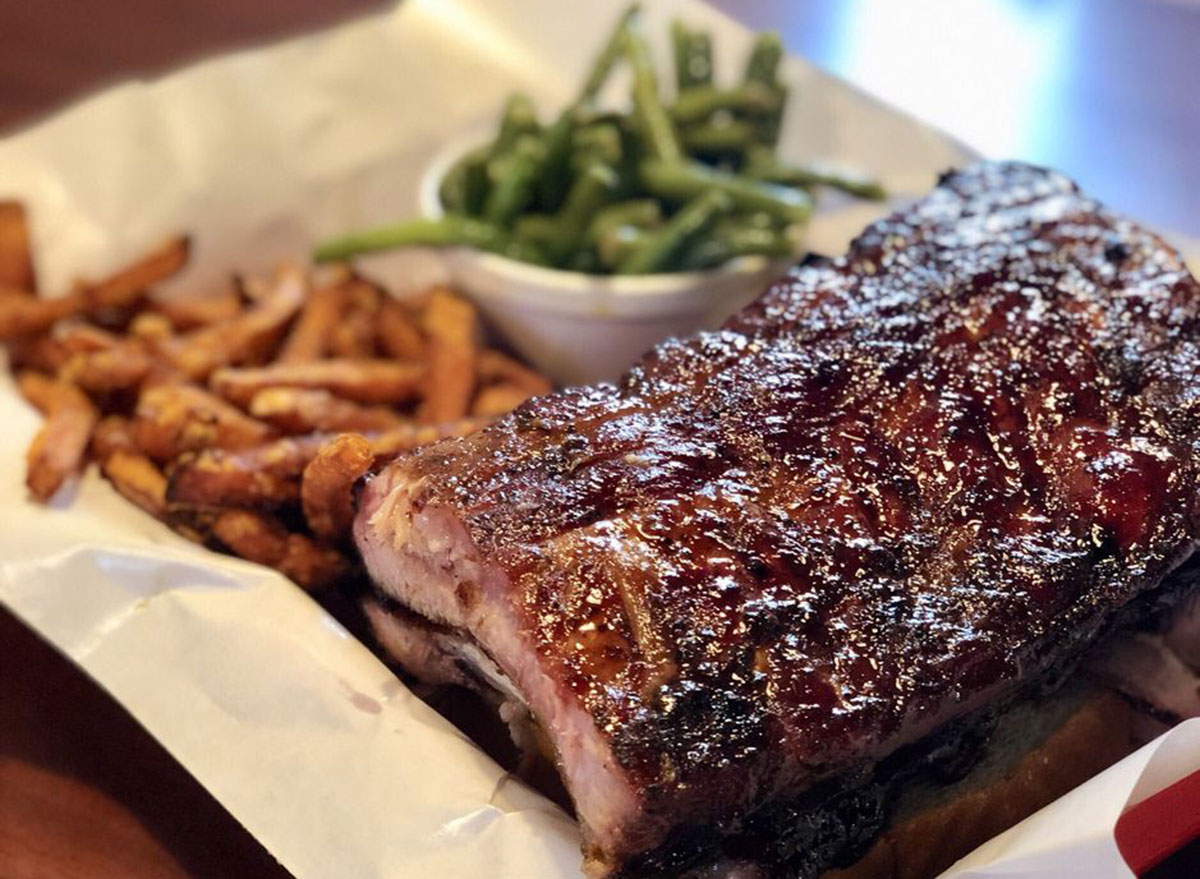 Wood-smoked, Memphis-style barbecue is the star of the menu at Pappy's Smokehouse. The ribs have been smoked over apple and cherry wood and come with a couple of sides (Think: fried corn, vinegar slaw, baked beans, and sweet potato fries.)
Our advice? Be sure to ask for extra napkins.
MONTANA: Bowl Two from Mountain Berry Bowls in Bozeman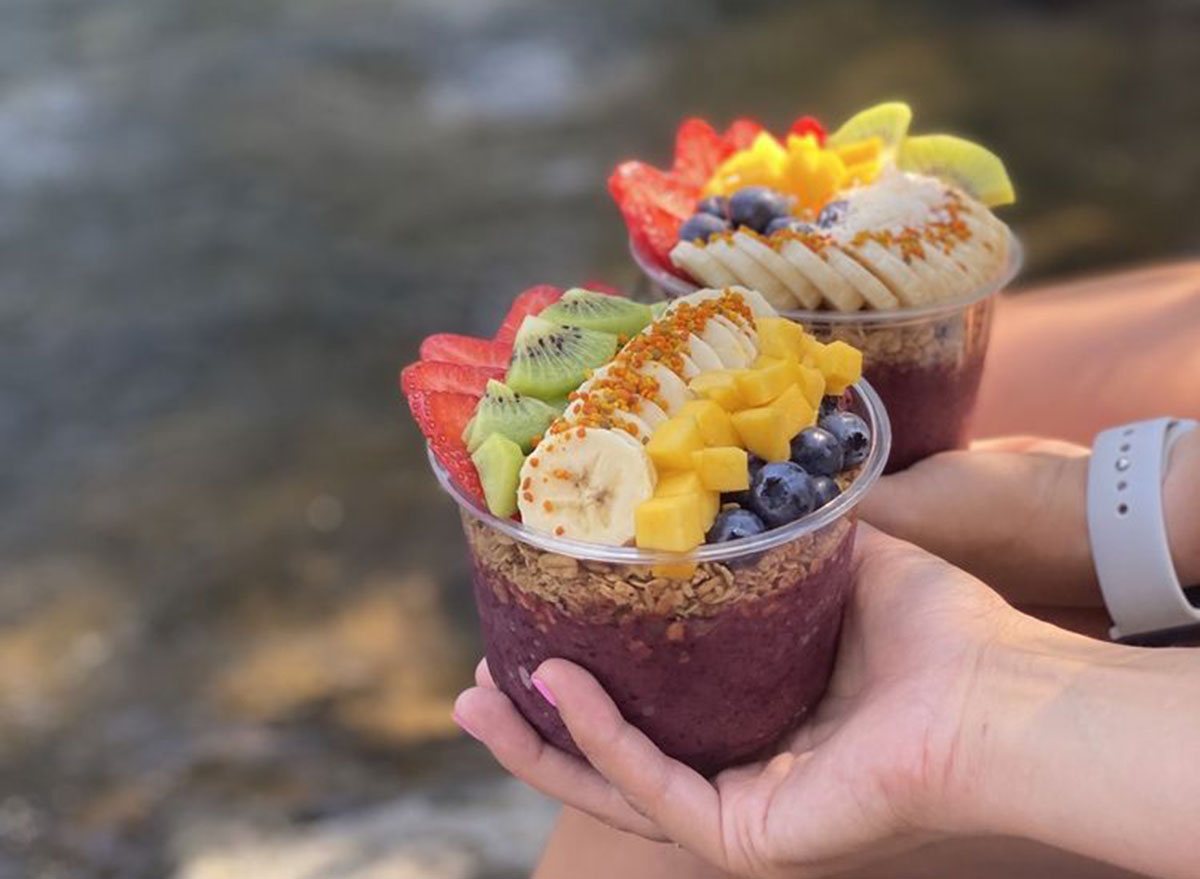 The base of these pretty Mountain Berry Bowls is a thick açaí smoothie blend. From there, you can go wild with fruit and other toppings. The Bowl Two comes with granola, banana, blueberry, almond butter, almond shavings and wildflower honey. But might we suggest you add the cacao nibs, too?
NEBRASKA: Tuna Tower from Blue Sushi Sake Grill in Omaha and Lincoln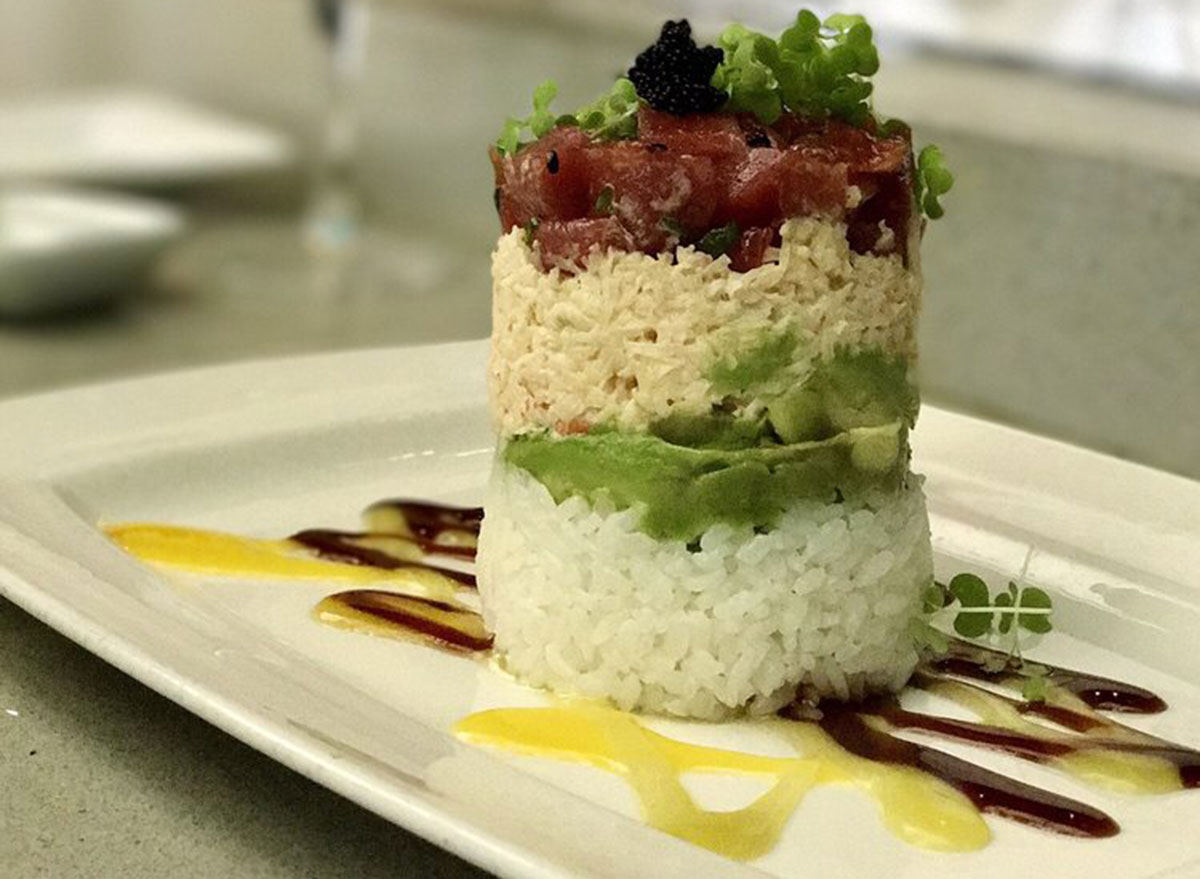 For fine dining at home, order the Tuna Tower from Blue Sushi Sake Grill. The restaurant will package the dish in a deconstructed manner so you can stack the layers at home for a seafood special that looks as good as it tastes. The tower features sesame and ponzu-marinated bigeye tuna, spicy crab mix, avocado, and sushi rice, topped with black tobiko and wasabi sprouts. It's served with honey wasabi, mango, and eel sauces.
NEVADA: Cherry Picker Pizza from Food + Drink in Reno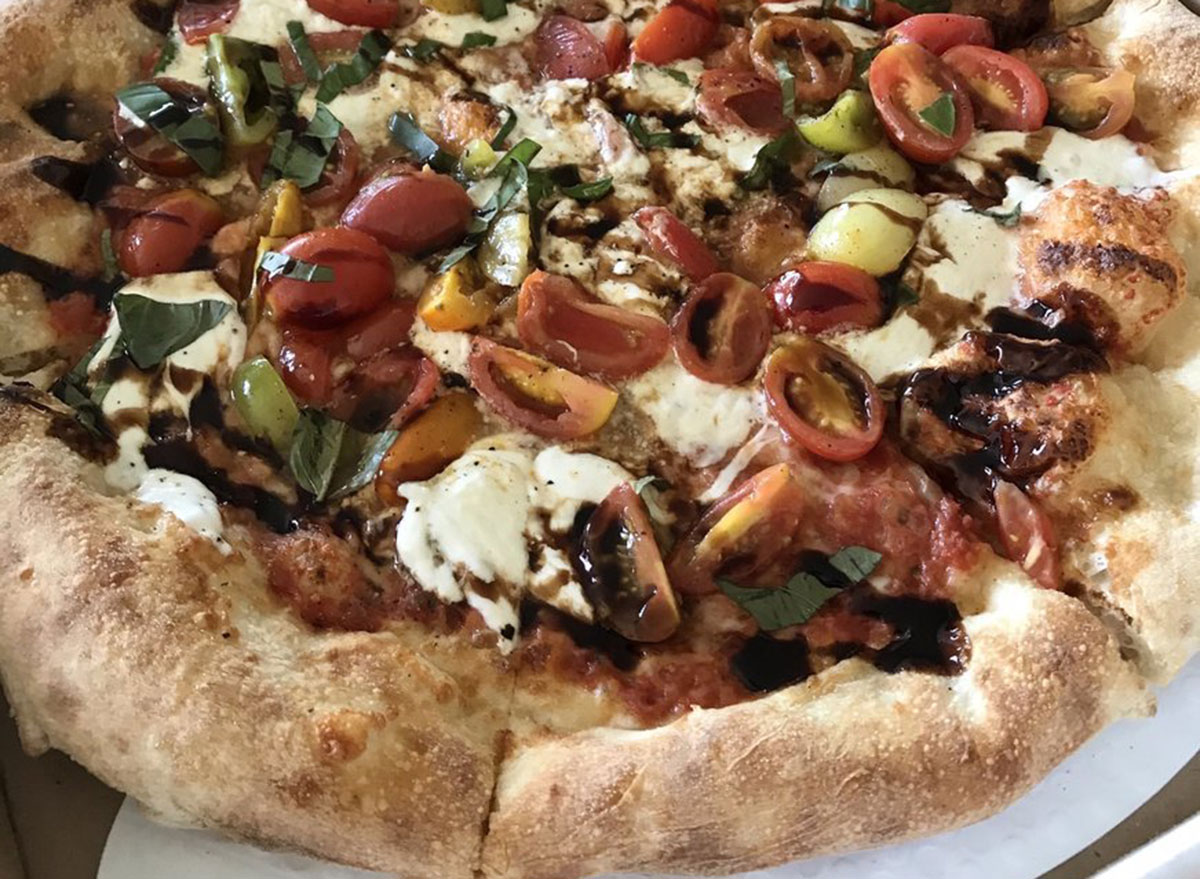 This pizza from Food + Drink is almost too pretty to eat. Almost. It's topped with a mozzarella, burrata, sautéed cherry tomatoes, fresh basil, and drizzled with a balsamic glaze.
NEW HAMPSHIRE: Seasonal Dishes at Black Trumpet in Portsmouth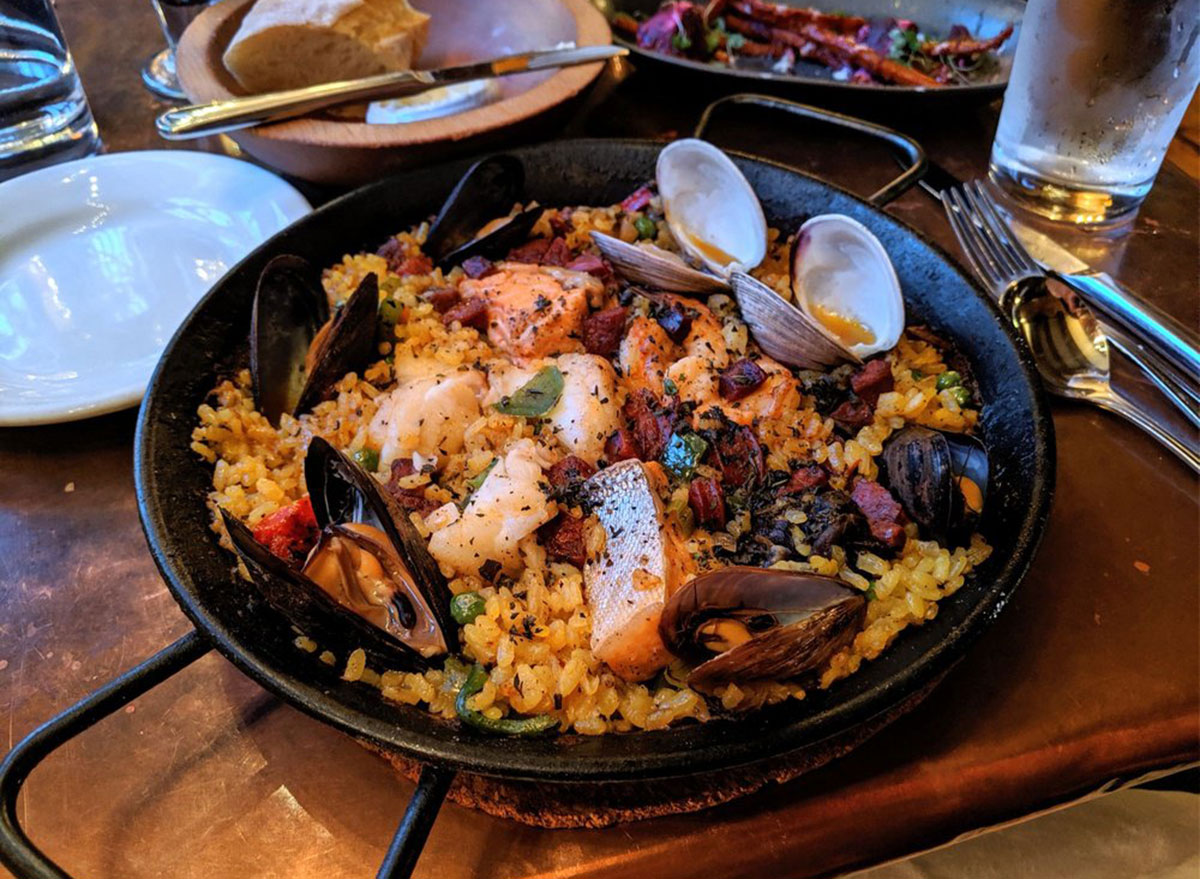 Black Trumpet's menu rotates often based on the seasonality of local ingredients. Cocktail kits for two are also on the takeout menu. Home chefs will appreciate that they can shop the bistro's spices and blends at Stock + Spice next door.
NEW JERSEY: Tacos from Mogo Korean Fusion Tacos in Asbury Park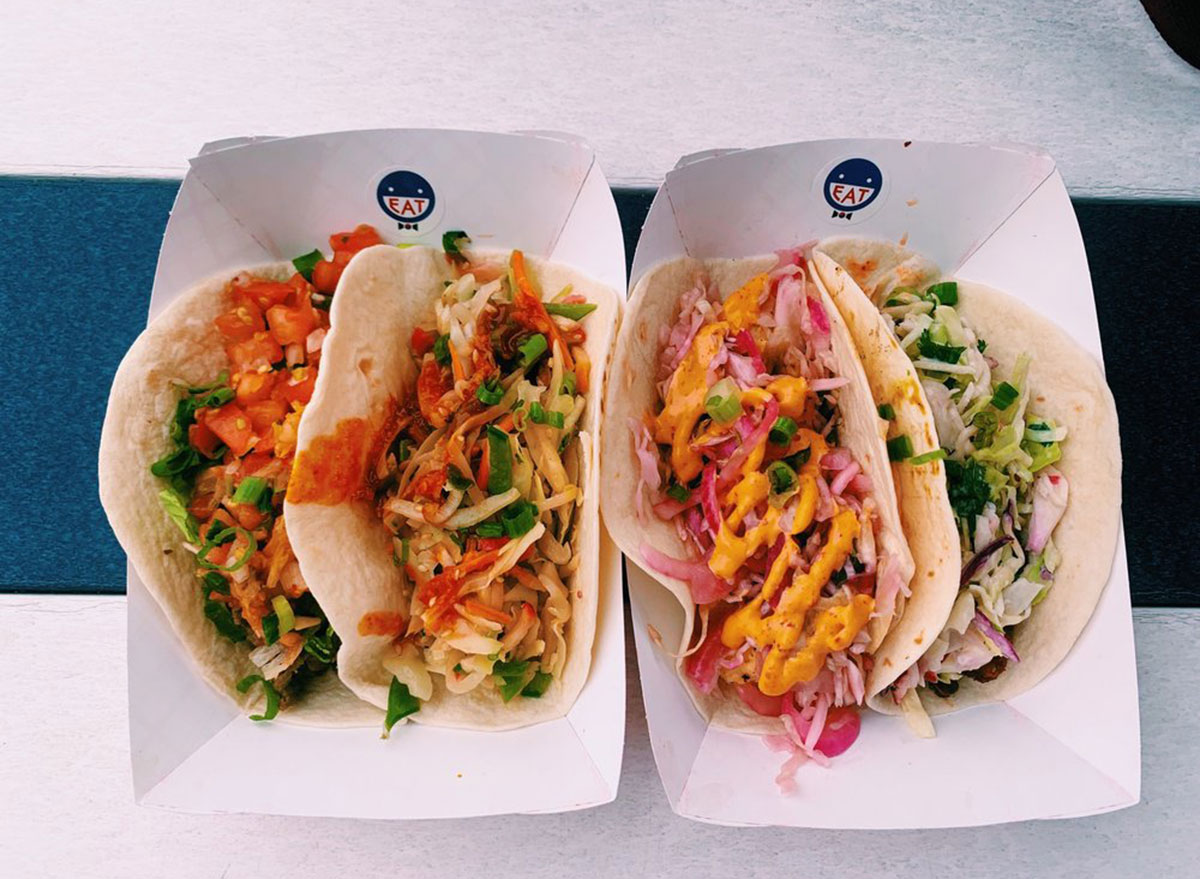 MOGO serves Korean-inspired tacos, burritos, and bowls in Asbury Park, a retro-cool beach community. No matter what you order, you need to add the homemade kimchi.
NEW MEXICO: Cook at Home Kits from Paper Dosa in Santa Fe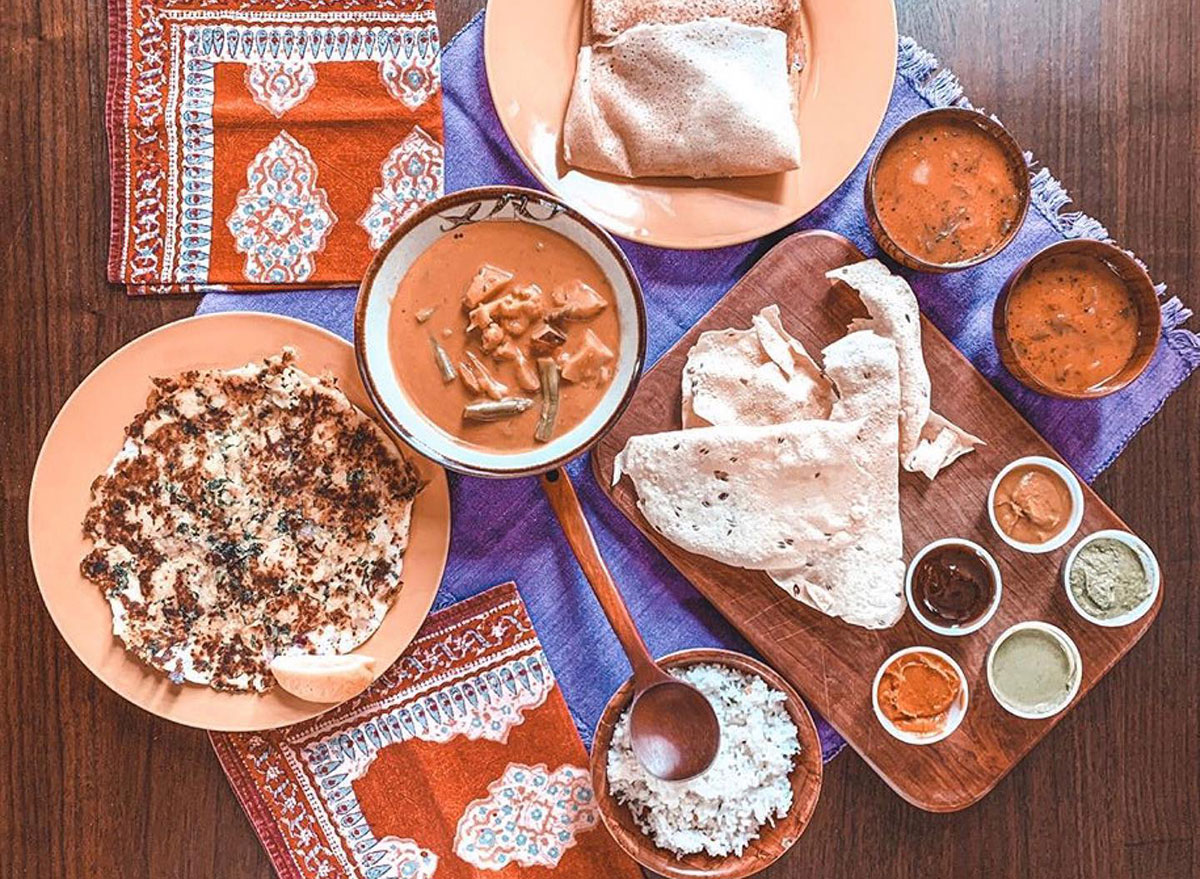 This South Indian restaurant in Santa Fe sells home kits that teach you how to make dosas and curries at home. The kits come with fresh, scratch-made Dosa Batter, and you can add on items like sambar, chutneys, or curry sauces. Paper Dosa has instructional videos and recipes to help along the way, too. Or, you can leave it to the pros and take dosa to go. One is filled with jack, cheddar, and New Mexico green chiles.
NEW YORK: Pad Thai at Thai Love NY in Syracuse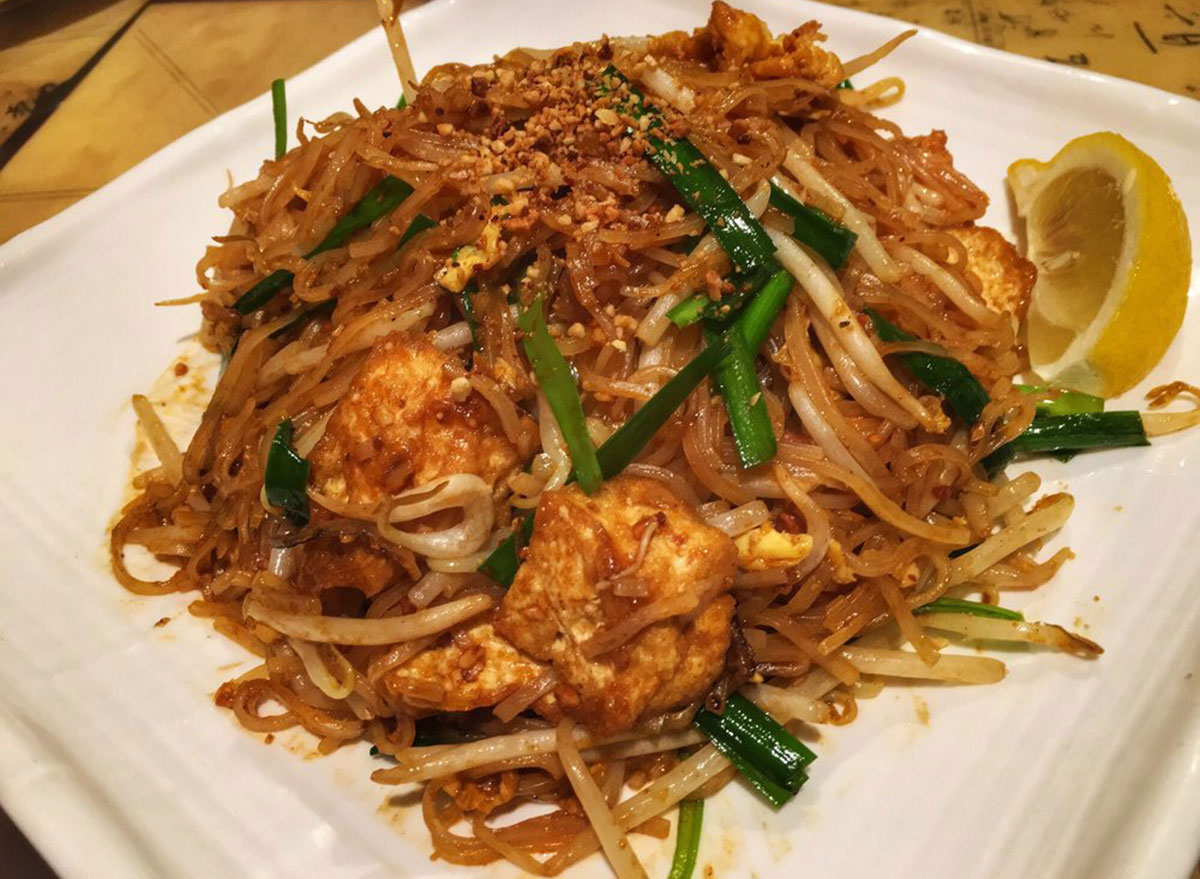 For best-in-town pad thai, head to Thai Love NY. With consistently good reviews, this Syracuse restaurant serving authentic Thai has a menu full of curries and stir-fries. Of course, there are delicious desserts like mango sticky rice that online reviewers rave about.
NORTH CAROLINA: Barbecue Sandwich Kit from Longleaf Swine in Raleigh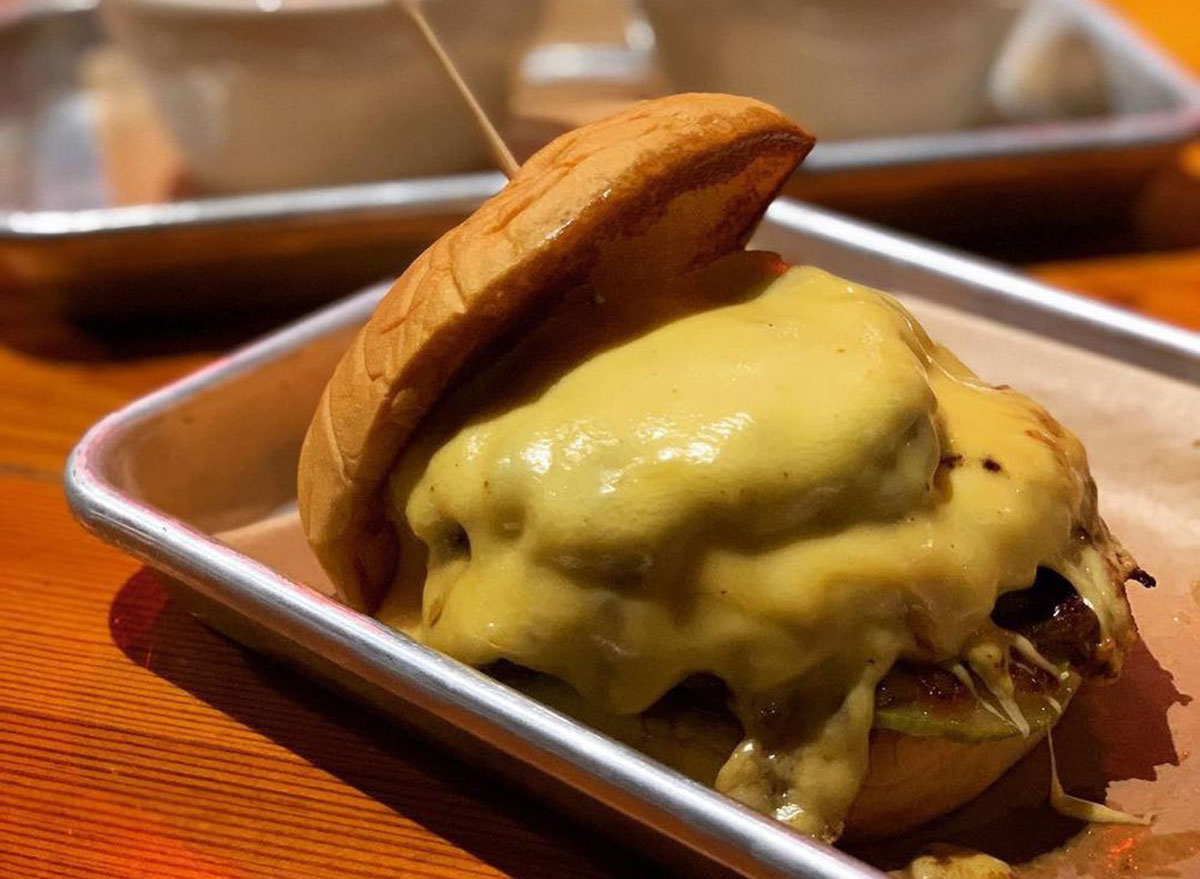 A whole hog BBQ outpost, Longleaf Swine's menu is a greatest hits list of barbecue dishes and sides. Pimento mac and cheese is an option—yum! The assemble-at-home barbecue sandwich kit comes with pulled pork, coleslaw, buns, and vinegar sauces. Plus, it ensures your buns don't get soggy from the sauce.
NORTH DAKOTA: Hippie Bowls from Pounds in Fargo
With a menu that looks like a poster from Woodstock, Pounds sells a variety of "Hippie Bowls" stocked full of coconut lime rice and root veggies. The Yin and Yang bowl has toasted sesame seeds, kimchi, avocado, and more.
OHIO: Home Dinners from Refectory in Columbus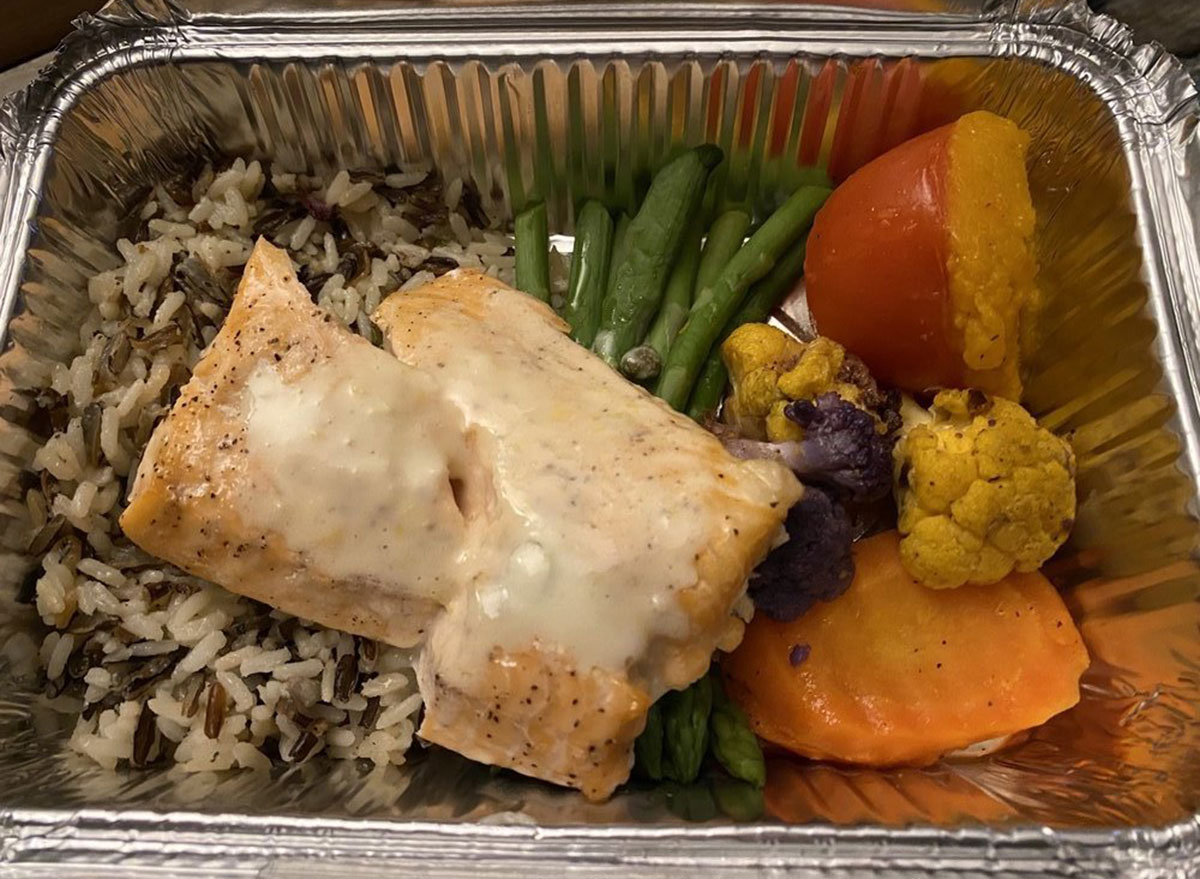 The Refectory, which is housed in a former church, serves classic French dishes and contemporary American fare. Amid the pandemic, the restaurant began offering three-course meals, with fully-cooked main dishes that can be reheated at home and topped with sauce to best replicate the in-person dining experience. The menus rotate, but can include dishes like pork shank or roasted salmon. To-go diners can add on wine or cocktail pairings, too.
OKLAHOMA: MOB Signature Burger from MOB Grill in Oklahoma City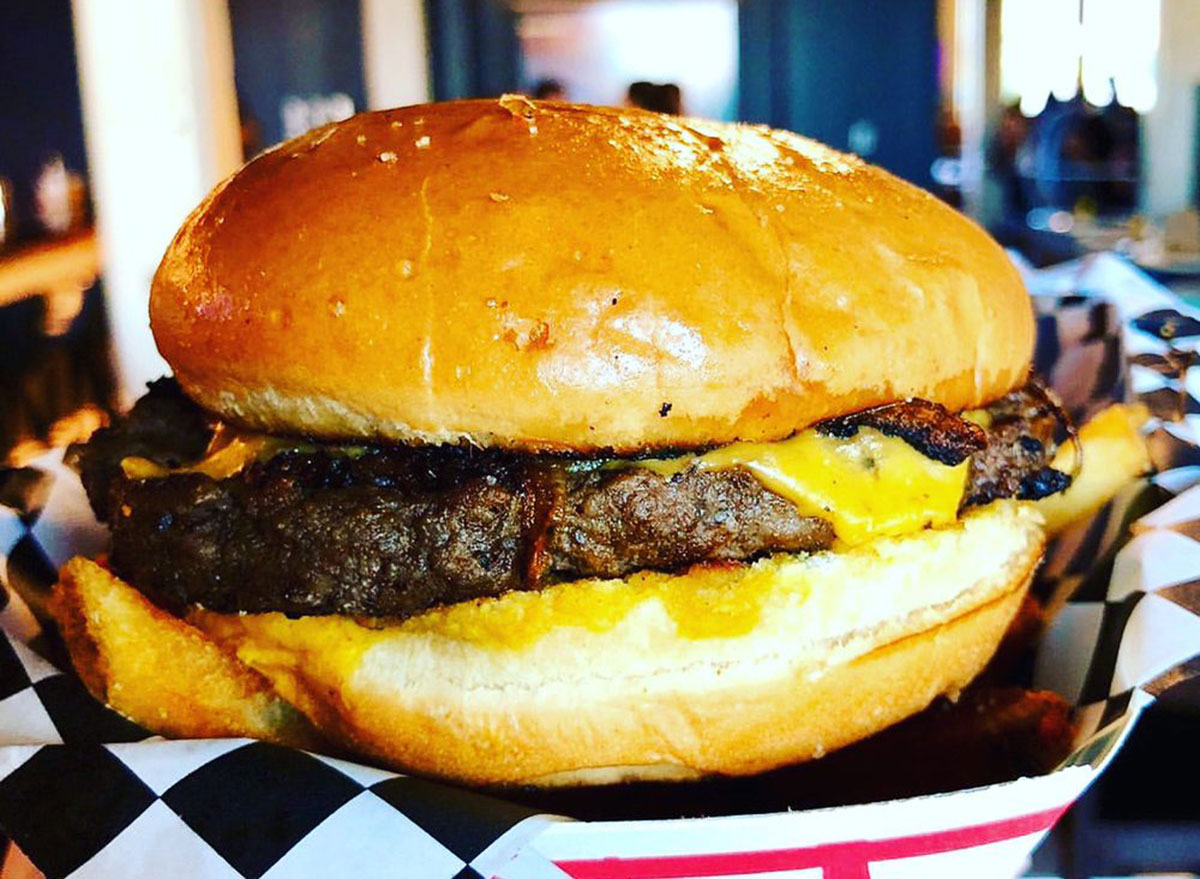 The burgers and fries at MOB Grill are regulars on "best of" lists. The marinated grilled onions that are piled on the MOB Signature Burger are made with a secret recipe, which feels on-brand with a mafia-themed burger joint.
OREGON: Ramen from Yuzu Shoyu from Afuri in Portland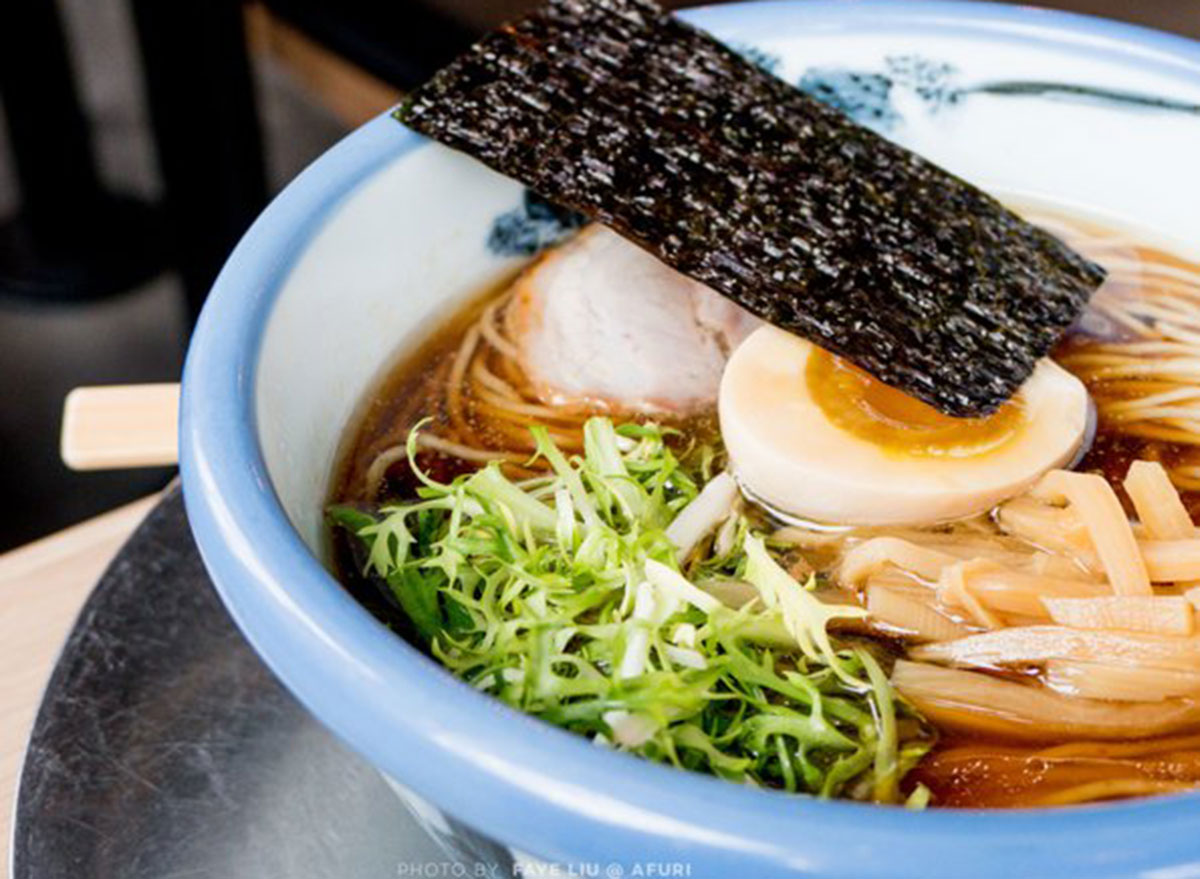 Afuri picked Portland for its first ramen and dumpling shop outside of Japan for a truly incredible reason. The geography of Mount Hood and the Portland ecosystem produces water that mirrors what is exactly used in Japan. How amazing is that? The ramen spot serves a specialty Yuzu (citrus) style ramen that's brimming with umami flavors.
PENNSYLVANIA: The Surfer from Catacombs in Mount Joy
Inspired by the old-school delis of Philly, Middle Child has a delicious lineup of sandwiches and an open invitation to hit them with your best one-liners. (Customers can roast the sandwich shop and Middle Child posts them on the shop's Instagram account @middlechildphiladelphia). The Surfer is one to order. It's a ciabatta sandwich made with turkey, swiss, blueberry-masala jam, arugula, and Duke's mayo.
RHODE ISLAND: Lobster Paella from Los Andes in Providence
Dishes like ceviche and paella are celebrated at Los Andes, a Peruvian and Bolivian restaurant. The Lobster Paella that's available to-go is one seafood lovers will love. It comes with 1 1/2 pound Maine Lobster, plus shrimp, squid, mussels, and littleneck clams. It's also stocked with chicken, pork chorizo, peas, and saffron rice.
SOUTH CAROLINA: Sweet Tea Chicken Biscuit from Toast all Day in Charleston
Make your own bottomless mimosas at home and enjoy a lazy brunch. Toast All Day serves low-country classics, including New Orleans-style beignets and shrimp and grits served with Carolina-ground grits. For a signature dish that works just as good for breakfast as it does dinner, sweet tea glazed fried chicken is sandwiched in a fluffy biscuit. You can order it with an egg and cheese, as well.
SOUTH DAKOTA: Naughty Fries Bread and Circus Sandwich Kitchen in Sioux Falls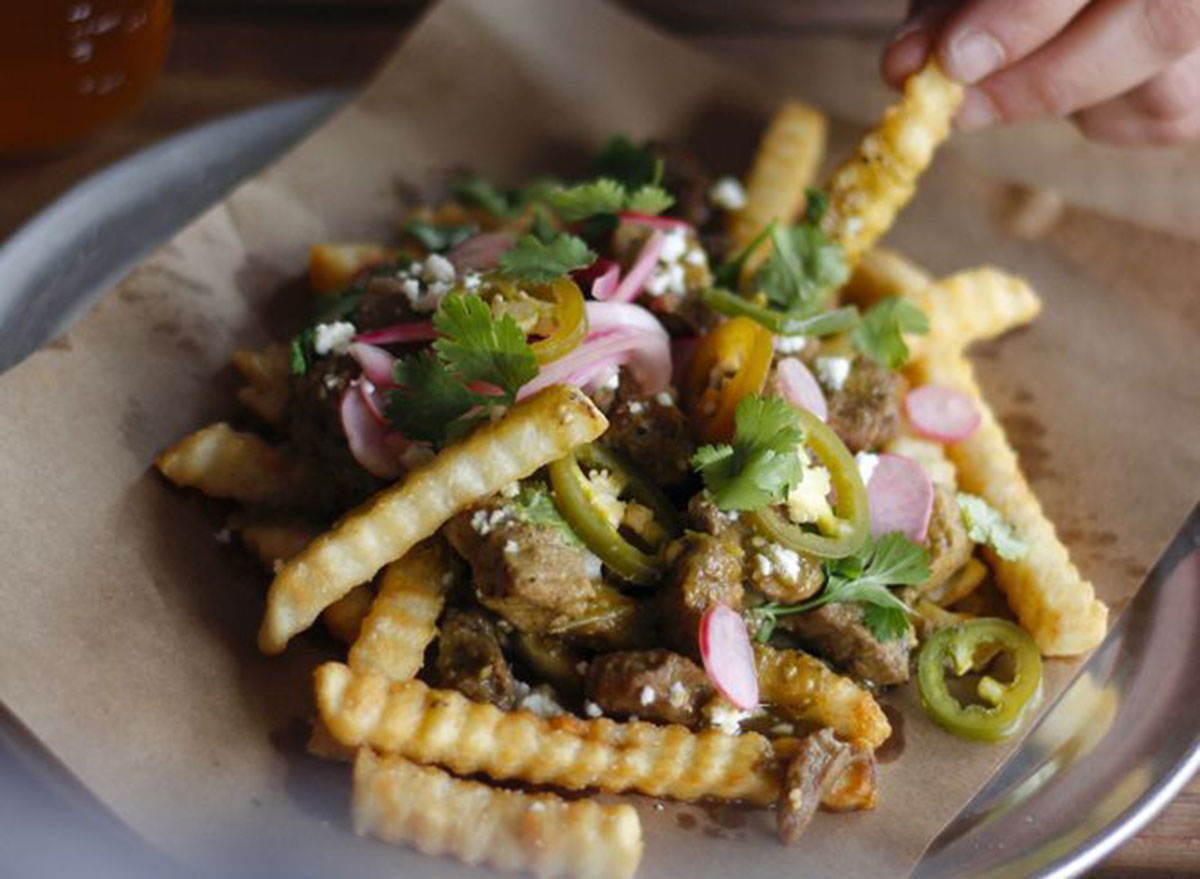 With Mediterranean-inspired pork belly gyros and Vietnamese fried chicken sandwiches, you can spin the globe with the cosmopolitan menu at Bread & Circus Sandwich Kitchen. The Naughty Fries are a hearty side dish or a meal. The crinkle-cut fries are loaded with pork chile verde, radish, cilantro, queso fresco, and taqueria pickles.
TEXAS: Chicken Fried Steak from Reata in Forth Worth
The Chicken Fried Steak at Reata has been a staple on the menu since this proudly Texas restaurant opened in 1995. When you get this quintessential Texas dish home, pour on a generous heap of cracked pepper cream gravy and dig in.
UTAH: Peruvian Chicken from Viva Chicken in St. George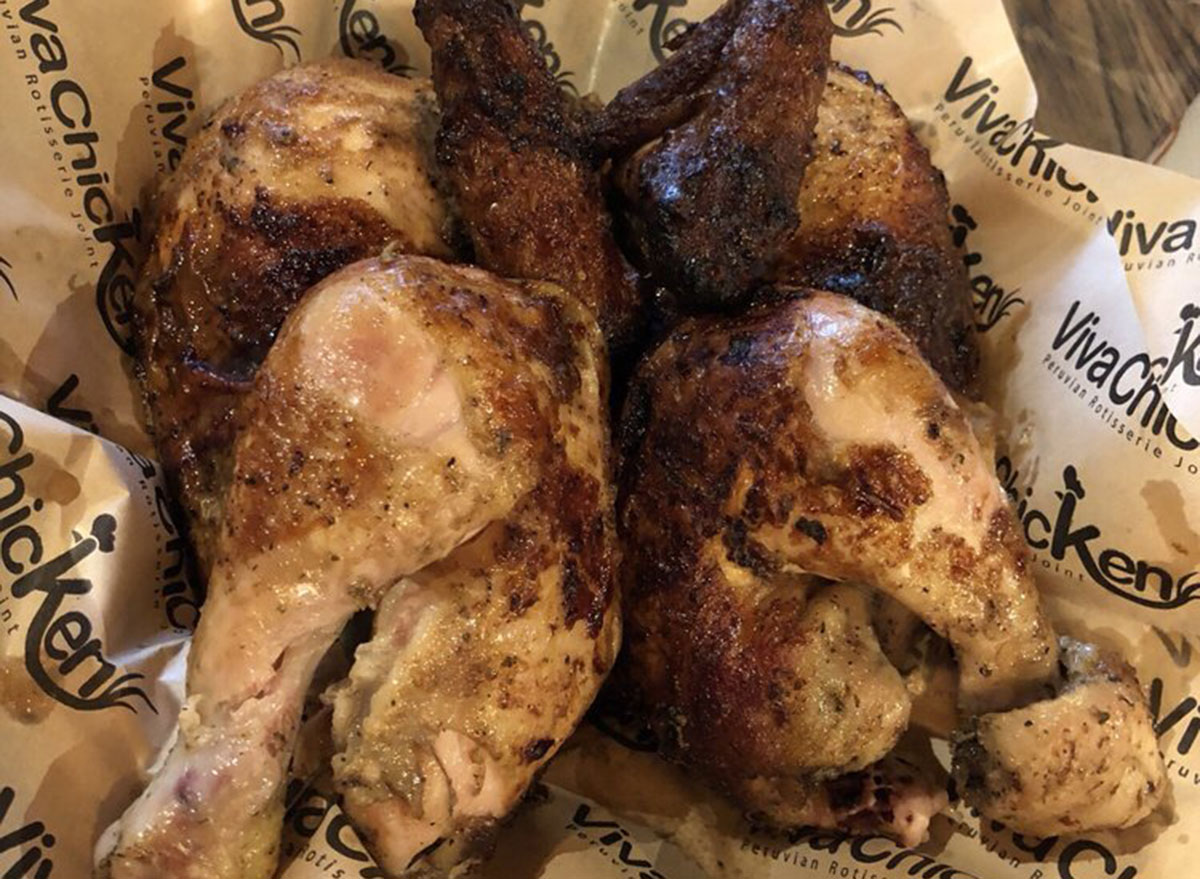 Southwest Utah may not be where you'd expect to find Peruvian chicken. But this fast-casual spot with a location in St. George delivers perfectly roasted chicken for wraps, saltados, and salads. Pair everything with Viva Chicken's signature sauces that range from mild to hot.
VERMONT: Pulled Pork and Mac n' Cheese from Vermont County Deli in Brattleboro
Located just off I-91, everything at this gourmet-to-go market is homemade, including the famous pulled pork and mac and cheese. Dished fresh from large cast-iron skillets, both items can be packed to go or made into a delicious sandwich. Homemade soups, potstickers, and salads from Vermont County Deli are perfect for a meal before hitting the slopes or trail.6254a4d1642c605c54bf1cab17d50f1e
VIRGINIA: Comfort Dog from My Mama's Kitchen in Norfolk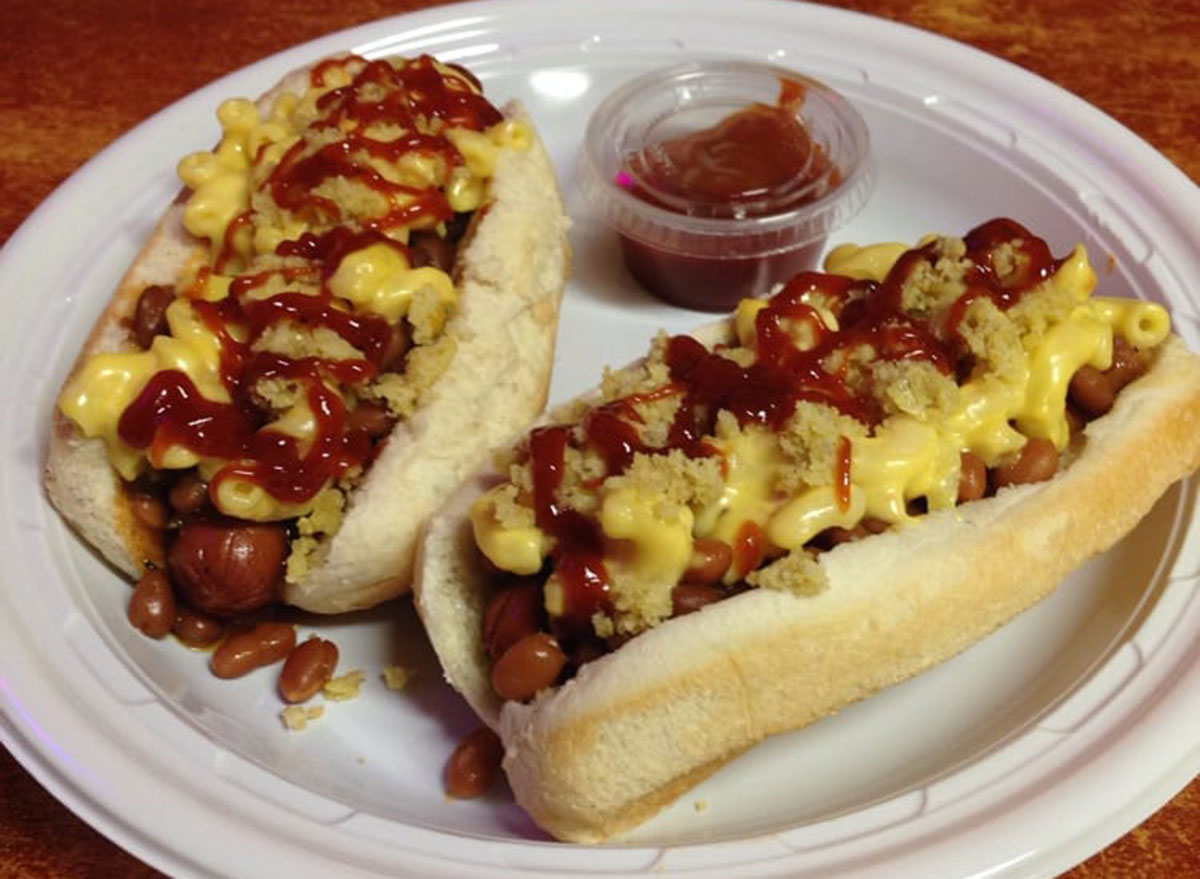 Comfort food has never been more relevant. The Comfort Dog from My Mama's Kitchen is a gourmet hot dog topped with classics like baked beans, mac, and cornbread crumbles. Forget ketchup; it's drizzled with barbecue sauce. Follow the restaurant on Facebook and see behind-the-scenes videos of chefs dancing in the kitchen.
WASHINGTON: Chorizo and Cheese Tamales from Frelard Tamales in Seattle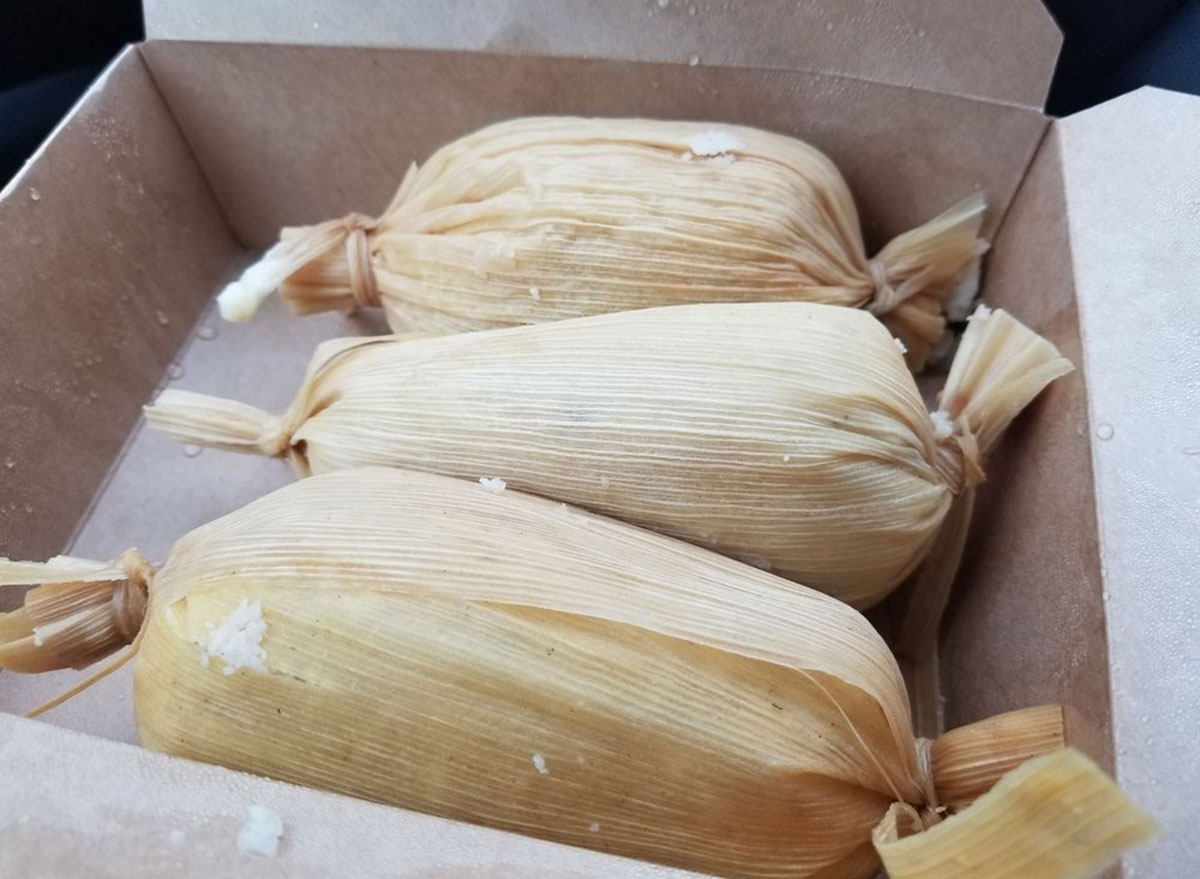 We've made Taco Tuesday a thing. How about Tamale Thursday? Using a family recipe from Puerto Vallarta, Frelard Tamales serves scratch-made steamed and frozen tamales you can take to-go. The cheesy, well-seasoned cheese and chorizo tamale sources pork from a local farm. Save room for a slice of tres leches cake!
WEST VIRGINIA: Fried Apple Biscuit from Tudor's Biscuit World in multiple locations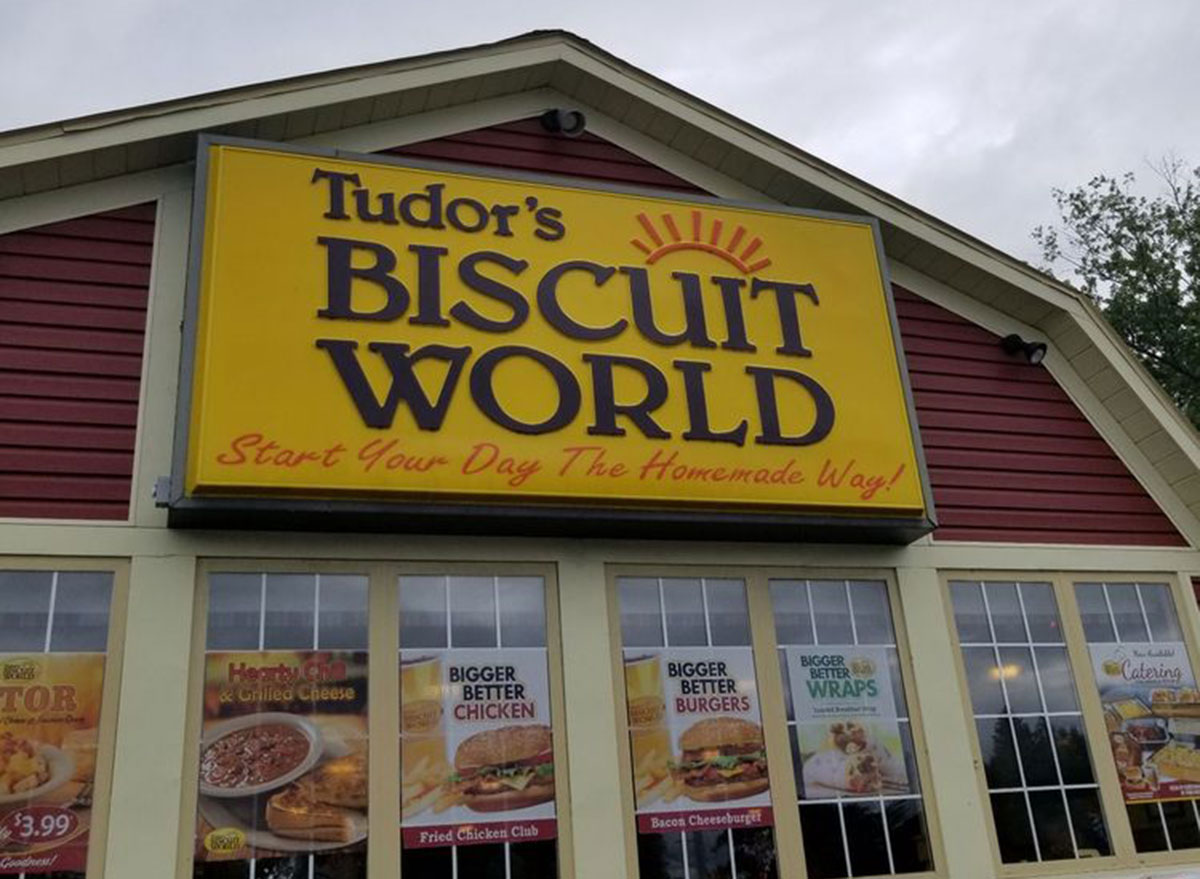 This West Virginia-founded fast-food chain is loved throughout the Mountaineer State, particularly for its fluffy biscuit sandwiches. The breakfast menu at Tudor's Biscuit World offers savory egg and cheese biscuits with bacon or country ham. But there's also a sweet rendition on the menu with fried apples sandwiched by the buttery biscuit.
WISCONSIN: Panang Curry from Curry in the Box in Madison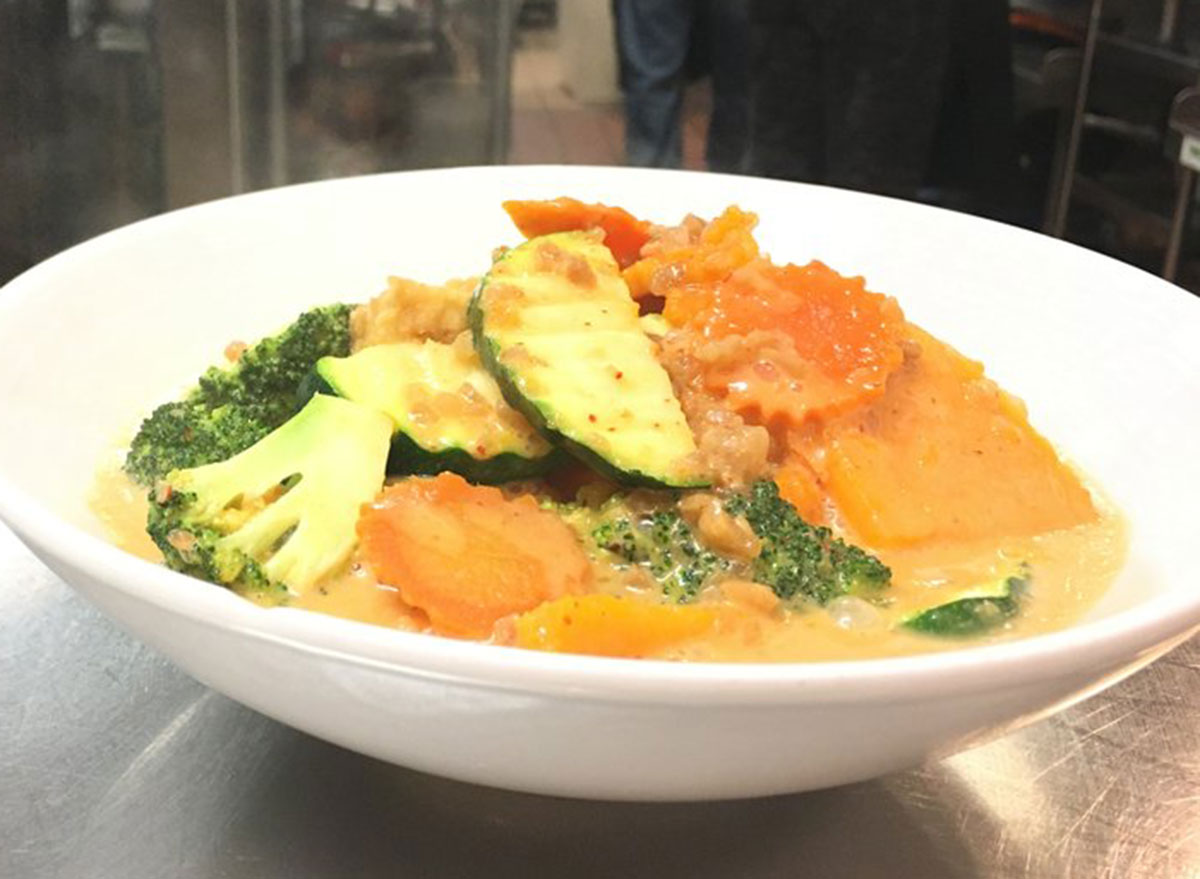 Take your pick from several different curry dishes, ranging from one with sweet potatoes to another with pineapple at Curry in the Box. Online reviewers swoon over the Panang Curry, which is served with a peanut sauce, zucchini, butternut squash, carrots, and broccoli. While curry is the star of the menu, the restaurant also serves noodle dishes, salads, spring rolls, and more.
WYOMING: Taco Pizza from Pizza on the Run in multiple locations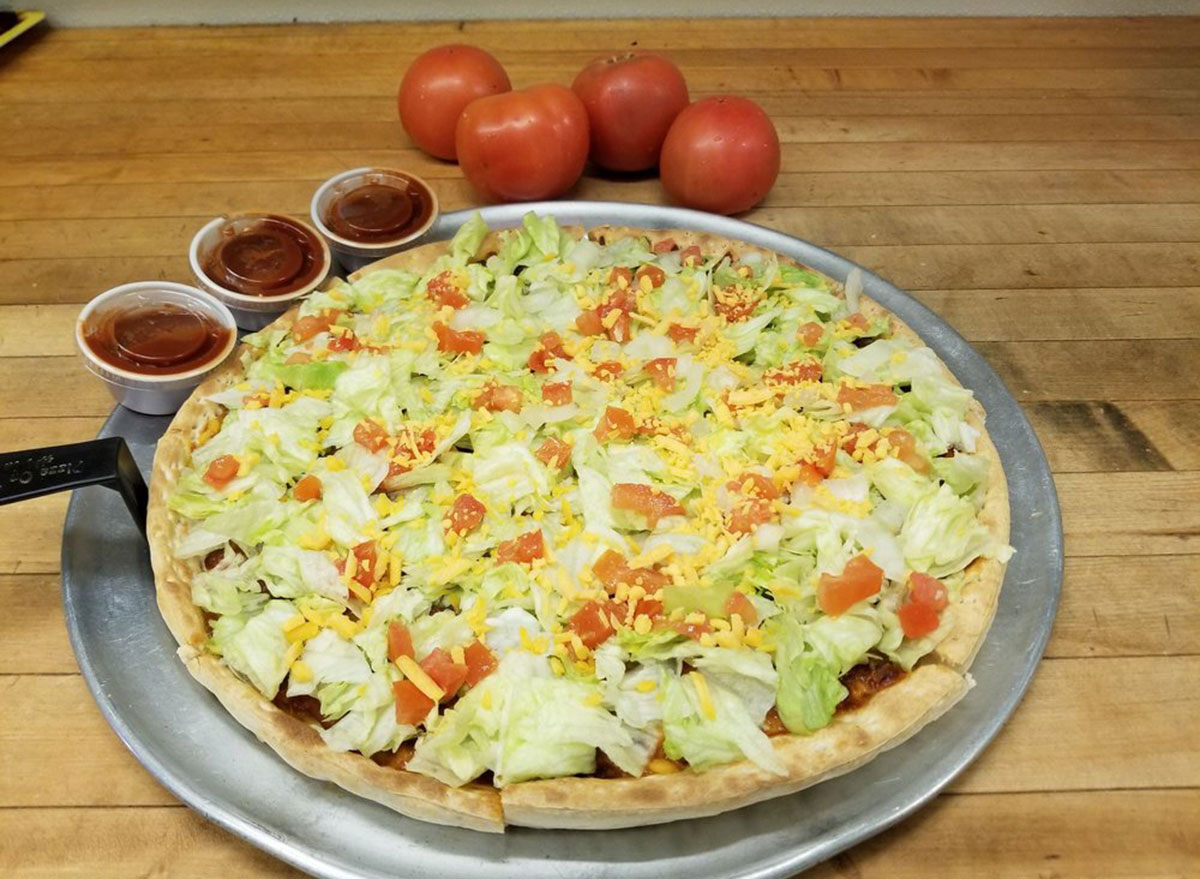 Half your family wants tacos and the other half wants pizza. The diplomatic solution is Taco Pizza from Pizza on the Run.
The specialty pizza is made with refried beans, ground beef, cheddar cheese and topped with lettuce, onions, and tomato. Salsa comes on the side. You can pick your pizza up or have it delivered in a decked-out "pizza ambulance."
From inventive pizzas to slow-smoked barbecue and global-inspired dishes, there's plenty of tasty takeout offered at restaurants throughout the United States.
Read more about your favorite restaurants across the country:
The Best Italian Restaurant in Every State
The Most Romantic Restaurant in Every State