42 Best Breakfasts After 40
These health-promoting breakfasts will be key to keeping your health in check as you move beyond your fourth decade.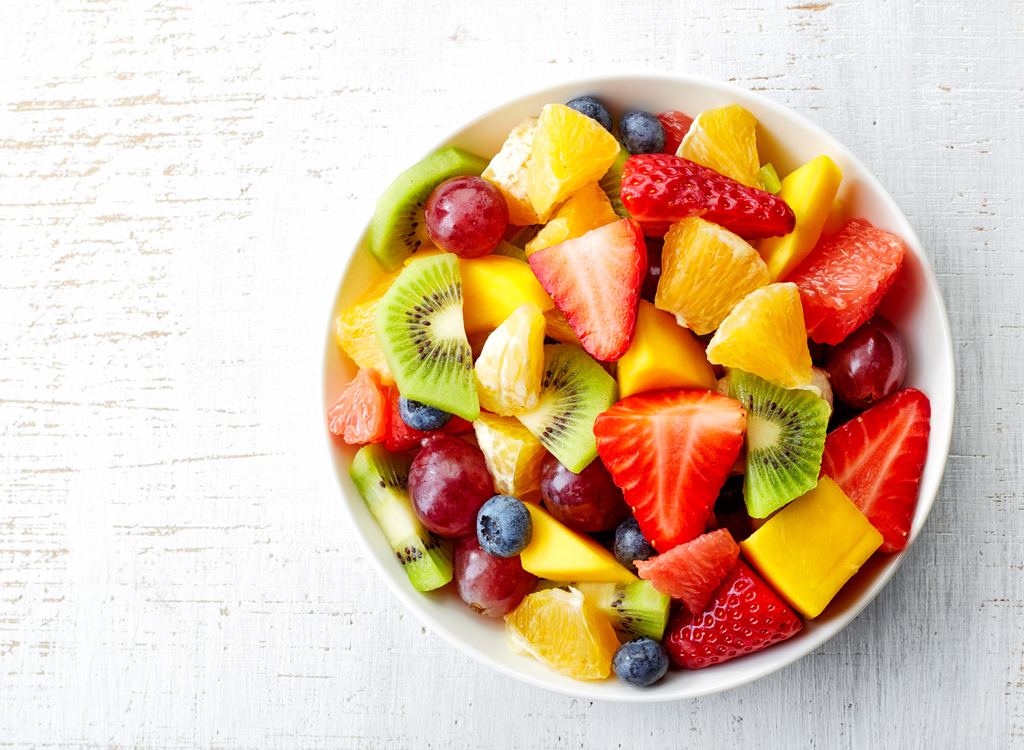 Ahh, 40. While it's a little sad saying goodbye to your thirties at first, you quickly realize just how great hitting the big 4-0 really is. Not only are you wiser, but you feel more put together, confident, and just in a better place overall. While you're feeling great mentally, it is time to start focusing on your physical health, too, and one big part of that is making sure you're eating the right kind of breakfast—as in a truly healthy breakfast.
According to a study published in the International Journal of Gastronomy and Food Science, "the decision about if and what to eat and drink at the start of the day has been shown to have some profound effects on our health, well-being, and cognitive performance"—so yeah, breakfast is pretty important. Maybe your body could handle a plate of bacon and eggs in your youth, but when you're older, you'll be feeling the effects of that fat and grease all day long.
Instead of indulging in options that don't benefit your health in any way, focus on making healthier choices first thing in the morning to ensure you keep your immune system strong, your energy levels up, and your body feeling as good as possible. That way, you won't just be feeling on top of the world now, but also into your 50s, 60s, and beyond. And for more, check out What Happens to Your Body When You Drink a Smoothie Every Day.
Avocado Toast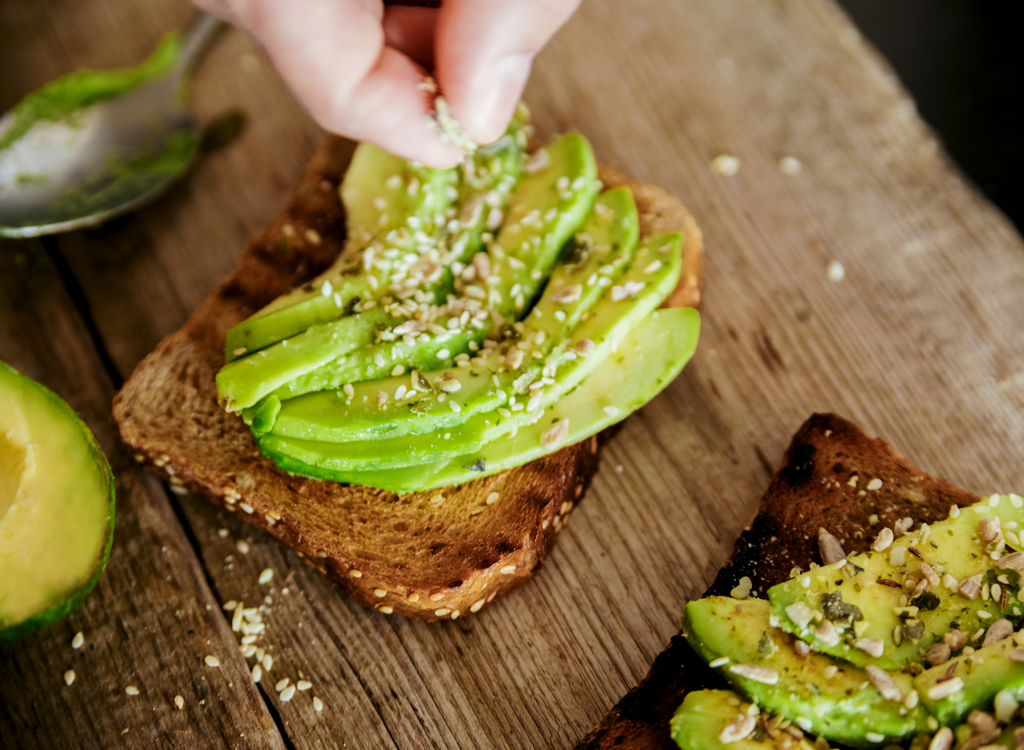 Go ahead and slather your toast with avocados on the regular. Past research has shown the creamy green fruit seriously benefits your well-being: It keeps your heart healthy due to lowering the amount of bad cholesterol in the body, keeps your weight in check, and slows down the aging process. Yep, it's a true triple-threat.
Chickpea Pancakes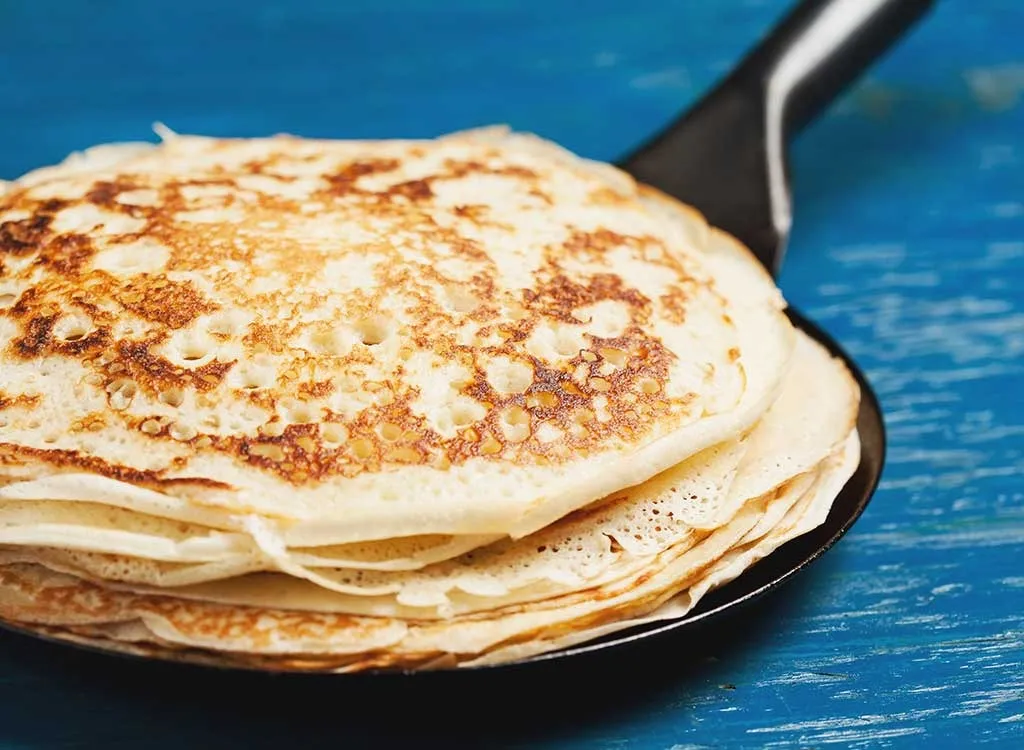 Instead of using white flour in your pancakes, up the health factor by swapping in some chickpea flour. Just a 1/2 cup has around 12 grams of filling protein and 10 grams of fiber—aka two things that will keep you full and satisfied until lunch rolls around.
Greek Yogurt With Pineapple, Kiwi, Mango, and Ginger Syrup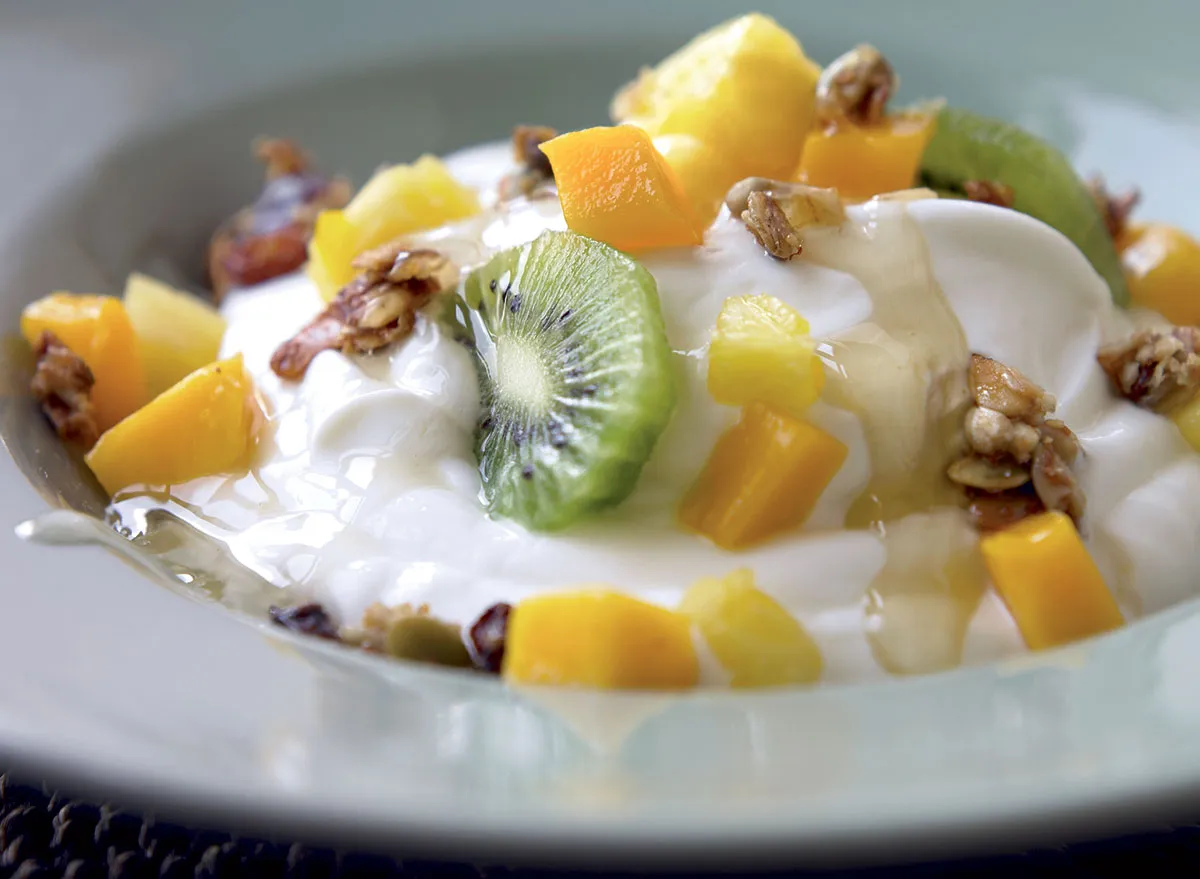 Most flavored yogurts are basically just a small step away from essentially being ice cream in terms of nutrition—there is tons of added sugar! So it's best to start your day with plain yogurt and then add flavor to it yourself. In this recipe, most of the sugar is naturally-occurring from the fruits that is paired with the spicy-sweet ginger syrup. And ginger has tons of health benefits ranging from aiding in digestion and even helping fight against cancer.
Energy Balls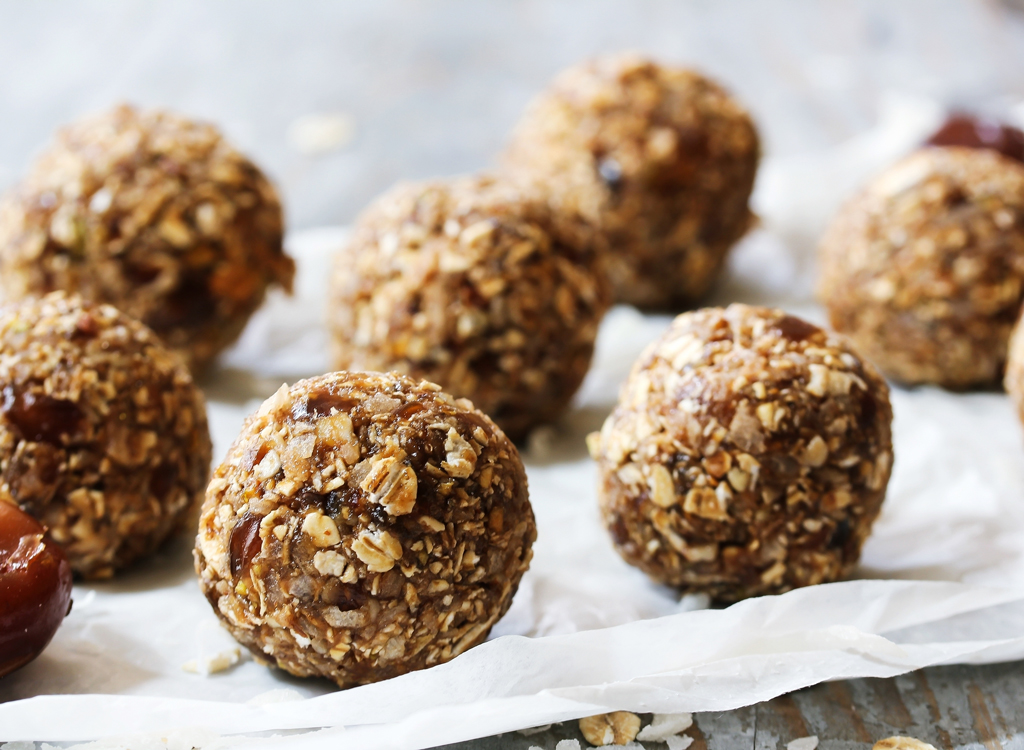 Anyone who typically finds themselves eating on the go—you know, in the car on the way to work!—needs some energy balls in their lives. Using a base of sweet, fiber-filled Medjool dates to keep things together, toss in some of your favorite nuts and seeds, which will provide you with a slow release of energy to help you through your morning. After pulsing everything in a food processor and rolling the mix into balls, stick 'em in the fridge overnight and you'll have a portable treat ready to go when you wake up.
Tofu Scramble
6254a4d1642c605c54bf1cab17d50f1e
Who needs eggs when you can create a delicious scramble out of tofu? While one egg yolk contains 200 mg of cholesterol—which can increase your risk of heart disease, says Harvard University—tofu contains zero. Plus, the plant-based version will give you plenty of protein, too: one cup contains 20 grams alone.
Breakfast Pizza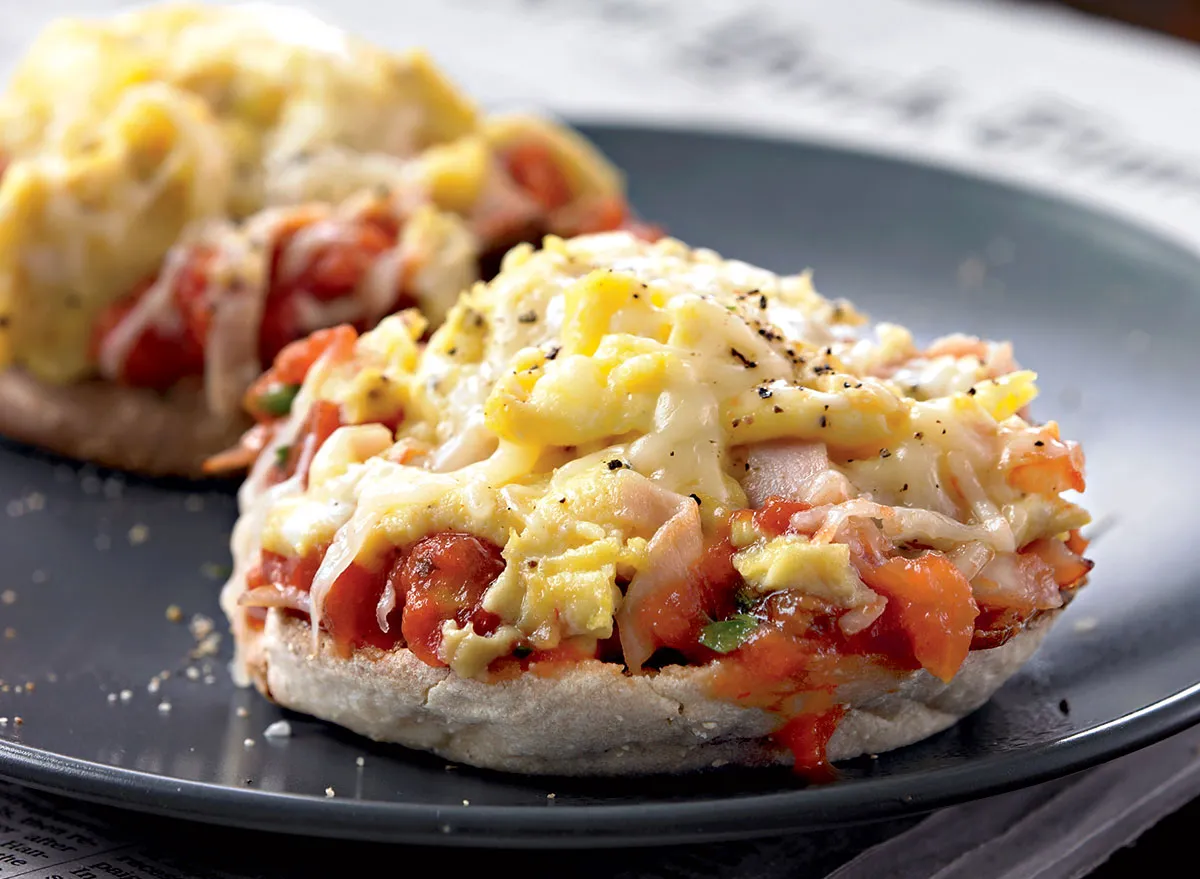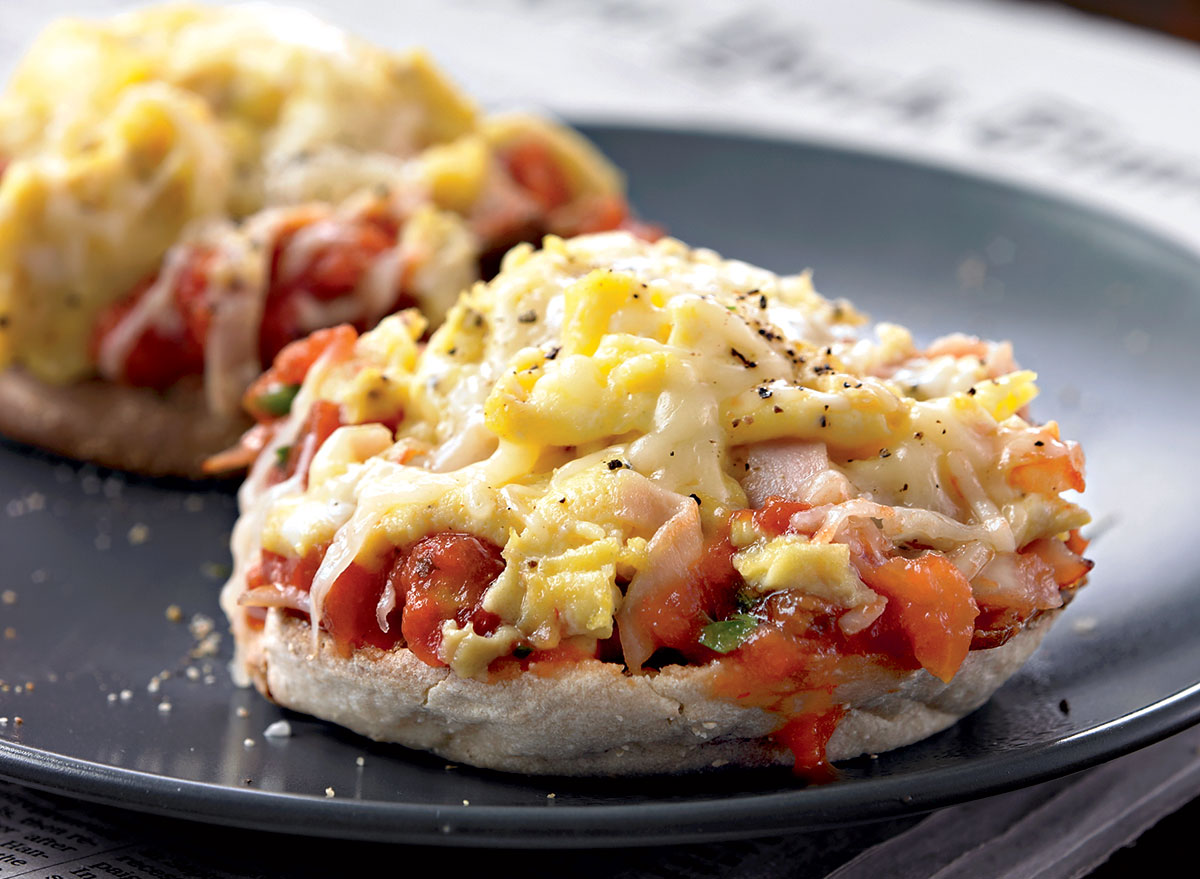 No matter how old you are, those pizza cravings still hit you. A way to get your pizza fix is by having it for breakfast with our recipe. Take some of that leftover tofu scramble and add it on top of a whole-wheat English muffin—as your base, use salsa as your sauce, and some cheese for extra flavor.
Hummus on English Muffins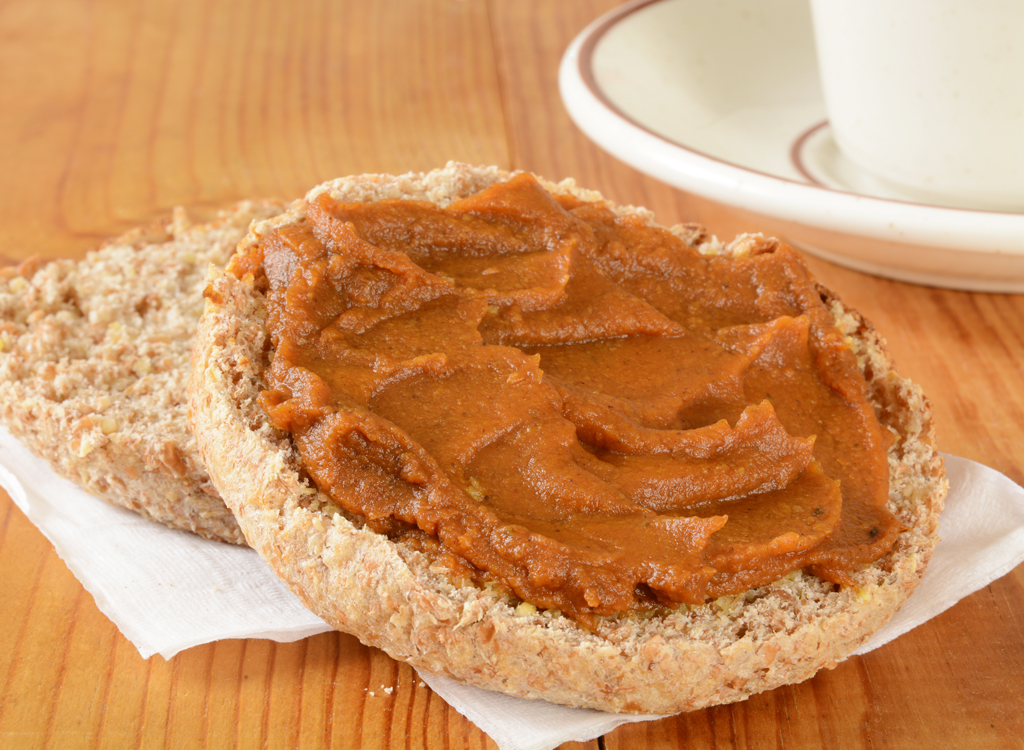 Ditch the toast and start your day with some whole-grain English muffins. By topping them with some creamy hummus—which contains a high amount of protein from its prime ingredient, chickpeas—and piling up some tomatoes, spinach, and other veggies, you'll have a combo that's sure to satisfy your taste buds and your body.
Looking for more helpful tips? Sign up for our newsletter to get daily recipes and food news in your inbox!
Homemade Granola Bars
While store-bought granola bars are typically loaded with sugar and weird preservatives, you can make your own using dates, oats, and plenty of nuts and seeds—aka a much healthier combo. Plus, another perk: Instead of spending big bucks on fancy brands, you'll be eating better and saving money.
Fruit Salad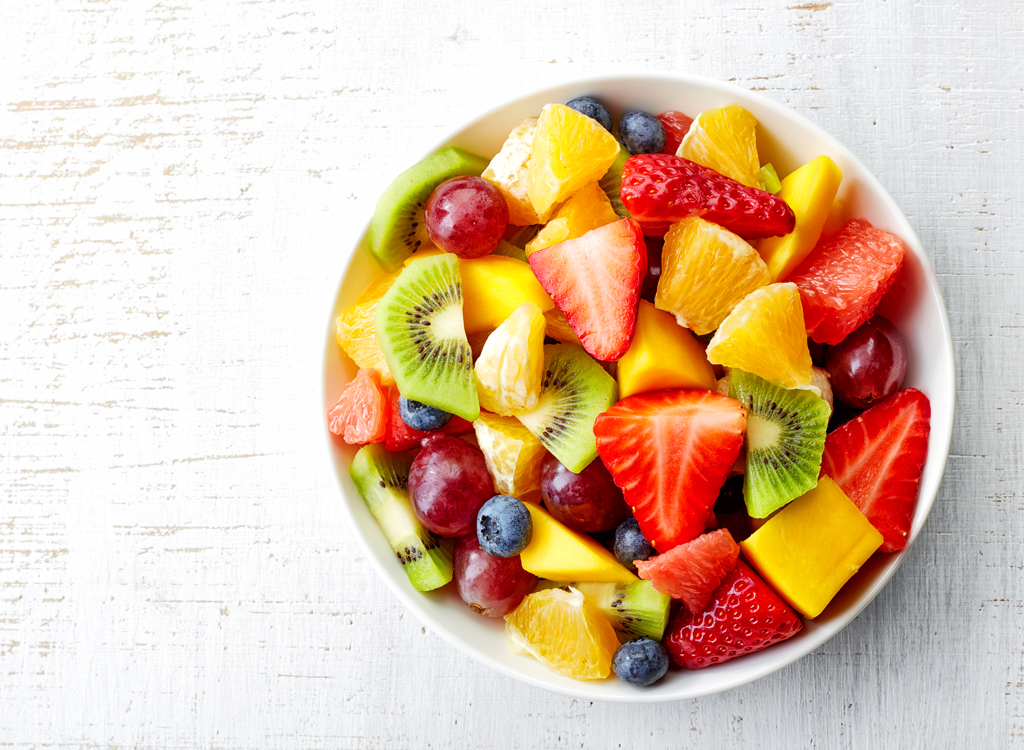 Breakfast doesn't have to be complicated. Keep things simple by putting together a bowl of some of your favorite fruits, making it as colorful—and vitamin-packed!—as possible. For some of the most nutrient-dense options, add in some vitamin C-loaded pineapple, antioxidant-filled blueberries, and pomegranates, which have been shown to help decrease the risk of cancer.
Nice Cream
Ice cream for breakfast? Don't mind if you do. All that it takes to whip up some healthy "nice" cream to start your day with is a couple bananas and a splash of almond milk. Blend up the mixture, and toss in a little raw cacao for a boost of body-protecting antioxidants.
Oatmeal Waffles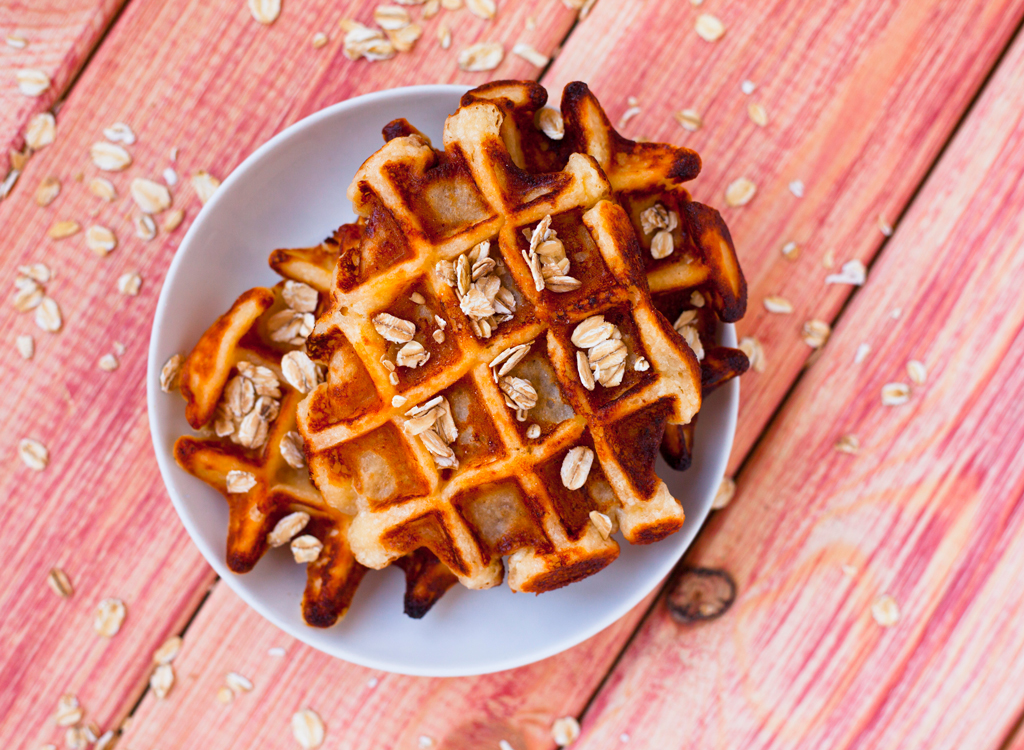 Get the waffle iron out and create a hearty—and healthy!—breakfast option using none other than oats. Not only are they naturally gluten-free, but the fiber-rich food has also been shown to reduce your risk of heart disease, keep your blood sugar in check, and even help you lose weight, according to Harvard University.
Breakfast Sandwich
Instead of packing your breakfast sandwich with saturated-fat-heavy cheese and fatty sausage and bacon, go for a lighter choice that will benefit your health. Between the two halves of a whole grain English muffin, load up on avocado, spinach, and tomato. It'll hit the spot and won't make your stomach hurt. Score!
Sweet Potato Breakfast Hash
While the typical hash brown dish is full of oil and fat, chopping up some sweet potatoes and sautéing them with some onion, spinach, tomatoes, and other veggies will give you a healthy and hearty meal to start your day with.
Tofu Omelet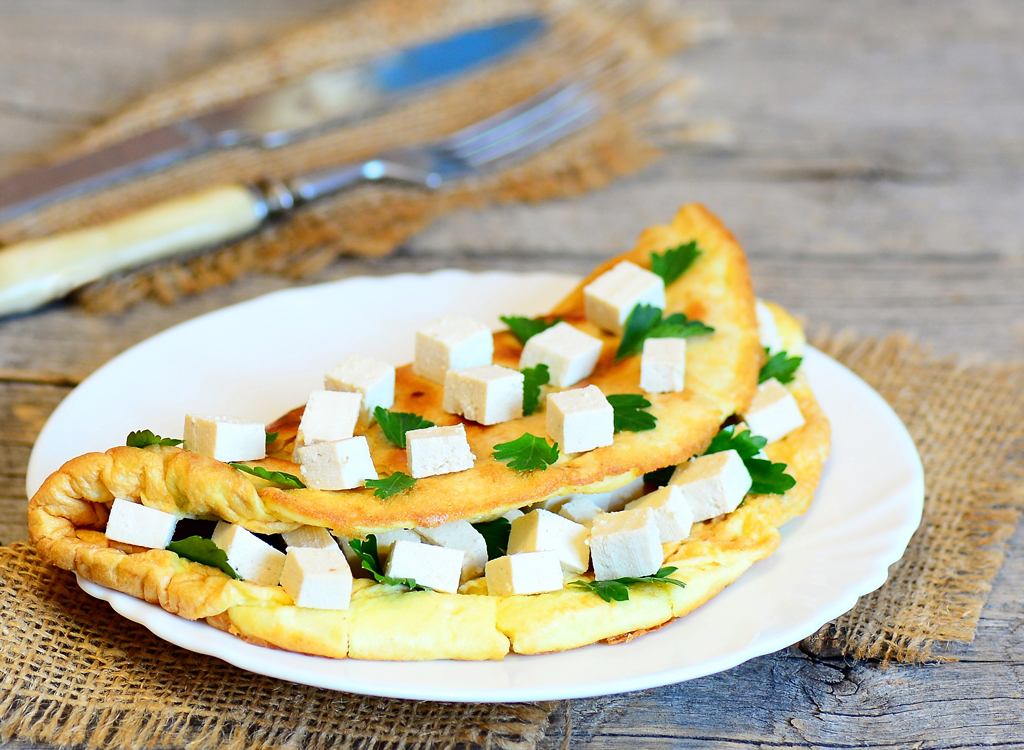 A scramble isn't the only thing you can make with tofu. You can create a delicious omelet, too—and pile in plenty of vitamin-packed veggies (like mushrooms, spinach, and onions!) while you're at it. Just make sure to choose red onions over white to help kick cancer to the curb: a study published in the journal Food Research found the high amounts of anthocyanin they contain—which gives them their darker color—have impressive cancer-fighting powers.
Chia Seed Pudding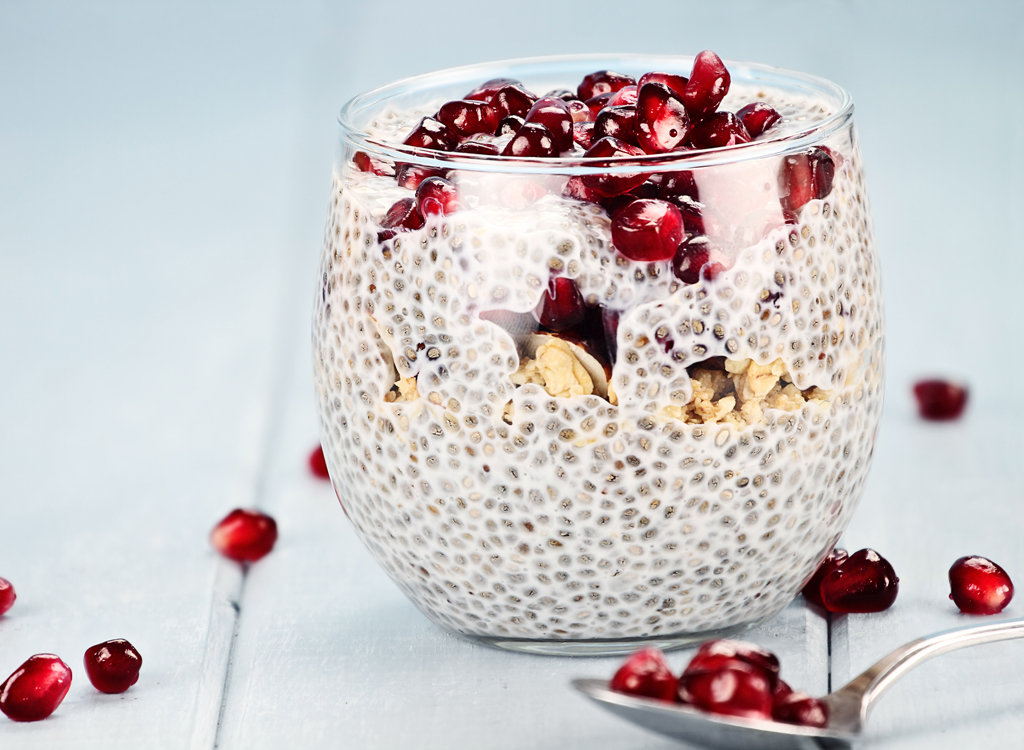 Chia seeds only used to be known for their sprouting powers on Chia Pets, but today the superfood is being gobbled up for its crazy-impressive health benefits. Just 2 Tbsp of the antioxidant-packed seed contains 5 grams of protein, 10 grams of fiber, and loads of calcium, iron, and magnesium. To make a delicious chia pudding for breakfast, combine 1/4 cup of the expanding seeds with a cup of almond milk and keep it in the fridge overnight. In the morning, top it with some nuts and berries and it's all ready to eat.
Sweet Potato Toast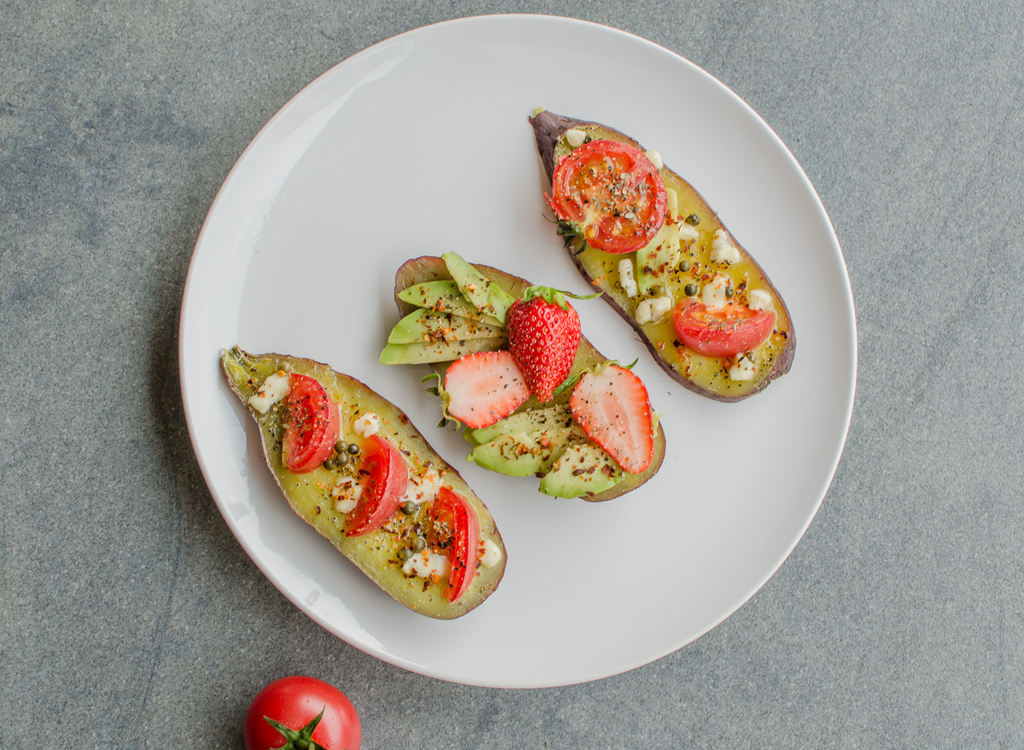 Instead of having plain ol' toast on bread, slice up a sweet potato. The spud is incredibly rich in vitamin A in the form of beta-carotene, as well as antioxidants, and research has shown eating them on the regular could help decrease your risk of cancer.
French Toast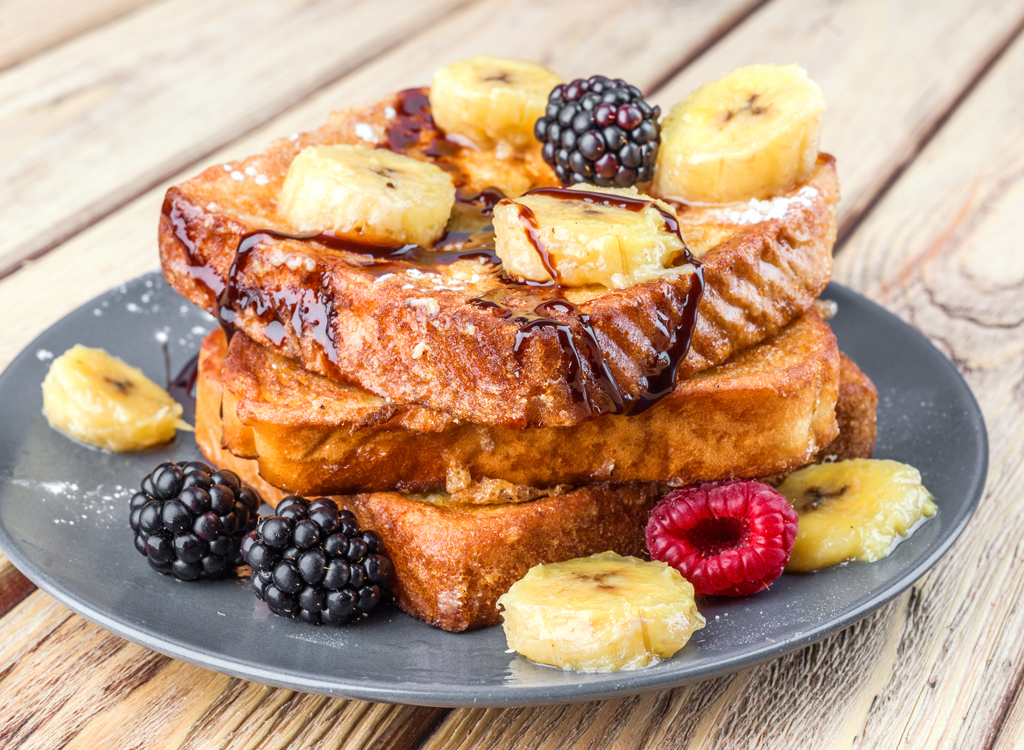 French toast is a breakfast staple—but it's not typically the healthiest. For a cleaned-up version that's full of body-boosting benefits, skip the egg batter and instead create a mix using bananas and soy milk. Since bananas contain prebiotics, eating them will help benefit your gut—plus, research shows they also contain compounds that can boost your performance in the gym.
Rice Cake with Peanut Butter
It's easy to up your intake of healthy grains when you have rice cakes on hand. Grab the ones made from brown rice and spread on some peanut butter to take in a little healthy fat along with those filling carbs. Peanut butter can also help lower your risk of death and reduce your risk of type 2 diabetes. Just be wary when you buy a jar and make sure you get an option that doesn't contain any added sugar.
Granola with Coconut Yogurt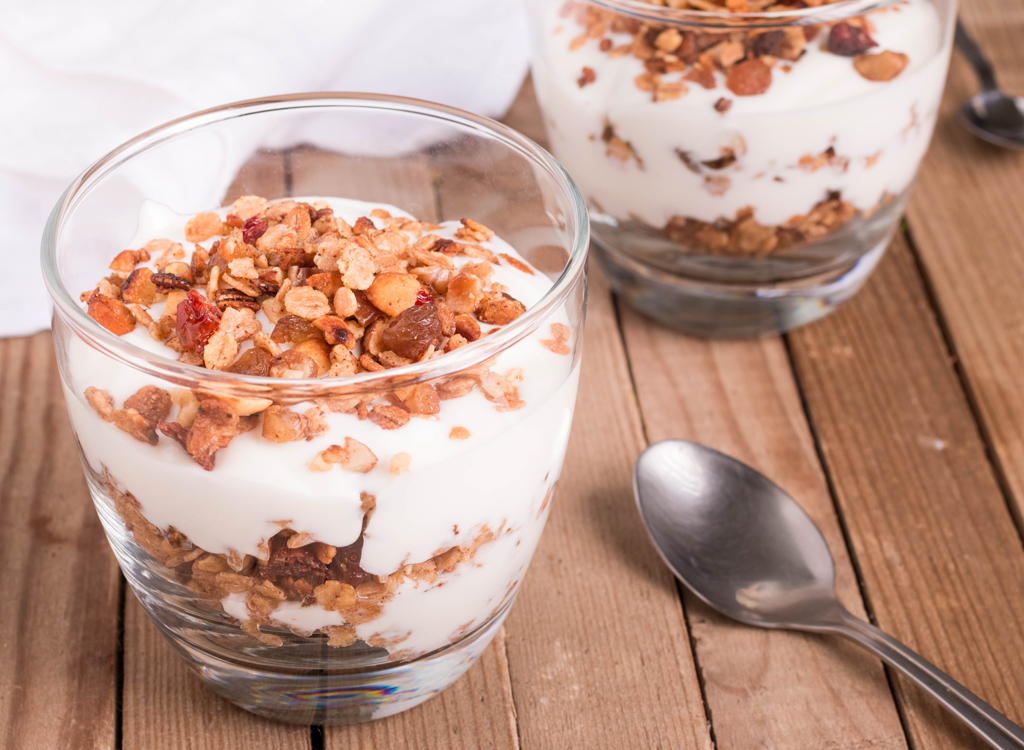 One of the easiest breakfasts you can whip up when you're in a rush is topping some homemade granola on some coconut yogurt. Because it doesn't contain dairy—which can cause inflammation—you'll keep your gut happy all day long.
Green Smoothie
There's no better way to up your daily intake of fruit and veggies than tossing a bunch into your morning smoothie. For an extra-healthy lineup, combine a handful of spinach, some kale, a green apple, and pineapple. It makes for a pretty sweet way to start your day with plenty of body-benefiting vitamins and nutrients, including vitamin A from all those greens—something that benefits your vision, immune system, and reproduction.
Breakfast Tacos
Tacos are totally acceptable to eat first thing in the morning. To create a mix that will fuel you throughout your day, fill some whole grain tortillas with leftover tofu scramble and black beans for a dose of plant-based protein, avocado, and chopped potatoes. One study found eating at least one serving of legumes a day—which includes beans—can help protect you from heart disease due to lowering your levels of bad cholesterol.
Cauliflower Hash Browns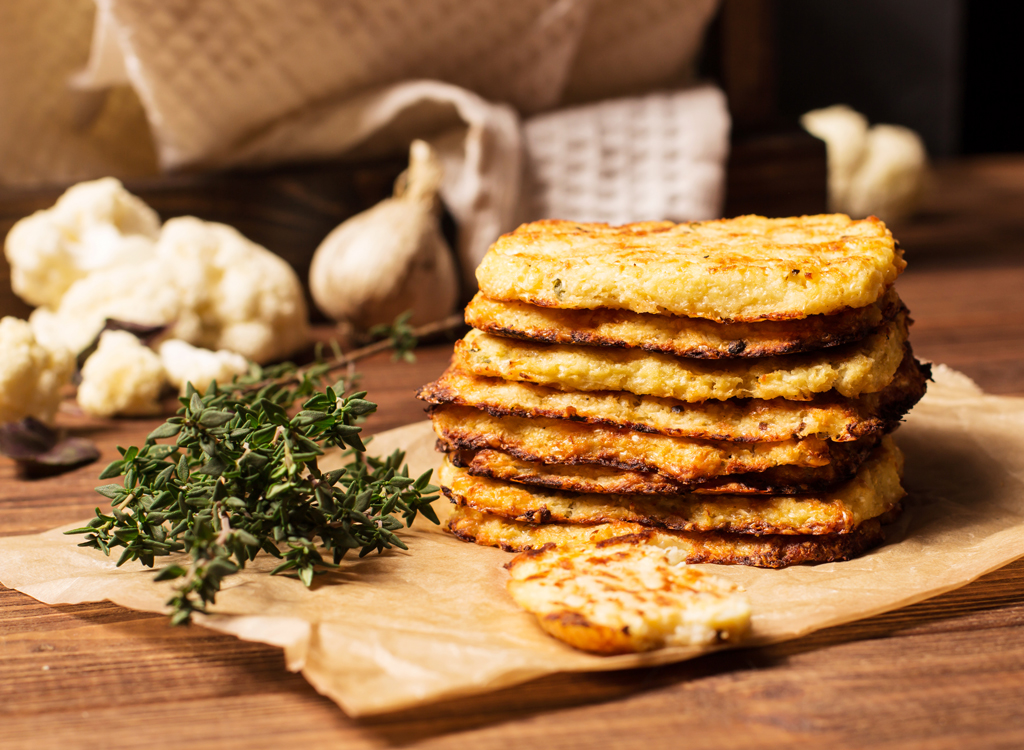 Eating greasy hash browns is just asking for a stomach ache, but making your own with one secret—and totally unexpected!—ingredient can give you the same great taste, all while doing your health some good. Instead of deep-frying potatoes, create a low-carb baked version with cauliflower and chickpea flour, like in this recipe from Healthier Steps.
Overnight Oats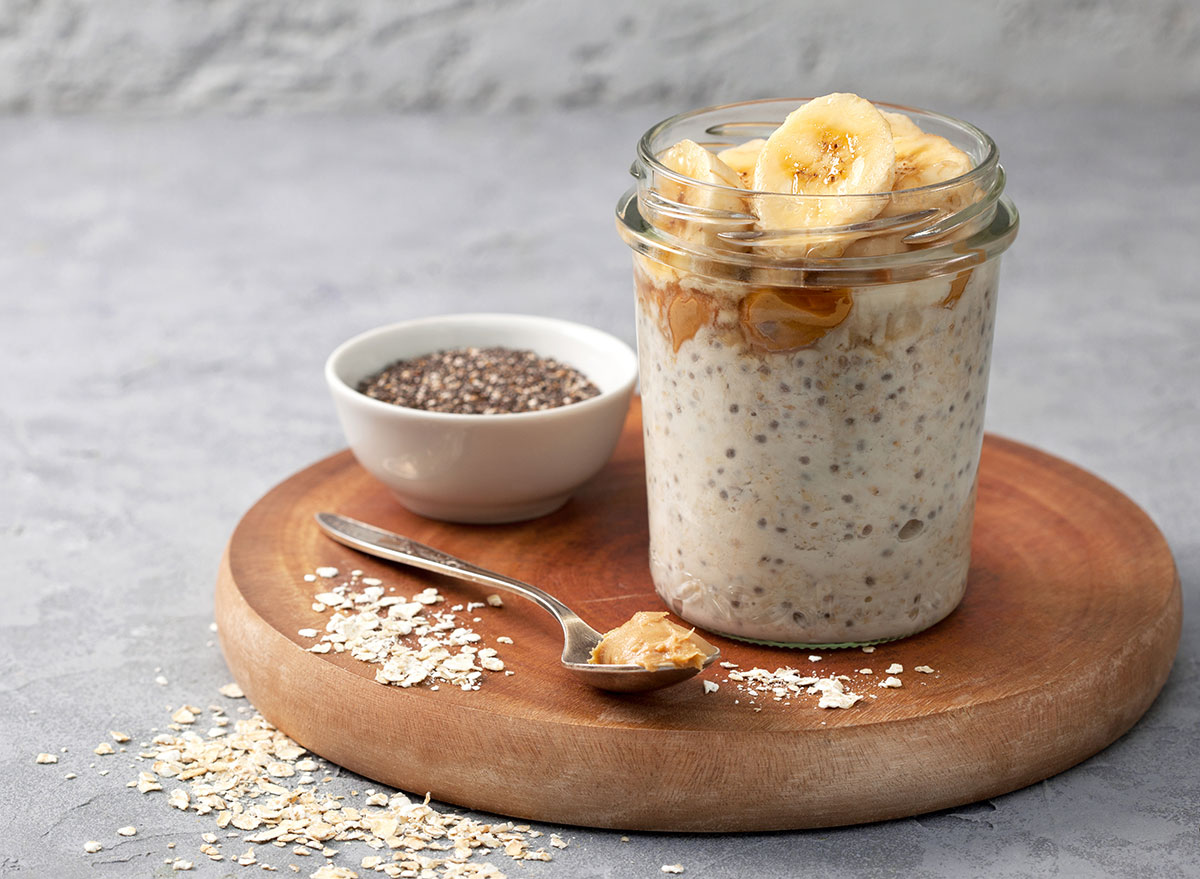 If your mornings tend to be a little crazy, overnight oats will become your BFF. Before bed, put 1/2 cup of the fiber-packed breakfast staple into a Mason jar with 1/2 cup soy or nut milk, then in the morning, it'll be ready to eat. For an extra boost, sprinkle some walnuts on top, which will give you a heart-healthy dose of omega-3 fatty acids.
Oatmeal with Blueberries
Whipping up a bowl of oatmeal in the morning isn't just great for keeping your heart healthy. According to Harvard University, it also keeps your digestion on track due to all the fiber it contains—about 4 grams a cup, which is thought to be even more effective at keeping your bowels on track than fruit and veggies. And that's sayin' a lot.
Protein Balls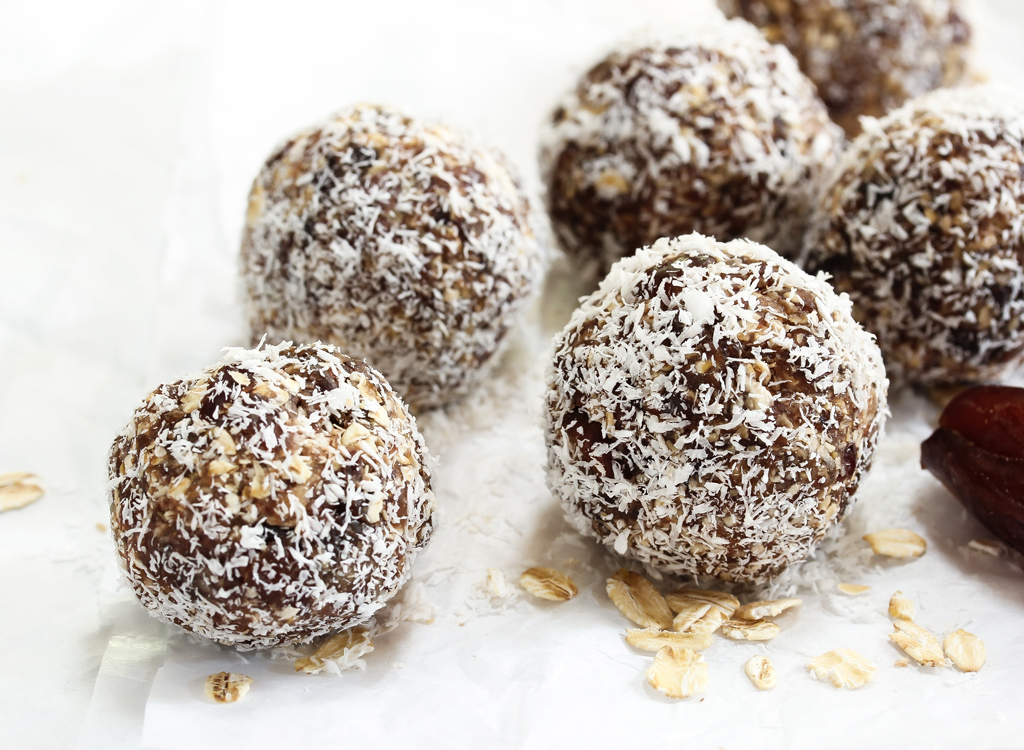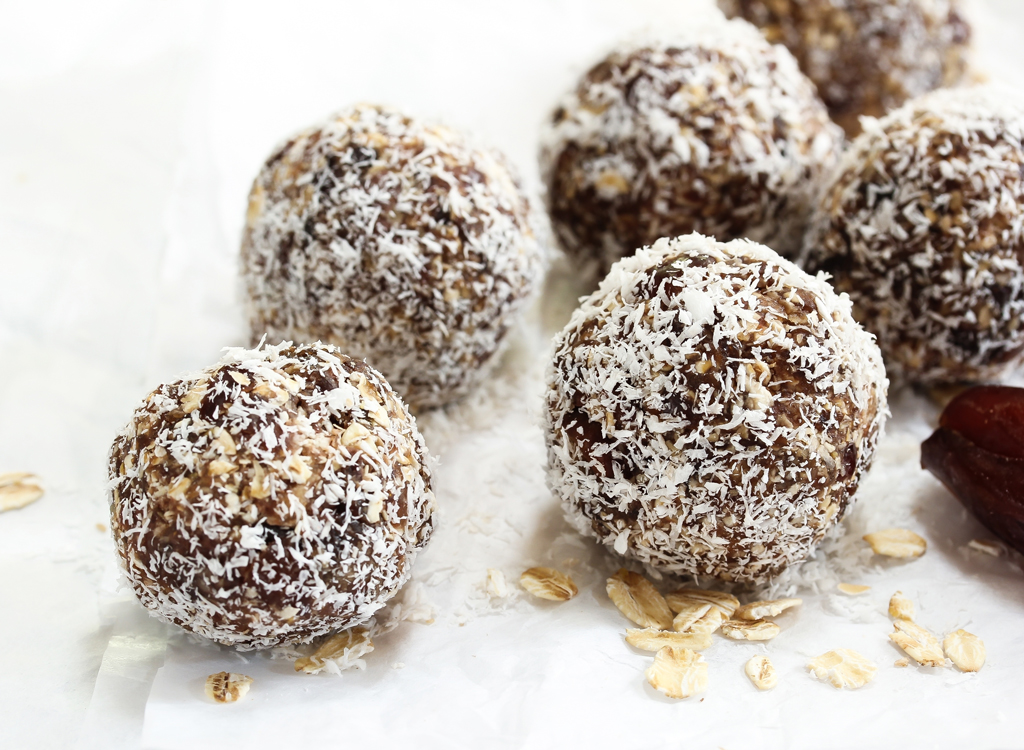 When you choose the right protein ball formula, the fun breakfast can ensure you're full and satisfied until lunch. Using a base of rolled oats, add in a scoop or two of your favorite protein powder, some dates, and your favorite nuts and seeds for an extra-powerful punch.
Smoothie Bowl
Don't want to sip on your morning smoothie through a straw? Have it in bowl-form and eat it up with a spoon. Start with a couple handfuls of greens and add in some fruit and you'll be left with a sweet, healthy, and vitamin-loaded mix you'll gobble right up.
Breakfast Burritos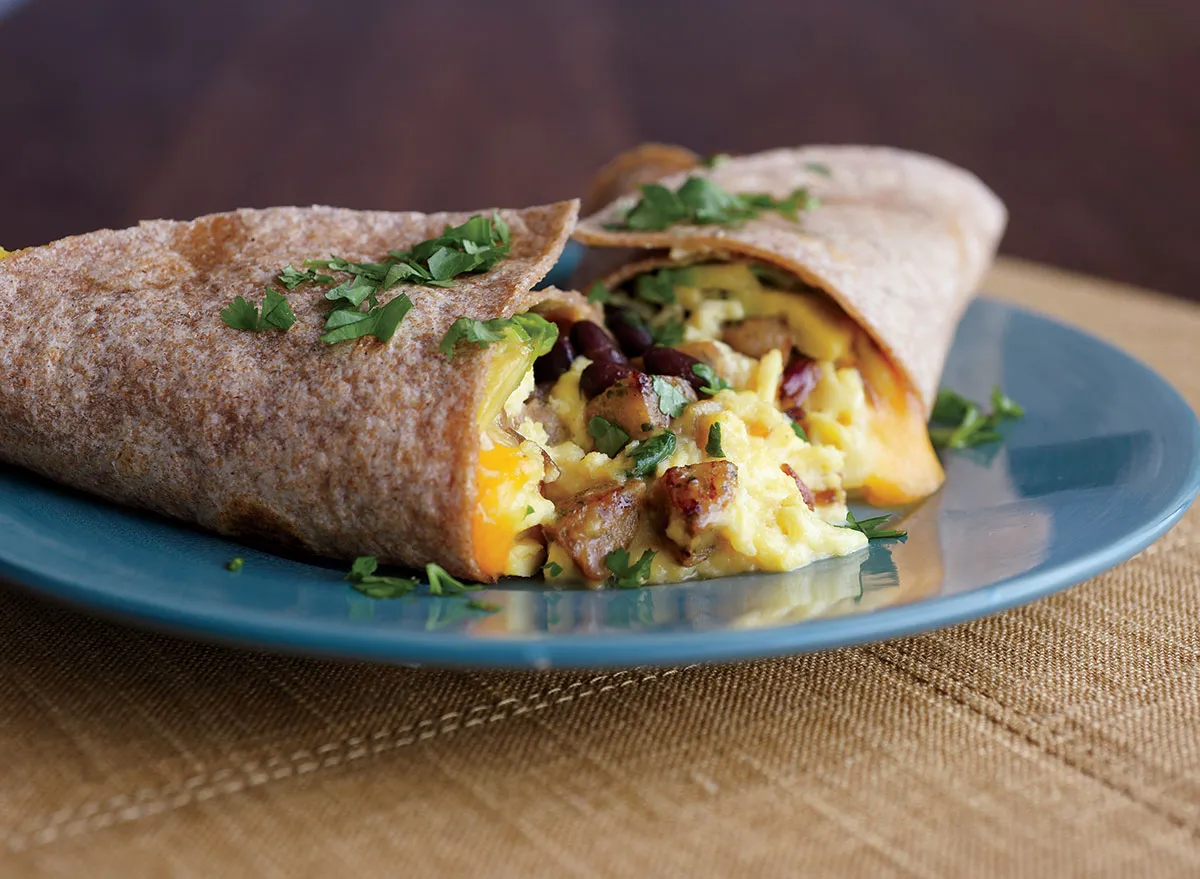 If you're not a taco person, grab a burrito for breakfast. In our recipe, we just pile up some healthy goodies in a whole wheat wrap, such as lean chicken or leftover tofu scramble for a healthy plant-based protein. We add fiber-rich black beans as 1/2 cup of black beans alone contains 21 grams of protein.
Turmeric Oats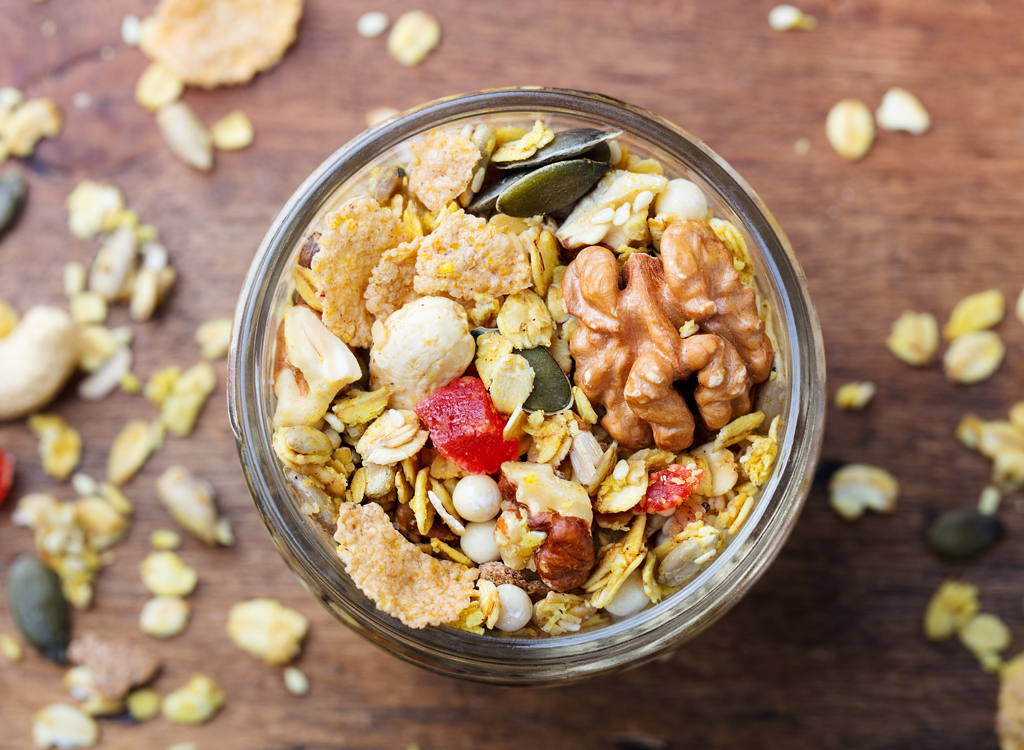 The next time you make yourself a bowl of oatmeal, sprinkle in some turmeric. The spice has been used for its medicinal properties for centuries, and its health benefits are seriously impressive. Due its high amount of antioxidants and anti-inflammatory properties, it's been shown to do everything from protecting against cancer to treating arthritis.
Spinach Pancakes
While chickpeas are great on their own, you can also create a super-simple—and incredibly healthy!—pancake using just a few ingredients. Just add some oats, a banana, and spinach to a blender with a little water, making sure the consistency isn't too runny. Then make them just as you would normal pancakes. They're light, full of vitamins, and taste delicious.
Oatmeal Pancakes With Cinnamon Apples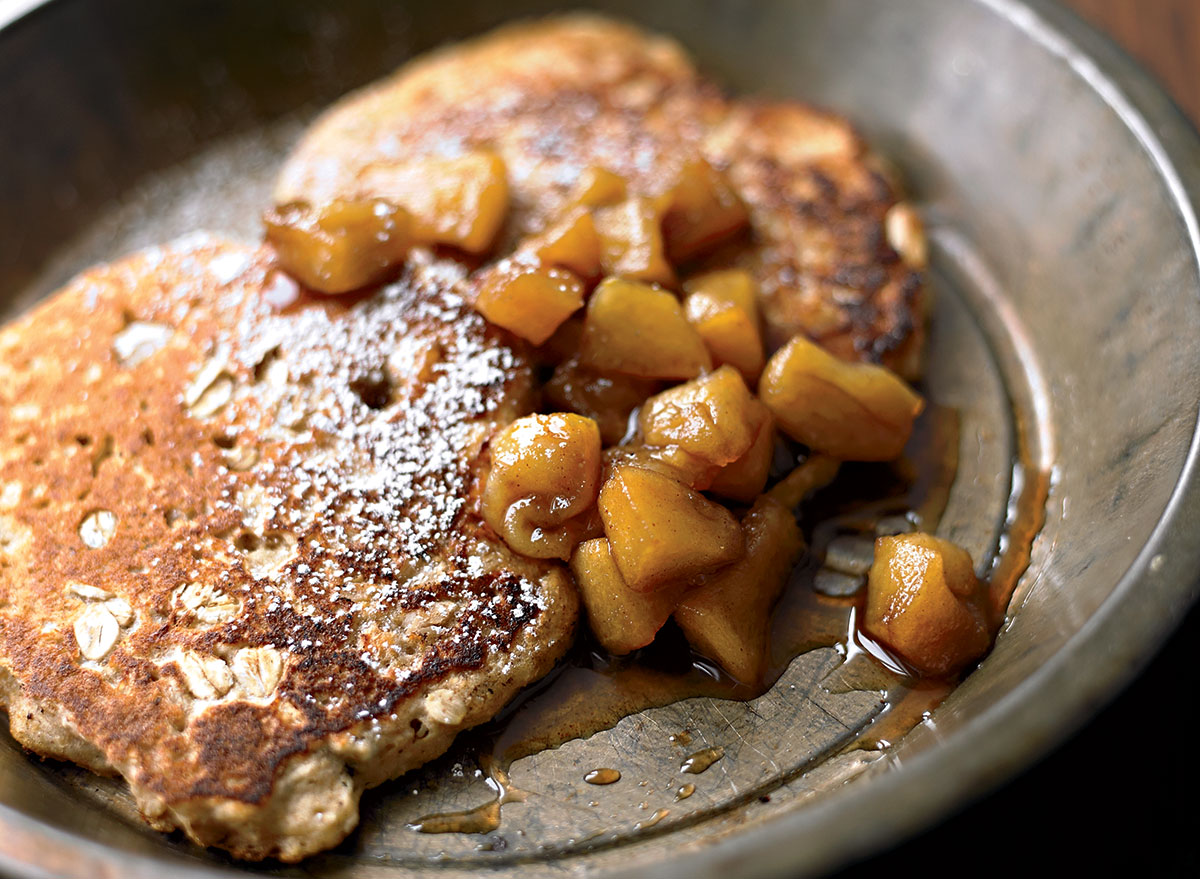 If you are more of a traditionalist when it comes to your flapjacks though, you can still enjoy them with our recipe that combines oats, wheat flour, and cinnamon apples. These pancakes actually provide a fiber and protein boost, too, so they're a great healthy breakfast option for weekends when you want to indulge a little bit.
PB + Banana Toast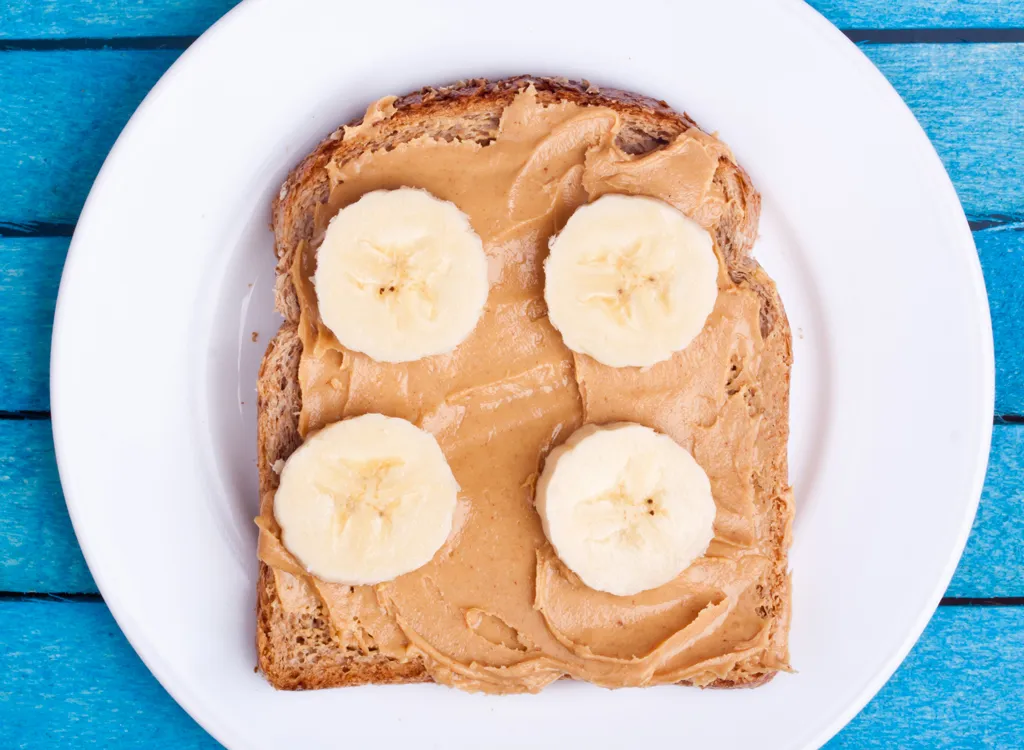 If you'd rather stick with toast, there's a quick and healthy breakfast for that, too. Smear some almond butter on a piece of whole grain bread, then pile on a sliced-up banana for a boost of potassium. Just one medium-sized fruit contains 422 mg of the important mineral that's been shown to decrease the risk of stroke.
Breakfast Wraps
Another great breakfast for anyone who's 40-and-up is none other than an easy-to-make wrap filled with healthy options across the food pyramid. One delicious combo to try from the Cotter Crunch? Brown rice, blueberries, and peanut butter.
Chocolate Overnight Oats
Aside from putting antioxidant-loaded raw cacao in your nice cream to make the mixture perfectly chocolatey, add some into your overnight oats, too. If you mix the powder in before you put it in the fridge, you'll wake up to a breakfast that feels more like dessert. And how can your day not be great after that?
Cinnamon Quinoa with Blueberries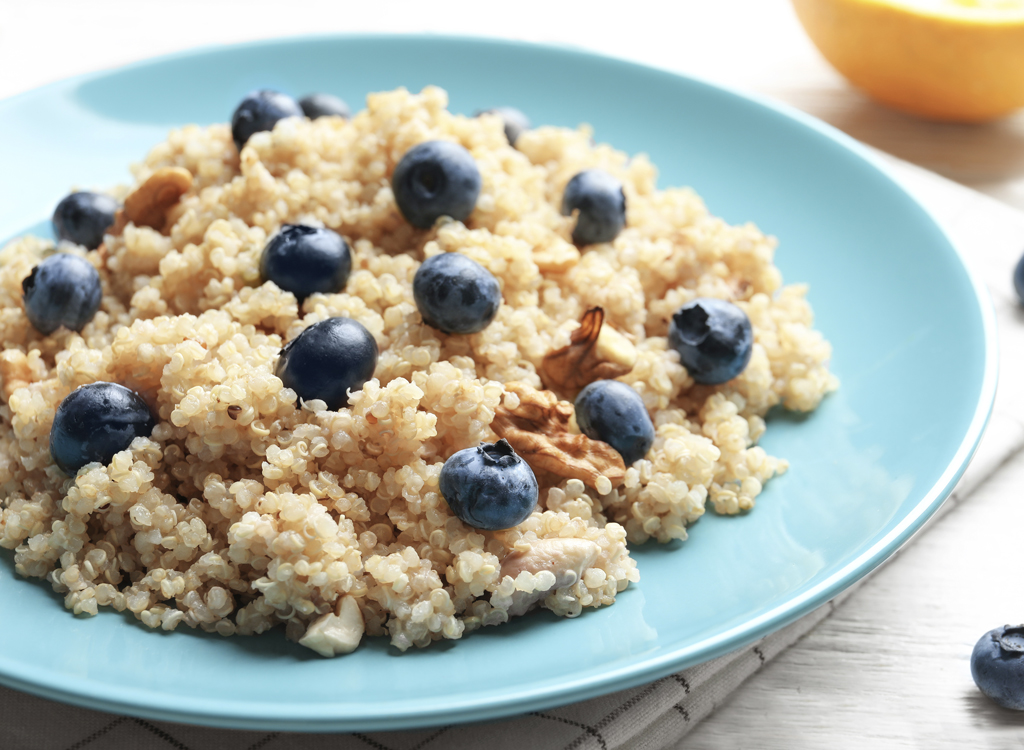 If you want to switch up your morning oatmeal routine, make a cozy-warm bowl of quinoa. Just one cup of the grain will give you 8 grams of protein and 5 grams of fiber, and you can top it with some antioxidant-packed blueberries to boost your immune system. Finish things off by sprinkling on some cinnamon, which studies have shown can reduce your risk of diabetes and heart disease.
Toastless Avocado Toast
If you're trying to limit your carb intake, make some avocado toast—just without the toast. All you need to do is cut an avocado in half and sprinkle on some salt, pepper, and any other seasonings you like. Then, scoop it right out of the skin with your spoon. Research shows taking in all those healthy monounsaturated fatty acids will keep you full for hours and diminish mid-morning cravings.
Cauliflower Oats
Another way to eat a heaping serving or two of protein- and fiber-packed cauliflower first thing in the morning is to turn it into oats. By heating some cauliflower rice and dressing it up with healthy toppings like fruit, nuts, and cinnamon, you'll have a delicious low-carb version of the breakfast staple.
Breakfast Quesadilla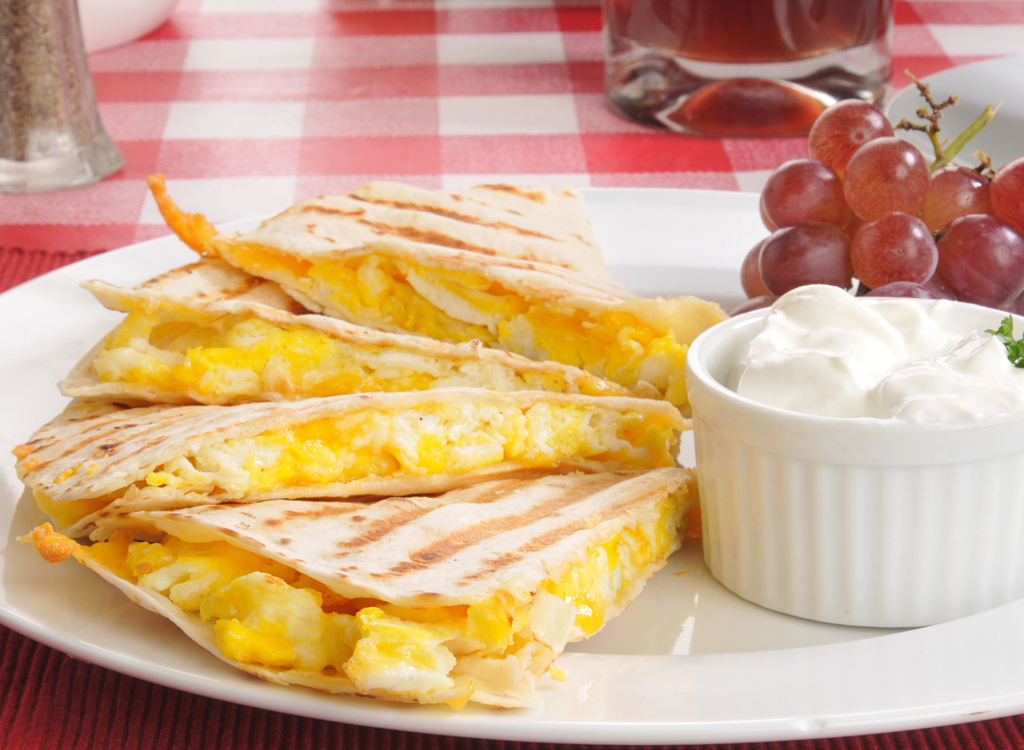 Is there anything more delicious than quesadillas? To keep the obsession going strong, create a healthier version by spreading some creamy avocado onto a whole grain wrap, then topping it with a tofu scramble, bell peppers—which contain a high amount of vitamins and antioxidants—and some onion.
Breakfast Potatoes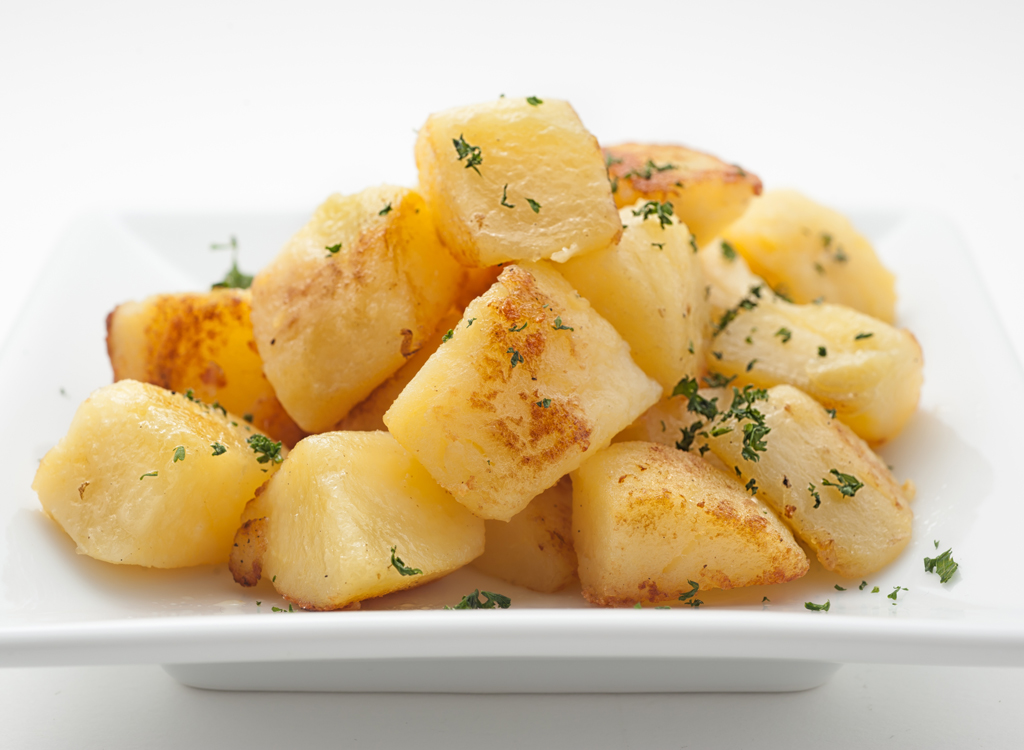 No one needs an excuse to eat potatoes for breakfast—especially when they're made the healthy way. By cubing some up and roasting them in the oven on a sheet pan, you'll be able to take in a solid dose of fiber, vitamin B6, and potassium.
Pumpkin Pie Oatmeal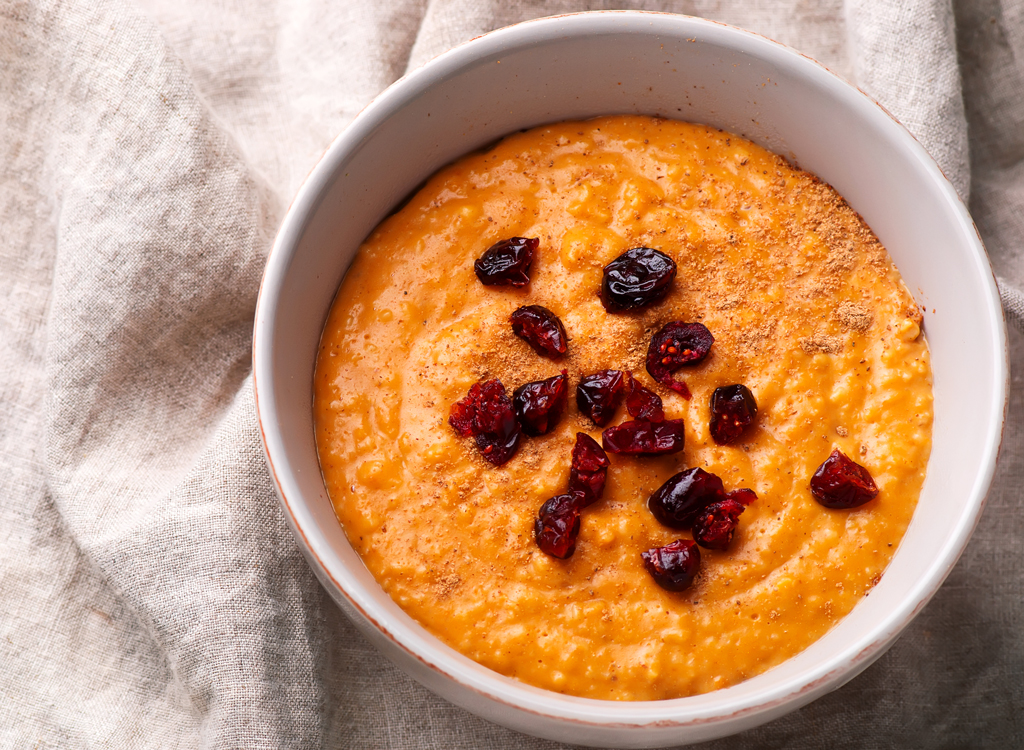 This time of the year, pumpkin is everywhere. So why not dress up your oatmeal for fall, too? By adding some organic pumpkin purée into the mix—like in this recipe from The Glowing Fridge—you'll get a crazy-high amount of vitamin A and vitamin C.
Veggie Frittatas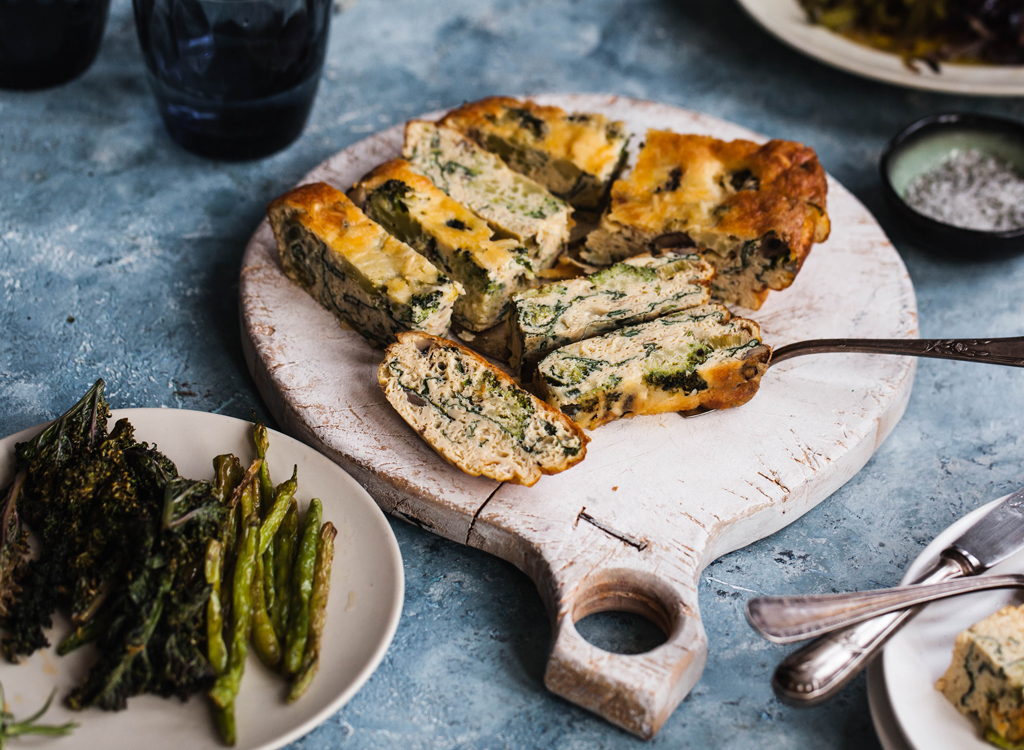 Ditch the eggs and create some make-ahead veggie frittatas to eat when you don't have a lot of time to spare. The protein-packed, pre-prepped option from The Mostly Vegan is made up of chickpeas and veggies, and all you need are some muffin tins to make them.
Quinoa Fruit Salad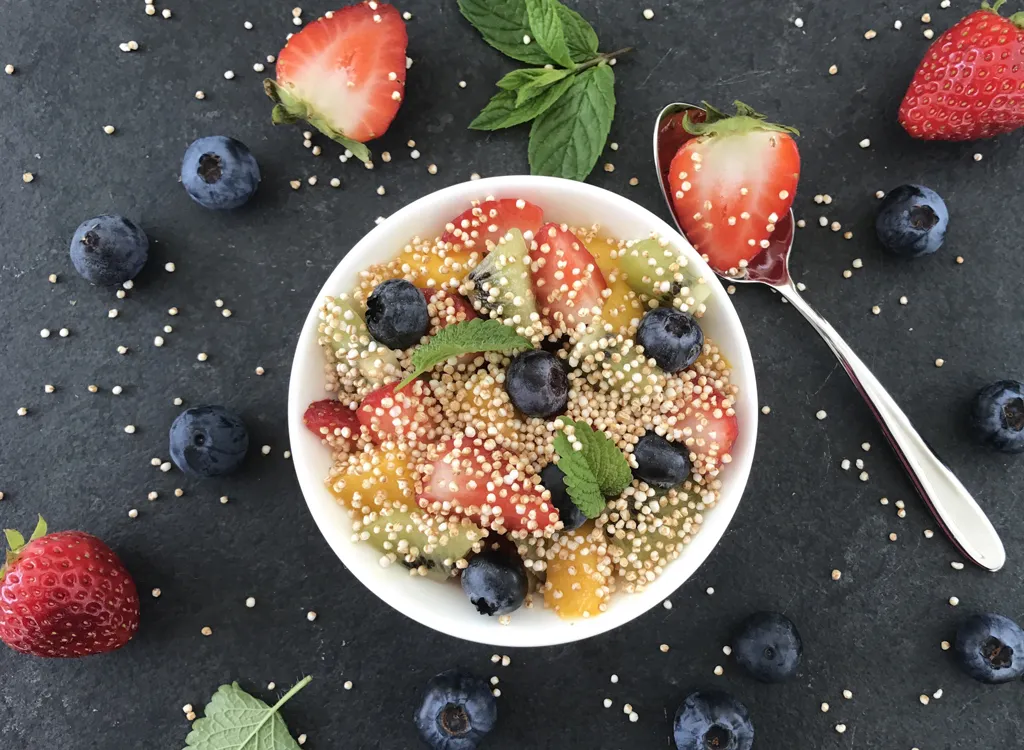 One of the easiest ways to amp up your fruit salad is to add a scoop of quinoa. The combo might seem weird, but those little seeds add more than 5 grams of fiber and 8 grams of protein per cup, not to mention plenty of calcium and magnesium.
Apple Granola Bites
For a serious dose of filling fiber first thing in the morning, cut up some apples and top each slice with homemade granola and a drizzle of melted dark chocolate like in this recipe from The Comfort of Cooking. Not only will that chocolate give you a boost of antioxidants and iron, but you'll also get more than 4 grams of fiber from the fruit alone.