The #1 Burger To Order at Every Major Fast-Food Chain, According to Chefs
A great fast-food burger just scratches a particular itch.
Chefs are just like us. Sure, they can cook a lot better, and have an artistic vision for ingredients that we can't hold a candle to—but at the end of the day, we have a lot more in common in terms of food than you might think. Case in point: our shared guilty pleasure love for fast-food burgers.
No matter the caliber of cuisine they cook, or their pedigreed background, chefs have an unabashed love for fast-food burgers. Whether fueled by nostalgia, or a yearning for frills-free food on a budget, a good fast-food burger just scratches a particular itch. For some, it's the siren song of a drive-thru icon, while others might opt for patties that are made fresh on-site and/or grilled to order. Whatever the reason, or the craving, these are the number one burgers to order at every major fast-food chain, according to burger-loving pros.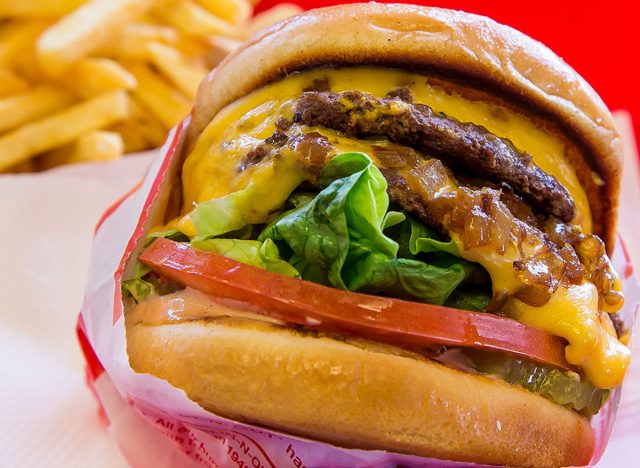 If ever there was a fast-food burger chain beloved by chefs, it's In-N-Out. The California-based chain is famed for its ardent following, not just among the general public, but among chefs who applaud the company's commitment to freshness, nostalgic Americana, and in-the-know off-menu upgrades. Among the brand's fans is April Robinson, chef of Hamilton Cornerstore in Charlotte.
"Being a Southern gal, it was always a treat to get In-N-Out from the West Coast," she says. "Now it's the first stop on my drive in from the airport. In-N-Out is best to me because of the freshness and quality behind their burger. Their patties are never frozen and they use real cheese, and who can pass up those little peppers! I think it's a good American-style burger with a little special sauce."
To get into menu specifics, though Max Boonthanakit and Lijo George chimed in with their picks. As co-chefs of Los Angeles' Camphor, in the land of In-N-Out, the duo are ideally suited as In-N-Out experts, and their favorite orders are both versions of a Double Double. For Boonthanakit, his order is a Double Double, Animal-style, on an extra toasted bun with grilled and raw onions and chopped chilies—and a Neapolitan shake. George, meanwhile, keeps it comparatively simpler with a Double Double topped with grilled onions and chopped chilies.
The Double Double is so good, in fact, that it's even revered by a qualified nutritionist. That's according to Norah Clark, a nutritionist and chef whose worldwide resume includes stints at The Ritz Carlton Hotel, Orlando and Four Seasons resorts as far away as Sydney. "When it comes to chain restaurants, I have to tip my hat to In-N-Out," she says. "Their Double Double is my go-to. I think what really makes it stand out is its freshness—crisp lettuce, juicy tomatoes, and a beef patty that's never frozen. It's a simple, straightforward burger done right, without unnecessary gimmicks."
The fact that In-N-Out is so universally beloved that it boasts fans in states that don't even have an In-N-Out speaks volumes about its quality. It's a sentiment echoed by Rick Mace, chef and co-owner of Tropical Smokehouse in West Palm Beach, who describes it as the quintessential hamburger stand. "I could wax poetic about the fact that they use flat-top grills seasoned with sweet onions, or that they still hand-cut every order of fries, or that they refuse to change their menu, but I won't," explains the In-N-Out stan. While everyone knows about Animal-style upgrades, his insider tip is chopped chilis. "Their yellow cascabel peppers are the perfect finishing touch to their iconic burger," he adds. "Order the Double Double Animal-style with chopped chilis. Highly recommended."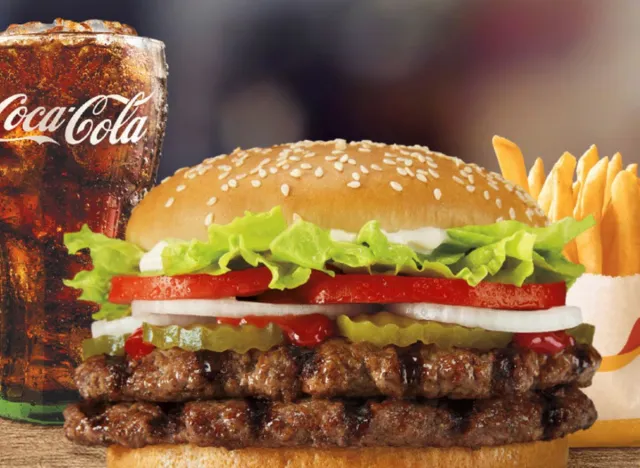 As one of America's most iconic and ubiquitous fast-food chains, Burger King may not boast the diehard loyalty of In-N-Out, but it's still the king of nostalgic cravings. And when it comes to the king of Burger King, it's all about the Whopper. There's just something undeniably nostalgic—and pure char-broiled Americana—about this comfort food cornerstone.
According to Rafael Gonzales, executive chef of the JW Marriott Houston Downtown, it's an item that instantly reminds him of fond family memories. "My mother, to this day, eats two to four a year," he recalls. "She got me used to it years ago and it still brings back memories." His go-to order is a Whopper with onion rings. "For some reason, I think of my mom still when I go to Burger King or see one. Also the flame-broiled flavor (do not know how they get that) does make it taste better than others."
That blend of nostalgia and taste is also what does it for Ben Shapiro, chef at The Eddy Taproom & Hotel in Golden, Colorado."My grandmother used to take me there all the time as a child and would always get a Whopper for me—and one for the dog," he muses. "Some of my best memories with her are in the drive-thru at Burger King when I was a kid." And while he considers that same burger the reason for his weight gain in high school ("since I probably ate one every day on the way to my Culinary Vocational School at lunchtime"), the flavor was worth it. "I love the 'flame-grilled' aspect of the sandwich. In my opinion, it doesn't have the 'microwaved' flavor many other chain burgers can have."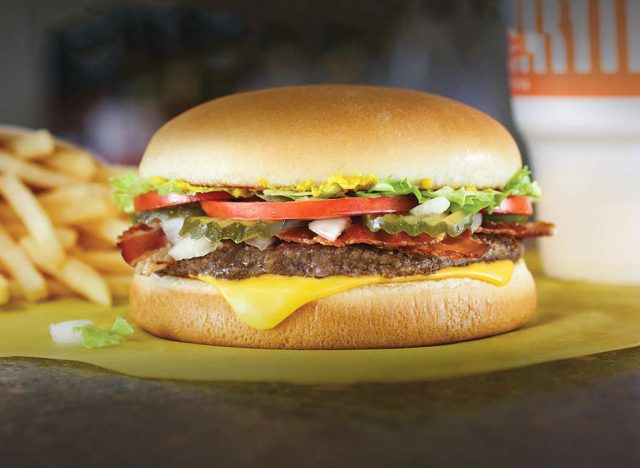 What In-N-Out is to the West Coast, Whataburger is to Texas. That's the emphasis put forth by Whataburger loyalists like Seby Joseph, an in-house chef at Hormel Foods based in Austin, Minn. "As any Texan can vouch, Whataburger has a special place in my heart, and without a doubt, they reign supreme as the ultimate extra-late night burger option," says Joseph, who adds that the chain sets itself apart with its unrivaled customization options. "Whataburger really raises the bar when it comes to personalization—even though they have a plethora of tantalizing toppings and sauces, I always defaulted to grilled pickled jalapeños, roasted mushrooms, mayo, and fried onion rings ("I'm basic like that)."
The praise doesn't stop there, though. Joseph goes on to avow Whataburger for its commitment to hefty Texas-sized portions at bargain prices. "They use yellow/brown butcher paper to wrap their burgers, which adds a touch of nostalgia and authenticity to the whole burger-eating affair. It's as if the burgers are artfully presented, allowing all the delectable flavors to harmoniously meld together for a tantalizing moment before being devoured by the fortunate guest—not to mention the butcher paper is a game-changer when you are trying to drive and eat at the same time."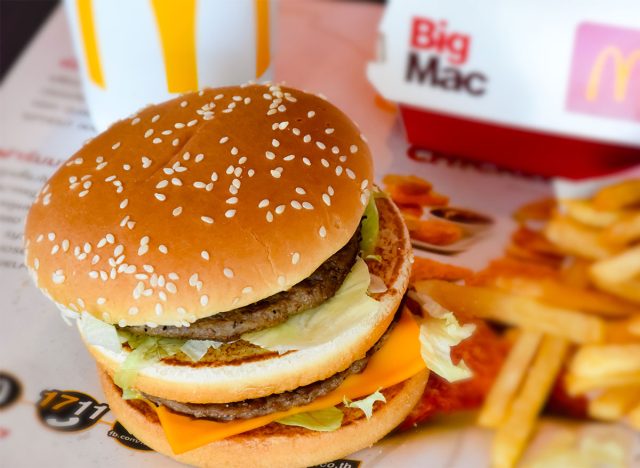 We can't have a list of preeminent fast-food burgers without a nod to the almighty Big Mac. Widely considered one of the best—and most iconic—fast-food burgers in America, the Big Mac has a big fan following, even among chefs. Just ask Bin Lu, executive chef of Blue Rock in Washington, Va., who simply summarizes it as "the iconic burger for so many people." And for good reason.
He loves it so much, in fact, that he modeled his own Blue Rock Burger after the recipe. Chef Bin loves the Big Mac so much that he modeled his very own The Blue Rock Burger after the recipe. "The burger is inspired by what I think of as the quintessential American burger, the Big Mac." He uses two beef patties with a middle bun that's cut in-house, with sesame buns on top and bottom.
"We make a sauce that we call '1001 dressing'—it's like a classic thousand island with just a couple extra touches that we think really elevate the flavors." For the rest of the garnishes, Lu opts for pickled onions and "shredduce" (a mix of romaine and iceberg), and sharp cheddar and American cheeses—"aka pasteurized cheese product, because I think there's a nostalgia there that you can't replace."
The only way to one-up a Big Mac, according to Chef Matthew Lief of Brooklyn's Three Maples, is by going even bigger—and meatier. "If you're going to do it, do it right and get a triple cheeseburger with Big Mac sauce," he says. "This is like a Big Mac but you replace the middle bread with more meat and cheese. It's a delicious, flavorful amalgamation that's greater than the sum of its parts!"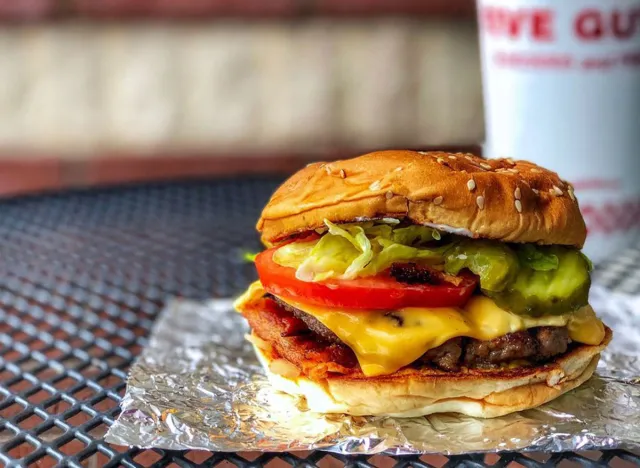 When he isn't eating at Burger King with his mom, Gonzales is taking his son to Five Guys. The Houston chef loves the chain for its cheeseburger with mayo, ketchup, and relish with jalapeño and charred onions. "It is quick, good and the toppings make it easier to personalize your own burger." The secret, he adds, is eating it with a milkshake. "No bacon in the burger but try the bacon milkshake!"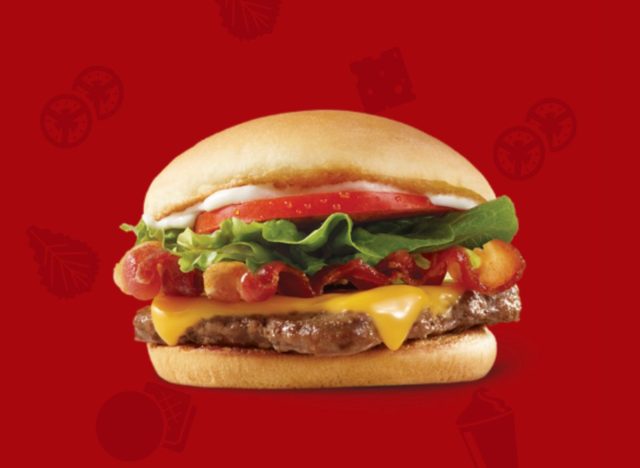 Rounding out the titans of fast-food burgers, chefs have a lot of love for Wendy's. In addition to Frosty treats and chicken sandwiches, though, it's hard to beat the beloved Jr. Bacon Cheeseburger. That's according to Douglass Williams, owner of Mida and Apizza in Boston. "More than just eating it, I have so many memories of making it, the touch of the bun, the pride that I took in making it, and understanding its simplicity. I can talk about this burger and just smile!" Sometimes it's just the simple things that keep us—and chefs—coming back for more.6254a4d1642c605c54bf1cab17d50f1e
Matt Kirouac
Matt Kirouac is a travel and food writer and culinary school graduate, with a passion for national parks, all things Disney, and road trip restaurants.
Read more about Matt