The #1 Best Drink to Have After 50, Says Dietitian
A beverage to support all of your nutrition needs as you age.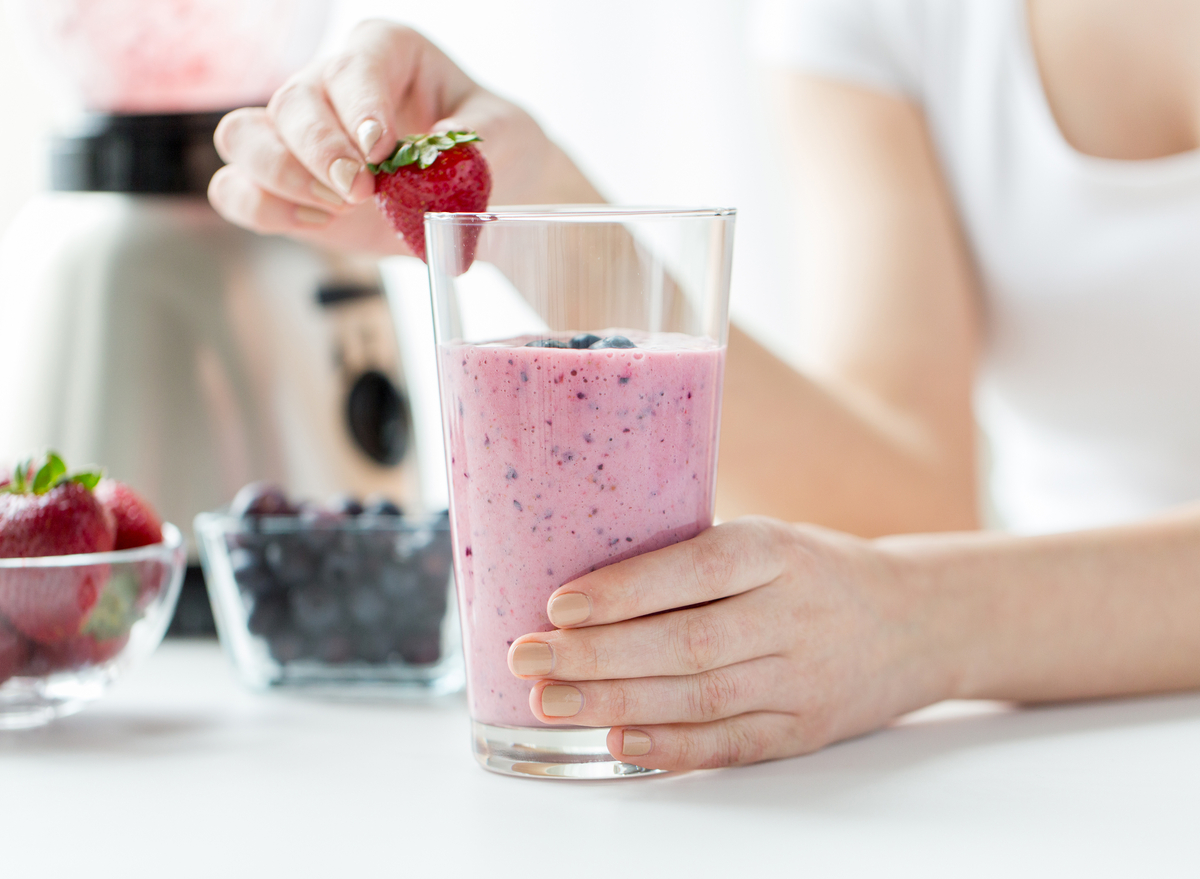 Humans are unique, ever-evolving beings that need a variety of nutrients in differing amounts throughout their lifetime. In the early stages of life, nourishing the body with enough nutrition to support growth and development is the top priority. As we age, however, the priority shifts from growth to the prevention of disease. Health changes are inevitable as we age, but there are many ways we can mitigate these changes.
Nutrition is important to slow down bone and muscle loss as well as continuing to support healthy skin, immune function, eye health, digestion, and cognition. It is always important to focus on adequate amounts of physical activity, sleep, water, and nutrients throughout the lifespan. After age 50, it becomes even more important to consume optimal amounts of fiber, protein, omega-3 fatty acids, B vitamins, calcium, and vitamin D to support overall health and wellbeing.6254a4d1642c605c54bf1cab17d50f1e
One of the easiest ways to consume a wide variety of nutrients in one sitting is through smoothies. Smoothies are a no-fuss, convenient way to make sure you get a nutrient boost during the day. Enjoy them as a snack or as a meal, smoothies can be taken on the go, made ahead of time, or blended up in real-time and enjoyed at home. Looking for a tasty way to combine protein, fiber, healthy fats, and a bounty of vitamins and minerals without picking up a fork? If the answer is yes, it is smoothie time!
There are thousands of smoothie recipes out there and, depending on where you live, there is likely a smoothie shop within a thirty-mile radius. Whether you are picking up a smoothie or blending one up at home, here is what you need to be asking yourself.
First, what is the protein source? Protein is critical for maintaining lean body mass. It is necessary for immune function, hormone regulation, bone health, the list goes on and on. Some easy protein options to toss in your blender are Greek yogurt, protein powder, hemp seeds, or even silken tofu.
Next up, the key to healthy digestion and metabolism: fiber. Adding fruits and vegetables to your smoothie will start to lay the fiber foundation. You can boost fiber by adding one of nature's most underrated foods: seeds. Chia, flax, hemp, and pumpkin seeds are incredible sources of fiber as well as vitamins, minerals, and healthy fats.
After adding protein and fiber it is time to think about fat. Consuming healthy fats, specifically fats rich in omega-3 fatty acids is important for brain health and research supports the role of omega-3 fatty acids as being protective against neurodegeneration. Sources of smoothie-ready healthy fats are walnuts, ground flax seeds, chia seeds, and hemp seeds. You can also add an omega-3 liquid supplement to your blend.
Last but not least it is time to consider your flavor profile by mixing and matching different fruits and vegetables. Leafy greens will provide loads of B vitamins, berries will add a potent amount of antioxidants, and tropical fruits will contribute nutrients like potassium and vitamin C. A note on vitamin D. It is difficult to obtain Vitamin D unless you purchase a food item that has been fortified with vitamin D. A great example of this that works for smoothies is orange juice.
Whether you are a novice or a seasoned professional, start jumping on the smoothie bandwagon if you want to optimize your nutrition quickly and efficiently. Start playing in the kitchen to see what flavors you like the most and once you find your groove, you'll be sipping your way to great health.
Need some smoothie recipe ideas? Check out our list of these 27 Best Immune-Boosting Smoothie Recipes!
Sydney Greene, MS, RD
Sydney Greene is a registered dietitian specializing in nutrition for addiction recovery, disordered eating, and body image, as well as chronic digestive issues.
Read more about Sydney