The Best Hot Chocolate in Every State
Find the best hot chocolate anywhere you go.
Nothing warms on a cold day like hot chocolate, and who doesn't love a sweet treat on a dull gray day? If you're hankering for a mug of cocoa topped with whipped cream or homemade marshmallows, we've looked across the country for the best spots. Here are the best coffee shops, chocolatiers, and restaurants that serve the delicious drink in unique ways, because you deserve a nice treat.
To do this, we scoured reviews, talked to locals, and looked back on our own dining around the country to put together a definitive list of the best hot chocolate in every state. (Plus, don't miss The Best Dessert in Every State.)
ALABAMA: Revelator Coffee in Birmingham
This hipster coffee shop promises "something for everyone" and that includes a rich, creamy cup of hot cocoa.
ALASKA: Gelatte in Anchorage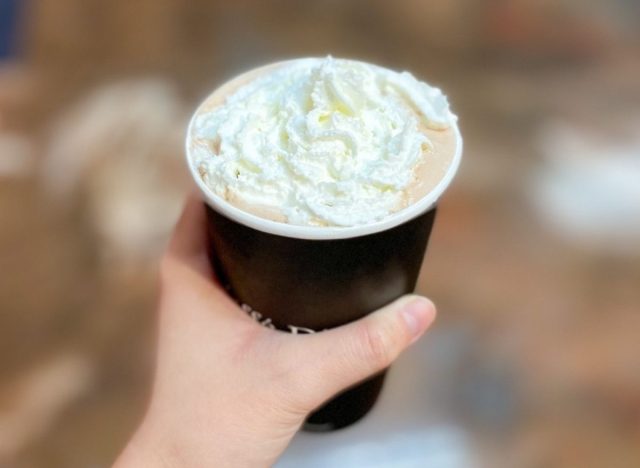 Hot chocolate is clearly a must in Alaska and this gelato and coffee shop makes an amazing steamed milk hot chocolate.
ARIZONA: Urban Cookies Bakeshop in Phoenix
This modern family-owned bakeshop crafting sweet treats with natural ingredients offers doughnuts, pastry and a nice mug of cocoa.
ARKANSAS: Onyx Coffee Lab in Fayetteville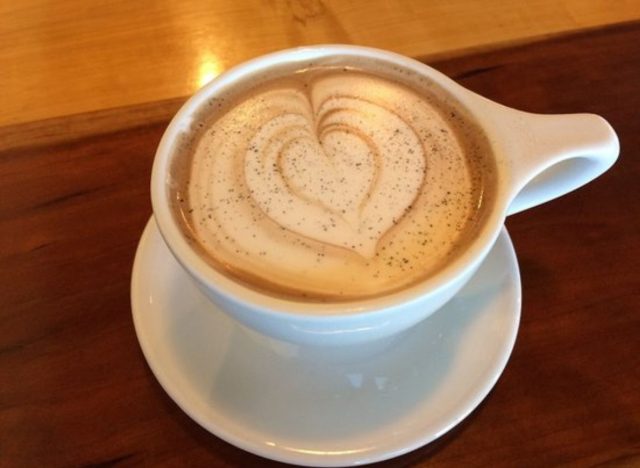 This coffee shop focuses on using local products and serves a rich hot chocolate.  They also have an exclusive drink called a Salt Mocha with chocolate, espresso, steamed milk, and black salt.
CALIFORNIA: Compartes Chocolatier in Los Angeles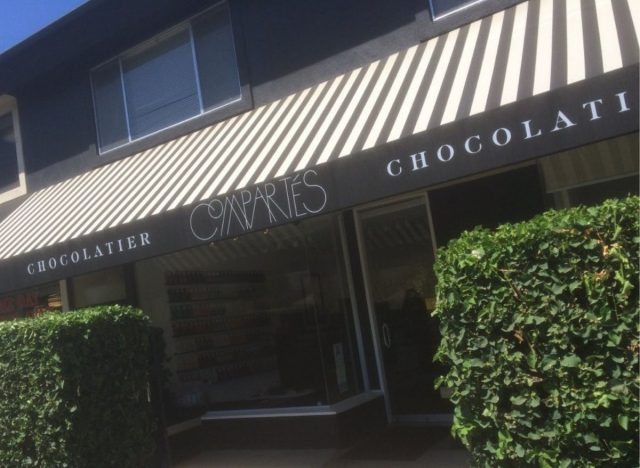 This fancy shop offers signature blends like Tahitian vanilla bean and cinnamon infusions.
COLORADO: Lucile's Creole Cafe in Denver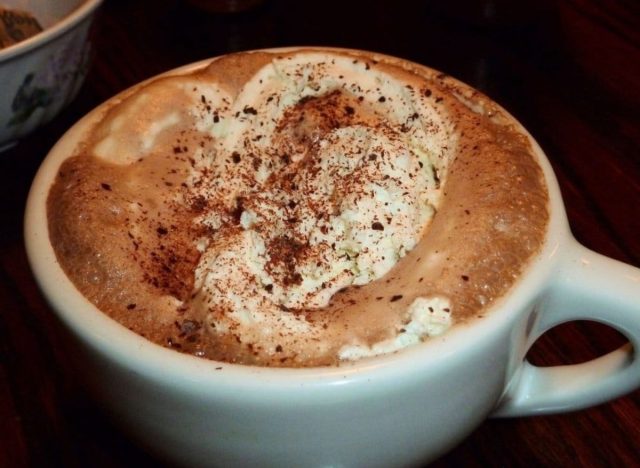 This breakfast and lunch shop makes their hot cocoa with real Belgian chocolate, steamed milk and whipped cream, with notes of cinnamon and other spices that remain a secret.
CONNECTICUT: Mystic River Chocolate Cafe in Mystic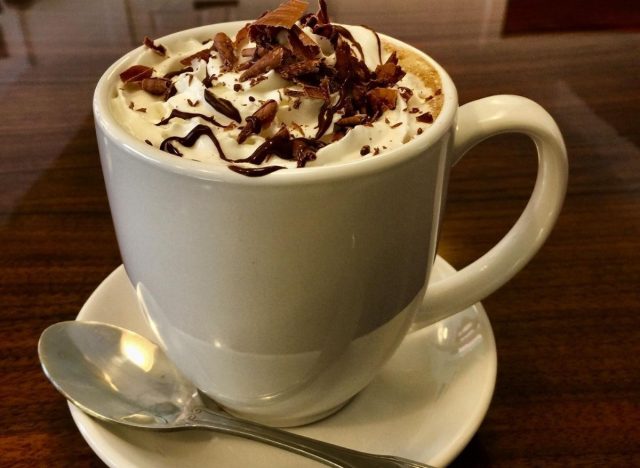 You might expect at this bean-to-bar chocolate shop to pick up a few candies, only to find they serve European-style drinking chocolate by the mug. Available in dark and light, you can order it with a shot of espresso for an extra kick.
DELAWARE: My Sister's Fault in Milford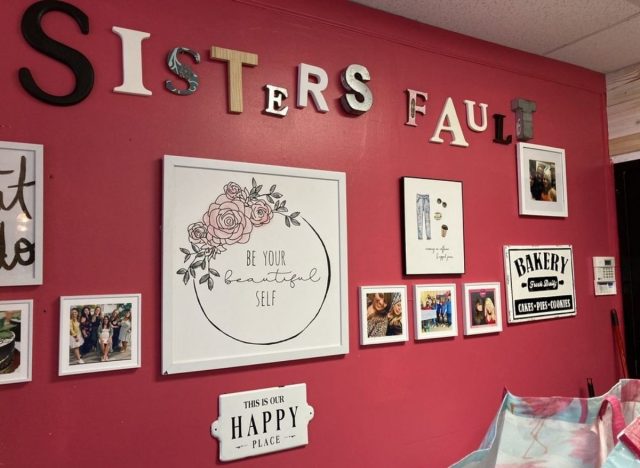 Locals rave about the hot cocoa at this highly-rated Puerto Rican-style pastry shop, and the drink pairs perfectly with Pastelillo Guava.
FLORIDA: Oh My Gosh Brigadeiros in Miami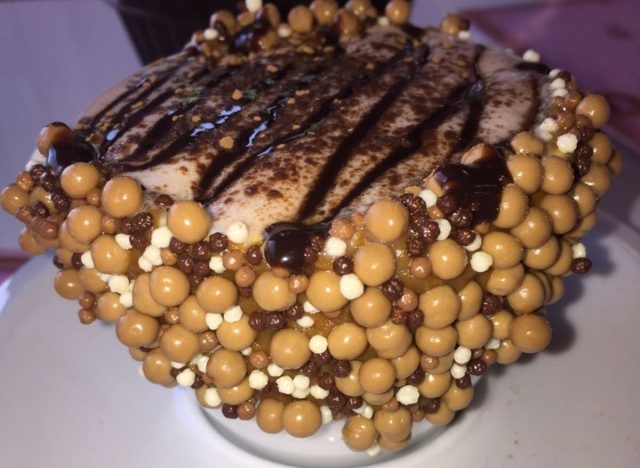 "Classic hot chocolate is delicious! Smooth, creamy and really original and genuine. The owner made it which made it feel more homemade," wrote one local about this cheery Brazilian sweet shop.
GEORGIA: ChocoLate Coffee
"Their hot chocolate is divine!" wrote one local about this funky, cheerful coffee shops craveable cocoa.
HAWAII: Blue Hawaii Lifestyle in Honolulu
This shop makes their cocoa with local Waialua Chocolate, grown in the rich soil of Oahu's North Shore, plus a dash of pepper.
IDAHO: Java in Boise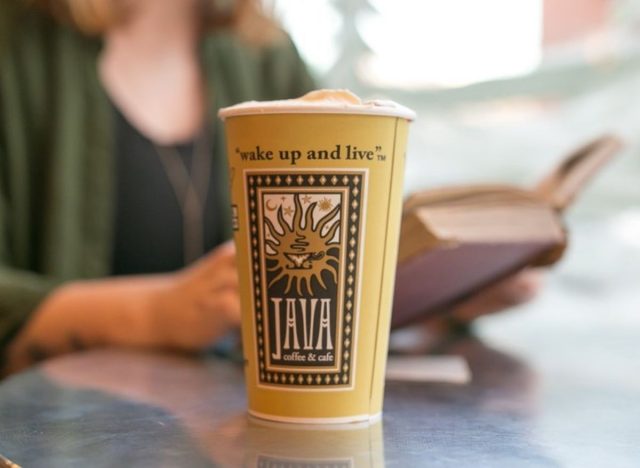 Try this coffee shop's Mexican hot chocolate and you won't go back to the regular style, it's that good!
ILLINOIS: XO Marshmallow in Chicago
Allegedly the world's first marshmallow cafe, this shop features some of the prettiest hot chocolates in the city, which you can pair with a build your own s'mores set-up. Not a bad way to warm up!
INDIANA: DeBrand Chocolates in Indianapolis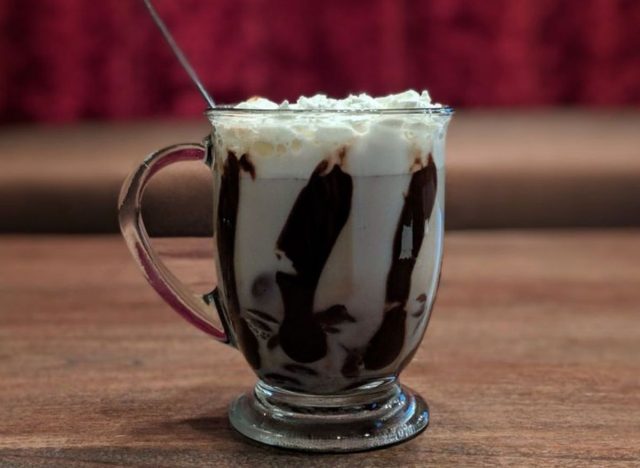 Locals rave about this shop's hot cocoa, with one writing, "When I want something special for my Hot Chocolate this is the place – the environment the attention to service very good."
IOWA: Cafe Diem in Des Moines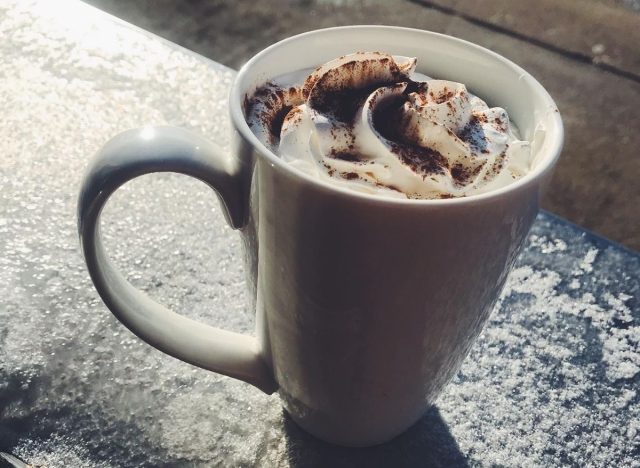 You can personalize your mug of cocoa at this cafe by adding flavors such as vanilla, pumpkin, caramel, and peppermint.
KANSAS: Churn & Burn in Wichita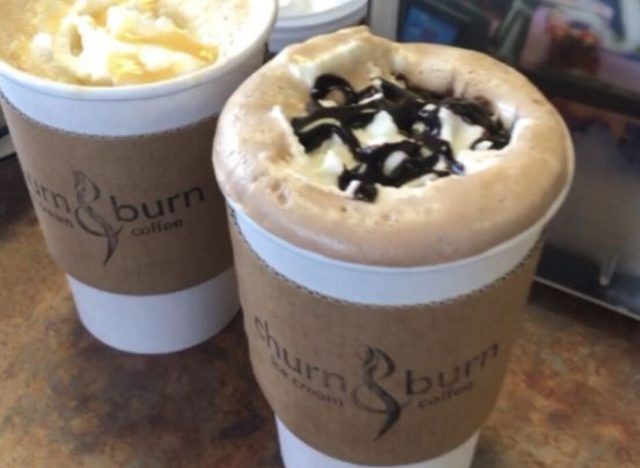 Churn & Burn has just about every chocolate and coffee combination under the sun, you'll find rich options like the Raspberry Tilt a Whirl with White Mocha and the Rock n Hot Chocolate topped with whipped cream and chocolate sauce.
KENTUCKY: Proof on Main in Louisville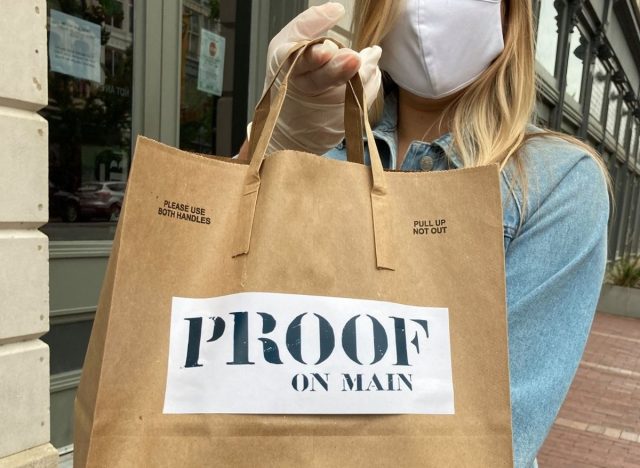 Located in the 21c Museum Hotel, this spot serves a signature drink of mixed dark and milk chocolate with star anise, cayenne, and cinnamon, along with heavy cream for a decidedly decadent experience.
LOUISIANA: Sucre in New Orleans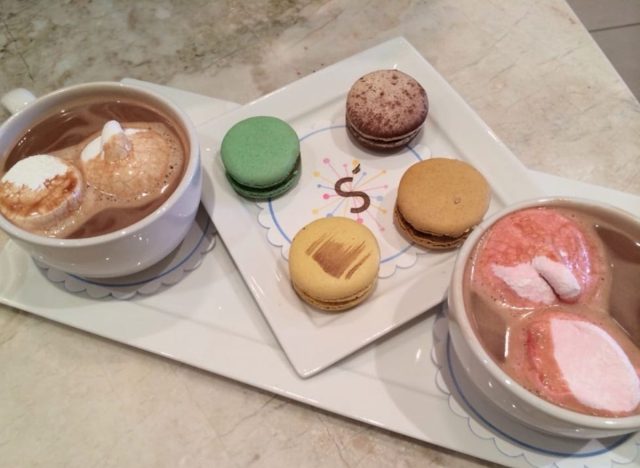 Of course, the hot chocolate in NOLA is a little extra, and Sucre's white drinking chocolate infused with Provençal blue lavender delivers a serious sweet treat.
MAINE: Gelato Fiasco in Portland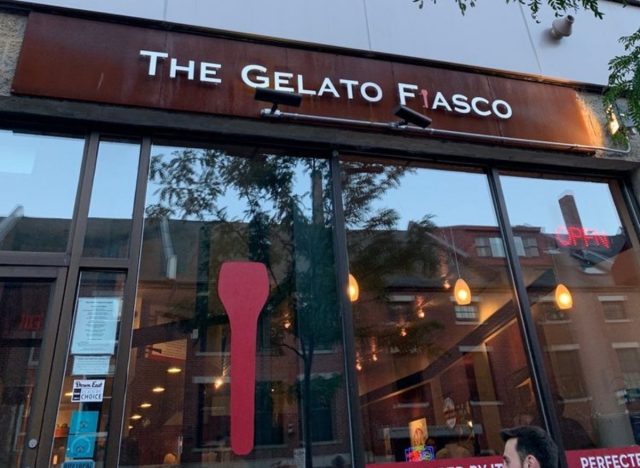 The shop's Drinking Chocolate is hot cocoa taken to a whole new level. It's a hearty drink made from chocolate gelato before it's frozen. Depending on the season, you can choose to have it accompanied by house-made fresh whipped cream or house-made marshmallows.
MARYLAND: The Charmery in Baltimore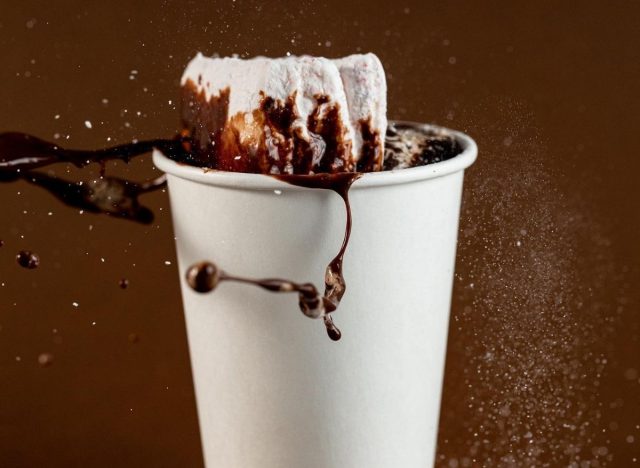 You don't want to miss this ice creamery's hot chocolate made using Trickling Springs milk and dark chocolate topped with whipped cream and a house-made marshmallow.
MASSACHUSETTS: Café Beatrice in Cambridge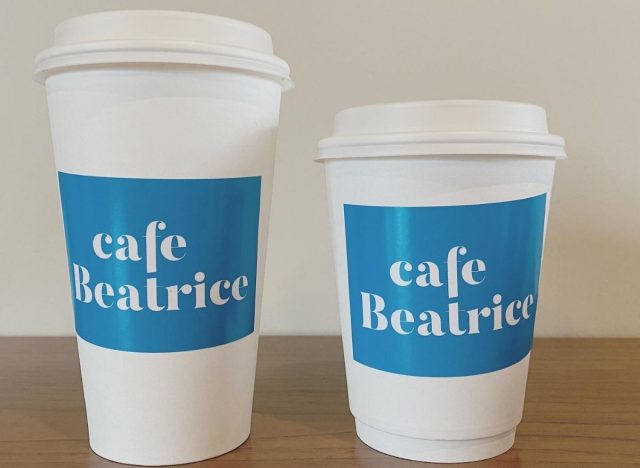 Created by Café Beatrice Pastry Chef Brian Mercury, this mug of goodness features locally made Taza Dark chocolate ground up with cocoa powder, a dash of cinnamon, and a little bit of salt.
MICHIGAN: Zingerman's Next Door Café in Ann Arbor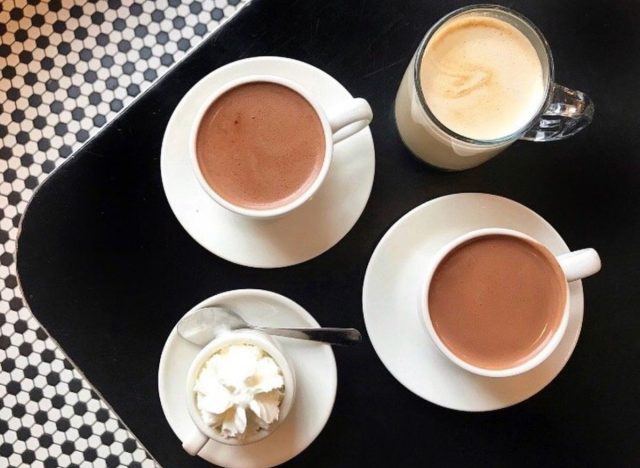 Next door to the famous Zingerman's sandwich shop, Zingerman's Next Door Café offers a rich, decadent hot chocolate special made from small-batch chocolate also made in Michigan.
MINNESOTA: Dancing Bear Chocolate Northern Chocolate Studio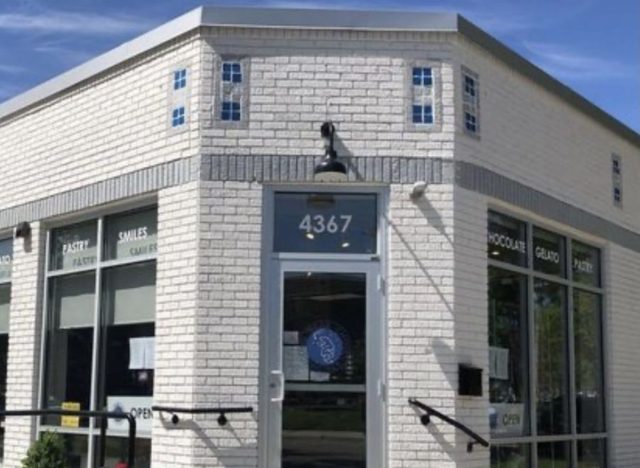 This tiny chocolate shop has incredible candies and baked goods, and according to local reviewers "The hot cocoa is to die for!!"
MISSISSIPPI: Cups, An Espresso Cafe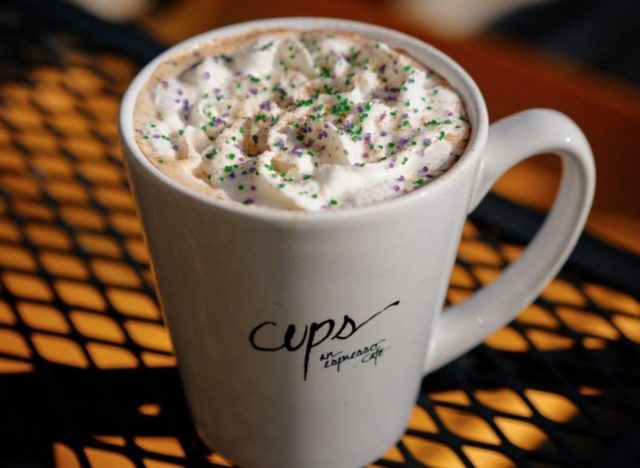 This local coffee chain offers Ghirardelli hot chocolate they serve with steamed milk for extra richness.
MISSOURI: Christopher Elbow Artisanal Chocolates in Kansas City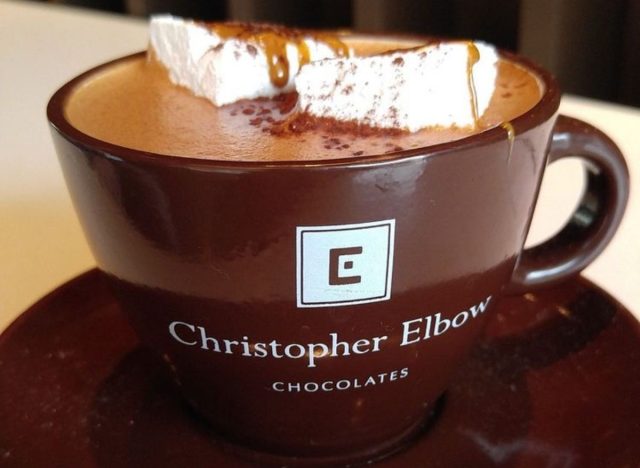 The craft chocolate maker serves a Venezuelan Spiced hot chocolate with steamed milk, dark chocolate, nine spice, two kinds of chiles, homemade whipped cream, and marshmallows.
MONTANA: La Chatelaine Chocolat Co. in Bozeman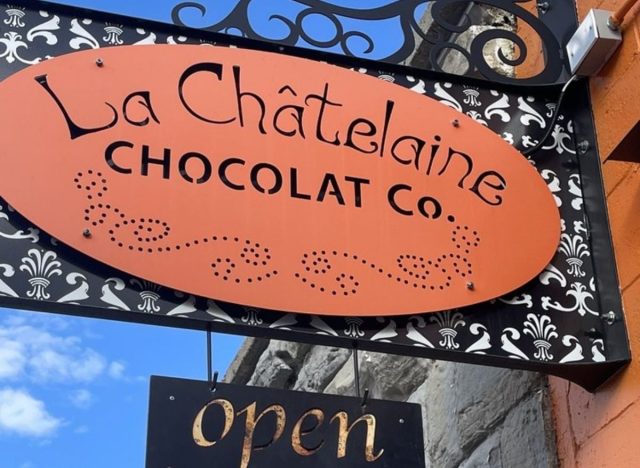 This darling chocolatier serves seasonally changing authentic French hot cocoa.
NEBRASKA: Coneflower Creamery in Omaha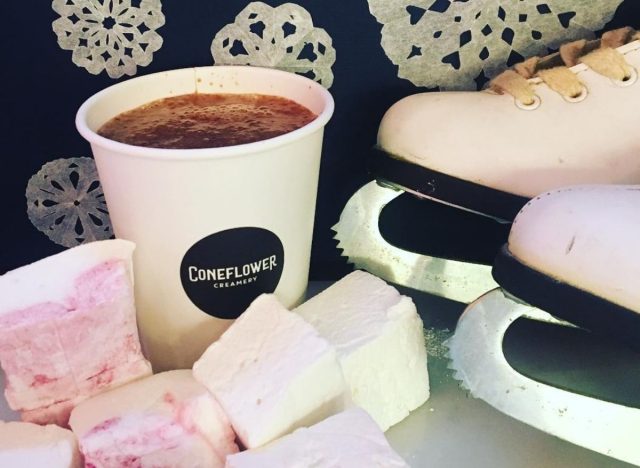 This ice cream shop will add a scoop of your favorite flavor to a mug of hot chocolate for a unique and decadent take on a float.
NEVADA: Ghirardelli Chocolate & Ice Cream Shop in Las Vegas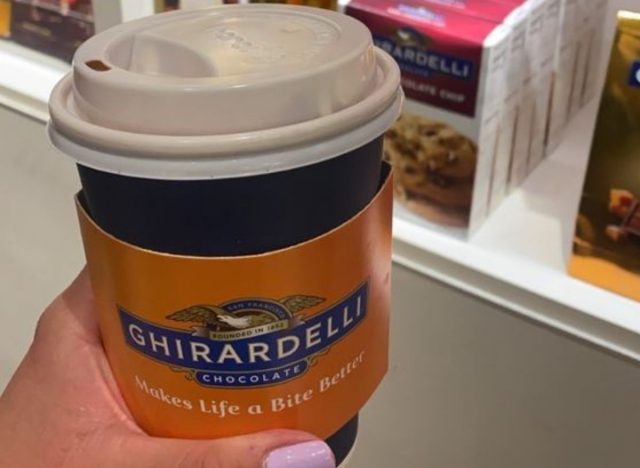 The favorite chocolate shop features several different types of hot cocoa, including sea salt caramel hot cocoa, topped with a Ghirardelli chocolate square. You can also get traditional style with whipped cream, if that's more your thing.
NEW HAMPSHIRE: Dancing Lion Chocolate in Manchester
This sweet cafe serves a favorite–Mayan Drinking Chocolate that's made the old way, with just chocolate, water, and spices served frothy in a bowl. Try the Mayan Heat (spicy) or Creamy Dark (gentle).
NEW JERSEY: Milk Sugar Love in Jersey City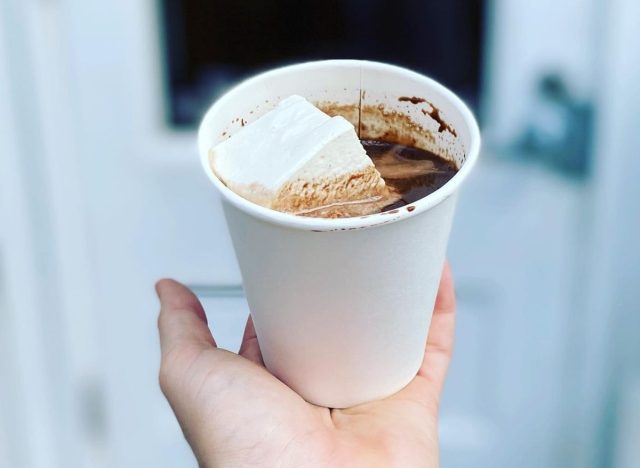 This creamery and bakeshop throws in a dash of extra sweetness, topping their cocoa with a housemade vanilla bean marshmallow.
NEW MEXICO: Kakawa Chocolate House in Santa Fe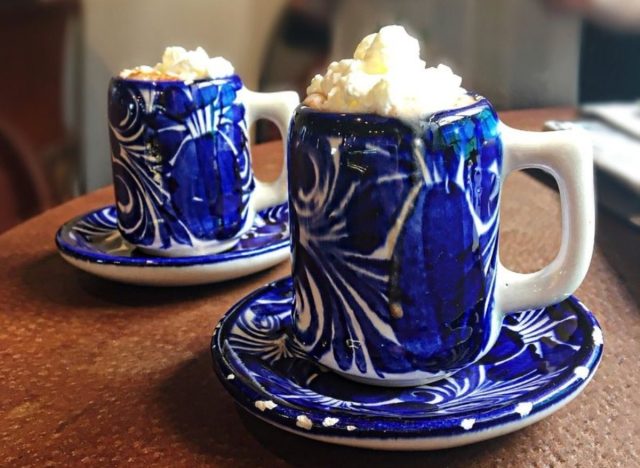 This shop specializes in Mayan Aztec hot chocolate, featuring recipes that date back to the pre-Columbian era. The candy is equally unique.
NEW YORK: Bar Pisellino in NYC
Via Carota's little sister serves hot chocolate that's so rich it's like drinking dessert, and it's topped with a melty dollop of firmly-whipped panna.
NORTH CAROLINA: French Broad Chocolate Lounge in Asheville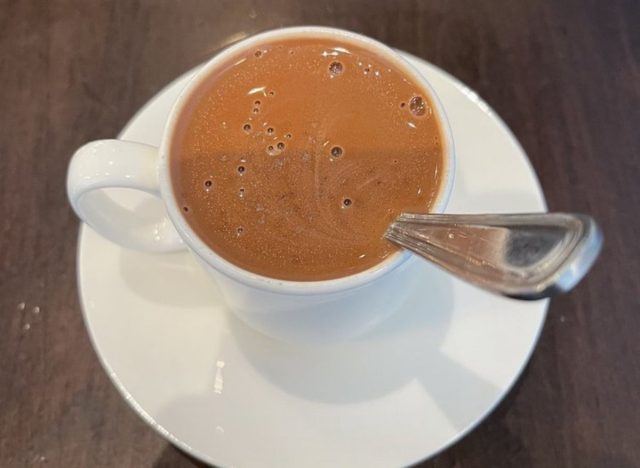 This chocolatier makes its cocoa from local, organic ingredients. Try the cayenne and cinnamon hot chocolate with extra bittersweet chocolate ganache.6254a4d1642c605c54bf1cab17d50f1e
NORTH DAKOTA: Nichole's Fine Pastry in Fargo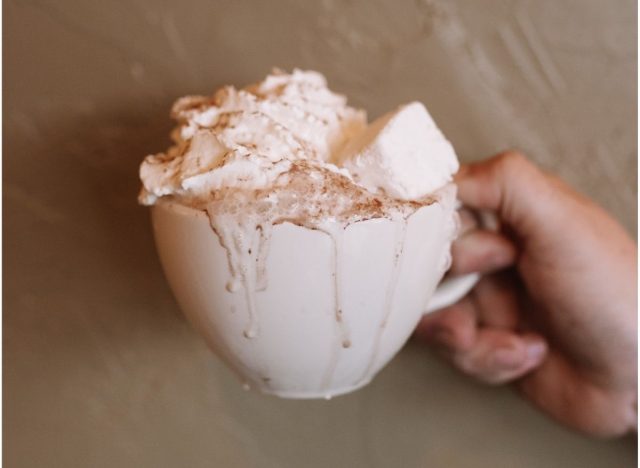 This pastry shop and cafe, which was featured on Diners, Drive-ins and Dives, offers a cafe menu at lunch, fancy pastries, and rich, silky hot chocolate.
OHIO: Blackbird Baking Company in Lakewood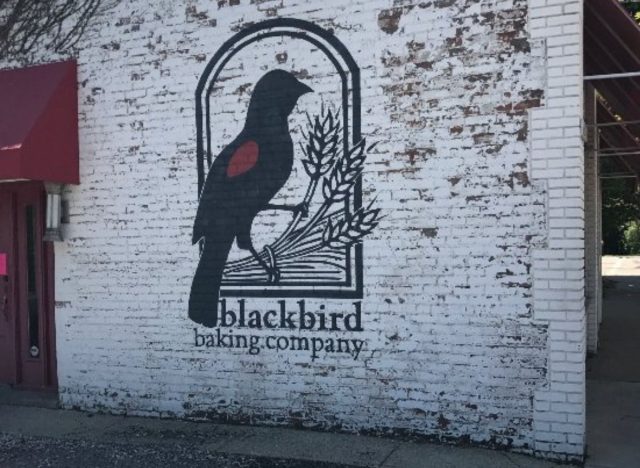 Made with steamed house-made bittersweet chocolate milk, this bakery leaves a bit of rich, dark chocolate at the bottom of every cup for a super chocolatey drink.
OKLAHOMA: Katiebug's Sips and Sweets in Oklahoma City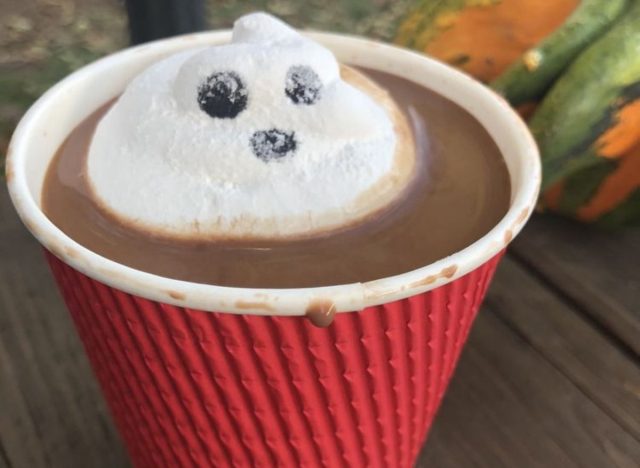 This sweet shop offers organic hot chocolate paired with organic marshmallows, for a wholesome treat you'll love to sip.
OREGON: Stumptown Coffee Roasters in Portland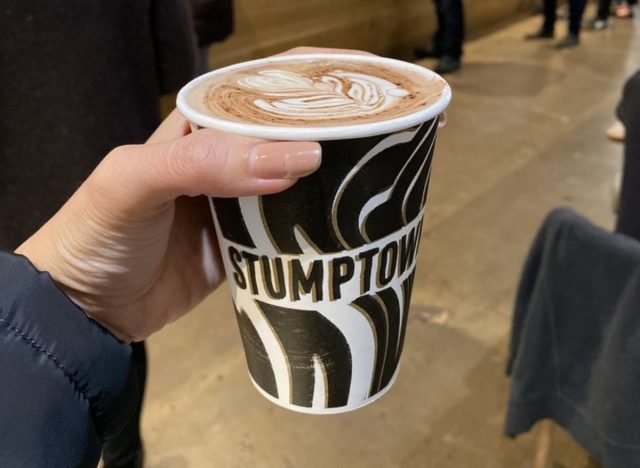 You won't get more hipster–and more delicious–than this shop's blend of Mast Brothers Chocolate from Brooklyn with hot milk and sugar.
PENNSYLVANIA: Rim Cafe in Philadelphia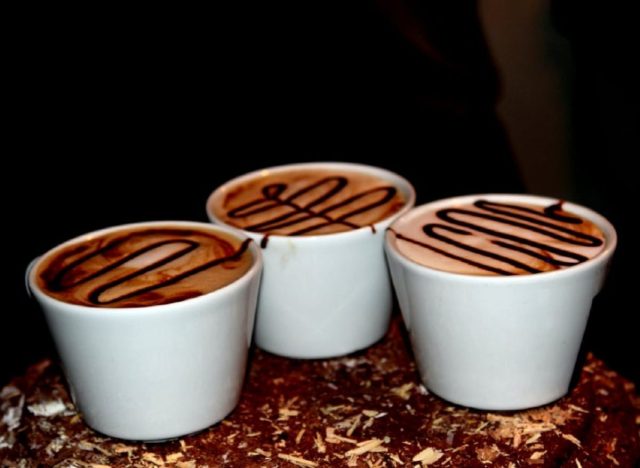 This Philly institution is a baker, bar, and sweet shop with the best hot chocolate in the city, according to locals.
RHODE ISLAND: The Nook Coffee House in Providence
More than just chocolate, The Nook offers smooth and creamy hot chocolate flavors like vanilla and honey.
SOUTH CAROLINA: Drip Coffee in Columbia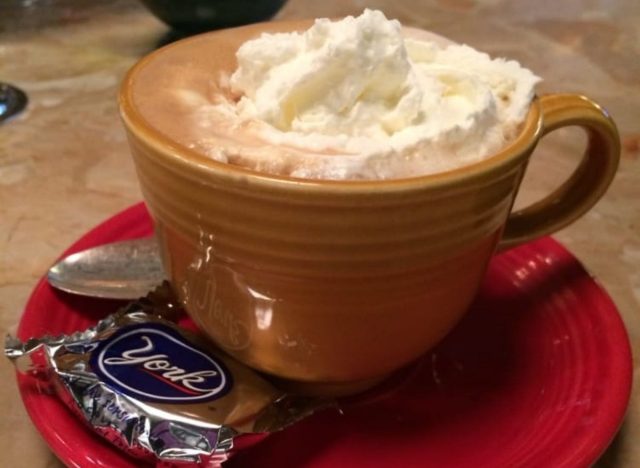 This coffee shop blends two types of chocolate for a decadent mug of hot cocoa they serve with heavy cream.
SOUTH DAKOTA: Harriet & Oak in Rapid City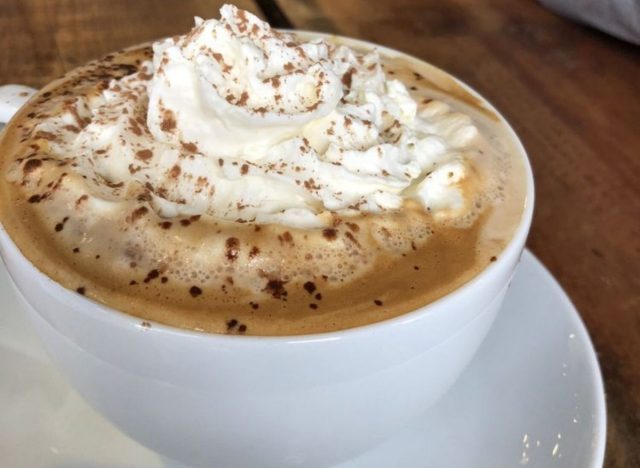 "Good Mexican Hot Chocolate" can be had at this hip cafe that serves breakfast and lunch. Bonus points for having a vintage VW bus parked in the middle of the dining room.
TENNESSEE: Tempered Fine Chocolates in Nashville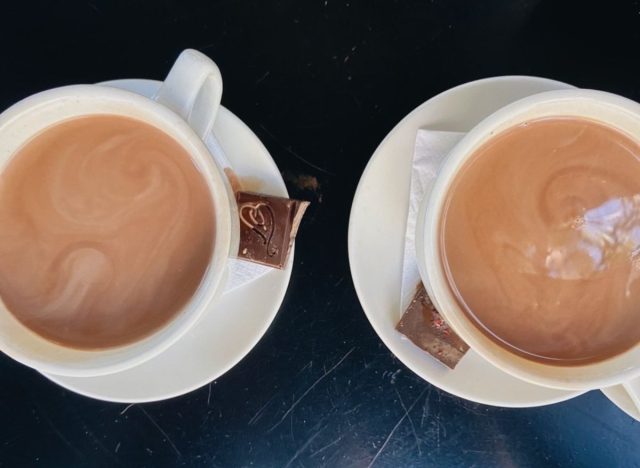 Locals rave about the unique hot chocolate at this shop, with one writing, "This place has the BEST hot chocolate in town! They melt the inside of their truffles and add cream. It's heavenly."
TEXAS: Fluff Meringues in Austin
The shop serves an amazing Mexican hot chocolate with a vanilla-cocoa meringue topper of course, as well as a ginger-caramel drizzle.
UTAH: Les Madeleines in Salt Lake City
Closer to drinking chocolate than classic hot cocoa, this classically French pastry shop's drink is downright decadent. The baked goods don't disappoint either.
VERMONT: Lake Champlain Chocolate and Cafe in Burlington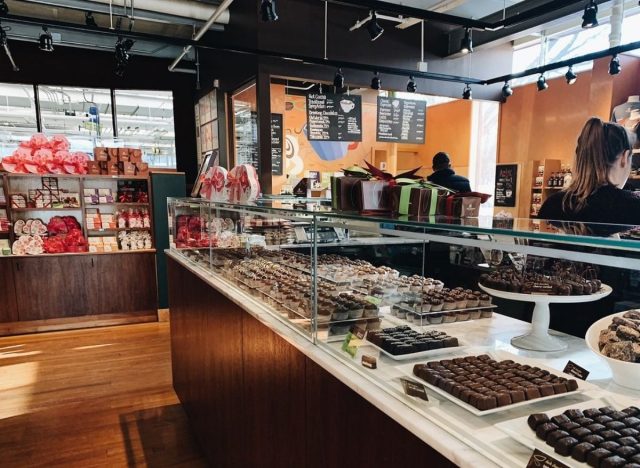 The chocolate maker's cafe whips up multiple hot cocoa options like Peppermint Drinking Chocolate, Aztec Hot Chocolate, 70% Drinking Chocolate, and of course, a traditional style.
VIRGINIA: River Seas Chocolate Factory in Chantilly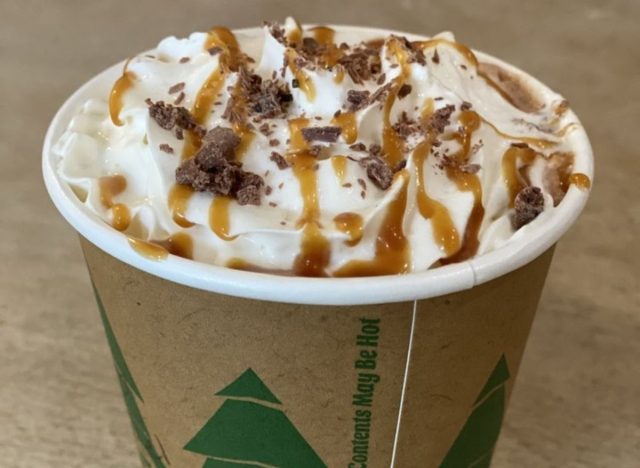 This chocolate shop serves super creative flavored hot chocolate, with one local writing, "Highly recommend the rum caramel, and if you like a floral note the rose chocolate is just the right amount."
WASHINGTON: Chocolati in Seattle
The name for this shop comes from the Aztec and Mayan word "xocolatl" meaning "drink of the gods," and the warm drink delivers.
WEST VIRGINIA: Kaminsky's Dessert Cafe in Charleston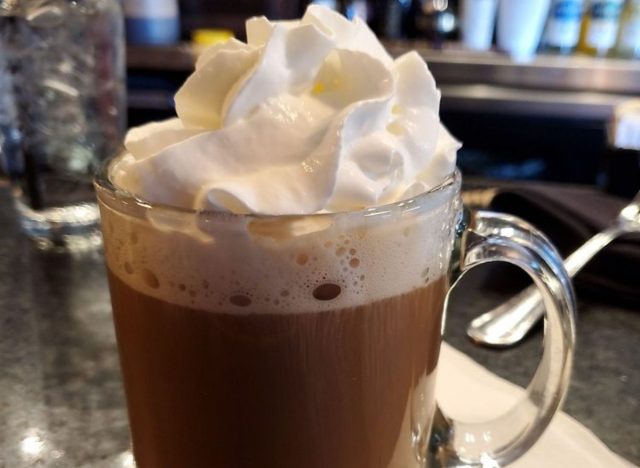 This sweets cafe serves their hot chocolate latte style, with steamed milk, for an extra creamy punch.
WISCONSIN: Madison Chocolate Company in Madison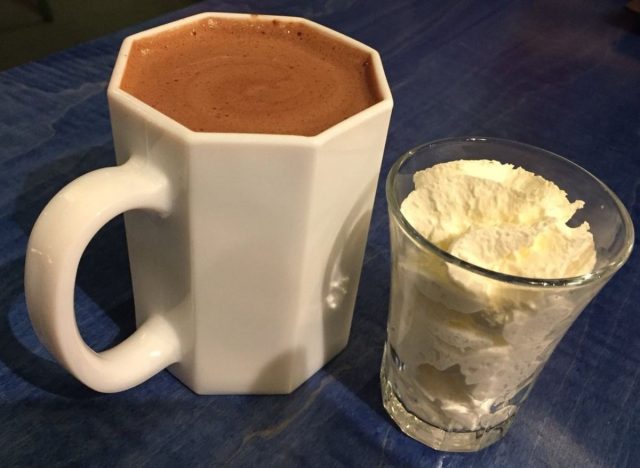 This charming cafe serves a lush single-origin traditional hot chocolate and kicked-up spicy hot chocolate. For the little ones, they offer a warm chocolate (kid temperature!) with sprinkles and whipped cream.
WYOMING: Paramount Cafe in Cheyenne
This quaint spot in an old theater serves hungry cowboys coffee, pastries and of course, hot chocolate deliciousness.
READ MORE: The Best Bakery in Every State
Tanya Edwards
Tanya Edwards is a seasoned food and health journalist, who has held roles at Yahoo Health as Managing Editor and at Food Network as Programming Director.
Read more about Tanya