The Best Taco in Every State
You'll want to bite into every one of these street-food gems.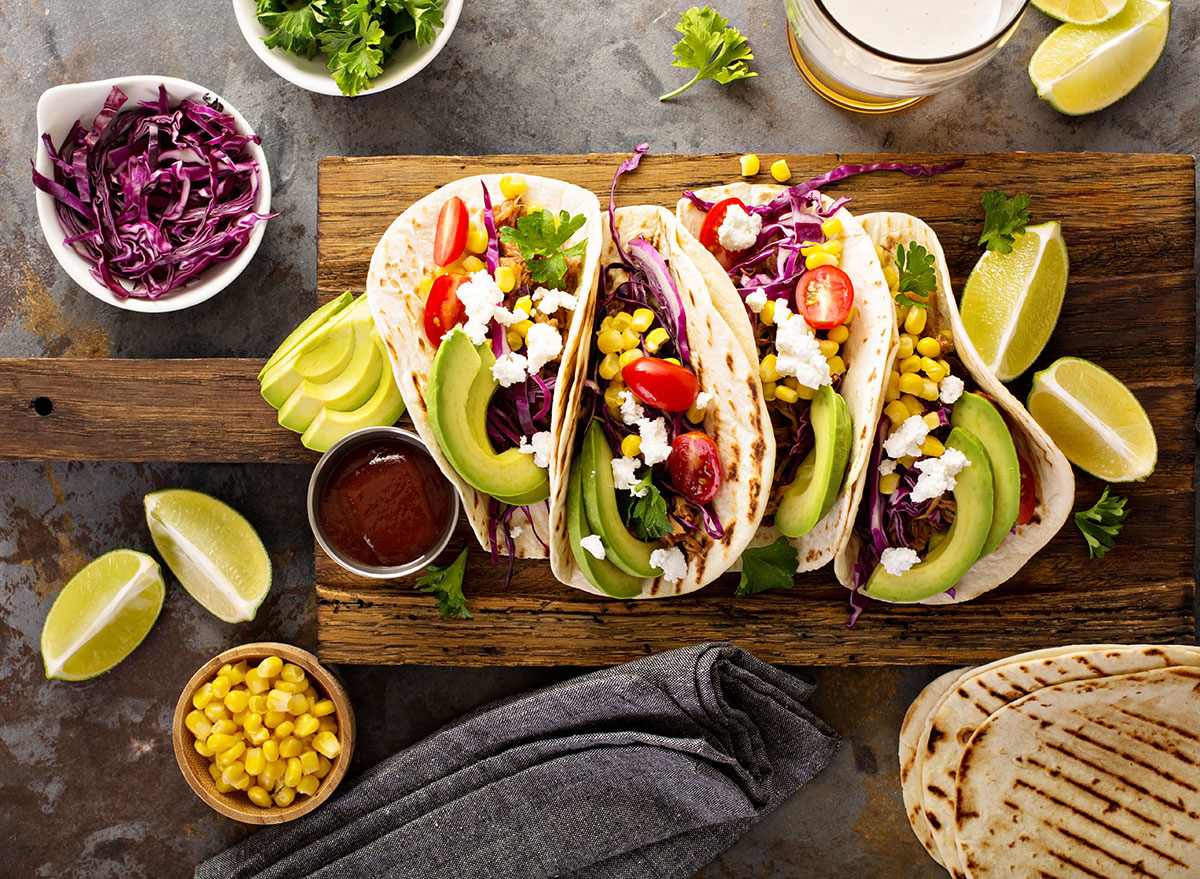 Tacos have become a culinary sensation, with countless iterations across the 50 states alone. But do you know exactly where to go to find the best tacos—and what to order once you're there? To help us find the absolute best taco in every state, we consulted our friends at Yelp.
Methodology: This is a list of the best taco places in every state in the country, according to Yelp. The company identified businesses in the restaurants and food categories with a large concentration of reviews mentioning "taco," then ranked those spots using a number of factors, including the total volume and ratings of reviews mentioning "taco."
Salivating yet? Put away the utensils and grab an extra stack of napkins before you head to grab the best taco in every state.
And for more, don't miss The Best Chicken Wings in Every State.
ALABAMA: Dos Hermanos Taco Truck in Birmingham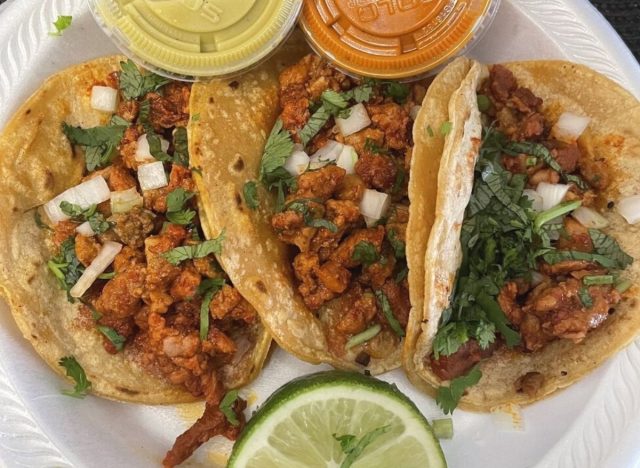 Customers rave about the authentic tacos served out of this unassuming taco truck. "'Taco Heaven' should really be the name of this food truck," raved one reviewer. Don't be dissuaded if there's a long line, customers say it moves very fast and the food is worth the wait.
ALASKA: Beer-Battered Rockfish Taco at Deckhand Dave's Fish Tacos in Junaeu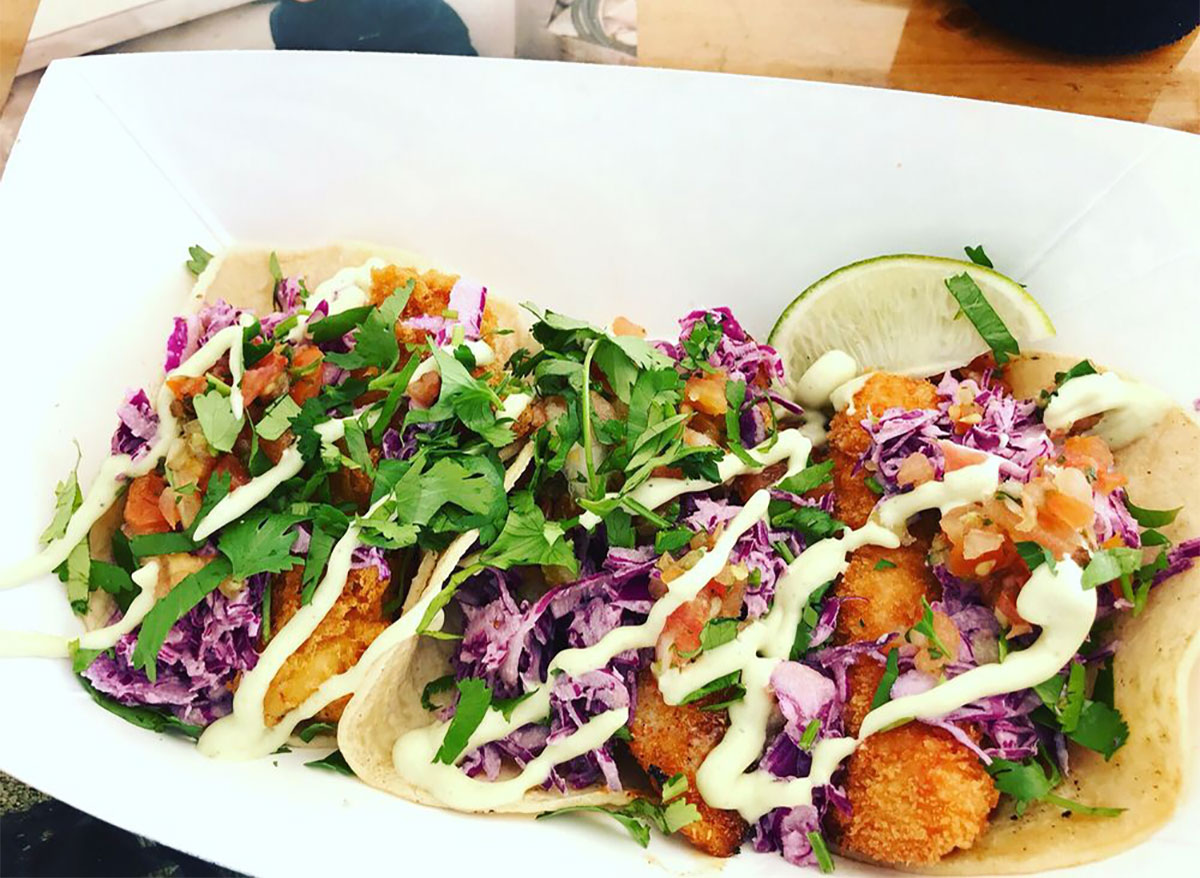 Many Yelp reviewers have named Deckhand Dave's Fish Tacos the best in all of Alaska and even all of the U.S. Try the salmon tots on the side, too.
ARIZONA: Bamba Taco at La Bamba Mexican Grill Restaurant in El Mirage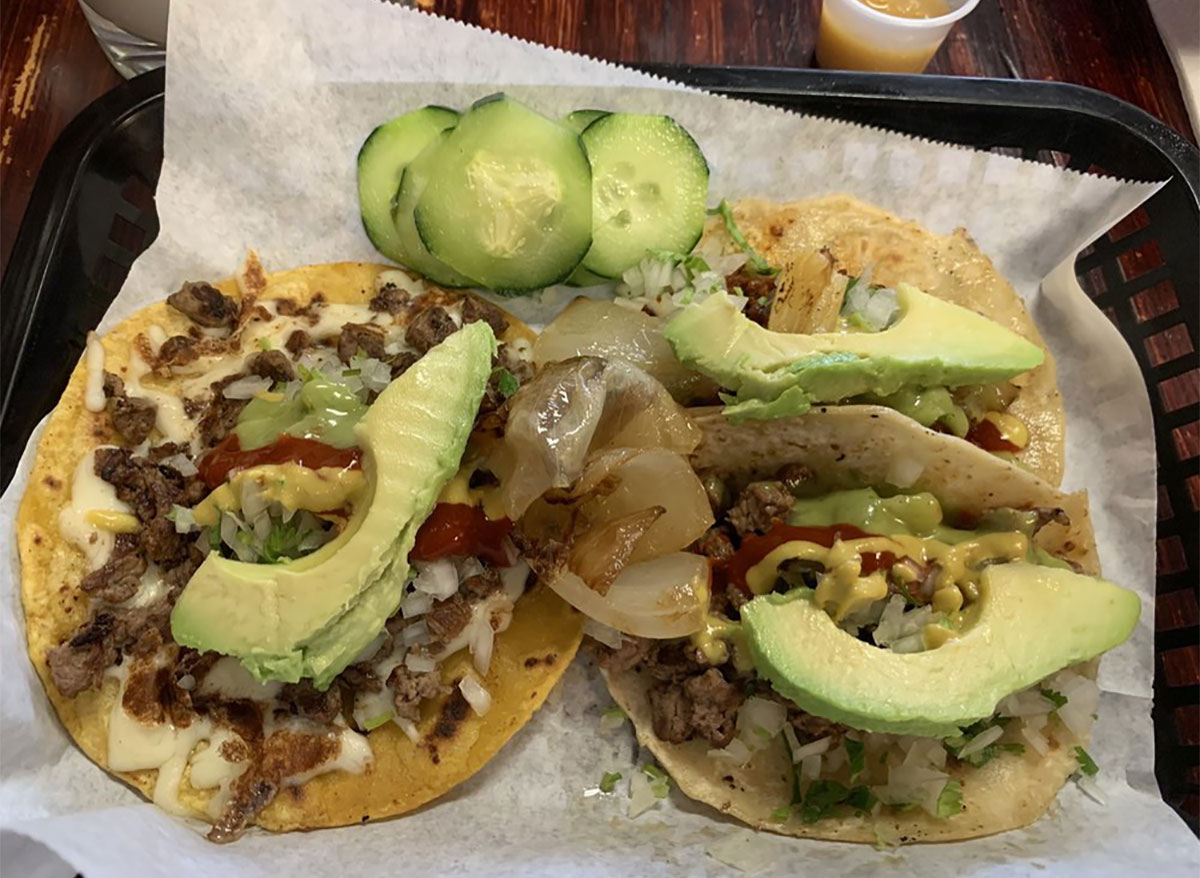 You can't go wrong with any taco on the menu at this Mexican spot. "Their Bamba tacos are out of this world," one Yelp reviewer wrote. "Each bite is an experience."
ARKANSAS: General Tso Taco at Trickdilly in Bentonville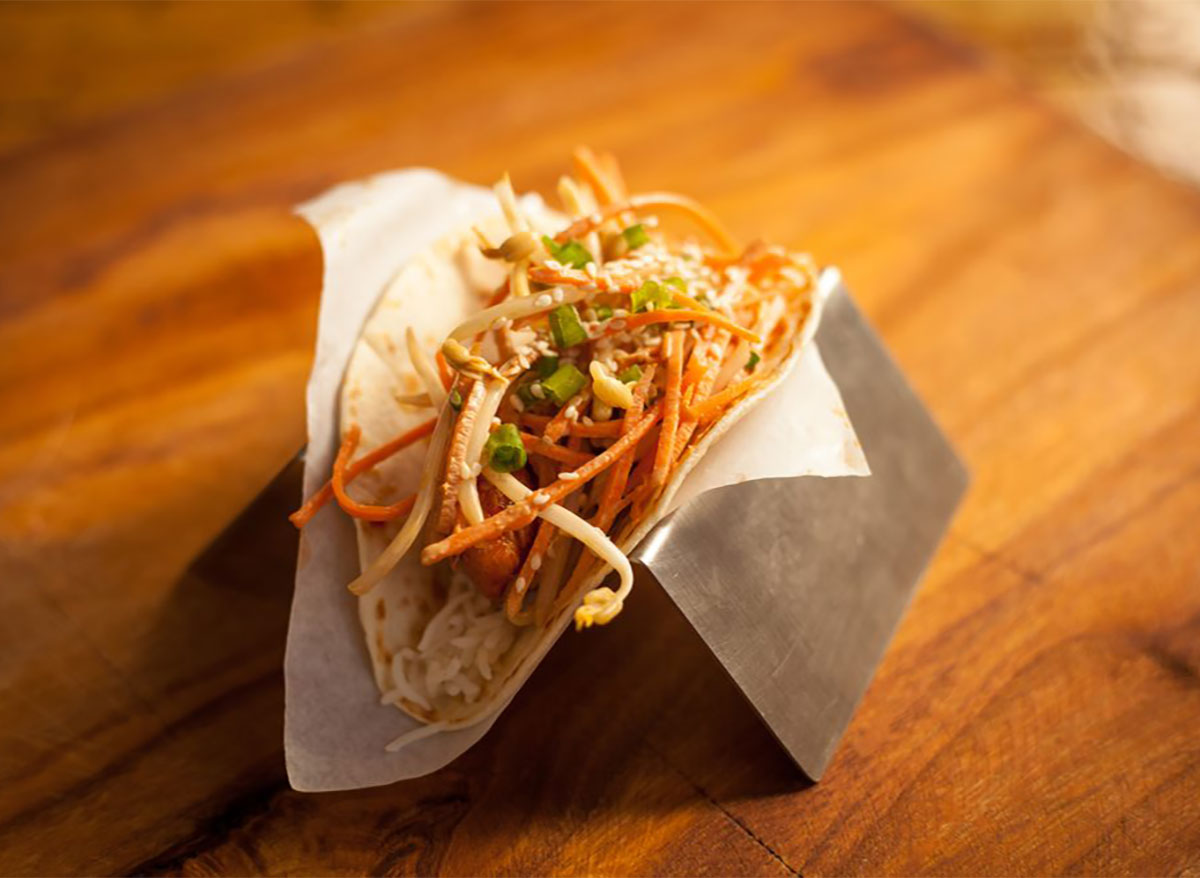 Did you ever think you'd see the flavors of General Tso's chicken in a taco? Expect the unexpected at Trickdilly.
CALIFORNIA: Octopus Taco at Holbox in Los Angeles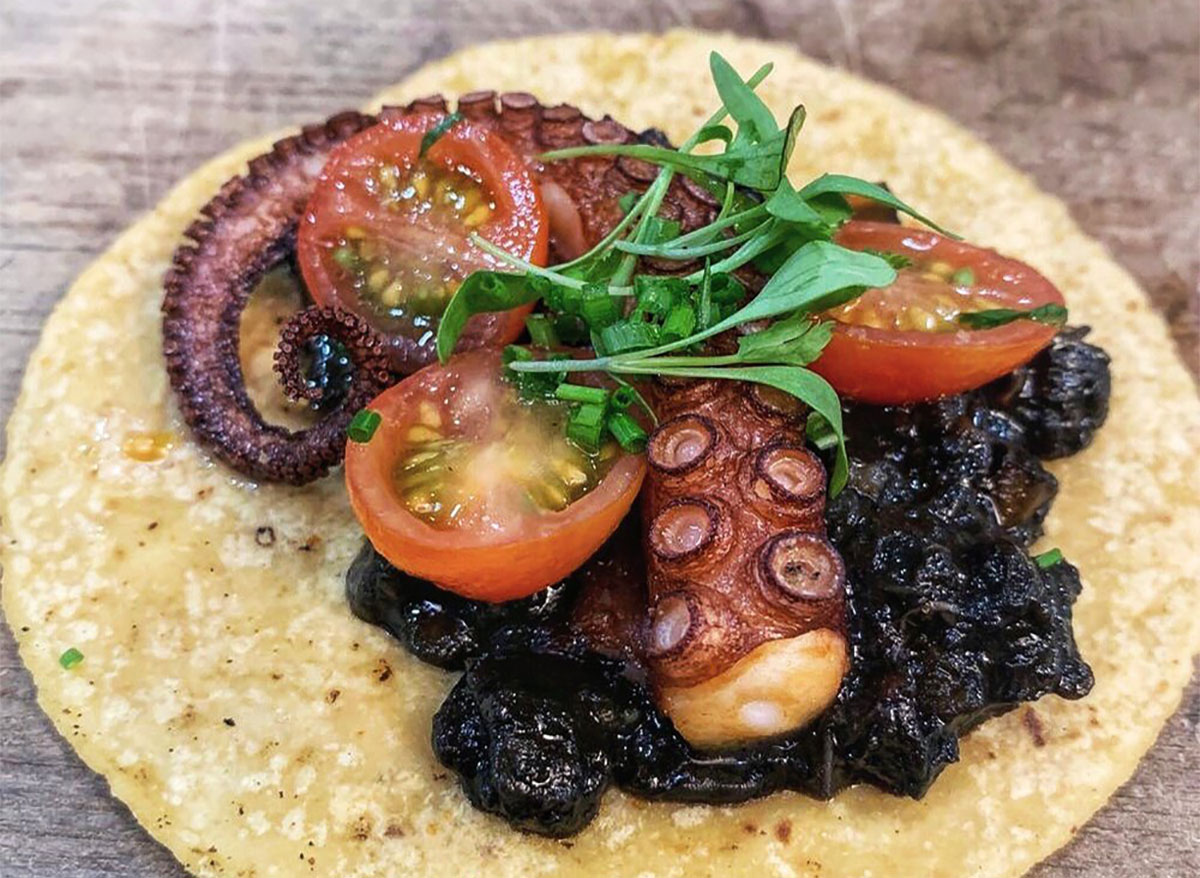 You should definitely try the fried fish tacos at Holbox, but if you're feeling adventurous, try an octopus taco, too.
COLORADO: Evelyn Taco at Taco Choi in Centennial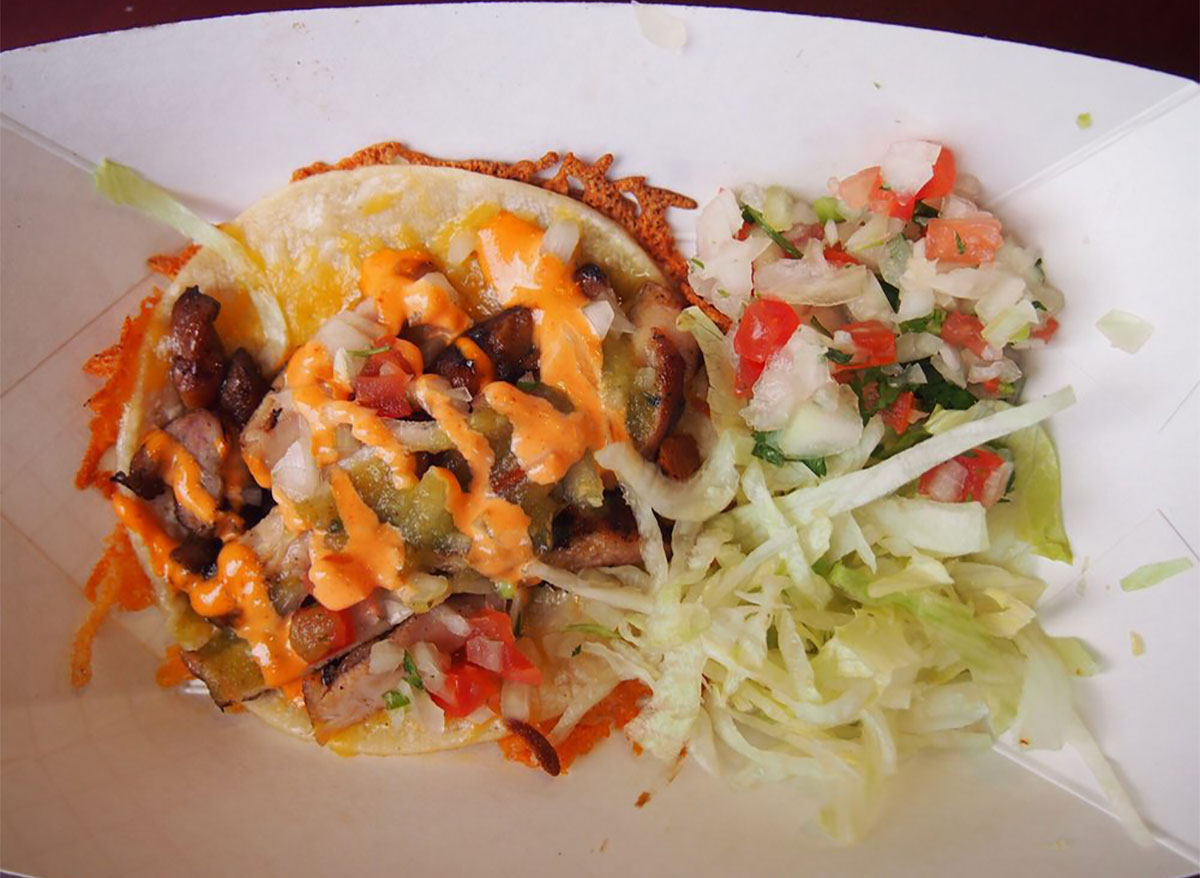 The Evelyn taco at Taco Choi features dark-meat chicken with a Korean red pepper sauce. It's unlike anything you've ever tasted.
CONNECTICUT: Chorizo Taco at Taco Bachi in Brookfield
Taco Bachi is the perfect spot to come for a quick fix of taco goodness when you're looking to feast on a meal that one Yelp reviewer described as "the best Mexico/Latin food you will get in upper Fairfield County." The chorizo tacos are a knockout here.
DELAWARE: Buffalo Shrimp Taco at Taco Reho in Rehoboth Beach
You've had shrimp tacos, but what about buffalo shrimp tacos? That's just one of the many inventive things you'll find on the menu at Taco Reho.
FLORIDA: Lechón Taco at Caja Caliente in Coral Gables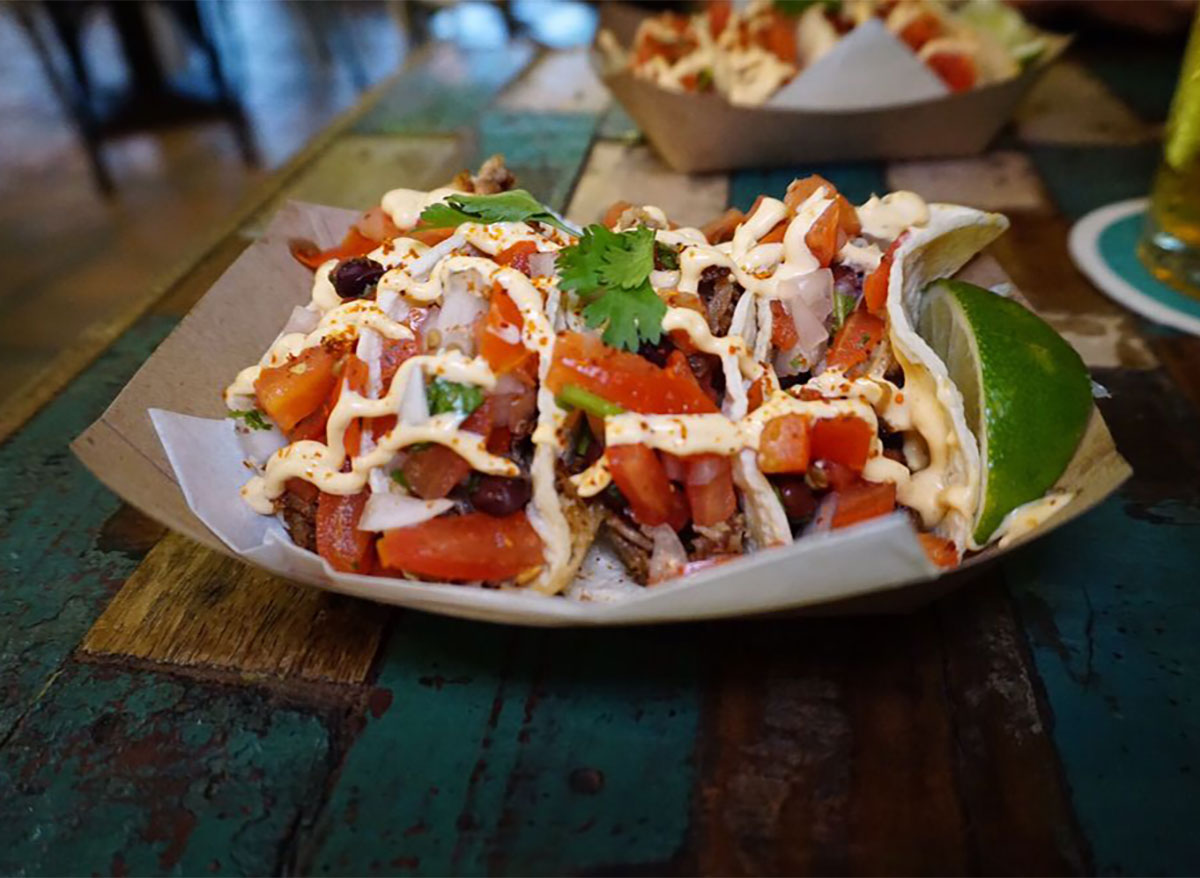 These marinated pork tacos are the way to go at Caja Caliente. "Their lechón (pork) is marinated and cooked to the point of perfection without being dry," one Yelp reviewer wrote. Sounds good to us!
GEORGIA: Mexican Taco at Tacos Del Chavo in Kennesaw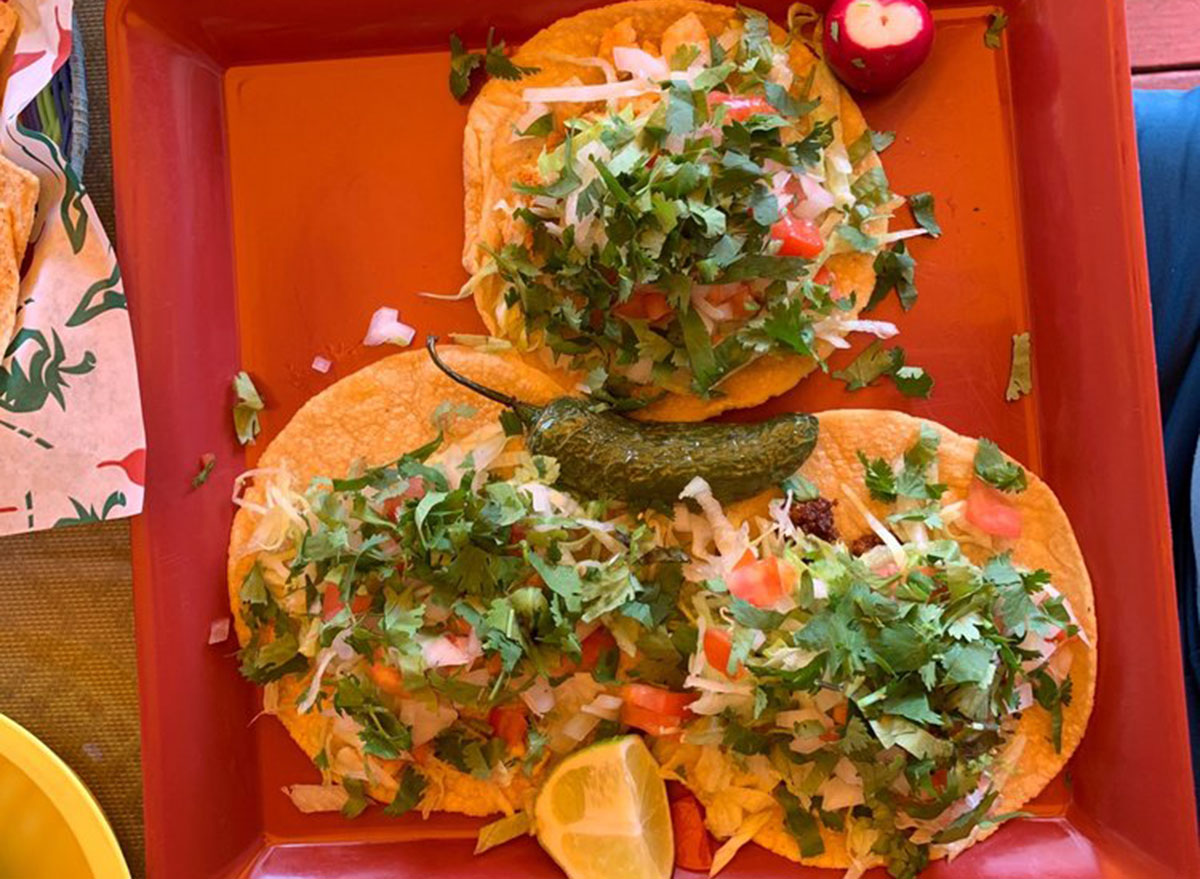 The Mexican tacos are top-notch at Tacos Del Chavo, so when you're in the mood for truly authentic fare in Georgia, this is the place to go. But as one Yelp reviewer pointed out, this family-run business not only has some of the best street-style tacos, but it's a pleasant dining experience each time with the friendly staff often chatting with customers.
"The very best part of this little gem is the hospitality. The family that runs this place is not "running a restaurant"—they are extending their home to you. This is true hospitality. They're a local Kennesaw family with roots in the area and it really warms my heart to be here!  The few times I've been here, I'm already recognized and it makes me feel even better," he wrote.
HAWAII: Fish Taco at Shaka Tacoz in Captain Cook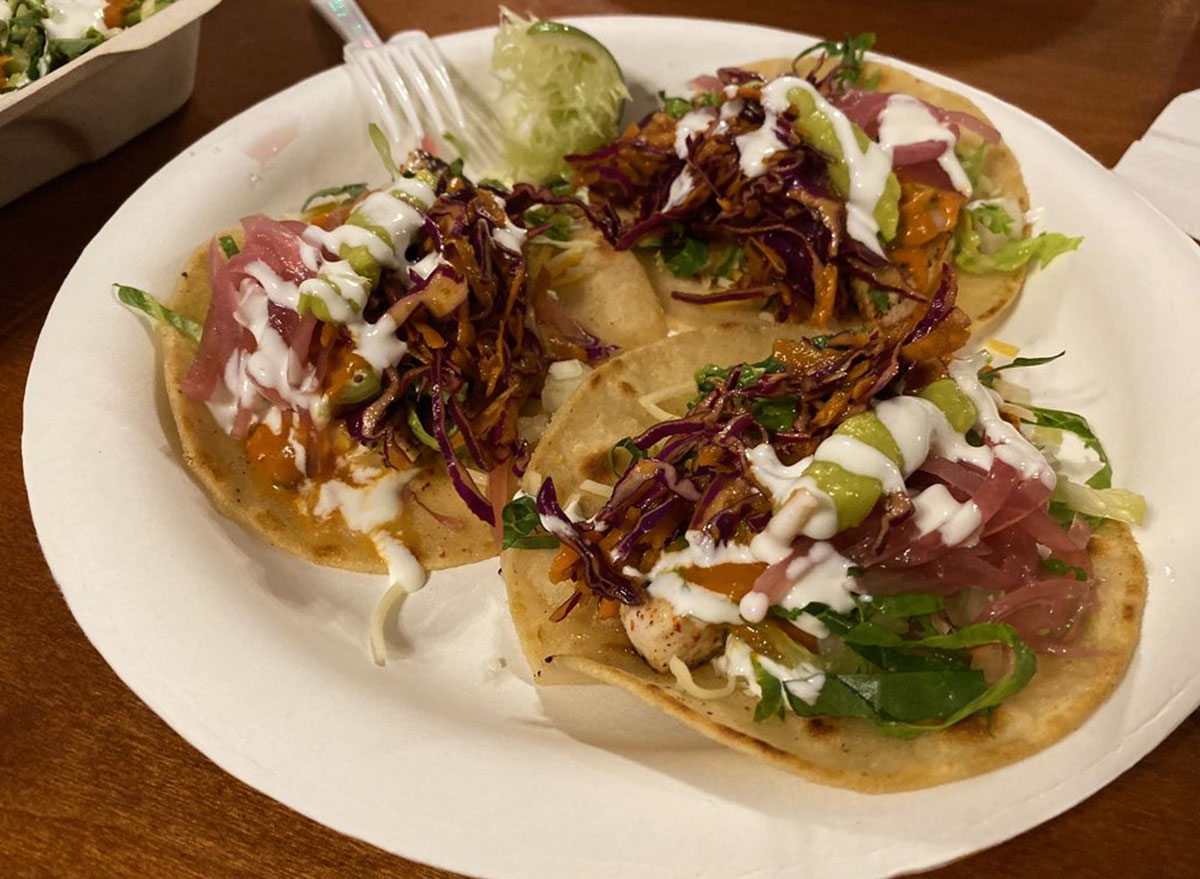 What makes Shaka Tacoz stand out is that you order from a food truck, but there is an inside dining area with picnic tables, so you can sit and enjoy your tacos right there, rain or shine. When in doubt, order the fish tacos, as one Yelp reviewer pointed out, "It's seriously the best fish tacos you will find on the Big Island. It's packed full of flavor and cooked so perfectly."
IDAHO: Tacos Rancheros at Morenita's Mexican Restaurant & Bakery in Idaho Falls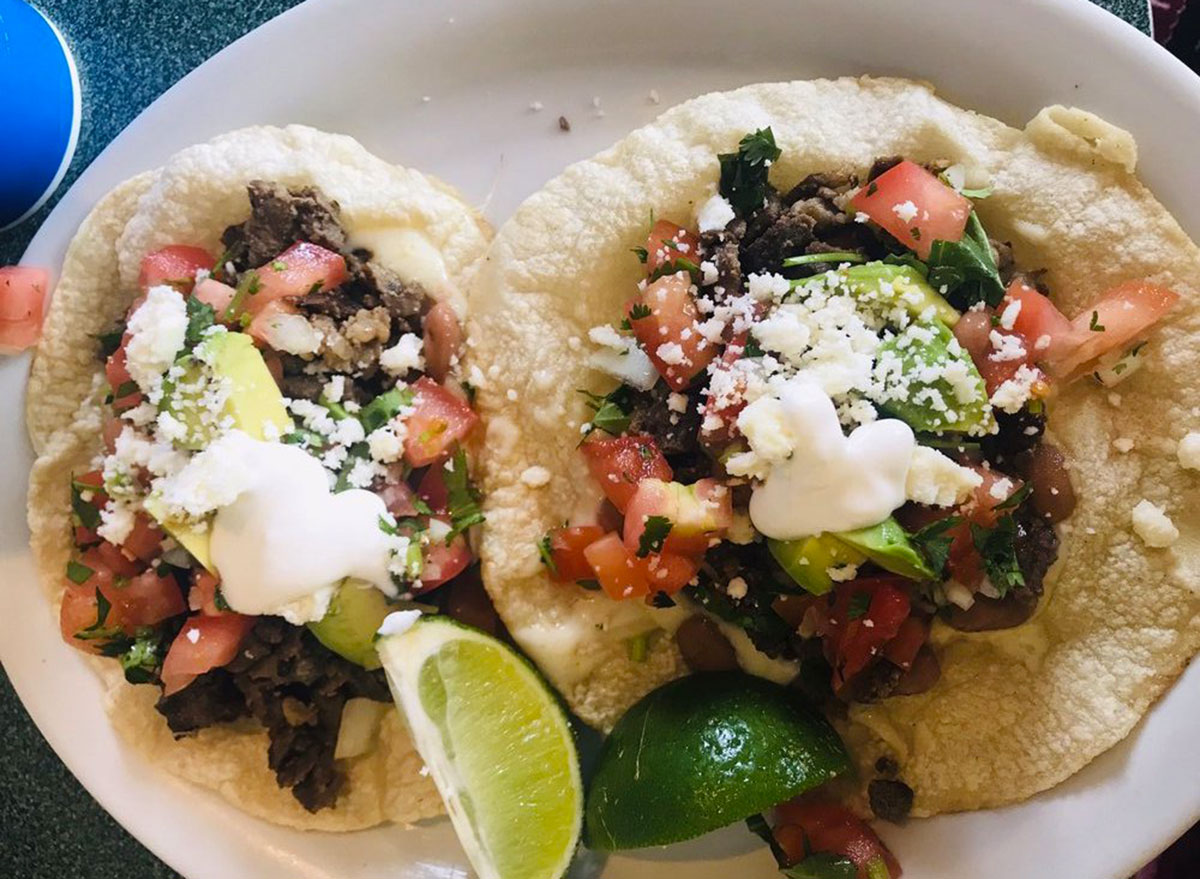 Make sure you come with a big appetite to Morenita's! One Yelp reviewer wrote, "The tacos here are fat, delicious and authentic. Freshly made tortillas, hot sauce, and horchata!" Can't beat that, right? The top choice is the tacos rancheros, which left one reviewer hooked after just one bite.
ILLINOIS: Al Pastor at Edgewater Tacos in Chicago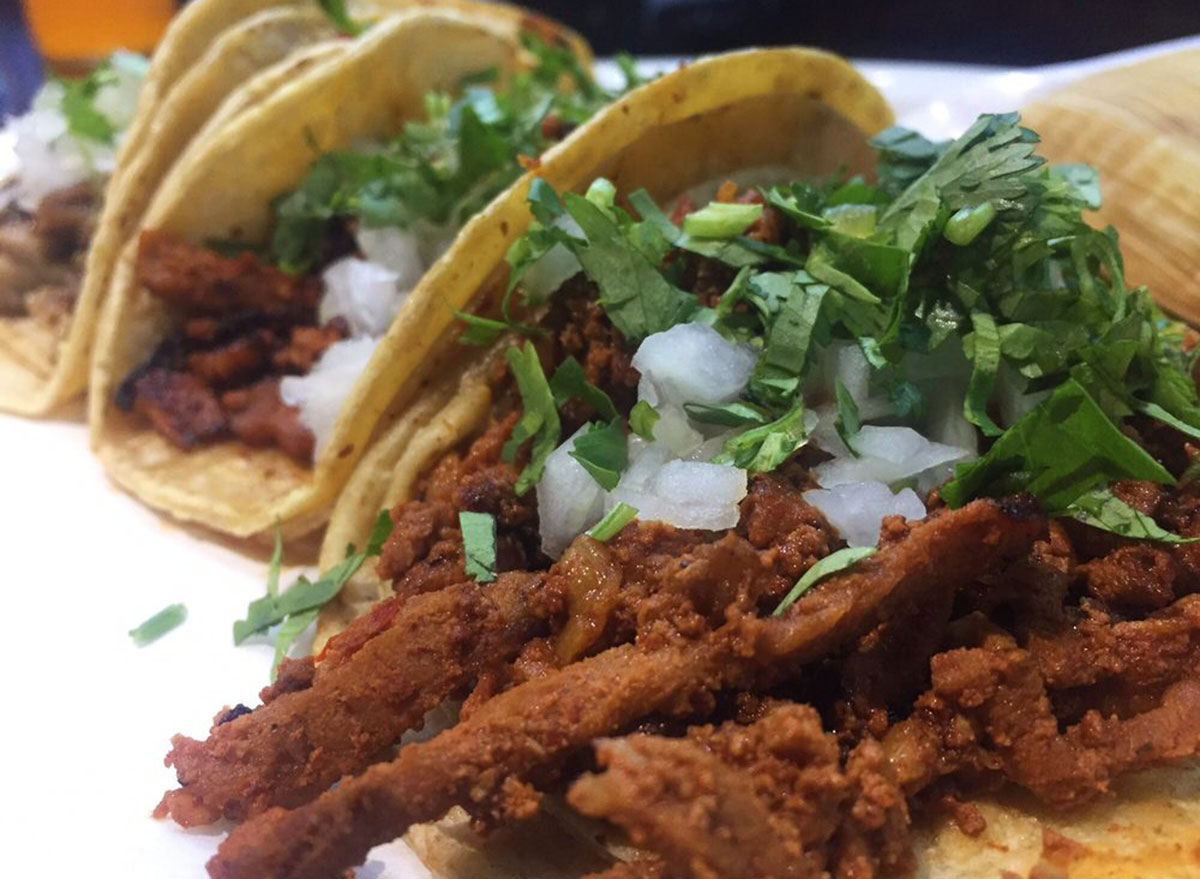 The carne asada and Al Pastor are the best you can order at Edgewater Tacos, with the Al Pastor tacos standing out, thanks to the hearty pineapple chunks you'll taste as you dig in. One thing not to miss out on is the green salsa. "[It's] one of my favorite salsas in Chicago. It's got a good amount of heat to pair along with the flavor. This stuff brings the tacos to another level," one Yelp reviewer wrote.
INDIANA: Pineapple Pork Taco at TaColumbus in Columbus
Yelpers love the pineapple pork tacos at this Mexican spot, and they also love all of the sauces this eatery has to offer. Dig in!
IOWA: Lengua Taco at La Regia Taqueria in Iowa City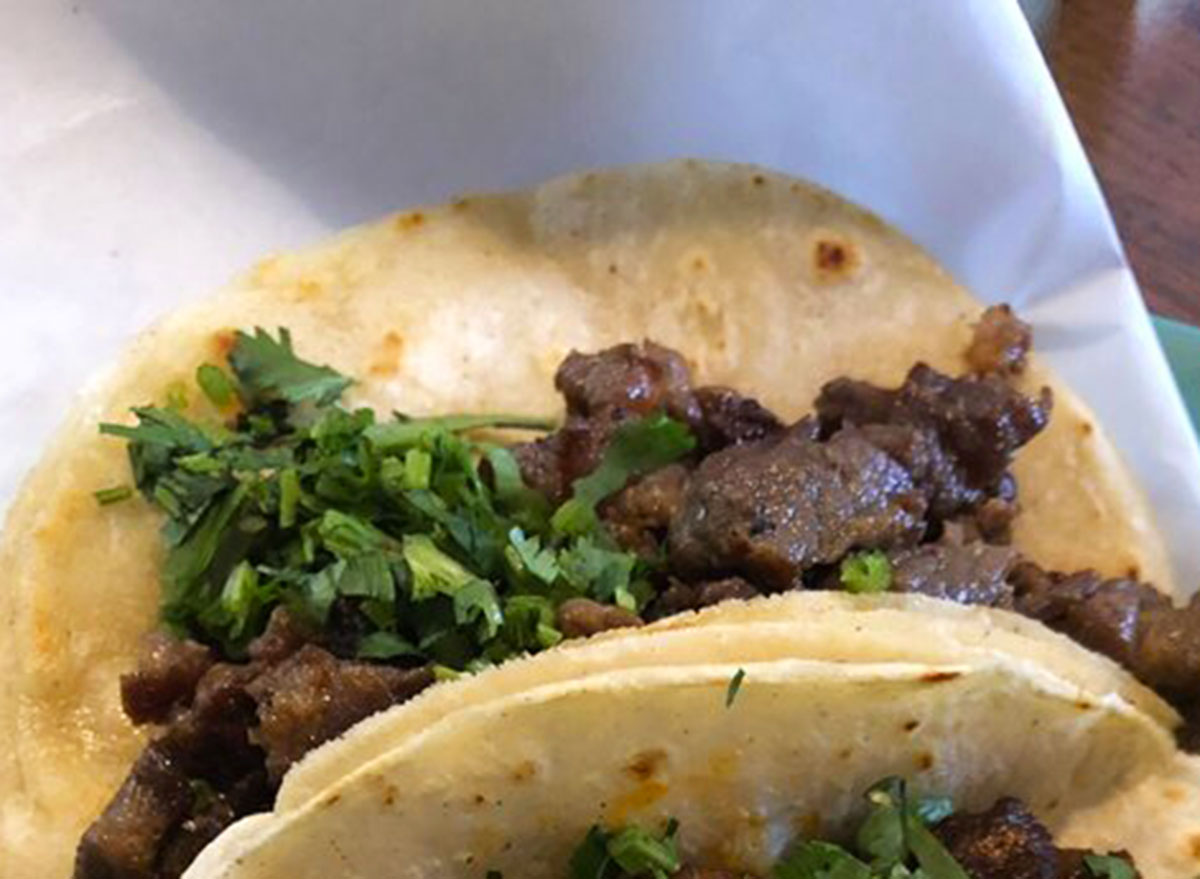 The Lengua Taco, which, yes, is cow's tongue, is the popular menu item at La Regia Taqueria. Order this alongside chips, and you're in for a perfect meal. The restaurant underwent some renovations and expanded, with Yelp reviewers saying everything on the menu stayed as great as ever.
KANSAS: Street Style Taco at Don Antonio's Carnicería Y Taqueria in Kansas City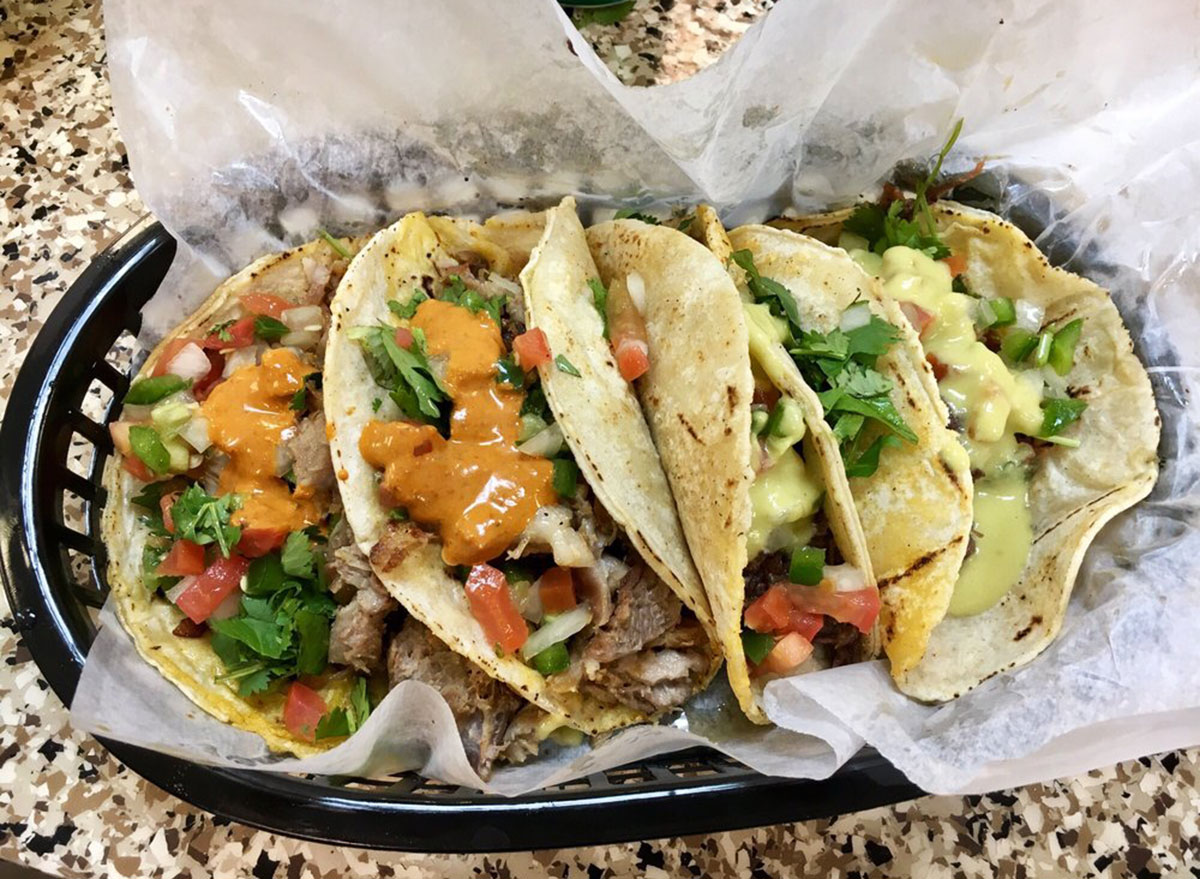 Hands down, the tacos here at Don Antonio's Carnicería Y Taqueria are said to be some of the best street-style tacos ever. No matter which meat you go with, you're in for a true treat. But many on Yelp made sure to note that getting a churro when you're at the checkout counter is a must. You don't have to convince us.
KENTUCKY: Mahi Mahi Taco at Taco Choza in Louisville
When checking out Taco Choza, the clear frontrunner is the Mahi Mahi taco. The fish is "grilled to perfection, with a hint of char and just flakes beautifully with no effort when eaten with a fork (or in the tortilla). The combination of pico and sauce further compliments the Mahi flavors," one Yelp reviewer says.
LOUISIANA: Brisket Taco at Pacos Tacos Metairie in Metairie
With this taco spot's five for $10 deal, you can try multiple tacos in one visit. Yelpers rave about the brisket tacos, but the other options are great, too.
MAINE: Fish Taco at Taco Trio in South Portland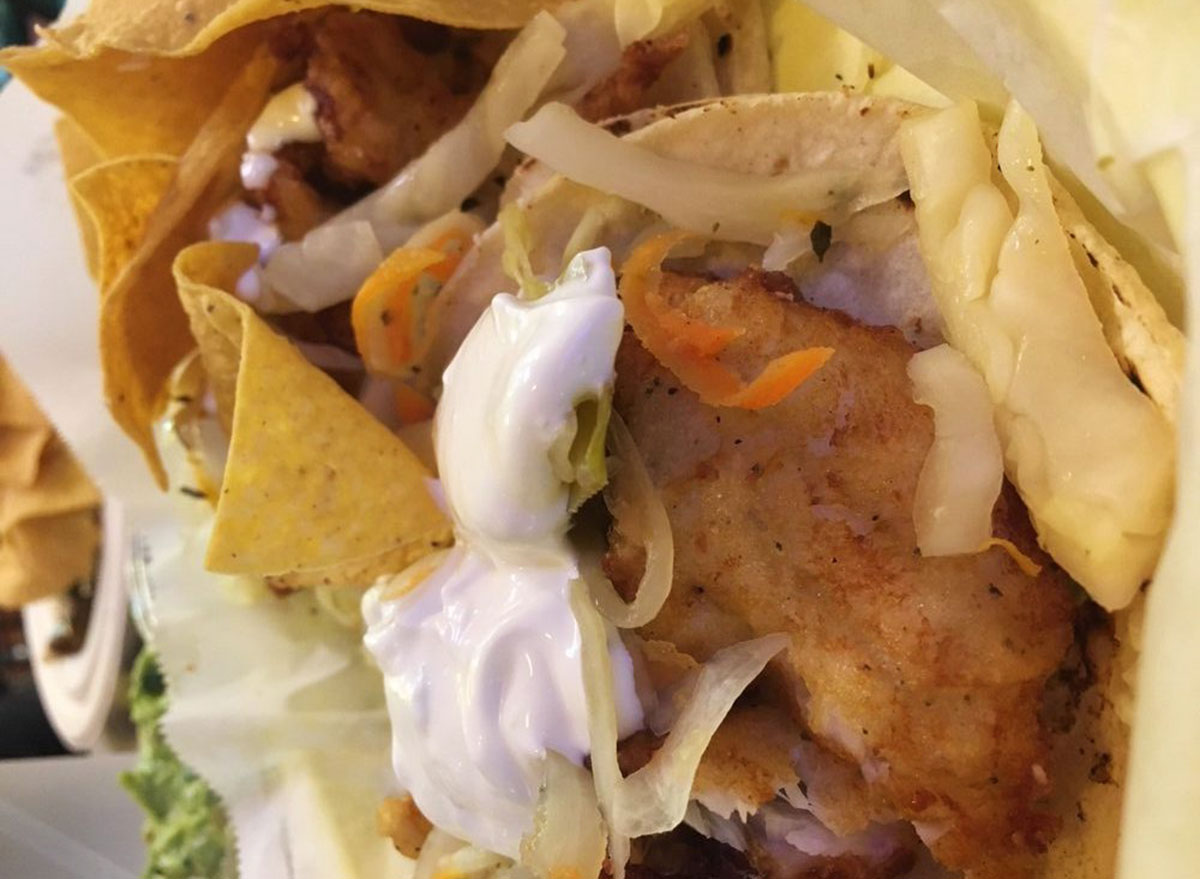 As one Yelp reviewer wrote, "The fish tacos with the chipotle sauce are to die for!" And the tacos all come with some chips, so prepare to have a truly filling feast at Taco Trio.
MARYLAND: Short Rib Street Taco at JesseJay's Latin Inspired Kitchen in Deale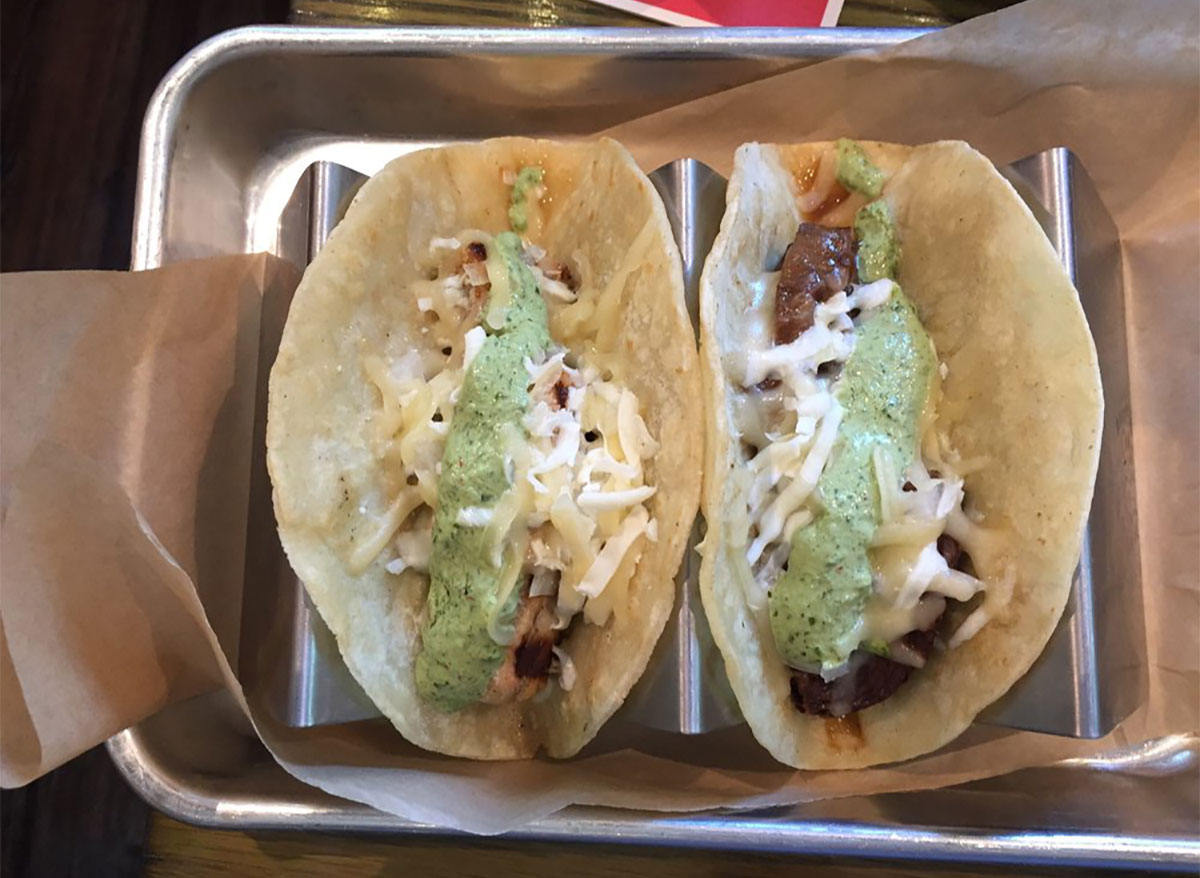 Your best bet is to get a bunch of tacos at JessieJay's and try them all. The Short Rib Street Taco is great, but the shrimp tacos are great, too.
MASSACHUSETTS: Chicken Taco at Taqueria El Amigo in Waltham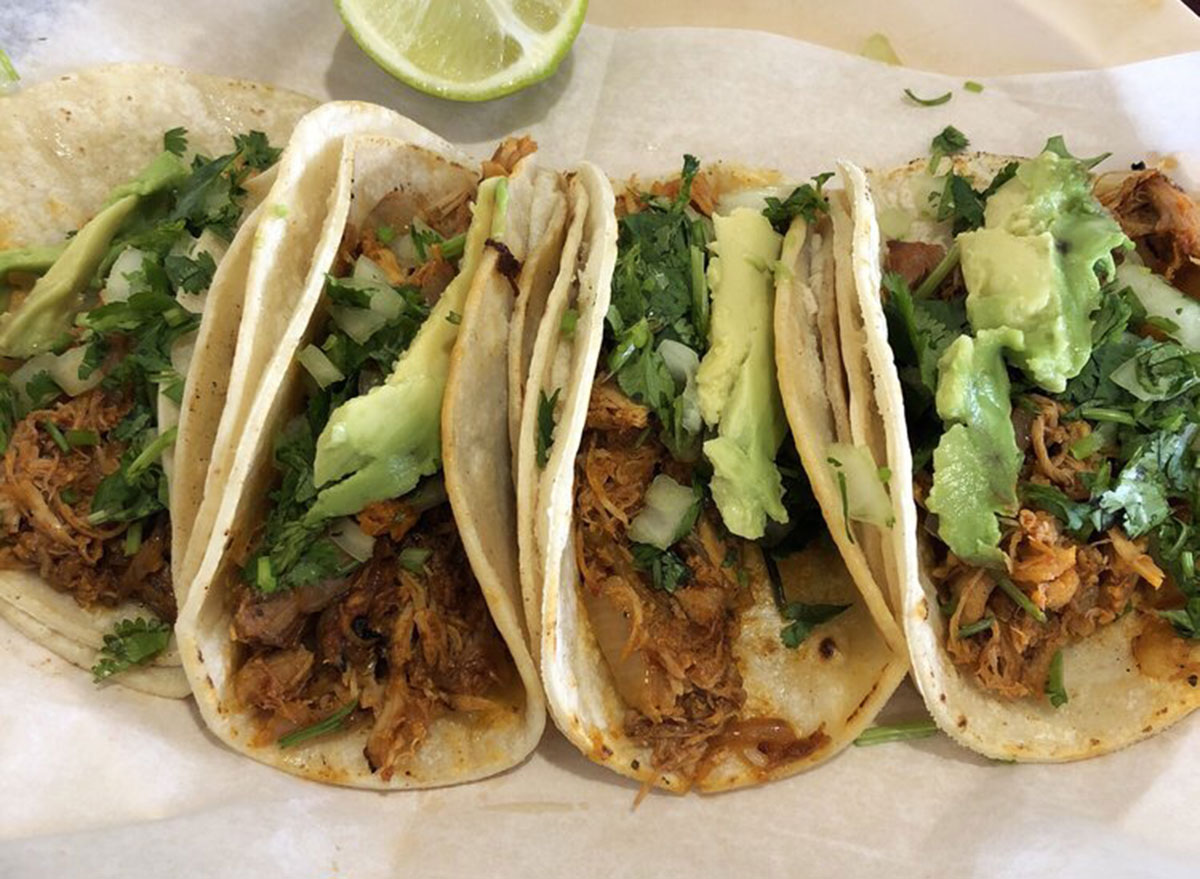 The chicken taco is a staple at most taco joints, and it reigns supreme at Taqueria El Amigo. Each taco comes with a slice of avocado, too, which balances the flavors in the chicken taco perfectly. As one reviewer raved, "The chicken is delicately spiced and juicy, when you take a bite it's like a party of flavors in your mouth. The best tacos!"
MICHIGAN: Korean BBQ Taco at Chino Loco Taqueria in Highland
At this fusion eatery, you can get everything from Pollo Verde tacos to Korean BBQ tacos. We're sold!
MINNESOTA: Carne Asada Taco at Orale Mexican Eats in Minneapolis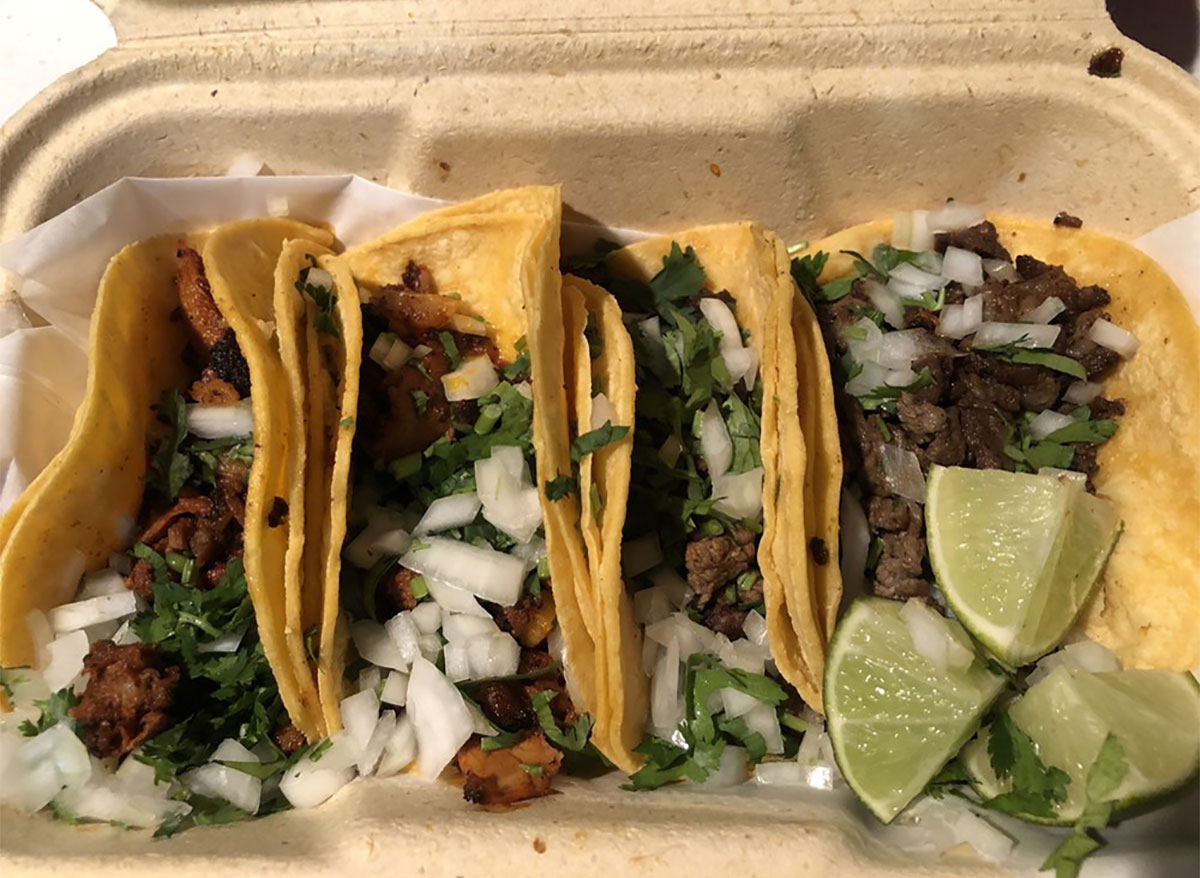 Fish tacos and carne asada are the names of the game at this Mexican eatery.
MISSISSIPPI: BBQ Pulled Pork Taco at The Pig & Pint in Jackson
Pulled pork in a taco? The Pig & Pint combines the deliciousness of tacos and barbecue into one unforgettable meal.
MISSOURI: Pork Belly Tacos at El Gallo Mexican Food in Kansas City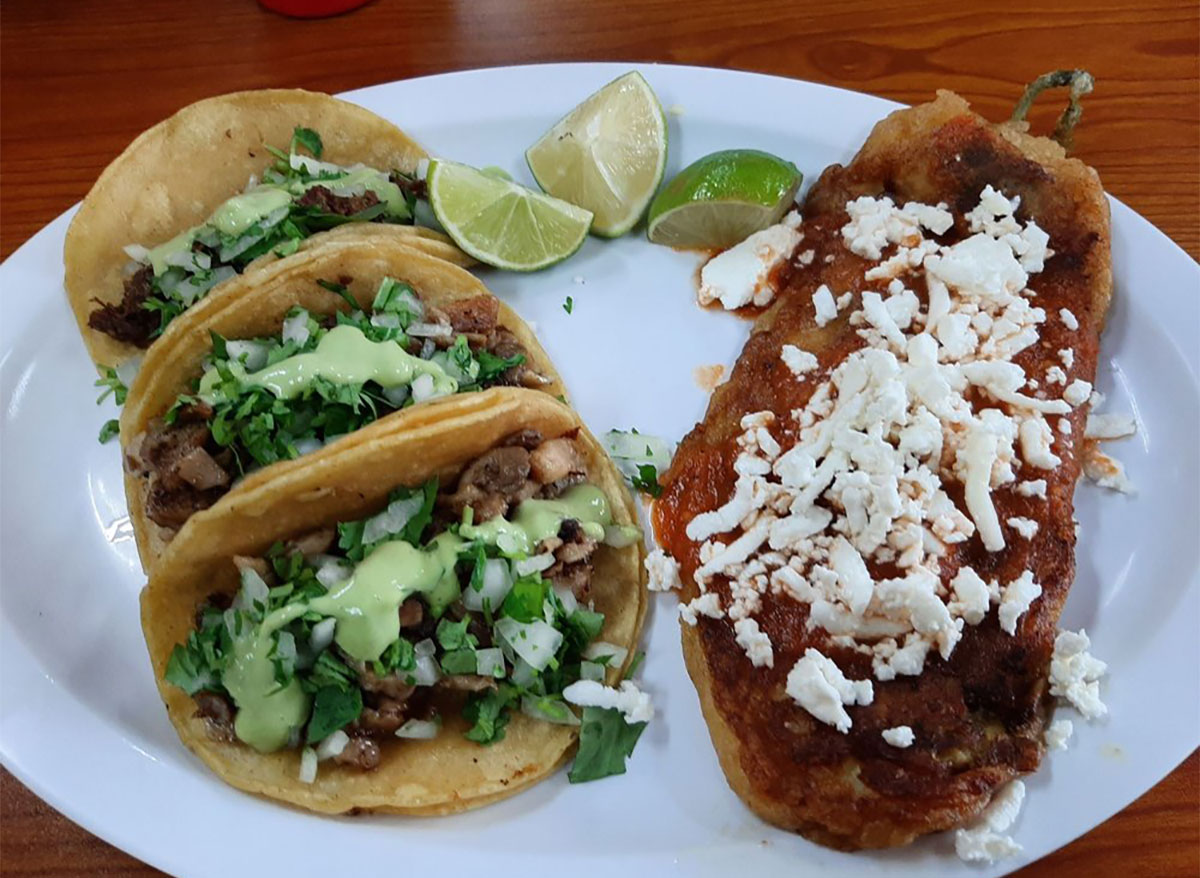 "This place has the best authentic Mexican food in the Kansas City metro area," one Yelper wrote of El Gallo. Now that's a glowing review!
MONTANA: Al Pastor Taco at Gild in Missoula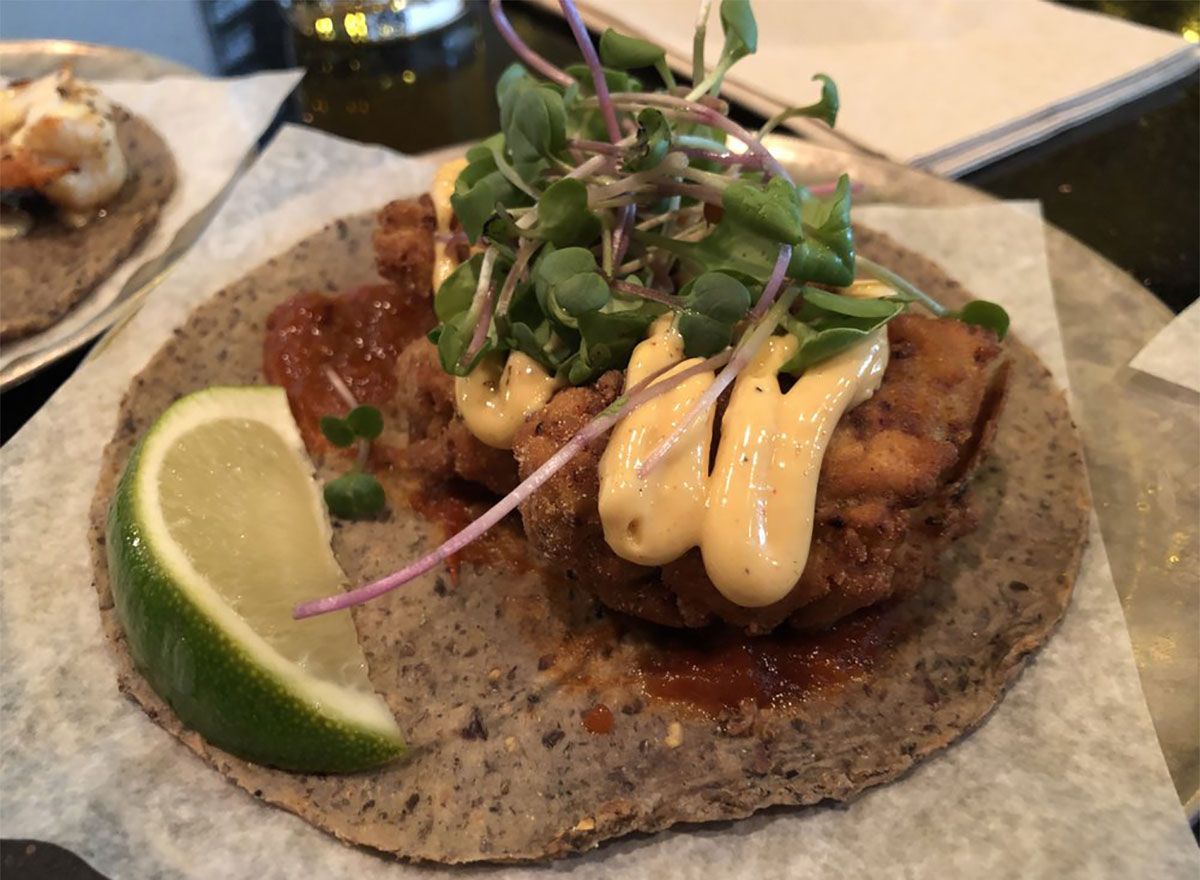 "The tacos are excellent with a wide variety from which to choose," one Yelp reviewer wrote of Guild. Try the al pastor taco, or go vegetarian with the mushroom carnitas option.
NEBRASKA: Carne Asada Taco at Mula Mexican Kitchen & Tequileria in Omaha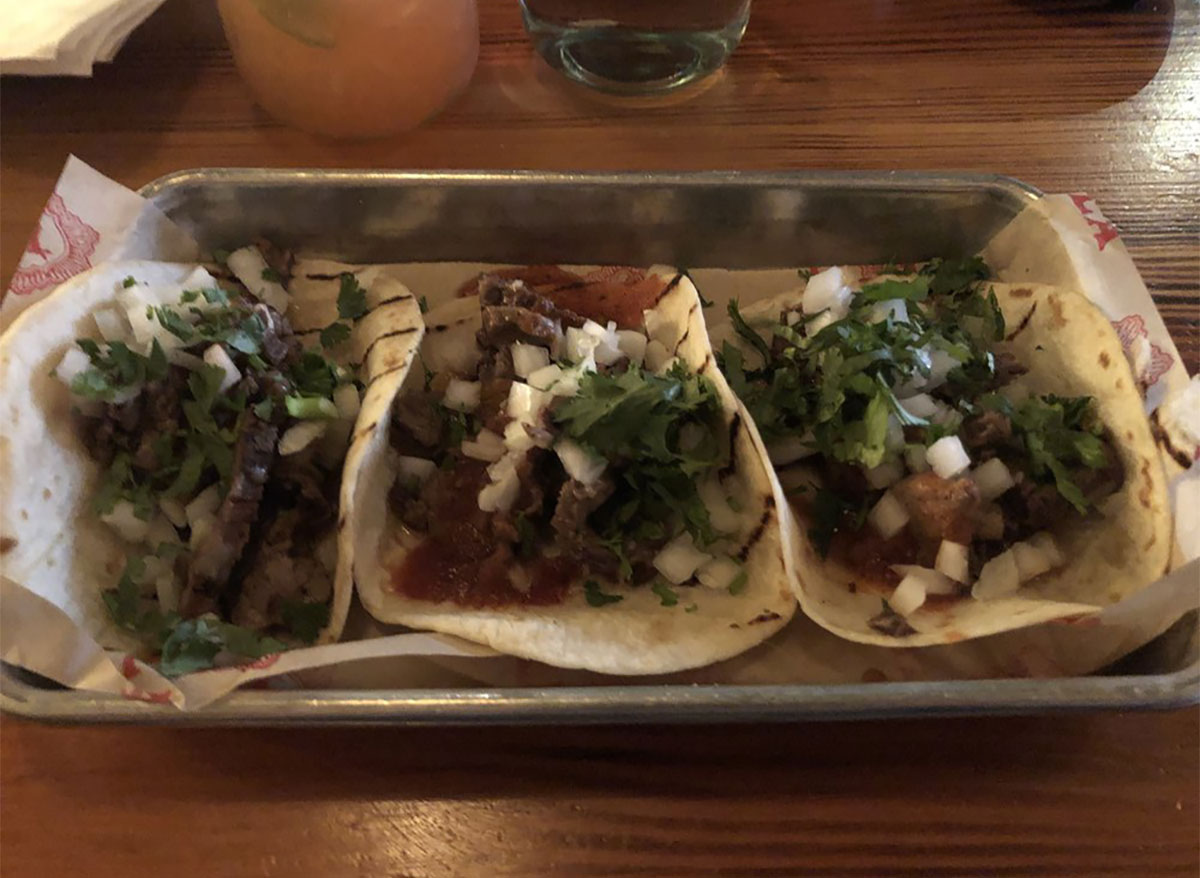 The carne asada tacos at Mula may be small, but they are mighty and pack so much flavor, so you can easily chow down on a few of these and have room to, well, eat more of them!
NEVADA: Super Taco at Tacotarian in Las Vegas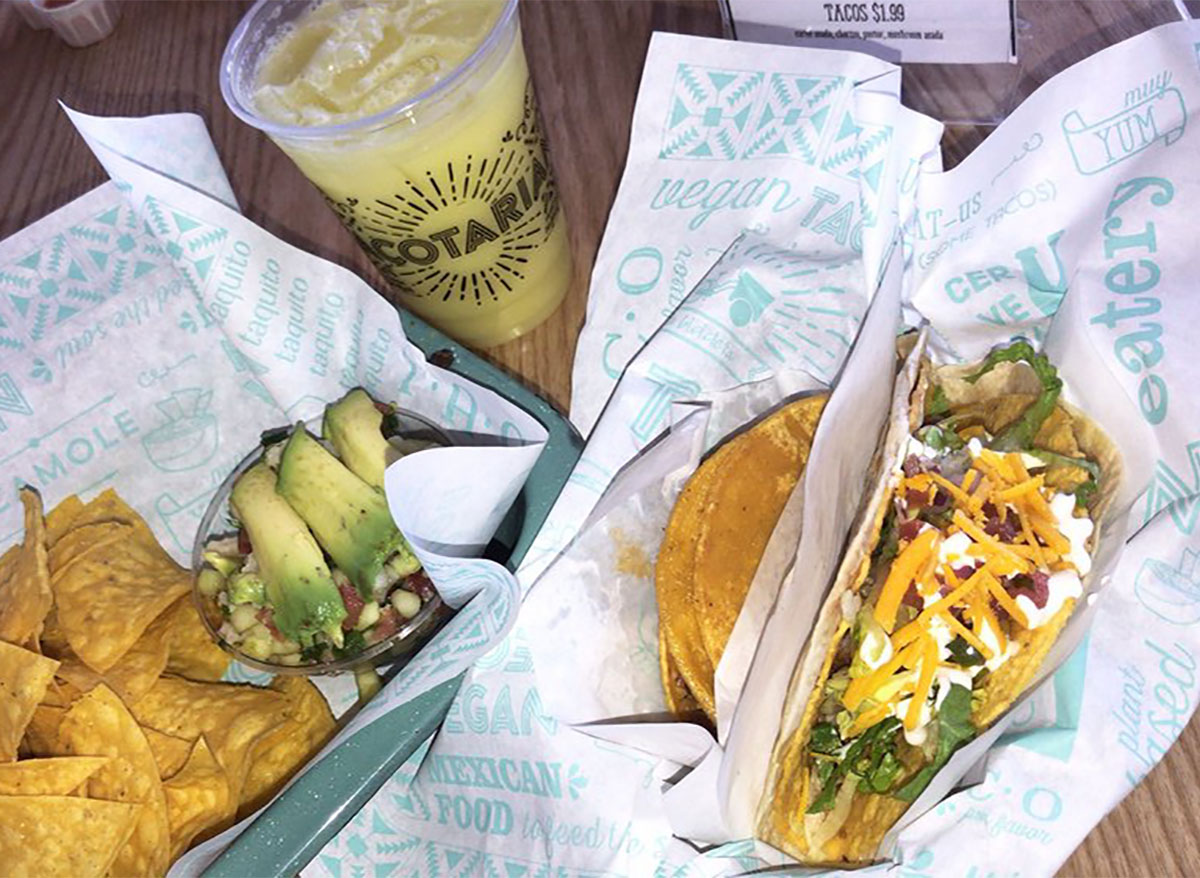 There are a lot of great tacos on the menu at plant-based Tacotarian, but one popular one is the Super Taco. "I love the super taco, which is like Taco Bell's old school Double Decker (crunchy taco wrapped in a softshell)," one Yelp reviewer wrote. Yum.
NEW HAMPSHIRE: Dos Equis Fish Tacos at California Burritos in Nashua
The fish tacos are taken up a notch at California Burritos in Nashua, as they as fried and then topped with a chipotle ranch sauce. What else could be better?
NEW JERSEY: Al Pastor Taco at Mexico Deli Restaurant in Passaic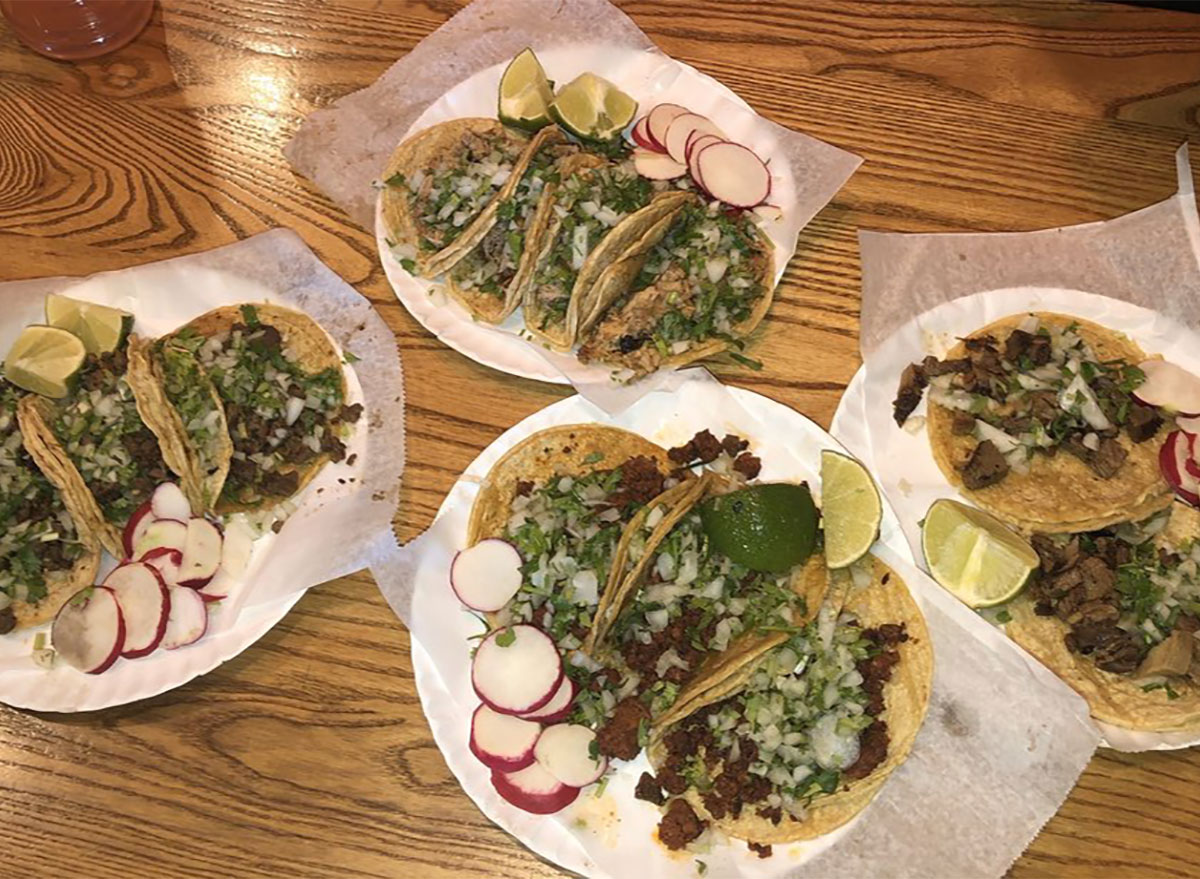 "Their tacos al pastor are the best ones I've ever had. Their guac is also extremely delicious," one Yelp reviewer wrote of Mexico Deli Restaurant. Tacos and guac: always the perfect combo.
NEW MEXICO: Monte Carlo Tako at Tako Ten in Albuquerque
"I had the Monte Carlo and the Kia Klunker. Talk about flavor explosions in my mouth! WOW," one Yelp reviewer wrote of Tako Ten. The taco is topped with grilled pineapple for an extra burst of flavor.
NEW YORK: Carne Asada at Los Tacos No.1 in New York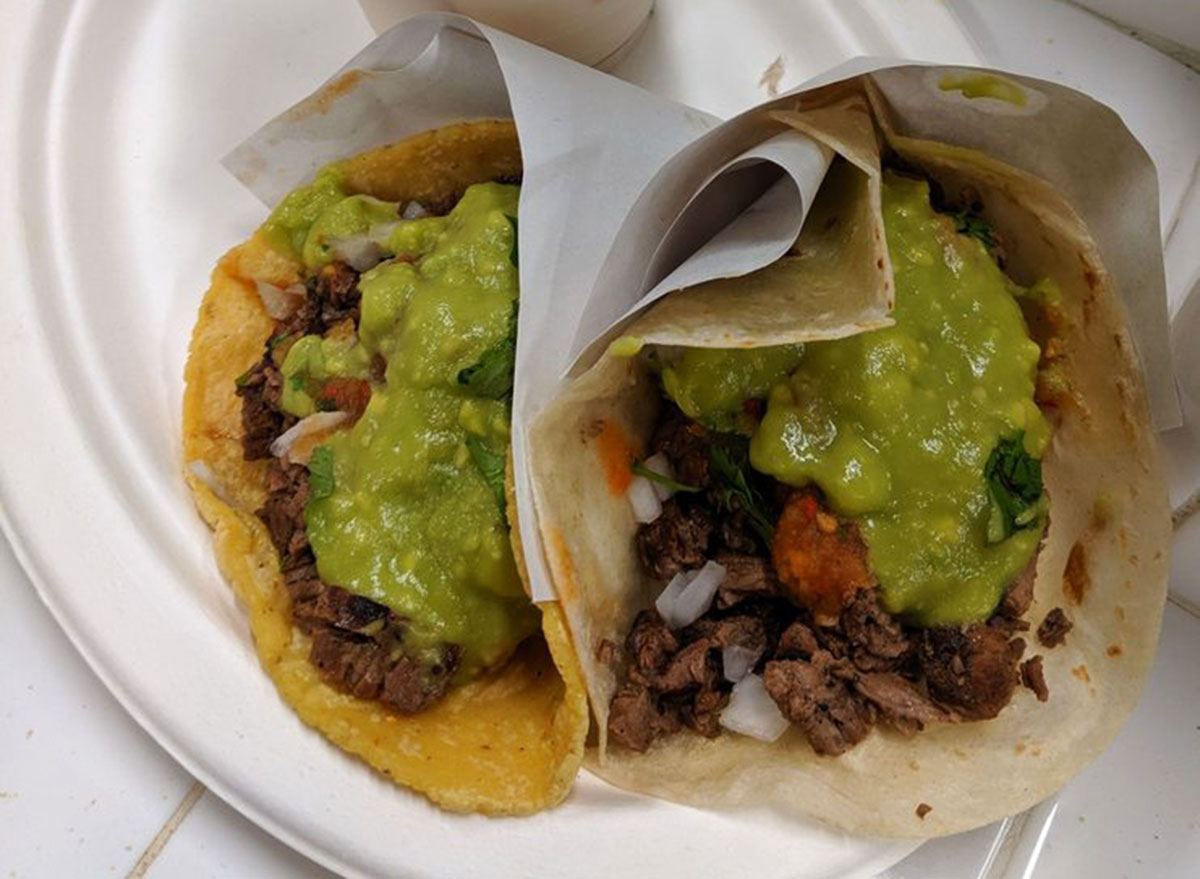 If there is one taco place to dine at in New York City, it's Los Tacos No. 1 and the classic carne asada tacos are the go-to order. As one Yelp reviewer put it, the "carne asada tacos are mouthwatering, perfectly seasoned and authentic."
NORTH CAROLINA: Red Bird Taco at 13 Tacos & Taps in Raleigh
"I got the Red Bird Tacos which had such a delicious seasoning to the chicken with the right amount of spice," one Yelper wrote. If you love chicken tacos, the tacos at 13 Tacos & Taps look delicious.
NORTH DAKOTA: Crispy Chicken and Mango Taco at Vinyl Taco in Fargo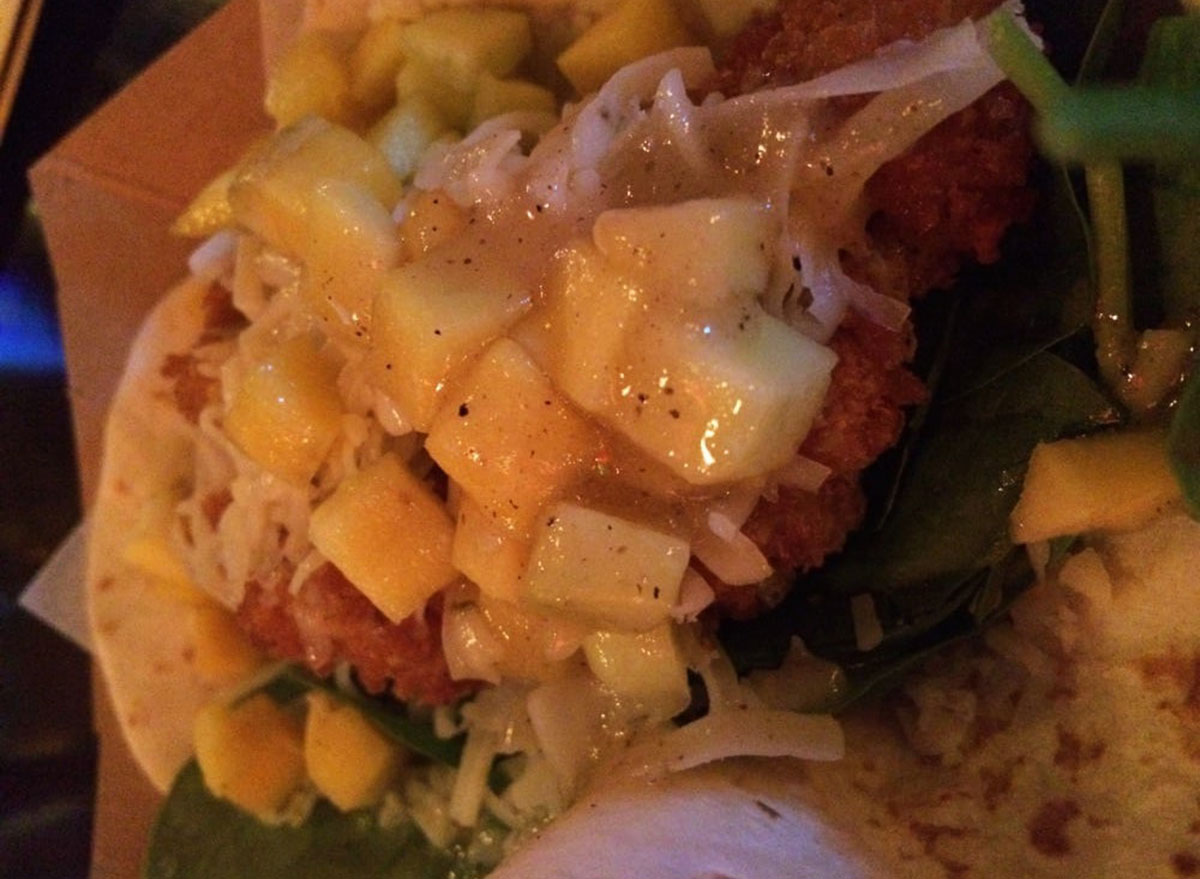 A taco with crispy chicken? We're in. Add mango to it, and it's easy to see exactly why this is one of Vinyl Taco's most popular menu items. And you can enjoy these tacos while you're listening to music played on vinyl.6254a4d1642c605c54bf1cab17d50f1e
OHIO: Fish Taco at Mazunte Taqueria in Cincinnati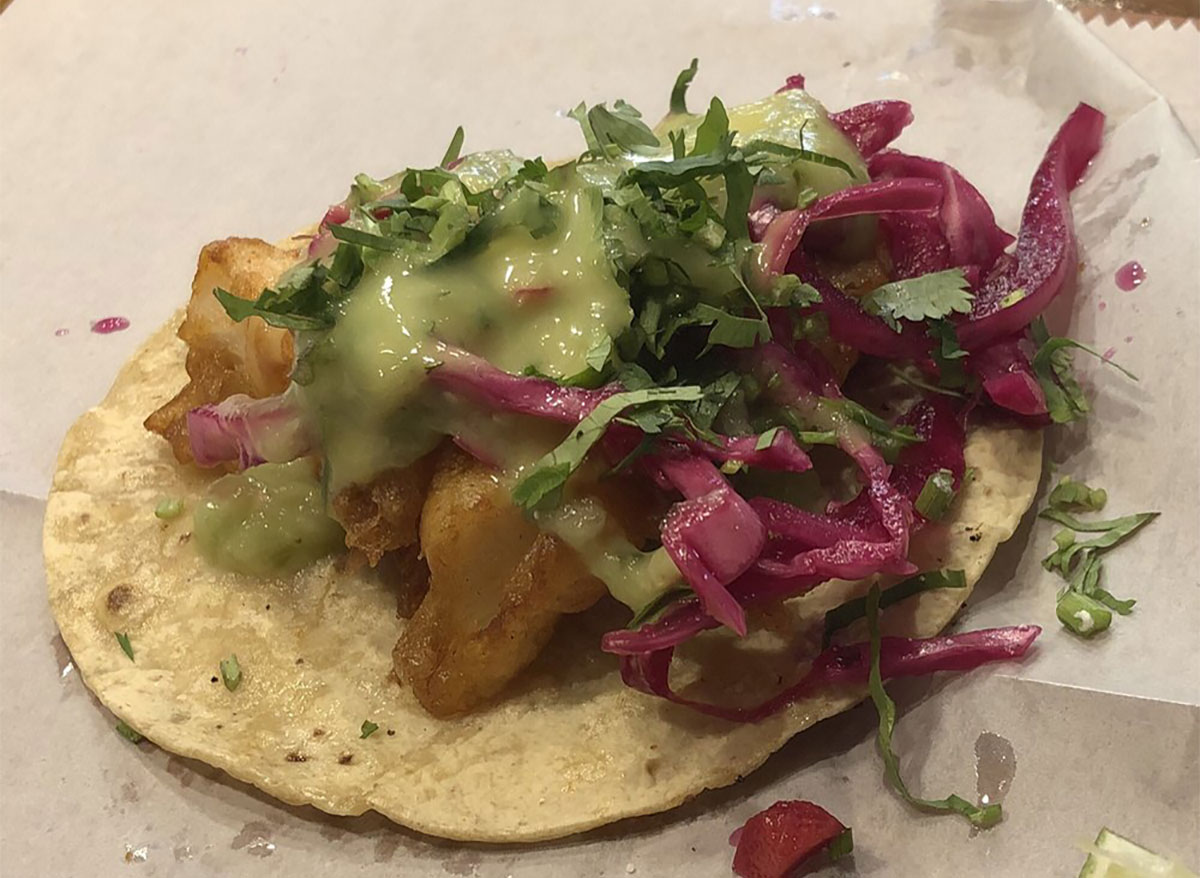 "We lived in San Diego for three years, which is basically the Mecca of fish tacos. And still, this place wins, hands down," one Yelp reviewer wrote of Mazunte Taqueria in Cincinnati.
OKLAHOMA: Birra Tacos at OSO Paseo in Oklahoma City
Reviewers rave about the tacos at this "hidden oasis" that serves traditional street tacos in the historic Paseo Arts District.
OREGON: Sliced Brisket Taco at Matt's BBQ Tacos in Portland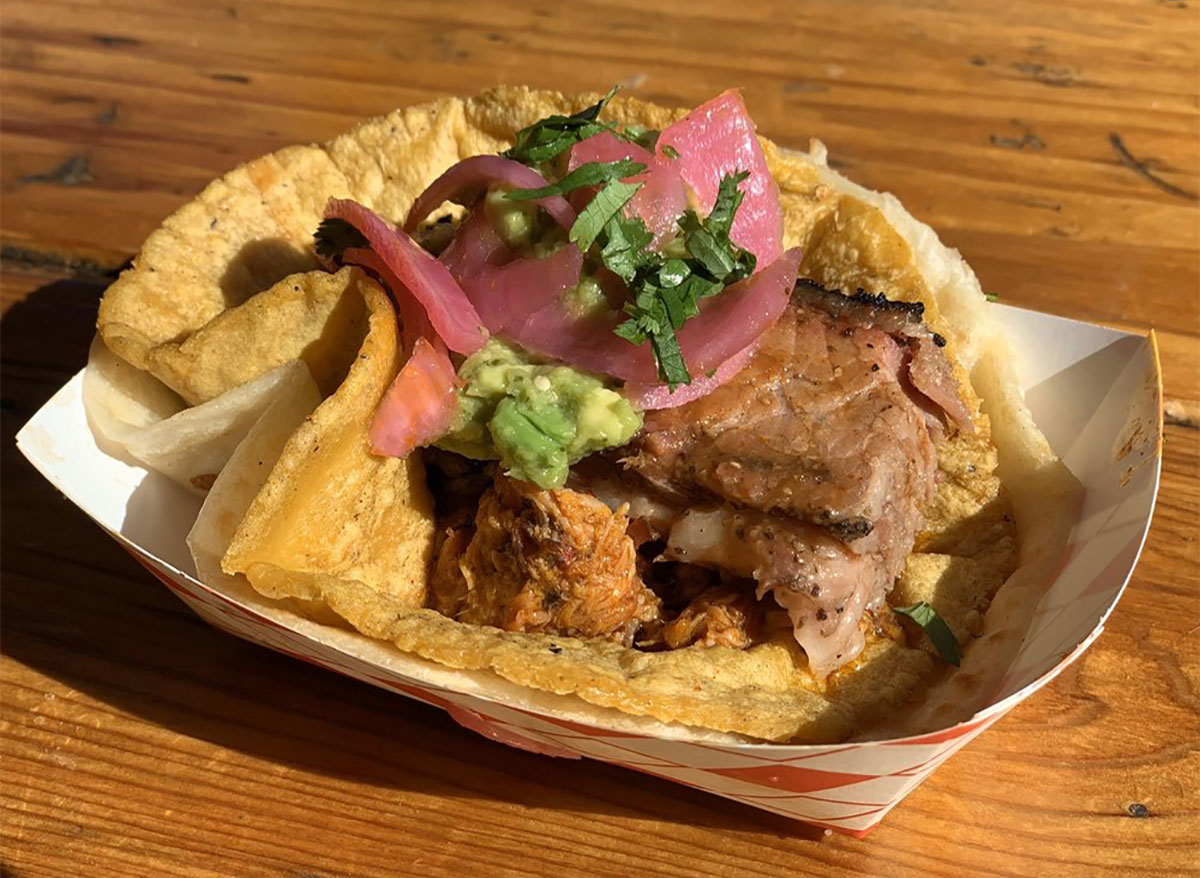 Brisket in a taco is an unexpected but winning combination at Matt's BBQ Tacos. "The brisket taco was excellent with a dollop of guacamole topped with pickled onions," one Yelper wrote. "Think of this as bbq with tortillas instead of a traditional taco." If that sounds like your jam, hit this place up!
PENNSYLVANIA: Chicken Chorizo Taco at Tocayo Taqueria & Tequila in Pittsburgh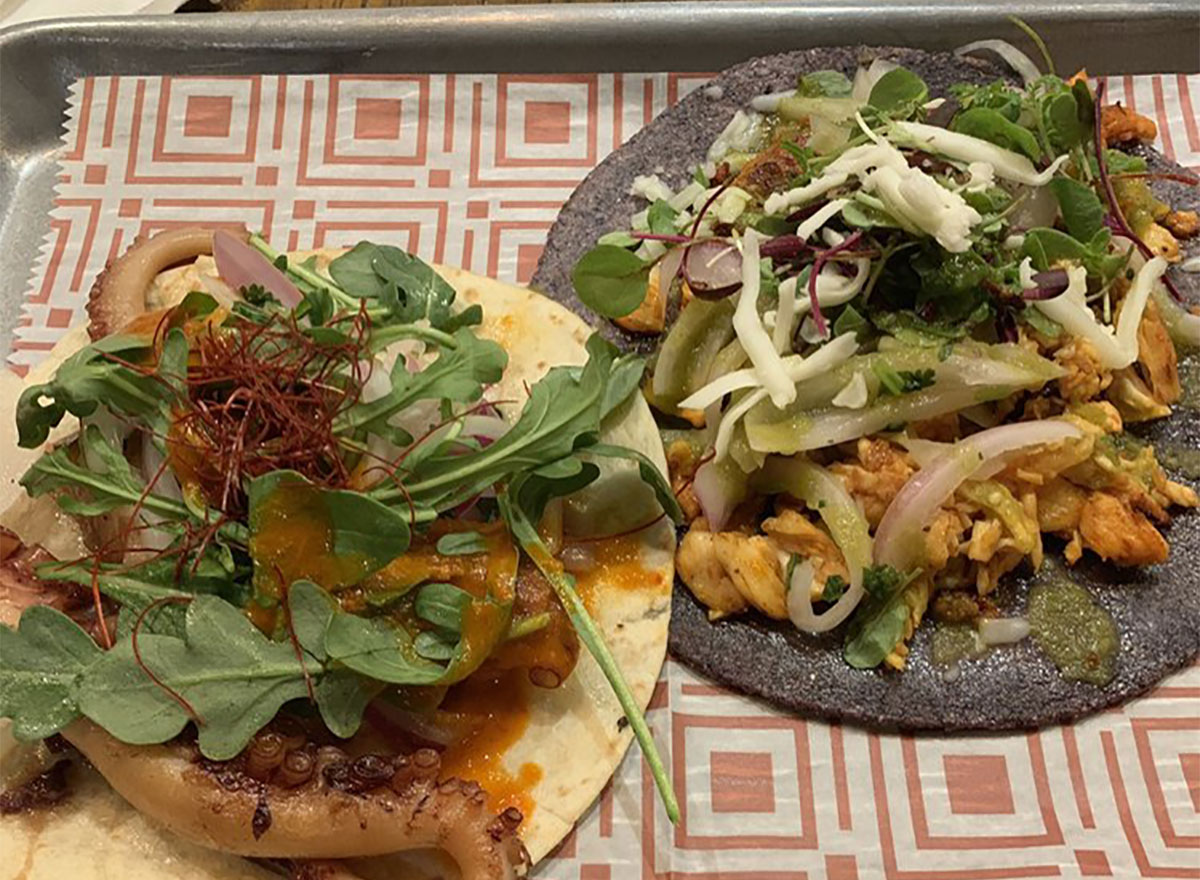 You don't have to choose between chicken and chorizo at Tocayo Taqueria & Tequila with this delicious taco. "The chicken and chicken chorizo tacos sent my taste buds on a roller-coaster ride, transitioning from sweet to spicy to savory, it was everything that one could ask for," one Yelp reviewer wrote. Wow!
RHODE ISLAND: Pork Belly Taco at The Taco Shop in Burrillville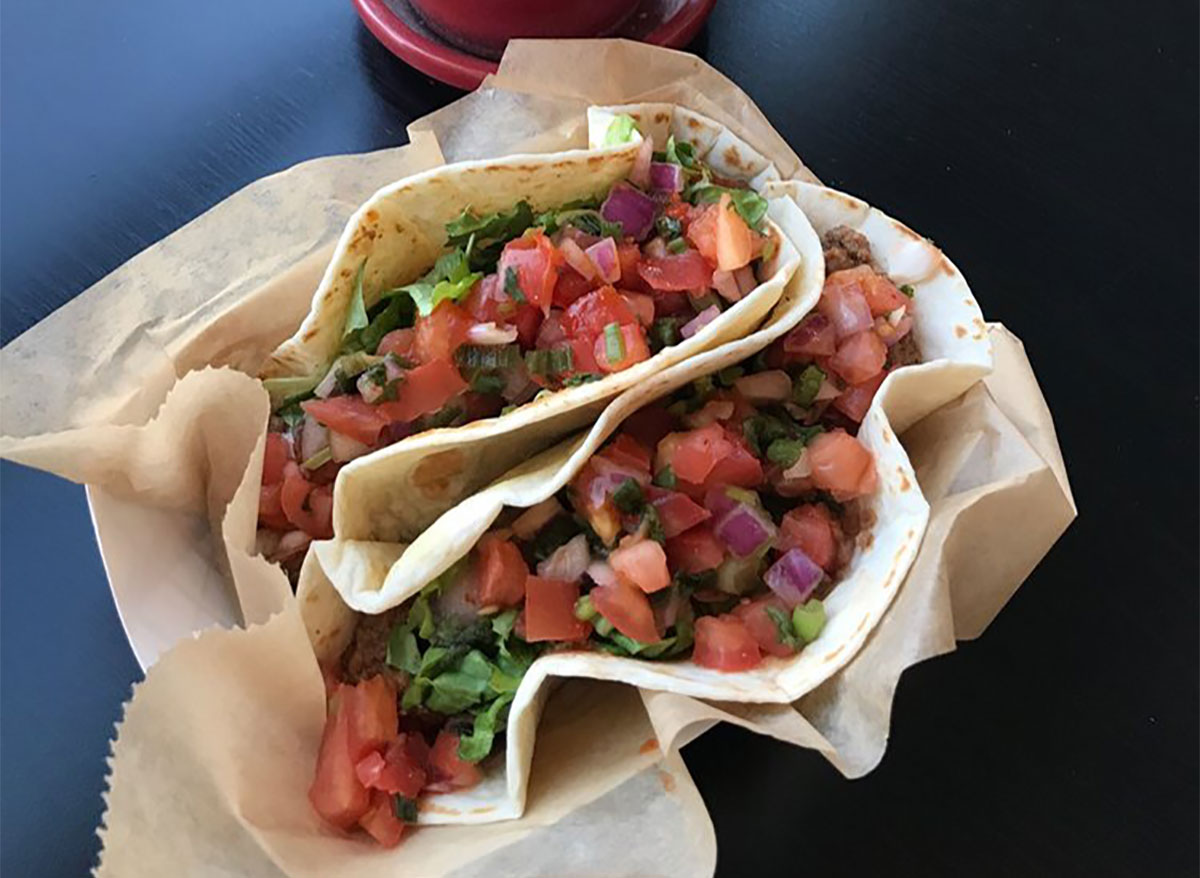 "Pork belly tacos for the win!!! Everything tasted super fresh and went together so well," one Yelper wrote of The Taco Shop in Burrillville. Now that's what we like to hear.
SOUTH CAROLINA: Carne Asada Taco at Tacos Nayarit in Columbia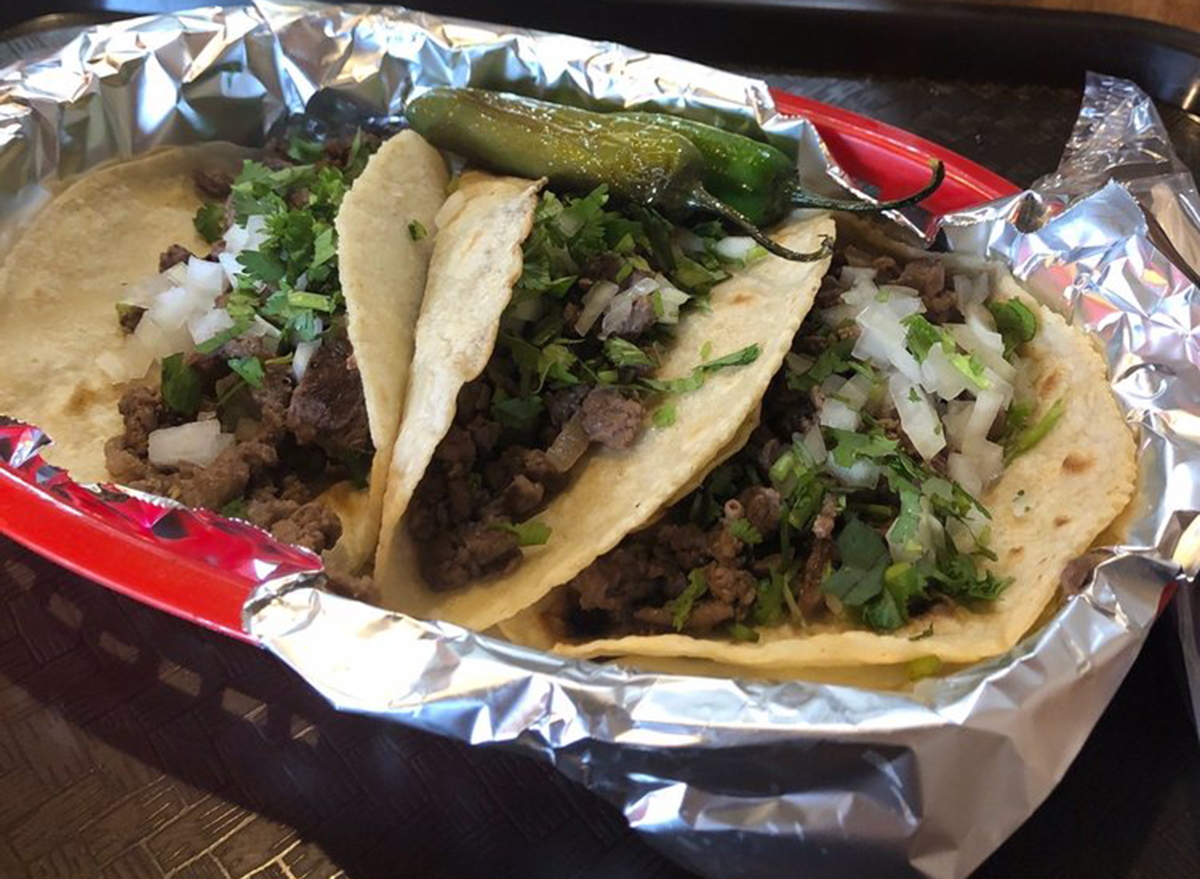 At Tacos Nayarit, the top taco is none other than the classic carne asada (grilled and sliced beef). Why? One Yelp reviewer says it's perfectly seasoned, especially with the soft corn tortillas and an assortment of salsas!
SOUTH DAKOTA: Steak Taco at El Sombrero Mexican Restaurant in Rapid City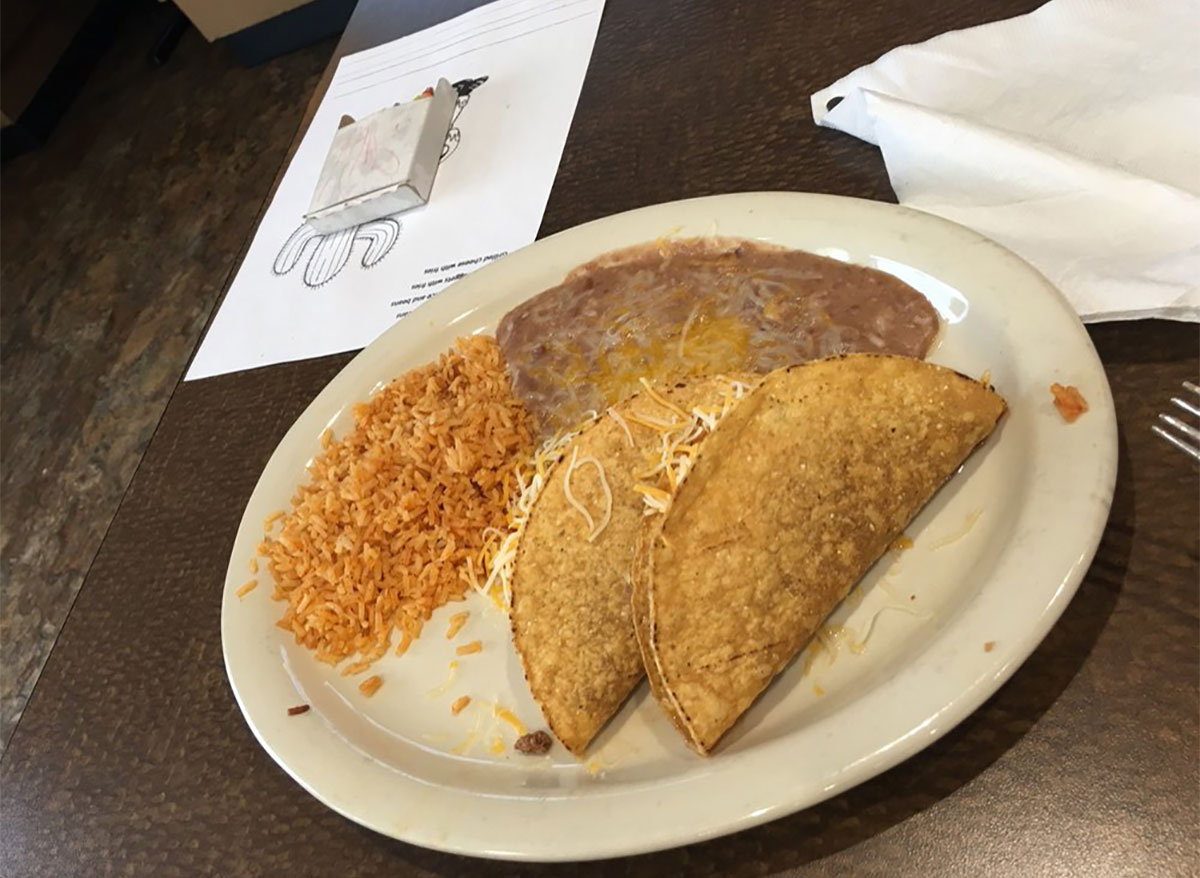 The taco combo plate is the dish to order at this El Sombrero Mexican Restaurant in Rapid City. It's a bit of everything, all in one.
TENNESSEE: Chorizo Taco at Maciel's Tortas and Tacos in Memphis
"The chorizo taco was well-seasoned, and the corn tortillas tasted like they were made in-house," one Yelp reviewer wrote of Maciel's Tortas and Tacos.
TEXAS: Cabeza Taco at Mami Coco in Dallas
"Favorites included cabeza (barbacoa), lengua (tongue), and chicharron (shred pork). The crisp on the taco was fantastic and the salsas were both flavorful," wrote one Yelp reviewer of Mami Coco. "Also, the pickled onions were a game changer!! It helped cut the richness and was an awesome component I haven't seen at other taco spots." We're sold!
UTAH: Tandoori Taco at Tandoori Taqueria in Panguitch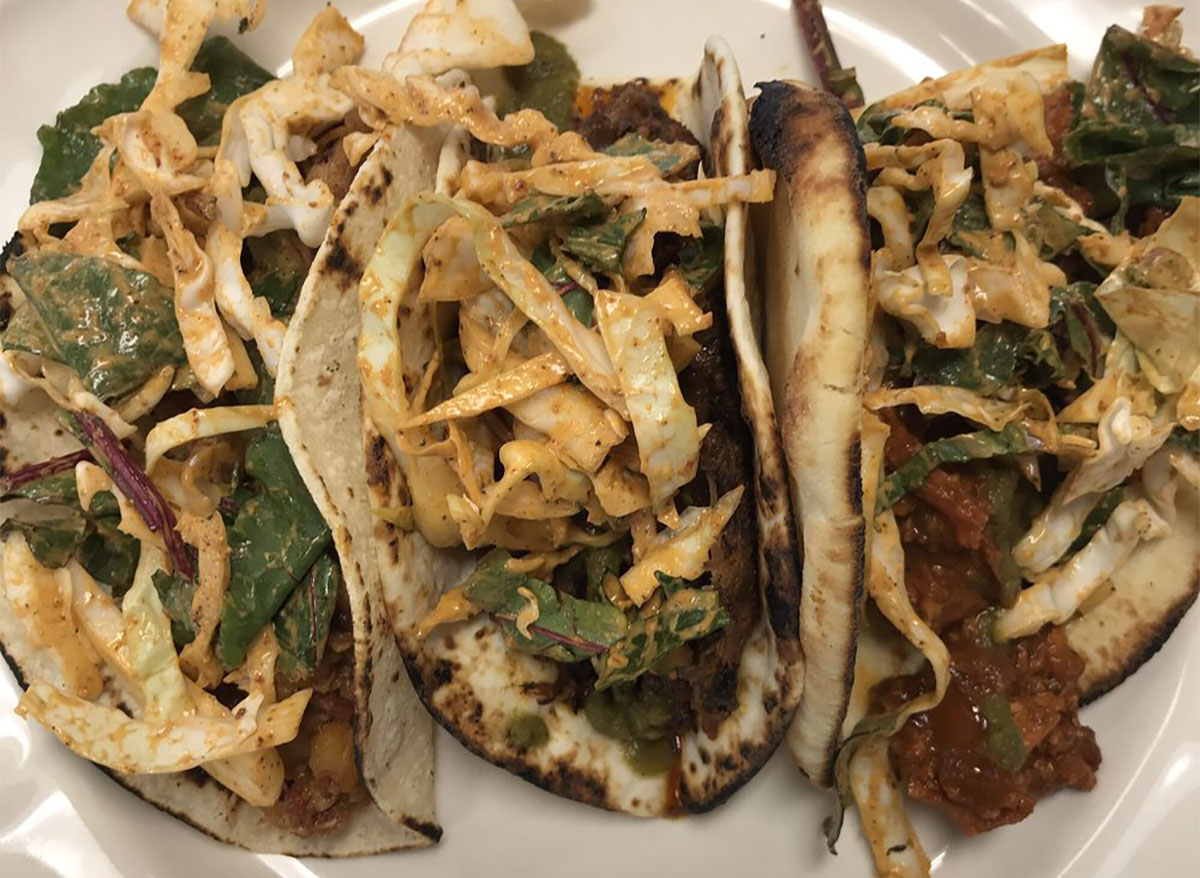 This Indian-Mexican restaurant creates fusion dishes that are a party for your taste buds. "The Tandoori tacos were flavorful with a touch of spice," wrote one Yelp reviewer.
VERMONT: Carnitas Taco at Taco Gordo in Burlington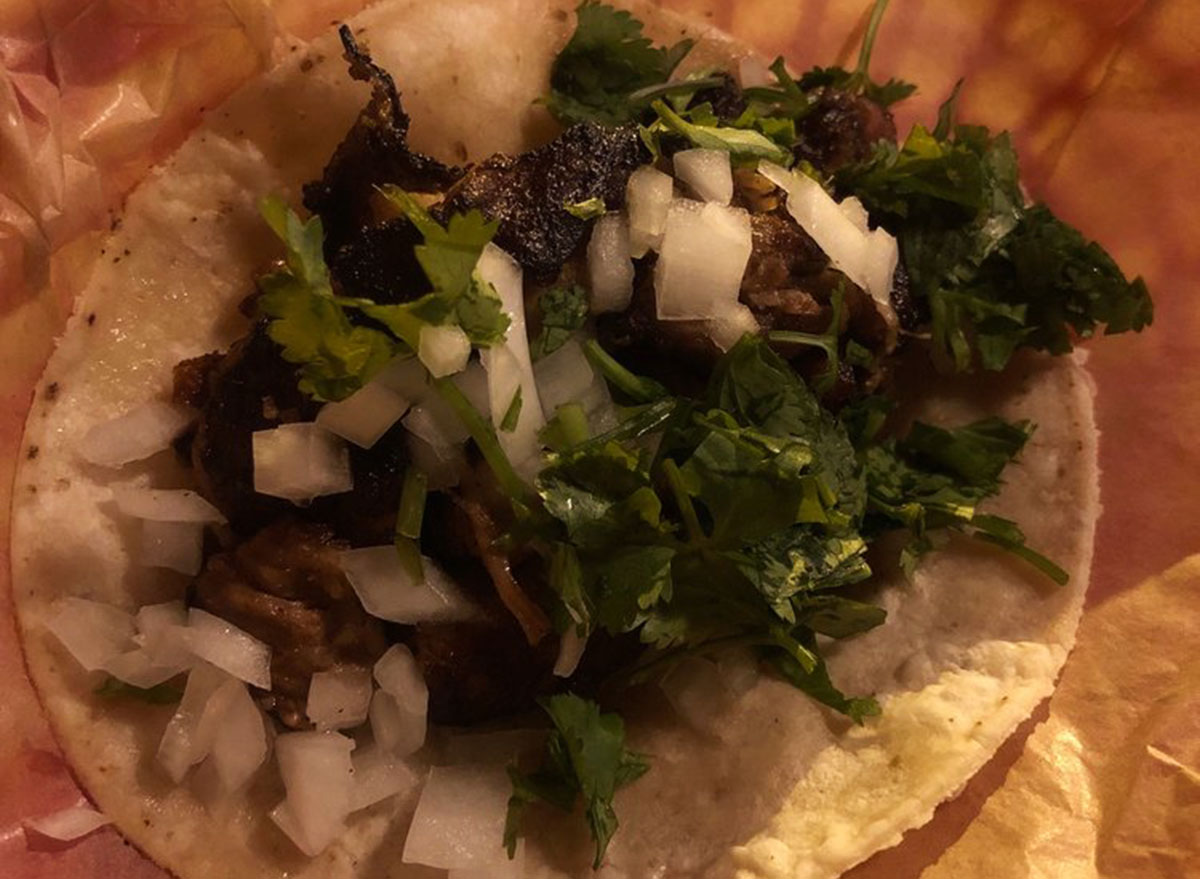 The carnitas tacos at Taco Gordo are said to be a top choice here, according to many Yelp reviewers. A variety of hot sauces are available, too, so you can add as much spice as you like to any taco.
VIRGINIA: Chicken Tinga Taco at Taco Zocalo in Reston
The chicken tinga tacos are the ones you can't miss out on when you're dining at Taco Zocalo. They have a nice kick to them and can easily be enhanced with some of the yummy sauces.
WASHINGTON: Al Pastor Taco at Carmelo's Tacos in Seattle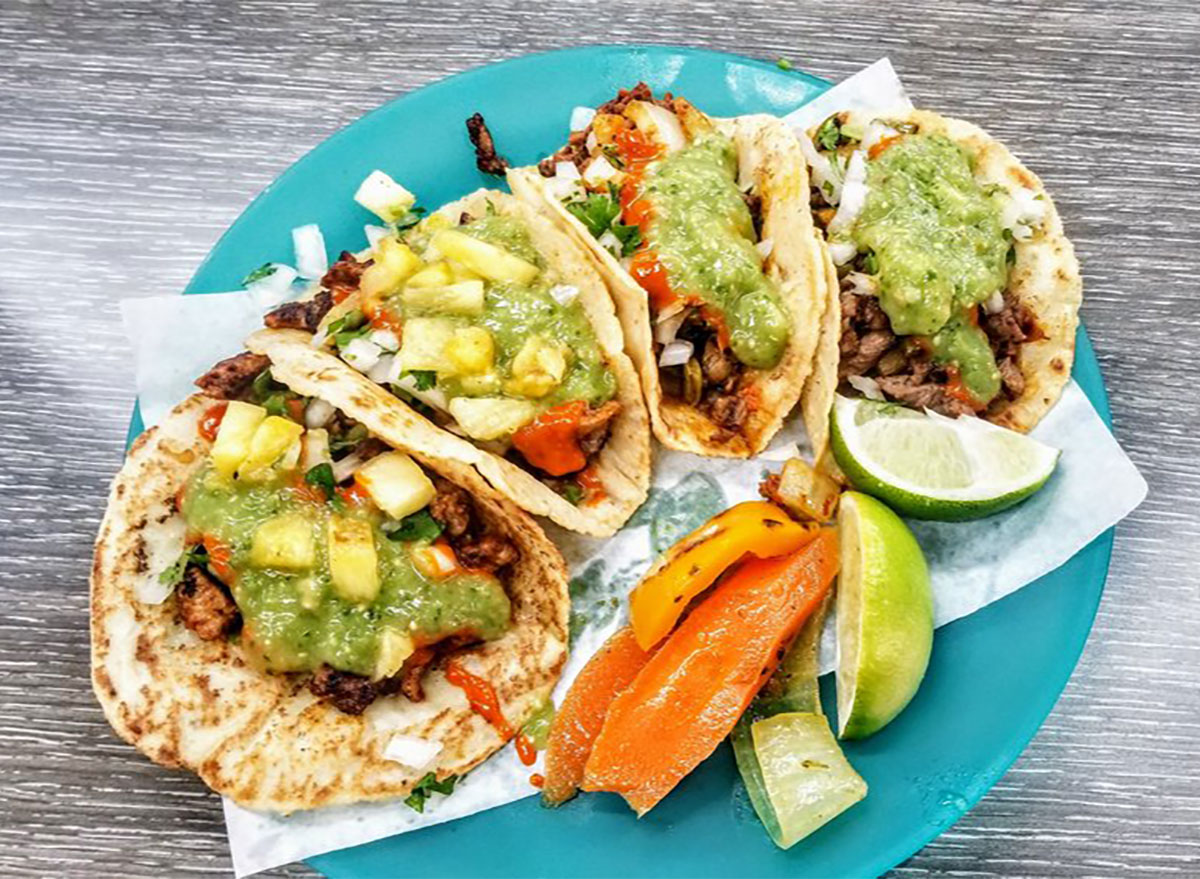 "The al pastor tacos are tangy and savory. The tortillas are homemade and are the icing on the cake," one Yelp reviewer wrote about Carmelo's Tacos. Sounds good!
WEST VIRGINIA: Trad Tacos at Maria's Taqueria in Shepherdstown
When you're at Maria's Taqueria, the trad tacos are the way to go. That means you get three traditional tacos—beef, chicken, and pork. So you get to try one of each classic!
"The 'trad' tacos were fantastic! The tacos were simple but packed full of flavor. The best way to describe it is that they tasted fresh and of high quality. The pork was by far my favorite and prices were reasonable for the quantity of food," one Yelp reviewer wrote.
WISCONSIN: Shrimp Taco at Tavo's Signature Cuisine in Milwaukee
"The enchiladas and shrimp tacos were perfection. The perfect sauce, tons of meat, and made with only the best ingredients," one Yelp reviewer wrote of Tavo's Signature Cuisine. We'd stop by if we were in the state!
WYOMING: Carne Asada Taco at Hatch Taqueria and Tequilas in Jackson
"The buffalo steak was fantastic and the brisket and carne asada tacos were unbelievable. There aren't enough positive adjectives to describe this fantastic find," a Yelper wrote of the tacos at Hatch Taqueria and Tequilas. Say no more!
Here are some more can't-miss options in your state:
The Best Bakery in Every State
Eat This, Not That!
Inspired by The New York Times best-selling book series, Eat This, Not That! is a brand that's comprised of an award-winning team of journalists and board-certified experts, doctors, nutritionists, chefs, personal trainers, and dietitians who work together to bring you accurate, timely, informative, and actionable content on food, nutrition, dieting, weight loss, health, wellness, and more.
Read more about Eat This